Welcome  back to fitravelife.com. Continuous from Pattaya trip 2 weeks ago, I had trip to Hua hin from Suvarnabhumi airport so I will make record of my experience.
Bus from Suvarnabhumi airport to Hua hin
Bus ticket counter is located at 1st floor, next to gate 8 at Suvarnabhumi airport.
Currently 4 trips are available to Hua hin per day.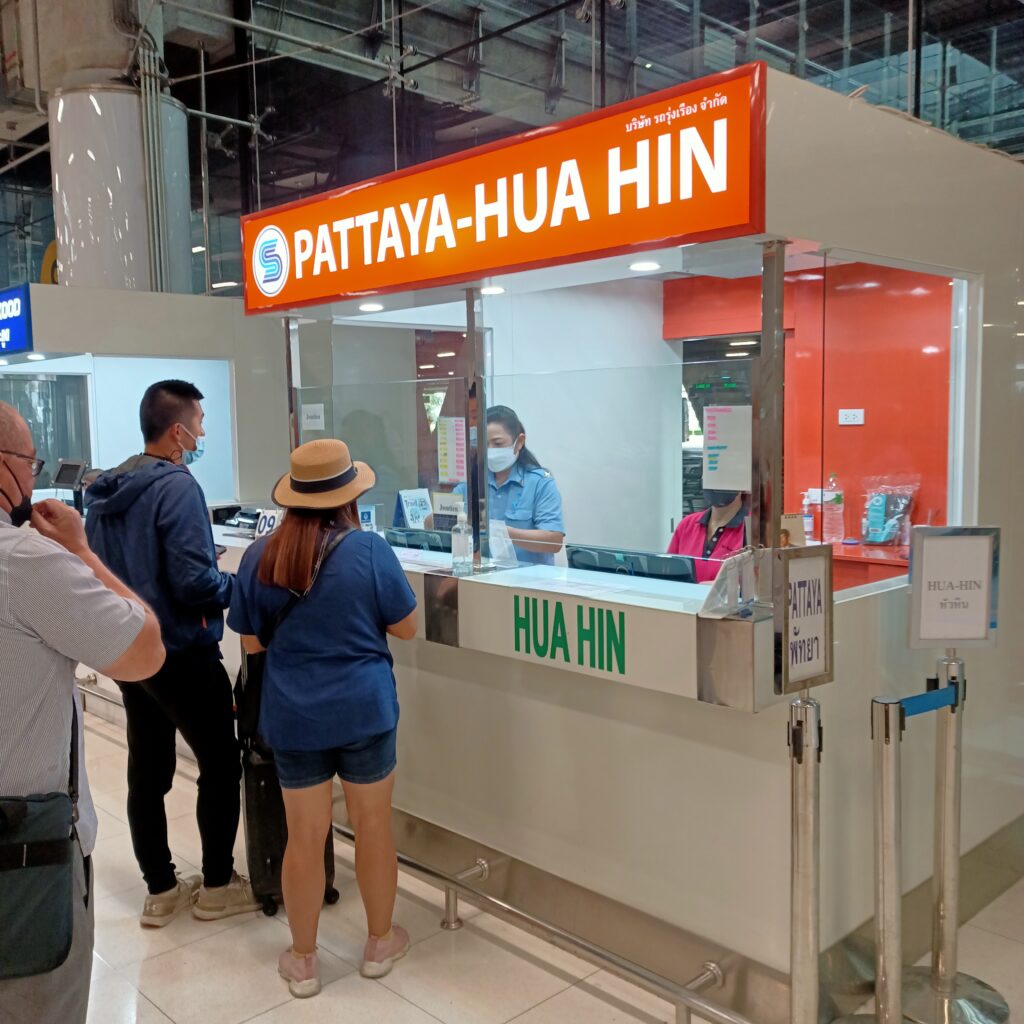 This time, I came to ticket counter at 9:20am. With no problem, I could purchase first trip at this day 10:00am. Ticket fare is 294THB.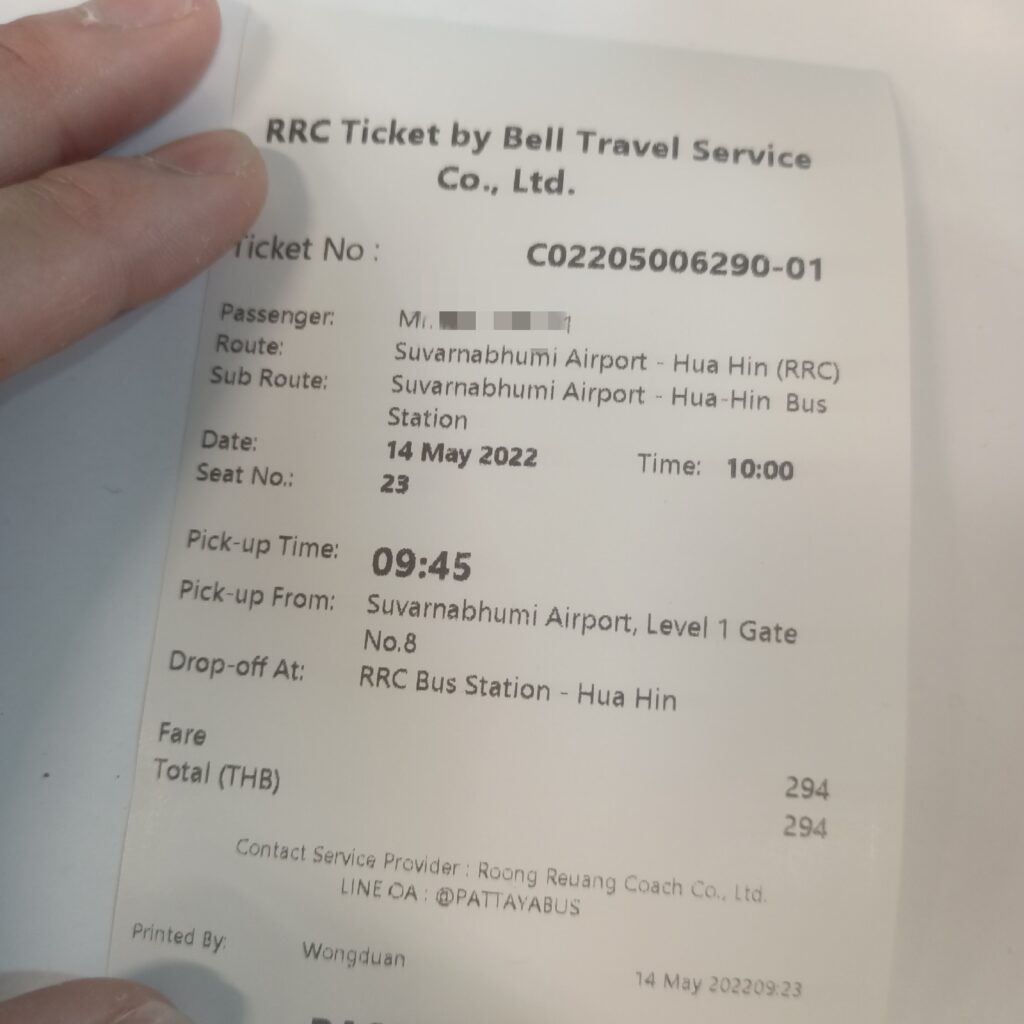 Here is the updated price and schedule as of August, 2022. Considering nation wide fuel price increase due to Ukraine war, bus fare was increased (325THB)but you have more service option thanks to the tourist returning to Thailand.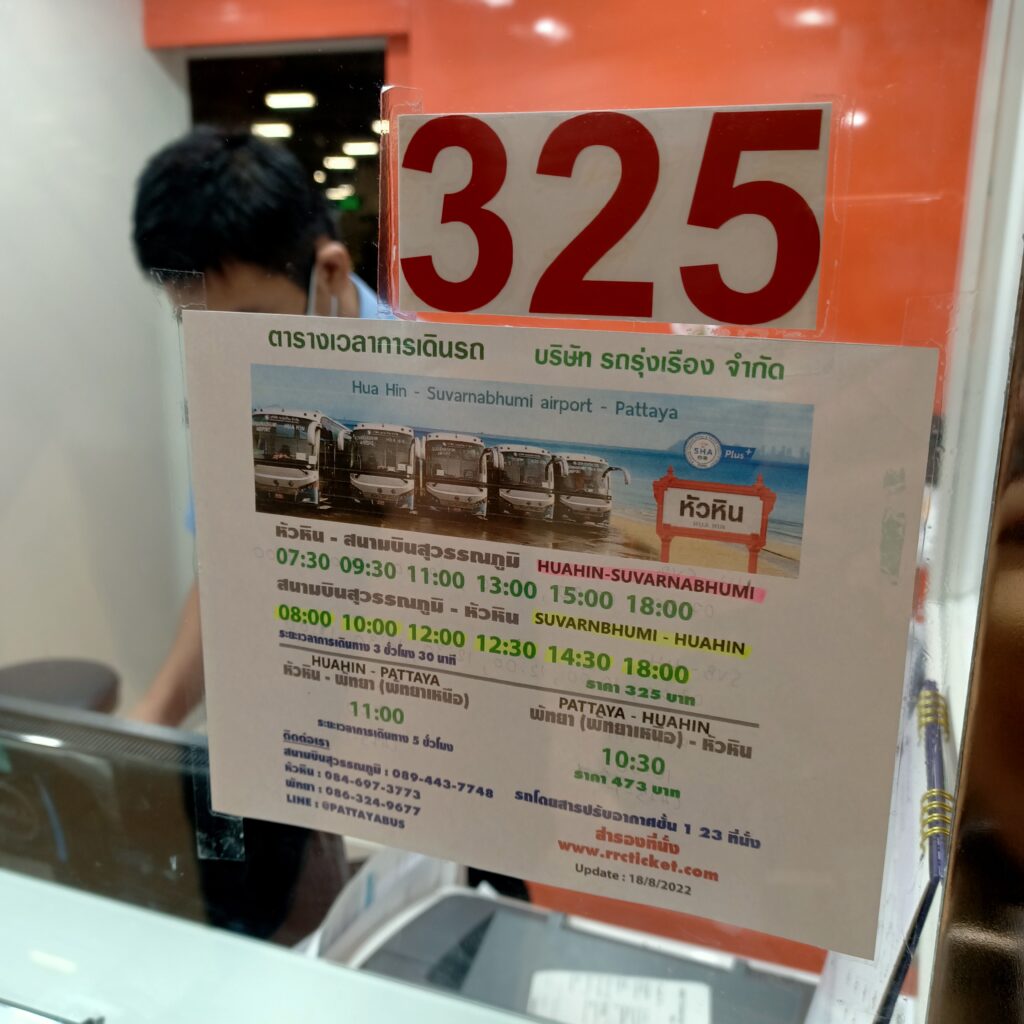 ↓ 7 trips per day is now available (Feb 2023)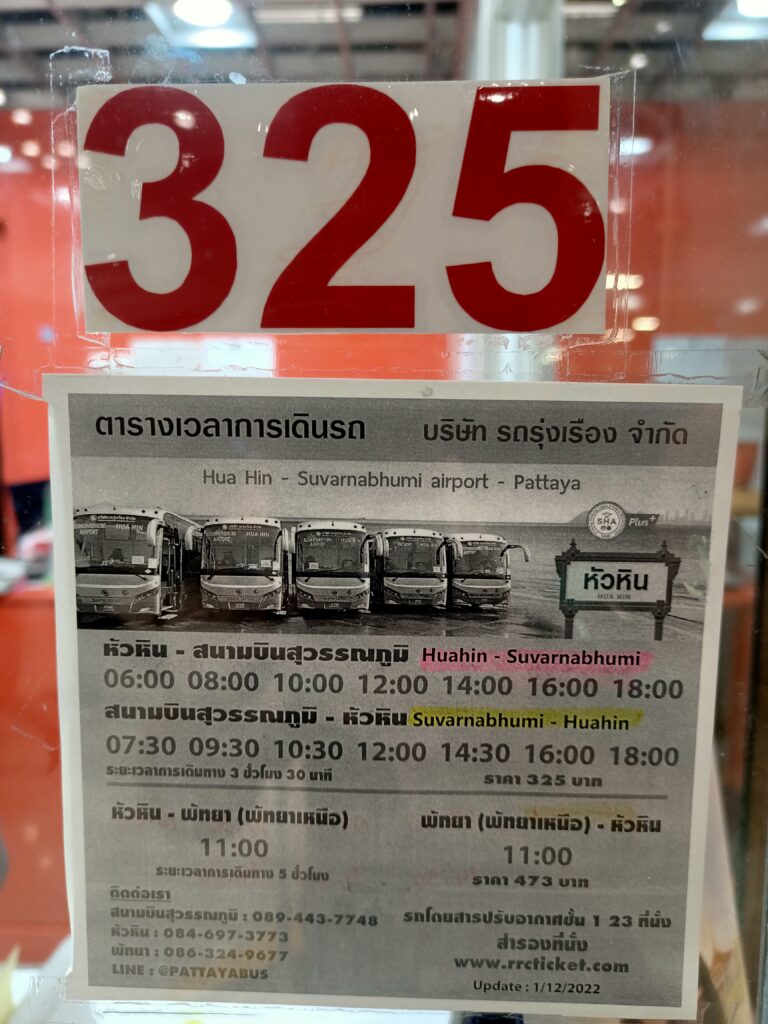 Once you got ticket, you can wait around ticket counter so the staff will call passengers when bus is around.
At 9:41 am, bus driver started to call for Hua hin passengers to invite to the bus. Bus is stand by at outside of gate 8.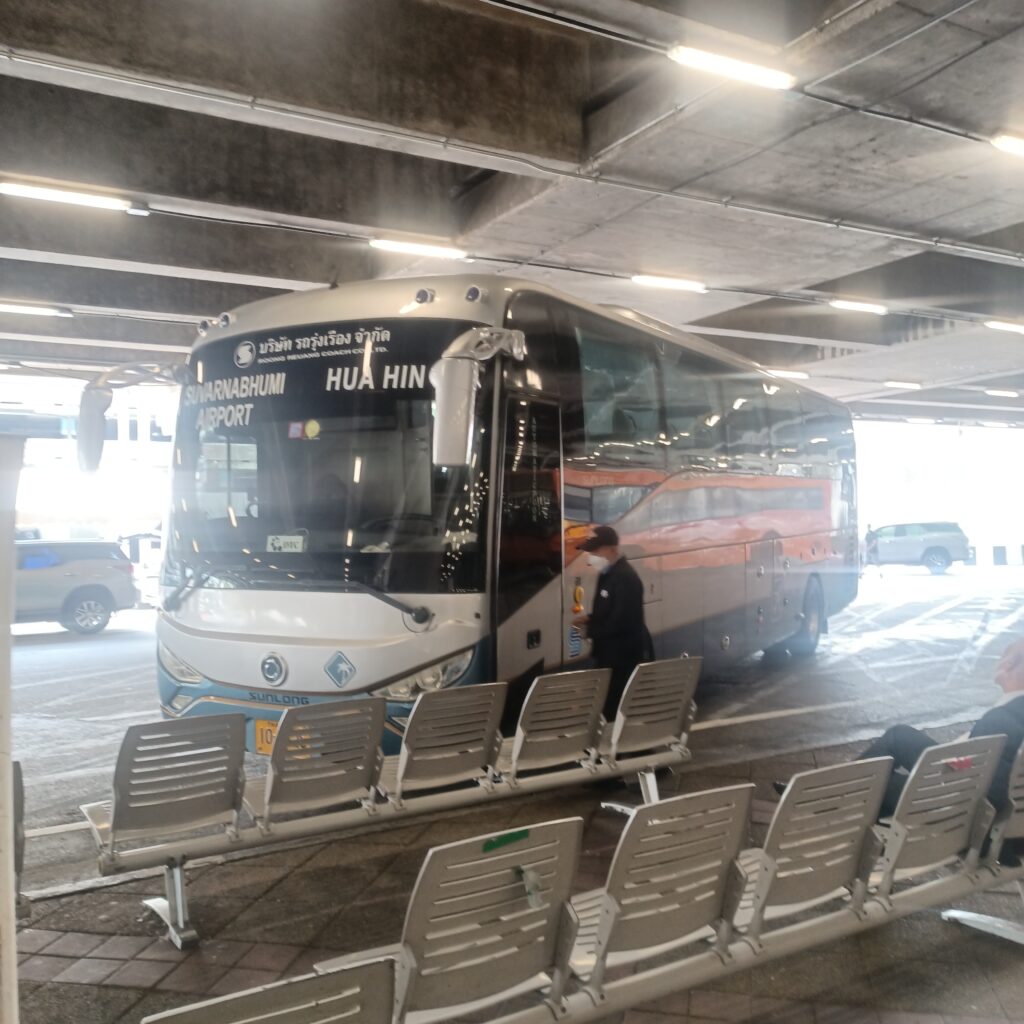 If you have bigger baggage like suitcase, up to 20kg is free to be stored inside bus. Small bags can be carried with you to the seat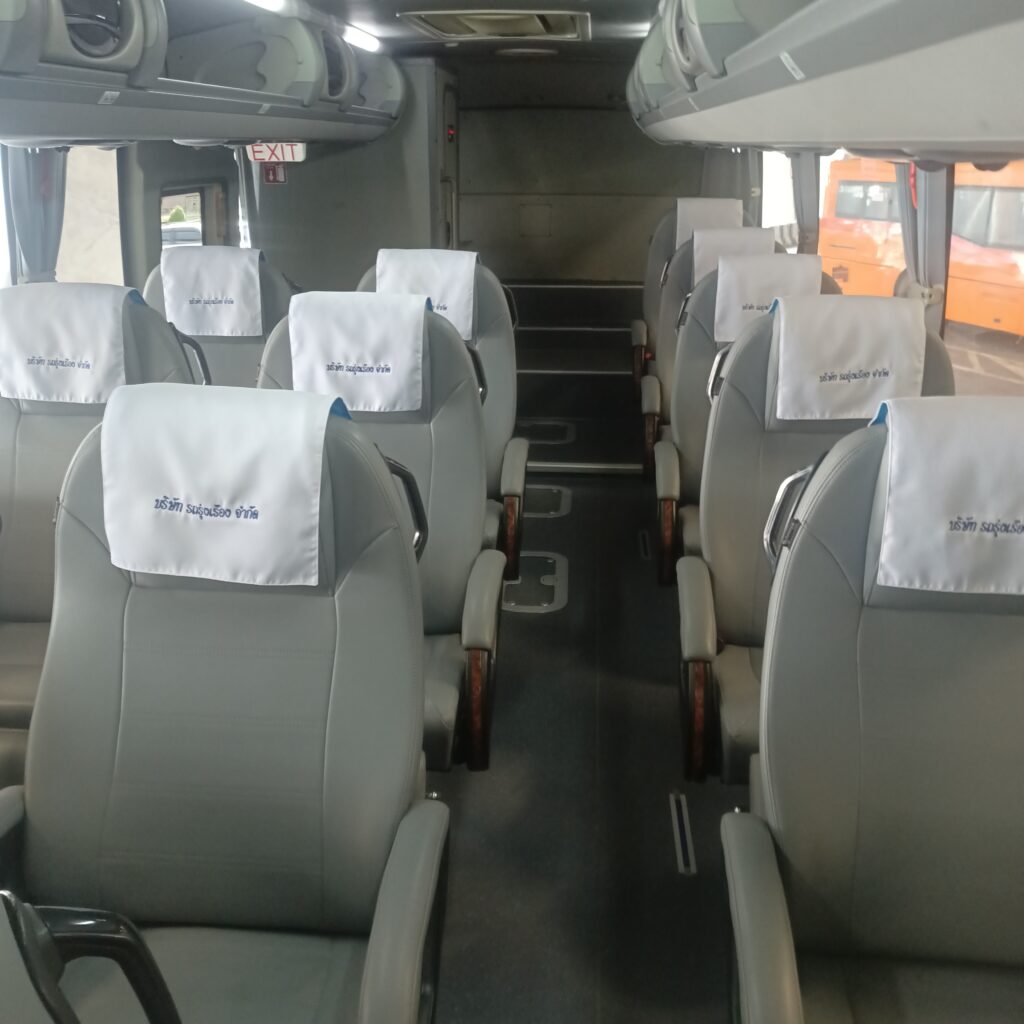 Seat is separate for single and twin, total 3 seat ls at one row. Seat width is quite spacious unlike typical 4 seats pitch to Pattaya bus.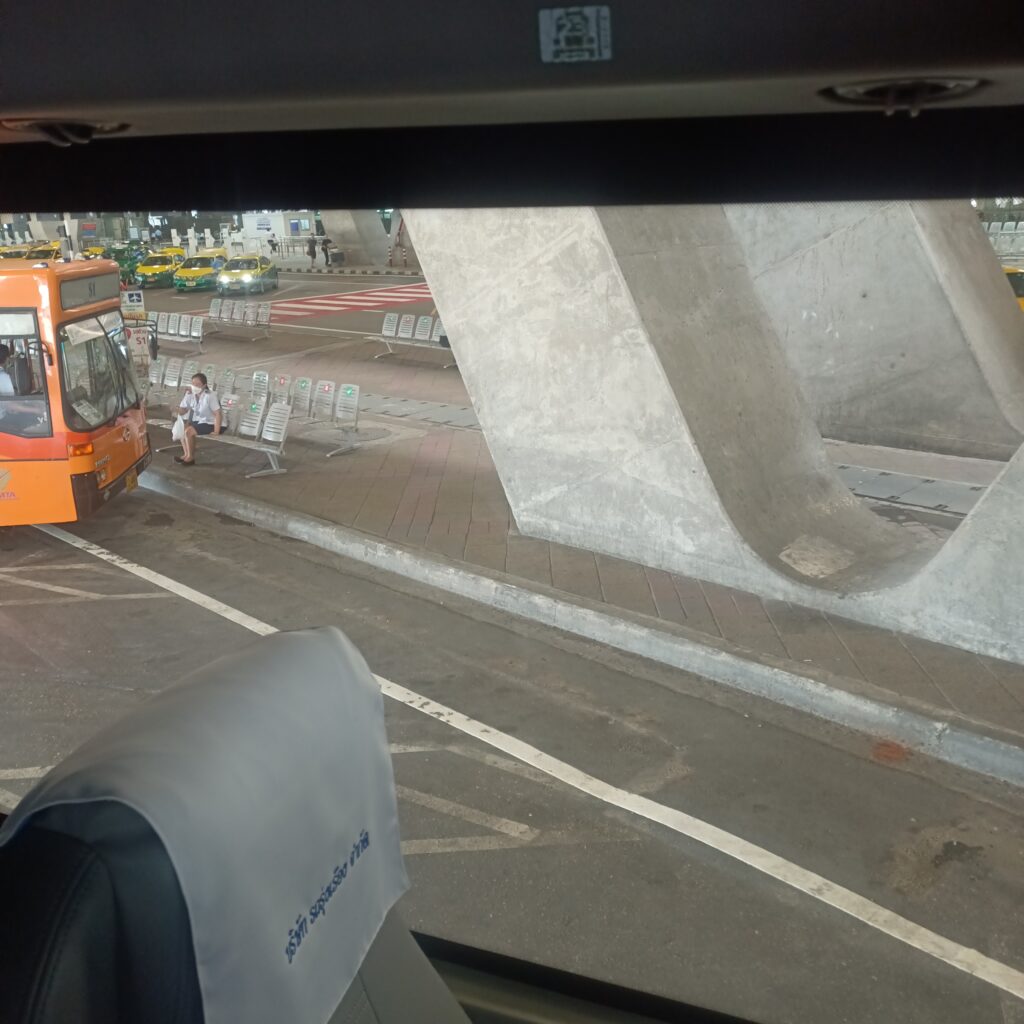 Find your seat number at overhead baggage space. This time, my seat No. 23 was at hindmost next to toilet box. So it means maximum passenger is allowed 23 persons per bus.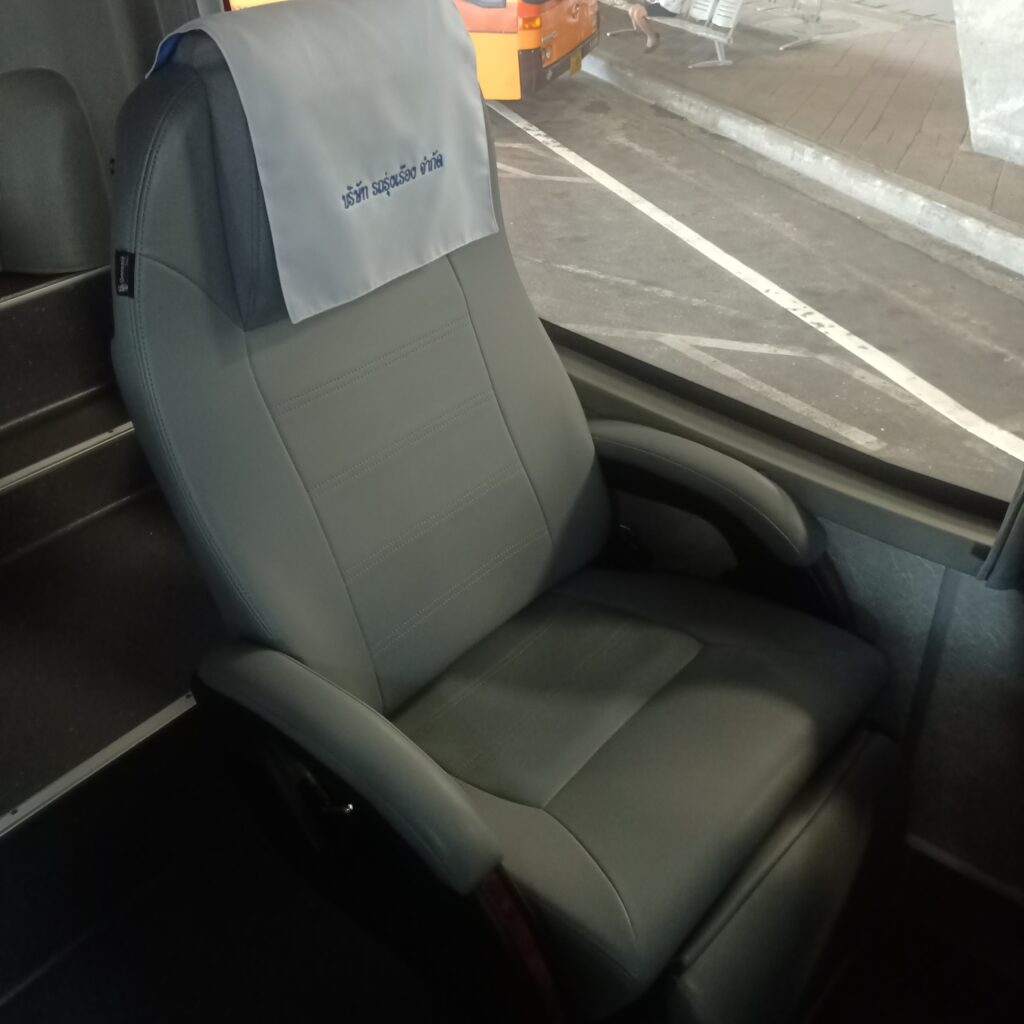 My seat was next to toilet box.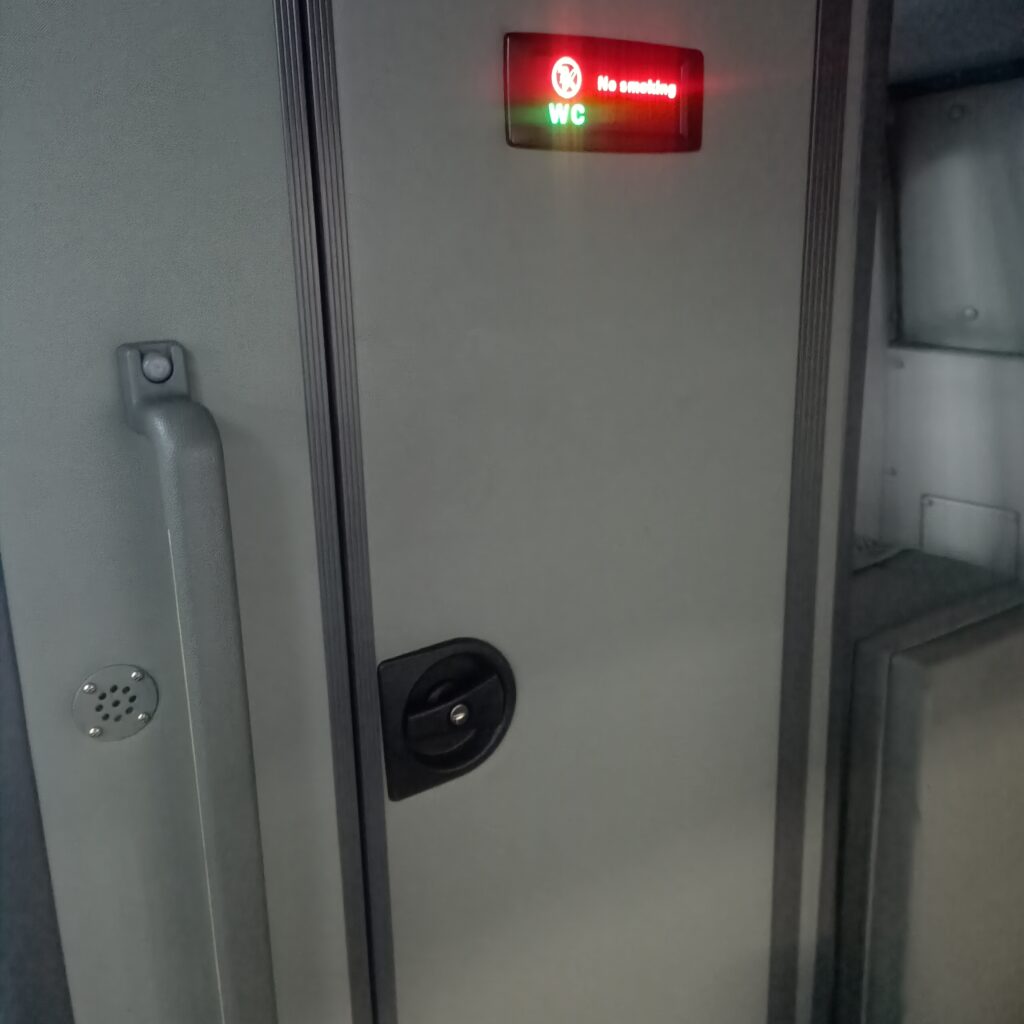 Bus with toilet box is well maintained and clean unlike Pattaya bound bus. Toilet paper is also ready for use. During bus trip, bus conductor lady sometimes come to check the toilet and clean several time.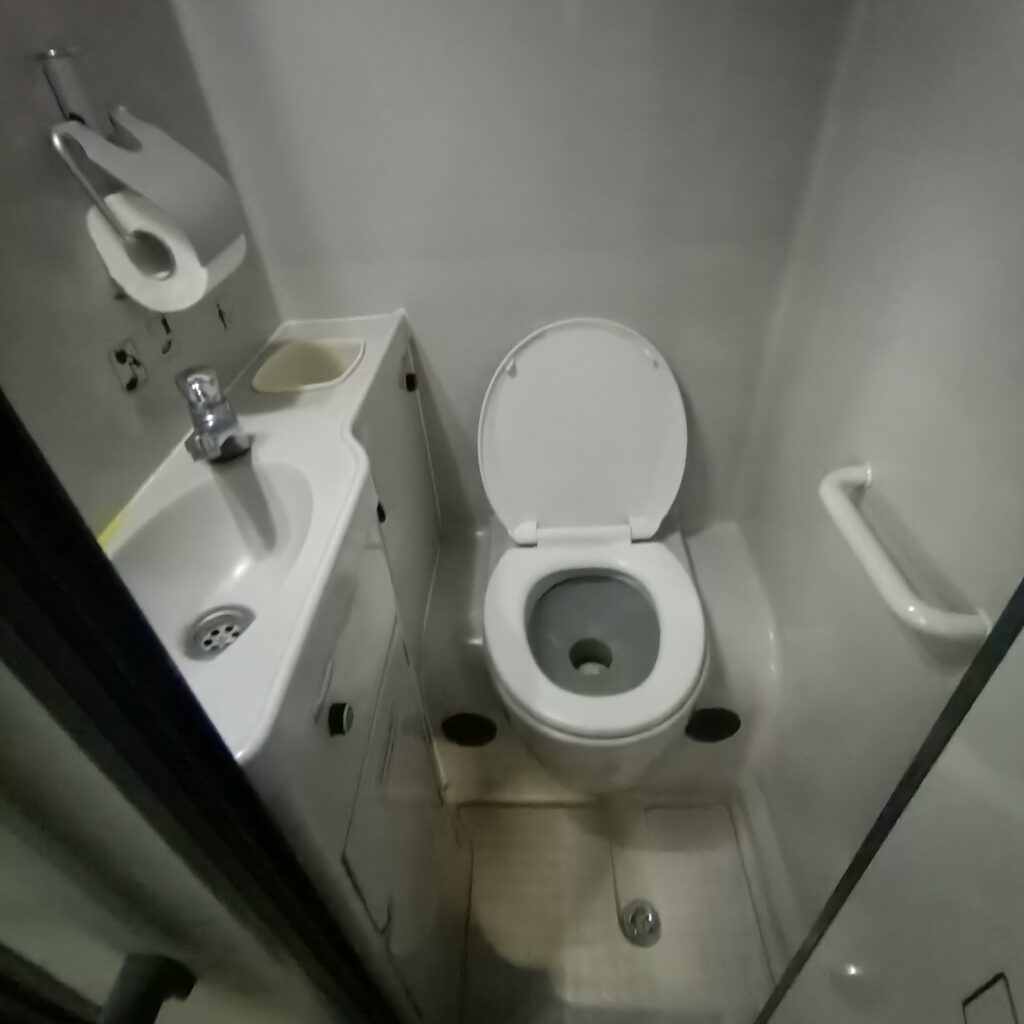 To see how it look like toilet box for Pattaya route bus, please see my travel log below.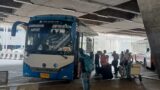 Bus from Suvarnabhumi airport to Pattaya. Price and schedule updated on Aug, 2022
From May 1st, 2022, PCR test package booking is no longer required so more and more tourists expect to be back to Thaila...
Overhead baggage space for small bags.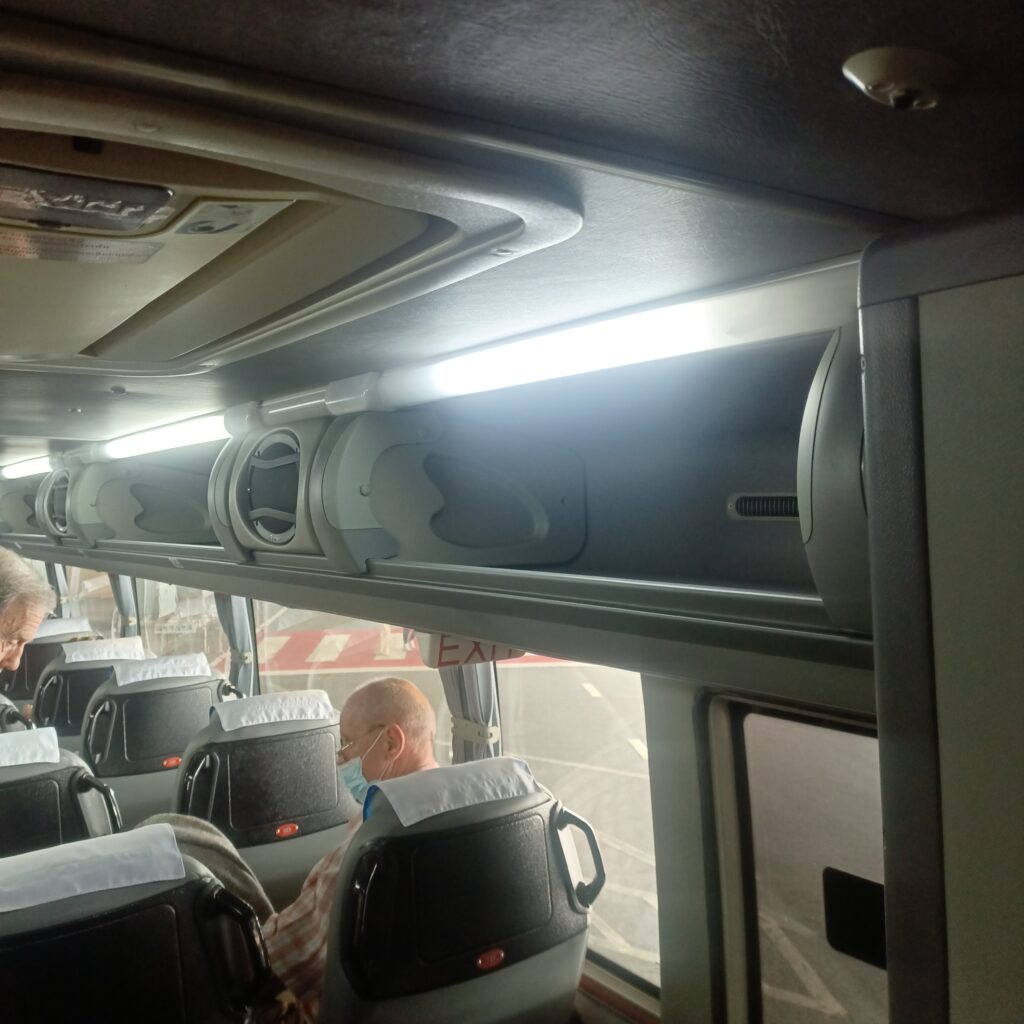 Bus conductor lady bring water bottle to all passengers for free.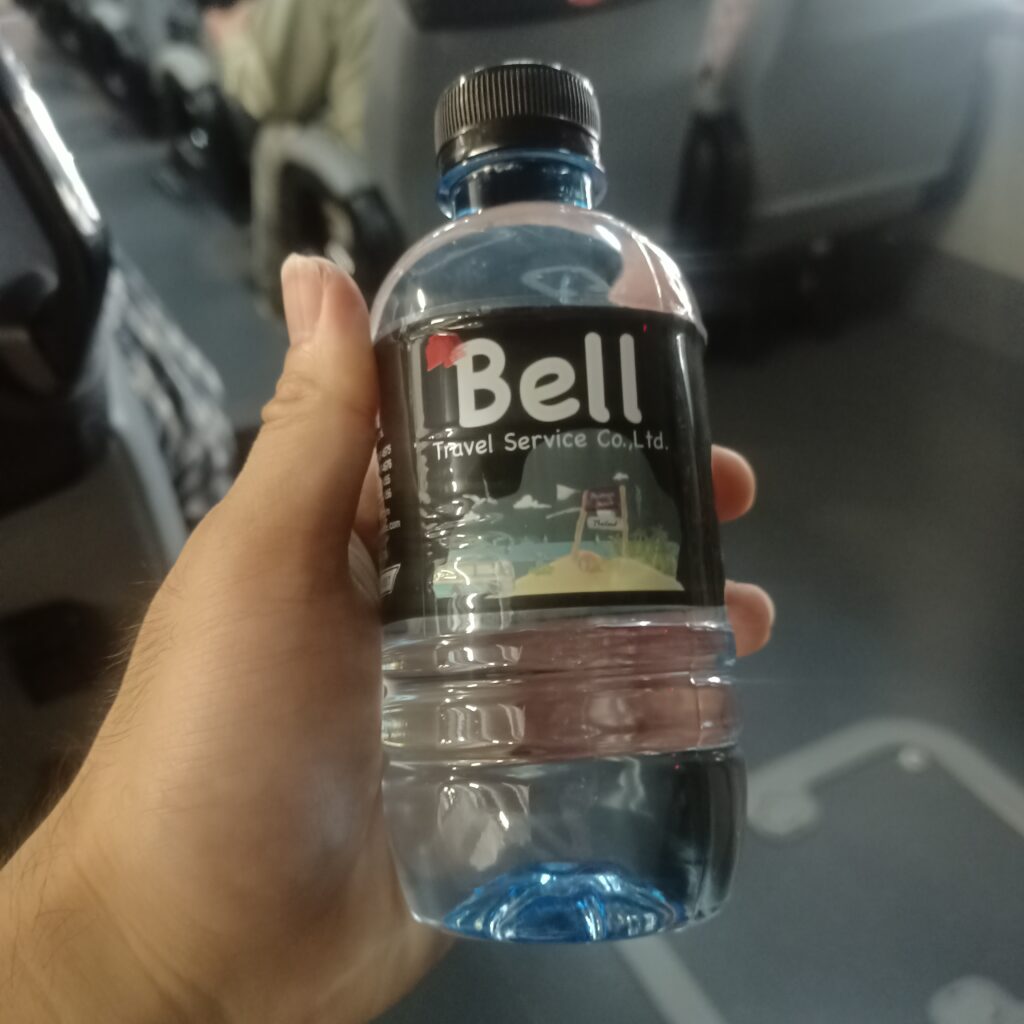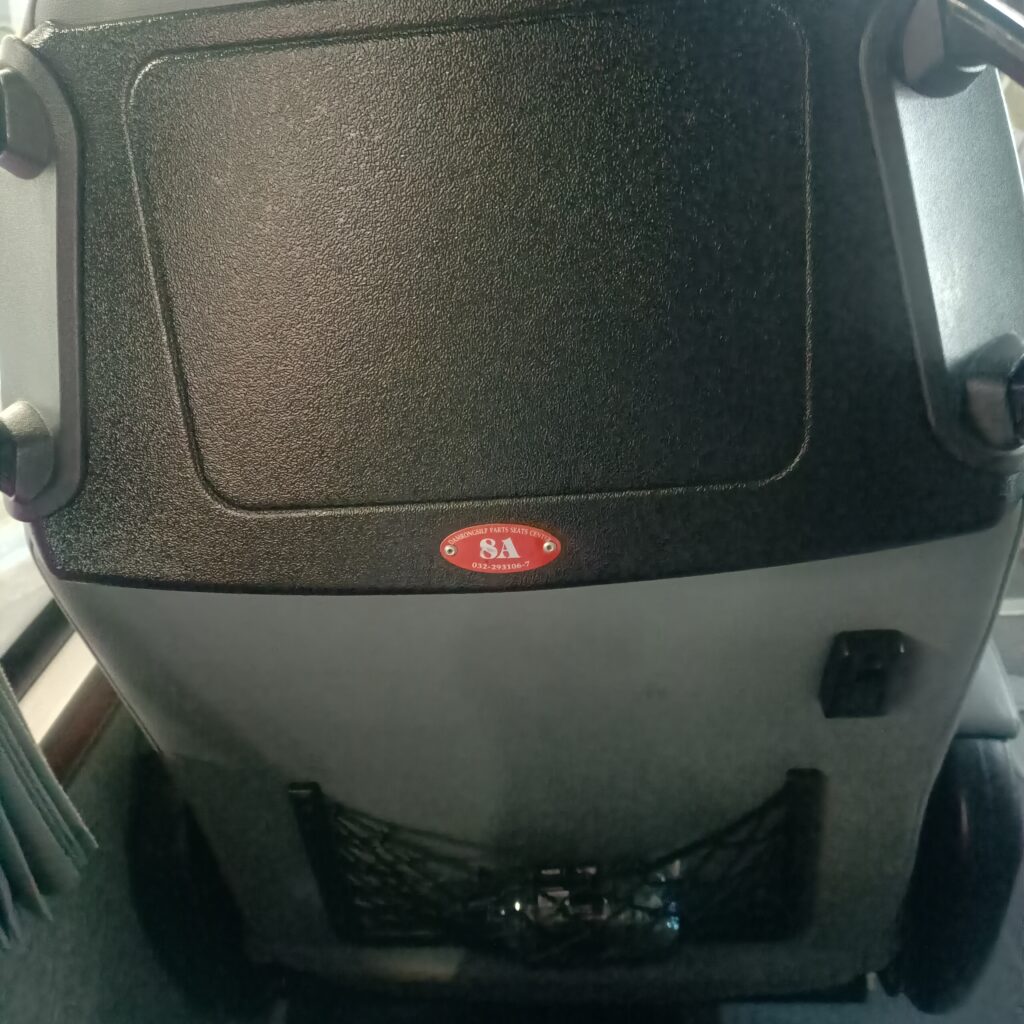 Foot rest will reduce tiredness during long trip.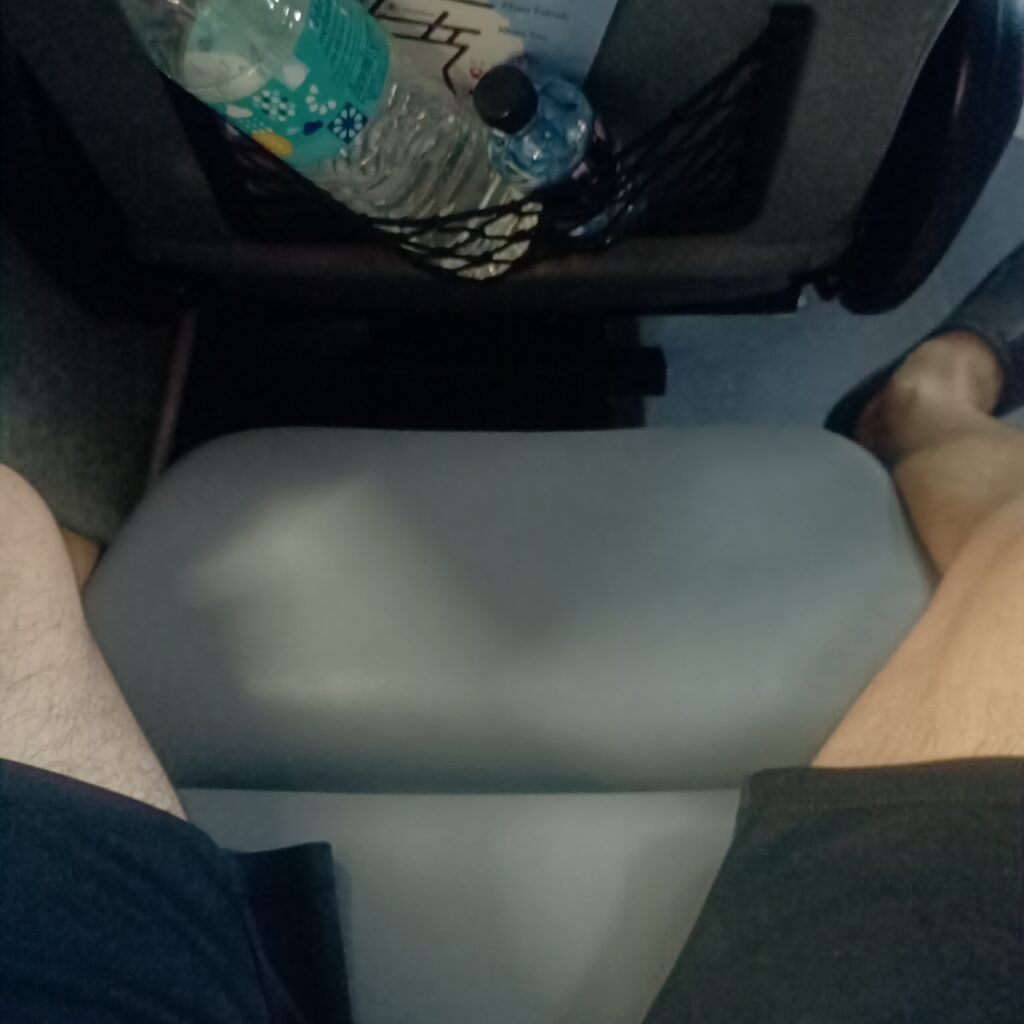 Bus conductor lady comes to each passenger to ask which hotel they stay so that bus company arranges minivan from bus terminal to their stay 100THB per pax. Bus will arrive at bus station in Hua hin which is 5 km away from city center. Based on my research, there is Songteaw to city center in Hua hin just for 10THB so I will try this cheaper way. I gently declined minivan offer this time.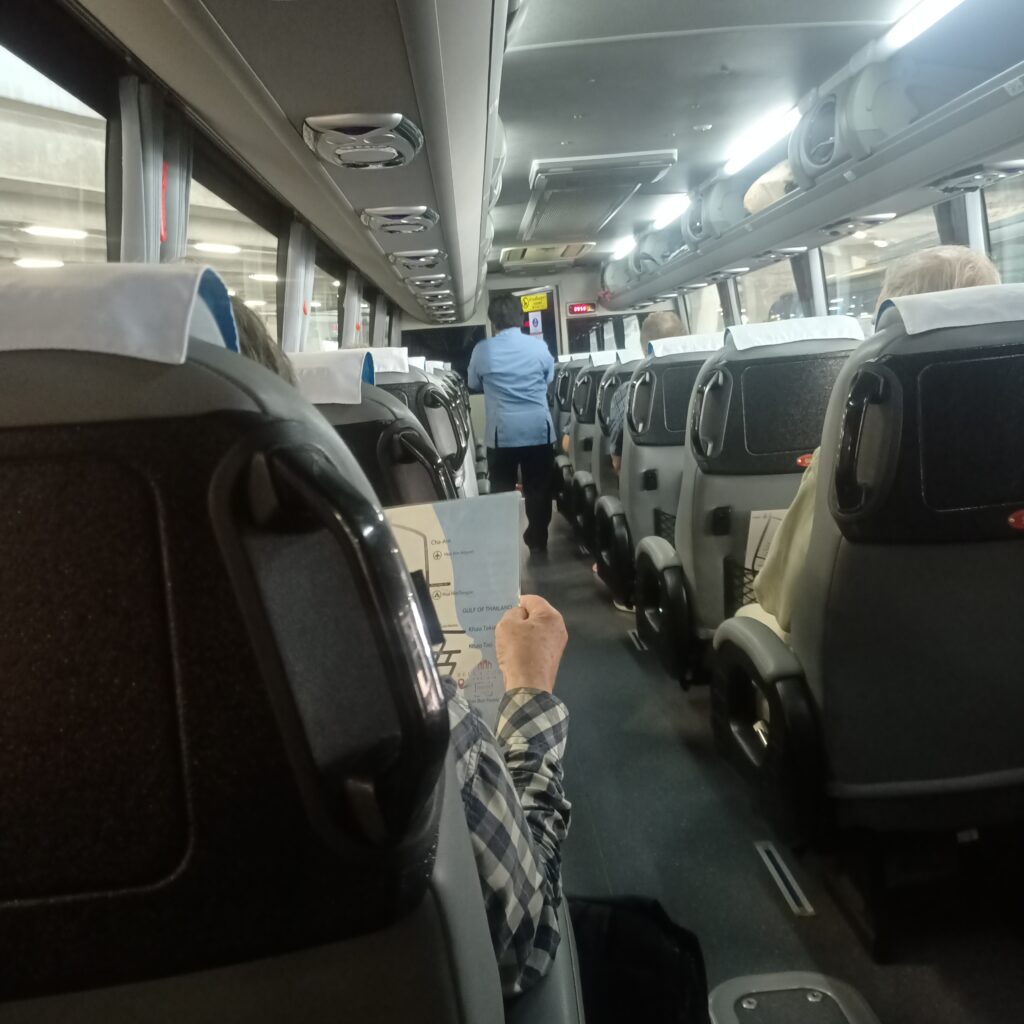 Advertisement sheet.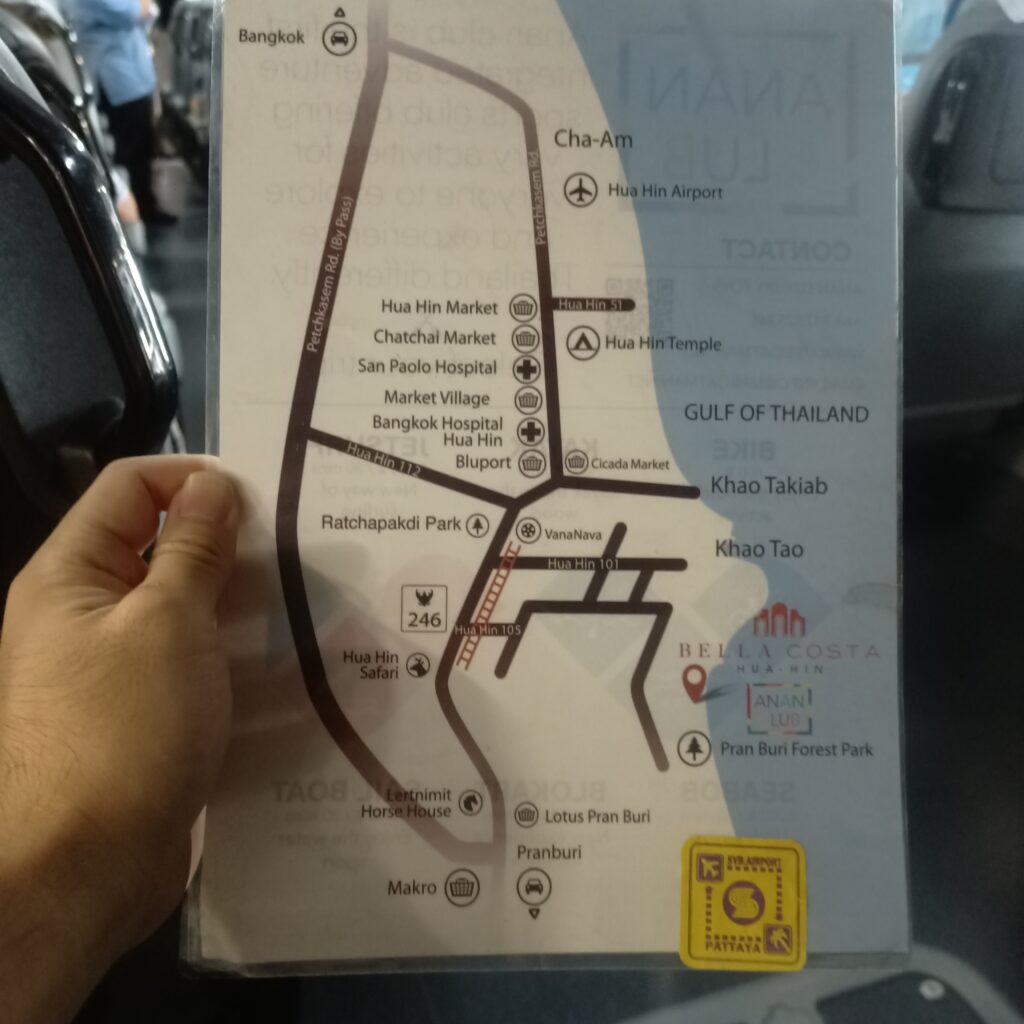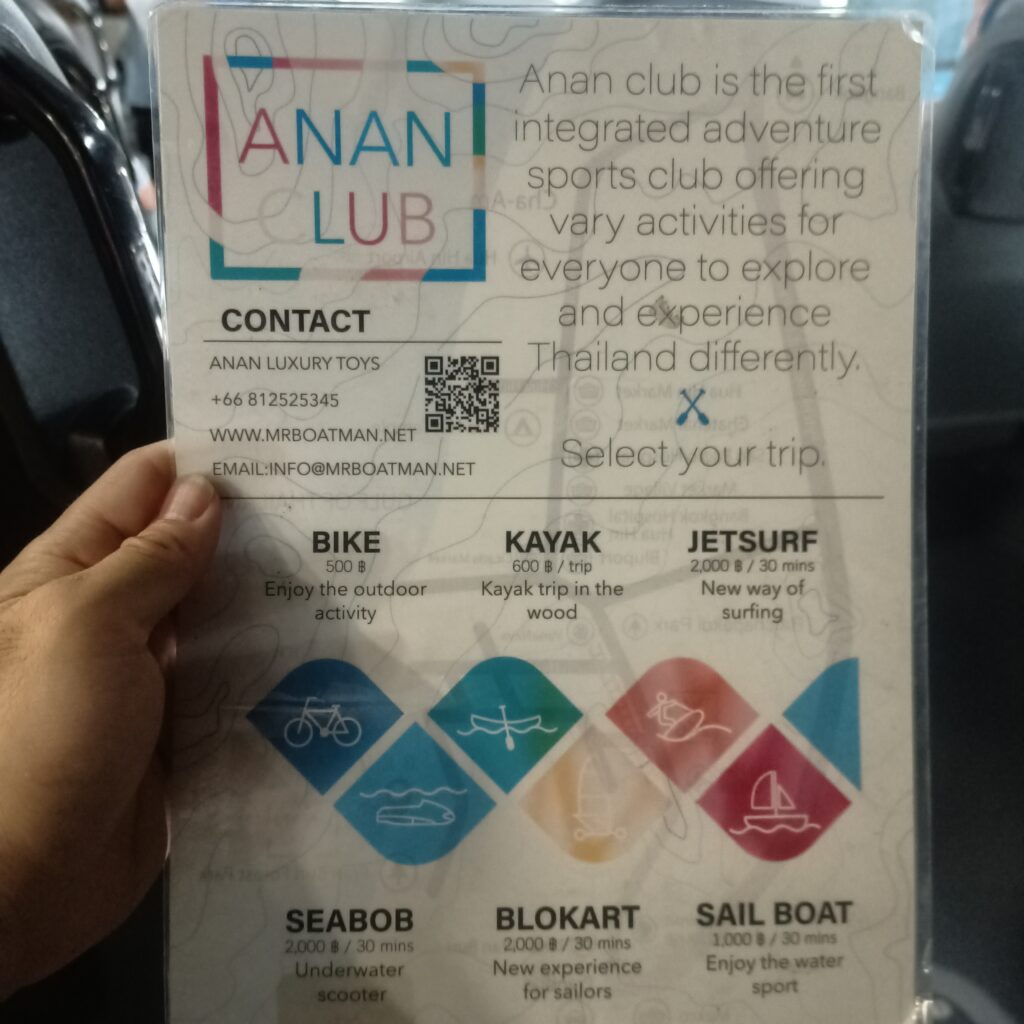 With seatbelt buckled, bus departed at 10:03am from Suvarnabhumi airport. Passengers are around 40% full only.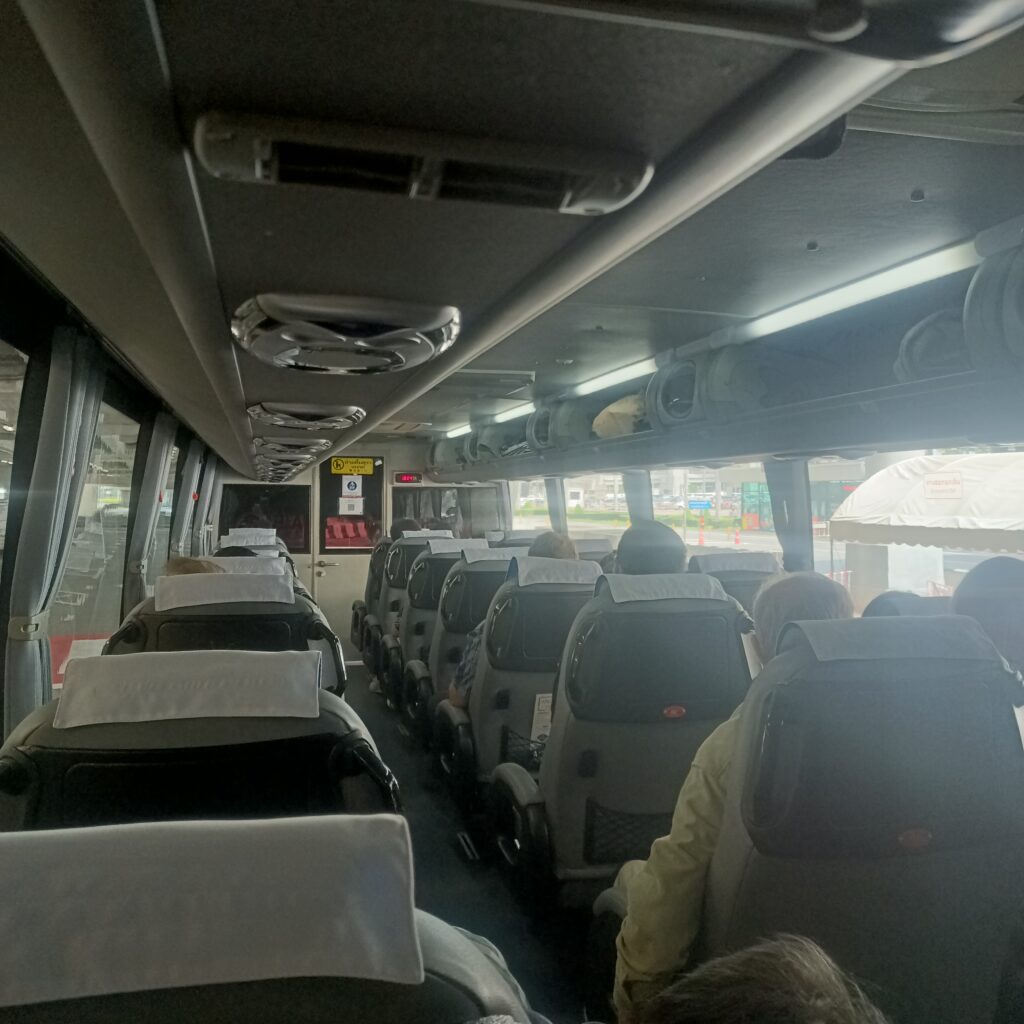 Big clear window receiving sunshine from outside, that is comfortable for me and also for other western passengers. Nobody closed with curtains.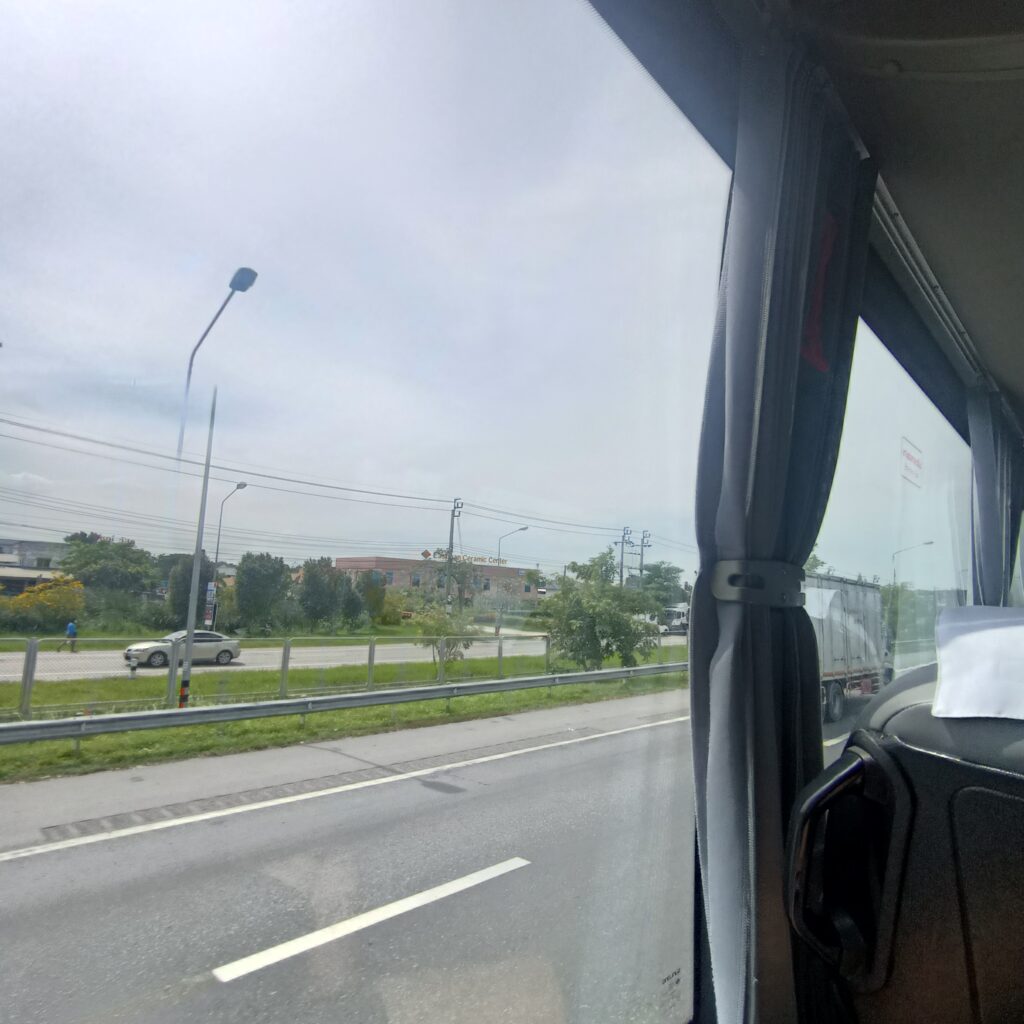 After an hour trip, Bus came to cross Chao Phraya river. It seems like they are building another bridge here. Trip continues more.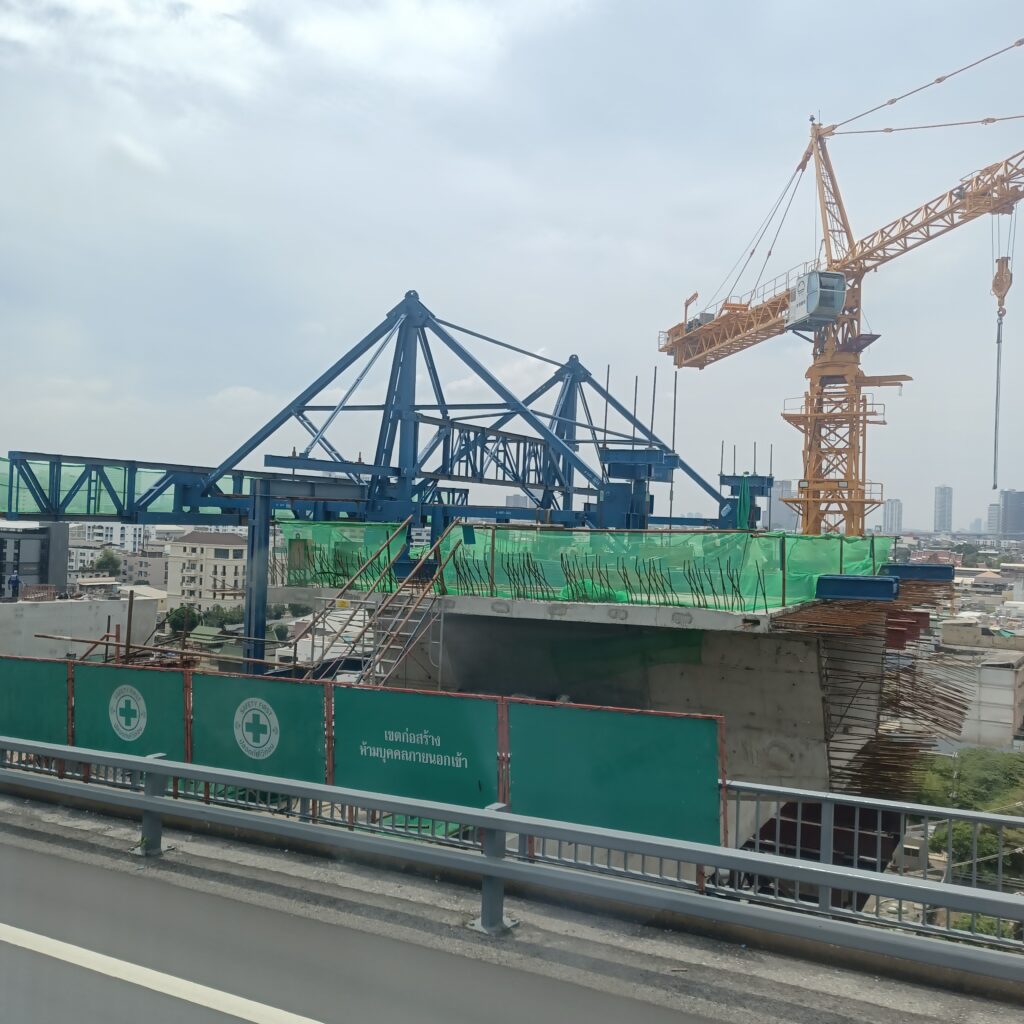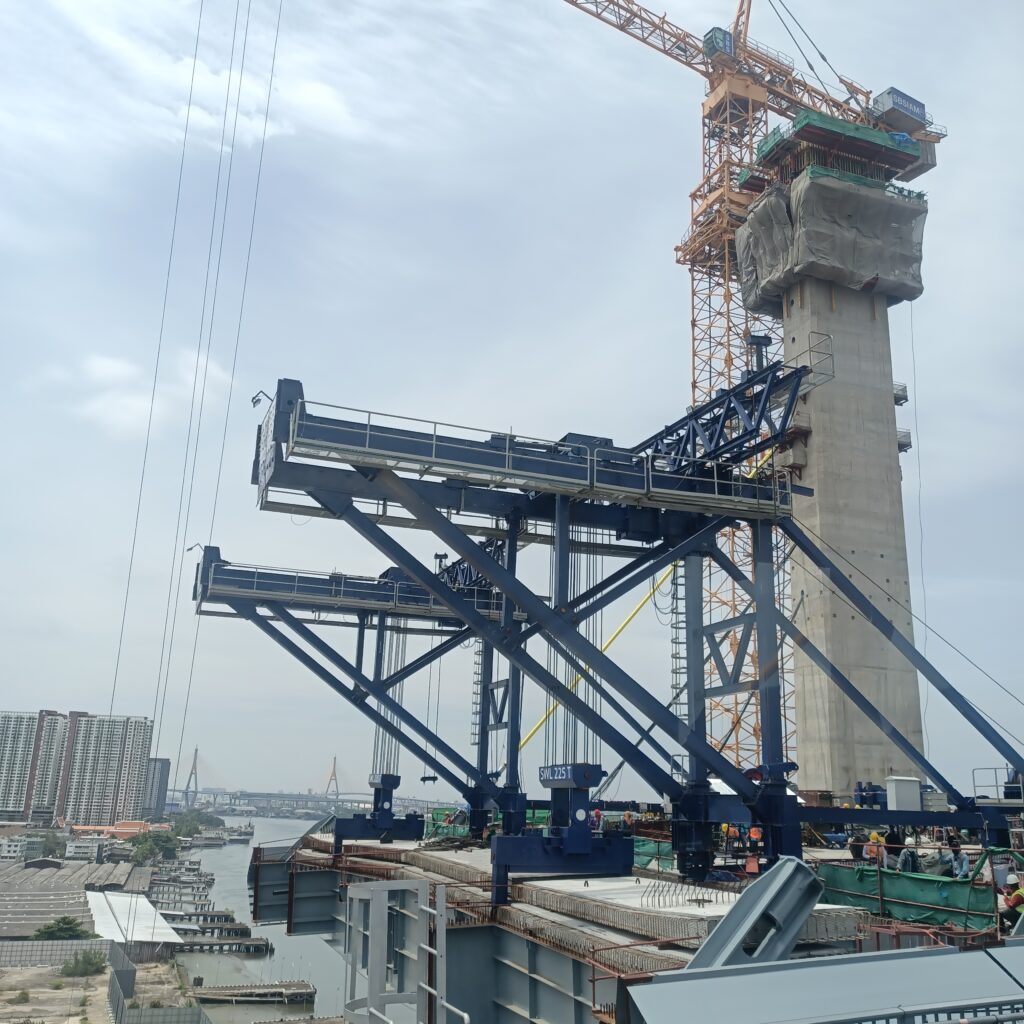 Entering Petchaburi province, you will see this kind of rock formation on the road side.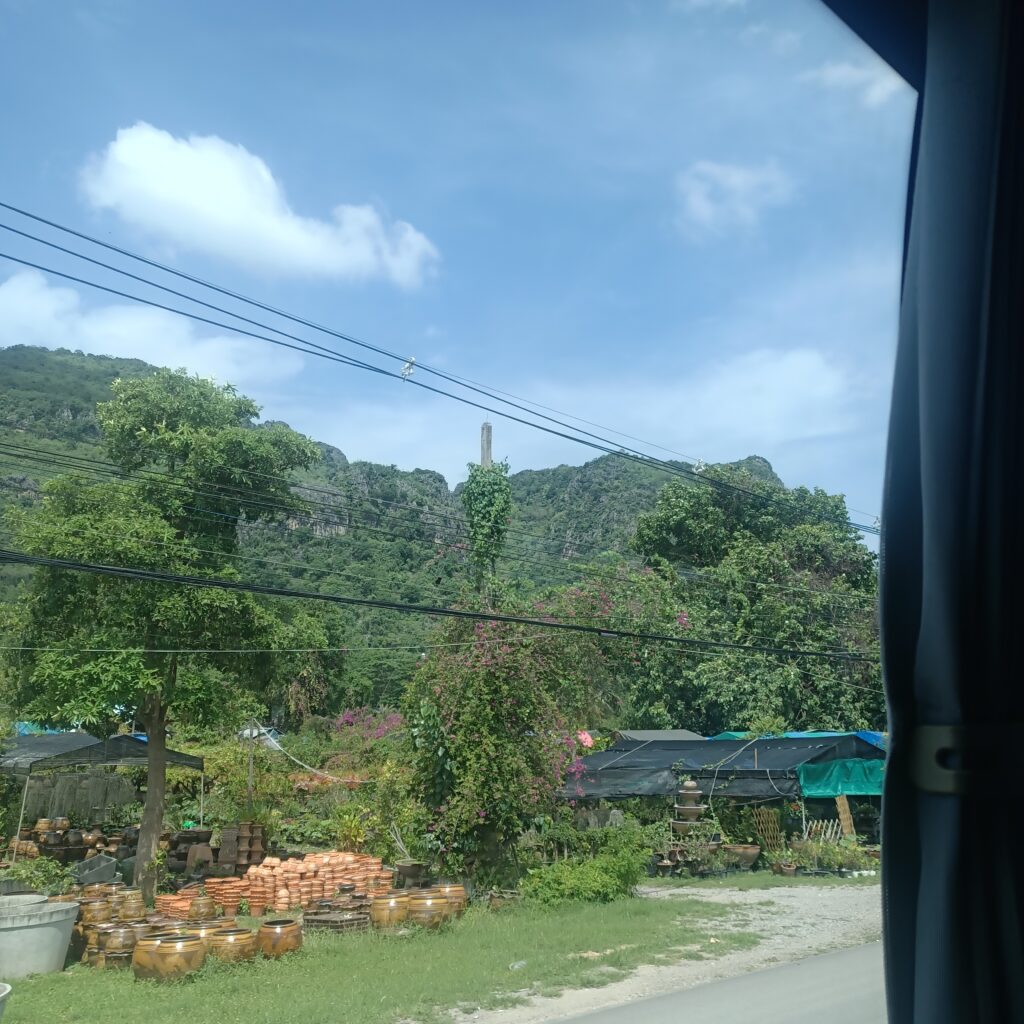 14:02pm. Exactly 4 hours from departure, Bus stops in front of Bangkok bank near Chaam beach. one group dropped here.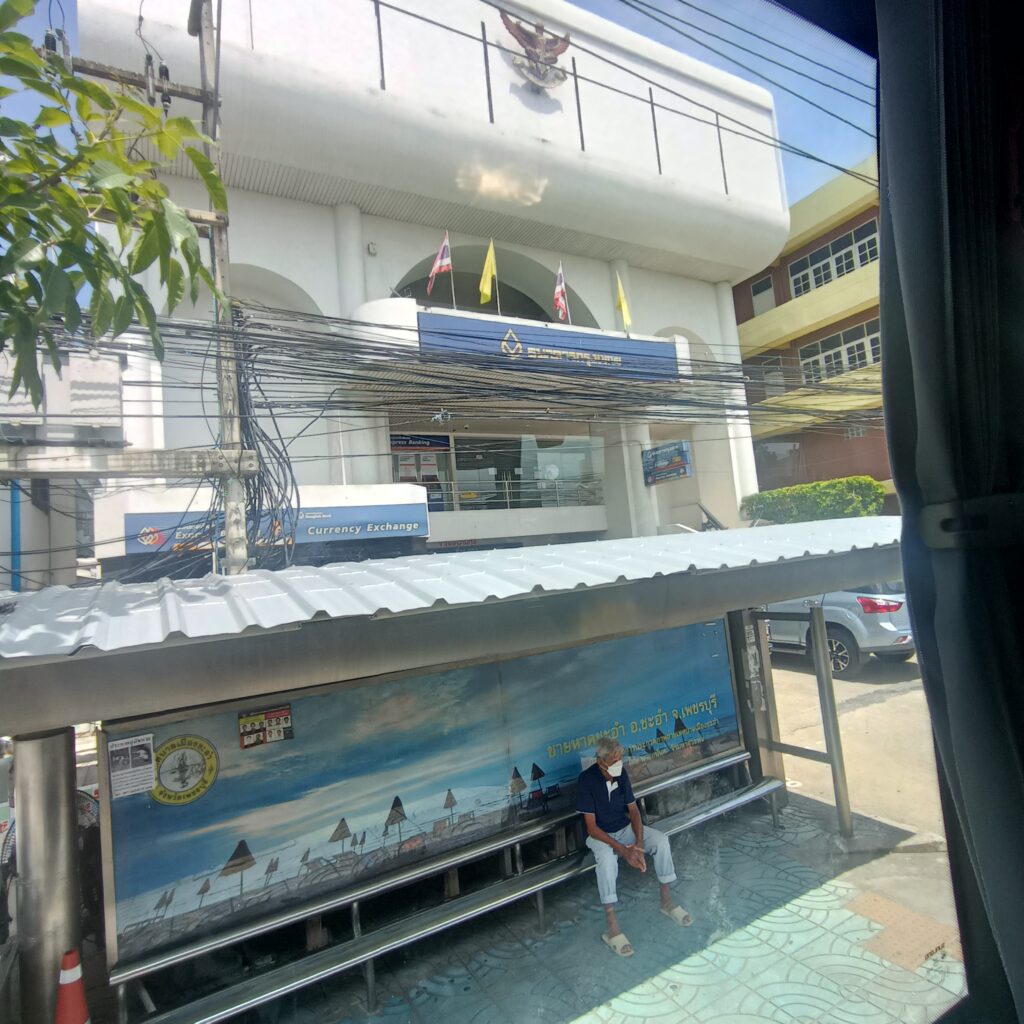 Motor bike is ready for passengers to bring.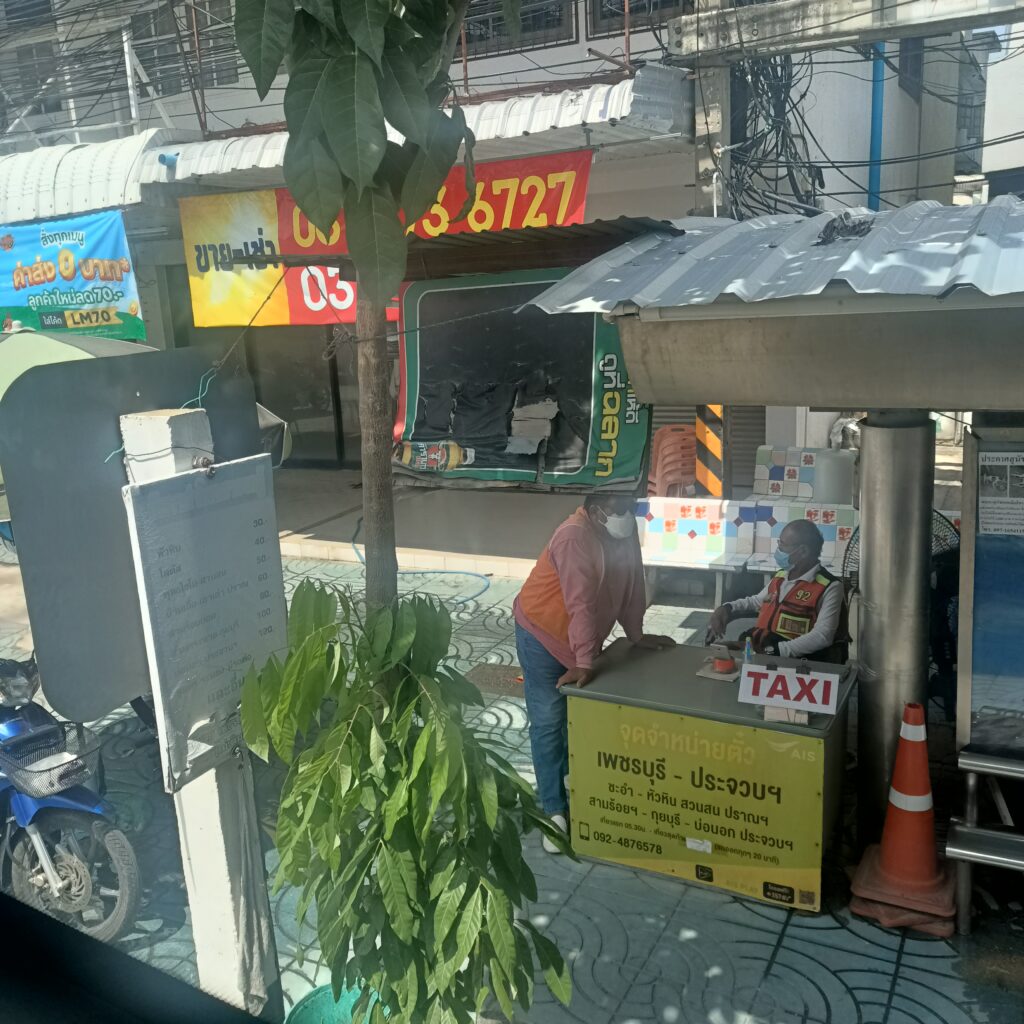 Another 20 mins to bus terminal at Hua hin. Total traveling time from Suvarnabhumi was 4 hour and 20 minutes.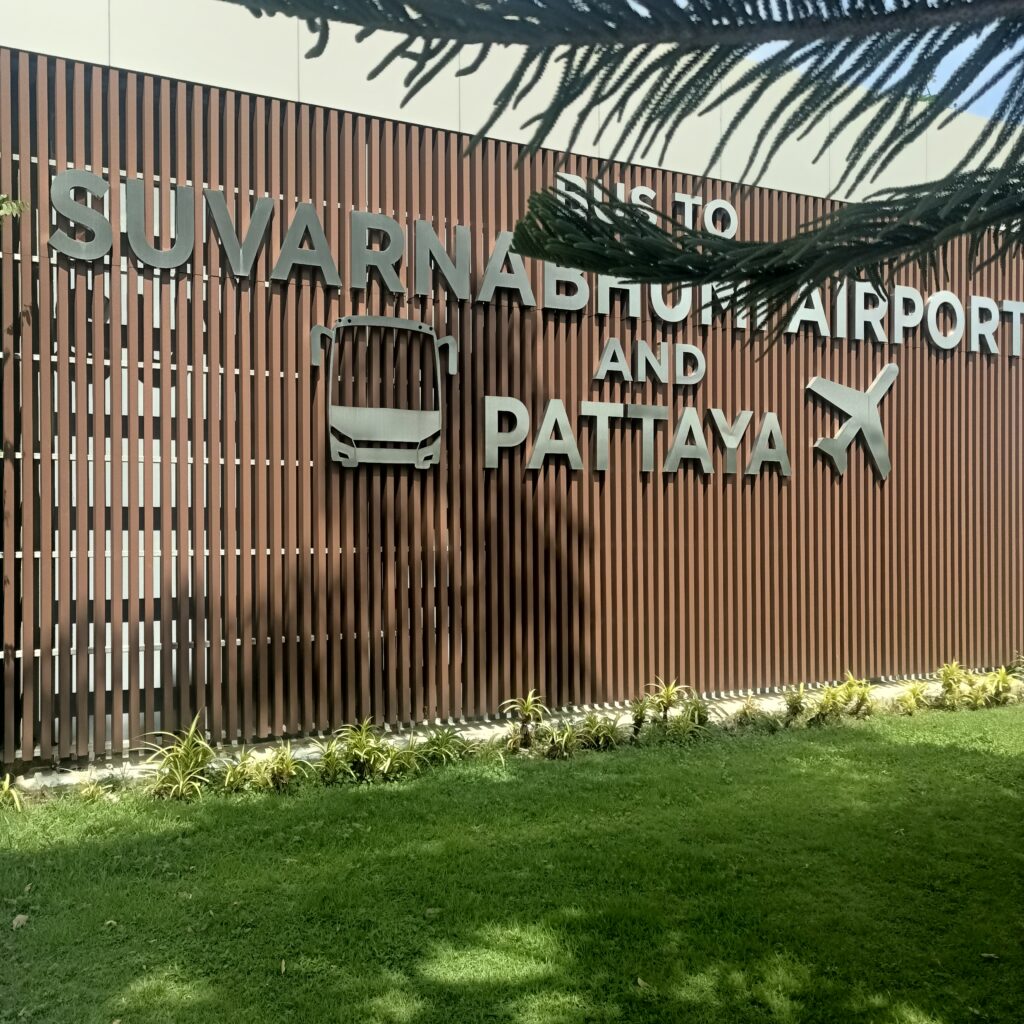 Minivan service to your hotel in city center is available for 100 per person, if you need it, you can ask bus conductor or ticket counter staff.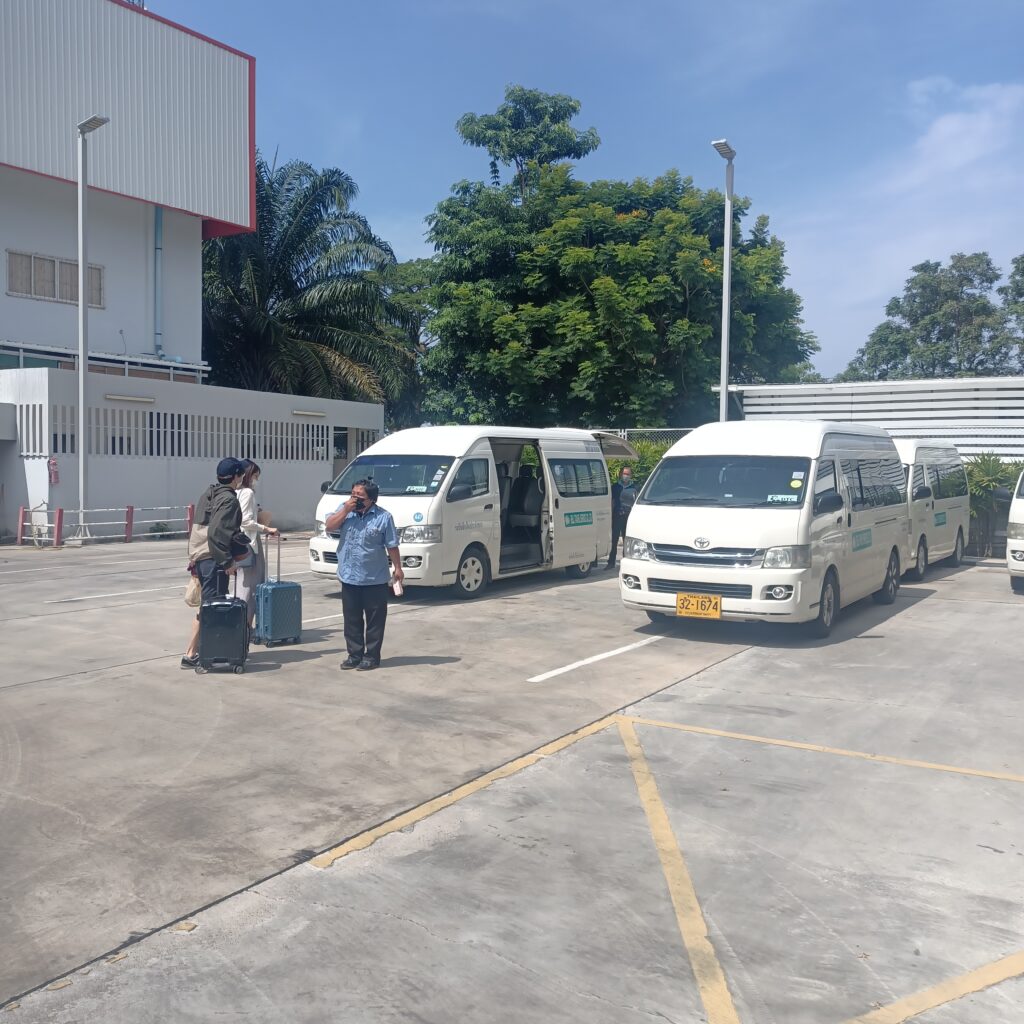 Below photos are facility inside bus terminal.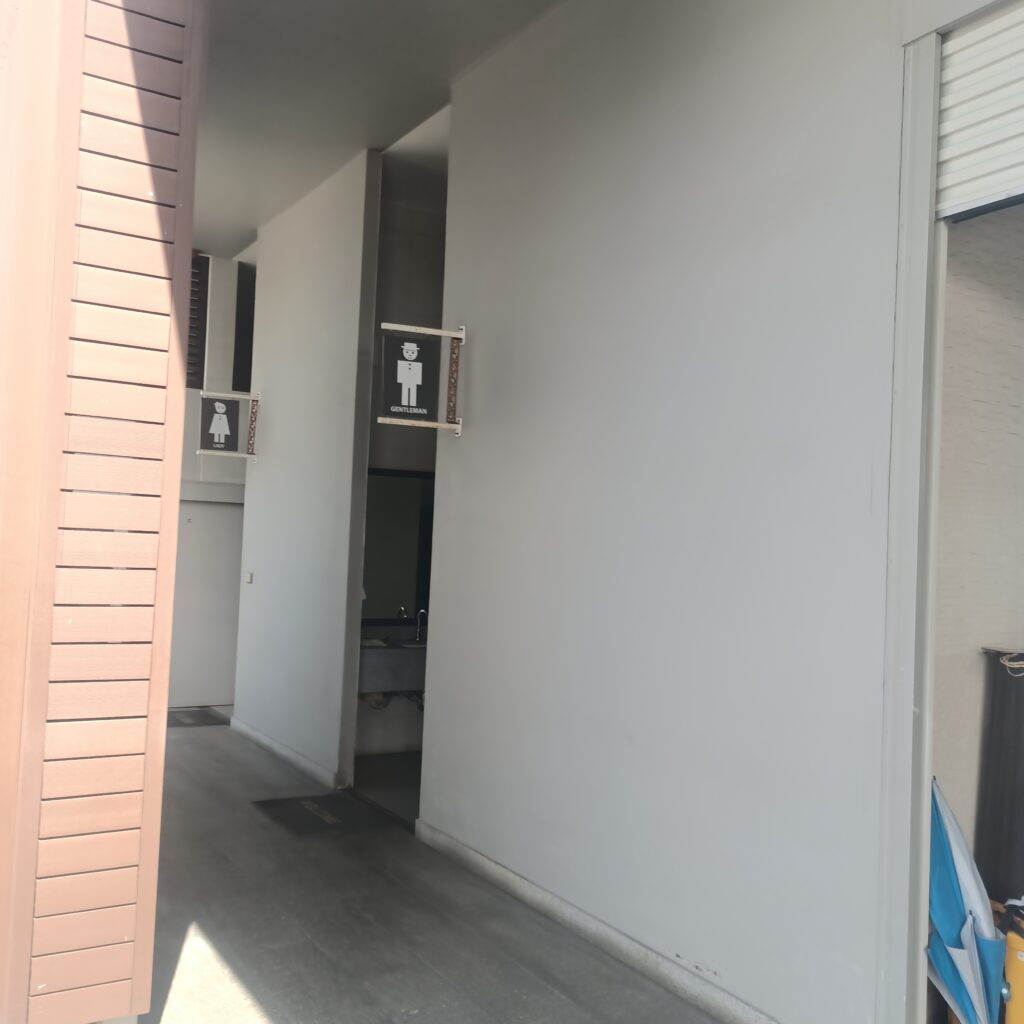 Waiting area for bus.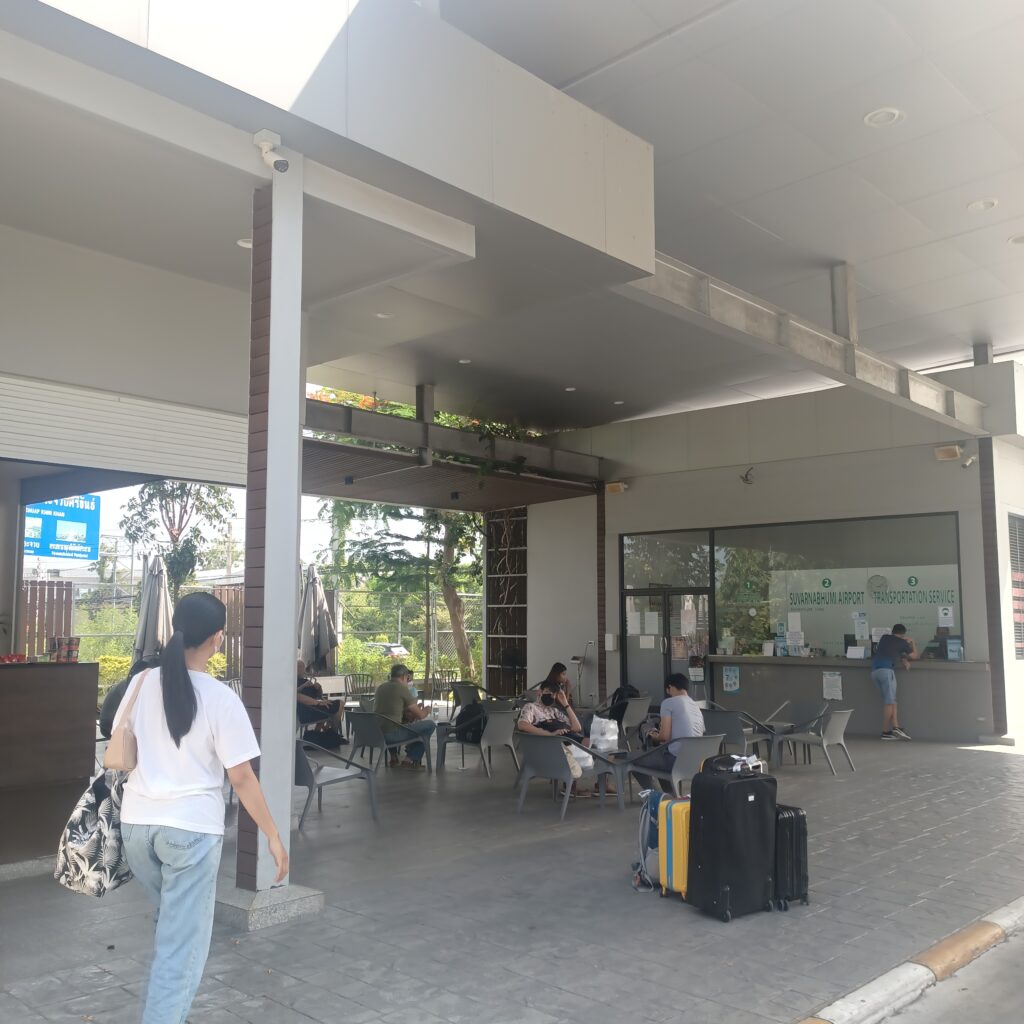 Drinks and noodles can be purchased at the terminal.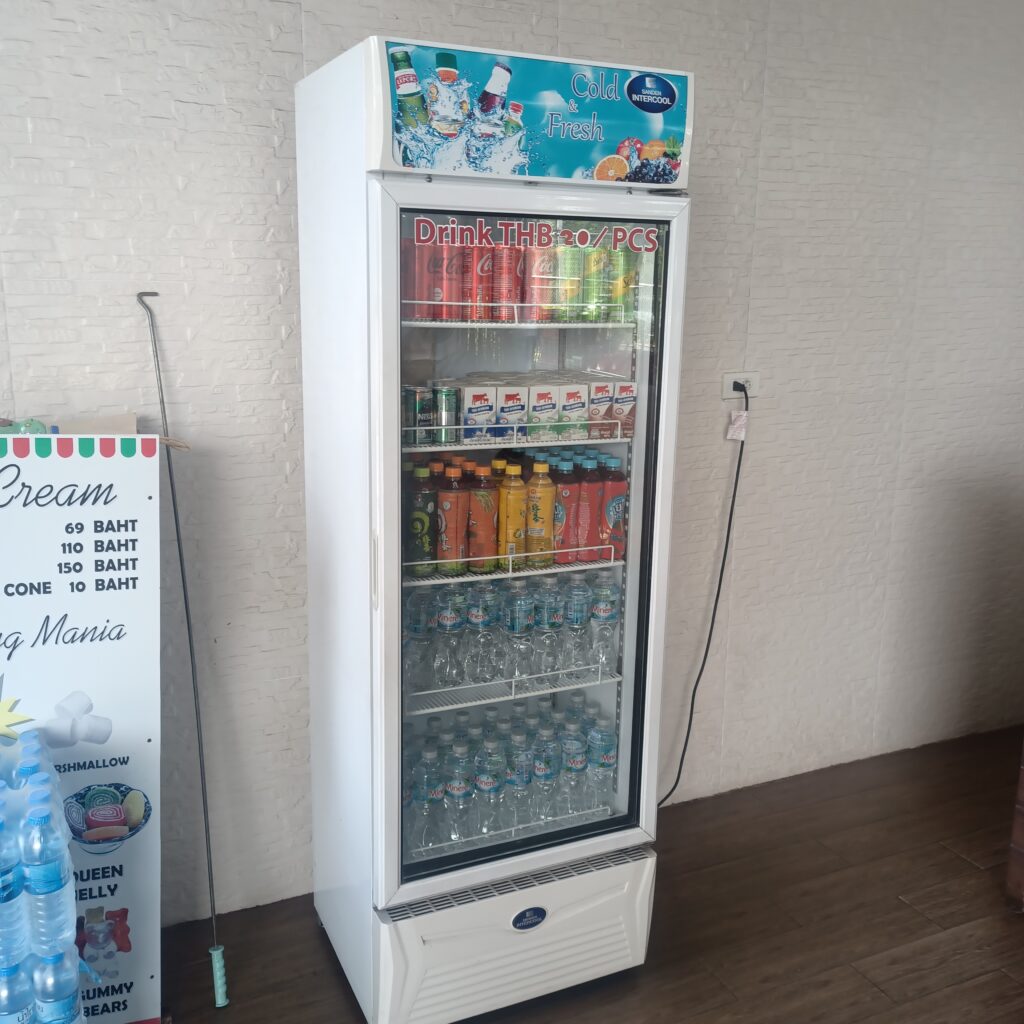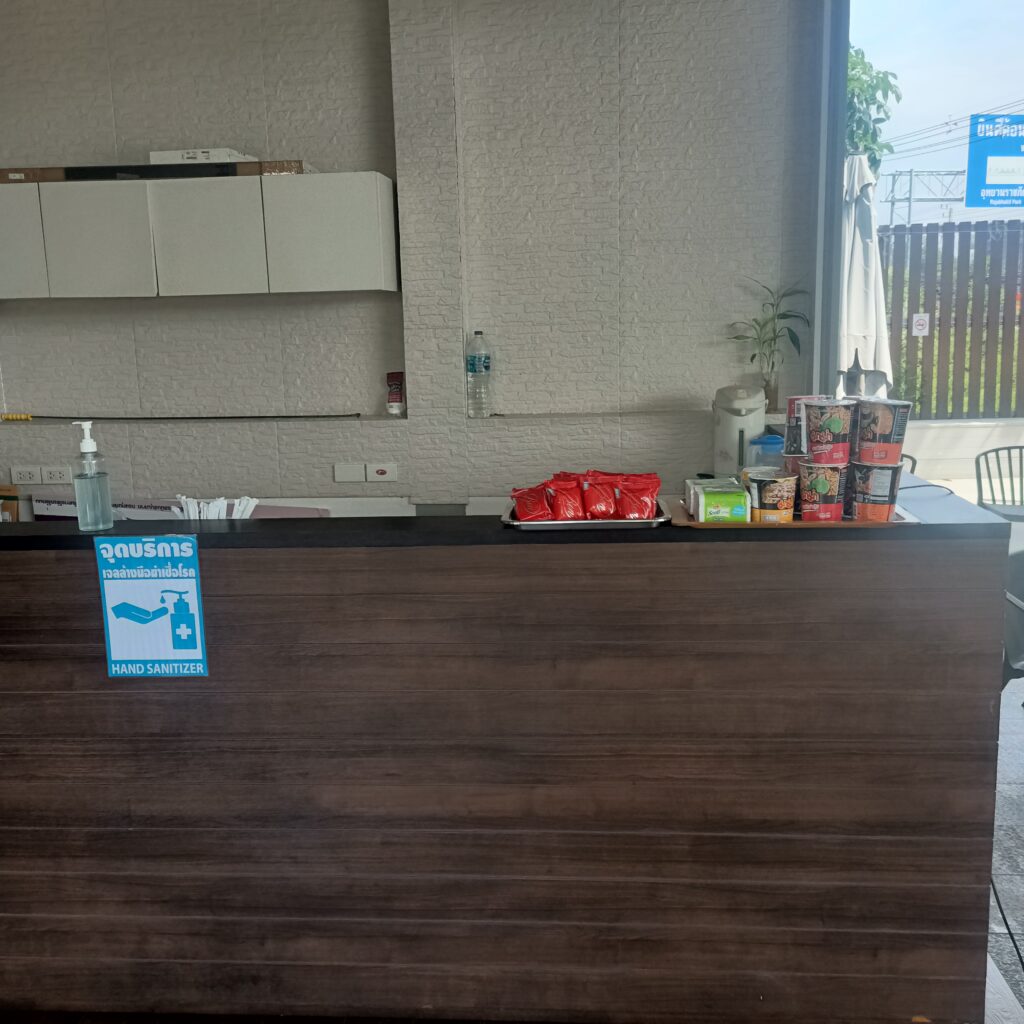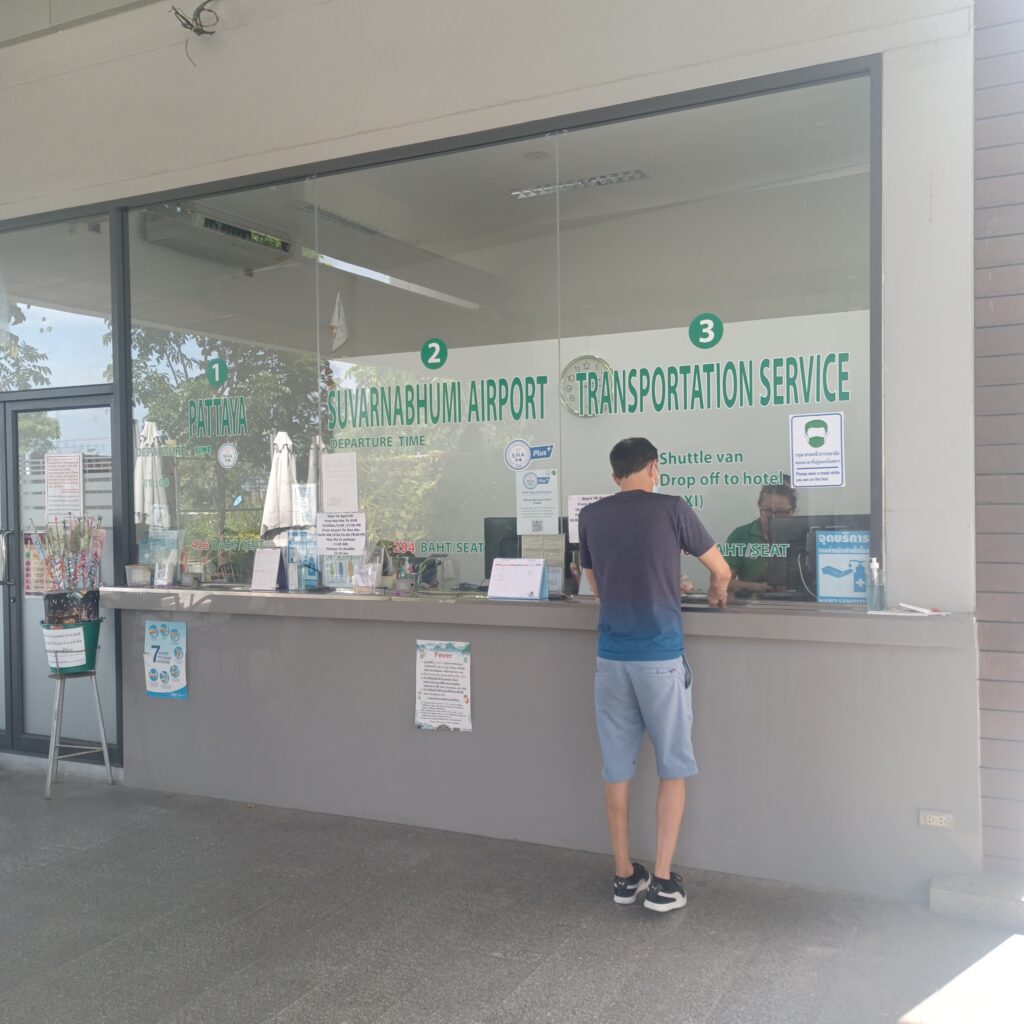 From Hua hin to Suvanabhumi airport, 3 times service per day is available; 10:00, 14:00 and 17:00.Bus fare is same as incoming trip, 294 THB.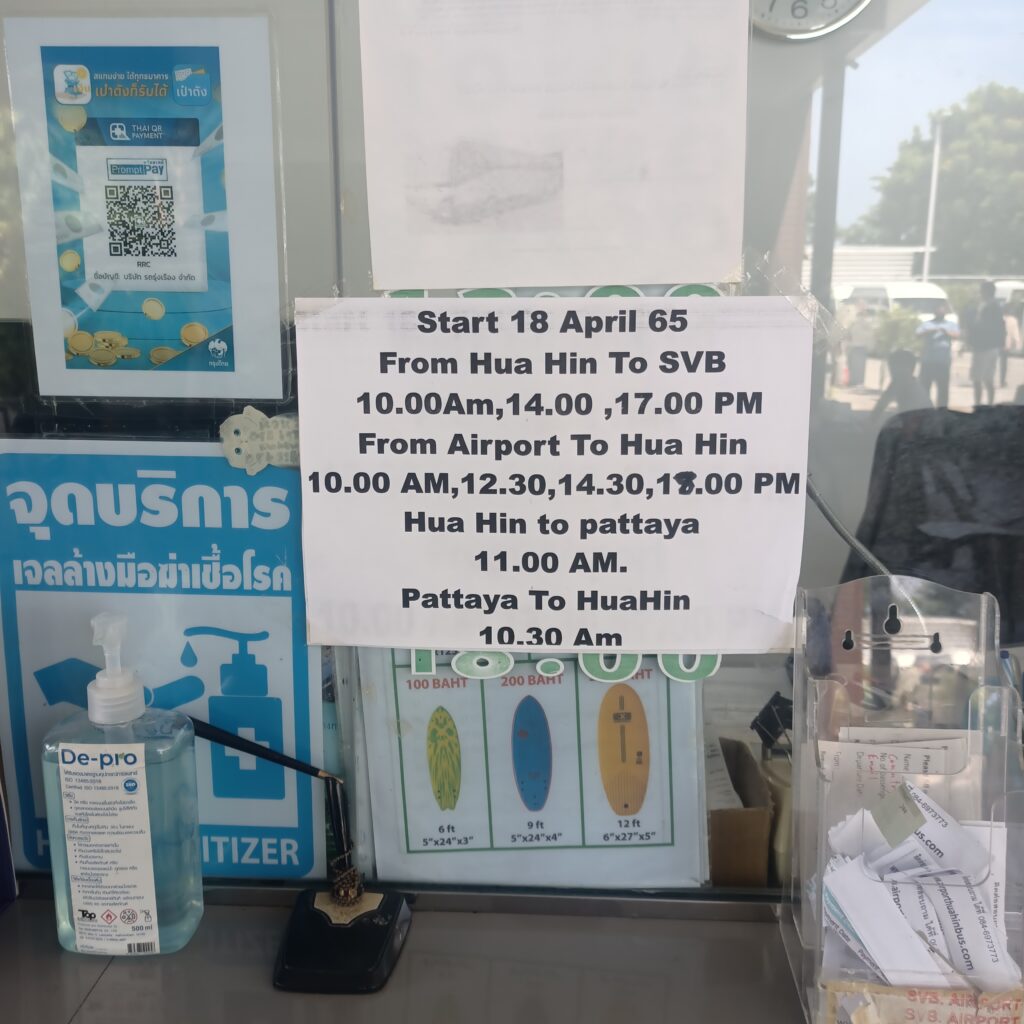 Direct trip from Pattaya to Hua hin is also available one trip per day. Cost is 426 THB per trip. Trip from Hua hin starts from 11:00 while from Pattaya, 10:30 is departure time.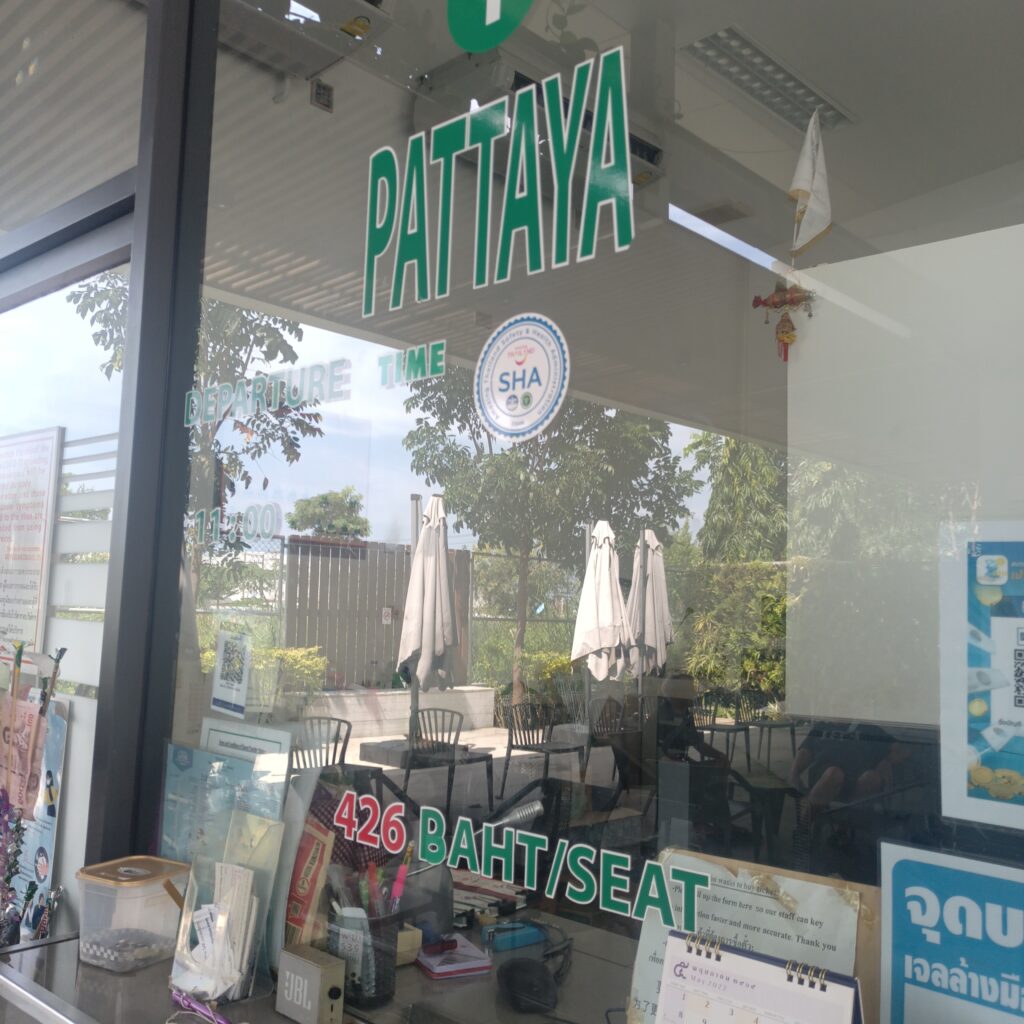 This time, as I mentioned, I tried Songteaw not minivan service from bus terminal. Once you get out from bus terminal, you can walk to south a bit to see Hua hin airport. Songteaw can be taken in front of Hua hin Airport.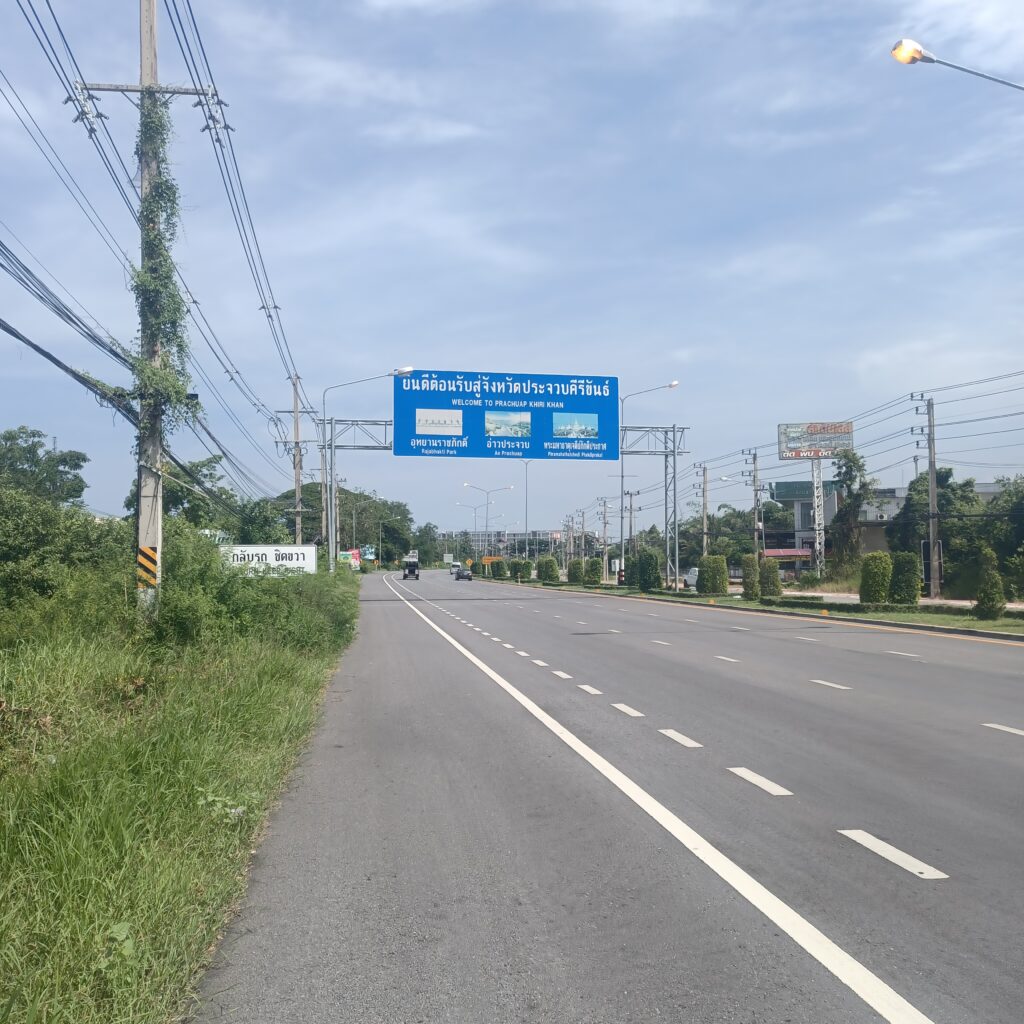 10 minutes walk to Hua hin airport under scorching sun.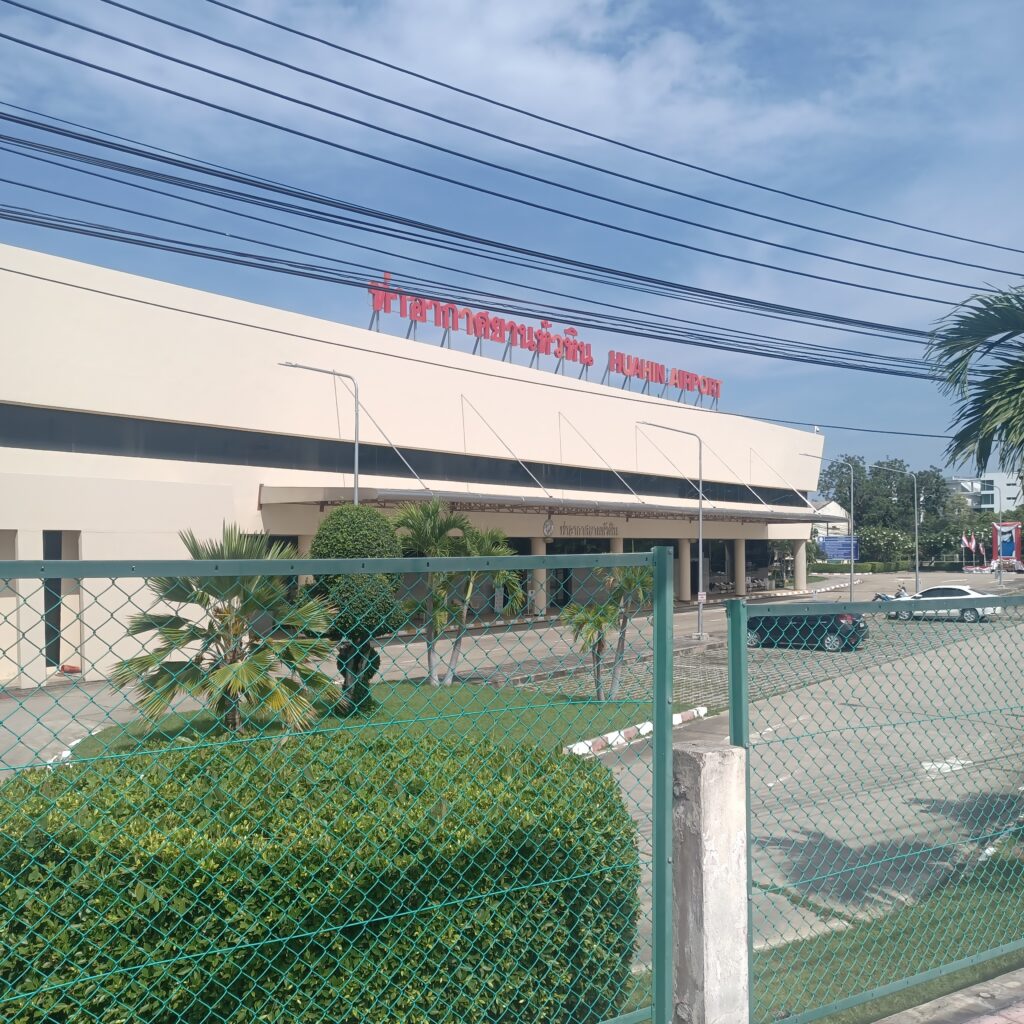 Entrance of Hua hin airport. It seems airport is not operated at this moment.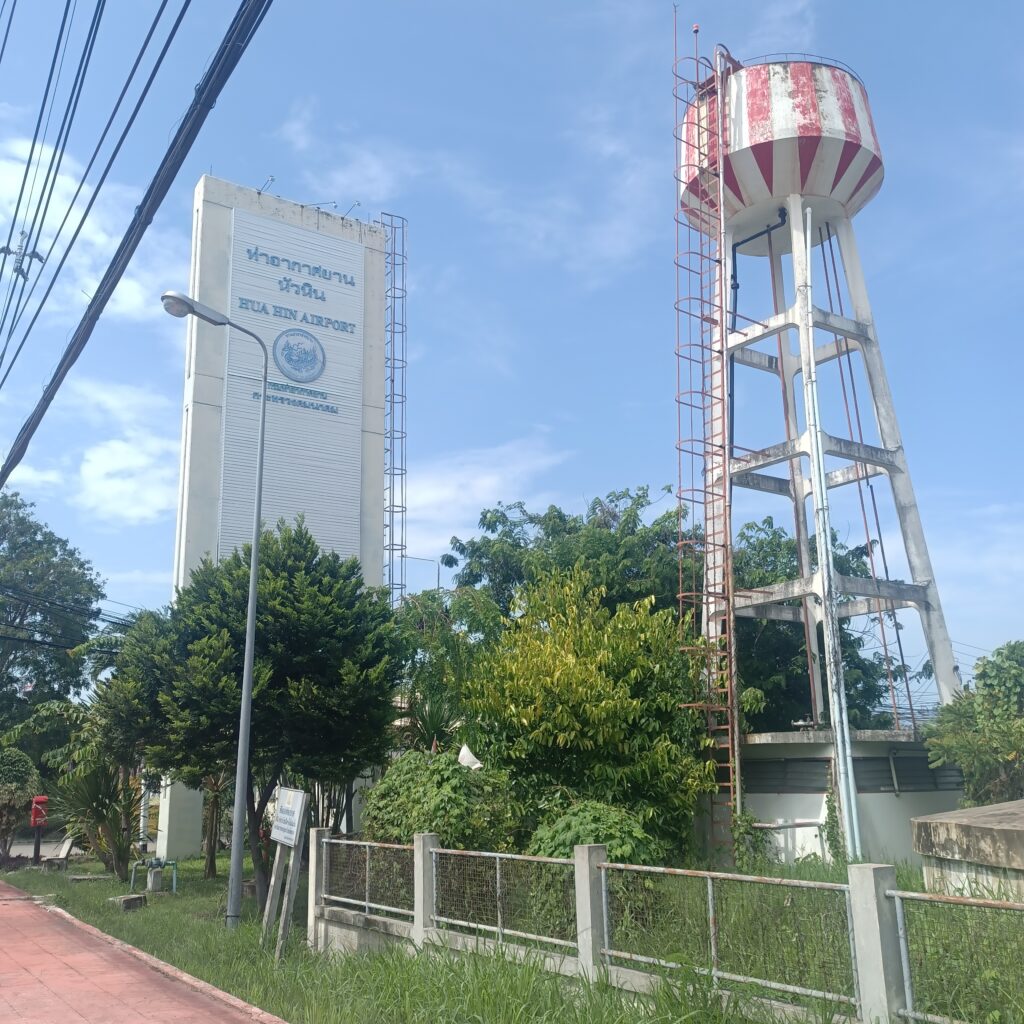 I was waiting for Songteaw in front of this seafood restaurant next to airport. Songteaw just comes to reach here around 10 minutes of waiting.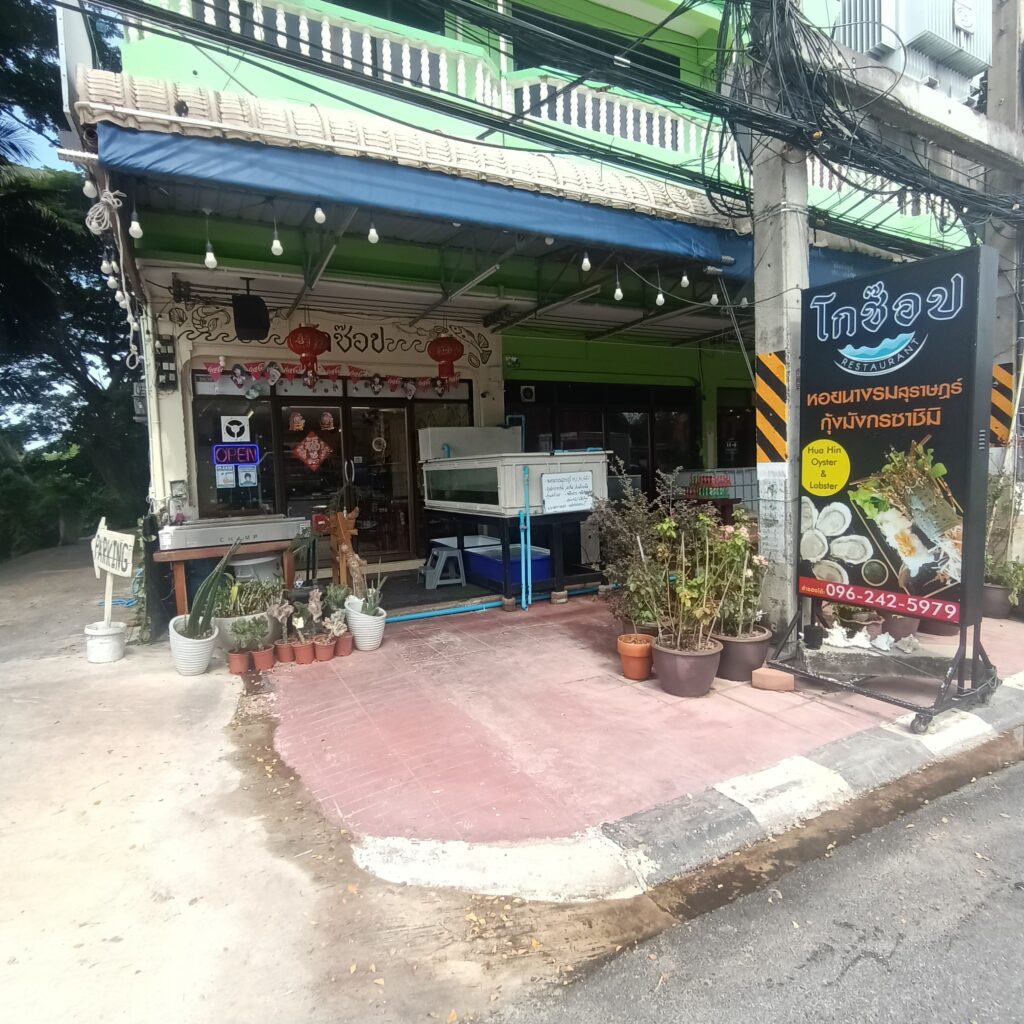 Songteaw takes U-turn before Hua hin airport to go back to Hua hin city center then Khao takiap temple as final destination. Just waive hand to stop for ride.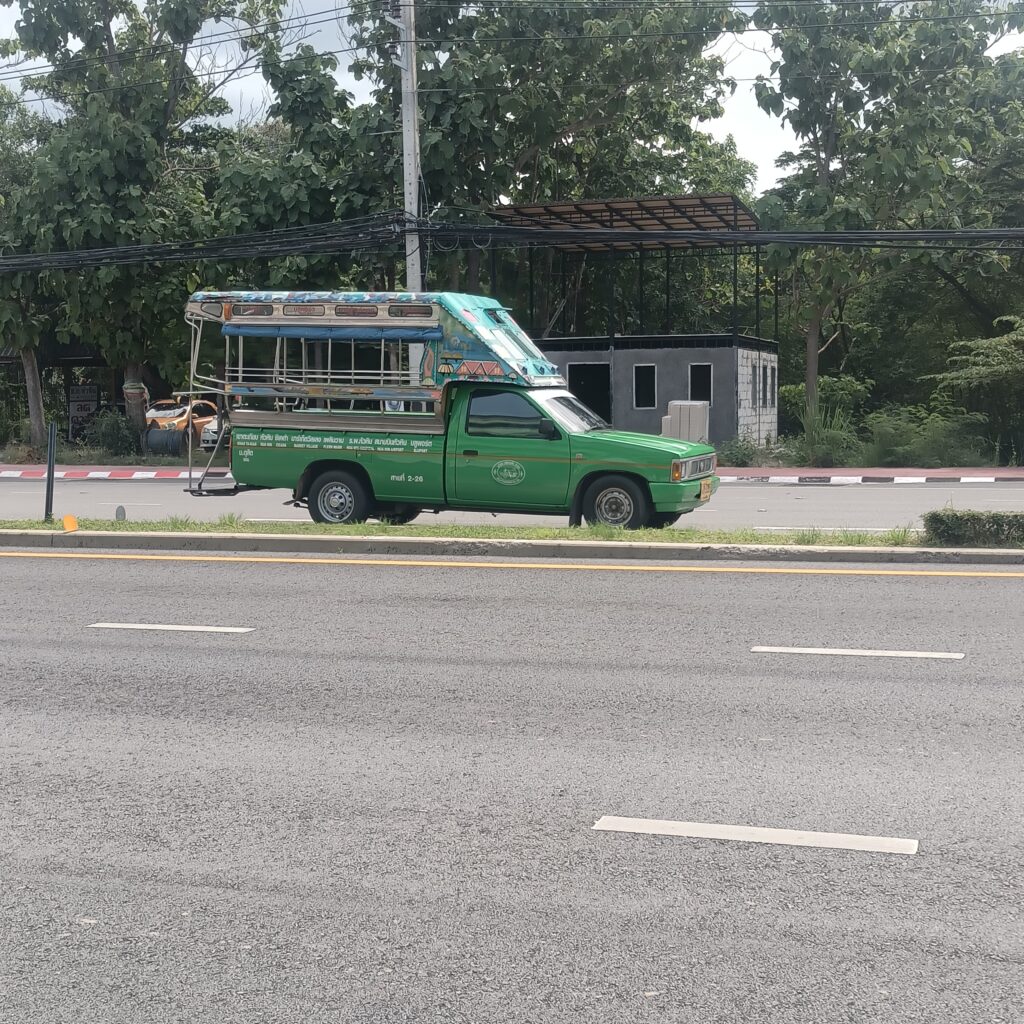 Songteaw ride is only 15 minutes to city center. I see other songteaw on the way, operation looks really frequent as transportation for local people mainly.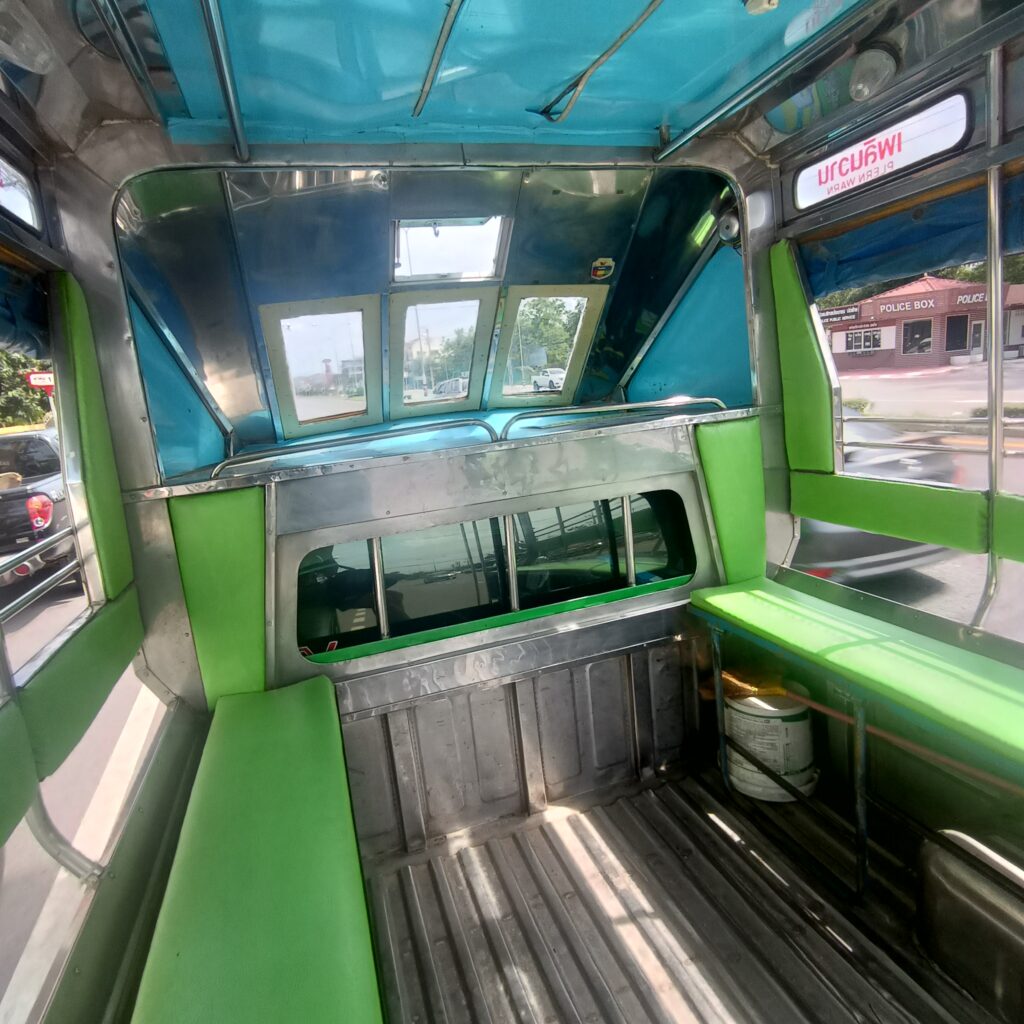 Songteaw will stop at Seven eleven near train station below. It seems this stop is trip end. If you want to continue go south, you can continue ride but you will be charged for another 10 THB for ride. This time, I dropped here for 10 THB fee only.
Bus trip to Suvarnabhumi airport
To going back to Bangkok, I take same green songteaw to go to Hua hin airport first. I took Songteaw in front of Market village mall to Hua hin airport. this time, Since I passed songteaw hub at Seven eleven city center, I was charged 20 THB when I take off from the car.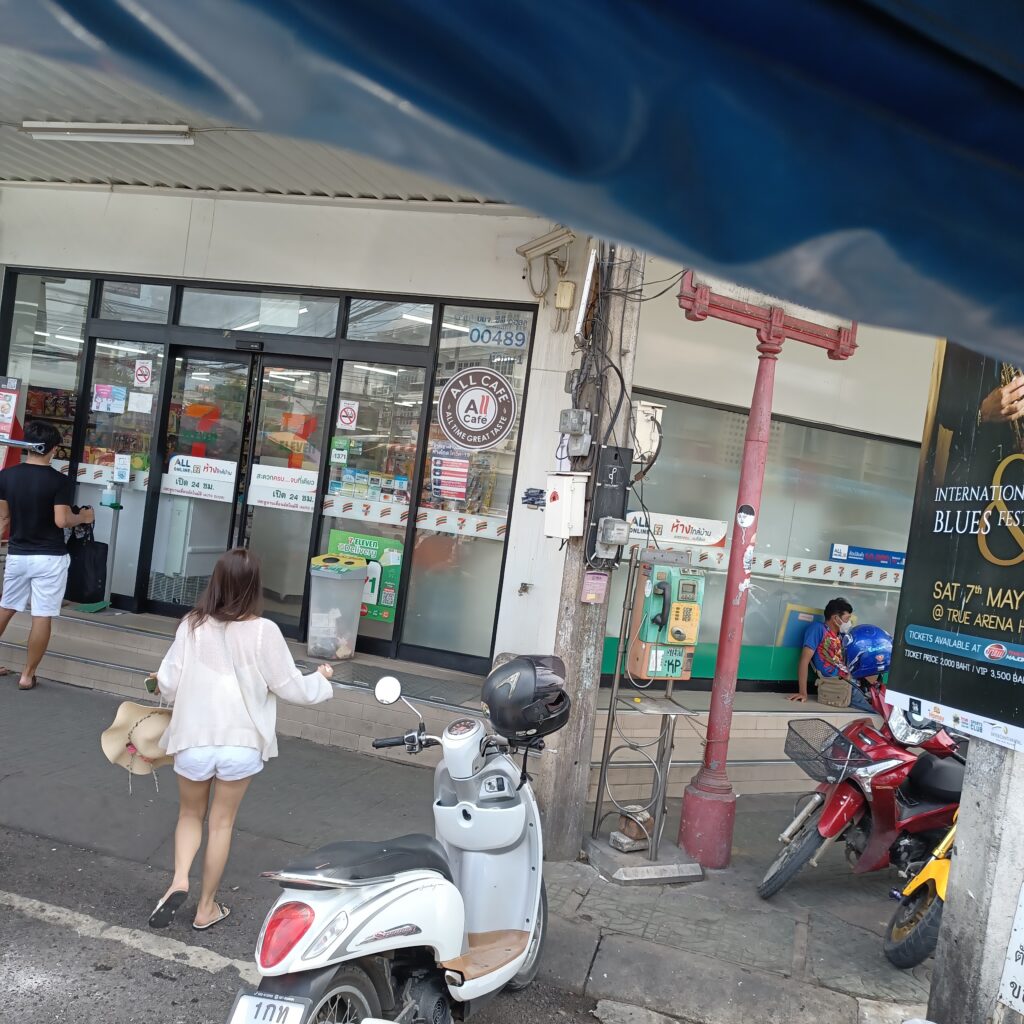 Arriving at bus terminal from Hua hin airport by walk at 13:30. Bus departure time is 14:00 this time. I was asked to provide name and phone number by staff. On the ticket such information was printed as well.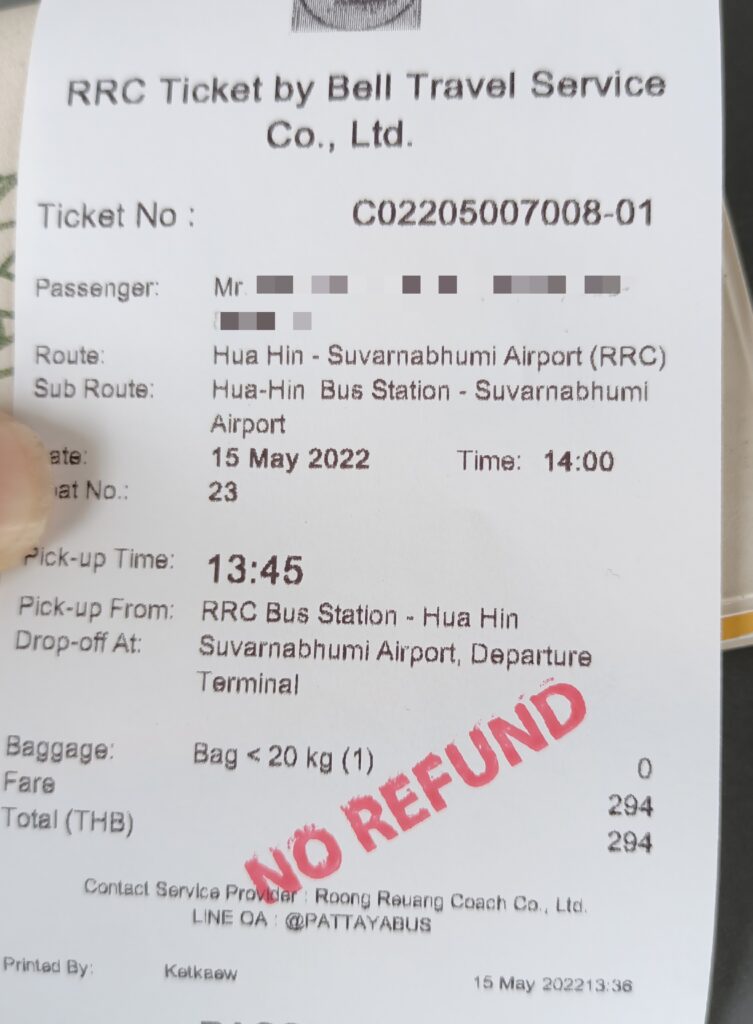 Before departure time, I was taking small snacks and brushing my teeth. Toilet at bus terminal is maintained clean as below.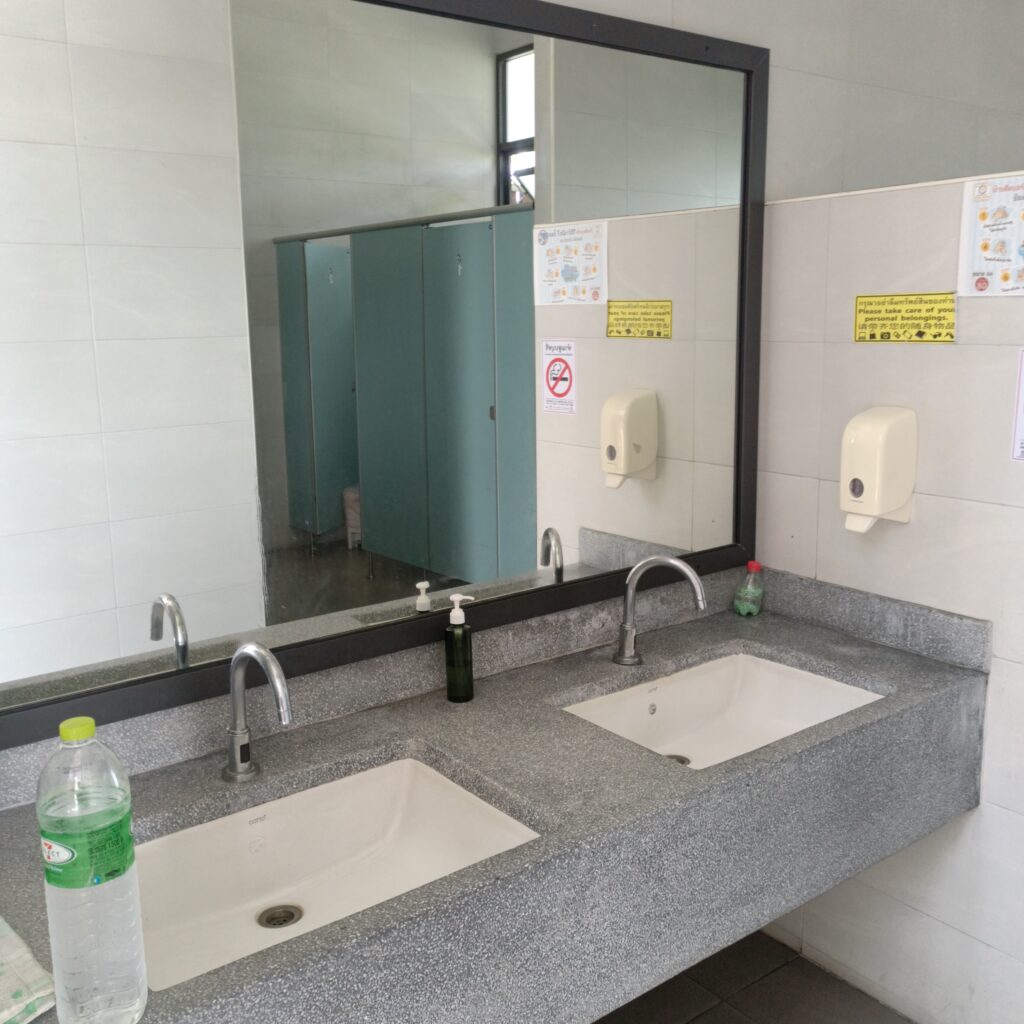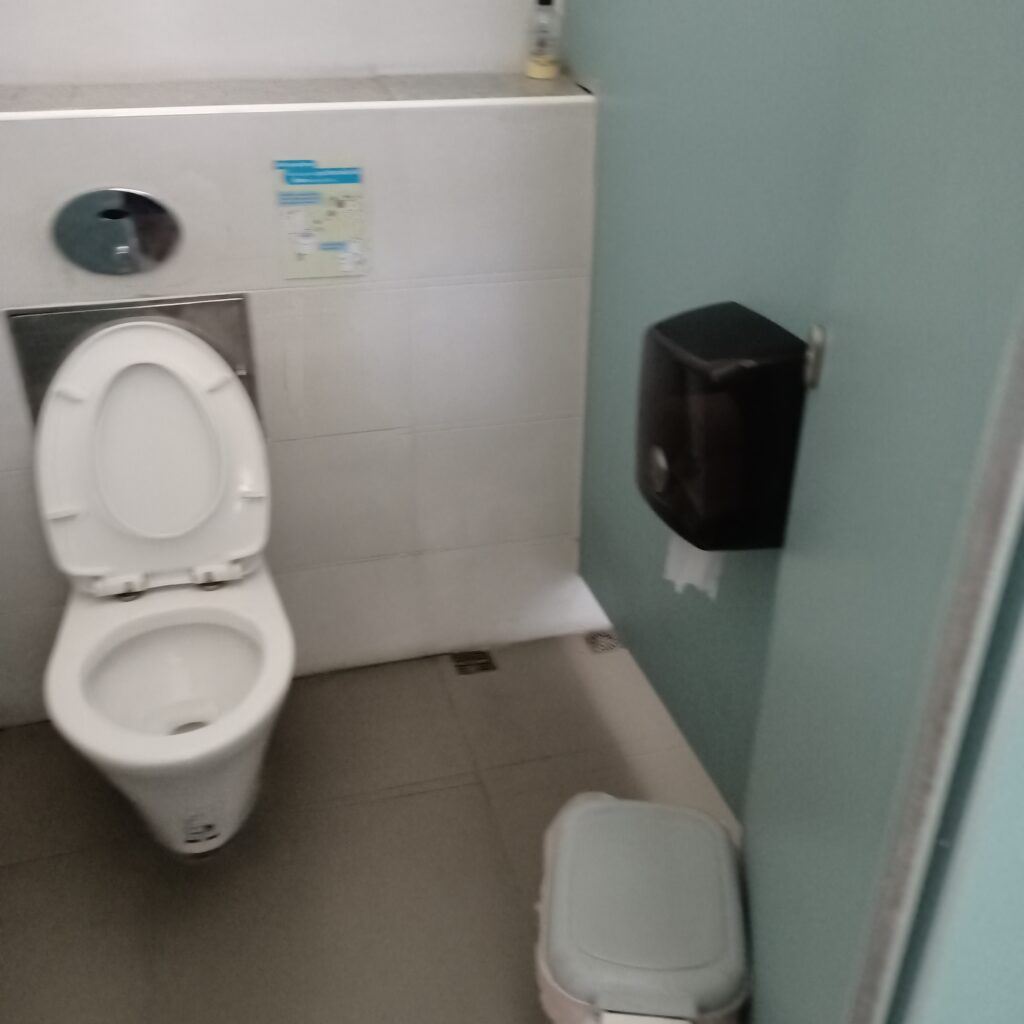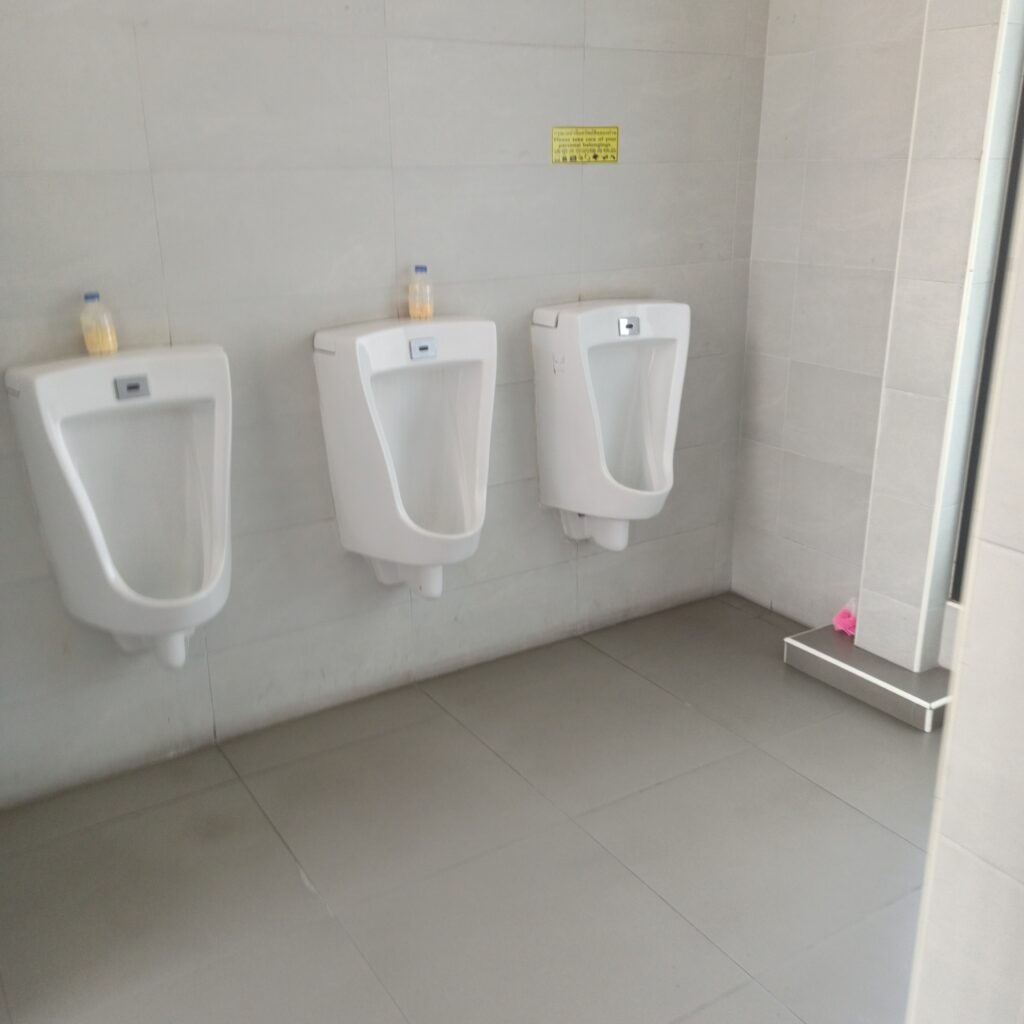 Bus comes to take all passengers before 14:00. Only 30 percent full for returning trip to Bangkok.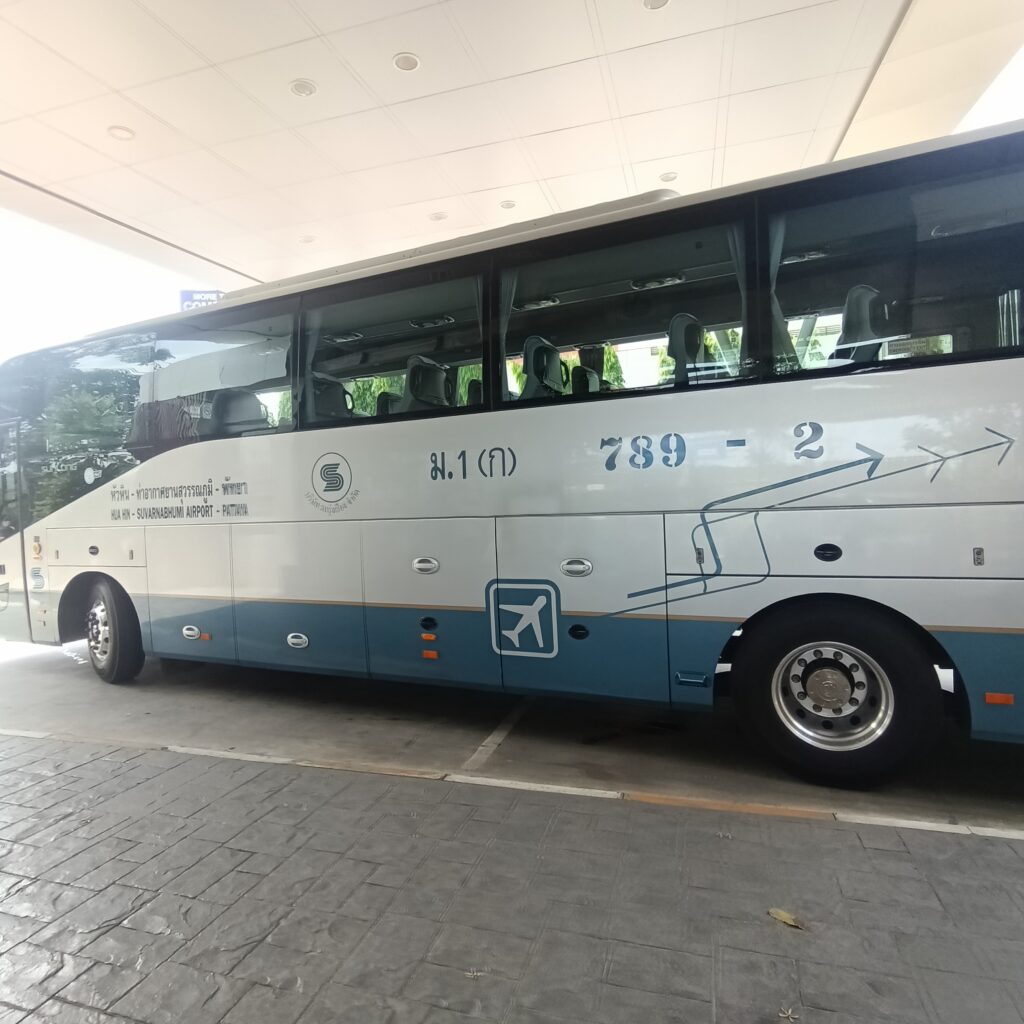 It seems most passengers are long stay foreigners and local travelers.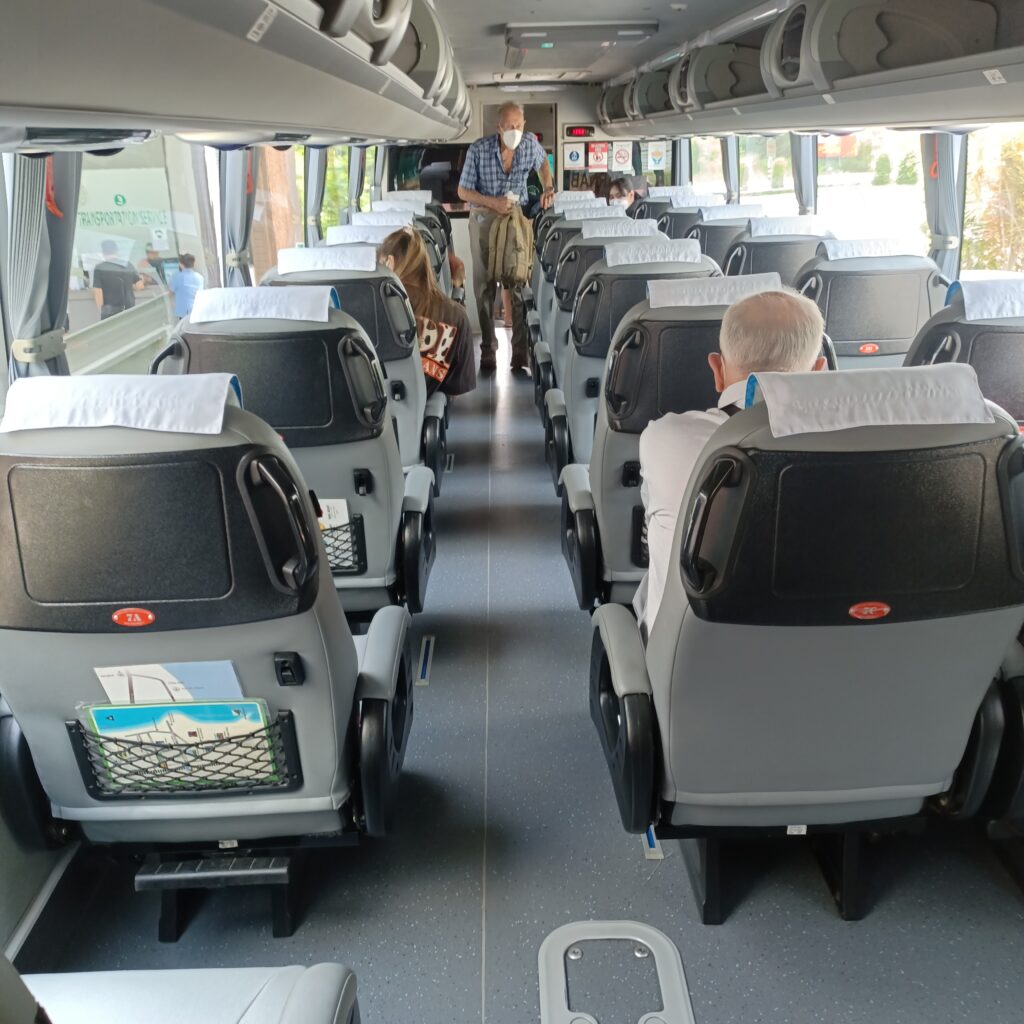 My seat was same as incoming trip, next to toilet box, No. 23.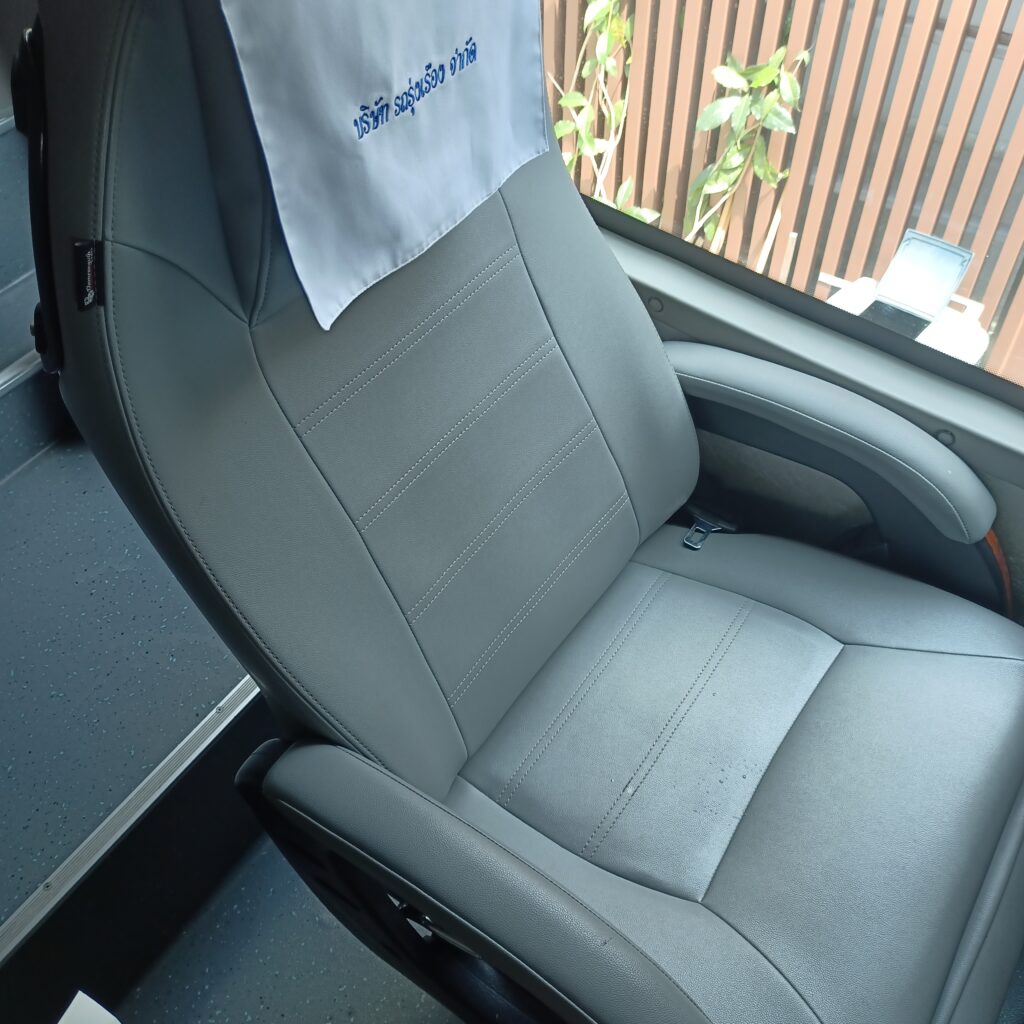 600ml water bottle offered free unlike 350ml only for trip from Bangkok.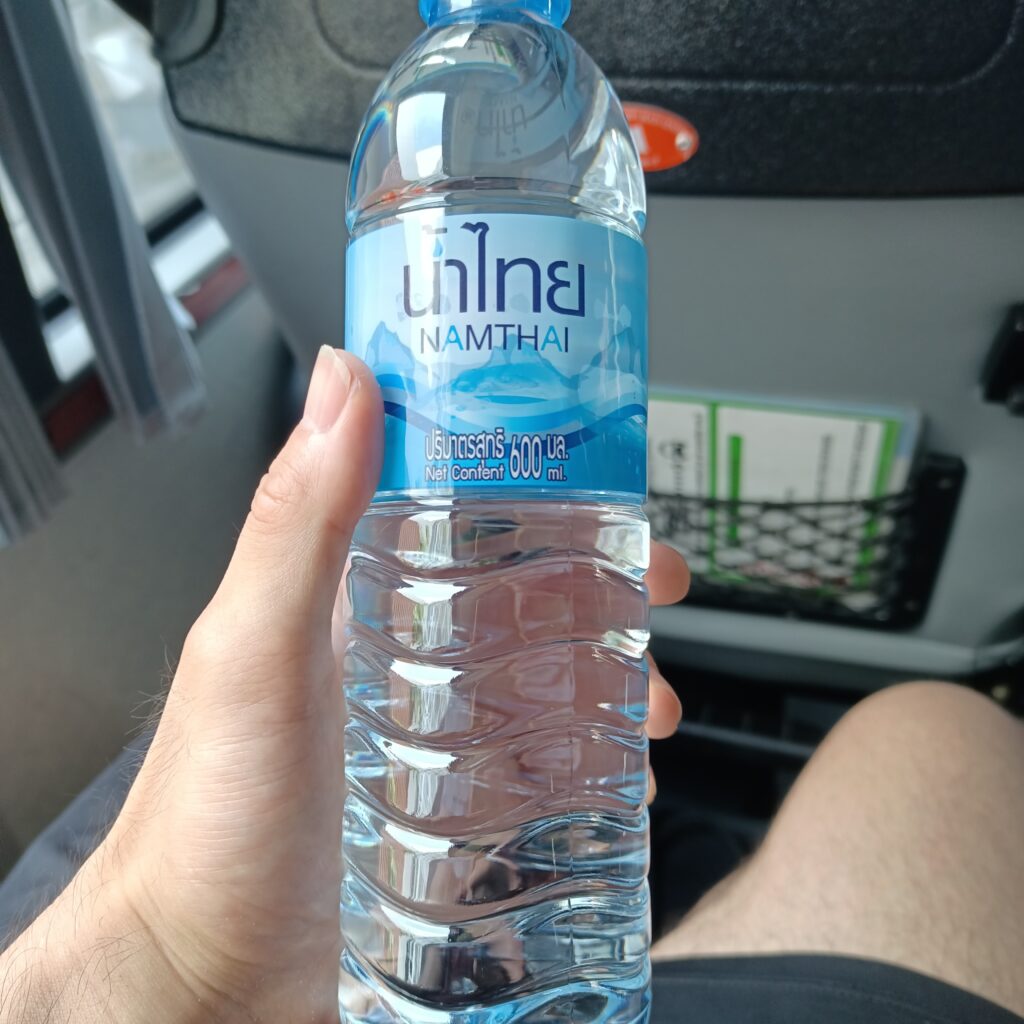 Bus inside after departure, Bus also stops at Chaam to take some passengers.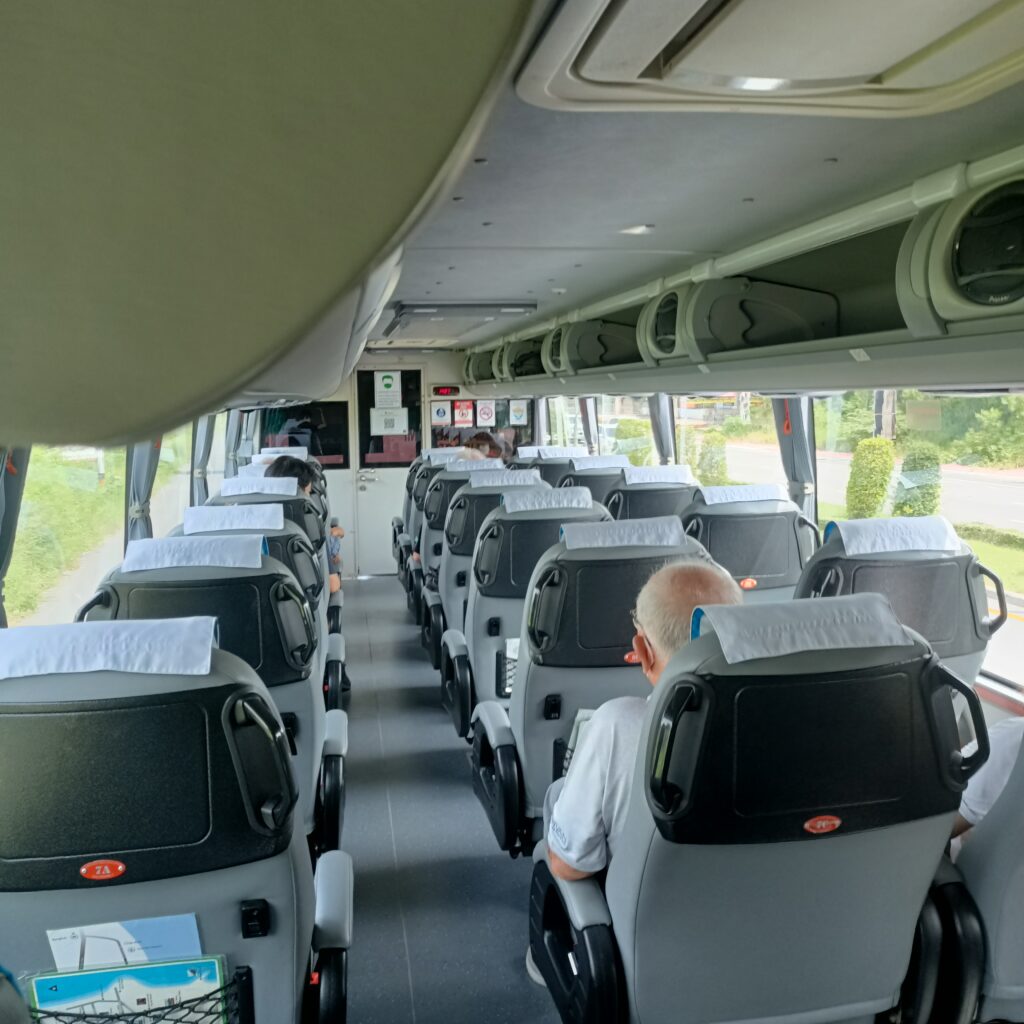 I didn't notice that there was free transportation to clock tower… If you are interested, please ask bus terminal staff to use.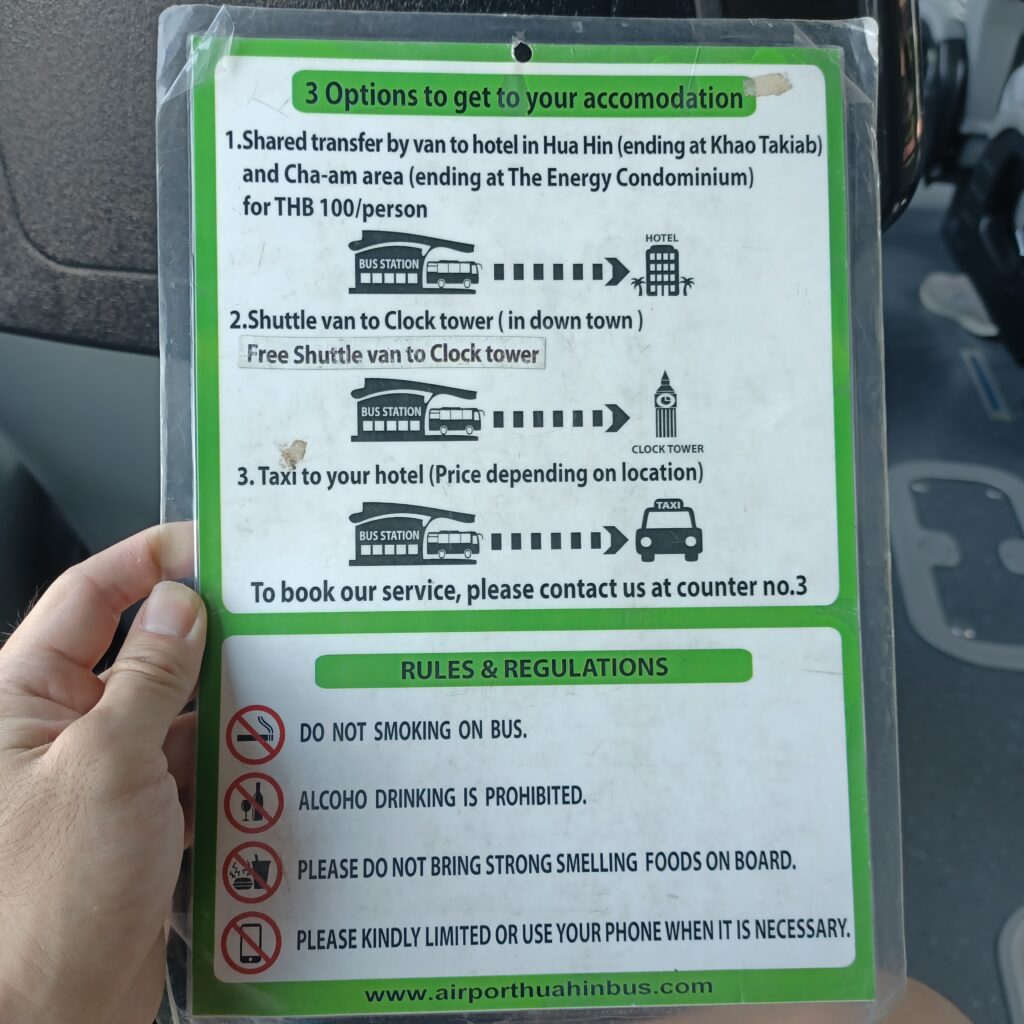 There was almost no traffic to Bangkok, only 3 hour and 40 minutes to come back to Suvarnabhumi airport. Bus will finally stops at departure floor to leave all passengers.