Welcome back to fitravelfe.com!
This time, I will introduce to you how to go to Suvarnabhumi airport to Don Mueang airport vice versa by local bus No. 554 or 555.
I already made article about free shuttle bus between two airport. Free shuttle bus can be used in case you have air ticket from arriving airport by bus.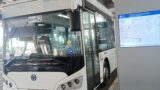 Free shuttle bus from Suvarnabhumi airport to Don Mueang airport
...
Airport to airport trip now got easier and easier thanks to development of train transportation so you can actually move to other airport by train only, costs around 120THB one way. Unlike train trip, local but trip costs only 1/3 of train trip so if you want to save more budget, please consider local bus trip, following the instruction on this article.
Train route: Suvarnabhumi station – Airport rail link – Makkasan / Petchaburi station) – MRT – Bangue / Krung Thep Aphiwat Central Terminal – SRT Red line – Don Mueang station
Local bus from Suvarnabhumi airport to Don Mueang airport
From Suvarnabhumi airport, you actually need to move to Suvarnabhumi bus center first to take local bus to Don Mueang airport. From airport, you can take free shuttle bus to bus center by 10 – 15 minutes.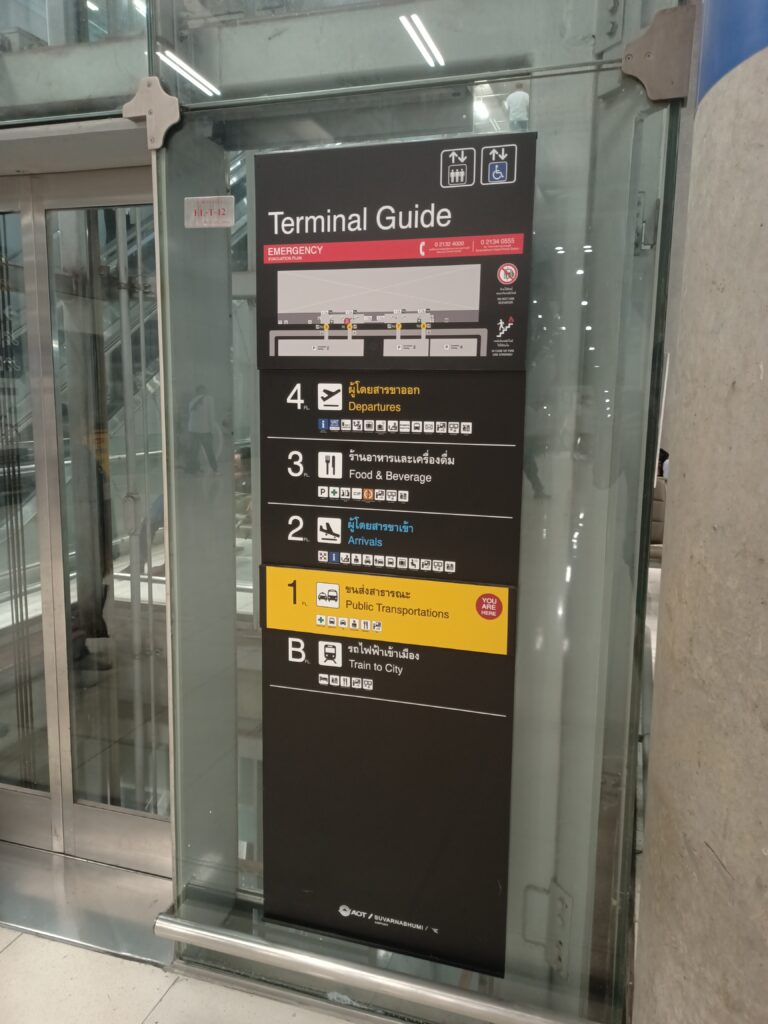 From 1st floor, either gate 3 or 8. let's go out to outside then cross taxi waiting area.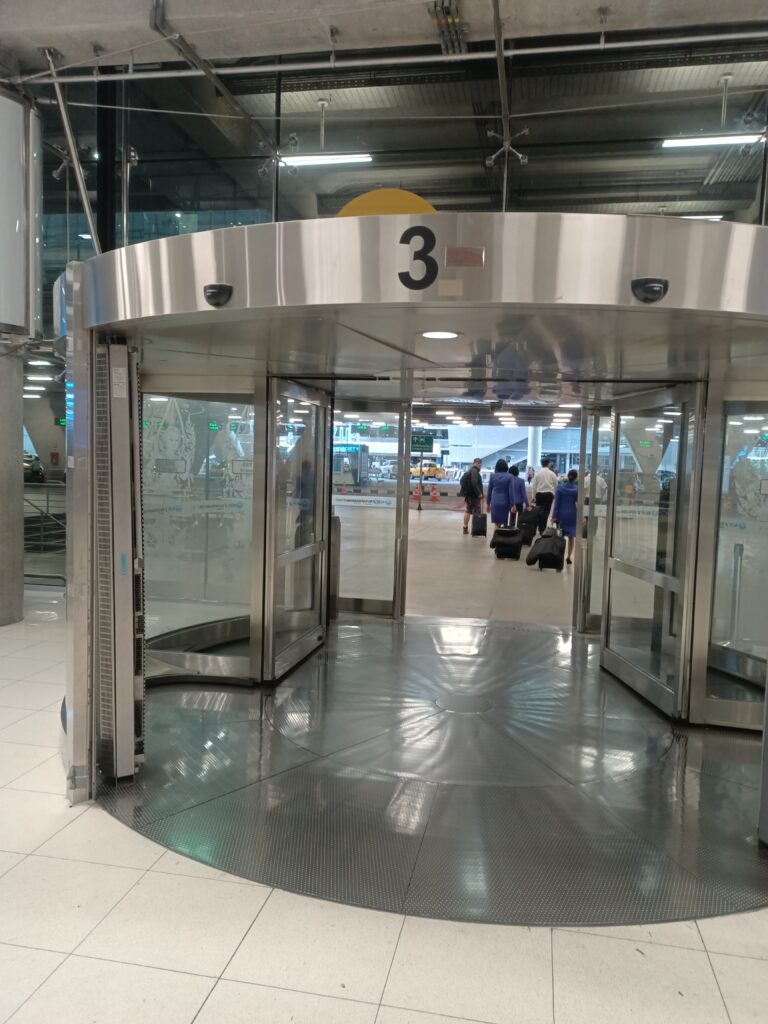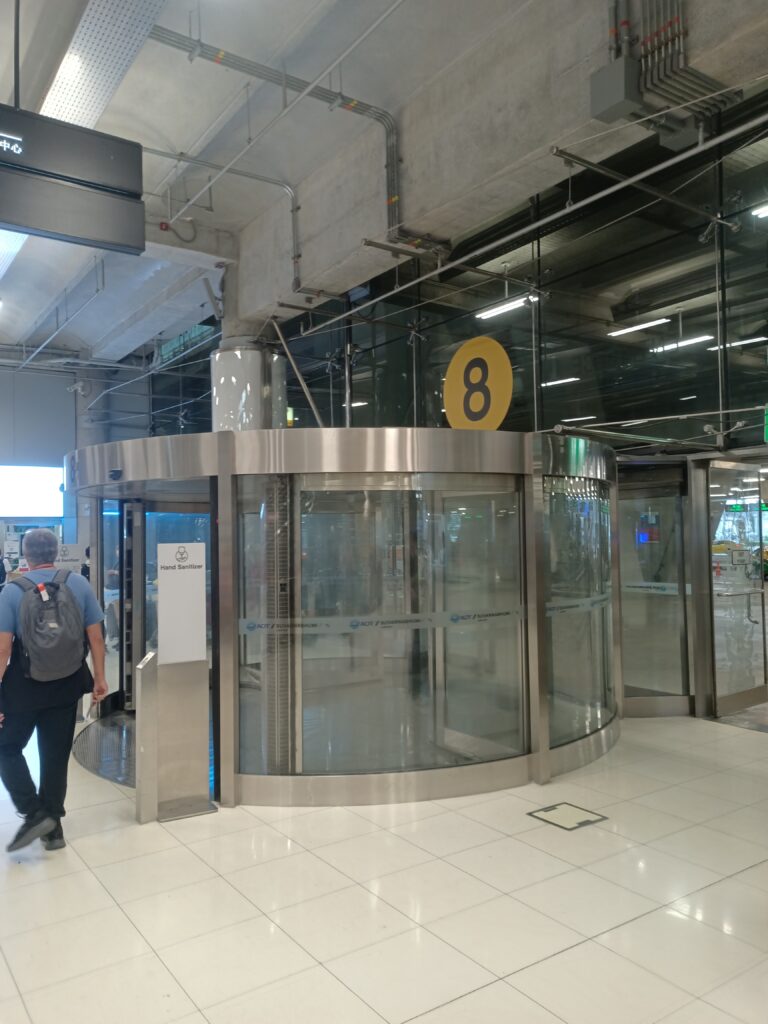 Go straight and cross road to follow the sign of "shuttle bus".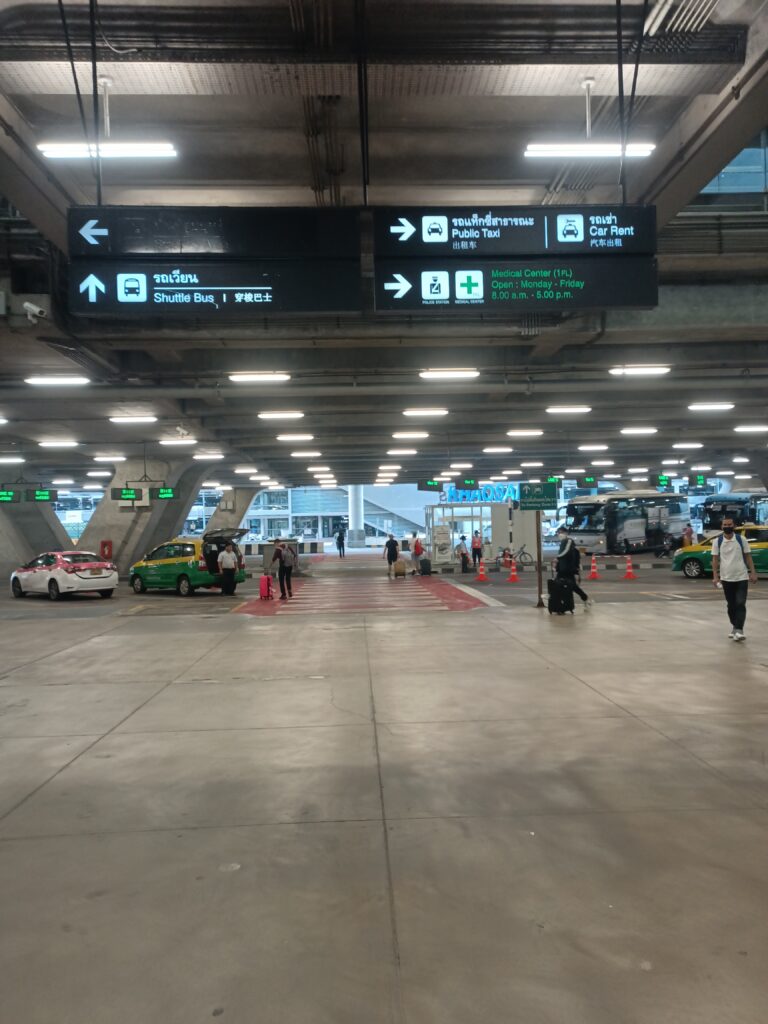 You will see the tent waiting area like below. Shuttle bus just arrived so hop on the bus. Bus has several route type. However all bus types eventually stops at Suvarnabhumi bus center so you can take any shuttle bus which comes first.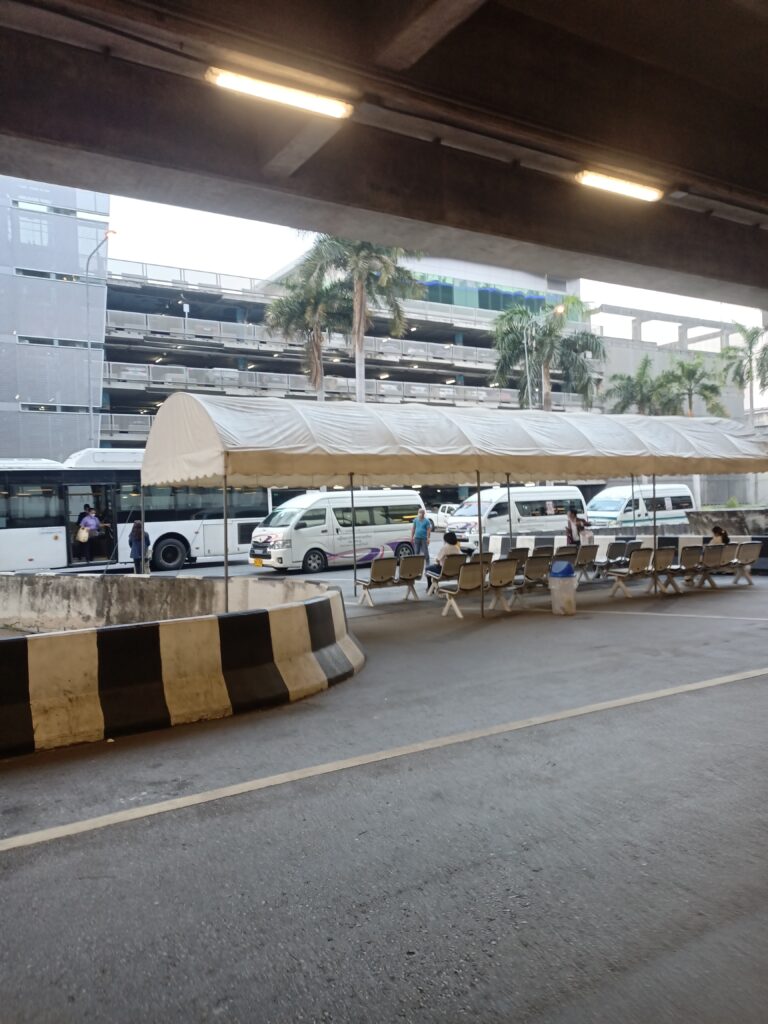 Inside bus there are enough spaces for big baggage. These buses are used mostly for airport workers. Of course anybody even tourist can use for free.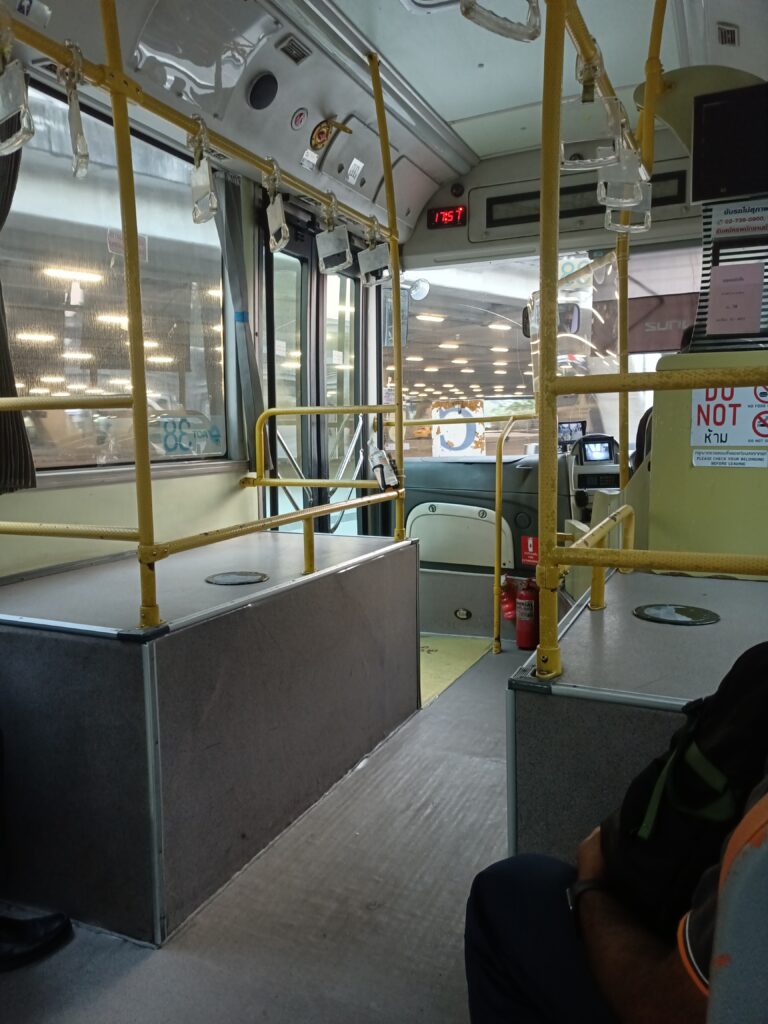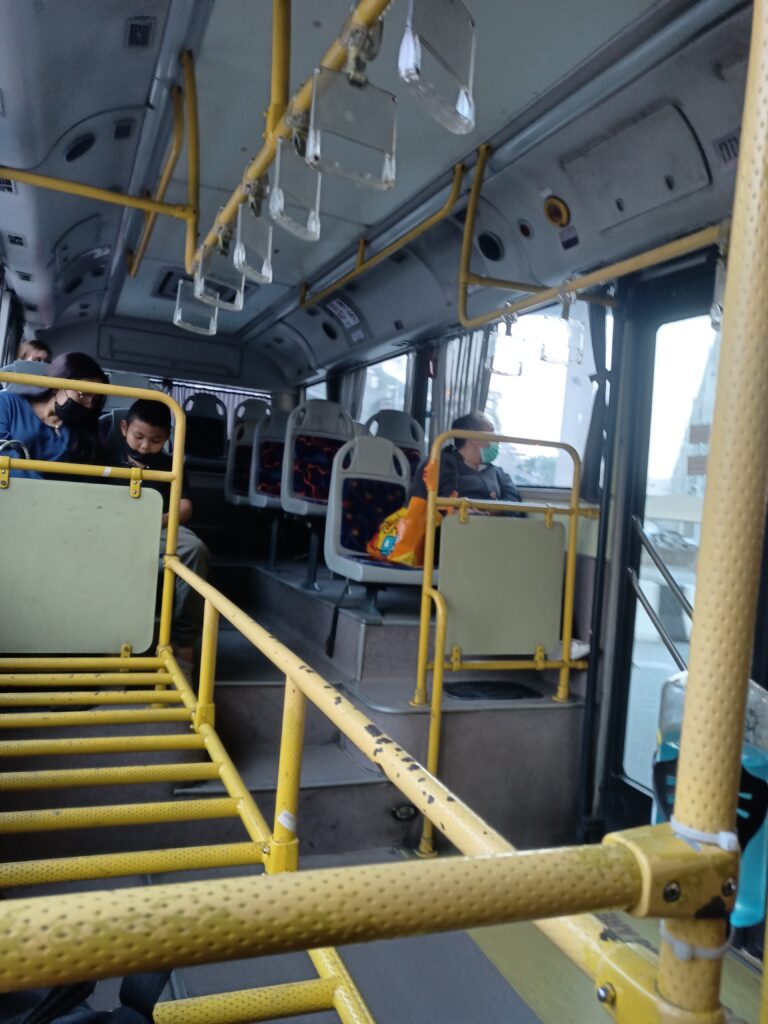 Around 10 – 15 minutes bus led to Suvarnabhumi bus center so all passengers needs to get off here. Once you arrive, walk straight to a bit and find the sign of Bus No. 554 or 555.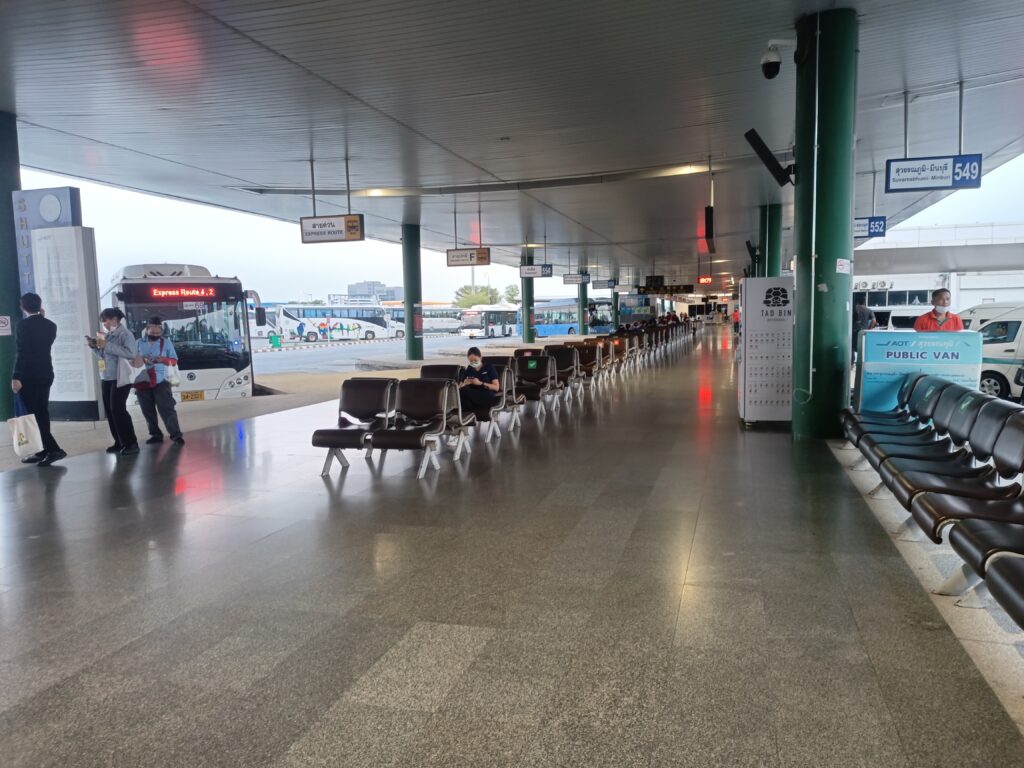 Bus No. 555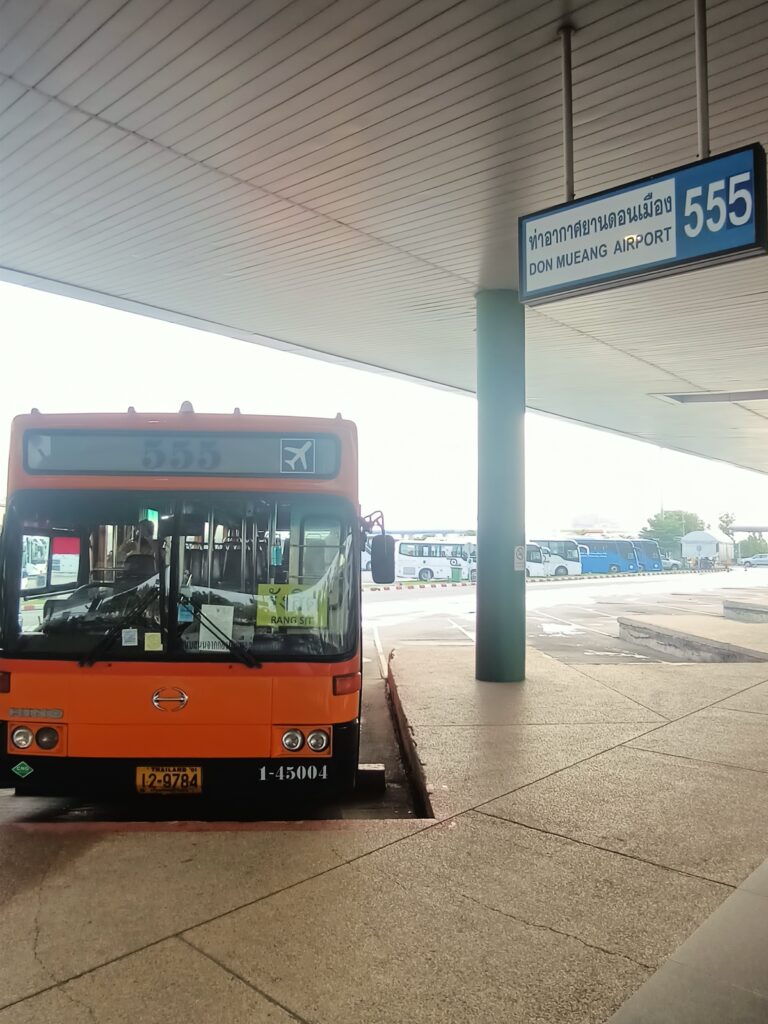 Inside of No. 555. Both 555 and 554 is air-conditioned but no baggage space is offered.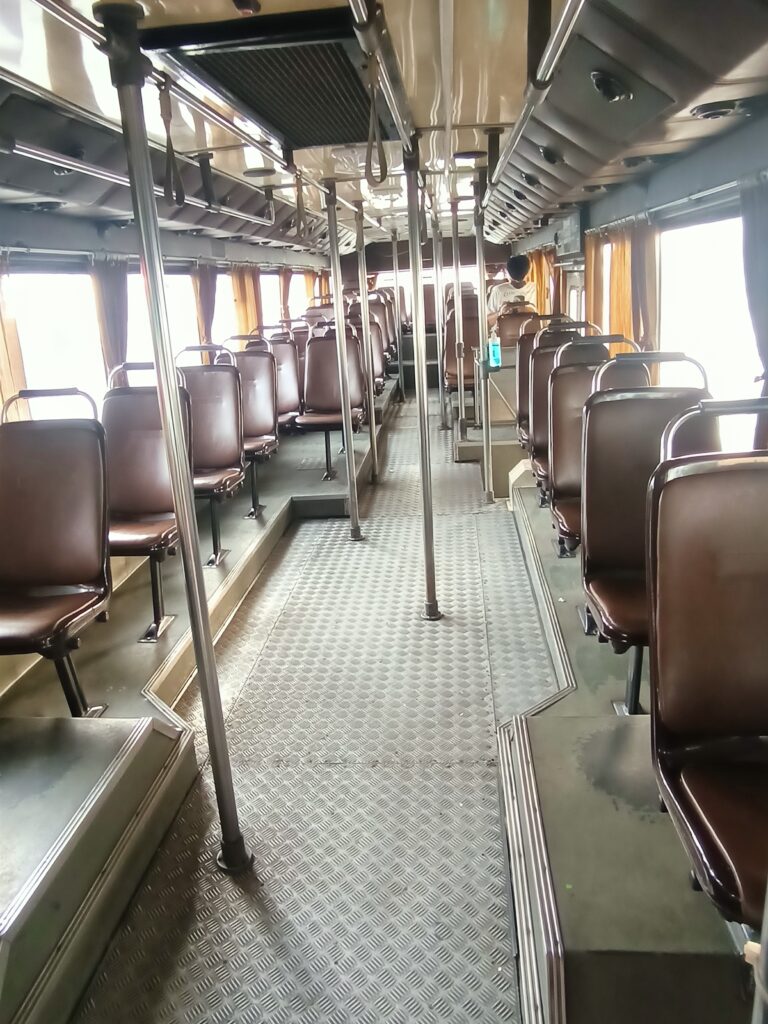 Front end seat is for only monks, 55 that's very Thai style.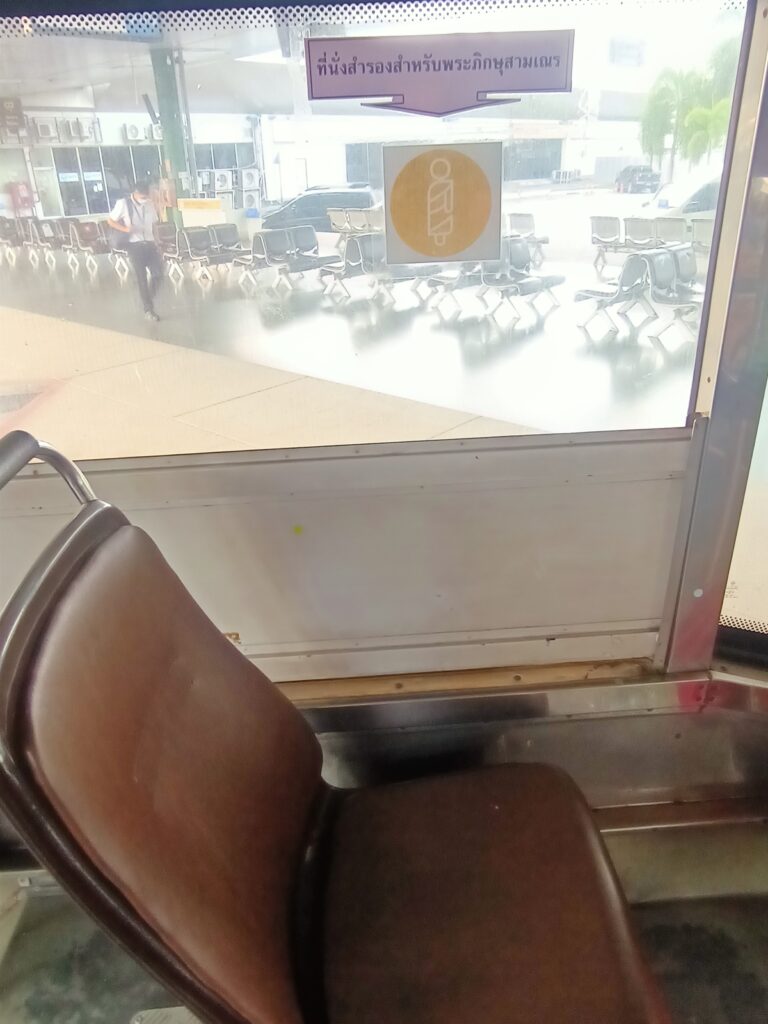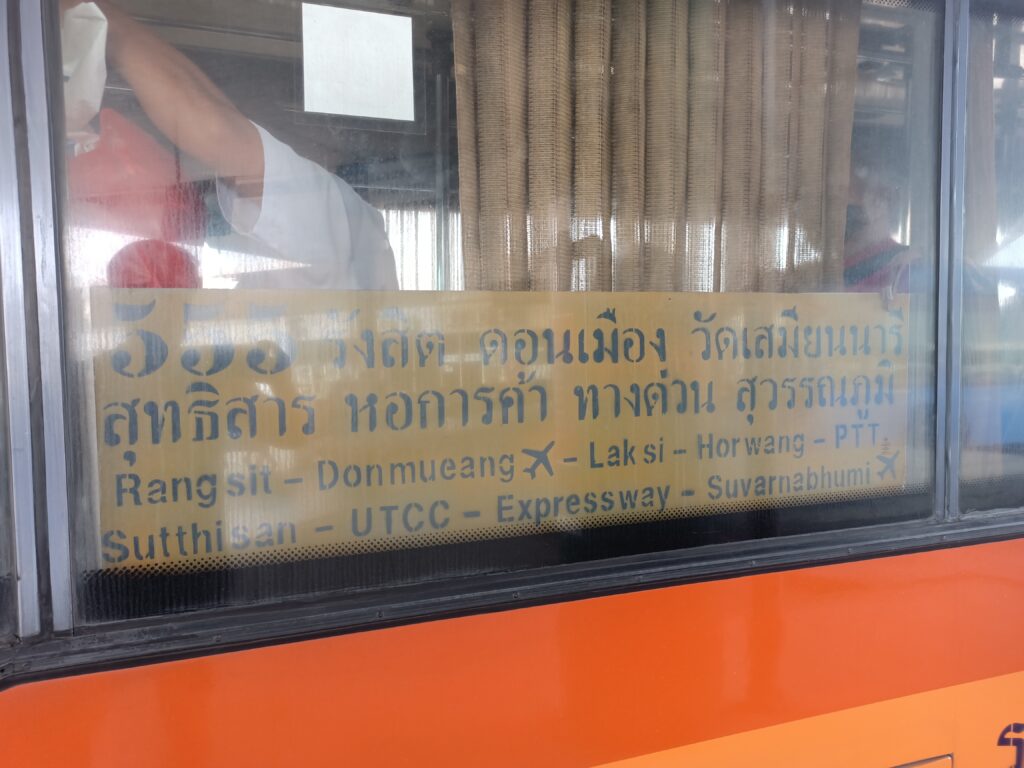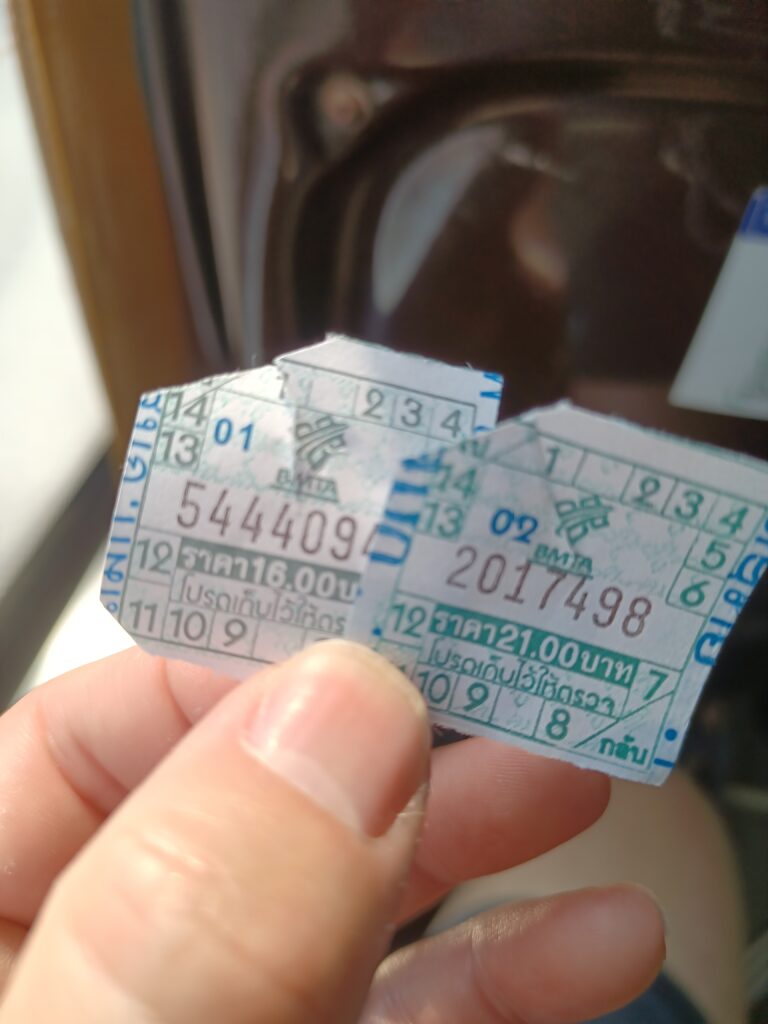 No. 555 operates quite long time from early morning to mignight.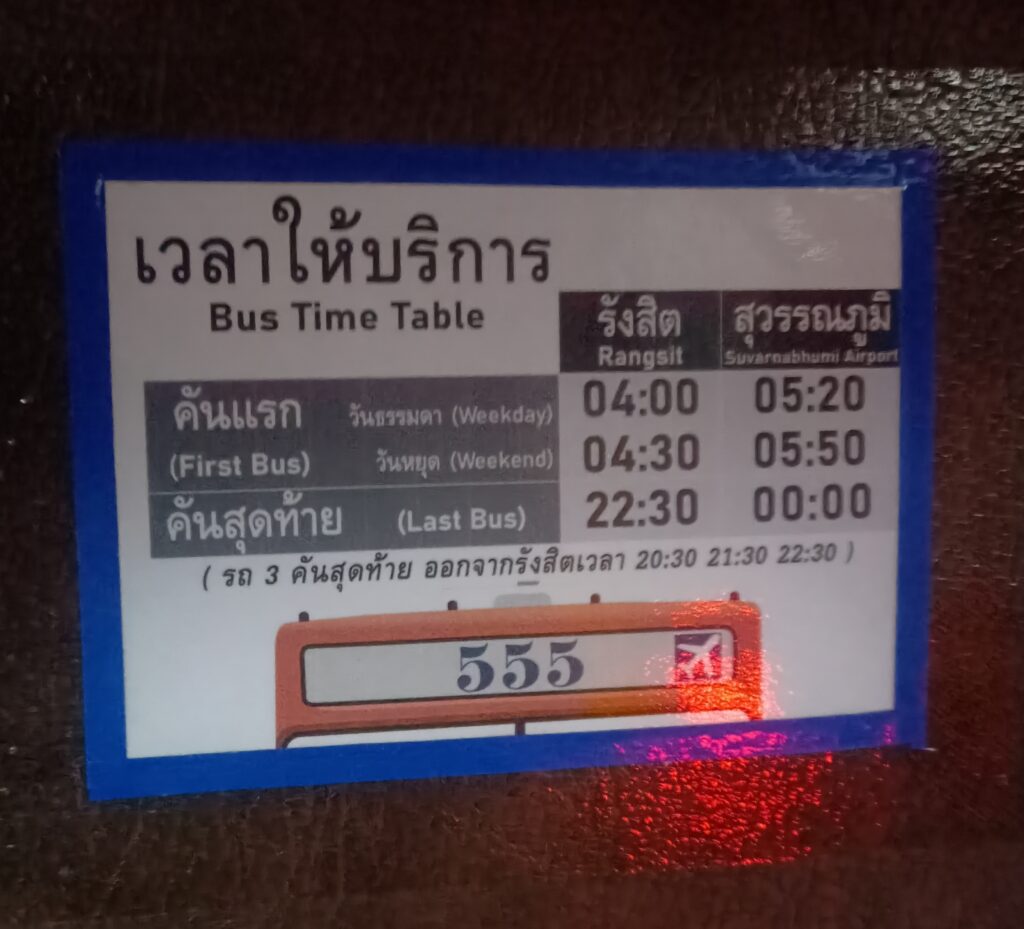 Bus No. 554 stop is in the next. You can take either one which departs first. Trip time is around 60 minutes to 70 minutes based on my experience. Since road trip, it may take more time depends on traffic situation. In case your schedule is tight, better use train trip instead.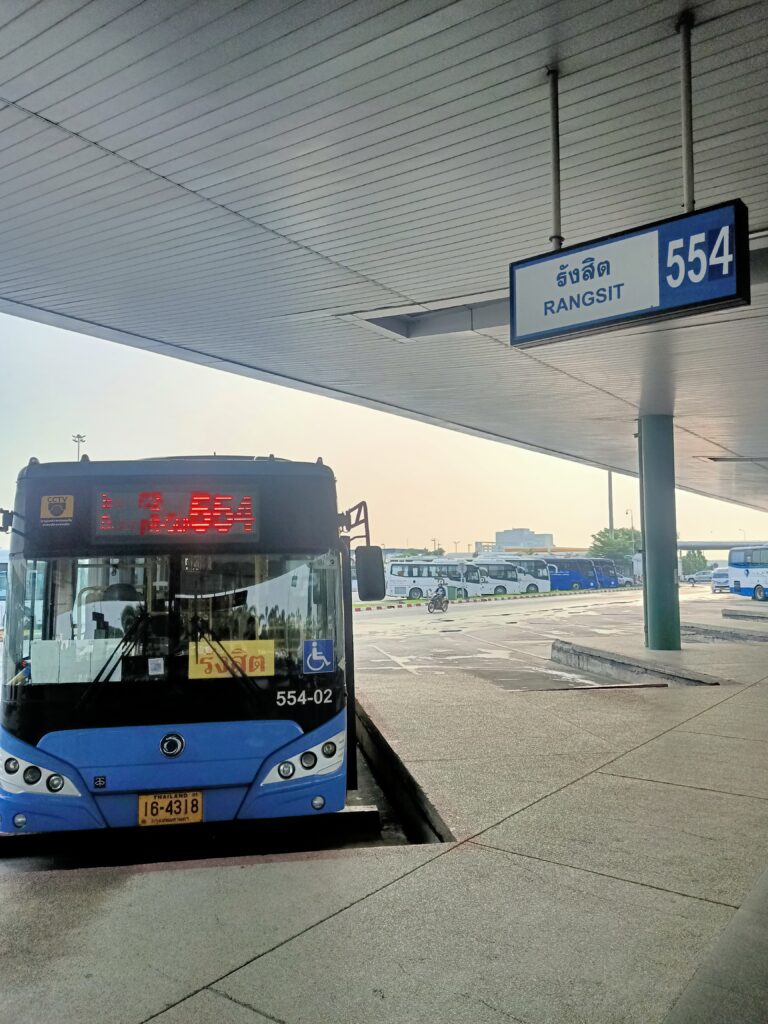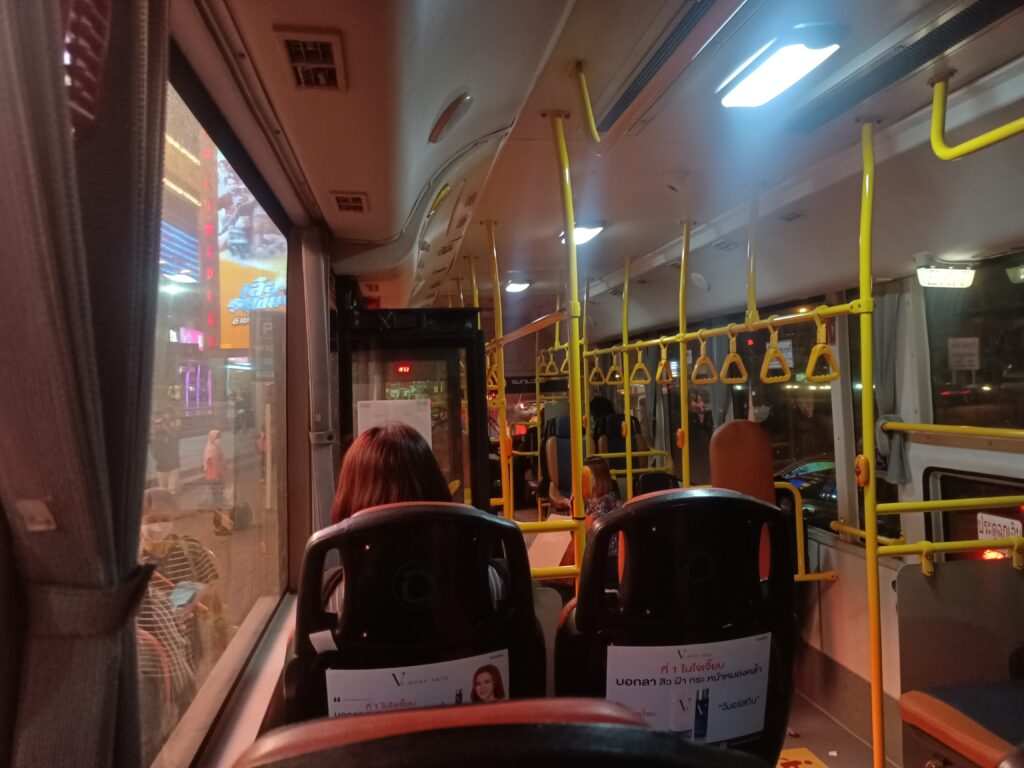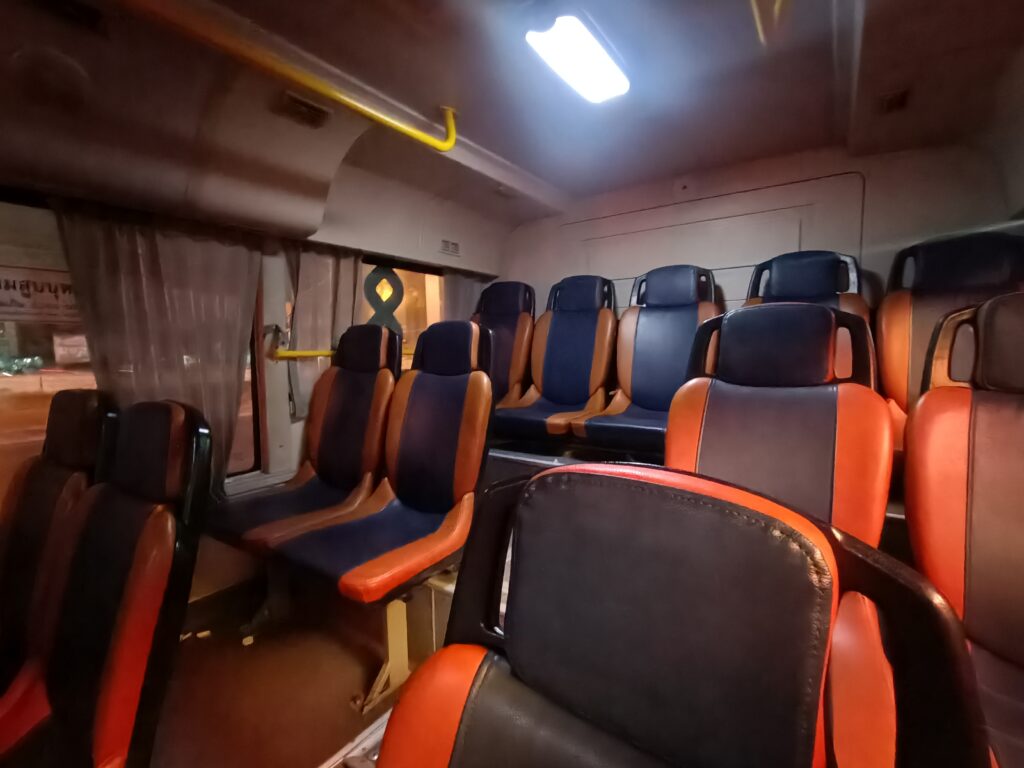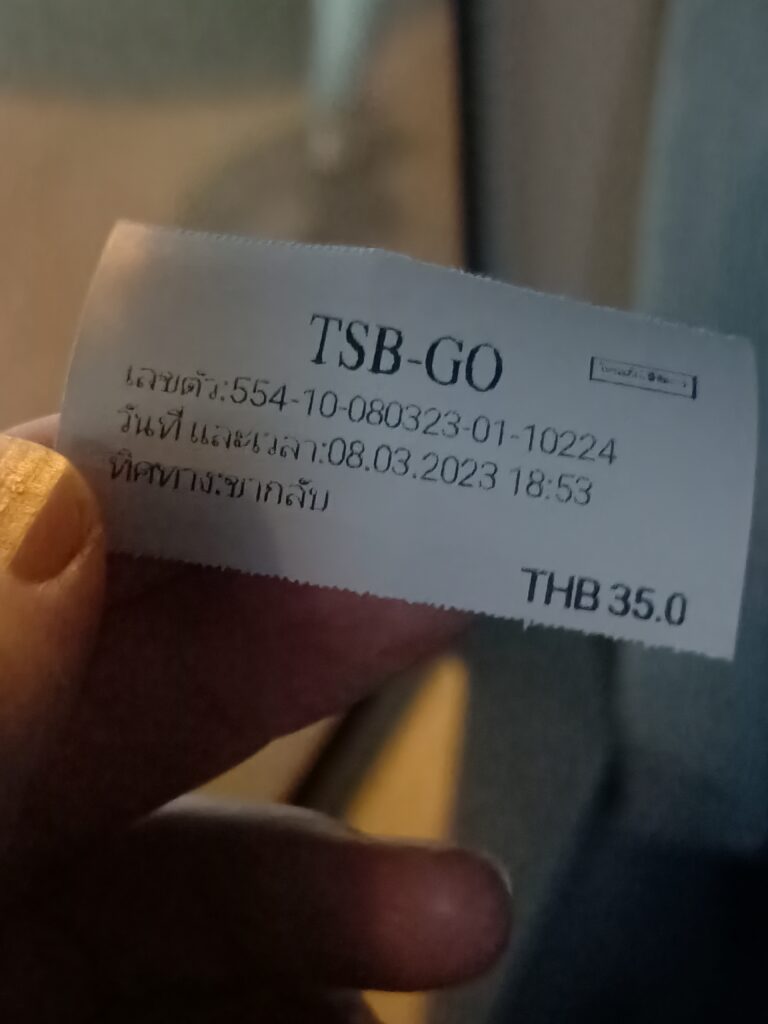 Please be careful No. 554 runs only on weekdays. On Saturday and Sunday, your choice will be No. 555 only.
Ops, sorry I noticed No. 554 also runs on Sundays.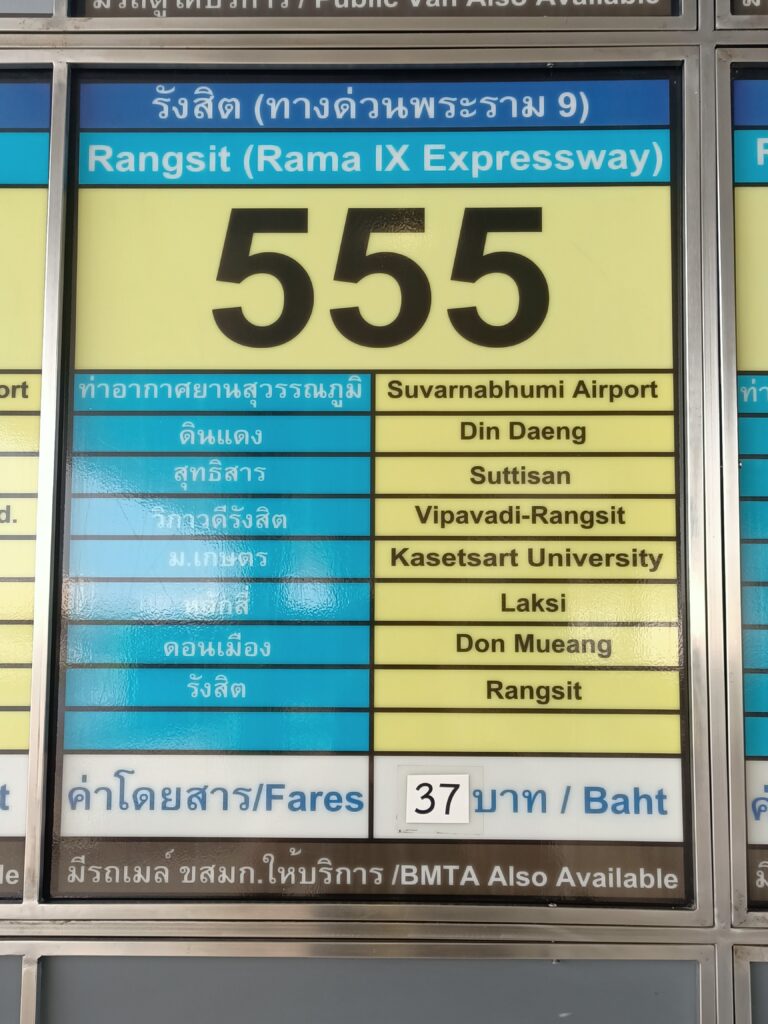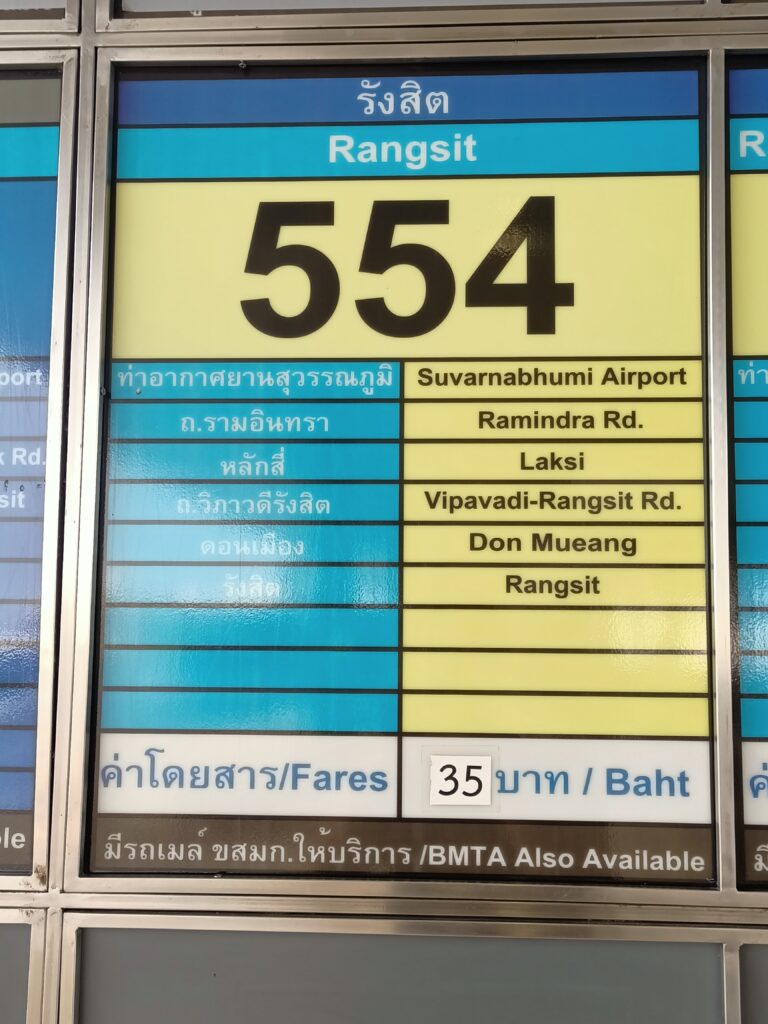 Unlike airport free shuttle bus, this local buses will not stop at Don Mueang airport but just pass by so please let bus conductor know that you want to take off at Don Mueang station. Or be careful of your location, and push the button near exit door so that the bus leave you in front of Don Mueang airport. To go to Airport, you will be in need to walk on overpass.
After Don Mueang airport, both buses will go pass by Future park rangsit and finally stop at Rangsit bus depot.
Local bus from Don Mueang airport to Suvarnabhumi airport
When you take local bus No. 554 or 555, you first need to go out from airport. When you arrive from other countries, you can go out left from custom declaration then find Amari hotel sign.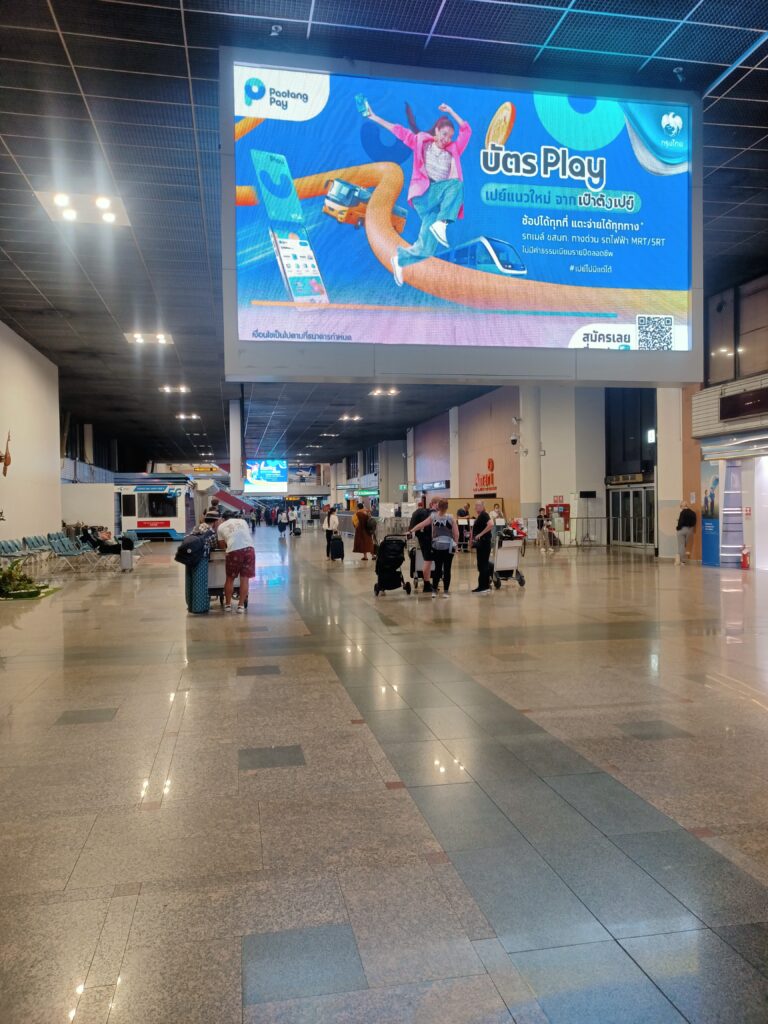 Amari hotel sign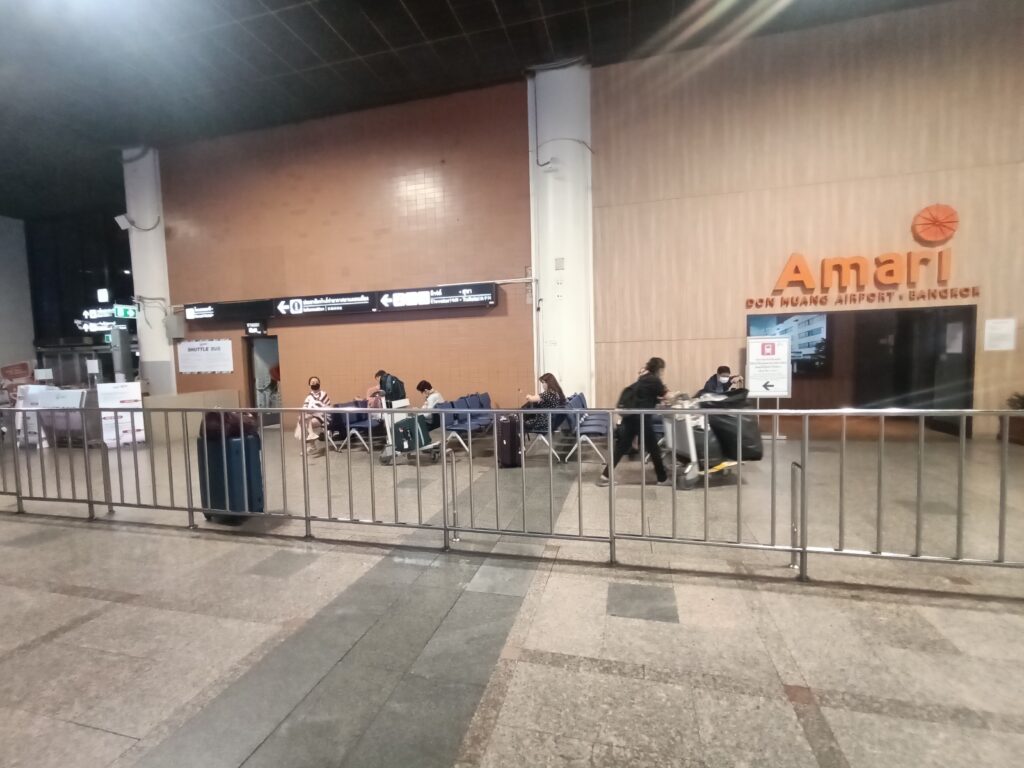 Next to free shuttle bus service counter, there is door and stairs to overpass to Amari hotel so take Exit door in below picture then walk up.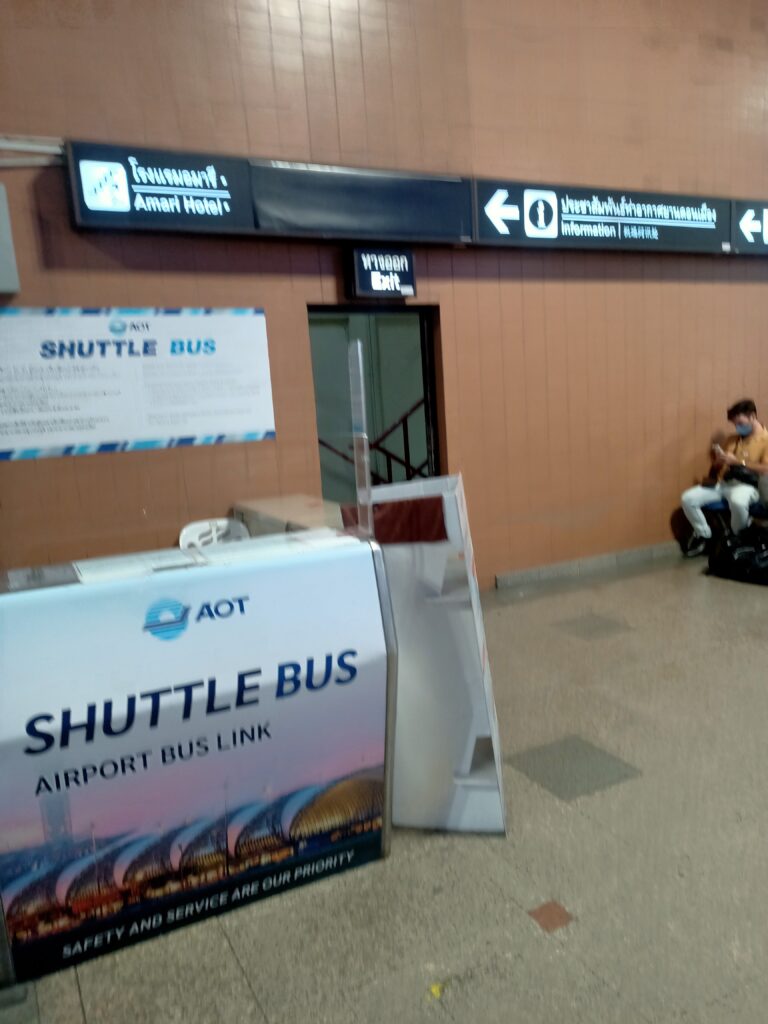 Follow Bus sign to overpass.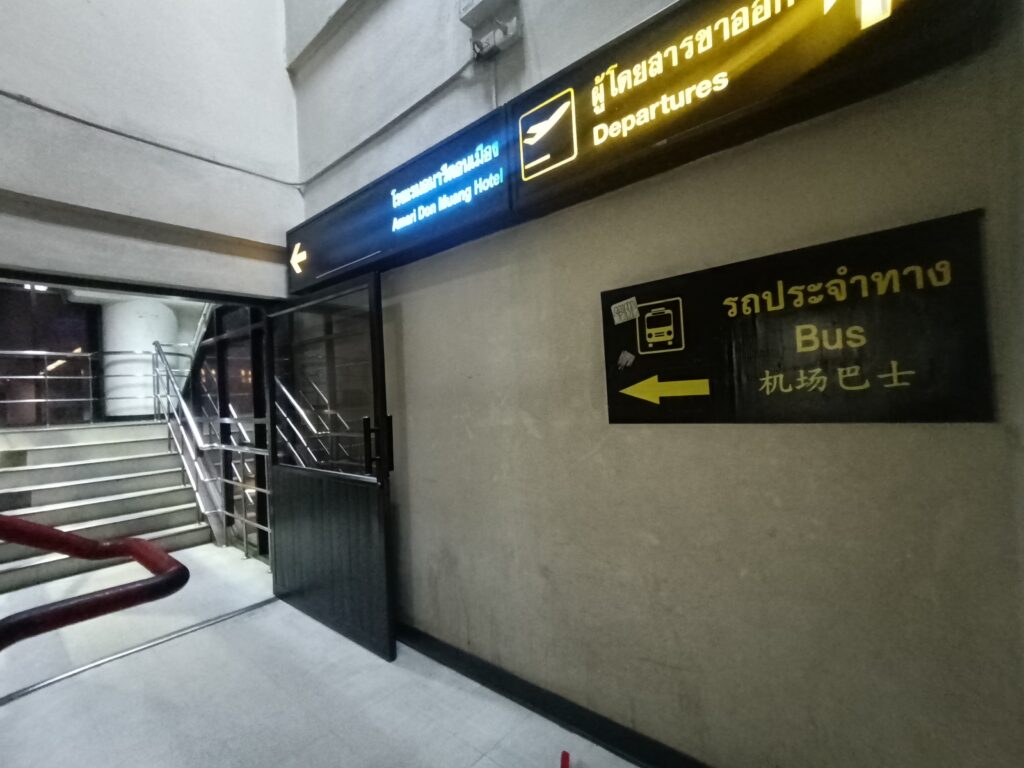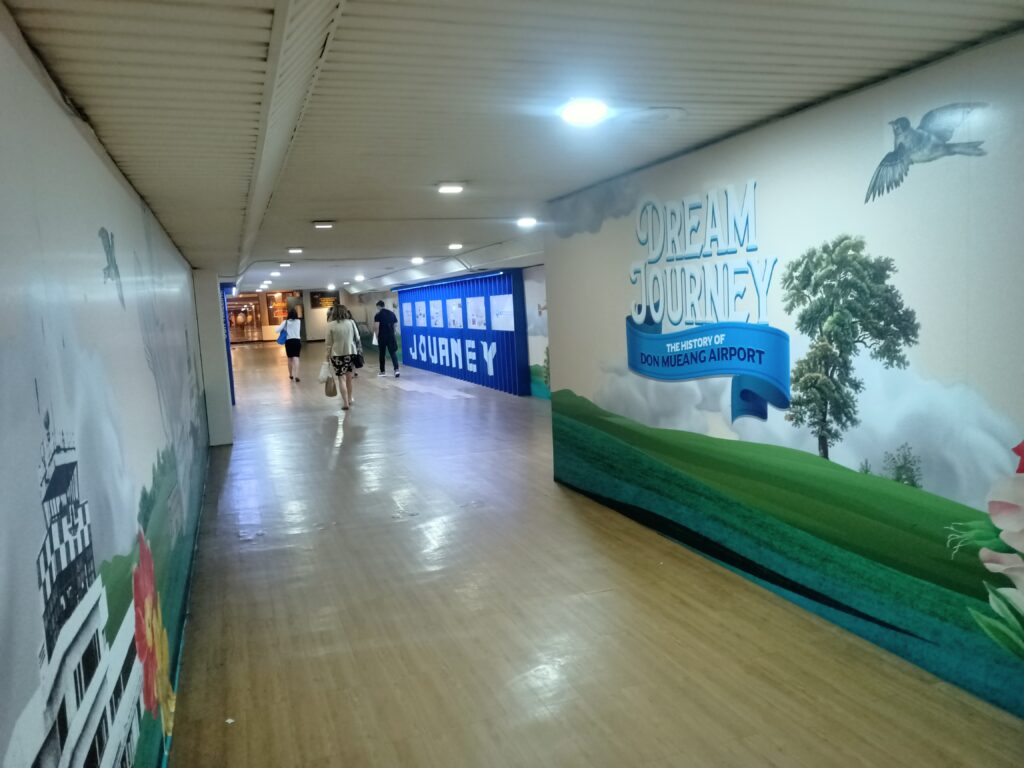 On overpass, before entering Amari hotel, you will see the door to Bus station (and taxi). Please open the door to go outside.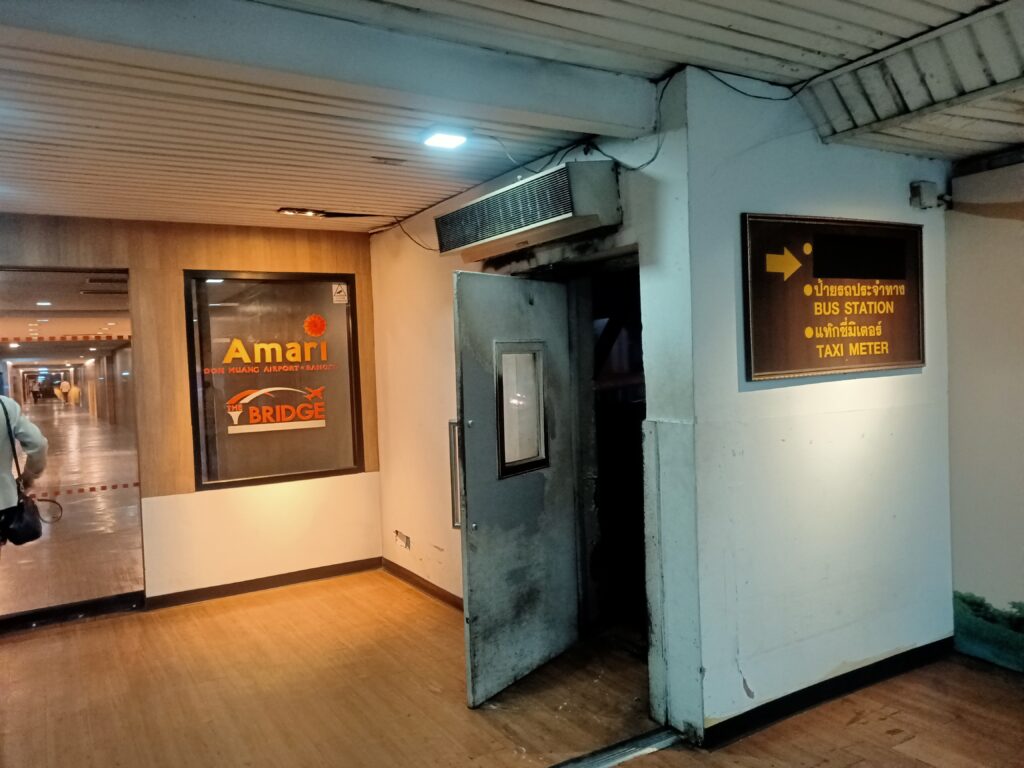 Walk down to the roadside and see small bus stop.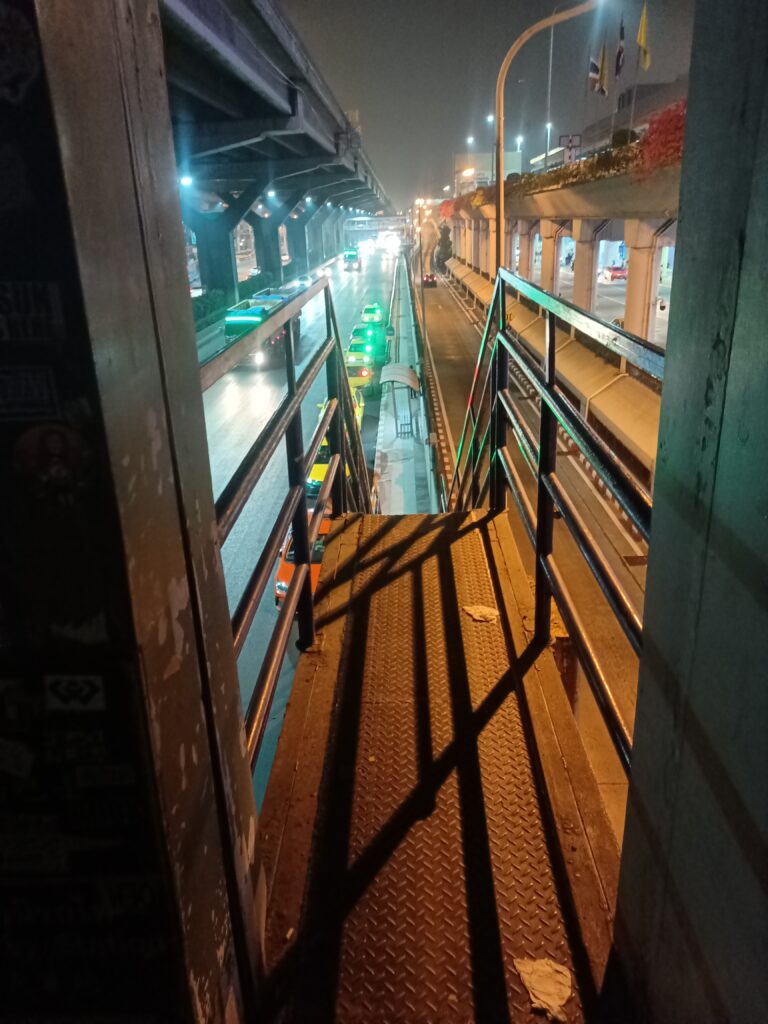 This is small bus stop where local buses passes by. Local buses normally will not stop otherwise you waive hands to stop so appeal to bus driver that you are willing to take. Viabus apps GPS is available for bus 554 and 555. I recommend you download in advance so that you will be notified when bus is approaching.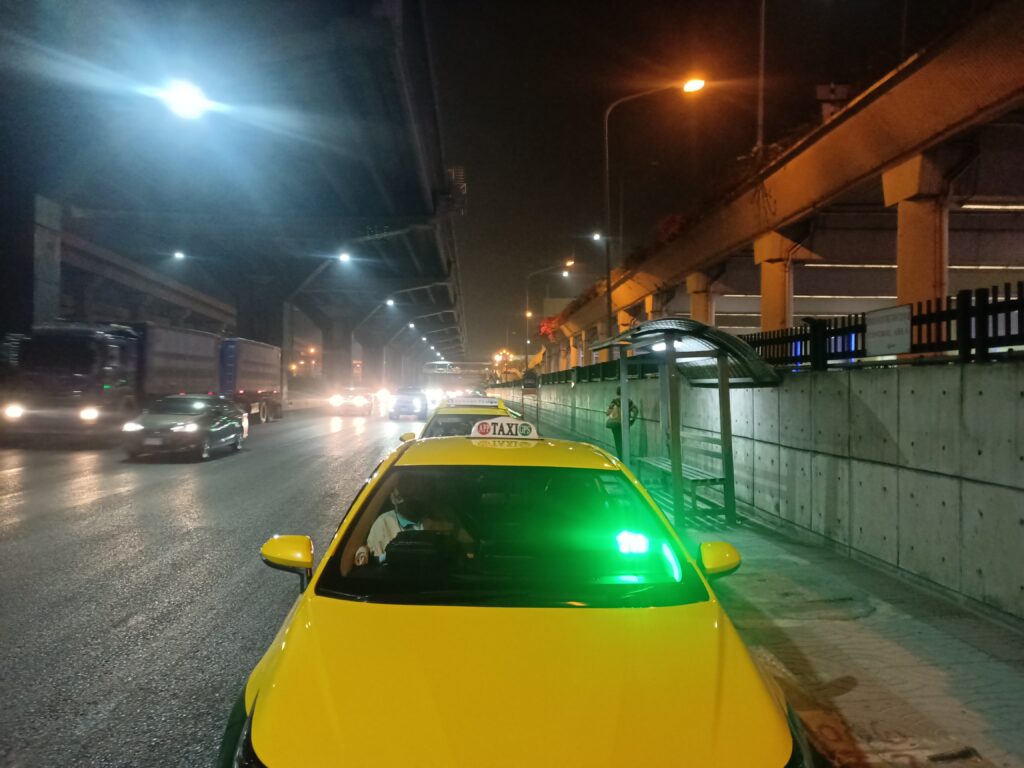 For first timer without Viabus app, it maybe difficult to stop bus passses here especially at night time. In case, you can walk 200m north to bigger bus stop where normally many people waits and buses usually stop so you do not need to do by yourself. Another bus stop is just next to Familymart.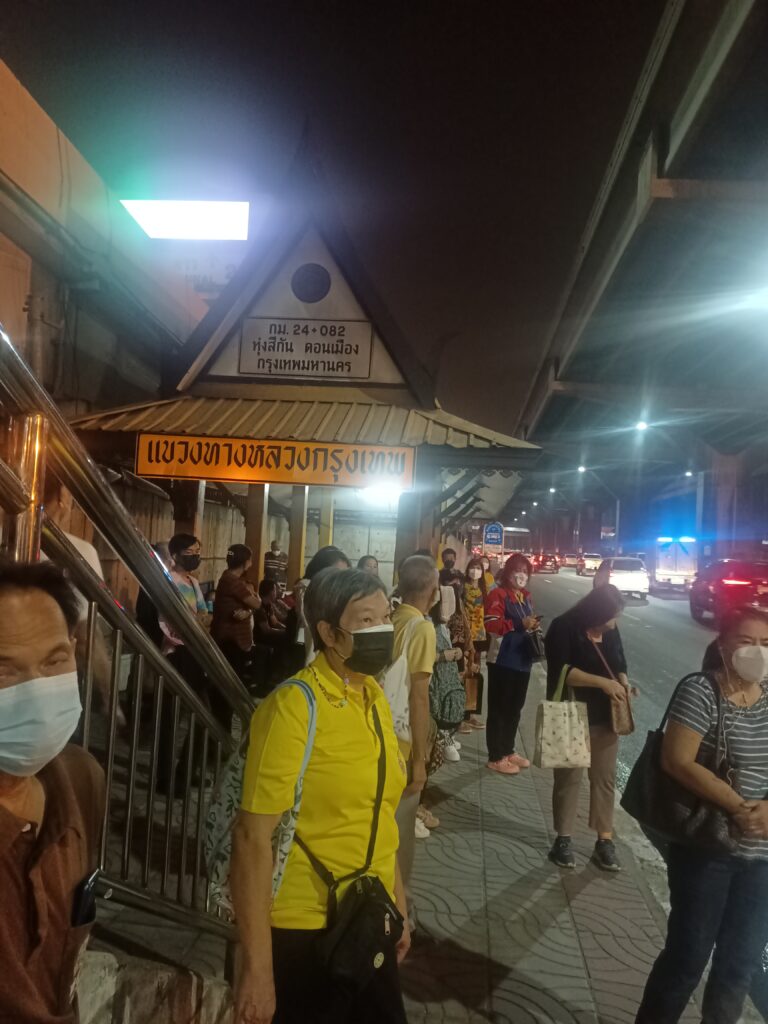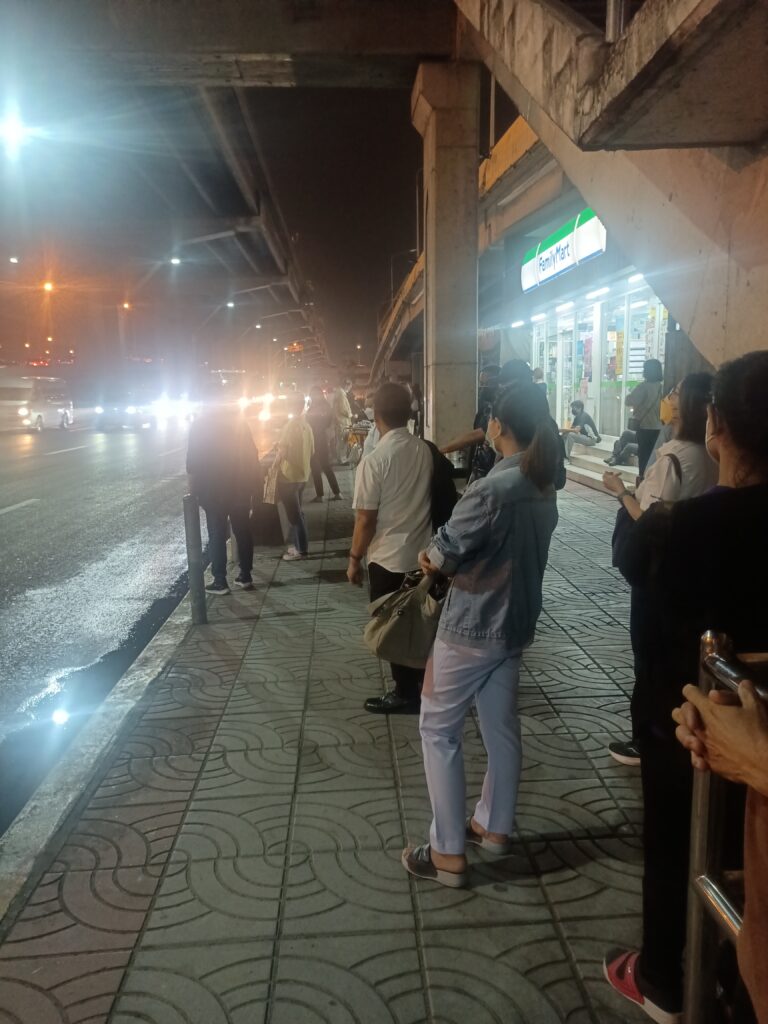 5am in the morning at bus stop for No. 555.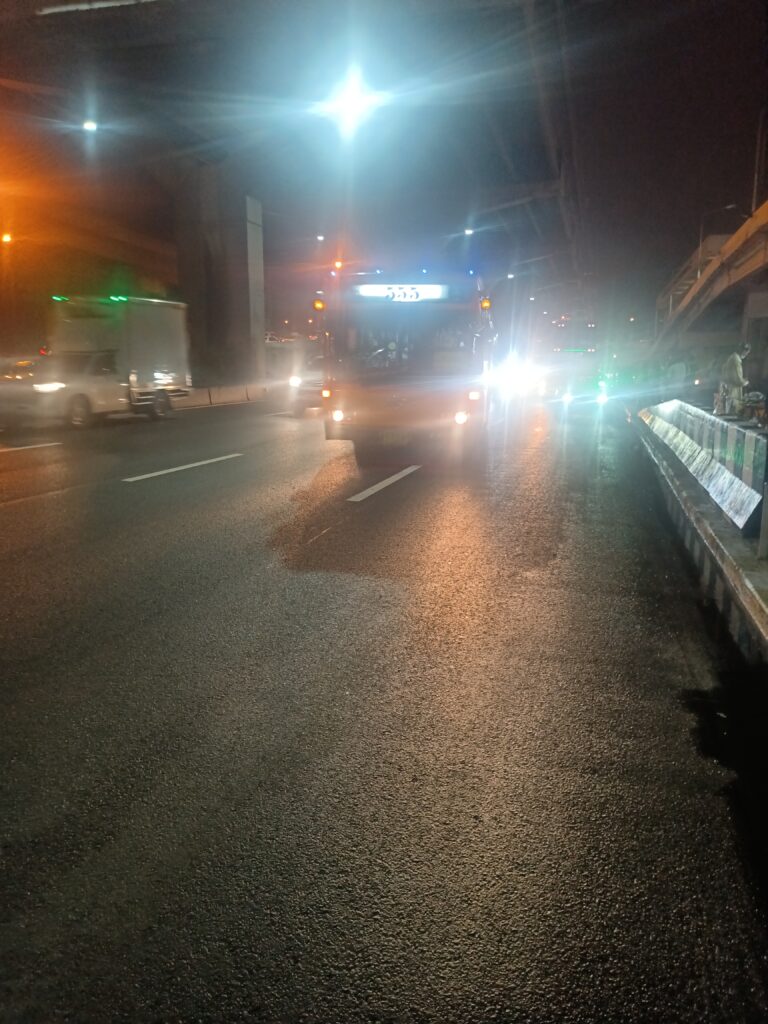 Bus will finally stops at Suvarnabhumi bus center after 1 hour. From bus center, you can take free shuttle bus that leads to Suvarnabhumi airport. Any shuttle buses goes to Airport at last. Fastest one is Express. Better to avoid C bus that goes around and takes time.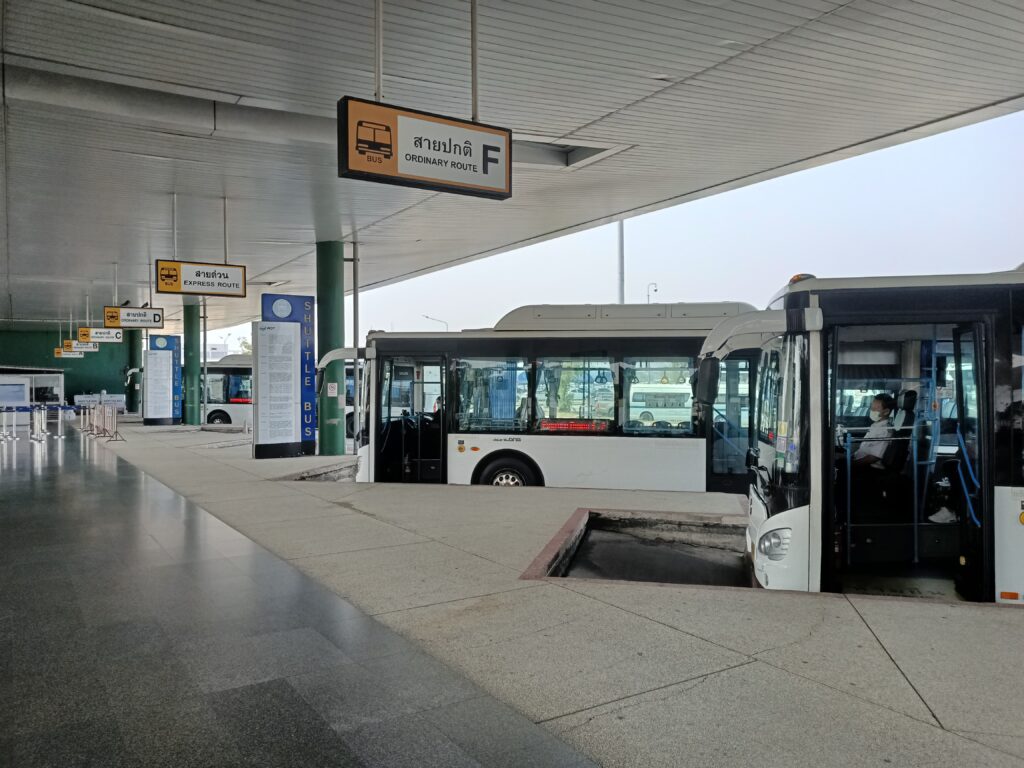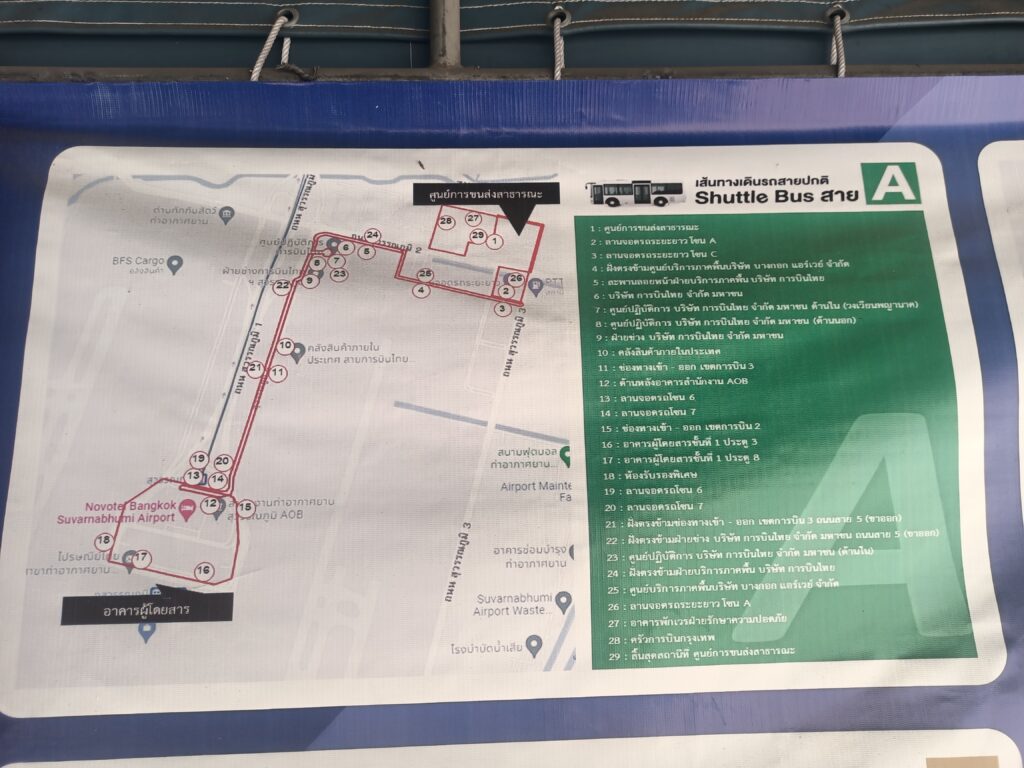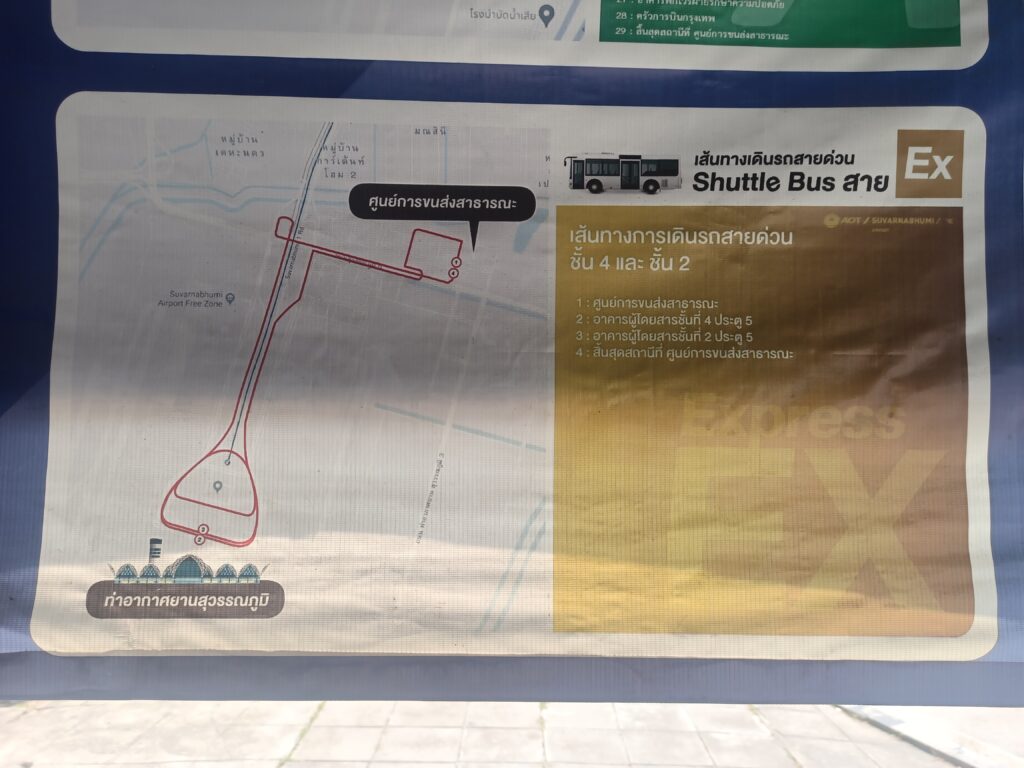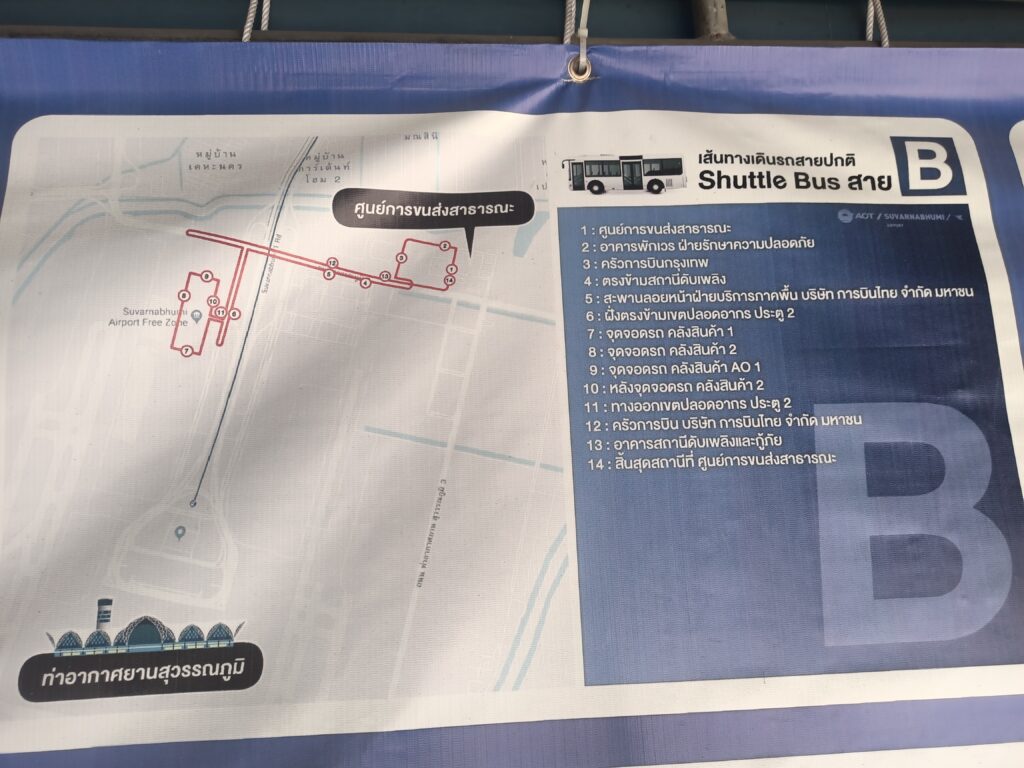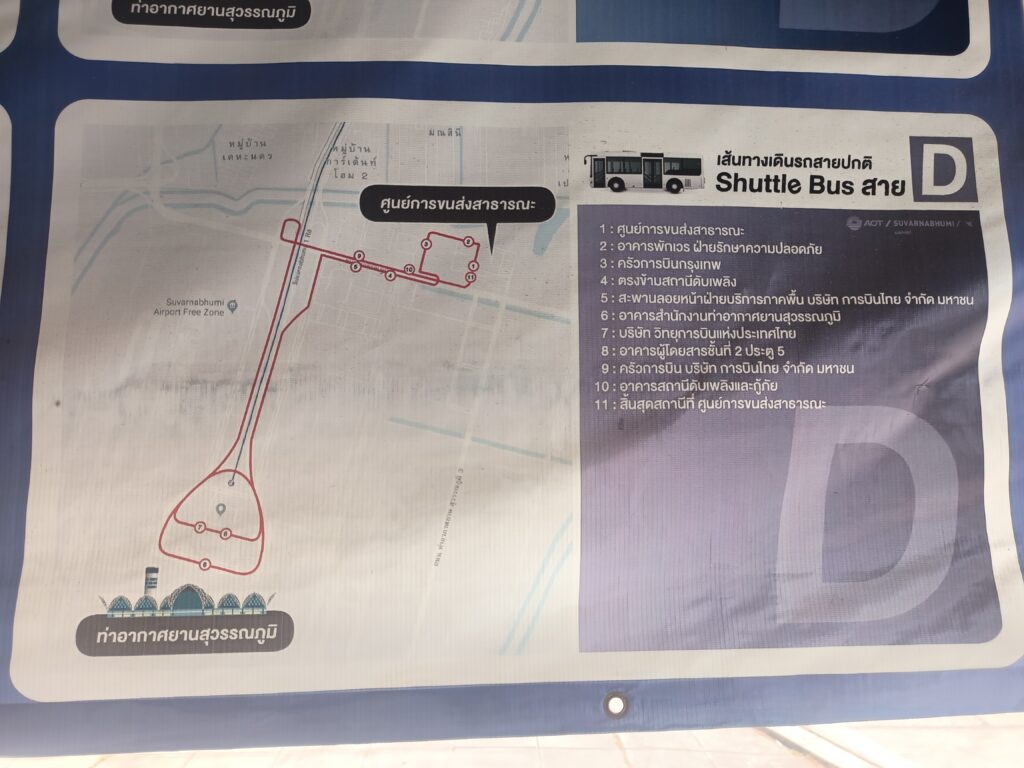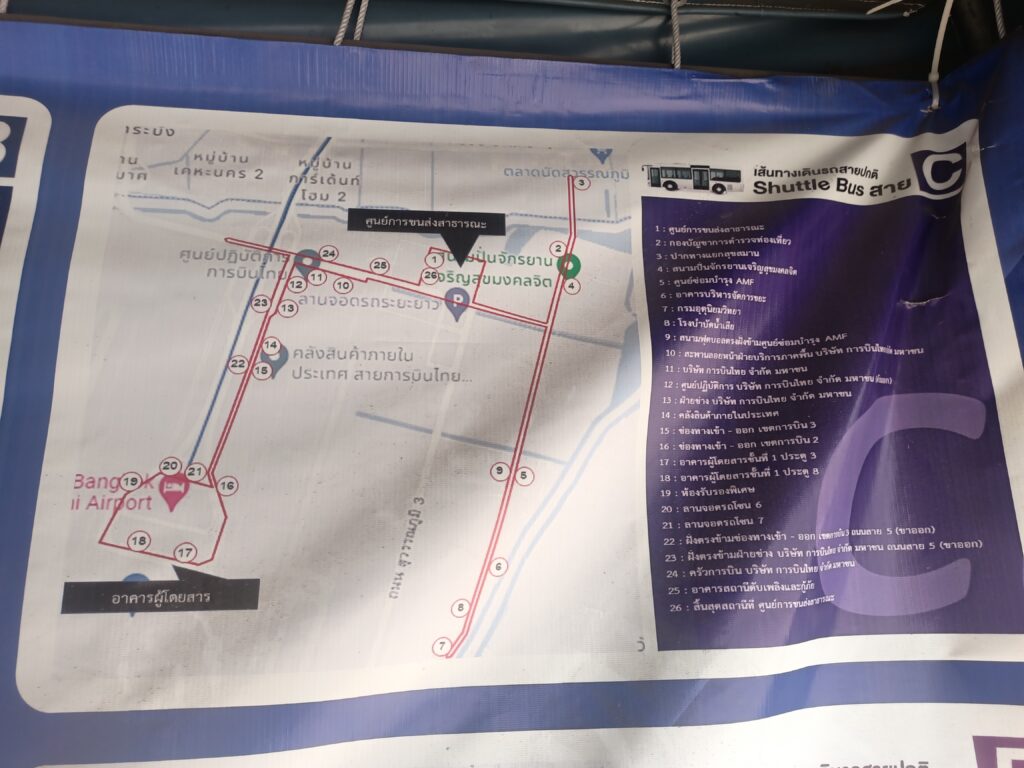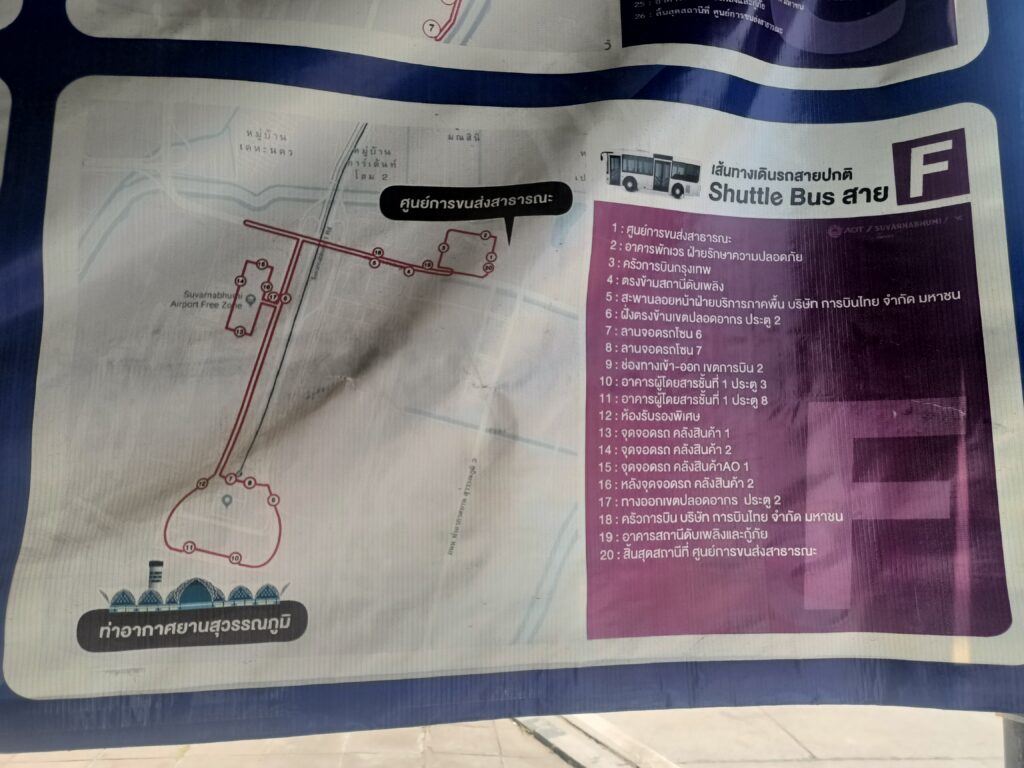 OK! That's all for the post today about local bus trip from 2 major airport in Bangkok between Suvarnabhumi airport and Don Mueang airport. I hope this post will help you to travel in Thailand.
See ya!