After finishing my gym work out in Jetts fitness Bangchak branch, I took public bus to go to Mega Bangna, which is one of huge shopping malls in Thailand, located at Samut Prakan province next to Bangkok. While I was waiting for my movie starts, I used Aeon Lounge so I report the lounge service here.
What is Aeon Lounge?
Aeon lounge is the place where certain Aeon credit card holder can use to be relaxed and enjoy snacks, Wifi connection during shopping in the mall. As of January 2022, they have 11 locations in all over Thailand.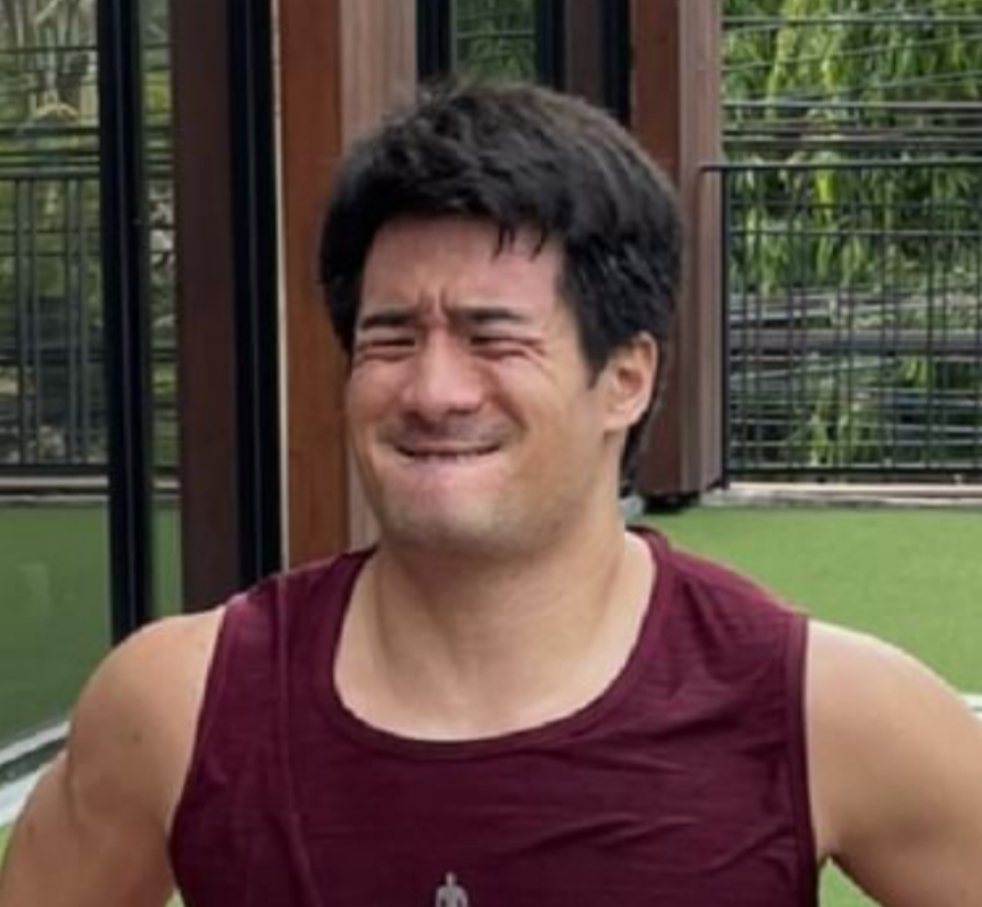 Click the location below to see other lounge service experience.
*Just noticed that Central Plaza West Gate is no longer listed as of 19th July, 2022.
** I noticed that Central Plaza Rayong also not listed as of Sep 2023 on official page.
Terms and conditions in using AEON Lounge
Special Privilege for Members AEON Credit Card AEON Royal Orchid Plus World MasterCard  AEON Royal Orchid Plus Platinum Card AEON Gold Card AEON Wellness Plat...
Applicable credit card to use service
Below is the list of credit card that will allow you to access to the lounge area. You can just show ID card such as Passport, Driver's license etc to enter the lounge. Actually I was never asked to show credit card itself so maybe ID only is enough to bring.
AEON Royal Orchid Plus World MasterCard
AEON Royal Orchid Plus Platinum Card
AEON Gold Card
VISA Olympic Themed Card Issued by AEON
AEON J-Premier Platinum Card
AEON Union Pay Platinum Card
I have Aeon Gold card which is annual fee free for life so I recommend readers get one of them to enjoy various benefit not only access to lounge service but also have discount coupon for McDonald's, Shoppe, Maxvalue, Major cinema etc. You can refer to below link to know full details of benefit of Aeon card.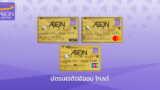 AEON Gold Card - Credit Card | AEON Thana Sinsap
Special Apply online today Waive annual fee for card period and  Get Premium offer Maximum 6,390 THB.*1 December 2022 - 28 February 2023
Guide for use
Primary cardholders may use AEON Lounge no more than 4 times/month and no more than 90 minutes per visit.
Supplementary cardholders may use AEON Lounge no more than 2 times/month and no more than 90 minutes per visit.
Cardholders may bring up to 1 guest or 2 children under 100cm per visit.
Children must be attended by card holders not to disturb others.
Refrain from using mobile or keep voice down.
Outside food and drinks are not allowed in the lounge. Likewise, complimentary food and drinks in the lounge cannot be brought out of lounge.
***From Sep 2023, you have to have spending via applicable credit card in previous month to use the lounge.
Location and how to go to Mega Bangna
Most convenient bus to Mega Bangna from Sukhumvit area is No. 132 from Onnut to Bang Phli. This time, I cannot find No.132 coming anytime soon on Viabus apps so I hopped on No. 46 instead
However No.46 was not going to Mega Bangna directly, turning left on Bangna road to go to Ramkhamhaeng university. So I dropped off from bus No. 46 near Lotus's Bangna then walked a bit to Mega Bangna.
They also operate free shuttle bus from BTS Udomsuk station to Mega Bangna. Please check official site if you want to use.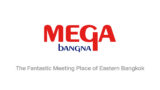 ช้อปปิ้ง ที่เที่ยวกรุงเทพ ร้านอาหารอร่อย - การเดินทาง - Megabangna
เพลิดเพลินกับประสบการณ์ช้อปปิ้ง ช้อปดีมีคืน เสื้อผ้าแฟชั่น สวนสาธารณะ ฯลฯ ที่ห้างสรรพสินค้าและศูนย์การค้าของ Megabangna บริการฟรี Wi-Fi ความเร็วสูงและปลอดภัย เพ...
Entrance of Mega Bangna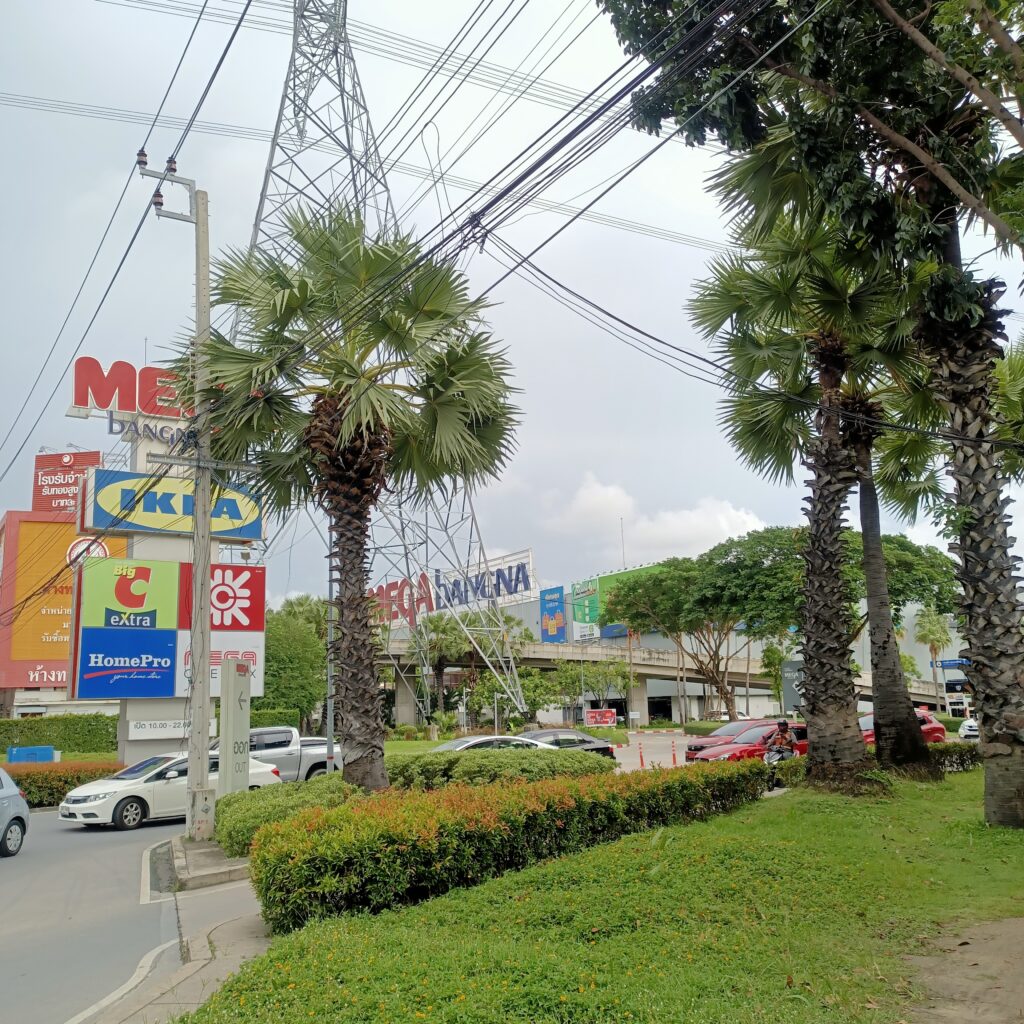 Several buses coming to this huge shopping mall so you can use for in and out going trip from here.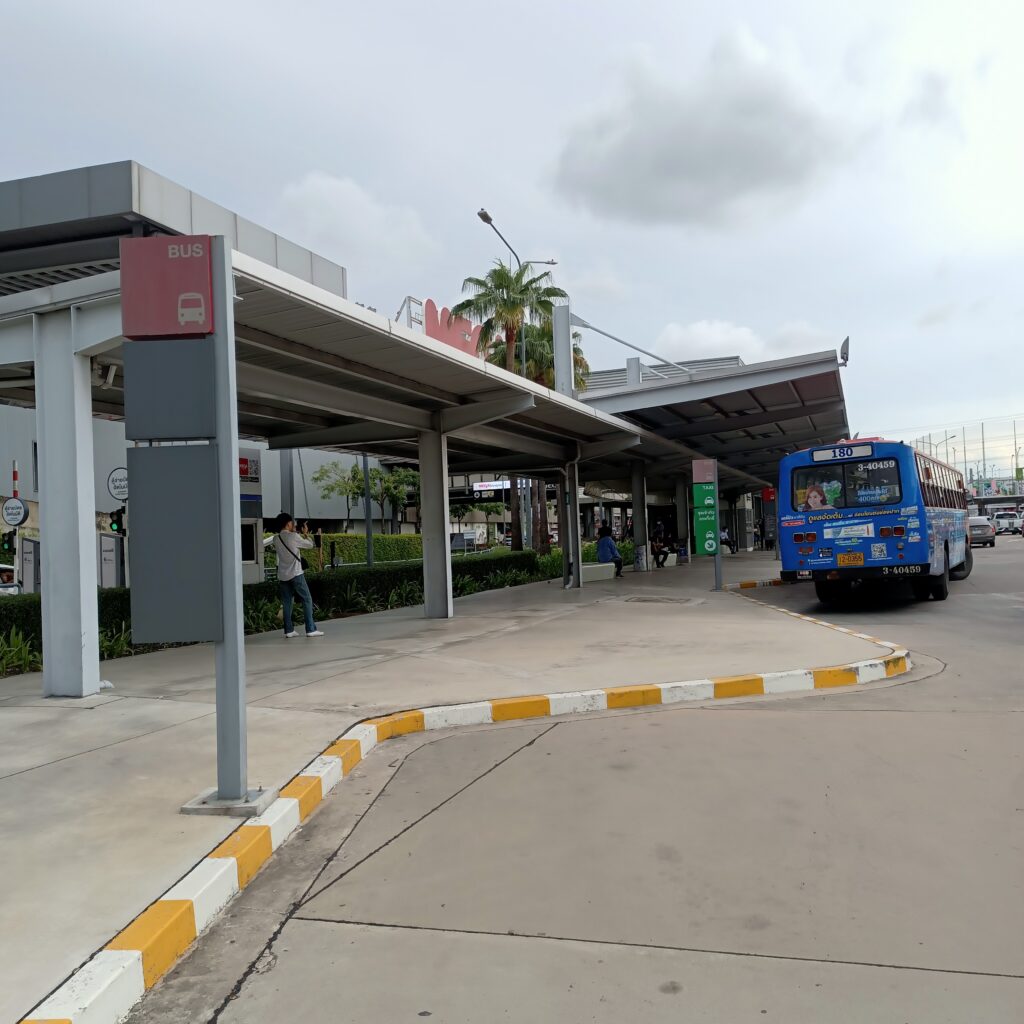 Available bus list
No. 2 BTS Udomsuk – Mega Bangna
No. 23 Pratunam – Mega Bangna
No. 180 Central rama 3 – Mega Bangna
No. 206 Kasetsart University – Mega Bangna
No. 207 Ramkhamheang University 1 – Mega Bangna
No. 145 Srinakarin – Mega Bangna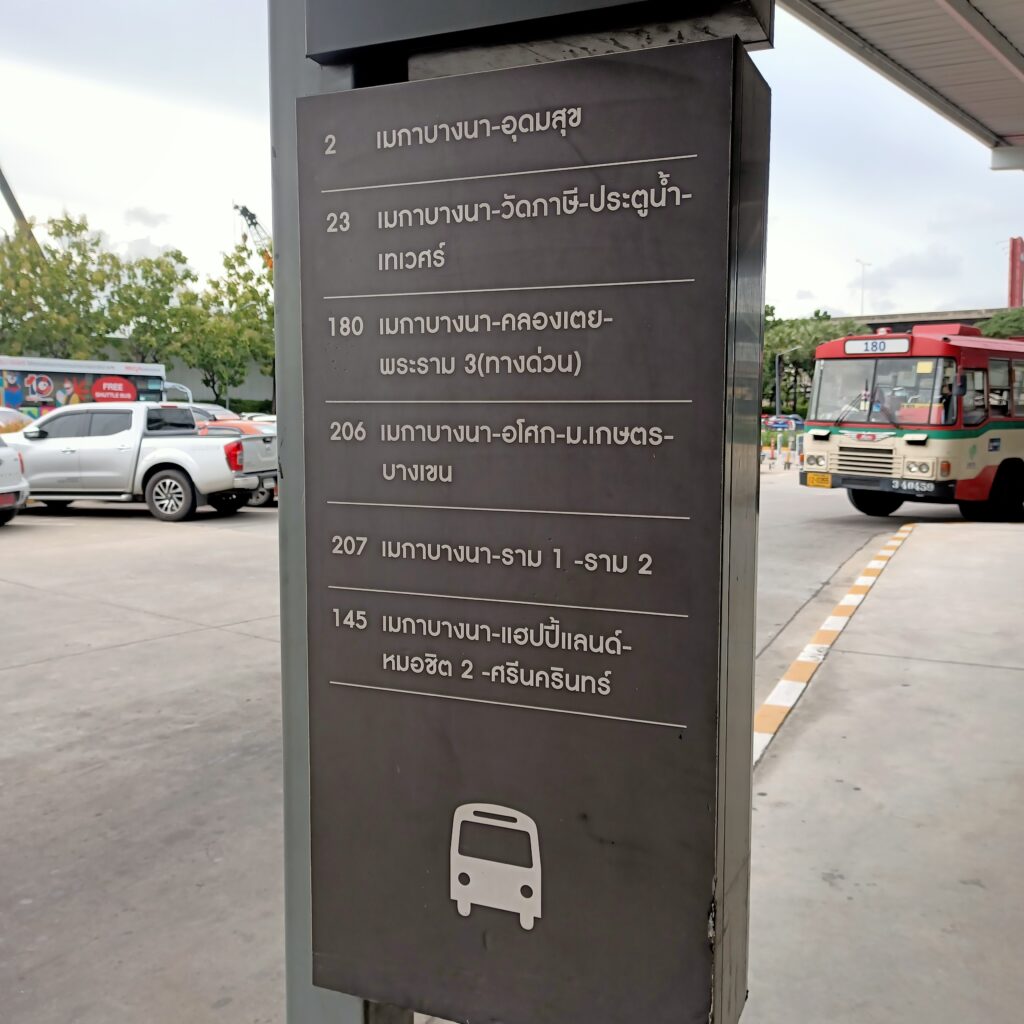 Mall entrance at the back of public bus stop.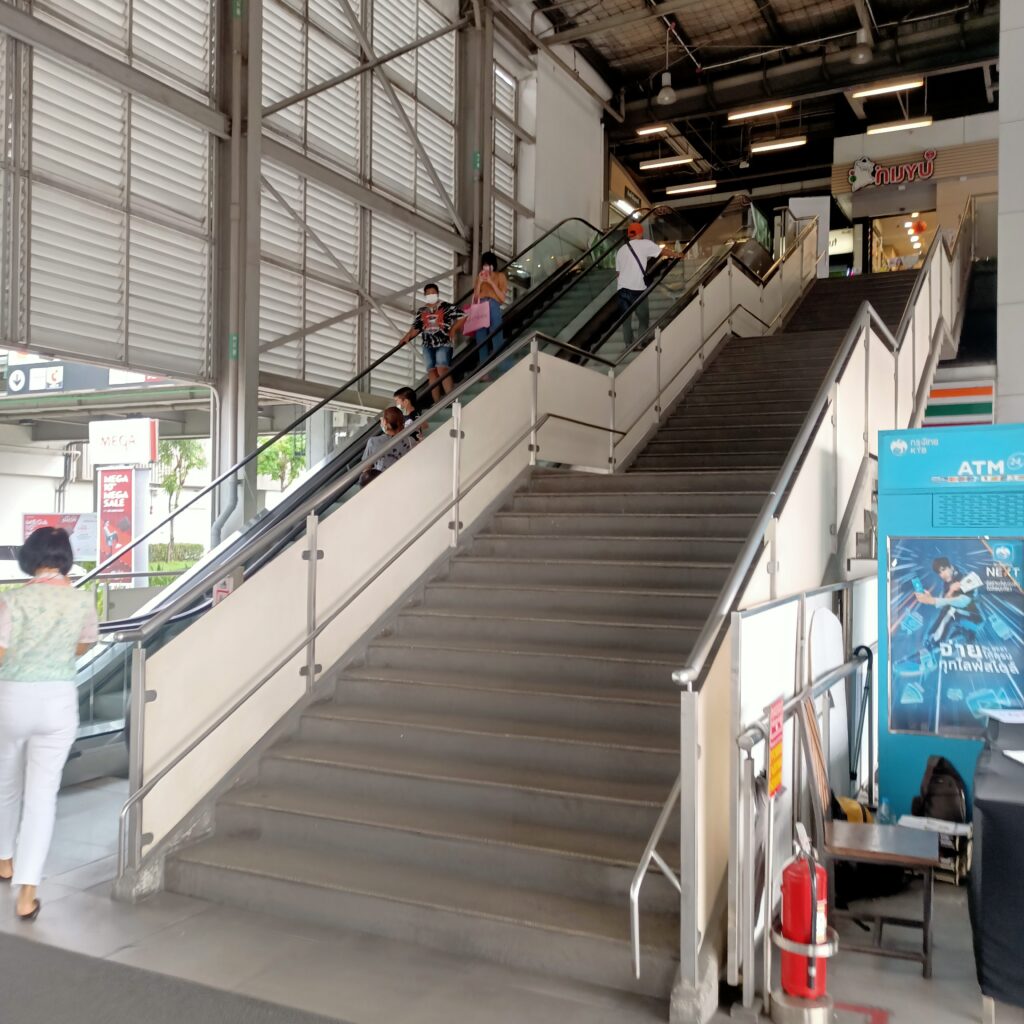 Please go turning to right side once entered mall building. Passing by Major cinema movie theater, you will come to bowling and ice skate place. From here, take escalator to go down to the 1st floor.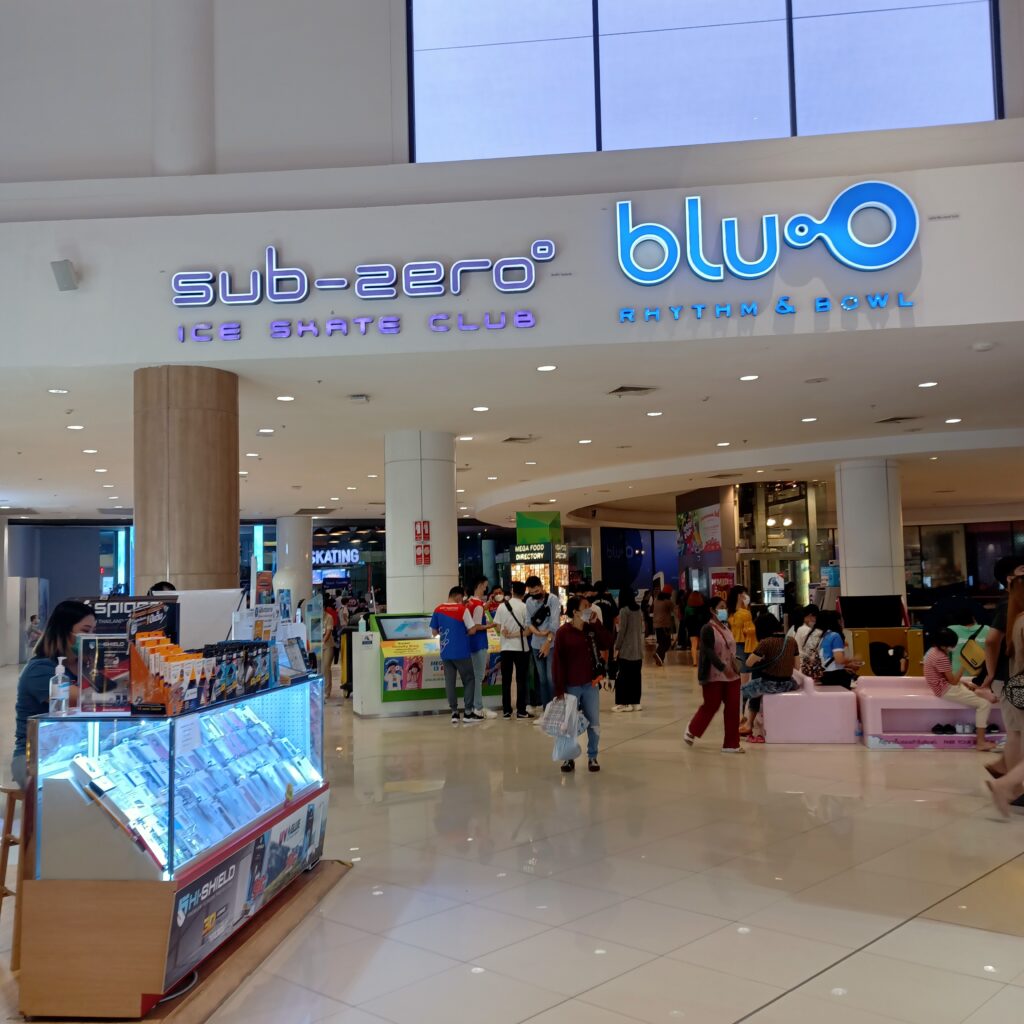 Aeon Thana Sinsap branch is at the end of this banking area. Mega Bangna is quite large mall so they have some other banking areas not only here.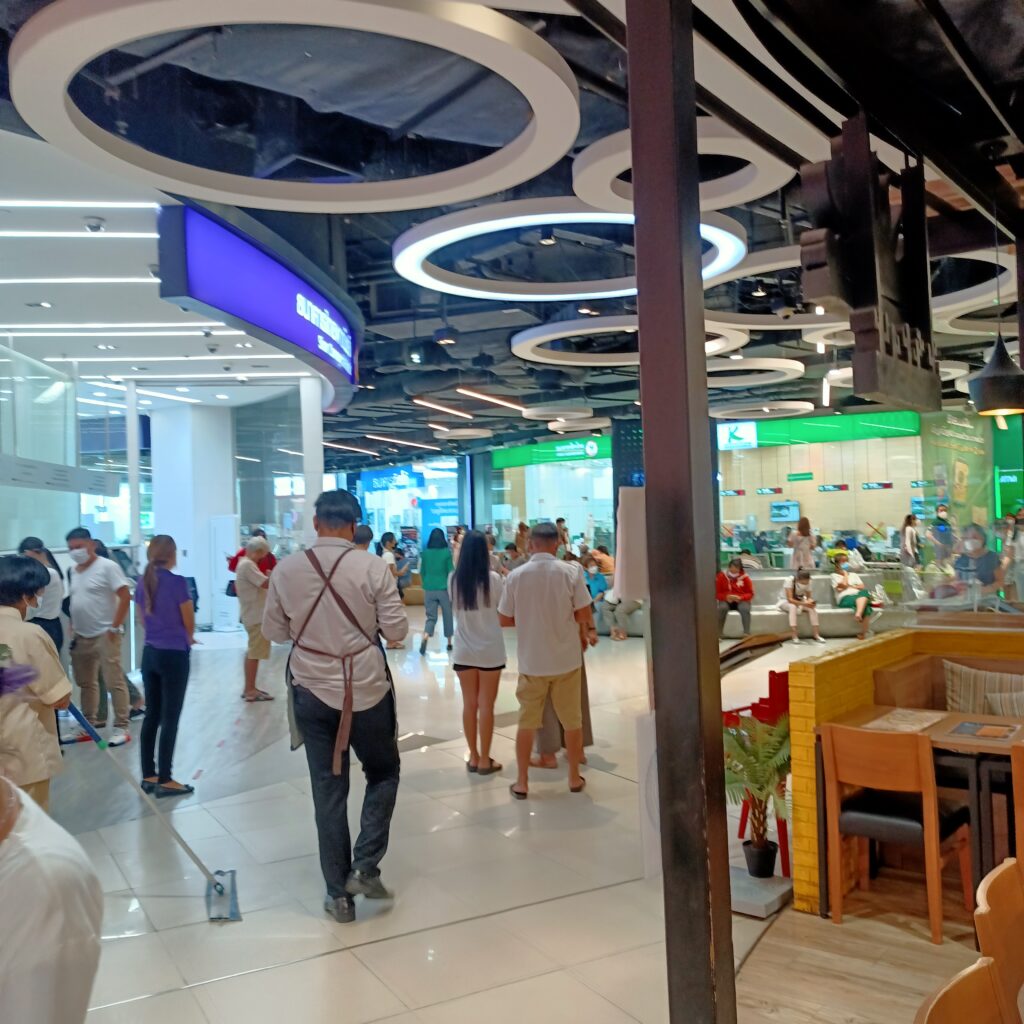 Show your ID to the counter staff to enter the lounge area. This time, one group was using the service already.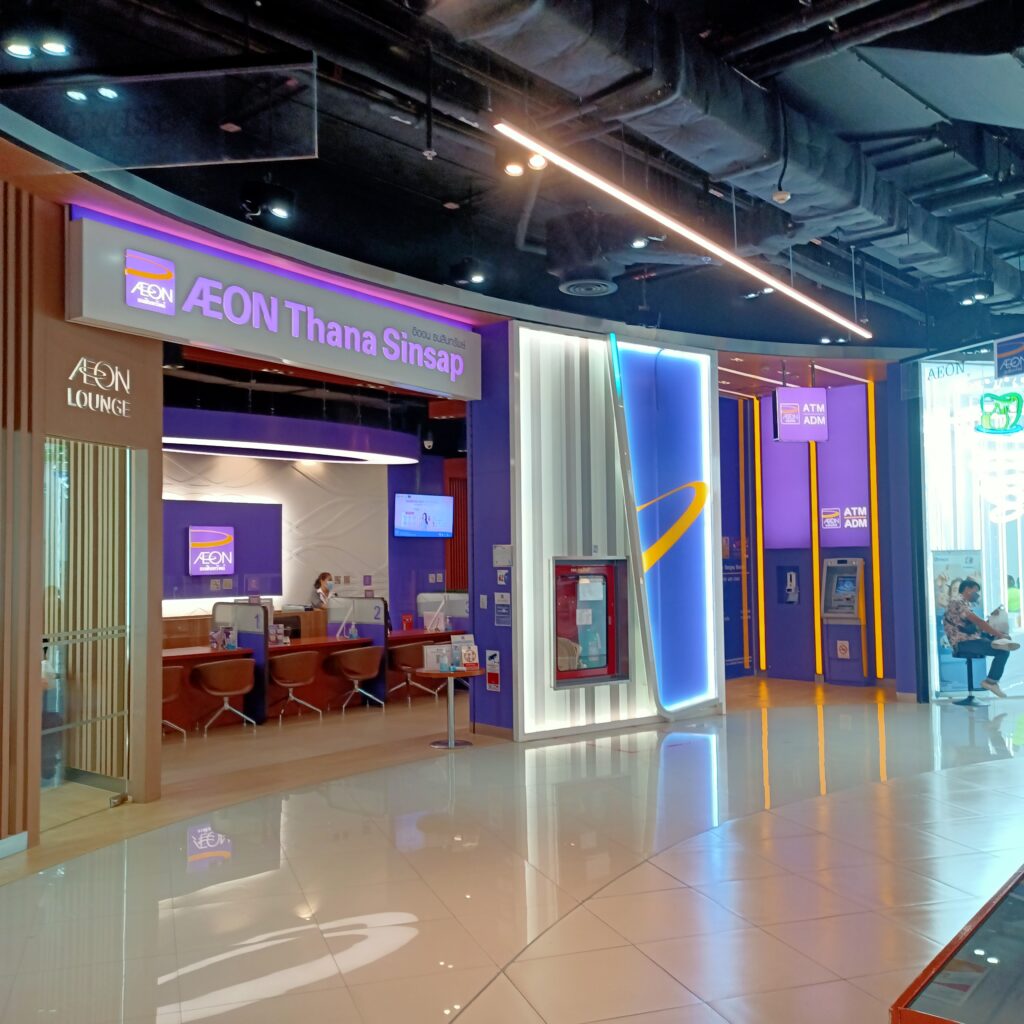 Lounge service
There were 3 small tables and 8 chairs available inside. Sorry 2 chairs were occupied with other groups so I refrained from taking photo.
Below is the space I used.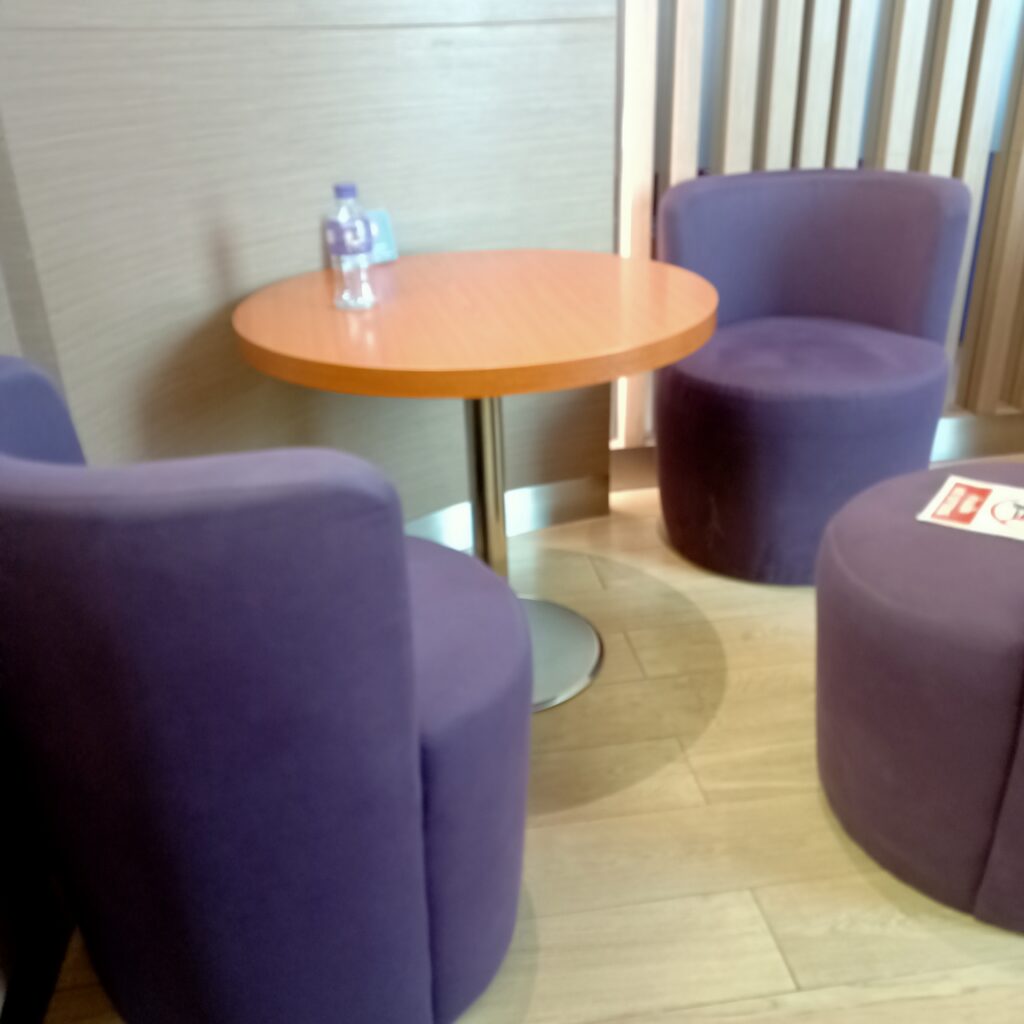 Another space can be used at this time.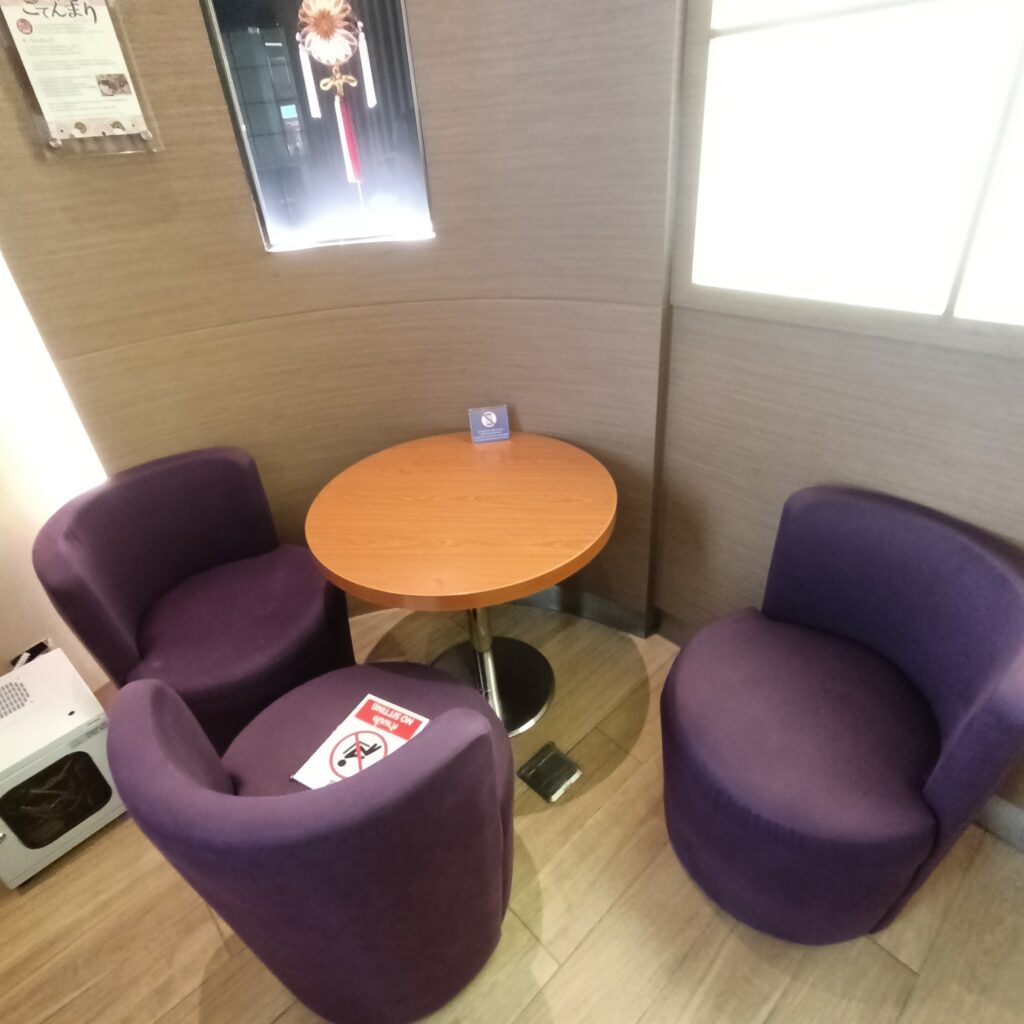 Nothing prepared inside the ref due to Covid control.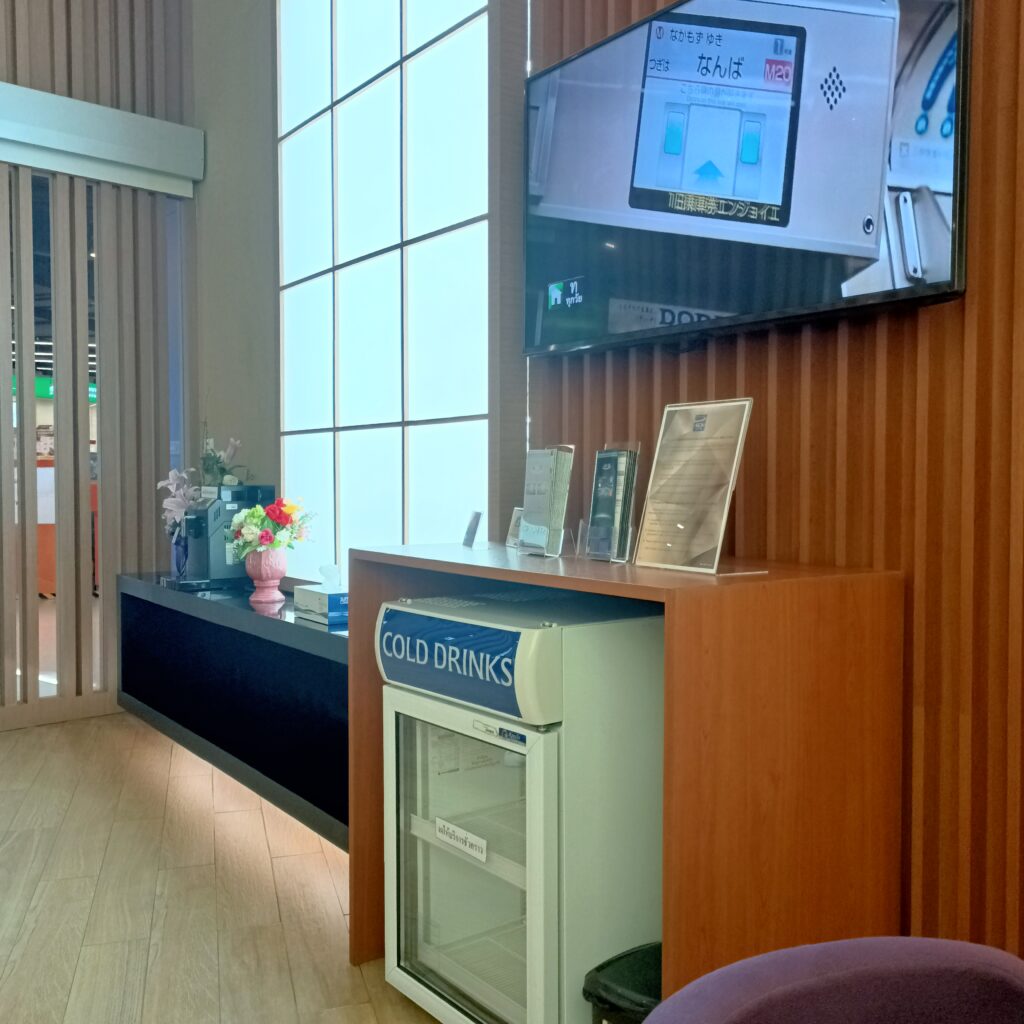 Charger plug can be connected under the table.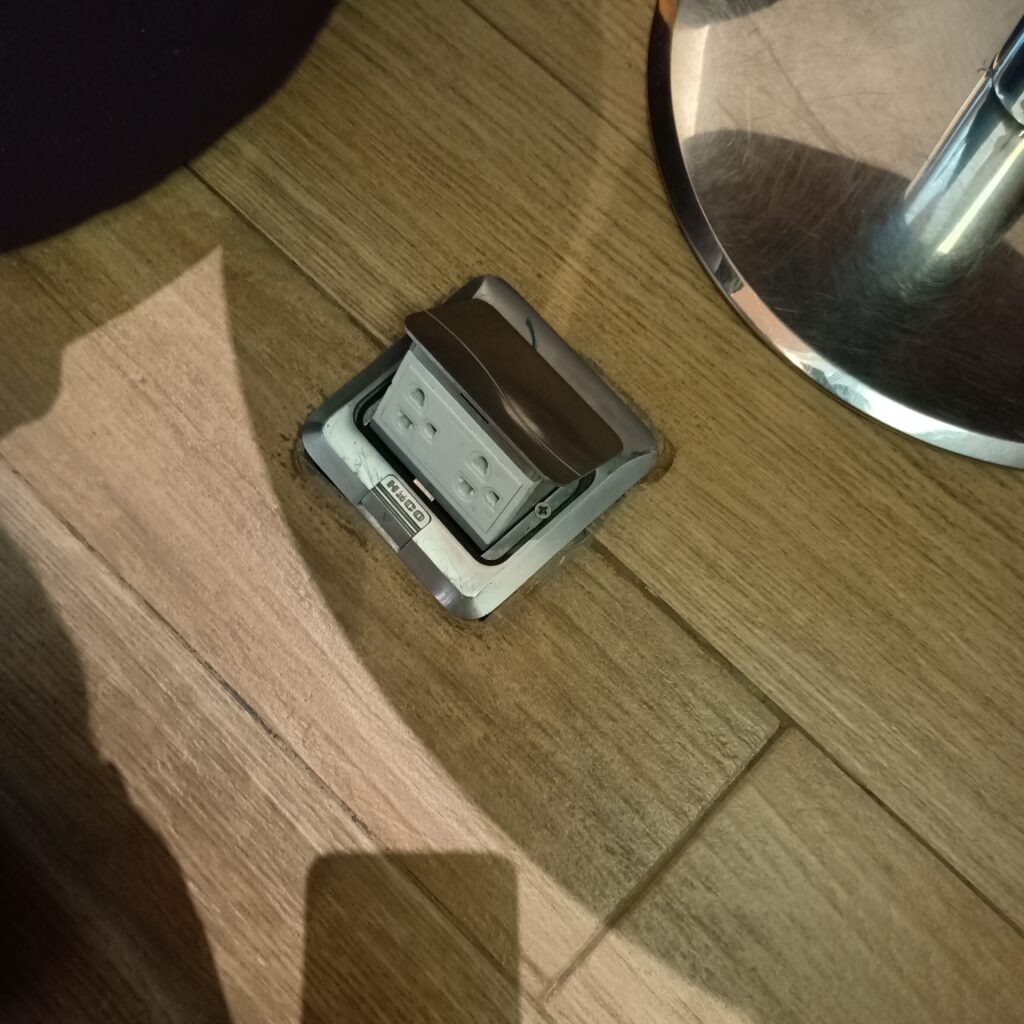 Here are the snacks I got. Thank you so much, staff gave me 2 sets while I came here alone 55. Maybe they might want to feed me more since I have bigger, muscular body compared to standard sized people.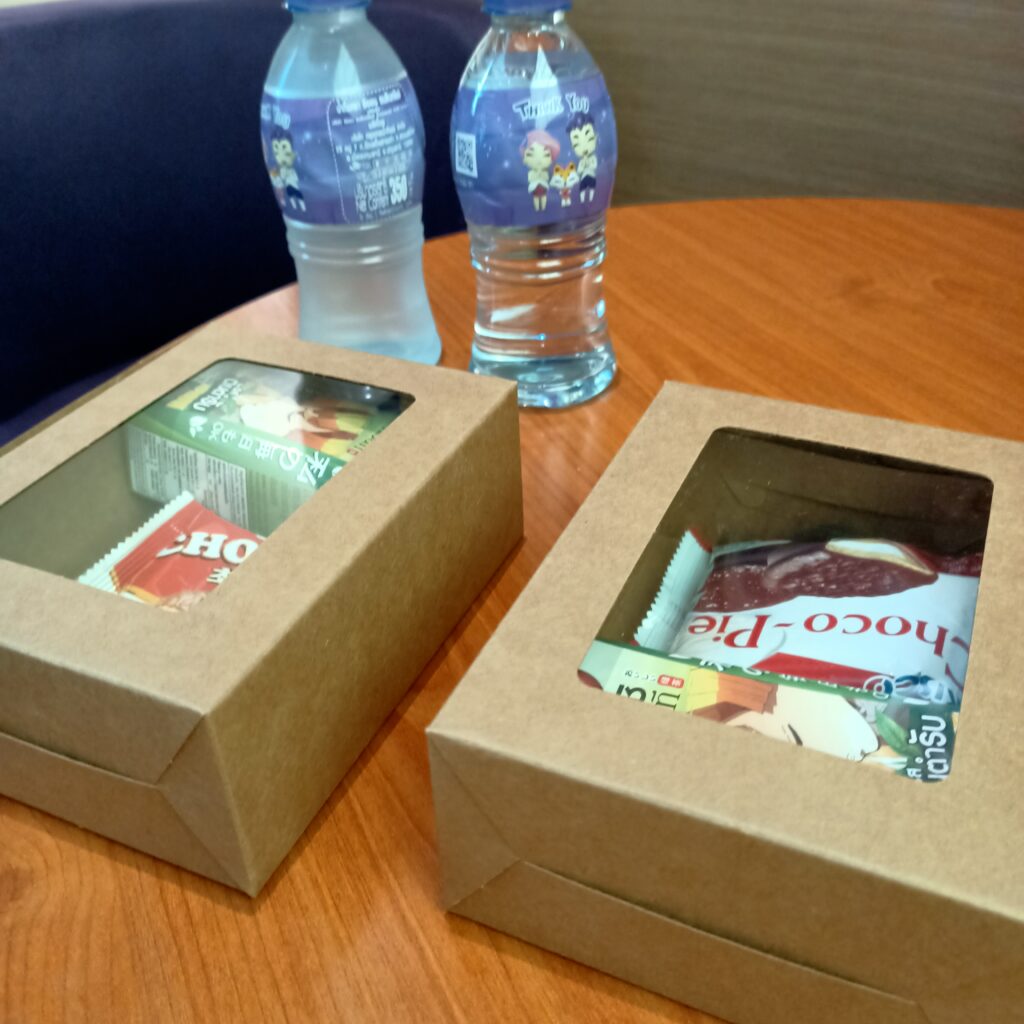 Choco pie, pocky and low sugar tea inside the snack box.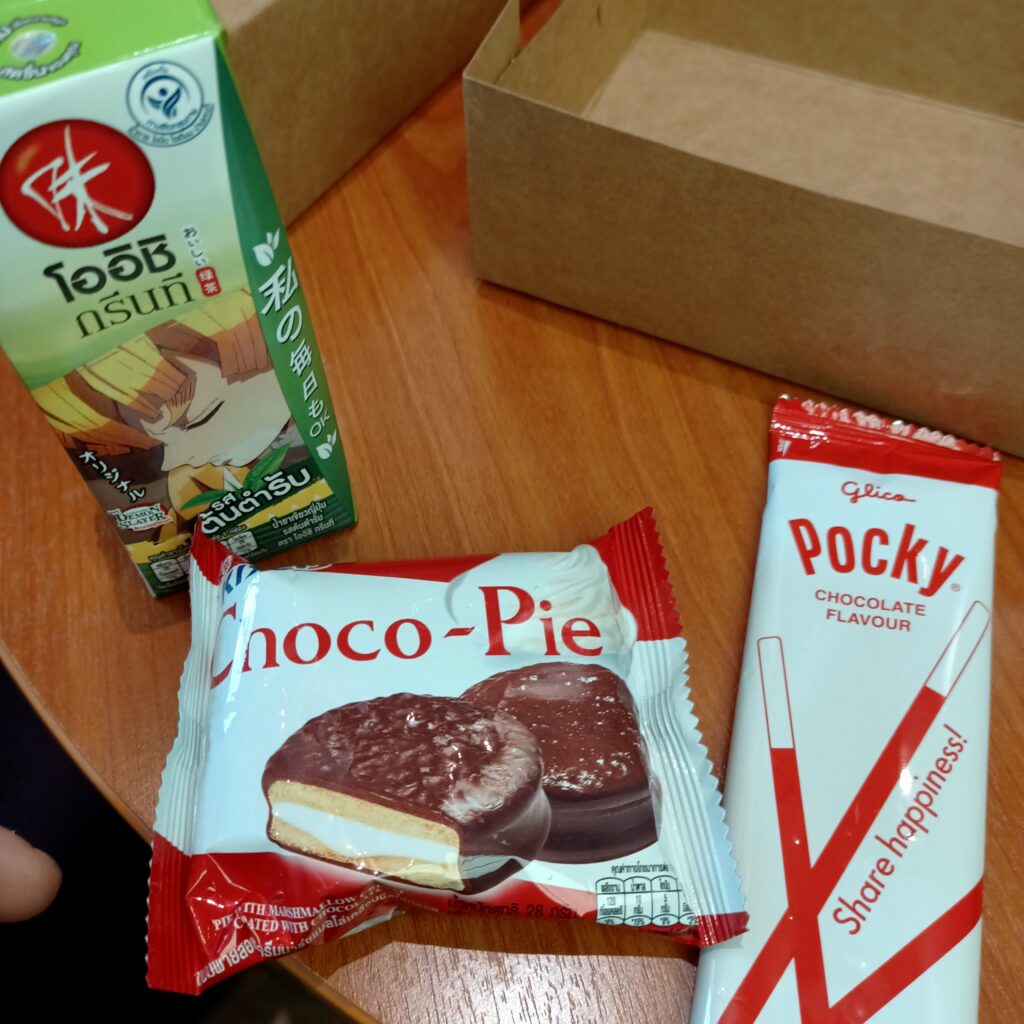 Inside the lounge, there is some traditional decoration to display the Japanese culture. Below is the face of "Namahage" which is a imaginary god to go to each family in northern east region in Japan to drive away evil spirits.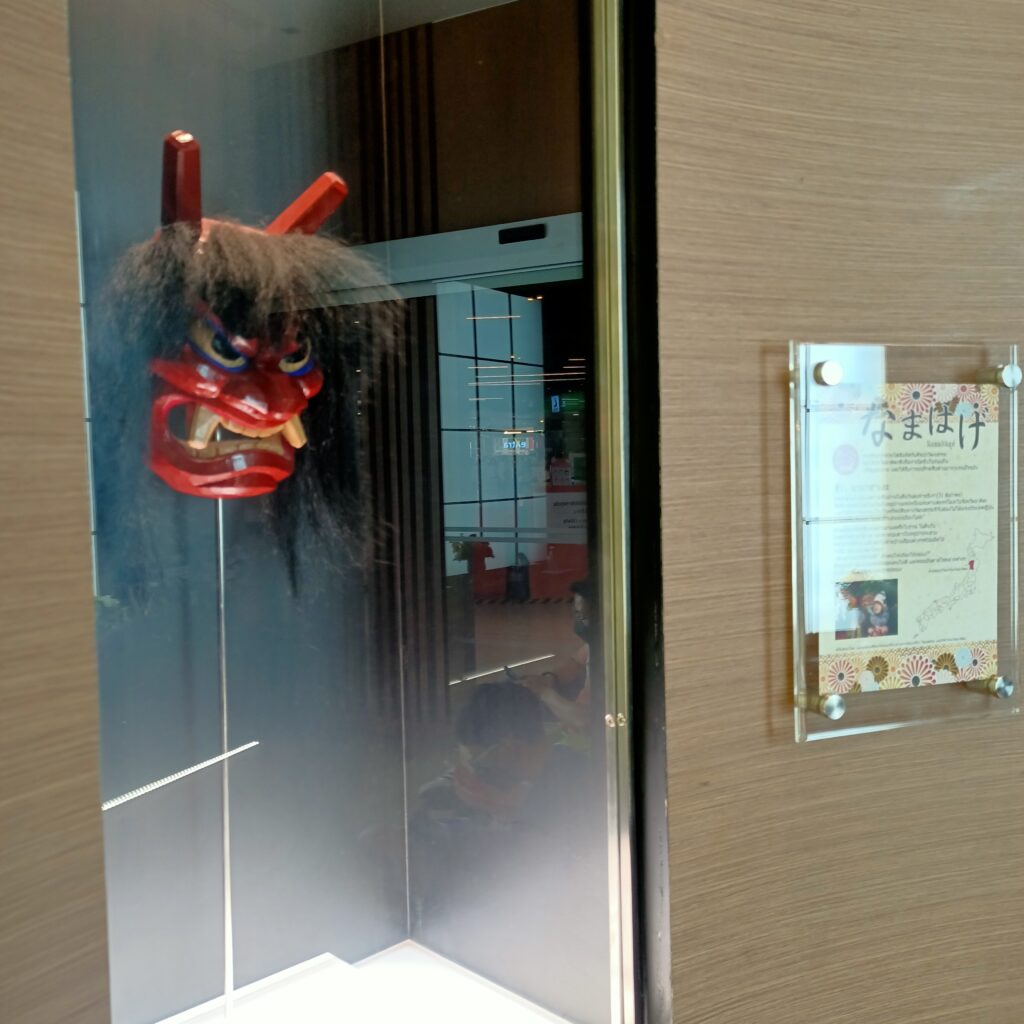 "Mari" is a traditional ball in Japan can be used for various plays in old era. Especially "Kemari" is famous to be played like football juggling.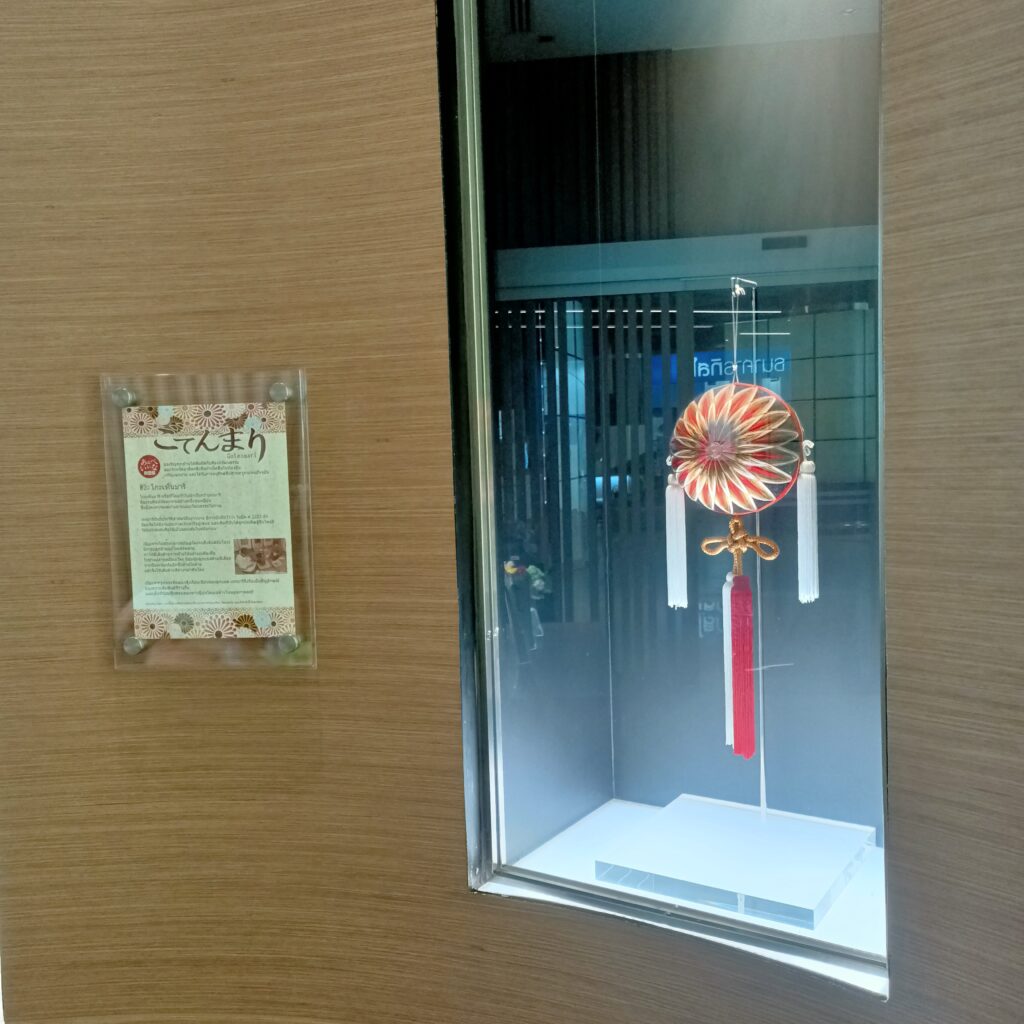 OK! That's all for Aeon lounge Mega Bangna introduction. Mega Bangna is huge sized mall so when you need to take rest during shopping, please use this lounge!
Oct 2022 visit
I revisited this lounge on October 2022. Since Thailand removed Covid 19 restriction fully so lounge operation got back to normal as before.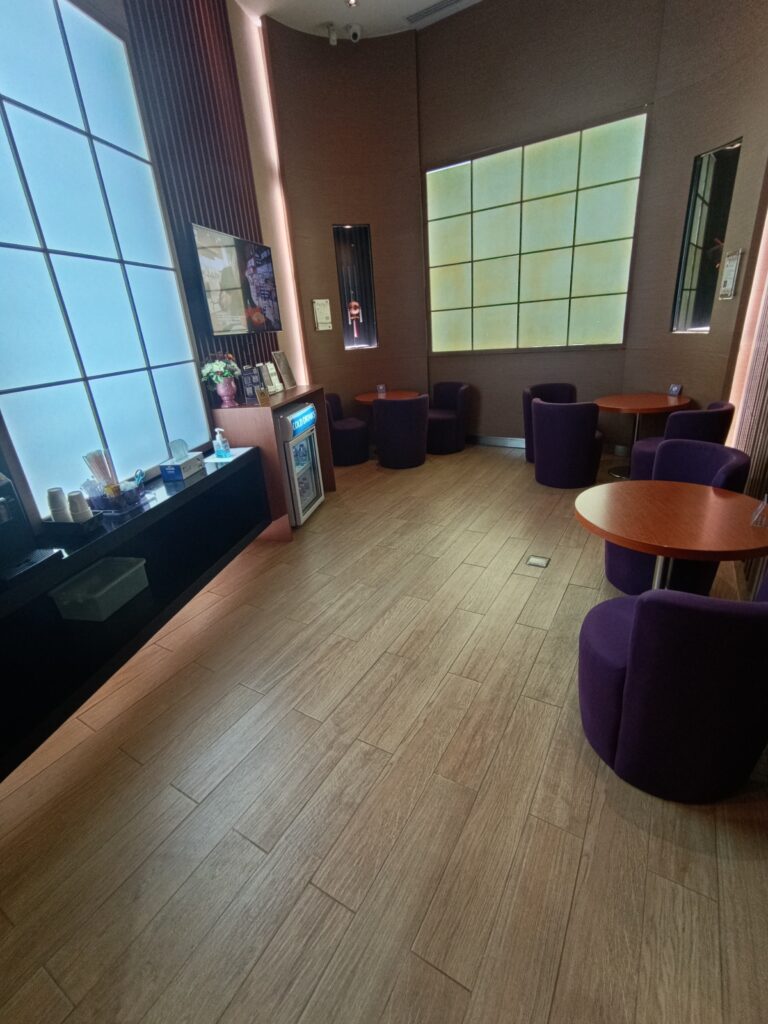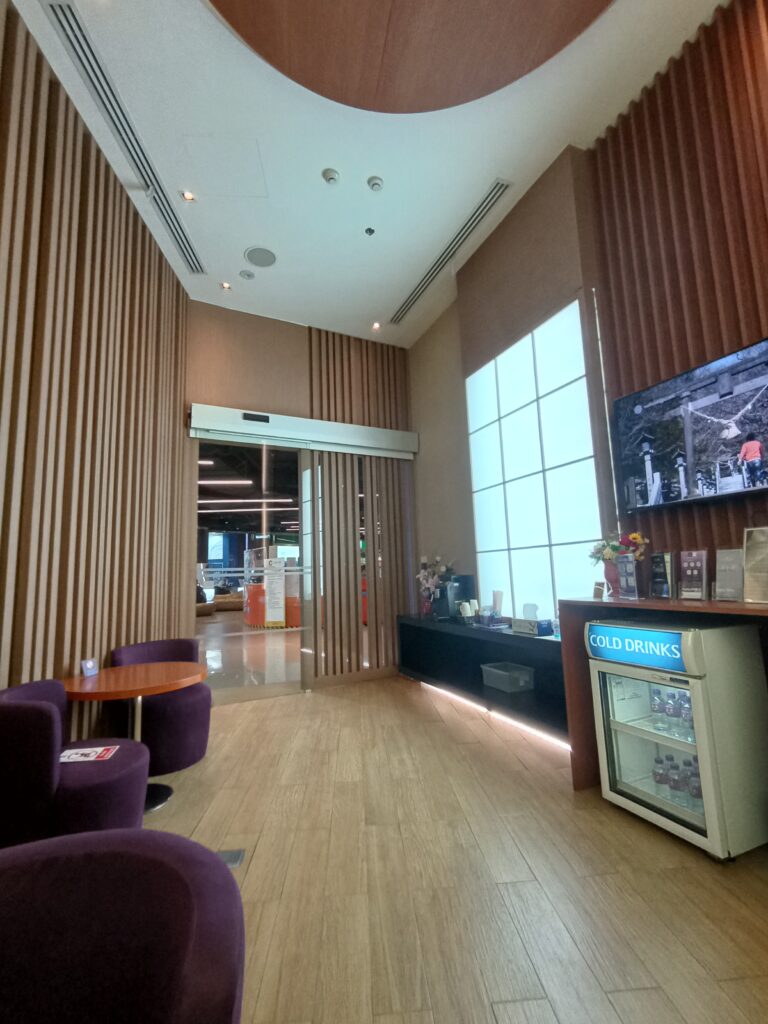 Coffee machine can be used now and water is served by yourself from refrigerator.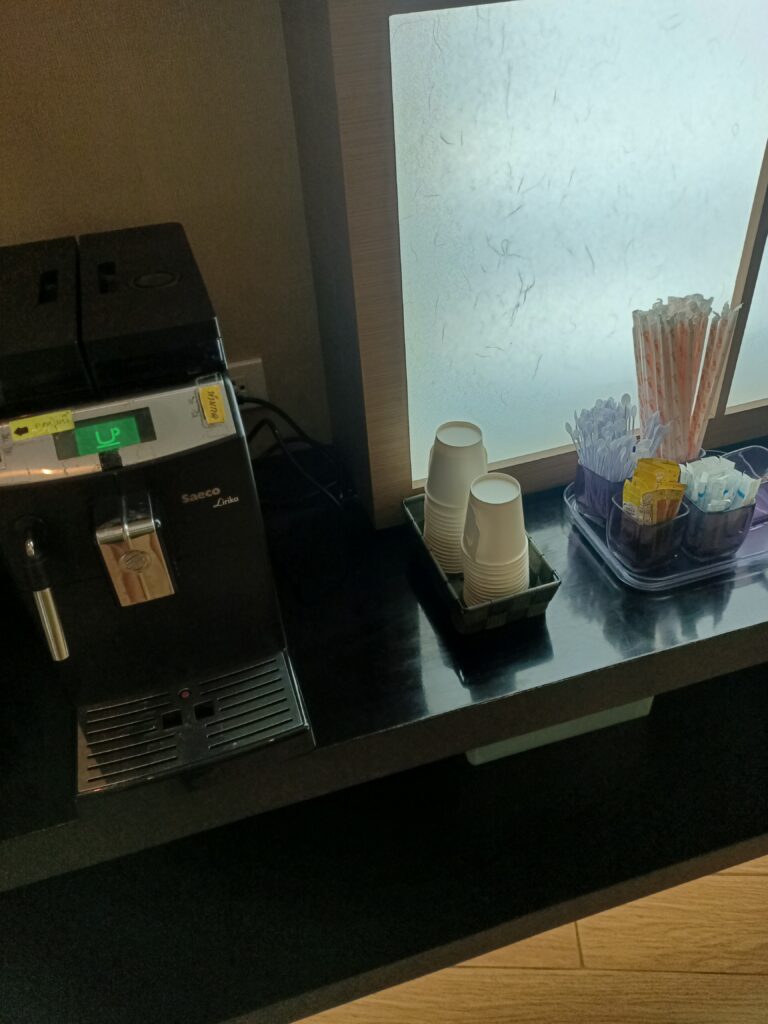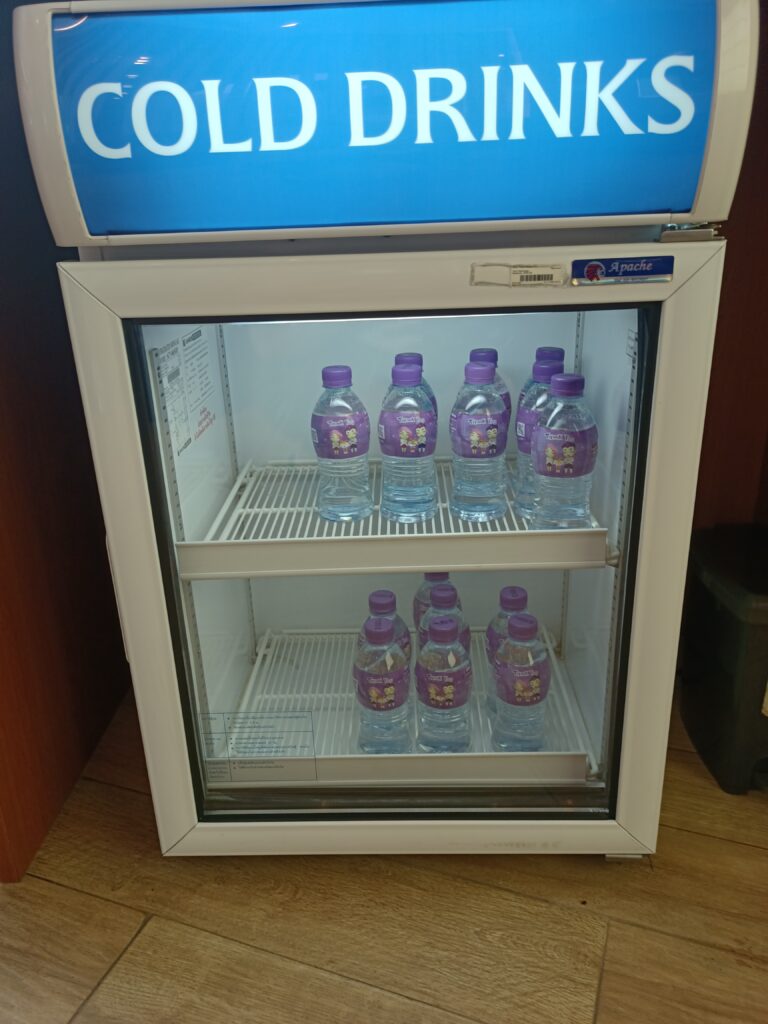 Snack box is also served by staff.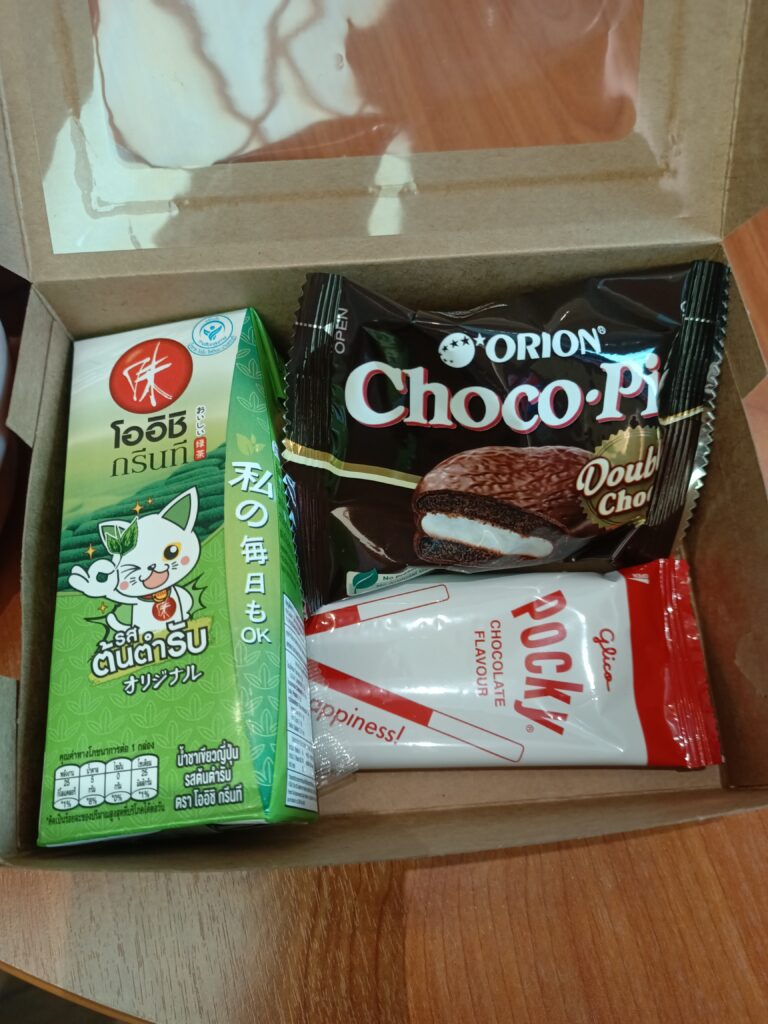 See ya!
June 2023 visit
It was nice to use the lounge again alone, hehe.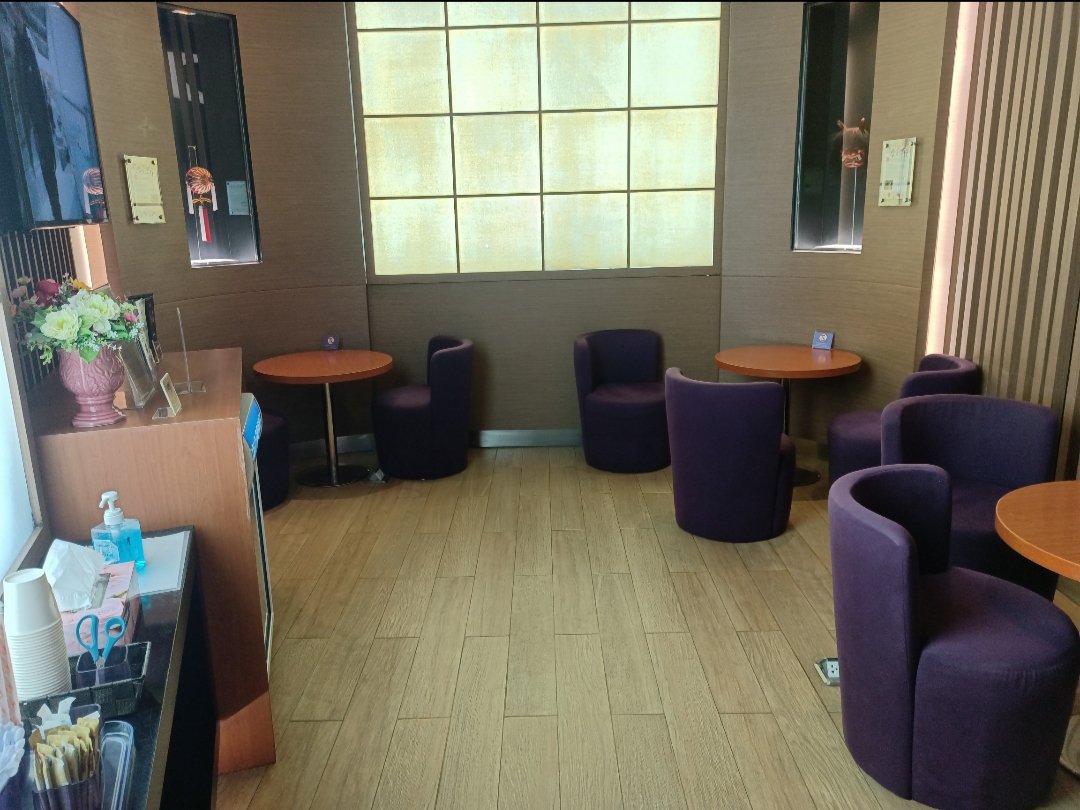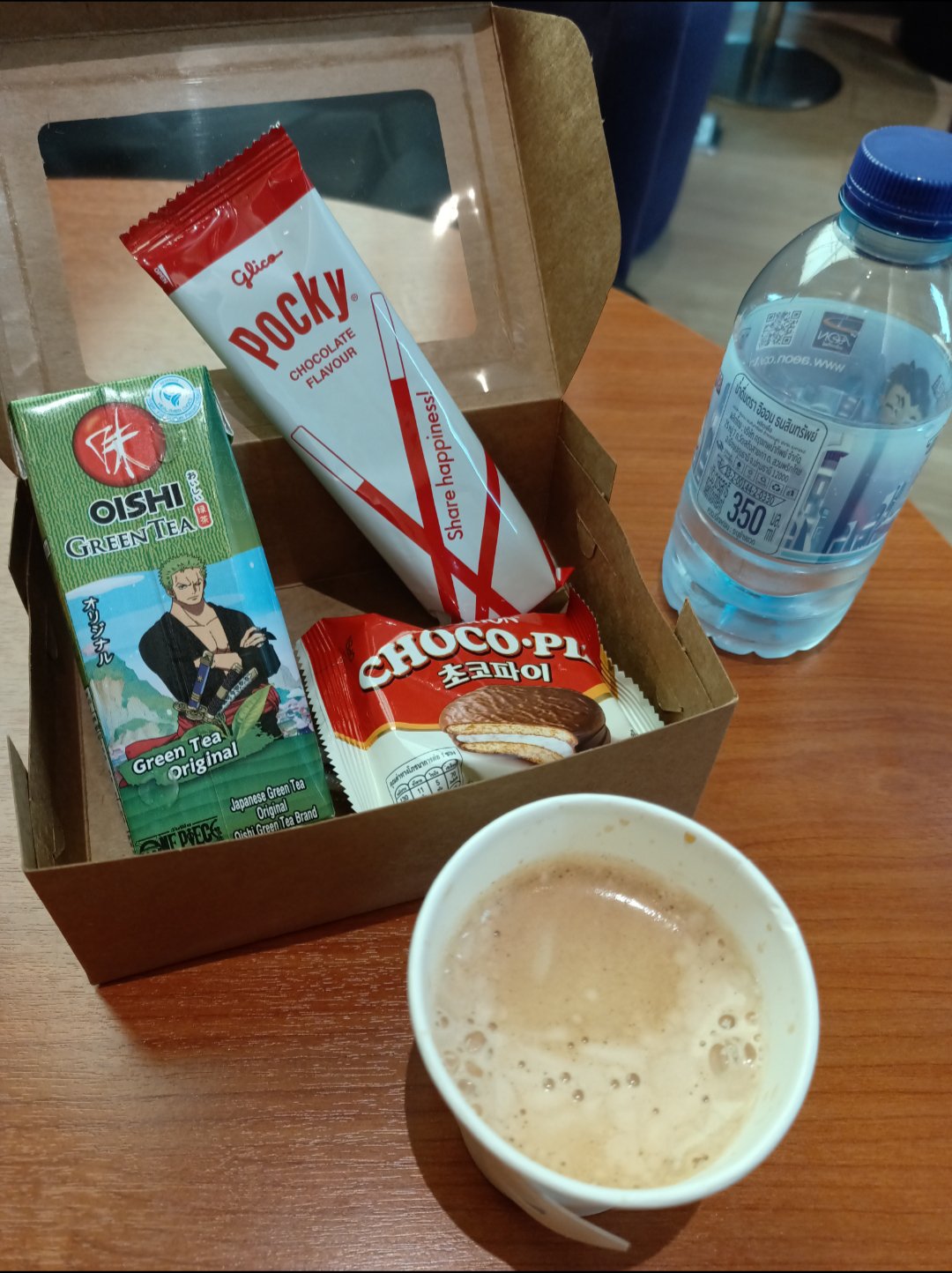 Oct 2023 visit
Slightly changed operation recently. Water is not provided by pet bottle anymore and WiFi use guide is desplayed inside the lounge. Same as before Sugoi Japan TV program is aired all day.