Welcome back to fitravelife.com!
From August 2023, I joined Anytime Fitness in Japan so this time, I would like to introduce the general guidance of world wide well known gym, citing my home club Anytime Fitness Chiba Takashina 千葉高品 branch.
This article also helps understand the specific rule of Anytime in Japan for those who has membership in other countries and try to use clubs in Japan. For example, your tattoos are not allowed to show inside gym areas. This is very unique regulation only in Japan, I guess.
What is Anytime Fitness?
Anytime Fitness is globally operated 24/7 gym originally from United States. They have more than 5,000 branches in the world and surprisingly 20%, 1,000 branches of them operate in my home country, Japan. With your common entry key, you are allowed to enter any branches in the world.
Depending on the countries and franchisee operator, gym operation is slightly different from another. I have plan to use other Anytime clubs in the Philippines, Malaysia, Vietnam in near future then will share my experience.
Speaking of clubs in Japan, they offer only machine use unlike in Thailand, they have group exercise class such as Yoga, body combat classes and so on.
How to join Anytime Fitness Japan
Ok, now you are considering to join fitness gym to achieve your goal. There are many types of gym in Japan. First in first please try to visit them and see which gym is most suitable to your needs.
Let's say Anytime Fitness is machine oriented gym. Meaning no sauna, pool, group class exercise and protein bars so on. In most branches, no trainer stays so you better know somehow how to use machines or learn by yourself.
There are stuff in Anytime gym day time only, they have basic knowledge how to use machines for advice.
Once you decide to join Anytime Fitness in Japan, you can visit the club to join for registration. Please check staff hour of your home club since staff are not always around. For example in my home club, staff are available only from 10:00 to 19:00 daily. Some branches set regular non staffed day per week.
Each club has different opening campaign so you can check first at their branch home page or Instagram page then decide which club to join.
Anytime Fitness Japan has this restriction before that you cannot use other clubs than home clubs within 30 days from joining date. However, this rule is already lifted, now you can enter any clubs  since first day.
Therefore, when you sign up for the club, you can choose clubs offer most attractive joining campaign then work out at other gym to go conveniently.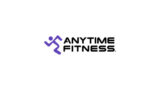 店舗一覧 | 24時間営業のフィットネス ジム | エニタイムフィットネス
エニタイムフィットネスの店舗をここから探しましょう
What to bring for registration
ID
Credit card or cash card
Whole registration process takes around 20 minutes by signing many papers such as contract, non disclosure policy and optional services. You will also need a smartphone to scan QR code to register personal information and payment channel. Once done, you can get key card to start workout on same day.
Every monthly fee will be deduced from your bank account on 27th for bank payment or between 13th to 15th, the fee will be charged to your credit card.
Membership Fee
Monthly membership fee varies around 7,000 to 10,000 yen, depending on location, convenience access and facility. My club fee is 7,000 yen (7,700 yen tax included), probably very average fee amount in Japan. At registration day, you are required to pay joining month fee (daily rate), following month fee and entry key fee.
Normally each Anytime Fitness has discount promotion for following month fee and sometimes for security key. Please check the promotion in advance.
Day pass and trial use
Anytime Fitness Japan normally does not offer visitor use nor trial use except some branches. You can check with their Instagram page if you are willing to do so. Some conditions also apply, for example, day use can be used for only who lives in nearby area and limitation once a month.
Security key
Security key costs 5,000 yen + tax at registration day. When lost, you must pay same amount for reissuance unless other wise you have insurance plan AF benefit.
Optional Service
Hydrogen Water server
Most Anytime Fitness in Japan does not offer free drinking water (only some offers) while they have Hydrogen Water server with fee. Monthly cost is 1,080 yen tax included. First 2 months will be free for new member so you can try first then cancel if you don't need it.
The problem about Hydrogen water is you can use machine only where you belongs. That means you cannot use Hydrogen water server machines when you visit other branches. I never tried other than my home branch, there seem that some other branches have free water server which anybody can use. These branches are good to try as visitors.
Personal locker
Each branch has small locker for member to keep personal stuff such as training shoes, bath amenities. This also cost 1,100 yen tax included per month but first month is free of charge as promotion. In my branch, it was all full at registration day so I cannot sigh up for this service. If you really need this, you must book first then wait until locker will be available.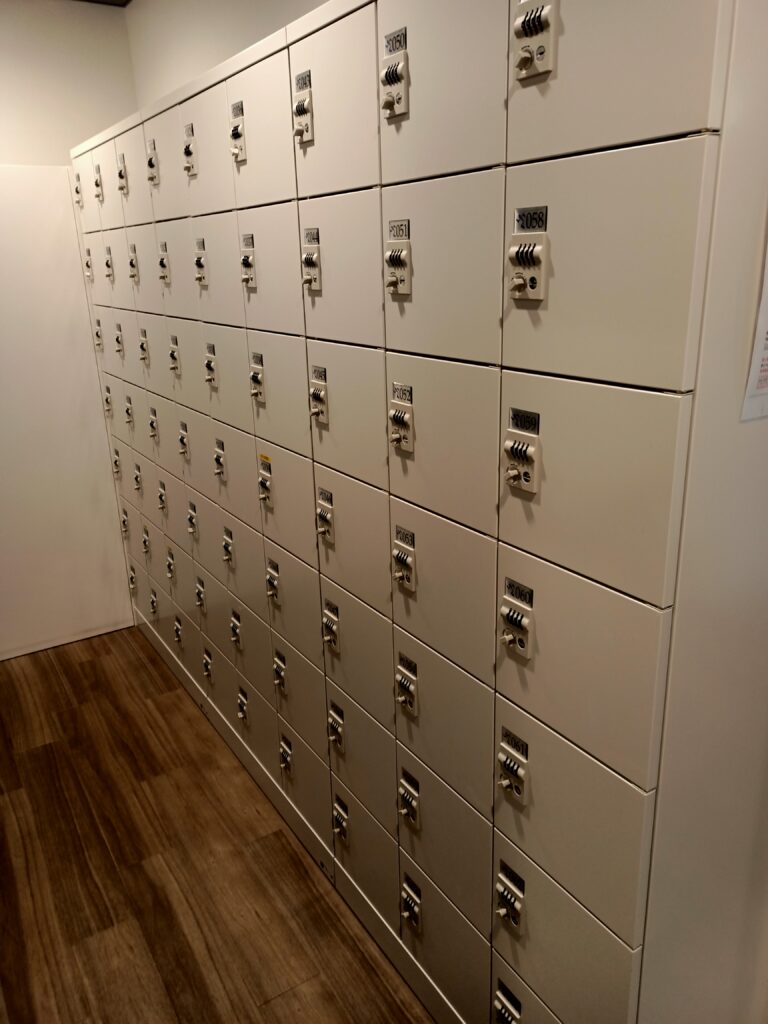 AF benefit
AF benefit is insurance plan for member, costs only 385 yen tax included per month. With this plan, you can have injury insurance during workout and and free replacement of key card when lost or damaged.
Not only the insurance package, you can have discount for many services such as Starbucks, cinema ticket and so on. I never tried these services, I will update when used. This AF benefit is cheap and beneficial so I might continue after 2 month free usage period.
New member discount
Below is the major discount program for new members as of August 2023. It may vary on the branch so please double check for the gym you apply for.
Referral program
If you know existing Anytime Fitness member, you can ask to refer you. Both you and referrer can get 50% discount for following month member fee.
If you want to join Anytime Fitness member in Japan , around Chiba city area, please contact me to refer you to get discount for us. I can be your friend immediately, haha.
Join with friend campaign
When applying with friend(s), all new member can get 50% discount for following month member fee.
Gym transfer campaign
Bringing the proof that you quit other gym within one month from Anytime registration date, this also apply for 50% discount for following month fee.
High school pass
This program is a bit different from above discount promotions, high school students can be freely use the gym in case their parent is a member of Anytime Fitness. For conditions, please refer below.
高校生無料利用に関するお知らせ|エニタイムフィットネス
Cancellation / Halt membership
Unfortunately, if you decide to cancel your membership of Anytime Fitness, you must notify the staff by 10th of the month to cancel within the month. For example if you want to cancel membership end of May, your deadline will fall on 10th of May. If delayed even one day, let's say 11th of May, you need to pay member fee for June also before leaving the gym.
You can also halt your membership with fee 1,100 yen incl. tax per month for various reasons. This notification will apply also same rule as cancellation. If you want to stop membership from 1st of June, you need to let gym know your will by 10th of May.
Other optional service cancellation also applies same rule. Every 10th of the month will be due date.
I cancelled optional service, Hydrogen water and AF Benefit. Please read below post too.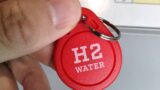 Cancellation of Hydrogen Water and AF Benefit plus at Anytime Fitness Japan
Welcome back to fitravelife.com! I visited my home Anytime Fitness club in Japan to cancel optional service Hydrogen ...
Club Transfer System
Anytime Fitness Japan has unique rule, that might not be in other countries, which is Club Transfer System. Depends on the usage frequency of branches, your home club will automatically be changed and new membership fee rate will be charged based on new home club.
Rule 1
Use other gym more than 4 times in past 30 days
Use other gym more than 51% of all us
Meet above for the past 30 days + 30 days
Rule 2
Use other gym more than one time in past 30 days
Meet above in same other club for the past 30 days + 30 days + 30 days
To be transferred from your home club to most used club, you must meet either rule 1 or 2 in consecutive 30 days (not calendar month!). Home club will be changed automatically based on above criteria. Confirmation document will be sent to your home address.
Overseas branch use does not be counted in above rules. Transfer only happens to other clubs in Japan.
Gym rules
Gym house rules are generally not so different from Anytime Fitness nor other brand gym in other countries.
One thing that foreigners need to be careful is Tattoos rule. In Japan, Tattoos are nor allowed to show in public area so as in gym. When you do workout, you must cover up your arts.
And unlike other gyms in Japan, Anytime Fitness does not require members to change to indoor shoes. This is same as other Anytime clubs in the world.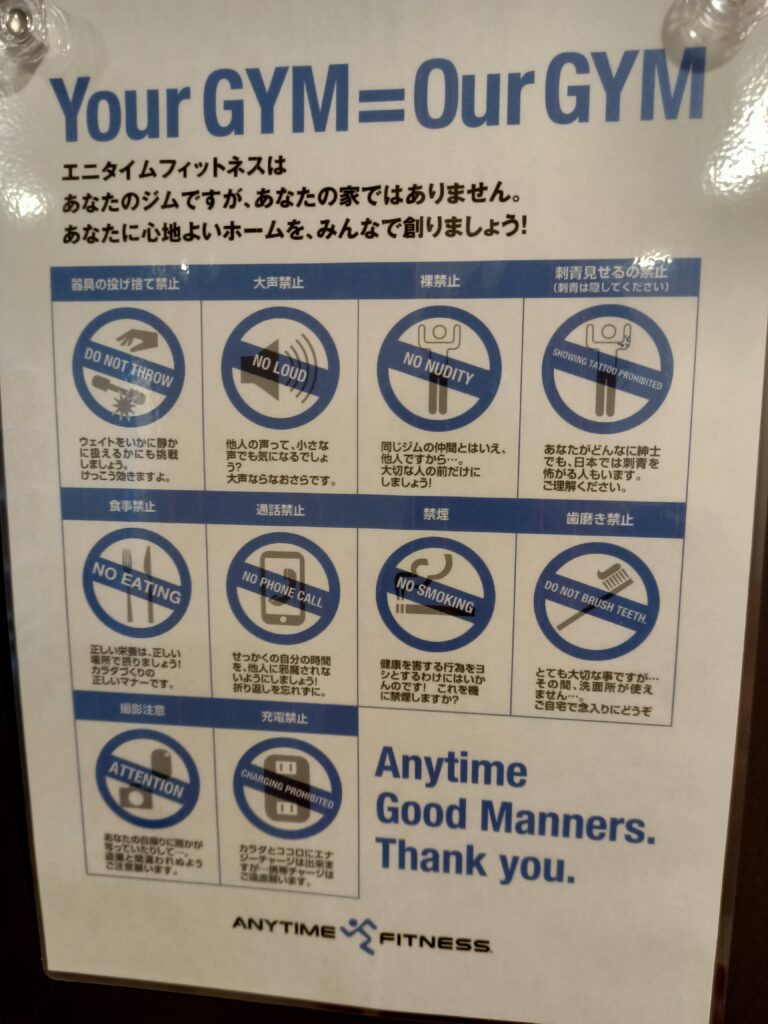 Anytime Fitness Chiba Takashina
Next, we are reviewing actual gym site of my home club, Anytime Fitness Chiba Takashina 千葉高品 branch. This branch is actually highly appreciated for its well-organized variety of machines and staff service so please be noted that my home club is above average of all other clubs.
Gym is located in second floor of small commercial complex. Nearest station is JR Soubu line Higashi-Chiba station, 10 minutes walk away from gym.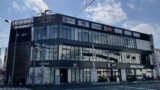 エニタイムフィットネス千葉高品店 24時間営業のフィットネスジム
ジムとマシンのみで365日24時間OPENだからご自分のペースで気軽にご利用できます。只今キャンペーン実施中!ご見学受付中!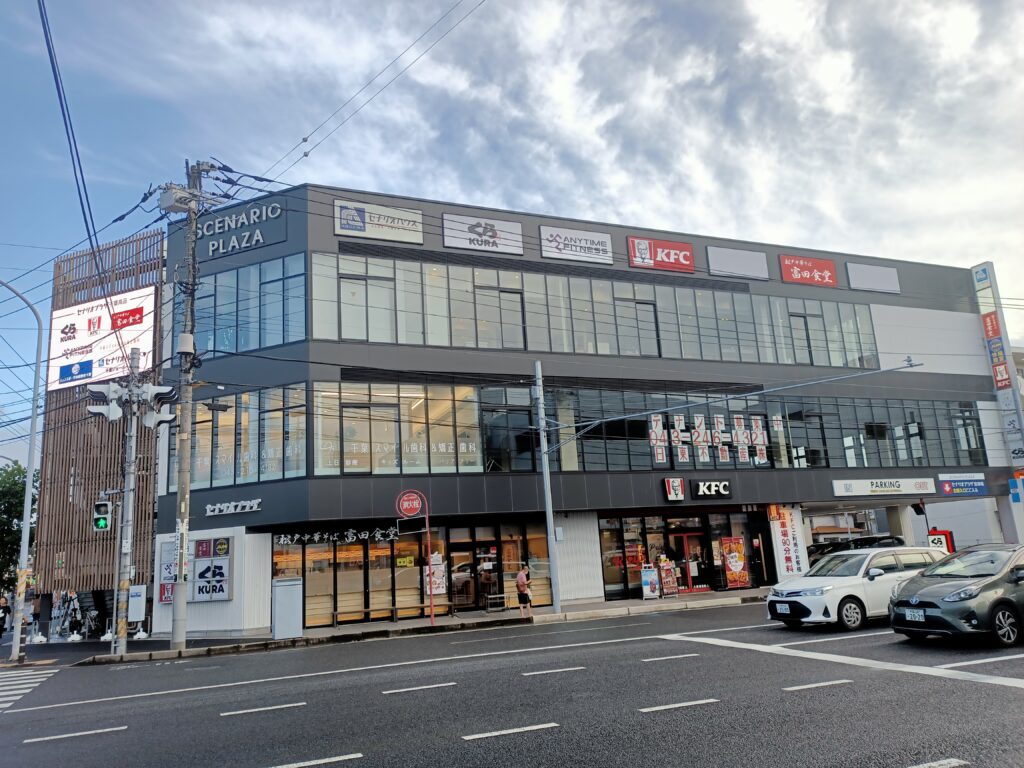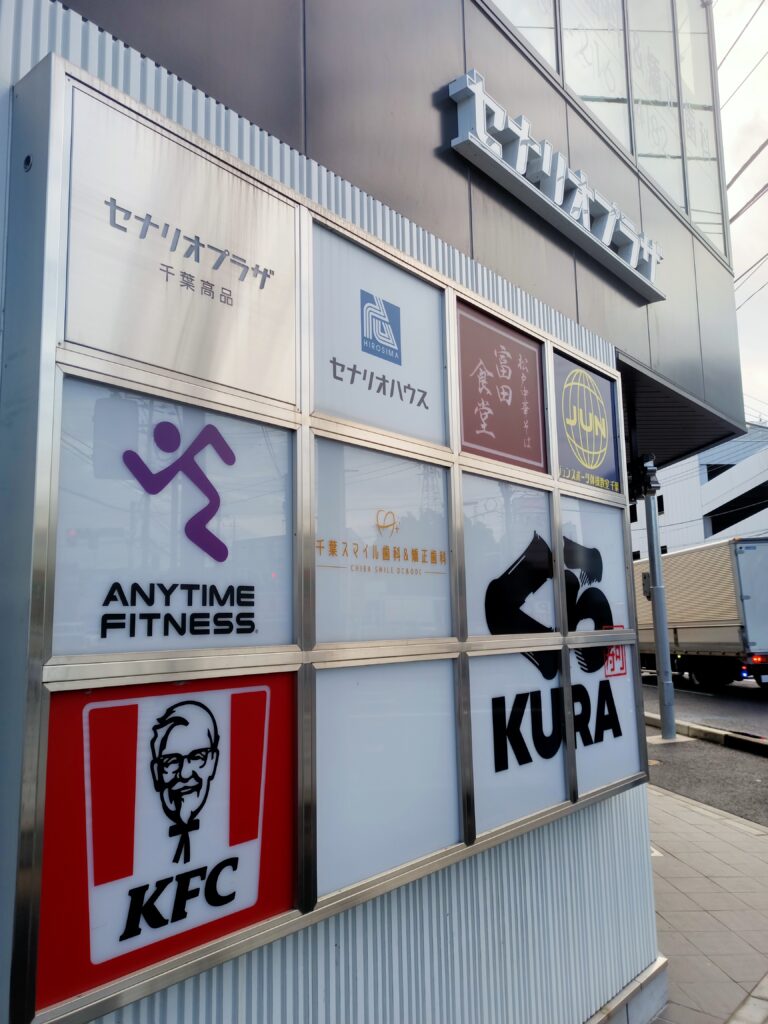 Bicycles and bikes are parked free. Gym member can use car parking 2 hours for free. Every 30 minutes more than 2 hour costs 200 yen. In case of branches near the station, even bicycle parking costs beyond a few hour use.
In front of the building, you can get flyer of the gym. Some gym attaches free one day trial pass on it so please check if they have it or not.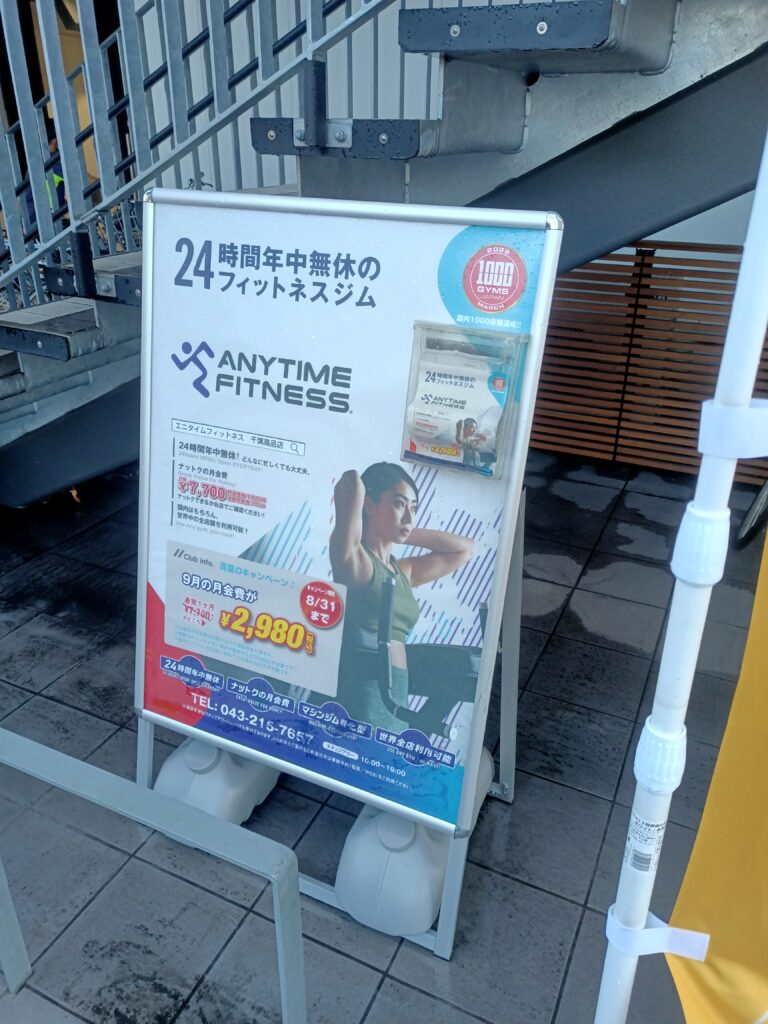 On the other side of gym building, you can buy food stuff at OK store supermarket. This supermarket offers any stuff in incredibly cheap price so better to shop here than other stores.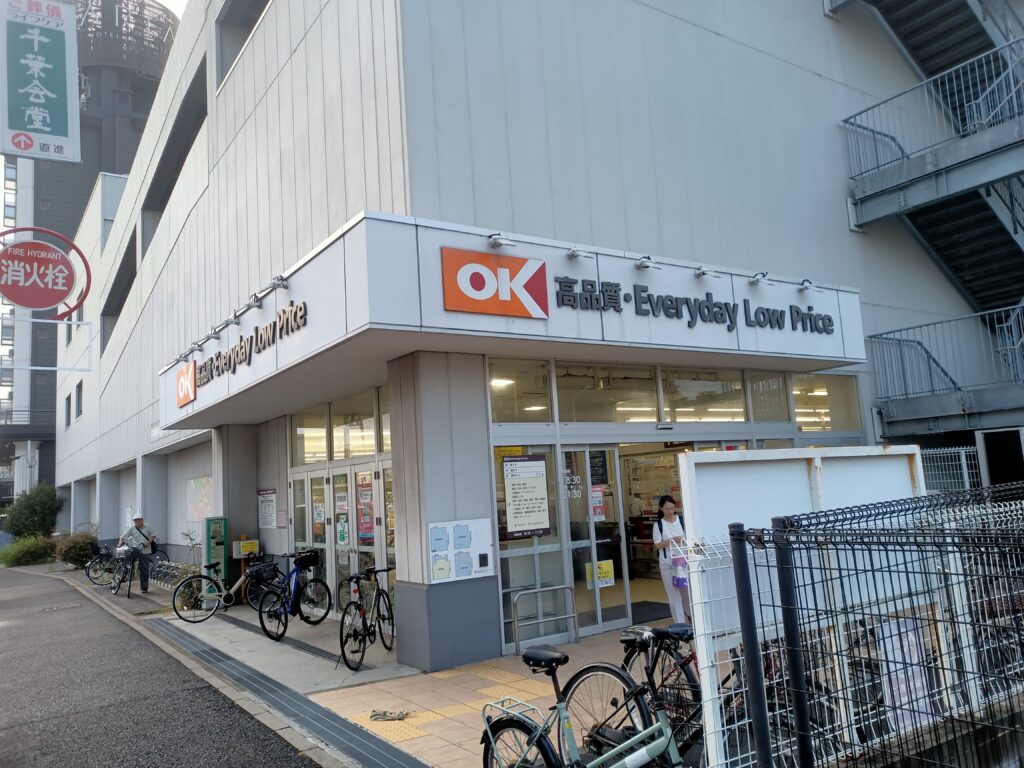 If you want to buy stuff in best price, you just come to OK store.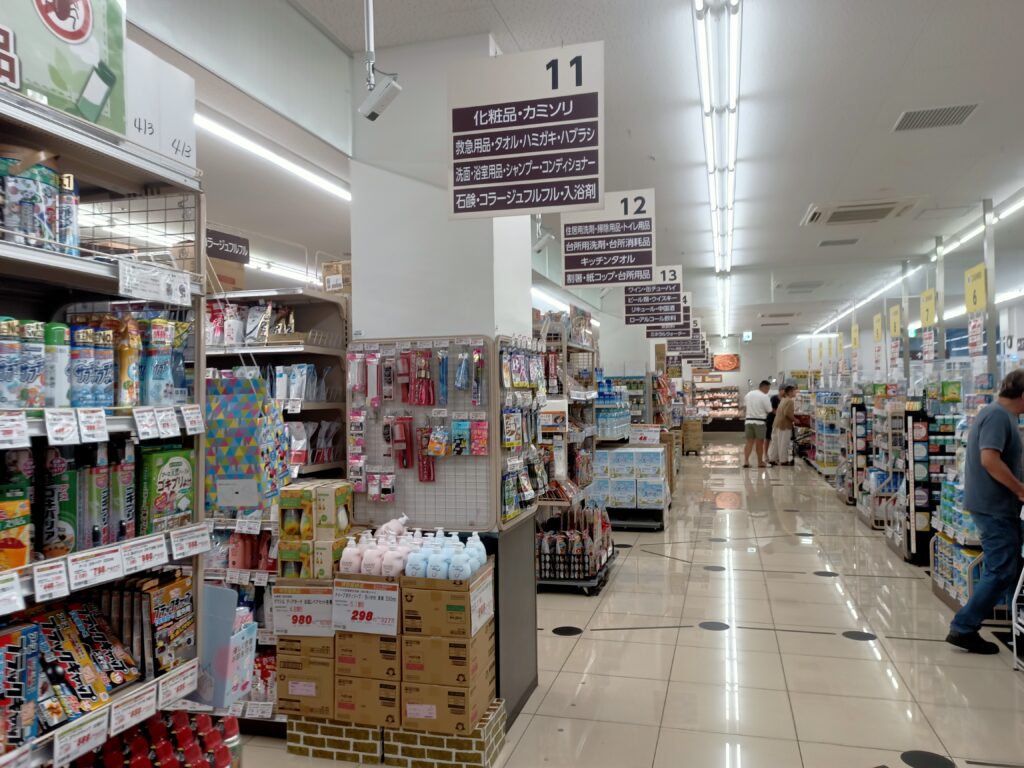 They sell of course protein bars as below with high discount rate around 30% from listed price.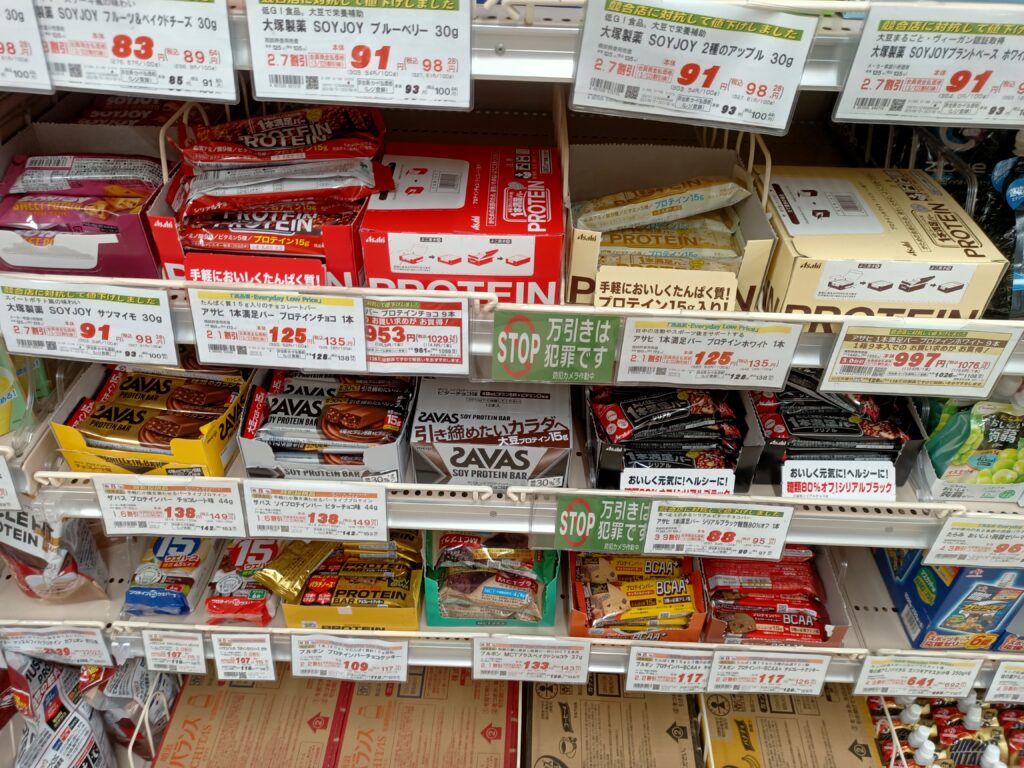 Protein powder has huge discount on them.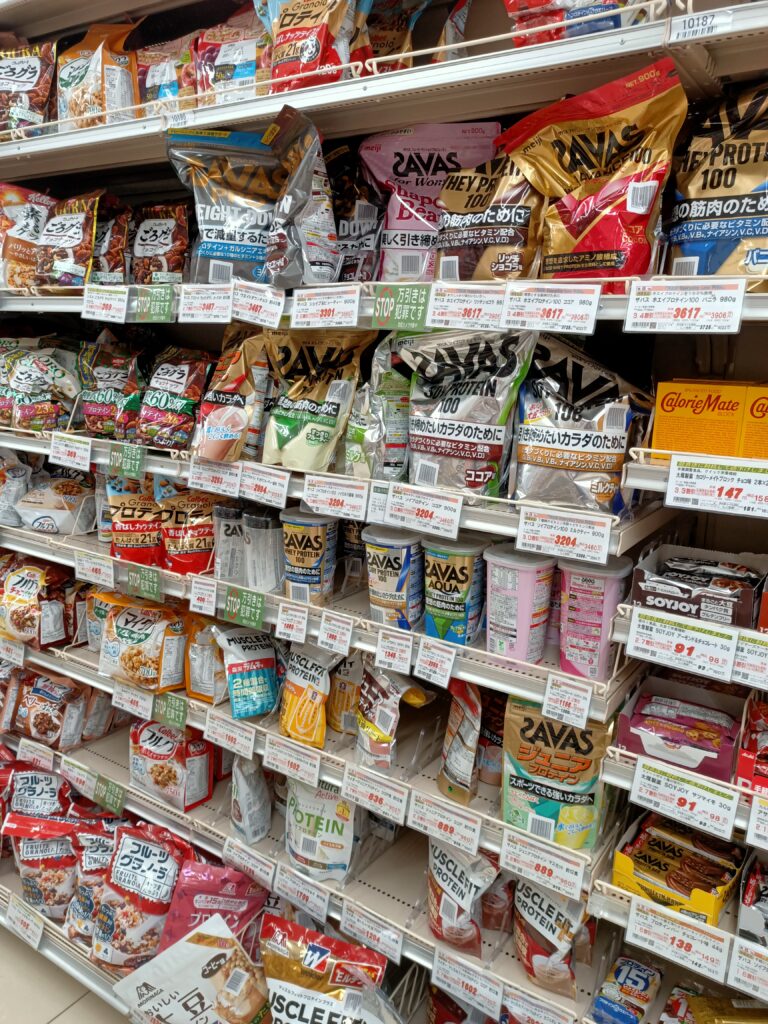 After the workout, I usually buy these "Manjuu" traditional Japanese snacks made of red bean. Highly recommended to visitors from overseas.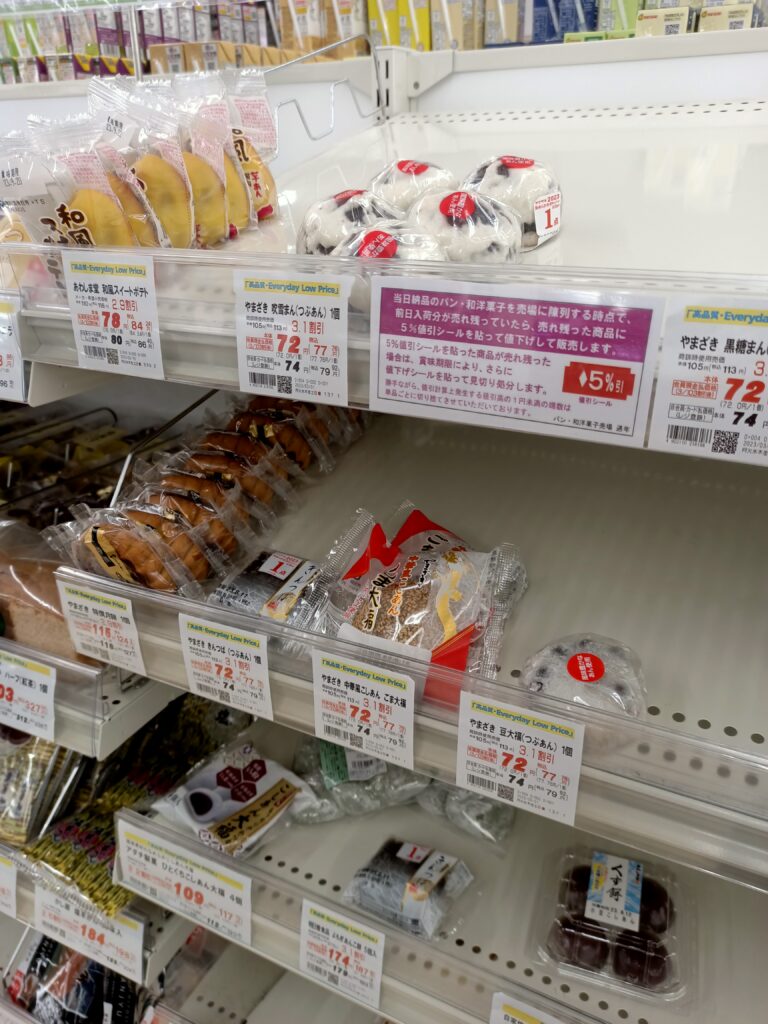 OK! Once you solve your appetite problem, let's get to the gym on second floor.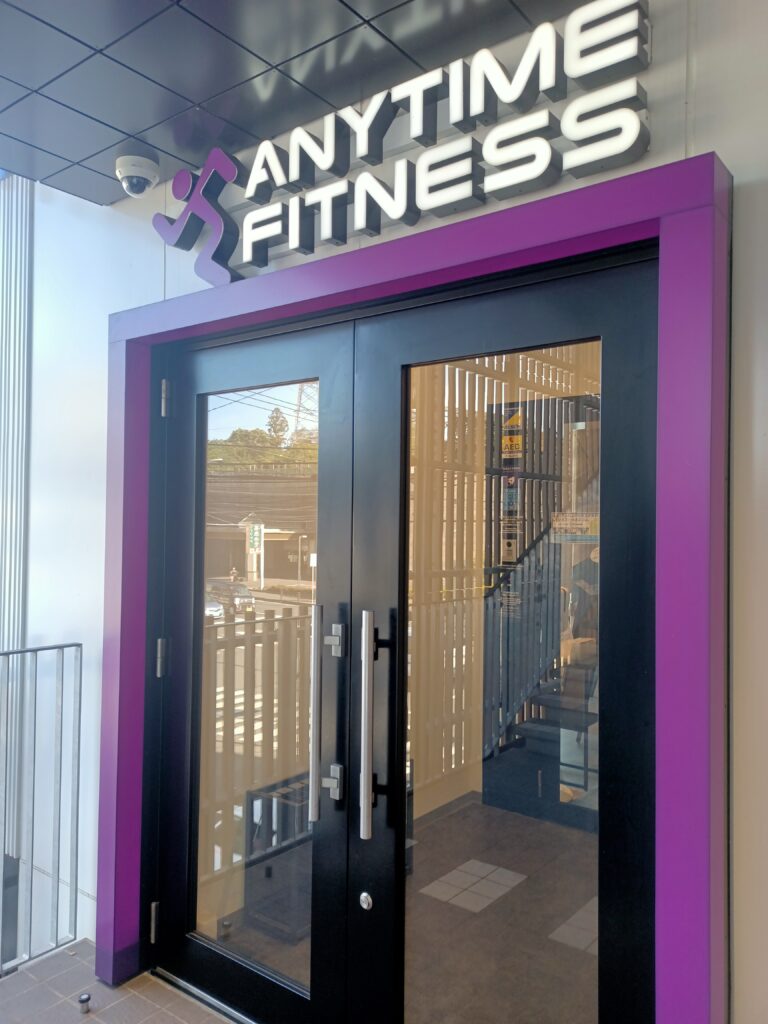 Put pink security key on red light then open the door to gym. Even entering with another member, each person must swipe key one by one.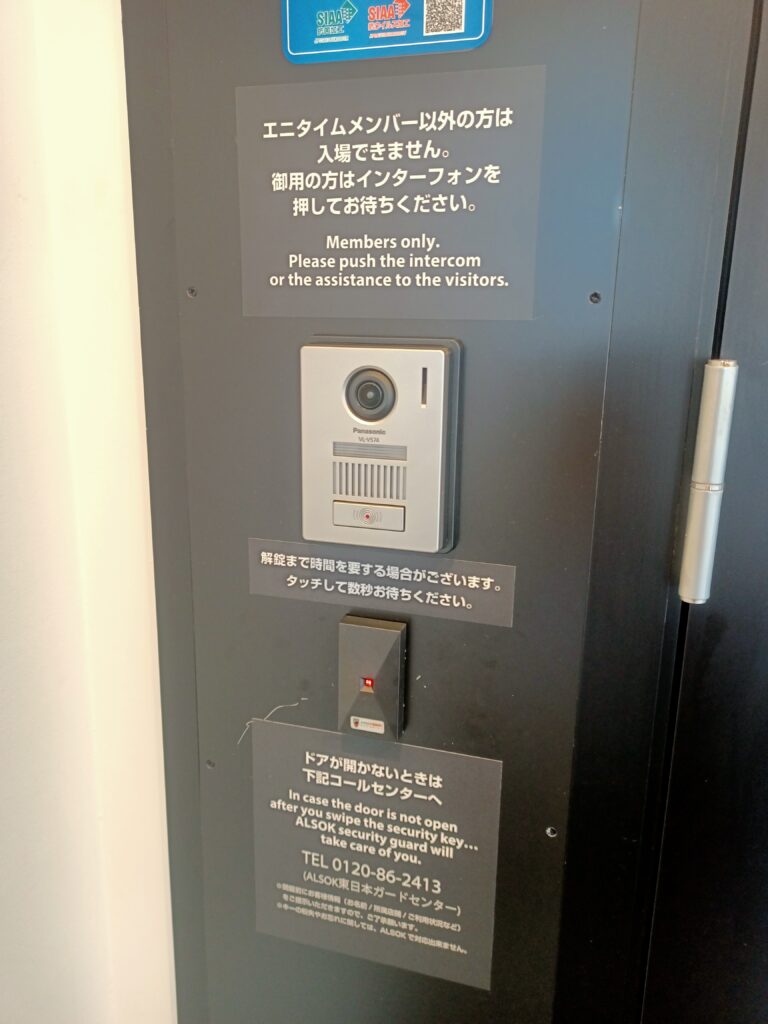 Take alcohol gel to wash the hands after touching door knob. In this branch, they offer free orientation for all new members to know how to use the machines by staff. Not in here but some other branches have contracted personal trainers. You can pay for them to have session with them.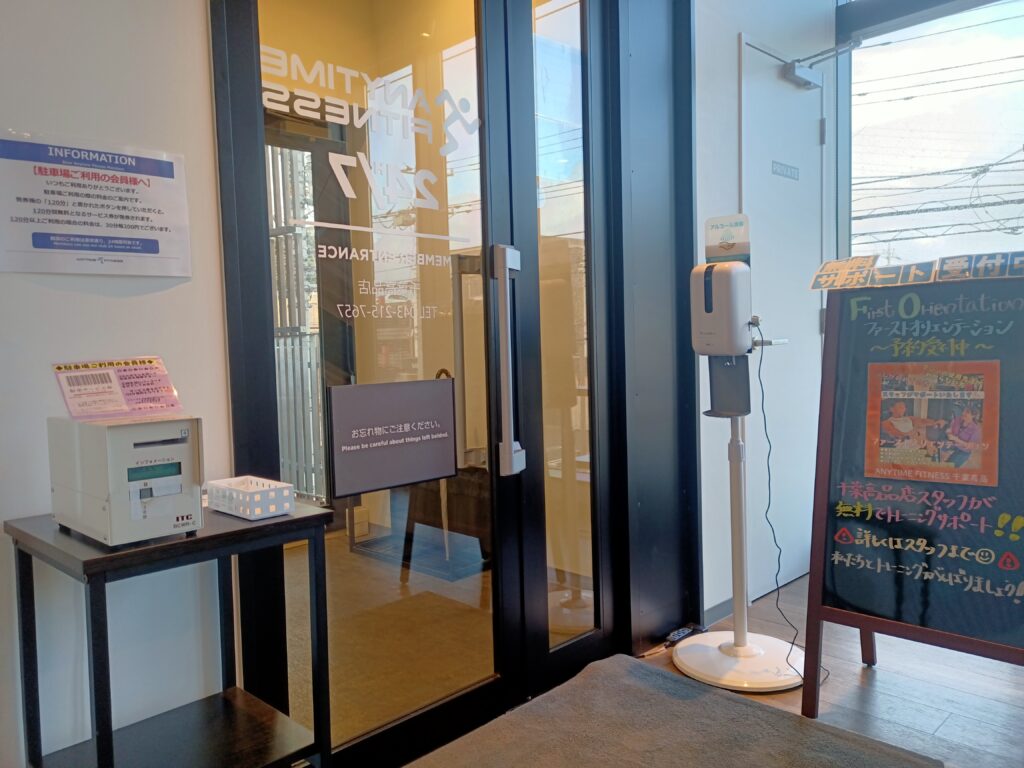 Spaces when members do paper work for contract document.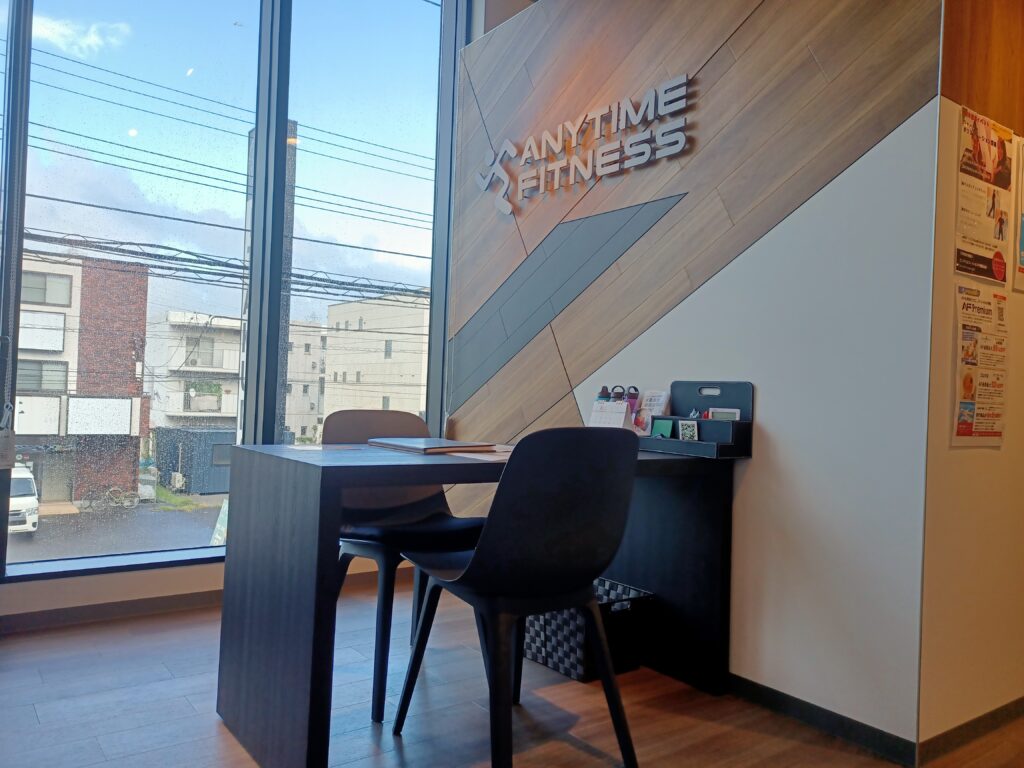 This entrance areas are allowed to eat some food and make phone calls.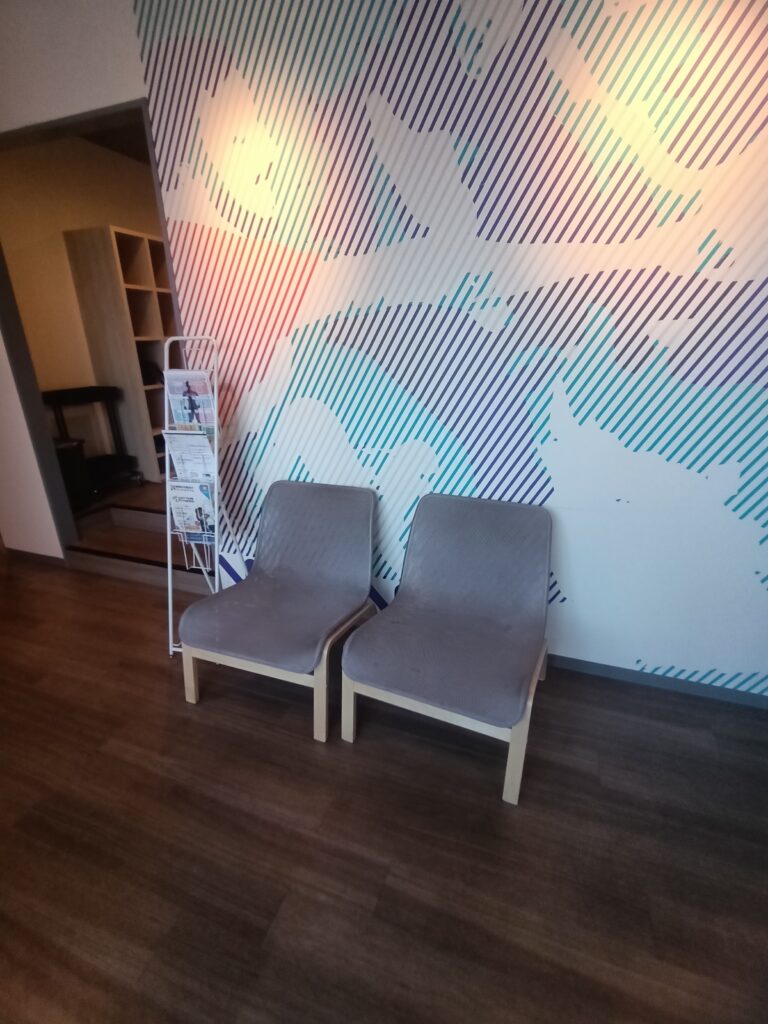 This machine produces parking ticket makes you to park a car for free up to 2 hours. Beyond 2 hours, you will be changed 200 yen per every 30 minutes.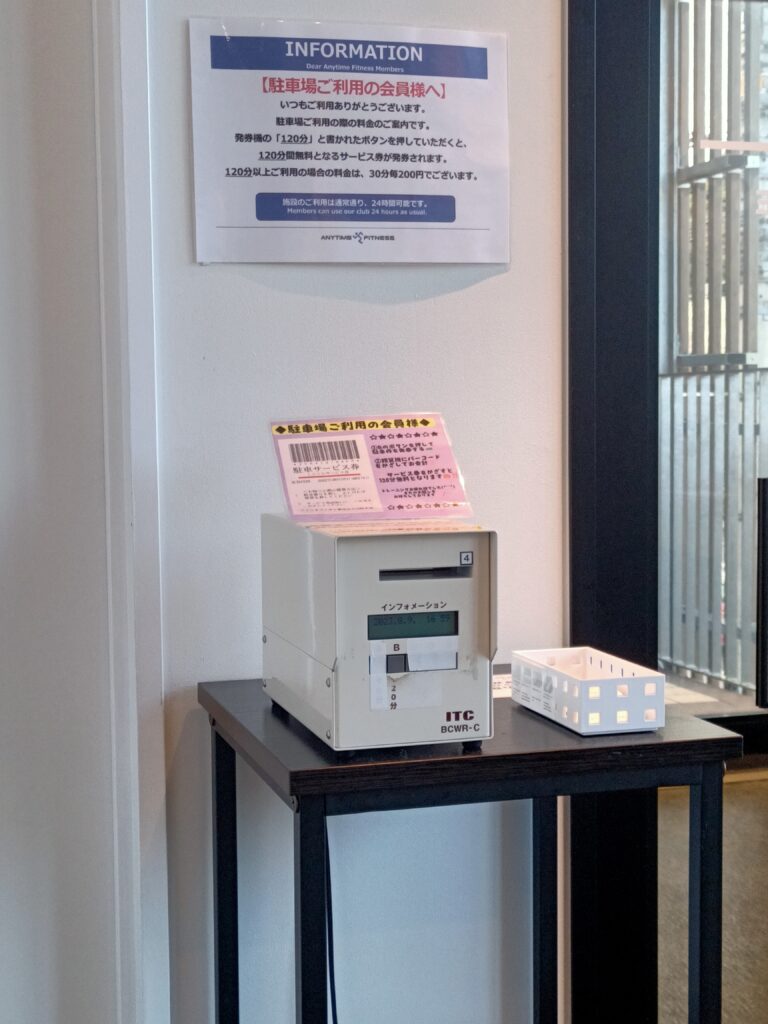 In case of emergency, especially when staff is away, you can call ALSOK security staff below. Necklace type might be useful when using gym alone at midnight.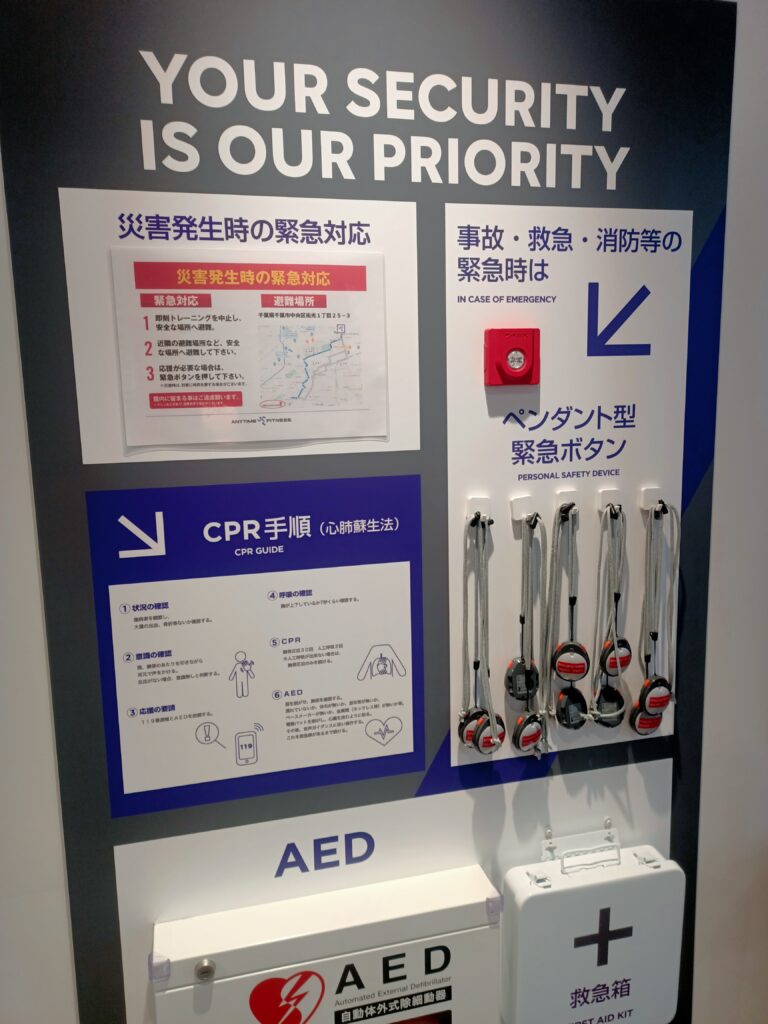 At the entrance, you soon find shelf stand for personal belongings, changing room, shower room and rest rooms. Lockers are not with locks so you better carry important things with you in gym.
Locker, shower and restroom
Changing room: 3
Toilet room: Unisex 2, Female 1
Shower room: Unisex 2, Female 1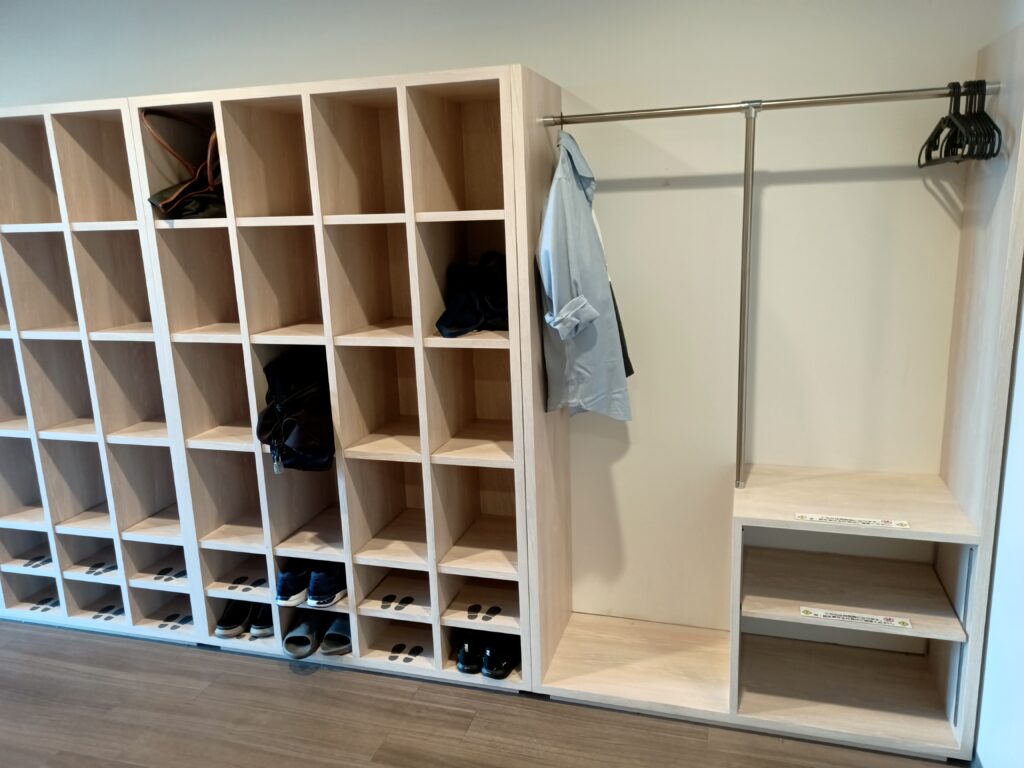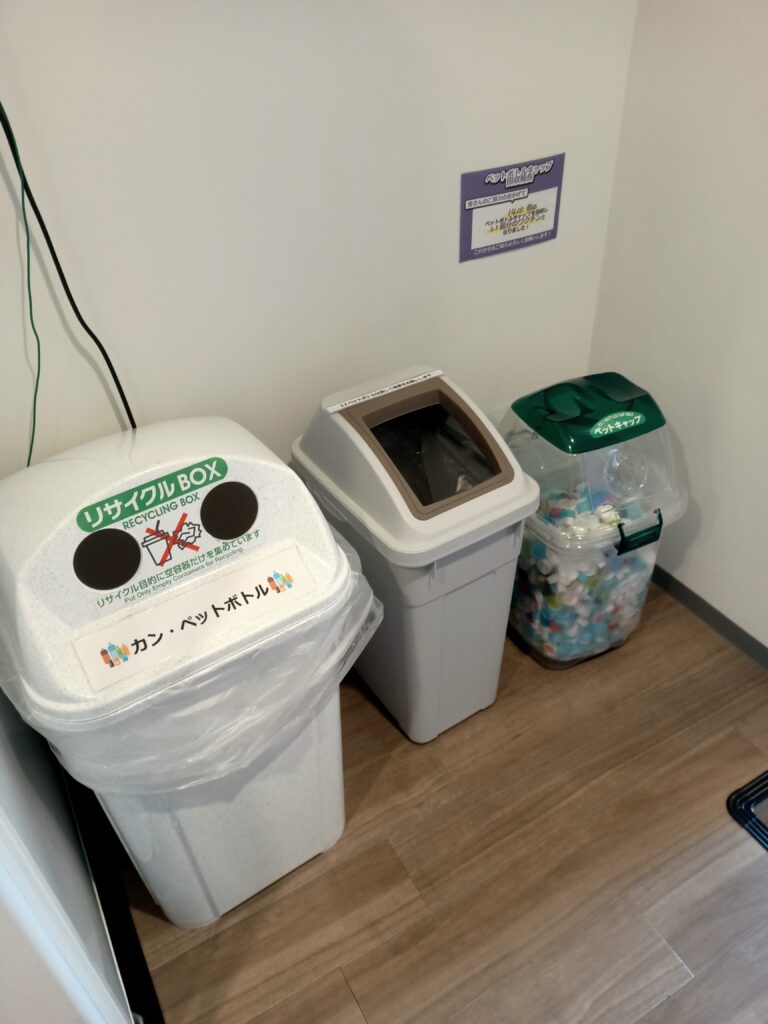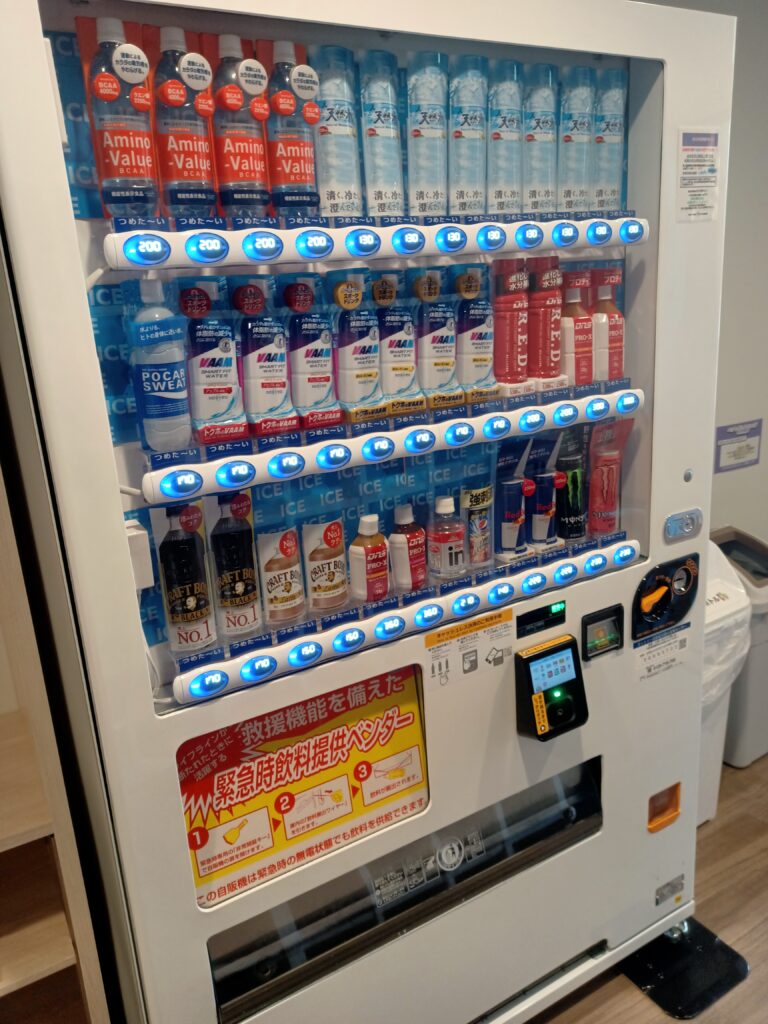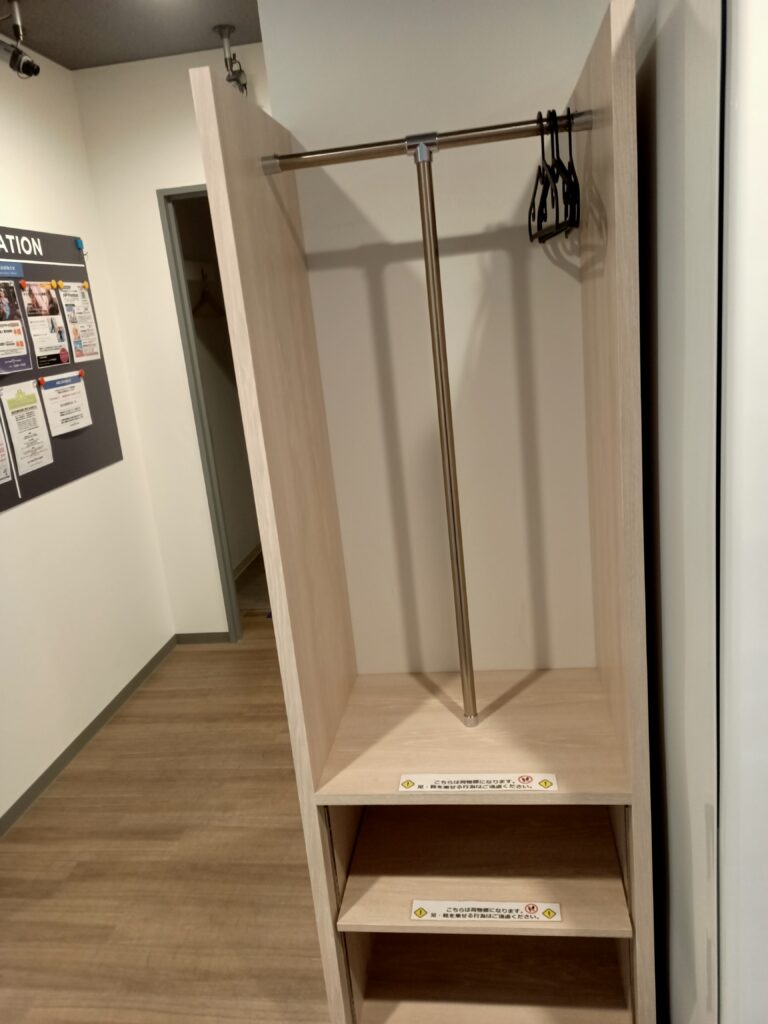 This is contract personal lockers. At the moment, all lockers are fully occupied.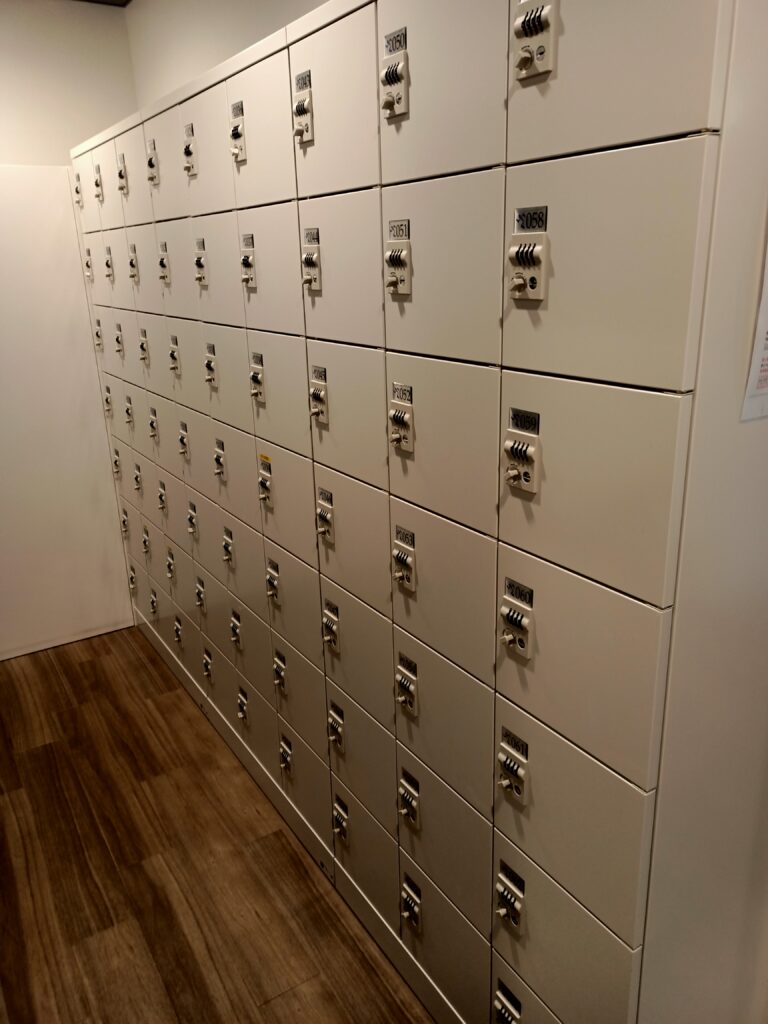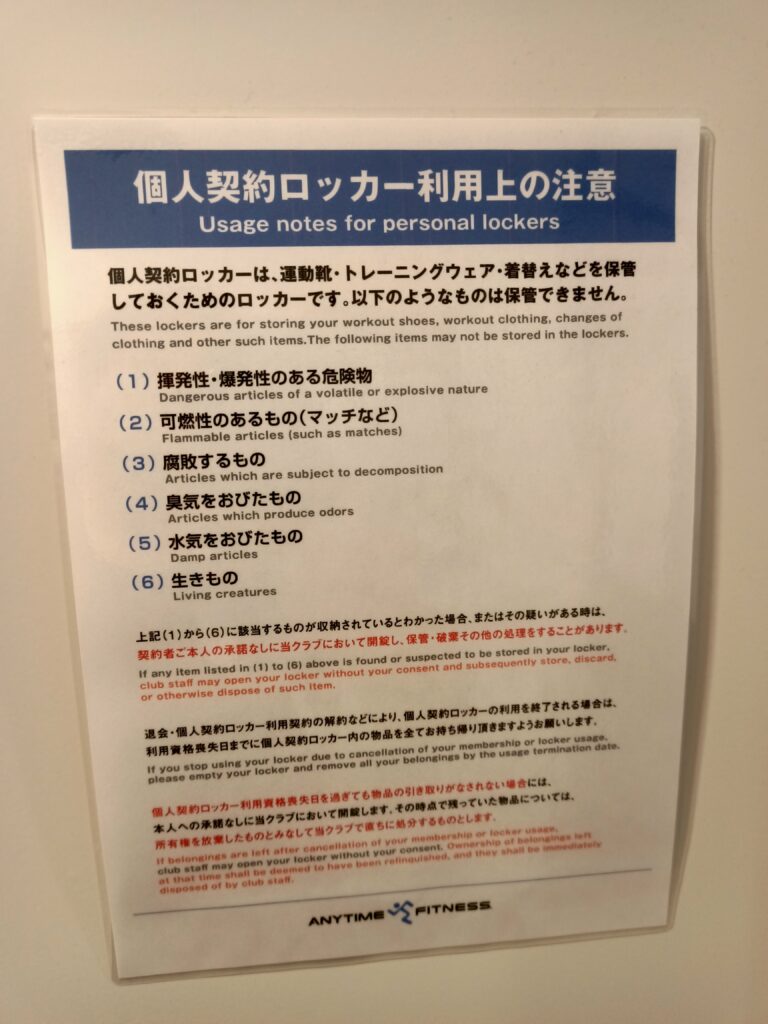 Information board update useful promotion and gym rules.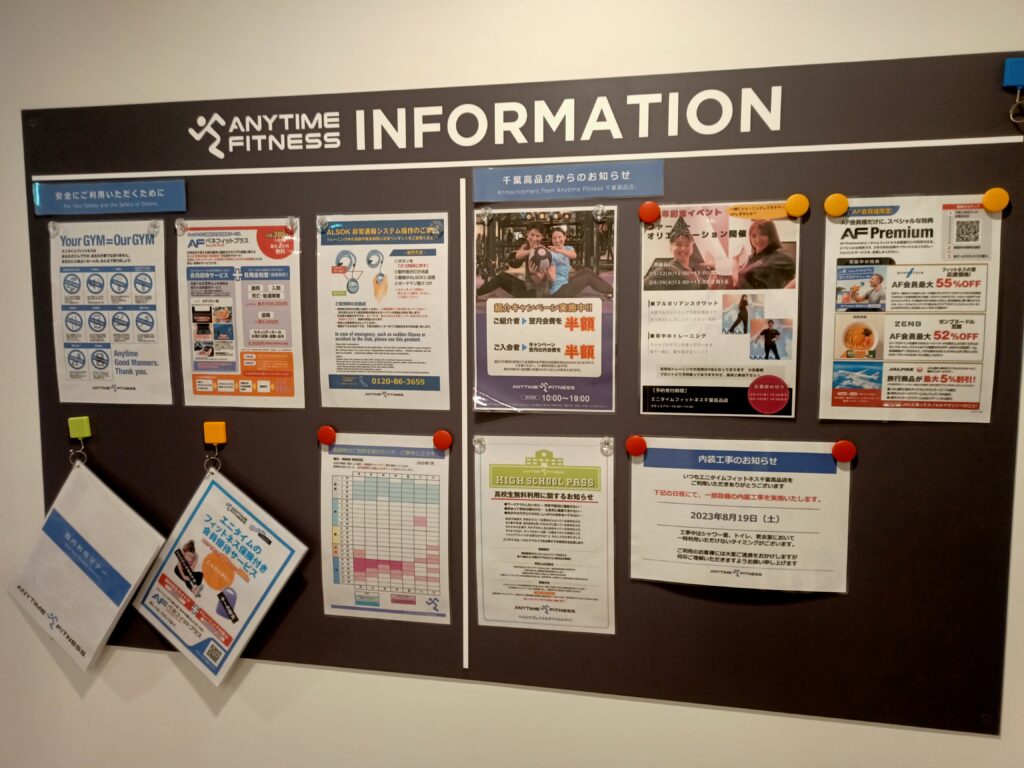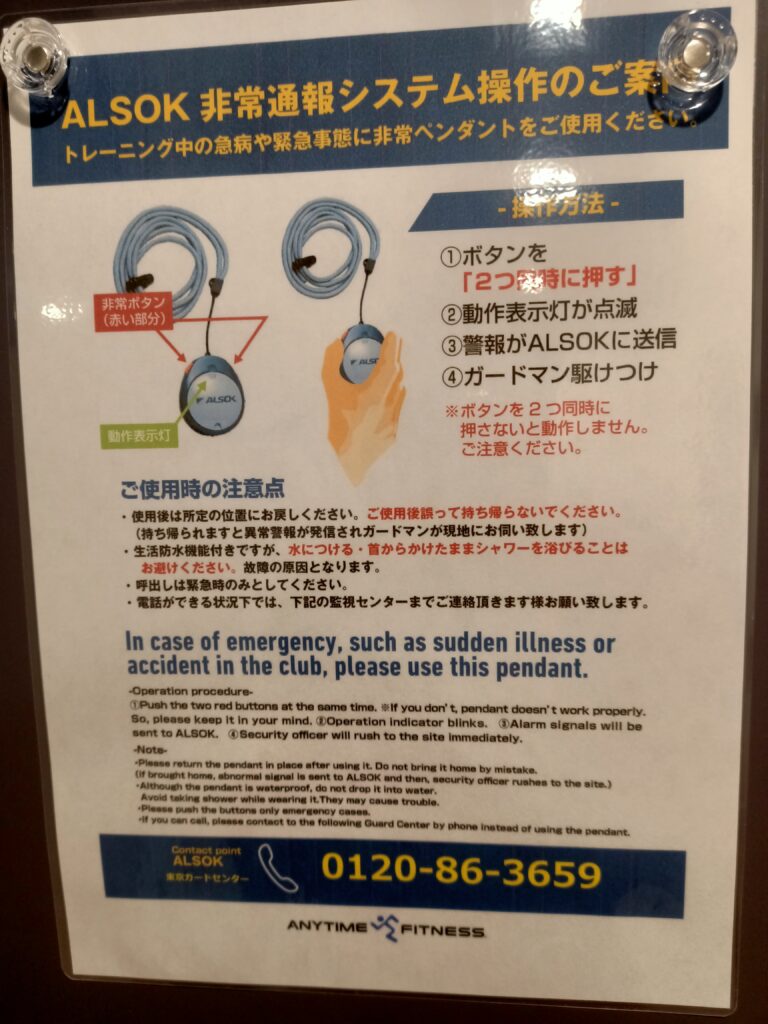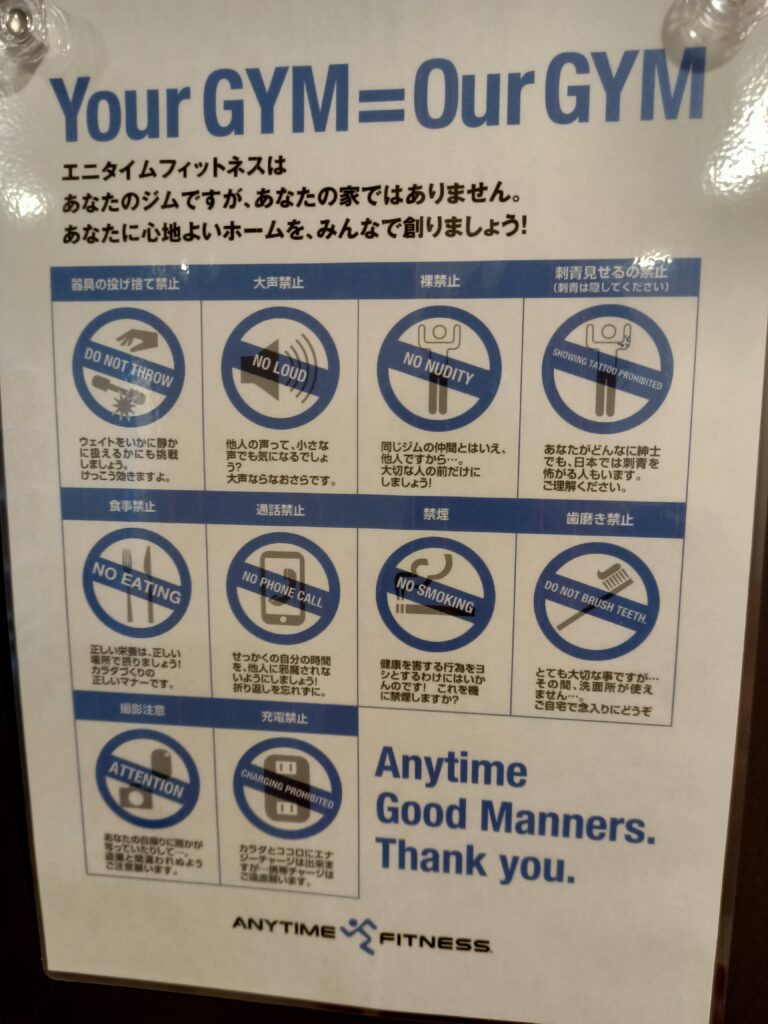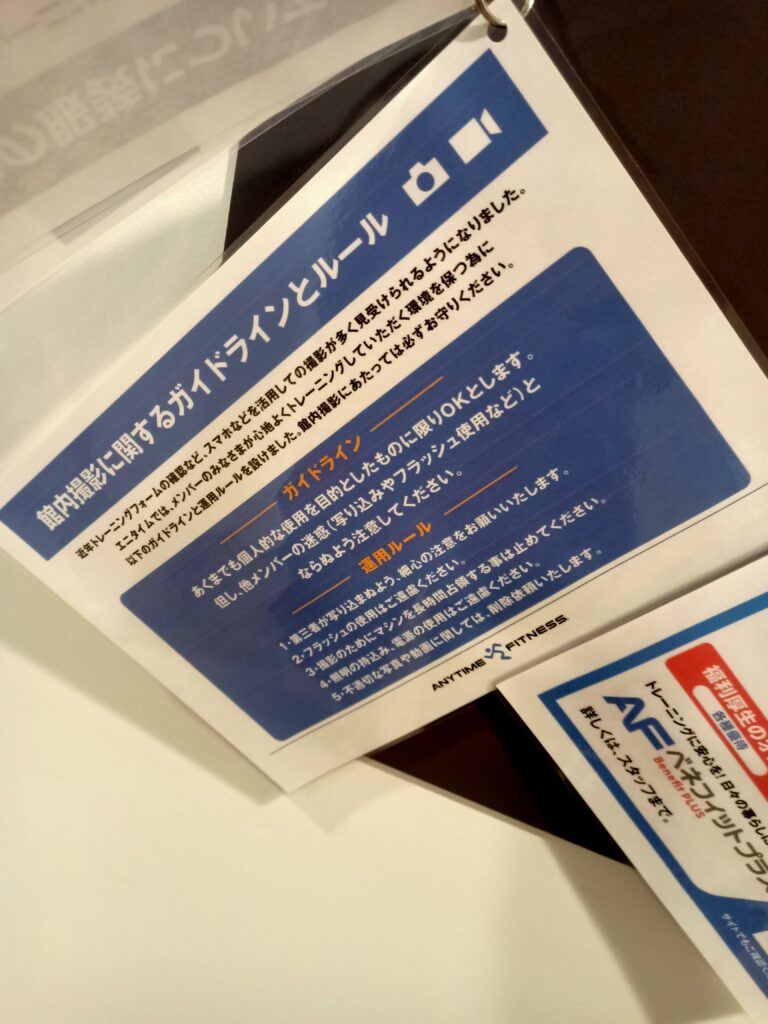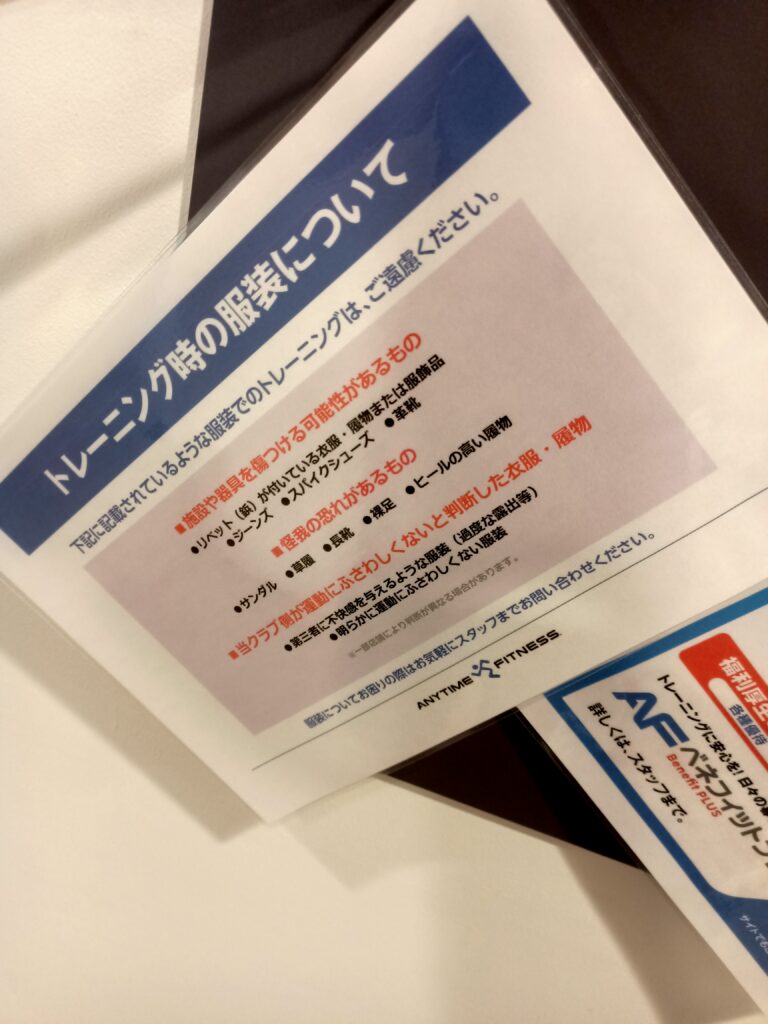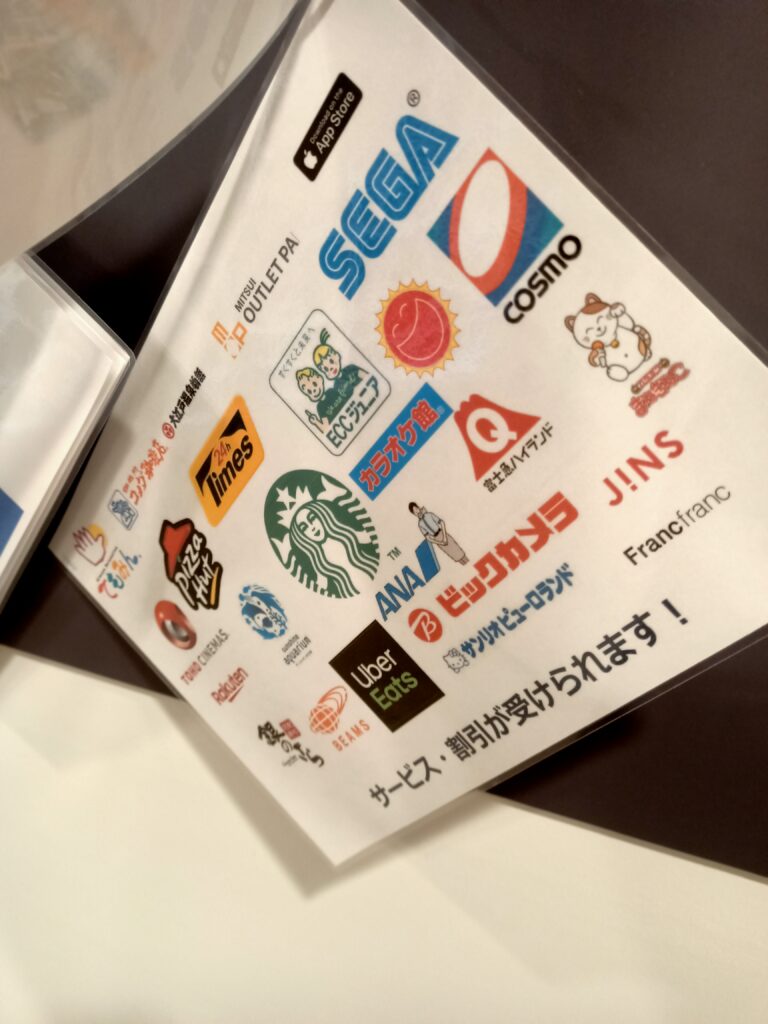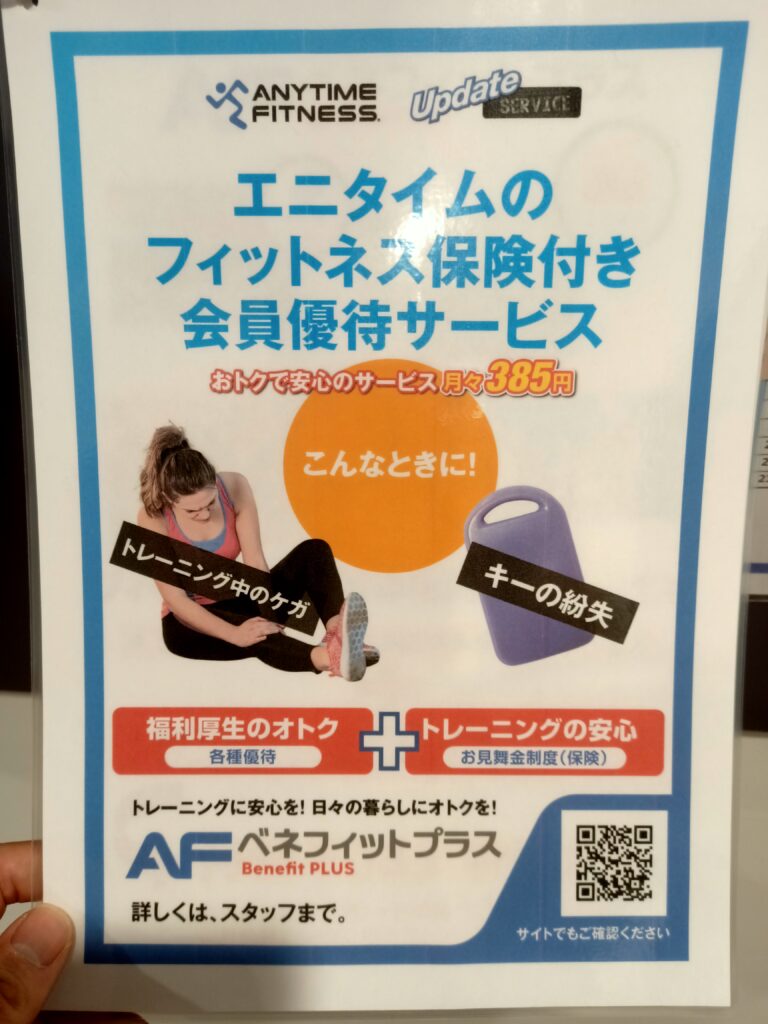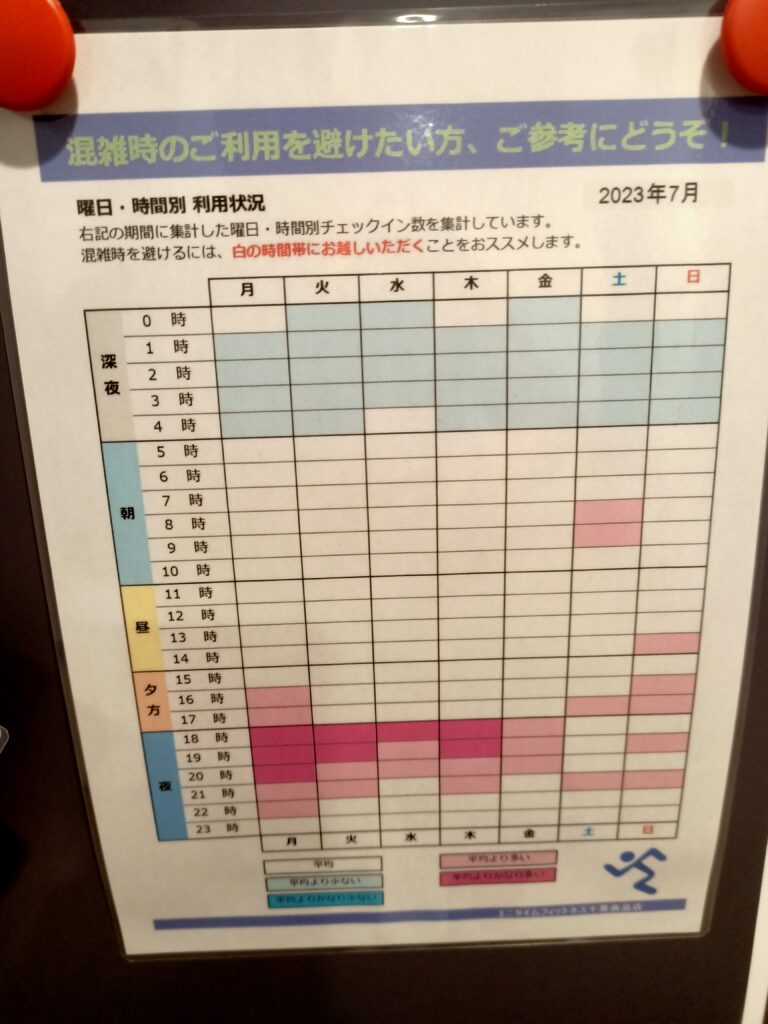 3 changing rooms with weight meter.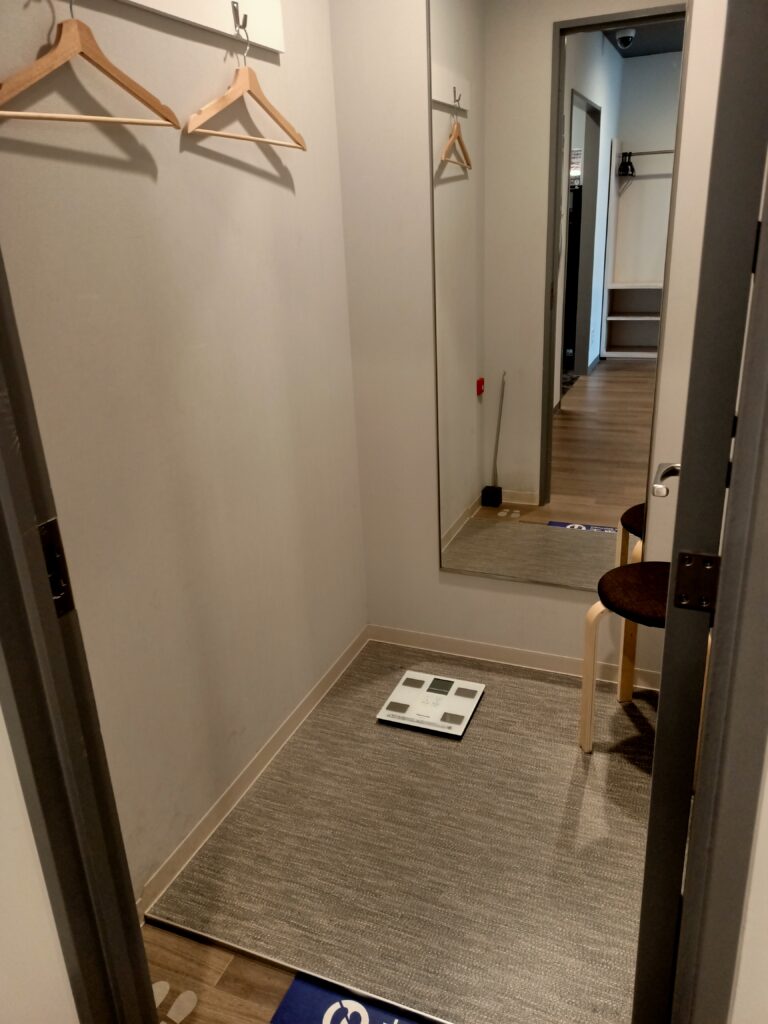 Toilets are well clean maintained by staff. You can use mechanical shower toilets in here haha.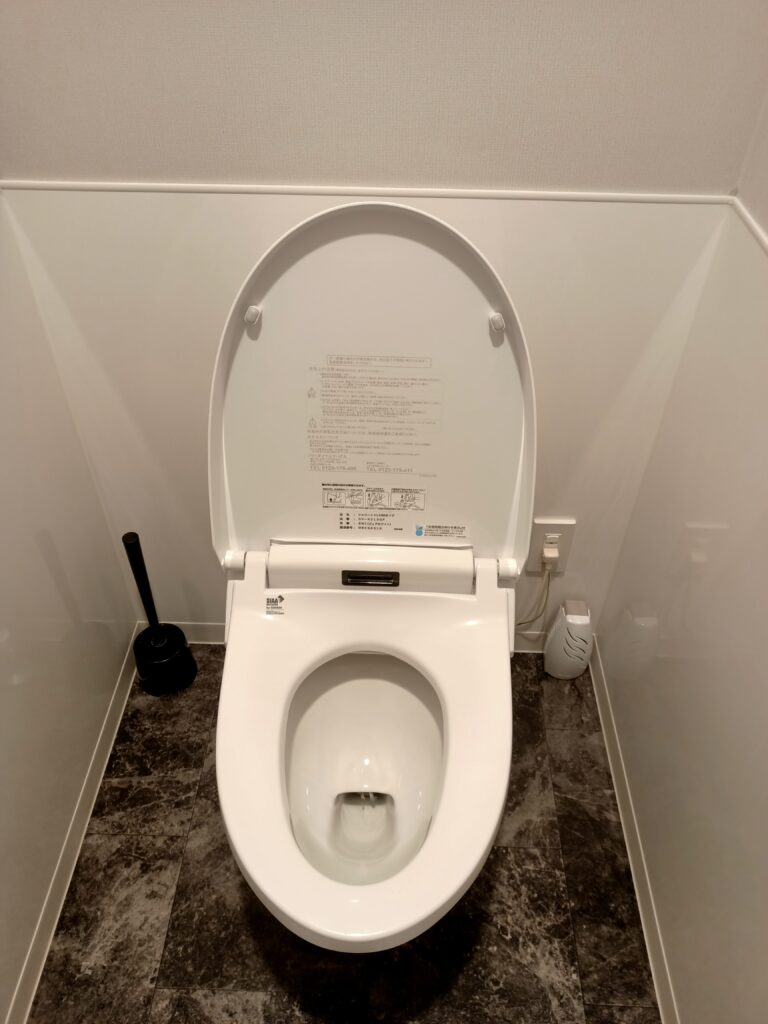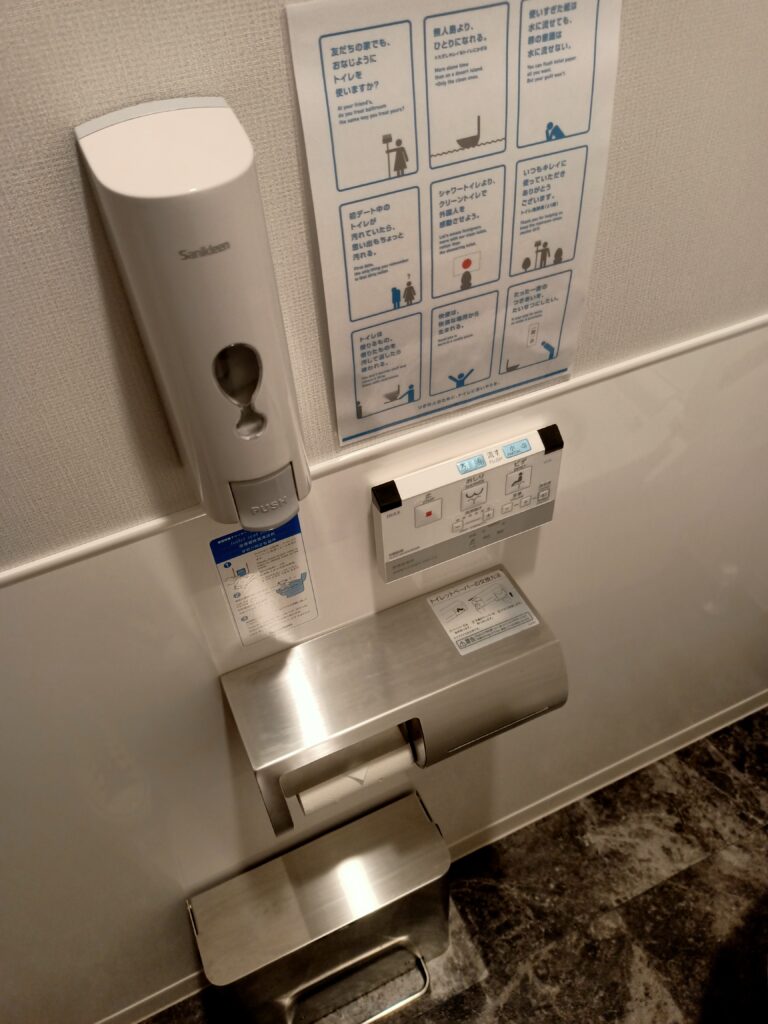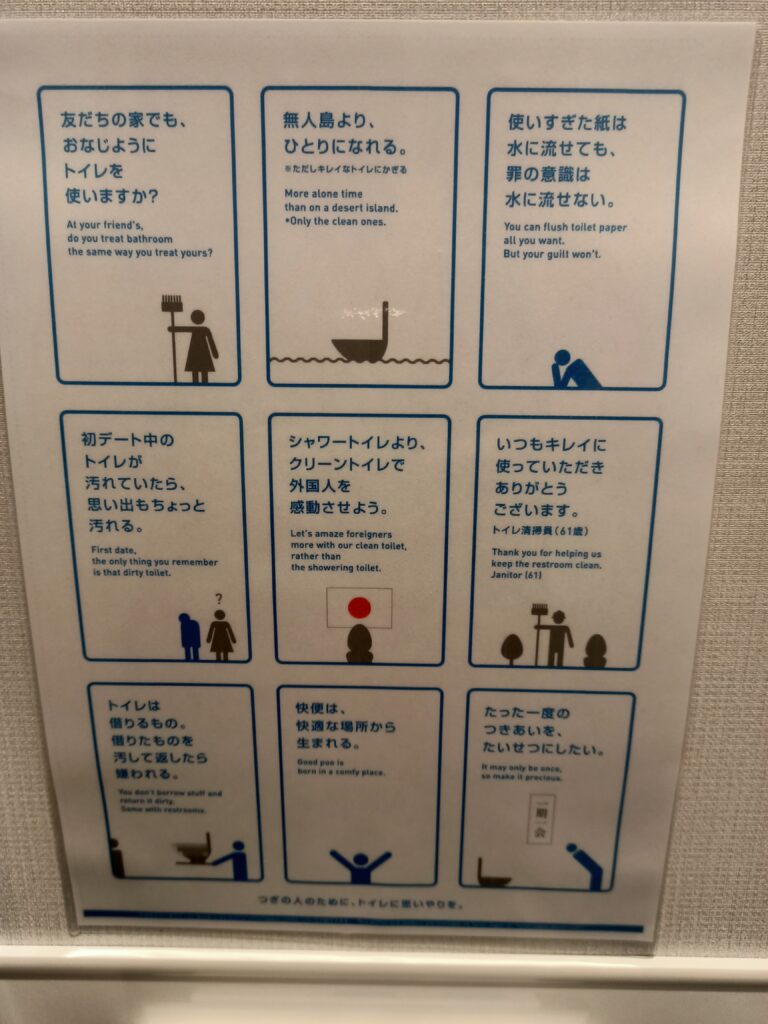 Takashina branch has only Hydrogen server but no free water fountain. And this machine can be used only by Takashina club member.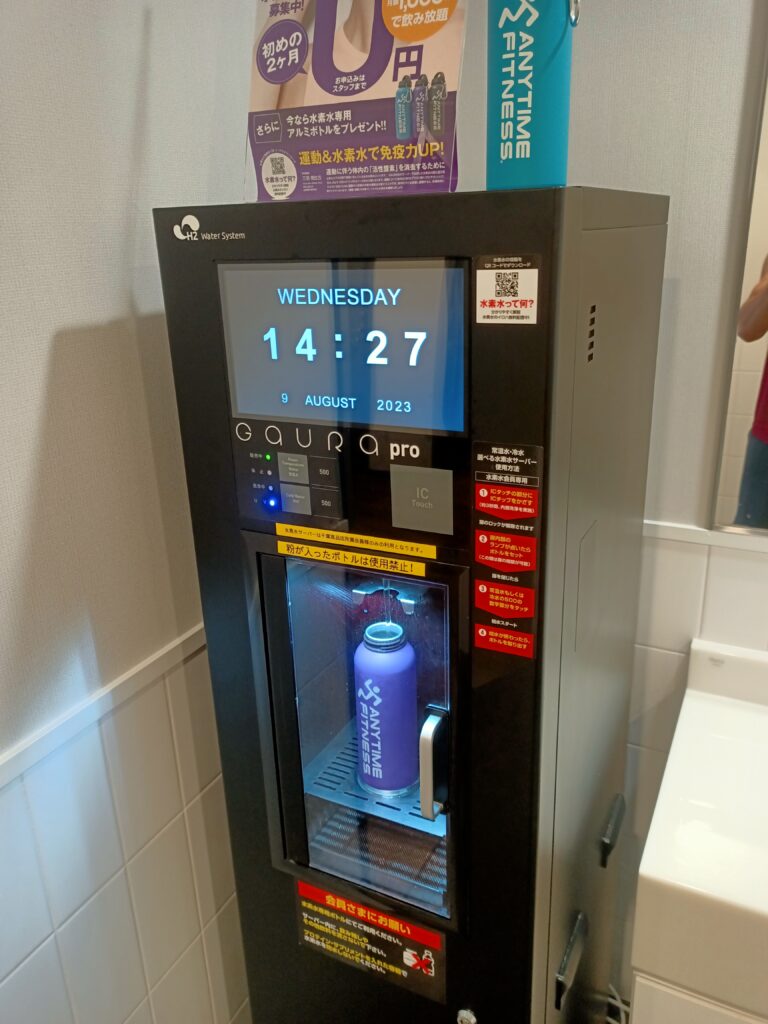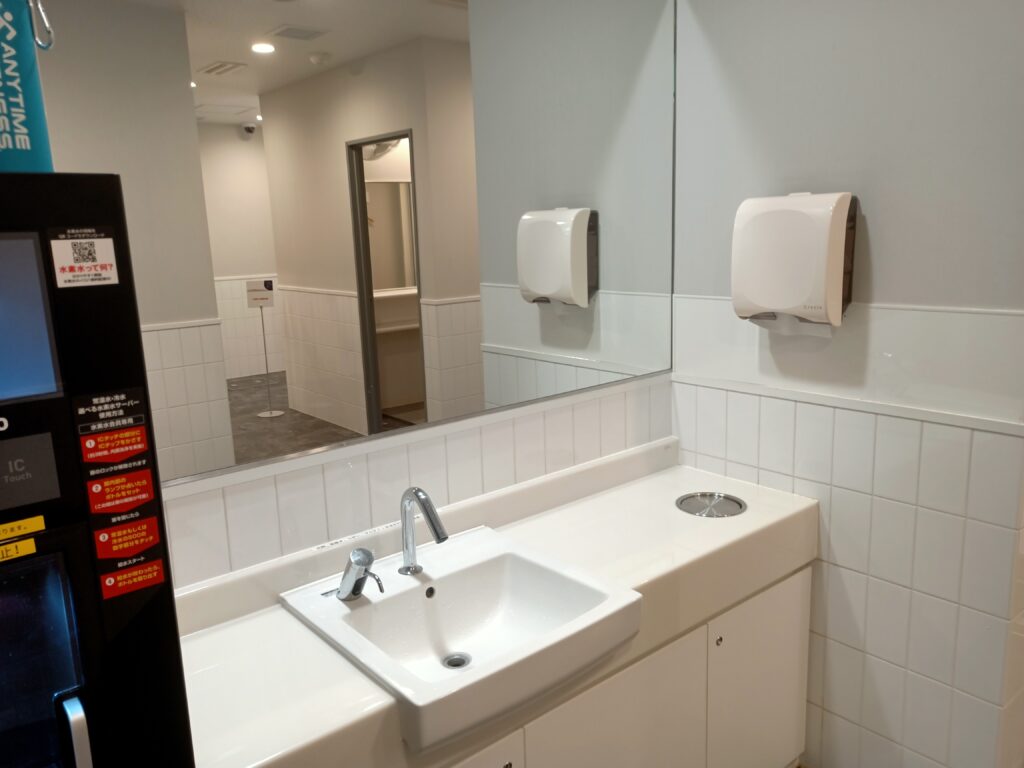 Please be noted that washing, brushing, goggling are not allowed here.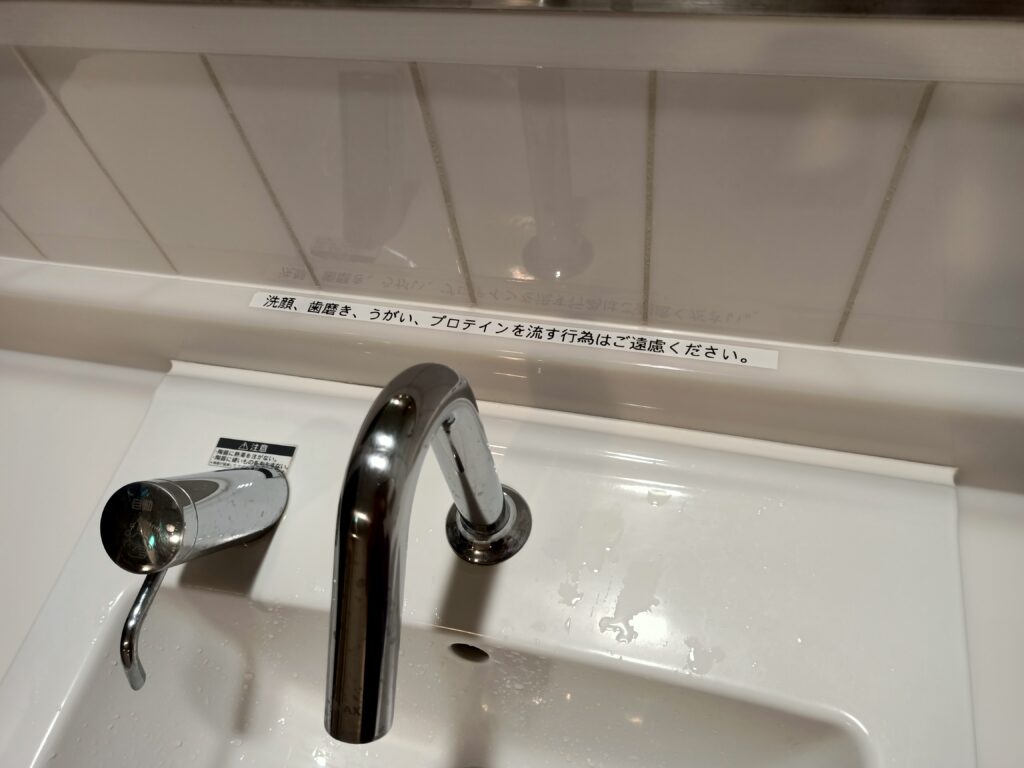 Shower booth are 3 here but one reversed for women use only. This branch does not have shampoo, body soap and so on. You must bring your own items.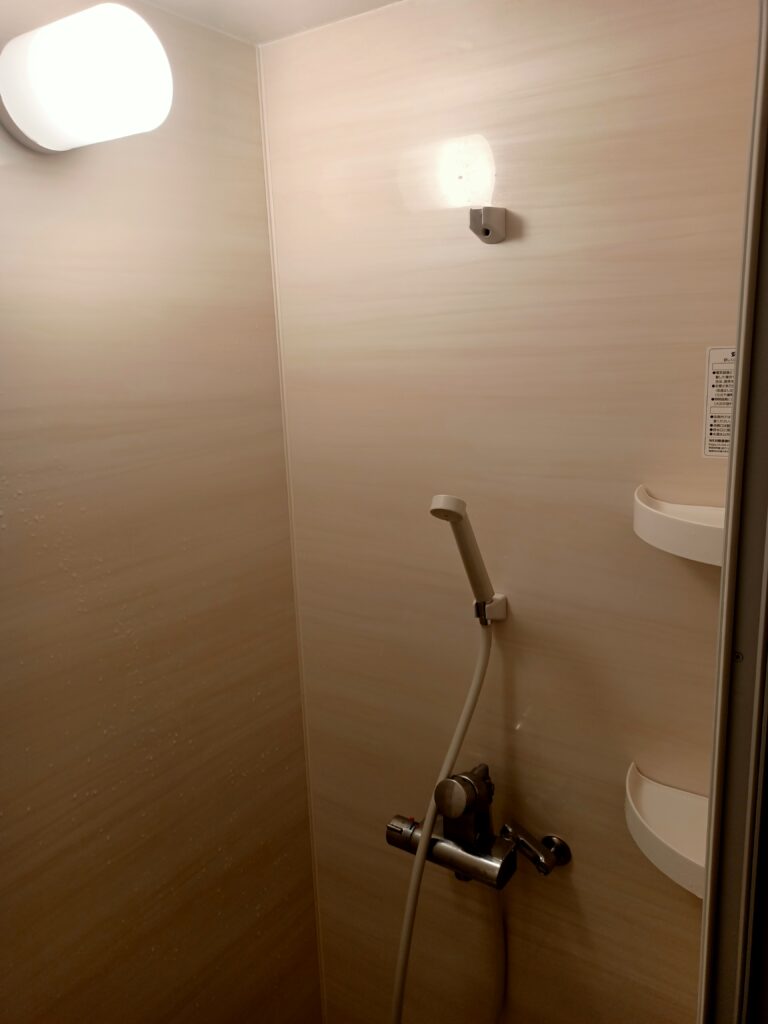 Shower booth comes with this small room.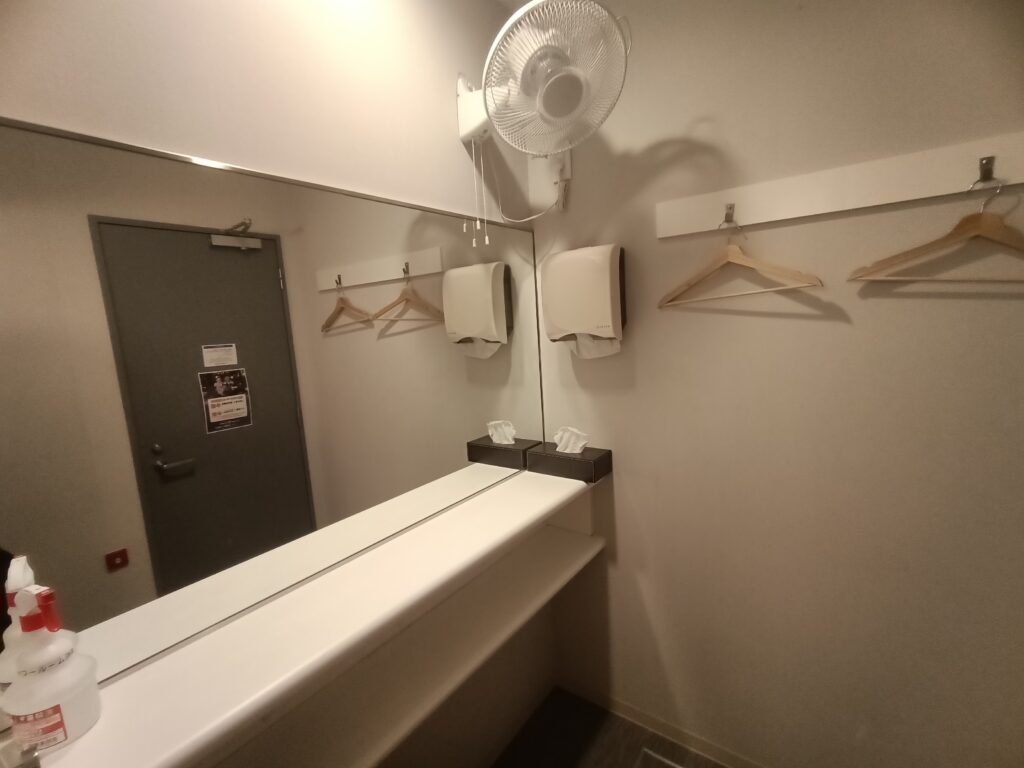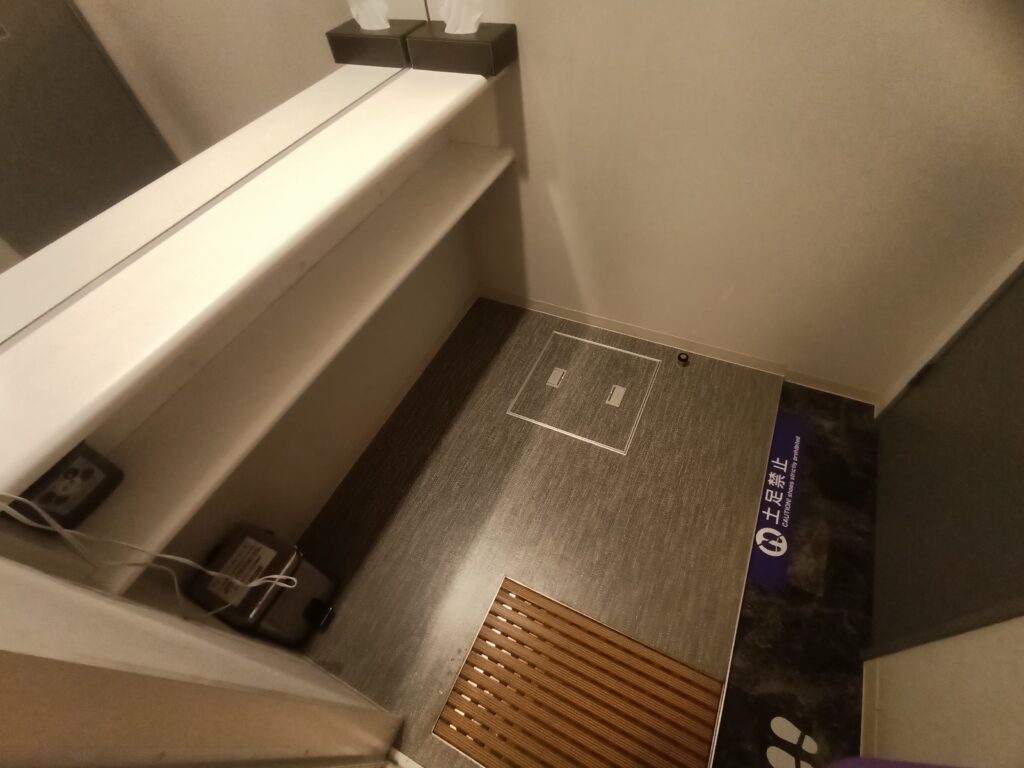 Hair dryer is available at the each shower booth.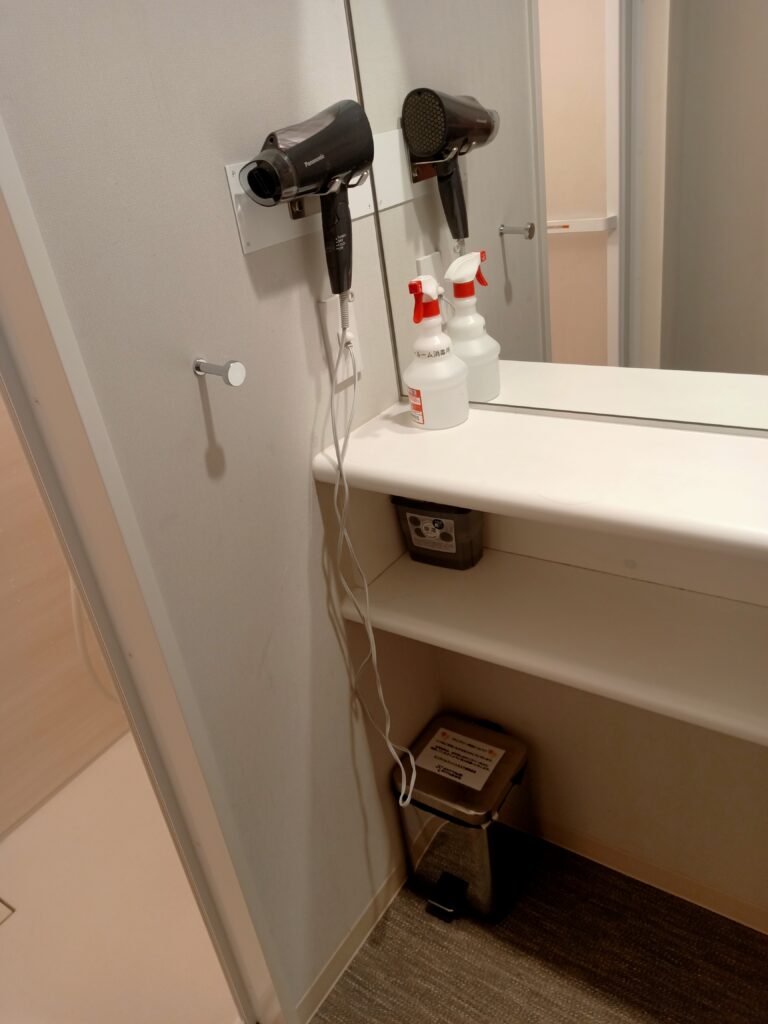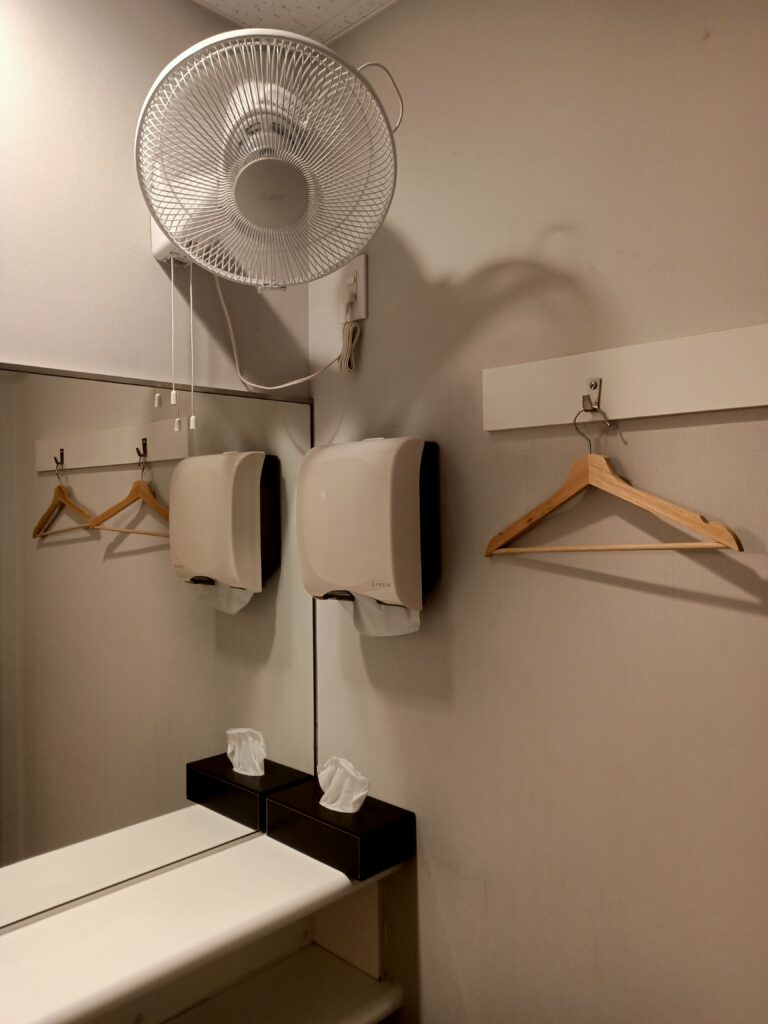 Women only space for one rest room and shower room.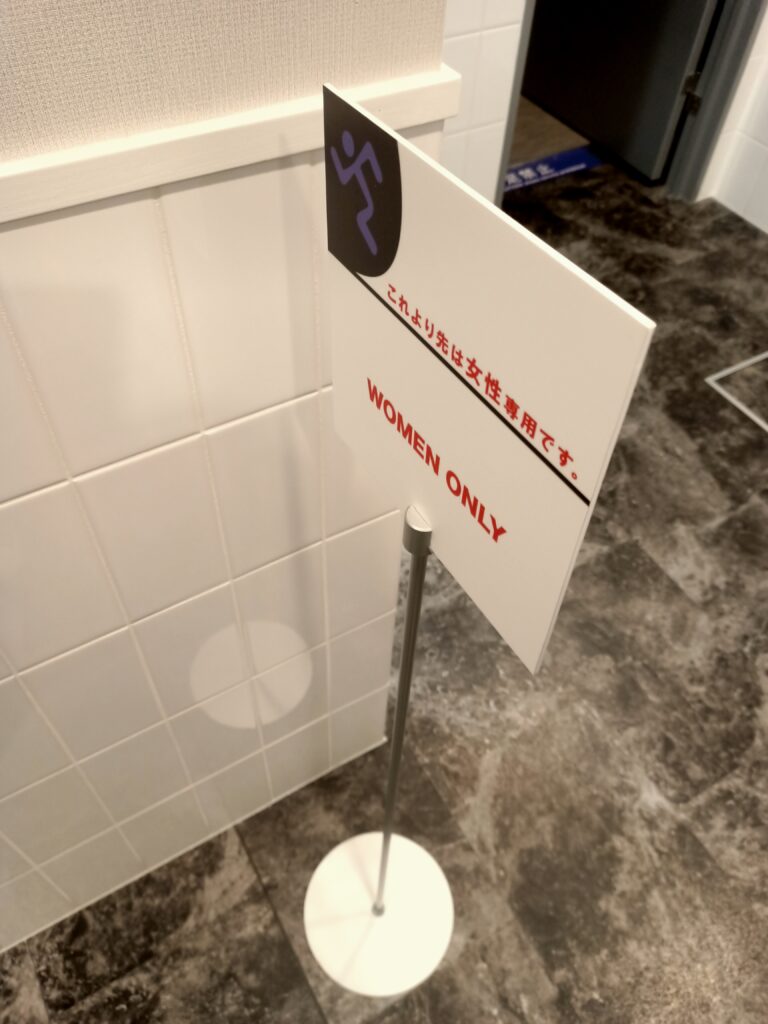 Here, next let's take a look at gym areas. Total gym area is not so big on one floor but this gym has enough equipment for whole body workout.
Functional training area
Pink colored floor area for stretching and functional training space. You can also use cable machine, dip and chinning stand here.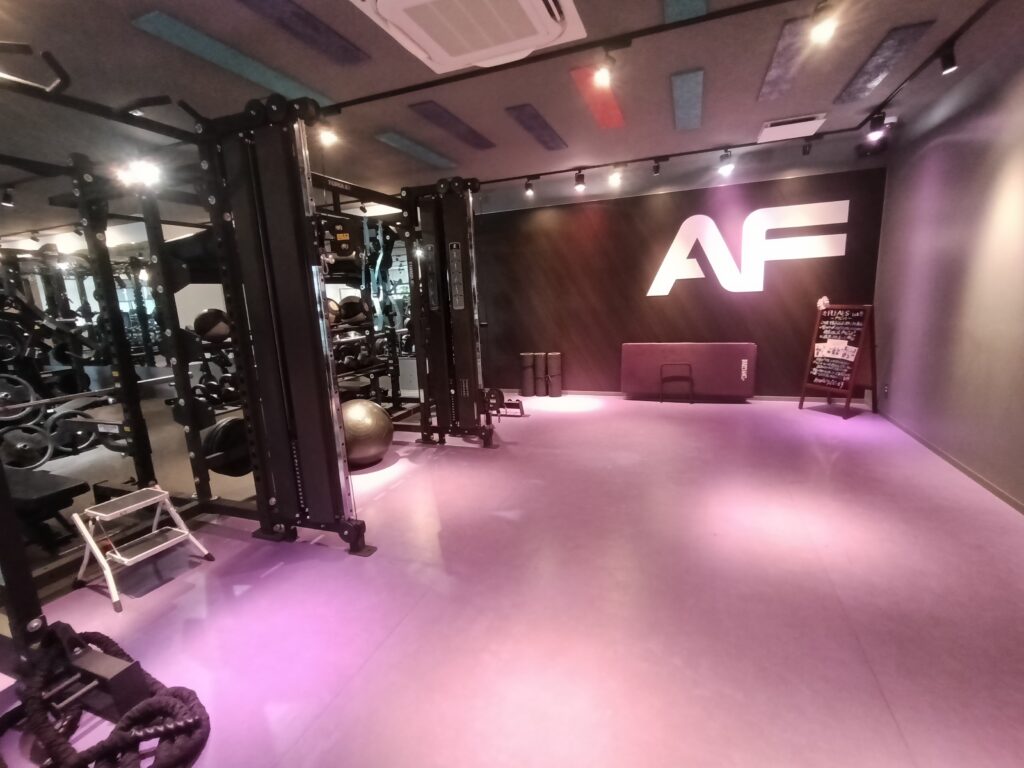 Stretching items and steps.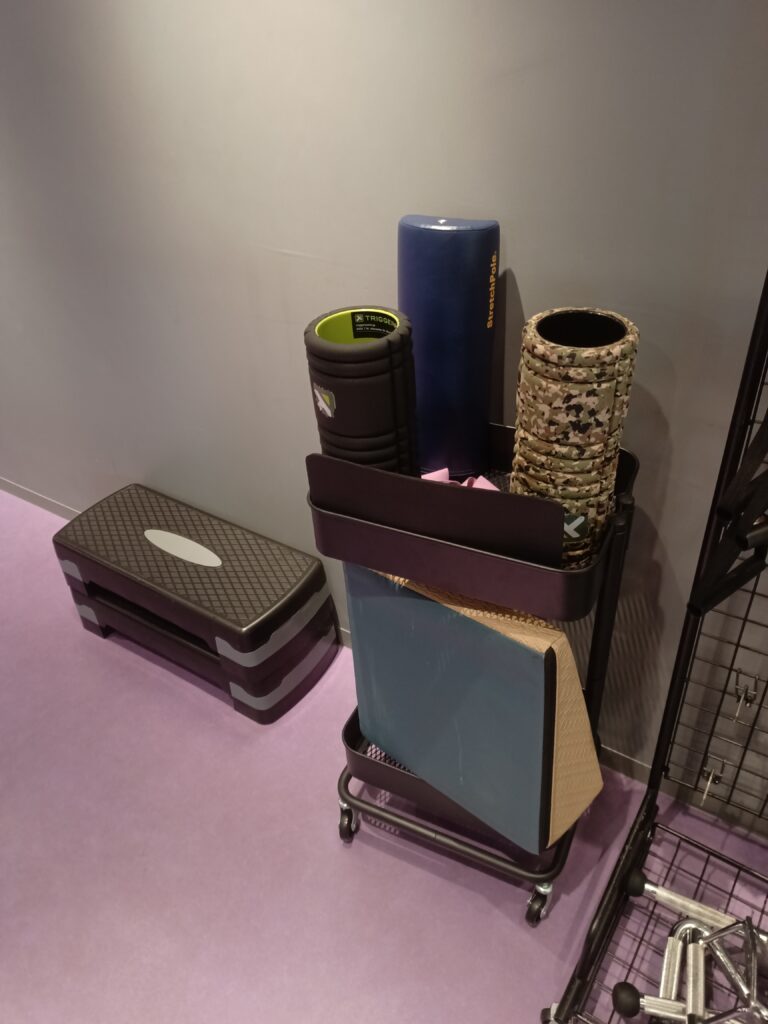 These attachment for cable machines and belts are free of use for members.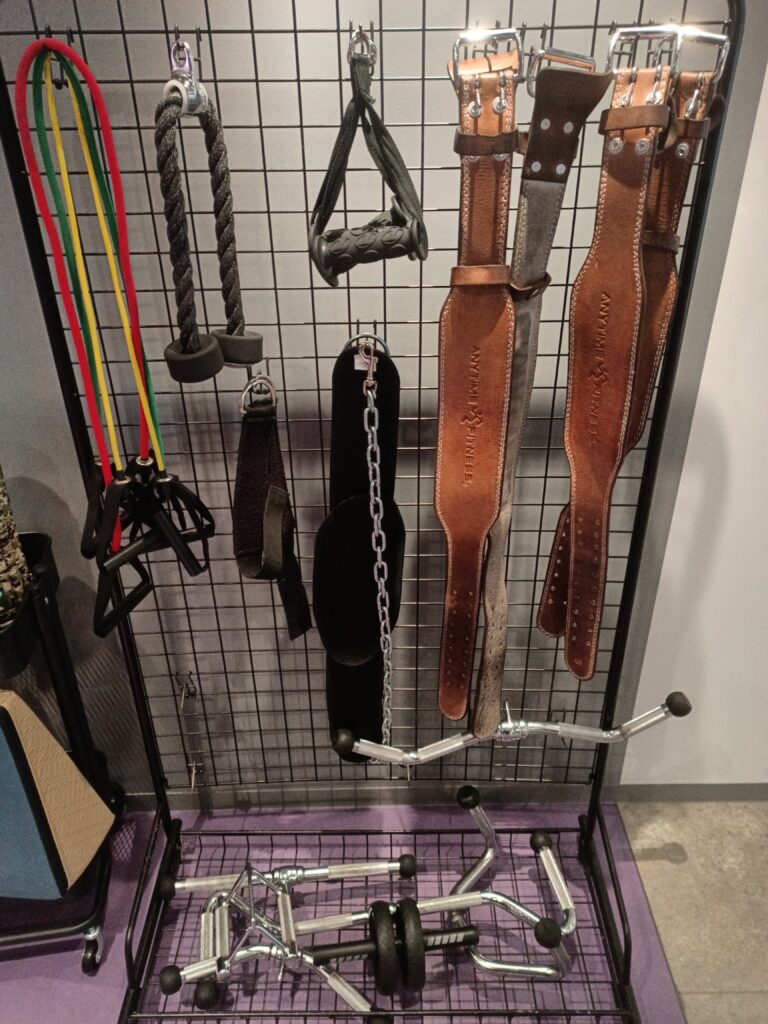 Yoga mat.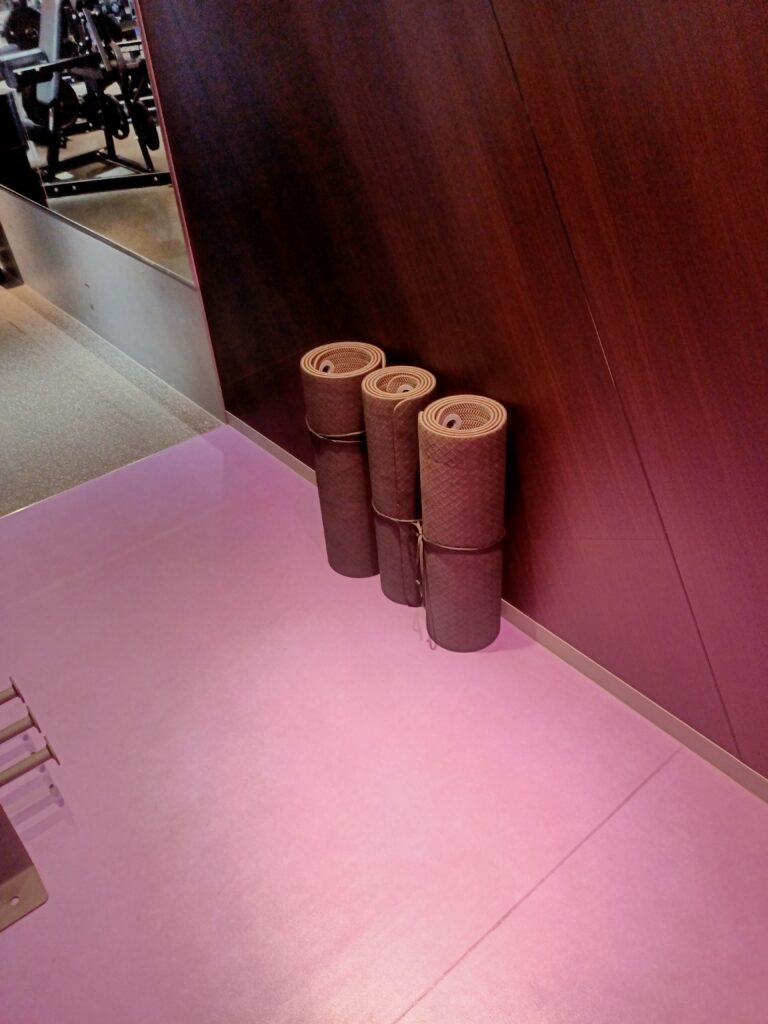 Battle rope for functional training.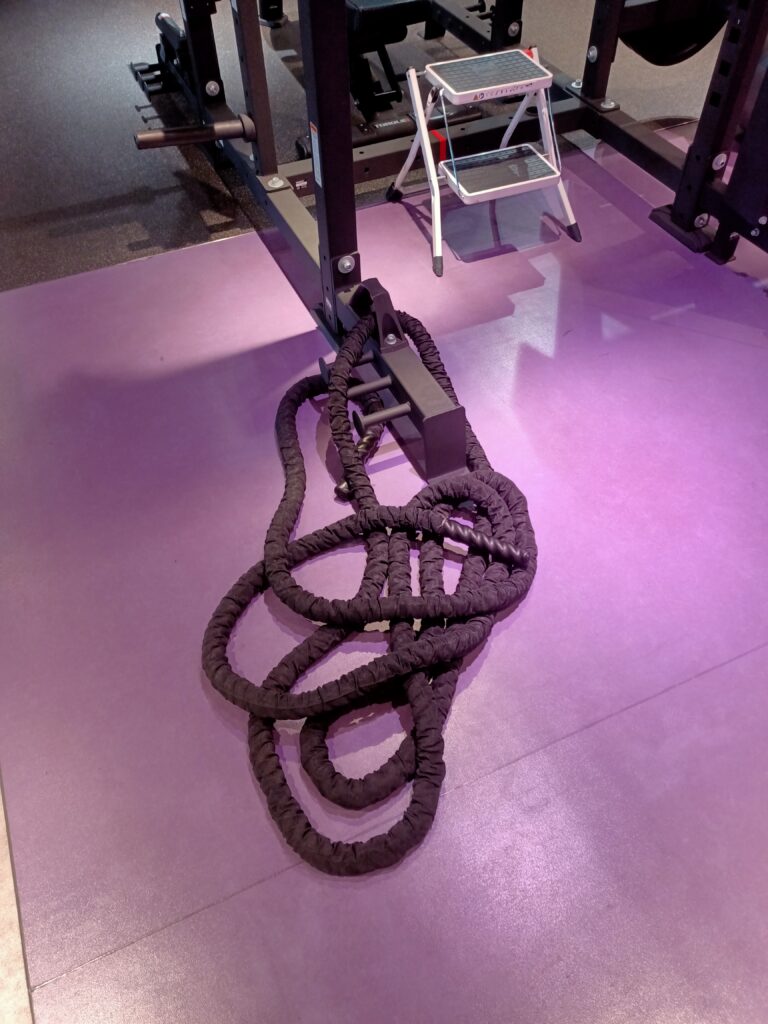 Cable machine and TRX rope.
Chinning stand. At the back, you can find 2 sets of half rack stand for bench press and squats. These all structure are made by Torque brand.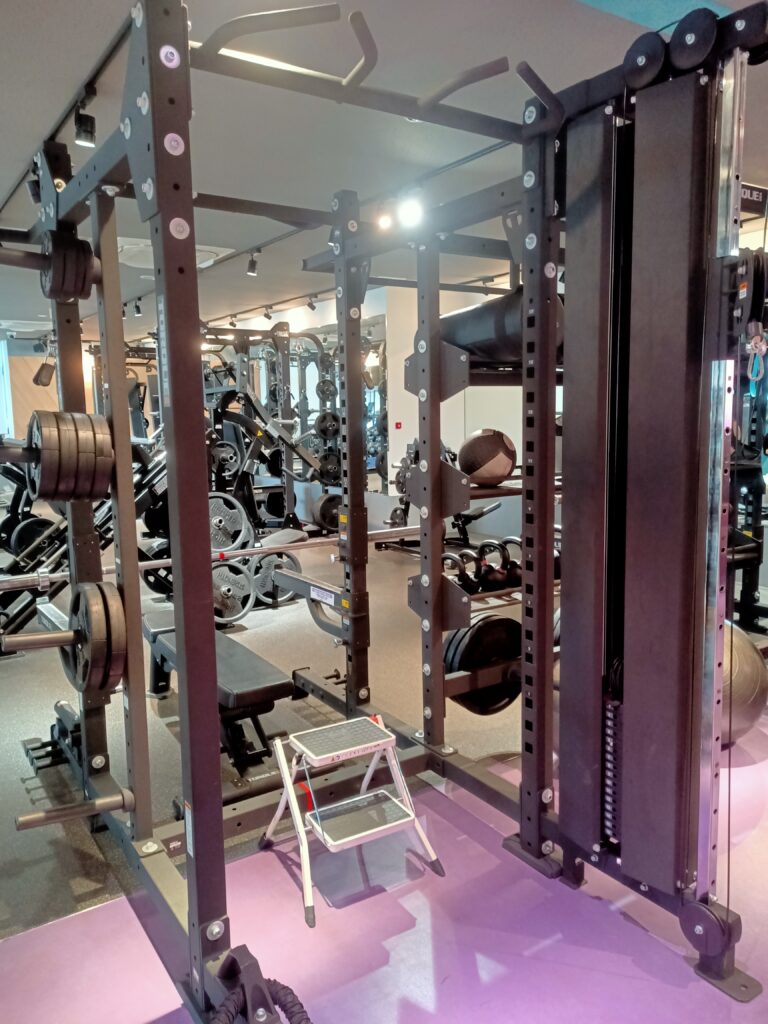 Functional training items such as kettle bell.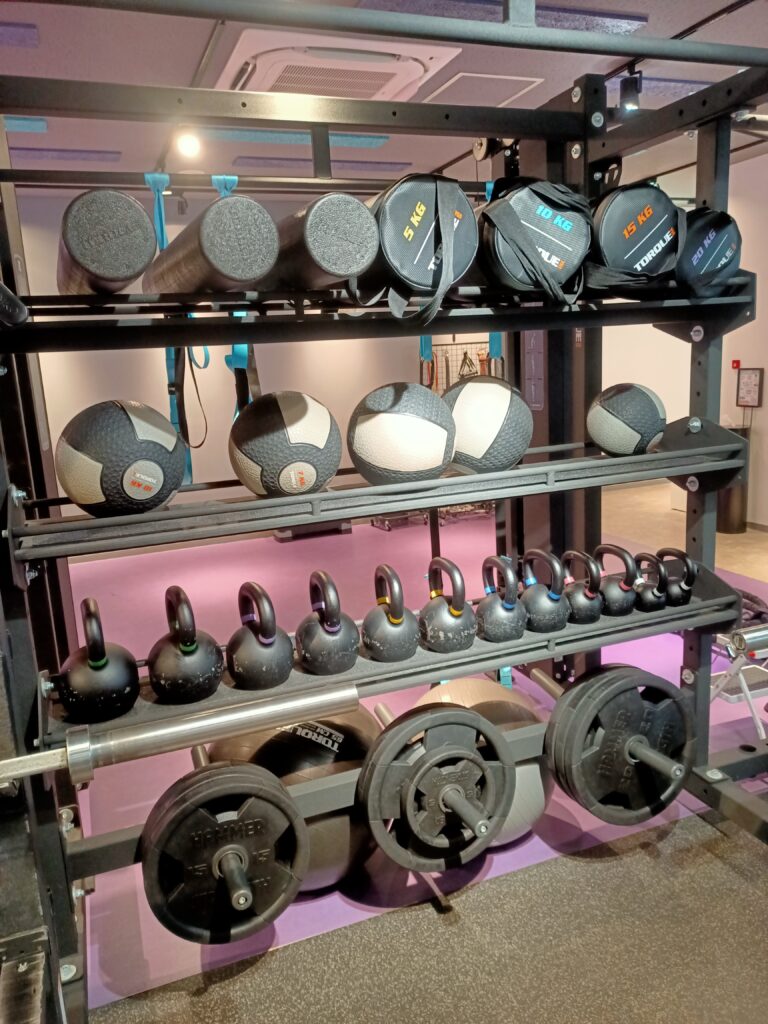 As I mentioned, back side has 2 sets of half rack as below. Bench stand and bar is Hammer strength brand. Barbell bar is 20 kg, 28mm size. Gym offers also barbell plate from 1.25kg. 2.5kg, 5kg, 10kg, 15kg, 20kg and 25kg at maximum.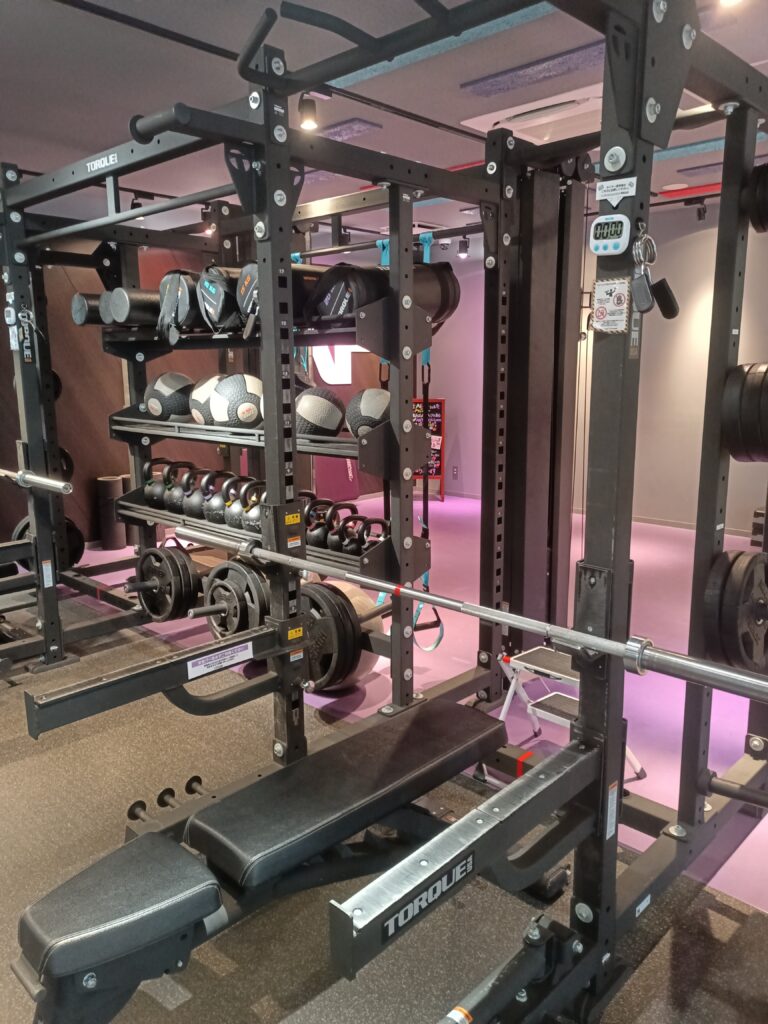 Hammer Strength bar is rare, most Anytime Fitness branch uses IVANKO bar.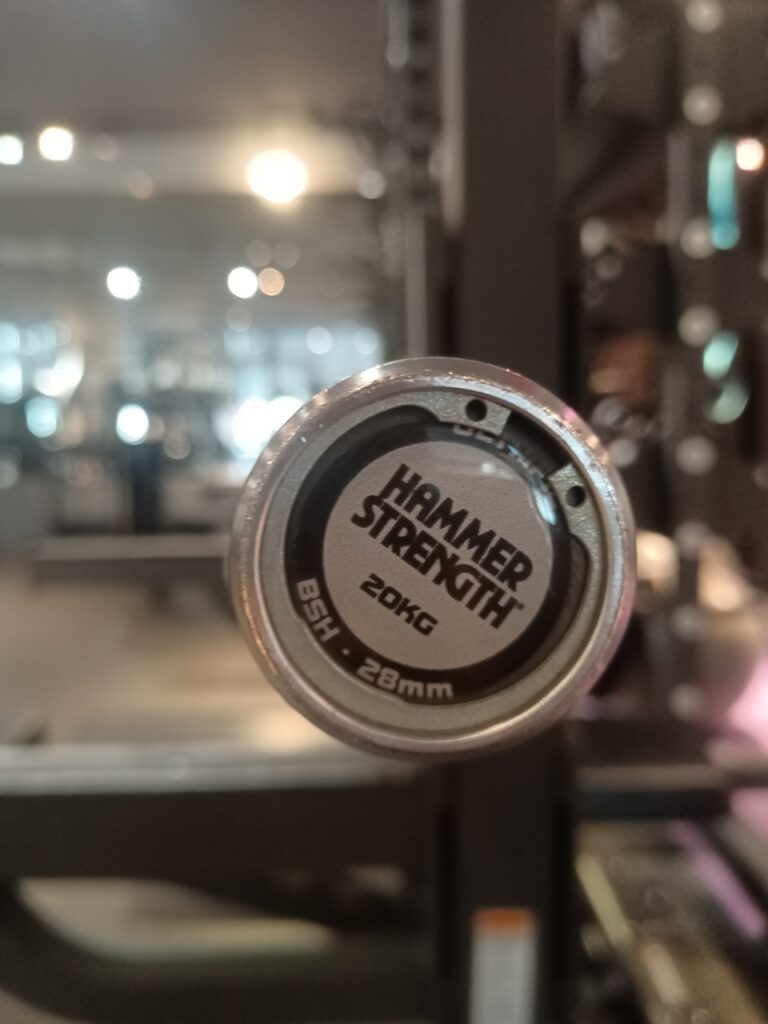 Cardio area
Cardio machines are lay-outed besides windows. They have 4 bikes (2 with back rest), 9 tread mils and 2 cross walkers.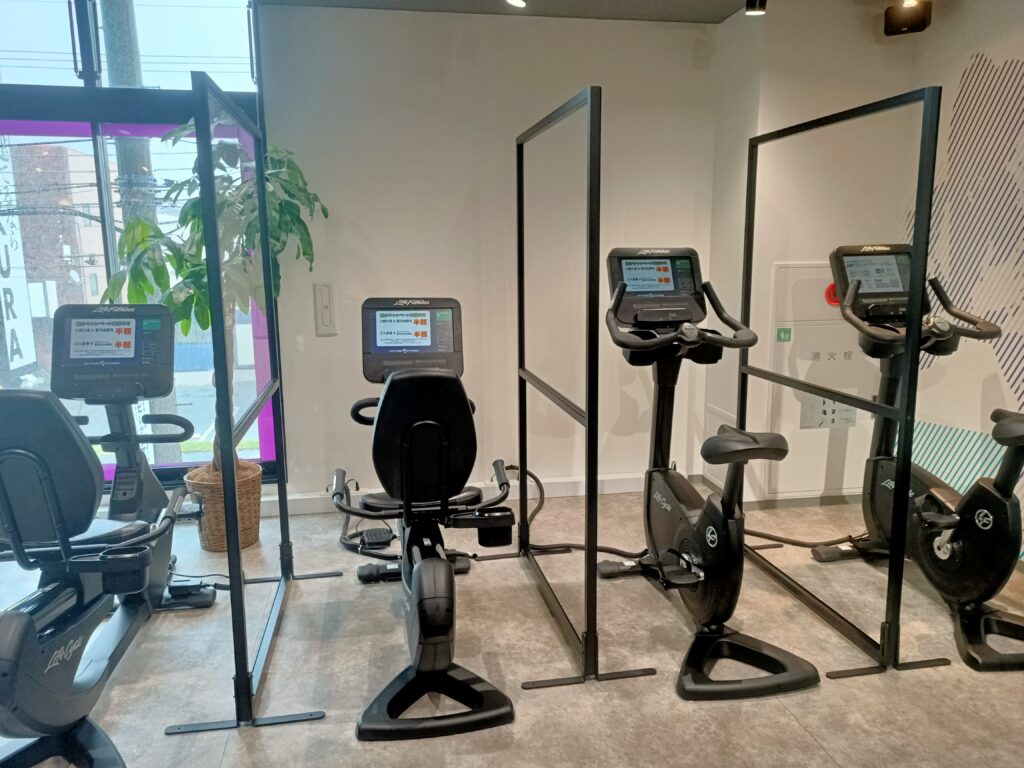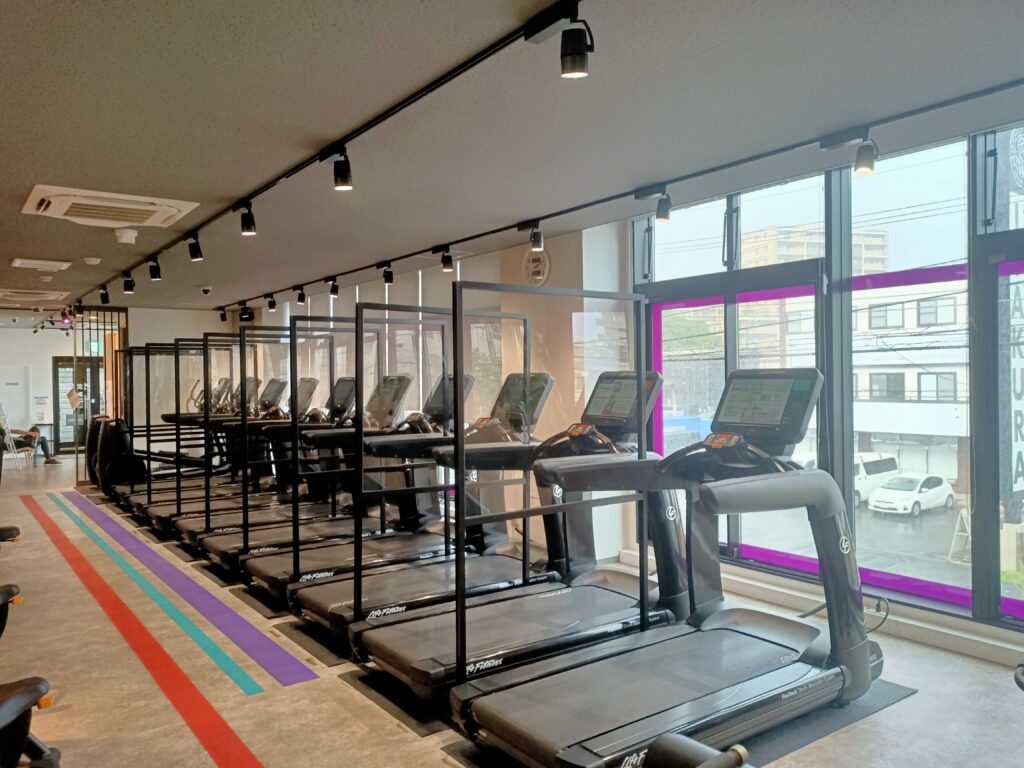 I still never used cardio machines… Maybe you can watch some programs using free WiFi in the club.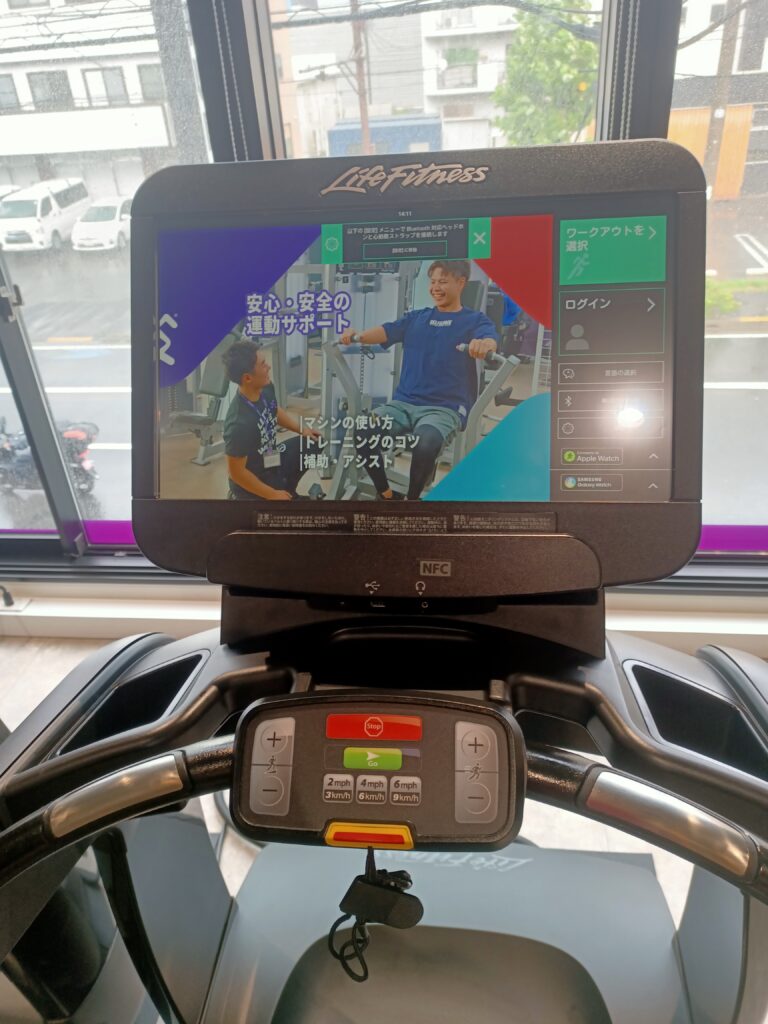 Cross walkers near entrance lounge.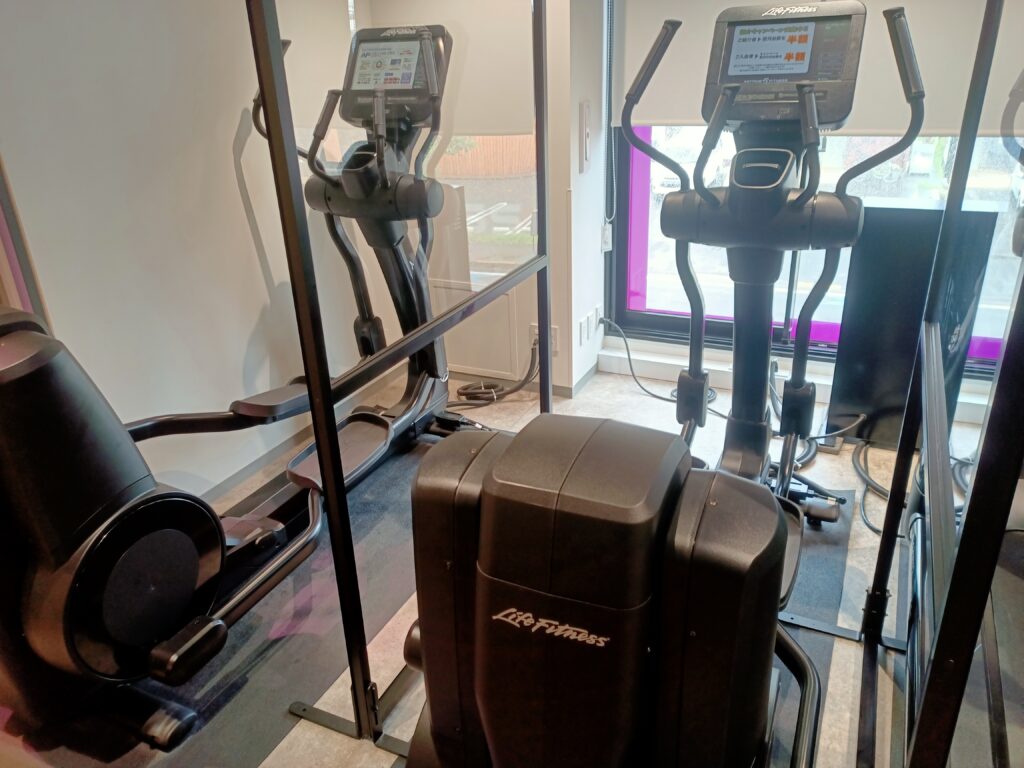 Machines
Next is for machines review. Machines are located in the middle of gym. I will show you free weight area at the last. Machines brand is all Life Fitness except lat pull down.
Each machine has QR code to scan for video how to use machines.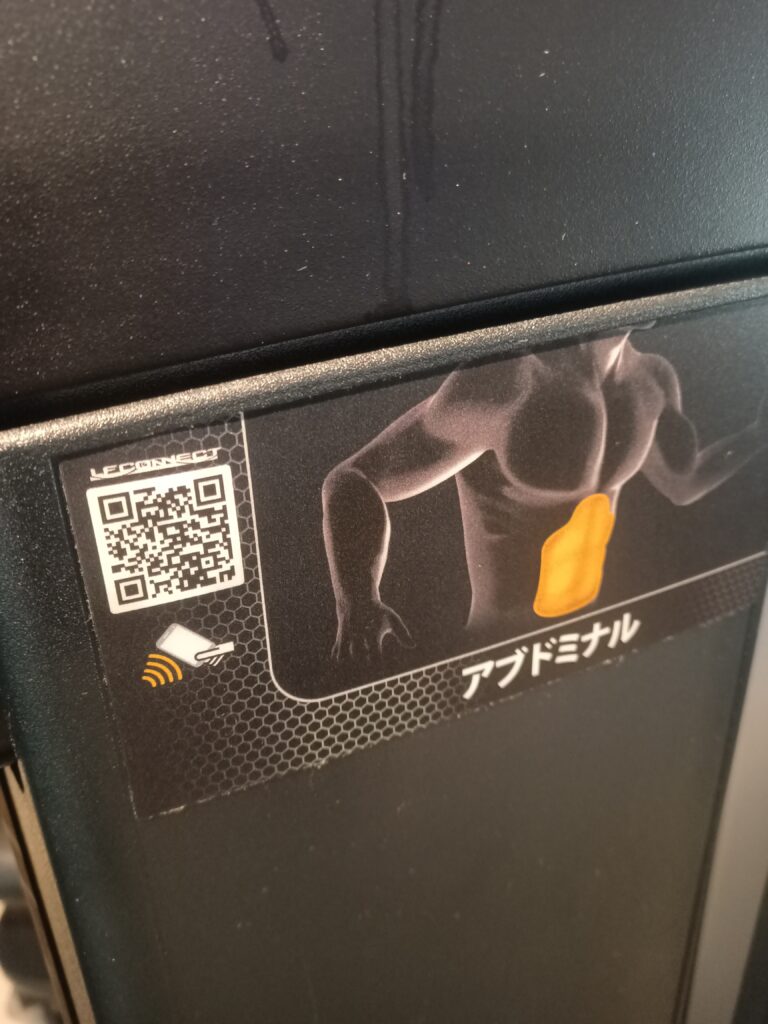 Life Fitness machine installed in this branch is latest one, I think, each machine has meter to count your reps and rest time up to 90 minutes on monitor.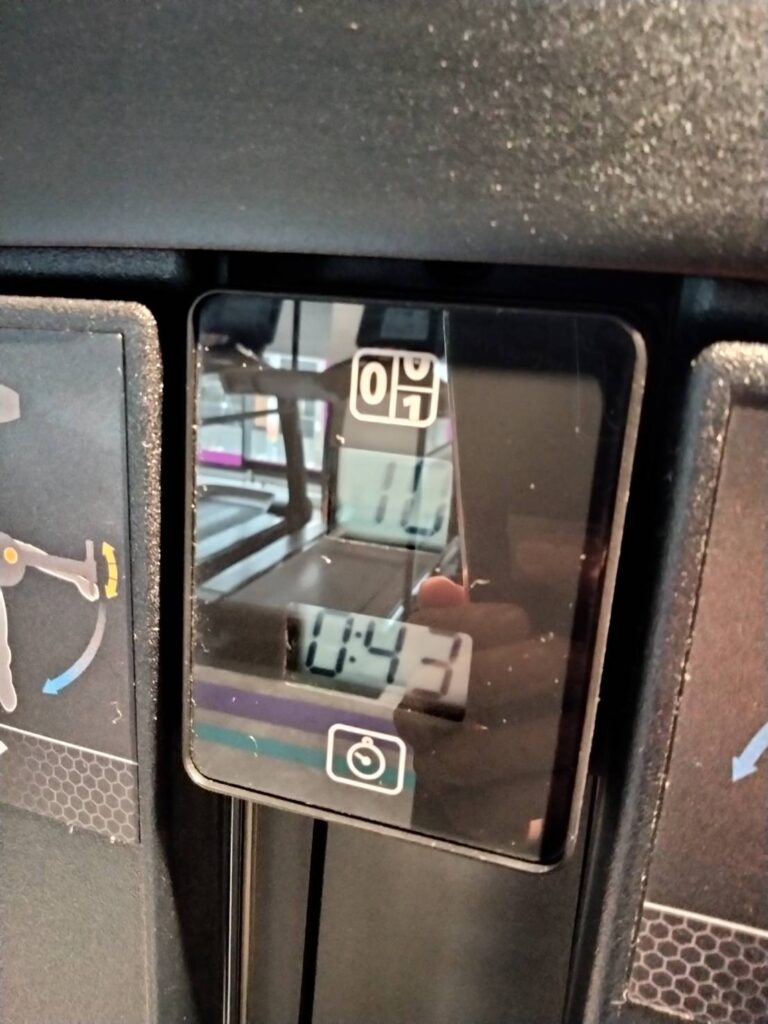 Abduction and Adduction for interior muscle for legs. I should try this some time.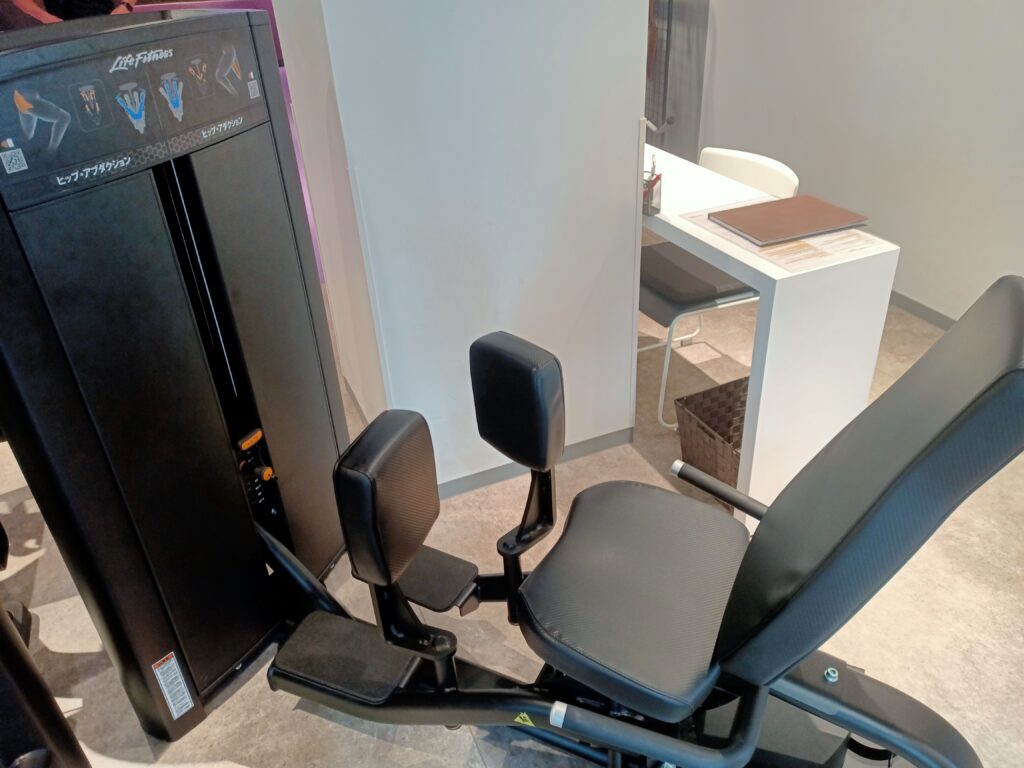 Leg extension machines. You can adjust pad position for toe and back rest.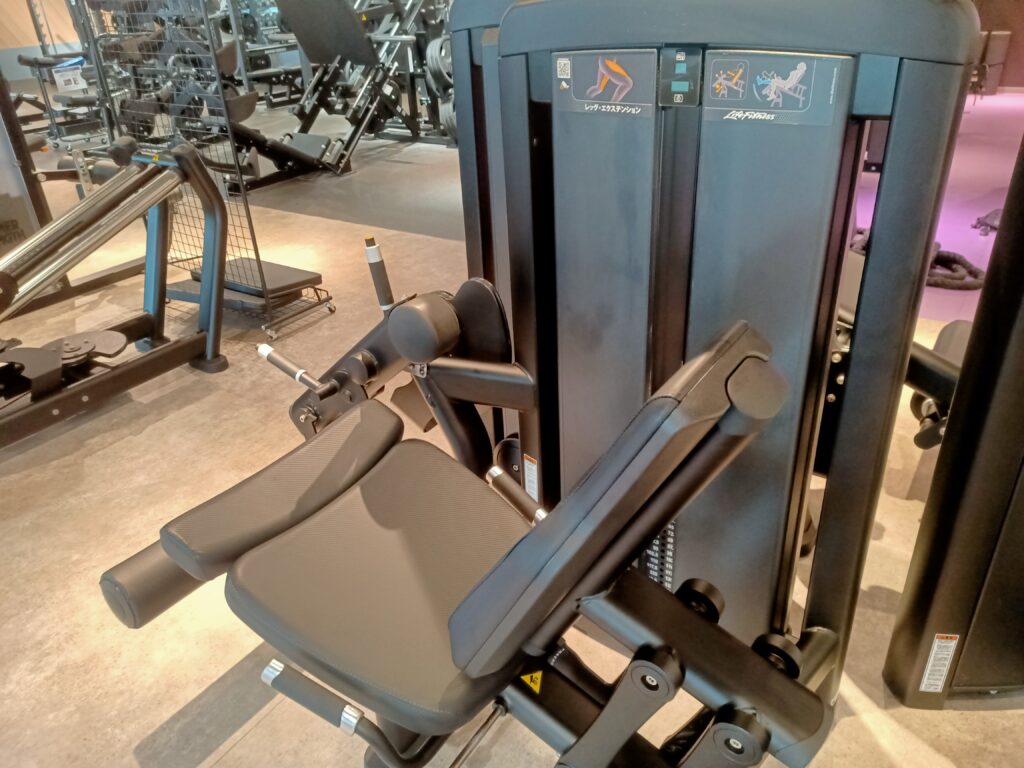 Leg press machine is my latest favorite machine. Depending on your foot position, you can change focus point either front or back to train your legs. One thing that I prefer this machine to 45 degree plate loaded leg press machine is free from bothersome to load plates, hehe.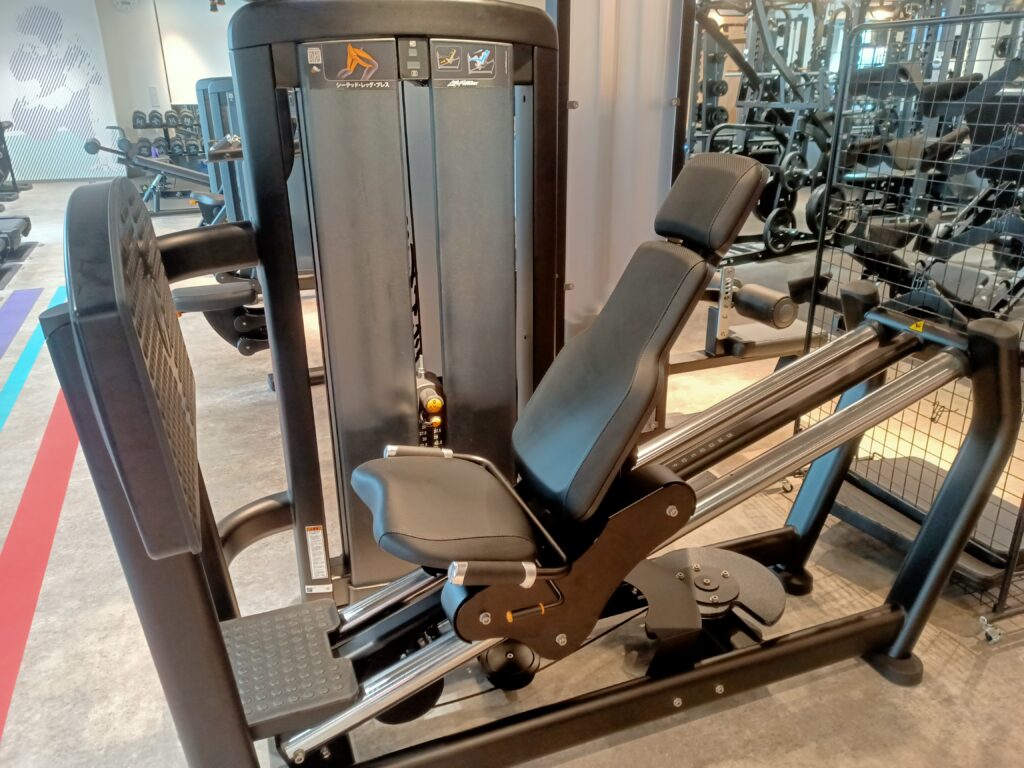 Pec fly and rear delt.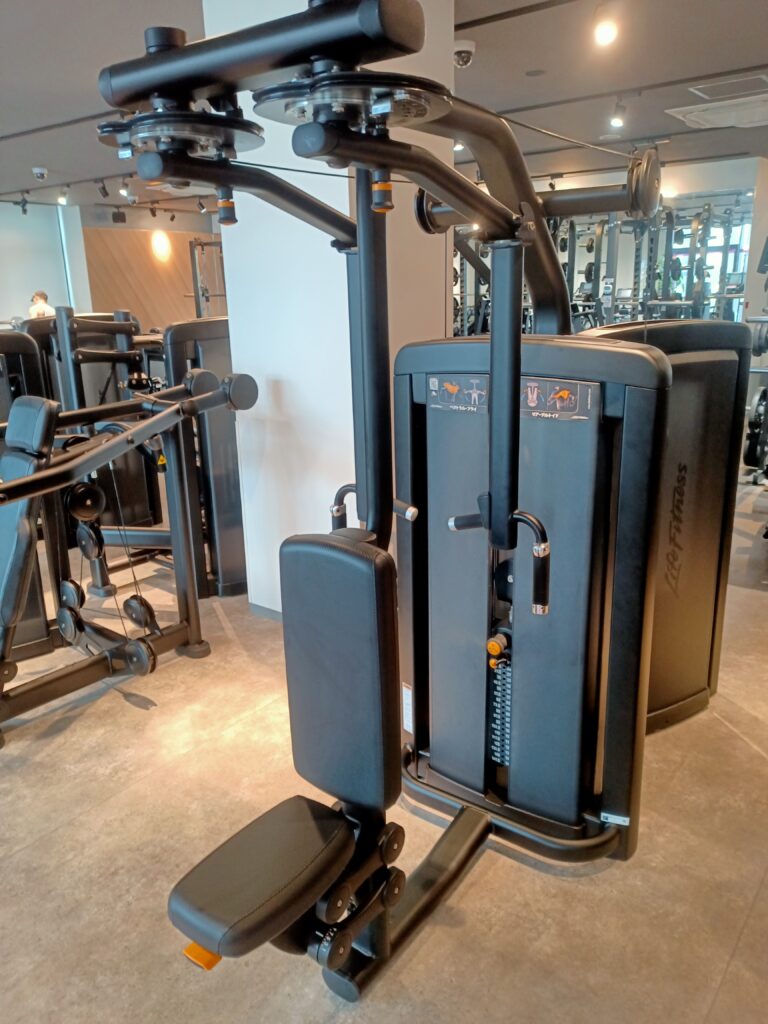 Shoulder press machines. Weights for this machine, I feel quite heavy.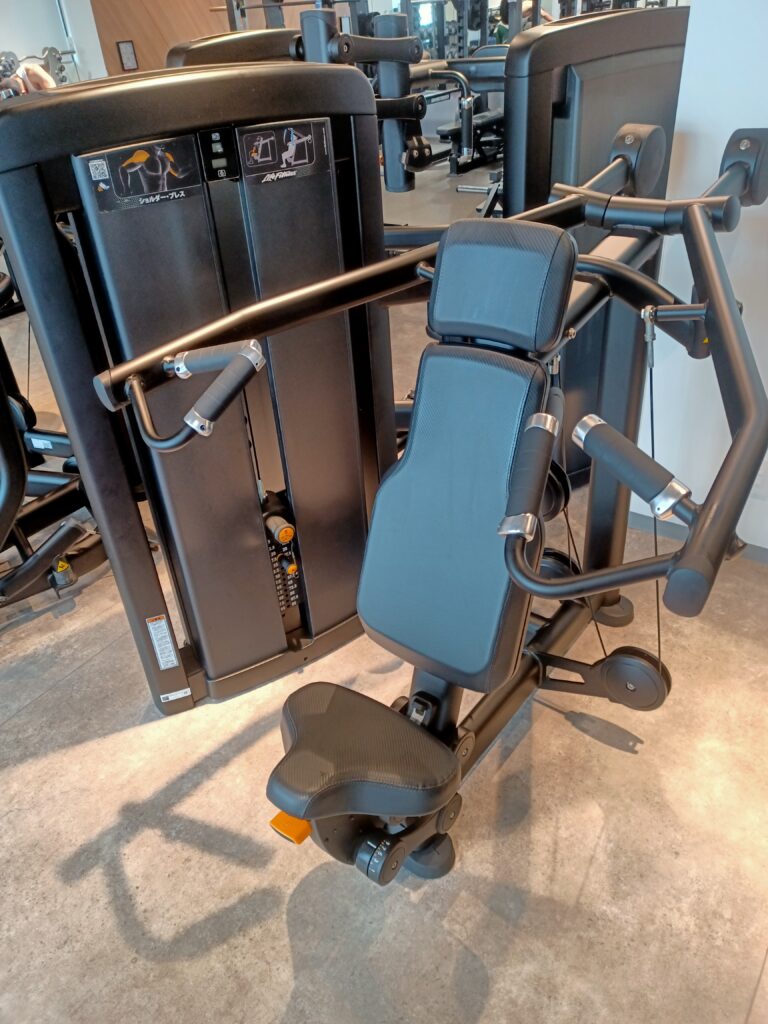 Chest press machine can adjust seat height to change focus point of chest.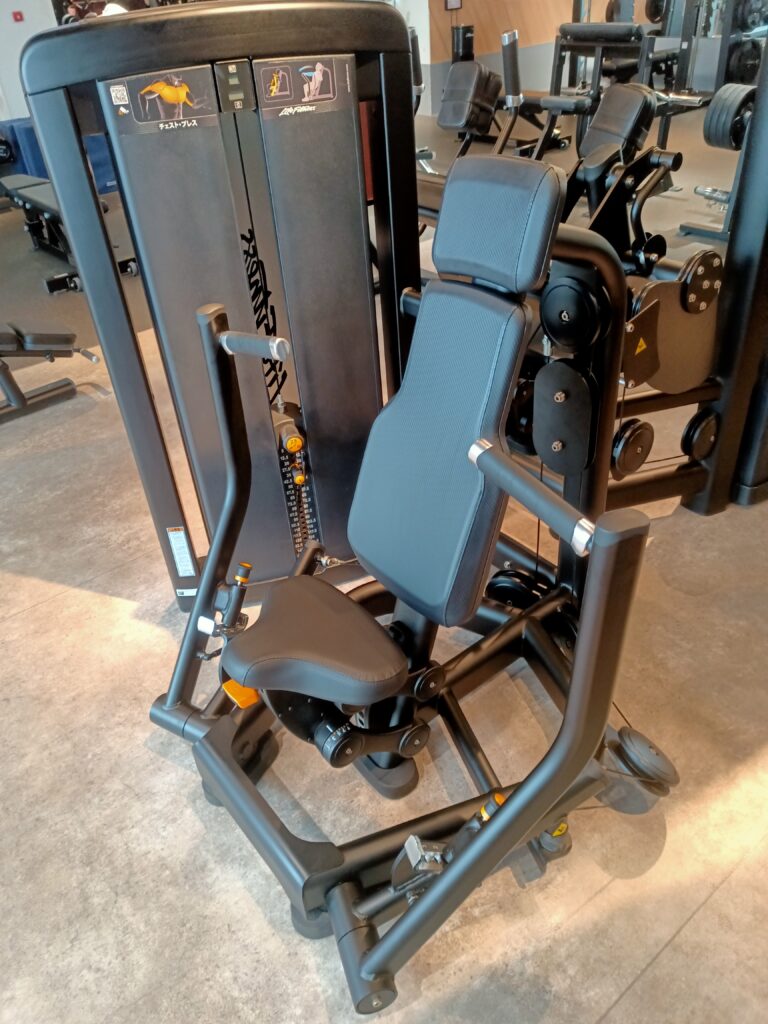 Only decline bench stand here in the gym. I tried to decline dumbbell press with this but I failed…. Seems my legs are not long enough to set positon, carrying heavy dumbbells. Other Hammer Strength benches cannot declined.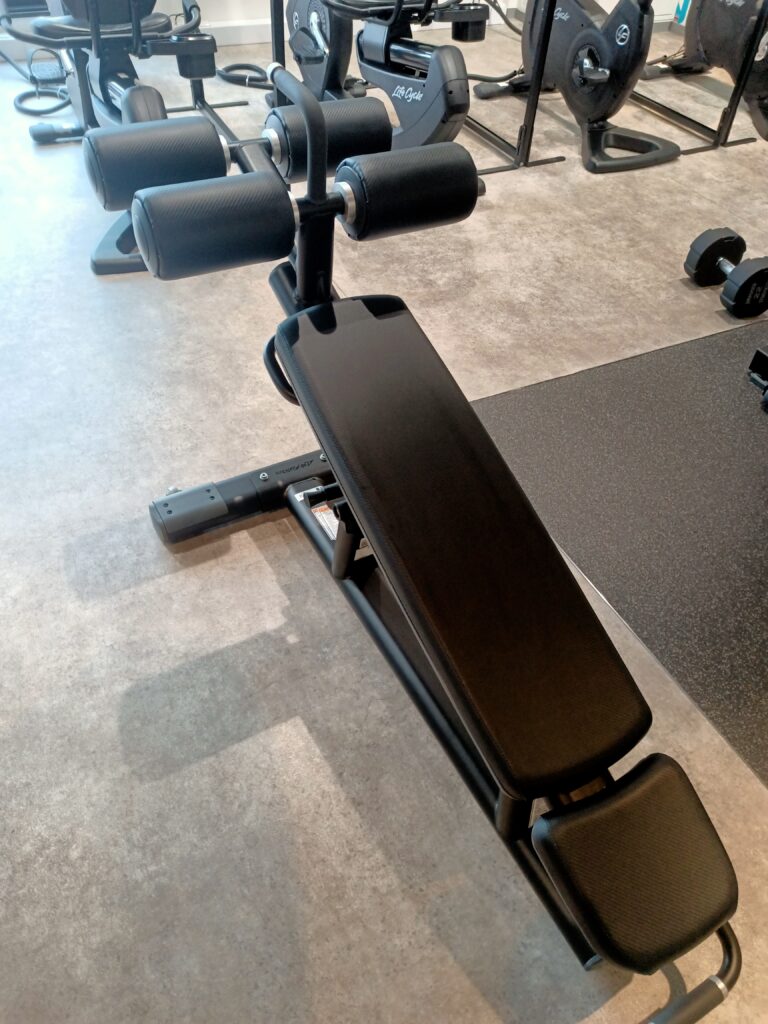 Back extension stand. You can hold dumbbells or plates to add weights.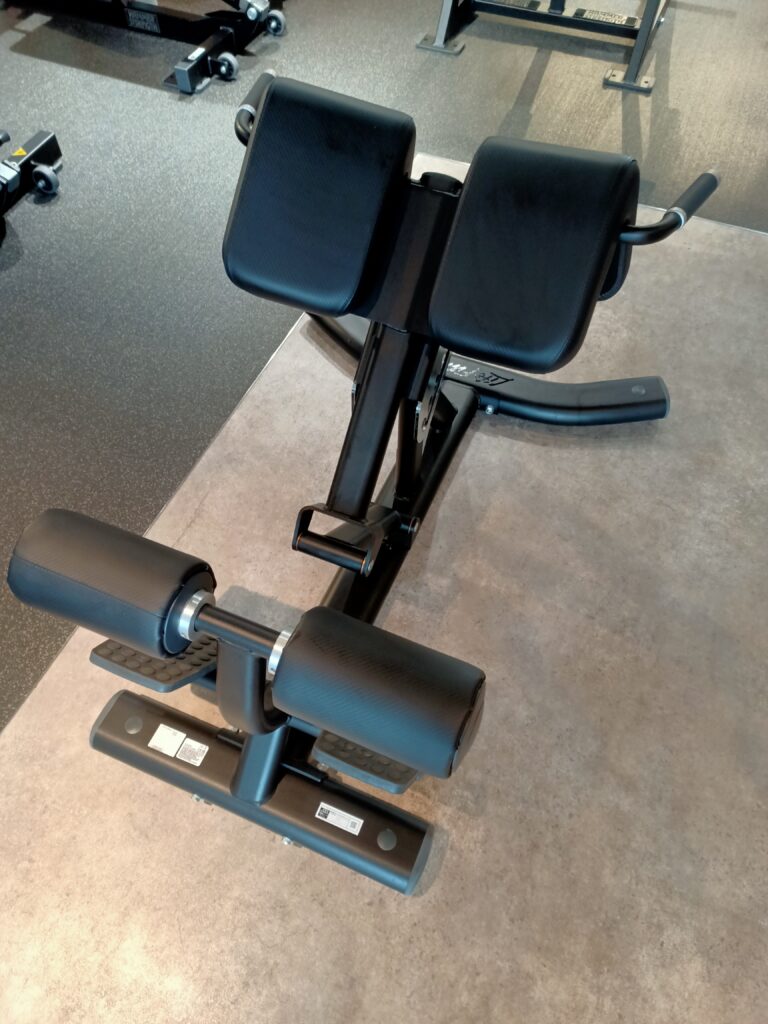 This is abdominal machines. It is better to have hold legs on the floor or machines. Normally I put 25kg plate on my foot to fix my legs on the ground.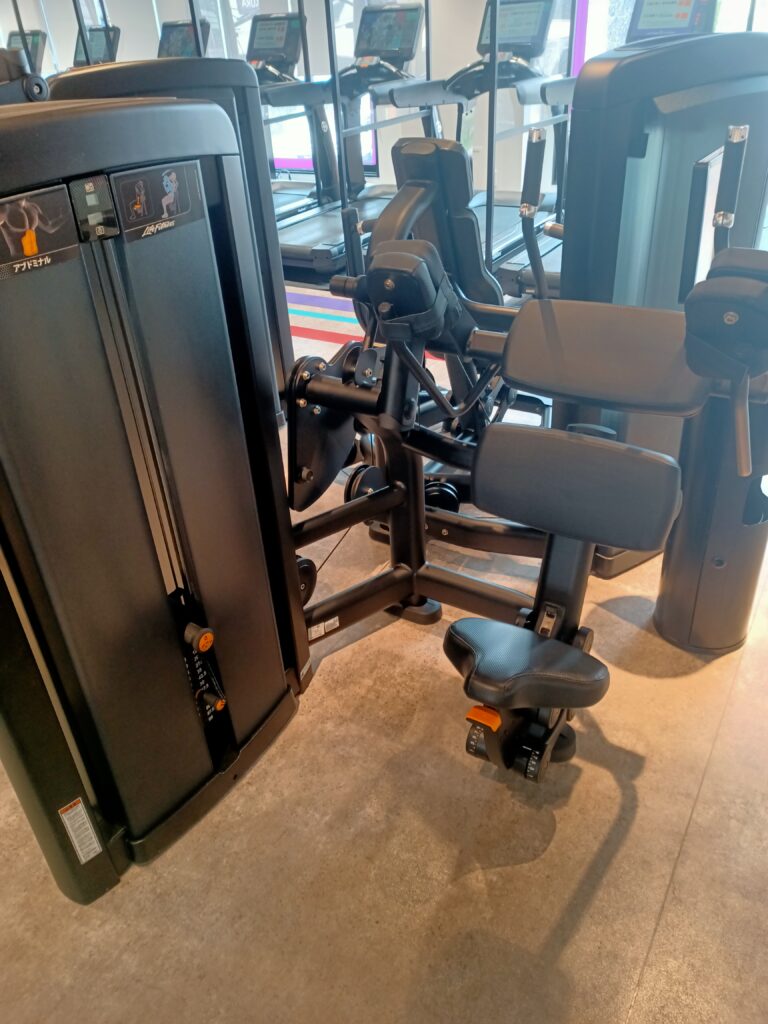 Torso rotation machine… I may not use forever, hahah.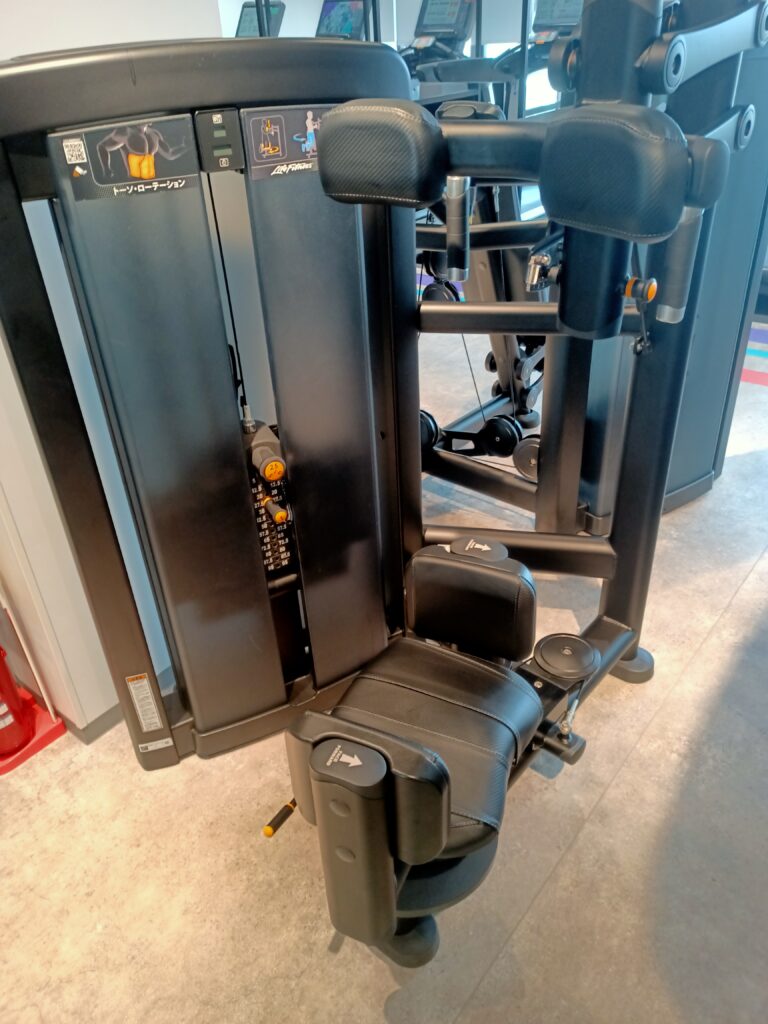 Seated back row machine. I like to use by one hand at each time.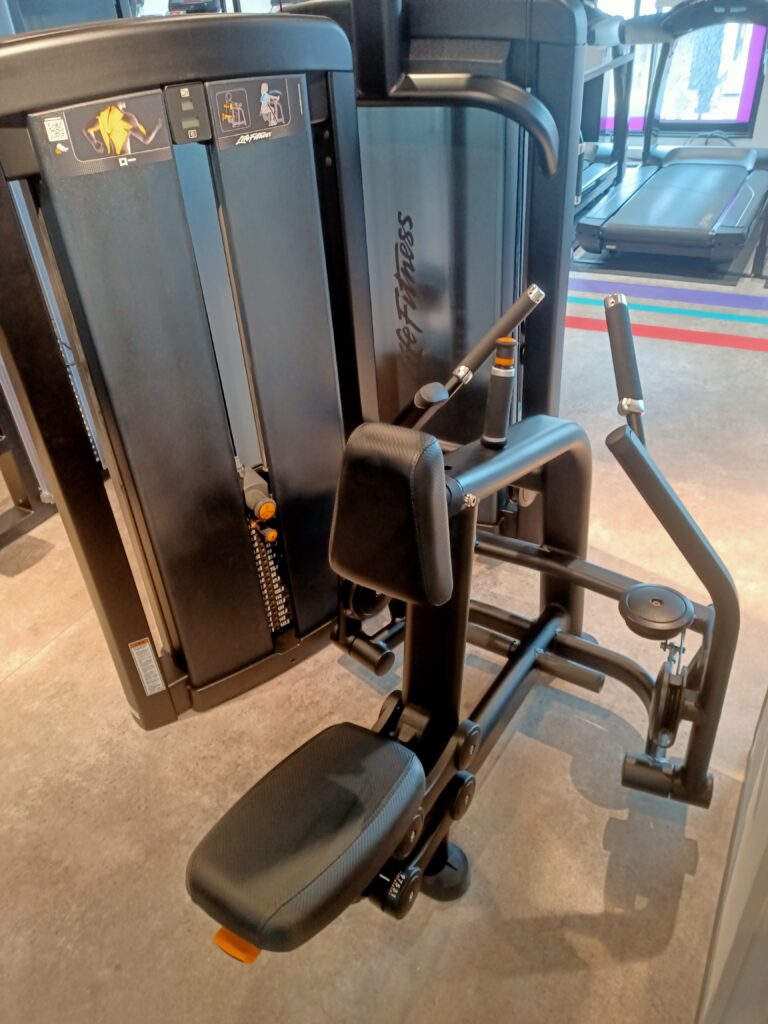 Lat pull down can be changed to its attachment. I just noticed that only this machine is Hammer Strength while other machines from Life Fitness.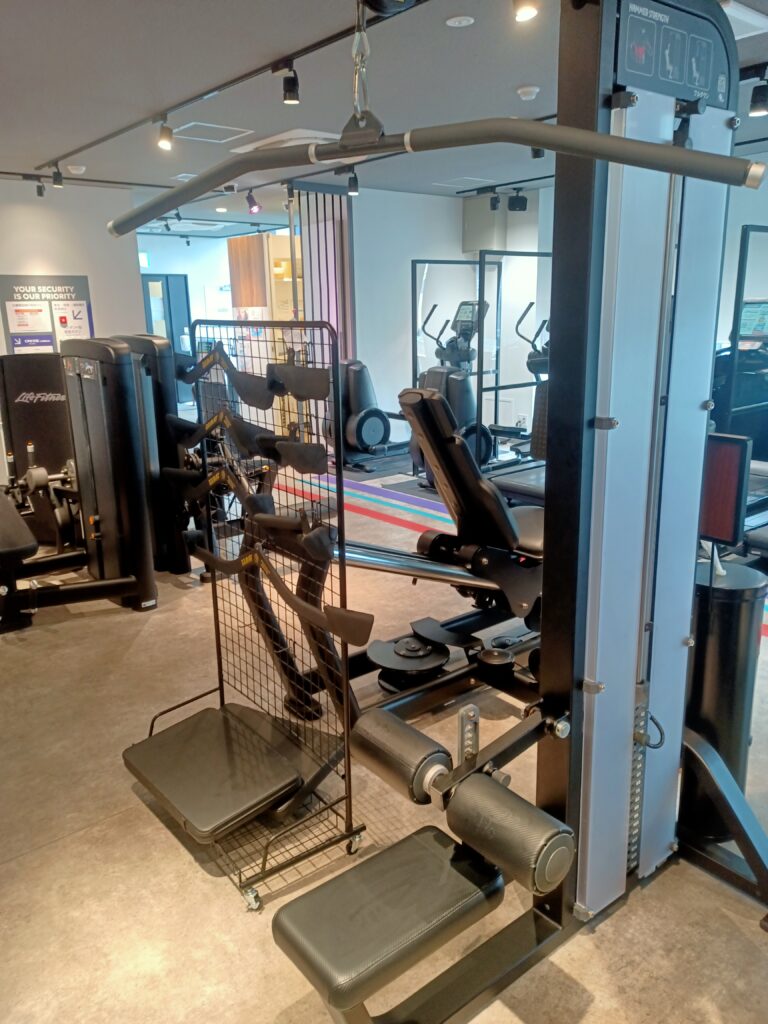 One special thing in Takashina branch is they have all 7 types of MAG grip for back training. Standard Anytime Fitness does not have any of them or some only. When you come here, I bet you cannot miss trying all of them.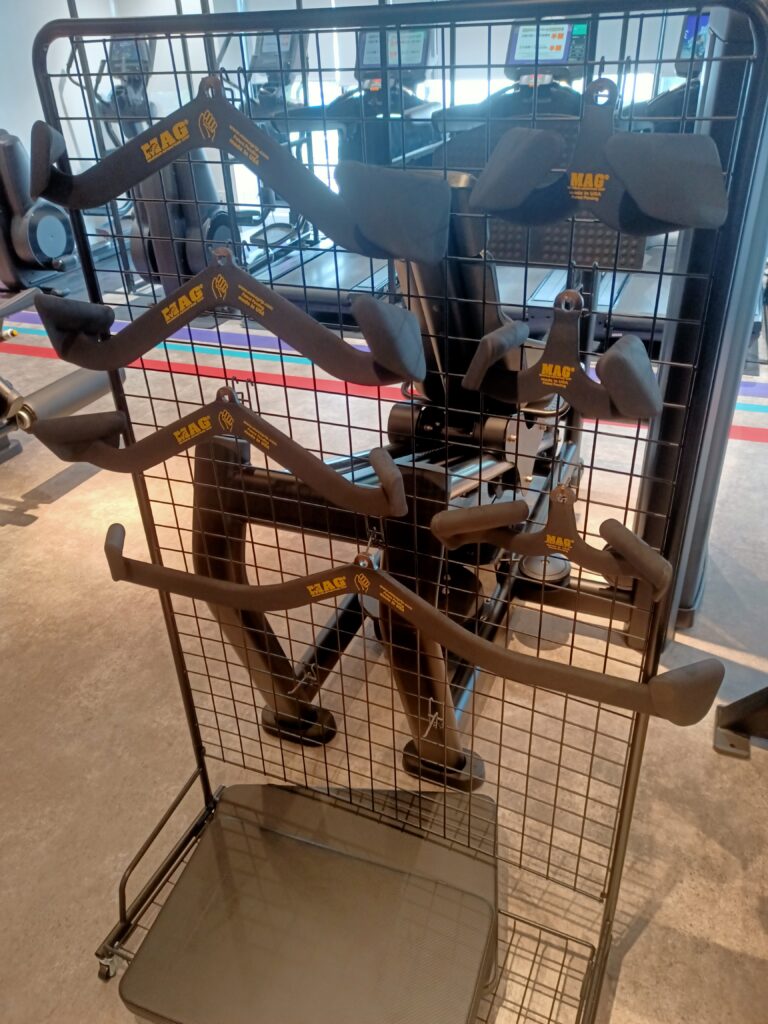 Lying leg curl machine. These are all machines in Takashina branch. Quite enough, don't you think? to train whole body with machines.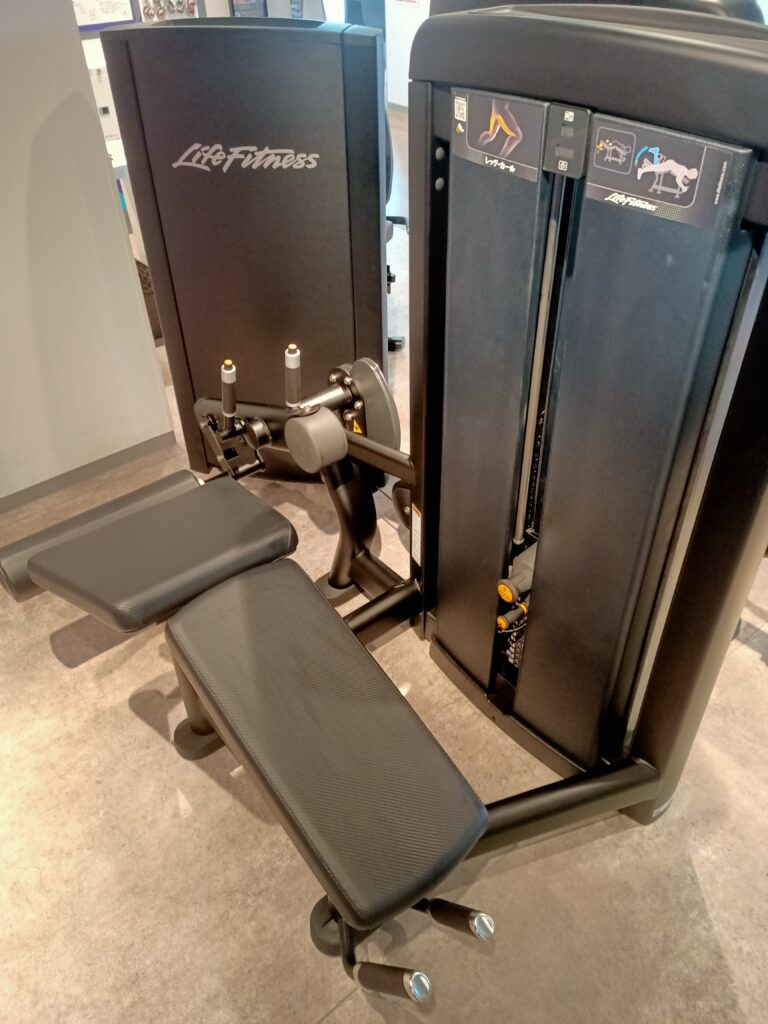 Free weight area
Moving to free weight area at the last. The first area is dumbbell areas with benches. All free weight area equipment is Hammer Strength brand.
Dumbbell prepared from 1 to 10kg each. From 12kg, every 2 kg up to 50kg here. I observe that most Anytime branch in Japan does have dumbbell until 40kg as standard. I have 5 or 6 branches in the vicinity of of areas to go daily. However 50kg dumbbell can be found only here at Takashina branch.
4 bench stand can be used as incline but no decline use.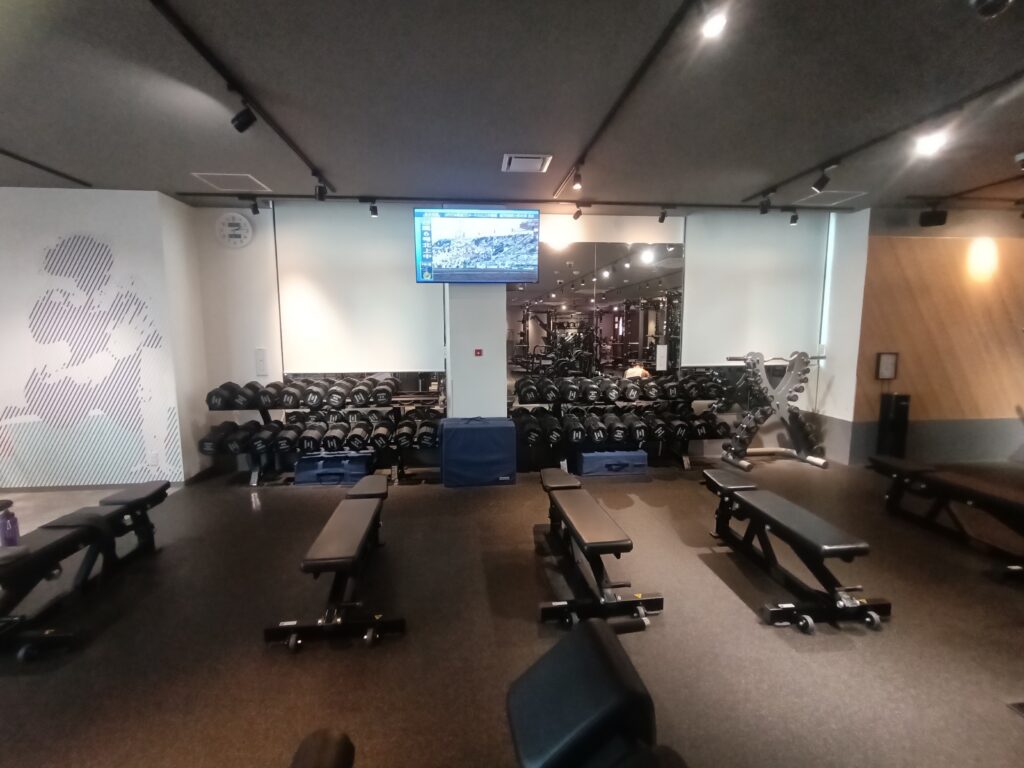 Blue cushion to drop dumbbells on.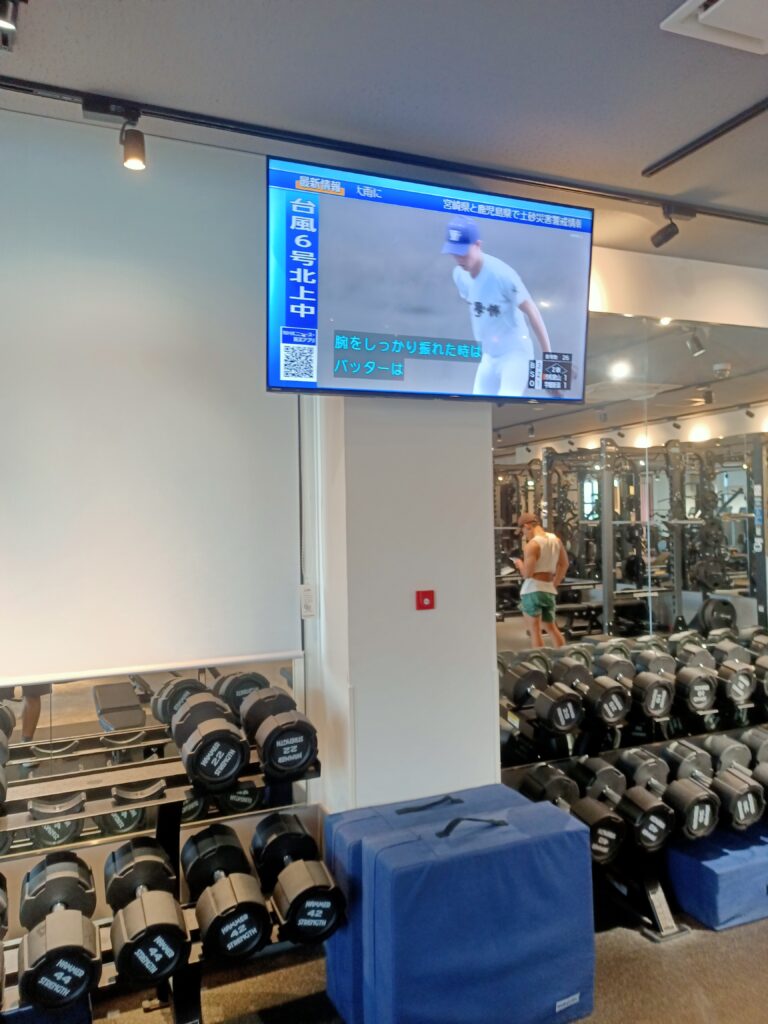 50kg dumbbells are good for my chest press and back rowing.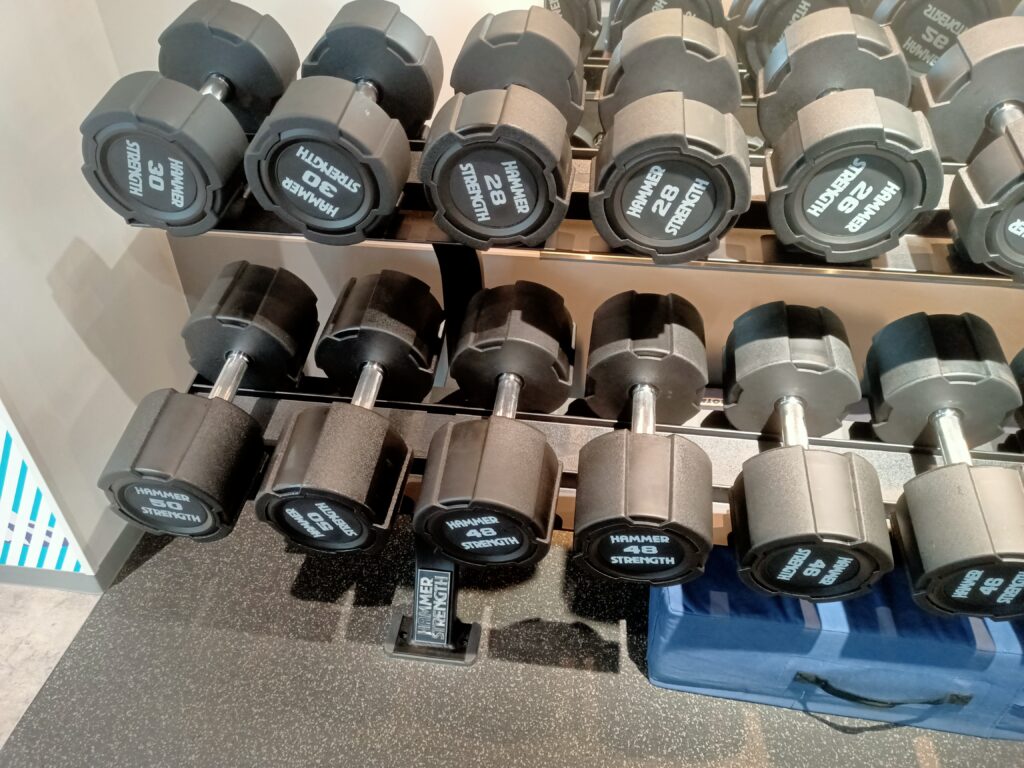 Small dumbbell stand from 1kg to 10kg. On top, they have EZ bar.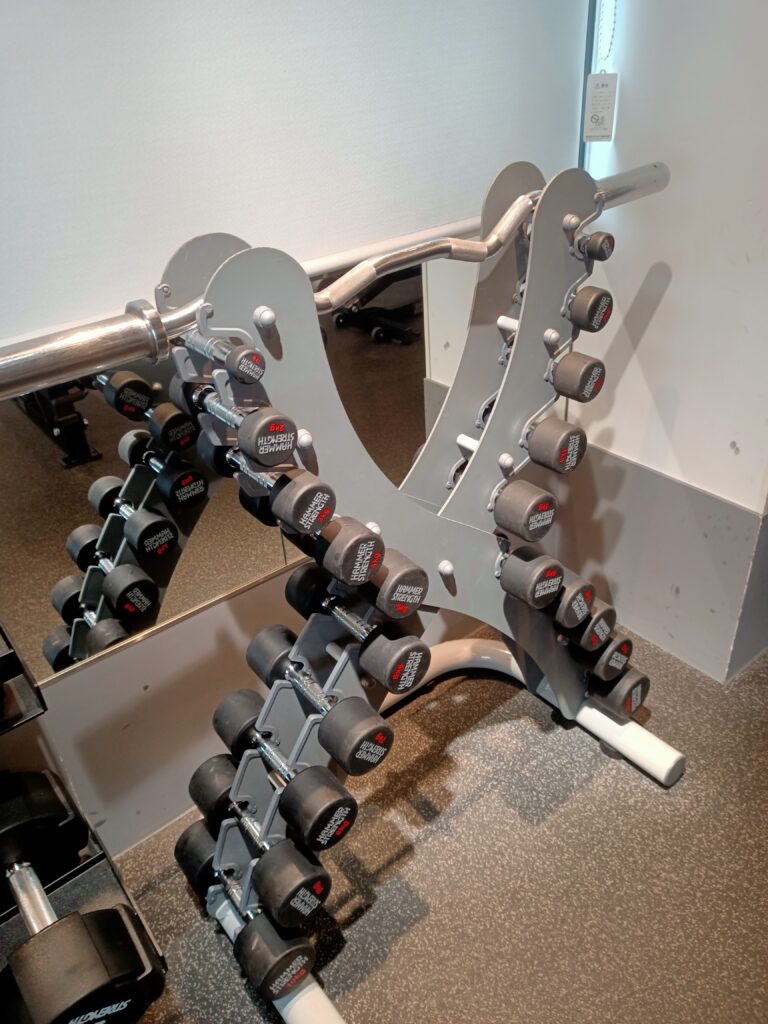 Preacher curl stand.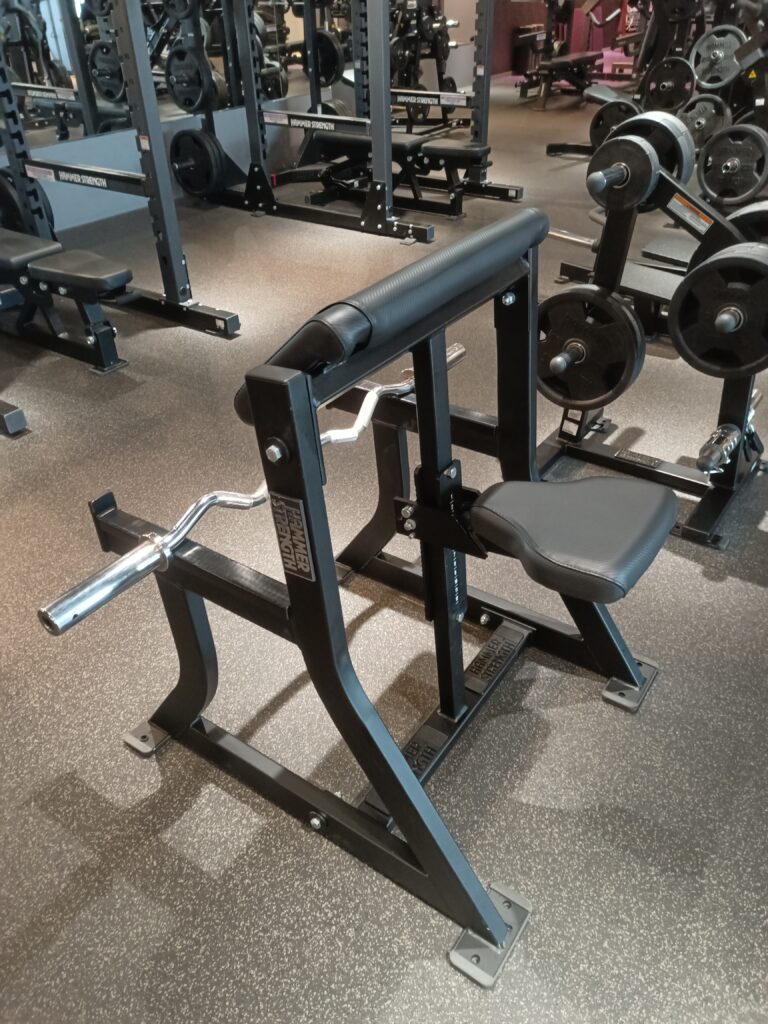 Don't forget to clean the machine every time when you finish use.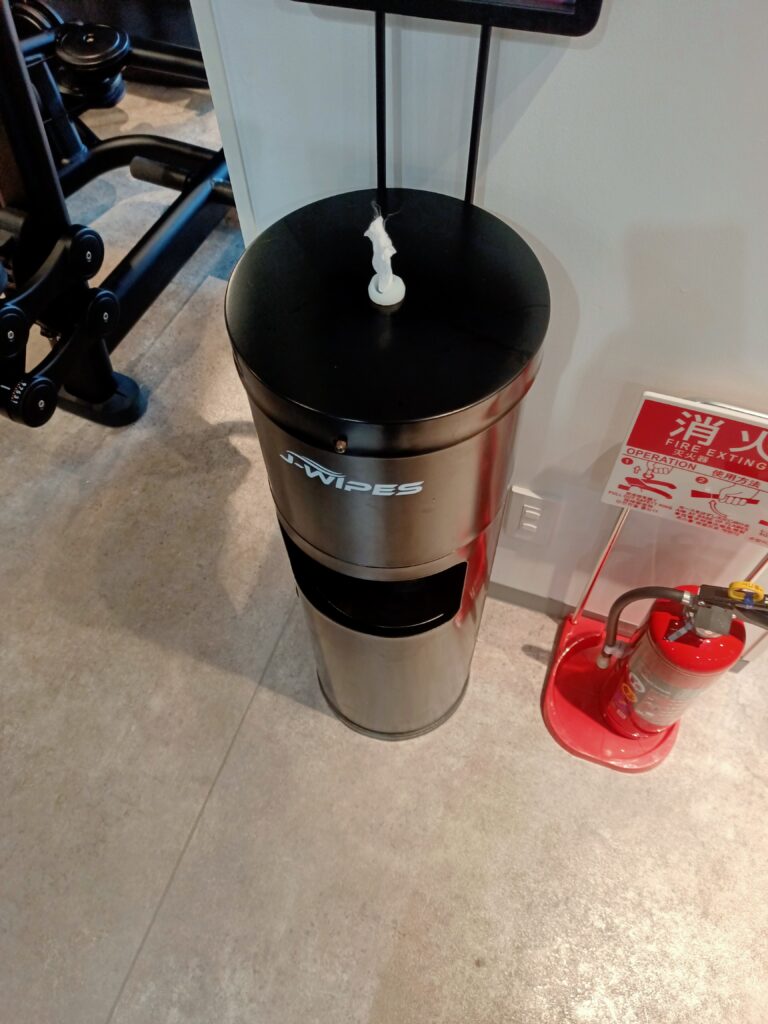 45 degree leg press machine. Recently I skip this machine since I do not want to load plates, hehe.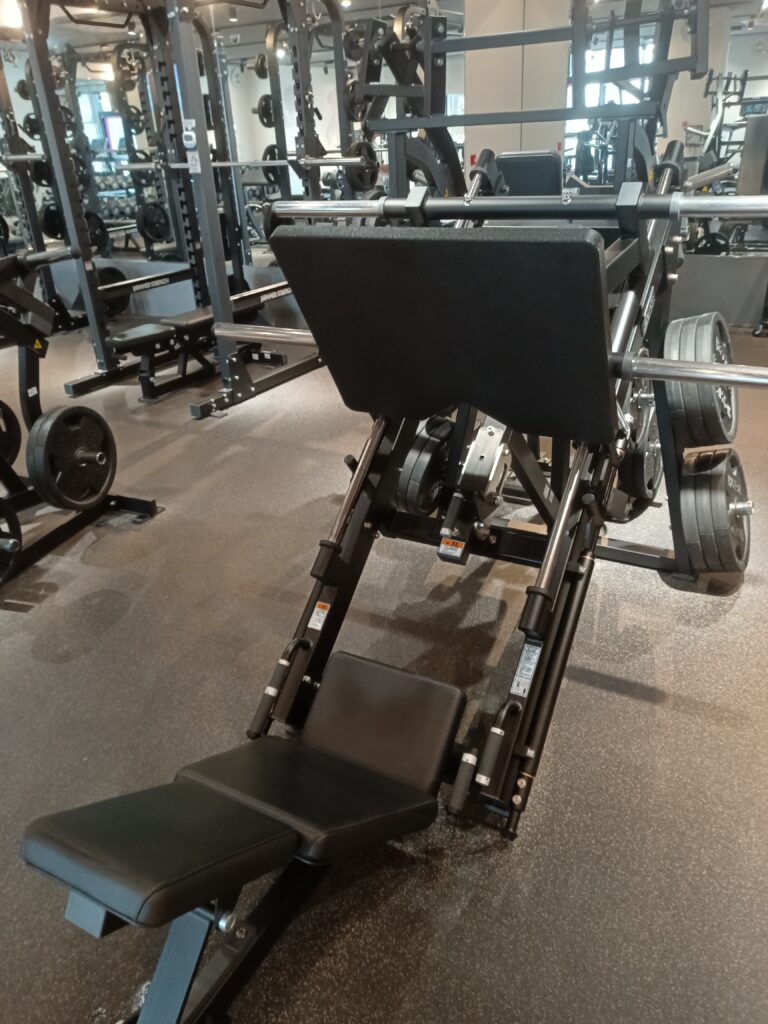 This is unique machine for side raise with plate loading.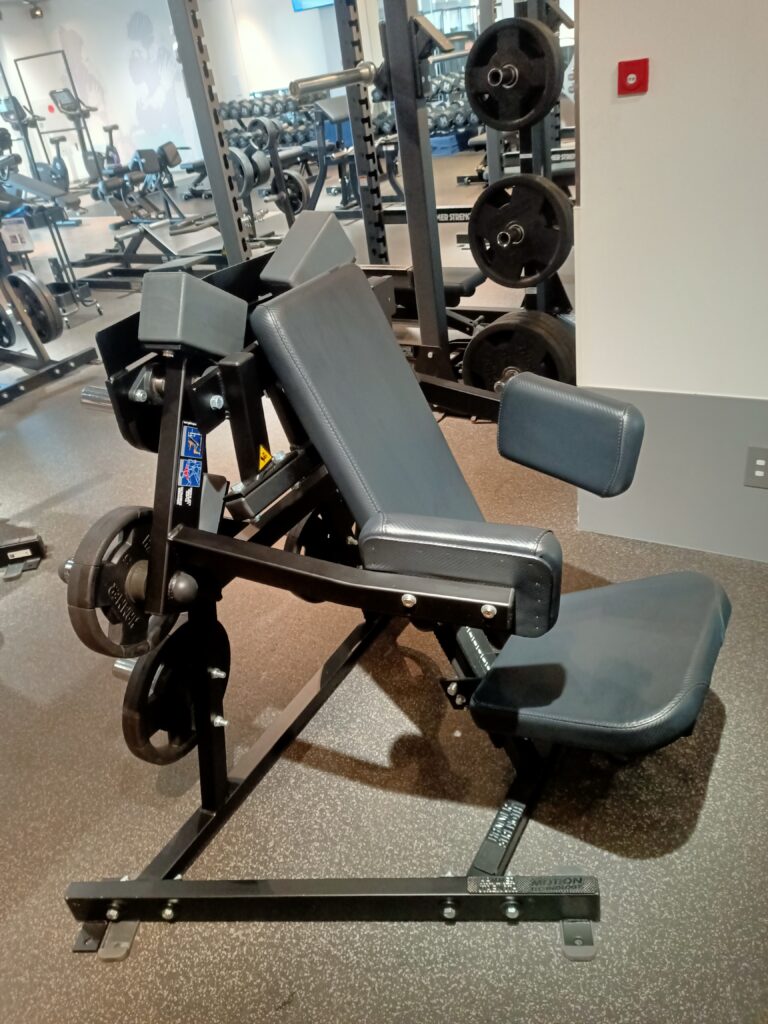 Iso lateral wide pulldown machine is easier to control and train lat than cable lat pull down.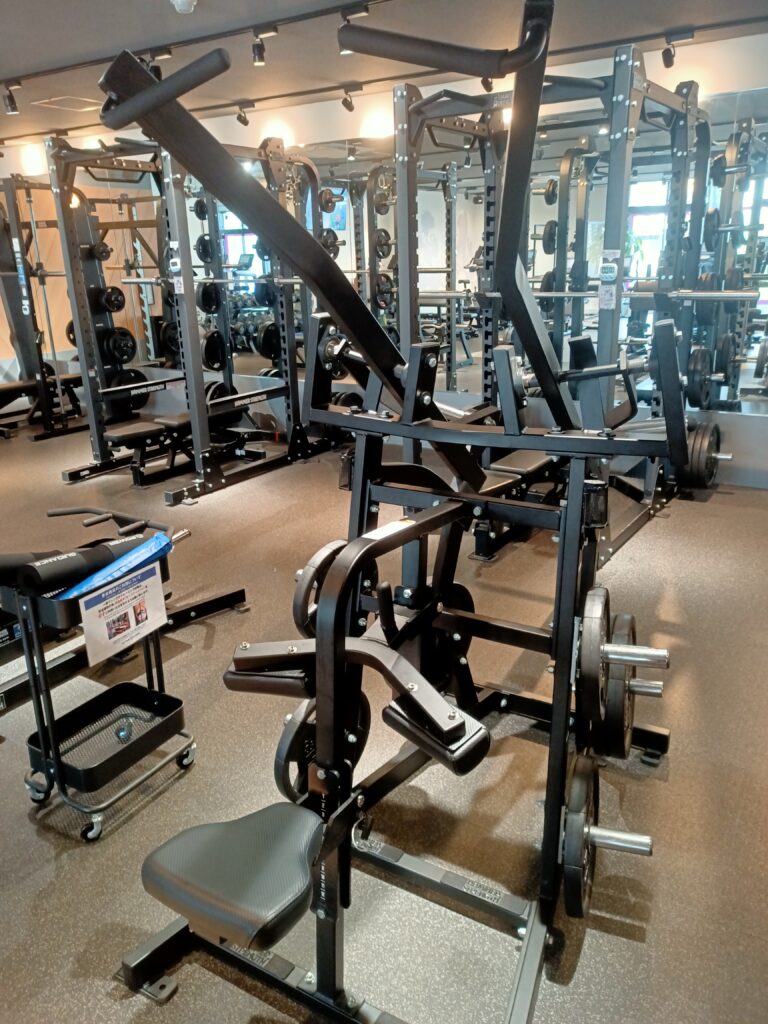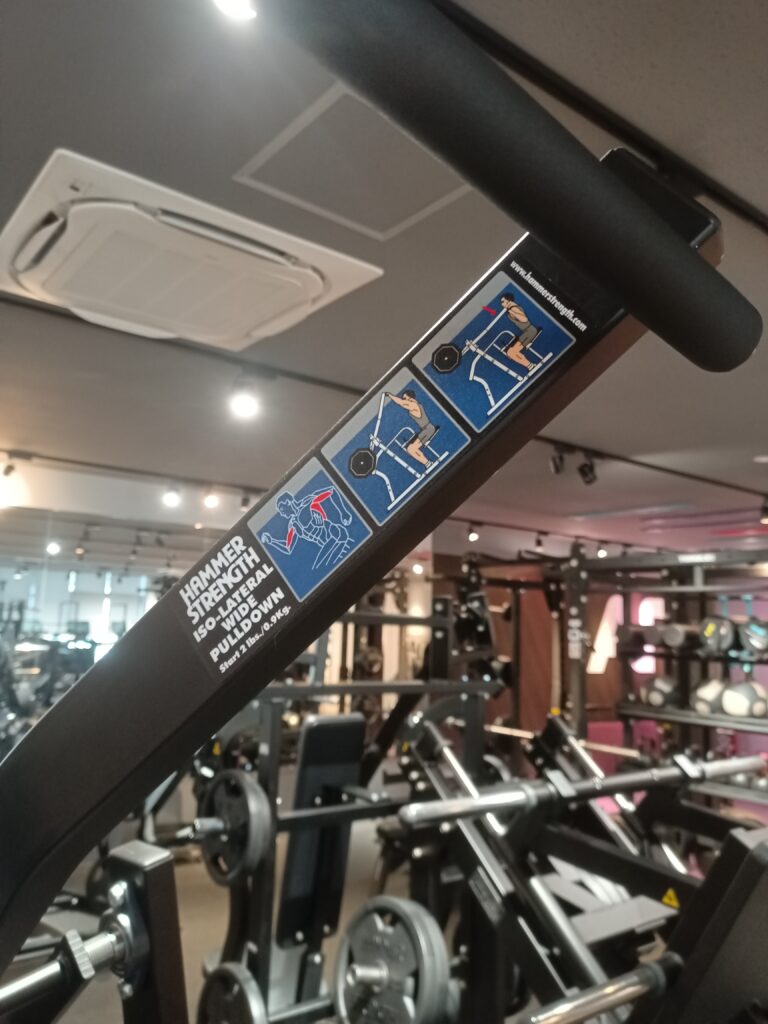 Shoulder pad for back squat and other trainings.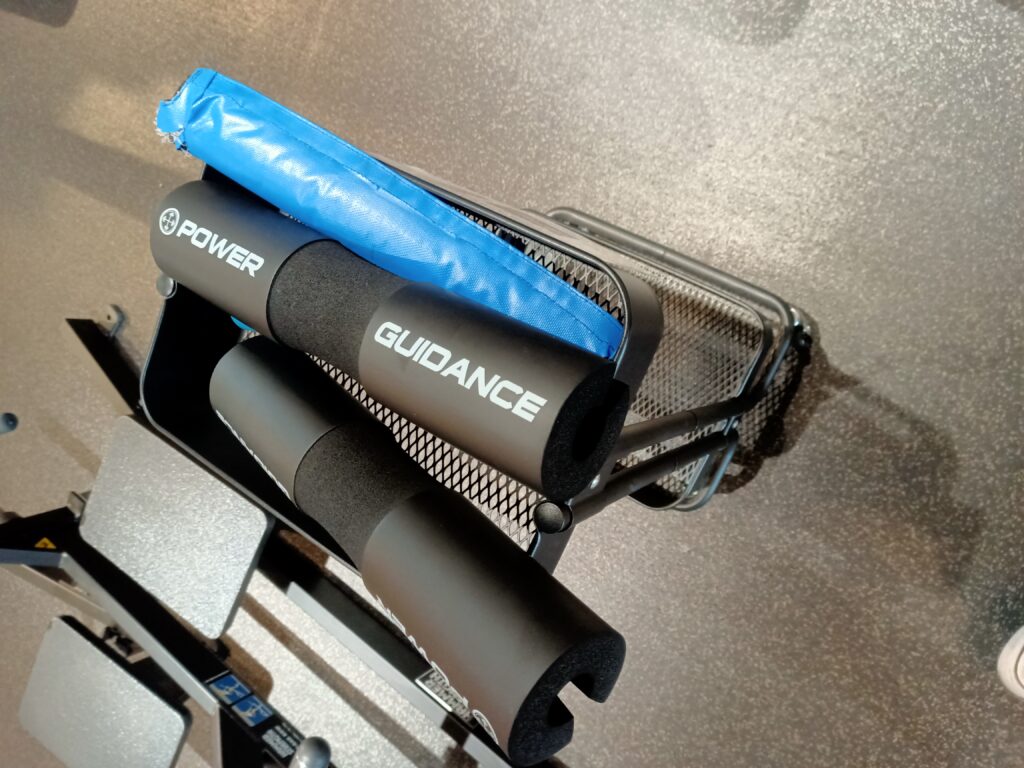 Standing back T bar rowing with plates.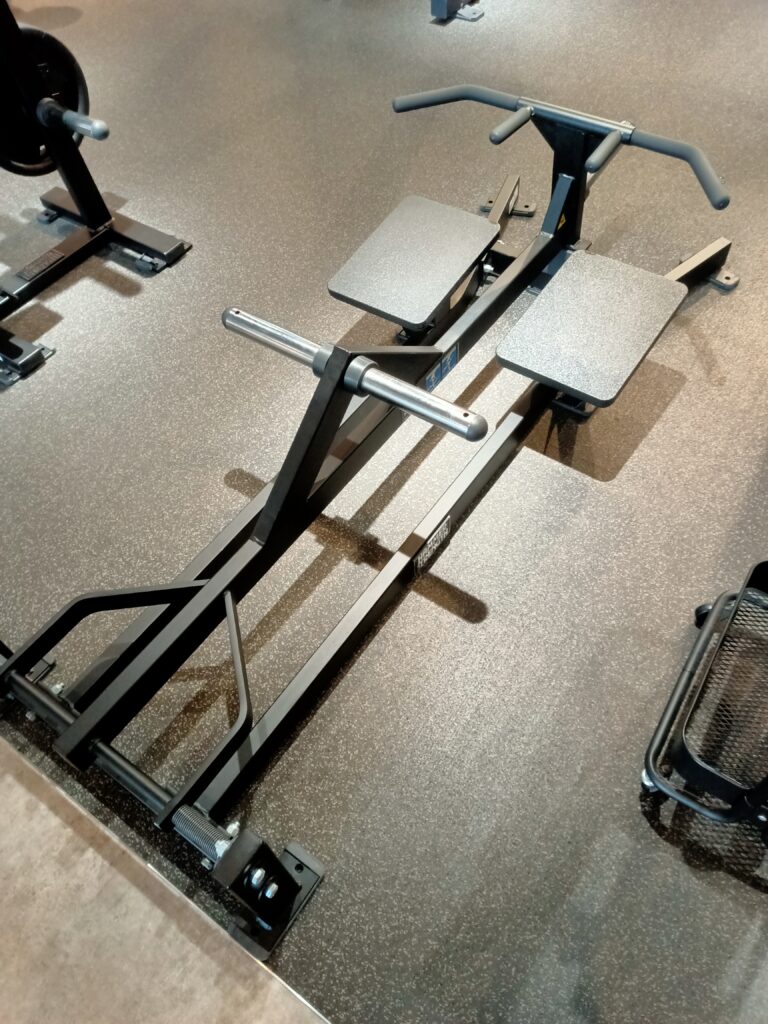 This branch has 2 power racks and one vertical smith machine in front of mirror.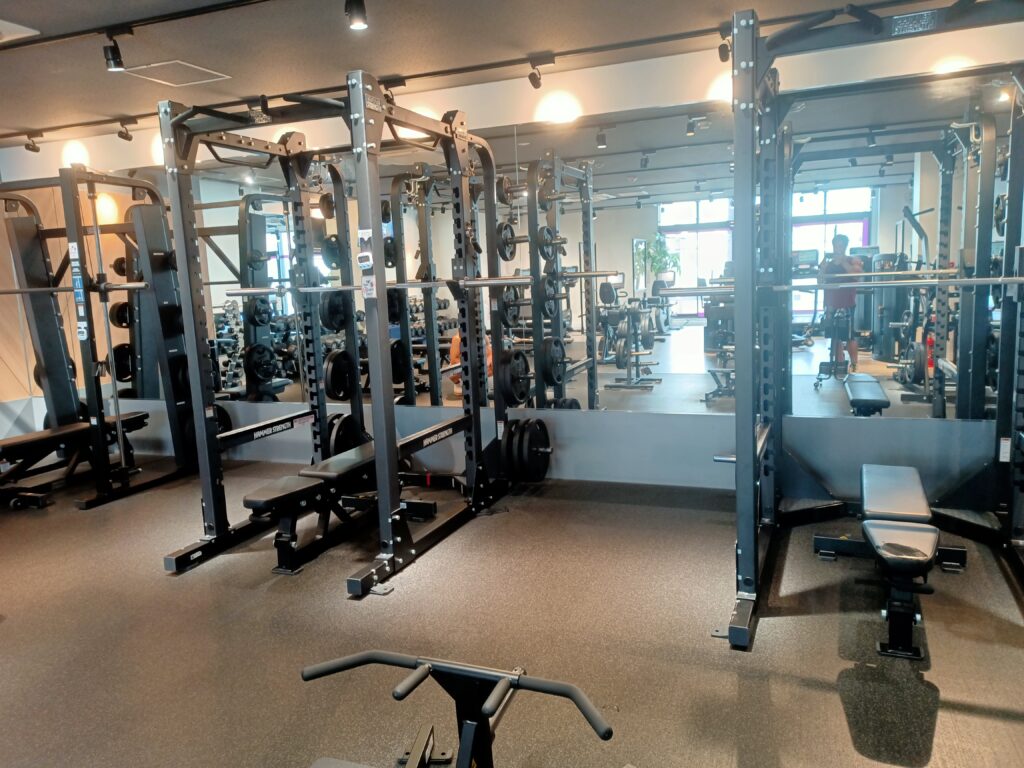 And mentioned earlier, 2 set of half racks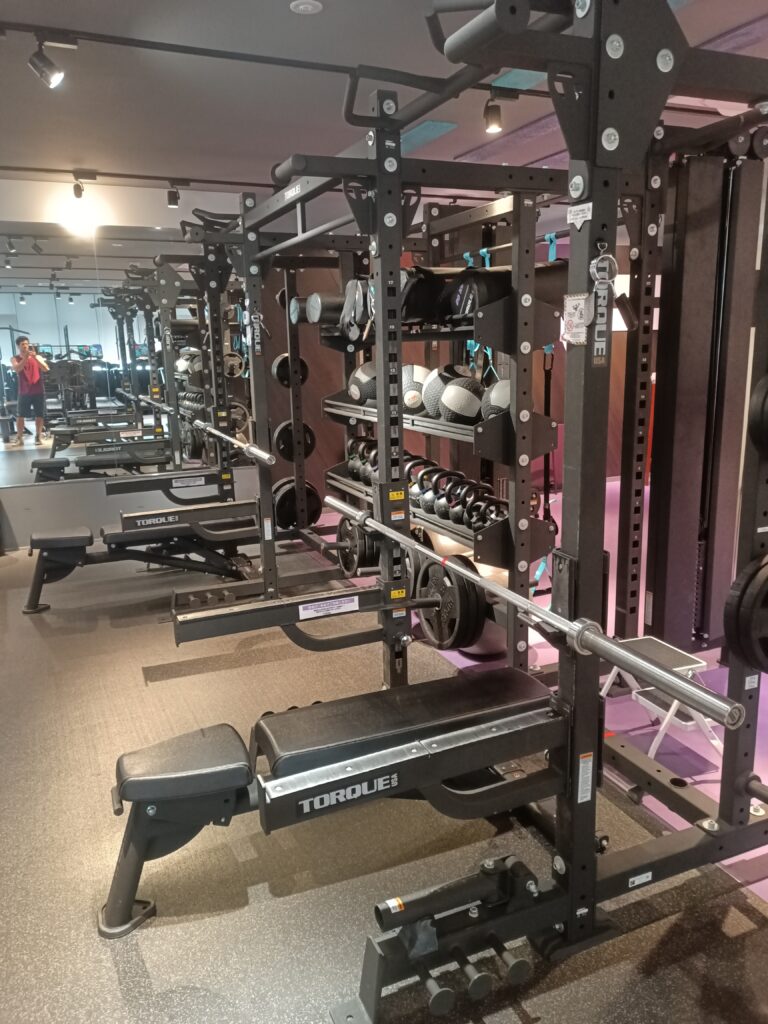 Power rack and smith machine from another angle.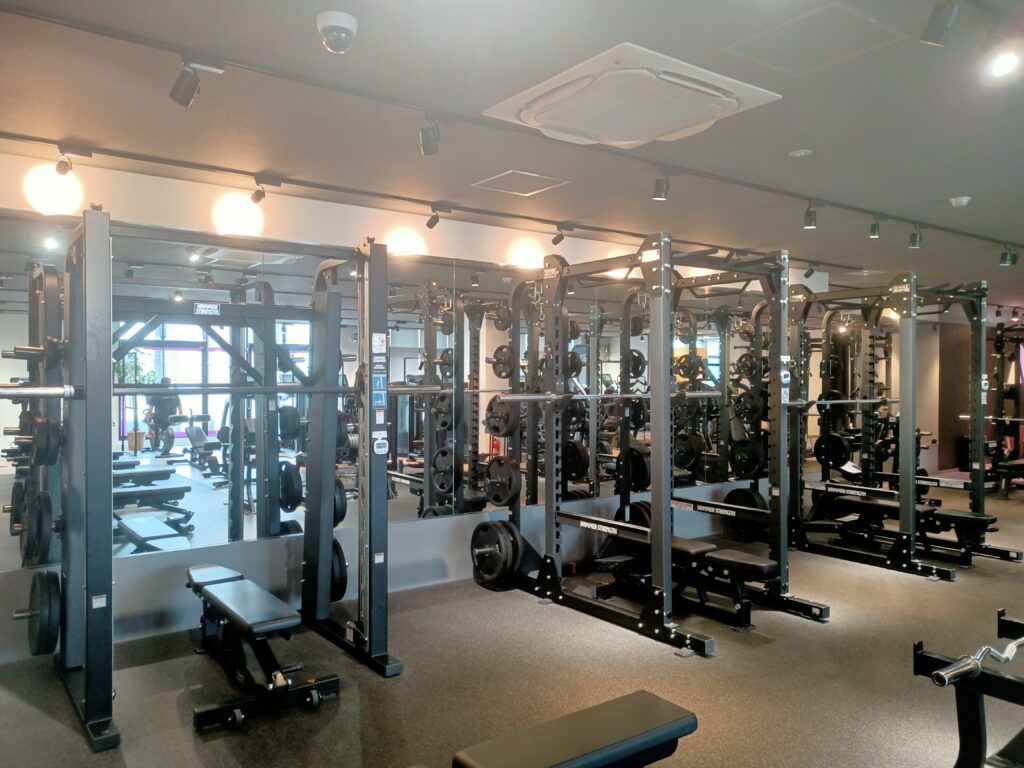 Close shot of smith machine.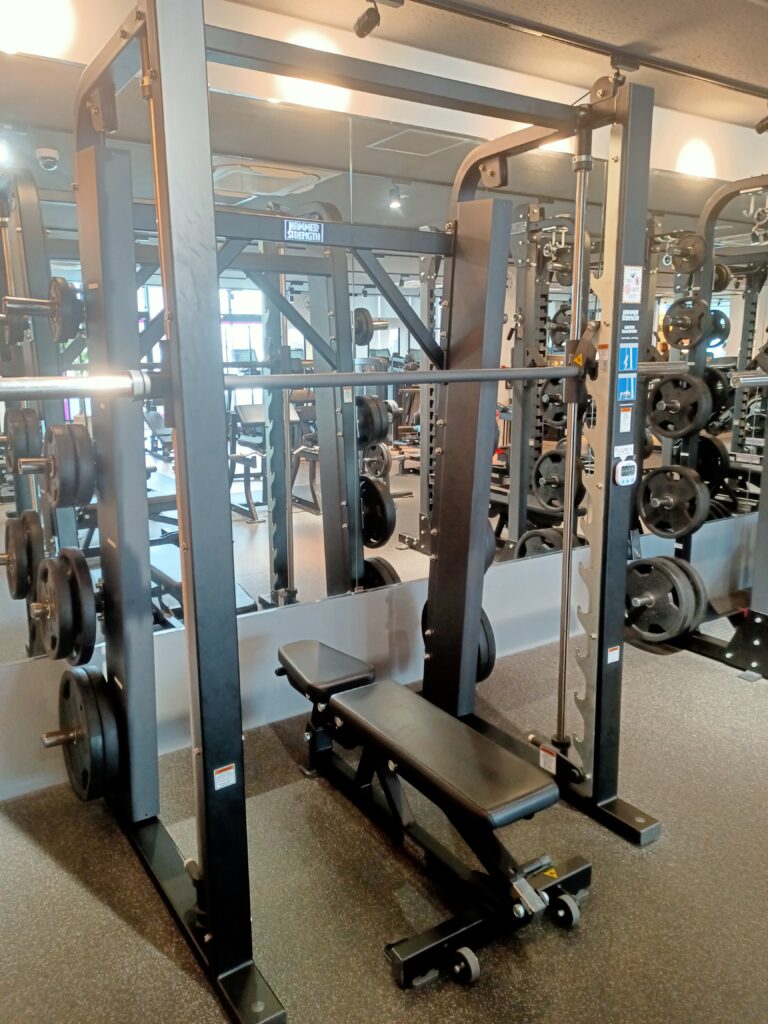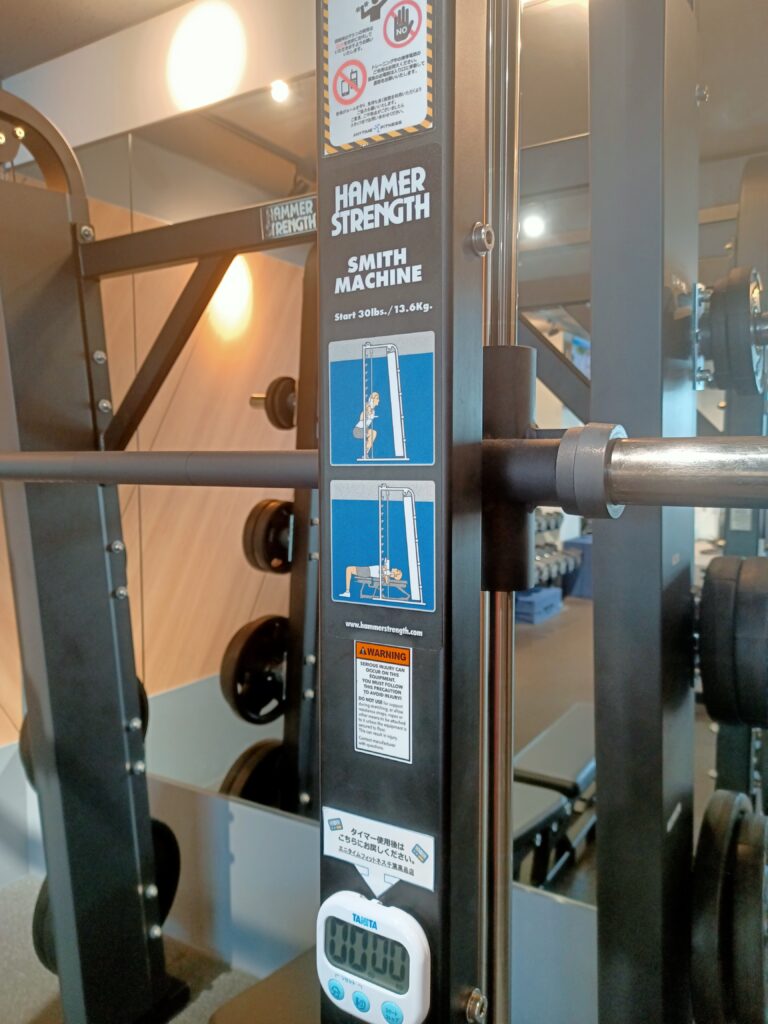 Close photo of power rack.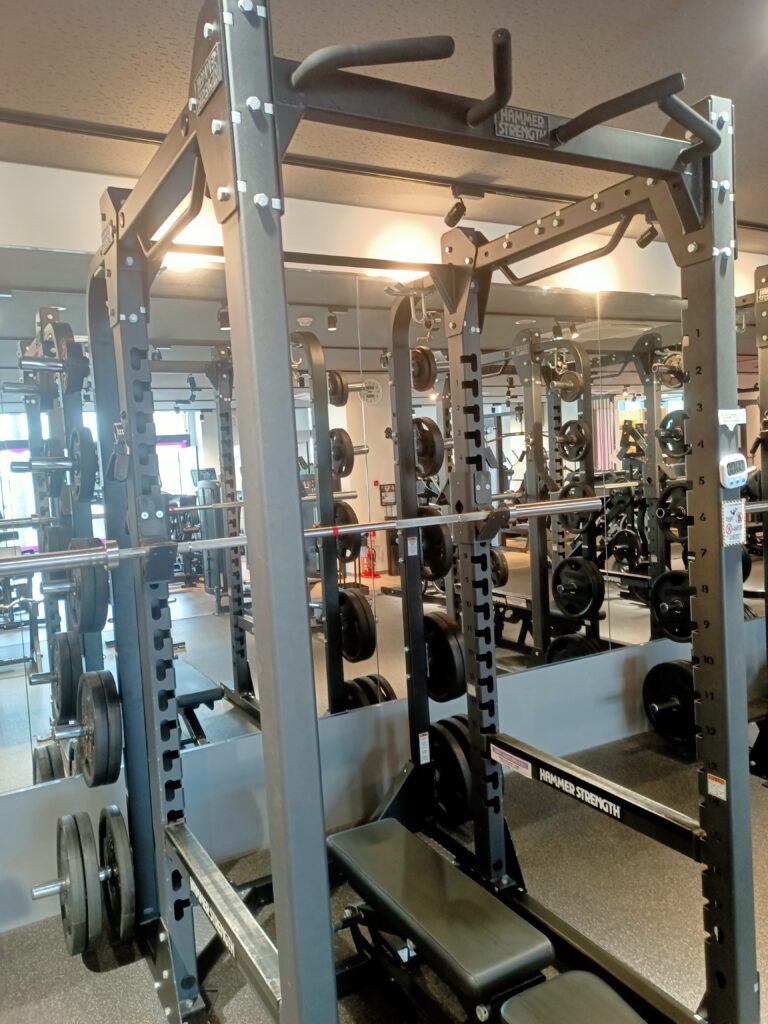 Incline iso lateral plate loaded chest press machine.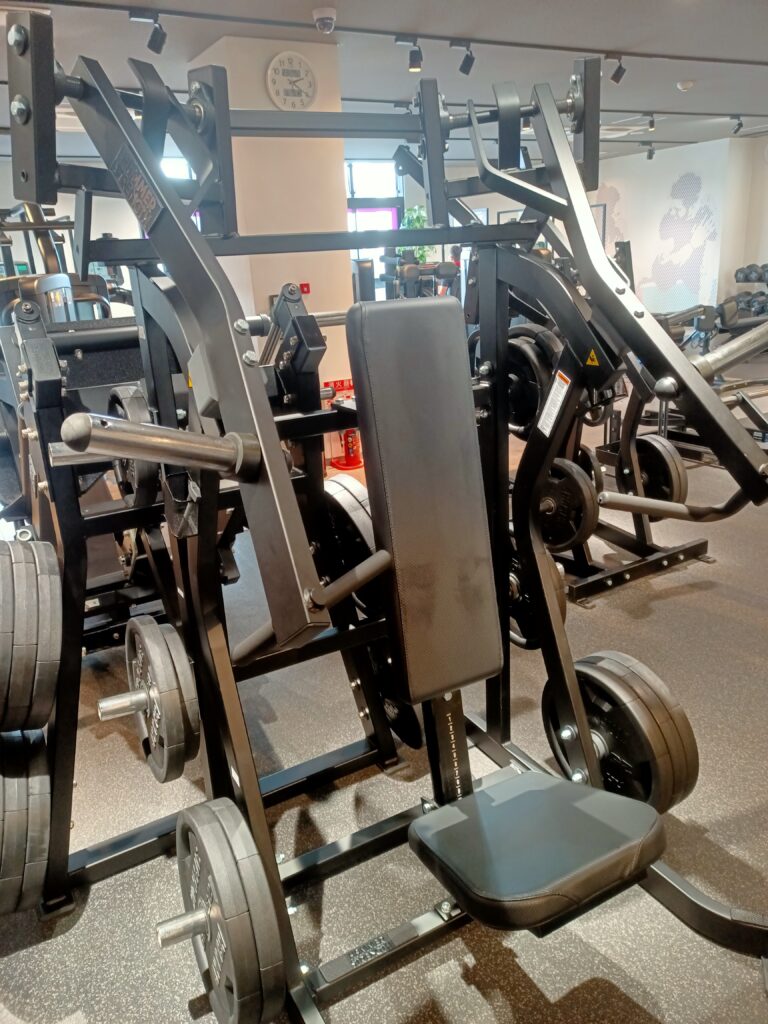 This timer can be used to measure your interval time.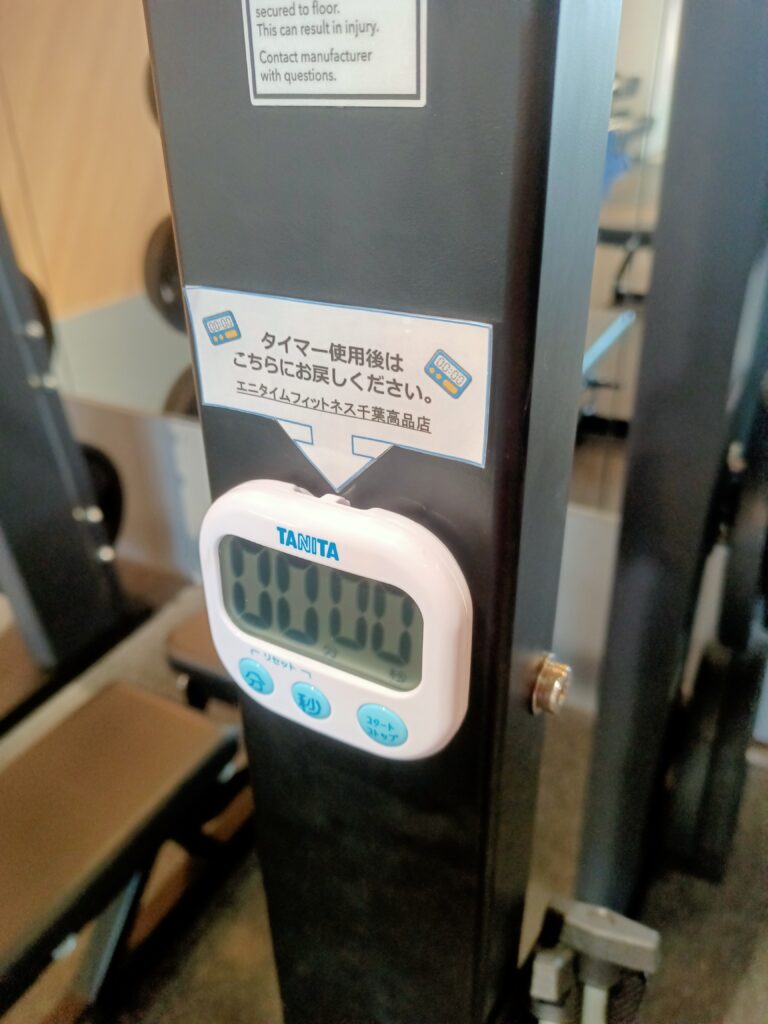 Overall free weight area view from dumbbell area.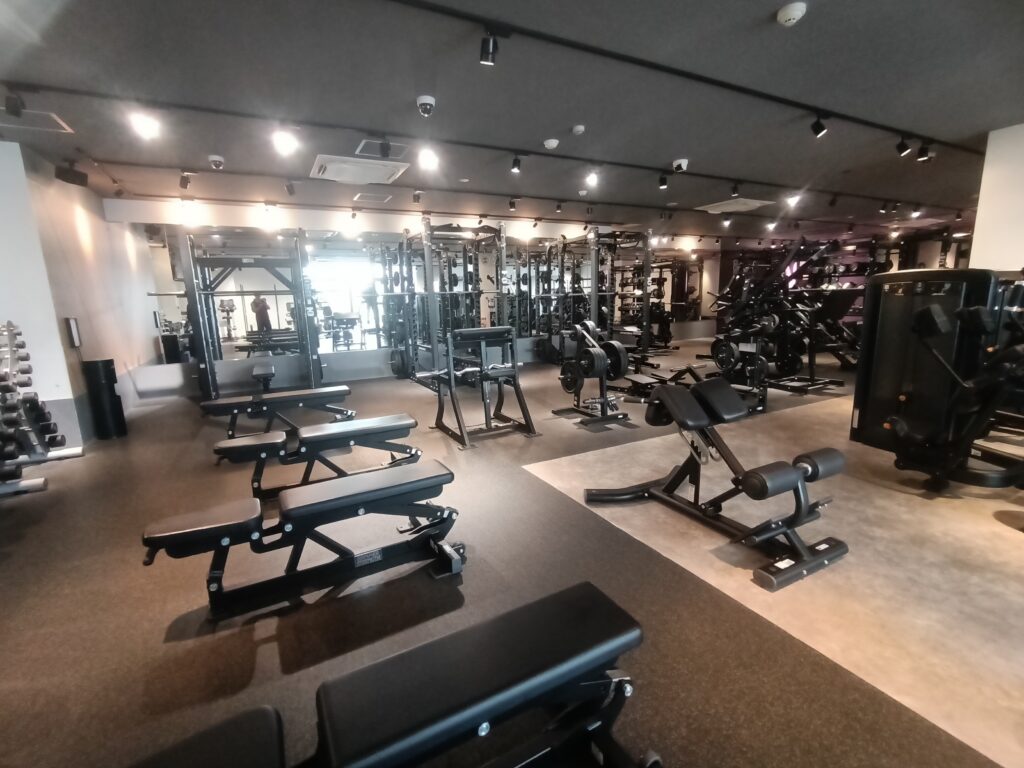 Thank you for reading my post about Anytime Fitness Japan and my home branch review. After 31 days from my registration, I can freely use all branches in the world. Every time I try new branches, I will update here and leave reviews.
See ya!
*Anytime new member can use other branch than home club after 31 days from registration. This restriction will be abolished from 23st August 2023 so new member can use any branches from this date, no more needed to wait for 31 days of use.
1st year anniversary campaign
Anytime Fitness Takashina branch celebrated 1 year anniversary from their opening day on August 2022. For this, They installed new equipment straight bar and distributed free protein shaker for 50 club members.
Each Anytime Fitness branch has often these campaigns. Please check their Instagram page for updates😊