Welcome back to fitravelife.com!
I came to Jetts Fitness – Asok branch this time so I will introduce their service and equipment to offer. Asok branch is located in the very heart of Bangkok metropolitan area along BTS Asok station.
In this post, I will also introduce general information about Jetts Fitness as self-proclaimed unofficial ambassador of Jetts Fitness Thailand so that readers can have some ideas to consider before joining the club.
What is the Jetts Fitness?
Jetts Fitness is global fitness gym brand, originated in Australia in 2007 and now its operation expended to Thailand, United Kingdom, Netherlands, New Zealand. Gym is normally 24/7 operation and you can access to more than 270 out of all clubs* in these countries.
In Thailand, there are more than 35 branches in all over Thailand and they announced that Jetts is No. 1 fitness club in terms of number of branches in Thailand. As a member of Jetts Fitness and self proclaimed unofficial ambassador, I plan to visit all branches in Thailand and review each gyms to introduce to readers here.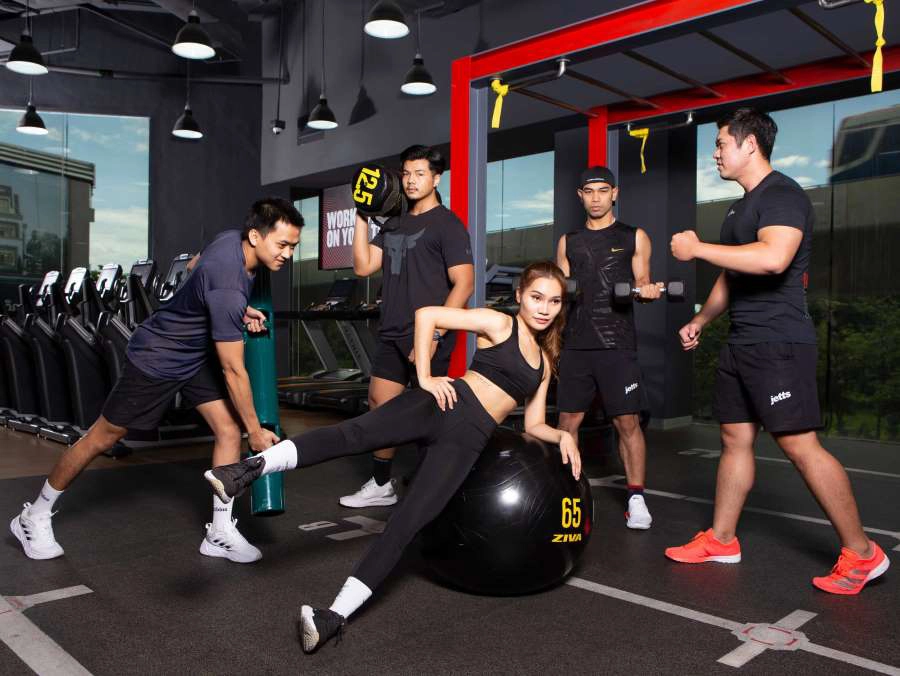 เจ็ทส์ ฟิตเนสไทยแลนด์ ฟิตเนส 24 ชั่วโมง อันดับ 1 ของประเทศไทย
เจ็ทส์ฟิตเนส Jetts Fitness ฟิตเนส 24 ชั่วโมง อันดับ 1 ของประเทศไทย ไม่มีสัญญารายปีผูกมัด สมัครแล้วใช้ได้ทุกสาขาทั่วไทย และกว่า 300 คลับทั่วโลก
*There are some exception. For example in Thailand, There are 2 types of Jetts Fitness, Jetts red and Jetts Black. Jetts red member can access all clubs except Jetts black while Jetts black member can use all including Jetts red.
As of Oct 2021, Jetts black branch has 2 places only in Bangkok while Jetts red is located not only in Bangkok but also in Nonthaburi, Phuket, Chiang Mai, Nakhon Ratchasima, Phetchaburi and Hua Hin.
Membership contract
You can choose membership fee payment as monthly or longer contract such as 6 months, annual contract. Basically monthly payment is 1,600THB for Jetts Red, while 1,900THB for Jetts Black branches. If you have longer contact, they will give you discount for monthly amount and/or free additional month use.
When joining the club, you also need to pay access fee (1,500THB) and joining fee (THB). These costs are normally removed when you make longer term payment. When I joined first time, I made annual contract so that the club waived access fee and joining fee. Access fee and joining fee does only matter to new member. For existing member to renew the contract, you just need to pay membership fee.
*Monthly due was increased by 100THB from January, 2023. 1,700THB for Jetts Fitness (Red) and 2.000THB for Jetts black branches.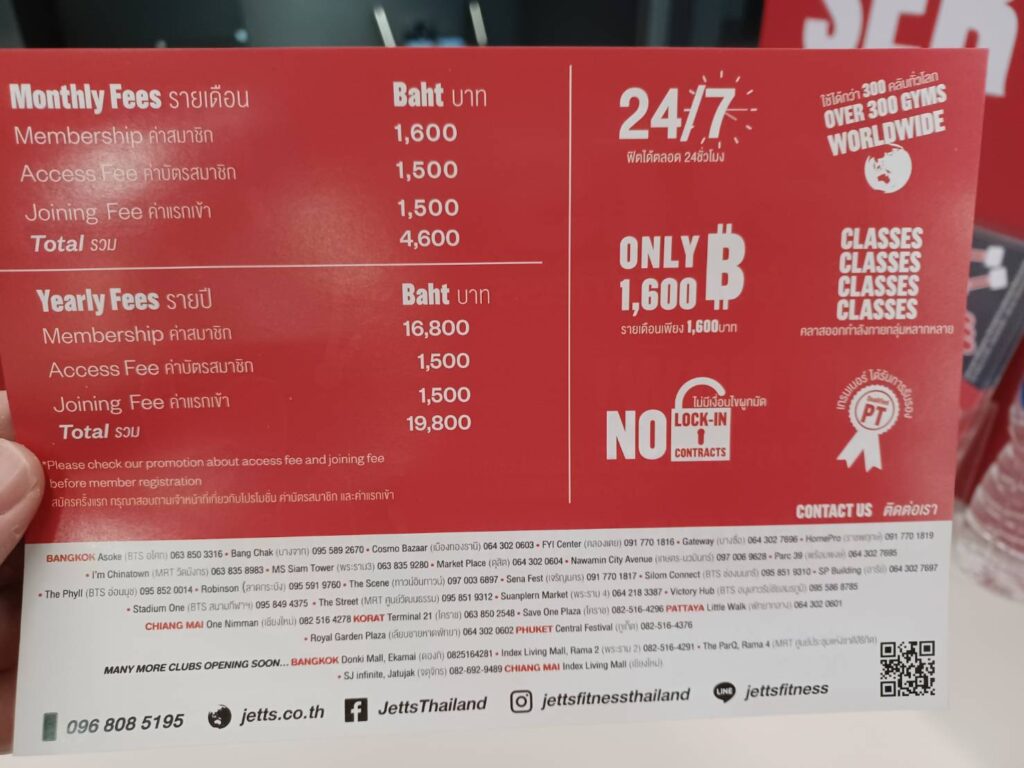 Day pass cost is 500THB, quite high compared to other local gyms in Bangkok where they charge 100-200THB only per day.
I joined the gym in 2019 with one year membership. I paid 16,800THB (1,400THB*12) only for 1 year plus additional free one month. Access fee and joining fee were waived.
After completing one year contract successfully, I renewed my membership again to another one year. This time, I paid same amount and I got free additional 2 months on top of one year contract. The longer term contract you make, less monthly payment amount will be. Well it applies to any gym contract thing, you know 555.
Jetts Fitness is emerging fitness club in Thailand expanding their network not only in Bangkok but also in other provinces. Newly-opened club offers generous promo during pre-sale period so I recommend readers to join new club as much as possible to enjoy generous joining benefit then use nearest branches for your convenience.
When Jetts Fitness Unilever branch opens at Rama 9 area, they had bonus free 5 months contract for one year membership. At that time, my memberships was expiring soon so I wanted to get this offer but it was turned down since I had already membership in other branches. They said I had to renew my membership at my club only.
Jetts Fitness normally updates promos and news on their Facebook page so please follow and do not miss attractive campaign!
JettsThailand
JettsThailand - 「いいね!」98,797件 · 1,203人が話題にしています · 2人がチェックインしました - Jetts ฟิตเนส 24 ชั่วโมง เพียง 1,700 บาท/ เดือน ใช้ได้ +300 แห่งทั่วโลก, 40+ สาขาทั่วไทย
They offer free trial use one day. You may contact clubs for trial use.
รับสิทธิ์ทดลองเข้าใช้ฟิตเนสฟรี กับ เจ็ทส์ฟิตเนส ฟิตเนส 24 ชั่วโมง อันดับ 1 ของประเทศไทย | Jetts Thailand
รับสิทธิ์ทดลองเข้าใช้ฟิตเนส และออกกำลังกายฟรี กับ เจ็ทส์ฟิตเนส ฟิตเนส 24 ชั่วโมง อันดับ 1 ของประเทศไทย | Jetts Thailand
Personal training contract
There are also plenty of personal trainers in the gym, both male and female. Based on your fitness goal, gym can assign trainers with suitable fitness background so you can contact your branch staff if you wish to find one.
I made a contract of 27 sessions for 21,600THB. 800THB per session for an hour with a trainer who has experience to make body for bodybuilding competition before, that is the skills and career which I needed for my trainer to lead me to join the fitness competition in near future.
Below picture is personal trainer package fee example. Expiration term is actually no meaning, gym and trainer is very flexible to use up all of your personal training contract even beyond expiration day.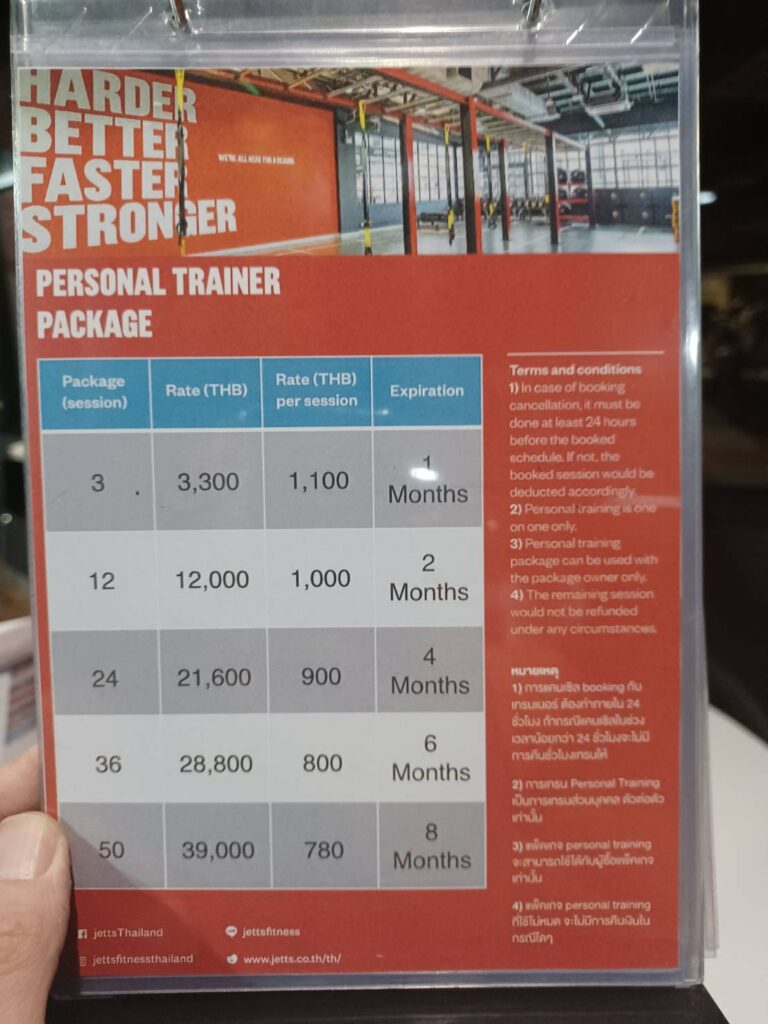 You can also negotiate directly with trainer for contract. They normally give you free session or cheaper session fee than listed price.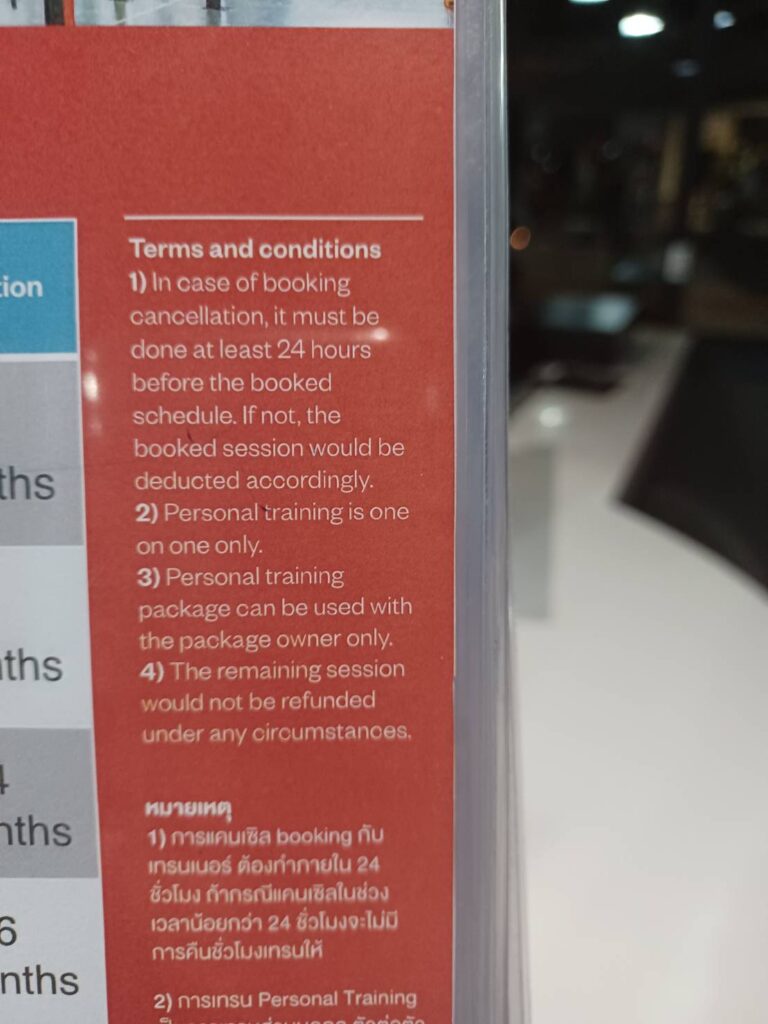 Currently as of October 2021, bodybuilding event cannot be freely held due to COVID-19 control regulation. Once schedule is fixed, I will go on a diet to join the competition first ever in my life.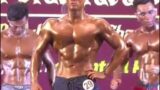 Joining Thailand Southern Bodybuilding Championships 2021
Continuing from last post, I will record my competition day story here. In overall, it was good experience for me to joi...
Facility and equipment in gym
Gym facility is very simple offers machine training, various group class lesson and personal training, mostly targeted for general gym goers for beginner and intermediate level. If you prefer hardcore style gym or luxurious gym, Jetts Fitness might not be your option for hard work-out.
For example in Jetts Fitness, each branch has only one machine per unit except cardio machines. Even power rack and smith machines are one each so you might wait for your turn when crowded especially peak hours.
Dumbbell weights also not enough, Jetts Fitness has only until 35 kg at maximum except Town in town branch. To lift more weights, you better try another one such as Muscle Factory in Onnut which is the super hardcore gym in Bangkok where many famous bodybuilders gather from all over the world. I plan to revisit again so I will make post for Muscle factory.
As I mentioned, Jetts is neither luxurious gym unlike Fitness First, Virgin Active for example in Thailand. Jetts is not offering free towel, sports wear, and teas in the lounge. No facility of sauna and pools. In case you would like to have these supplement service in gym, you have to pay more for fancy gyms which is of course more costly than Jetts Fitness.
Gym is mainly crowded from 5pm to 8pm weekday after the office hour period. Every branch is full packed during such time and many of them joins group class such as yoga, les mills, body combat, body pumps etc. Their official Facebook pages post group class time table regularly per each branch so if you like to join the class, you can check on FB page or contact each branch for class offer.
They seem to update group schedule on their official phone apps not in Facebook page anymore. You can download Jetts Fitness Thailand apps then see group class schedule and book your slot.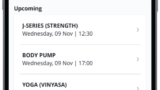 ดาวน์โหลดแอปพลิเคชัน เจ็ทส์ ฟิตเนส ฟิตเนส 24 ชั่วโมง อันดับ 1 ของประเทศไทย | Jetts Thailand
ดาวน์โหลดแอปพลิเคชัน บน iOS และ Android แอปสำหรับการจองคลาส และข้อมูลสมาชิก เจ็ทส์ ฟิตเนส ฟิตเนส 24 ชั่วโมง อันดับ 1 ของประเทศไทย | Jetts Thailand
As a sample of gym facility, I will show you the interior of Jetts Fitness – Asok branch in this post.
Jetts Fitness – Asok
Jetts Fitness – Asok branch is at the very center of Bangkok, located just next to BTS asok station. Asok branch owns whole building as fitness gym while some other gyms are mostly renting commercial space inside shopping malls.
4 story and rooftop in whole building are for gym space. Jetts Asok branch is relatively larger and complete  compared to other clubs of Jetts.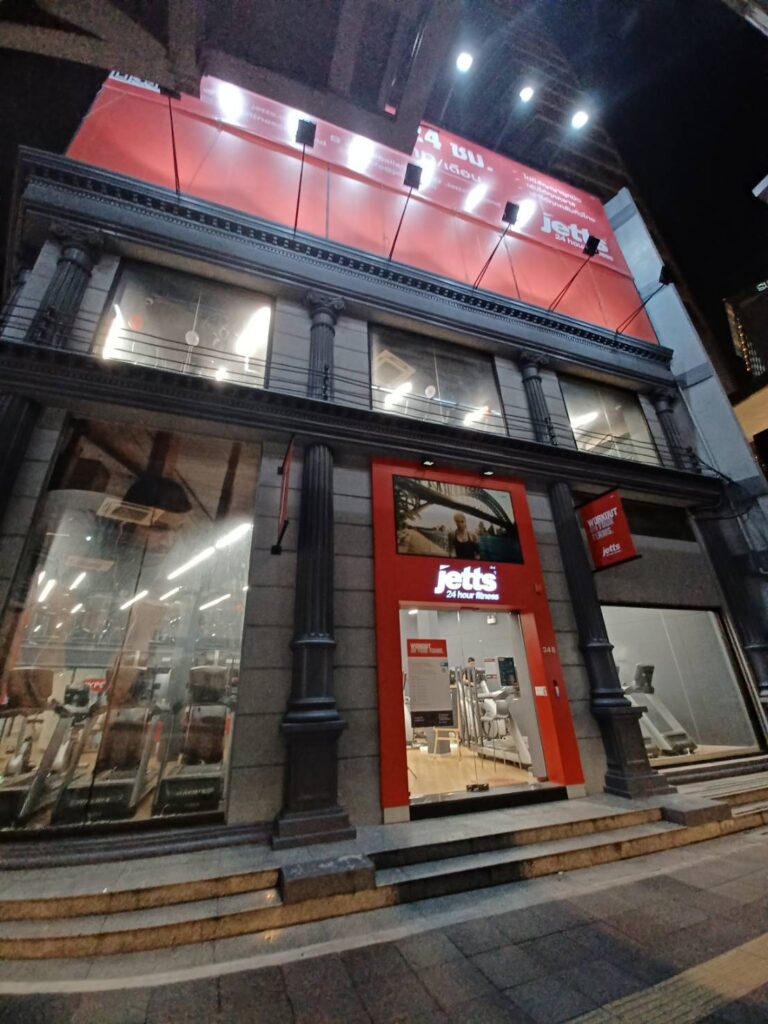 Check the temperature and check in with your key card at the reception.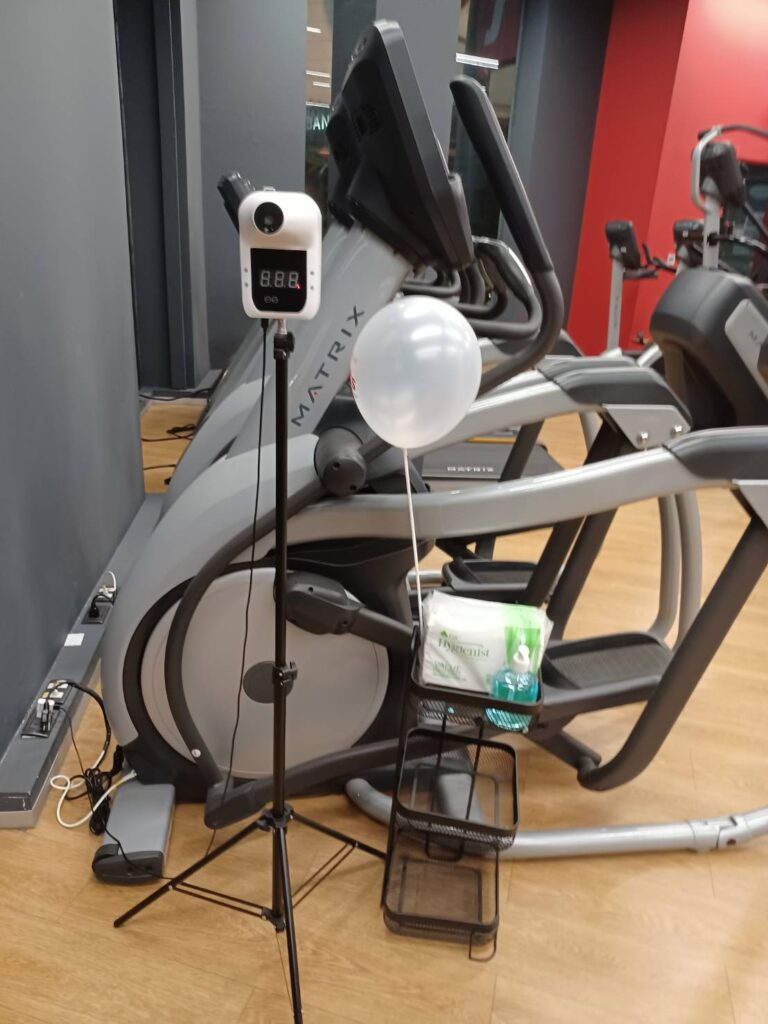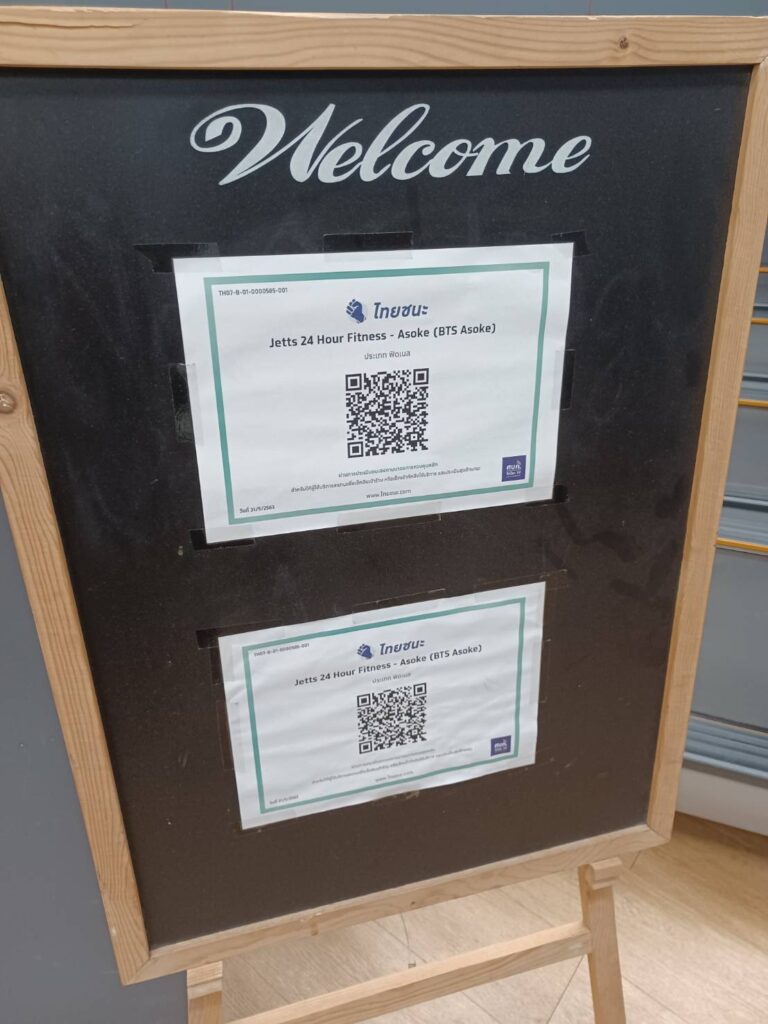 In several Jetts clubs have this Hypoxi booth as this. They can offer low impact exercise method to make healthier body as promoted in their website. I never used here, if you are interested, you can contact below link of visit directly.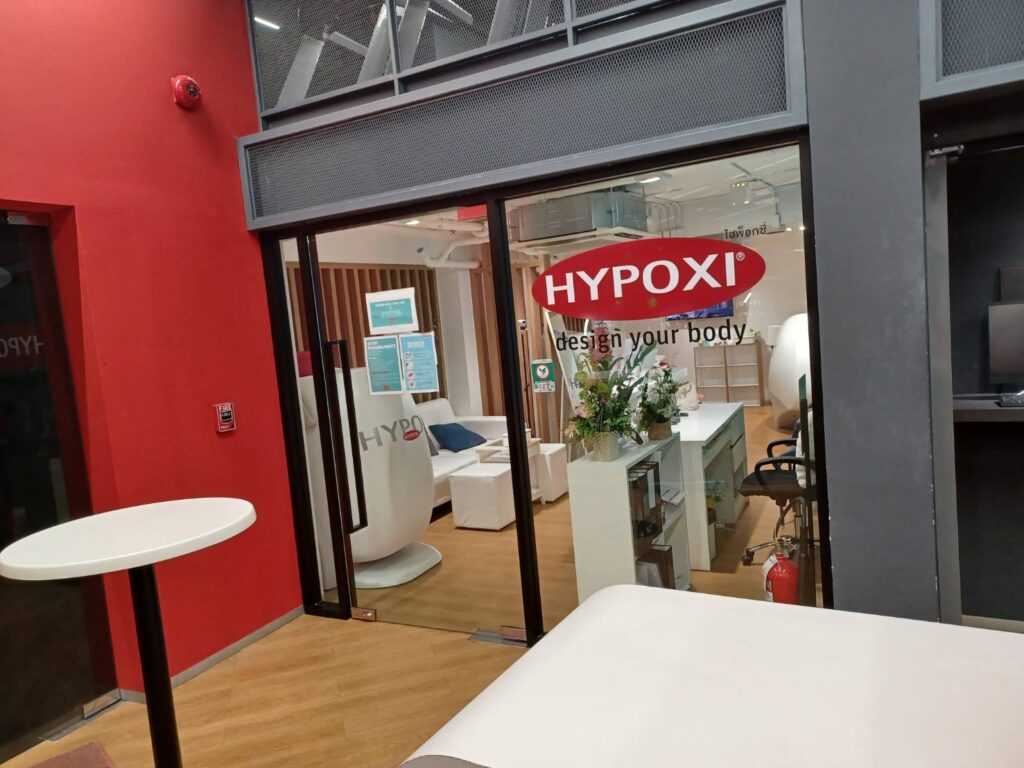 What is Hypoxi? - Hypoxi Australia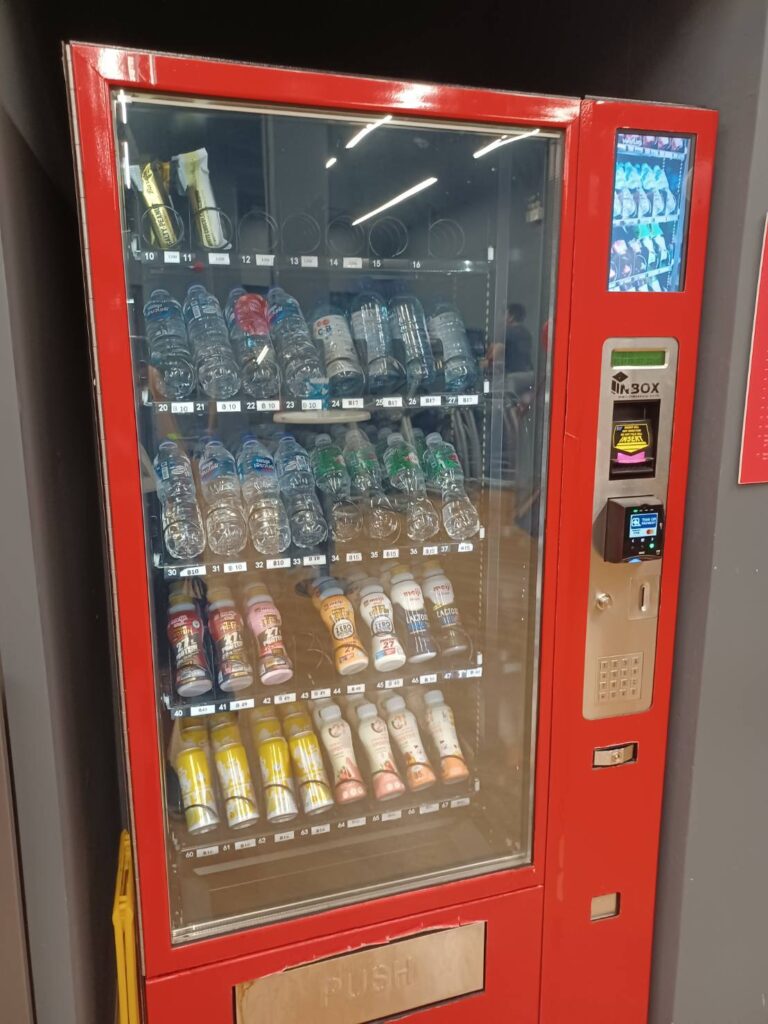 1st Floor – Cardio
You can find various cardio machines, such as treadmill, climbmill, bikes, boat machines and cross walker etc.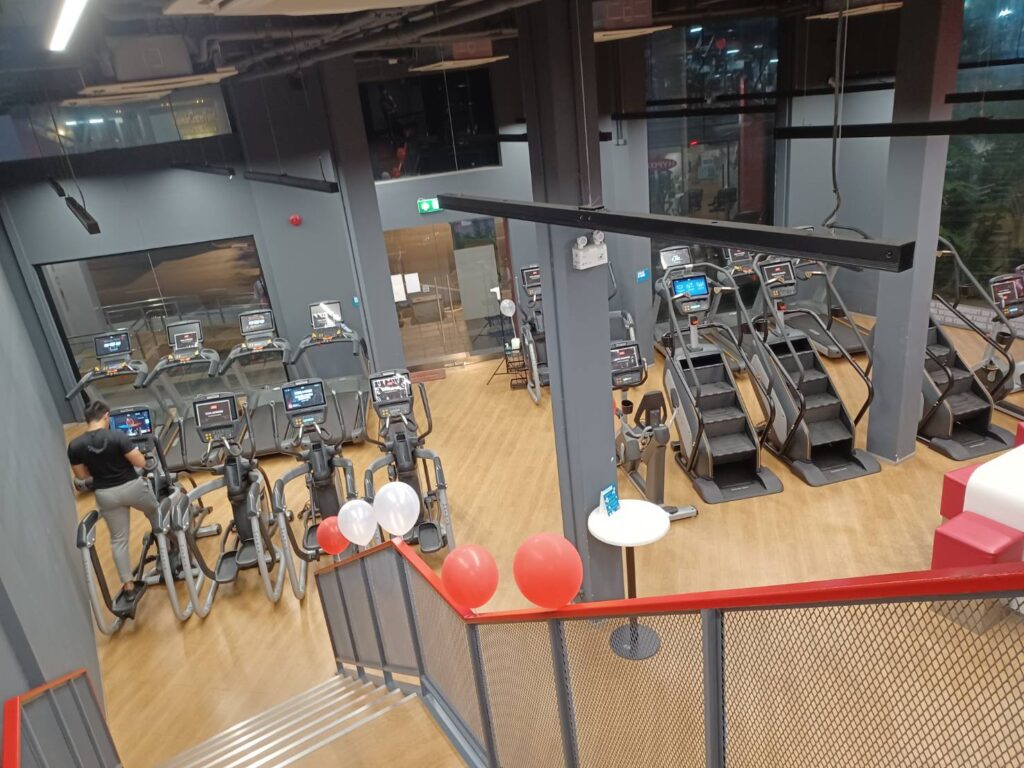 Mezzanine space is also filled with cardio machines.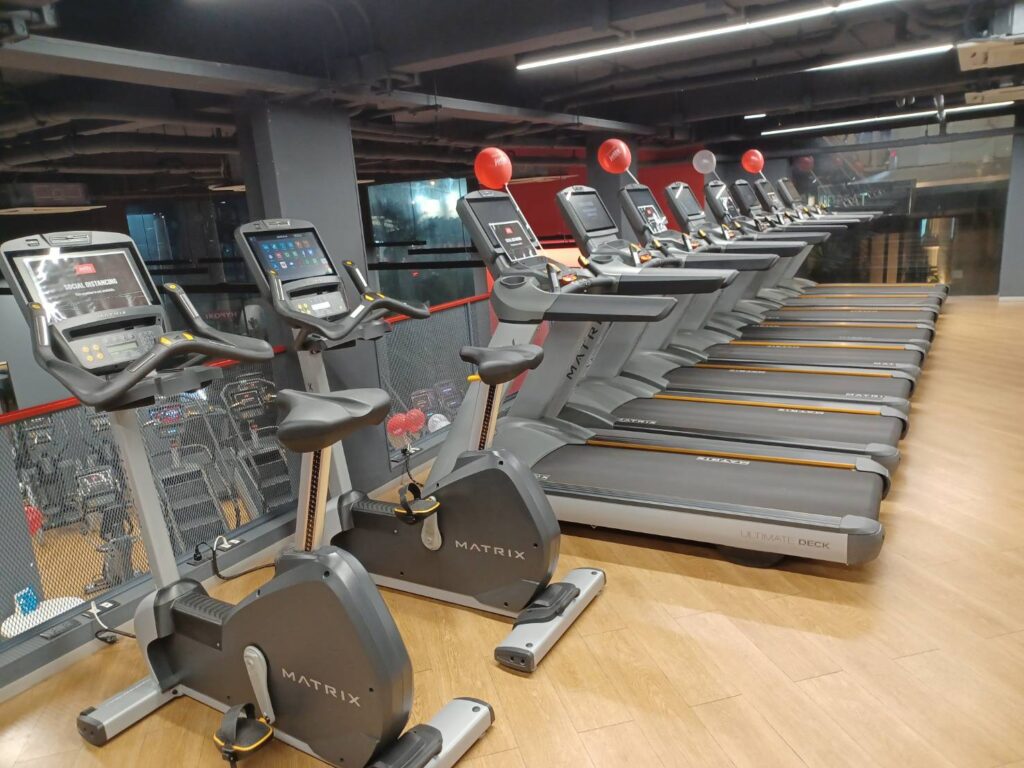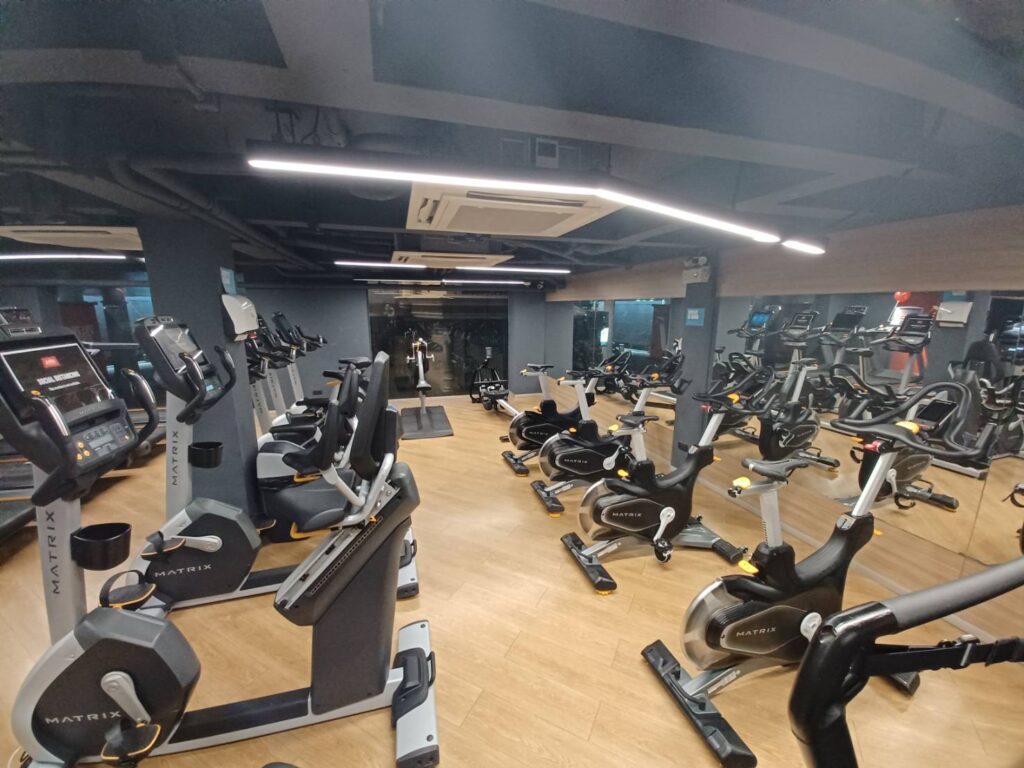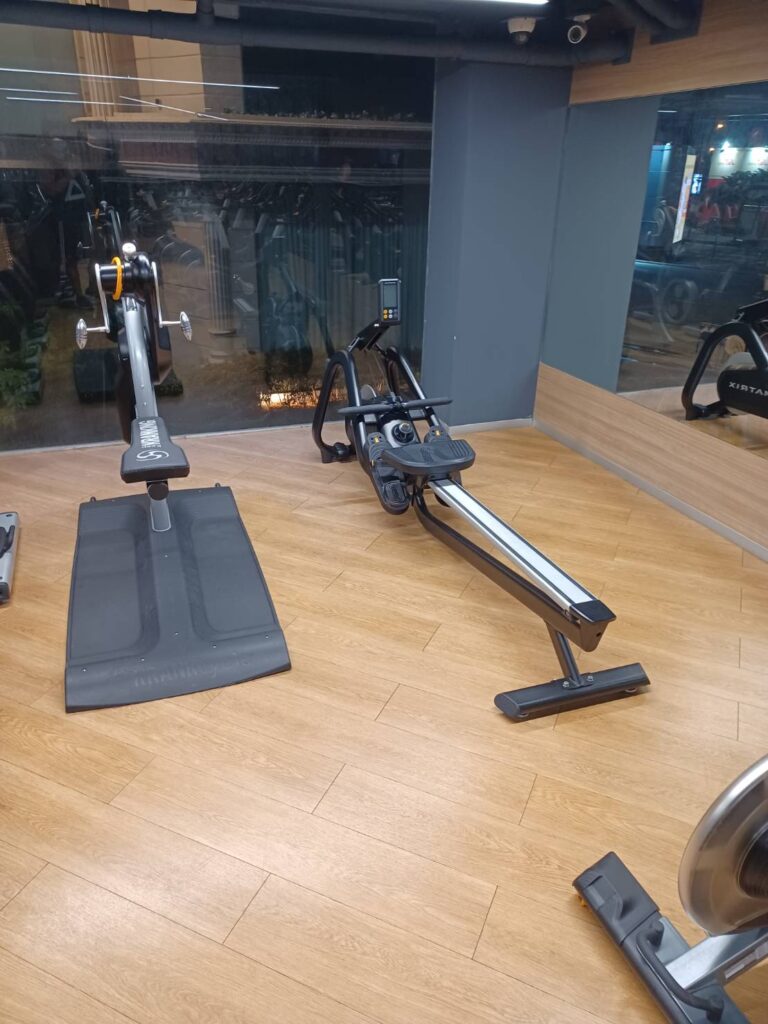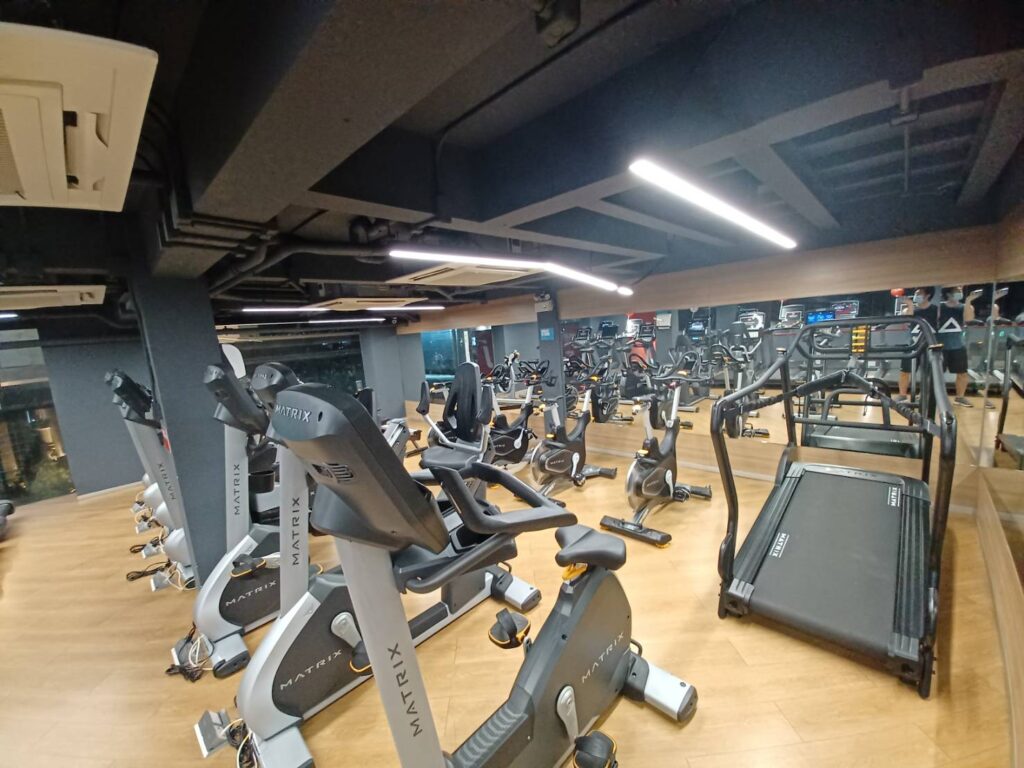 2nd Floor – Machine, cardio and male locker room
Climbing up to 2nd floor, you can be ready for your exercise to change your outfit and shoes. Female lockers are on the 3rd floor in this club. Some other clubs offers only unisex toilet booth unlike here.
Always do not forget to bring your own padlock for lockers.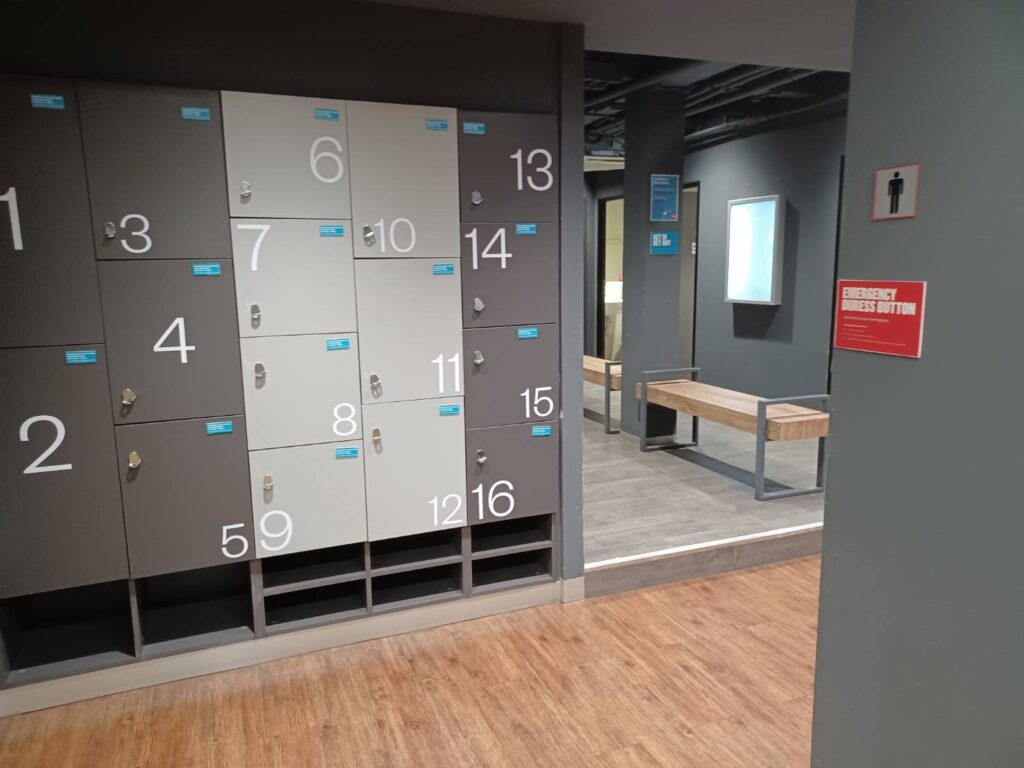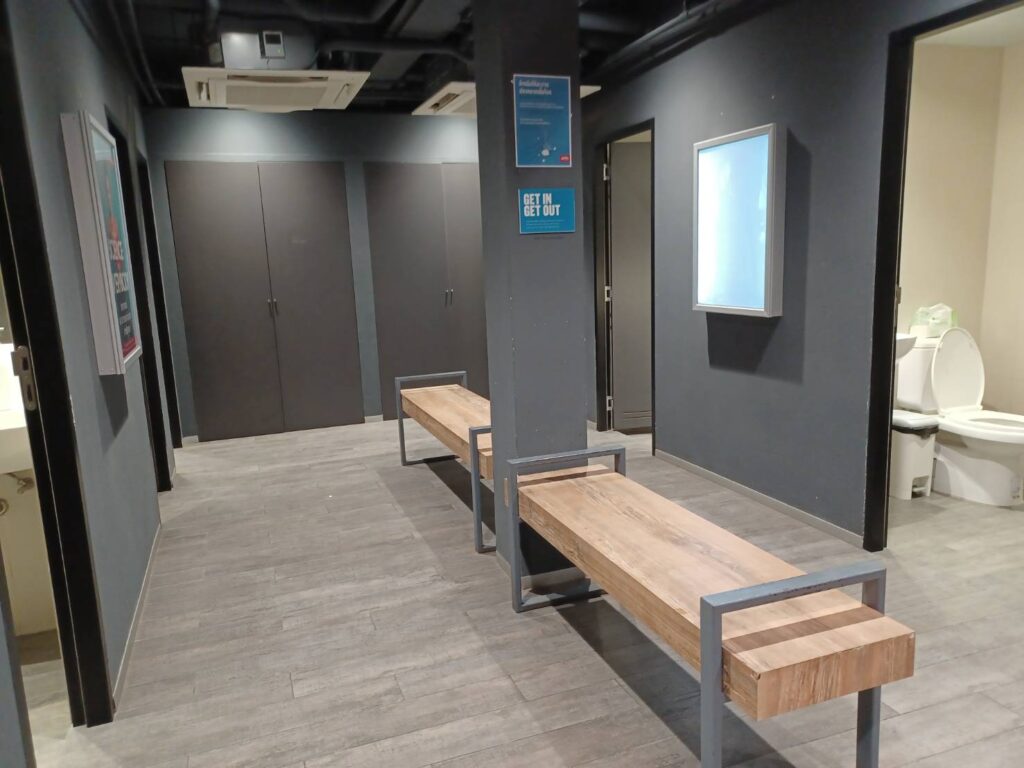 6 booths for make locker room. Shower pressure is so so.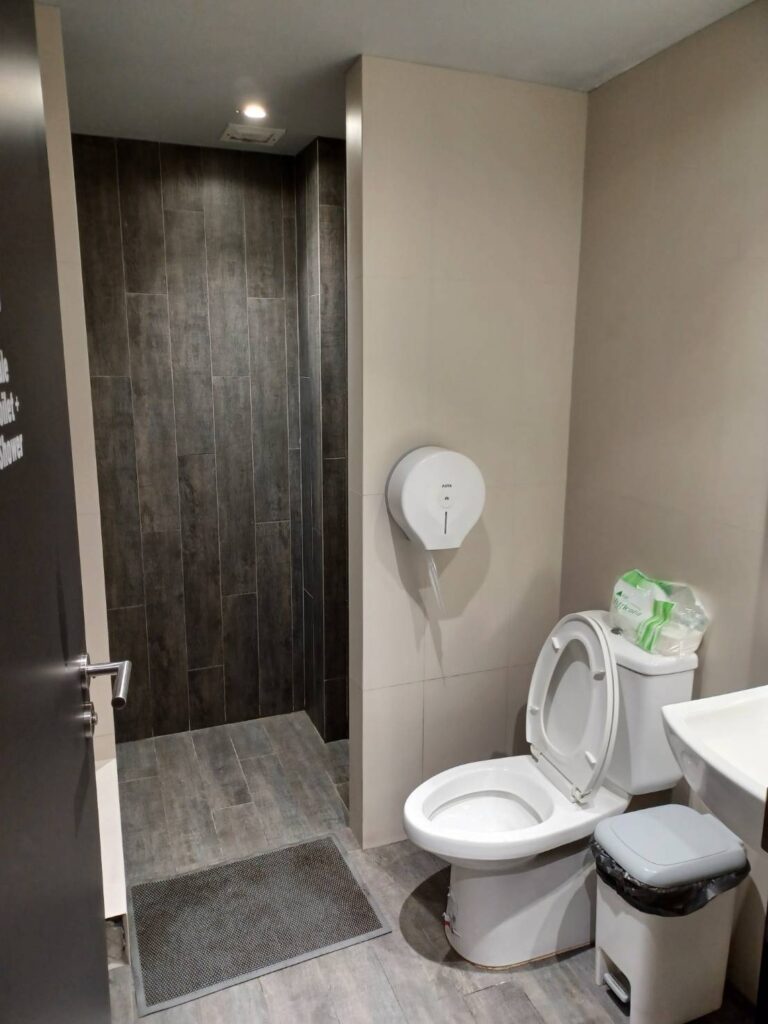 Stretching areas and water server.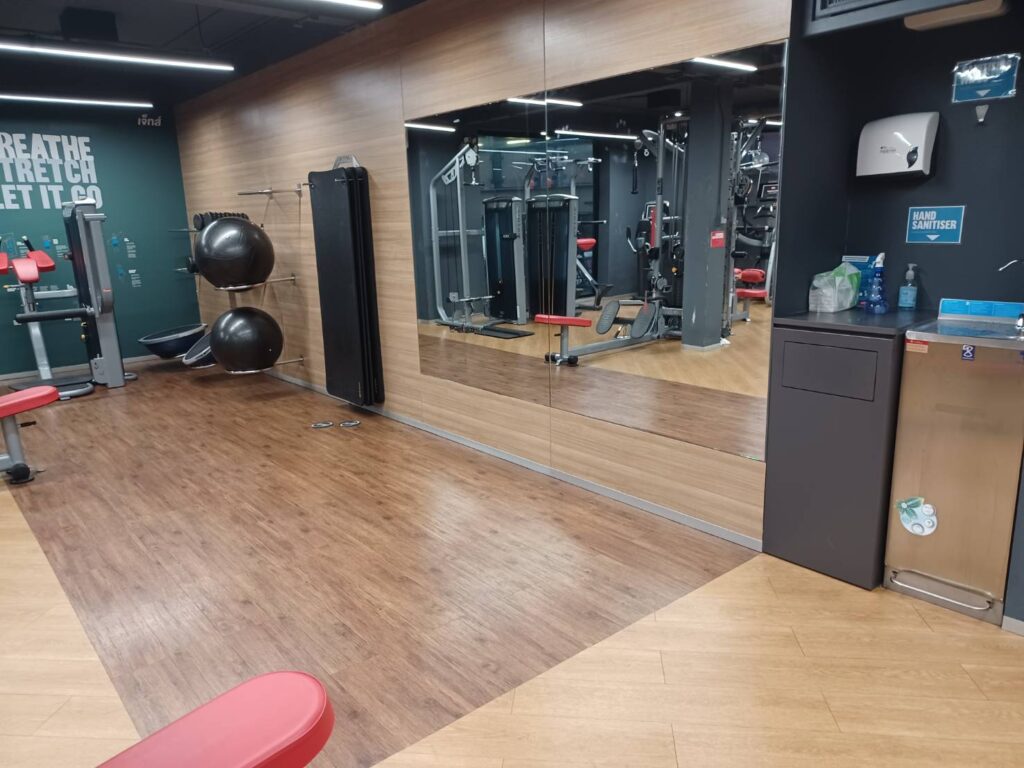 On 2nd floor, you can find some machines for glute and arms.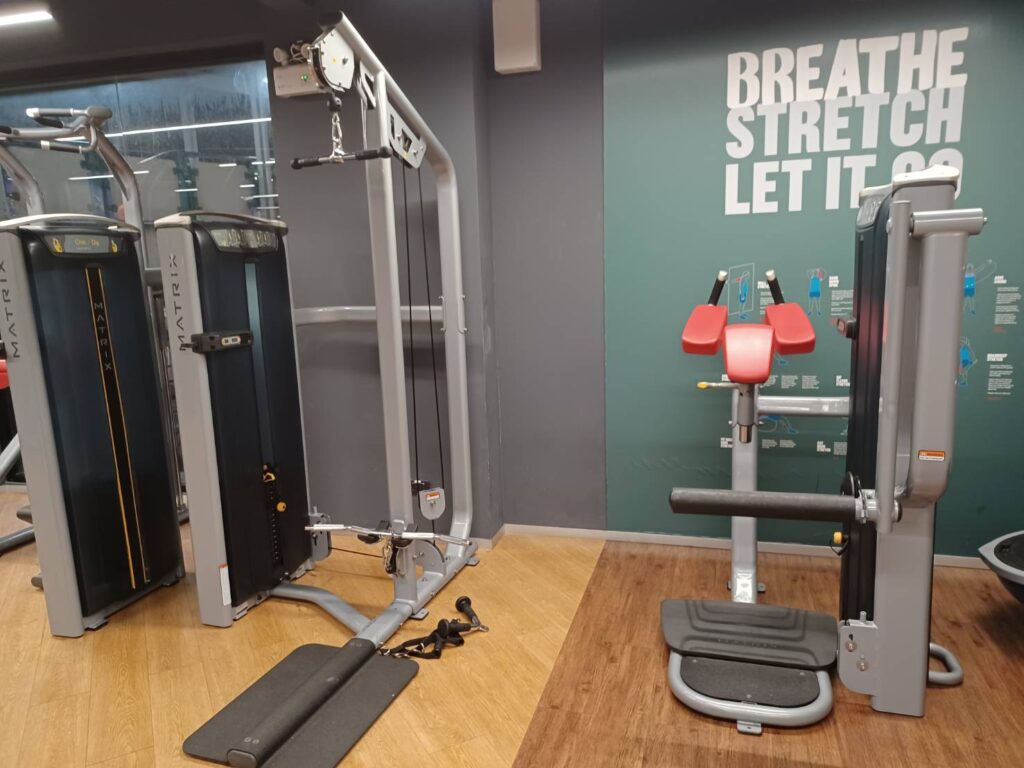 Assisted pull up for back and dip for chest.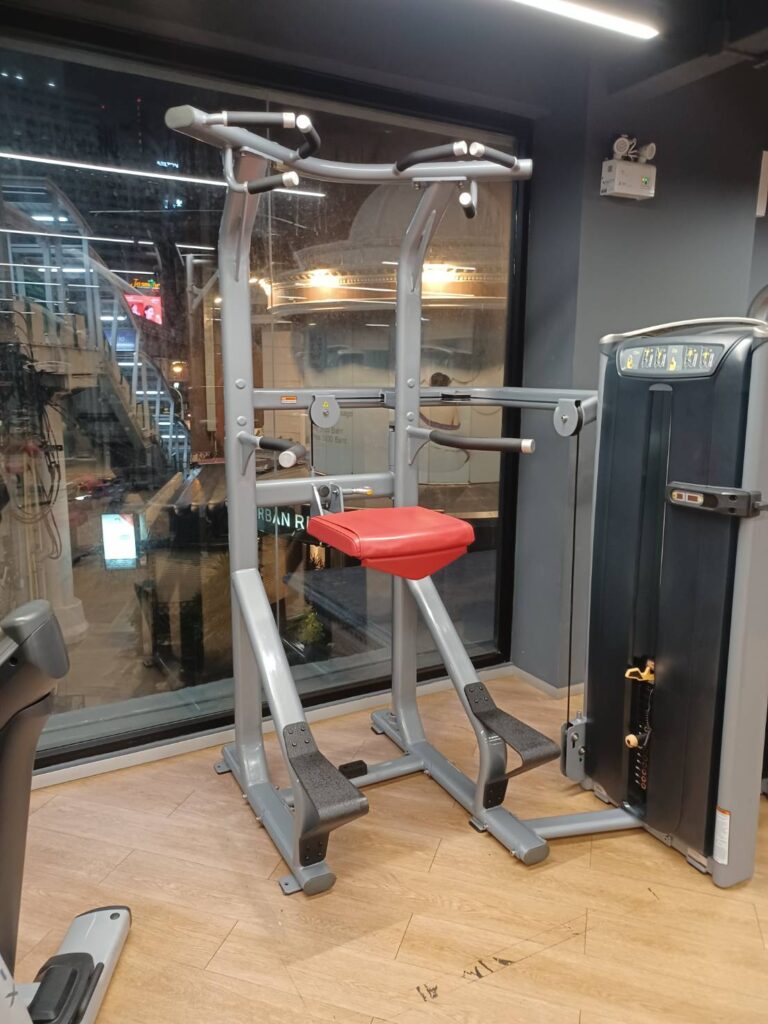 Cable unit is also available to squeeze your muscle.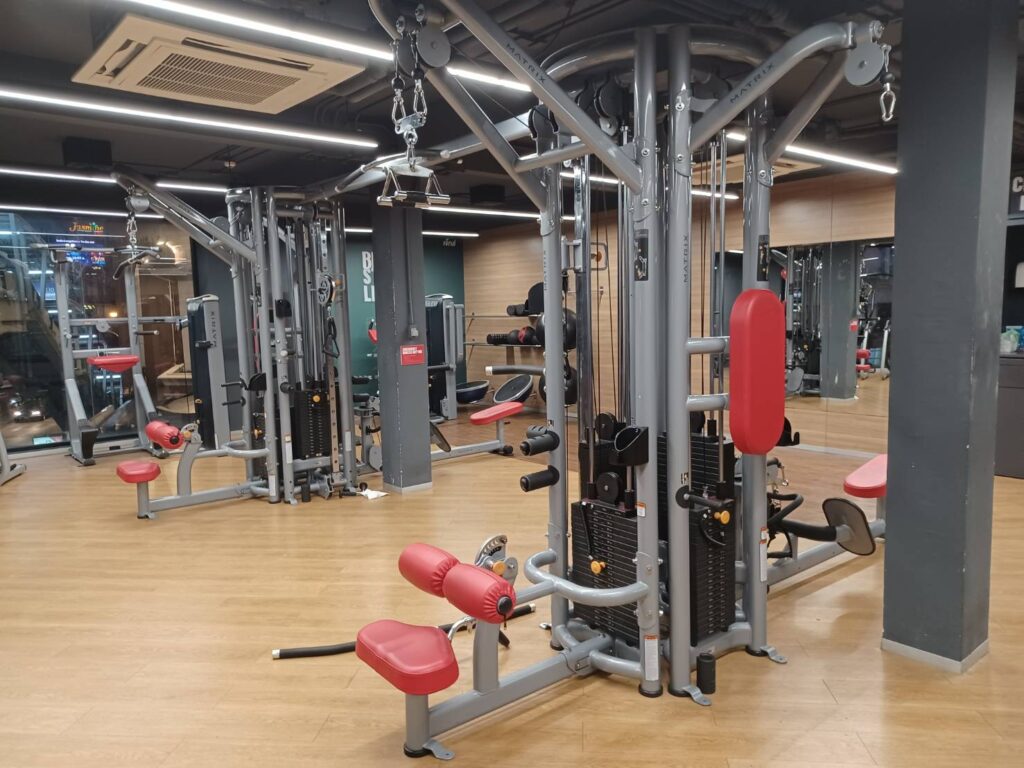 Some cardio machines are also here, you can see the people walking on the BTS sky train bridge from the window.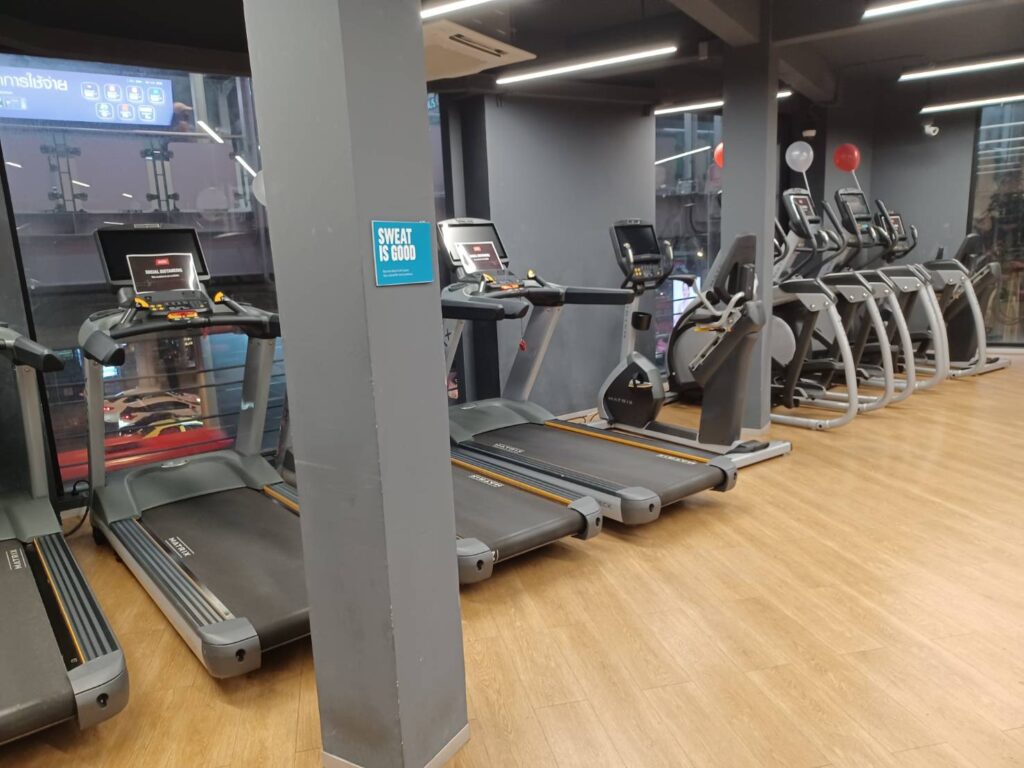 Abs crunch and back extension.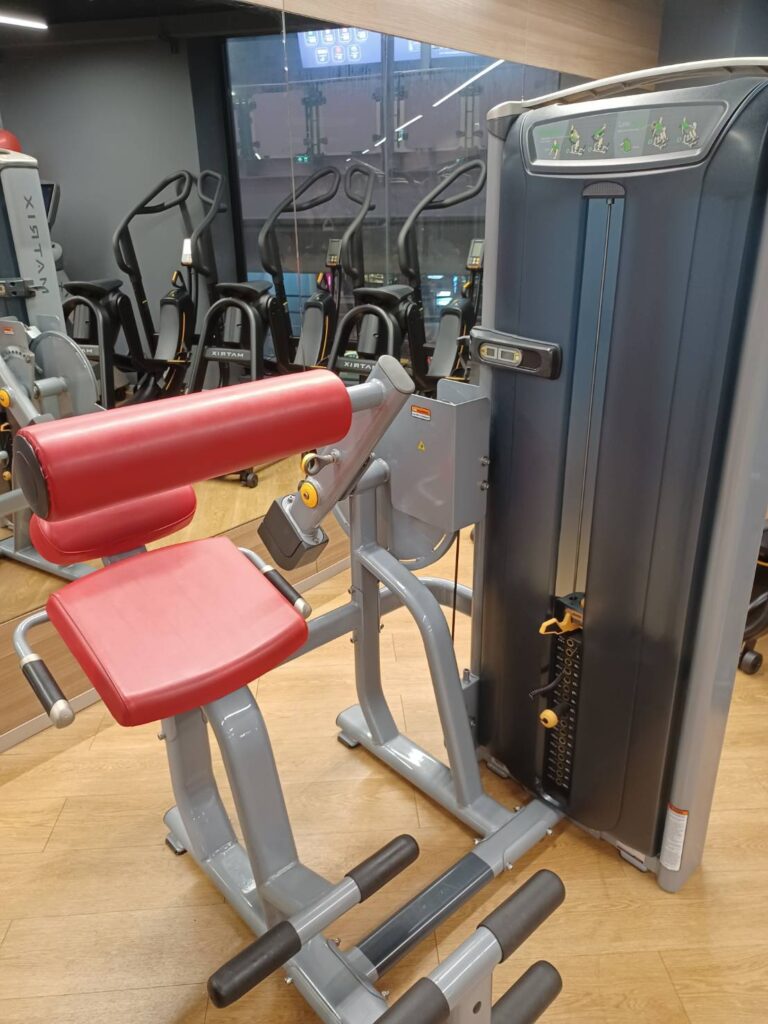 Never ever skip leg day by abduction and adduction. Leg extension and curl machine are also on the floor.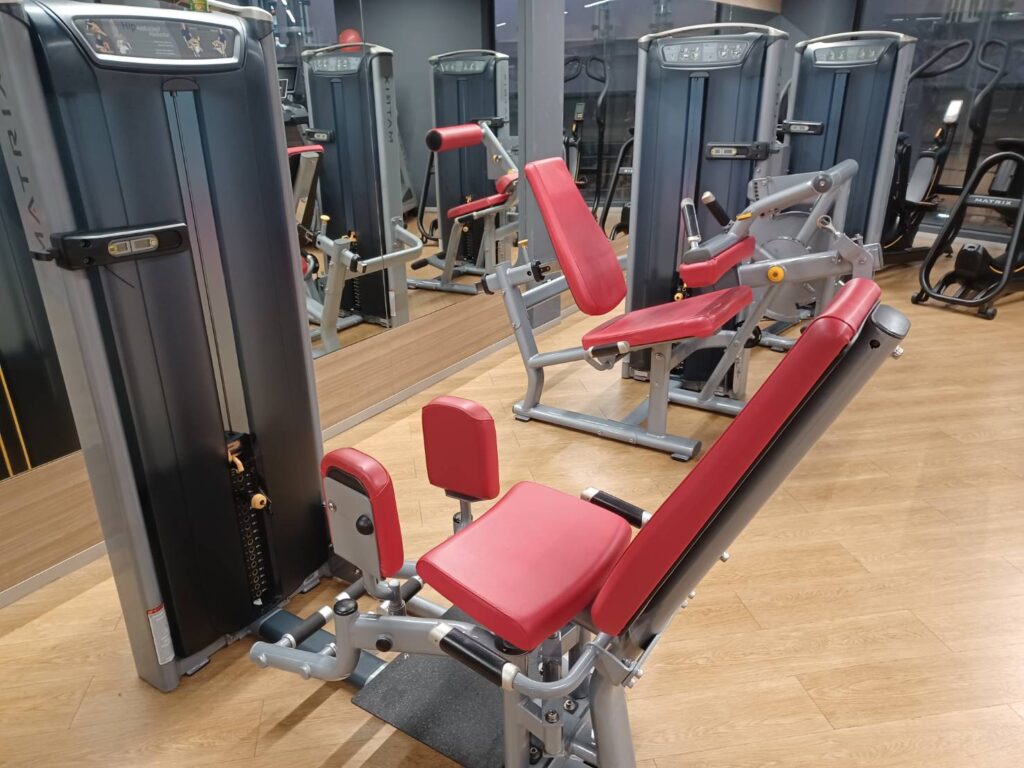 Pec fly and rear delt.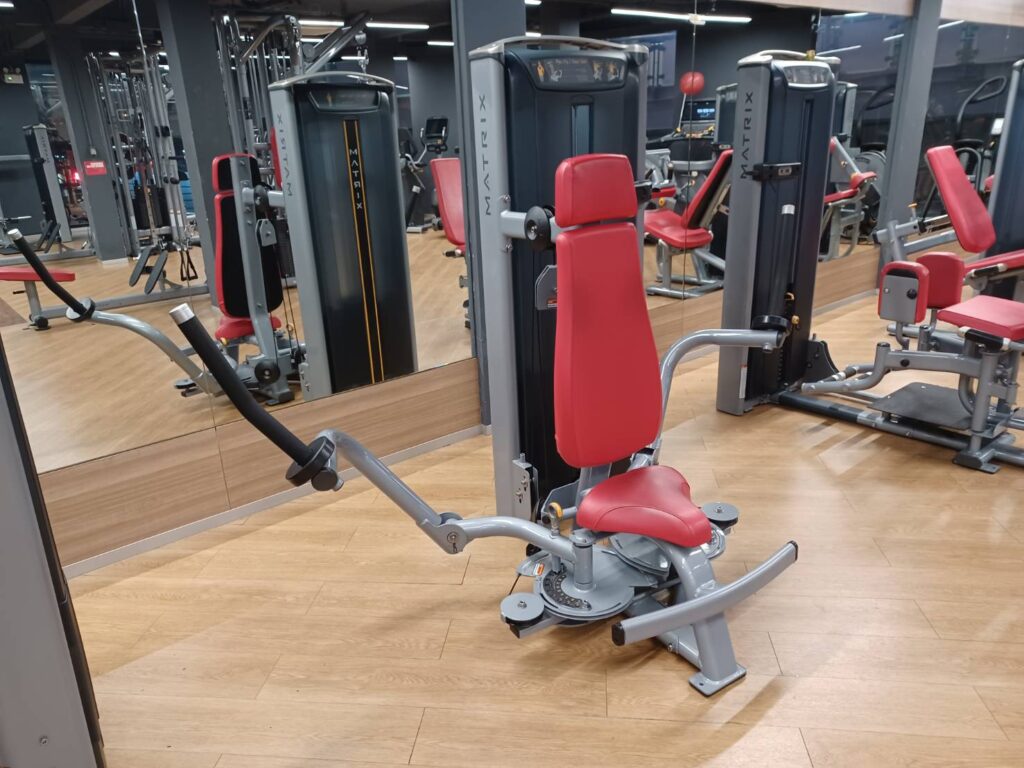 For upper body training.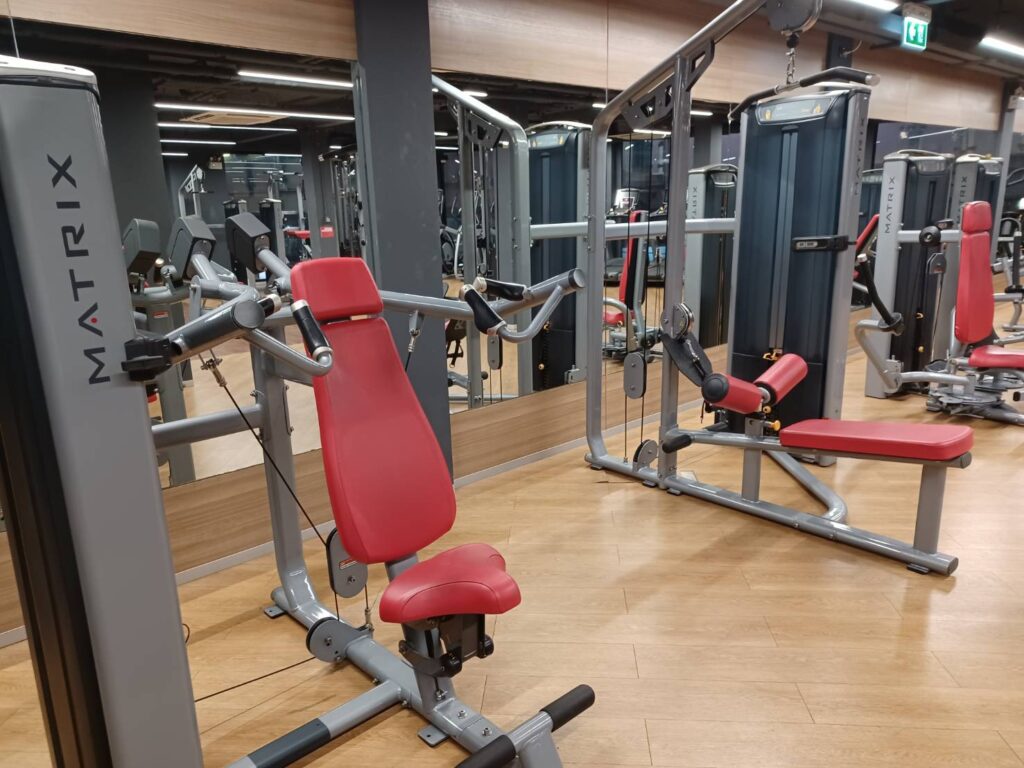 Shoulder and chest press. You can move seat and reclining position for the machine.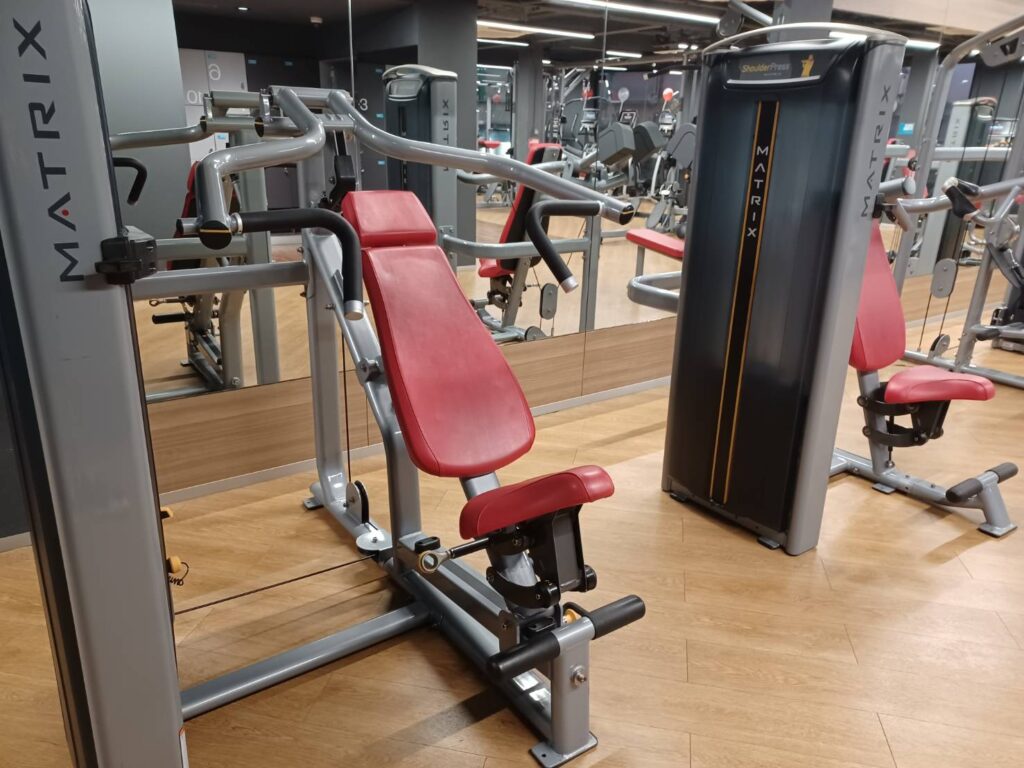 Below is overview of machine zone.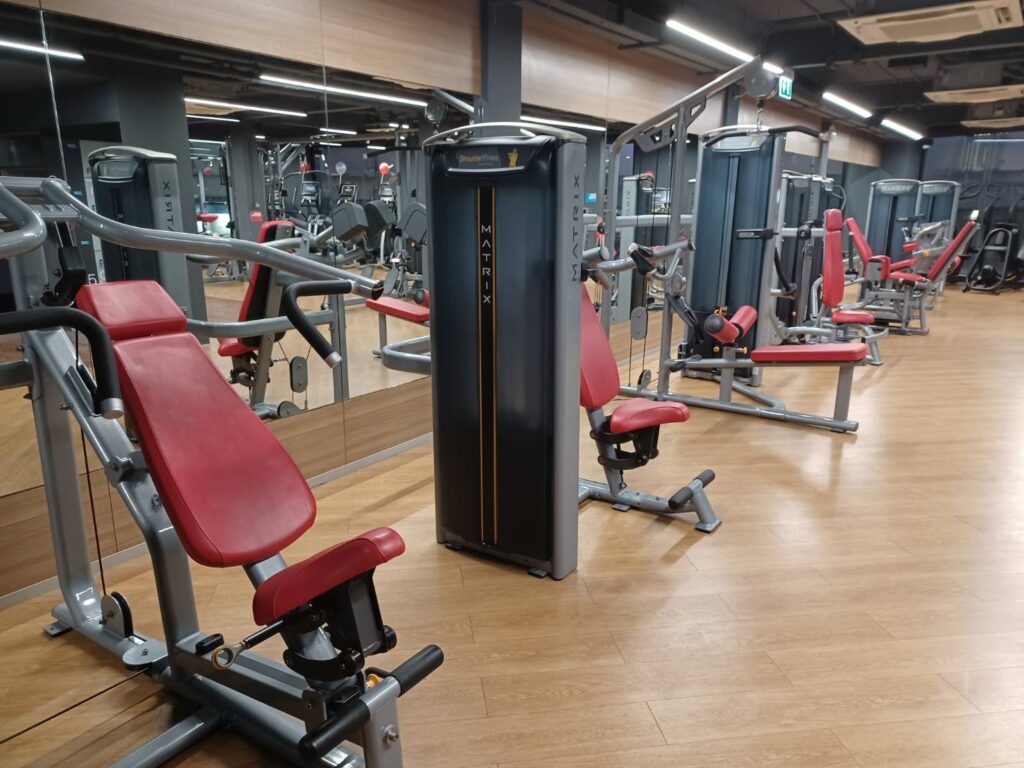 3rd Floor – Group class room and female locker
Jetts Fitness offers variety of group class such as Yoga, pilates, body combat, body pump, and so on. You can check their Facebook page Phone apps to know schedule for each club.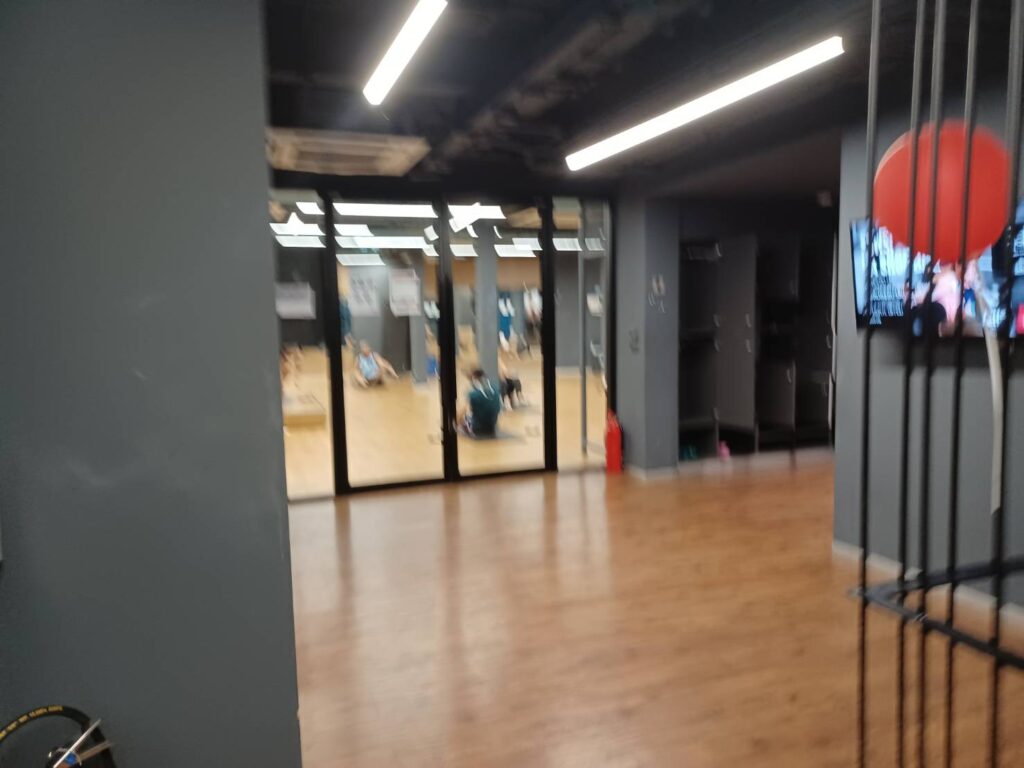 On January 2023, I found that water server was updated so that members can use hot water as well.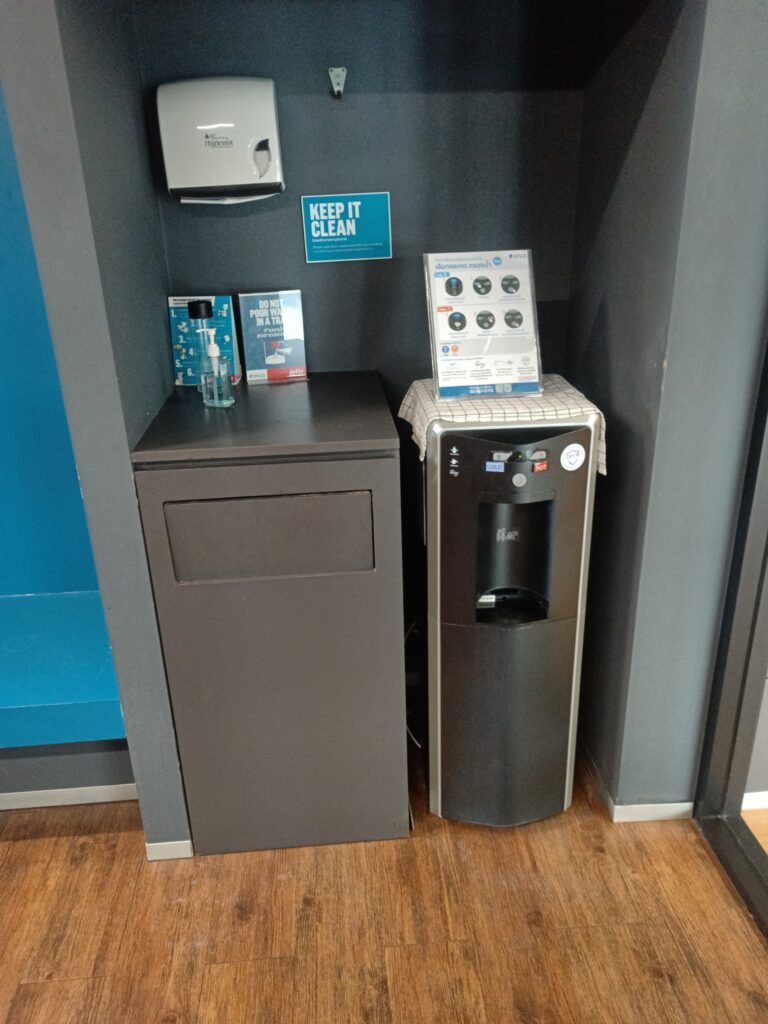 Group class room.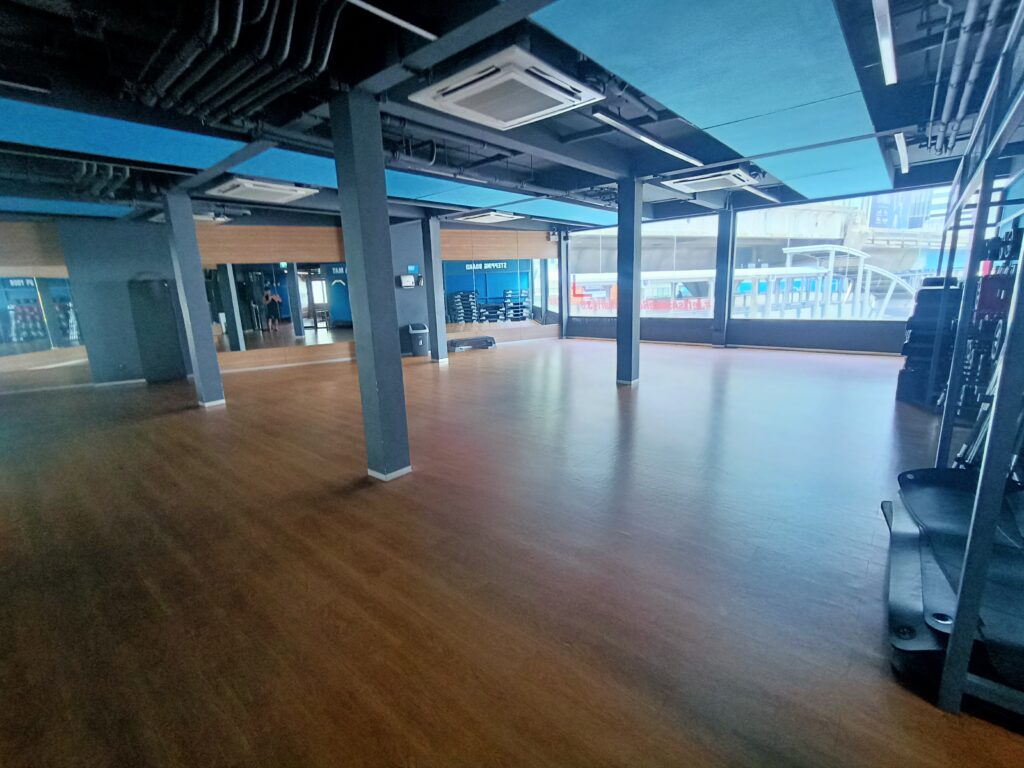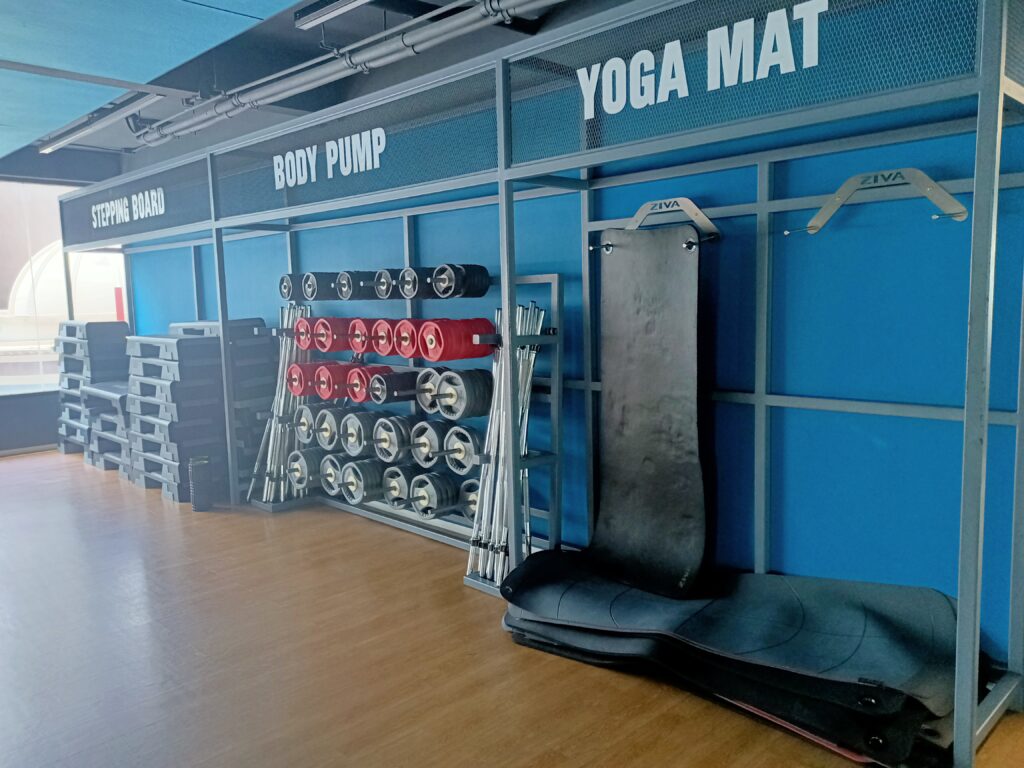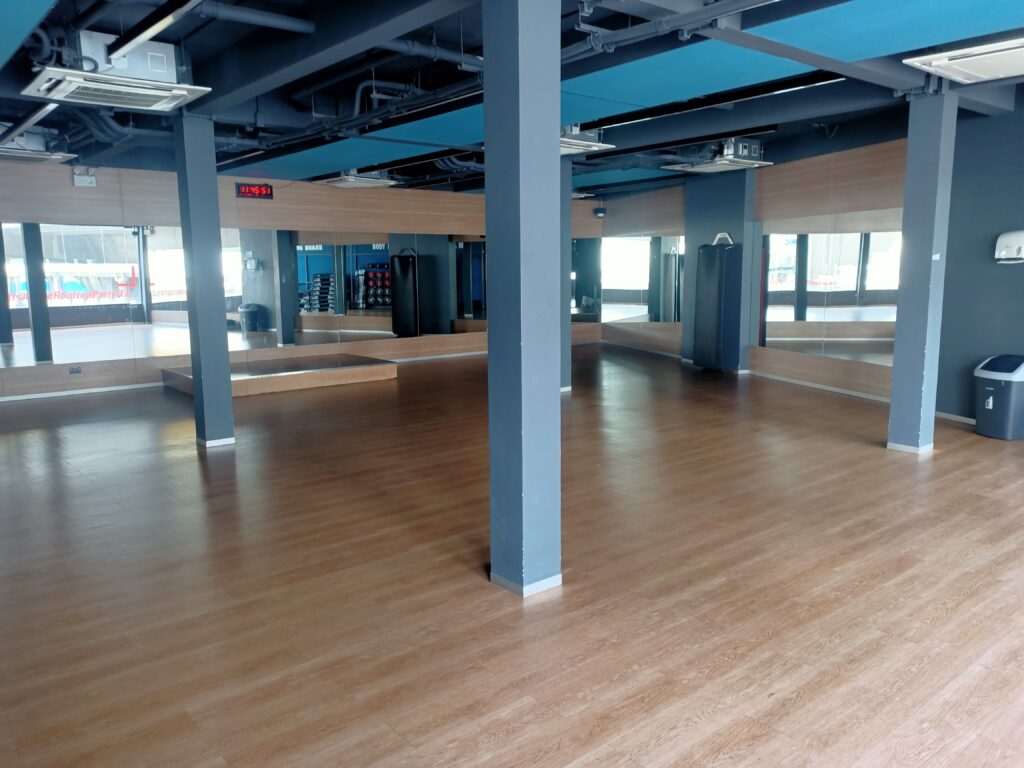 4th Floor – Free weight and functional training
Here comes the place where I mostly spend gym hours. Free weight machines for barbells and dumbbells are on this floor. HIIT and cross fit training also can be done in large functional training area below.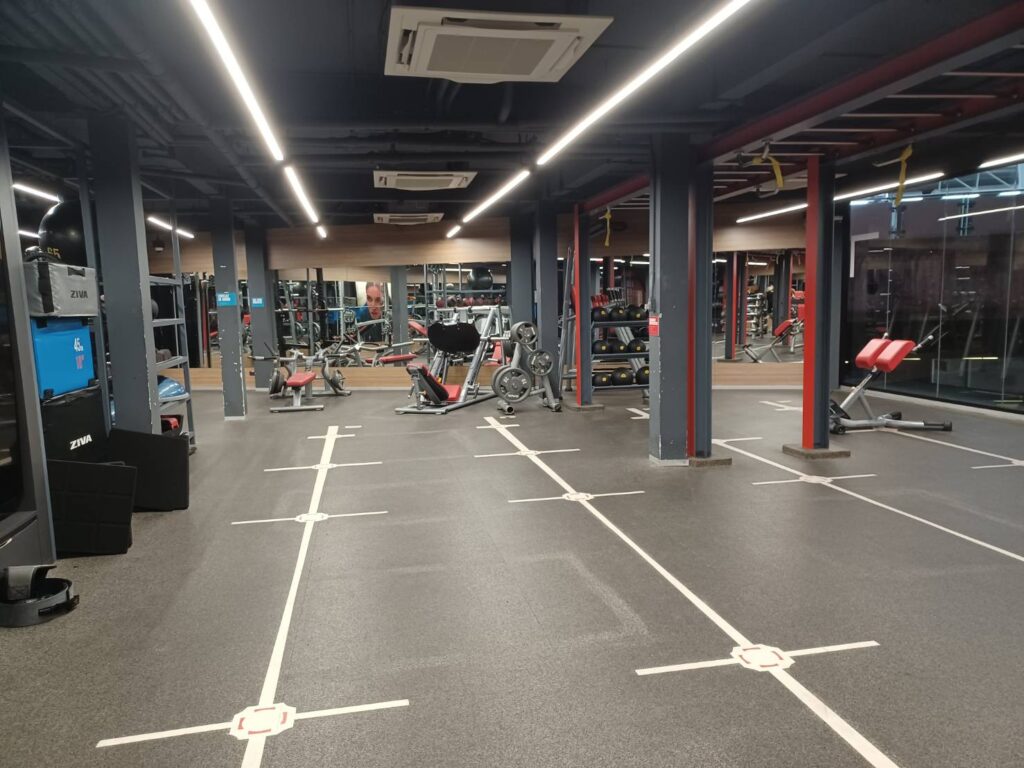 Cable machine and power rack with safety bar. Good to have mirror in front of power rack to check the depth when doing squat.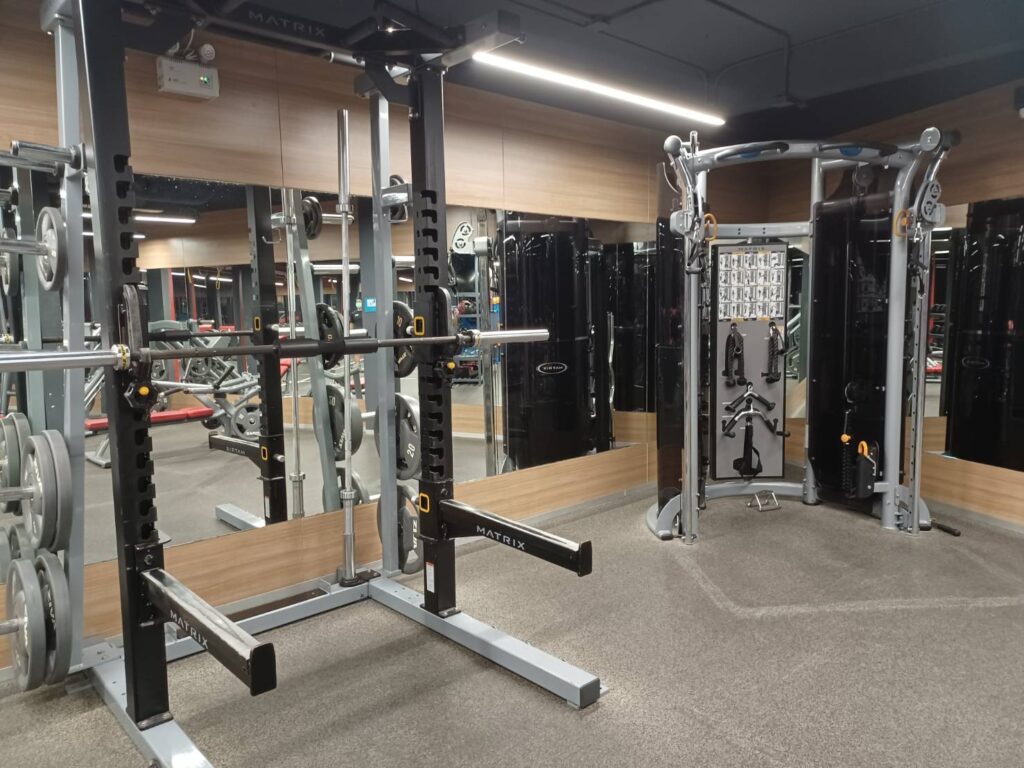 Smith machine.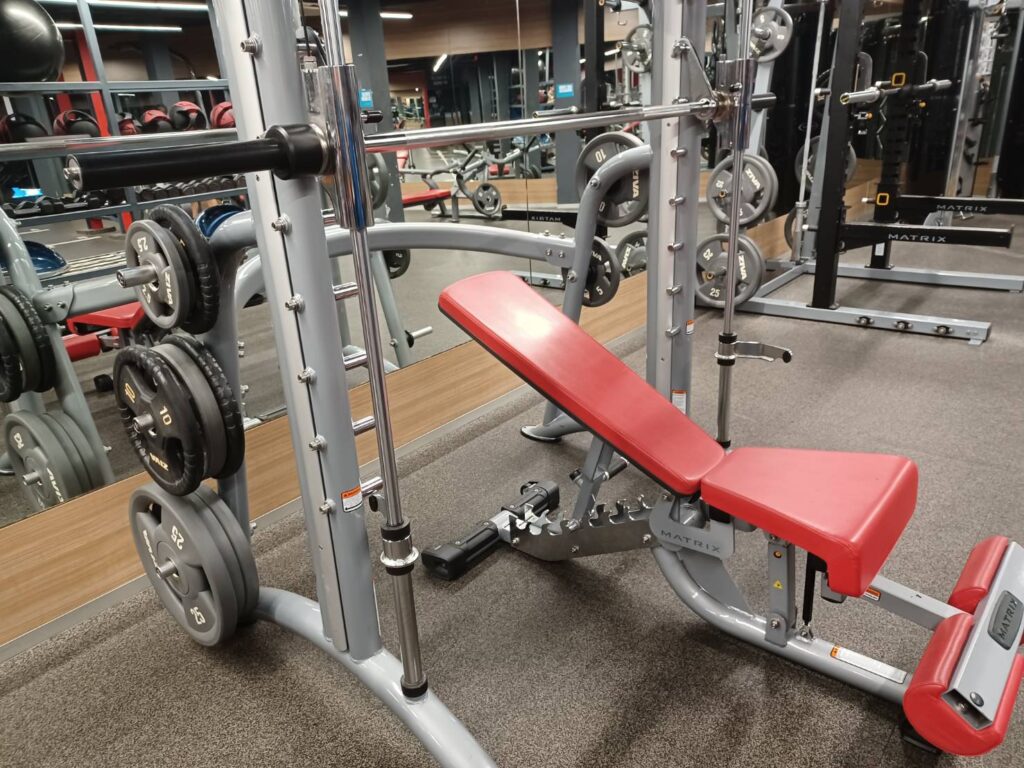 Pull up and dip bar.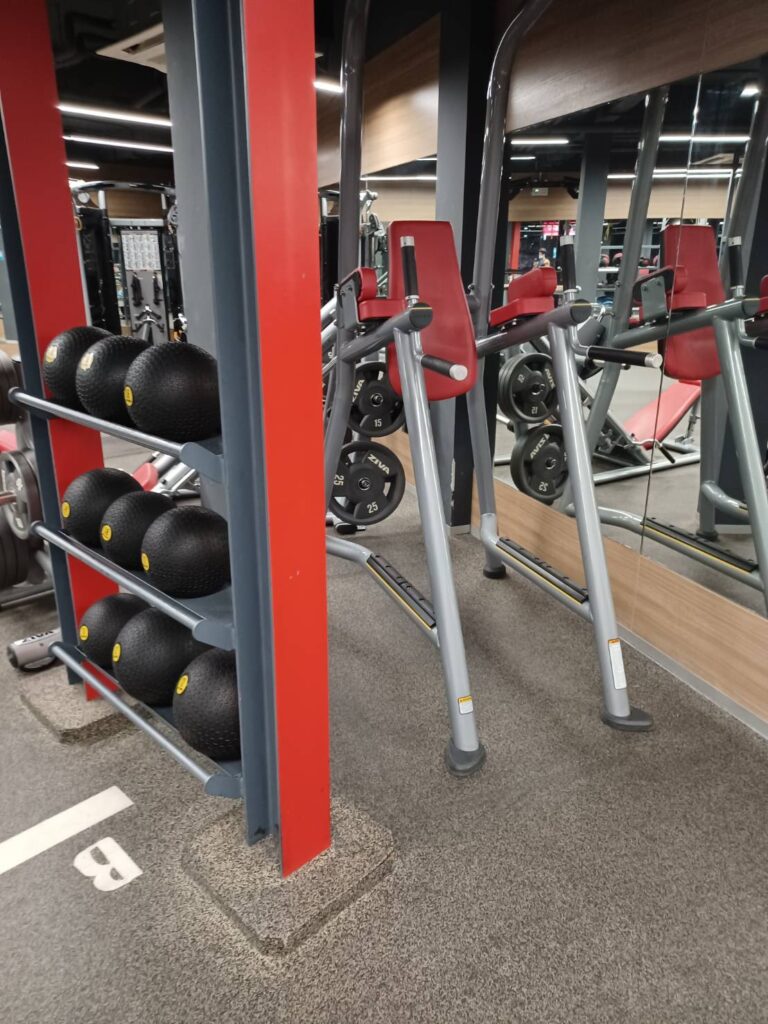 Incline bench press.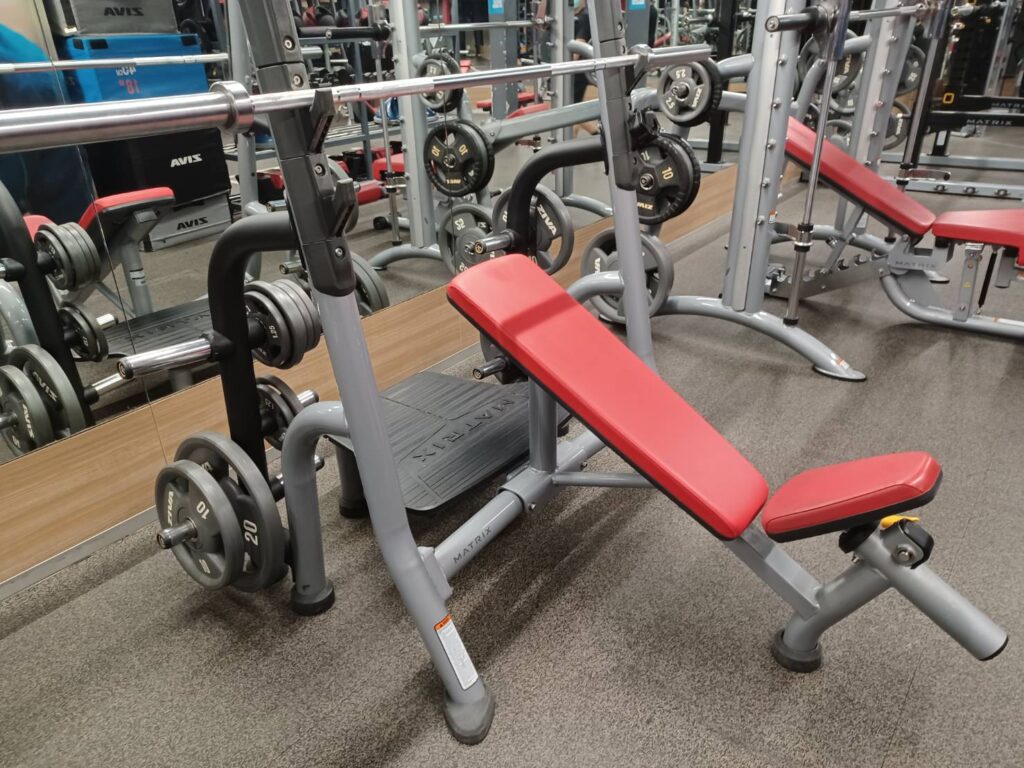 Decline bench press.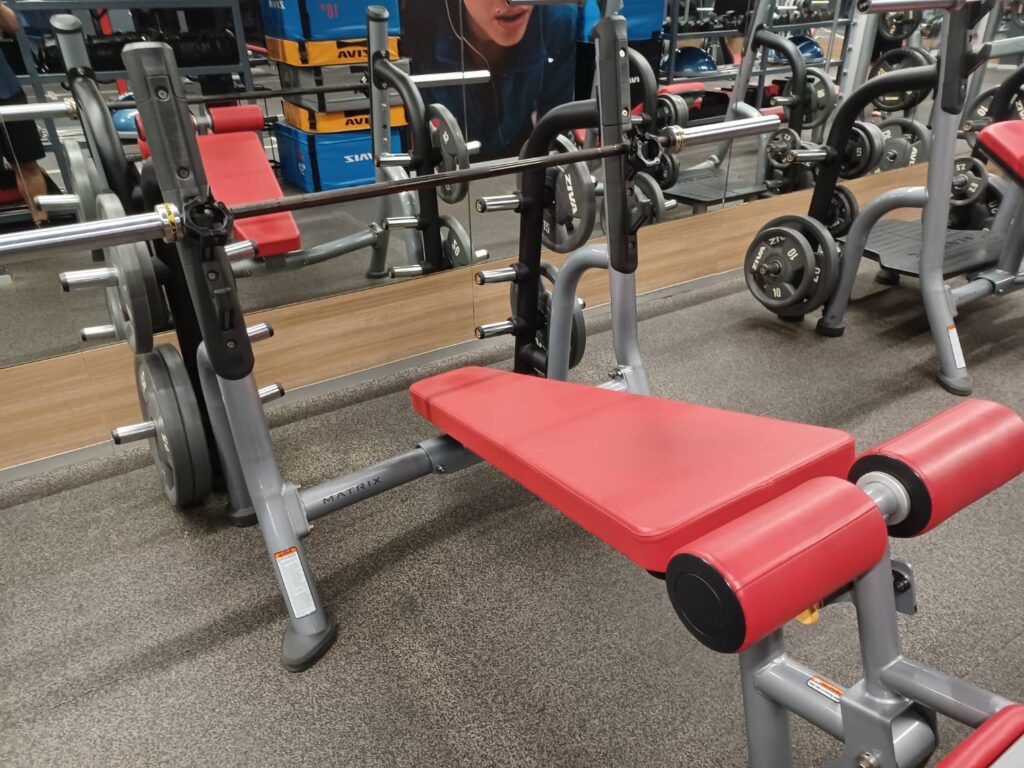 Flat bench press.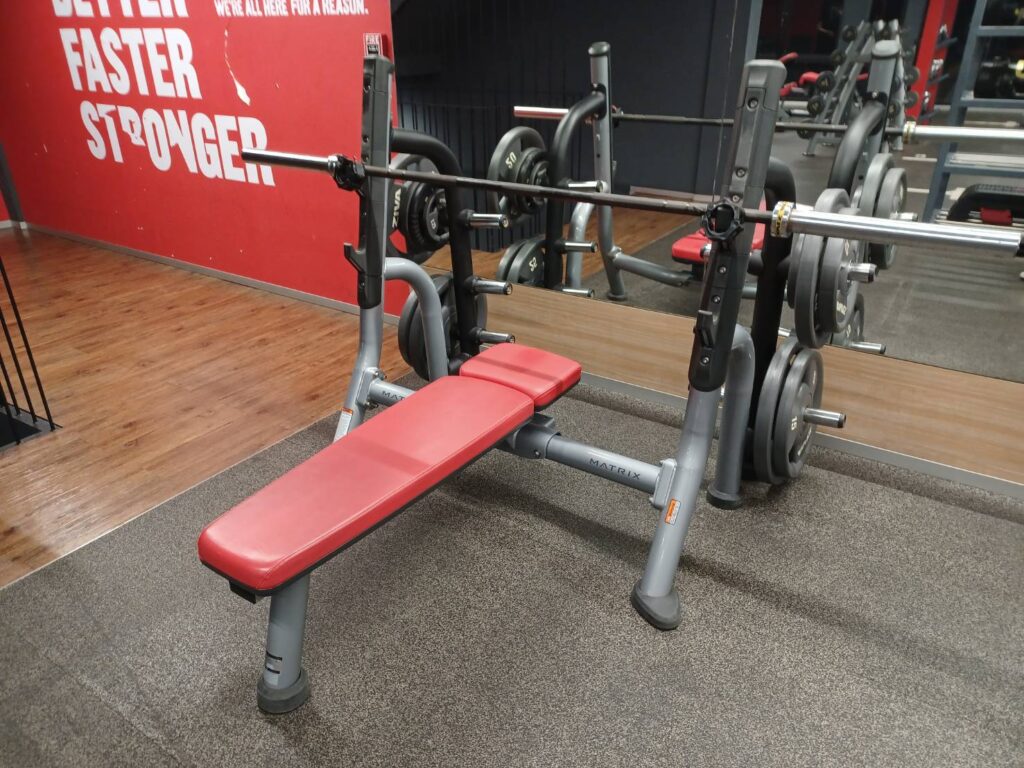 3 types of bench press is equipped on this floor. Not all gyms have all these 3 types. For example in my home gym, there are only 2 but no decline bench press rack.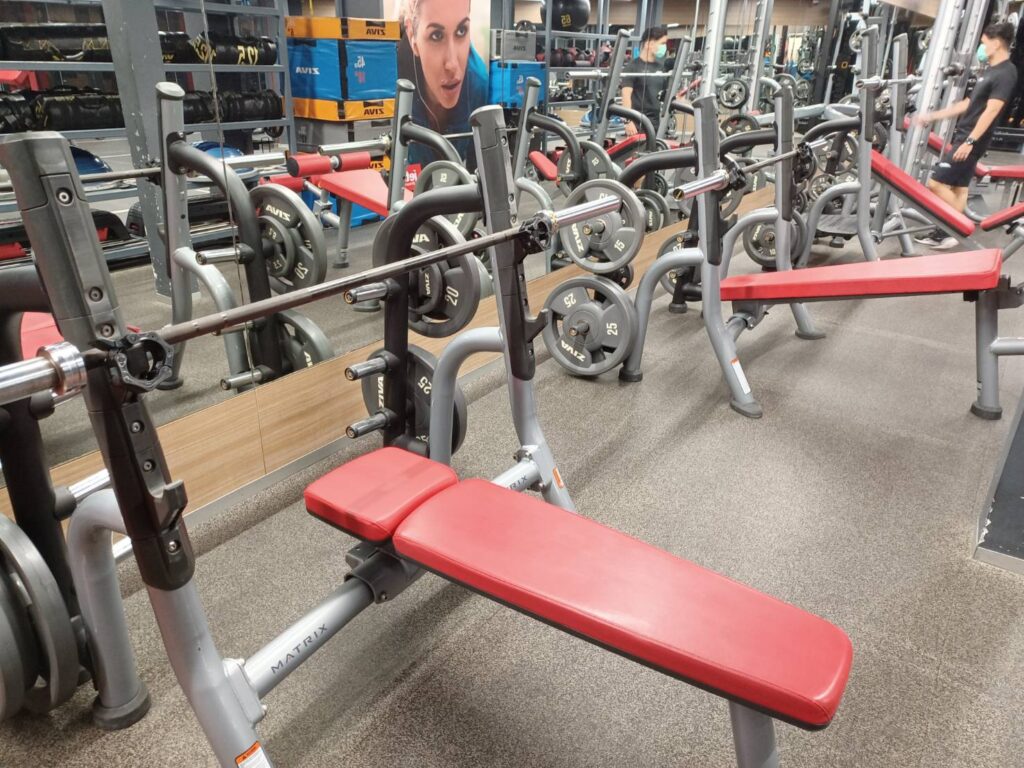 Supine press and leg press.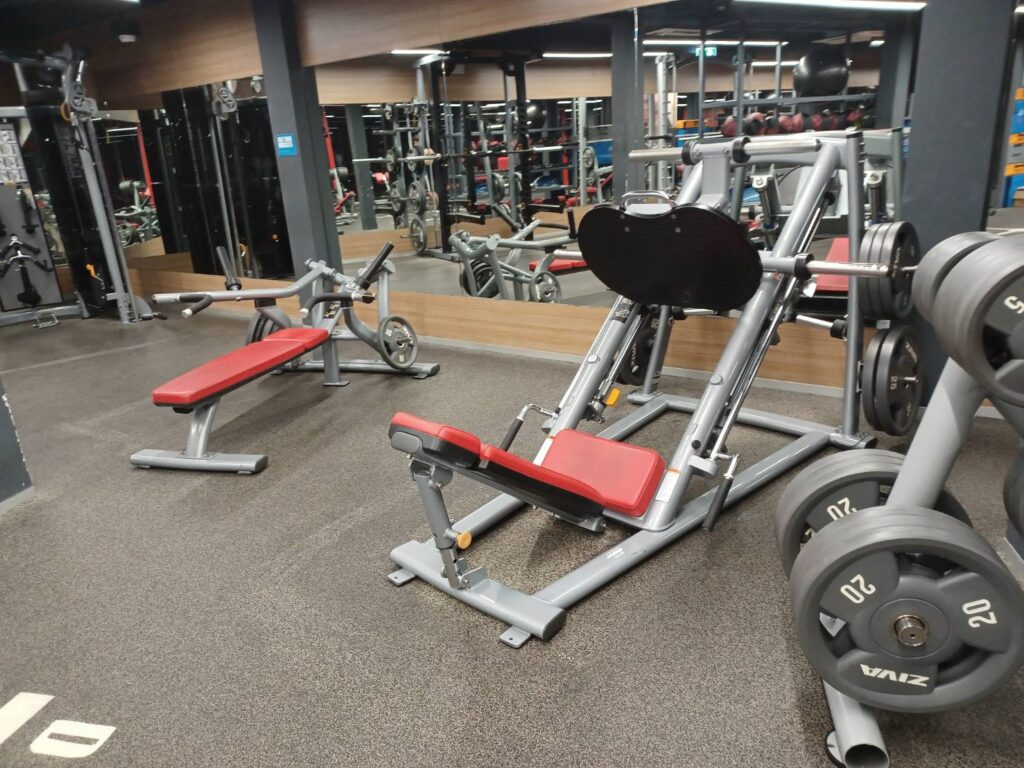 For your interval training needs. Ops I forgot to take the pictures of dumbbell areas. Dumbbells are available until 35kg and 4 benches in this branch.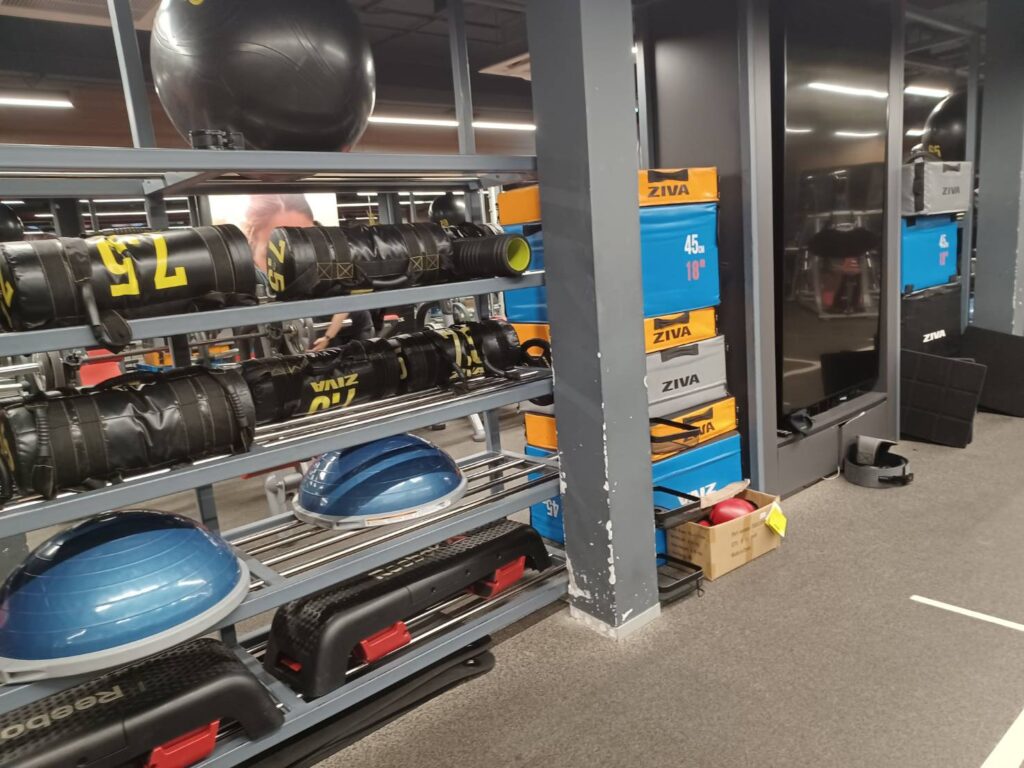 I came back here again on July 2023 to take picture of dumbbell areas.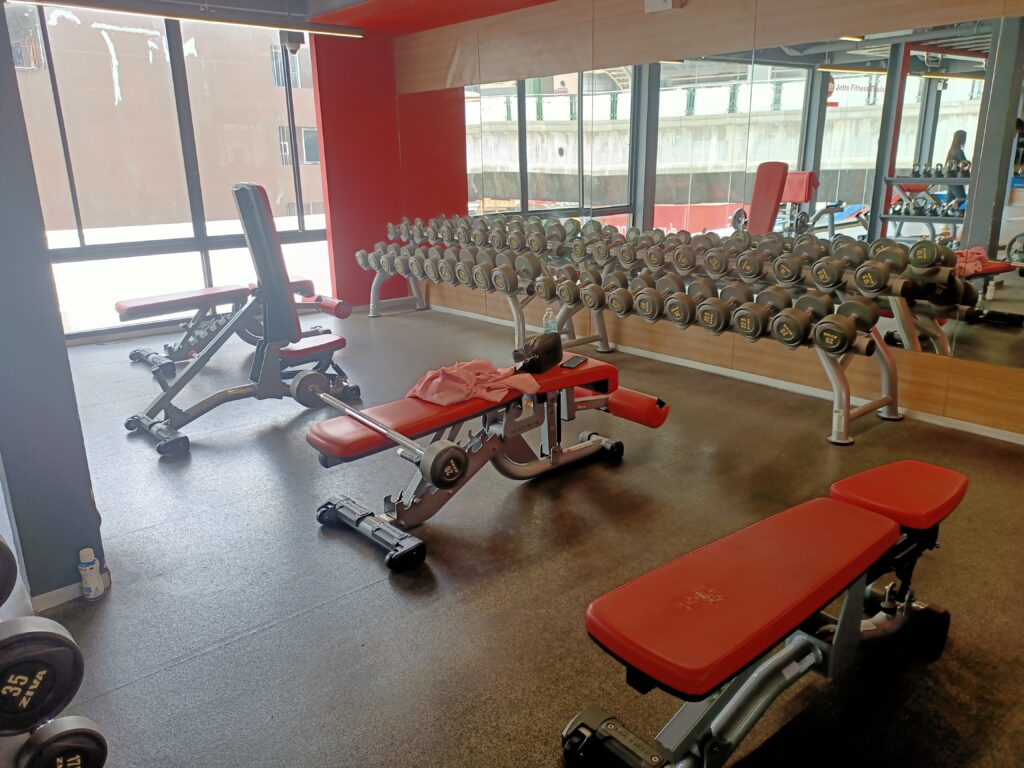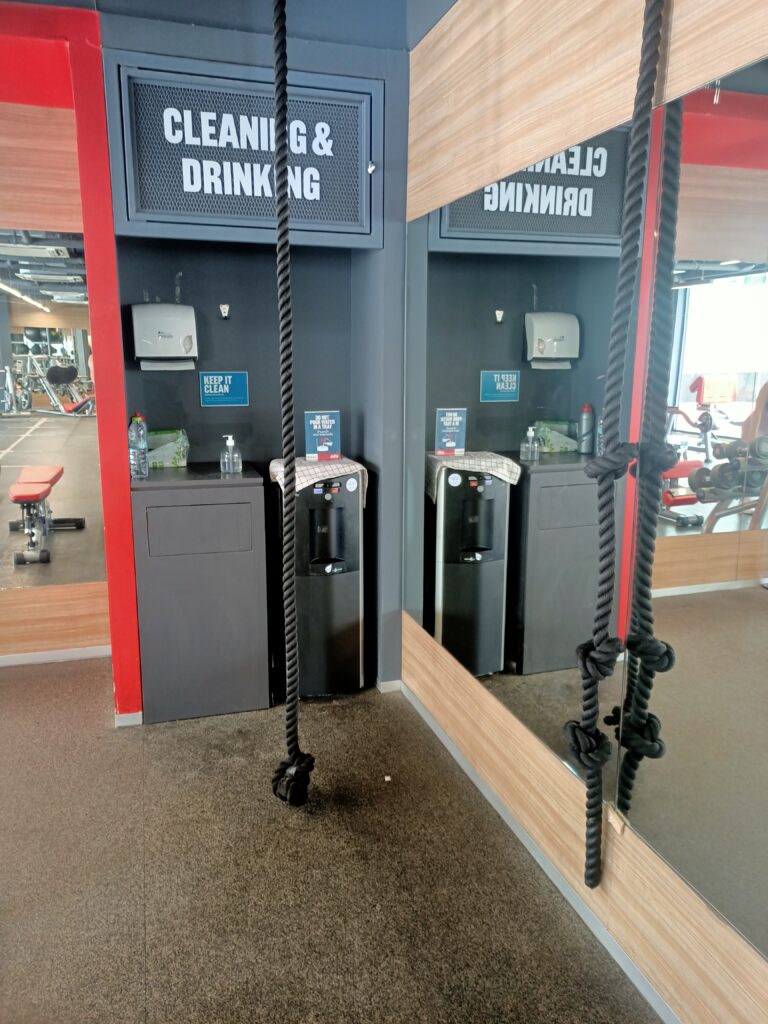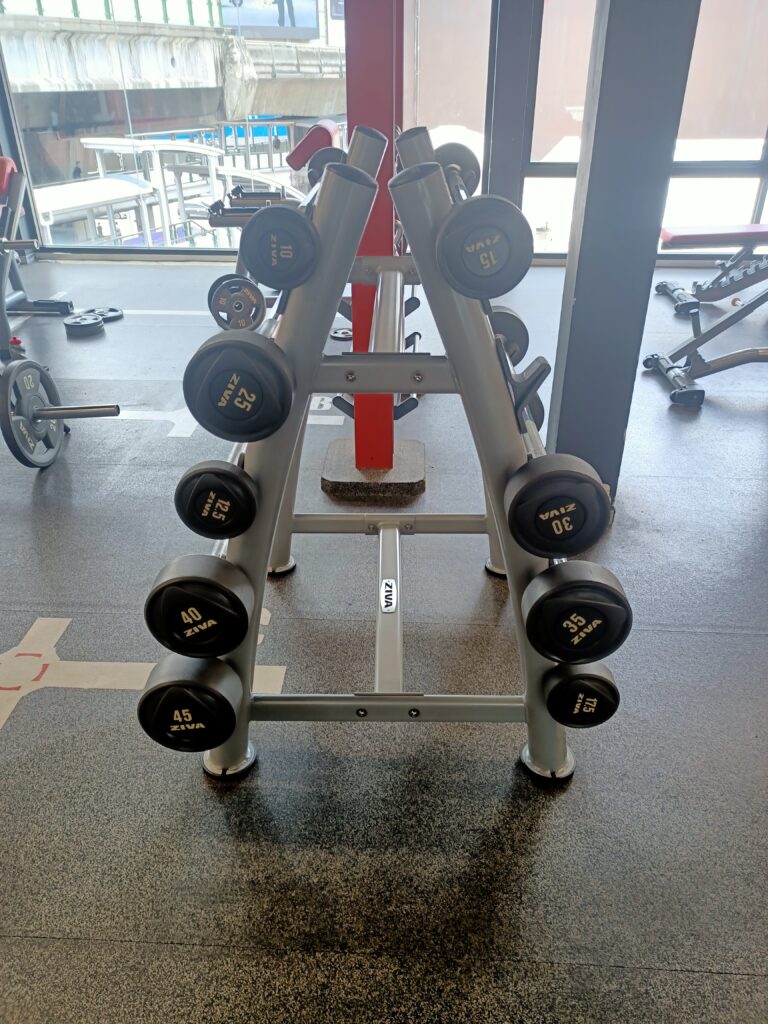 2 types of preacher curl stand and back extension.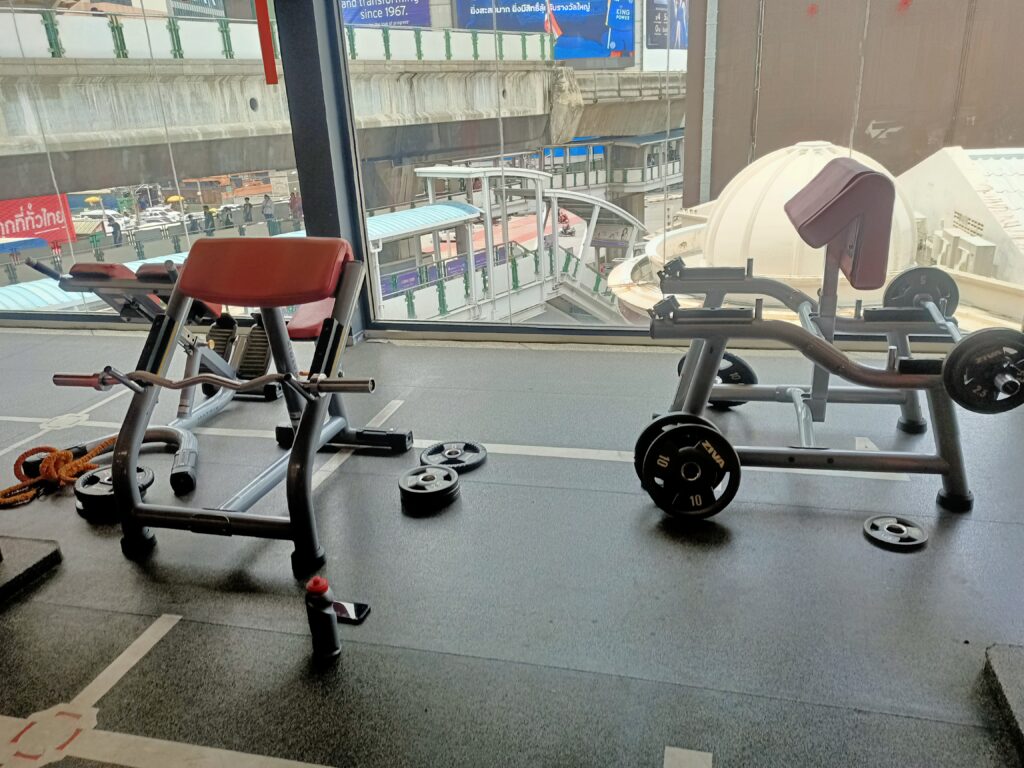 Deadlift was banned on this floor due to noise occurred. You can do it on rooftop only.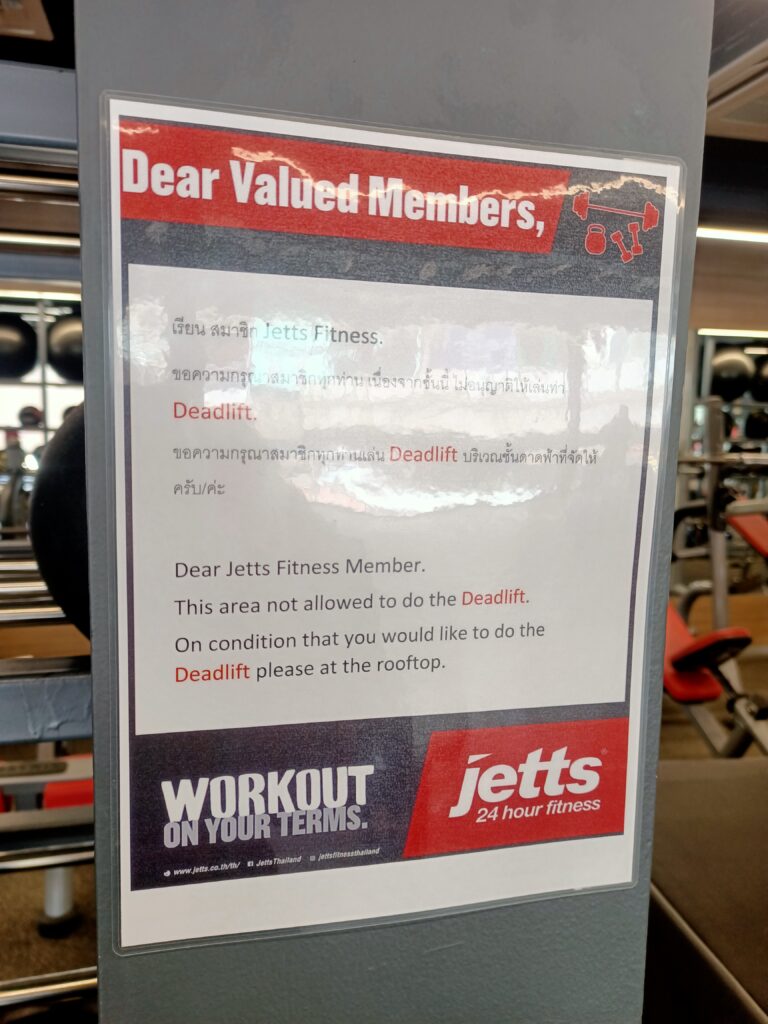 Rooftop
You can find some free weight equipment here also on the roof top areas. At this time, members are preparing for group class to start. It looks very nice to make sweat at night time outdoor field with sound and cooler air.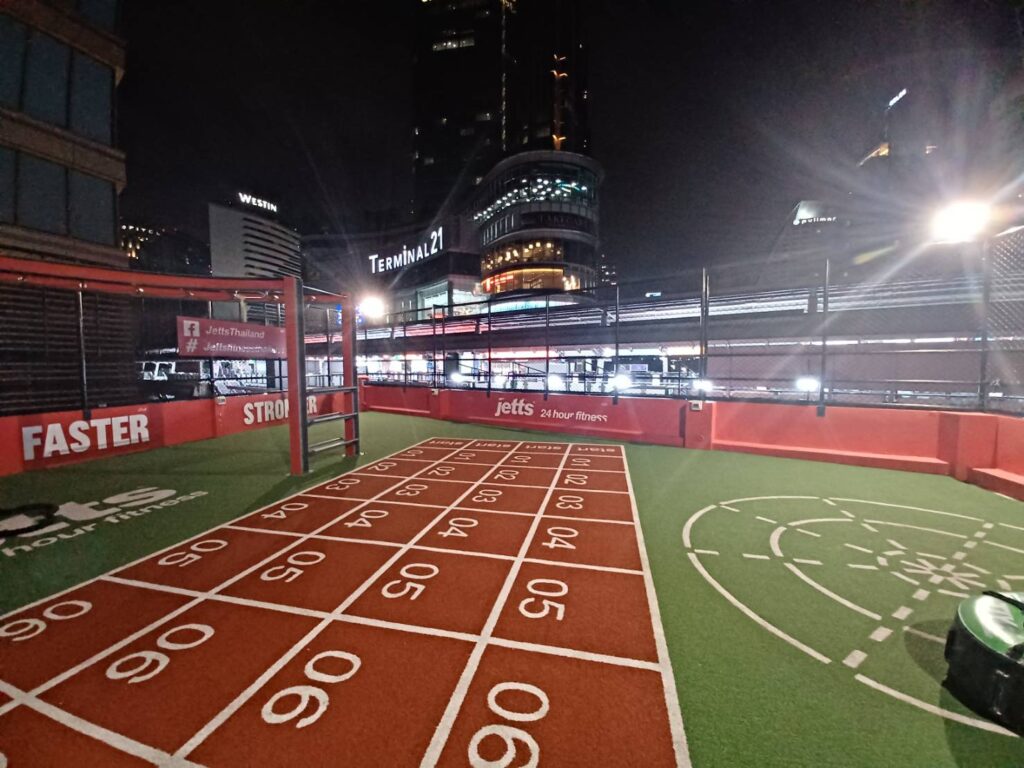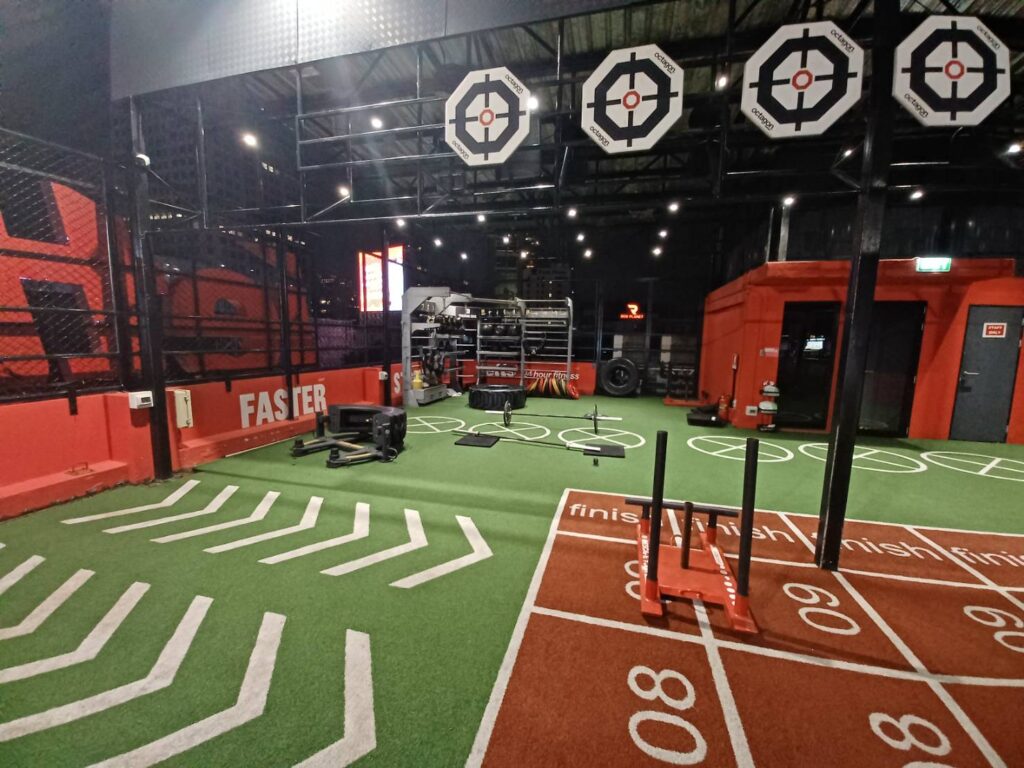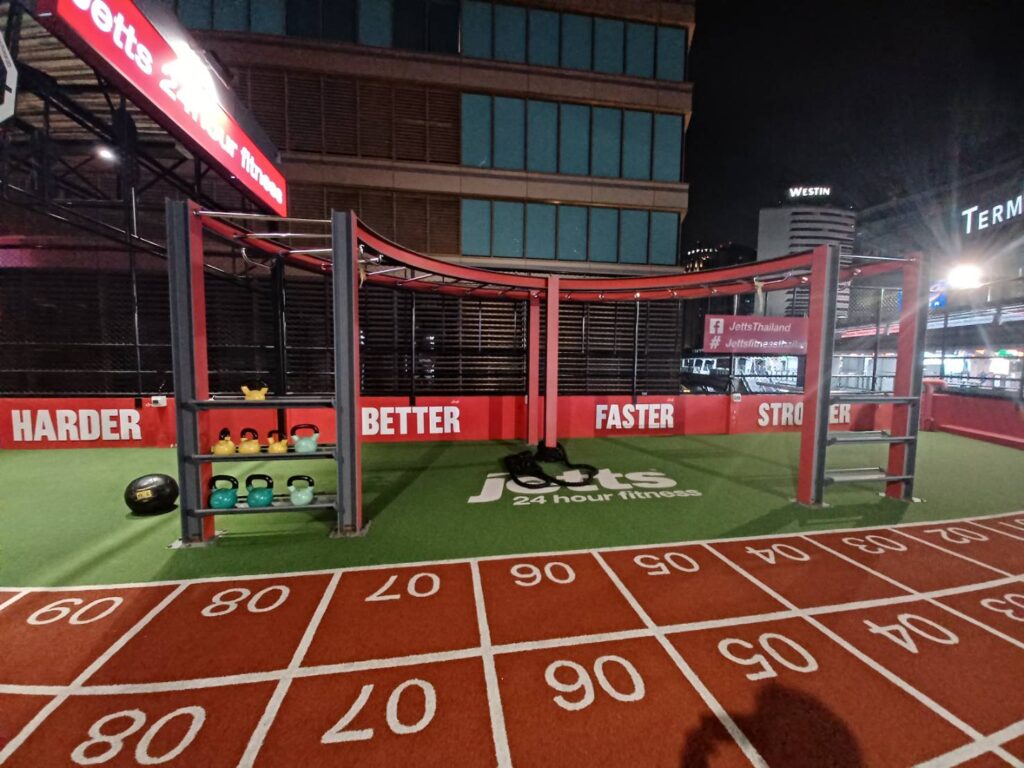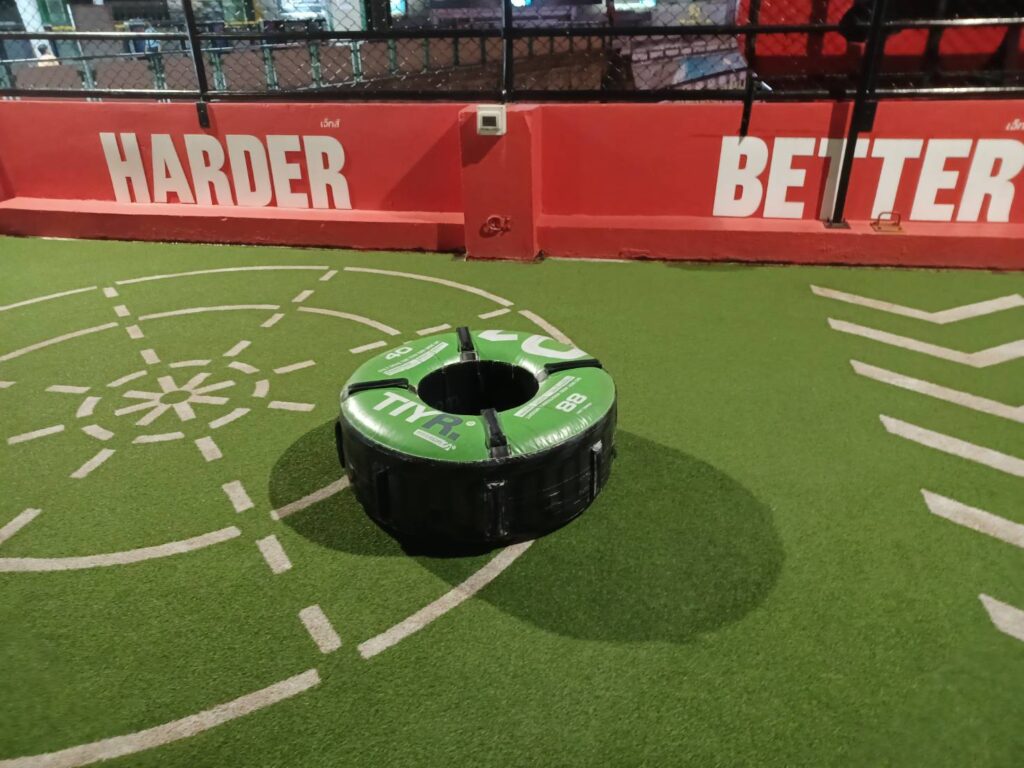 For dead lifters, even they have rubber plates here and floor mat to reduce the sound and damage on the floor. However, it may not be appropriate to drop the bars and weights from over the head with no platform.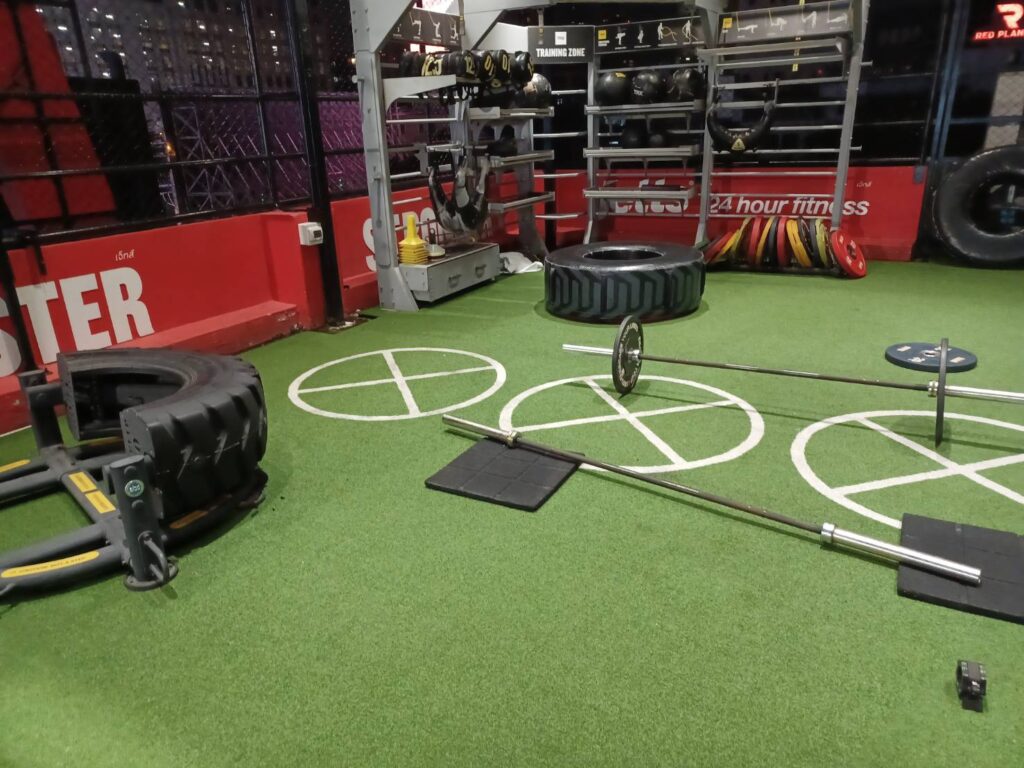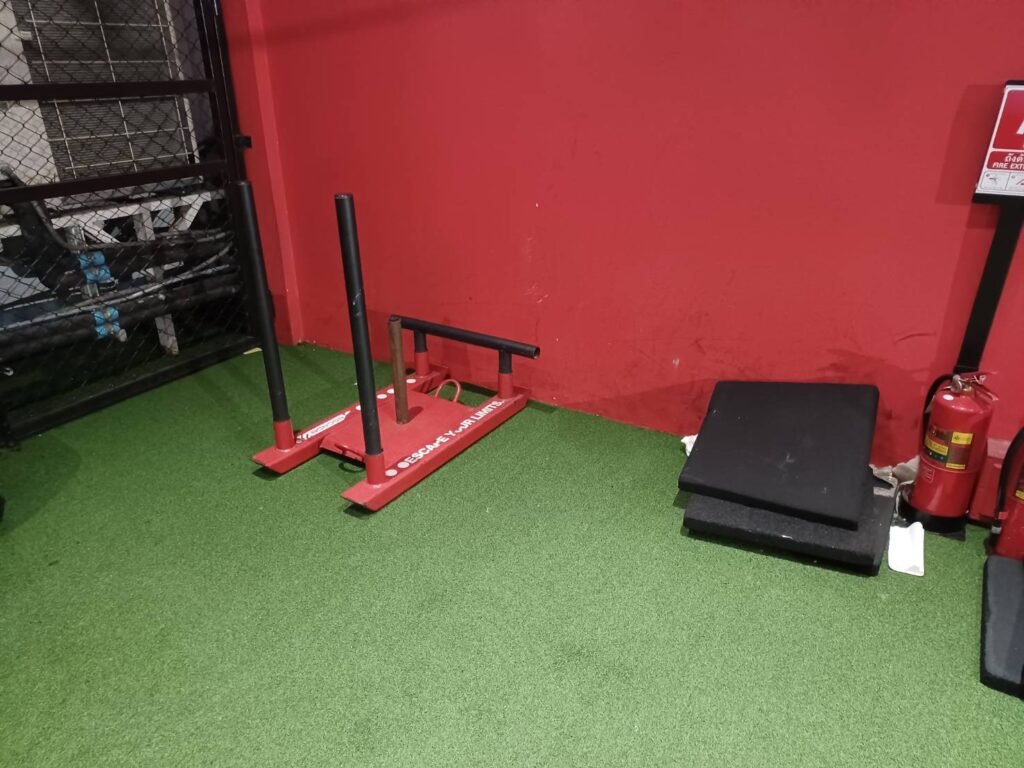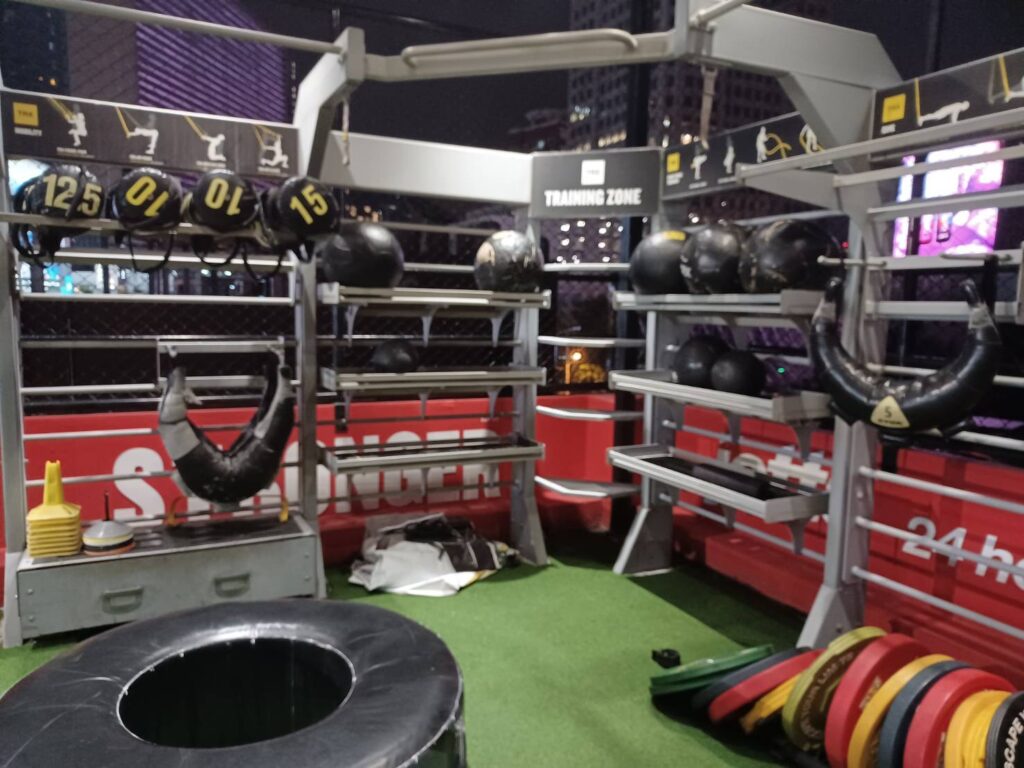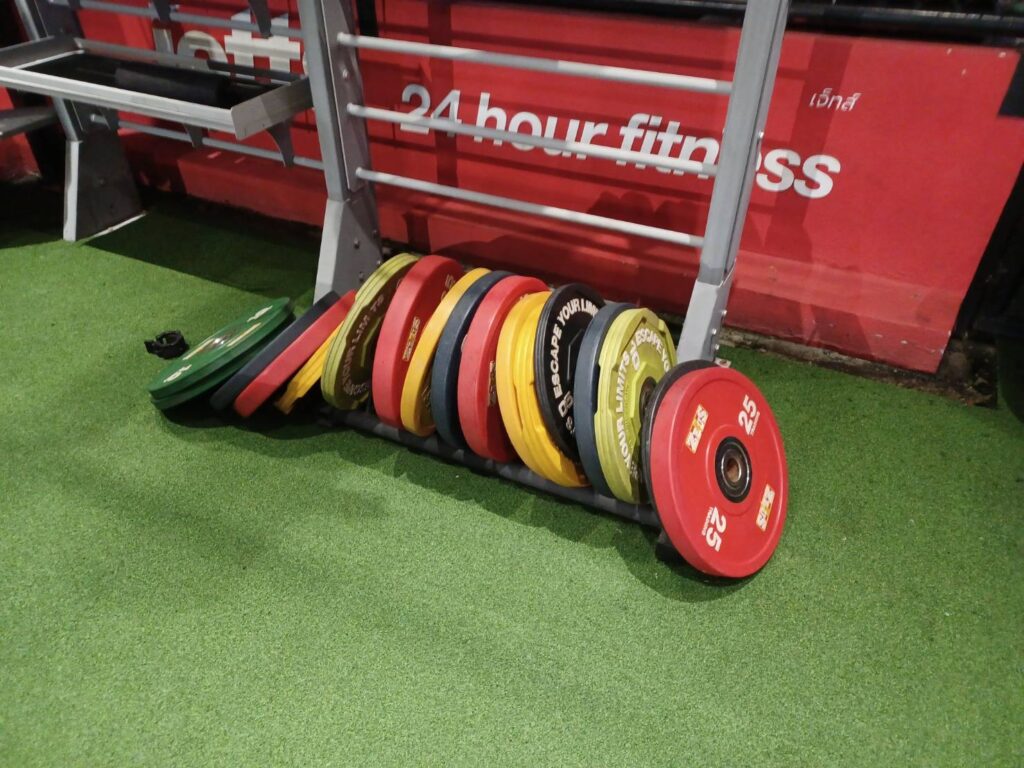 Conclusion
OK! That's all for gym review of Jetts Fitness – Asok branch. As unofficial Jetts Fitness ambassador, I will visit all Jetts clubs and post review here so that readers can know well each clubs to consider to join.
If you are interested, please contact nearest branch. Gym can offer you 3 day trial for free to let you use the gym facility before joining the clubs.
See ya!
All branches review (Until July 2023)
As of January 2023, I visited all existing branches of Jetts fitness in Thailand. You can click club location below to see my workout experience at each club!
Chiang Mai
Nakhon Ratchasima (Korat)
Ayutthaya
Nonthaburi
Nakhon Pathom
Bangkok
Stadium One
FYI Center (closed)
SP Building
Sena Fest
Asoke (this post)
MS Siam Tower
Siam Square One
The PARQ
Gaysorn Village
Index Living Mall Rama Ⅱ
Chonburi
Chanthaburi
Petchaburi
Prachuap Kiri Kahn
Phuket
Perth (Australia)
Victoria Park
Fremantle
Yokine
Rivervale