Welcome back to fitravelife.com!
Effective August 23rd, 2023, Anytime Fitness Japan abolished their rule that new member can use other branches than home club after 31 days passed so that everyone, even new member can use all clubs in the world from August 23rd.
Thanks to this change, now I can use any branches of Anytime Fitness so I started gym hopping where I can go.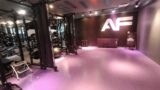 Complete guide to Anytime Fitness Japan and gym overview of Chiba Takashina 千葉高品
This article might also help understand the specific rule of Anytime in Japan for those who has membership in other countries.
For the first one, I chose Anytime Fitness Yotsukaido (四街道) branch since I found the review that they have plenty of plate loading machines. I would say their machine line-up might be the best in Chiba prefecture. In case you are near here or chance to go, I highly recommend this branch and please try and enjoy Hammer Strength machines.
Anytime Fitness Yotsukaido branch is recognized as Hammer Strength official training center where more than 15 Hammer strength machines is installed. This certifies its high standard of gym facility of Yotsukaido branch since only few Anytime branch in Japan has this certification among 1,000 clubs.
Official Hammer Strength Training Centers | Hammer Strength
Select fitness facilities have the prestige of being an Official Hammer Strength Training Center. Join an elite group that has chosen to offer the best.
Location of gym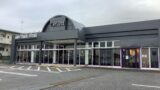 エニタイムフィットネス四街道店 24時間営業のフィットネスジム
ジムとマシンのみで365日24時間OPENだからご自分のペースで気軽にご利用できます。只今キャンペーン実施中!ご見学受付中!
Gym is located about 10 minutes walk towards east side from JR Yotsukaido (四街道) station. Please exit from South gate then turn left to walk straight. Be careful of cars  passing since walkway is very narrow.
Walk on right side after Seven eleven on the way.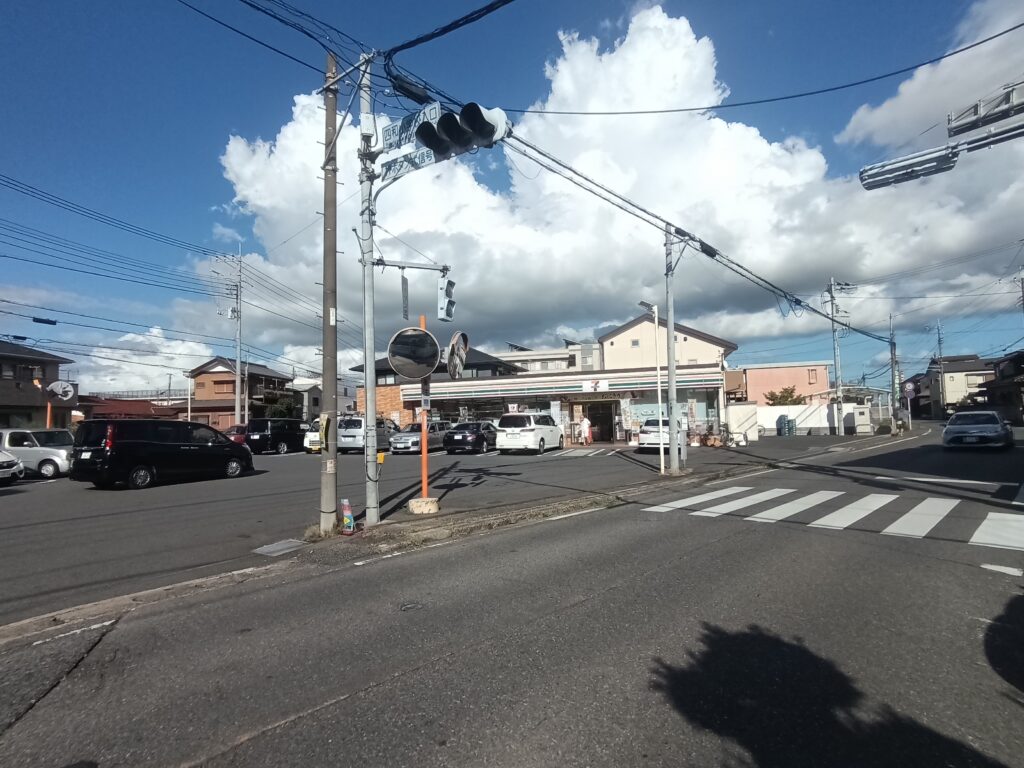 Turn left once you see Mos Burger (モスバーガー), Anytime Fitness Yotsuikaido is just one block away. By the way, Mos burger is famous for its nice tasted burgers, please try once when you come to Japan.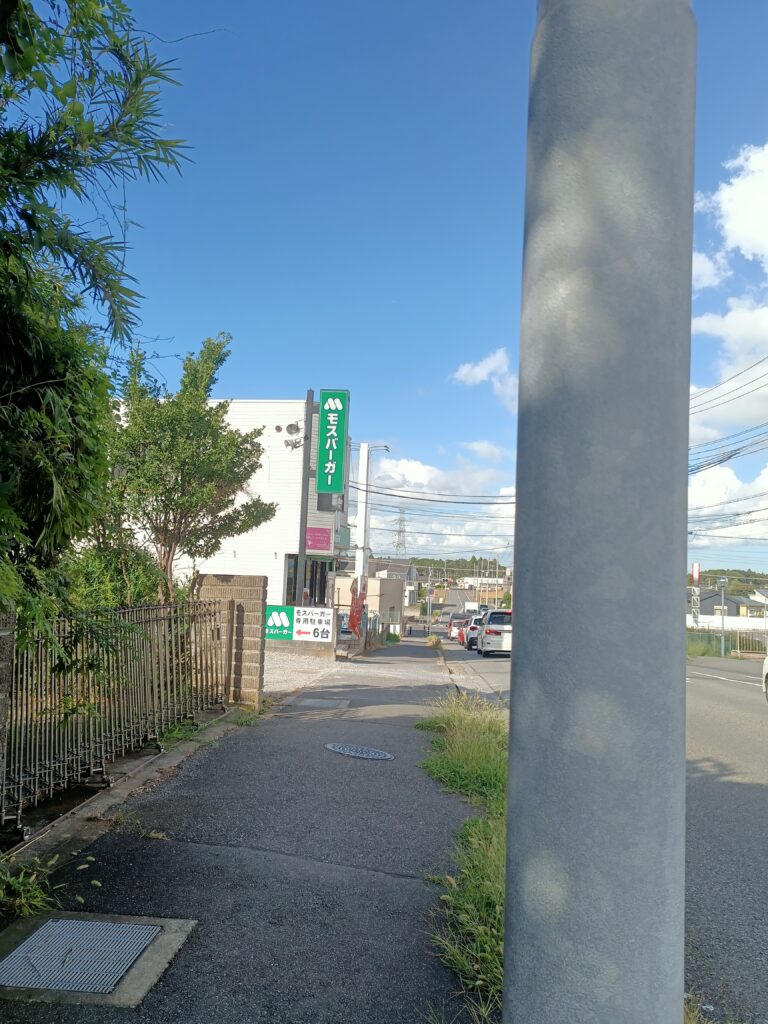 Here comes Anytime Fitness Yotsukaido branch! Look at its side of the gym and wide free parking space accommodating 21 cars at the same time. Motor bikes nd bicycles can be parked free also in clubs.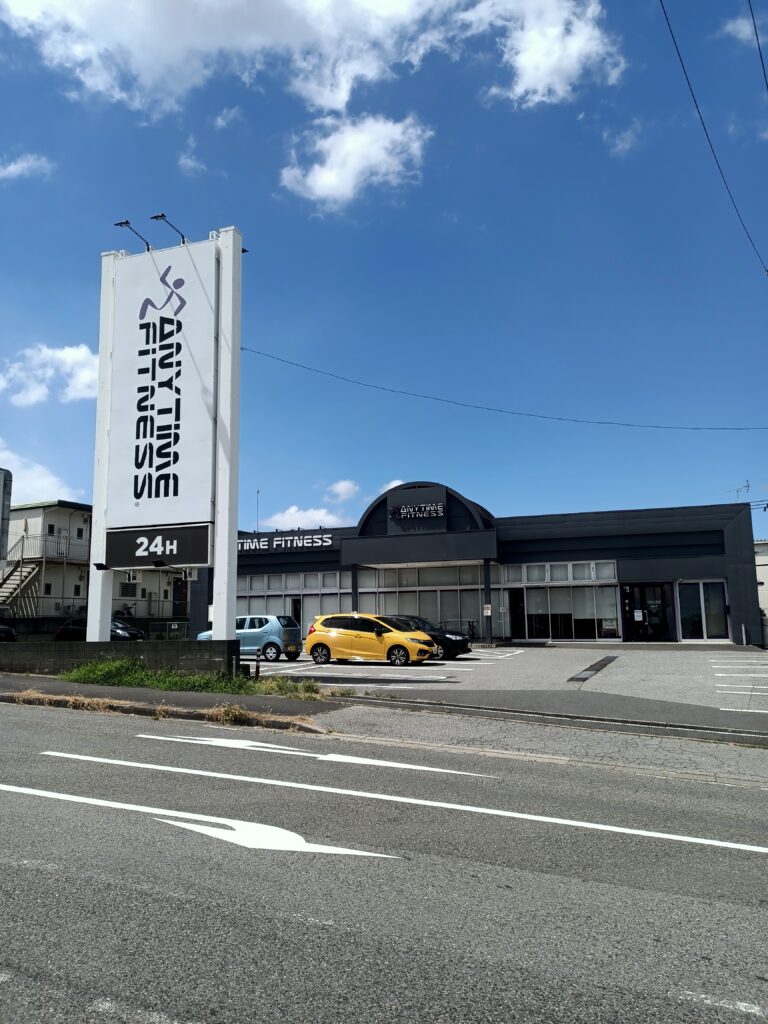 Huge car parking space owned by Anytime Fitness.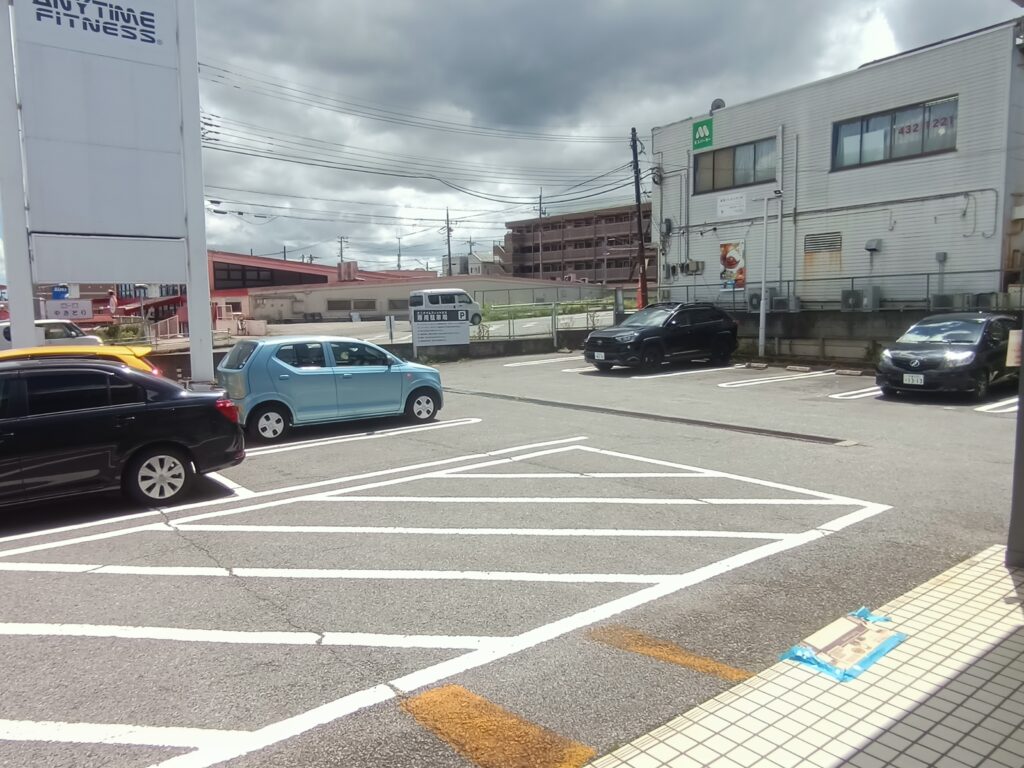 Bicycles and motor bikes are also parked in front end.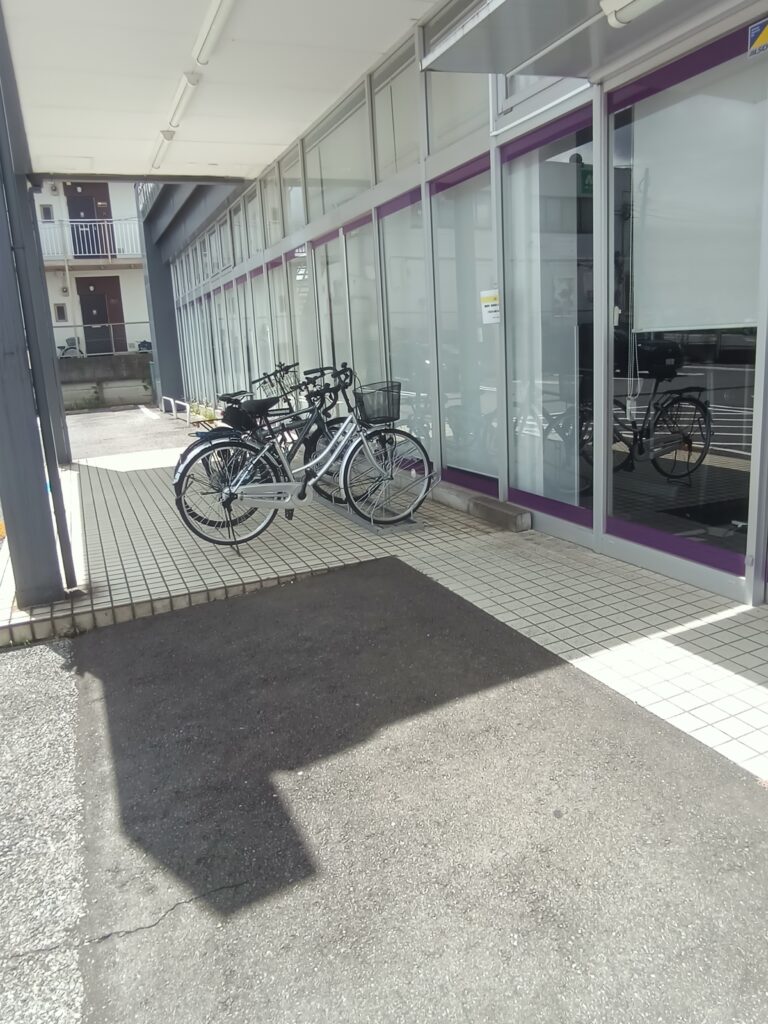 ヤックス (YACS) is super market and drug store on the other side of gym, you can buy food, proteins, and water especially because there is no drinking water server in the gym.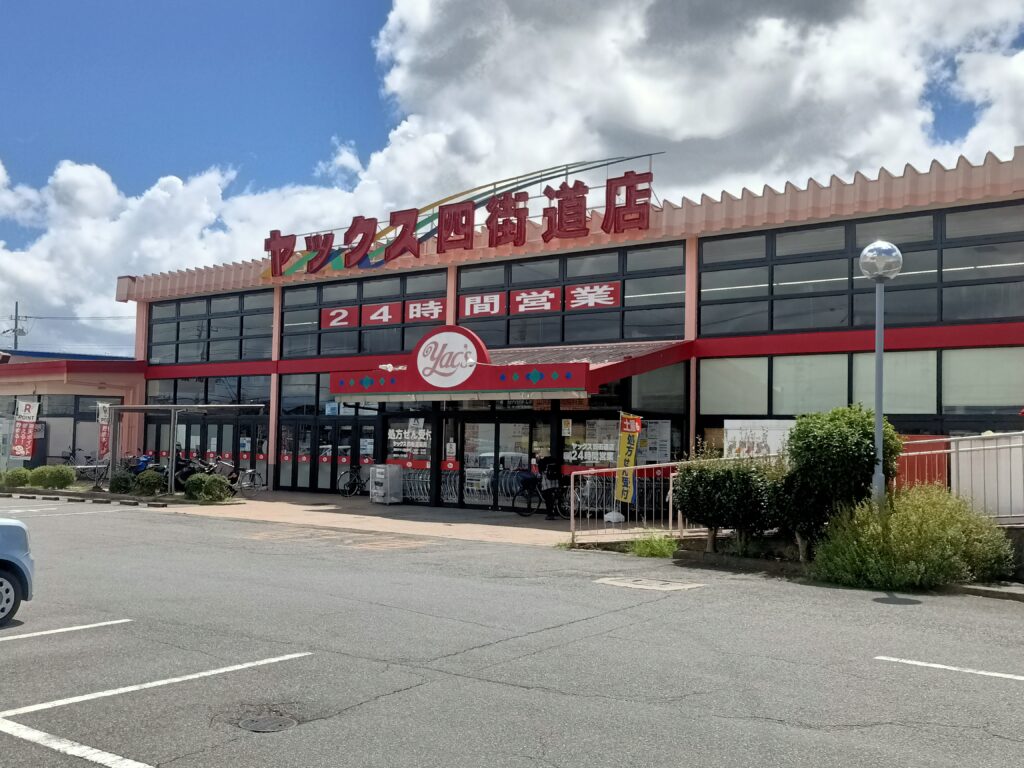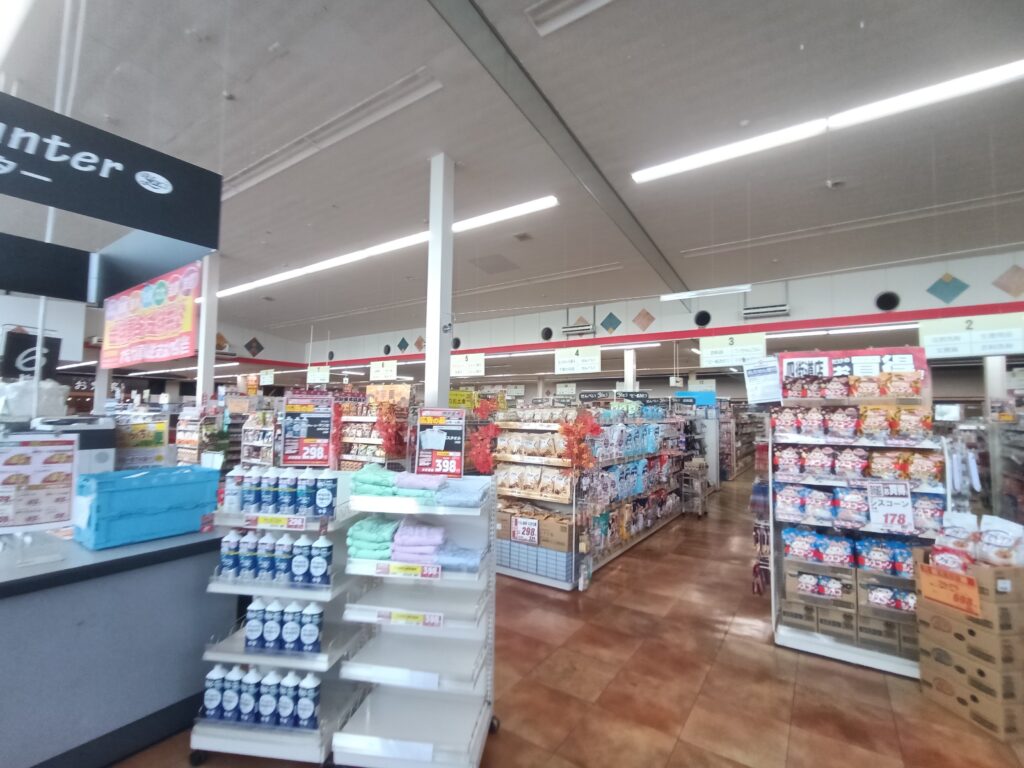 Healthy sereal bars SOYJOY.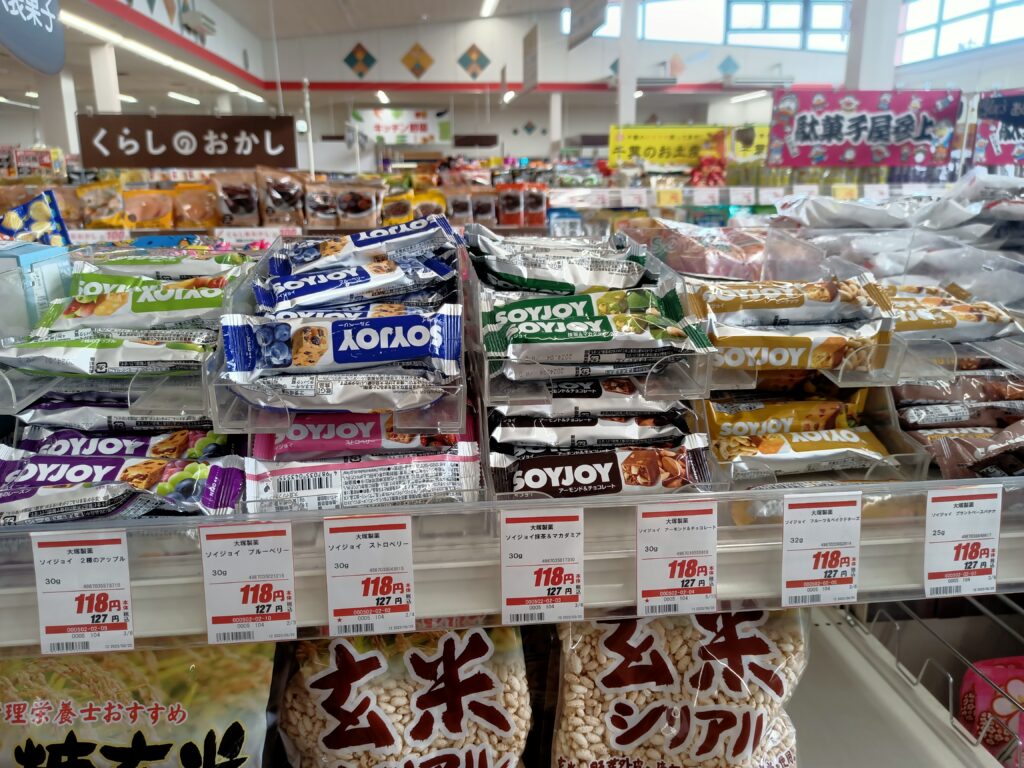 Only one protein bar I found, contains 16g of protein.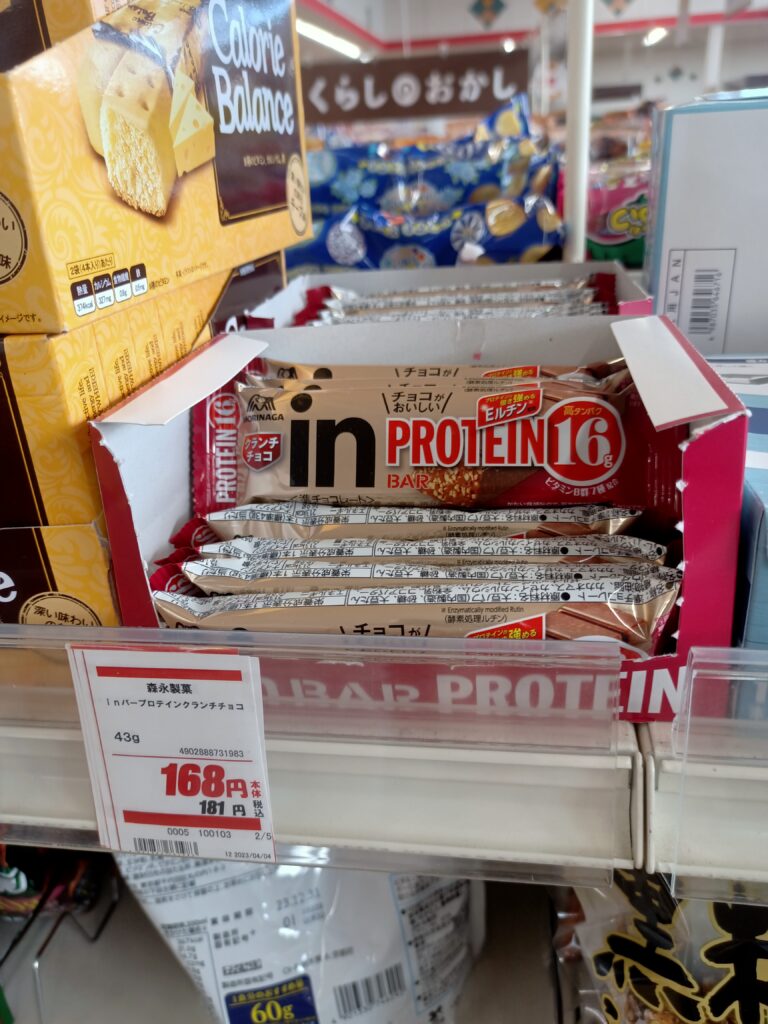 Drink corner offers various protein drinks.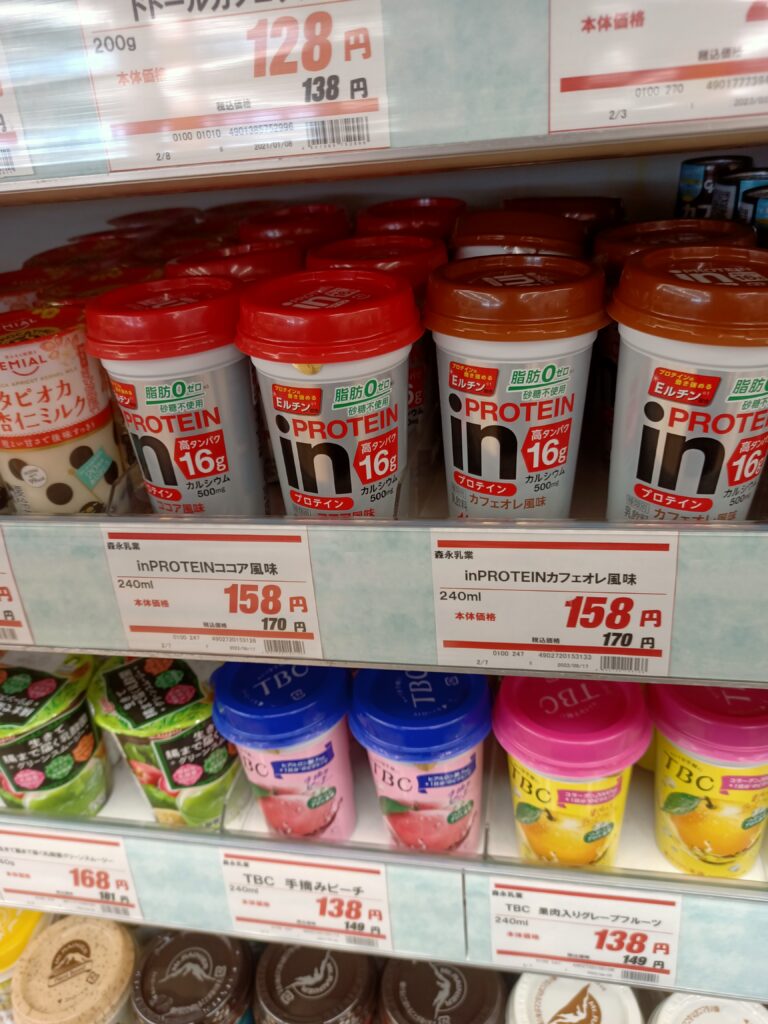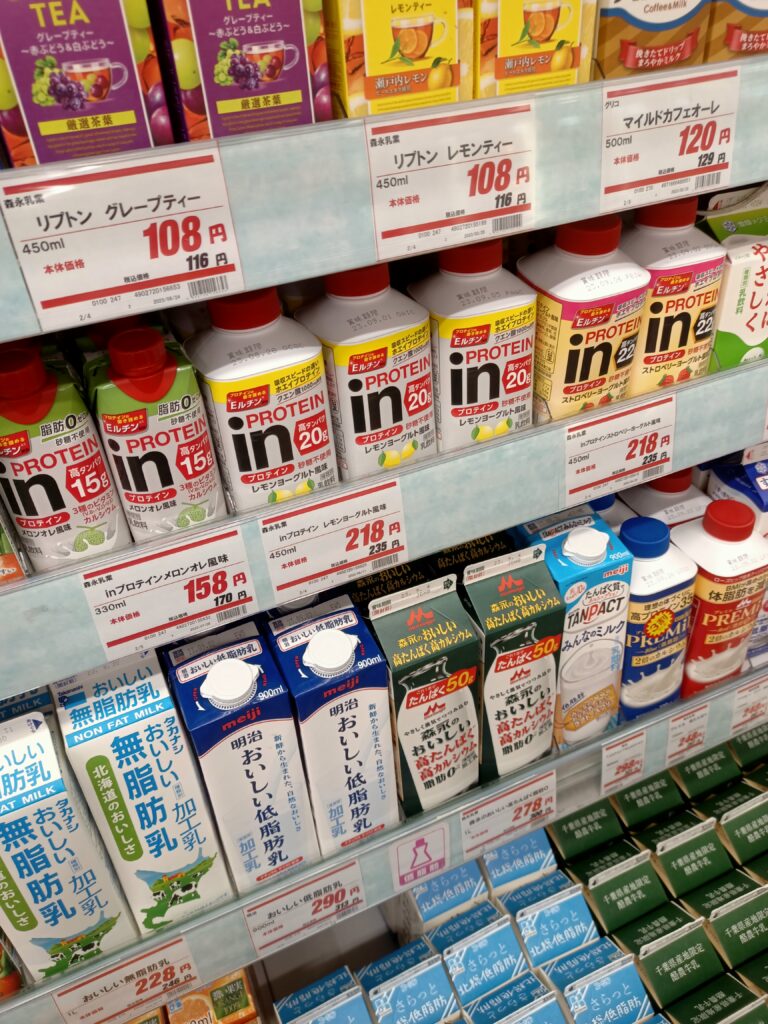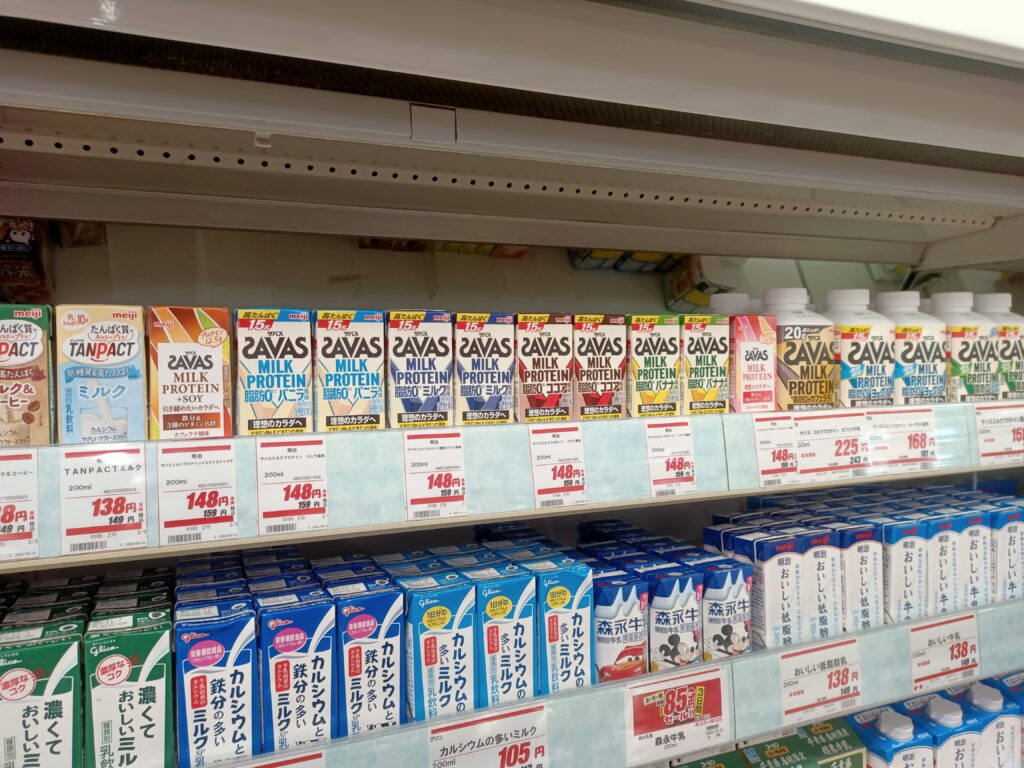 Once your stomach is ready for exercise , let's get back to the gym! I will show you around all gym equipment and facility here.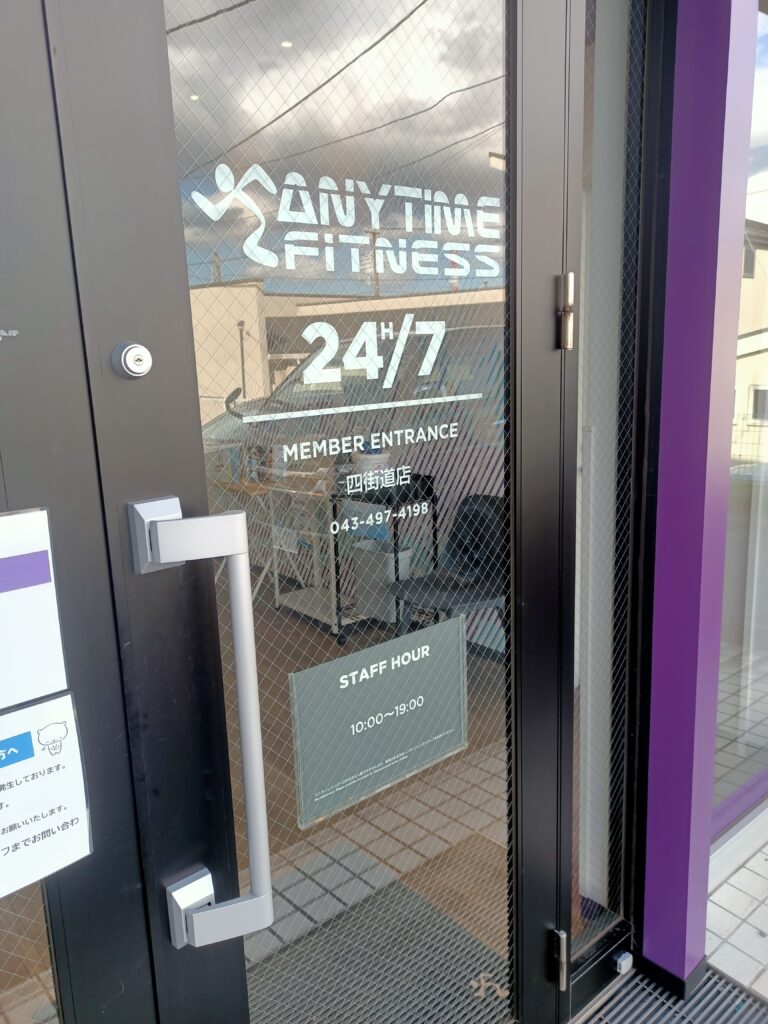 Entrance area is very small, at the time, new member was discussing with staff for contract. This reception area also can be used for making phone calls and eating non smelly food.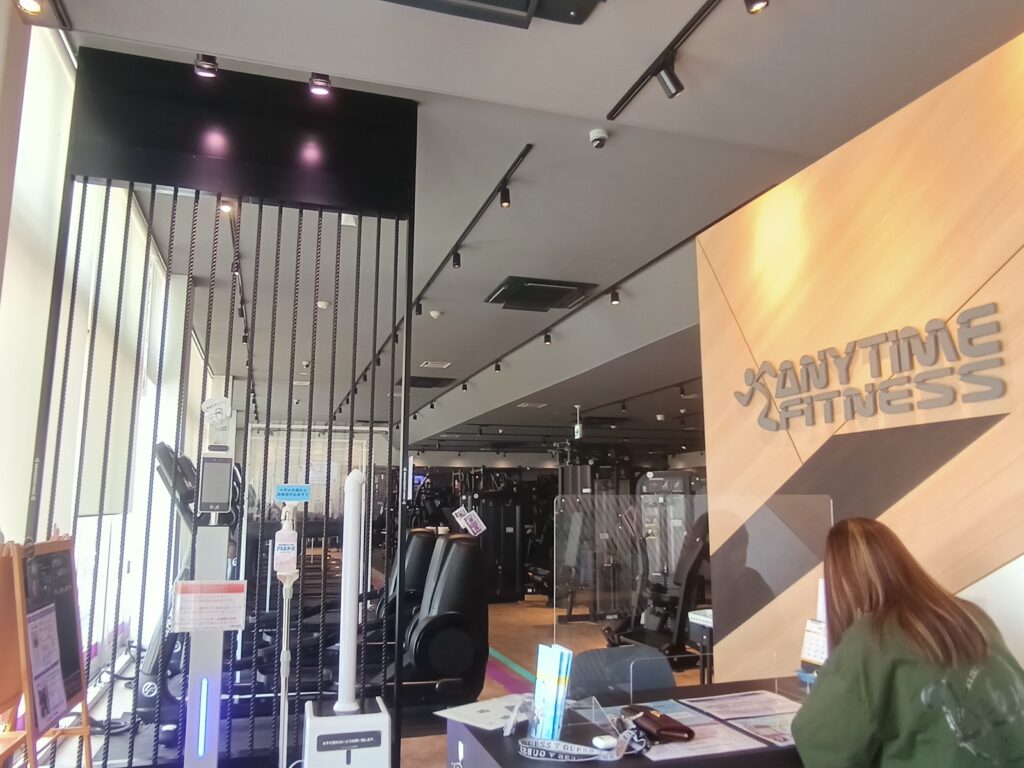 Locker and bath room
At the back of reception area, you can find locker room, changing room, toilet and shower booth. This branch has also tanning machine. In Japan, some people prefer to tan their skin by machine to increase the masculinity. Or purpose to join the fitness competition since some organization does not allow spray nor oil tanning, which make dirty on event hall.
You can keep your stuff and outside side shoes if any here at the locker. For safety awareness, you better bring your valuables with you all the time in the gym.
Anytime Fitness Japan allows you to work out outside shoes, so actually no need to change shoes.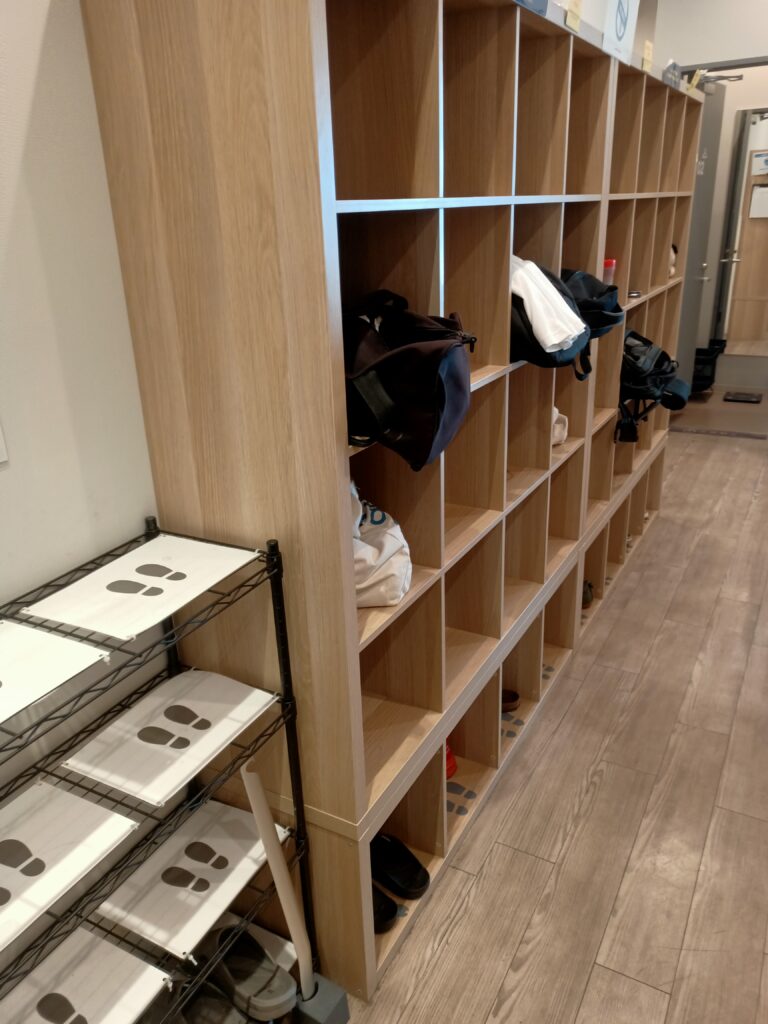 Clothes hangers mostly used in winter season.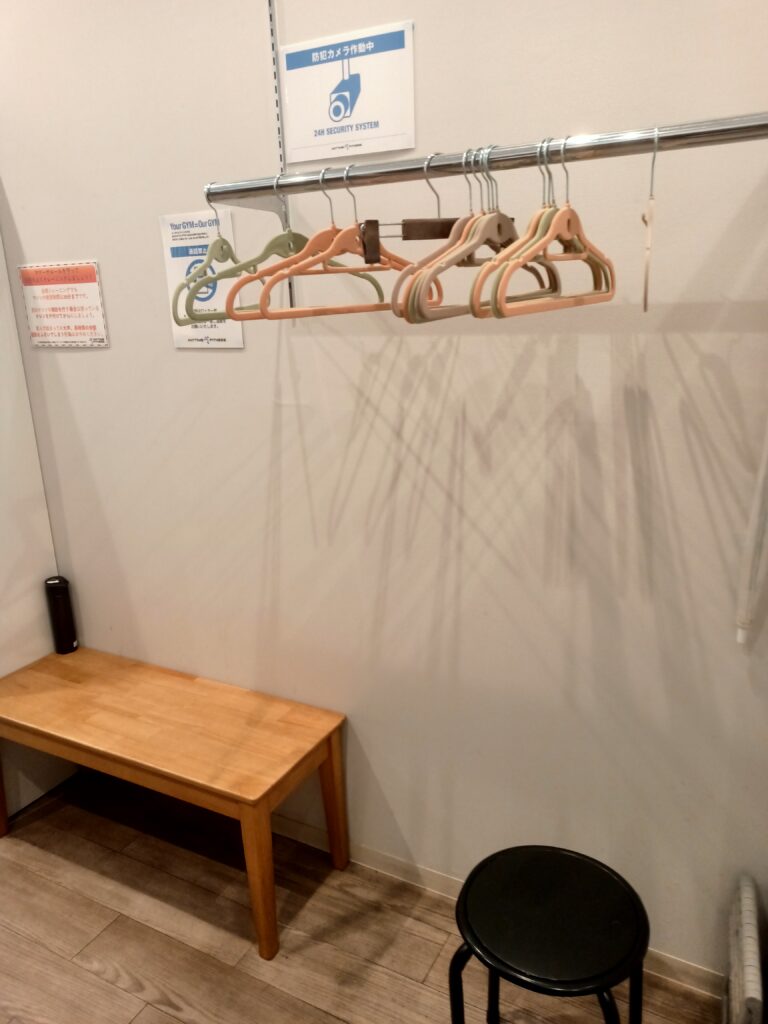 Few personal lockers are available for monthly contract 1,100 yen.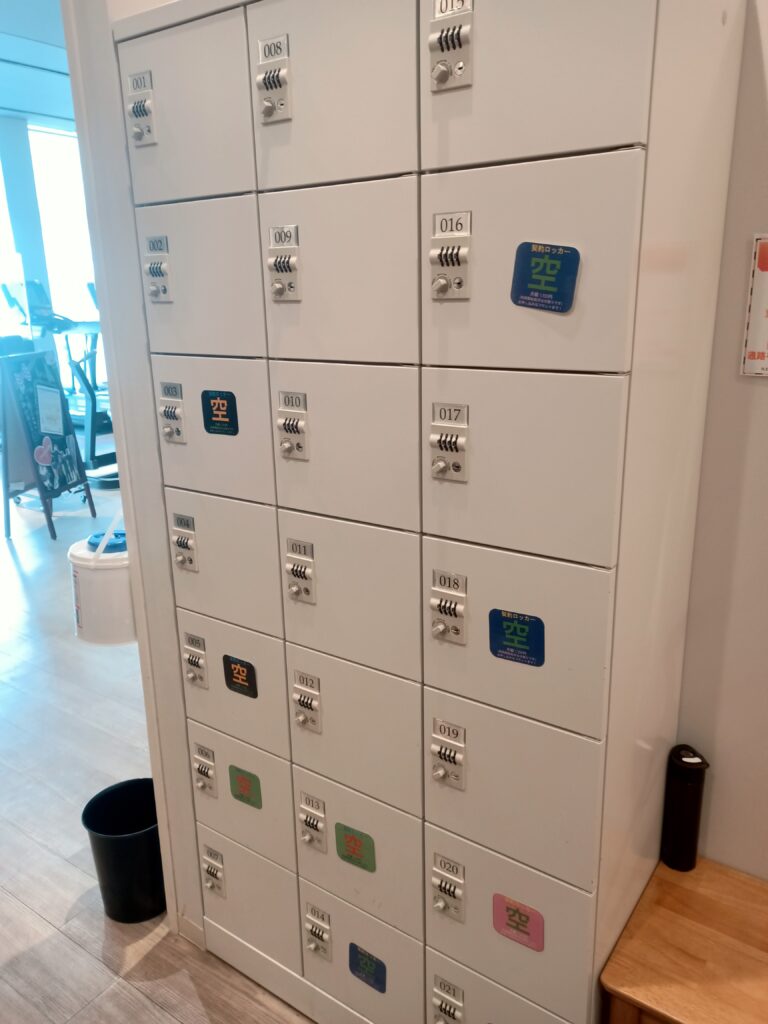 For quick energy and liquid charge. Don't forget this club does not have water server.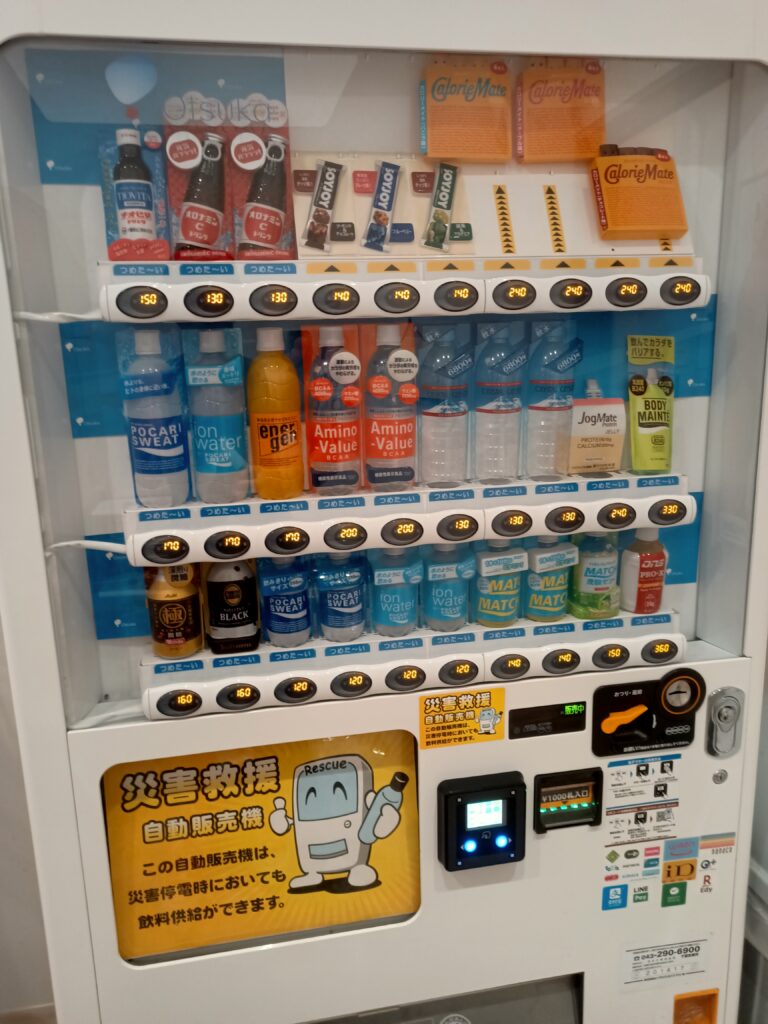 There are 3 changing rooms available at the club. In any case, you cannot change your closes while other people around you. If you do, club will revoke your membership.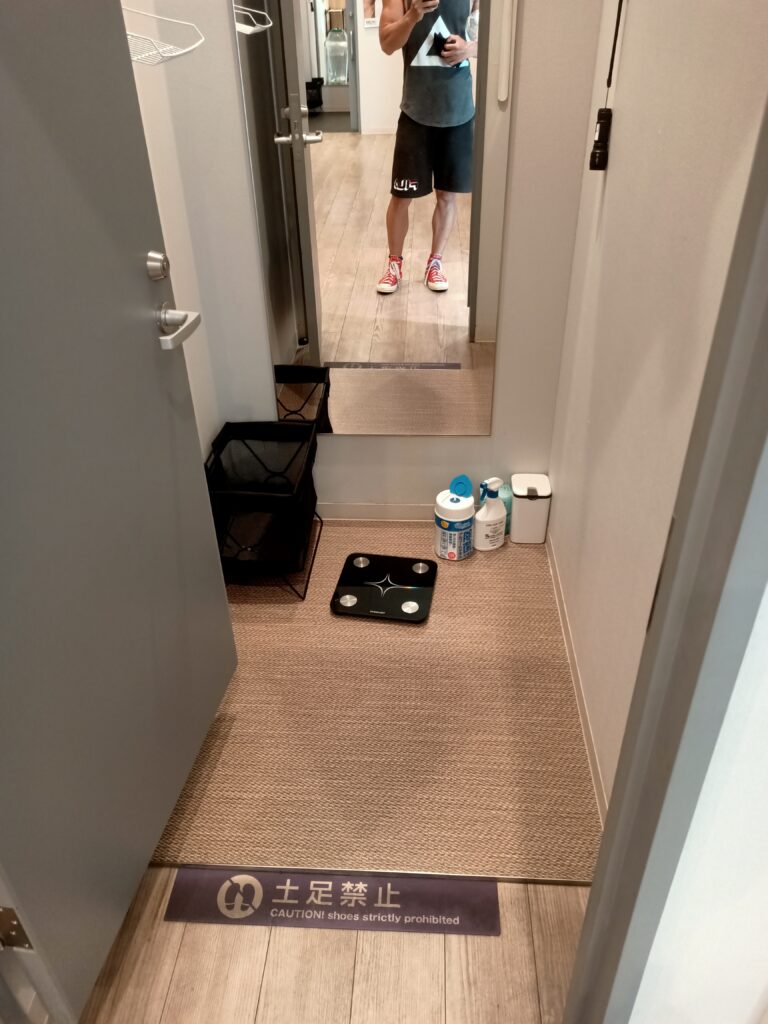 Anybody can use tanning machine with fee. 500 yen for 7 minutes.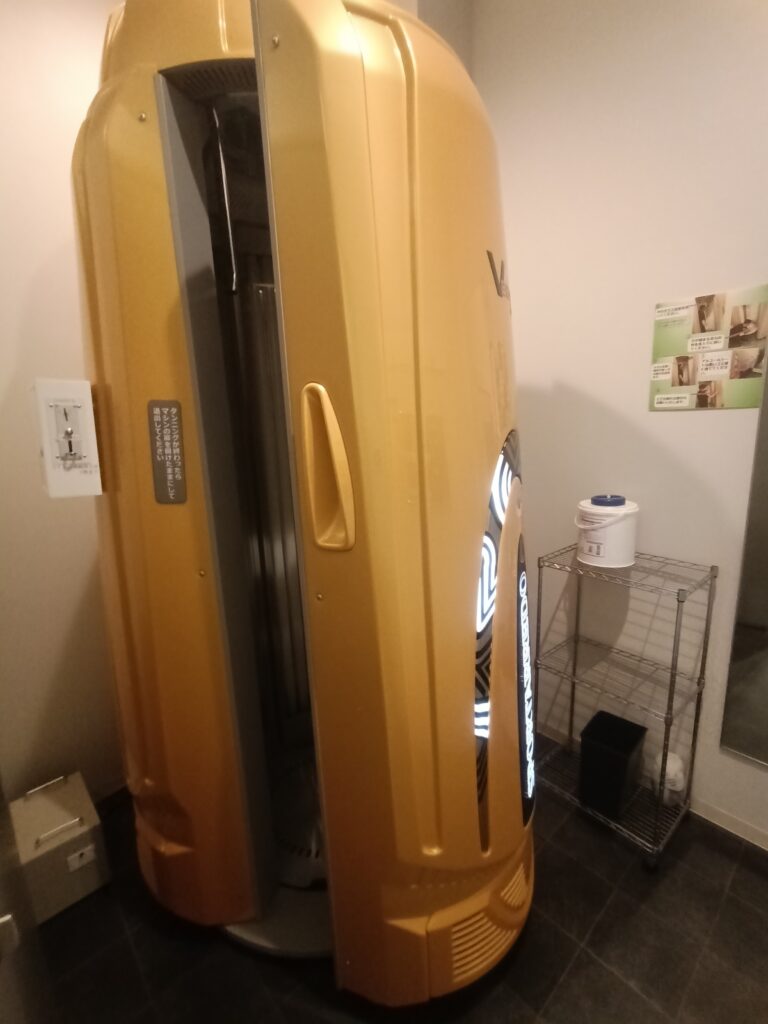 Machine brand is Sportapredo. Well, I have no interest to tan my body by machine so I cannot say anything for this, haha. If you are interested, please do so by your own risk.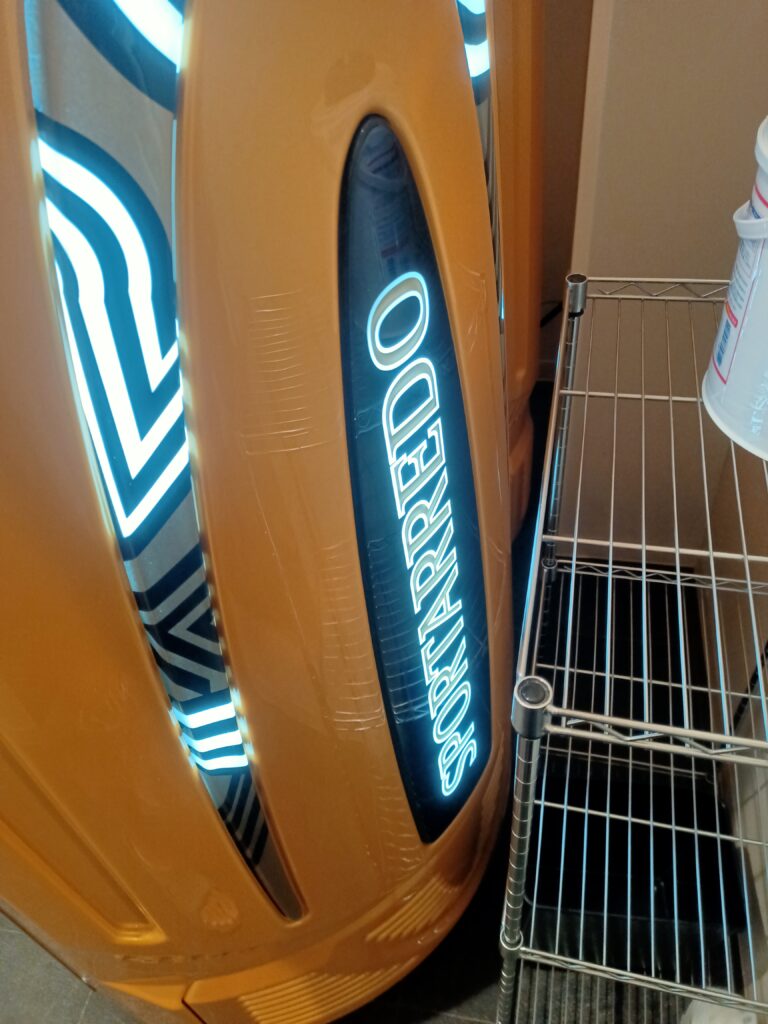 Inside the machine.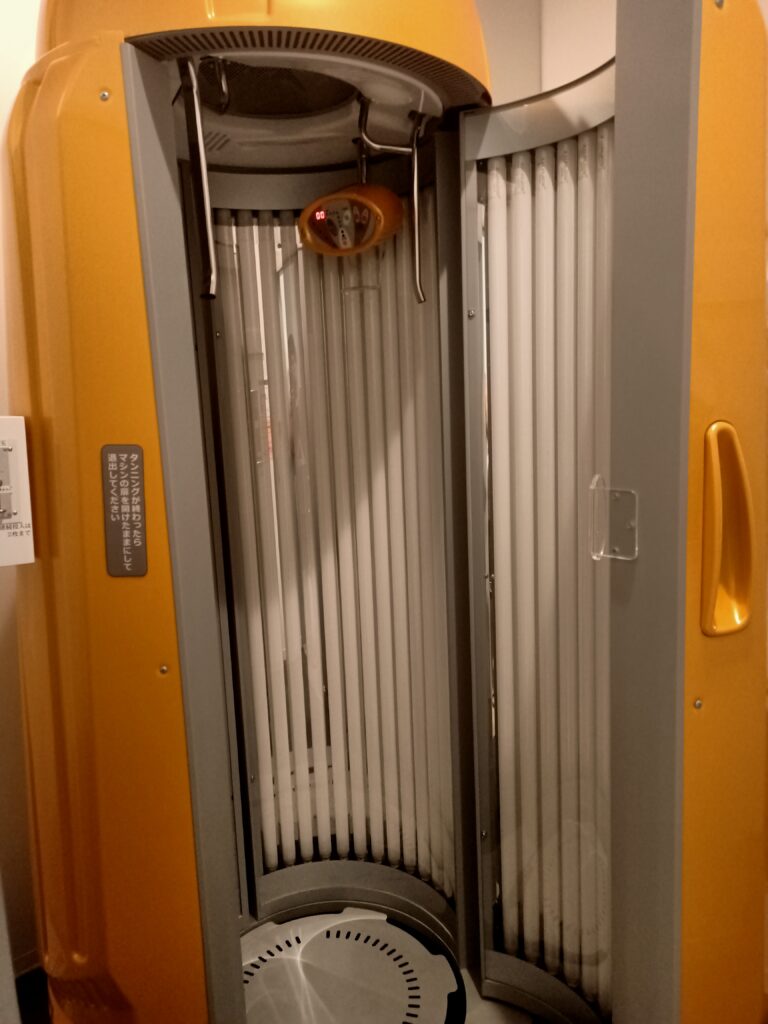 Operation pad?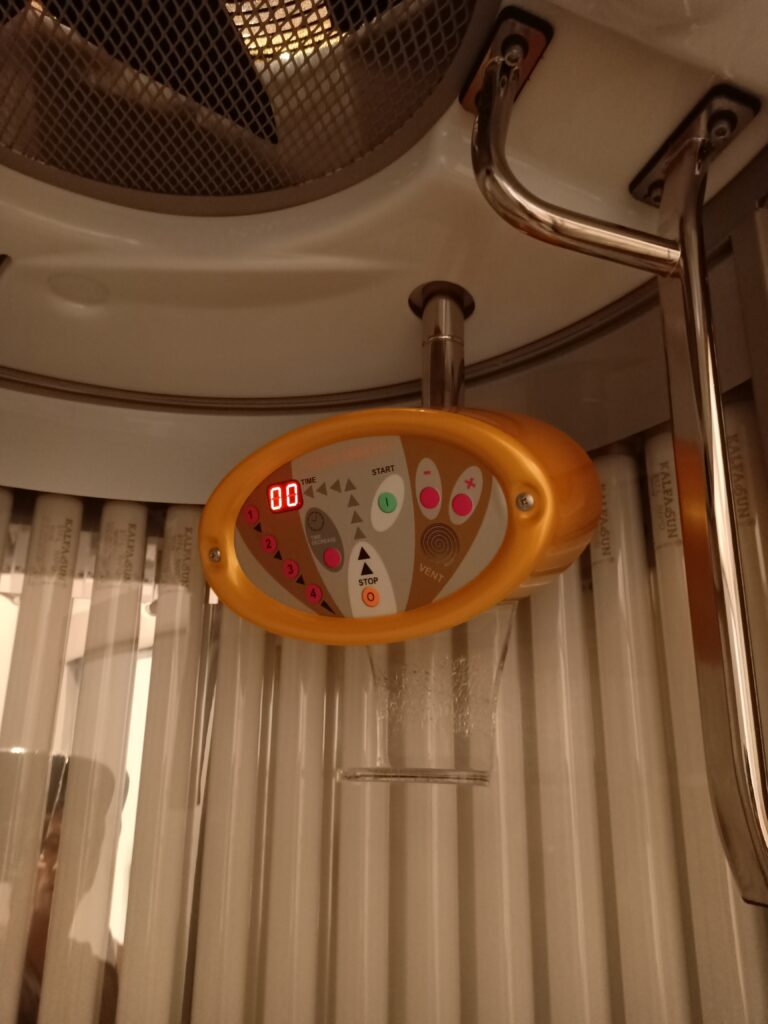 Only 500 yen coin is used for machine. Maximum continuous use is 2 coins, which is 14 minutes. Insert coin in 500円玉 hole.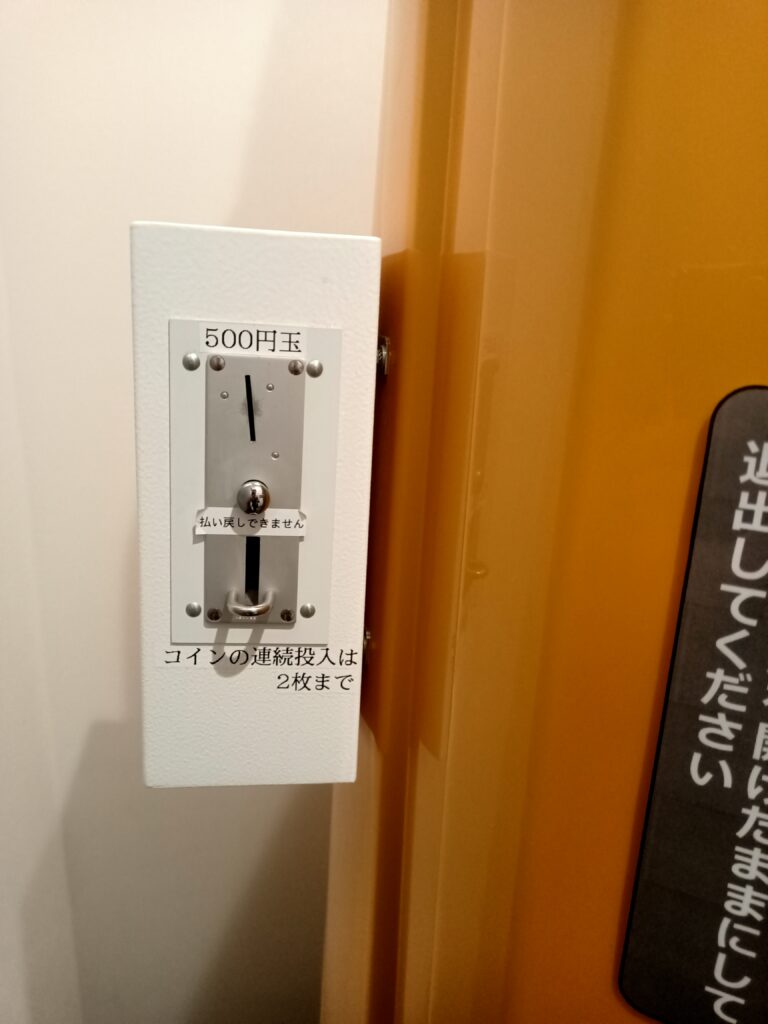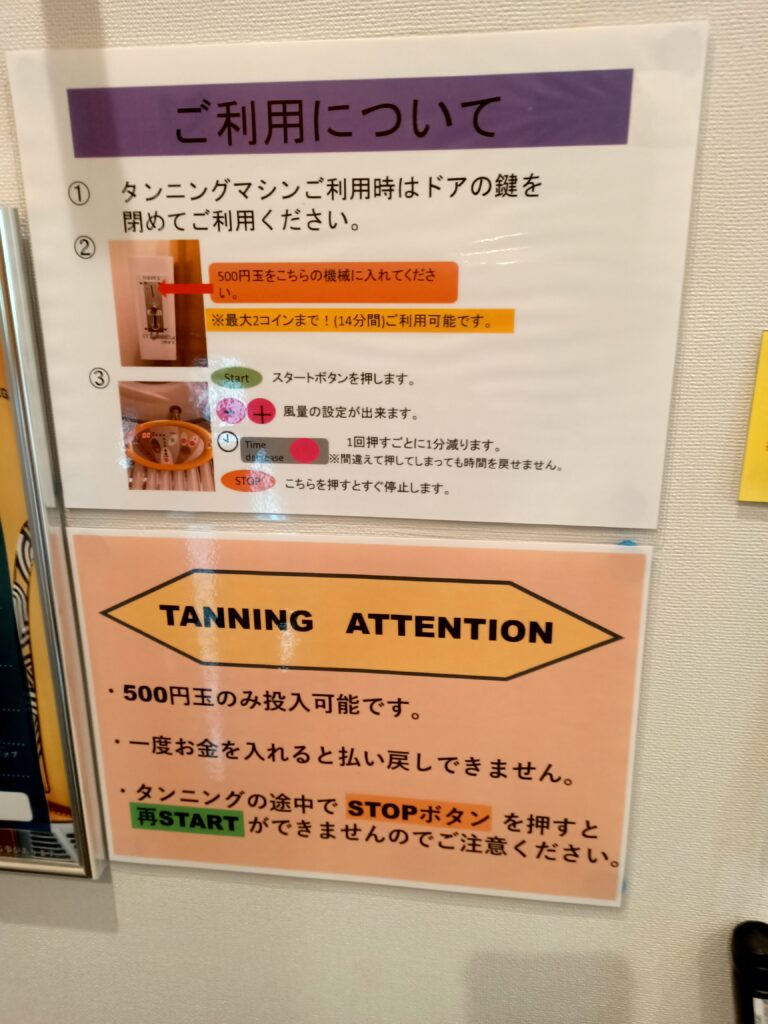 Below is before and after comparison of tanning machine. 3 hours passed after 14 minutes use of machine, your skin color will be the picture on right side.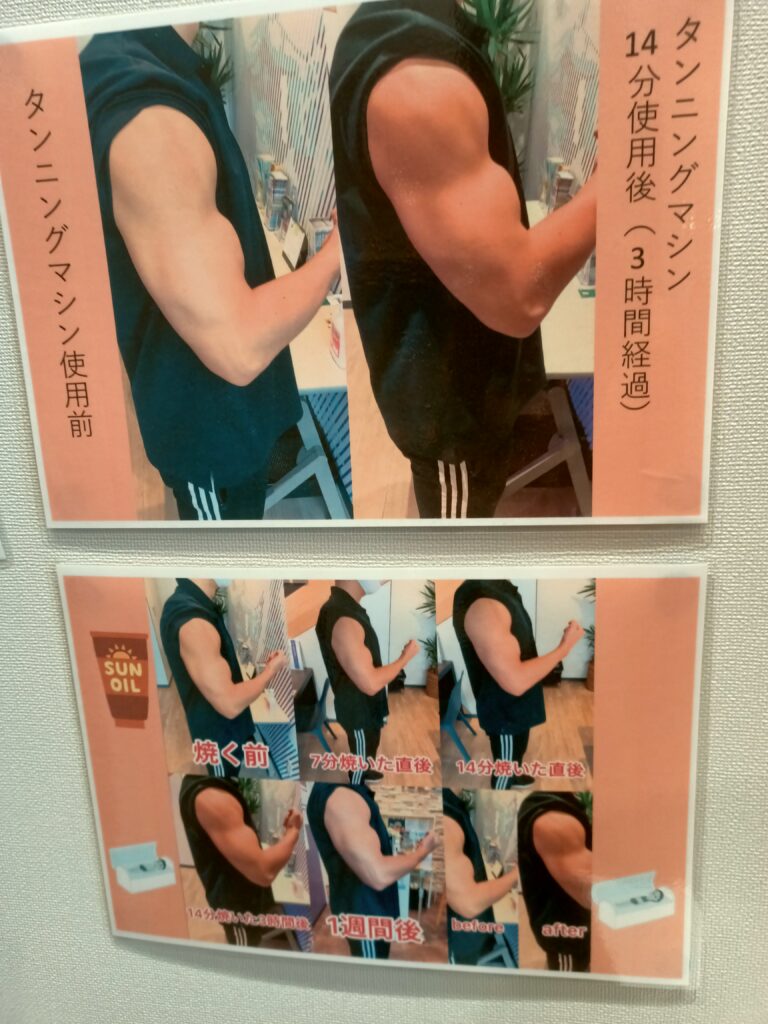 Explanation of tanning machine here.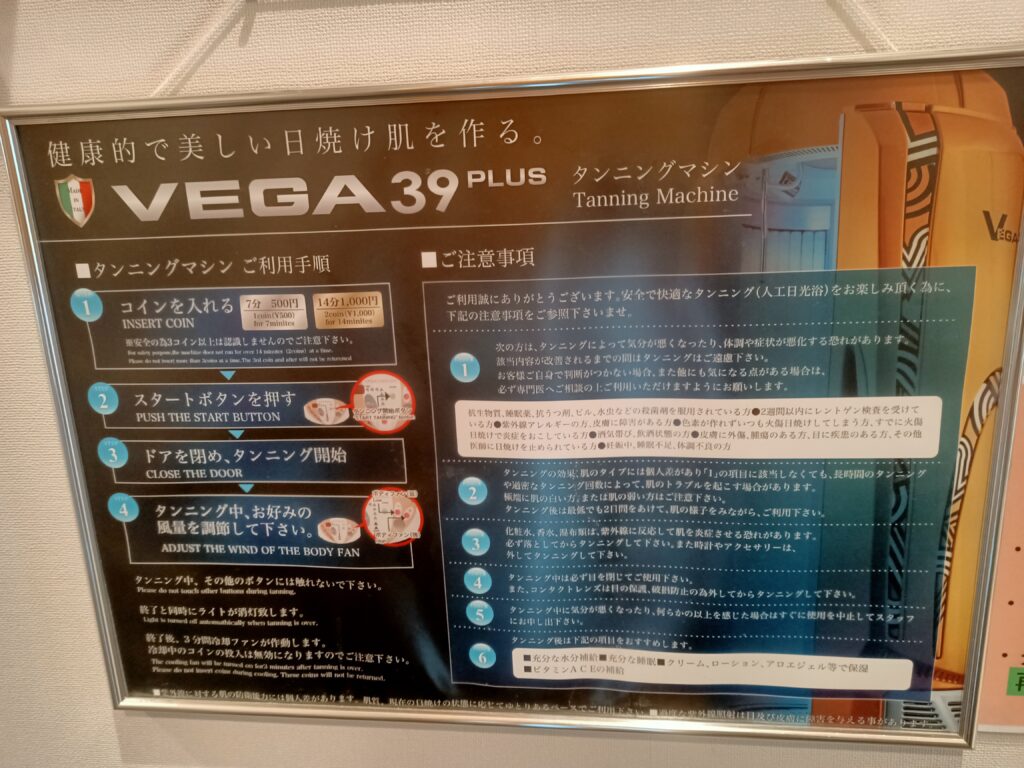 Continuing to toilet room and shower room. Washing stand is just only one so do not spend too much time here other than washing hand. No brushing, protein shaker washing nor goggling. On your right side here Women only zone has 1 set of toilet and shower booth.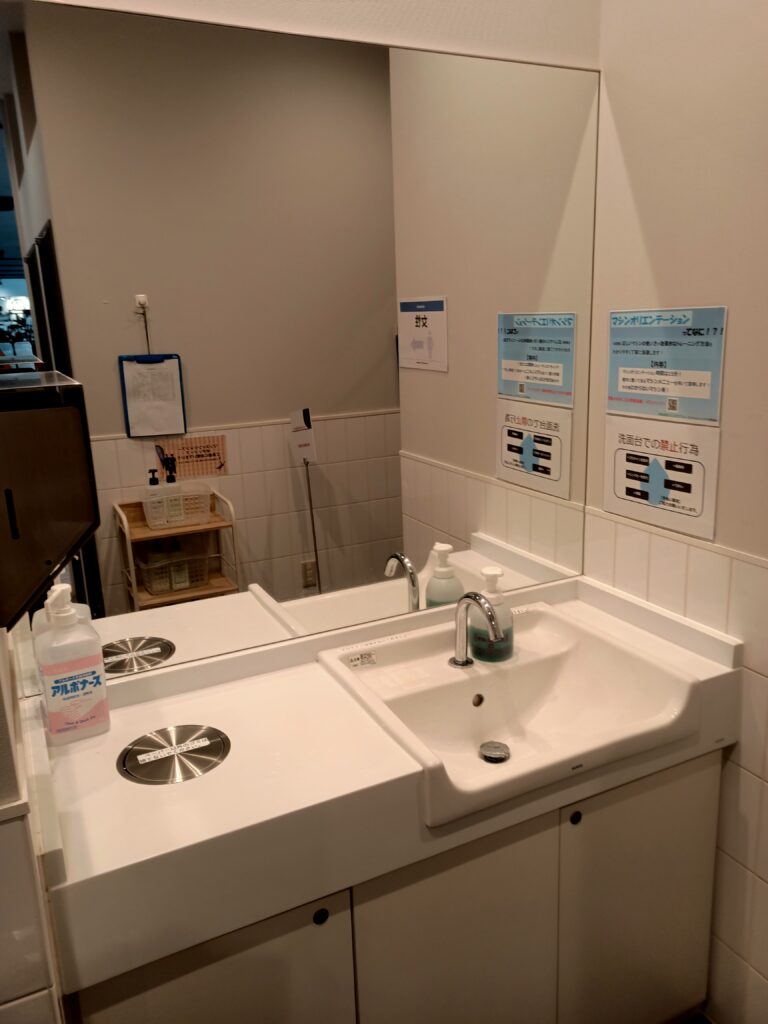 Unisex shower room and toilet room are 2 each. Below is the shower room picture inside.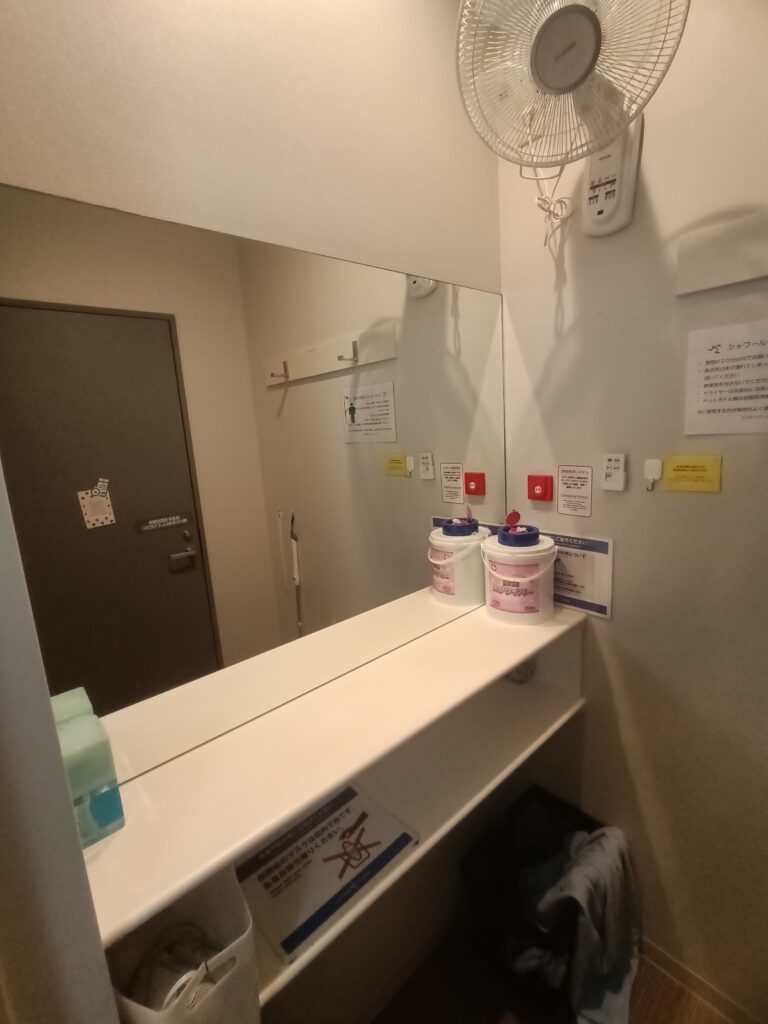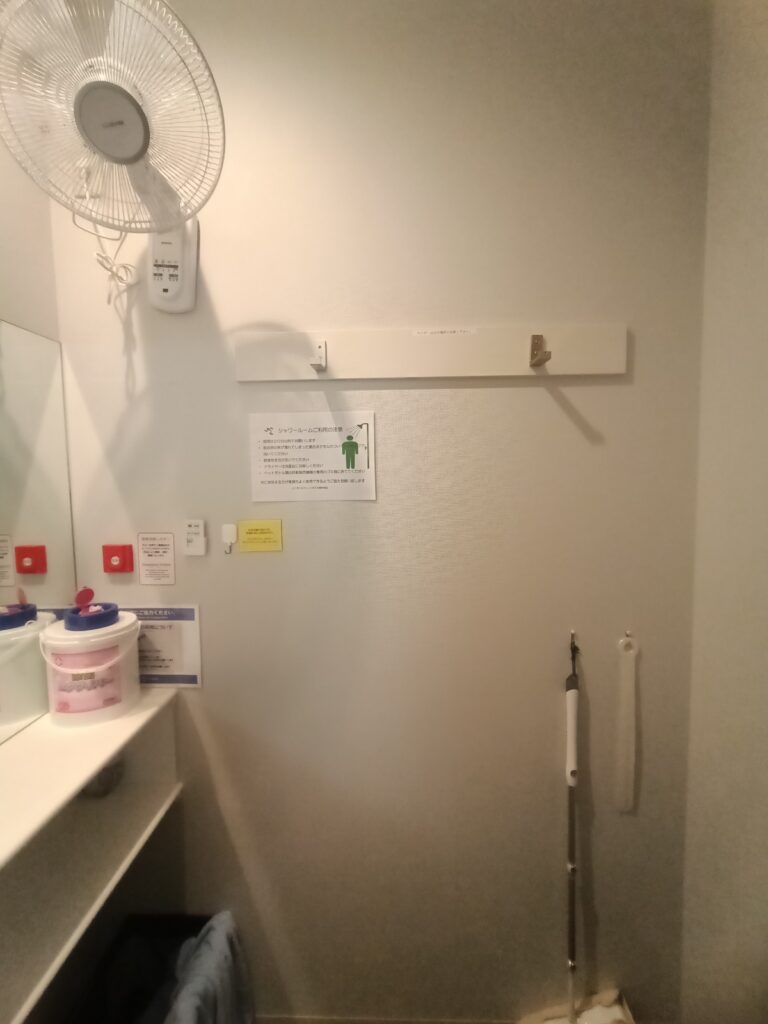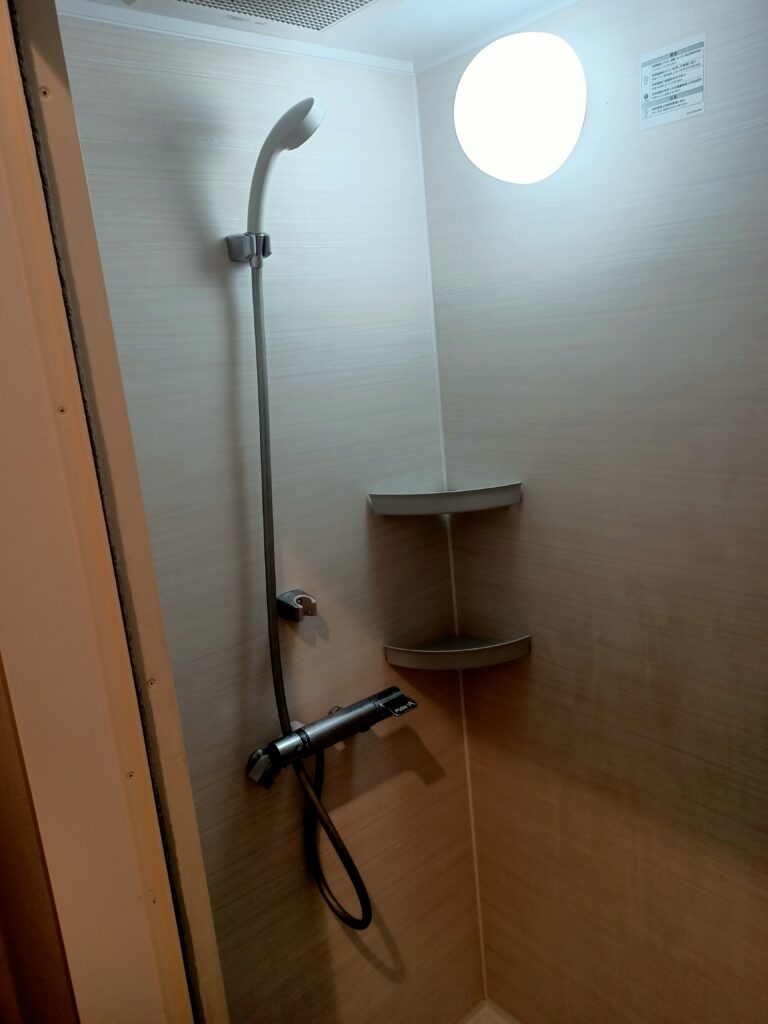 Put back dryer like below once done.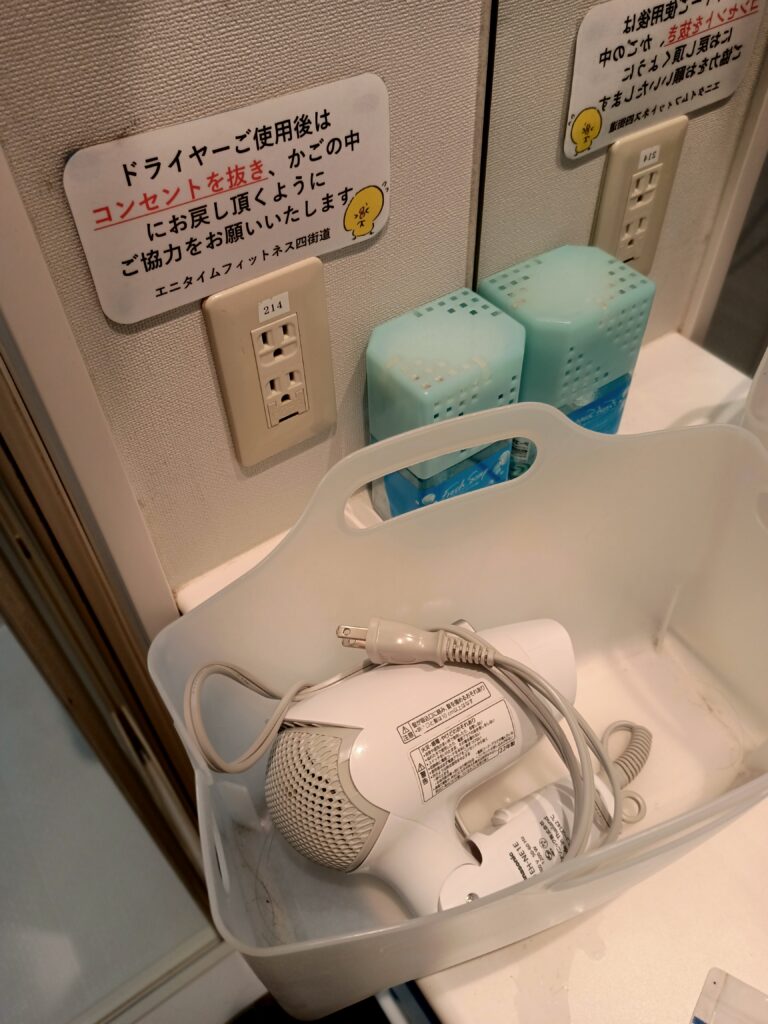 At washing area, they prepare free body soap and rinse in shampoo. Normally Anytime Fitness Club does not have these items.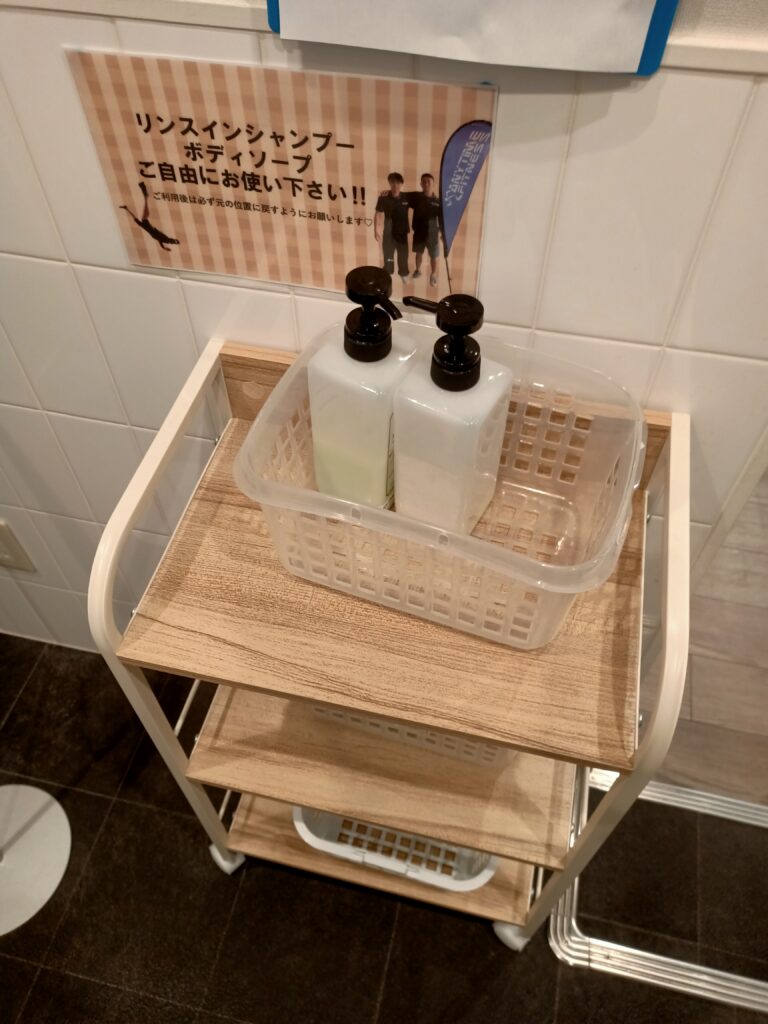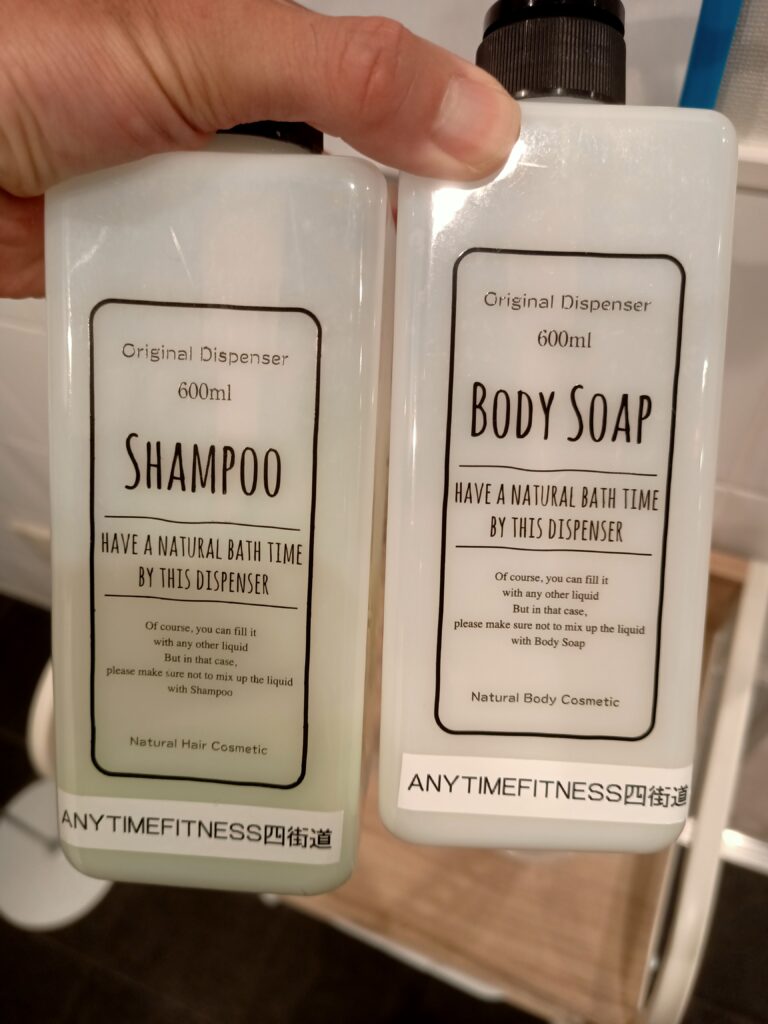 Please close the toilet lid after use.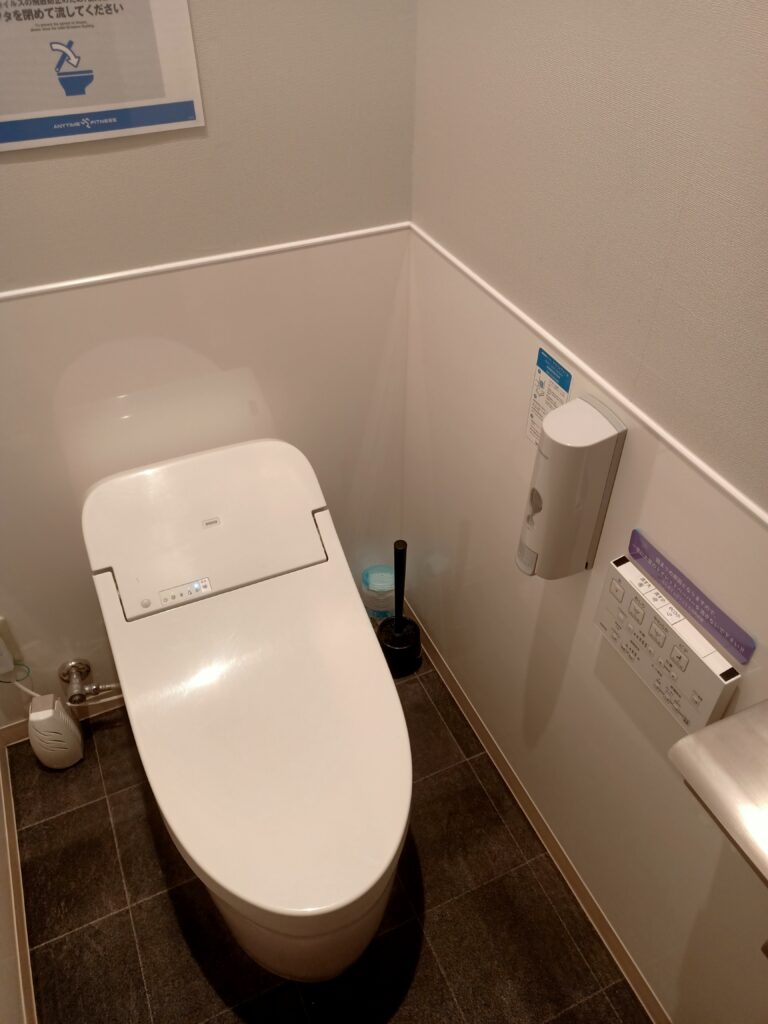 This branch offers Personal training service too. For basic movement of machine, staff can team you. However, If you want to focus more on your fitness goal, you can ask personal trainer who has certificate or knowledge as below. You can contact staff for details.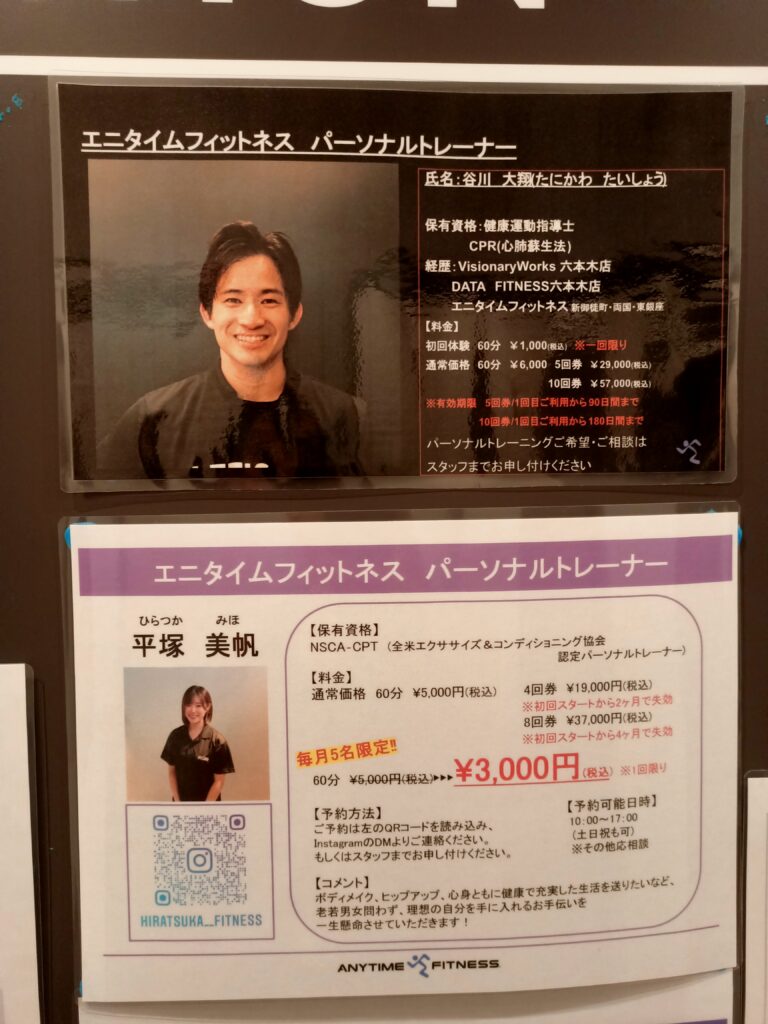 Below is general house rule which applies to most Anytime Fitness clubs
Max use up to 20 minutes for each machines. (60 mins for cardio)
No super set allowed.
Clean machines with sheet after use.
Put back equipment after use.
Do not shout nor speak loudly.
No use cell phone while occupying machines.
Food and phone calling allowed at entrance area.
Anytime Fitness has normally time limit for each machine use. However this rule is not so strict if it is not so crowed.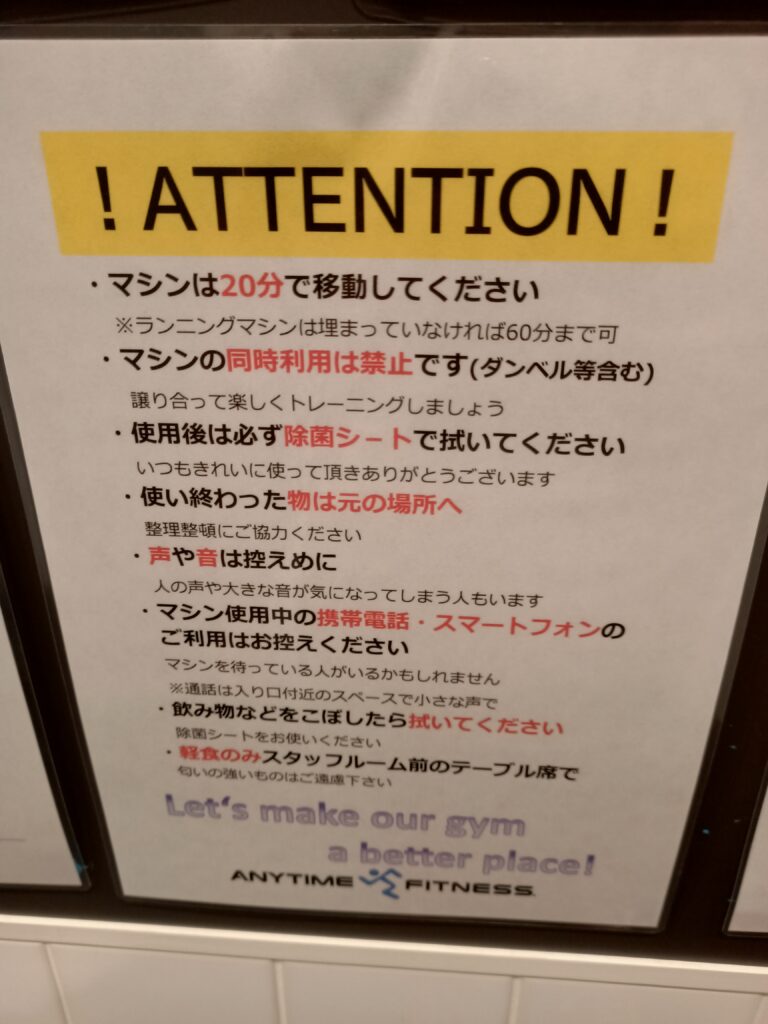 First aid set and emergency buttons besides locker area. Gym is open 24 hours, use necklace type emergency button especially for women while non staff hour to be secured.
You see the sign of "Hammer Strength official training center" on right upper side where it has more than 15 Hammer Strength machines can be certified as internationally high standard gym.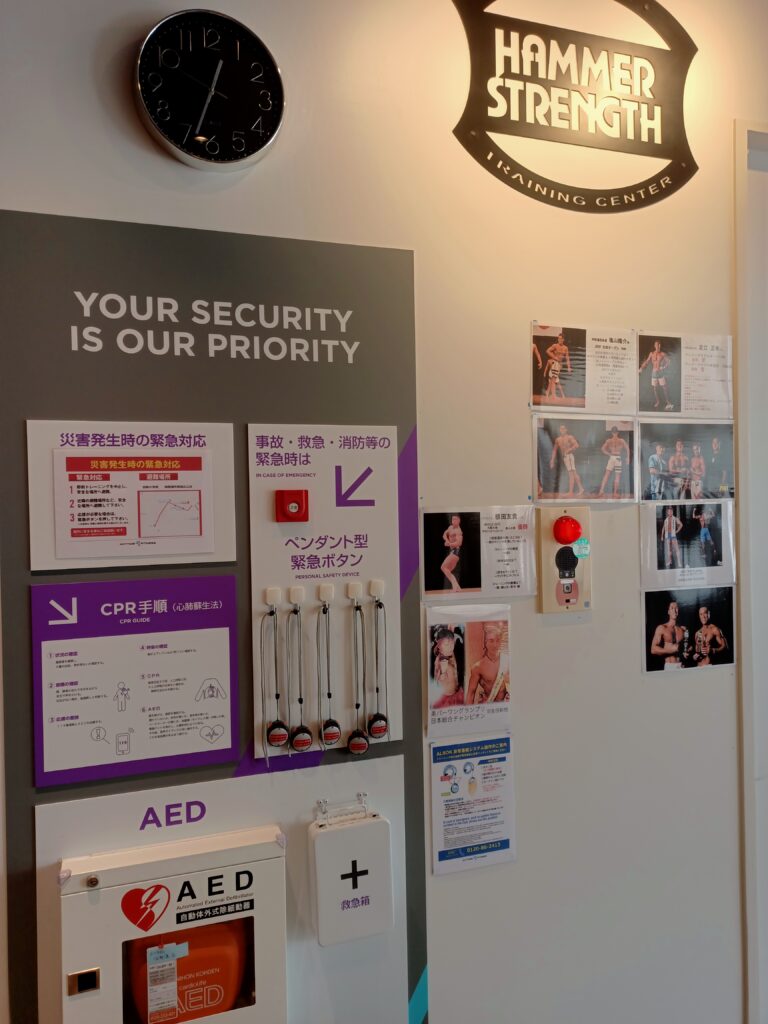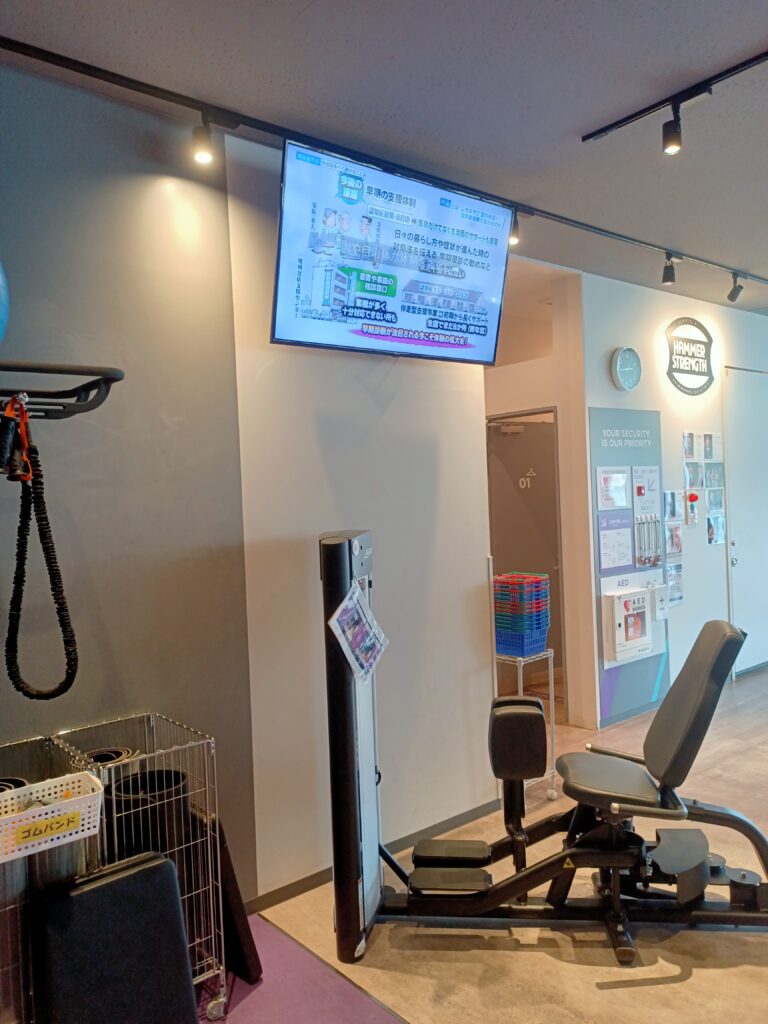 Timer to check your interval time.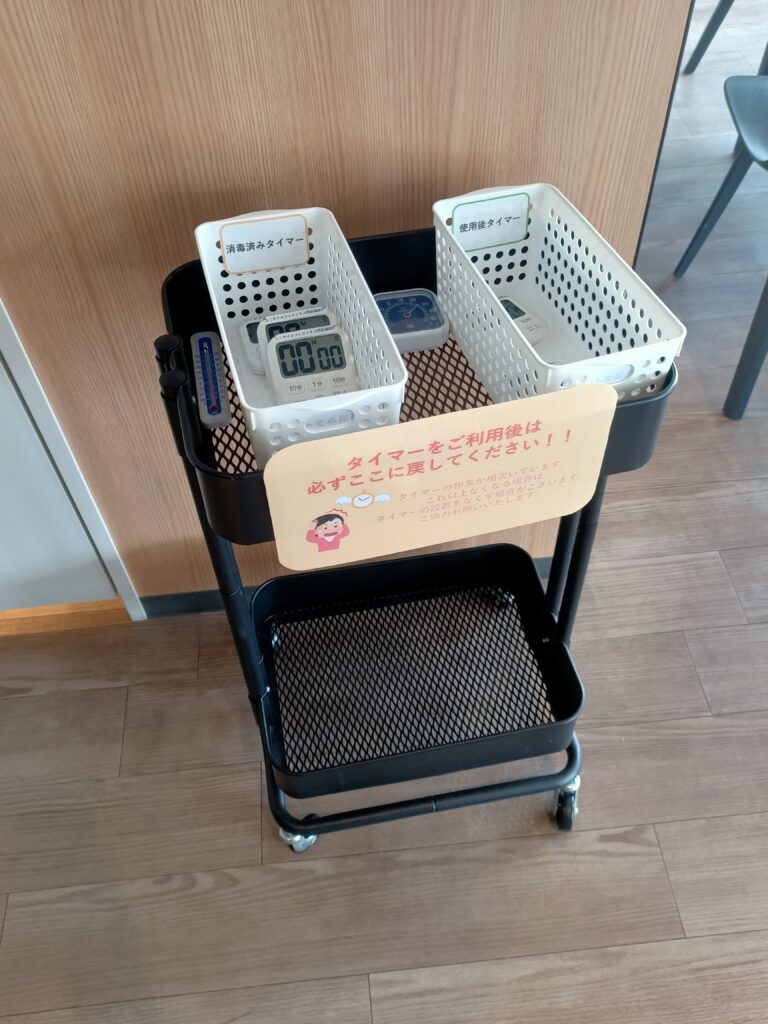 You can put your valuables with you inside basket.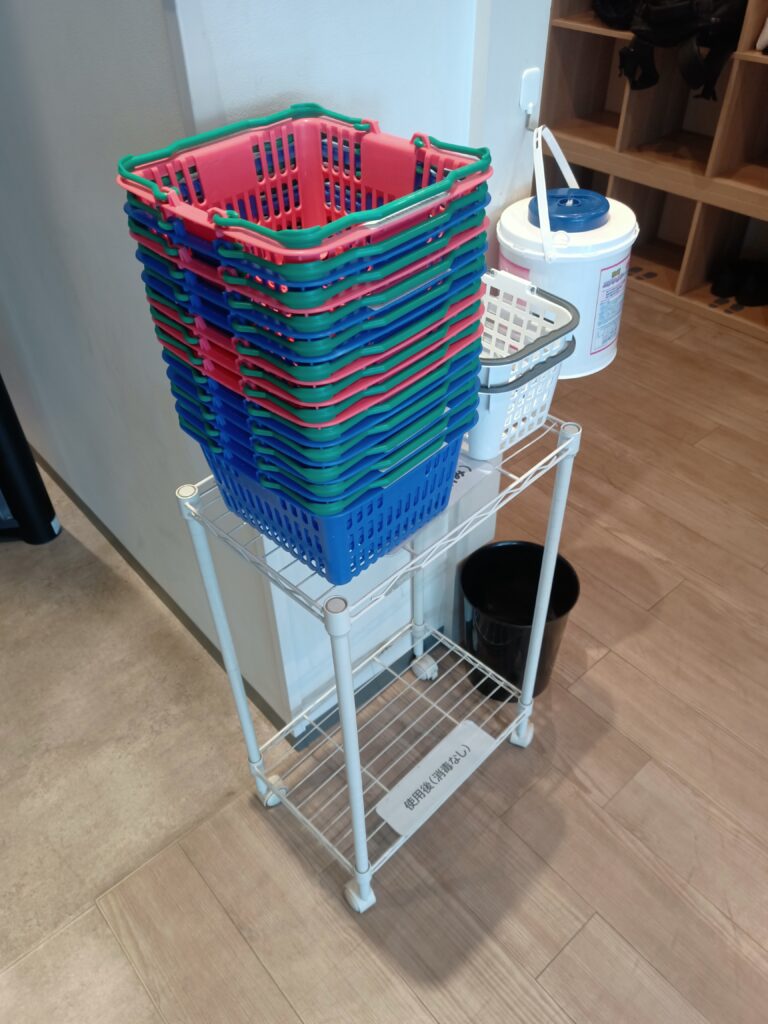 Functional training area
Let's see gym equipment one by one to immerse yourself in this club.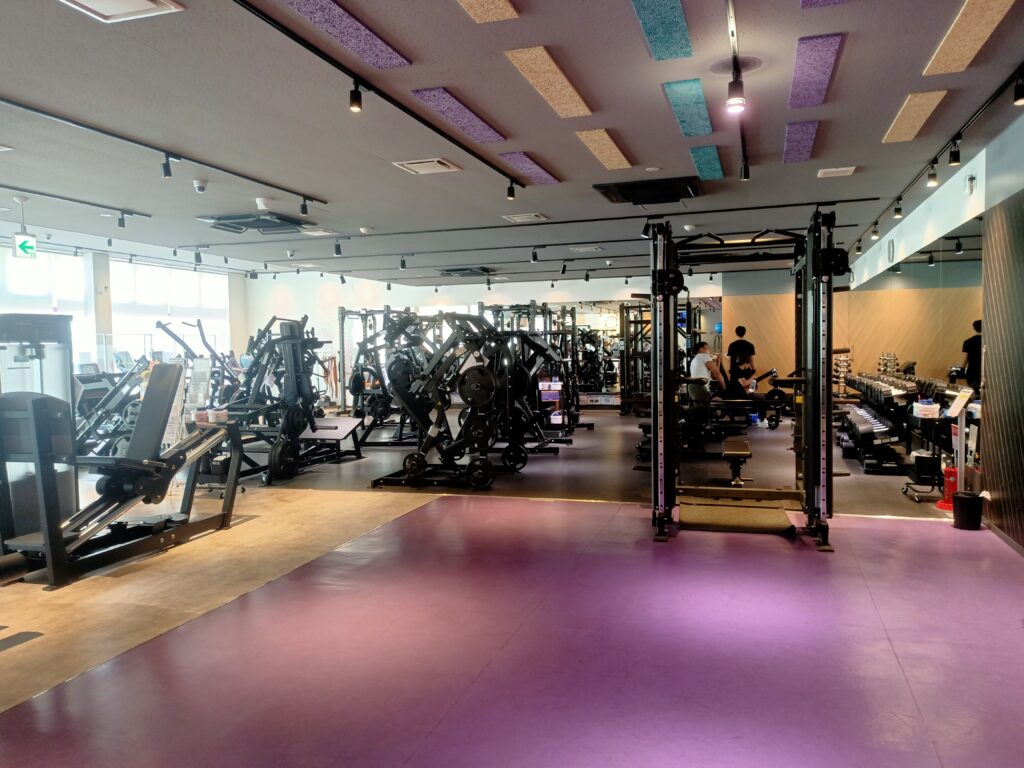 Functional training area is very wide, you can do stretching here and HIIT training if you would like.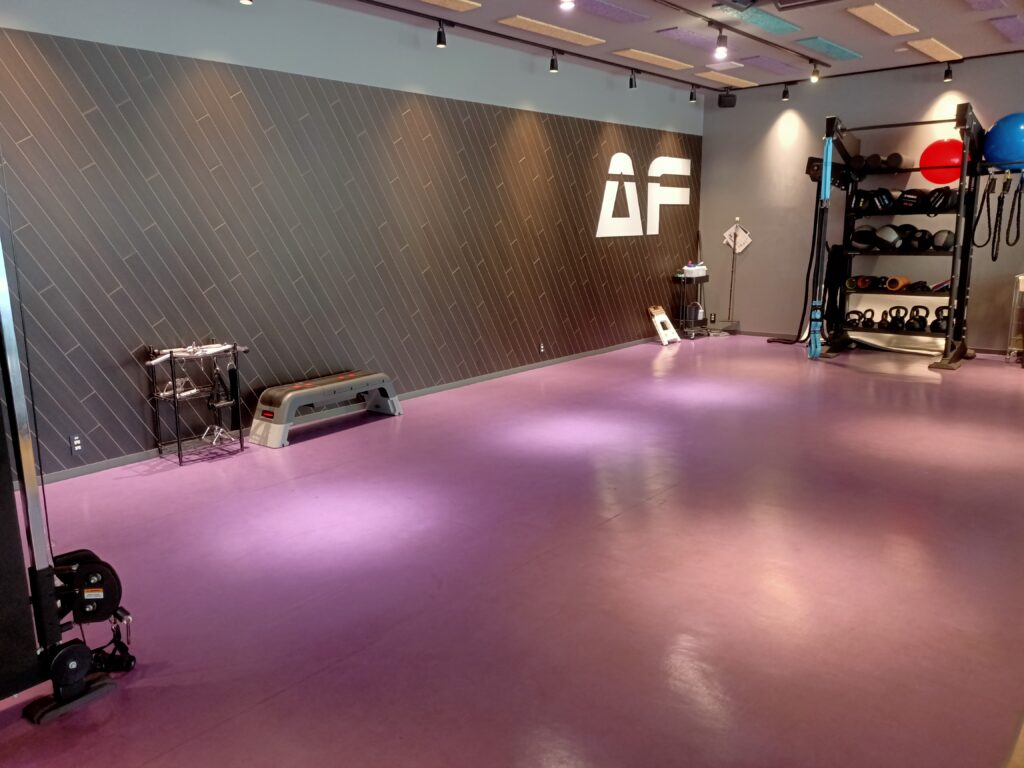 Machine area view from functional area.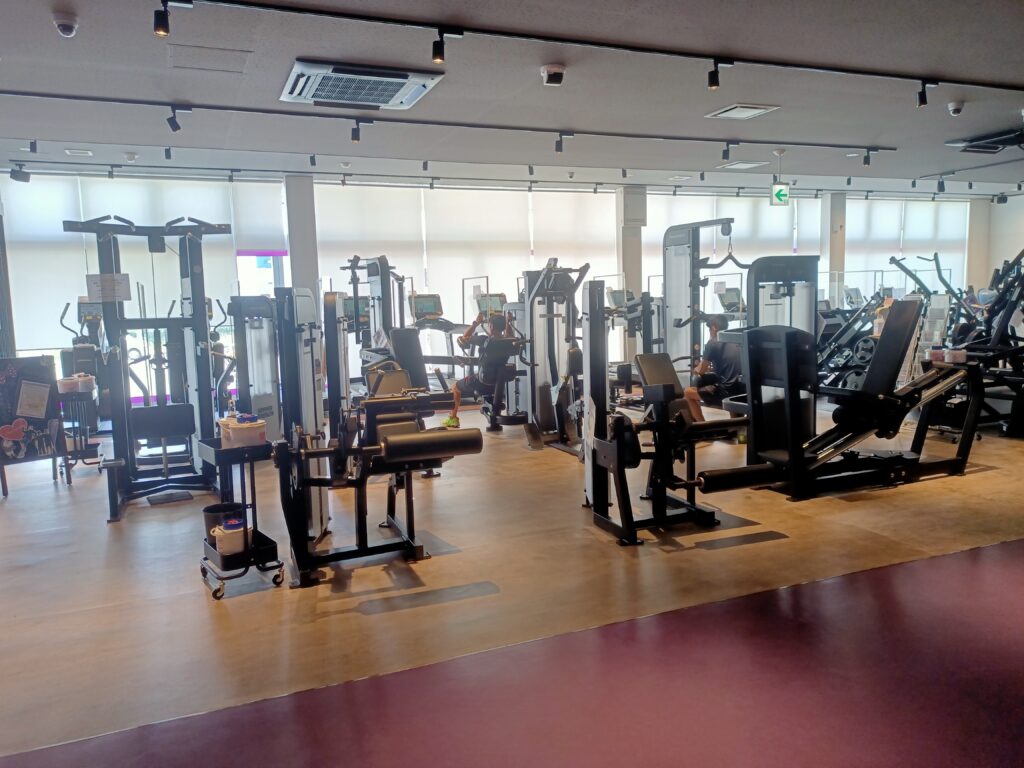 Stretch pole, medicine ball, kettle bells and battle rope etc.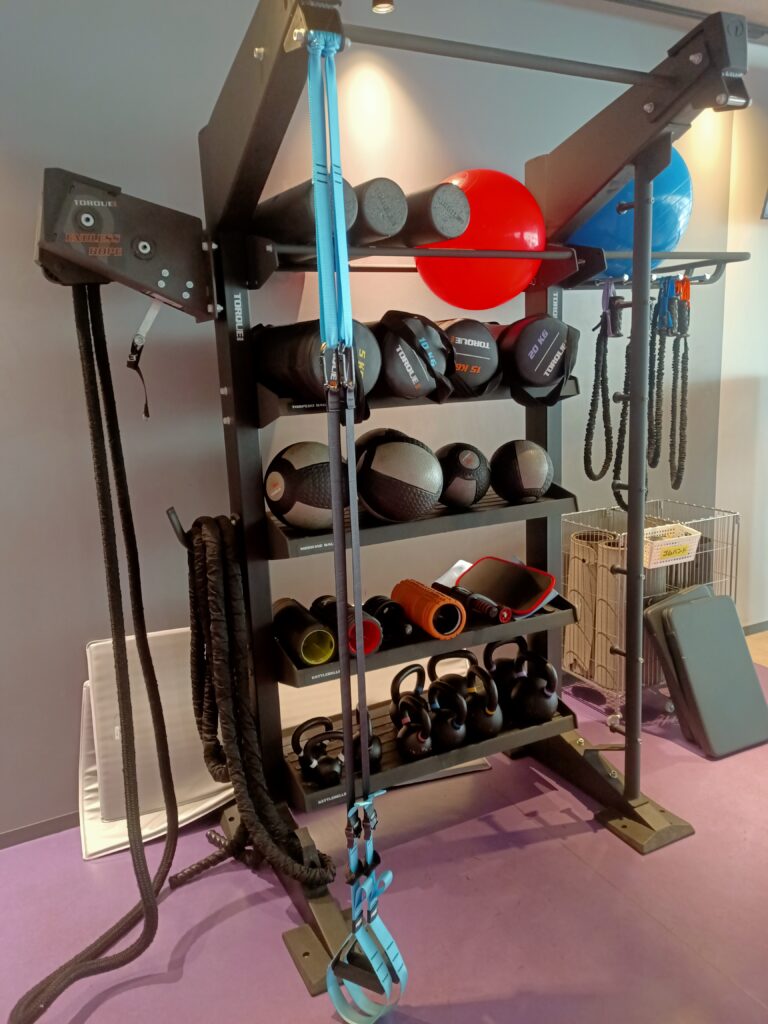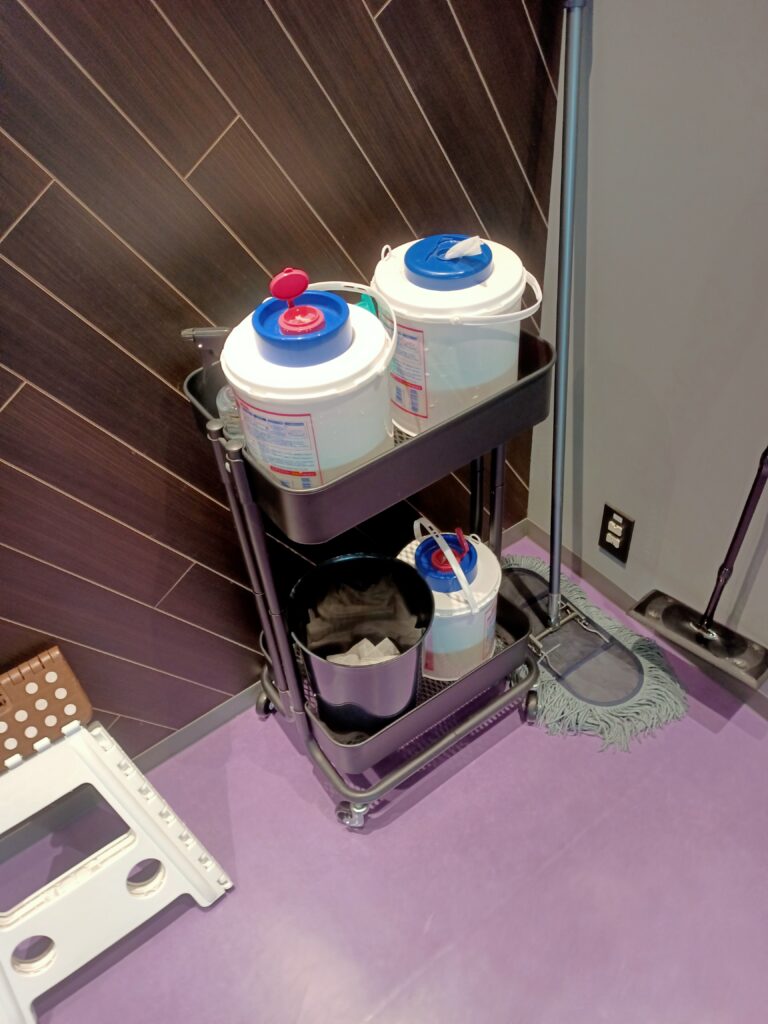 Yoga mat and backrest for machine use.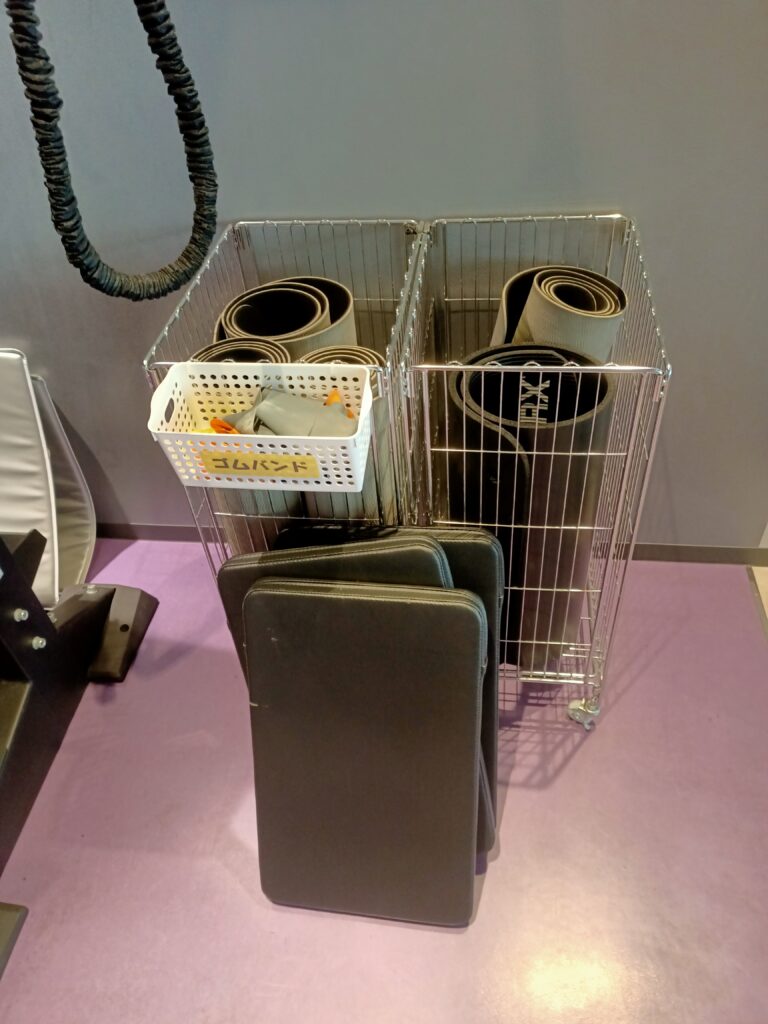 Attachment can be used for cable machine and lat pull down machine also.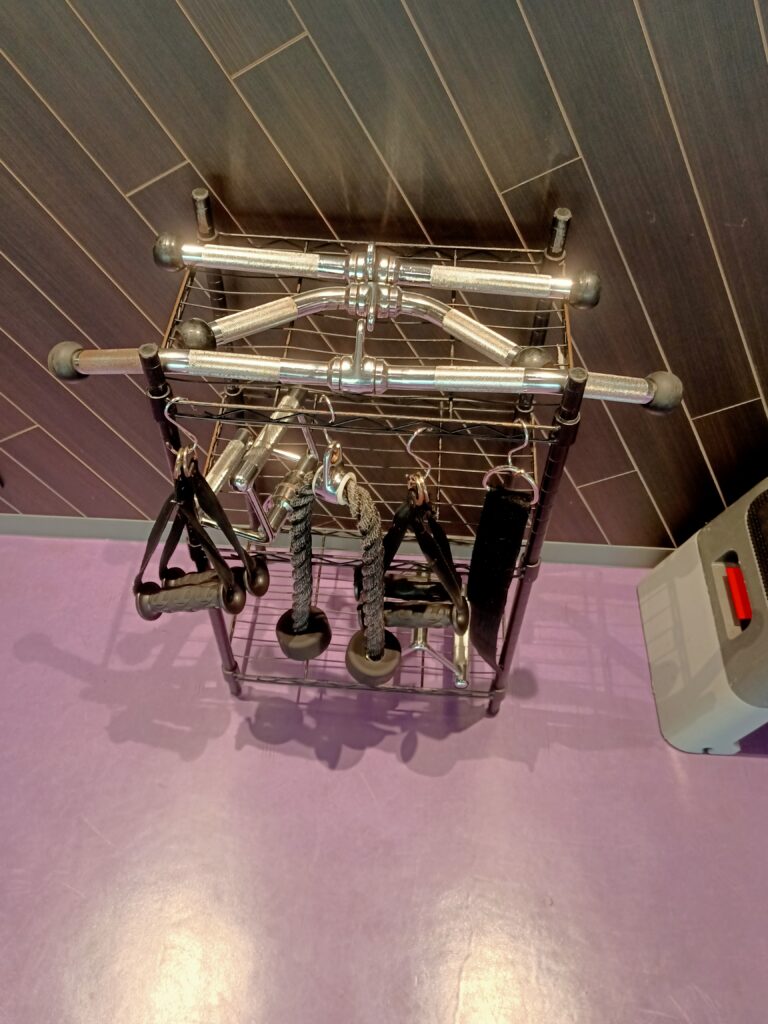 Cable machine is by Torque brand. This machine is connected with half rack at the back.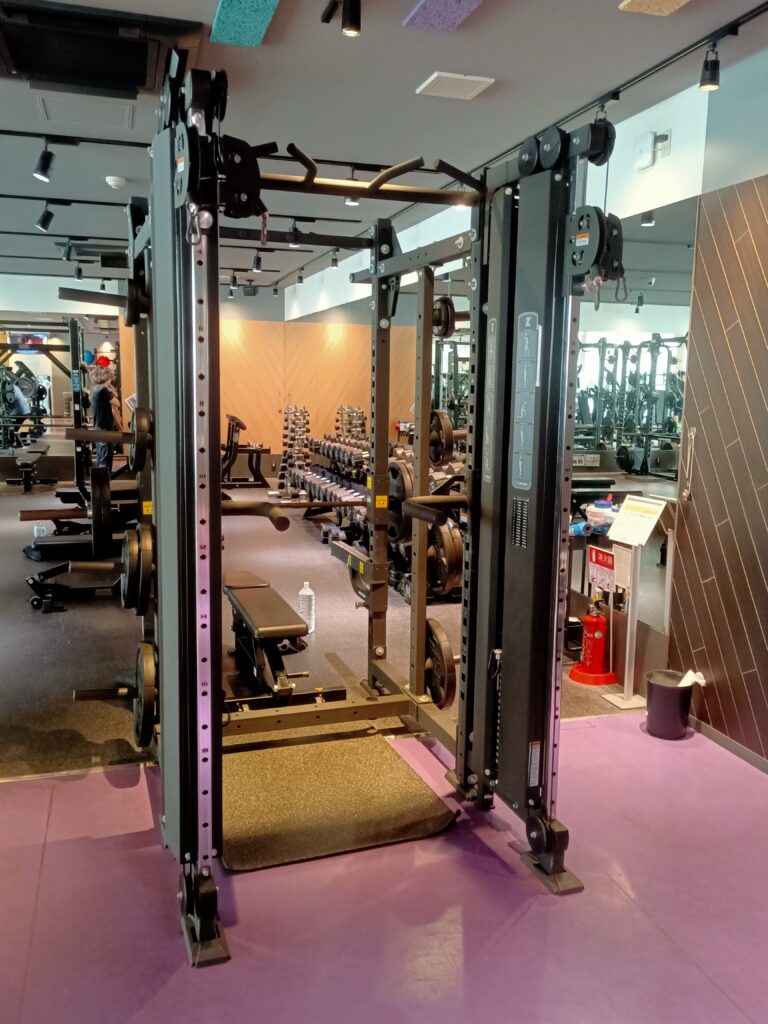 Half rack by Torque brand. Bench is Hammer Strength while barbell bar is IVANKO 20kg. This IVANKO bar has thinner grip than Hammer strength bar.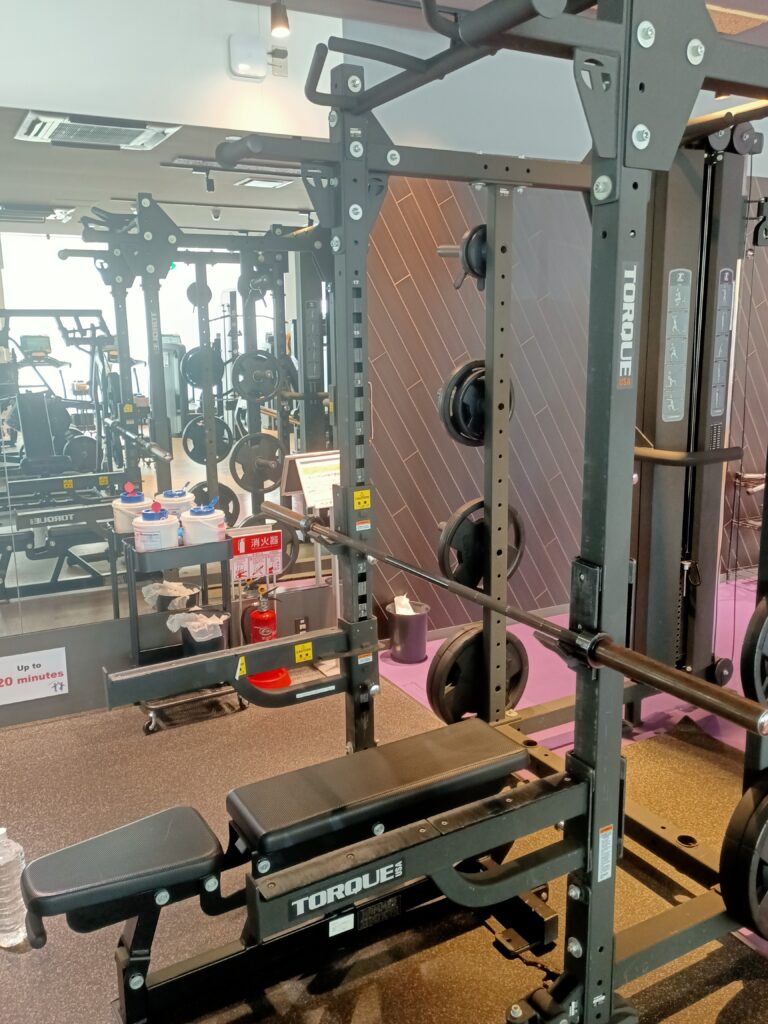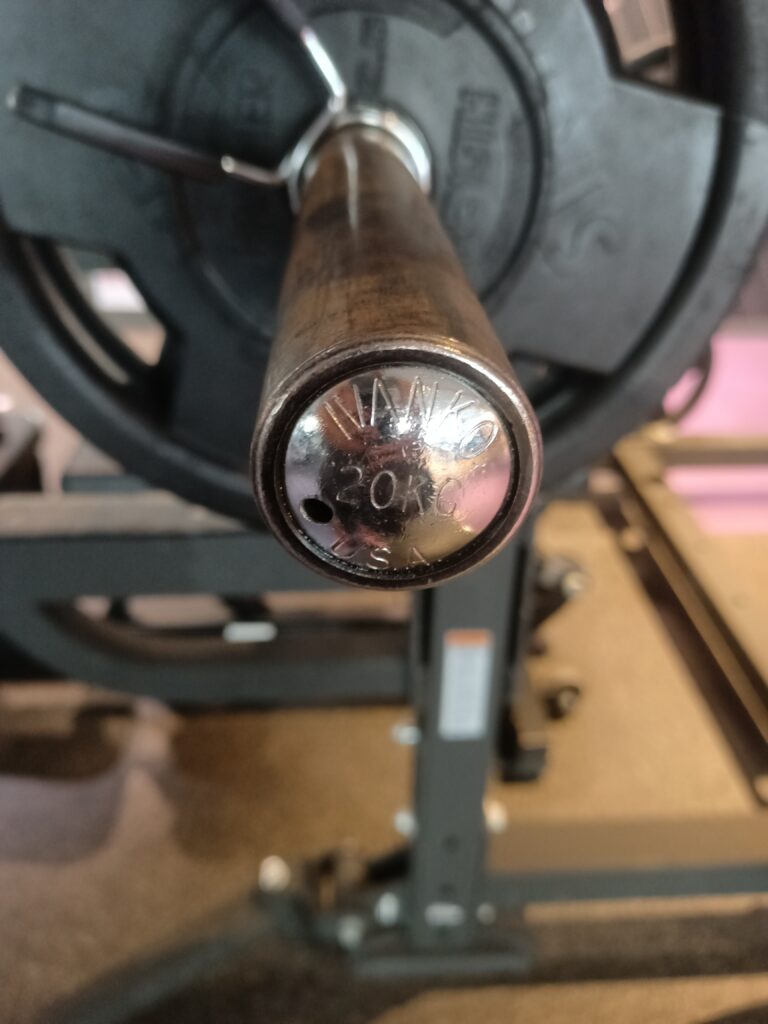 Machine area
Machines are placed at the center of gym space. Most machines are made by Hammer strength except abdominal machines by Life Fitness.
Abduction and adduction.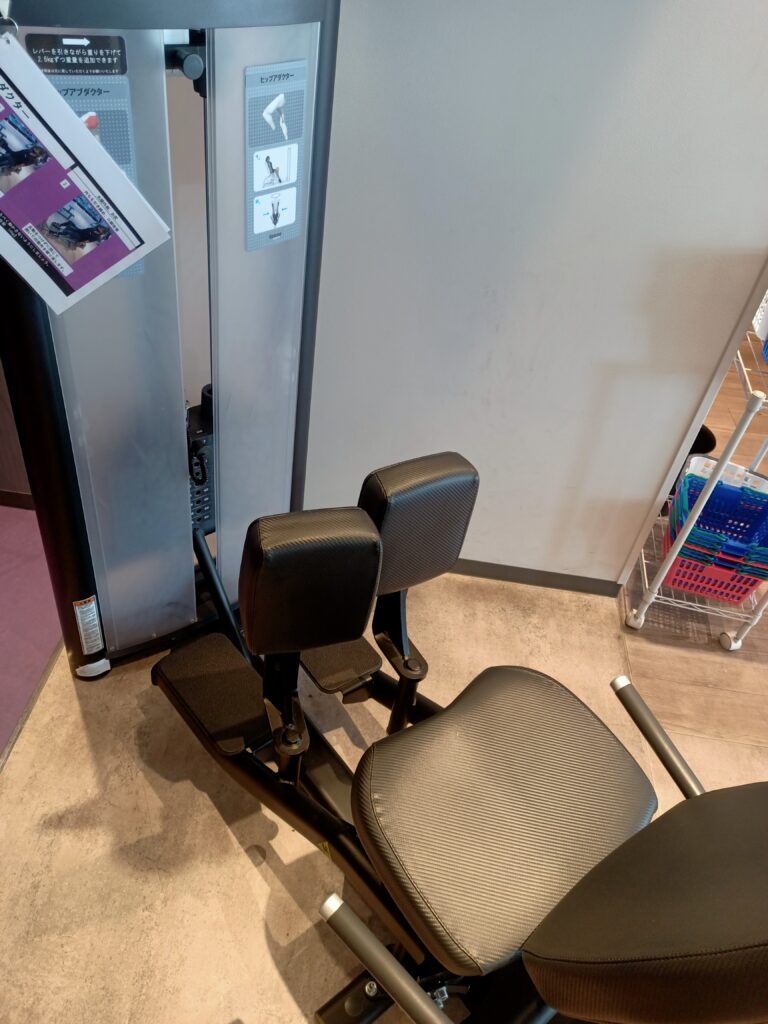 Chest press machine.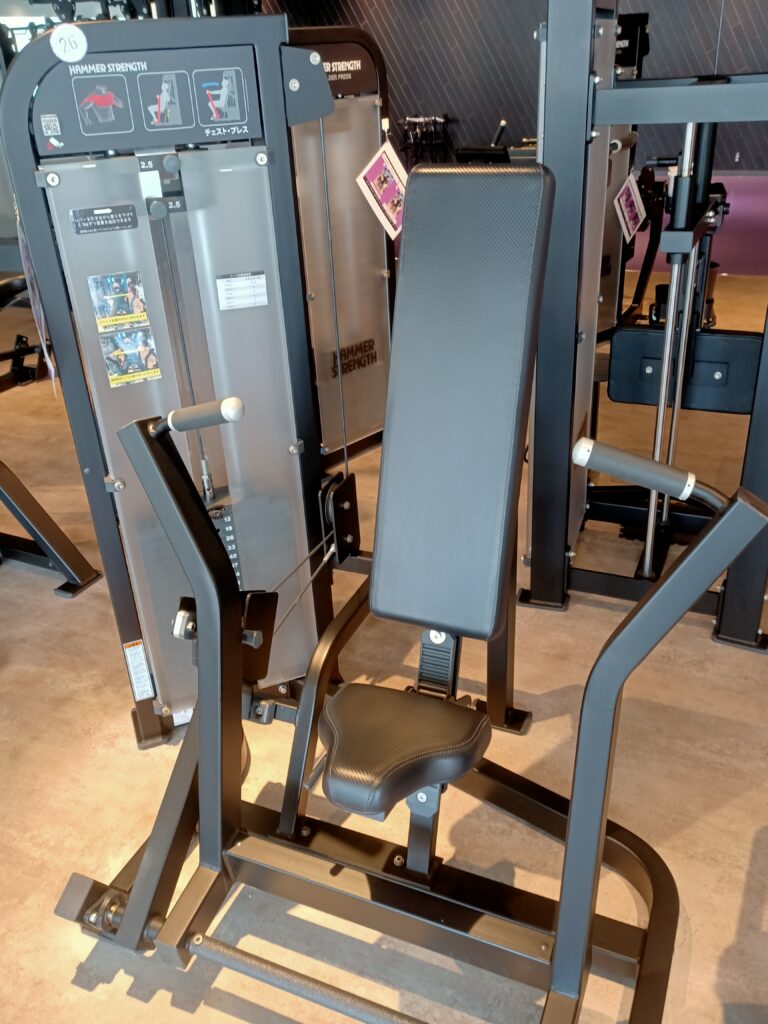 Manual with picture is attached on each machine. Staff also can teach you how to move machines if needed.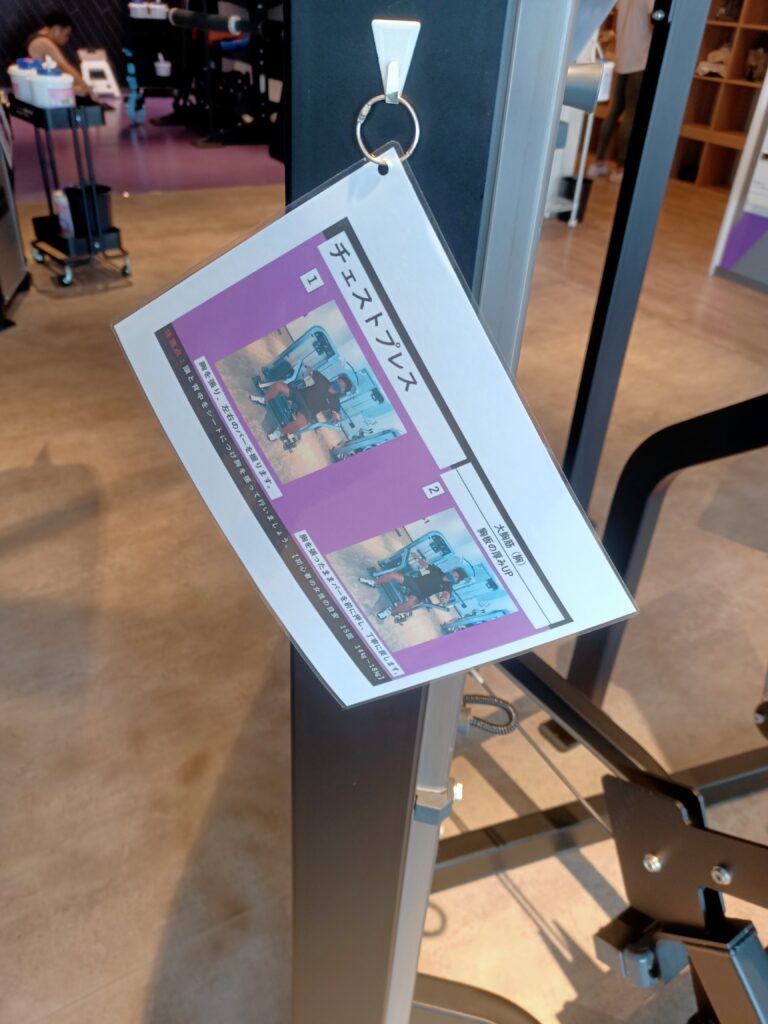 Assisted dip and chinning stand.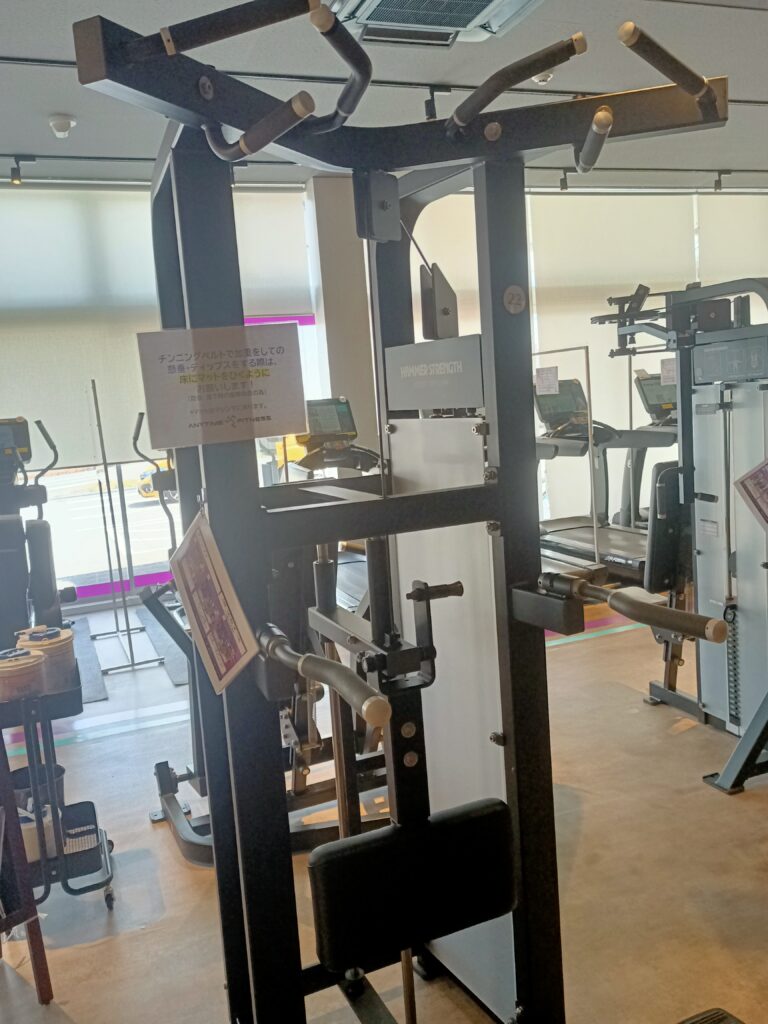 Shoulder press machine.
Seated leg curl.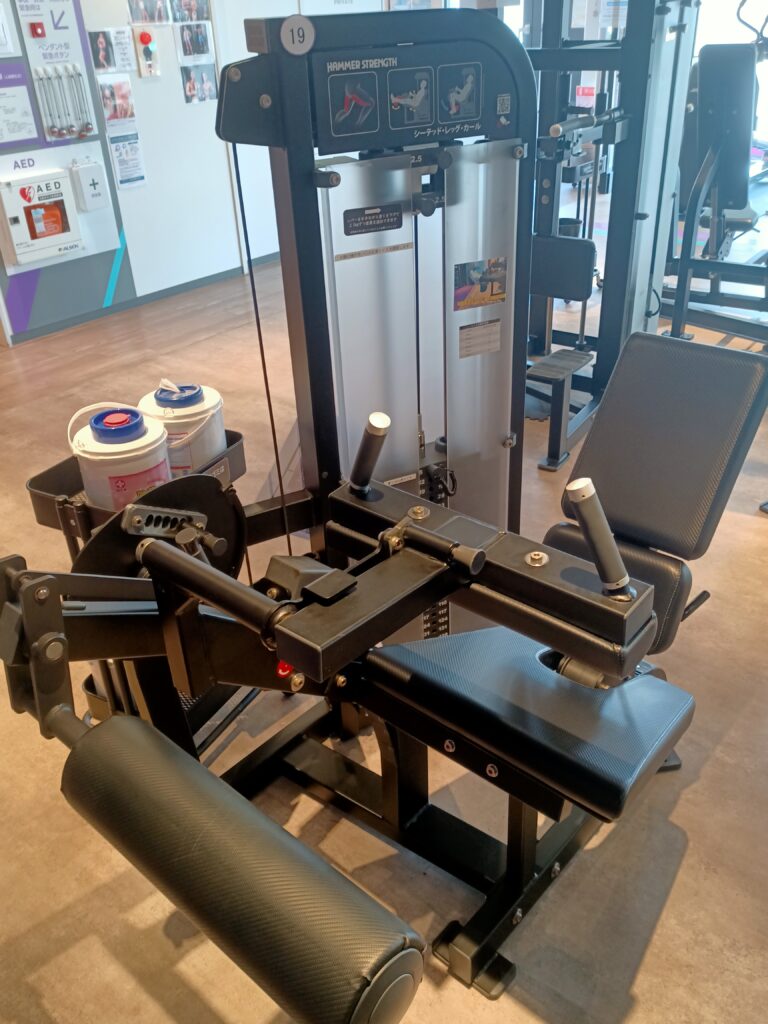 Leg extension.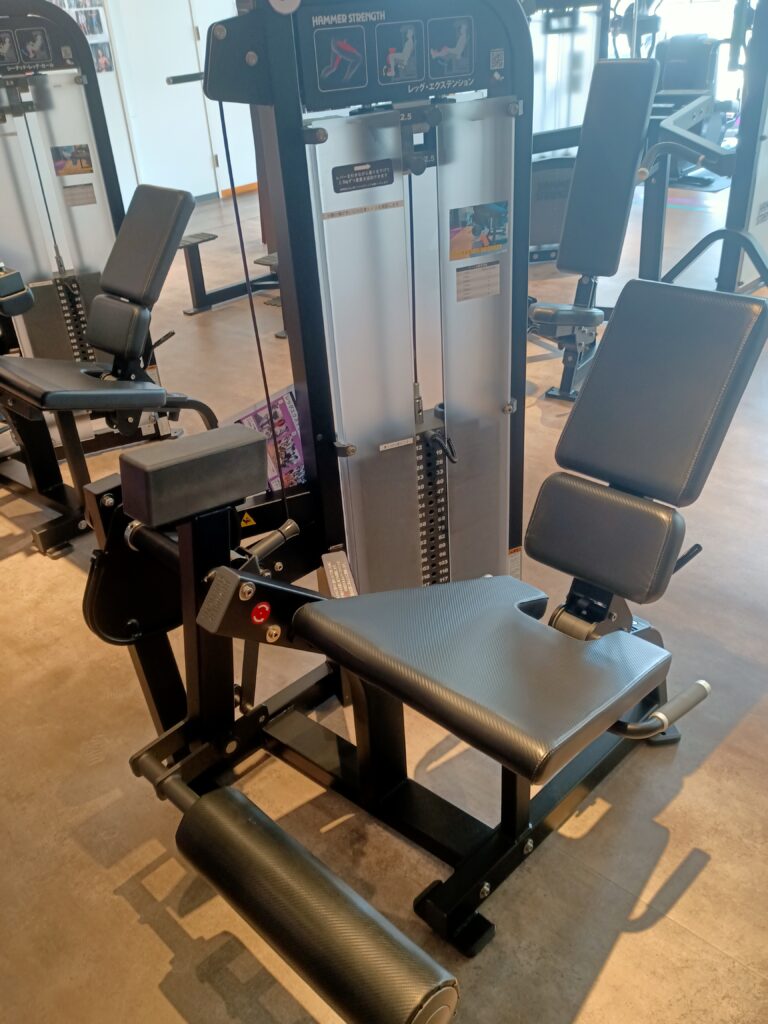 Seated leg press.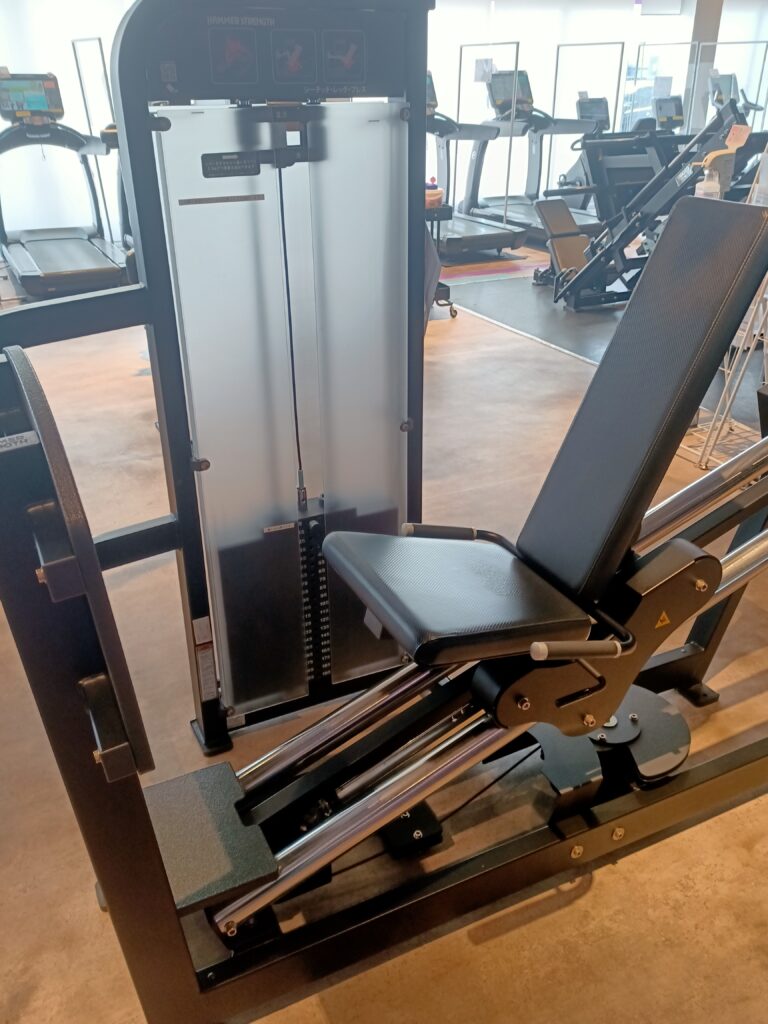 Seated row.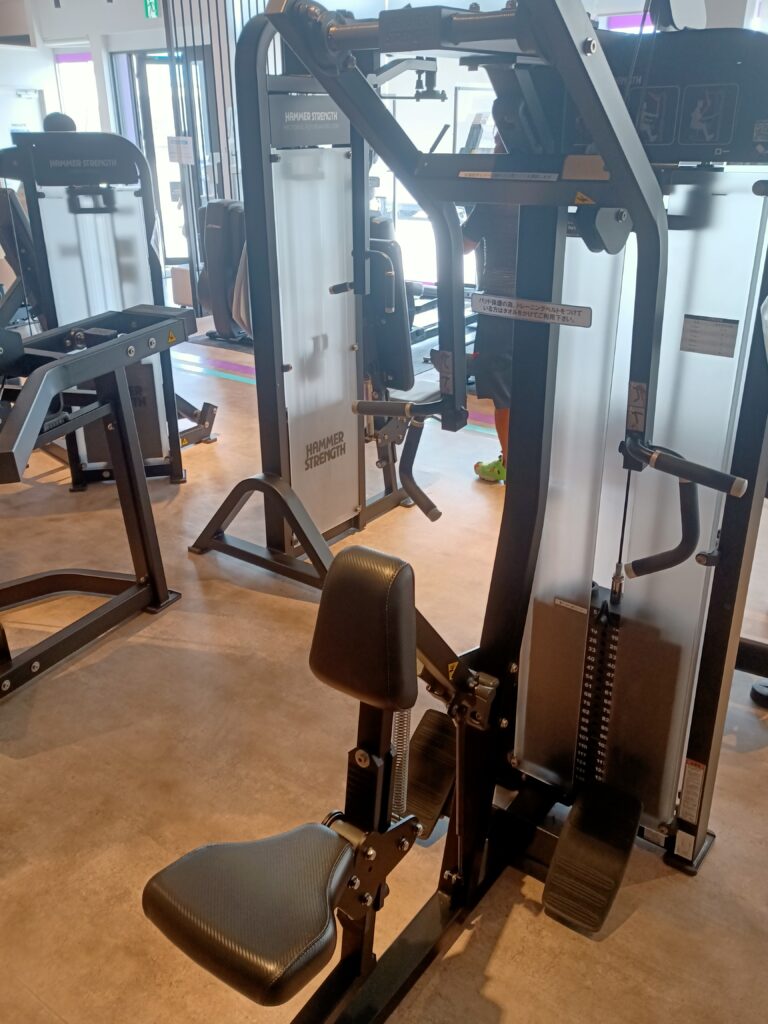 Lat pull down machine with 3 MAG (Maximum Advantage Grip) and long straight bar. MAG grip types are narrow side, medium side and wide over. MAG grip is well developed to train back muscle, I highly recommend every one use.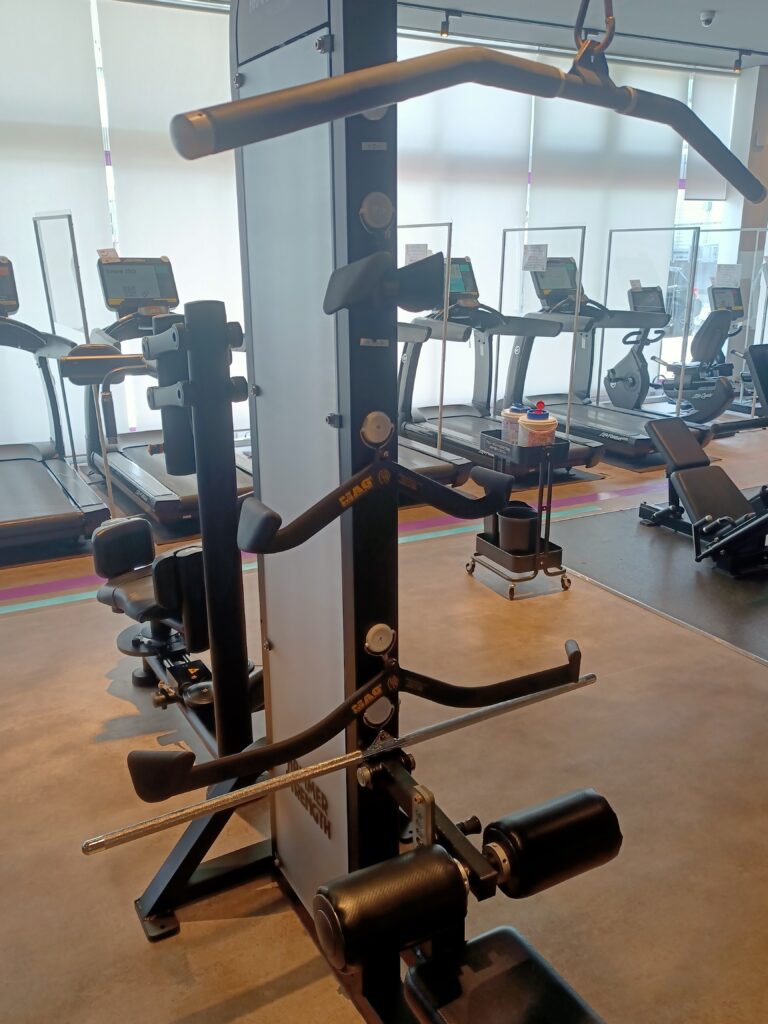 Torso rotation machine by Life Fitness.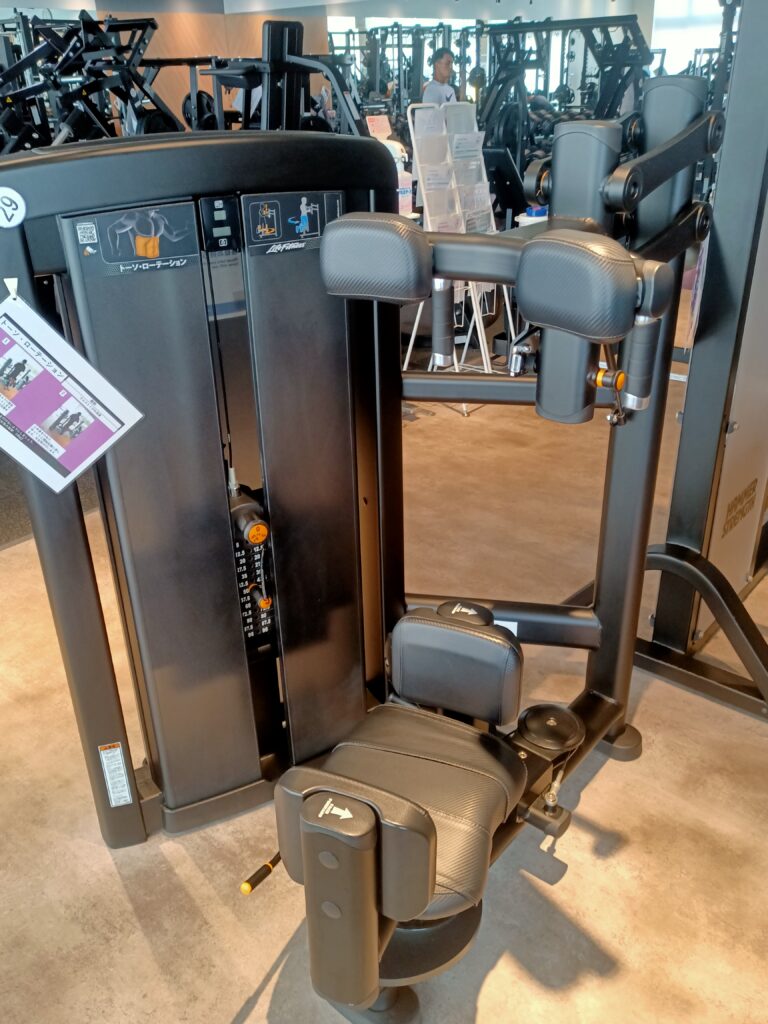 Abdominal machine also by Life Fitness.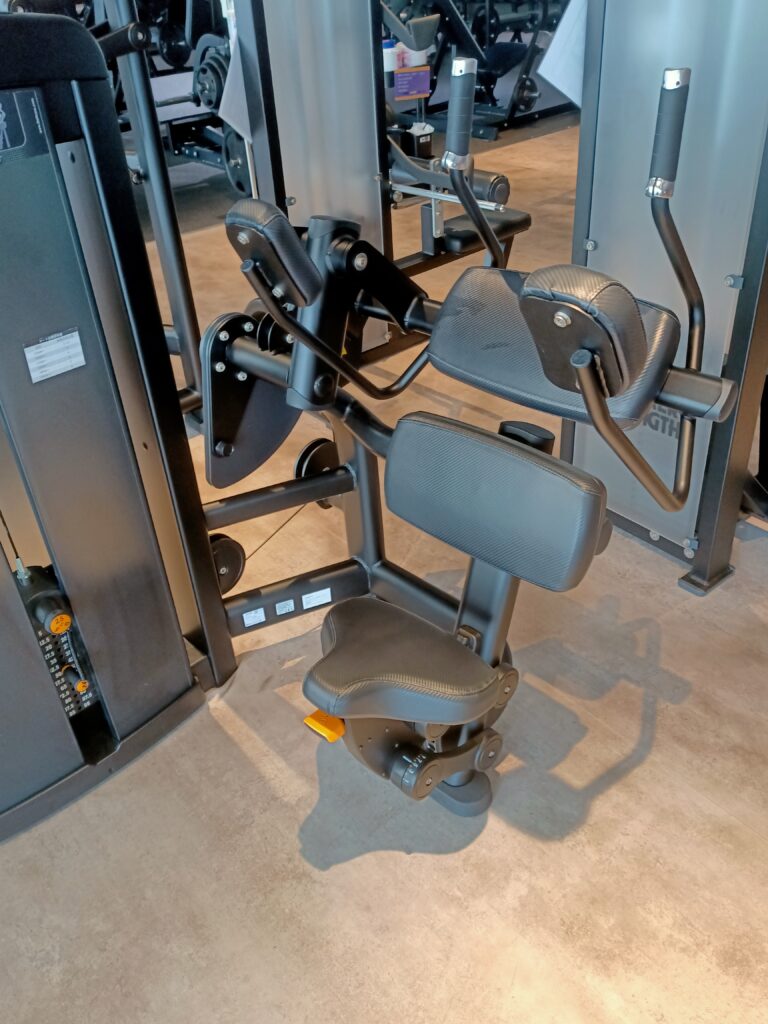 Pec fly and rear delt machine.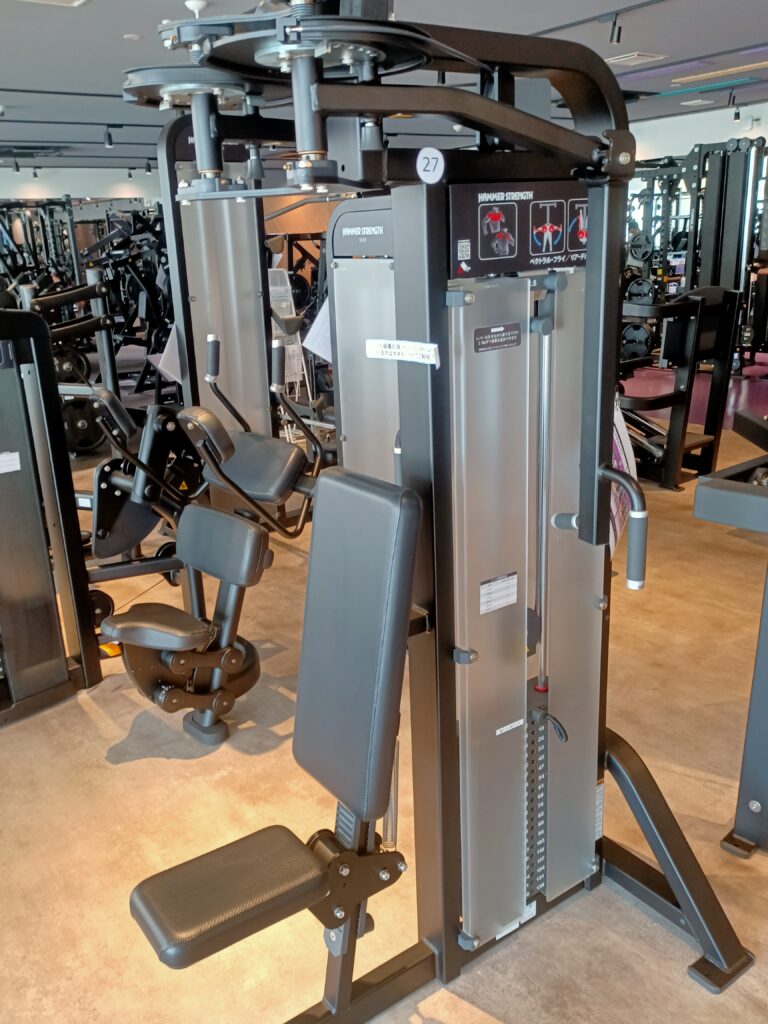 Cardio area
Cardio machines are lined up, faced with parking lot space. 2 cross walkers and 8 tread mils from reception area.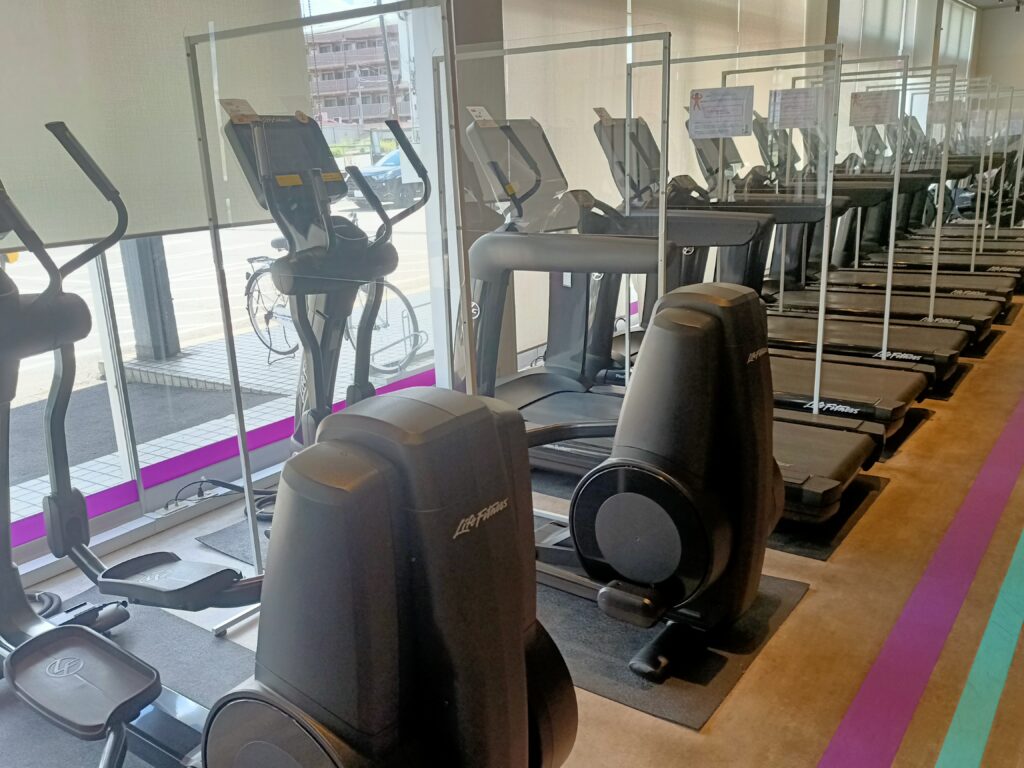 2 bikes each with and without back rest.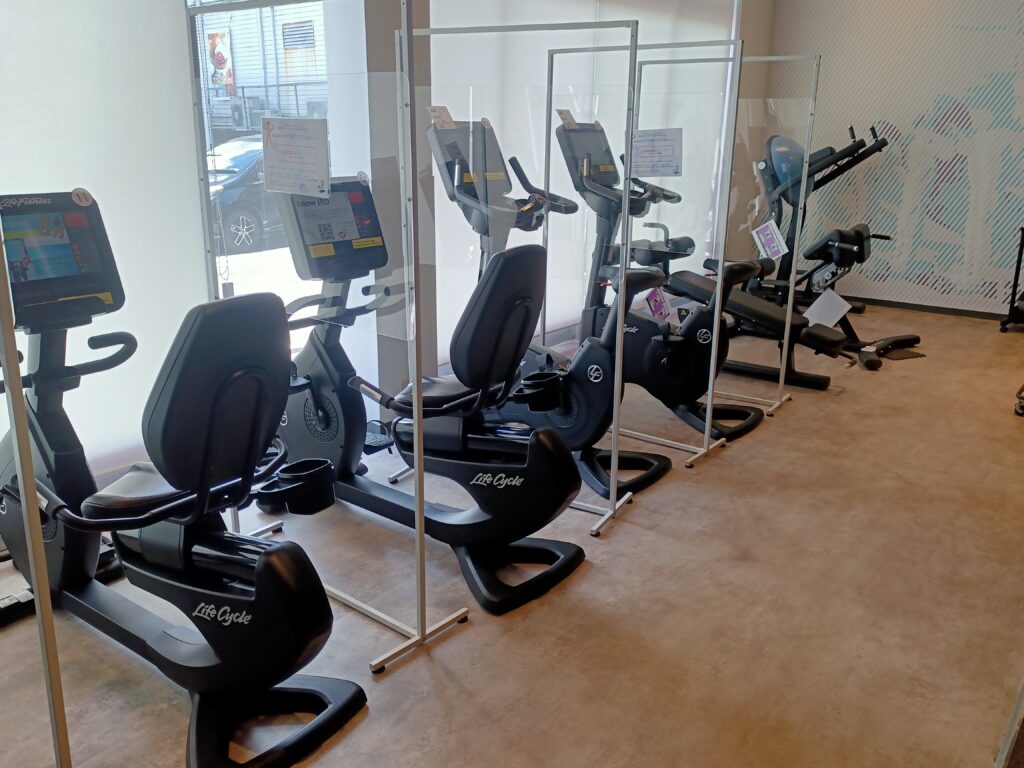 You can watch Youtube and other video streaming site with in-house WiFi. Or of course, you can see them by your own device with free WiFi.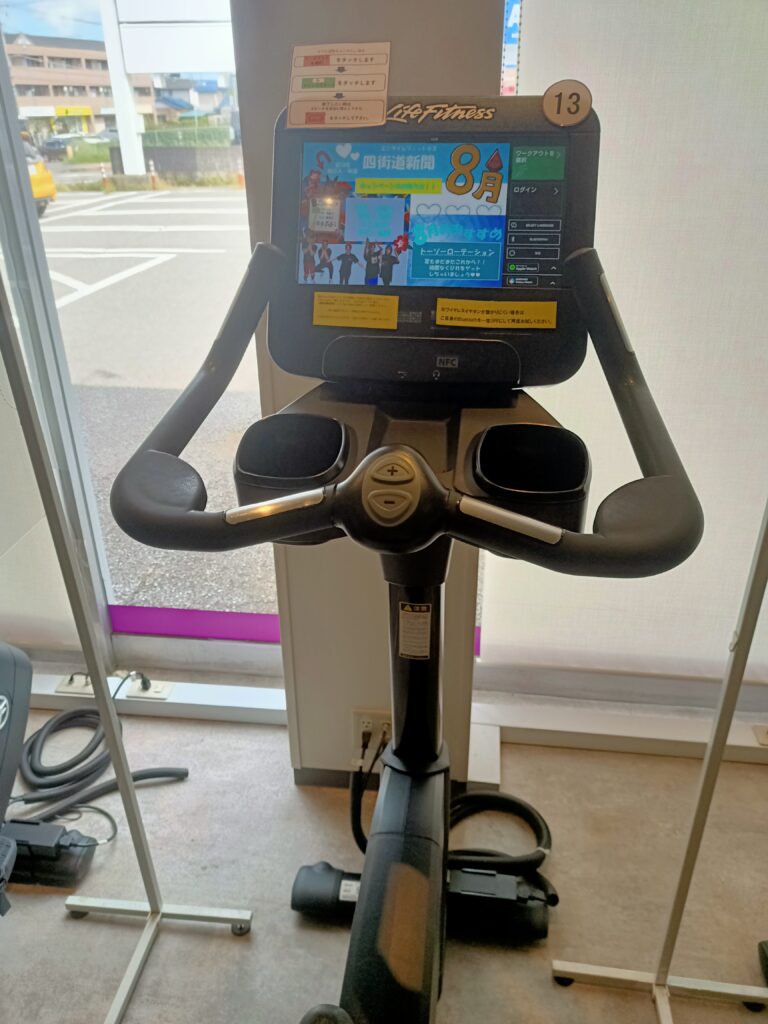 For abs and back training.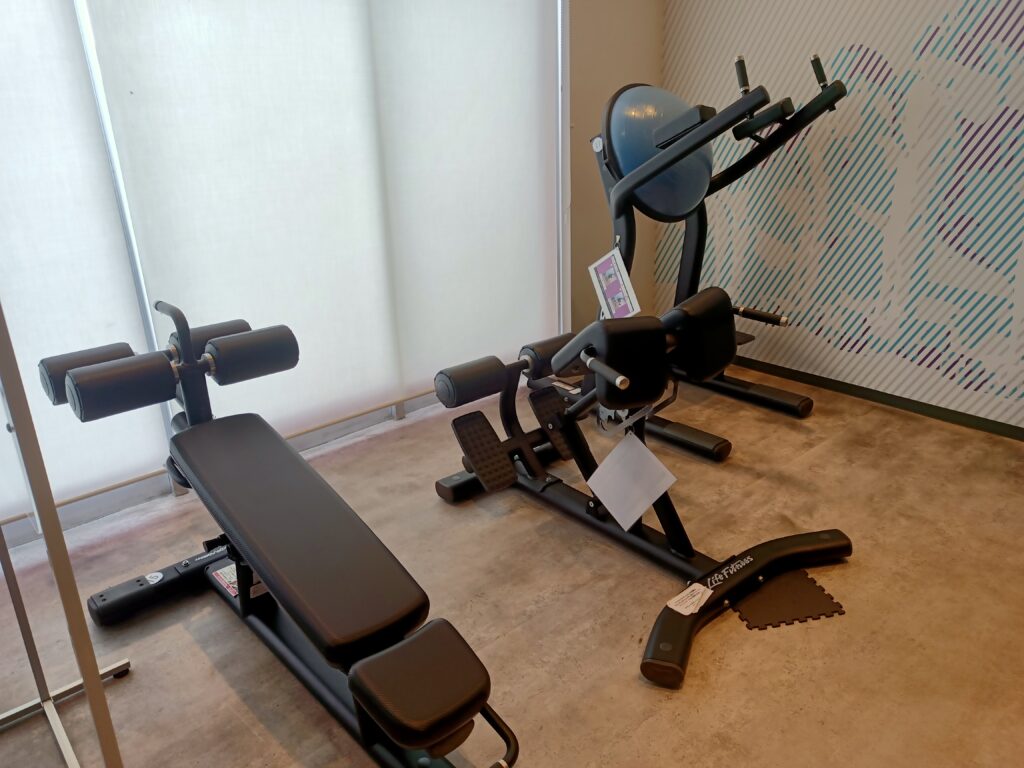 Plate loading machine area
This area is very unique in this club. In general, each Anytime clubs have only several plate loading machine but here almost all types have installed for whole body work out. I would say this machine line up might be the best not only in Chiba prefecture but all over Japan clubs.
I am very sure that you will like these Hammer Strength authentic machines. Let's check it out one by one then come visit here.
First one is 45 degree leg press.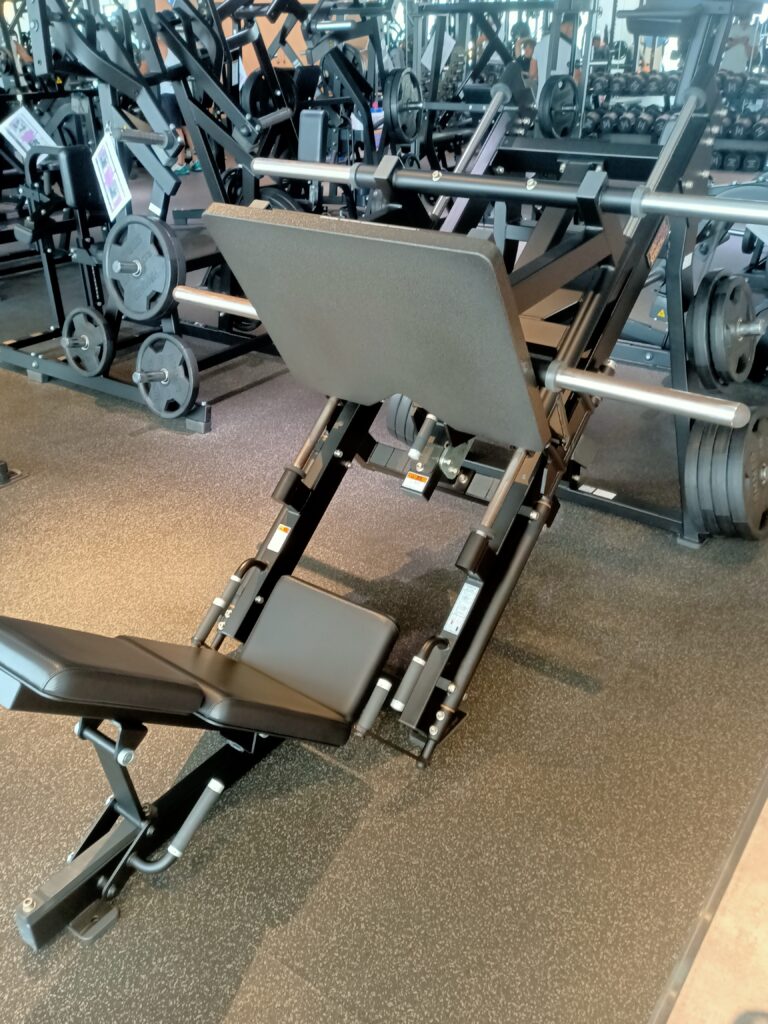 V-squat machine. I would like to try this machine for legs day training next time.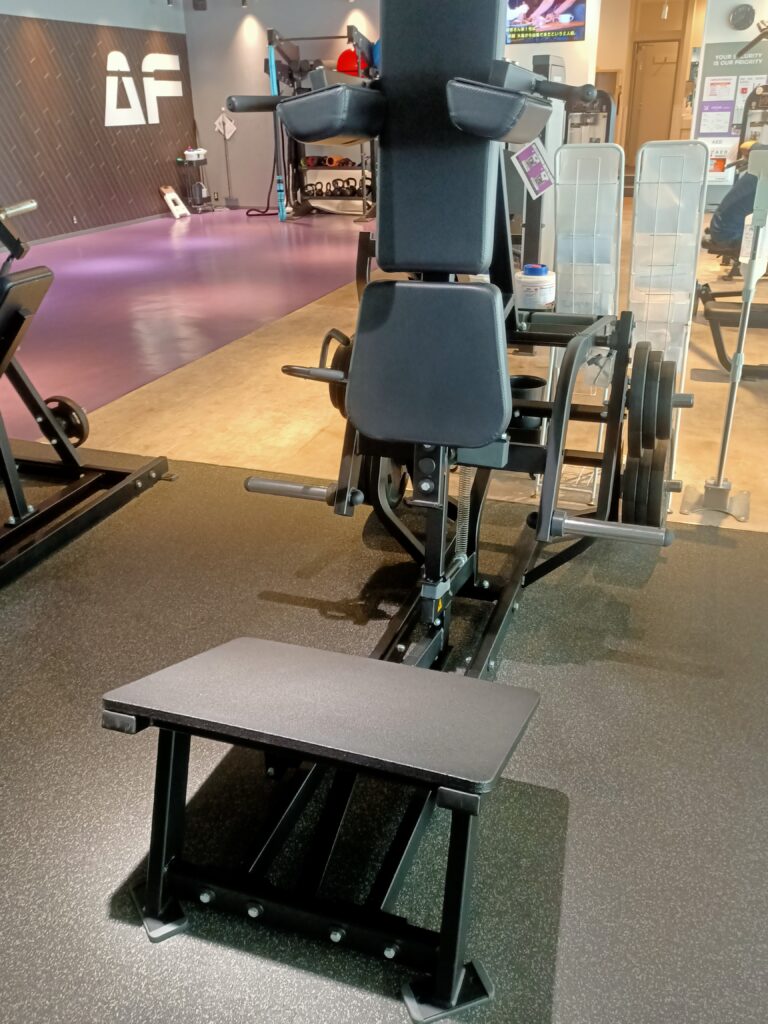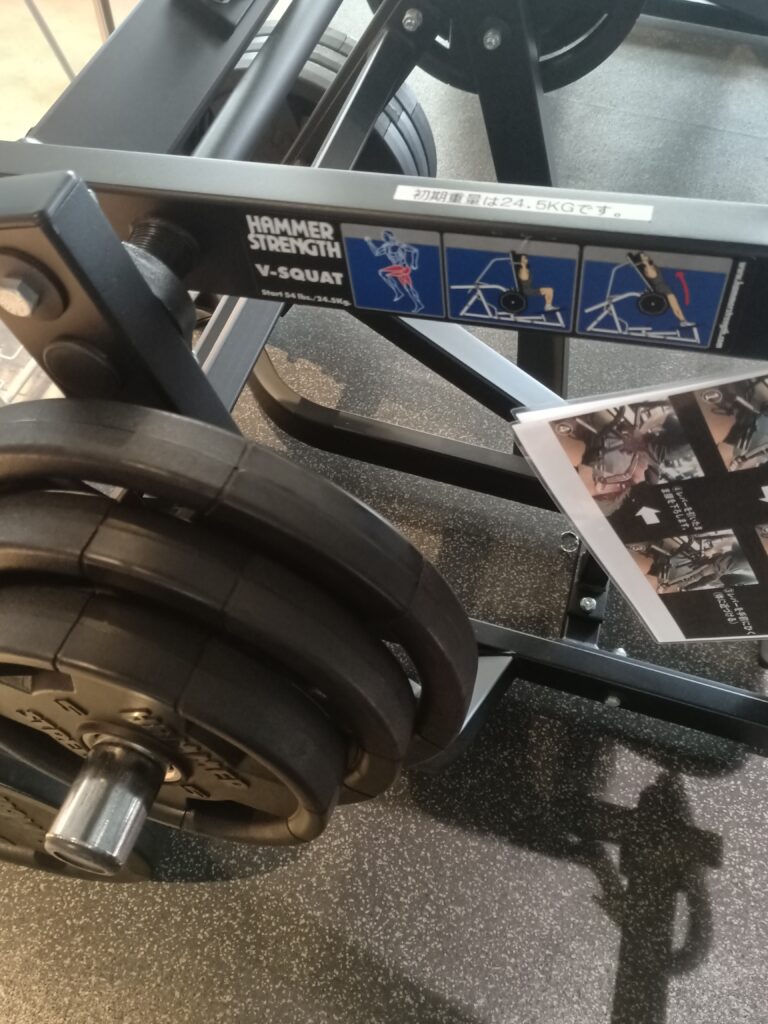 Iso-lateral wide pulldown.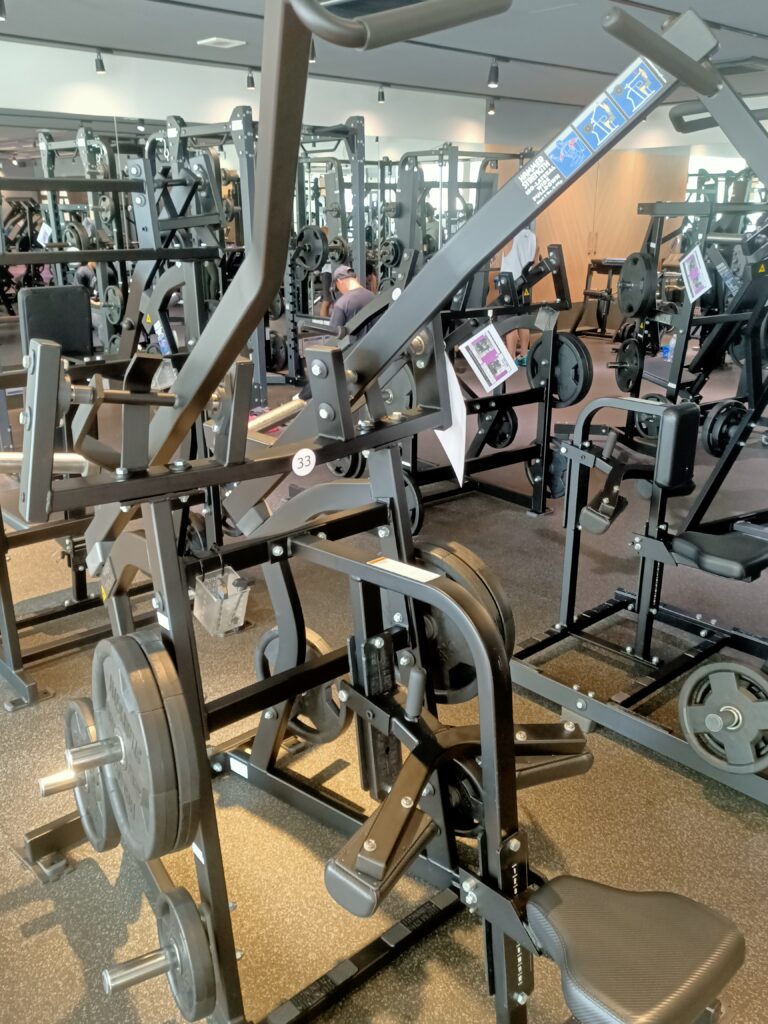 Iso-lateral wide pulldown machine. Put chest on pad and pull bar with under grip.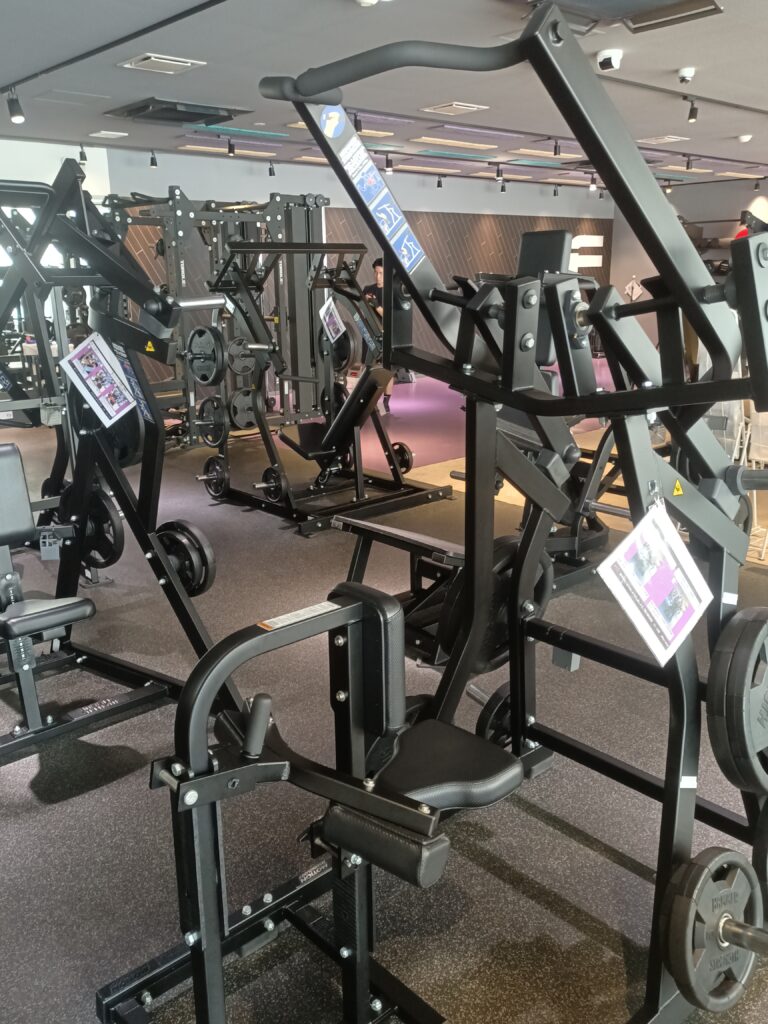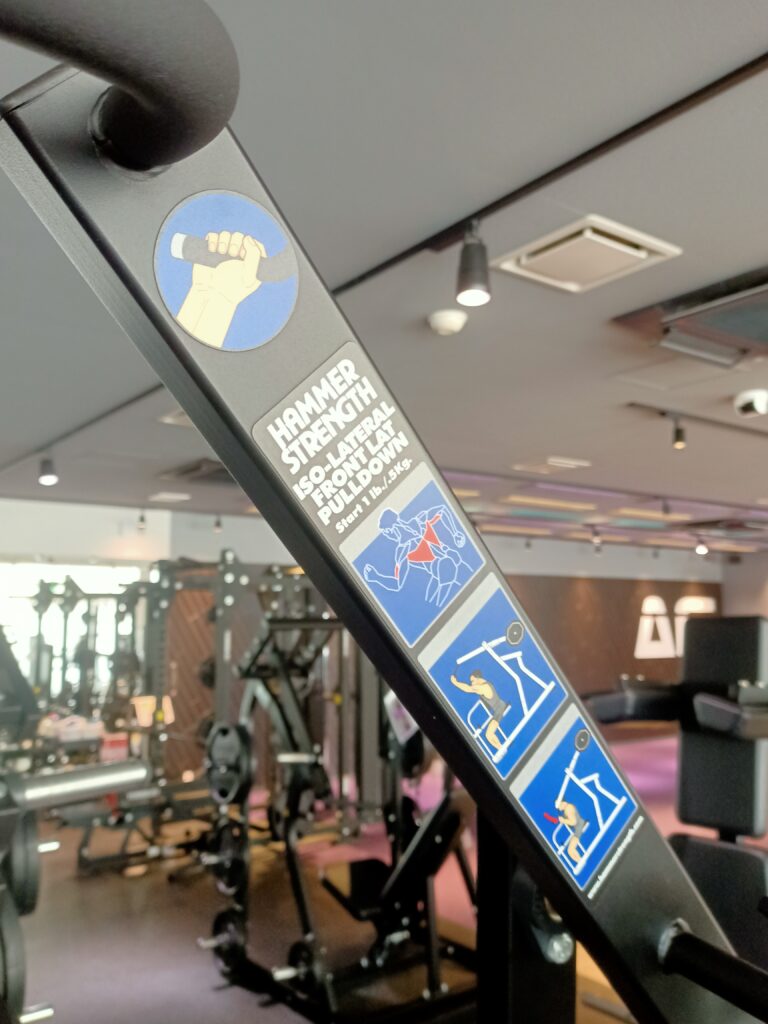 Iso-lateral DY row also pulls bars with under grip hand.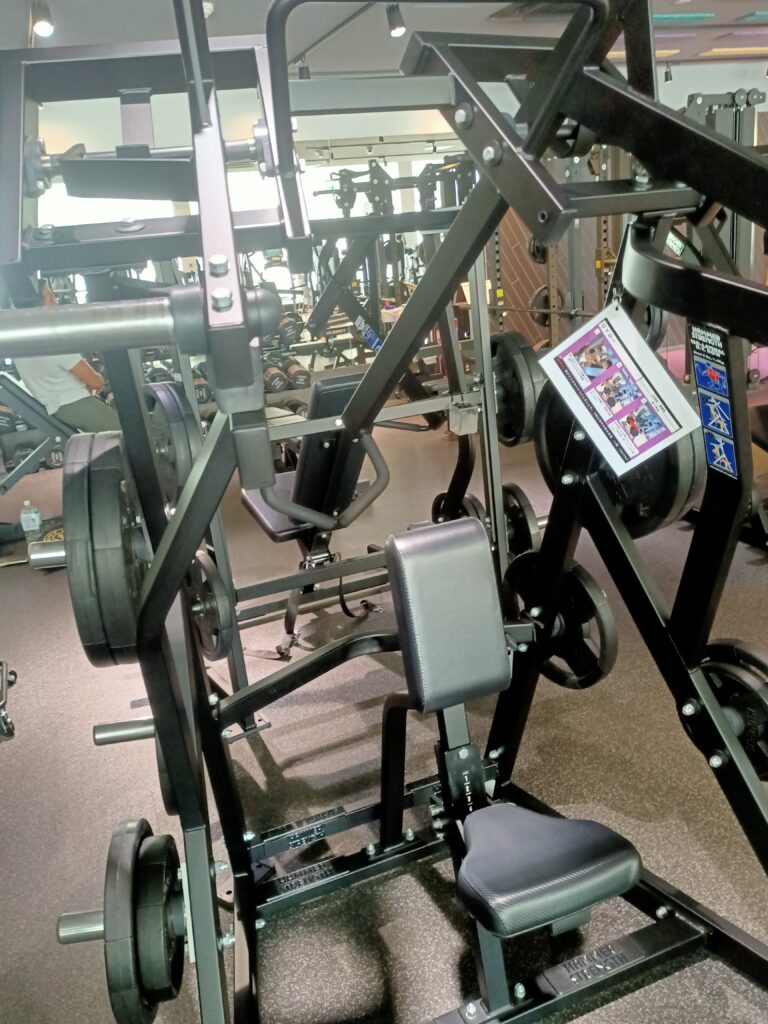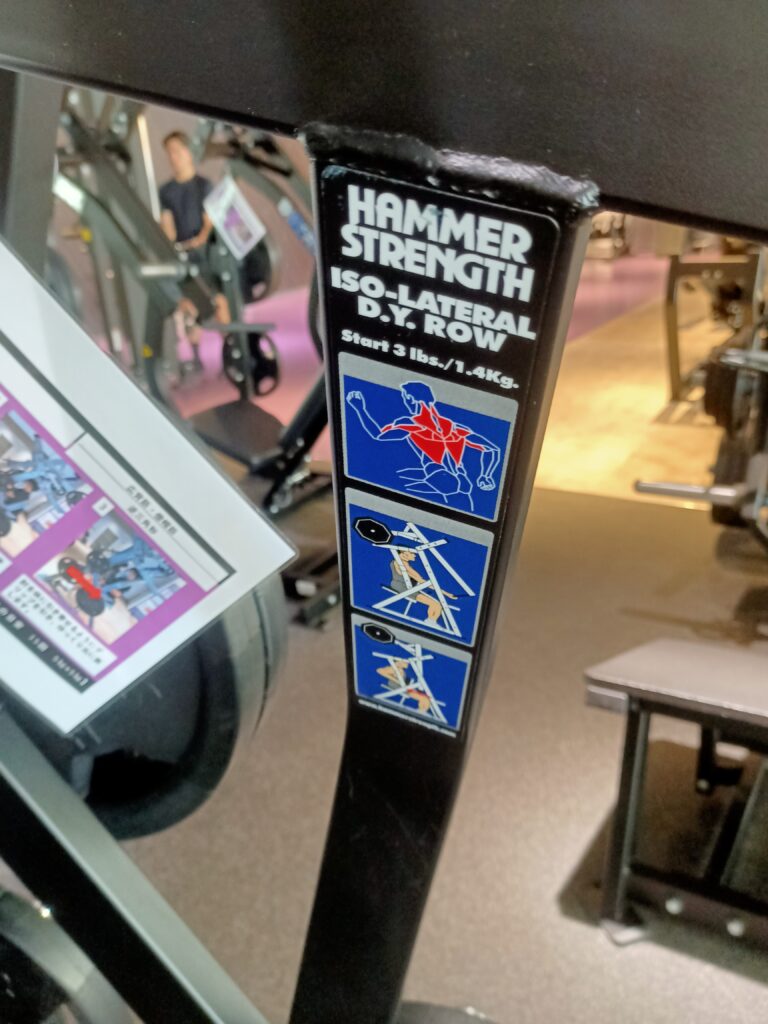 Moving to push machines. Iso-lateral incline press machine comes first.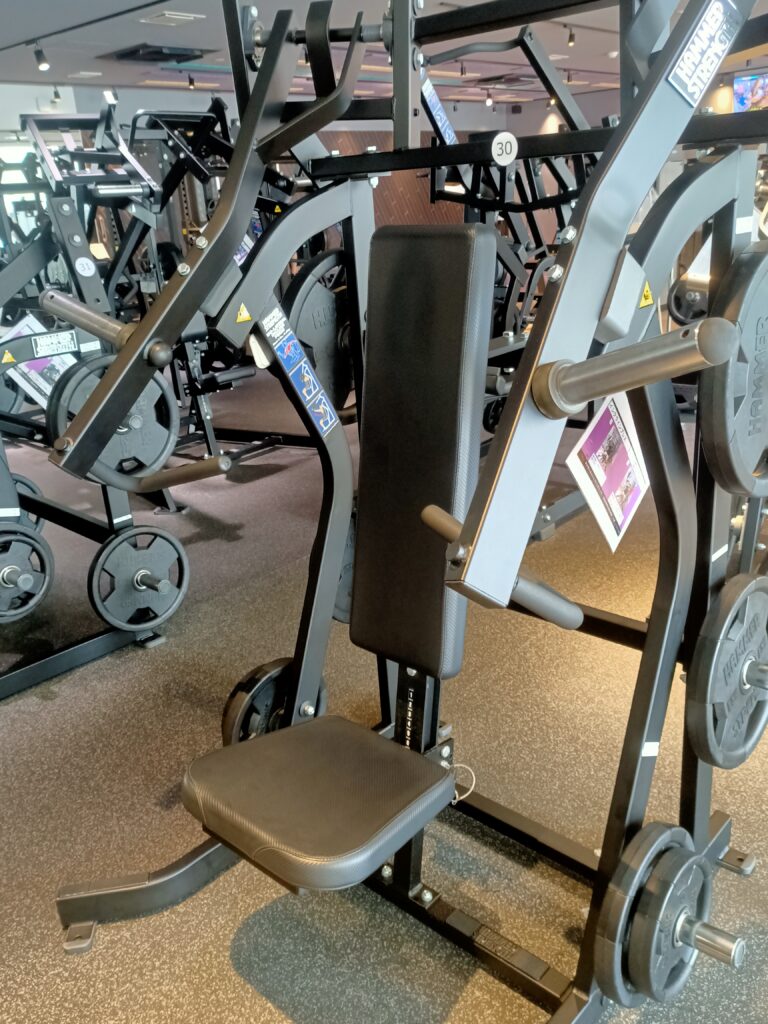 Iso-lateral super incline machine to focus much more on upper side of chest.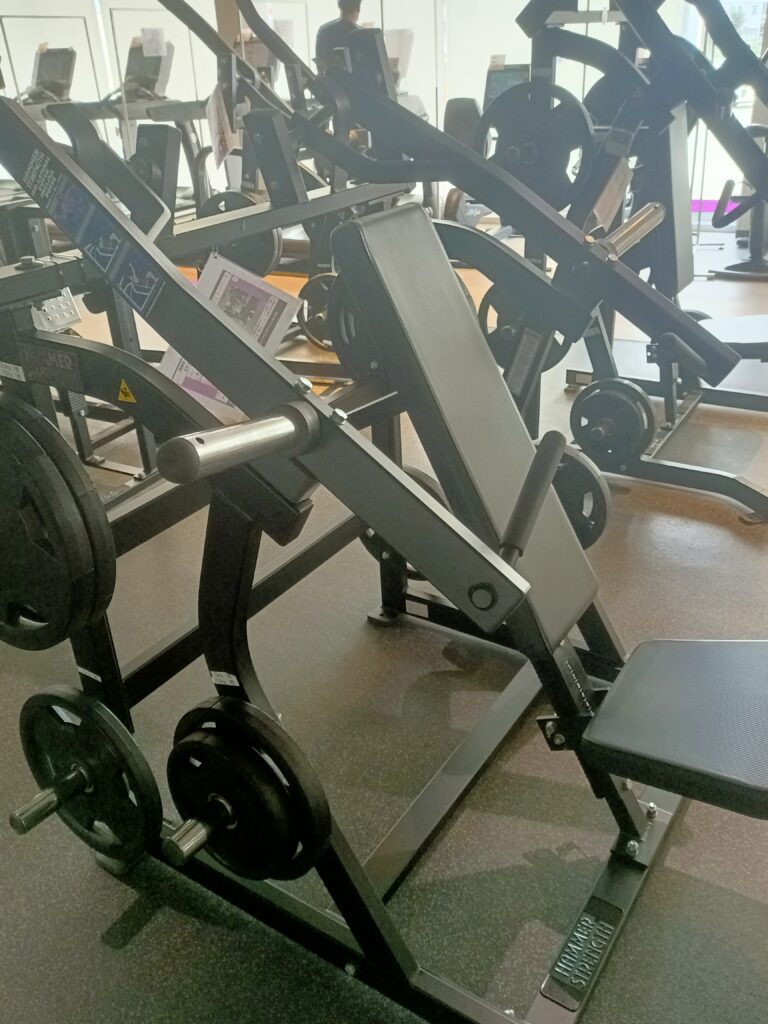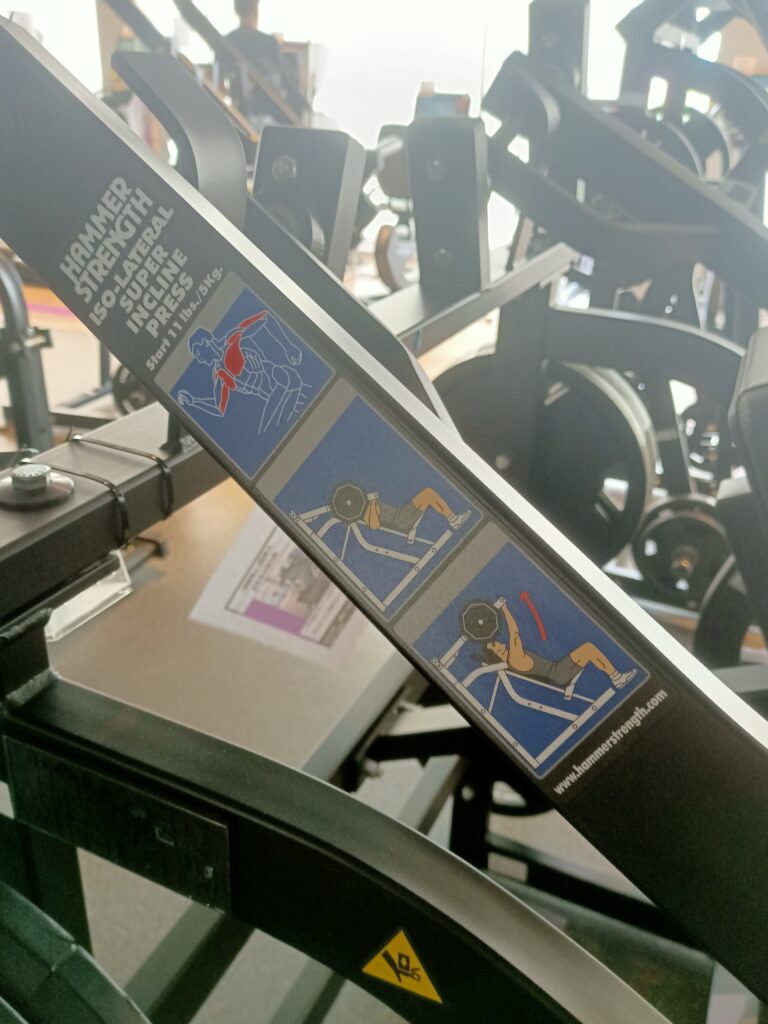 Iso-lateral wide chest machine to grab bars widely then squeeze to the center position.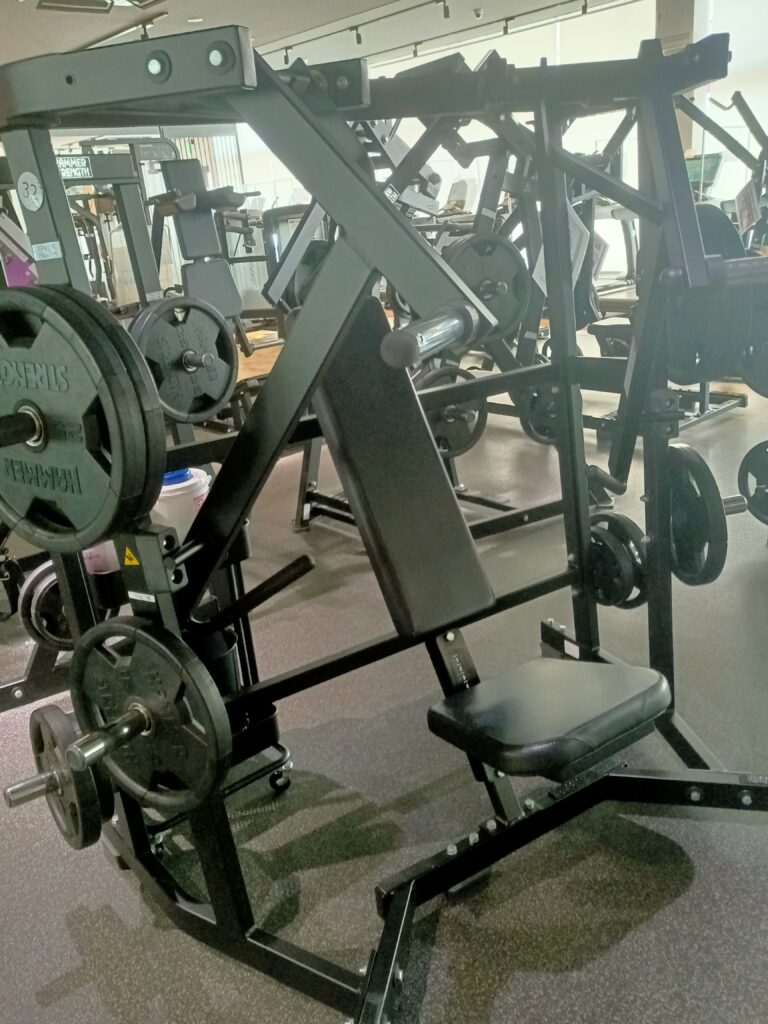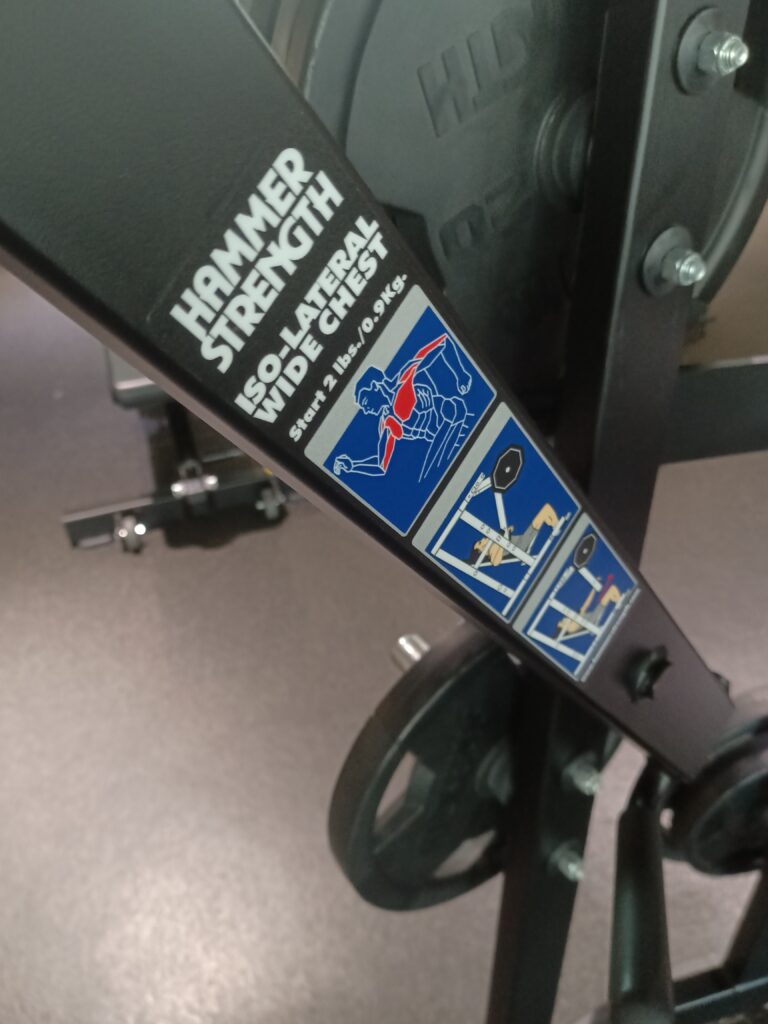 Iso-lateral decline chest press machine. Lying on the incline bench stand, you will push bars to forward. I never this machine in any other gyms for decline chest plate loaded machine.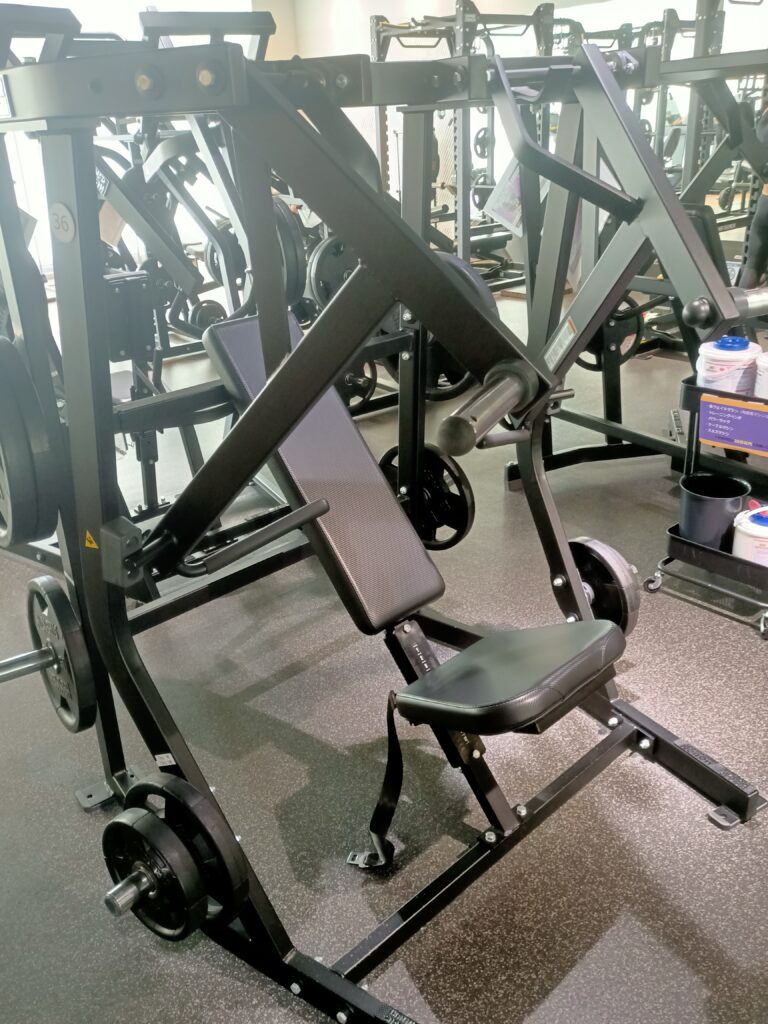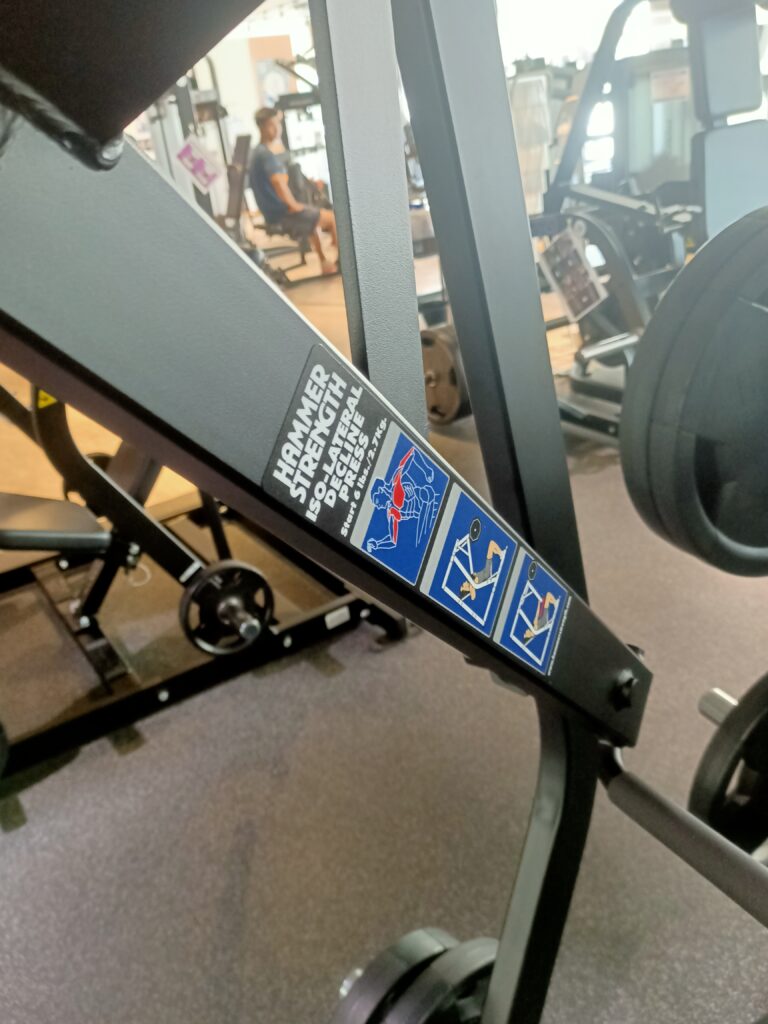 Last one is Iso-lateral shoulder press machine.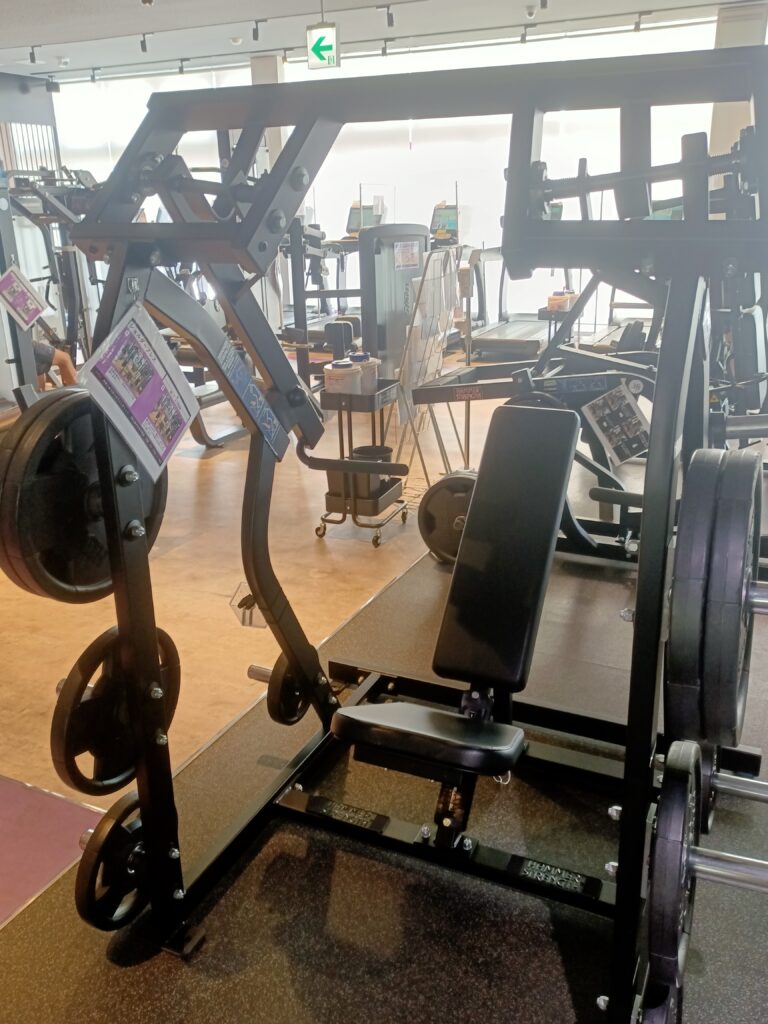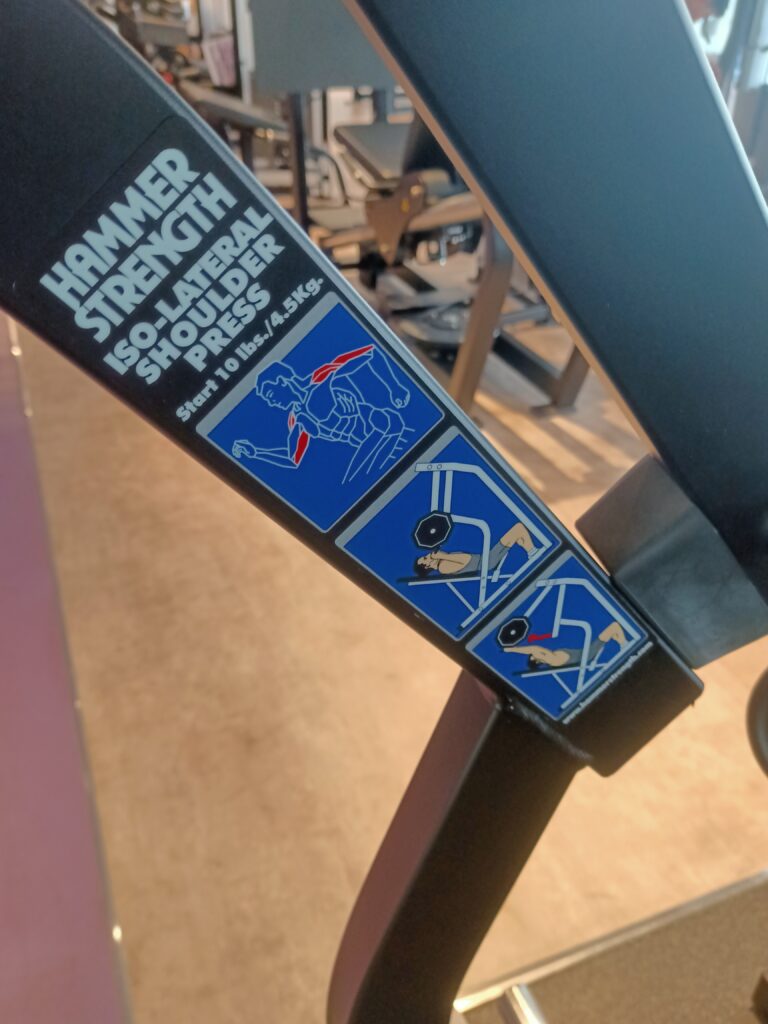 Below is whole view of plate loading machines from dumbbell area. As we reviewed, whole body can be trained hard only by plate machines here in Yotsukaido branch. This is simply amazing, wish this gym owner opens similar gym near my area too, hehe.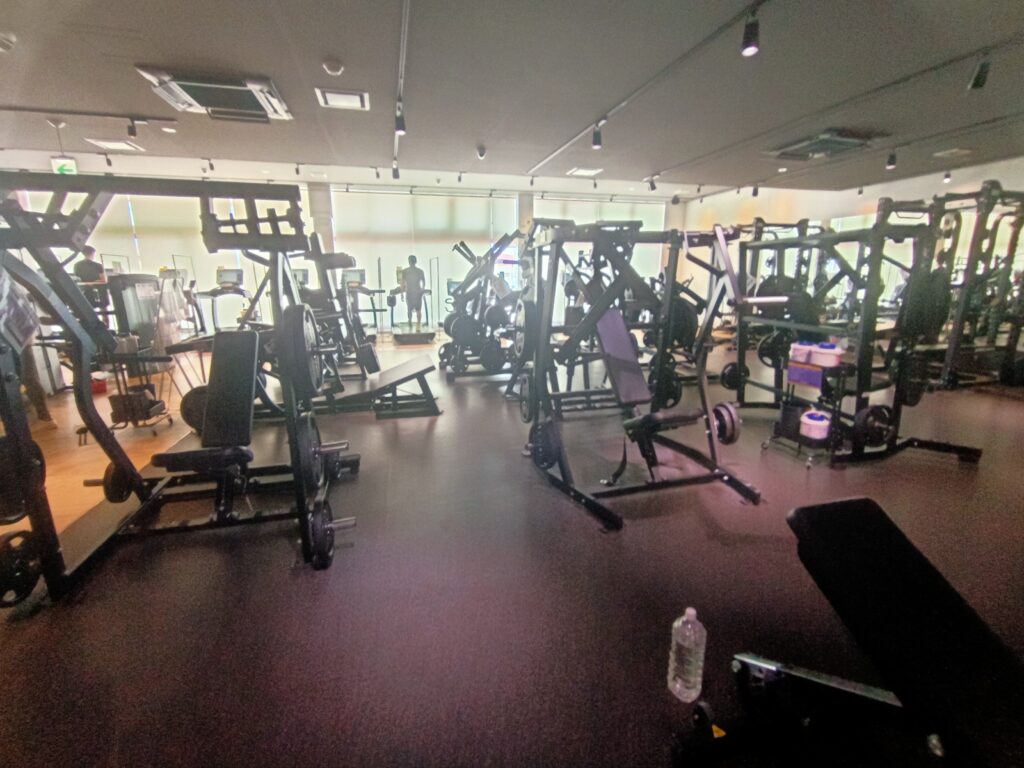 Free weight area
Lastly, we will see free weight area where most people come to train. Dumbbell is prepared until 60kg.. wow. from 52kg to 60 kg does not have rack to hold, it is because these dumbbells are added later on.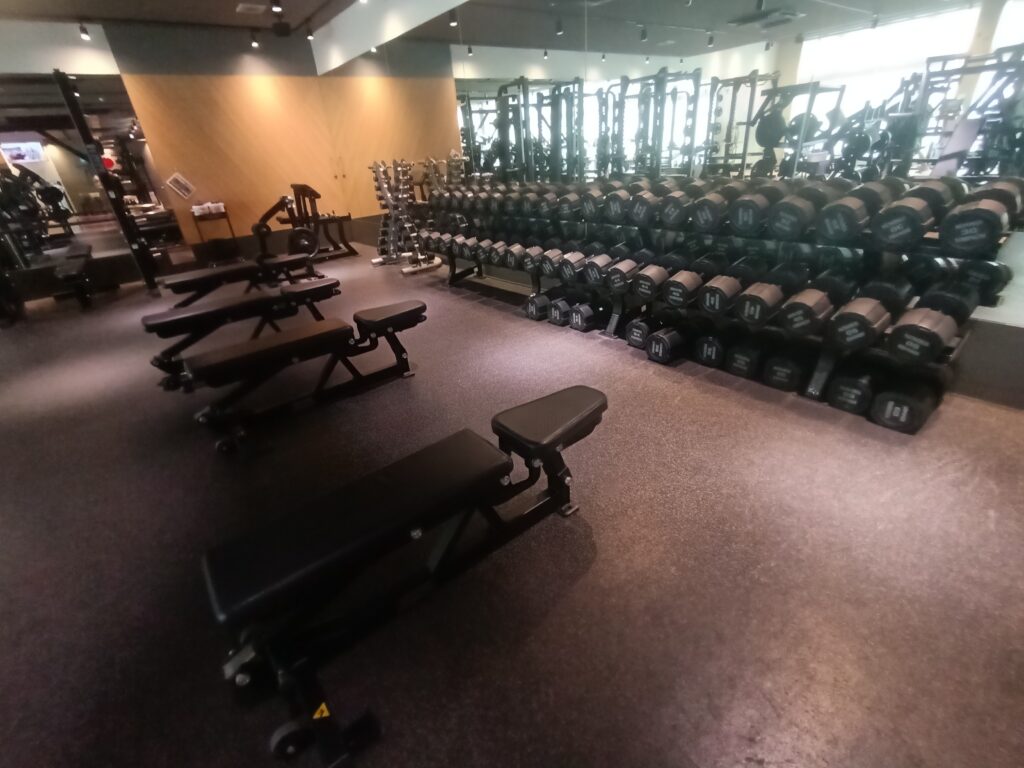 60kg is too heavy for me. Maybe I can do one hand row only.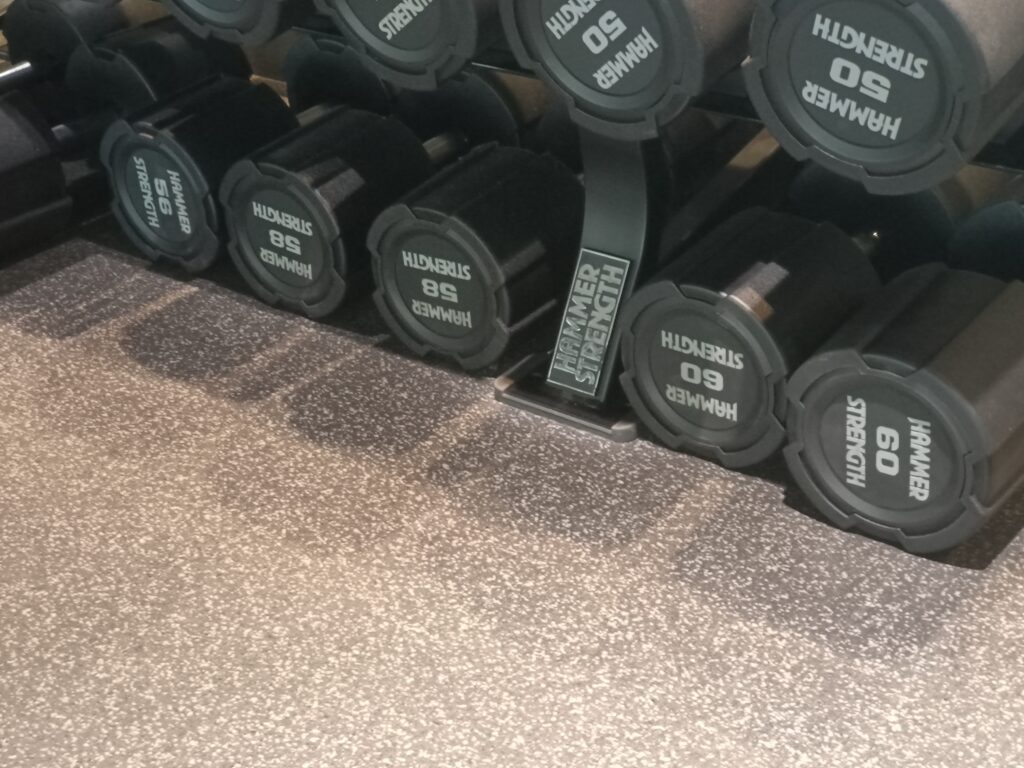 From 1 to 10kg is stored separately together with EZ bar.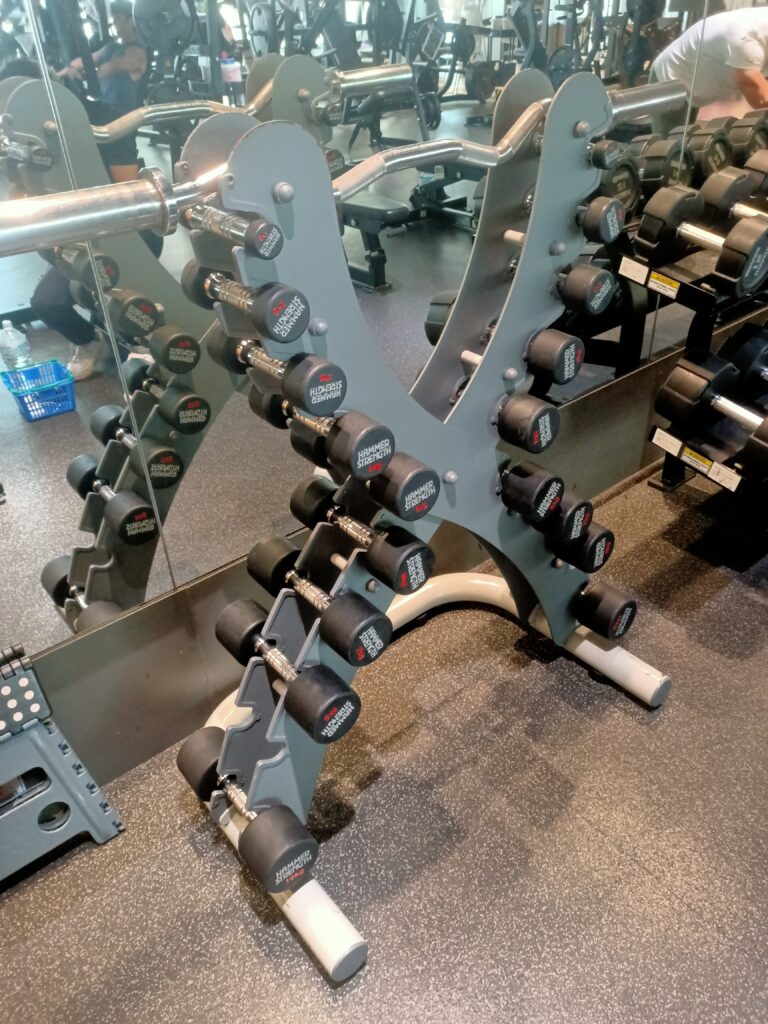 Preacher curl stand.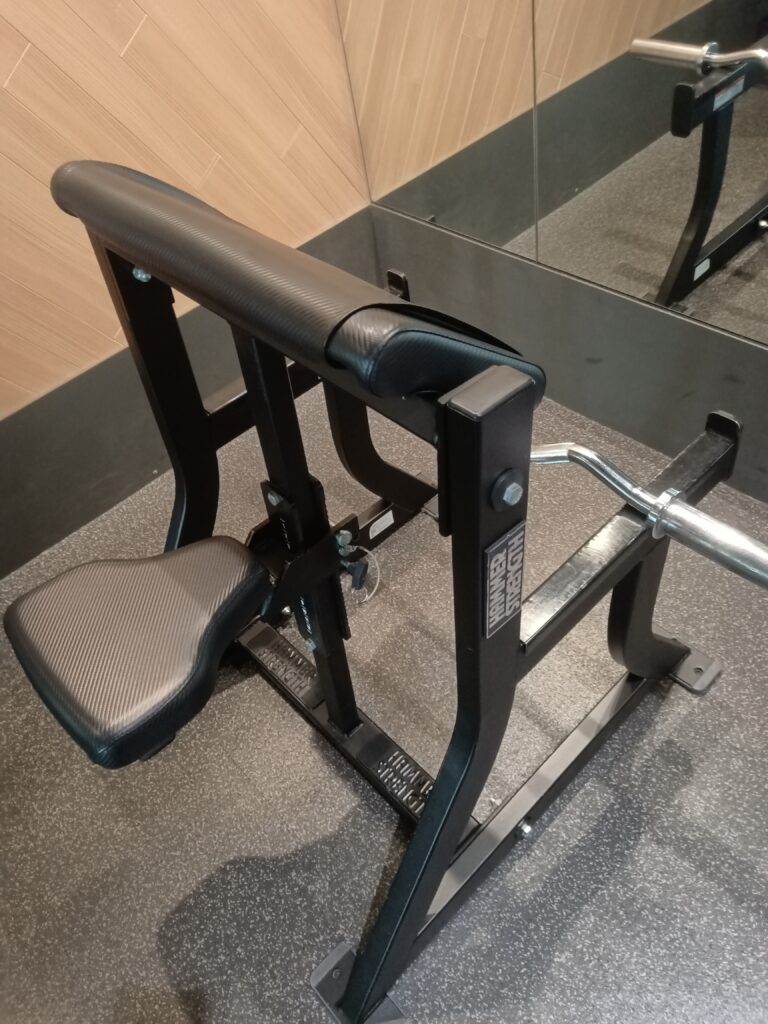 One vertical smith machine on right and 2 power rack on left side.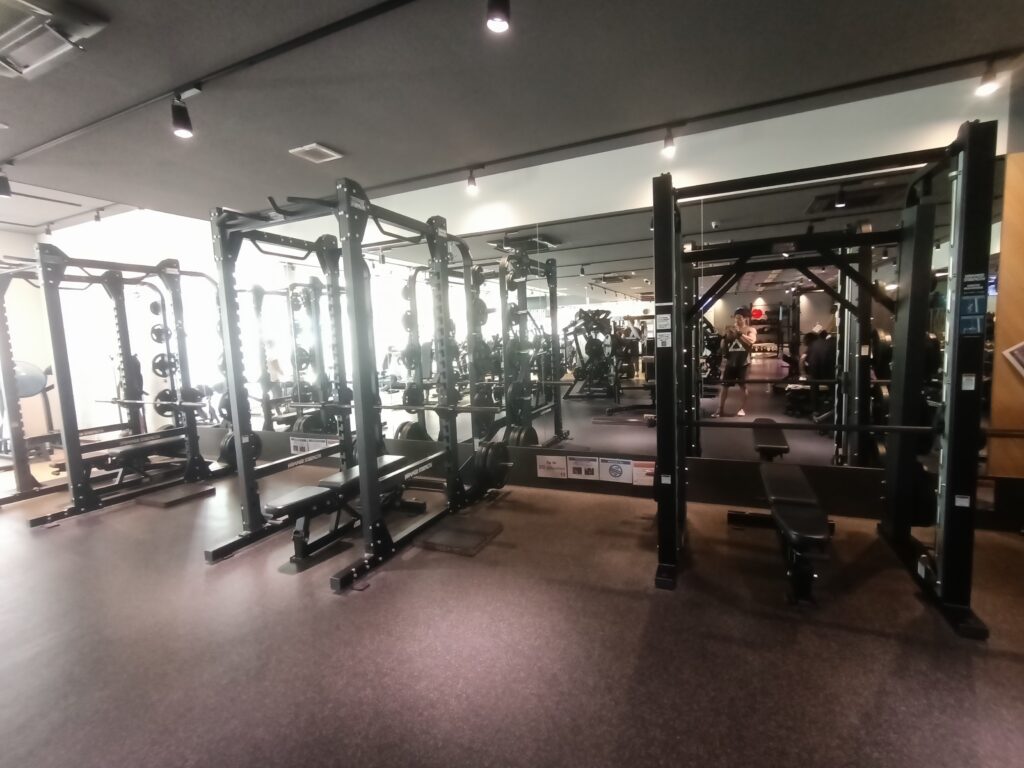 Power rack. Side mat is for deadlift use so as not to make sound and damage the floor.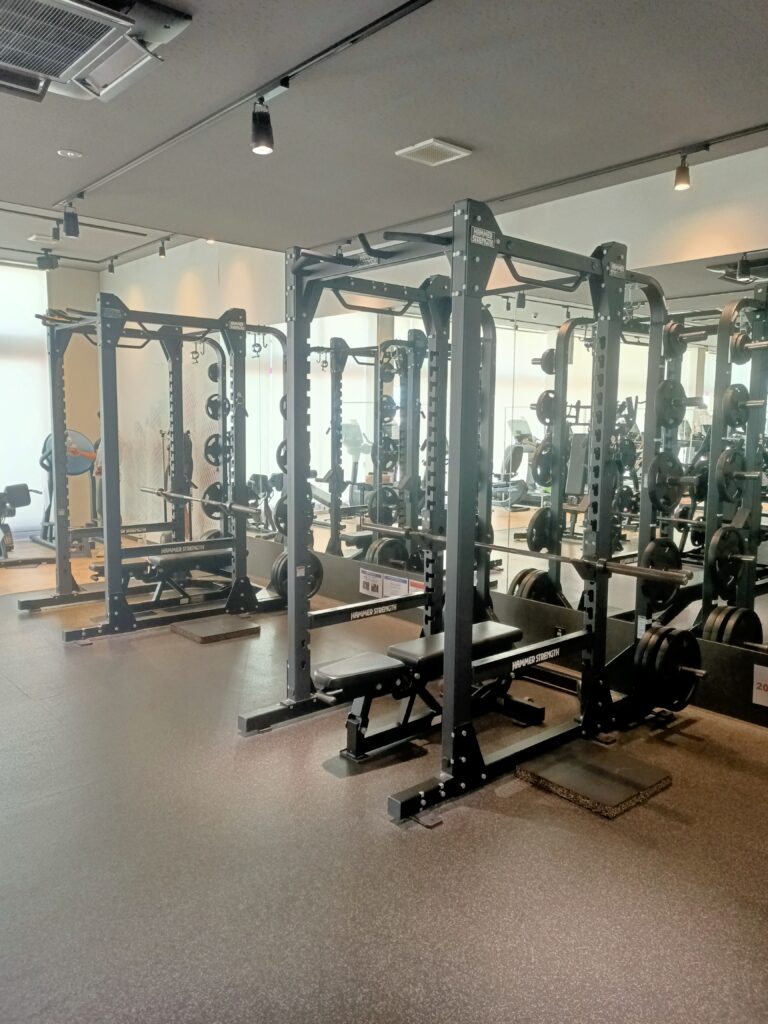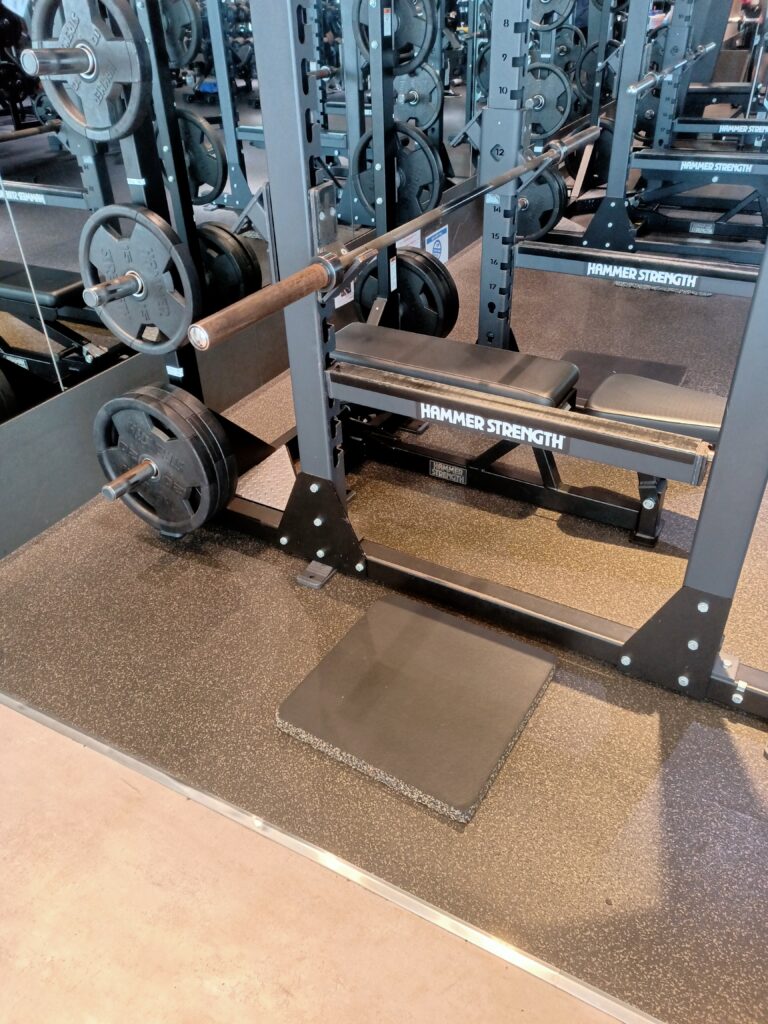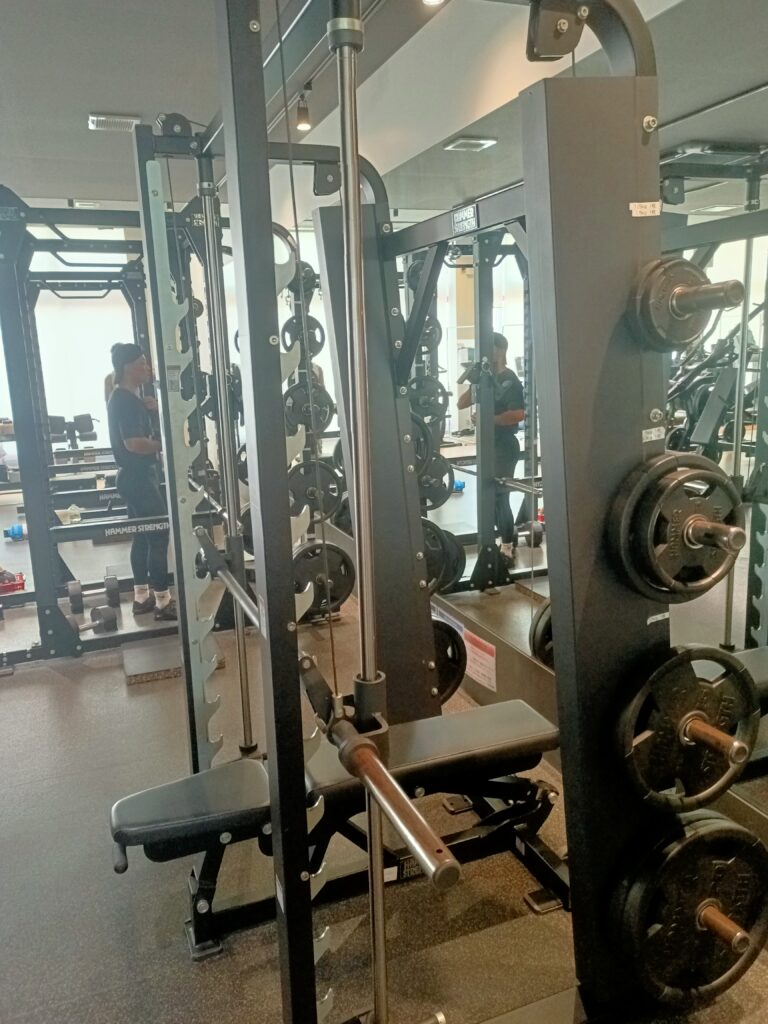 Leather belt for free use.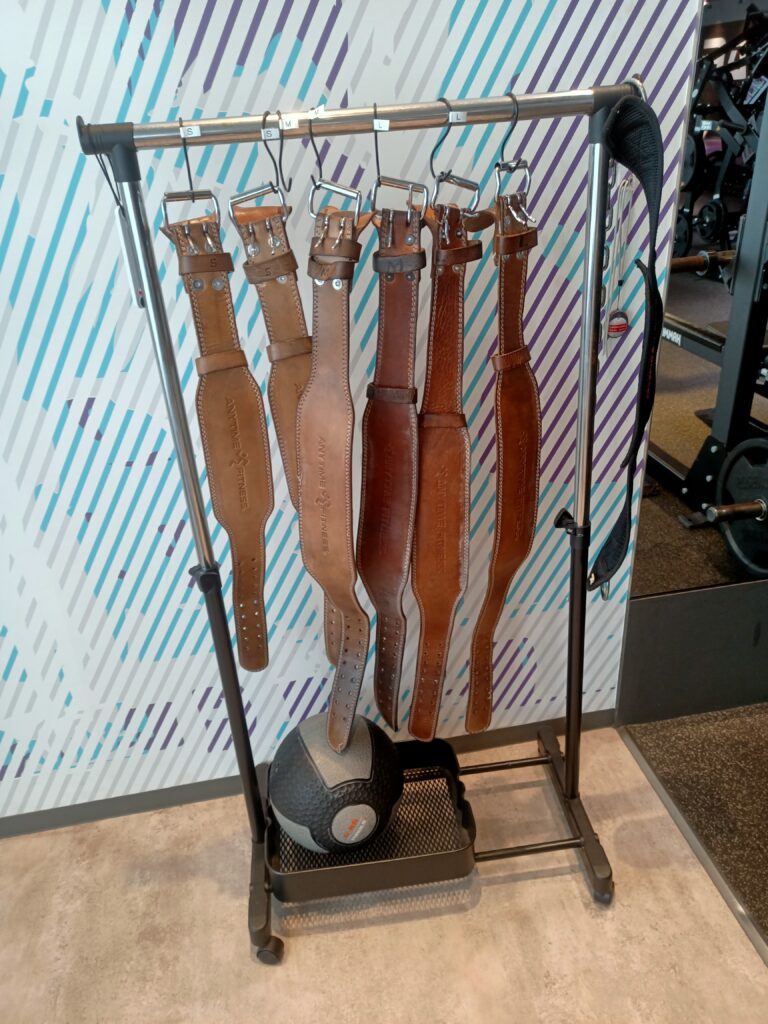 OK! That's all complete review of Anytime Fitness Yotsukaido branch. So far this club is best in my experience especially because of amazing line up of plate loading machine. I will come here sometimes to enjoy the machines and hopefully press 60kg by chest.
I hope this post will help you to try this club! See ya!