Welcome back to ftravelife.com!
One Saturday in July, 2022, I made short trip to go to another Jetts branch where I have never been to. Later on, I got to know from my trainer that it was the very first branch opened in Thailand 2016, which is Jetts Fitness – The Scene town in town.
Location is a bit far from the Bangkok city center. This time, I used Airport rail link and bus to reach then walked a bit. You can follow this way to go or you can also walk from Lao phrao road if it is convenient for you.
How to go from Airport rail link station
This time, I came to Airport rail link Ramkhamhaeng station first. But the gym is still very far so you need to take bus and walk for 30 minutes.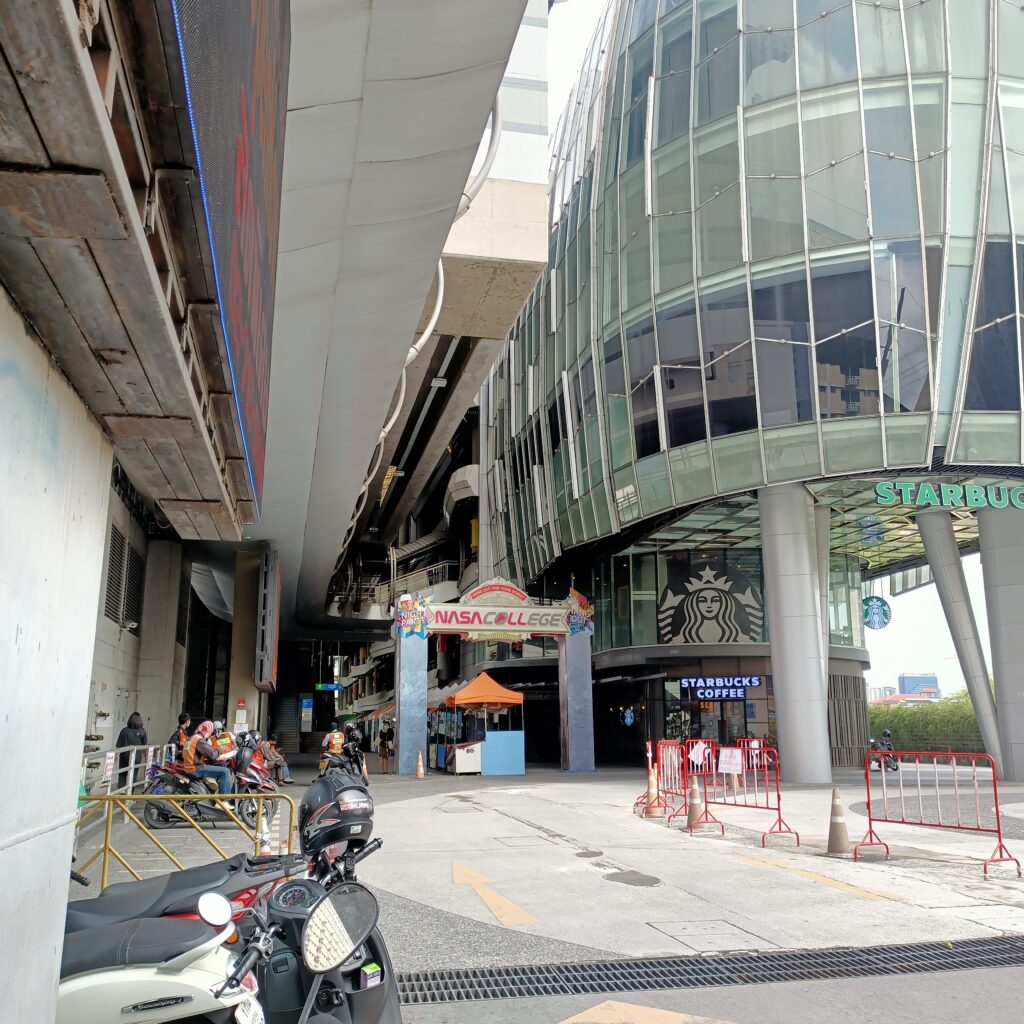 Once got down from Airport rail link station, go right side then take bus to go to Rajamangala stadium direction. I think any bus No. goes to the stadium directly so you can take buses come first.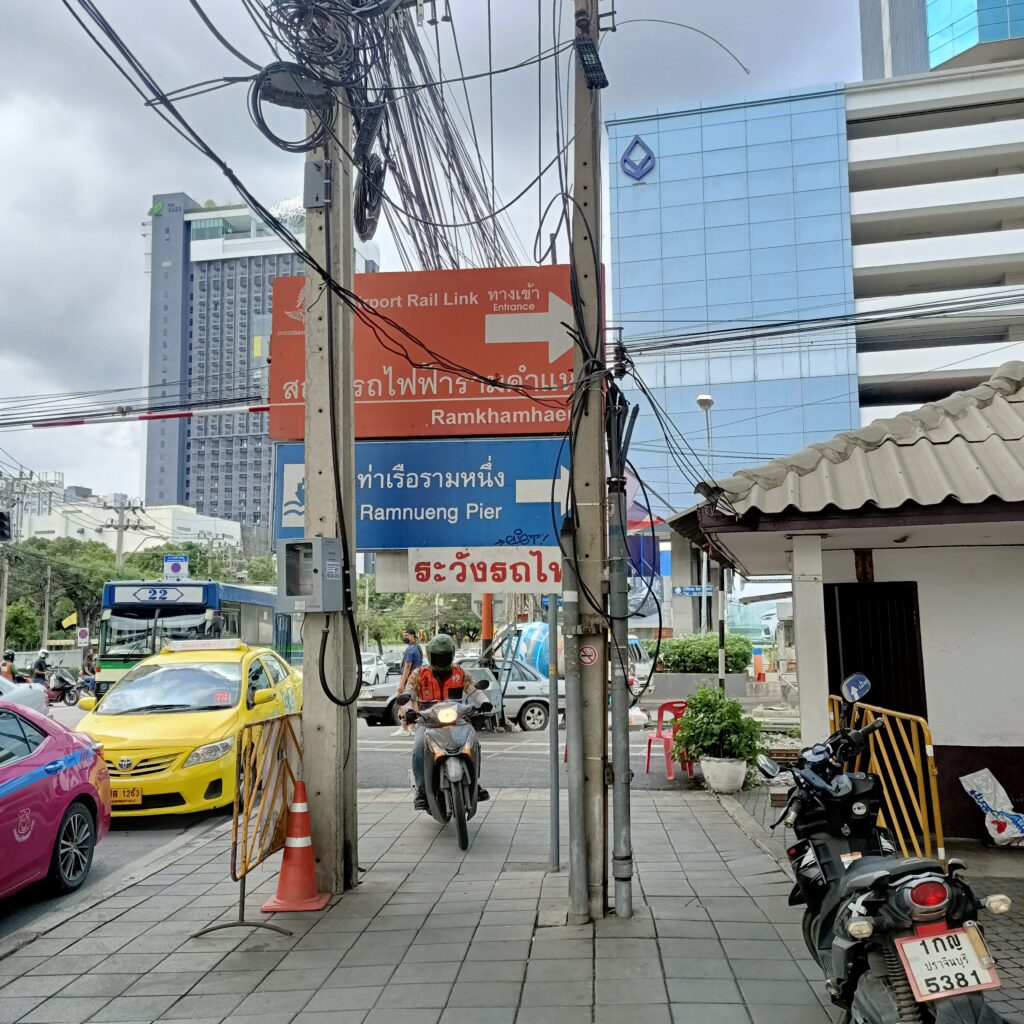 I took bus No. 93 for 8 THB to the stadium around 15 minutes.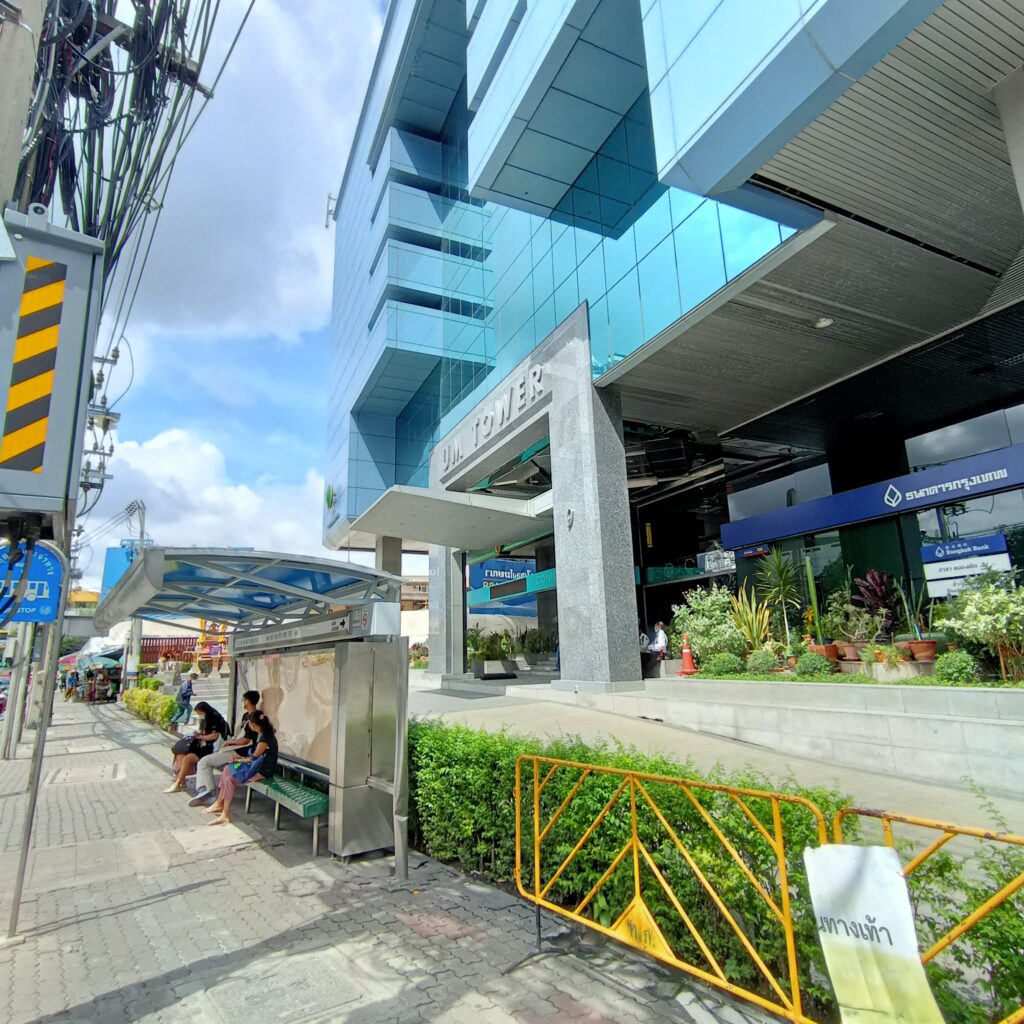 Drop bus at the opposite side of Rajamangala stadium then go back to the direction where you just came until Soi 43/1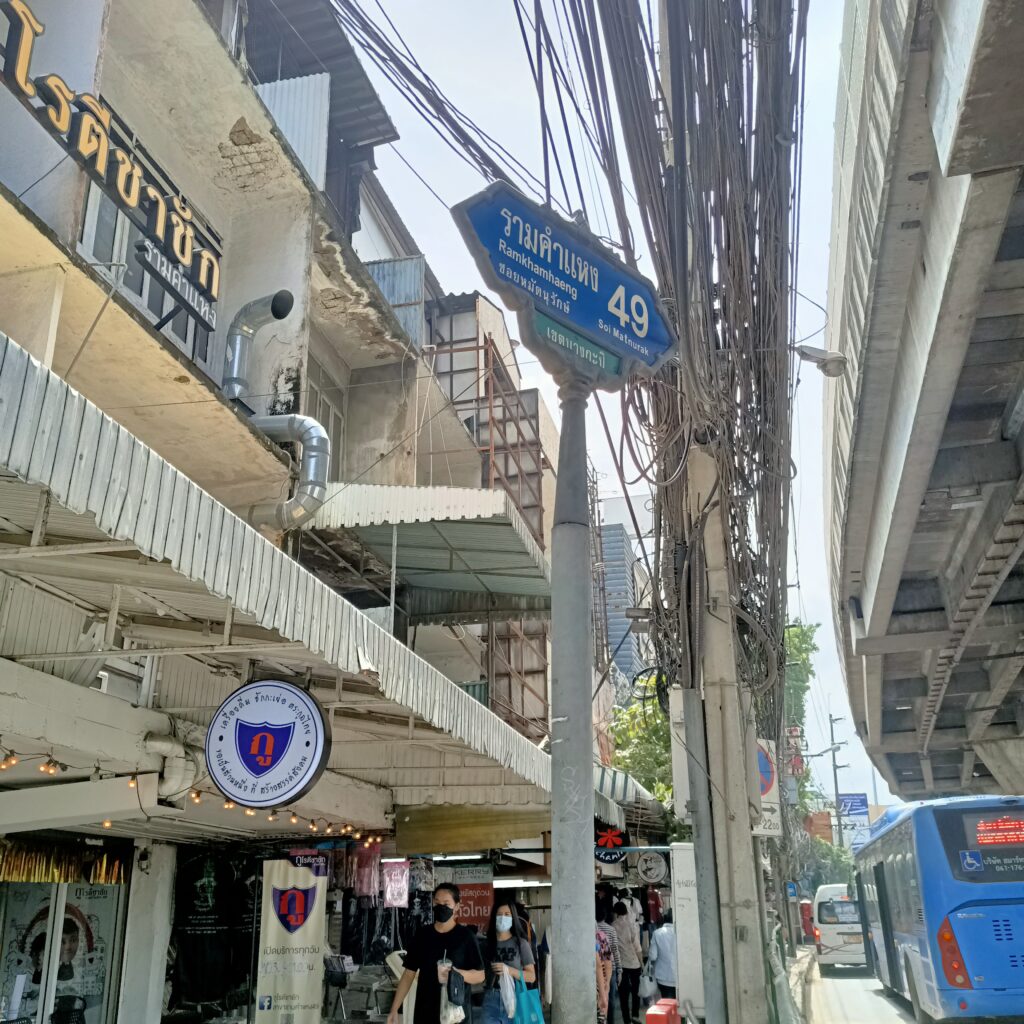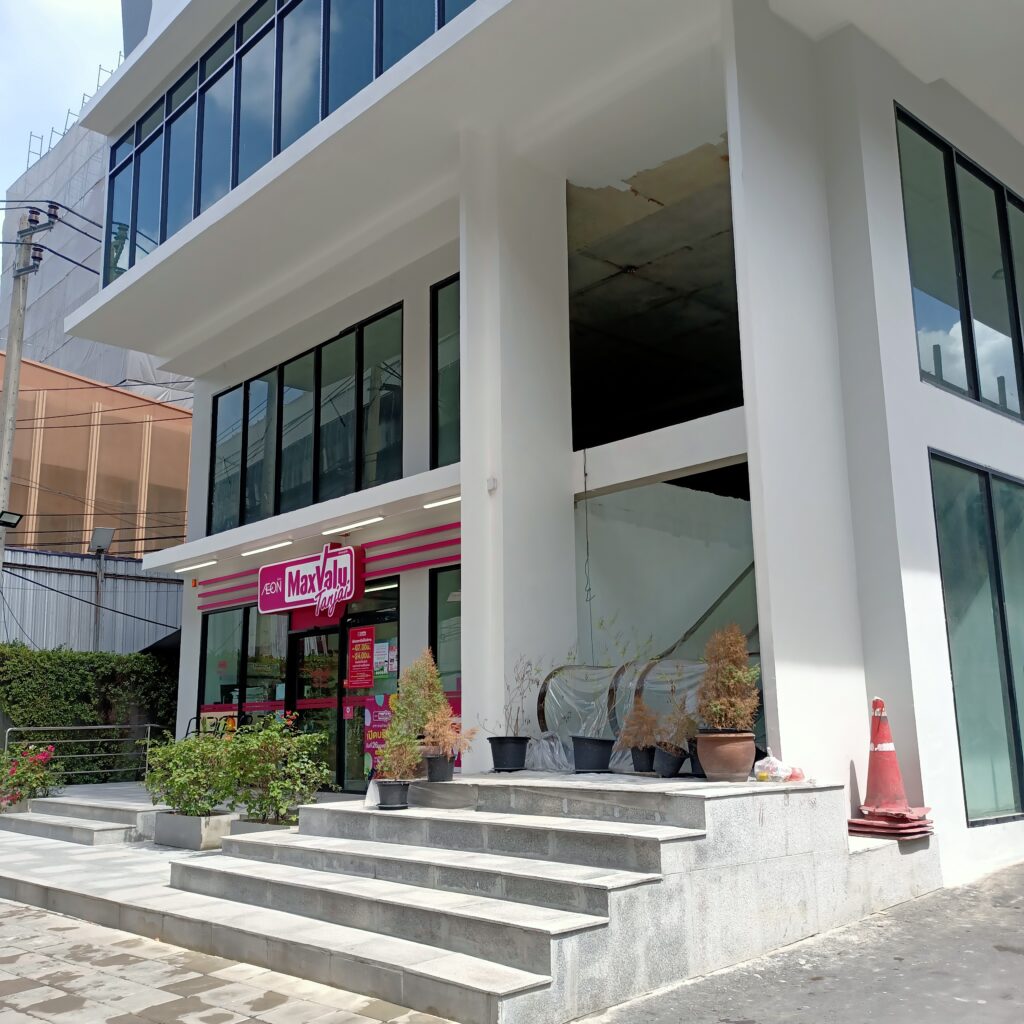 Take this road  Ramkhamhaeng soi 43/1 then walk straight until you will see Makro shopping center.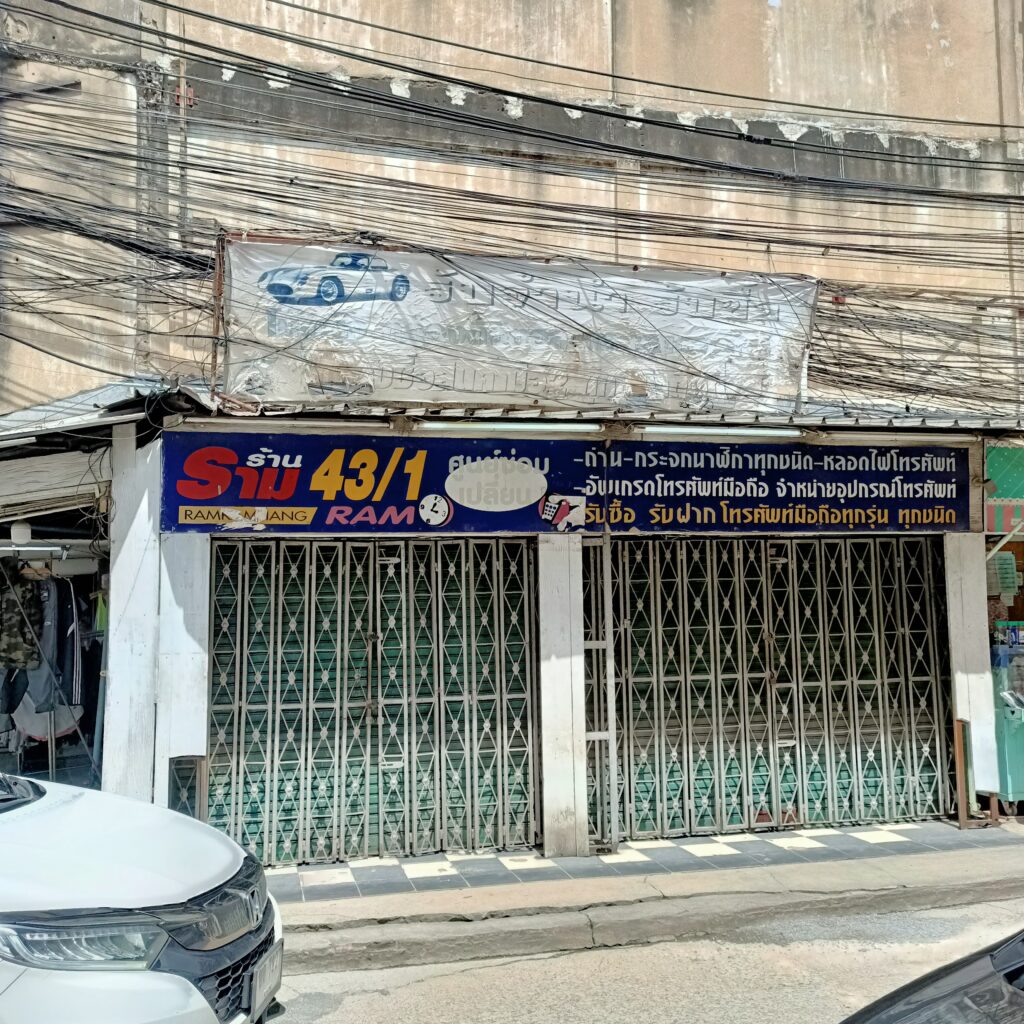 Some motor cycle are stand-by here at the entrance of Soi so you can take if you want. I prefer to walk for 30 minutes to reach the gym as pre workout exercise.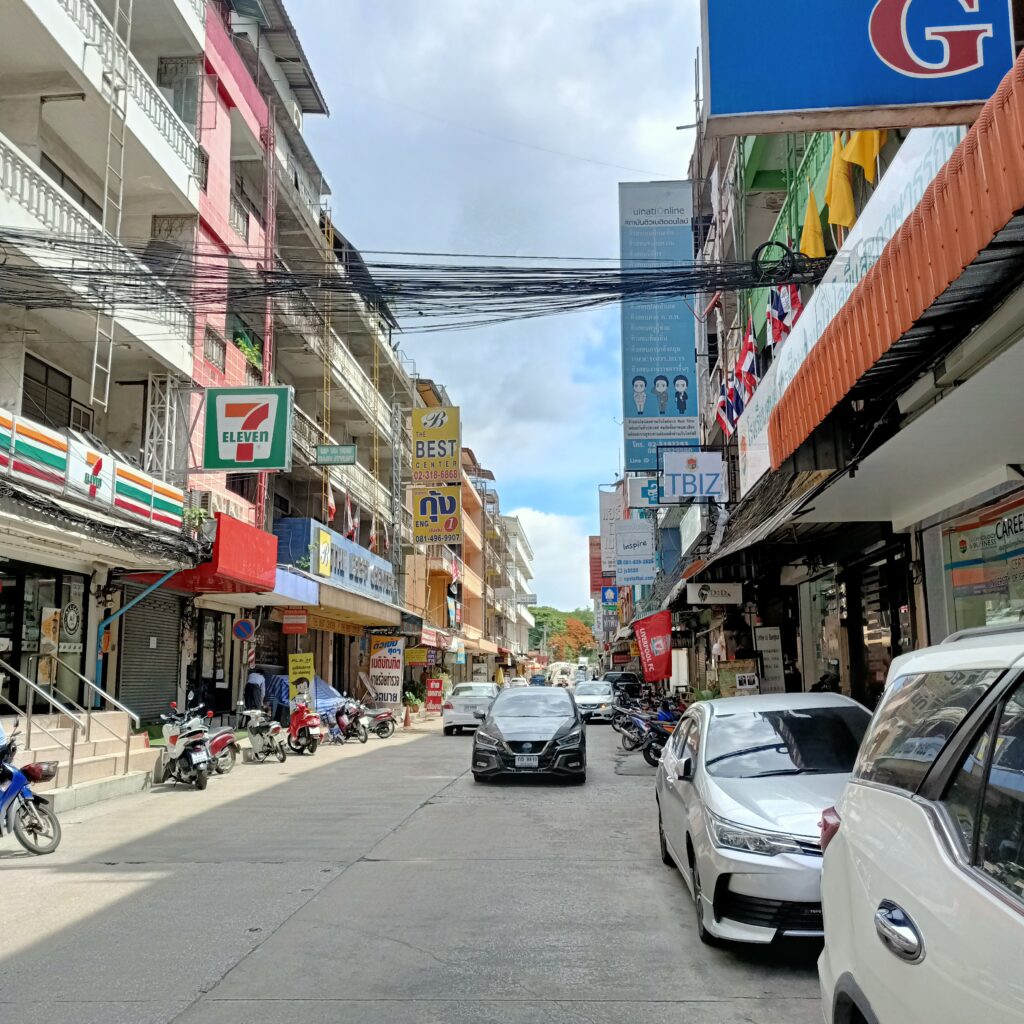 Road traffic is a bit jammed but don't be worried, there is pedestrian road to take for safe exercise.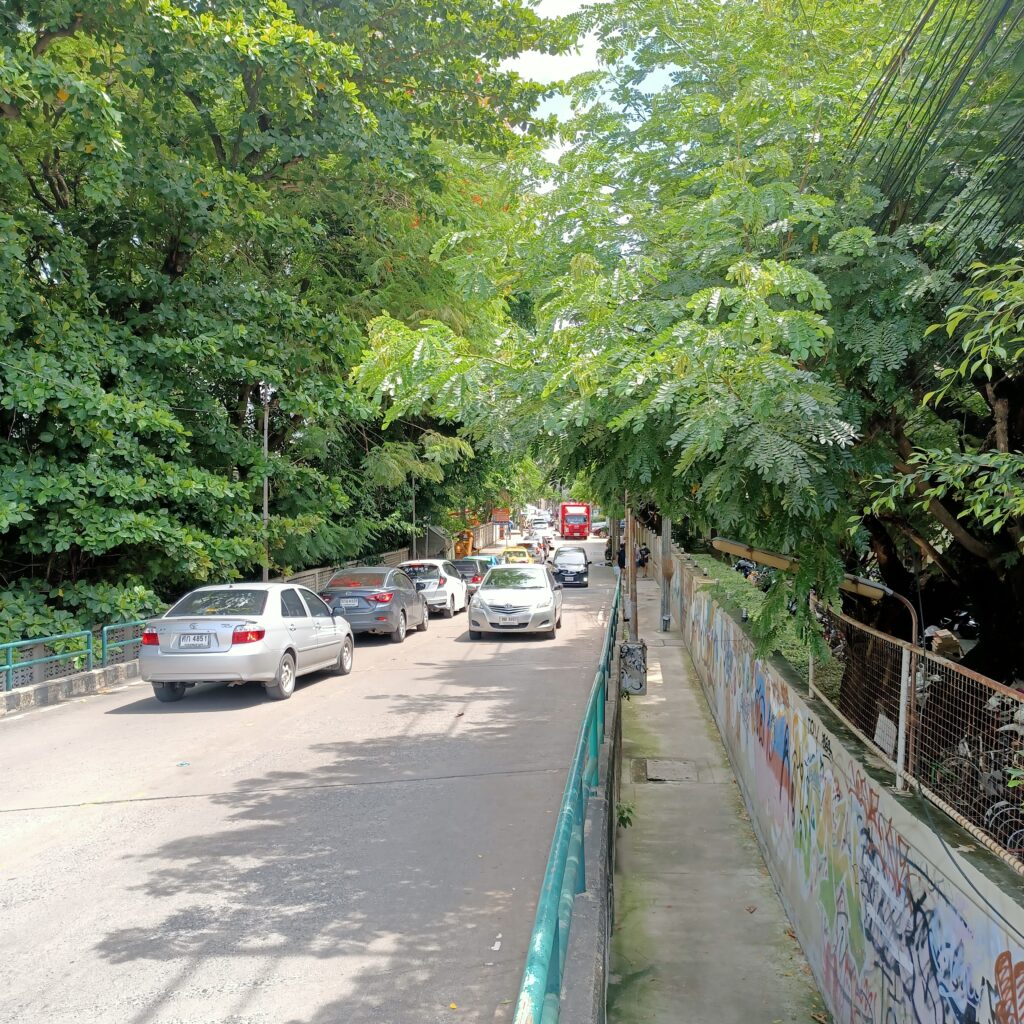 Only local apartments and houses in this area. I guess there are many students are living here to commute to Ramkhamhaeng University.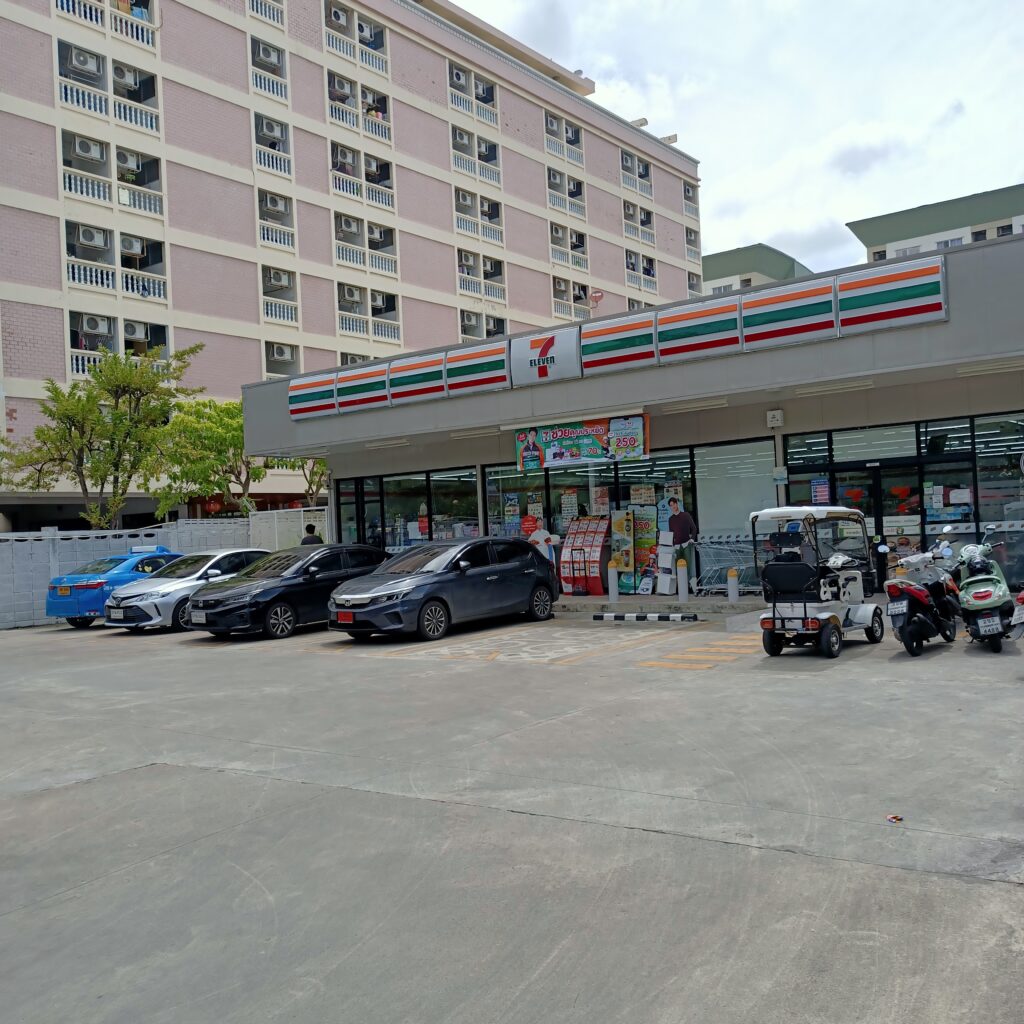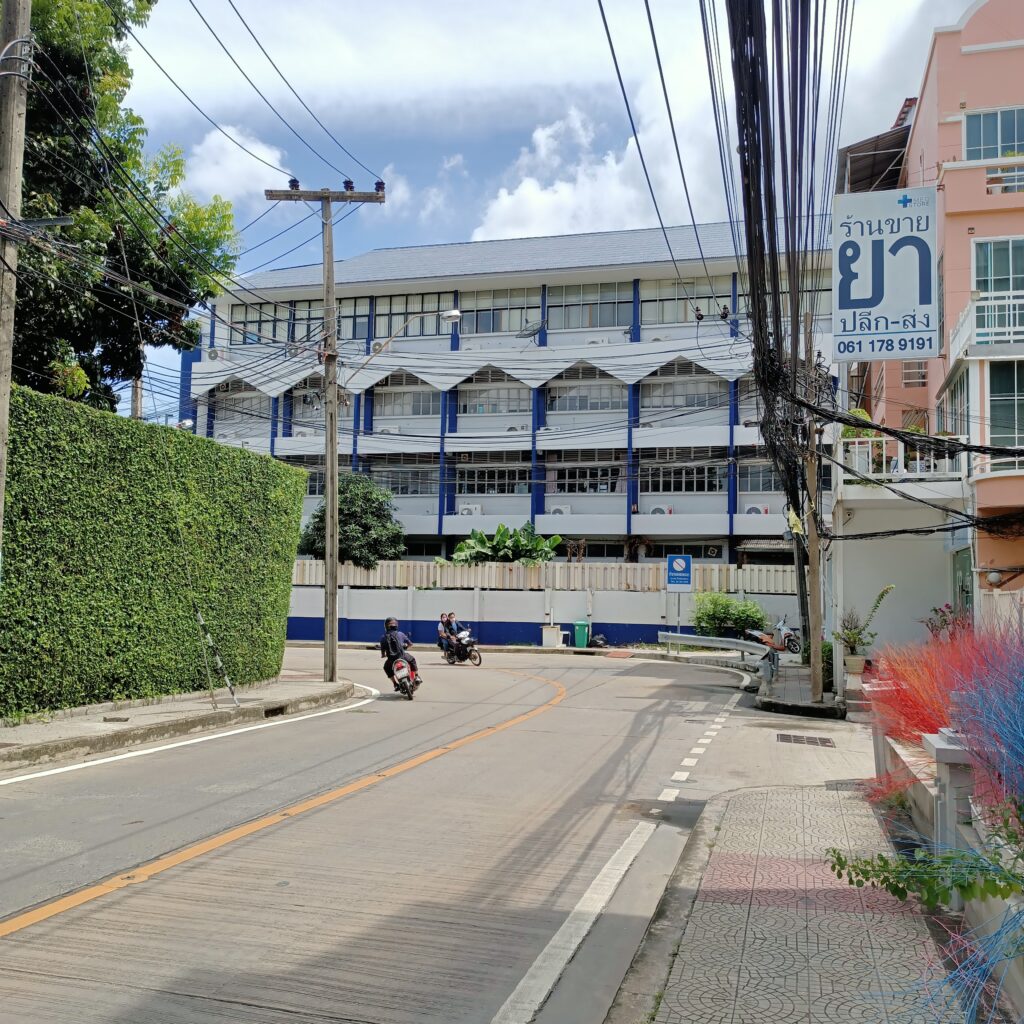 Walking and Walking under the scorching sun.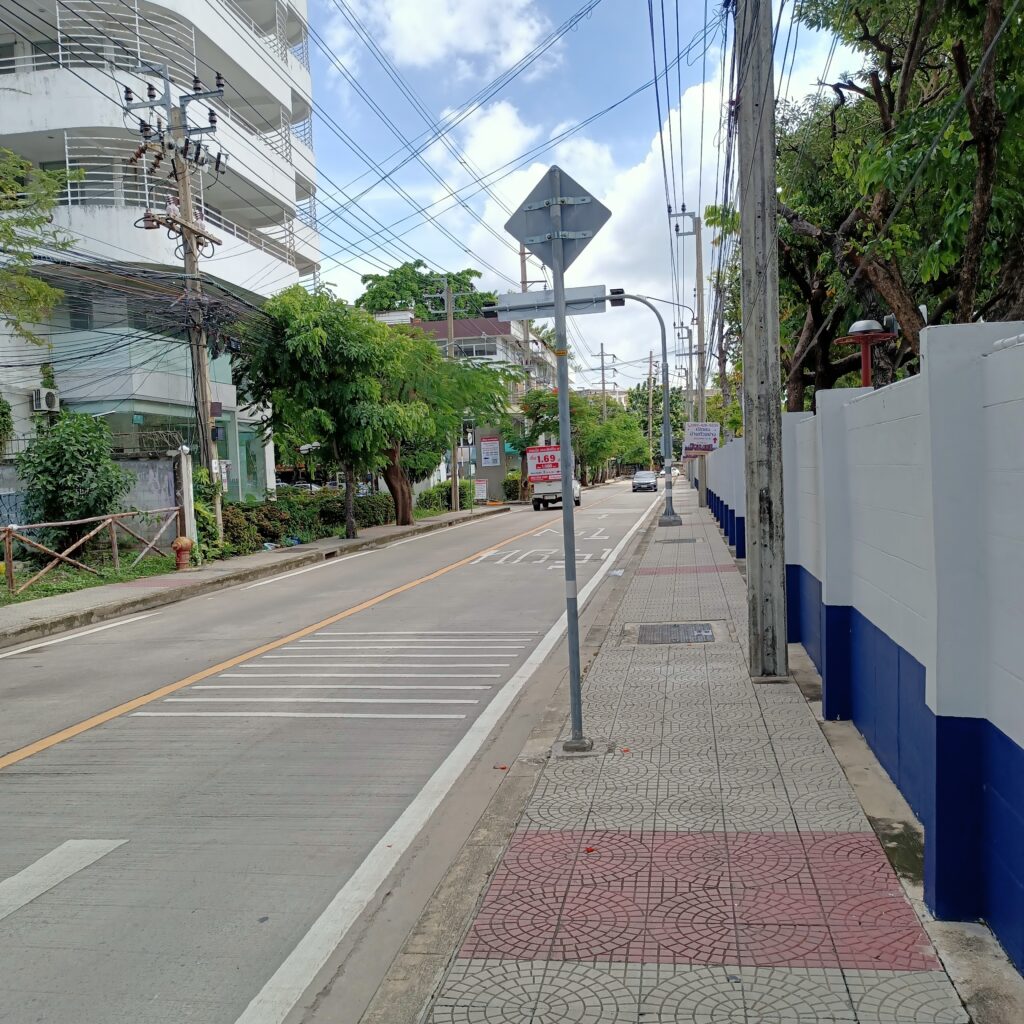 Yes! Finally came to Makro shopping center. My destination Jetts Fitness is just on the next corner.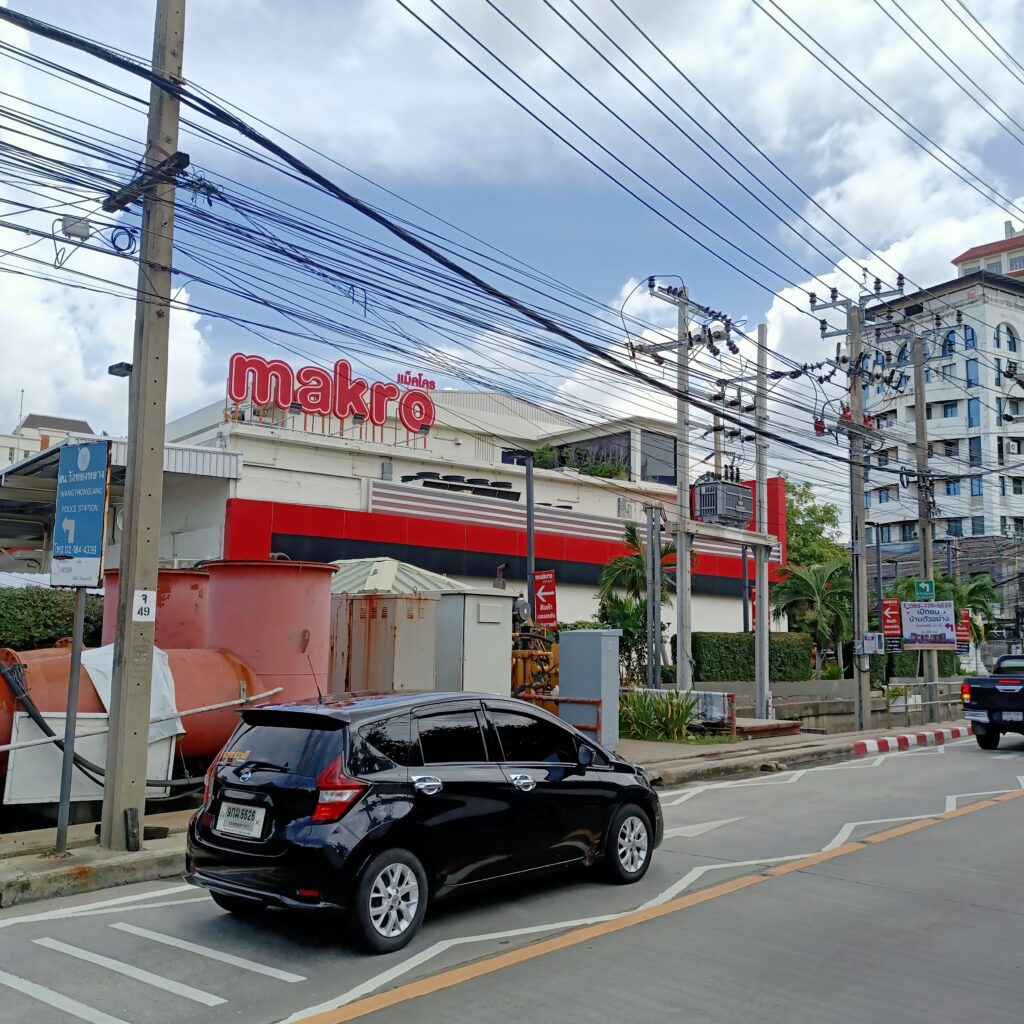 Take left side road then pass Makro shopping center. I highly recommend all fitness lovers live near this whole sale market to buy bulky and clean food in a very cheap price.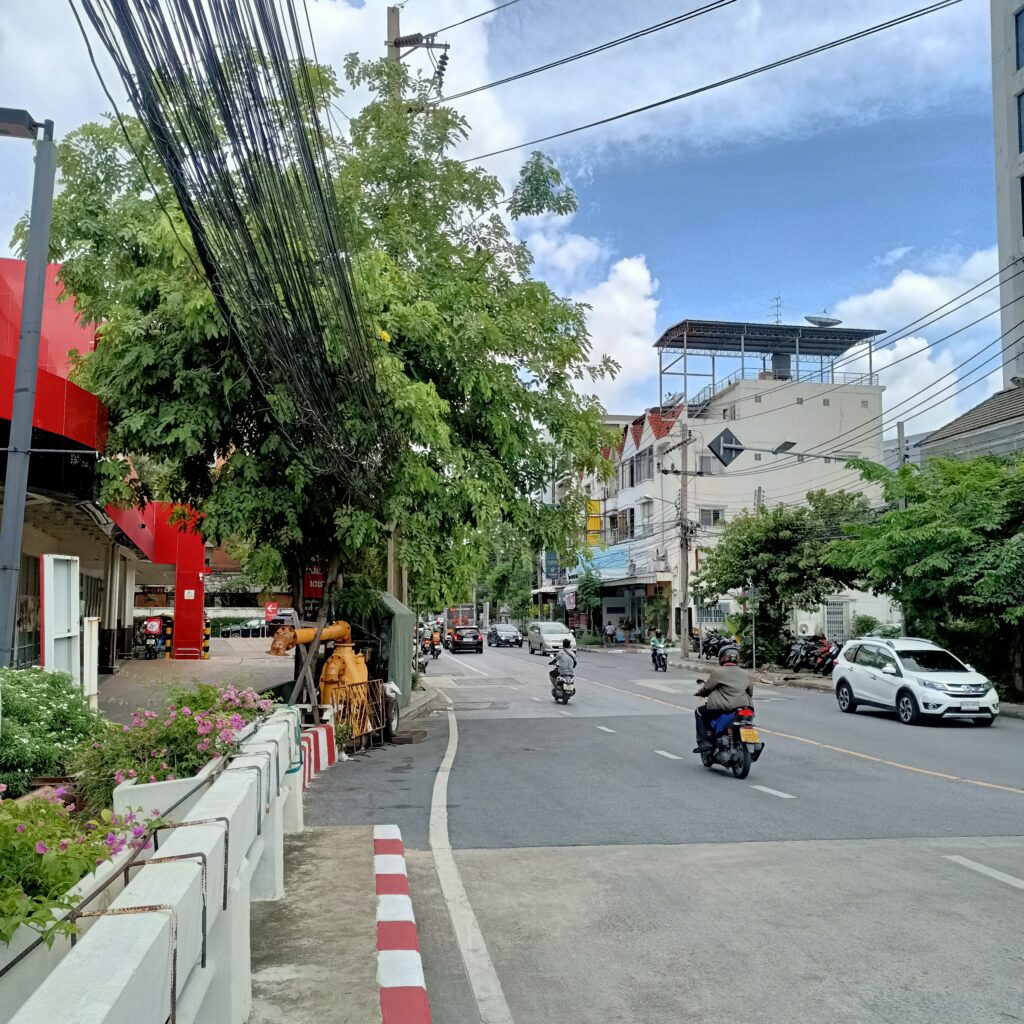 On the way, I saw closed fitness gym probably because of COVD-19 effect.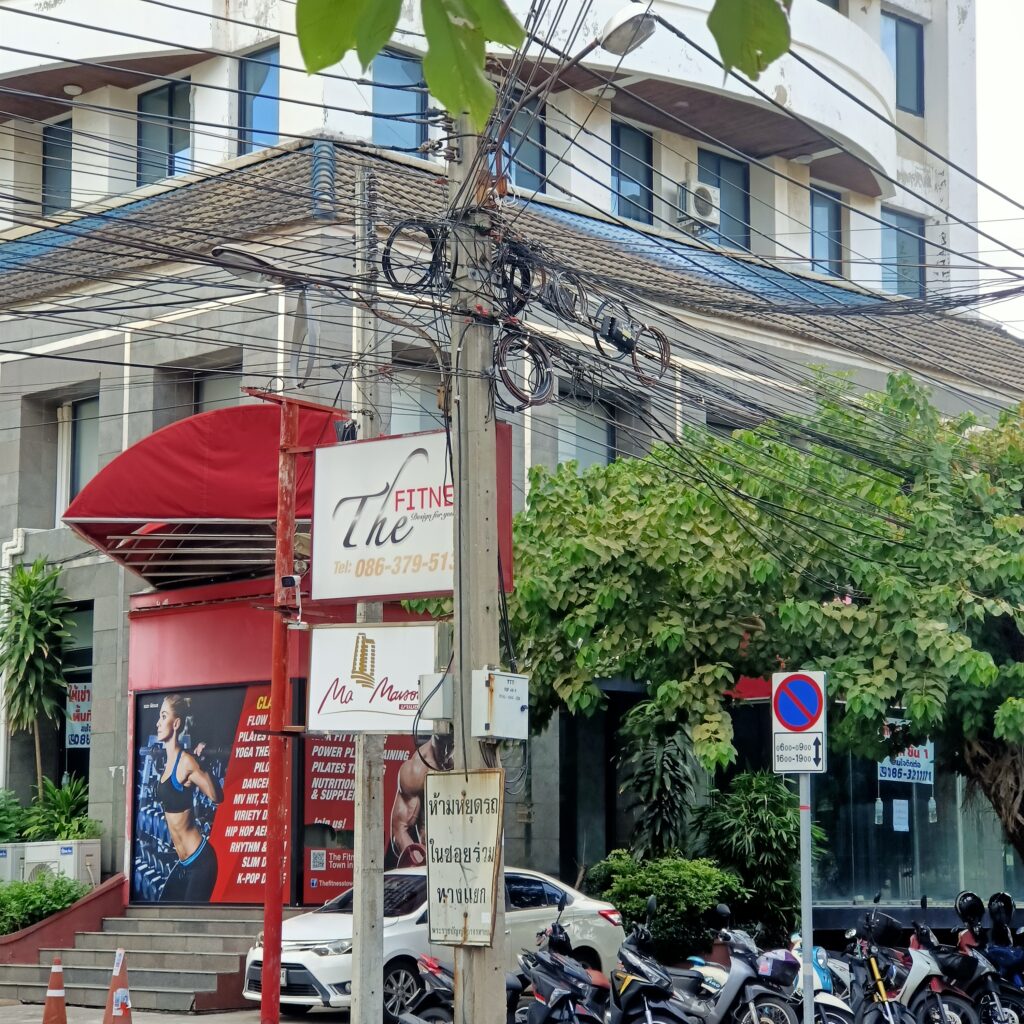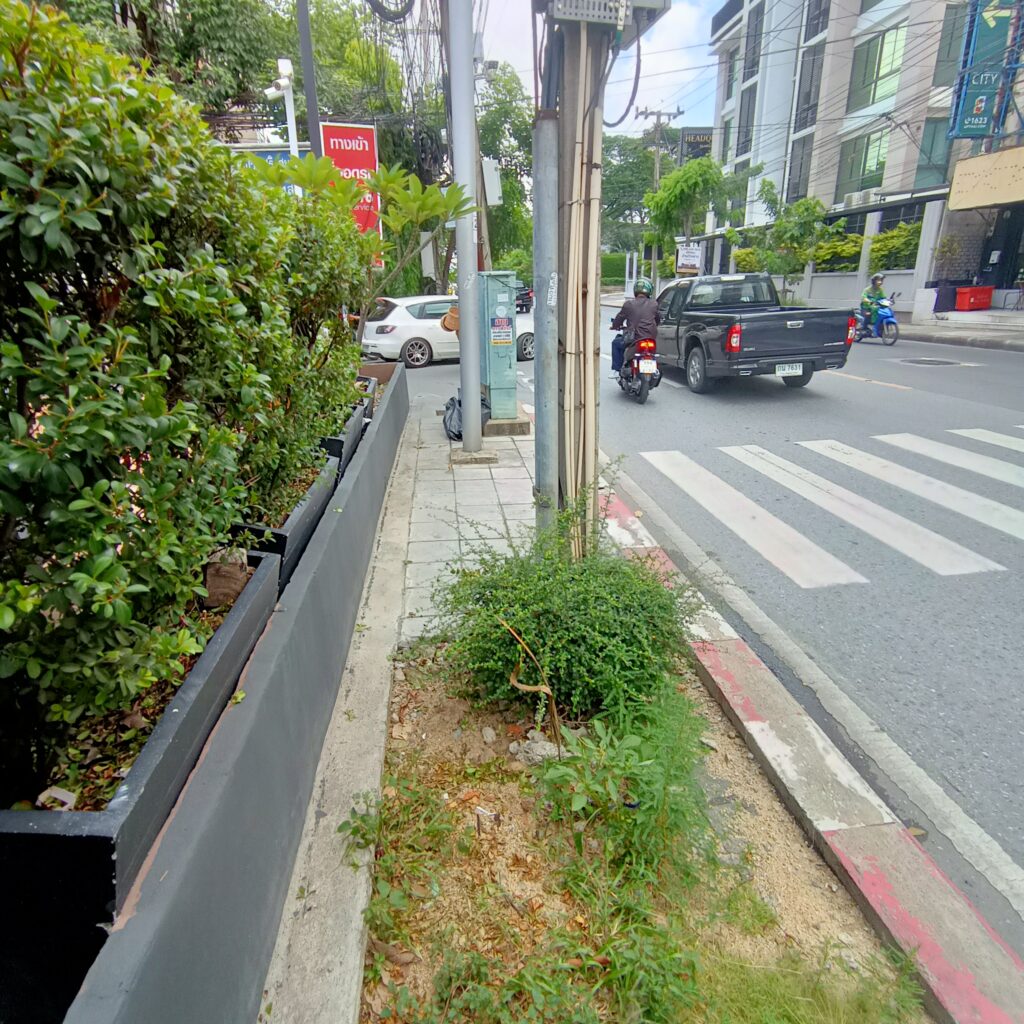 The Scene shopping mall where Jetts Fitness is located, is next to this Lotus's supermarket.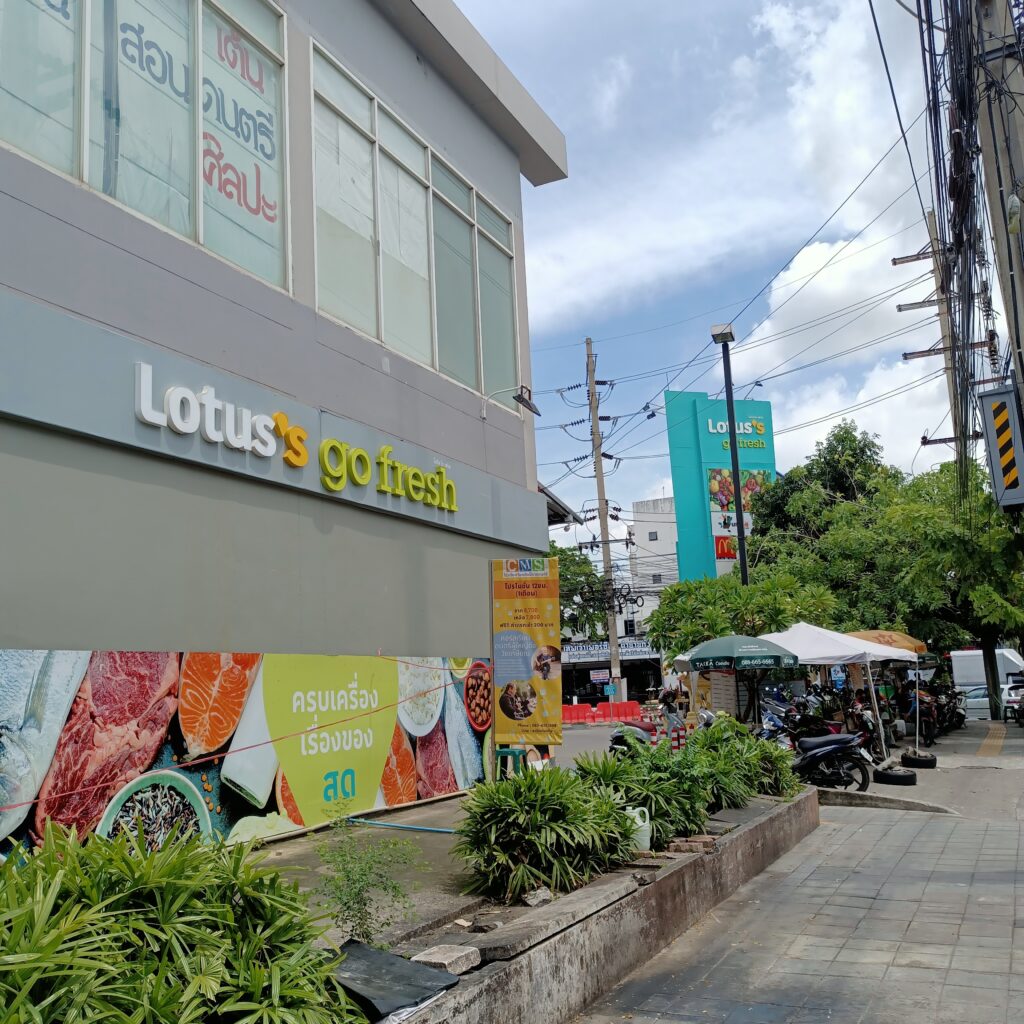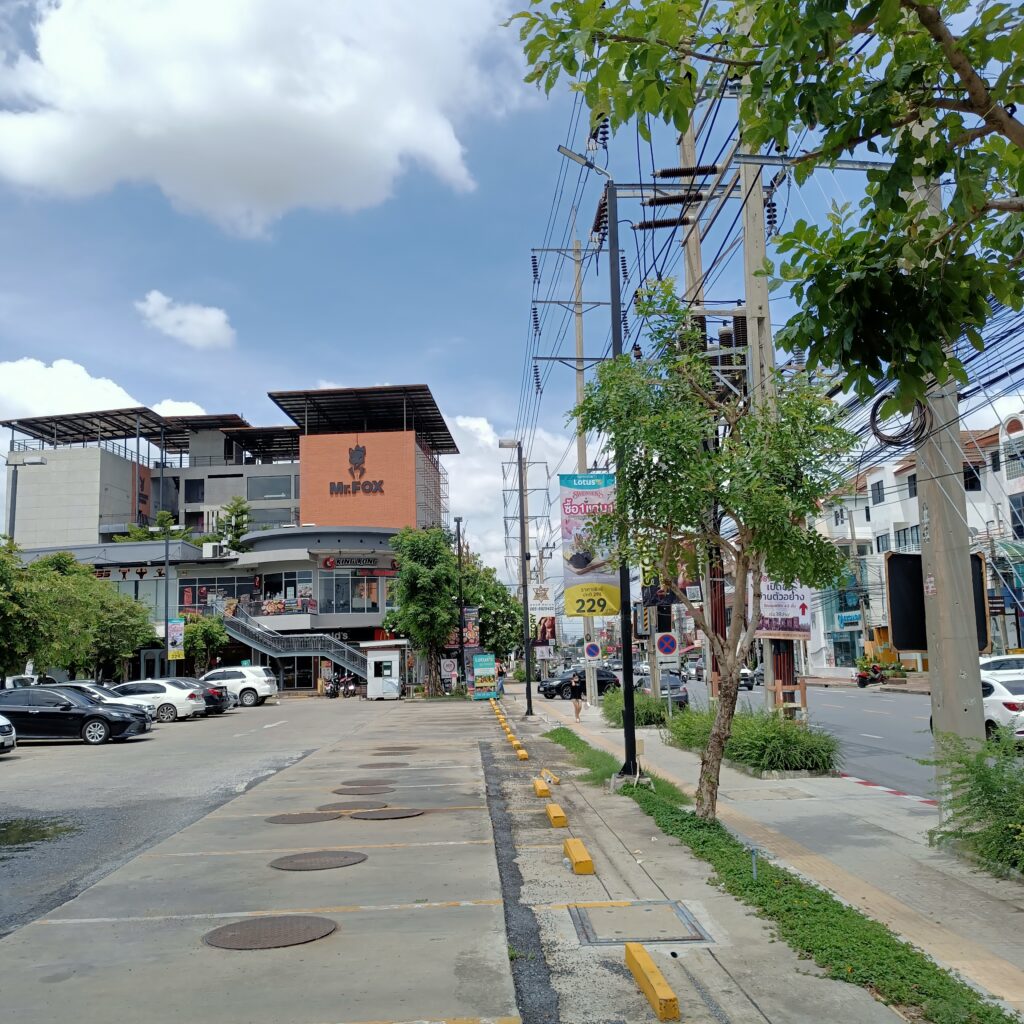 There you go, this is the part of The Scene shopping mall! Take escalator immediately to reach the gym!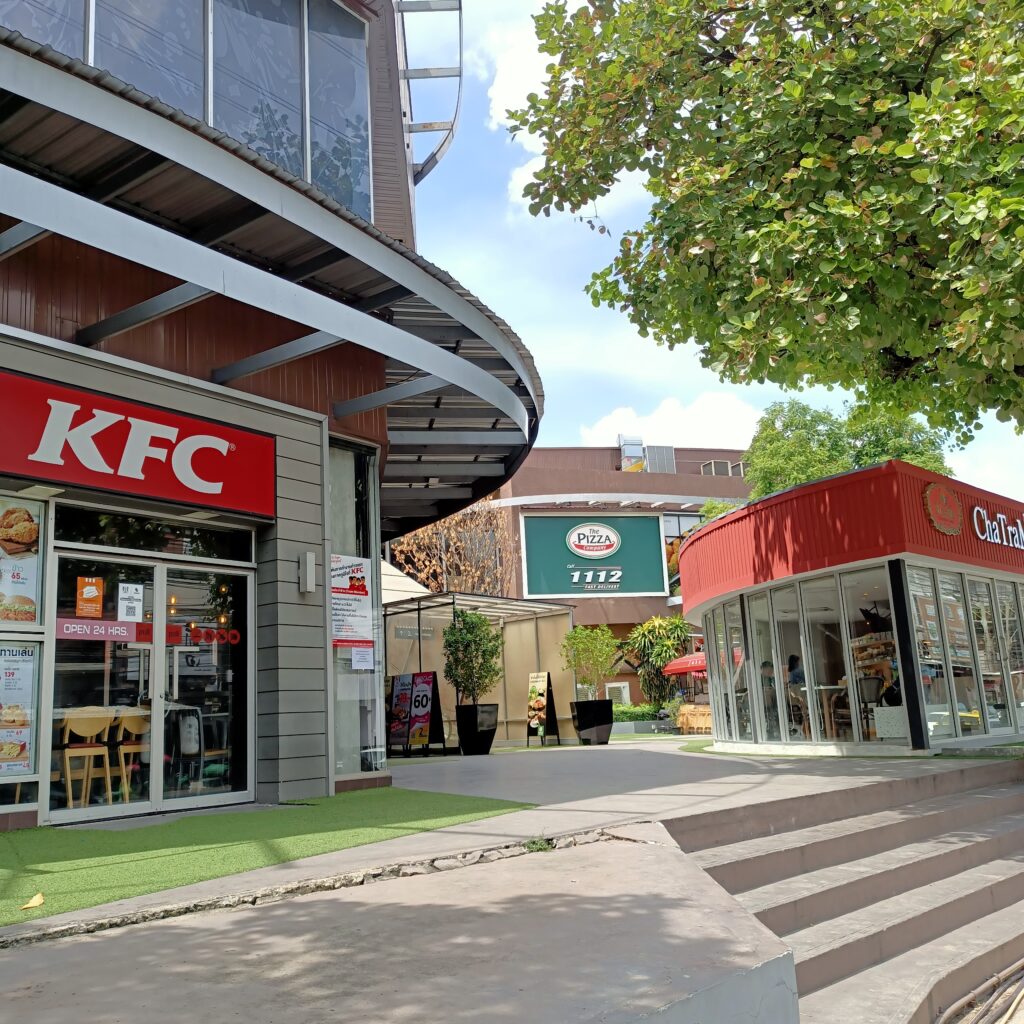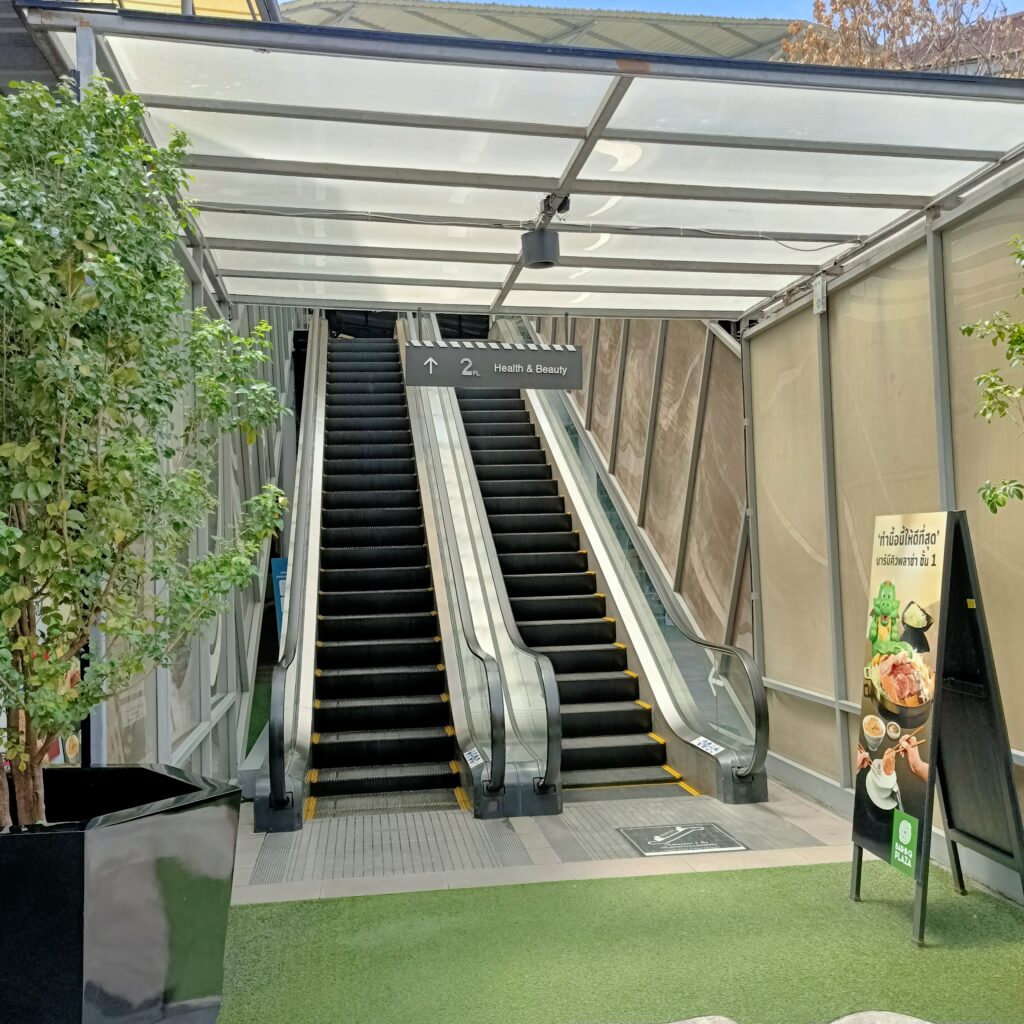 Jetts Fitness is just there at the end of escalator!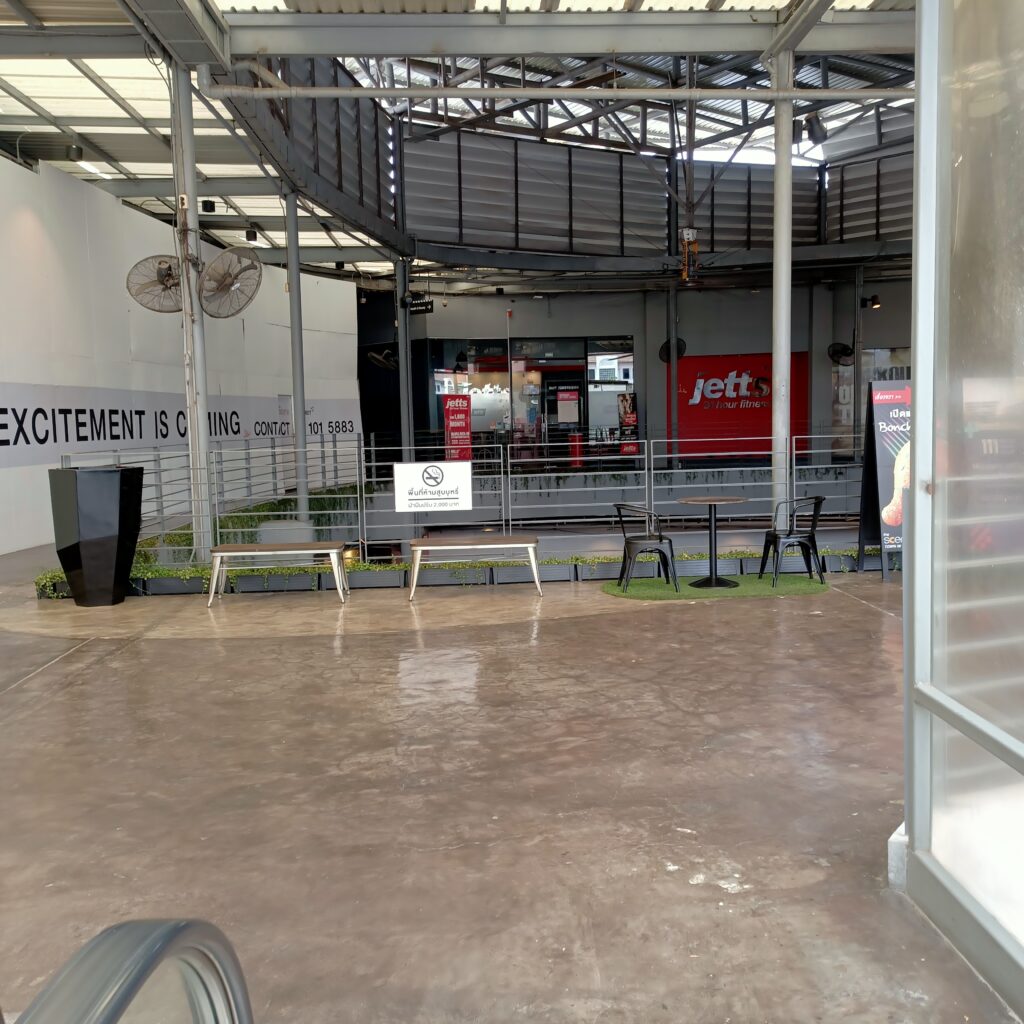 Let's get inside the gym. Jetts Fitness member can access any branch with member key card. During 6am to 10pm only, staff is at the gym so you can inquire at staff hours only.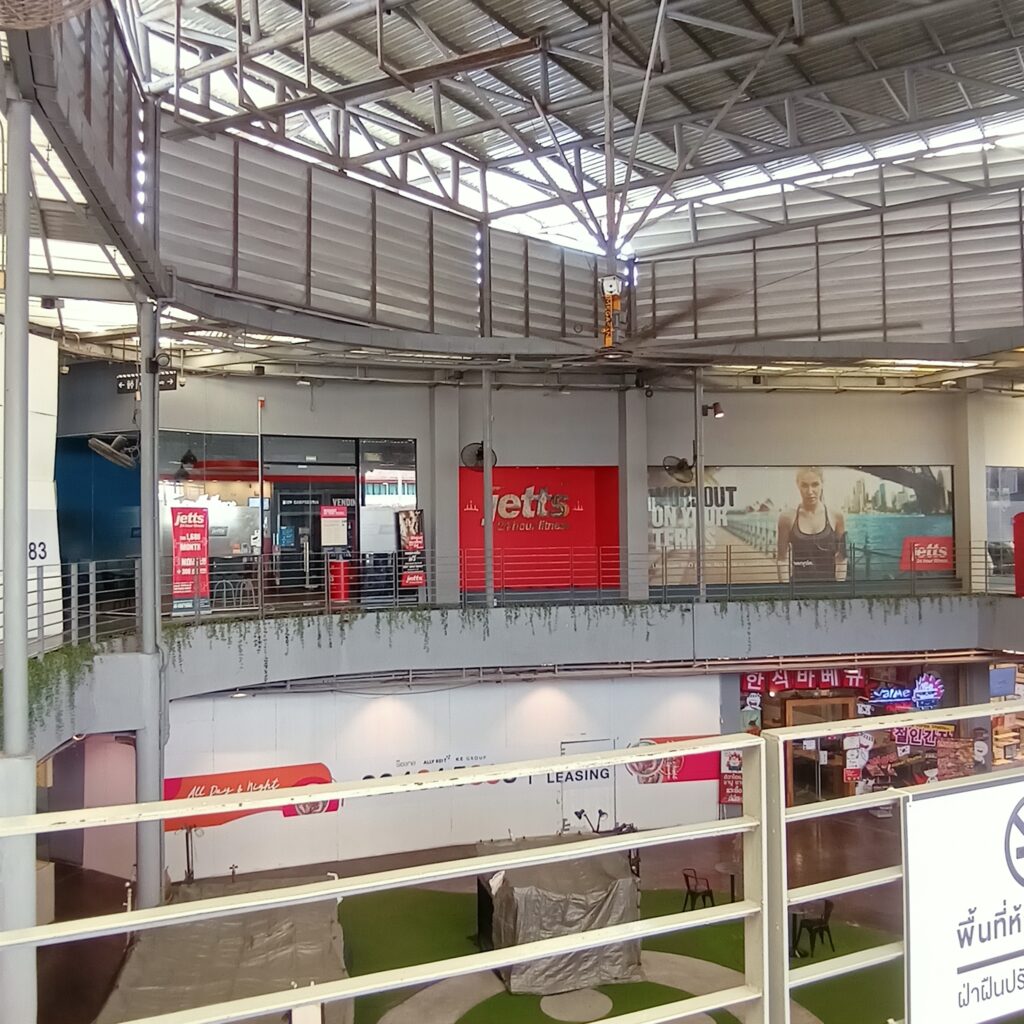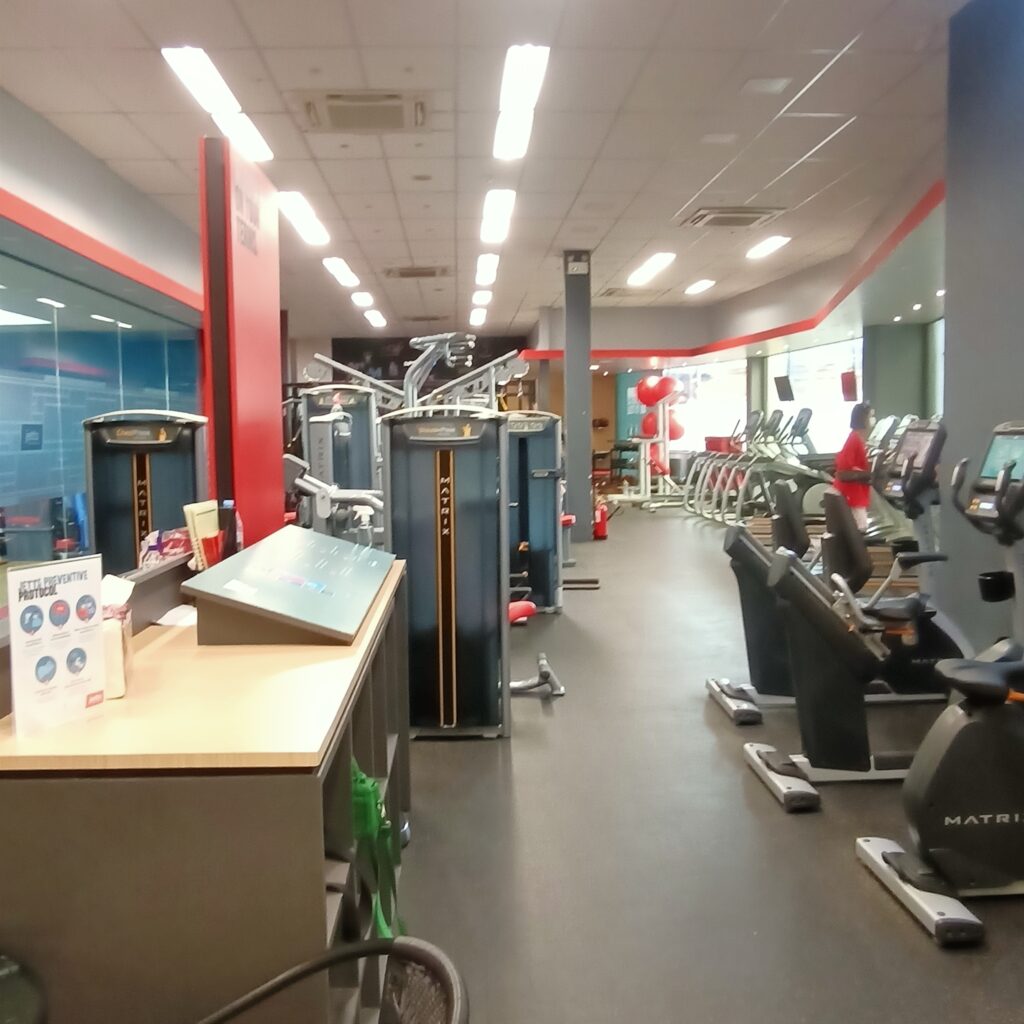 Check in by your member card a the reception desk. Staff told me that his gym is opened in 2016 as first Jetts Fitness in Thailand. They didn't know which month they started business here because they are not original staff here 55. This first ever Jetts Fitness has some difference from other Jetts Fitness so I will introduce such difference one by one.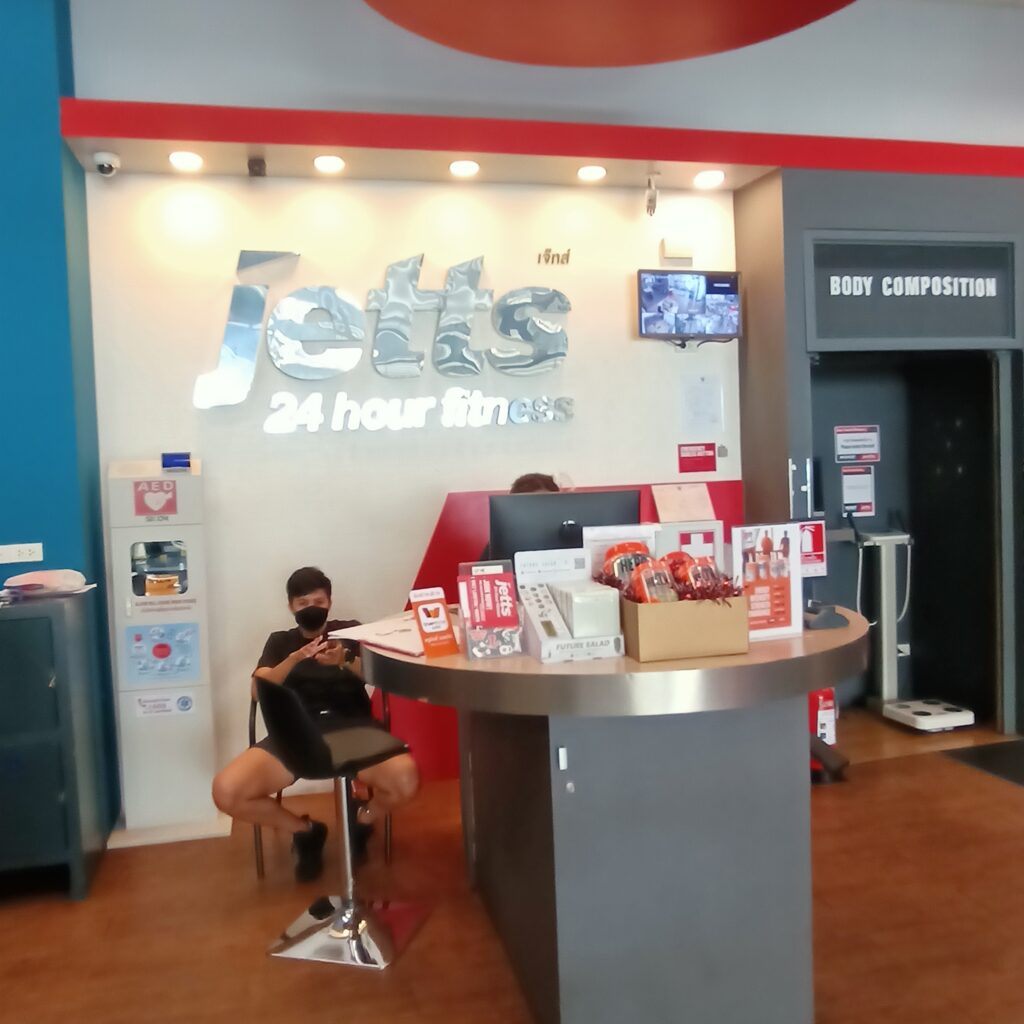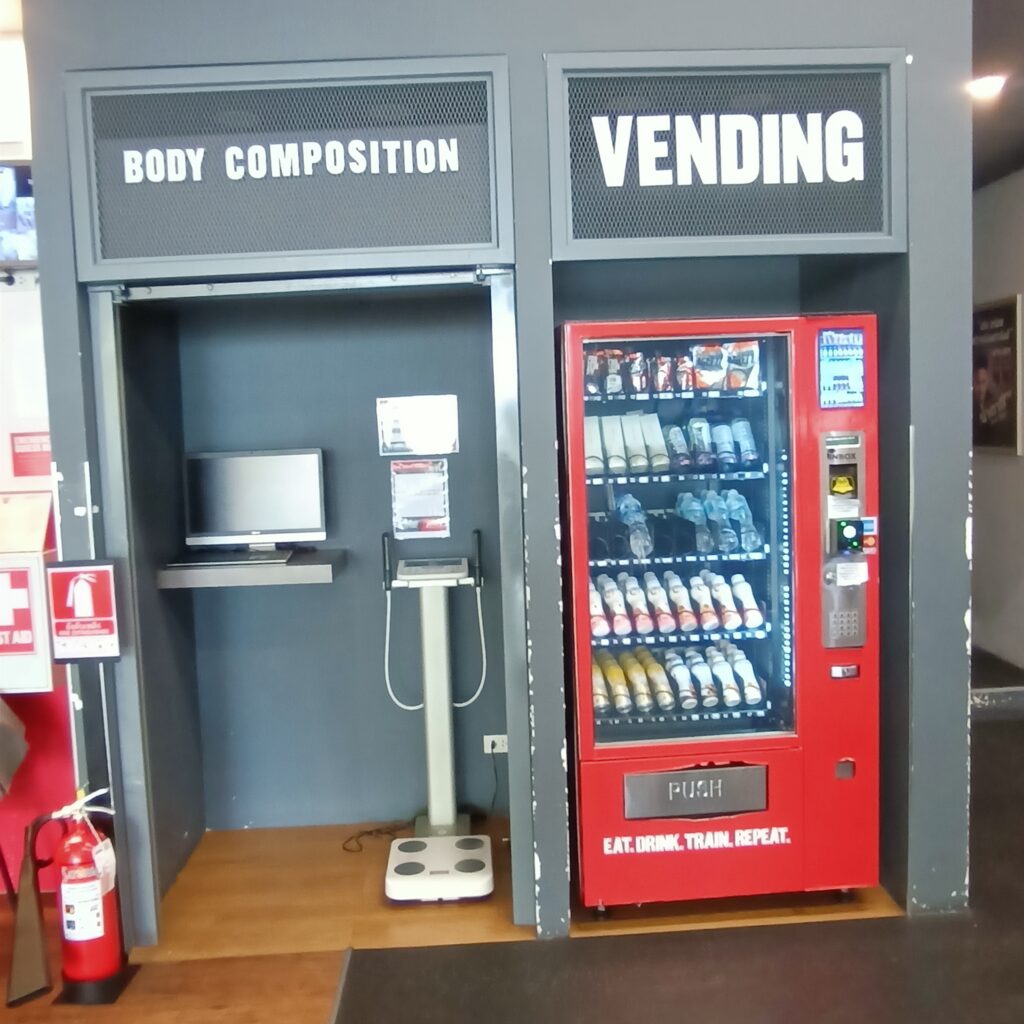 This locker type is unique from other branches. Actually this branch is the first one so other branches are unique, I would say and this is the original style of Jetts. Including my branch in Ladkrabang, Locker is normally installed at the front of shower room. But here locker area is separated, available next to reception desk.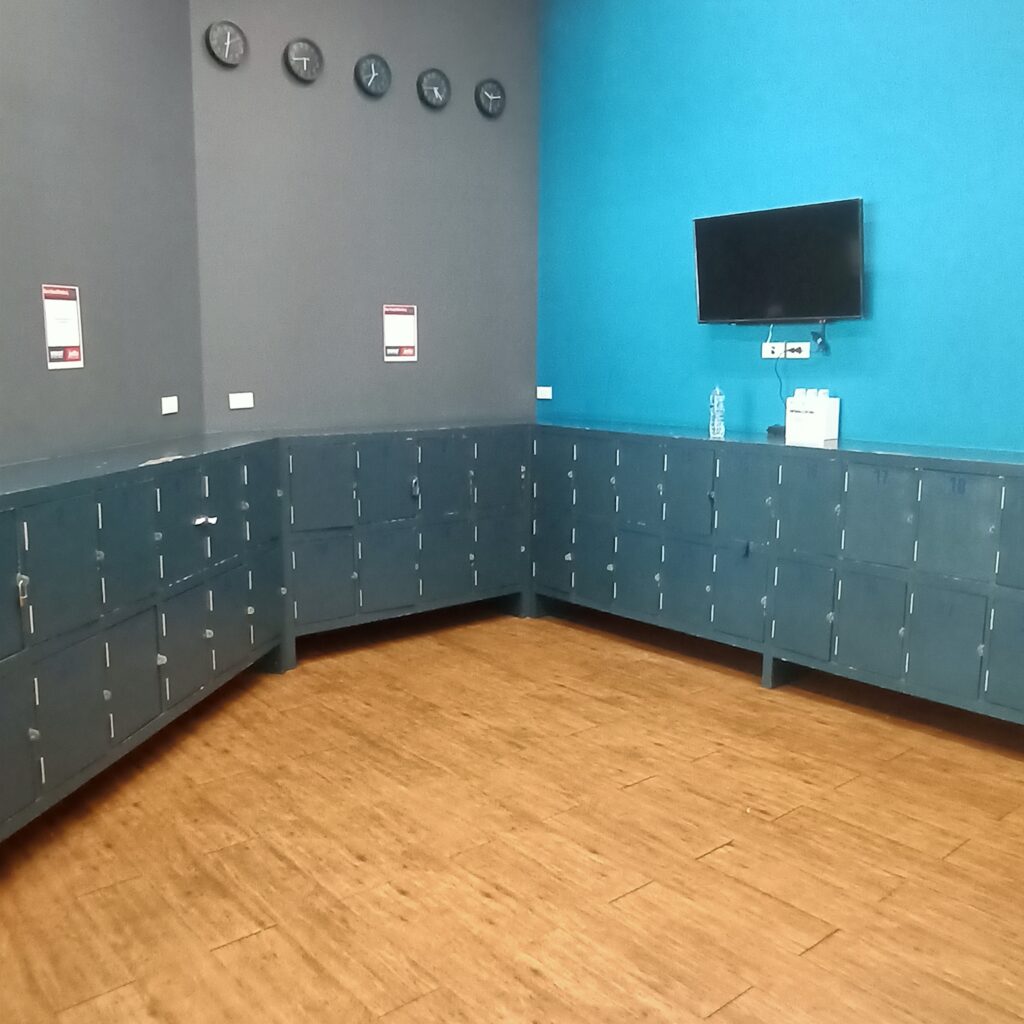 Bring your own padlock already to put your valuables in.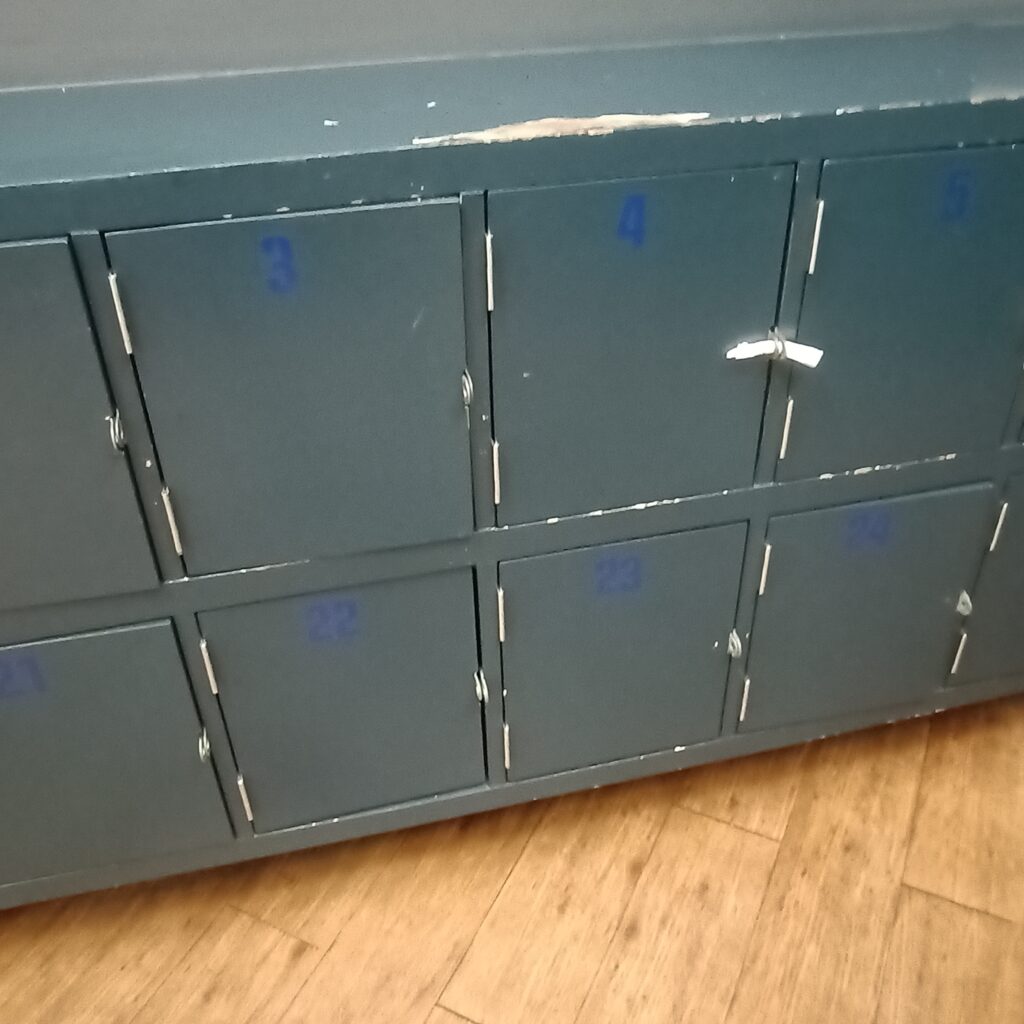 I took pre work out meal at this member seating area.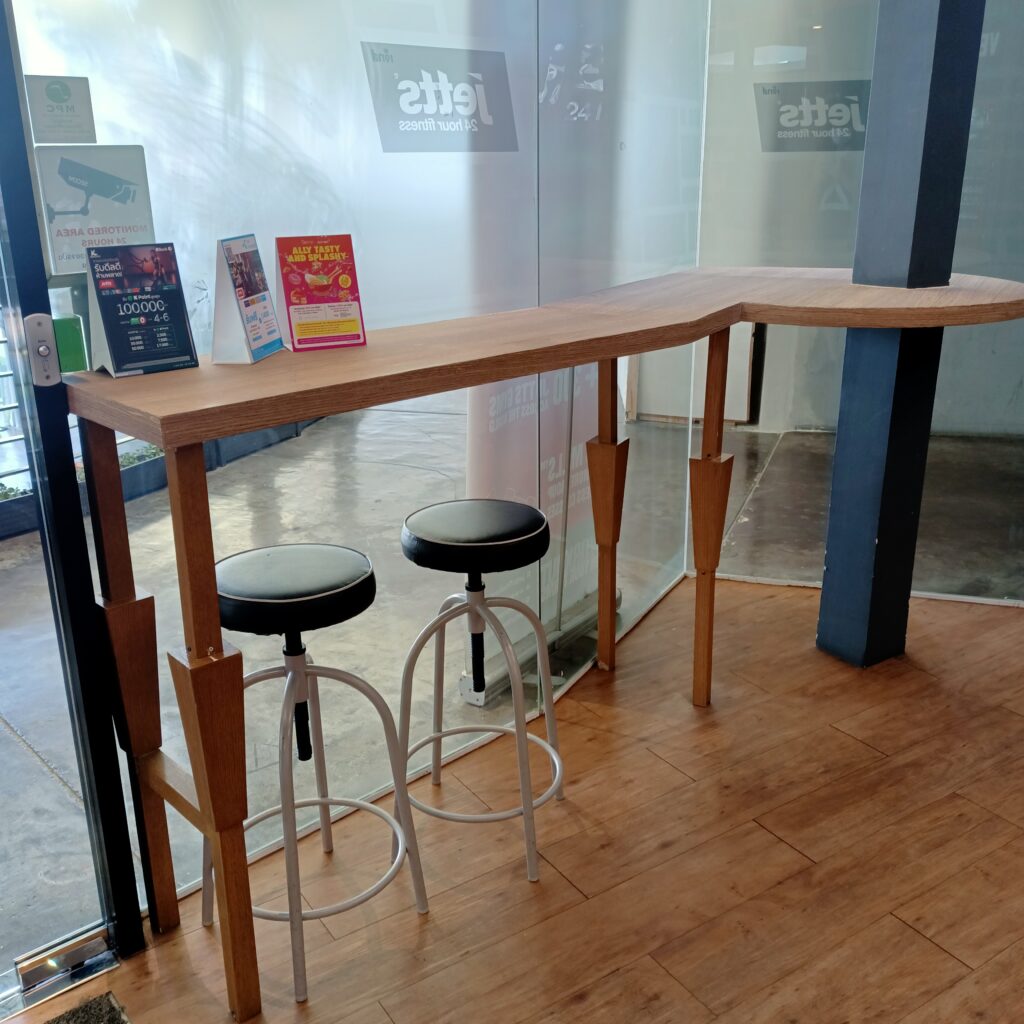 Free storage area on the other side of reception desk.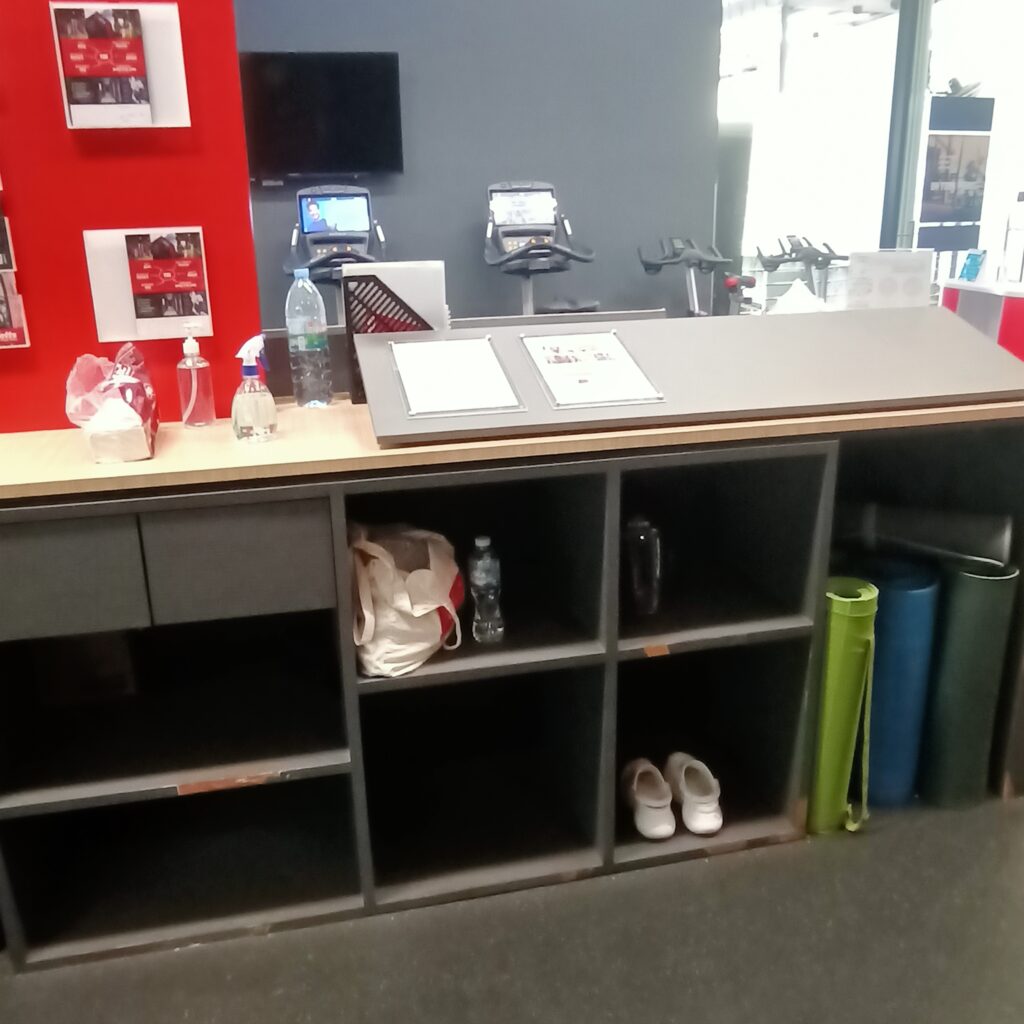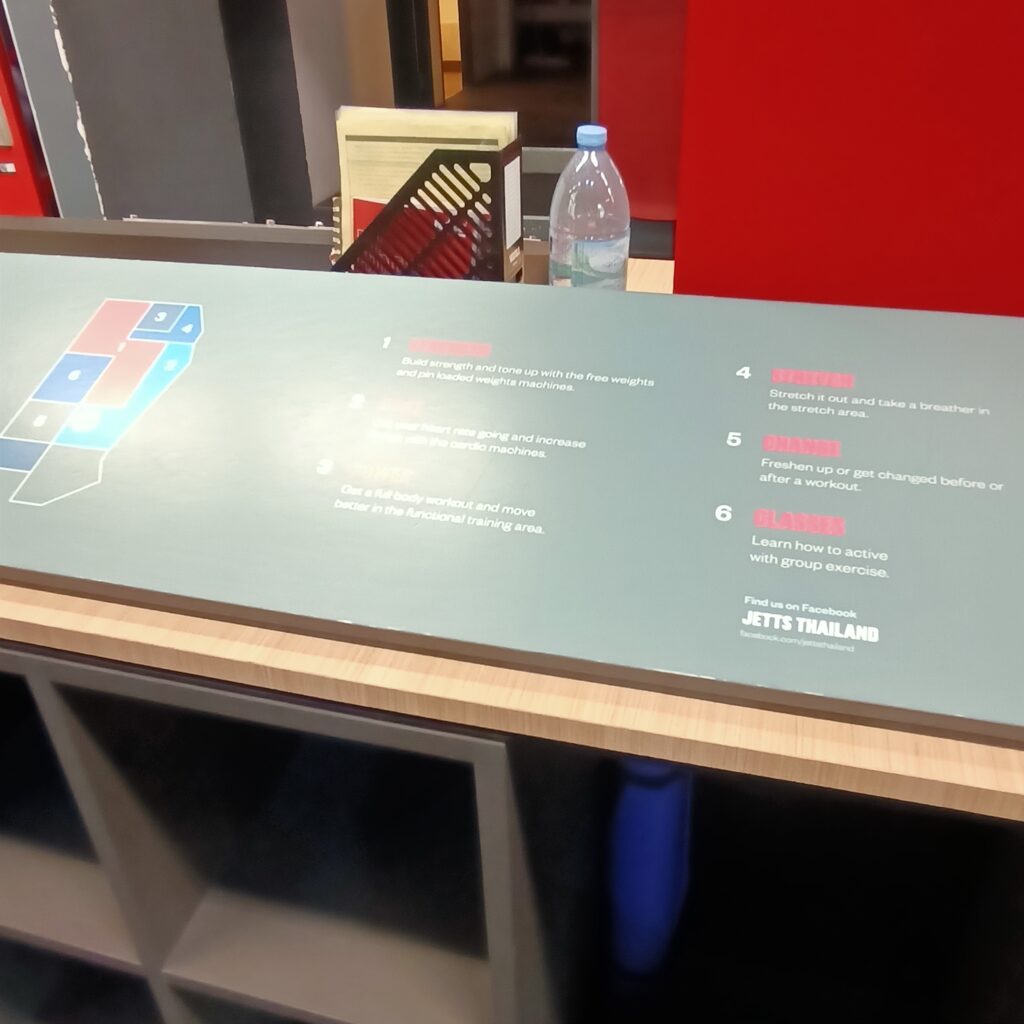 Floor map of this branch, this is also unique, never seen in other Jetts Fitness branch so far except Nawamin city avenue branch. Gym size is not so big but very complete for whole body exercise.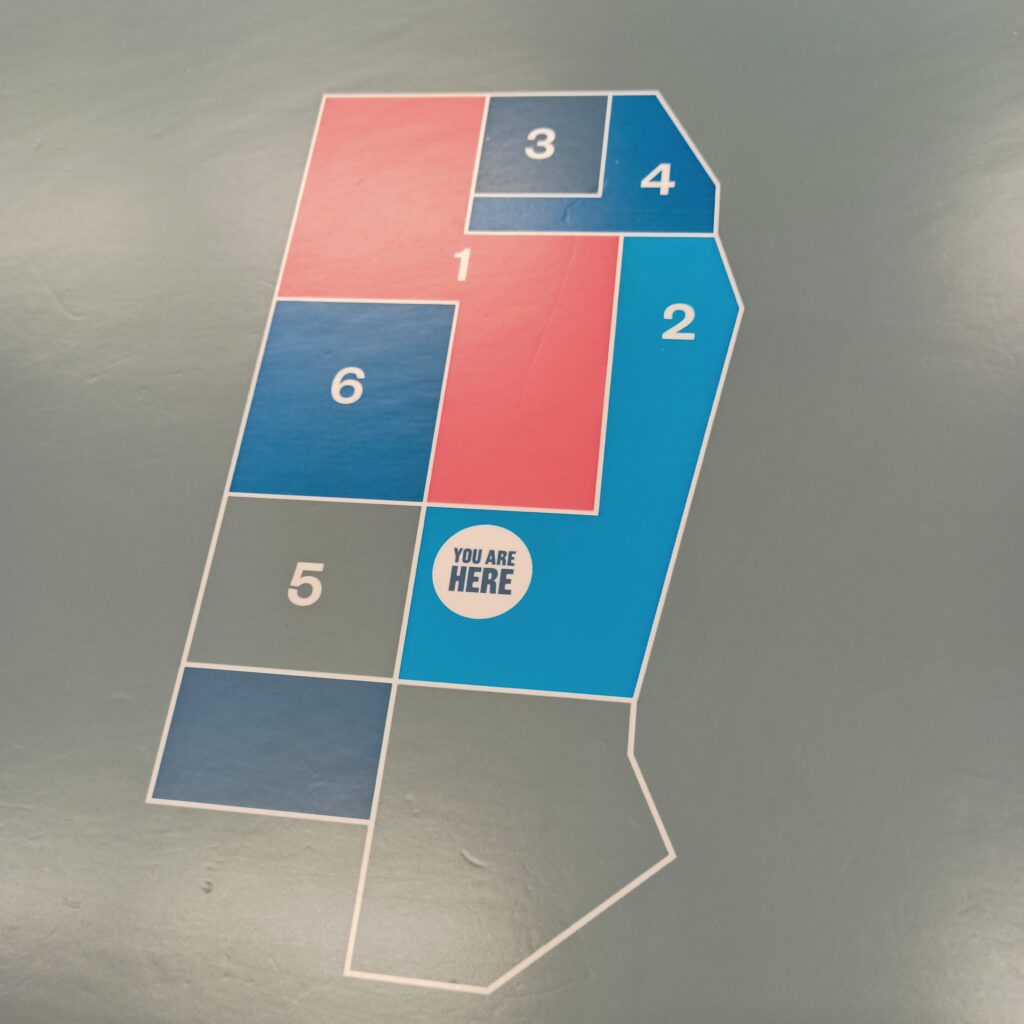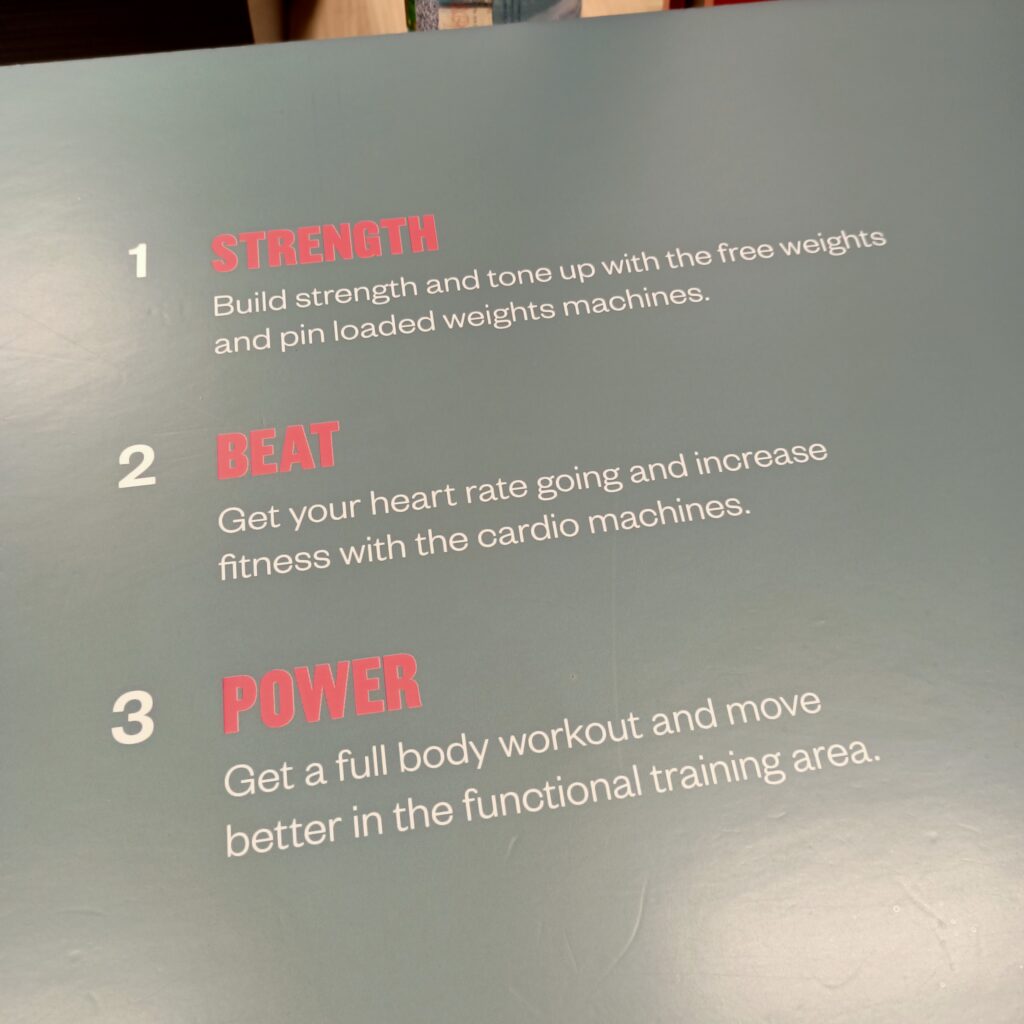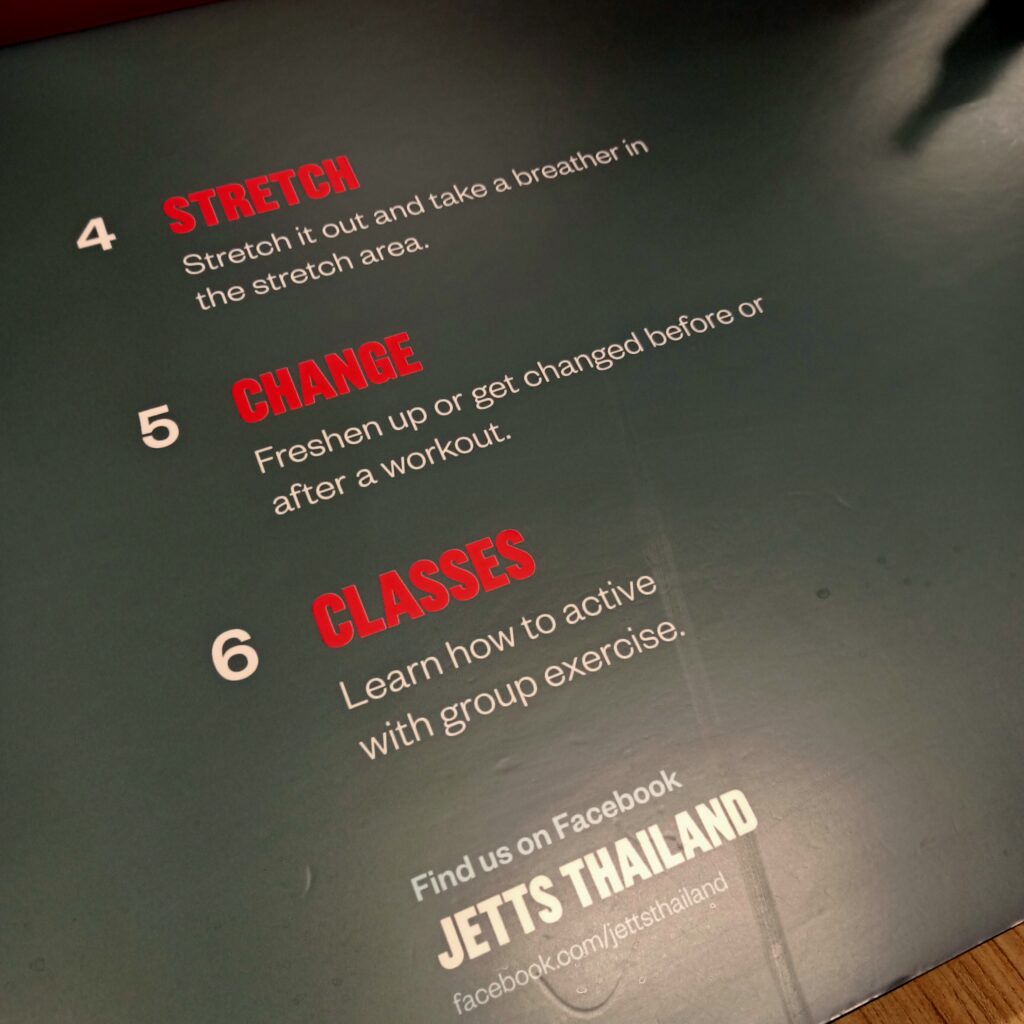 This is interesting how size is different between muscle and fat for same weight.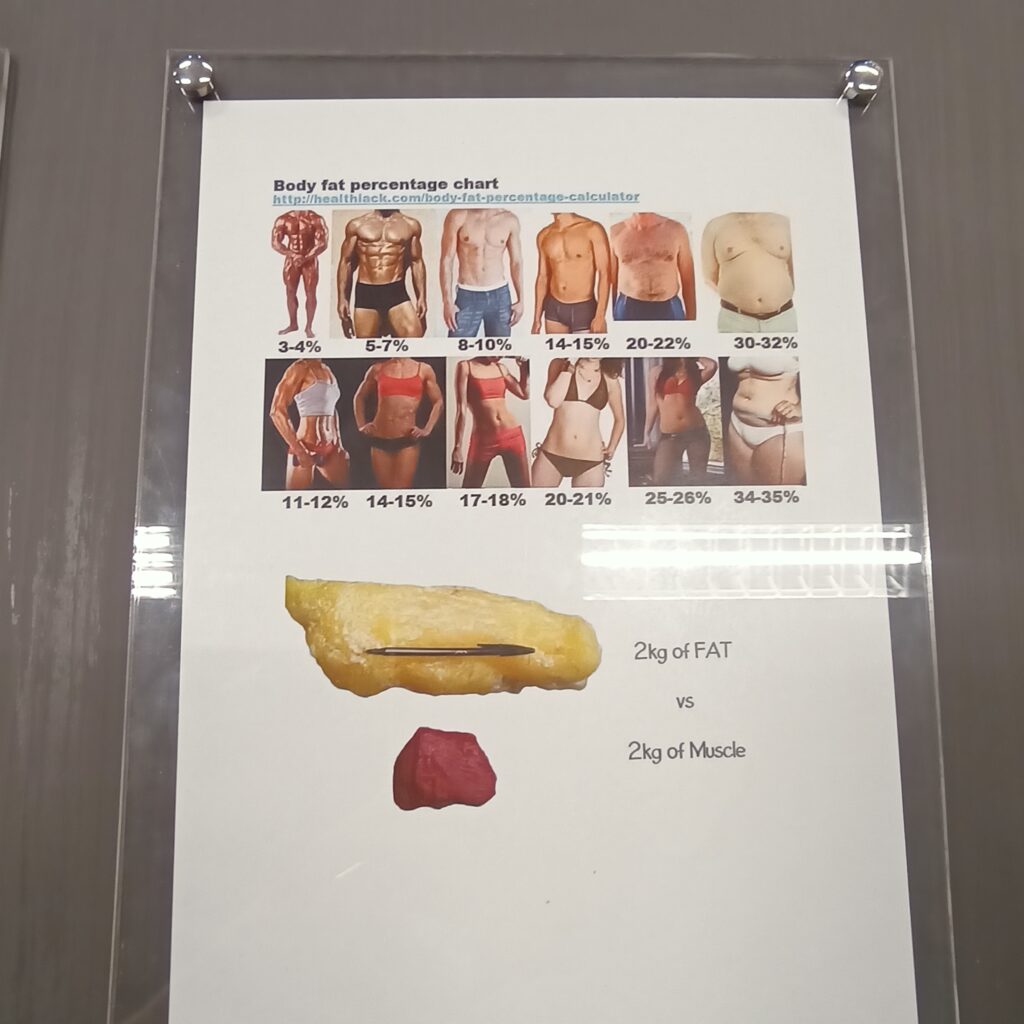 Tanita machine is available to measure your body component. You need to install apps first, if you do not know how to use, please contact nearby staff.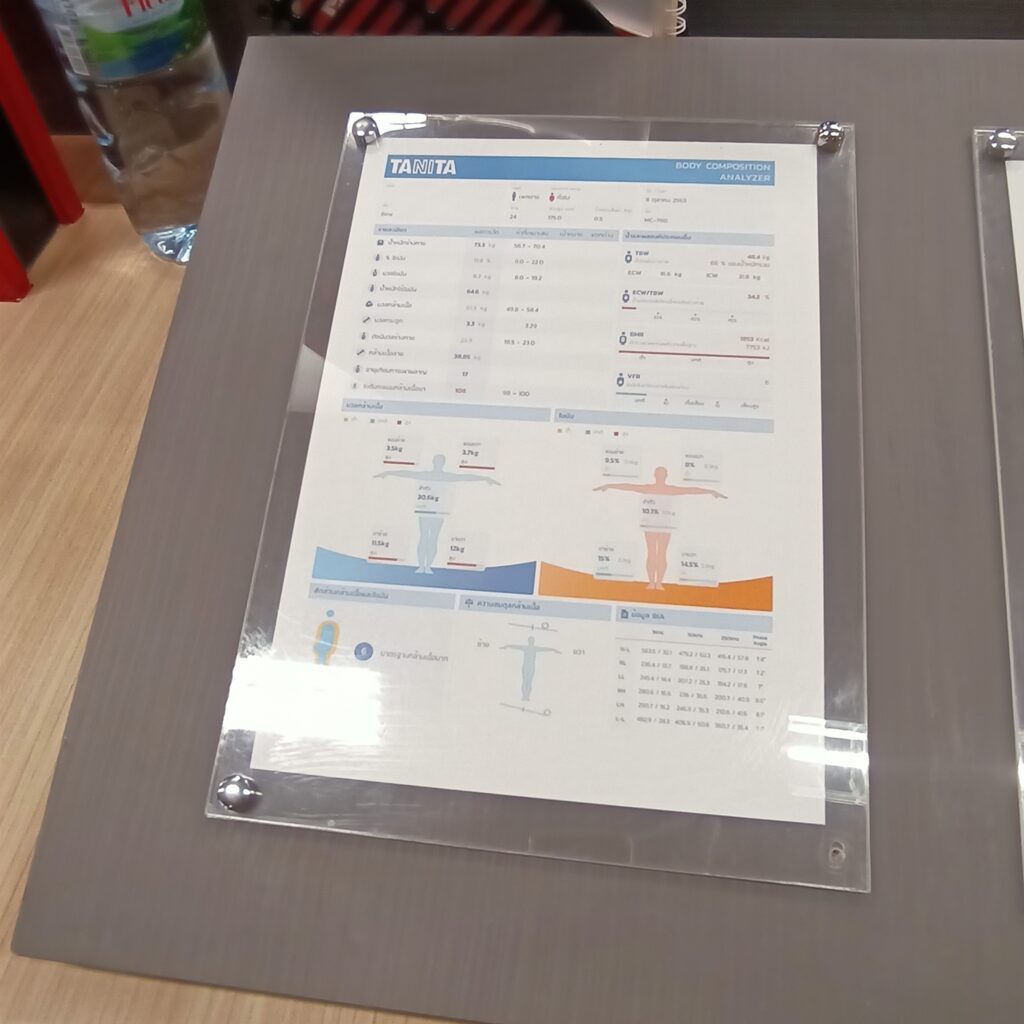 It seems body pump class in going on at the class room. Water server s replaced with new one can produce hot water as well.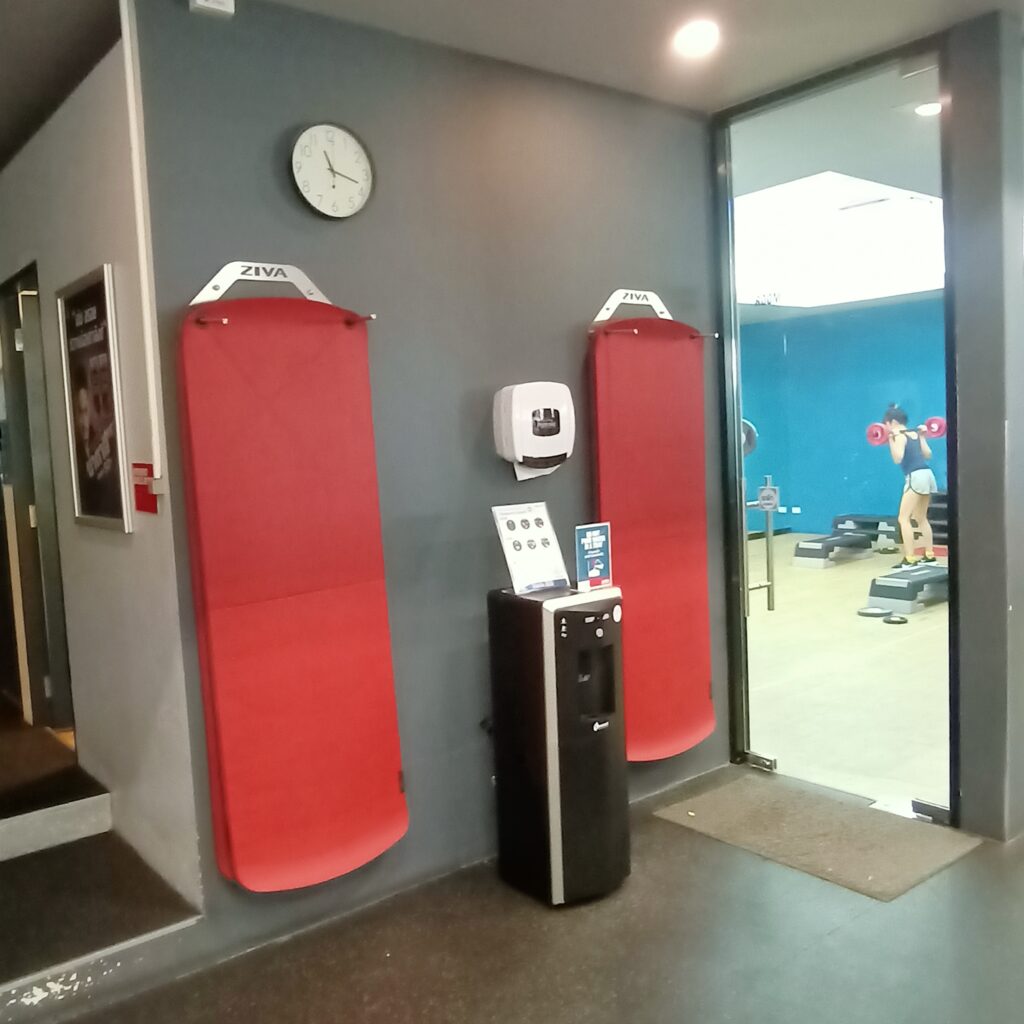 Shower room and toilet
Shower room is 4 only. Toilet bowl is not inside shower room so you have to get out from the gym first to use mall common toilet next to gym.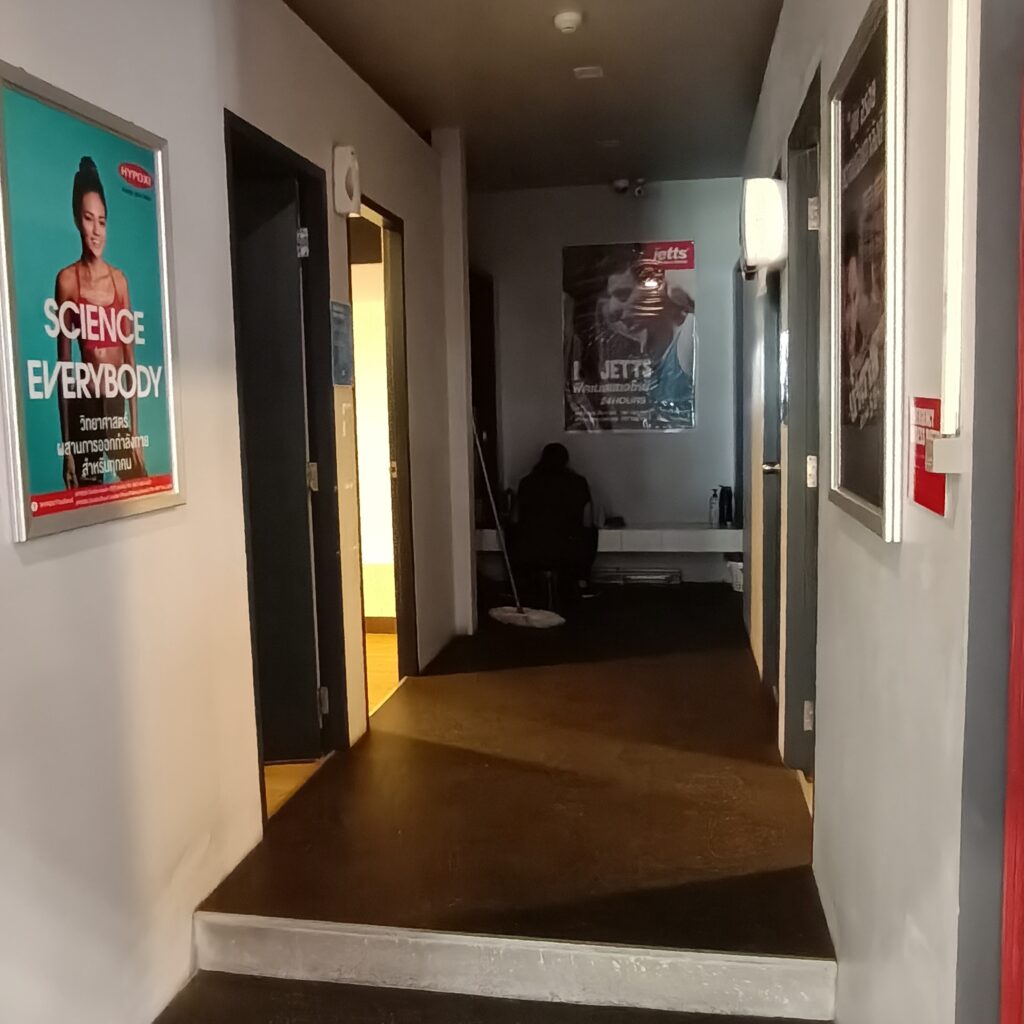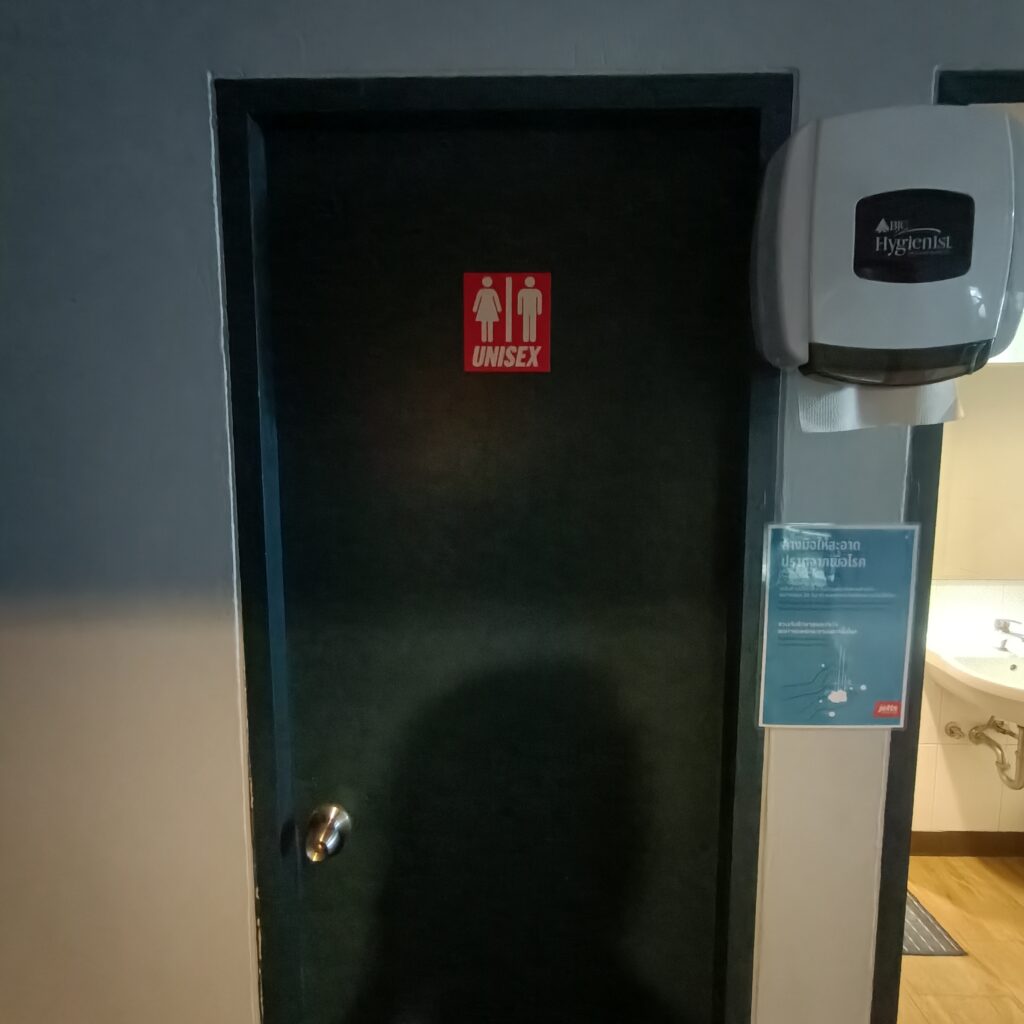 Inside the shower box. Be careful only cold water is available for first branch.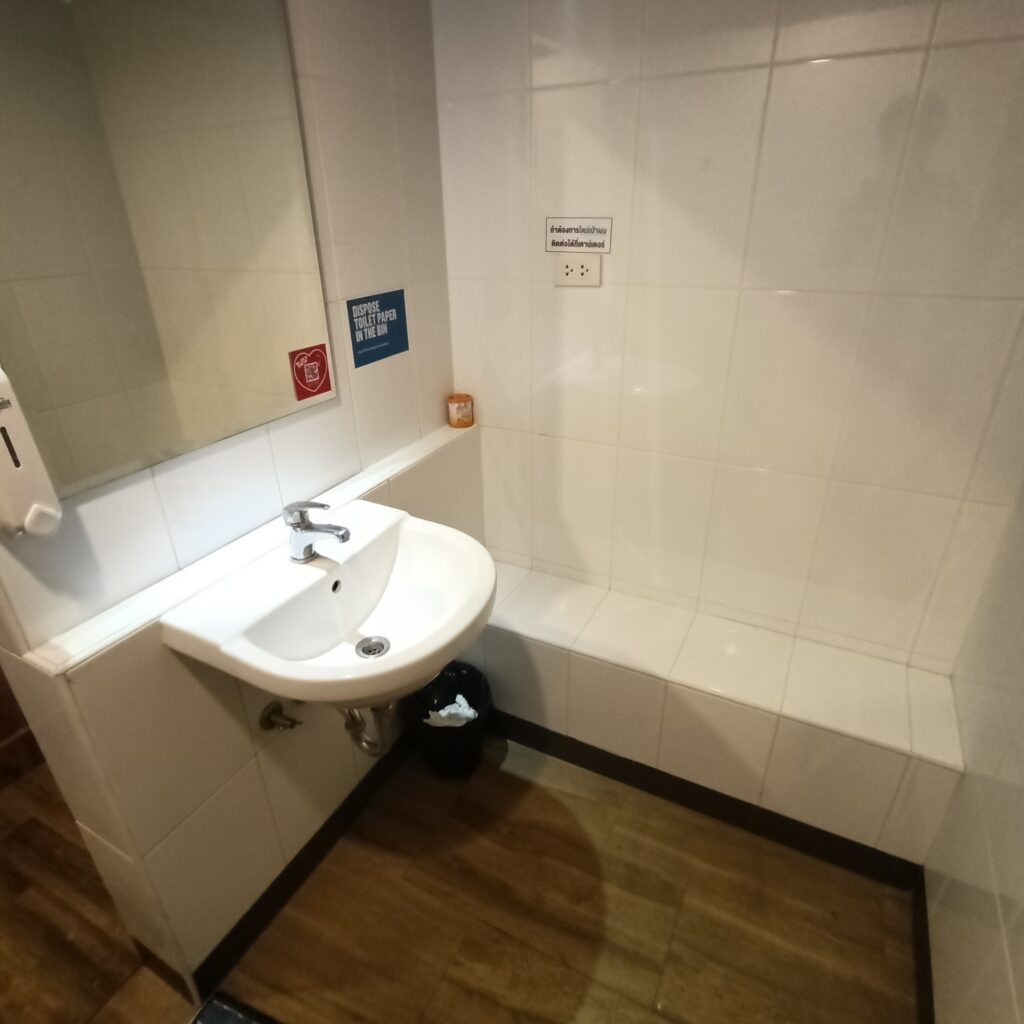 Water pressure is not so strong, 55 but ok for taking quick shower.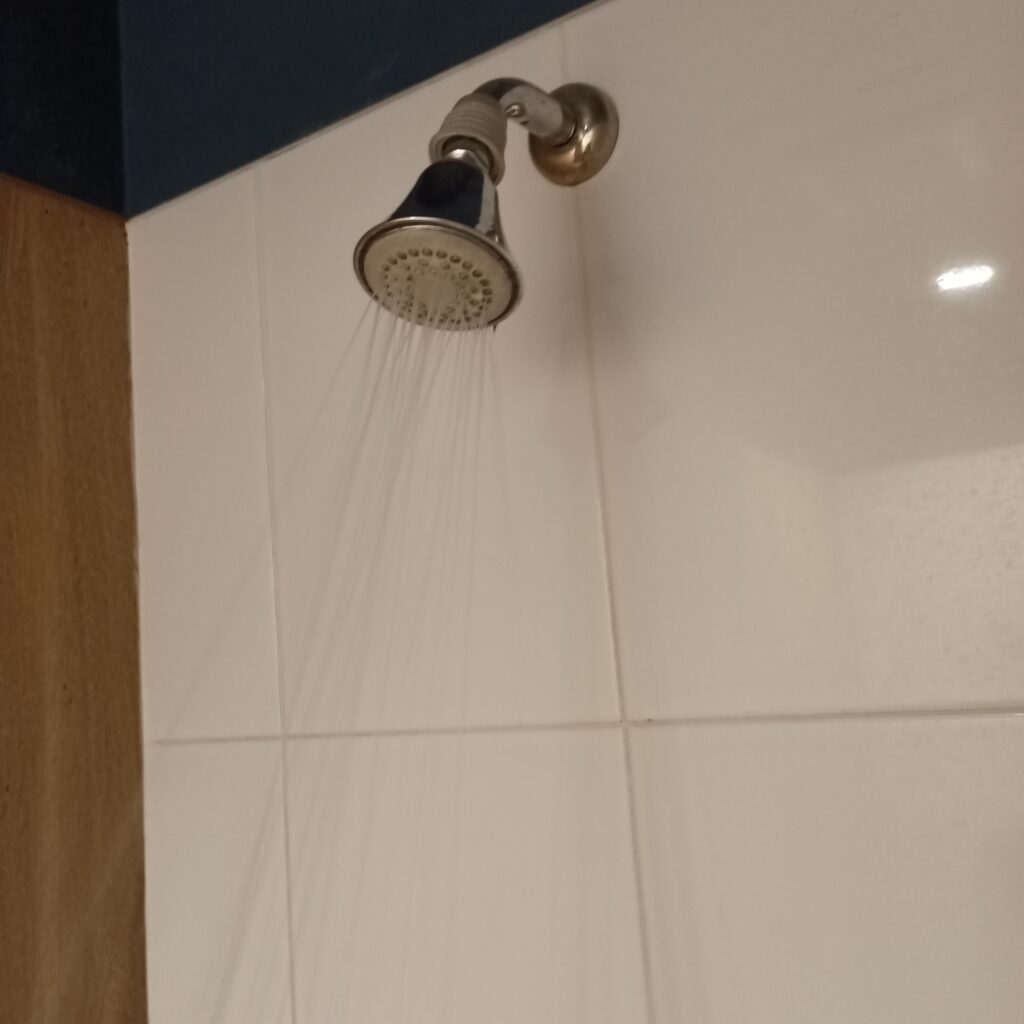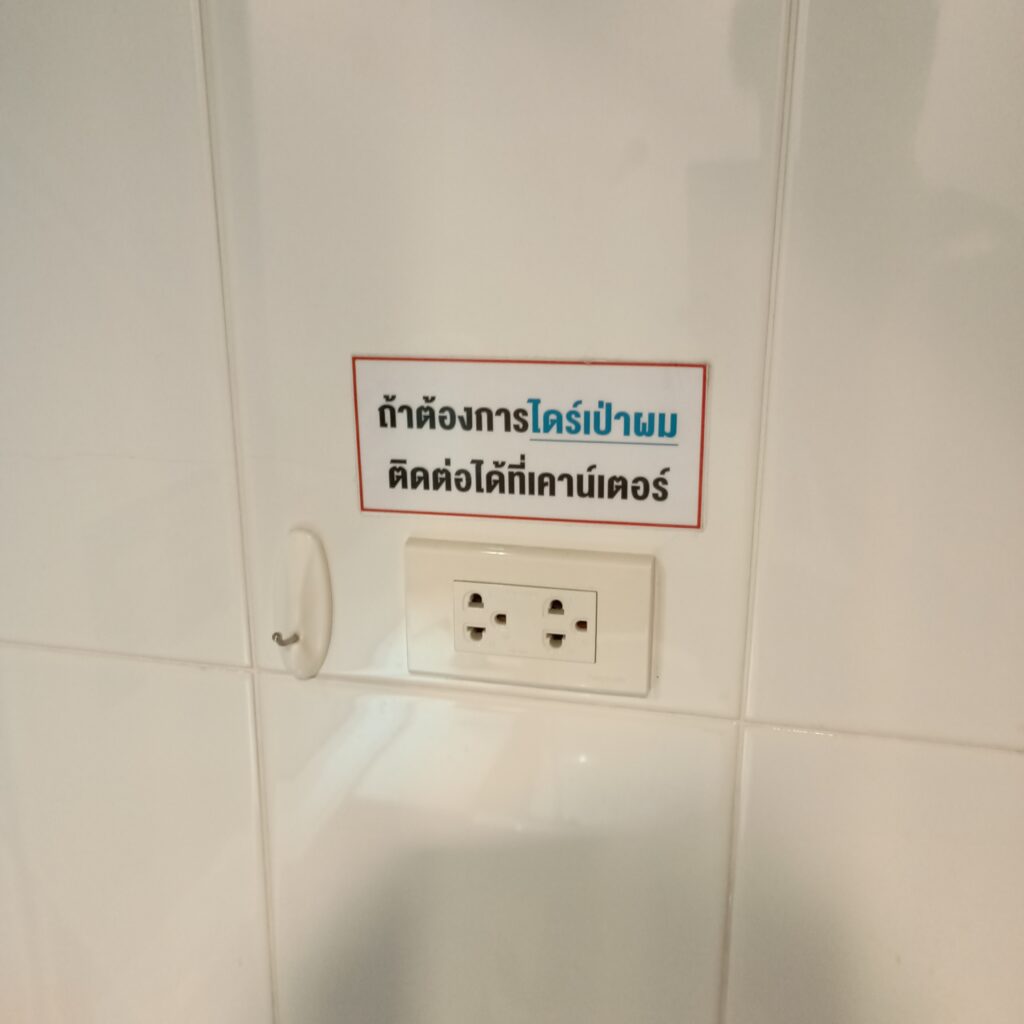 For toilet use, get out from the gym then turn right side for mall toilet.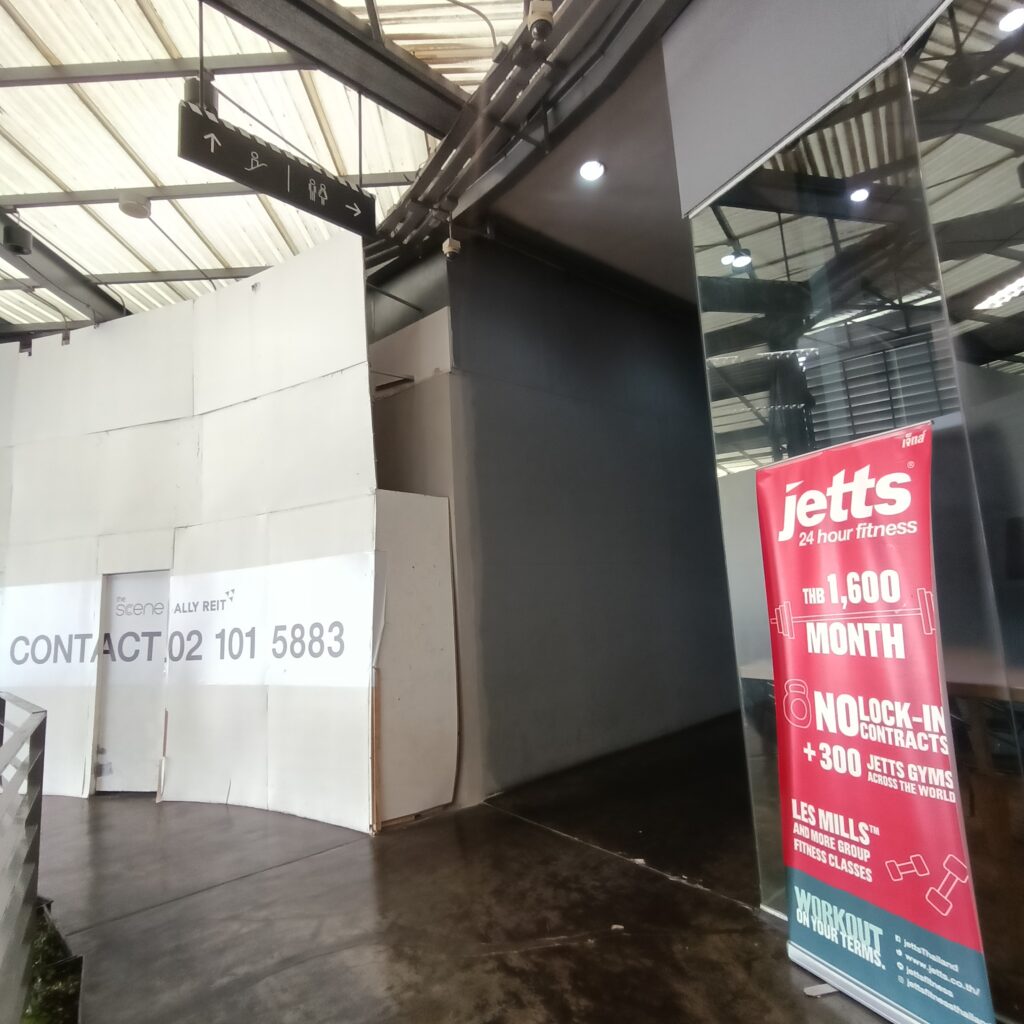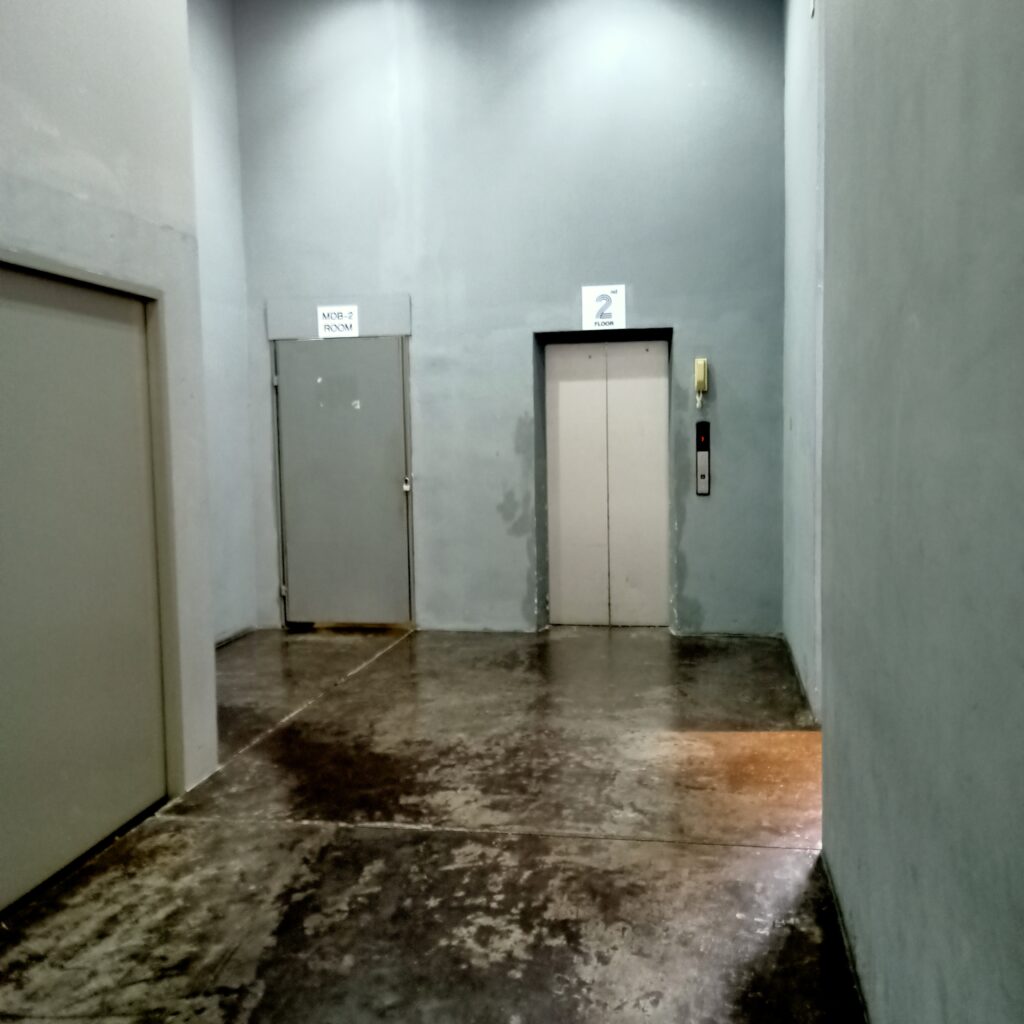 Next to elevator.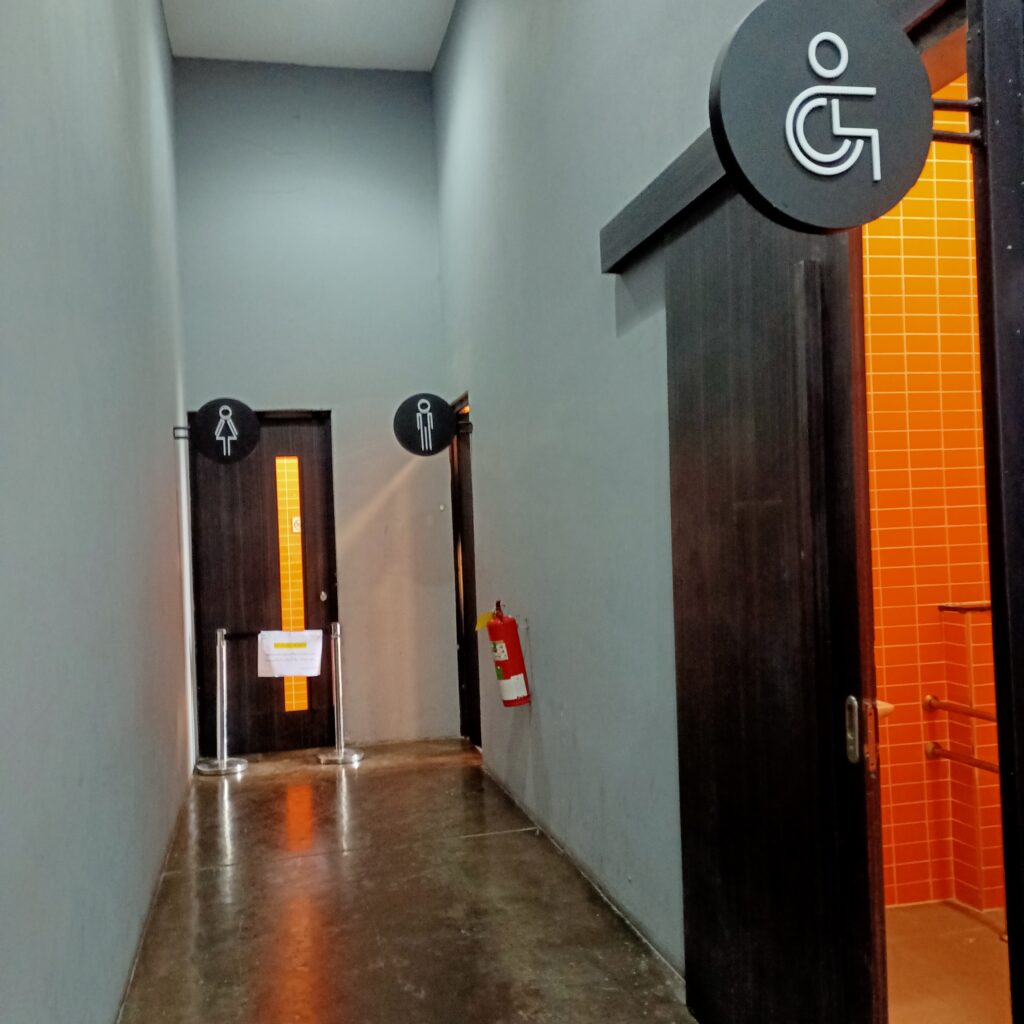 Inside the male toilet, well cleaned.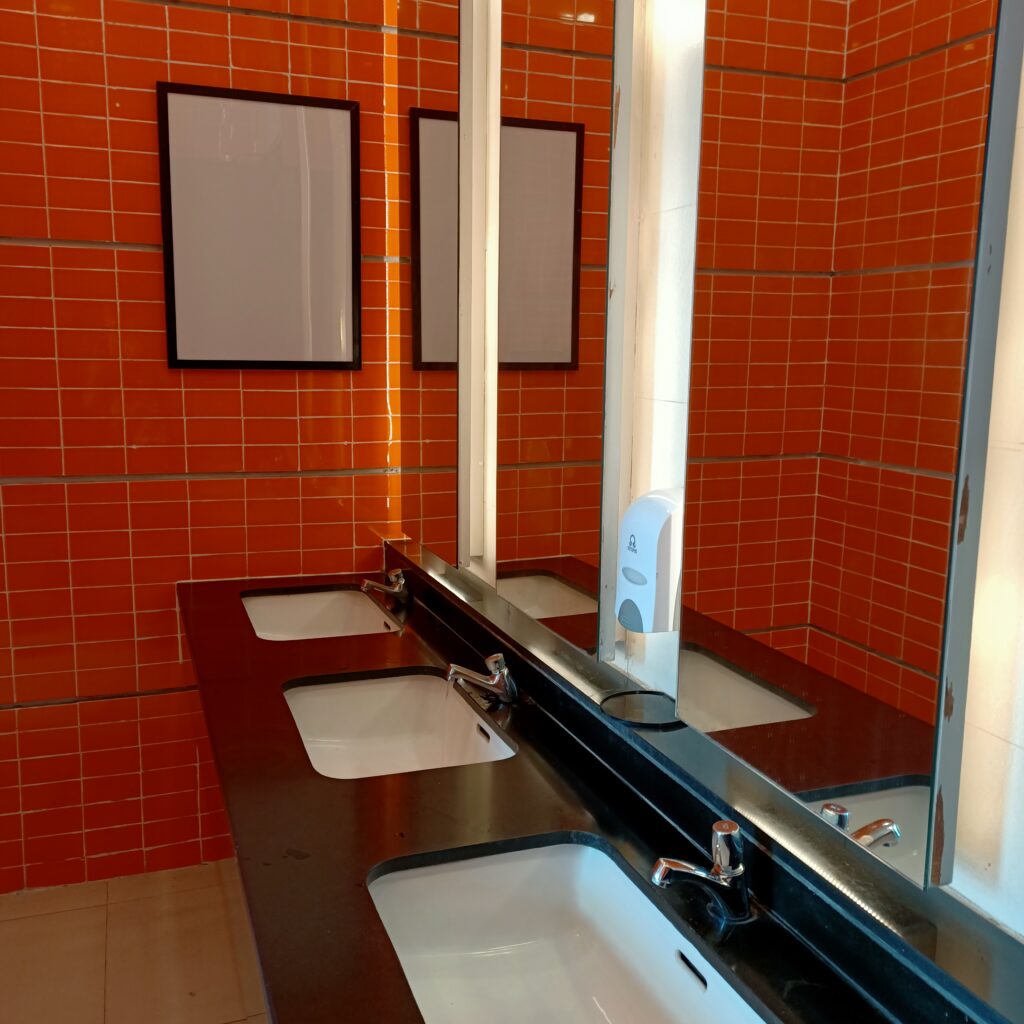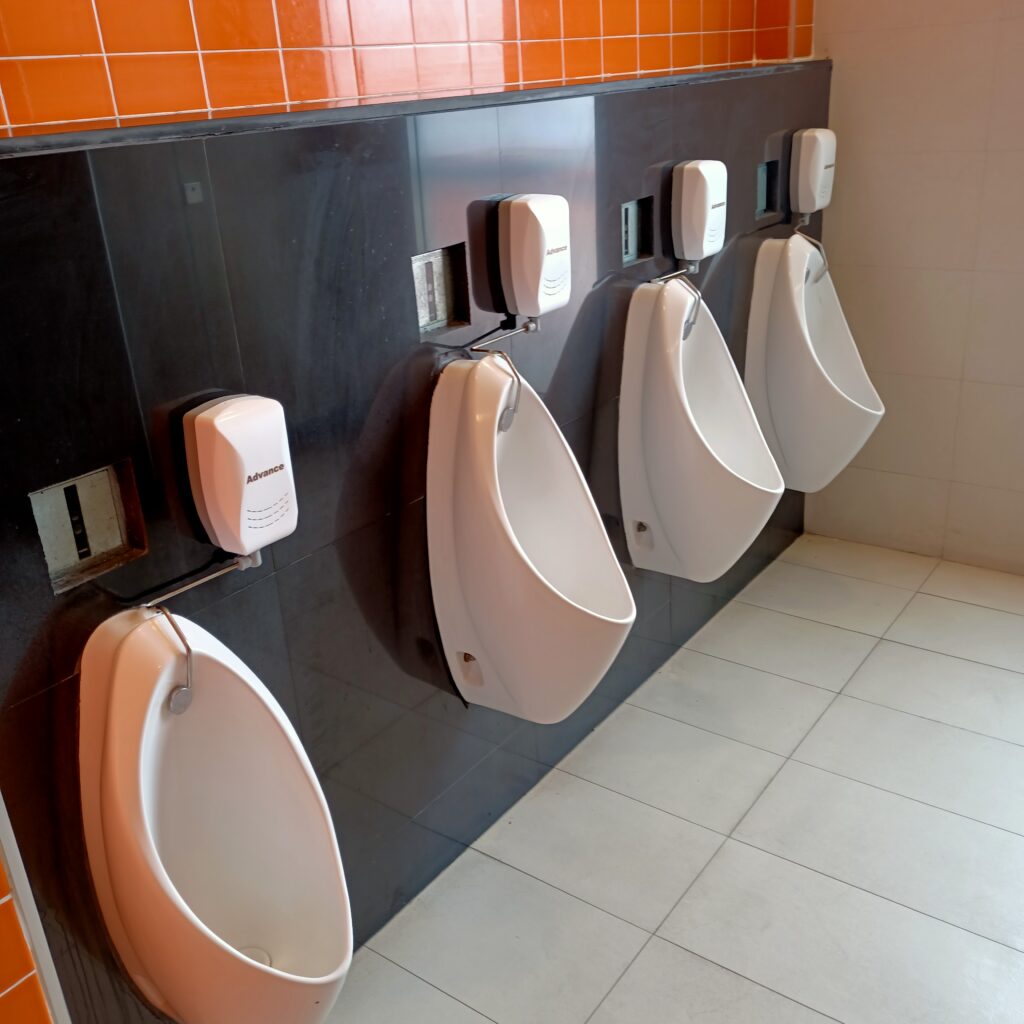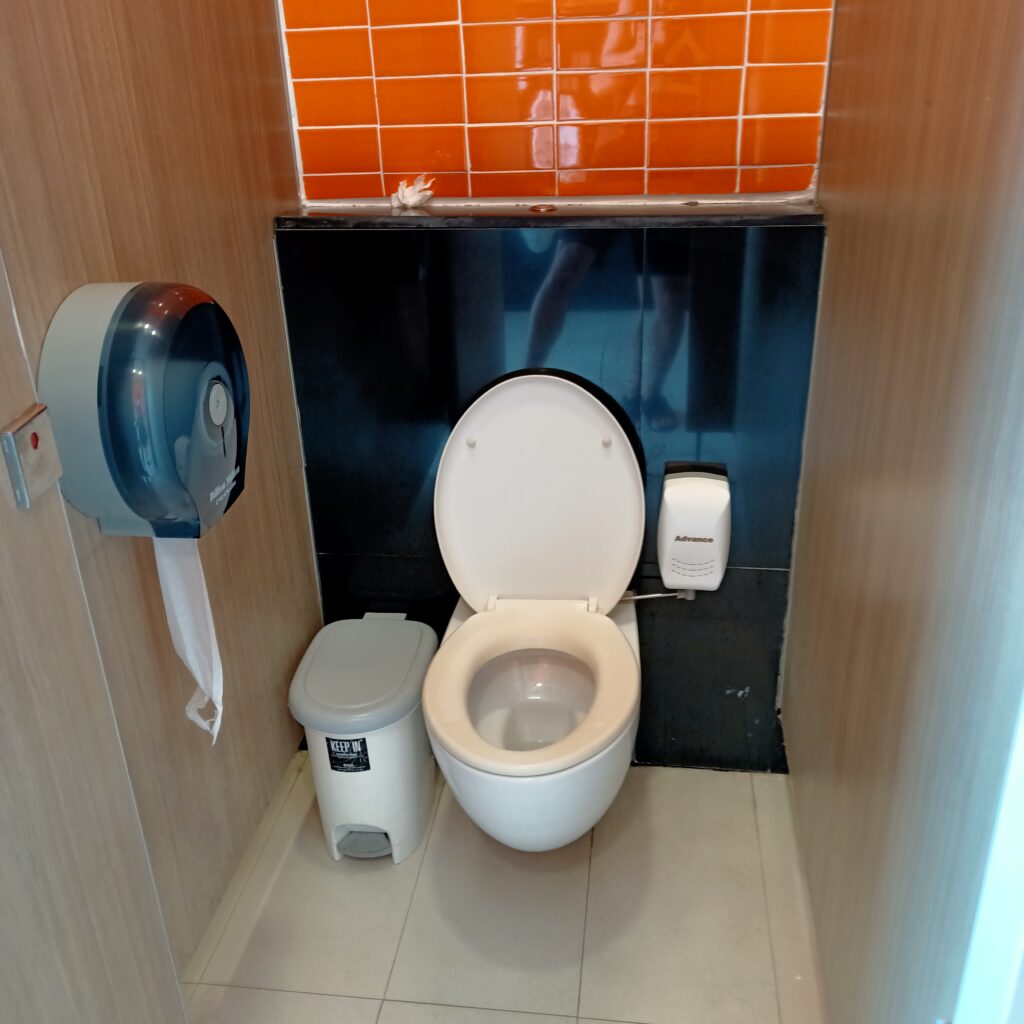 OK! Let's go back to the gym and take a look at the machines one by one. Bikes welcomes you first at the beginning of this gym.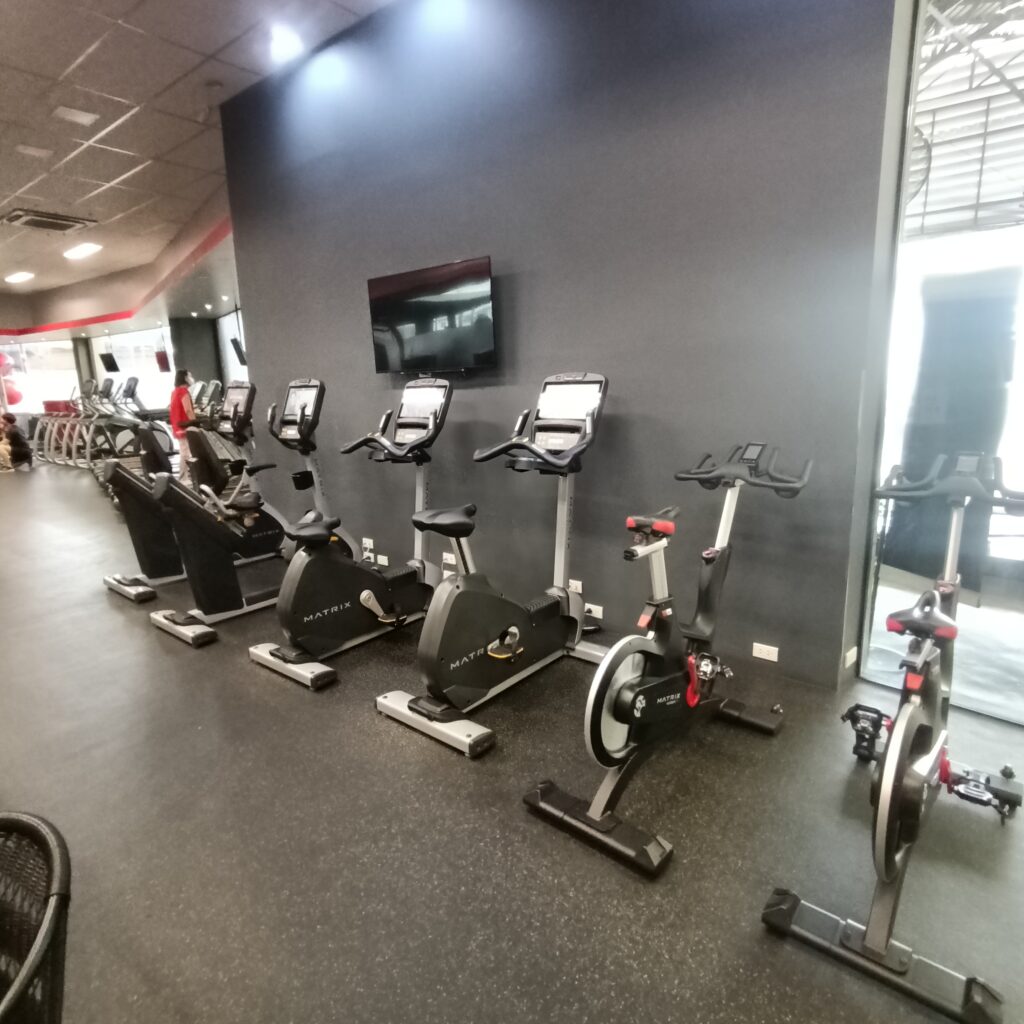 Machines area
Machines condition is quite ok, I think they are replaced at some point not used since its opening.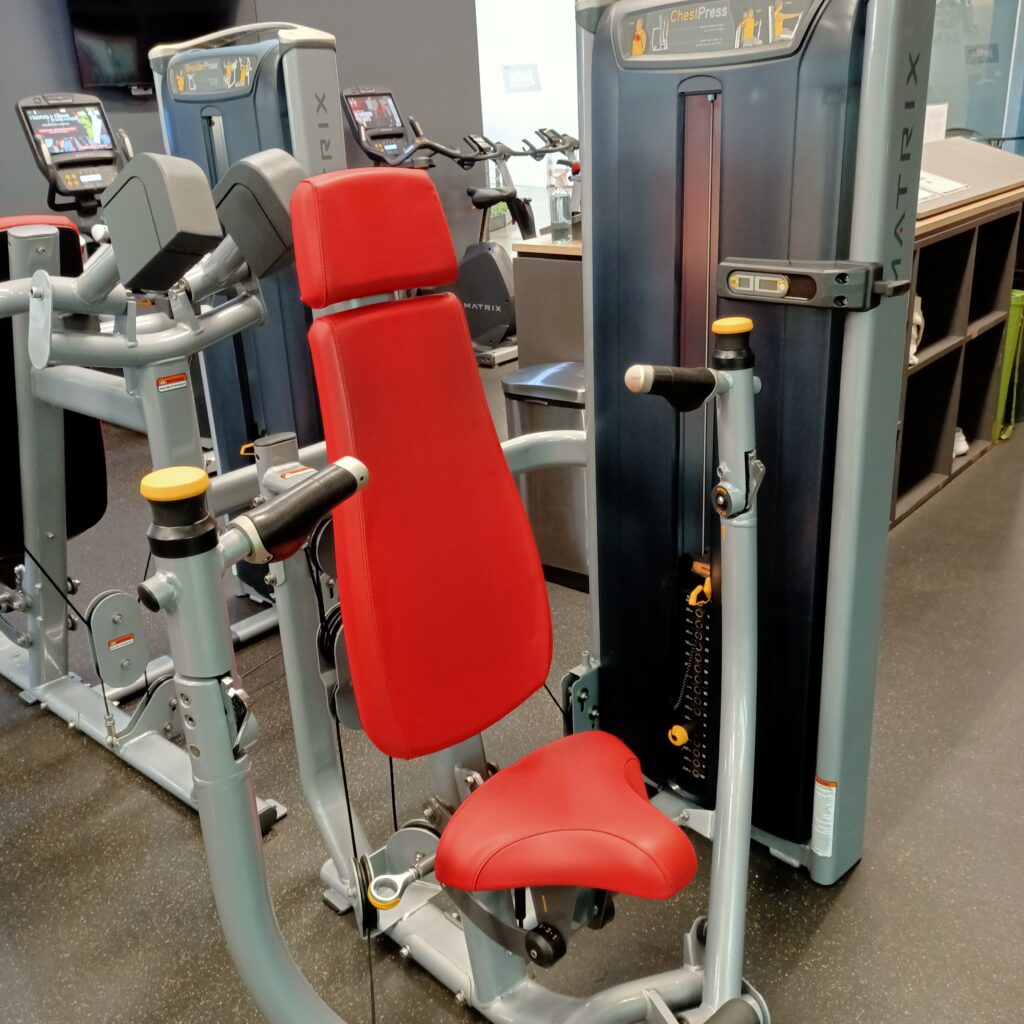 I used this machine for rear delt stretching at this day for back workout. Pec fly movement is also good for chest work out which I cannot skip!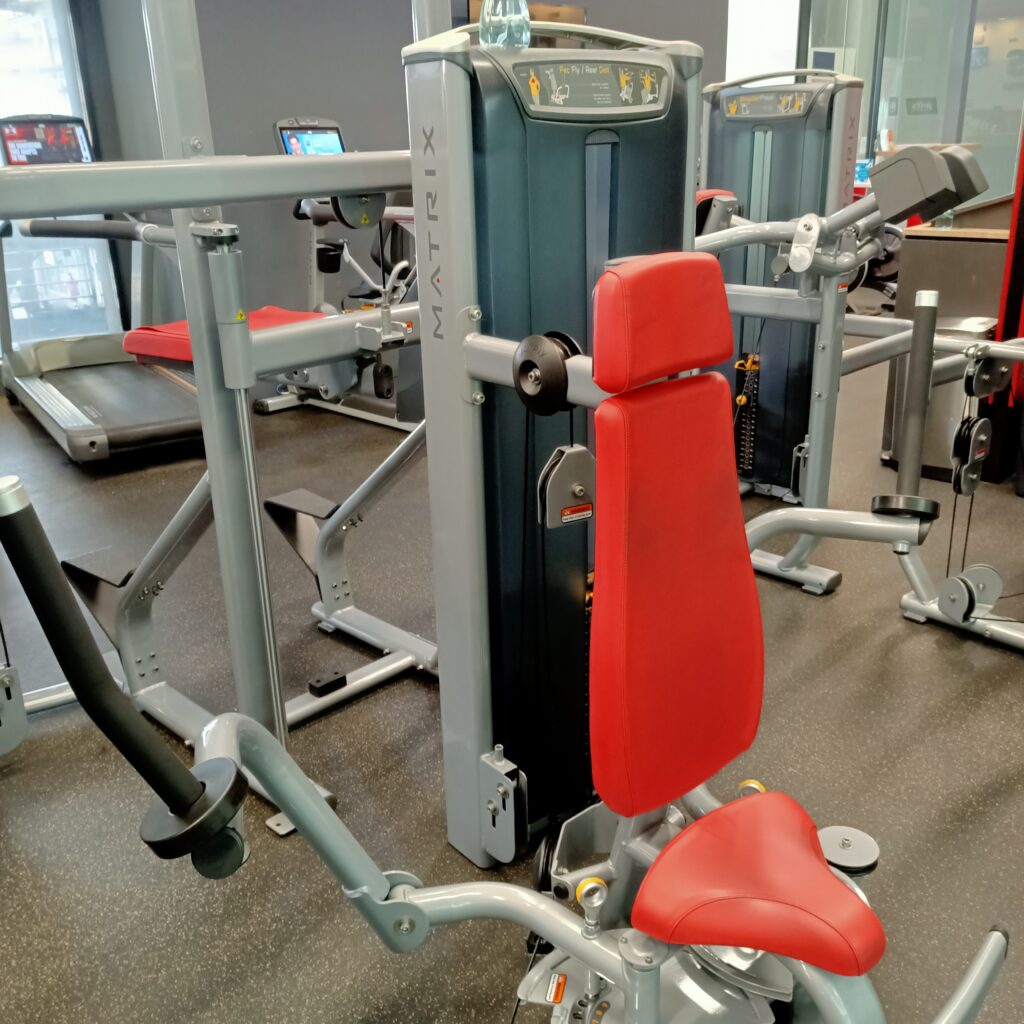 Lat pull down and cable rowing.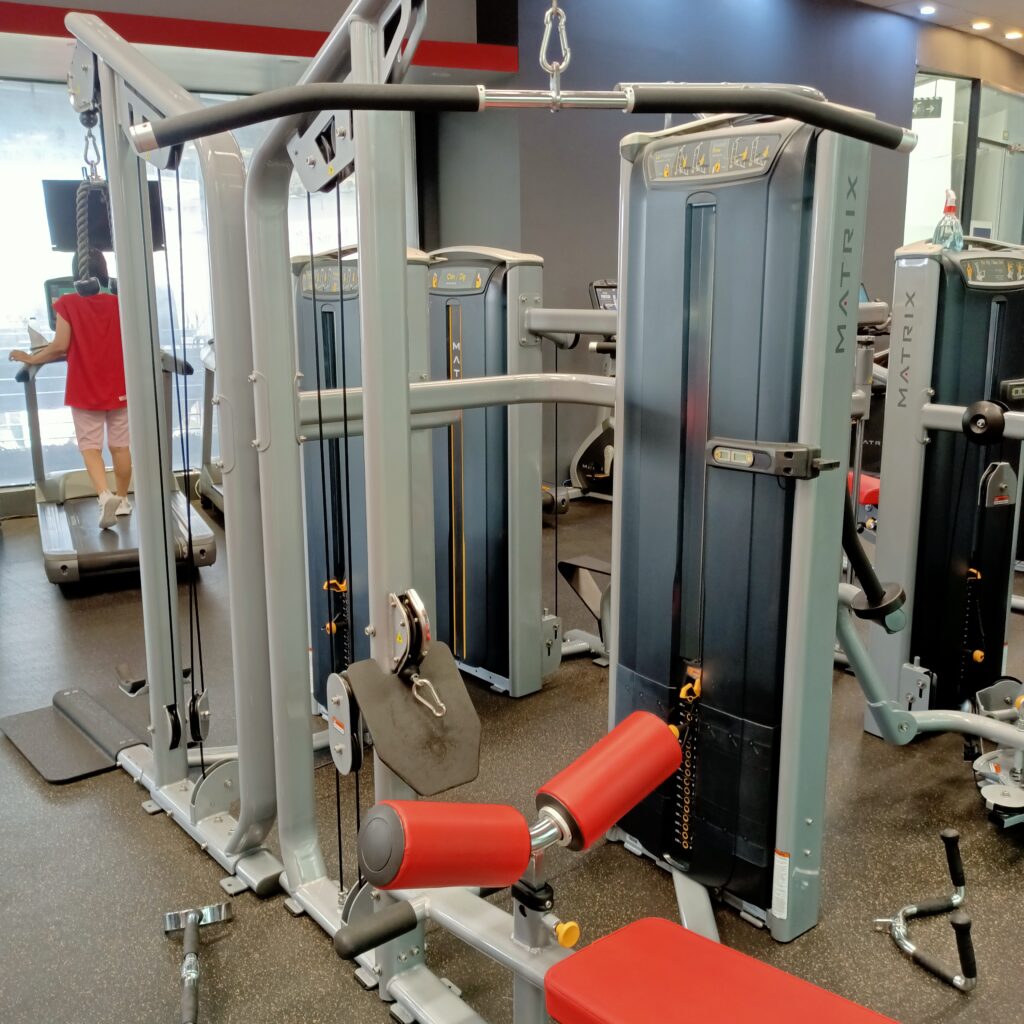 Abduction and Adduction for legs.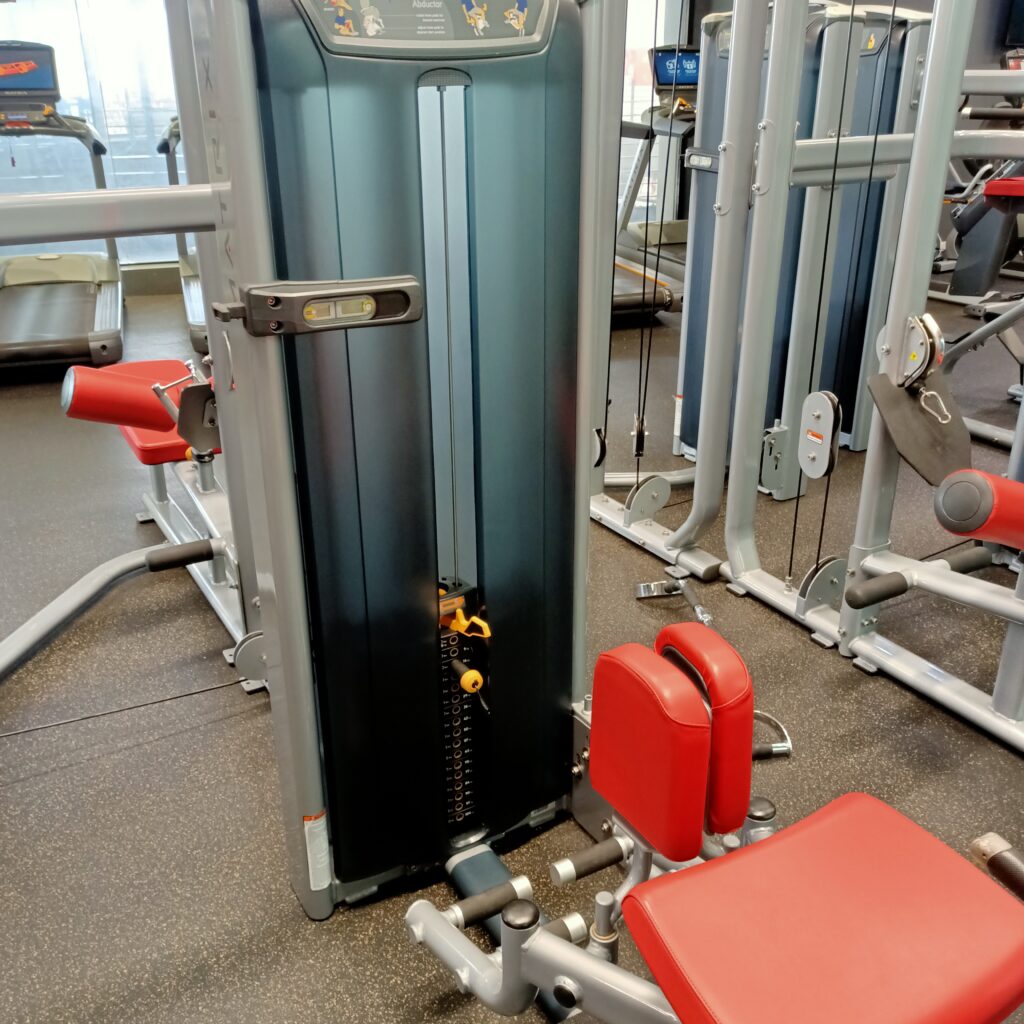 Leg extension and curl. Look at these machines, condition is very good , it seems all new.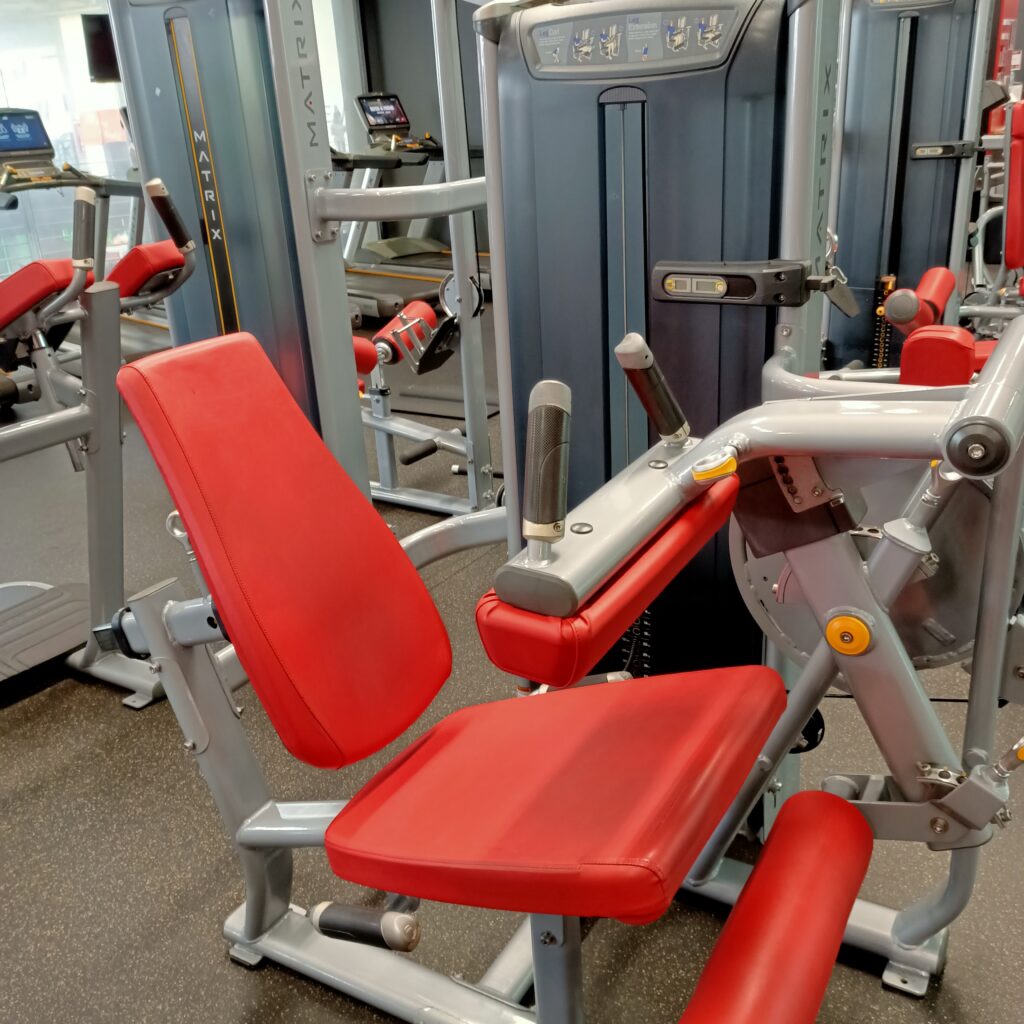 Abs crunch and lower back.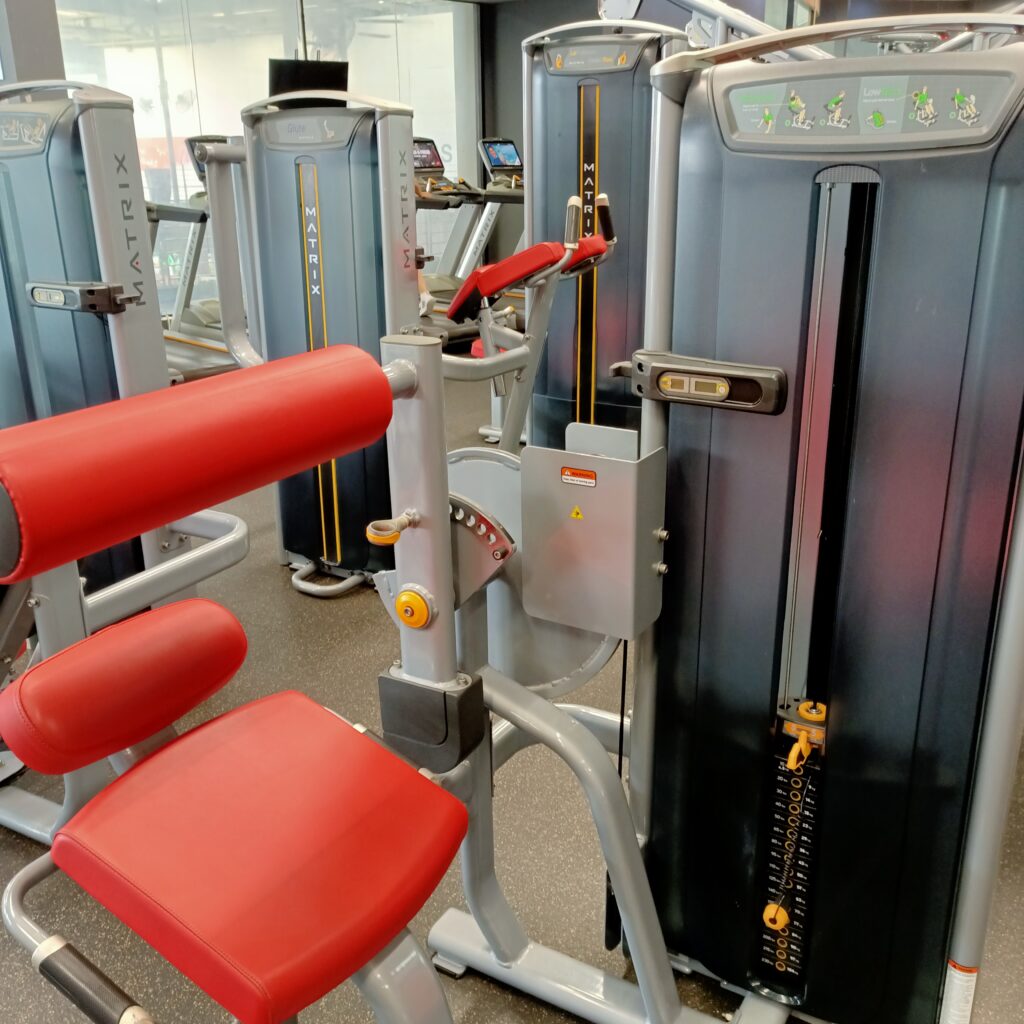 This machine, I never saw in other Jetts gym. I guess this is very old from the beginning, can be utilized for nice incline chest movement with plate weight adjustment.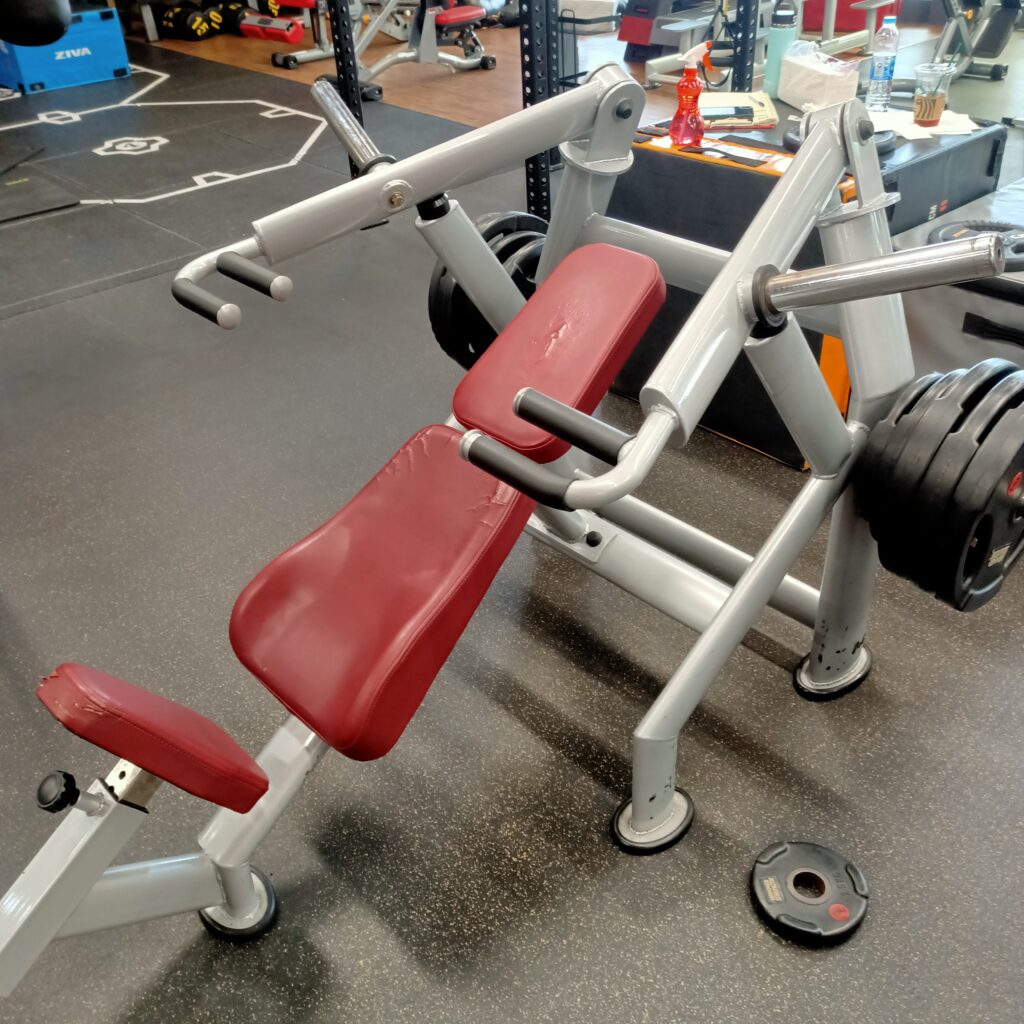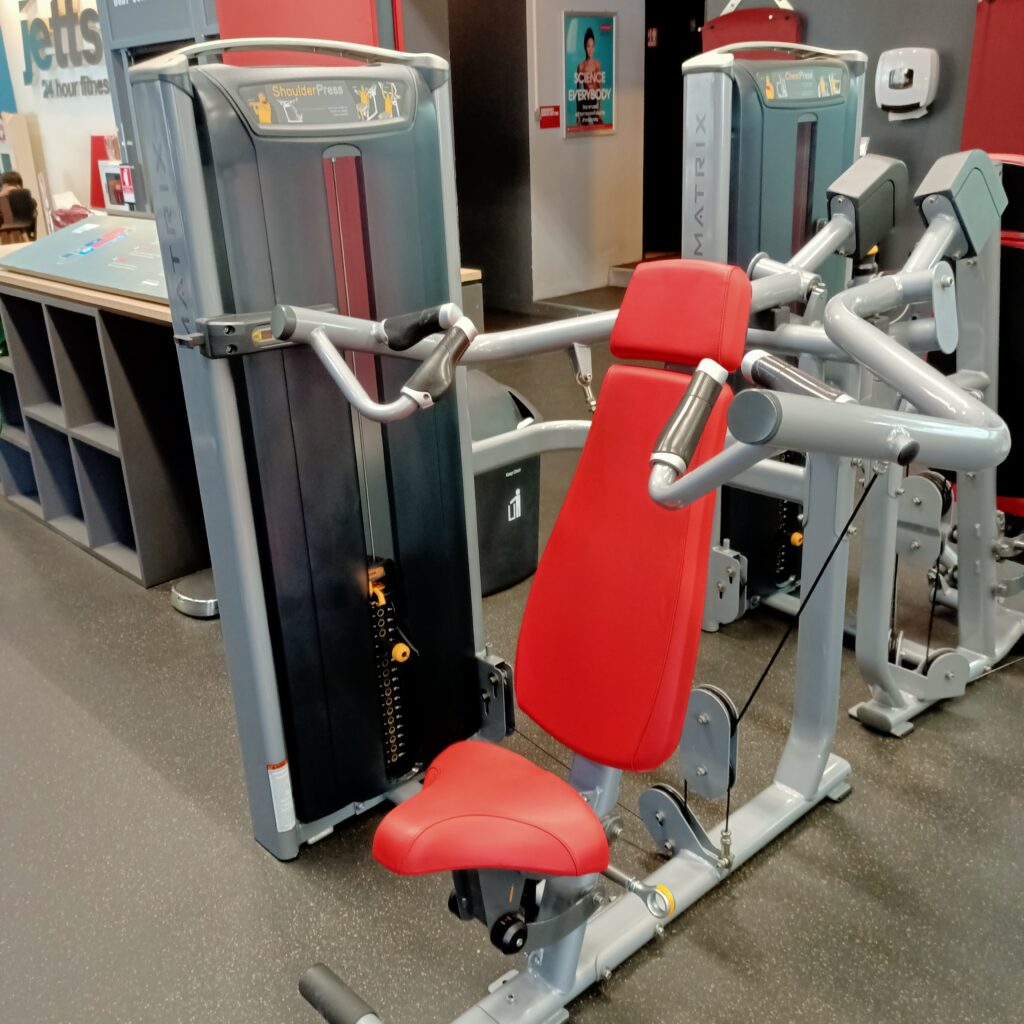 I used this machine for pull up.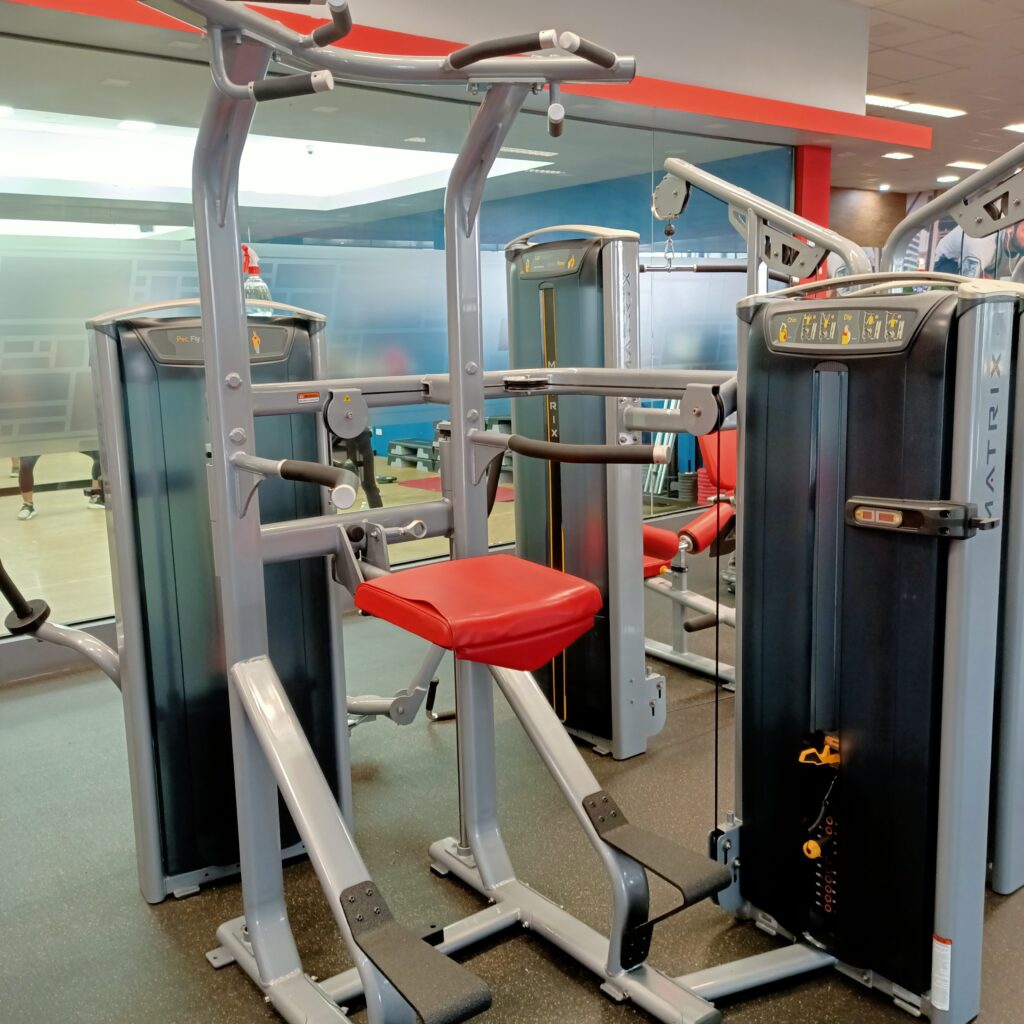 Another lat pull and cable row machine. I don't know why but they have 2 same machines in this branch, 55. Good you do not need to wait for back training.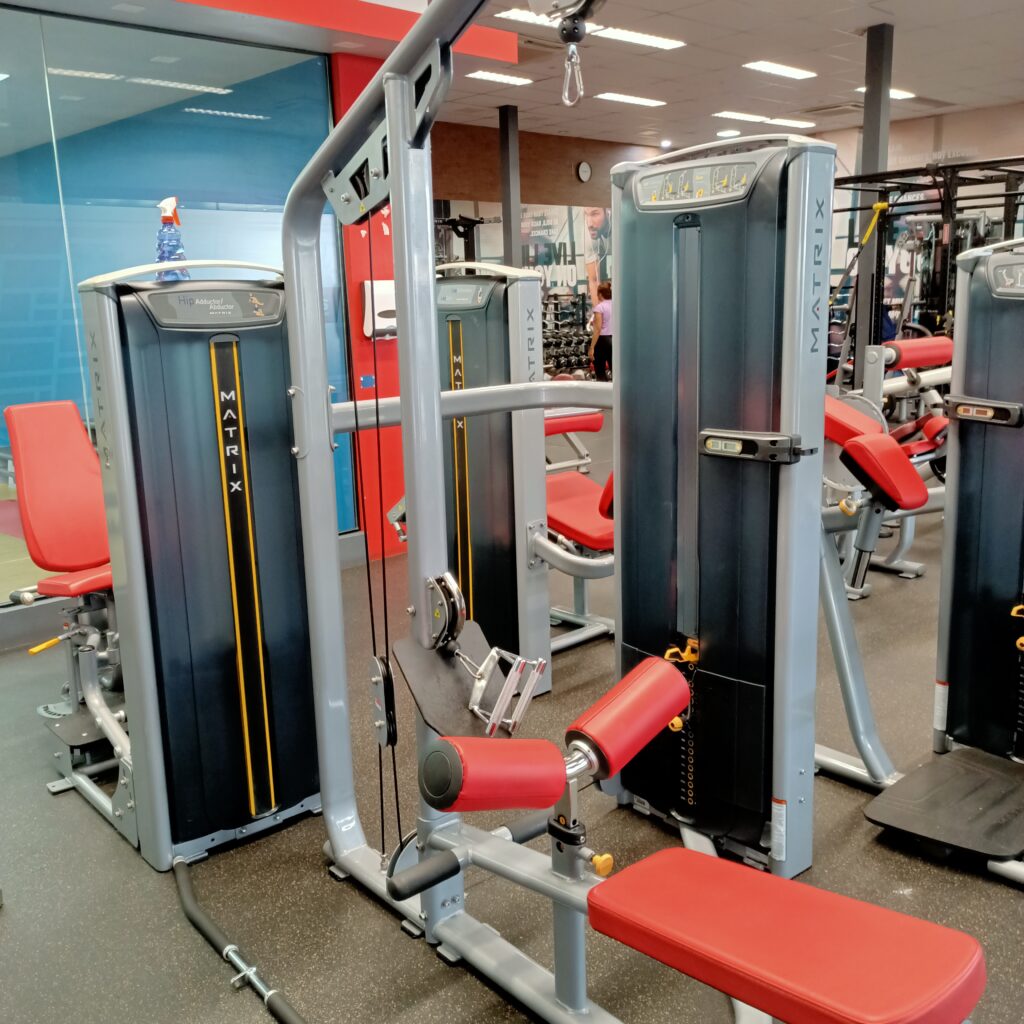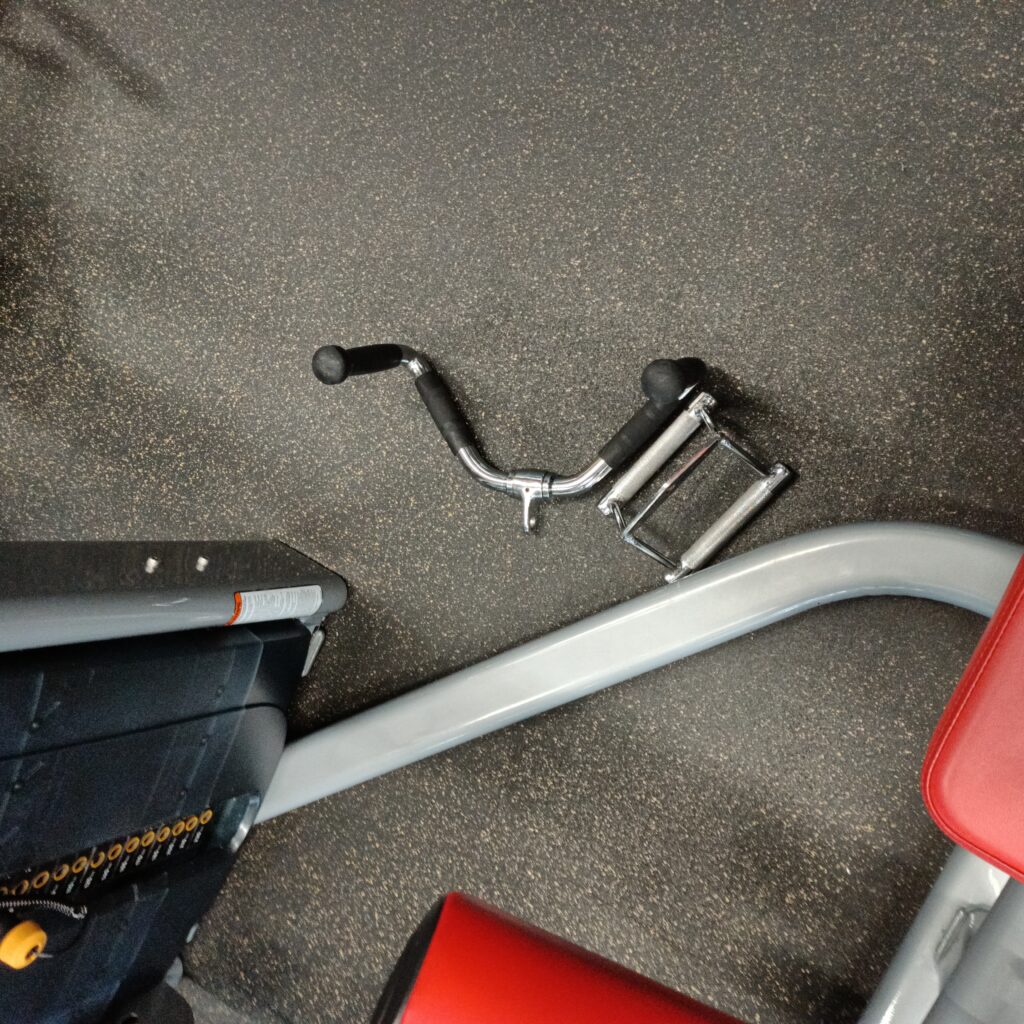 Arm exercise. Look at the attachment on the floor, this is very unique in this gym, will give you different movement for your back unlike normally lat pull bar.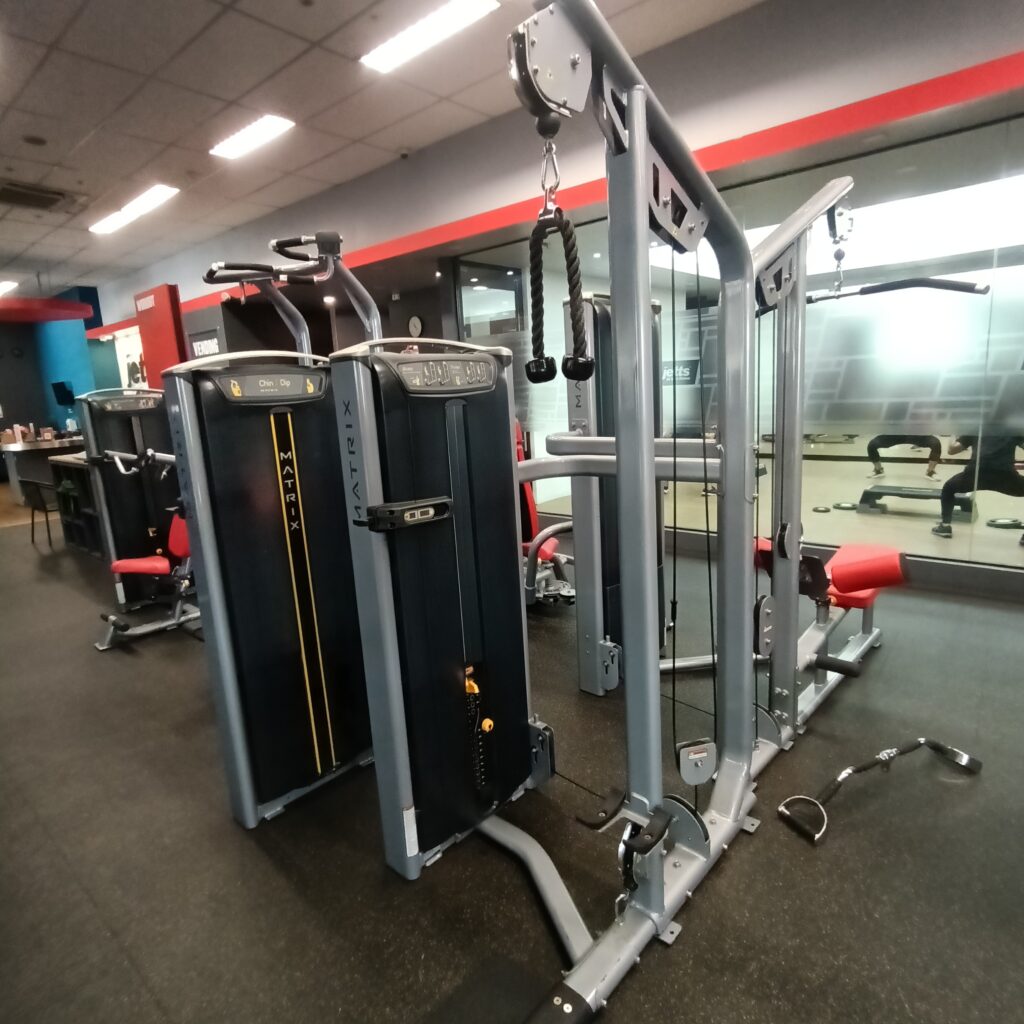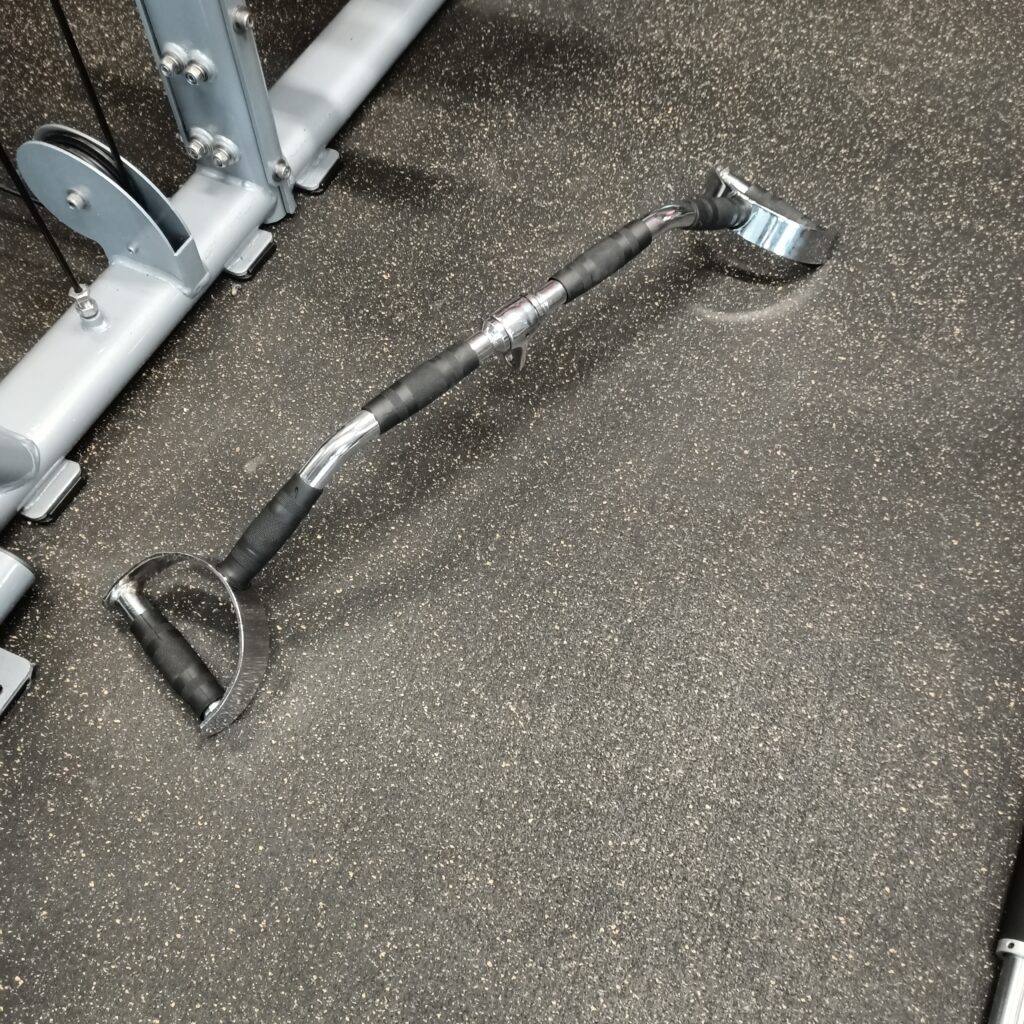 Glutes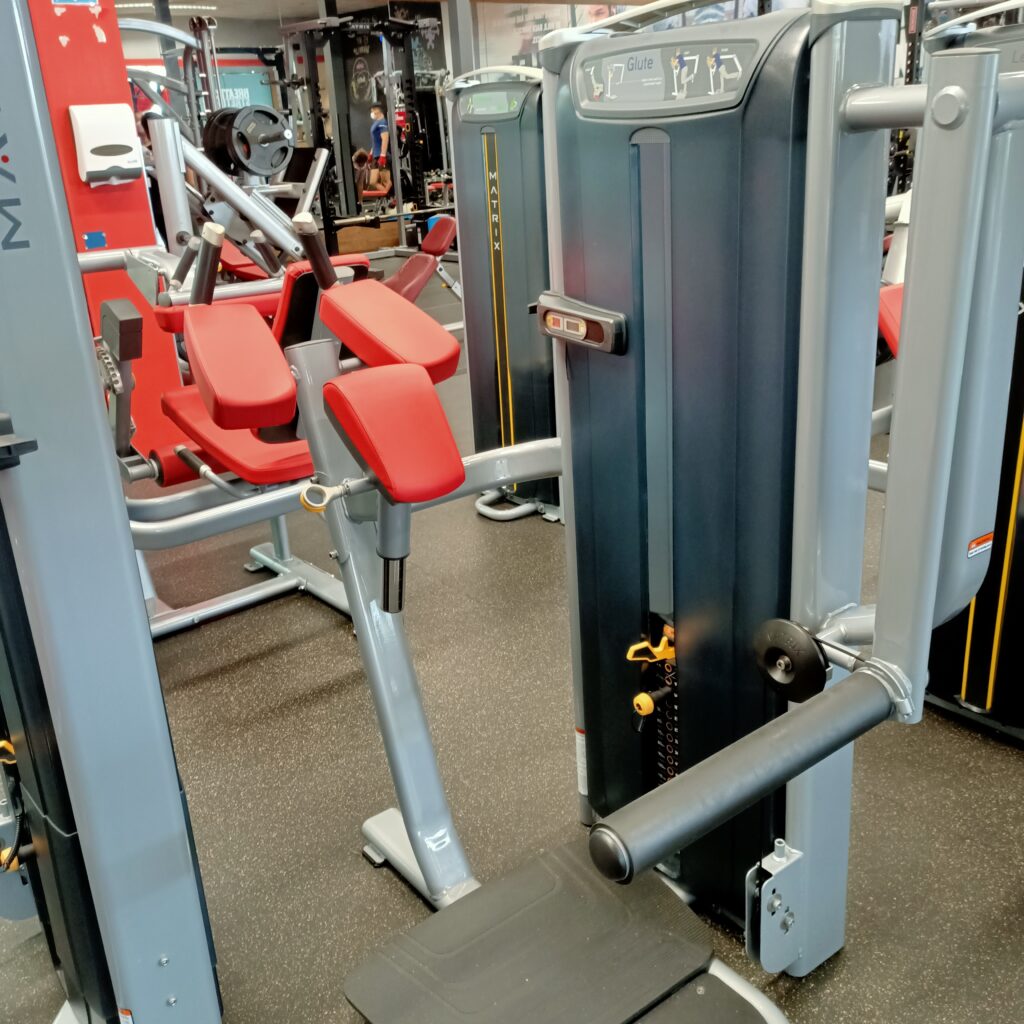 Leg press machine. Another leg press machine is in free weight zone.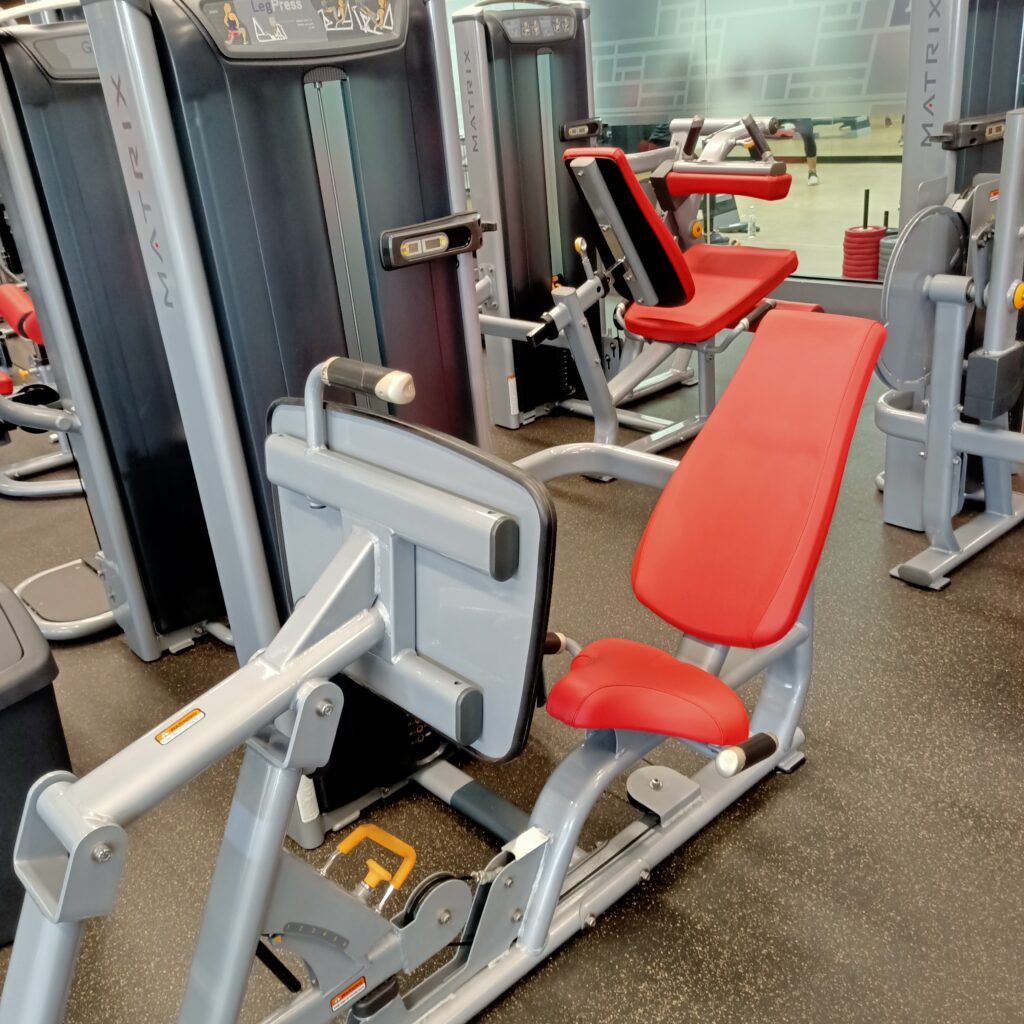 Cardio area
Alongside the windows, you can find more cardio machines. Since this gym size is not so big, cardio machine types are limited. No climb mils.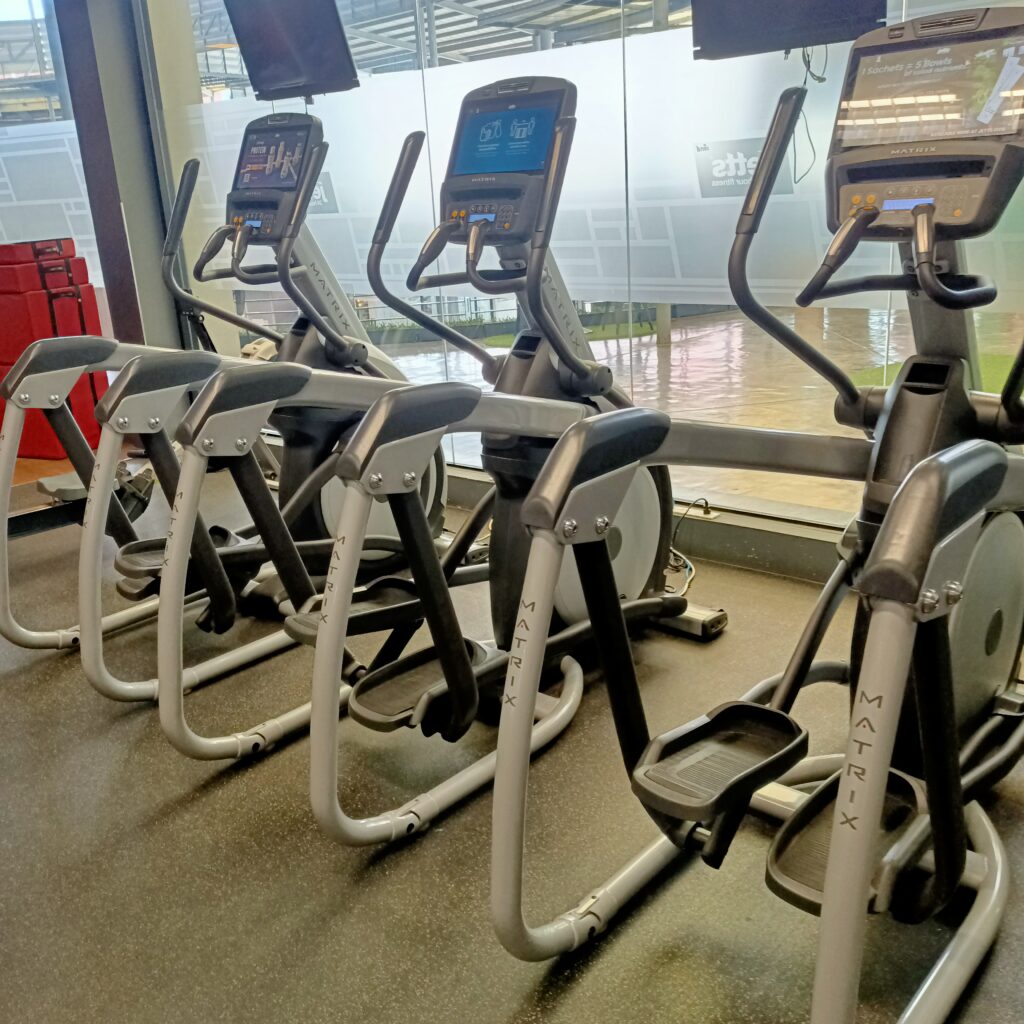 Tread mils are free to use. I love to come to gym weekend afternoon because less crowded and I can take my time freely not needed to make it hurry like weekend morning exercise before going to office.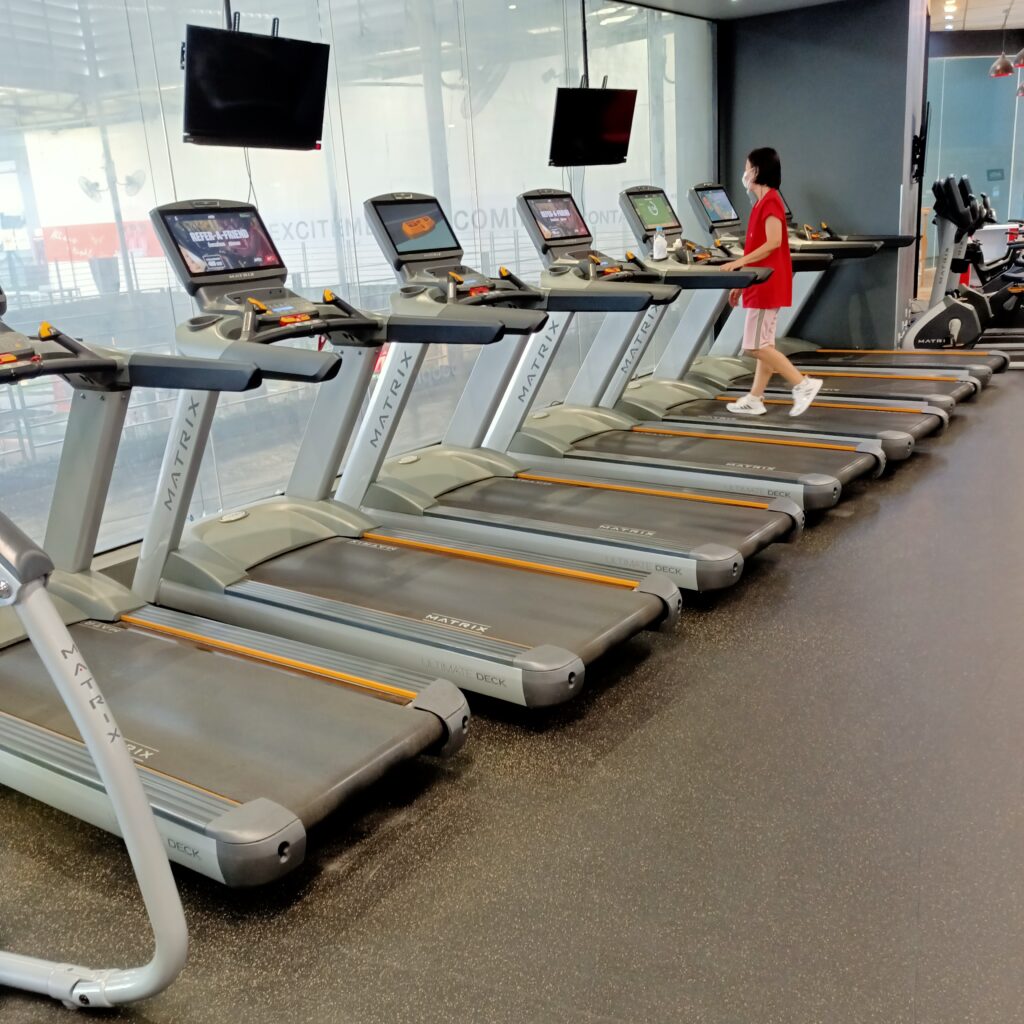 Boat machine.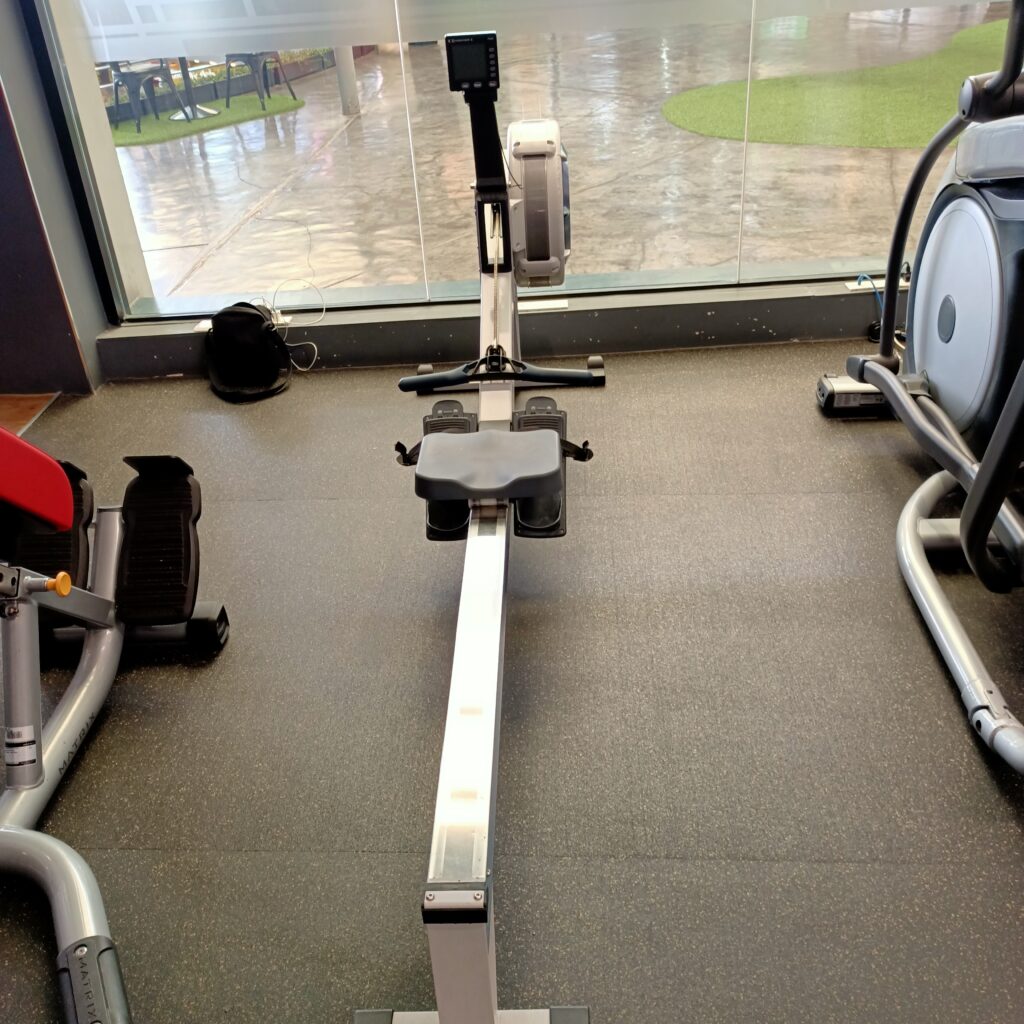 Lower back stand. My weak point is lower back but with this stand, I must train more and more to make stronger lower back.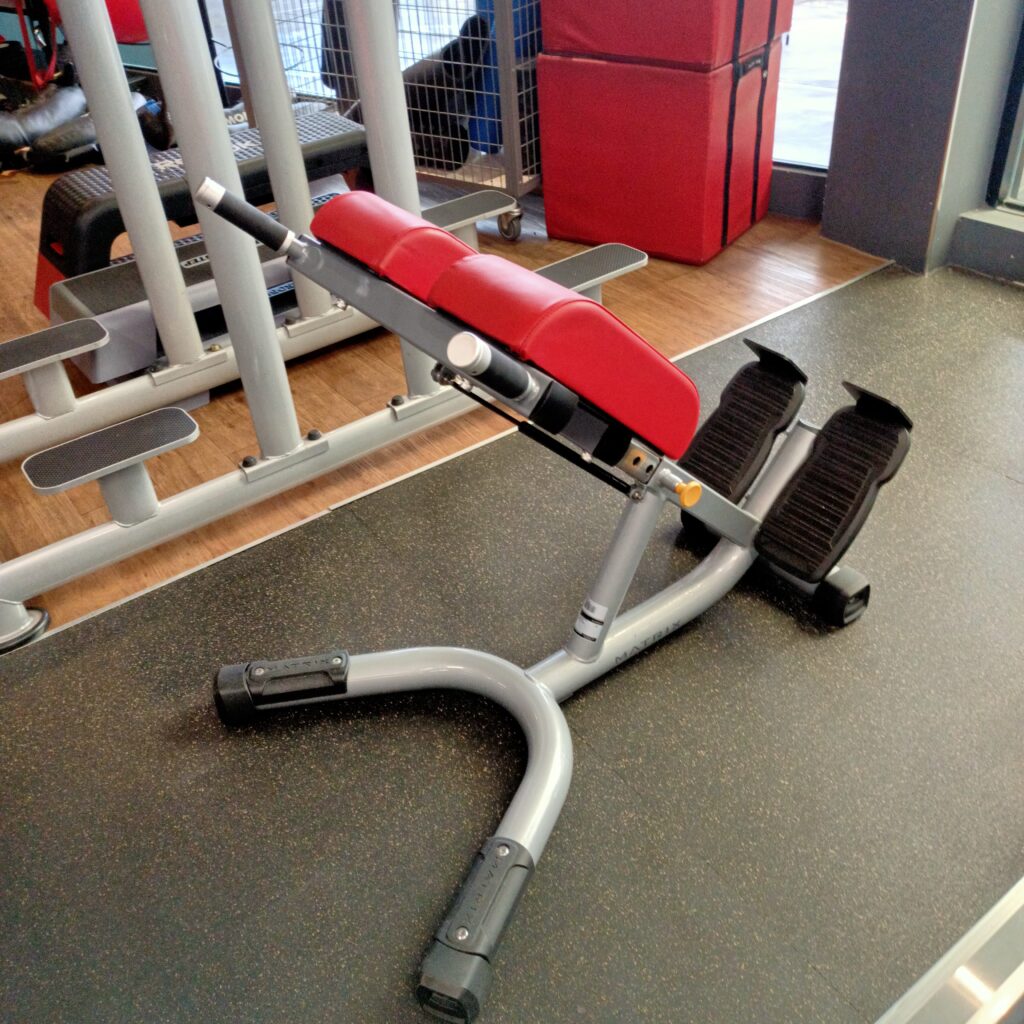 Dip and pull up stand is a bit old fashioned style.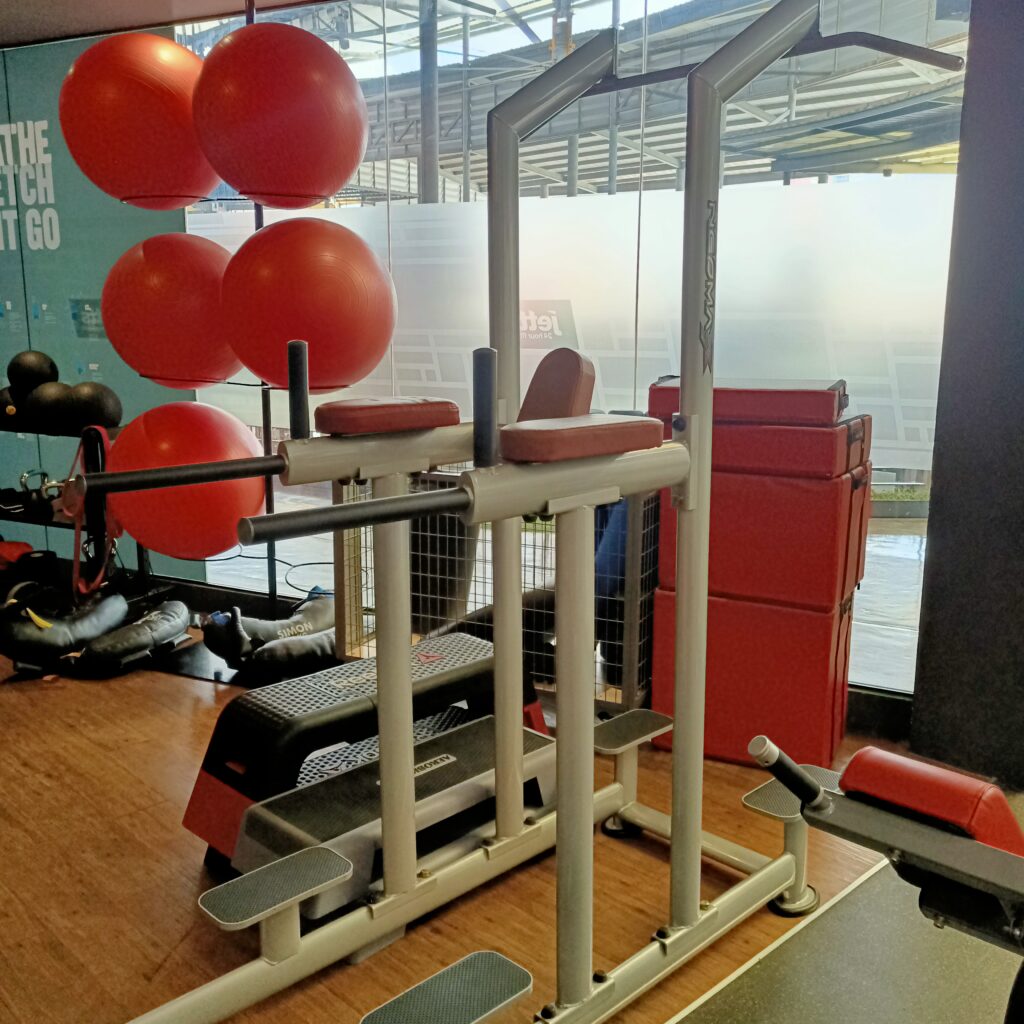 Functional workout area
Strayed bench stand in functional training zone, 55.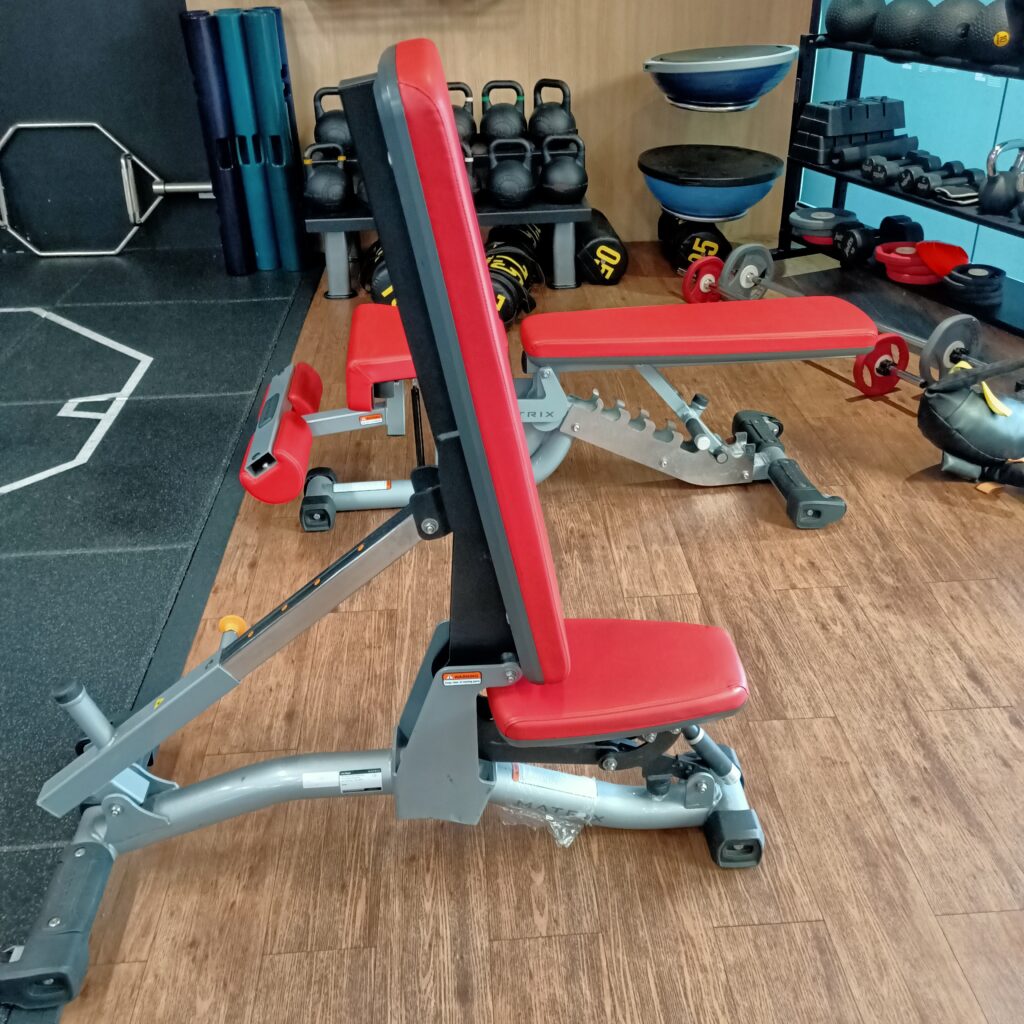 Work out items in functional training zone, can be used HIIT or cross fit training.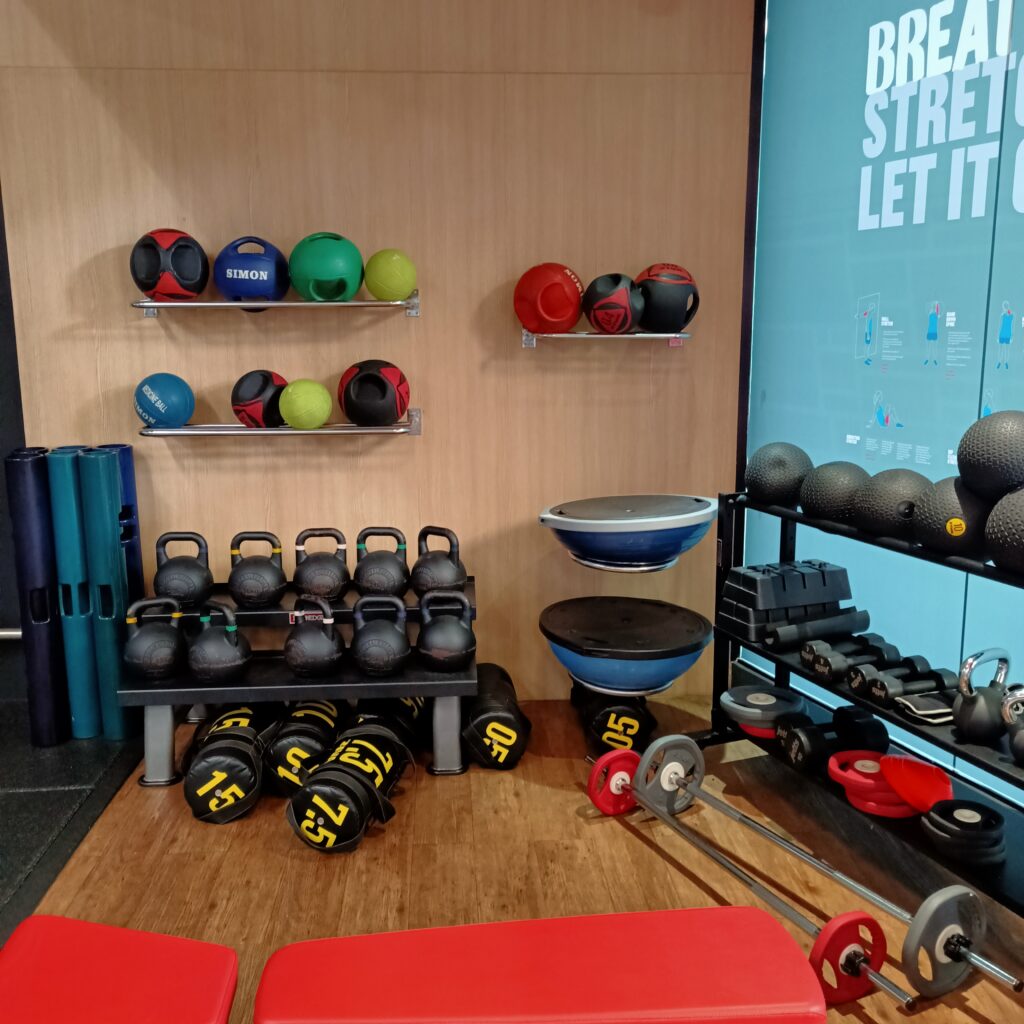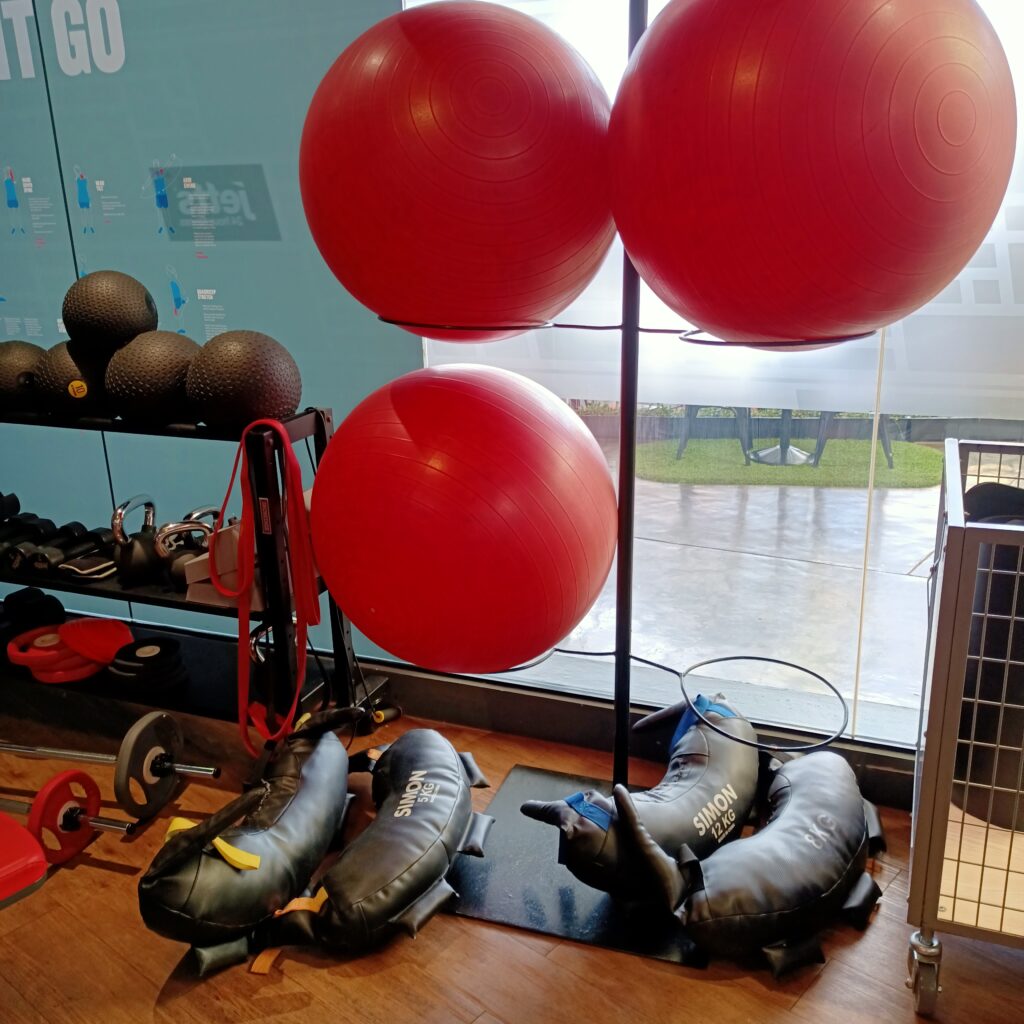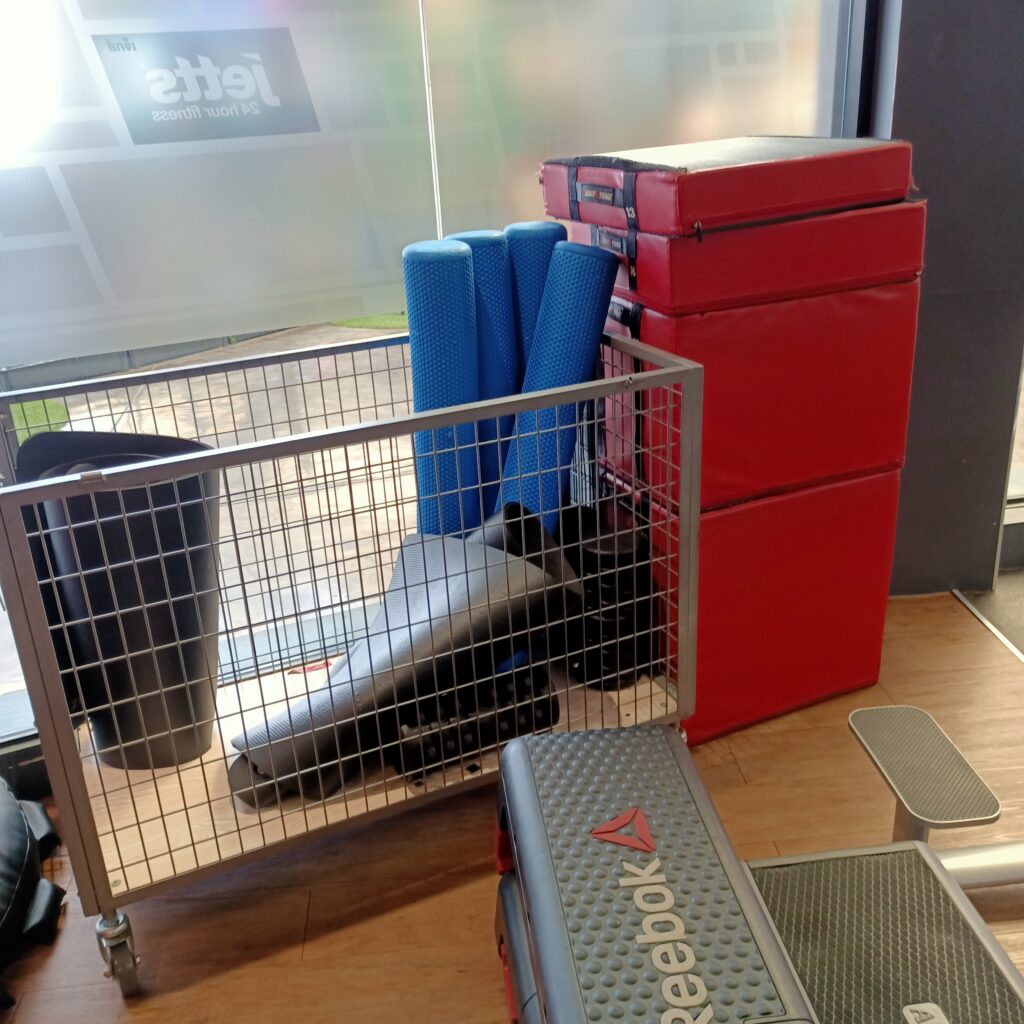 Functional training zone stand is steel made with one sand bag hanging.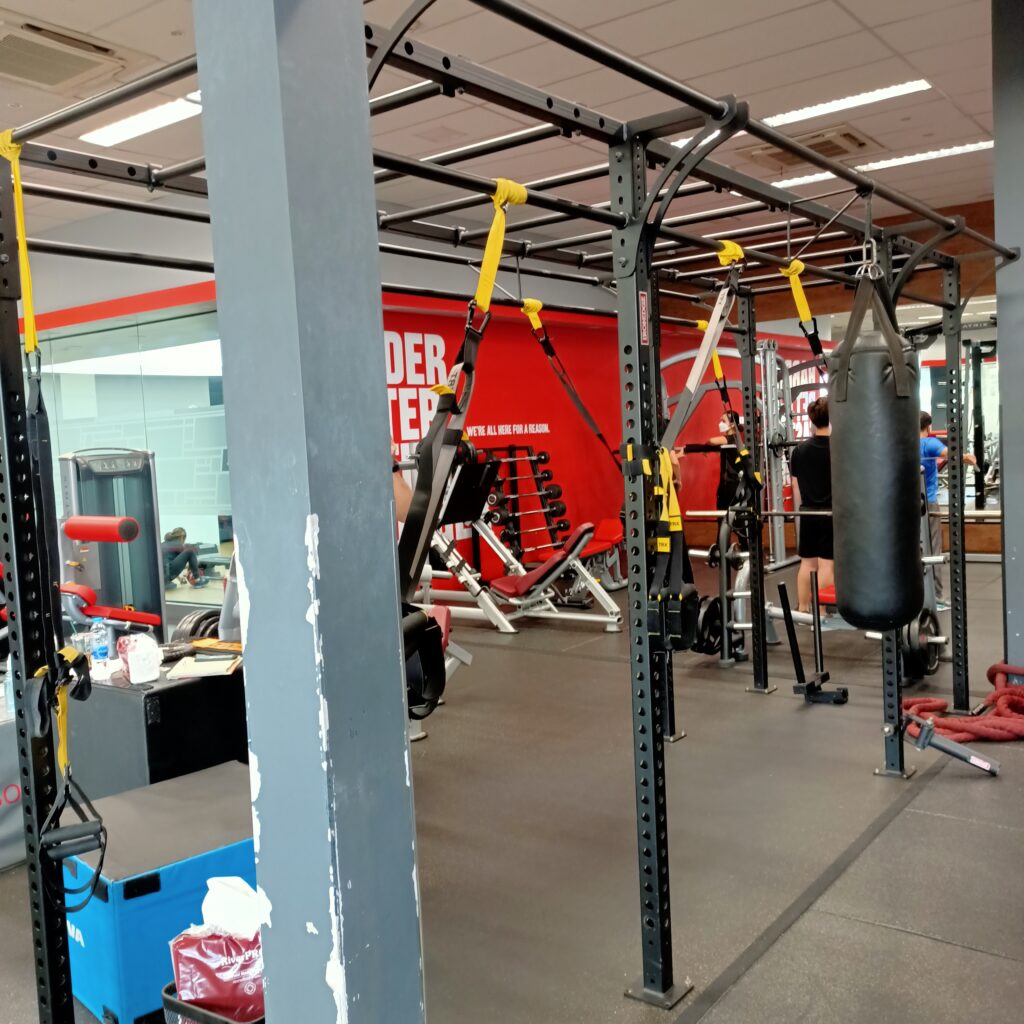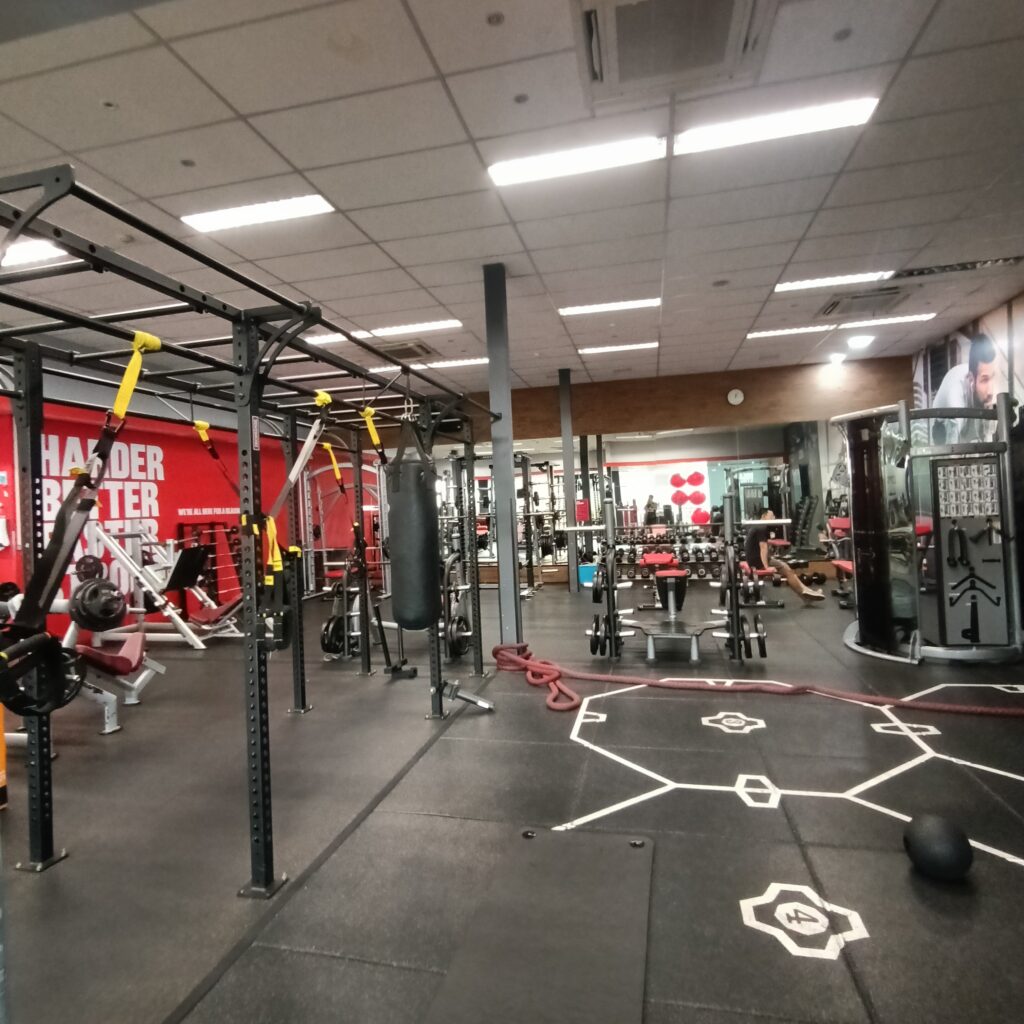 Chalk board,55 with some motivating message from members and staff.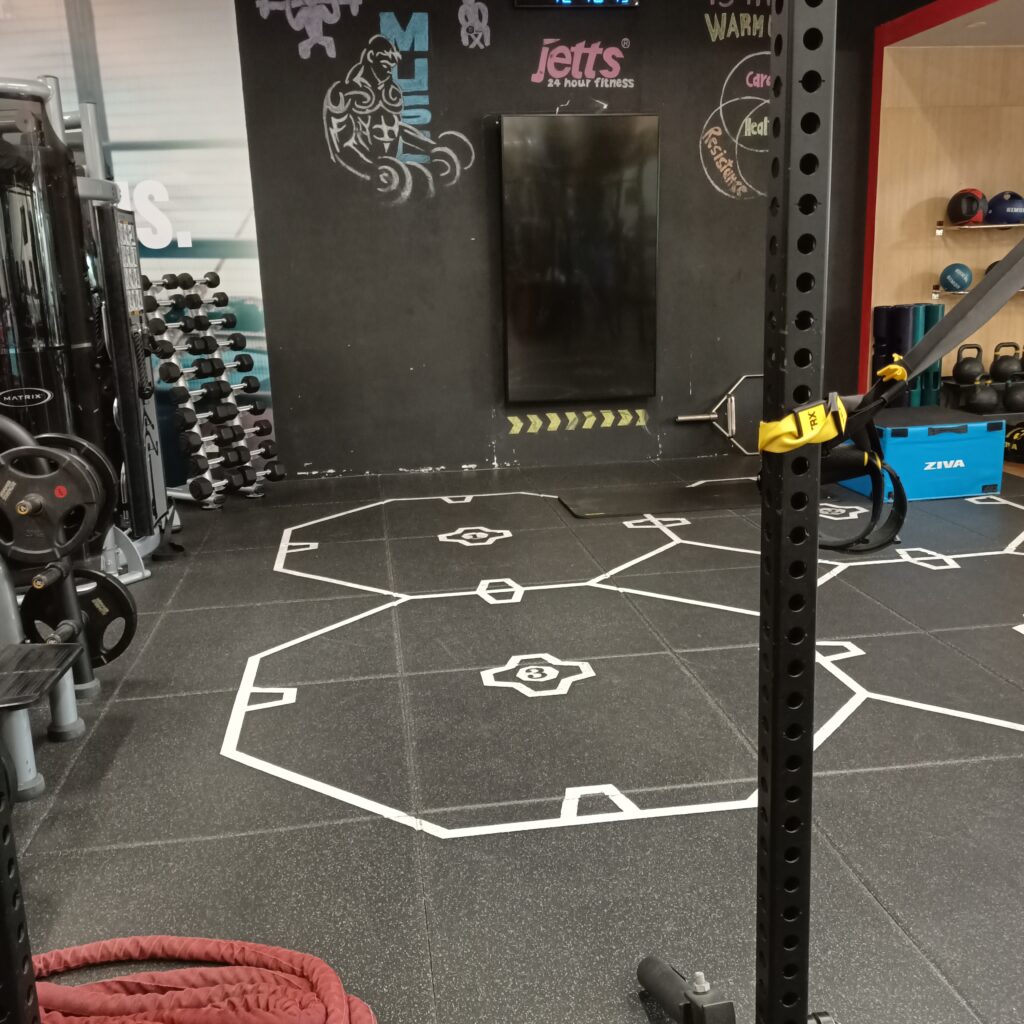 Small sized dumbbell rack from 1 to 10 kg.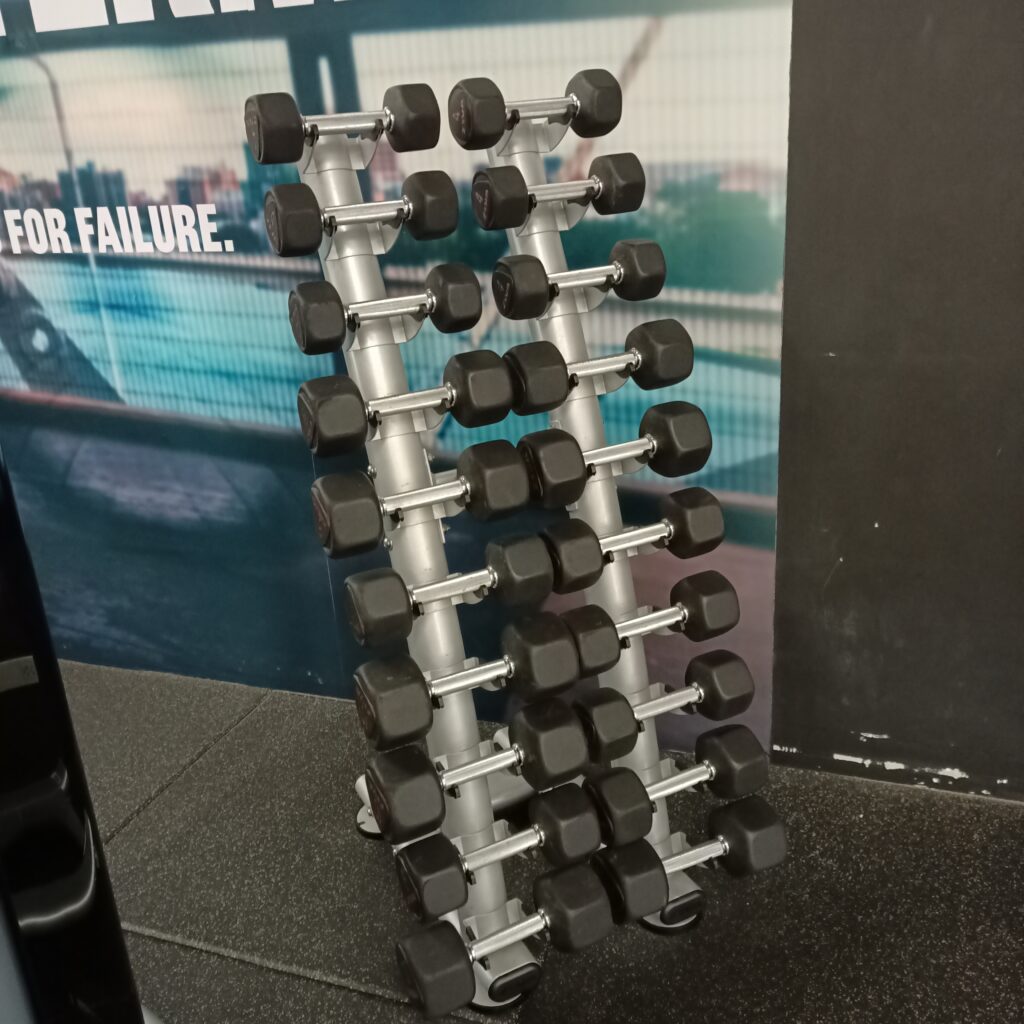 Hmmm, this is very nice, I think only this Jetts has this kind of bar so called Hex bar. Normally this is used for deadlift movement. Unlike conventional barbell deadlift, it is easer to keep the position of gravity center when lifting the weight from the floor. I must try to use this bar for back day to feel the difference from usual deadlift.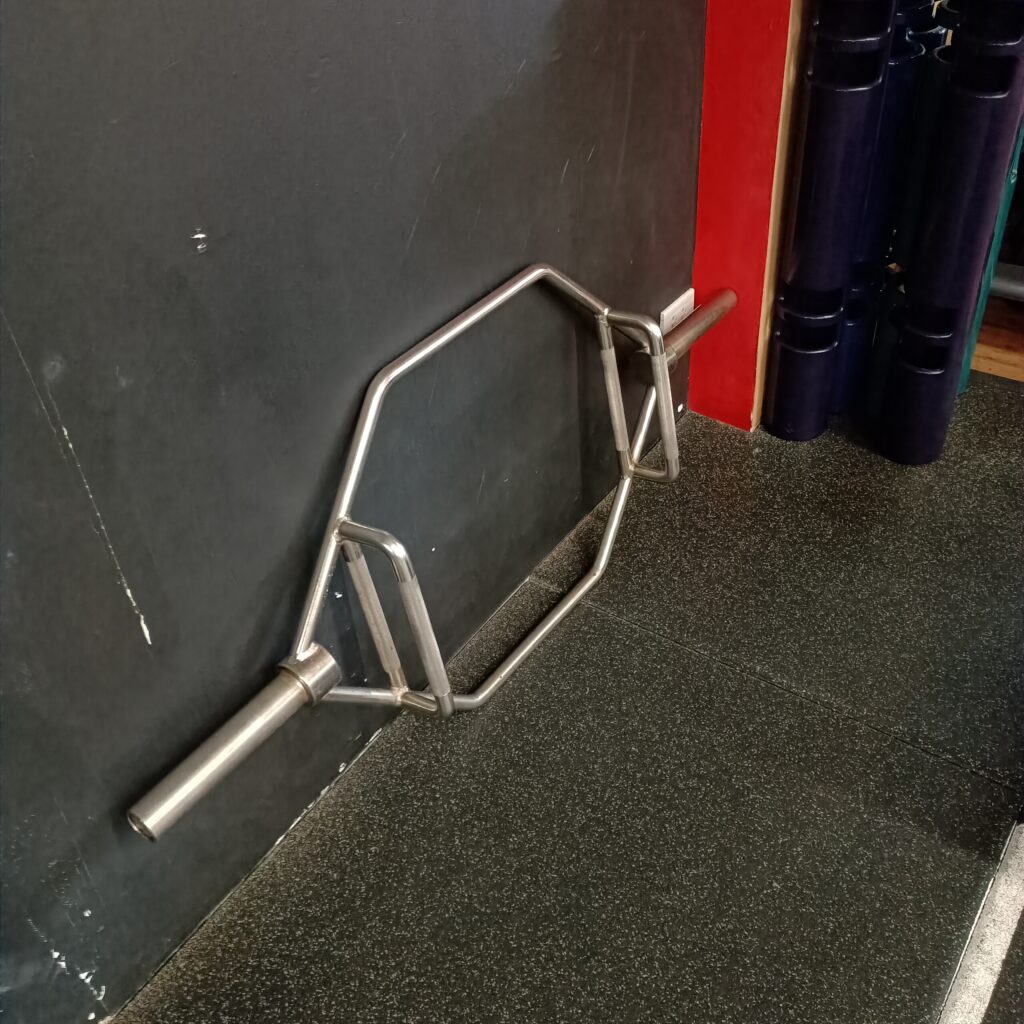 Free weight
Below is the place , free weight zone, most gym goers should stay more time in the gym.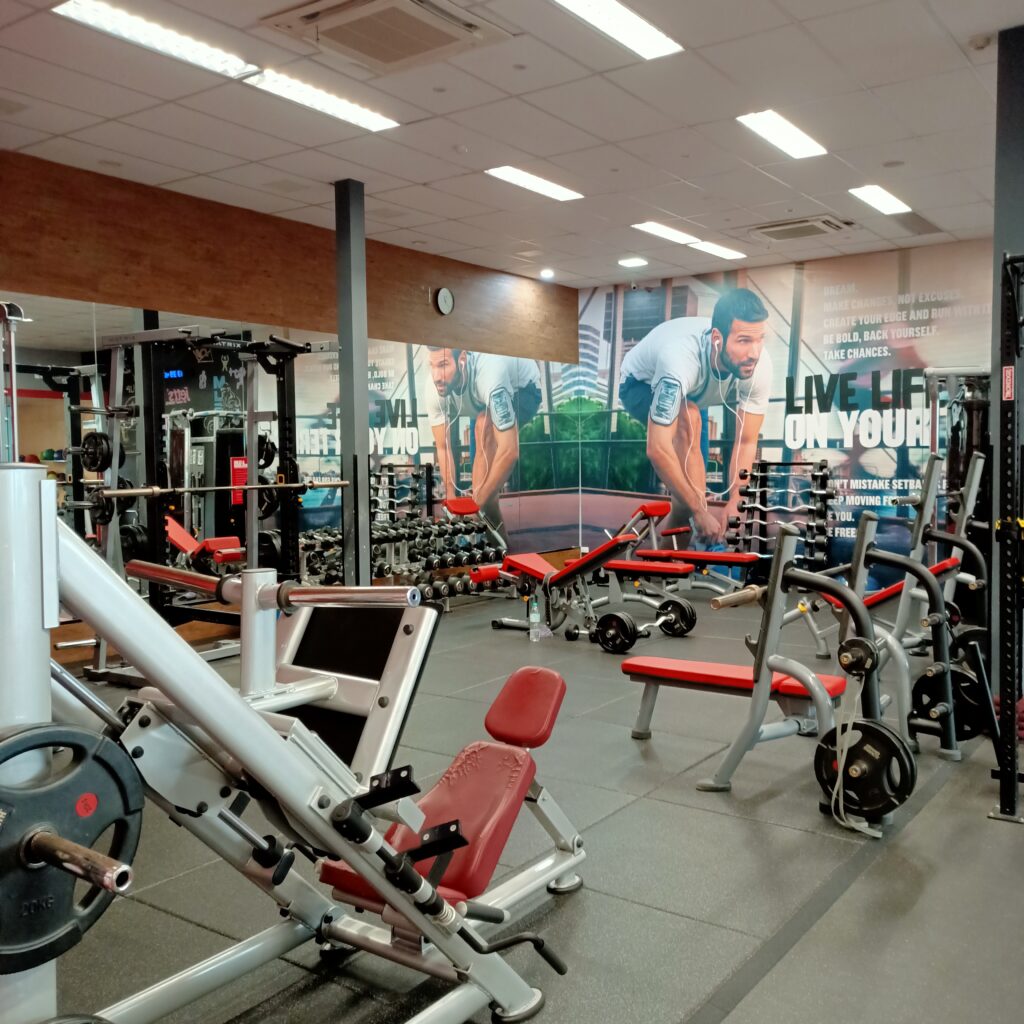 Let's take a look at the machines one by one in free weight zone. Cable machine can be seen almost all branches as you might know. Only negative point here is the mirror is a bit far from cable machine.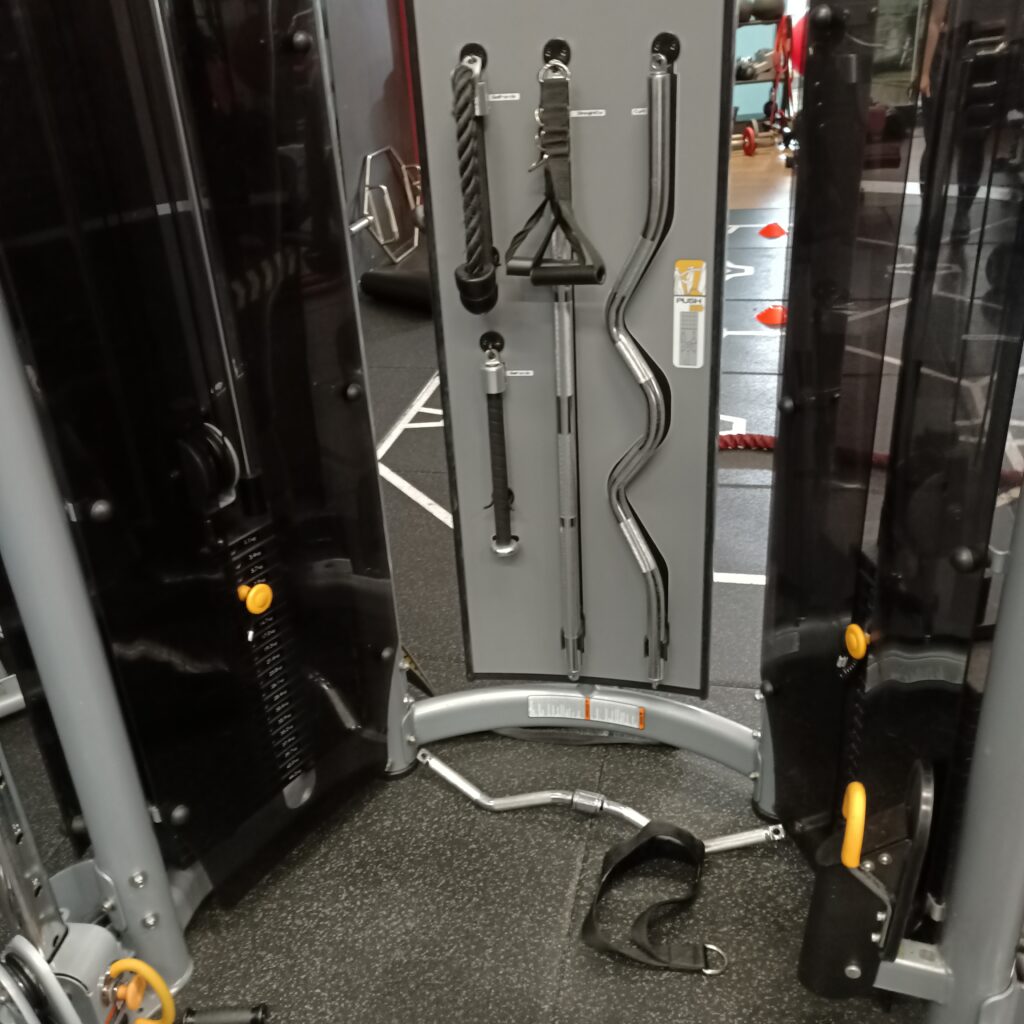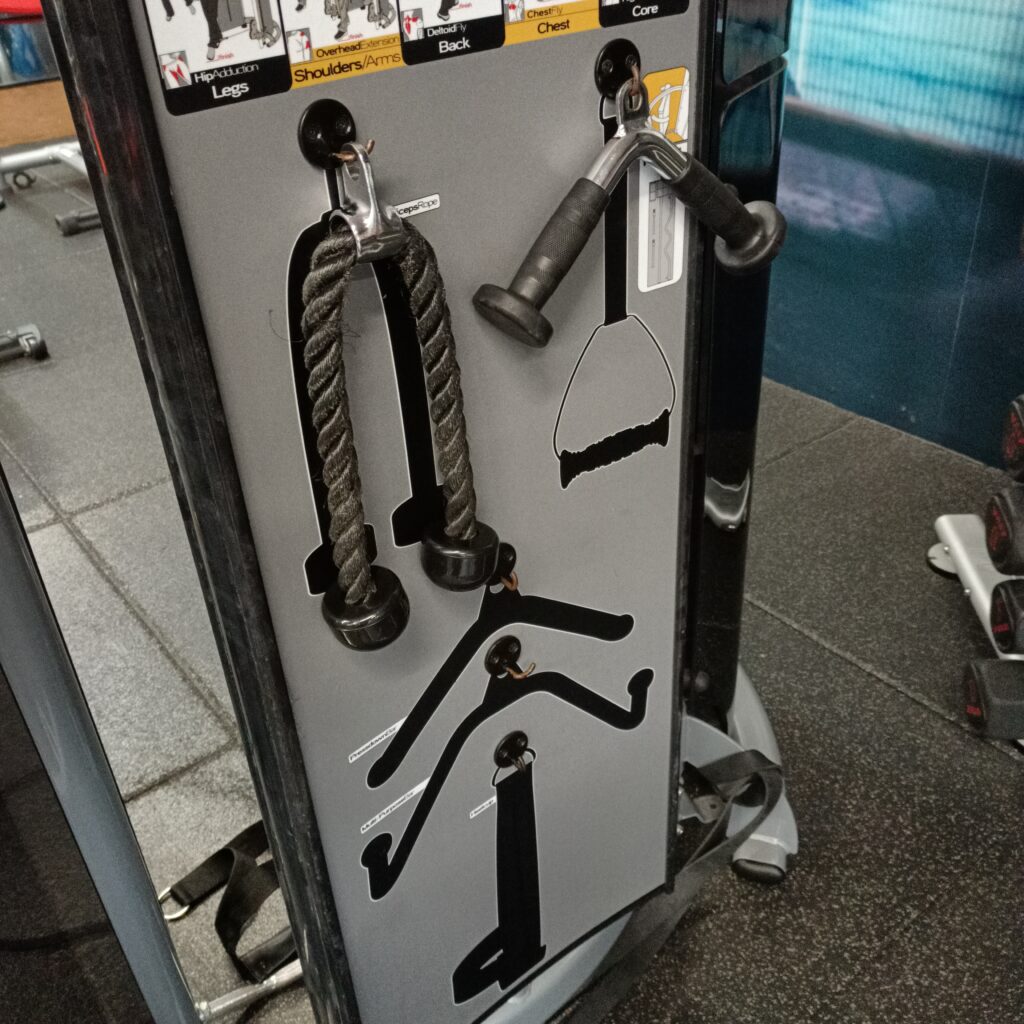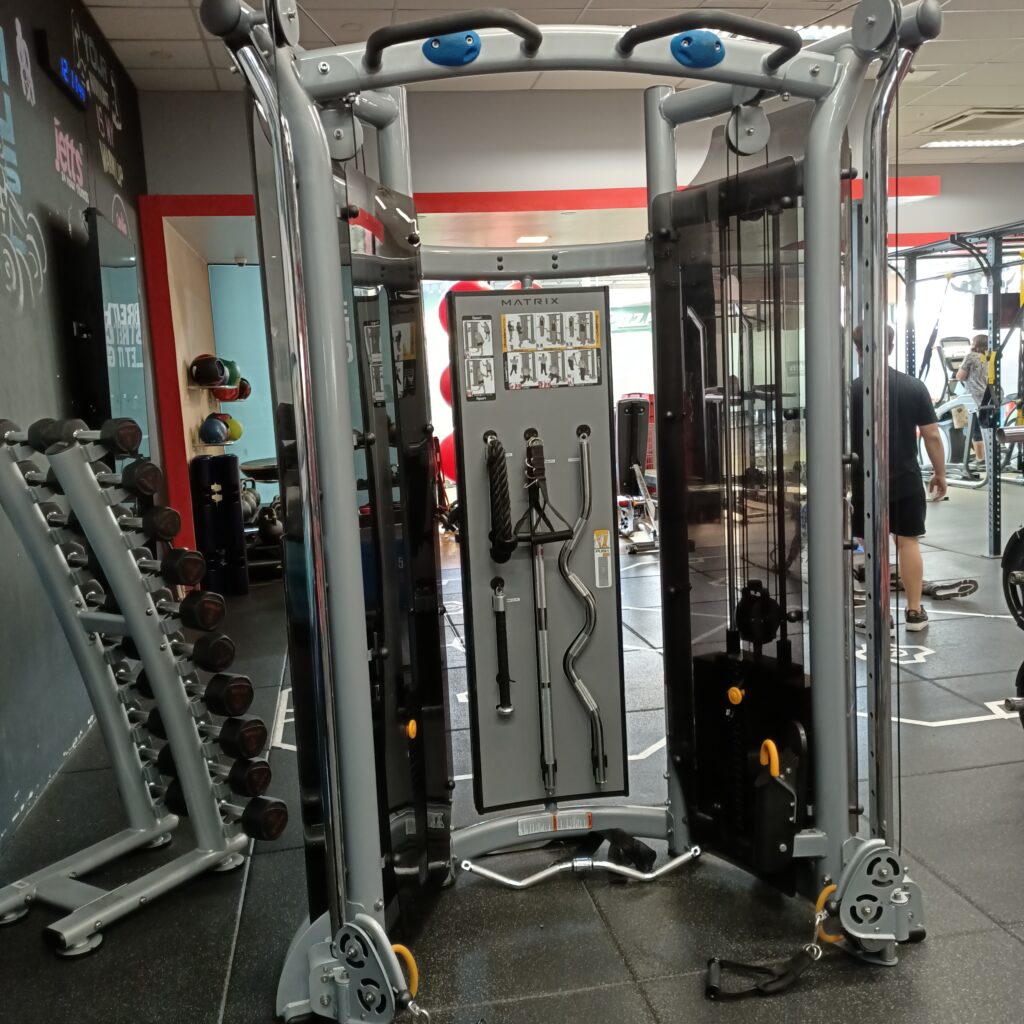 Smith machine and power rack is standard one in any Jetts. There are 2 rubber plates 5 kg each in here. Diameter of rubber plate is a bit longer than other normal plate.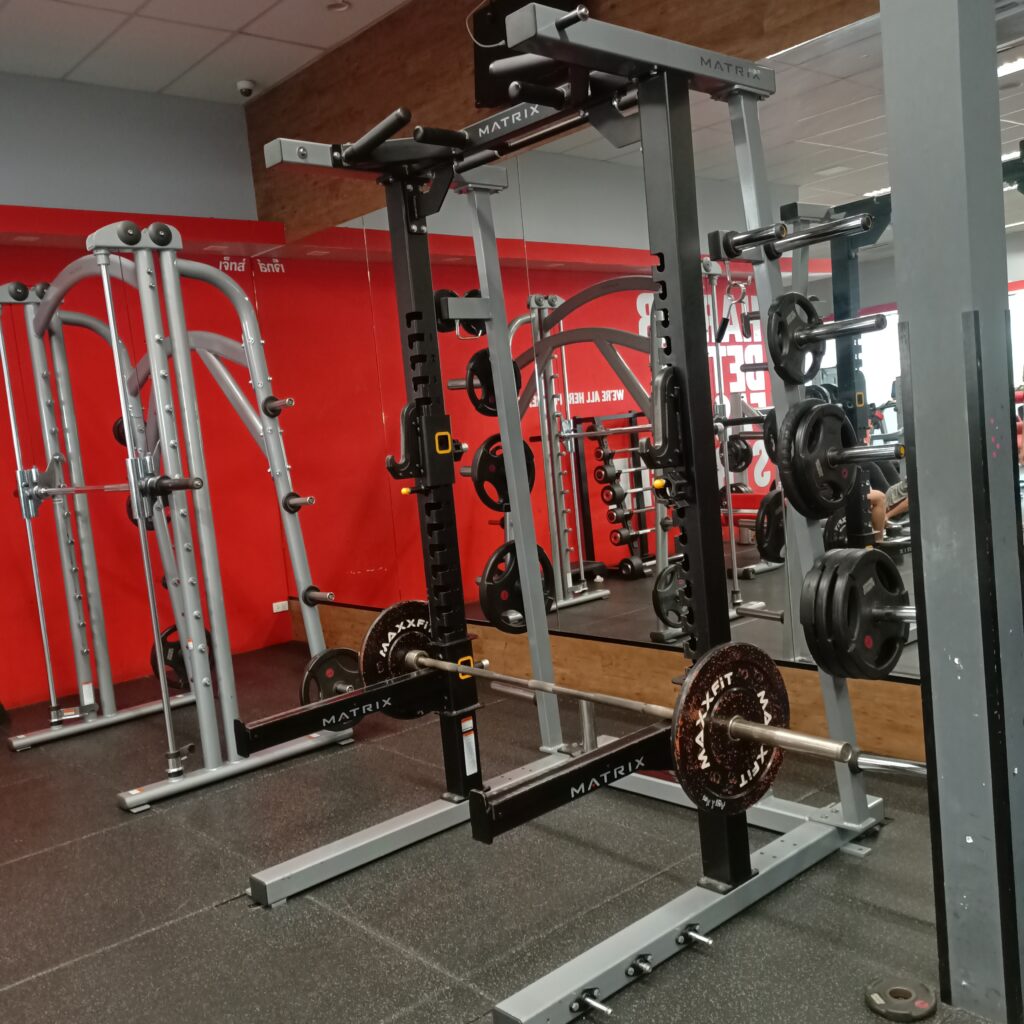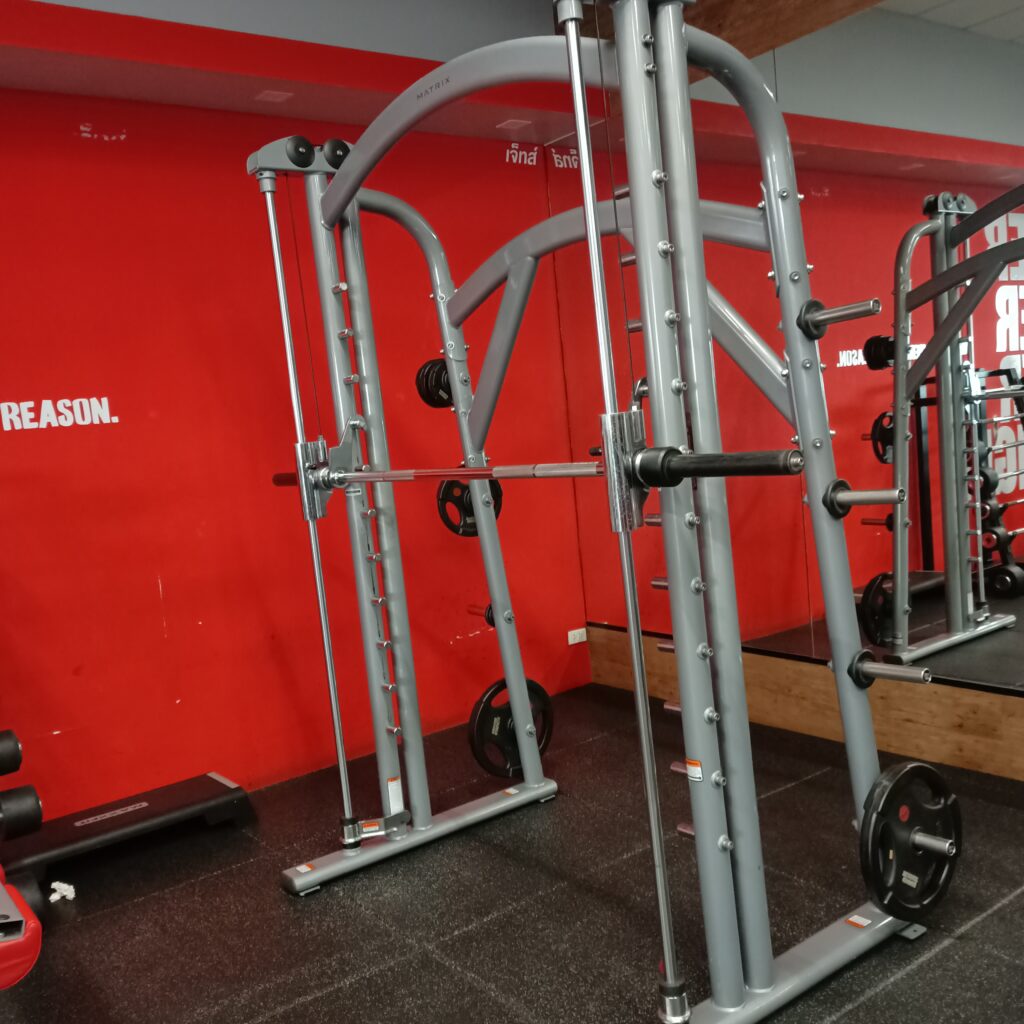 Dumbbell zone is quite different from other Jetts, especially the brand used id Hammer strength.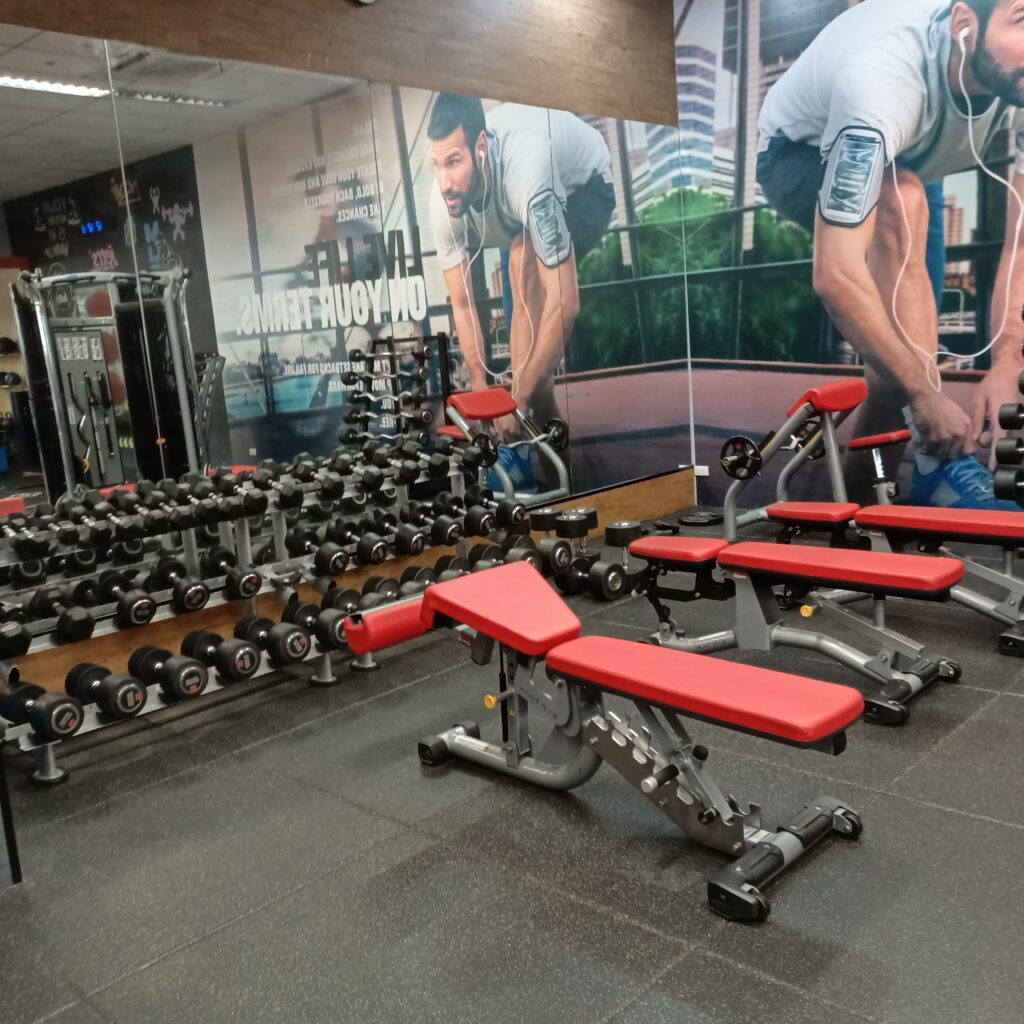 And one great thing here is they have dumbbell maximum weight until 40 kg!!! Normally other Jetts has only up to 35 kg. I really enjoyed 40 kg dumbbell rowing for my back training.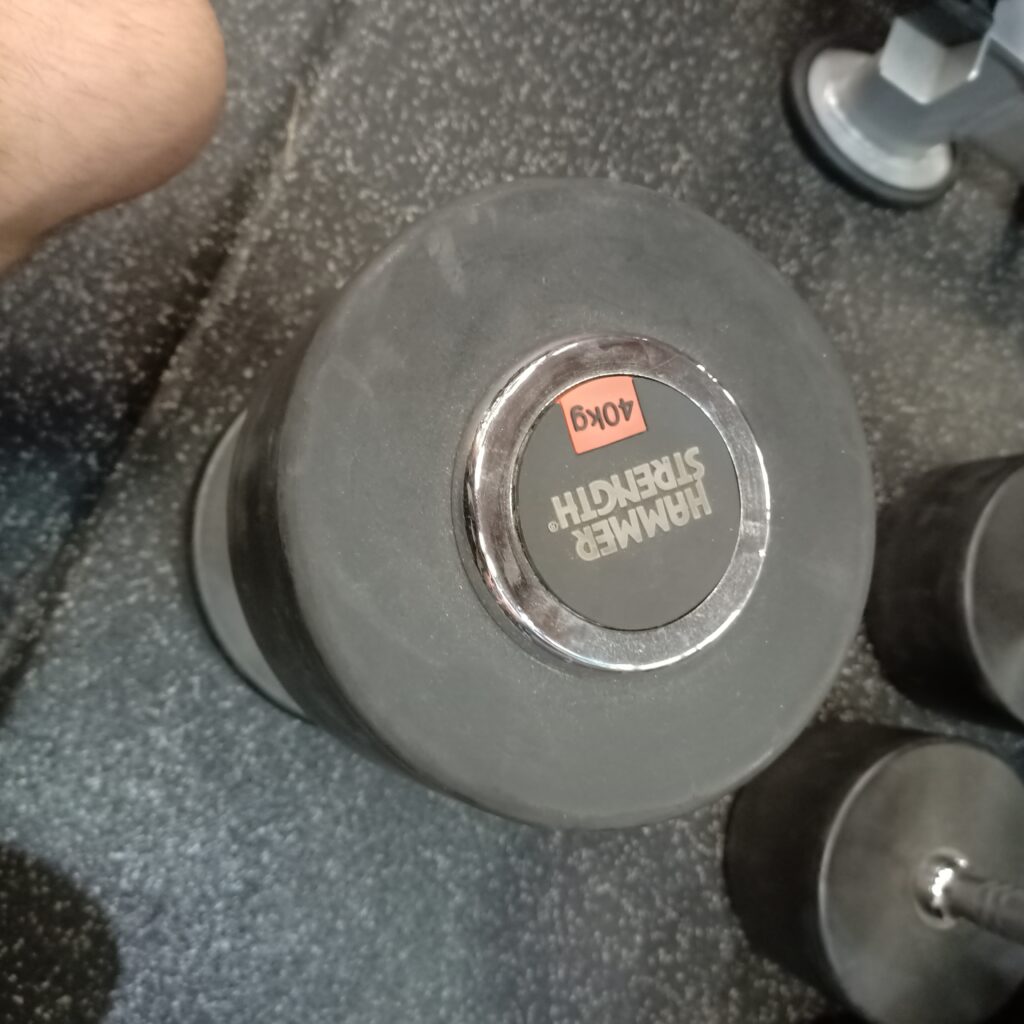 EZ bar eight until 35kg, Brand is also Hammer strength not ZIVA brand in other Jetts.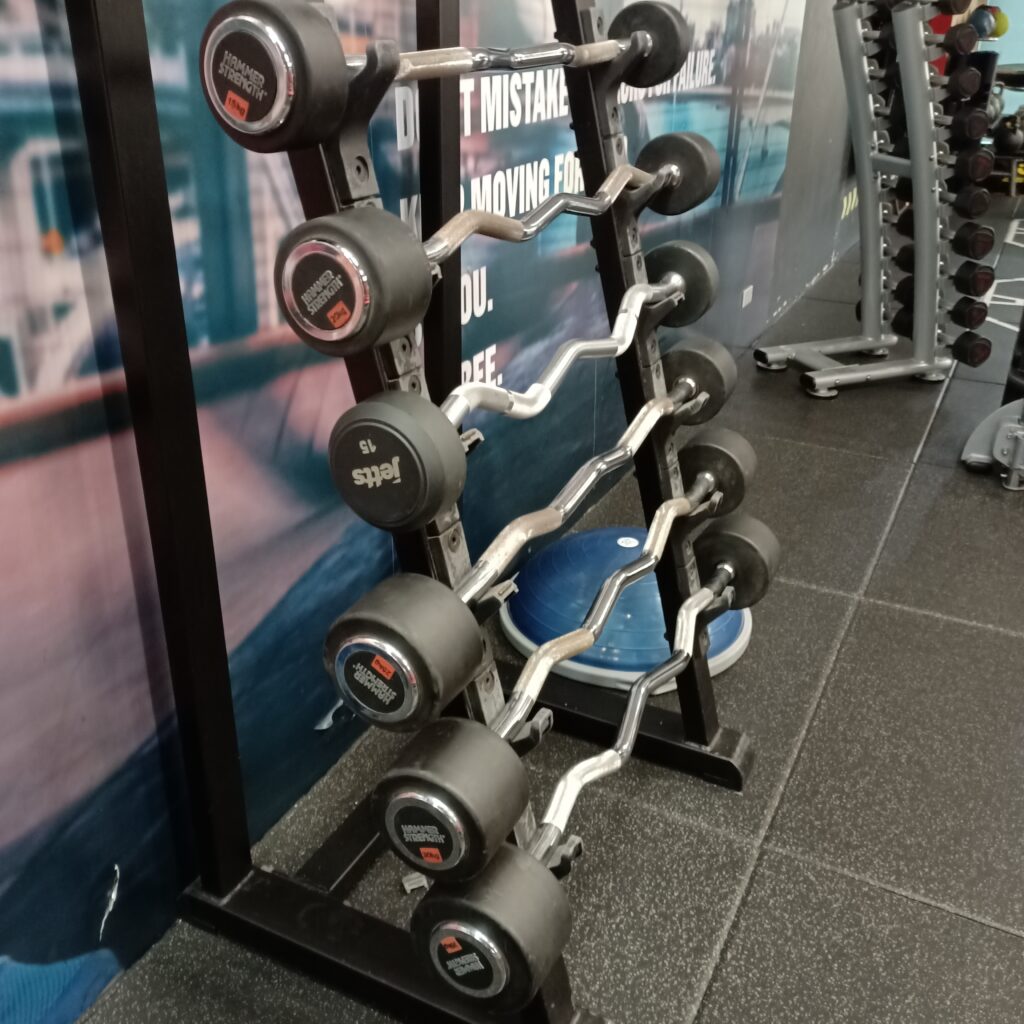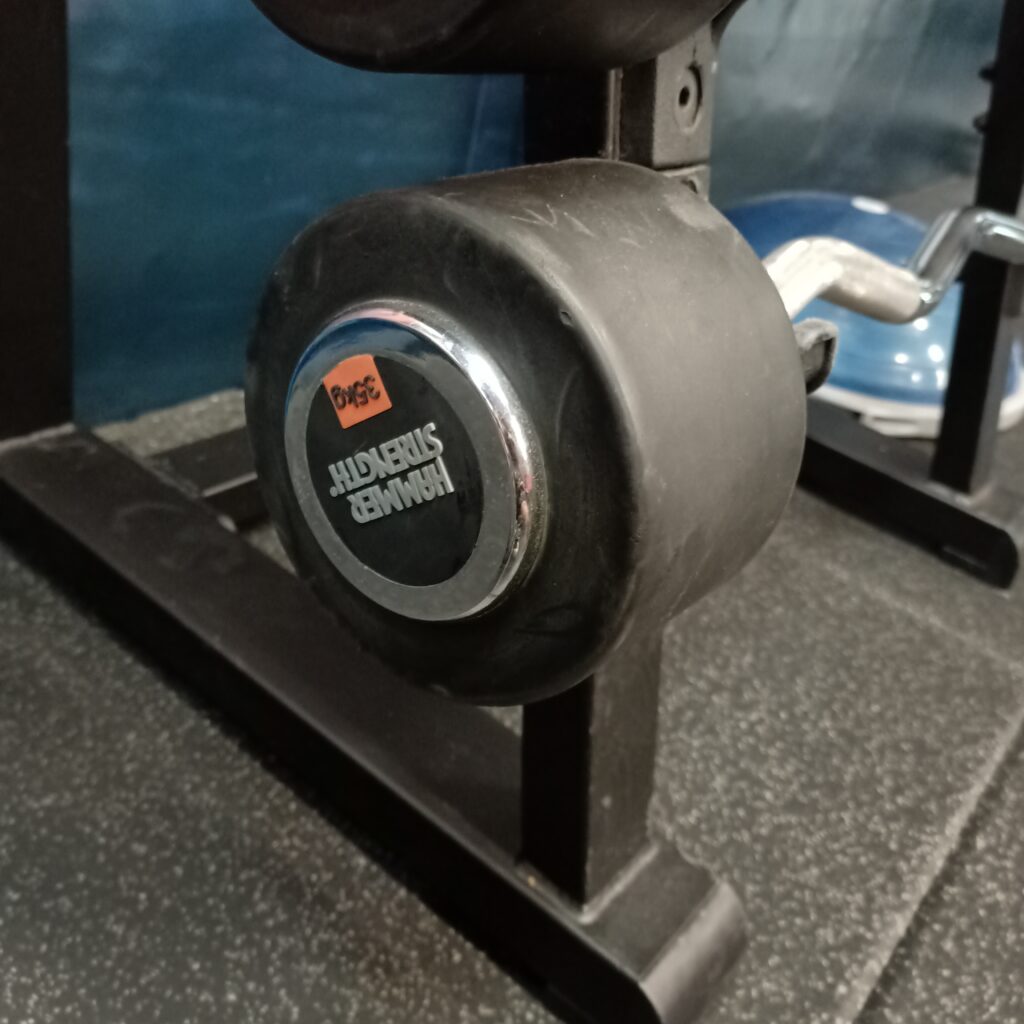 Bench stand for flat and incline.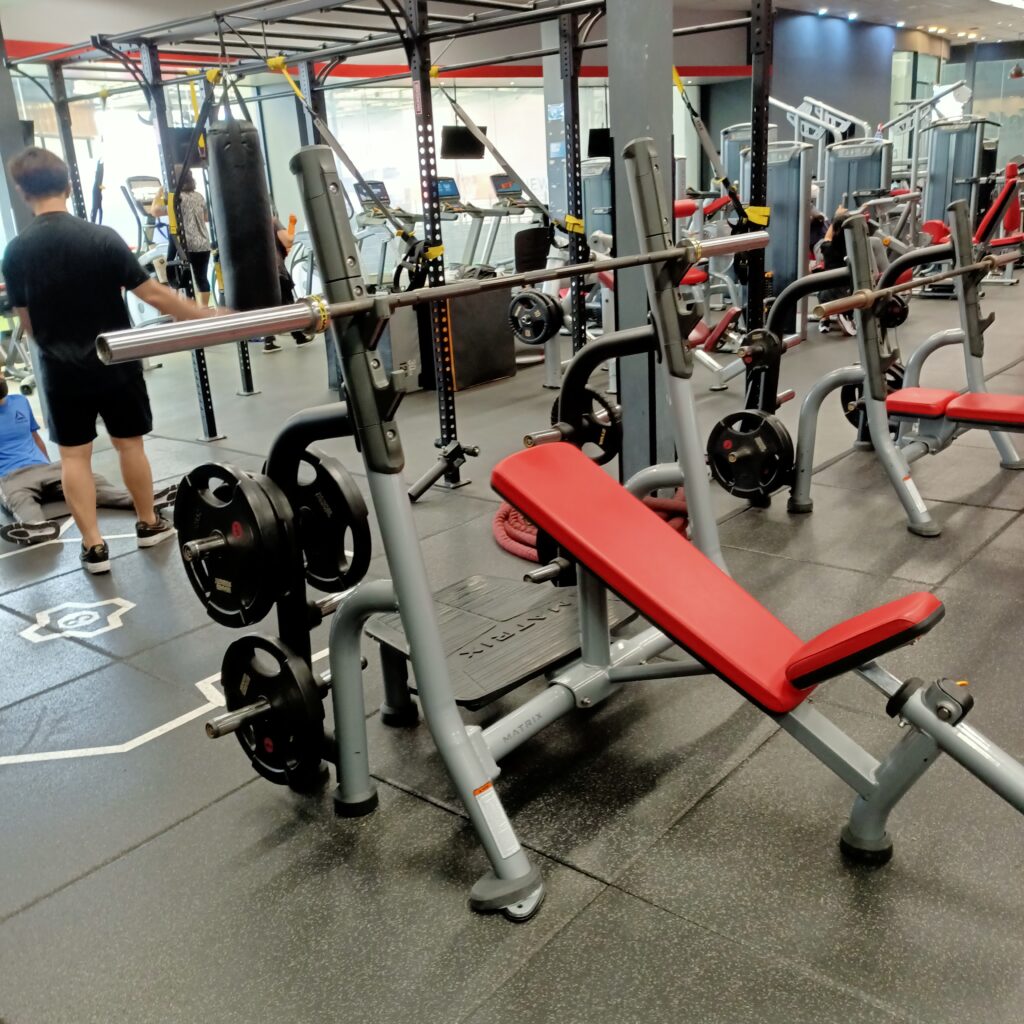 Bar looks used for quite long time. And you might notice that the plate type is also different from those in other Jetts too. Its diameter is smaller but width is bigger.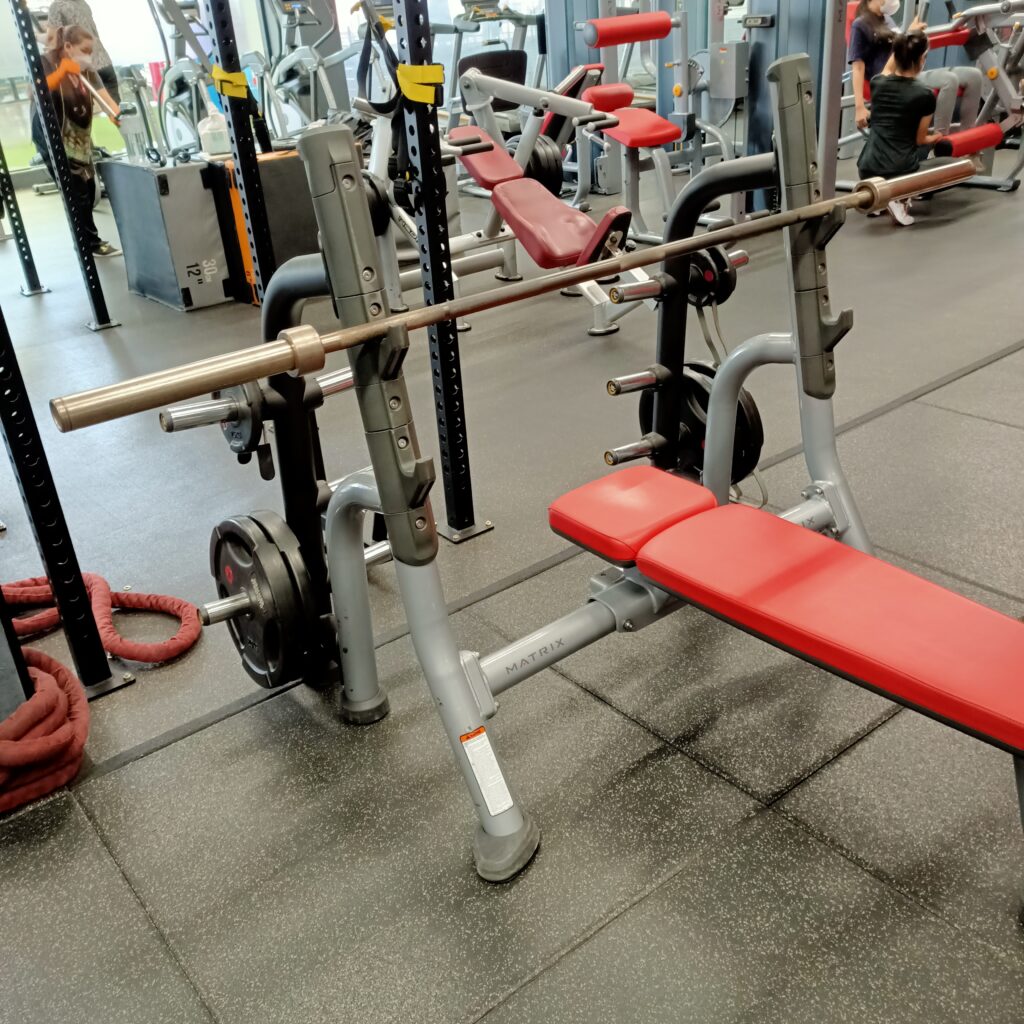 EZ bar arm curl stand.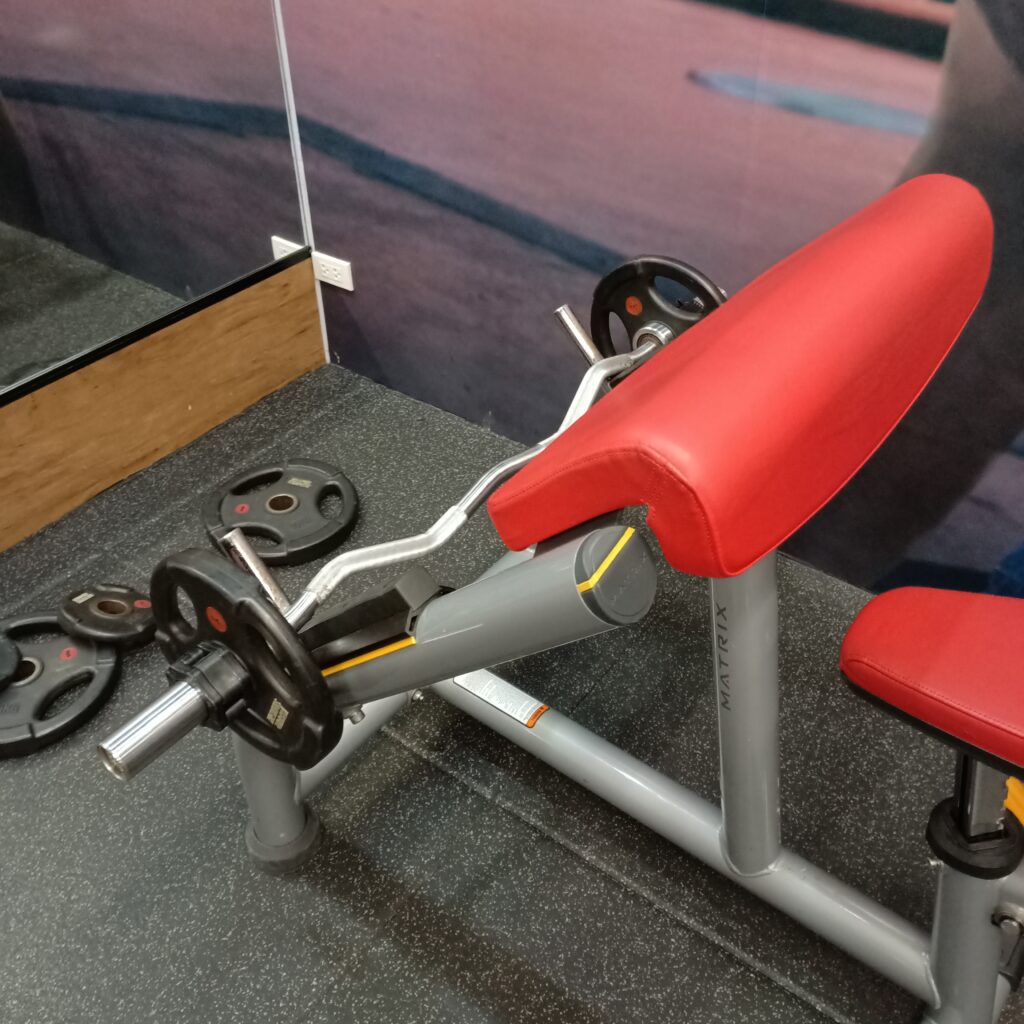 Leg press machine is also old type version same as incline chest press machine.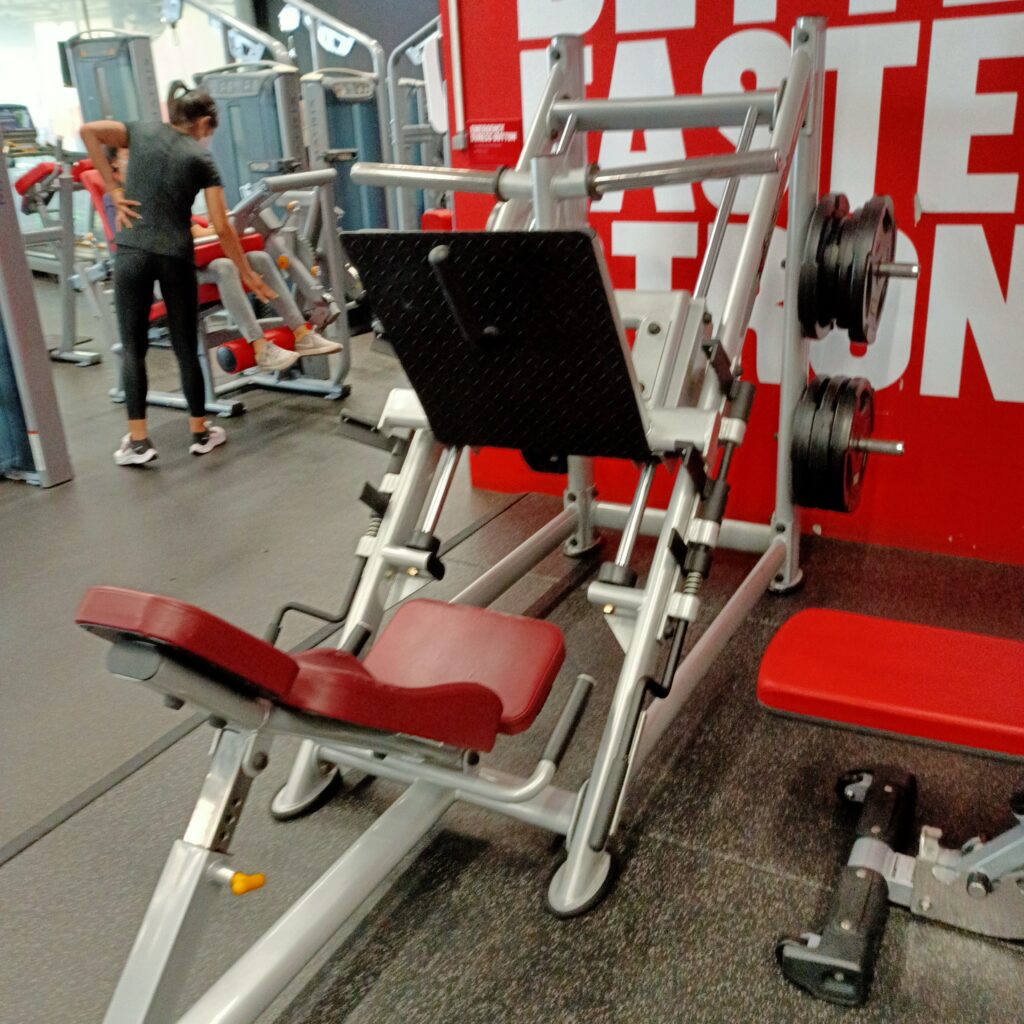 There are also straight bar next leg press machine. Maximum weight until 45 kg.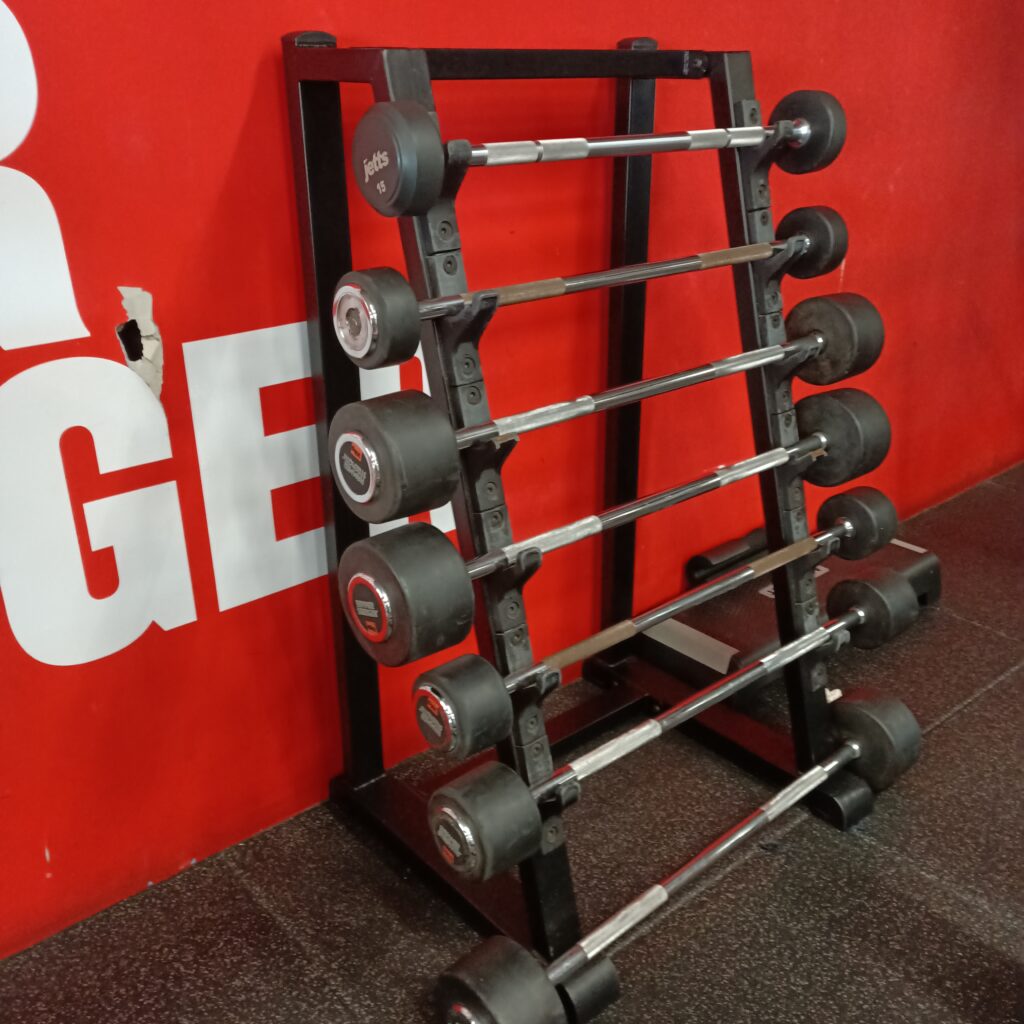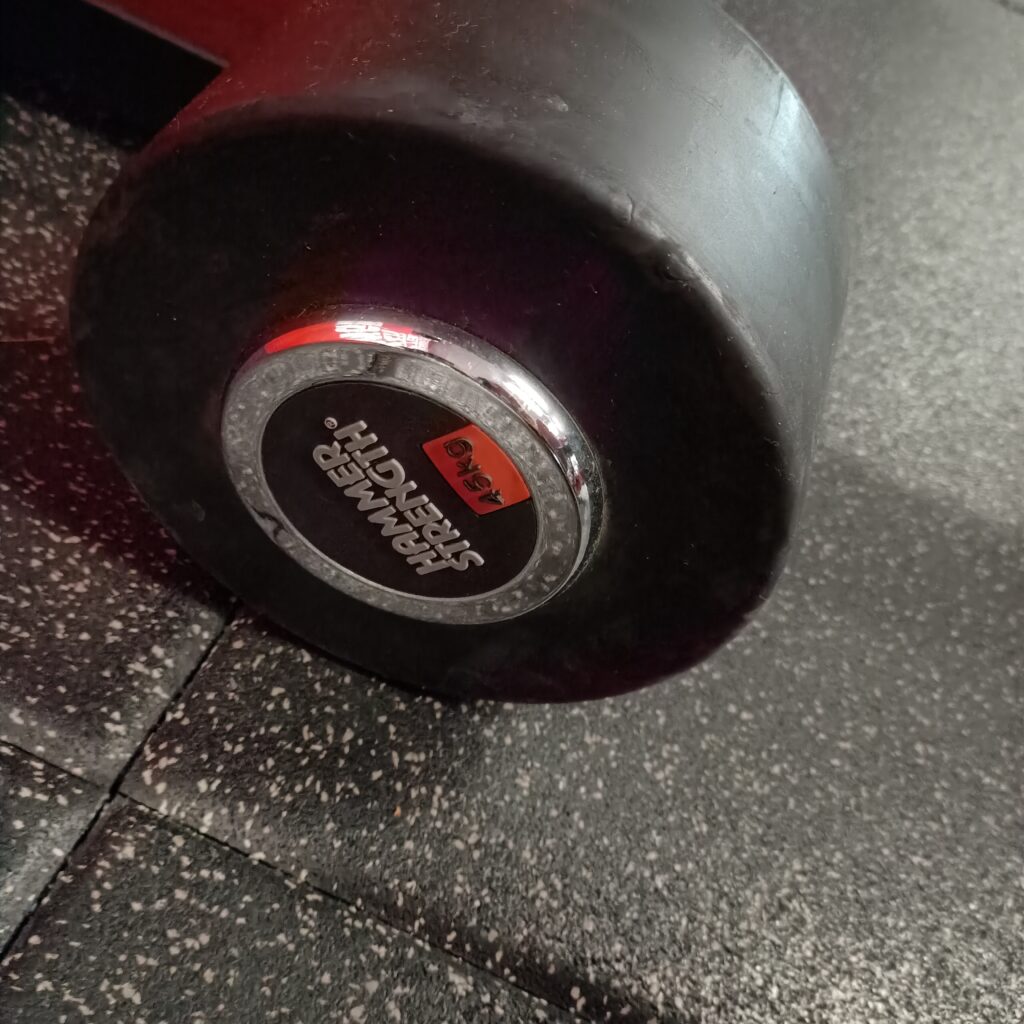 Below is group exercise room. I took picture after class is ended.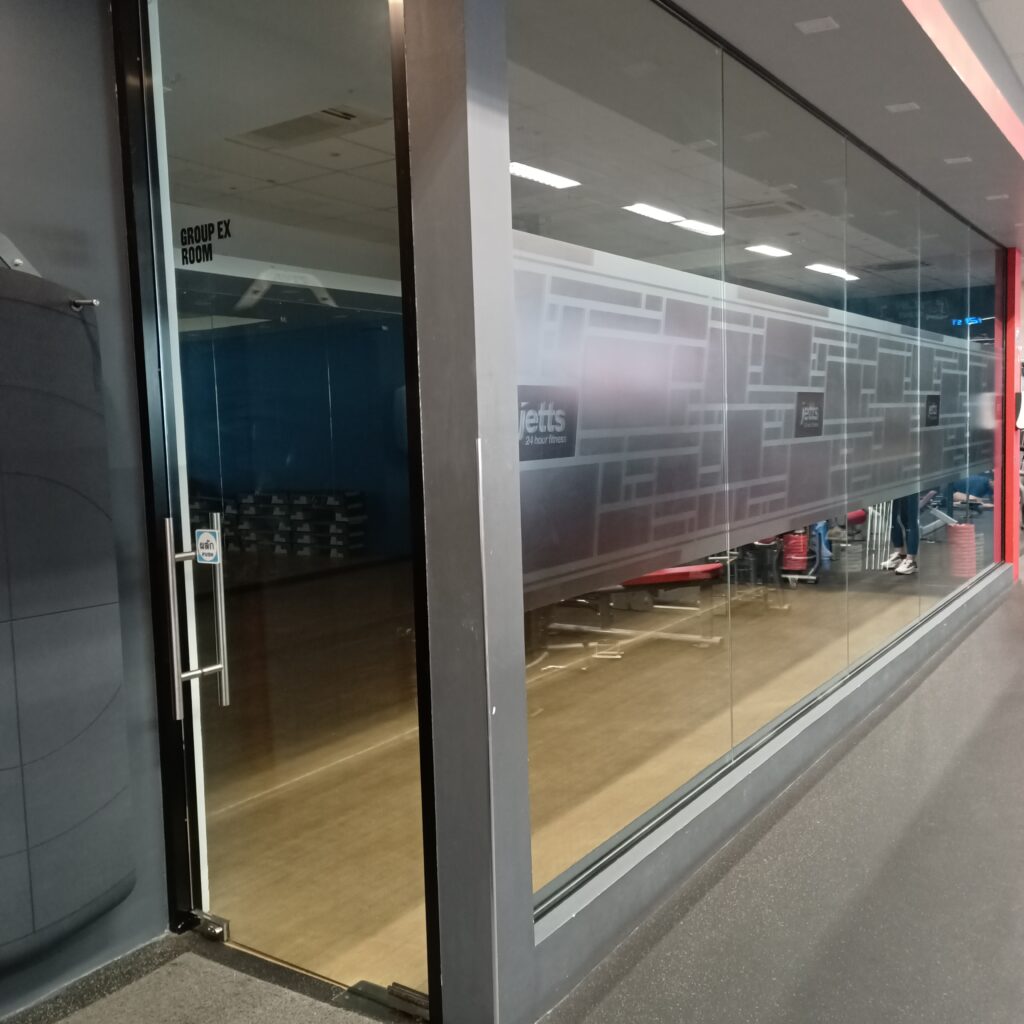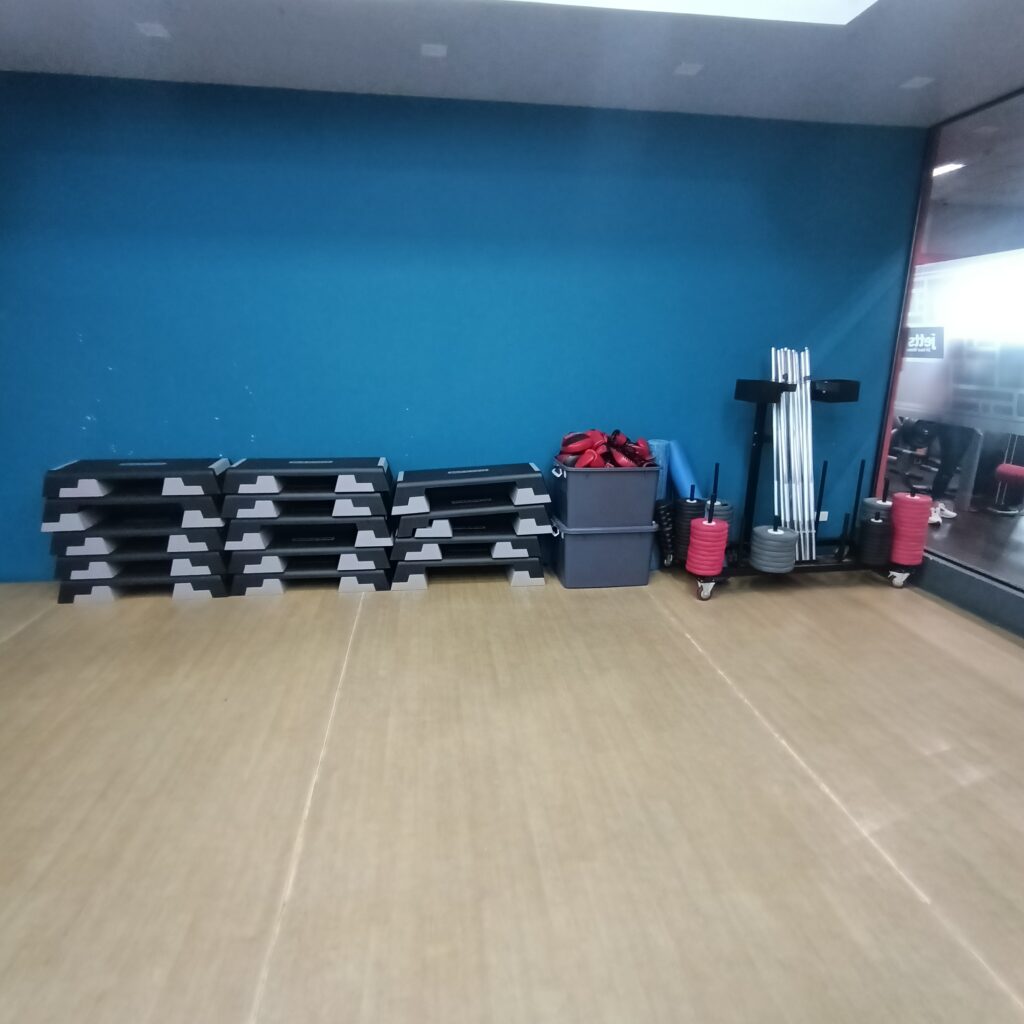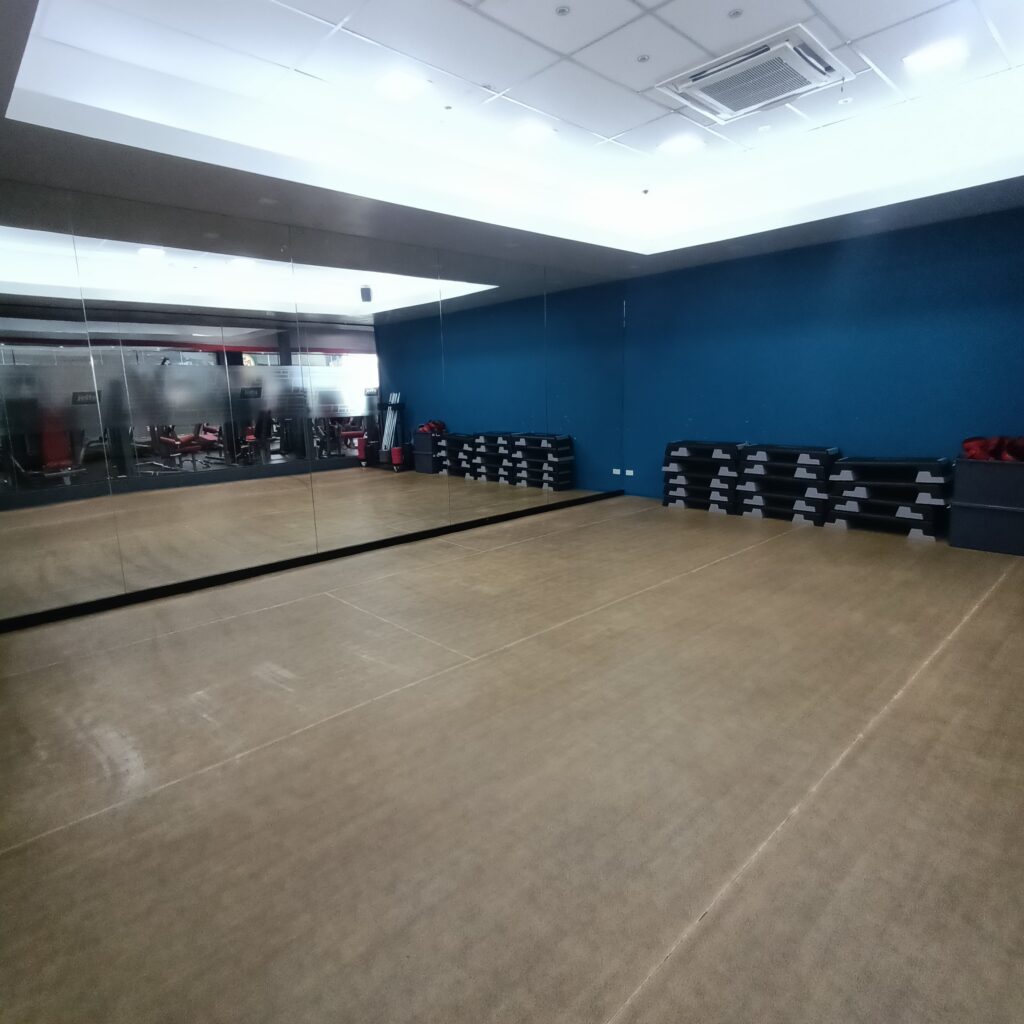 OK! That's all introduction for first ever Jetts Fitness branch in Thailand, The Scene town in town. Location is a bit far from the center of Bangkok but if you want to feel the history of Jetts Fitness and try some unique equipment only here, please take your time to visit and work out!
See ya!
Visit on March 2023
Interior wall was repainted to welcome guests as fresh look!