On match day of 2021-2022 Thai league 1 Match day 8 Samut Prakan F.C. VS. Port F.C., I took bus from Onnut BTS station to Samut Prakan stadium at Bangplee industrial area. I already checked Bus No. 132 is going directly to stadium from Onnut. In case you want to go to from Ekkamai, Bus No. 133 can also be your option to destination.
Bus No. 132 to Samut Prakan Stadium
I was waiting at bus stop under Onnut BTS station around 10 minutes. Luckily bus came early this time so I didn't need to wait long.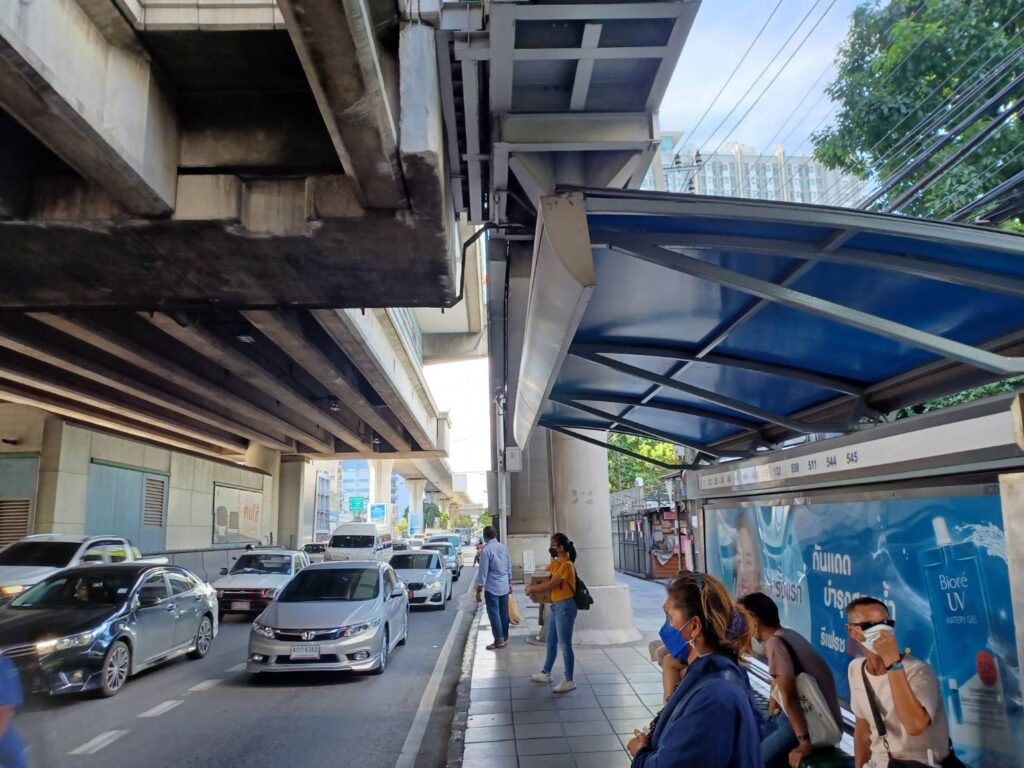 Available bus lists from Onnut station.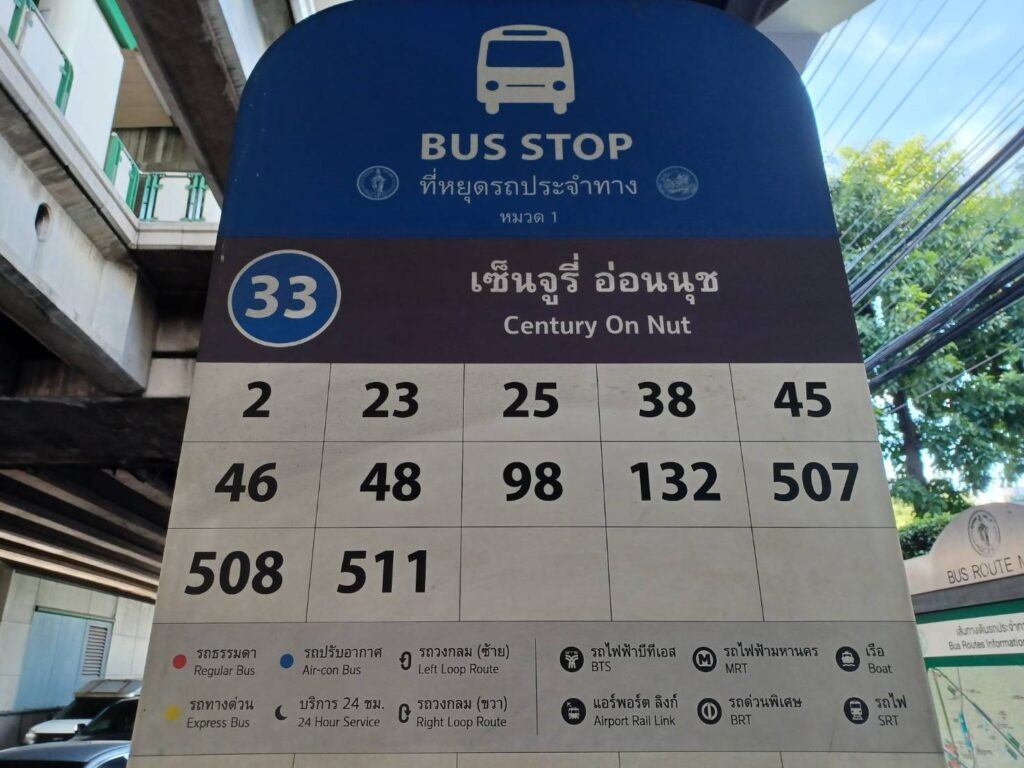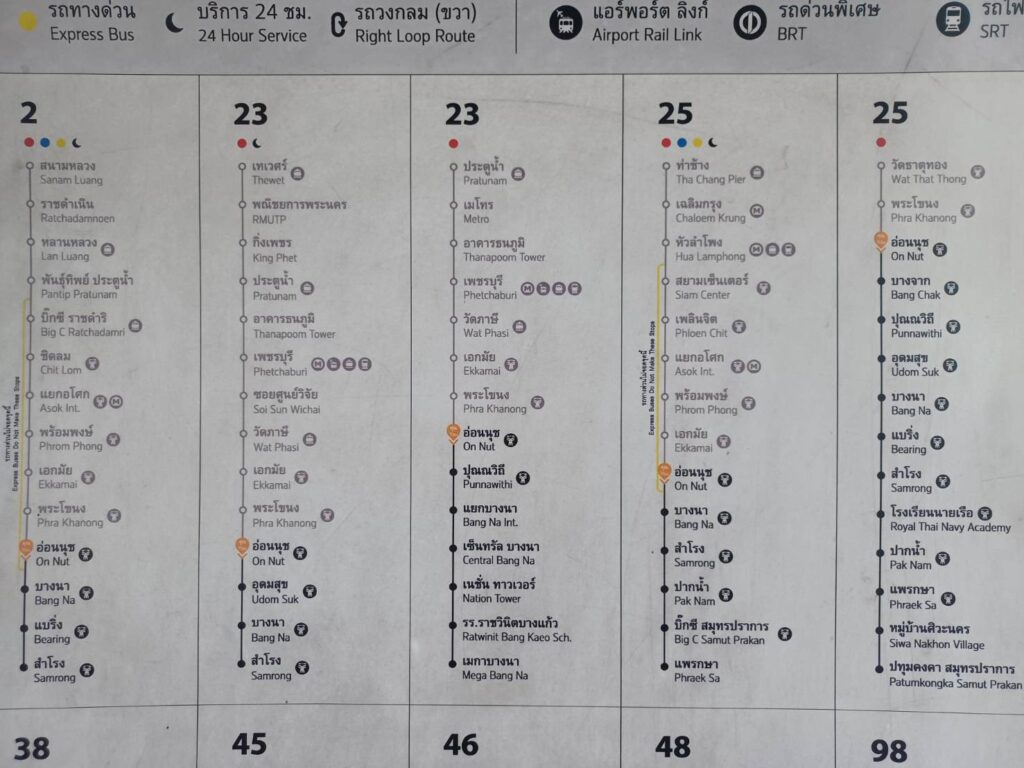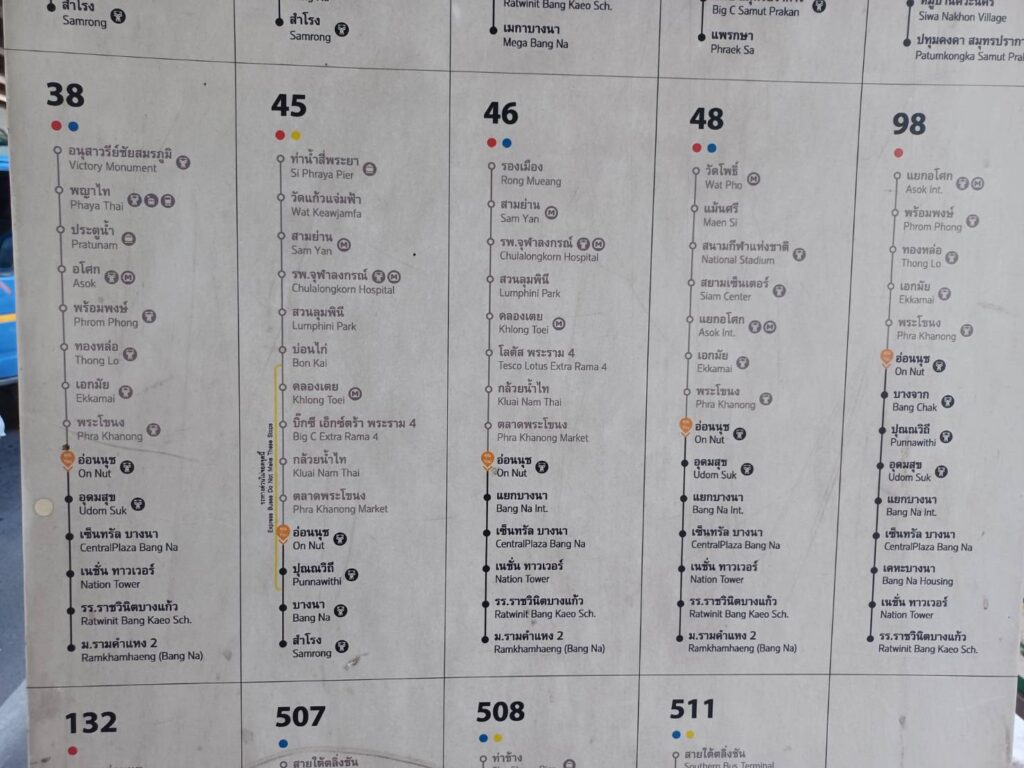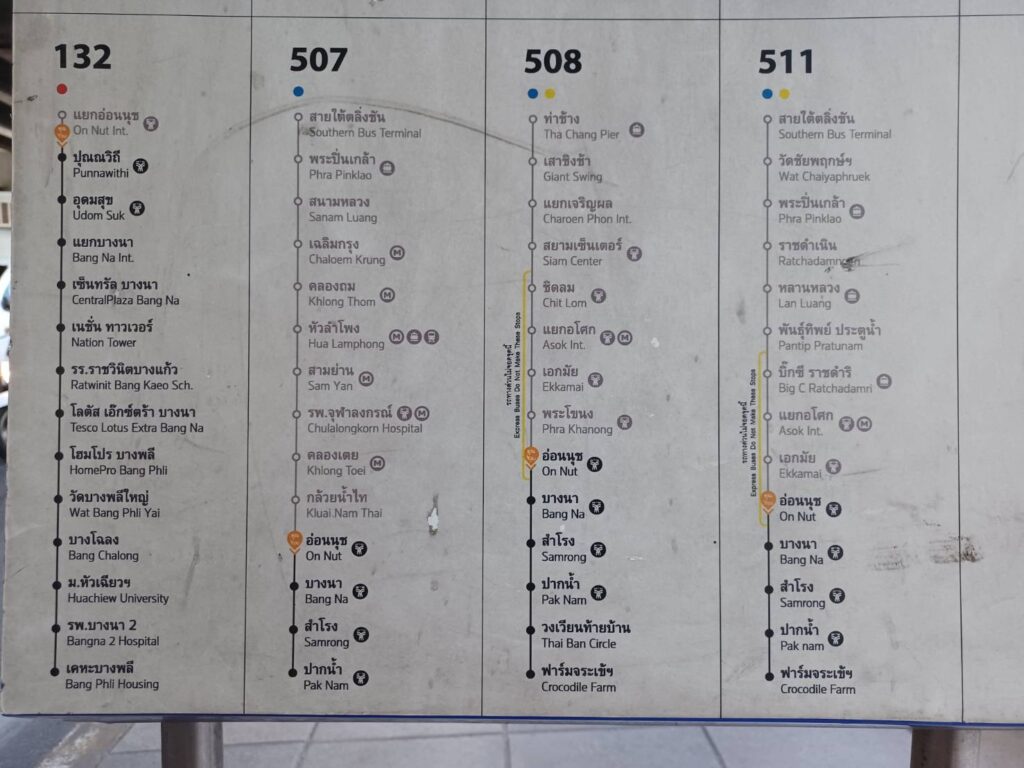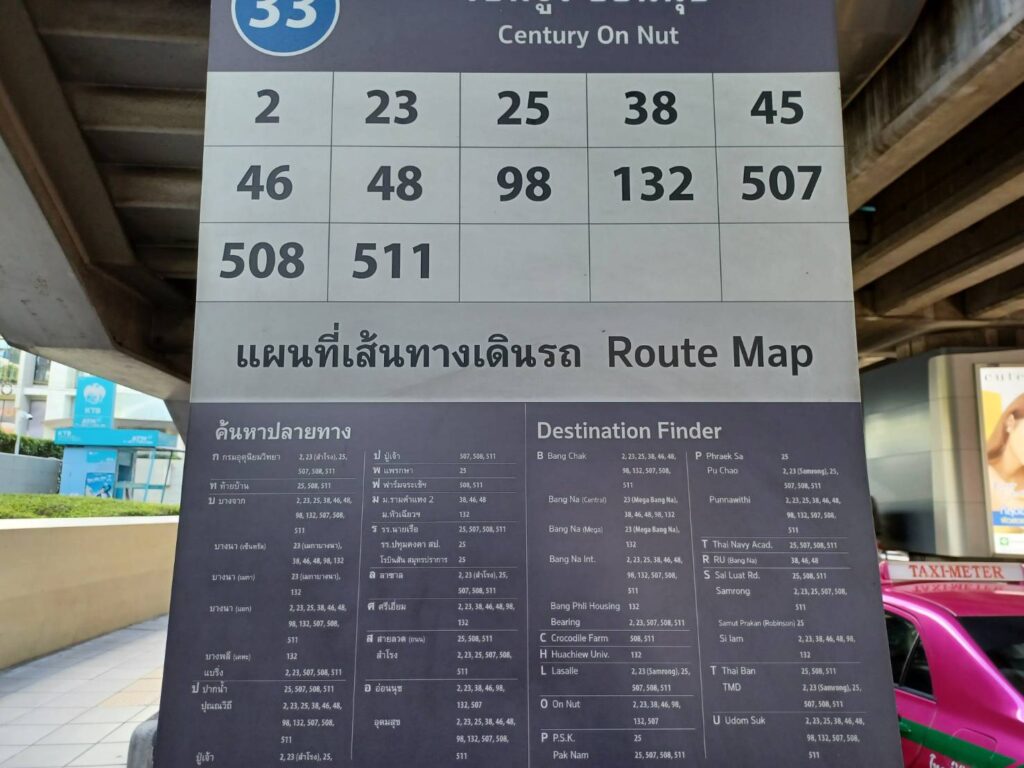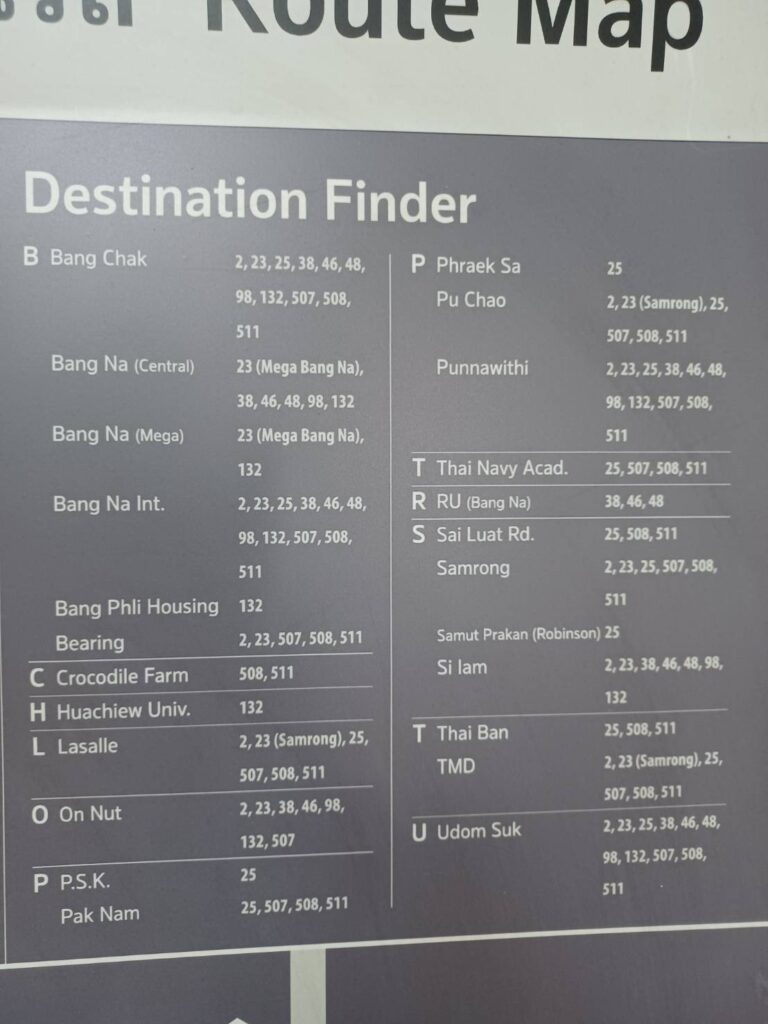 I put curse on person who made this sign dirty.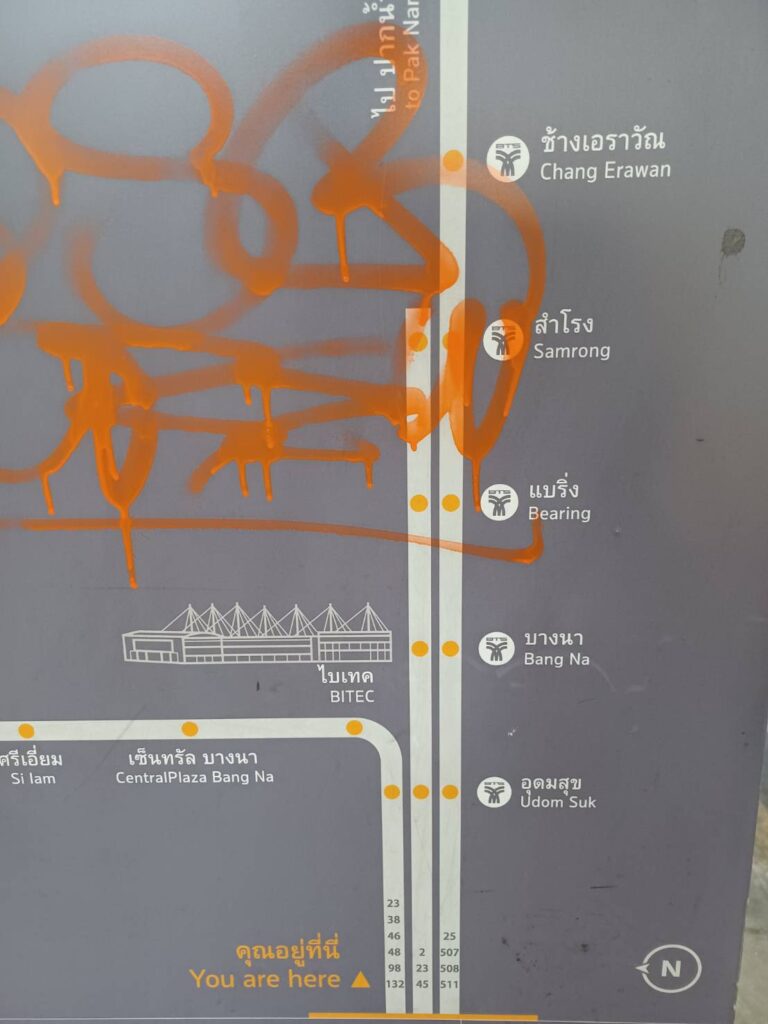 I checked bus route by ViaBus apps also. This apps will help you to find available bus route from point to point. if you are bus travel lover in Bangkok, please download and try so that you can find the way.
ViaBus แอปติดตามรถโดยสารแบบเรียลไทม์
By adding starting point and destination, I found that bus No. 132 will go directly to the stadium. It seems aircon and non-aircon bus both.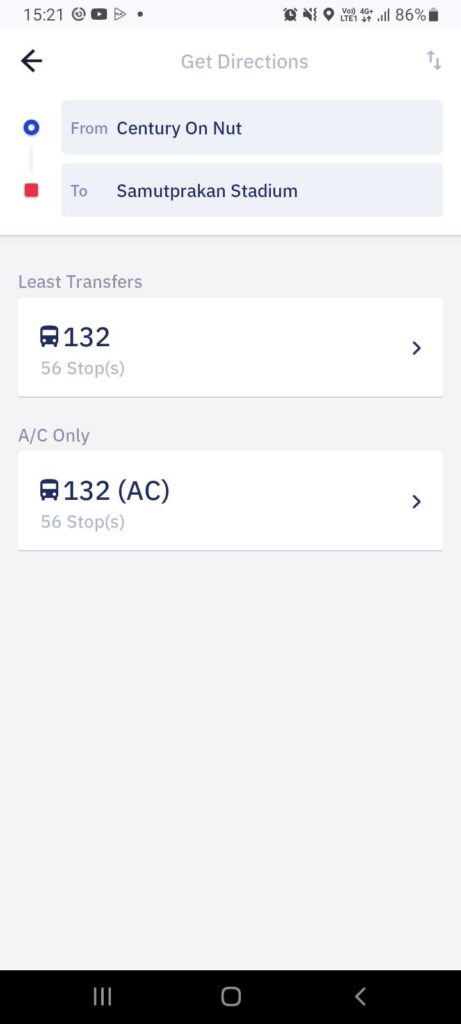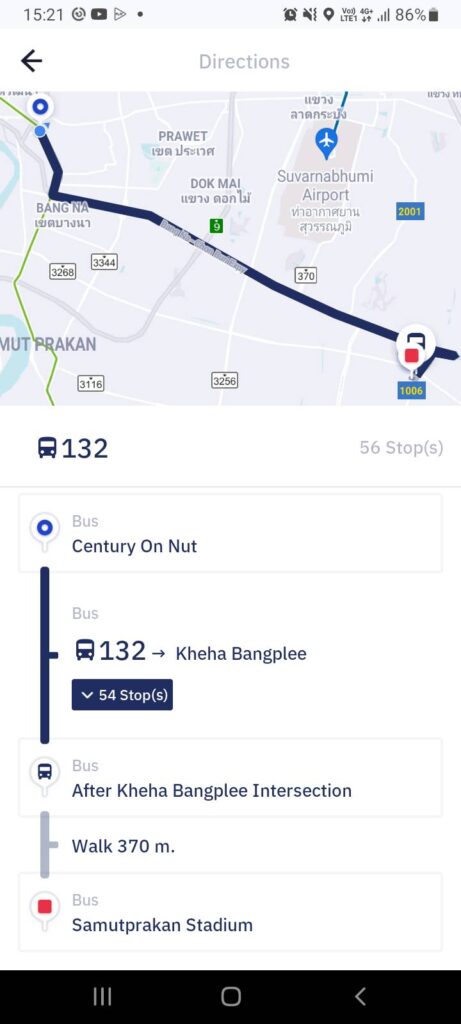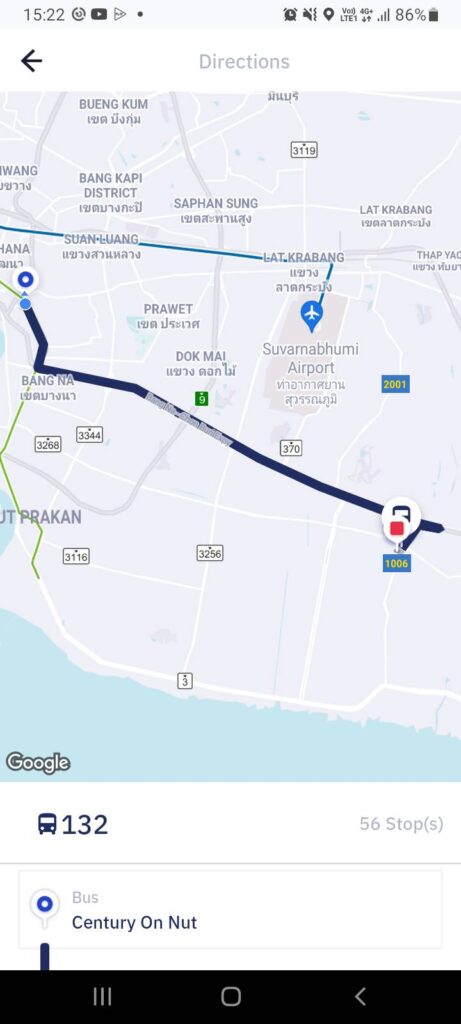 Bus No. 132 came to pick up passengers. I hopped on with other several passengers. Good it was aircon bus for comfortable transportation since it is expected to have long distance trip.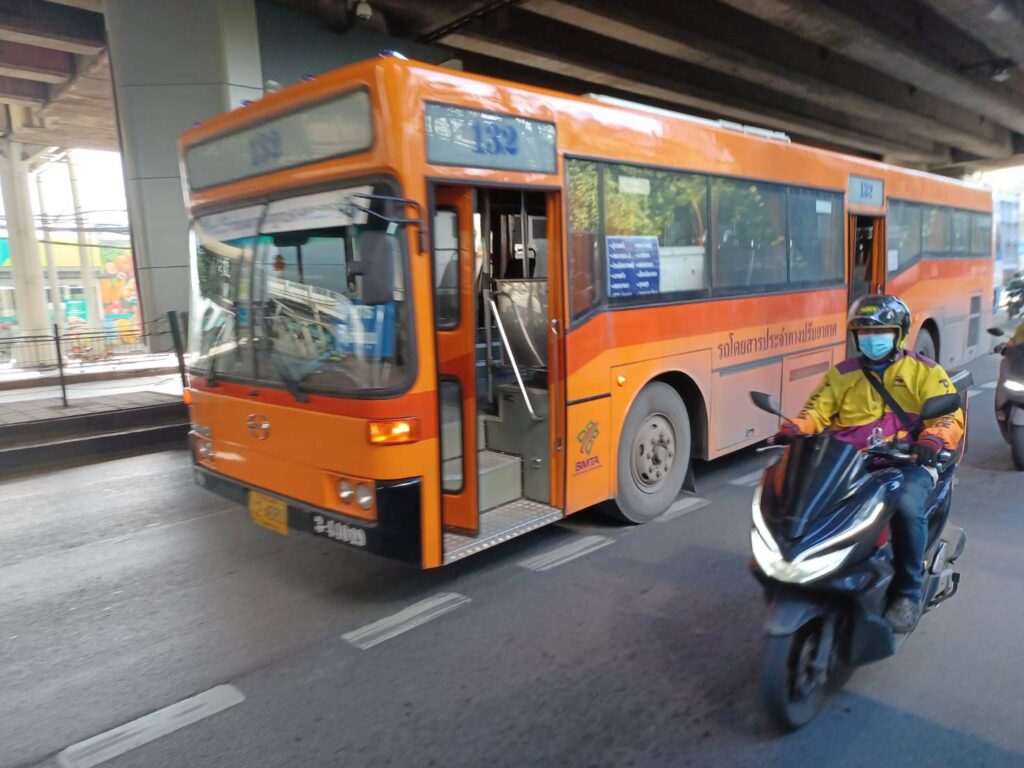 I told bus conductor that my destination is "Nicom Bangplee" which means Bangplee industrial. Ticket fare is 23THB for aircon bus.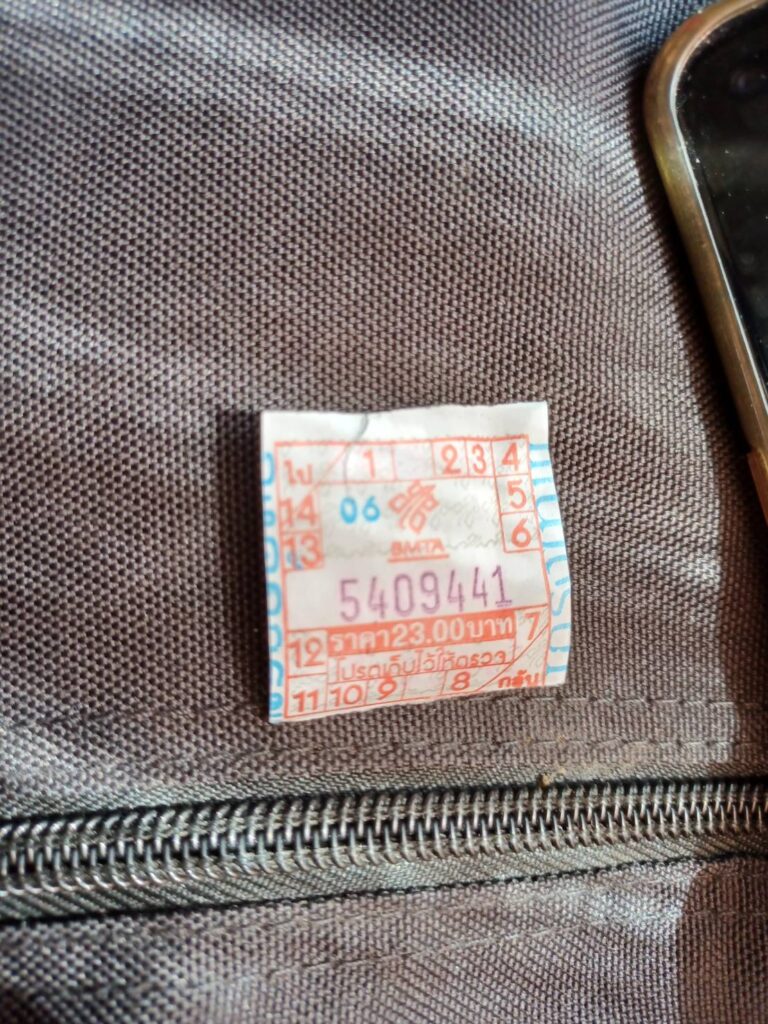 Front side has separate individual seats.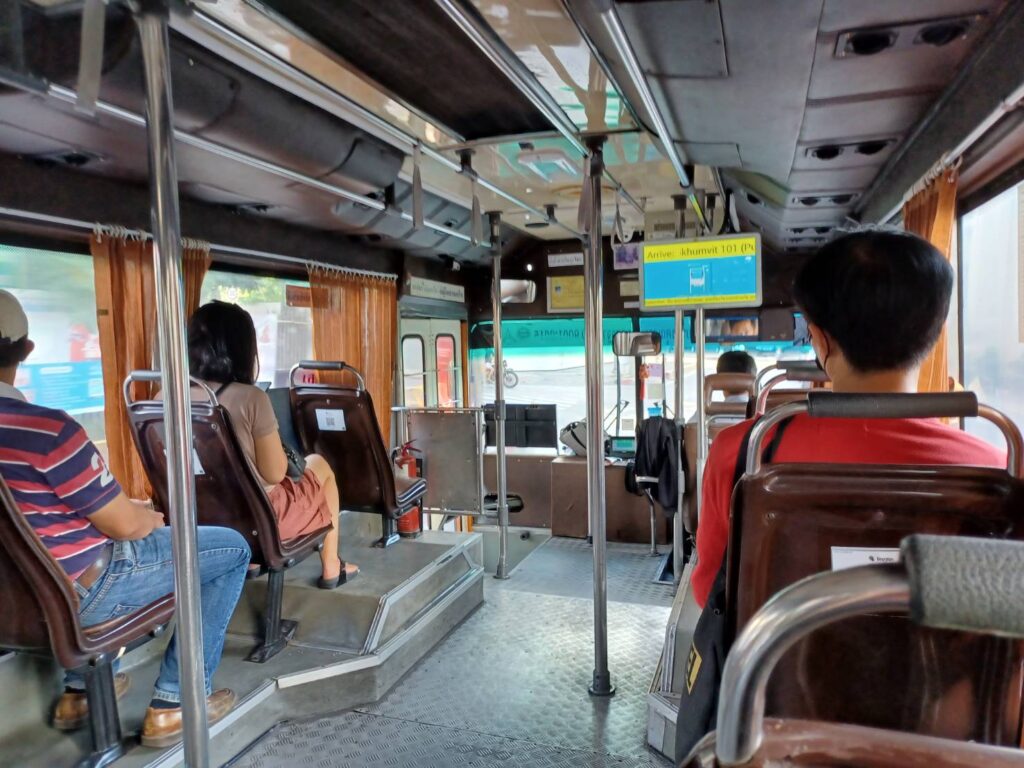 Bus goes straight and straight on Bangna-Trat road.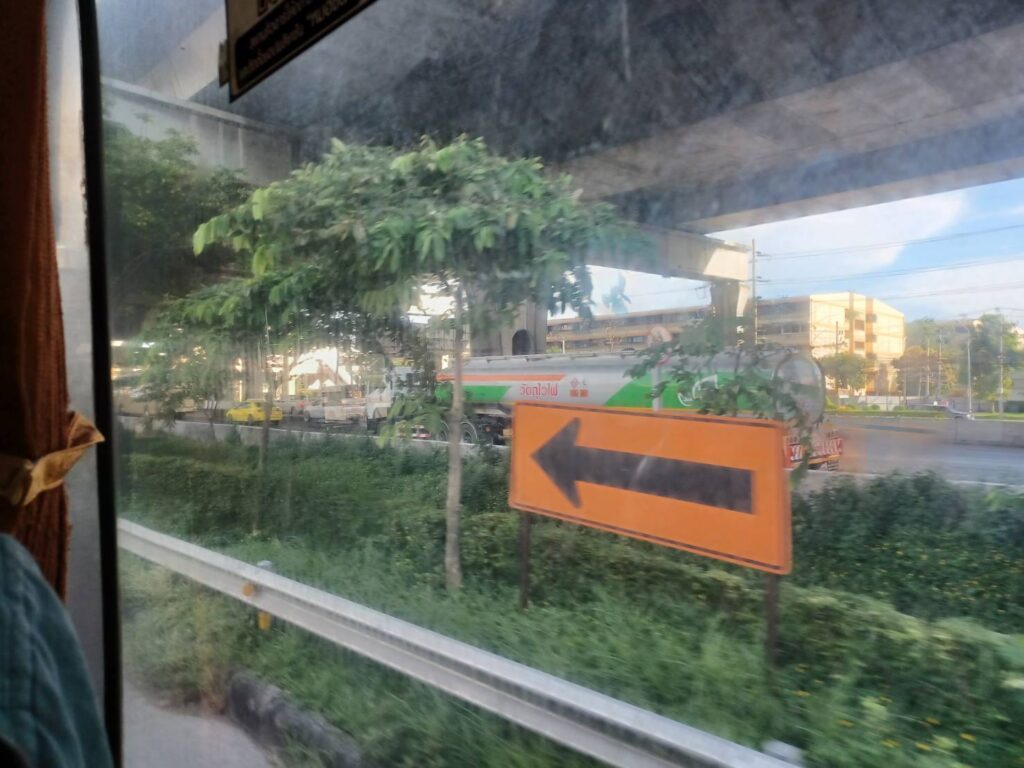 On Bangna Trat road, bus stops along major shopping district such as Central plaza Bangna, Mega Bangna and Home pro (Market village Suvarnabhumi) and 7 – 8 other bus stops where other passengers to drops off.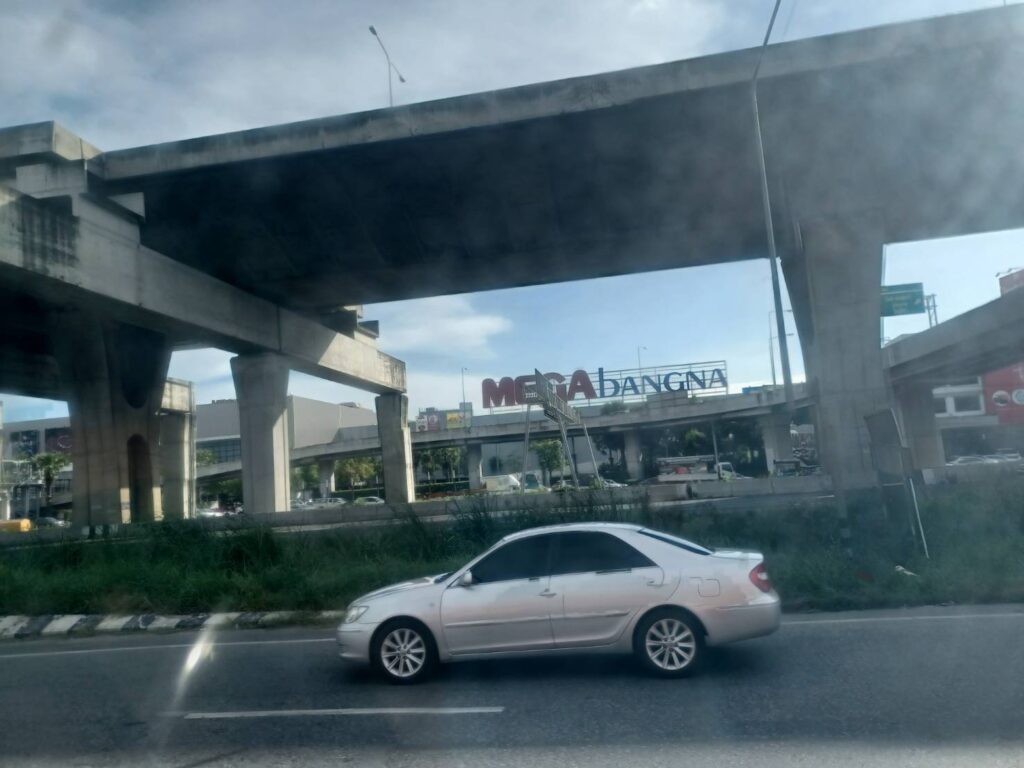 Bus goes east from Bangkok to Samut Prakan province. You will see many cranes, containers and factories near the stadium since stadium is located inside Bangplee industrial area.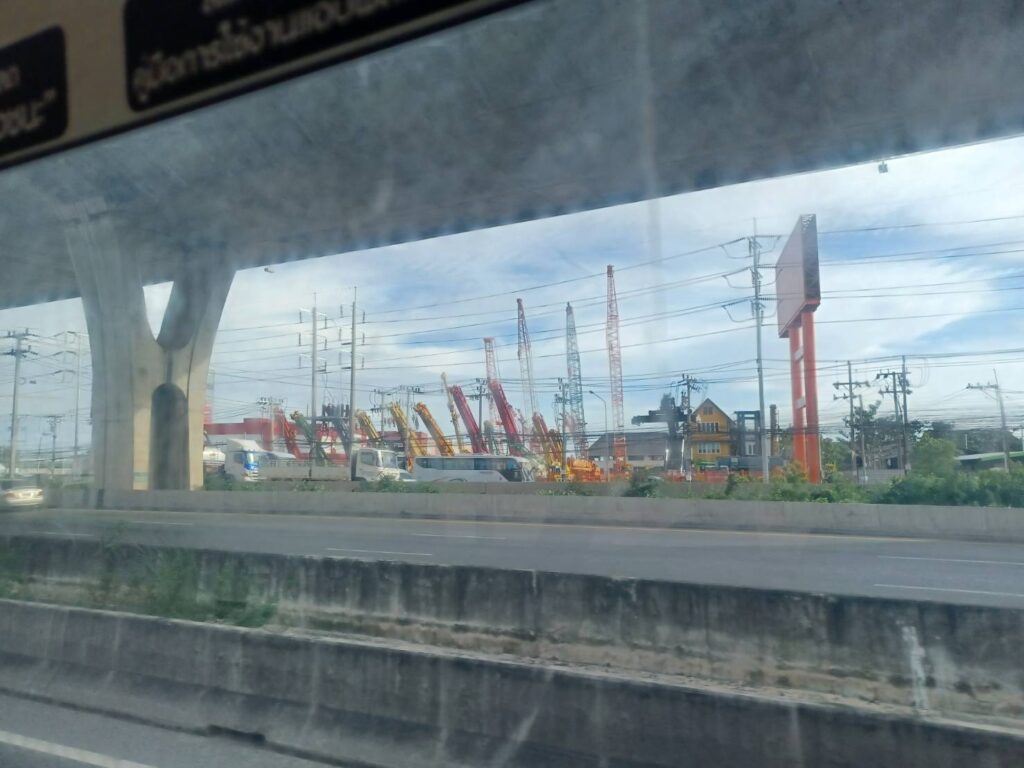 U turn bridge to enter the industrial area zone.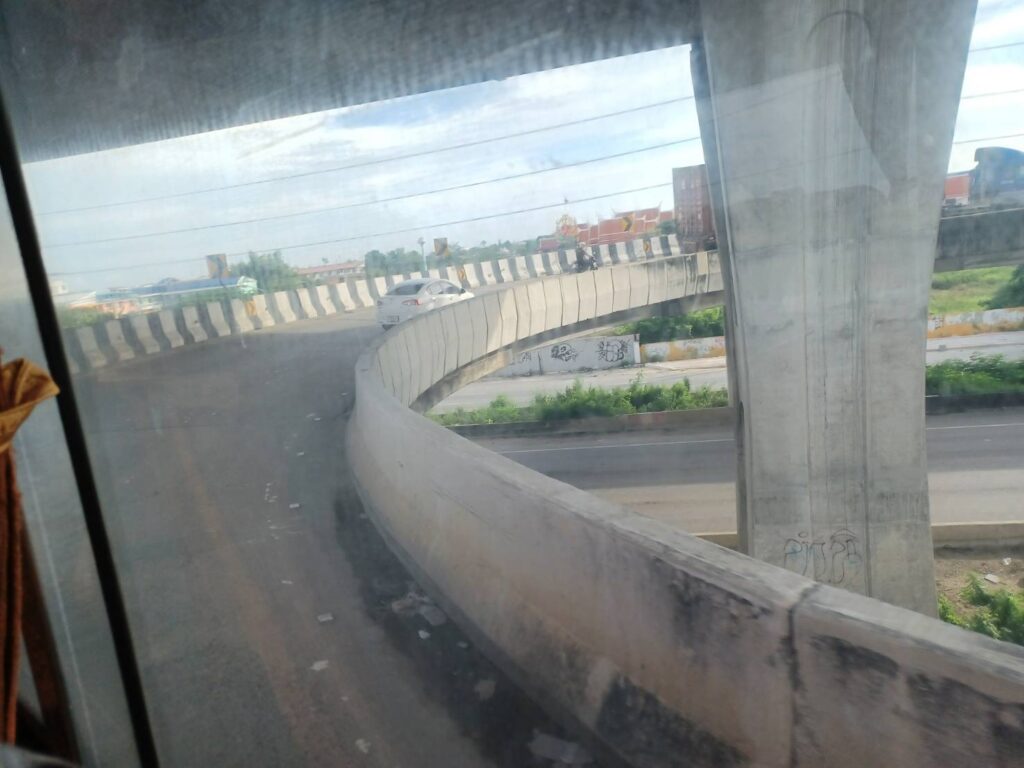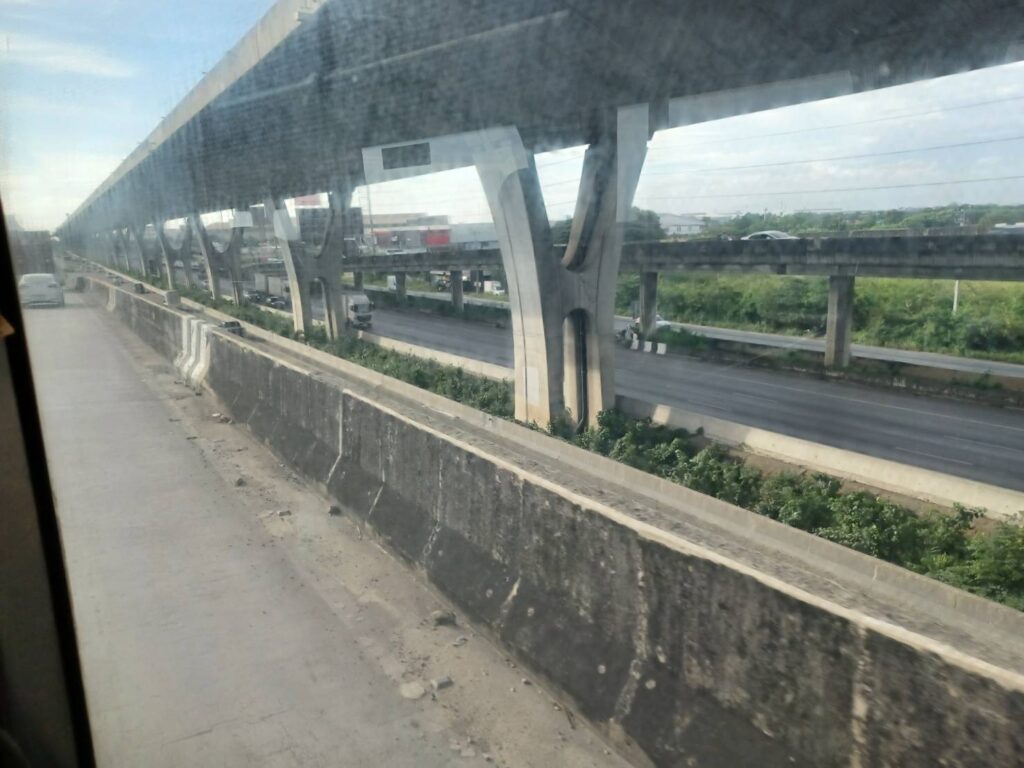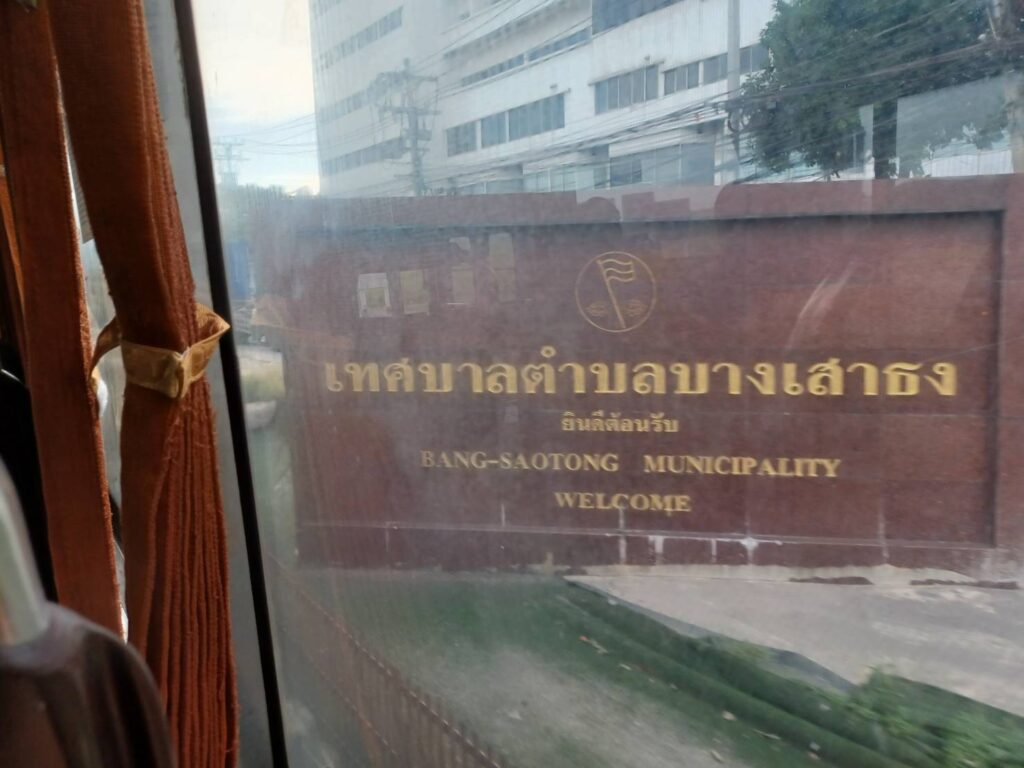 Going to Bangsao-thong district straight to the stadium.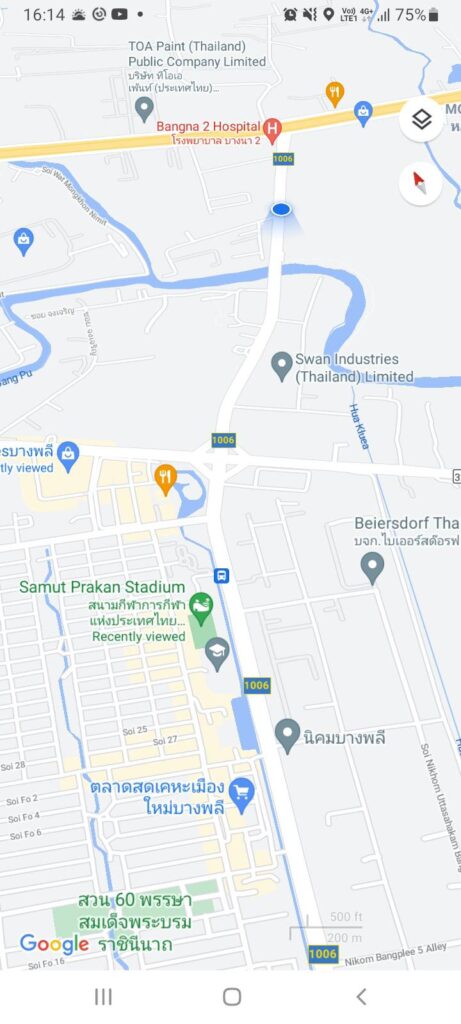 I made mistake when getting off from the bus, bus already passed by the stadium so I had to walk back a bit. Some other passengers also got off same timing as me, it seem they are workers in a factory in this area.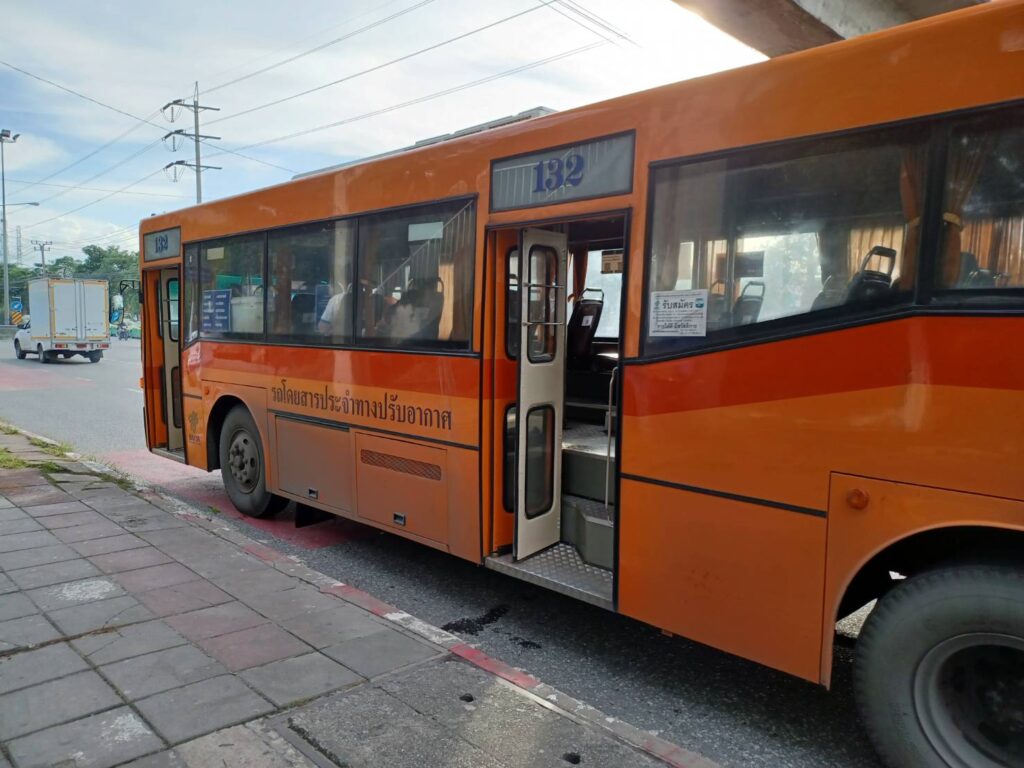 Overpass where I got off from the bus. Total bus ride is 50 minutes from Onnut BTS station.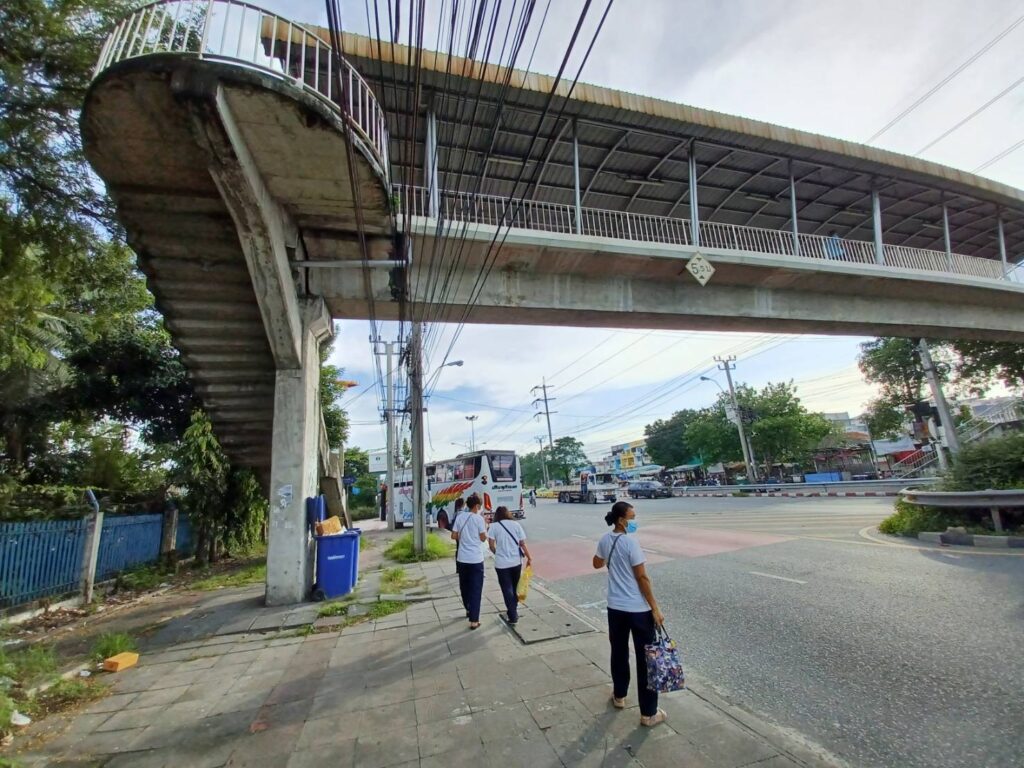 Walking back to the stadium. There is a small industrial water way on this side so as to enter the stadium, you must go to the other side, main stand side.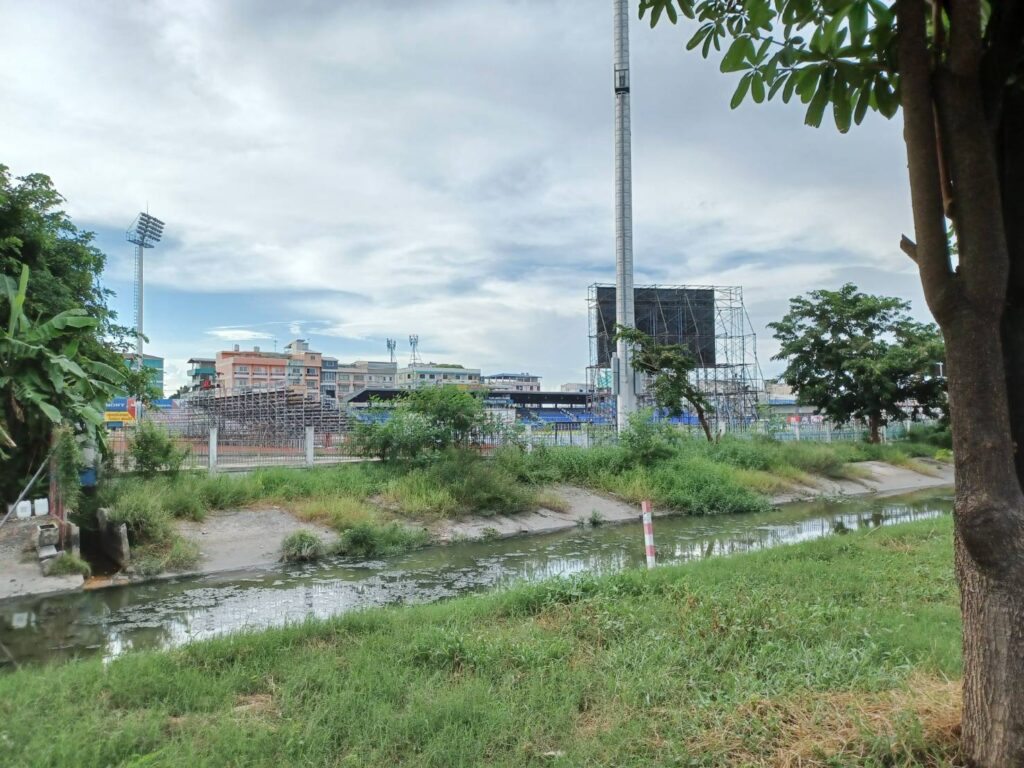 Turn left side once you encounter this monument.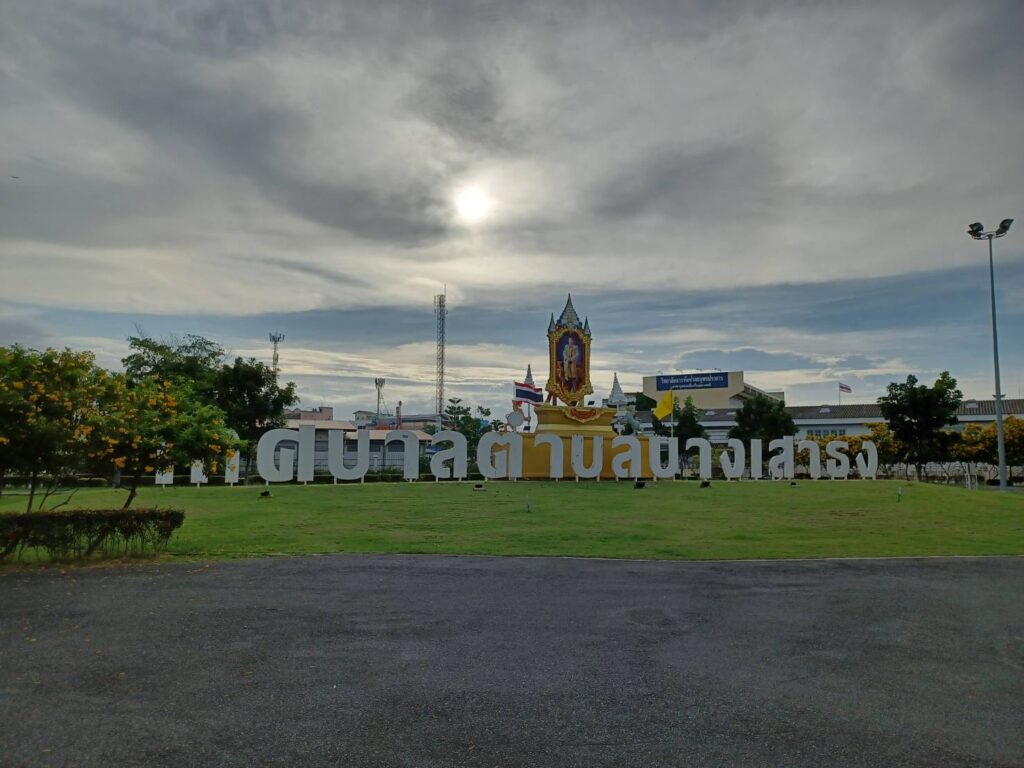 There is small town near stadium where mostly workers in a nearby factories.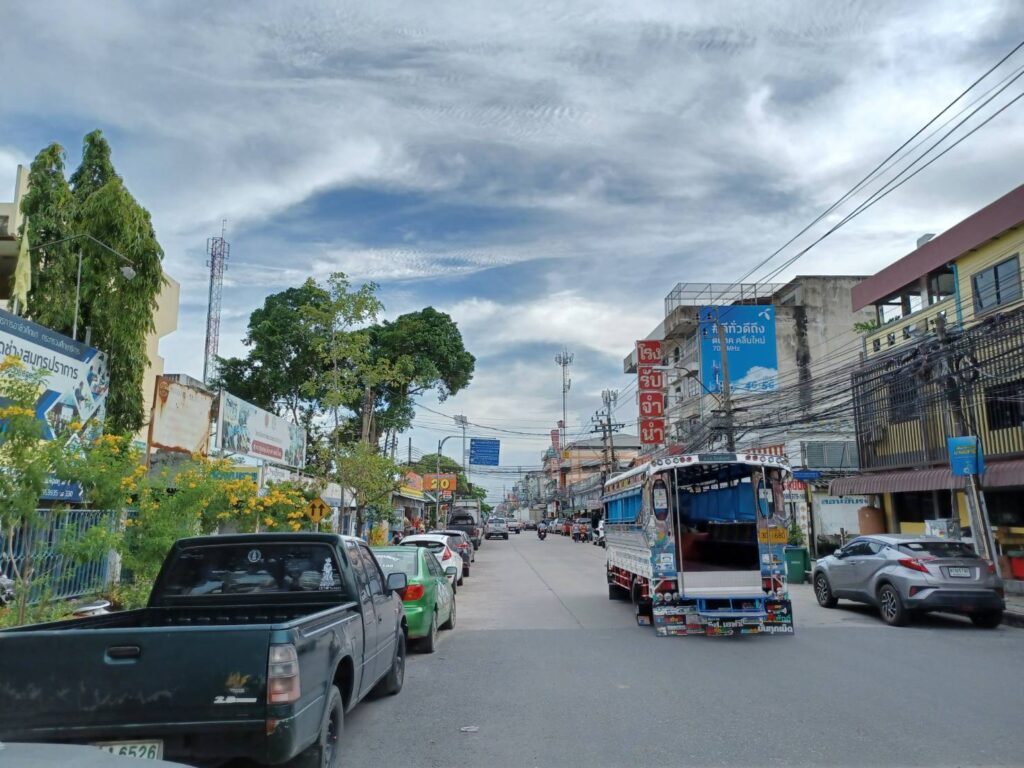 Inthanin coffee shop next to stadium areas. There was parking lot at at the back of this coffee shop and gate to back stand of stadium also there. At first, I didn't know this so I walked through to main stand direction.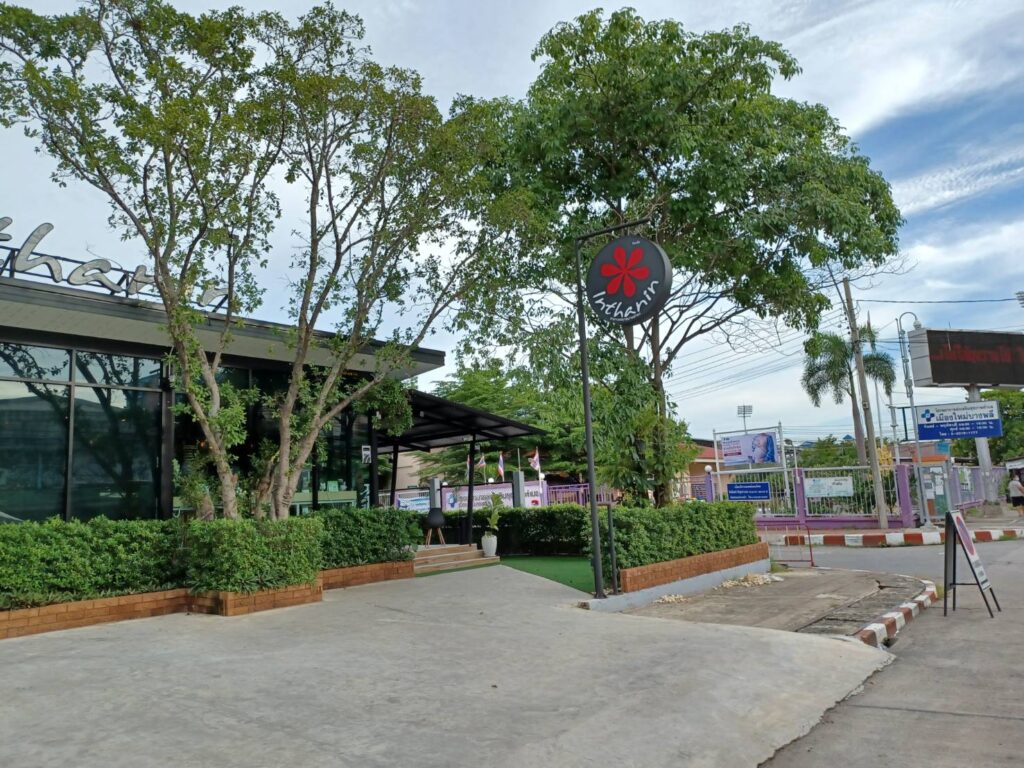 Main stand seat areas of Samut Prakan stadium. I just knew that I had to go back to Inthanin coffee shop area to enter the stadium when I I showed my ticket to security guard. If you have main stand area ticket, you can enter from this area.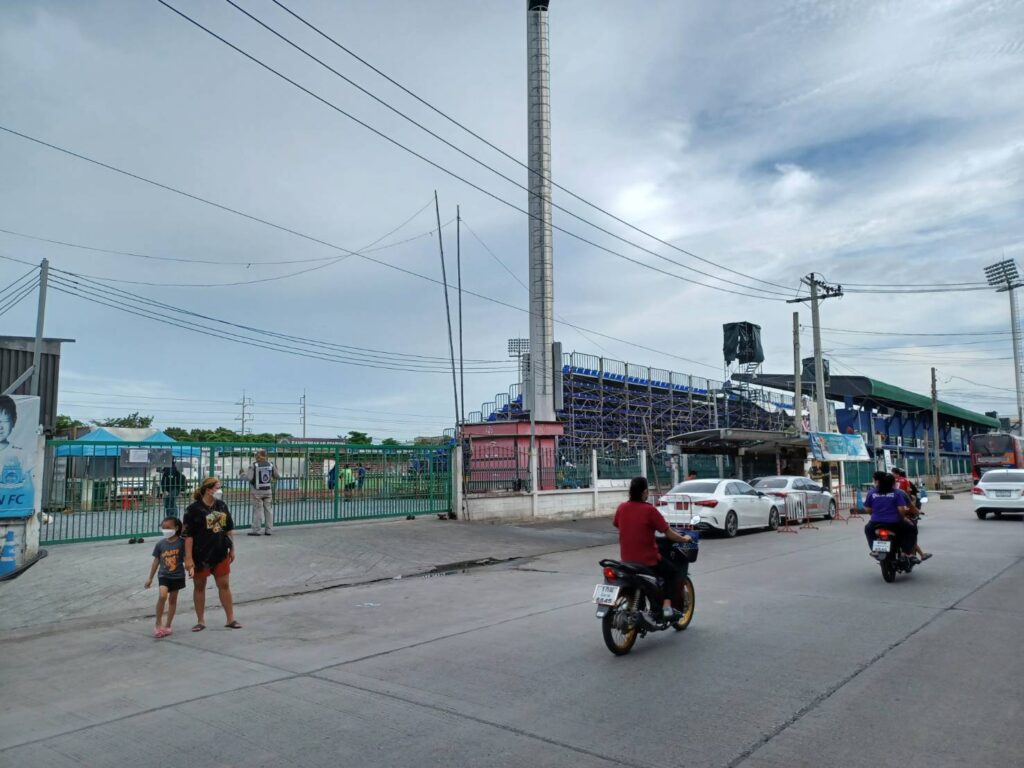 Electric appliances shop along the stadium.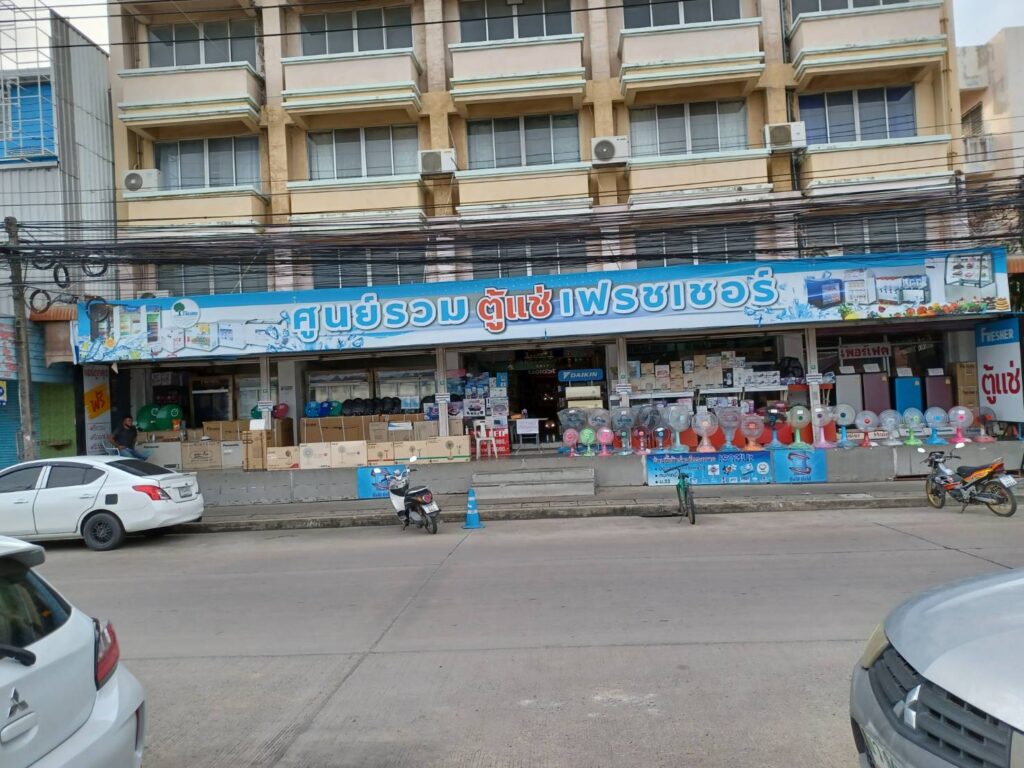 At the back of Inthanin coffee shop, there is municipality office and parking lot. Many local Thai people are coming to cheer their teams by a car.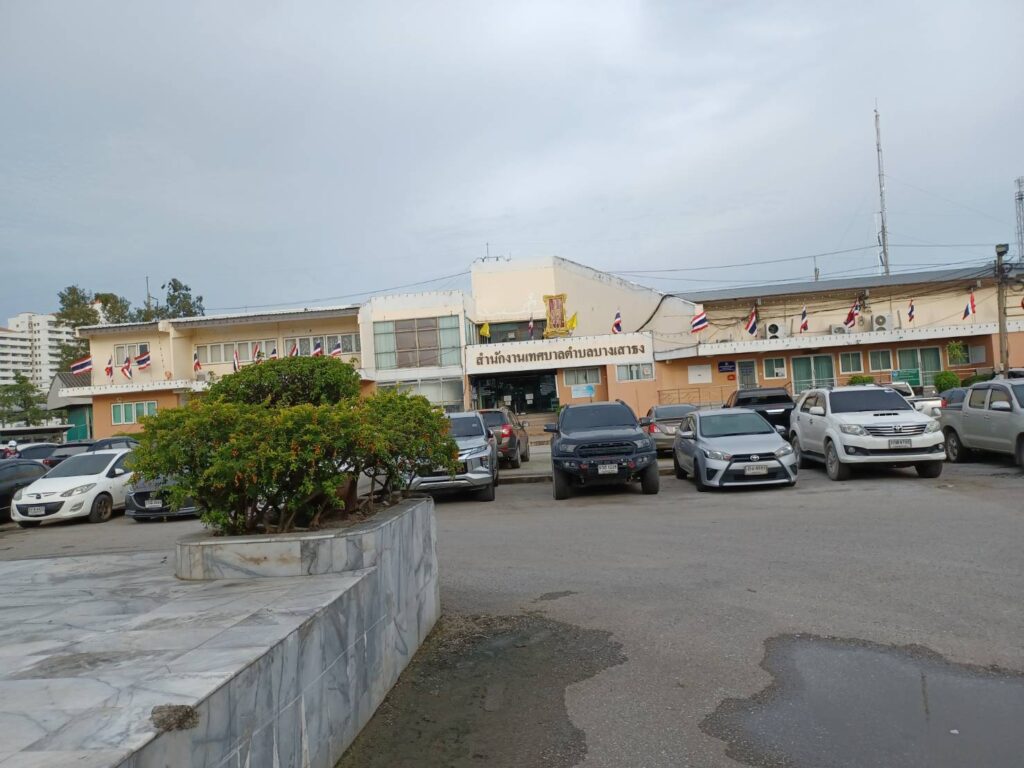 Samut Prakan stadium
Gate to the stadium can be accessed by the parking lot.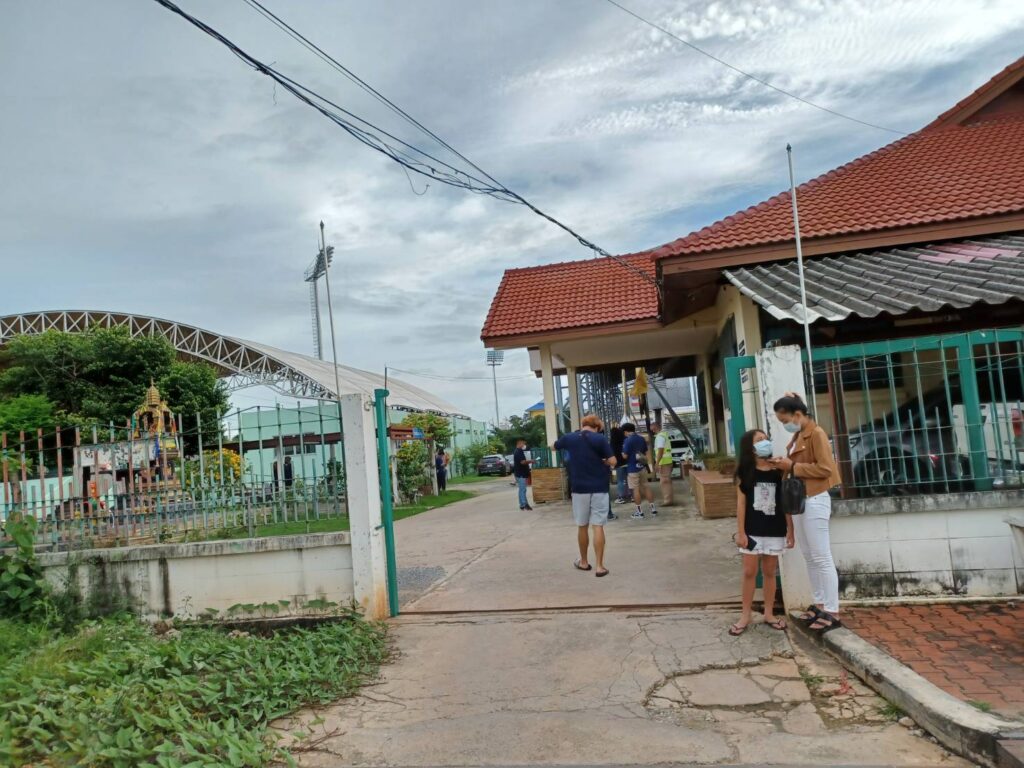 Due to Covid-19 preventive protocol, you must show below documents to enter the stadium.
Ticket (purchased by ticketmelon)
ID (passport)
Covid-19 vaccination record. In case not vaccinated, PCR or ATK negative test results within 72 hours.
Some people are asking where to buy the ticket and staff there guided to him only through online platform to obtain it. When I came to this stadium last year before Covid-19 pandemic, ticket can be purchased at the stadium. However it seems they really stopped selling ticket at the site.
You can read my post to get the Samut Prakan city F.C.'s home game ticket at ticketmelon.com.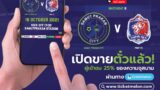 How to purchase Samut Prakan city F.C. home game ticket by Ticketmelon.com
Thanks to Covid 19 restriction lifting from October 1st 2021, outdoor sports event is allowed to take place with audienc...
As you showed required documents to the staff, staff will check your temperature. You also need to write down your name, phone number and temperature on the log book at the gate.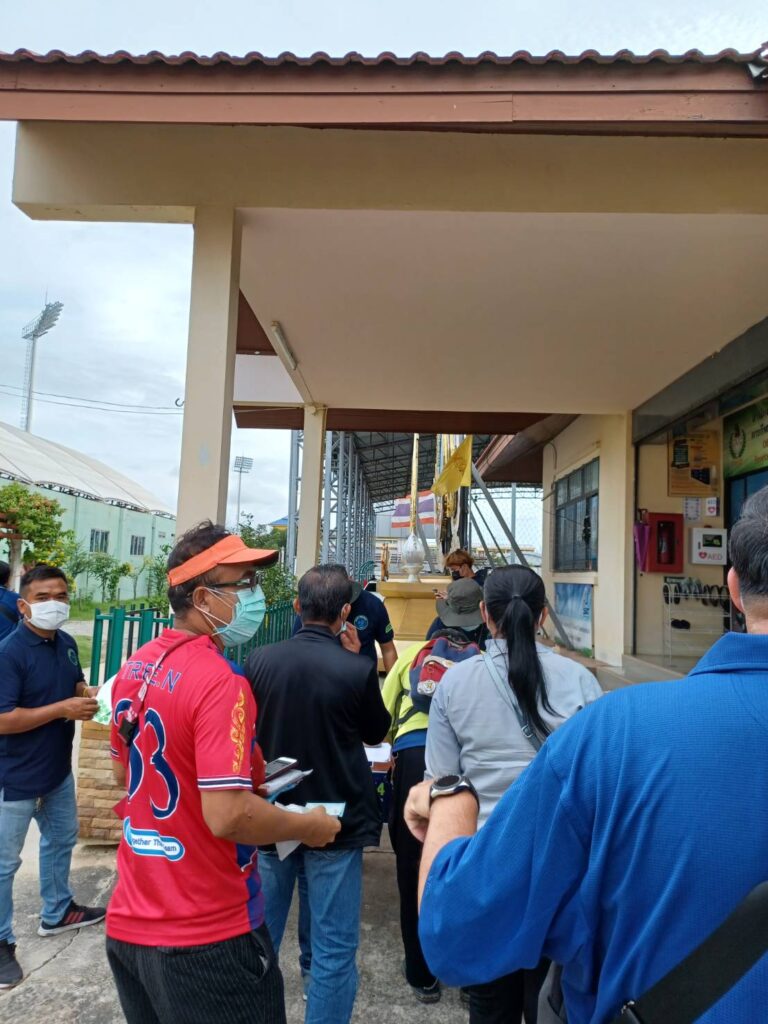 Inside the stadium area, you can by food and drinks as below. if you purchased here, you can bring with them to your seat. However outside food and drinks are not allowed, so I had to eat and finish before going to my seat.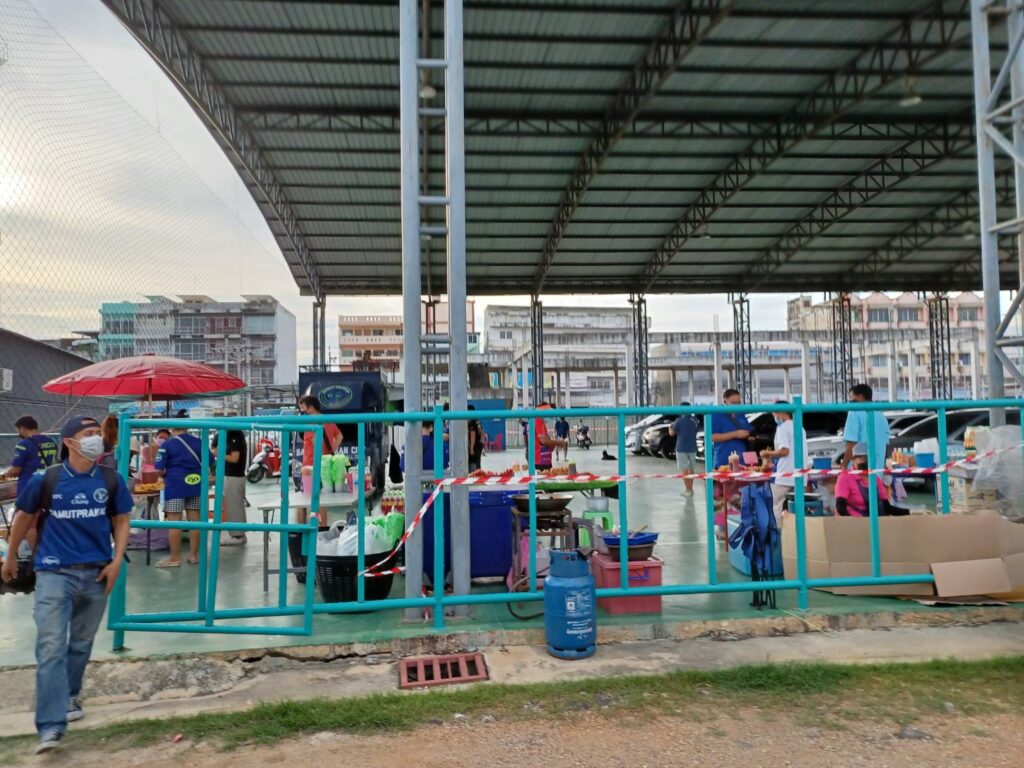 Toilets are available outside of the stadium.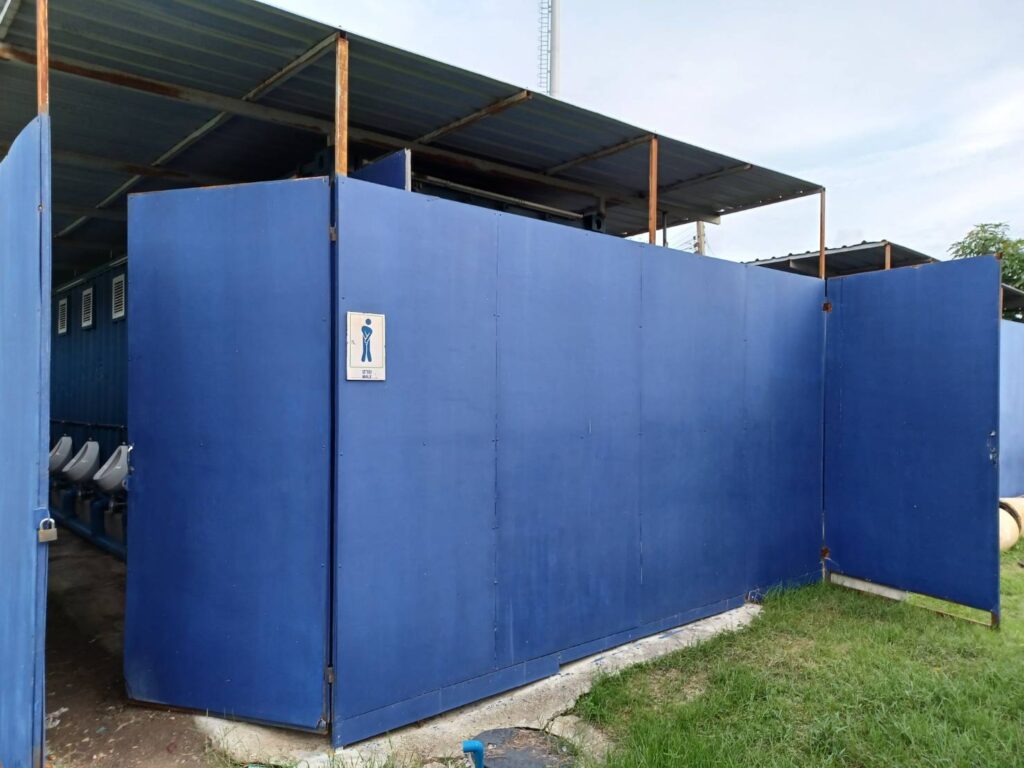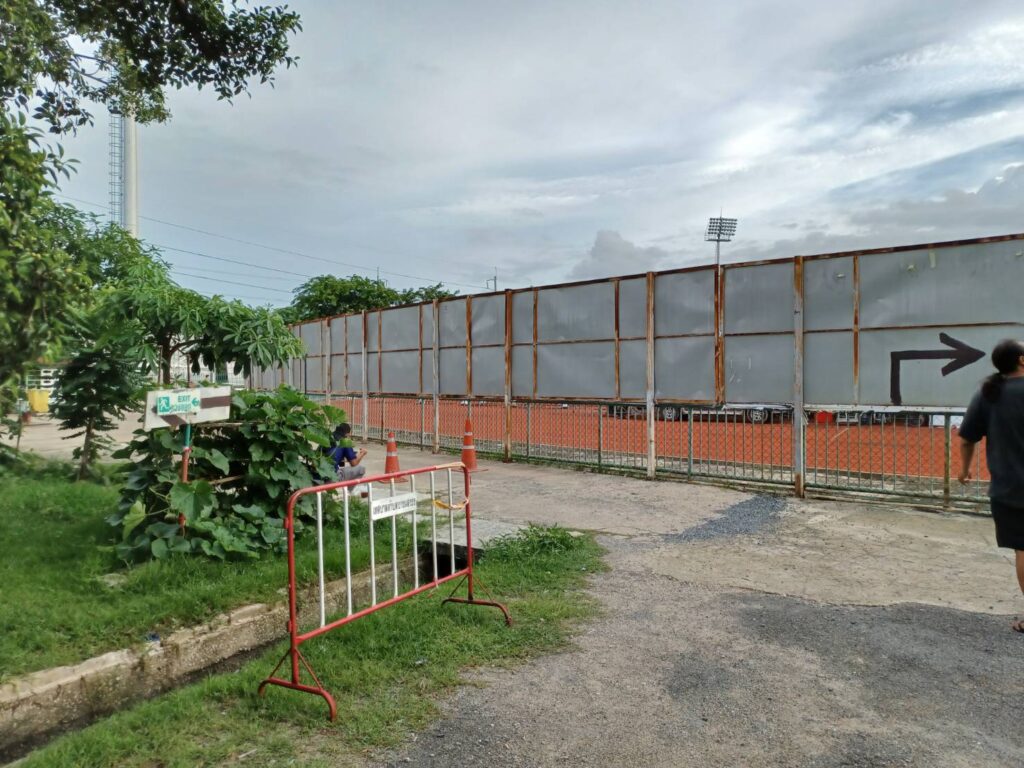 Back stand seats.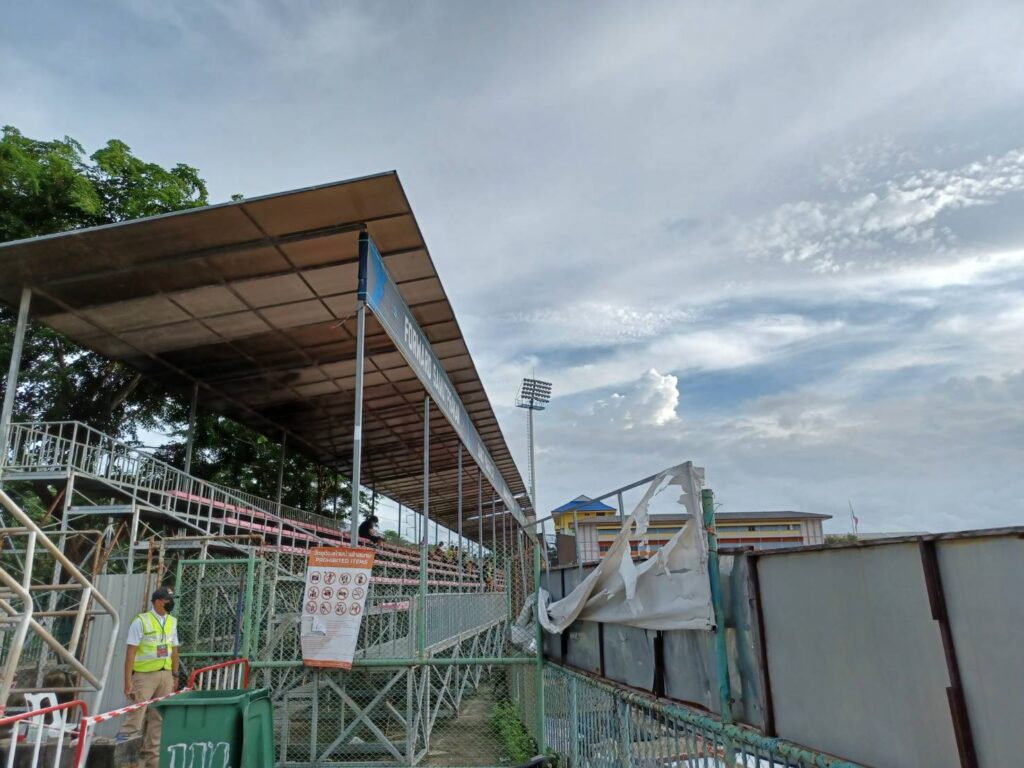 Security check before going to stand area. Staff will scan the QR code on your ticket and checks your belongings to make sure no prohibited items inside such as outside food and weapons.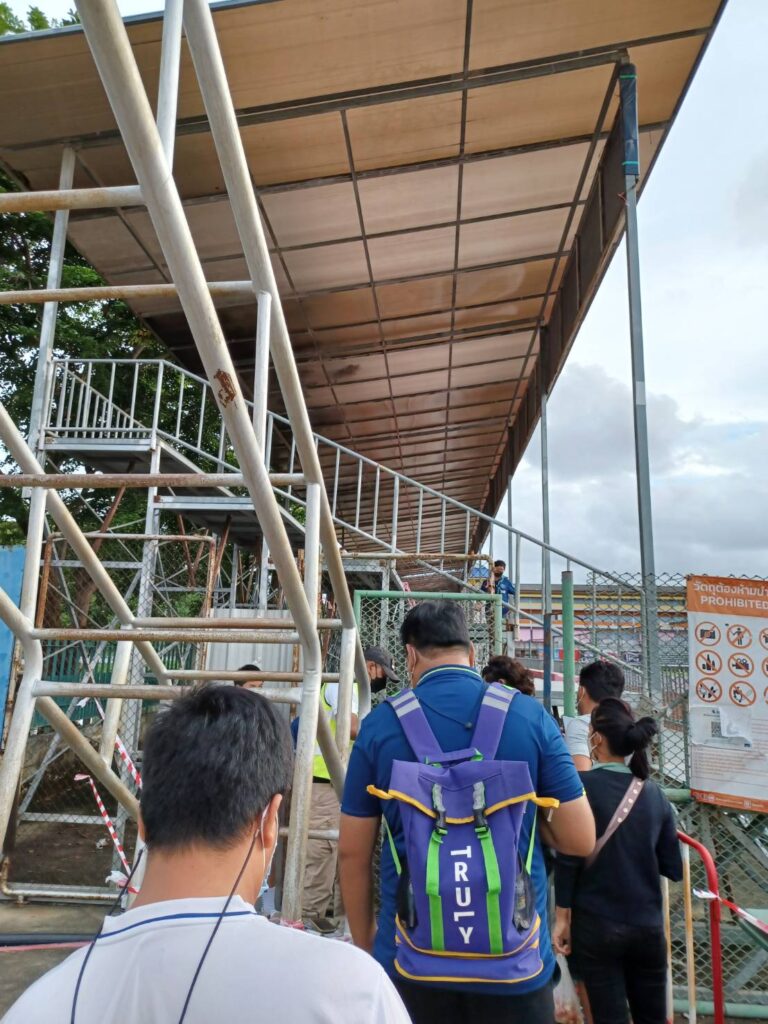 To make social distancing, some seats are blocked. There is no backrest for back stand seat here unlike main stand seat.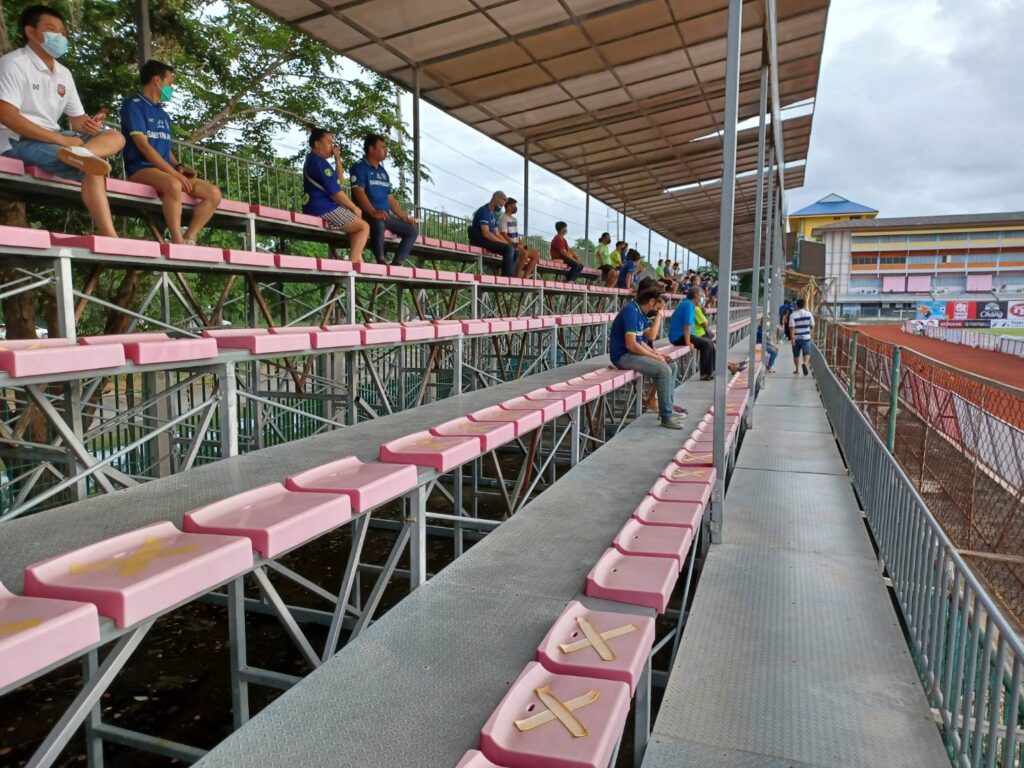 There is pole for roof so this is a bit disrupting to watch the game. and roof is damaged a bit. Luckily there was not so much rain at the match day.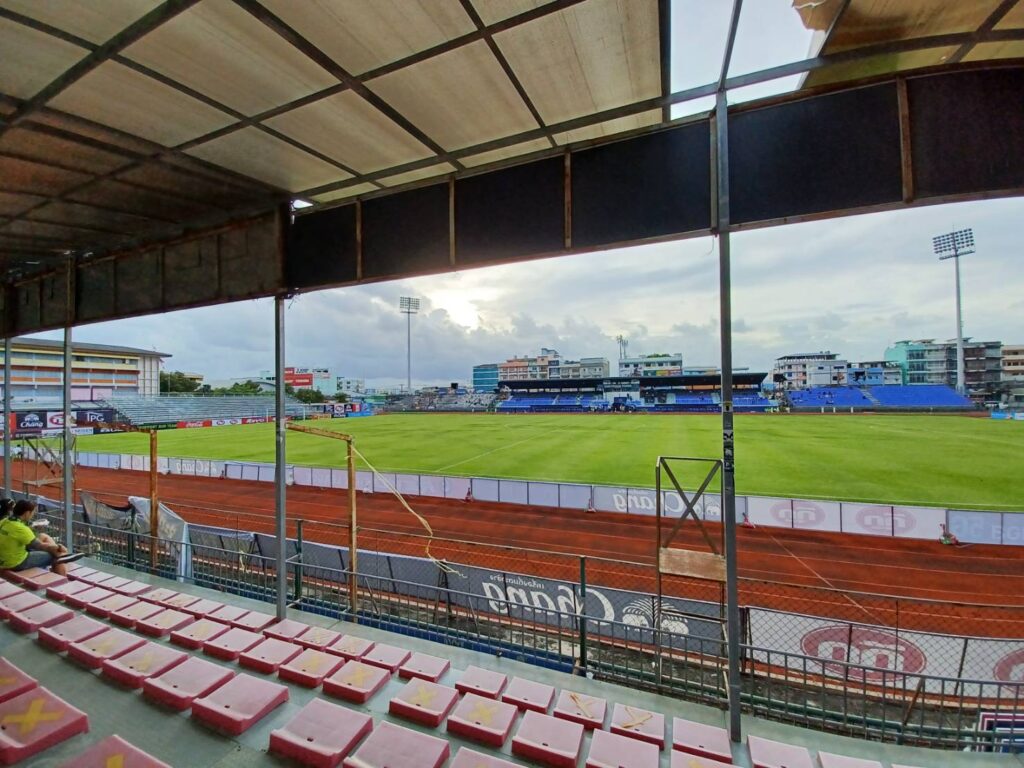 Stadium can be used for track & field competition. Main stand seat in blue color has backrest so it is more comfortable. left side is for away team supporter stand where it has no backrests also that is good way to torture opponent team's fan, haha.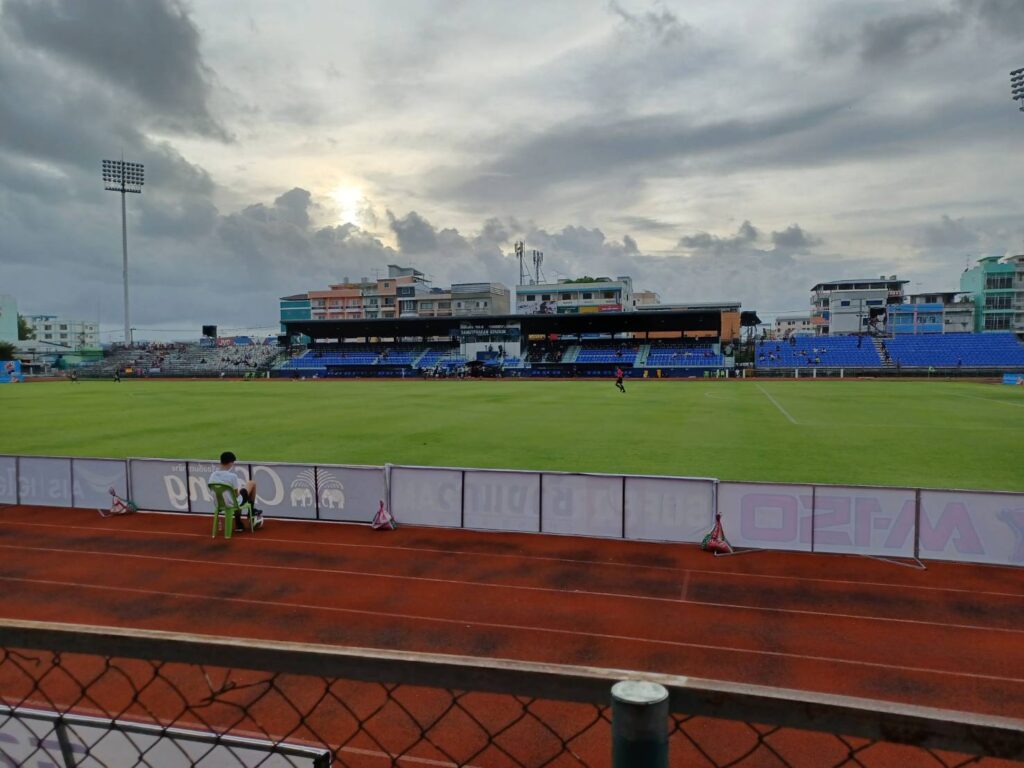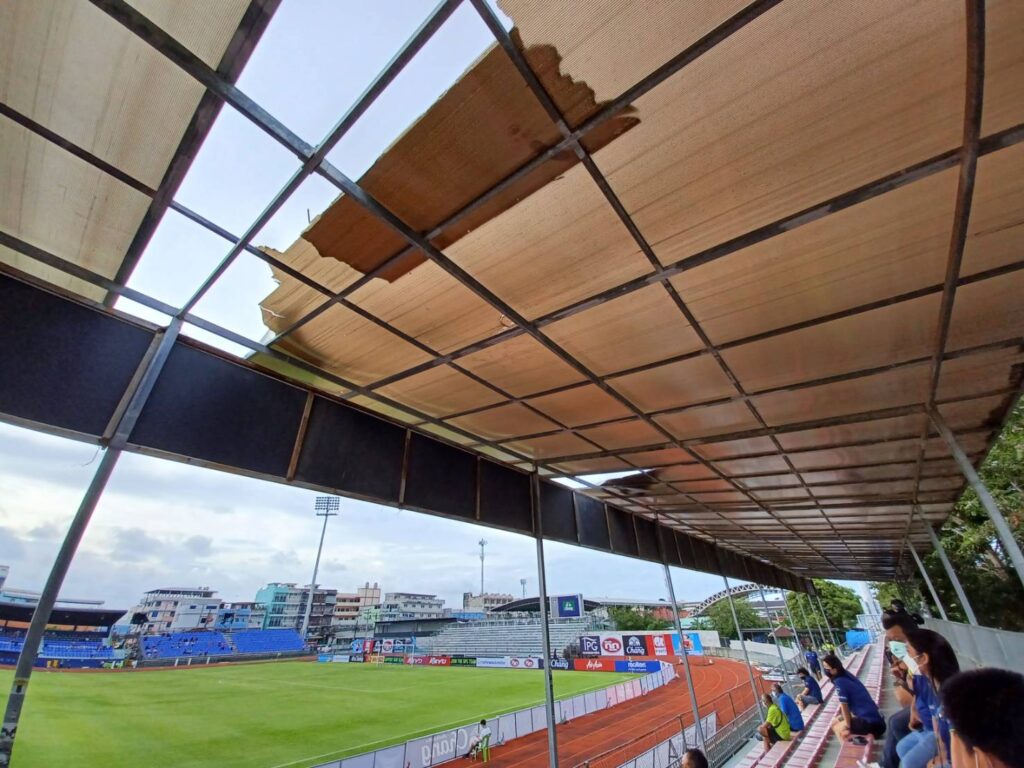 Industrial water way at the back of stadium where I passed by this afternoon.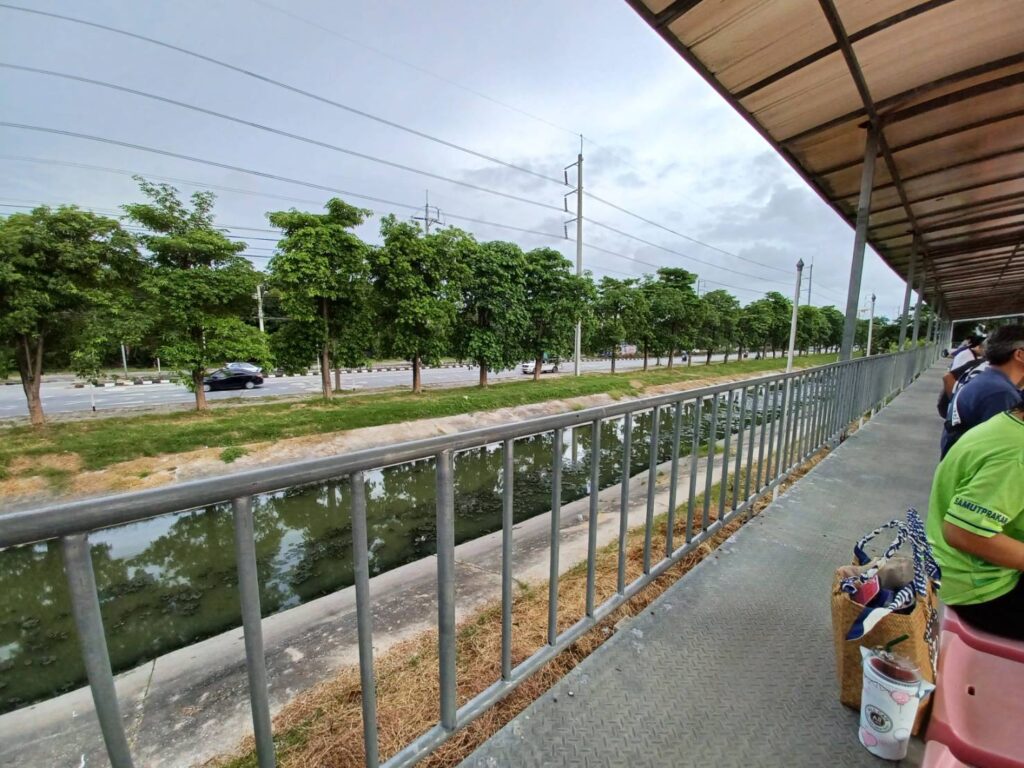 Match is ready to start for preparation.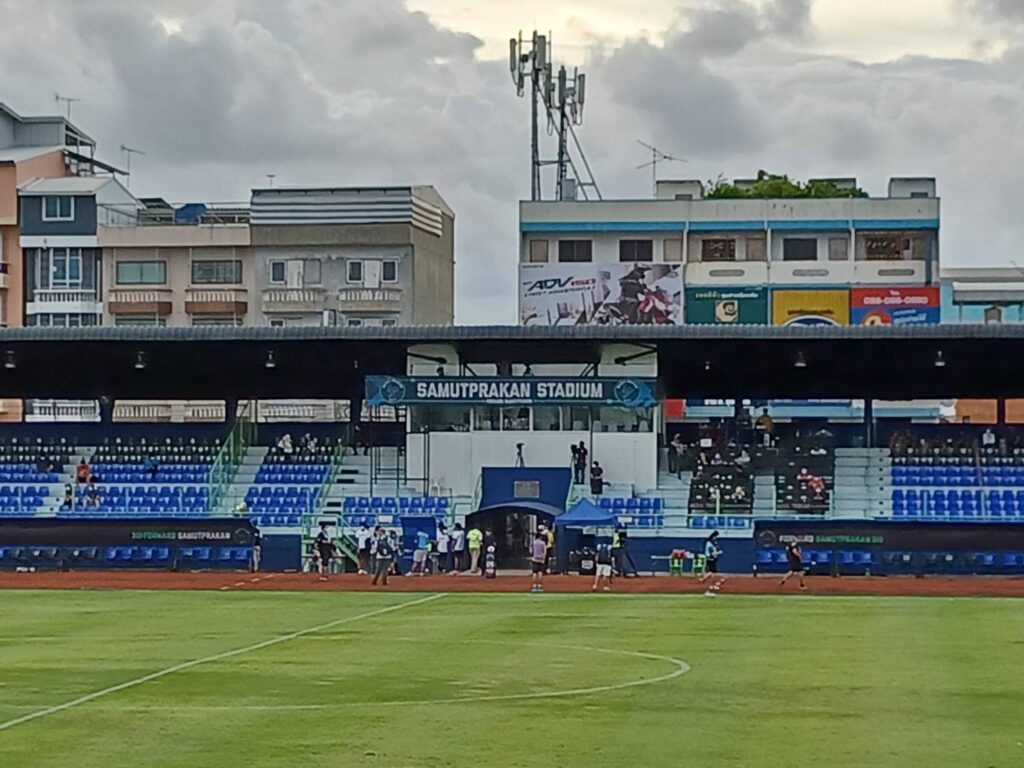 Don't look down under the seat of back stand. Only steel wires builds the seat stand.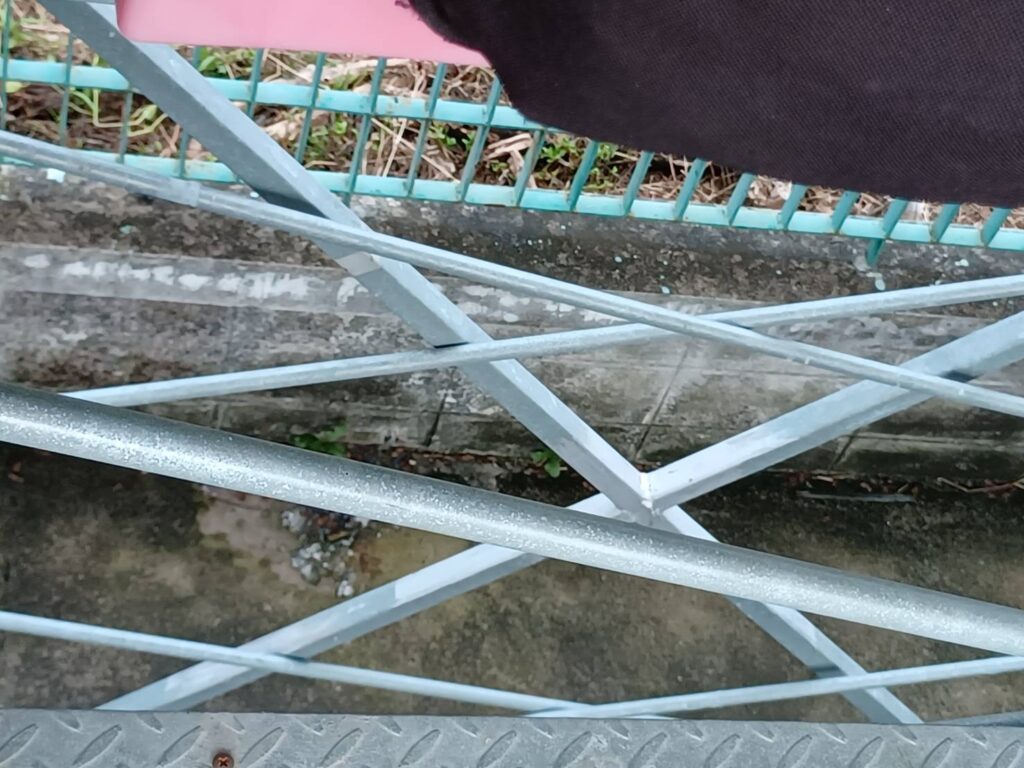 Left side of main stand is occupied by away team supporters. Since Port F.C. is team in Bangkok, next province of Samut Prakan so many fans are coming to stadium.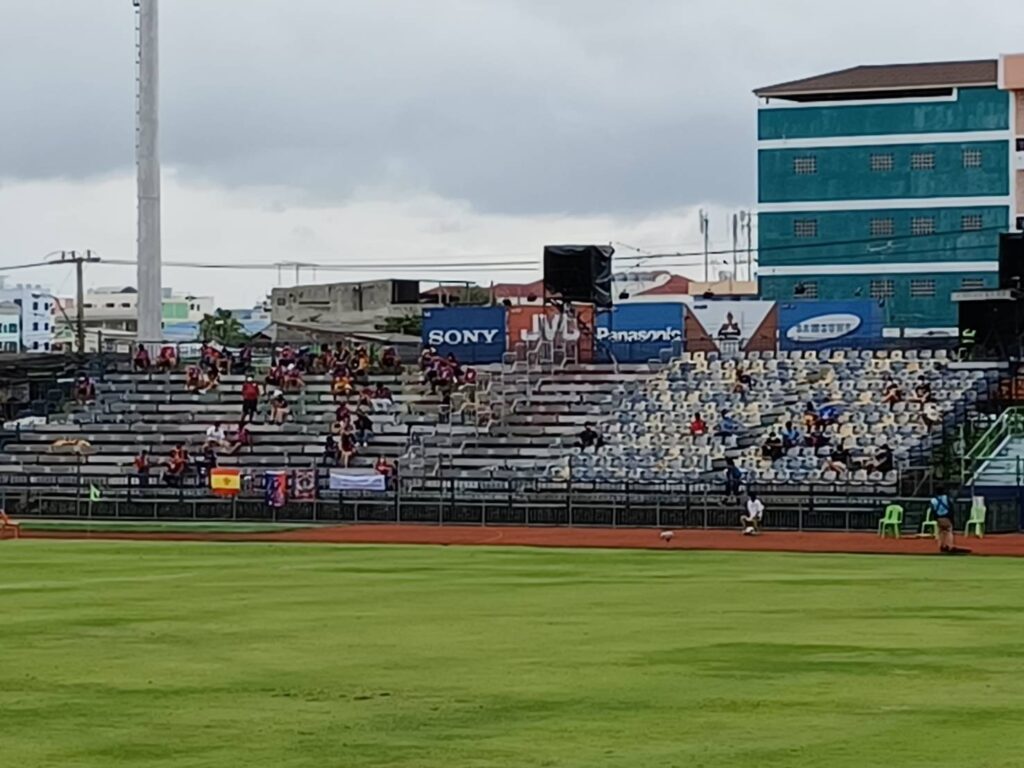 Nobody sat at the seat behind the goal side. It seems it is not open for public to limit the number of spectators to follow government regulation. Home team supporters gathered at back stand this time. Many fans with Samut Prakan city F.C. surrounded me, hehe.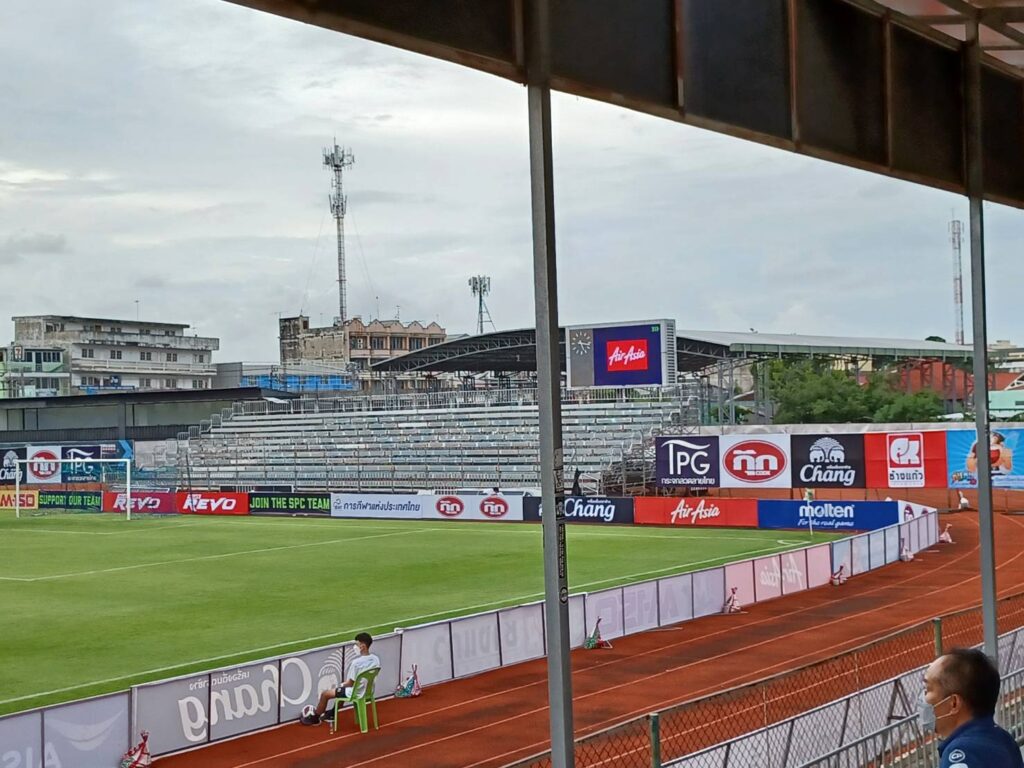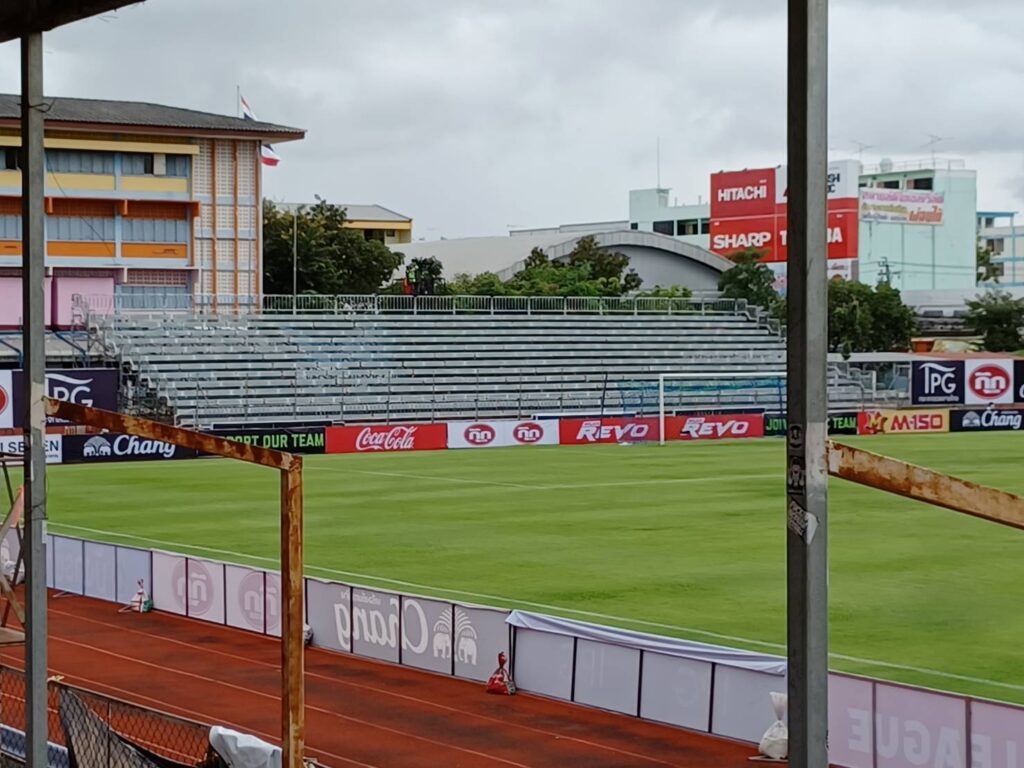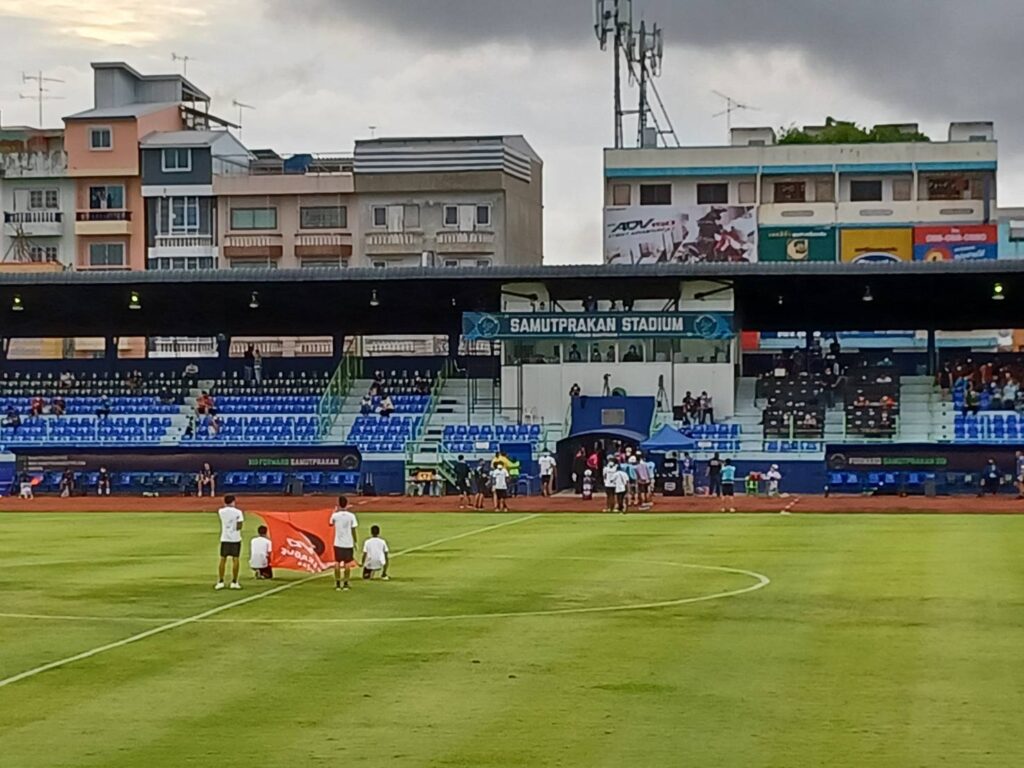 Players and referees are on the way to field!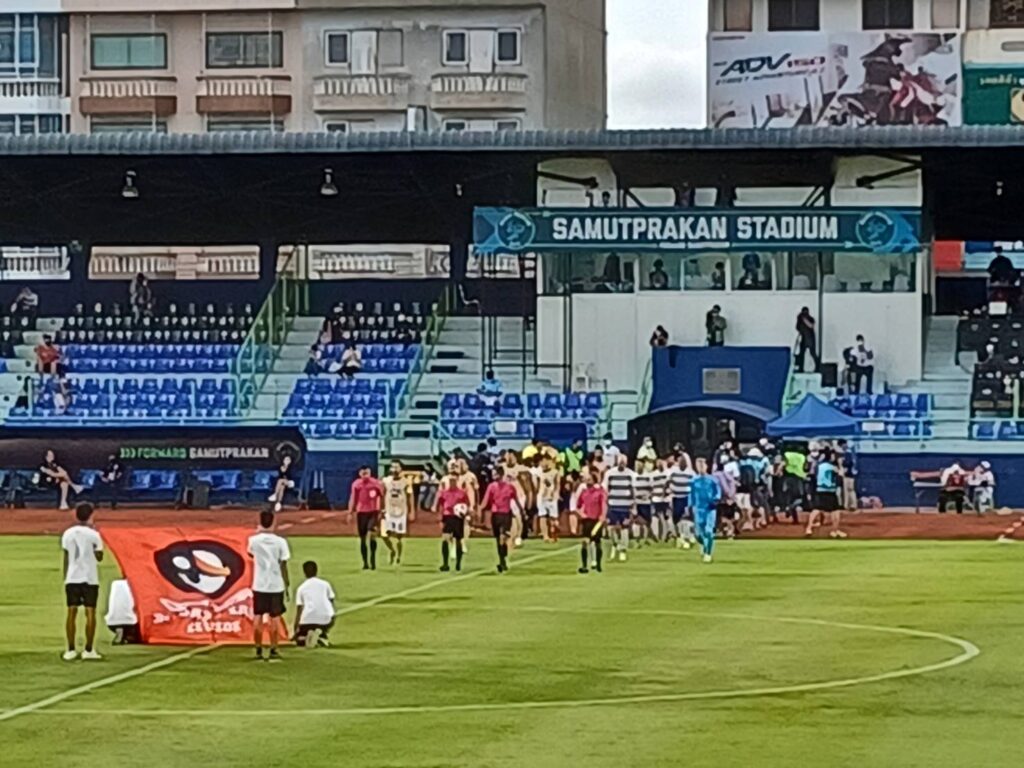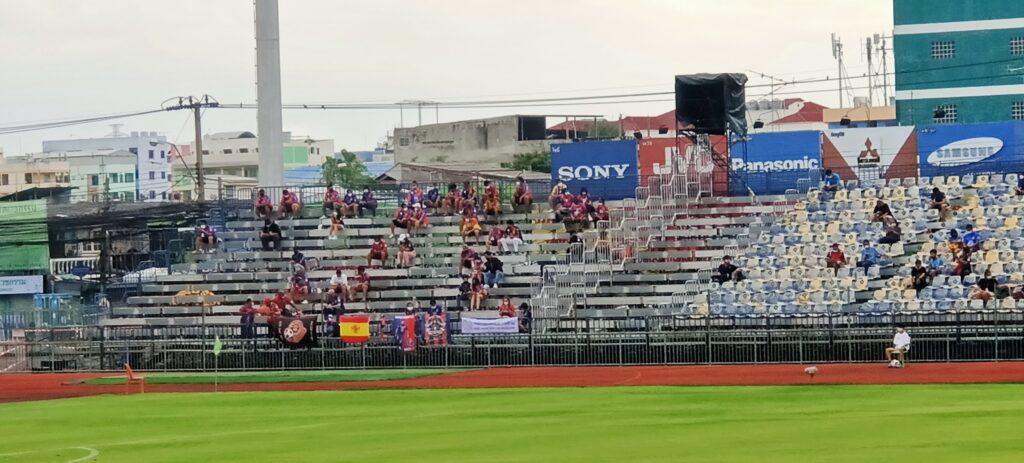 Before the game, national anthem plays. Everyone stood up to show the respect to the country.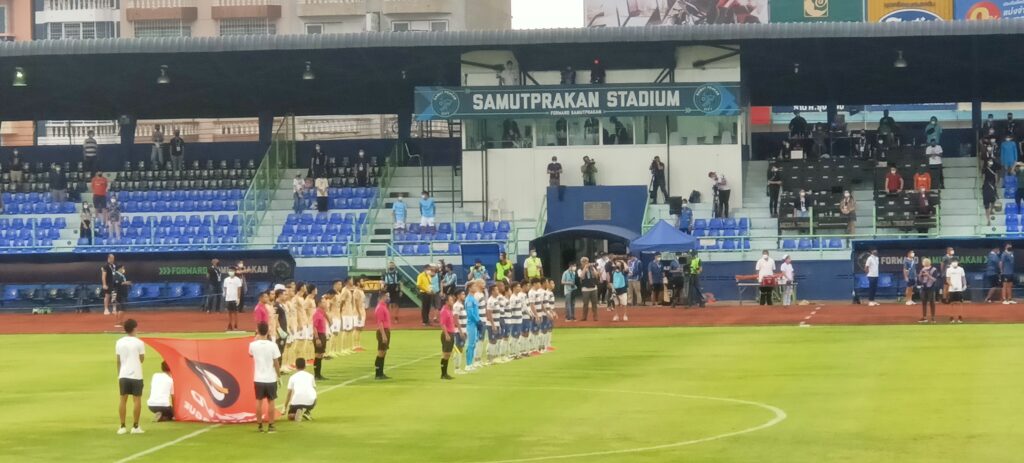 Samut Prakan city F.C. starting members.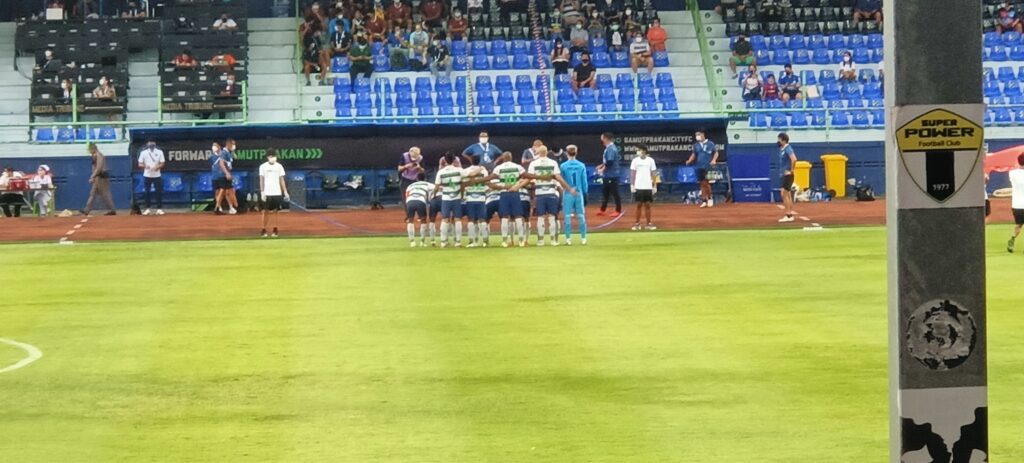 Port F.C. in away uniform.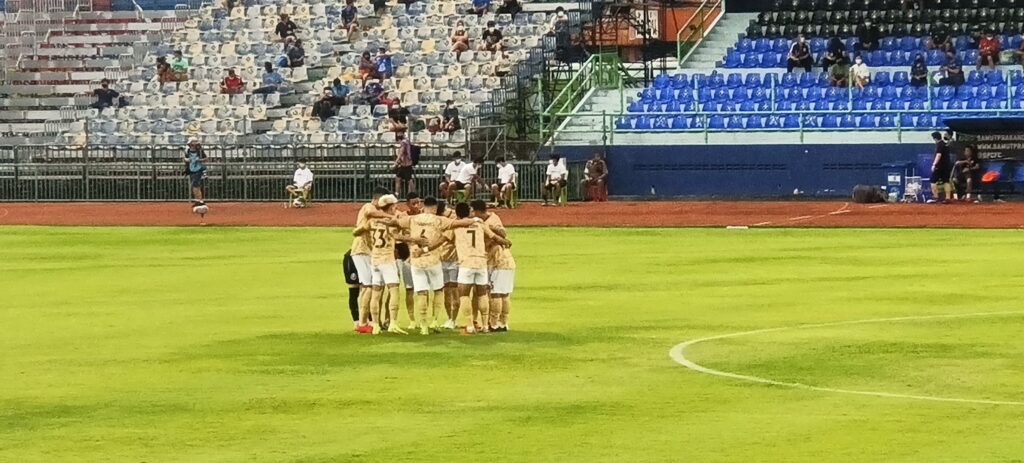 Game on!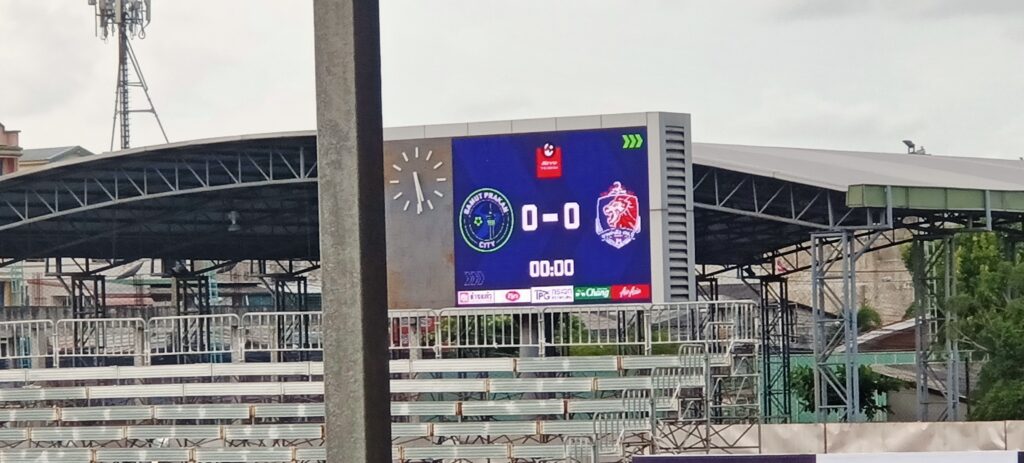 Players came to greet to home team fans.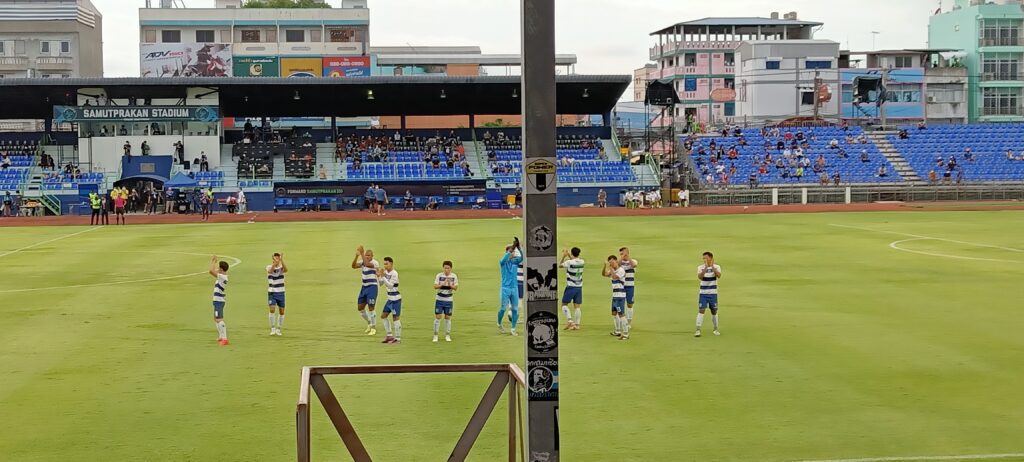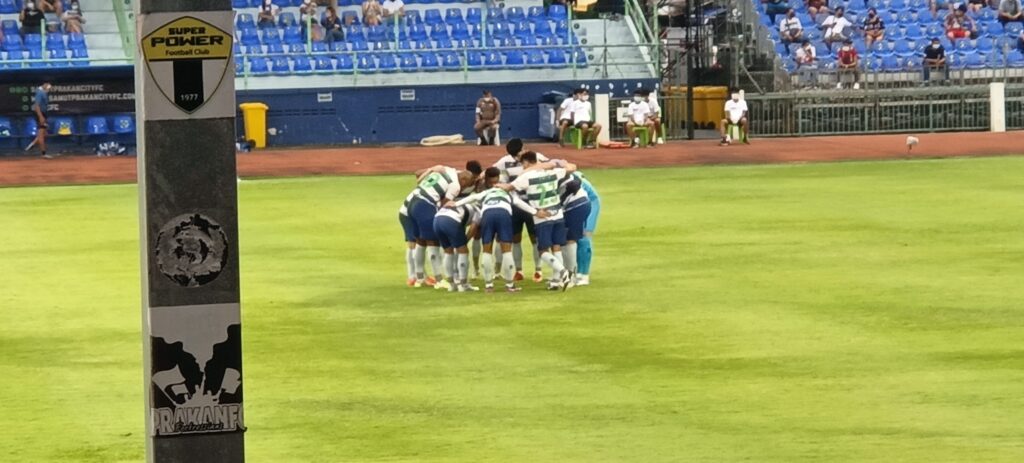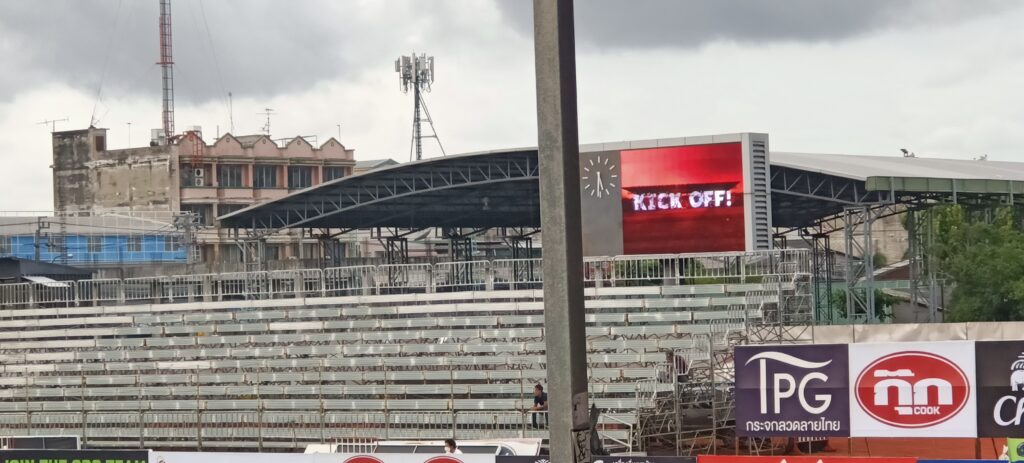 Samut Prakan F.C. VS. Port F.C.
Kick off by Port F.C.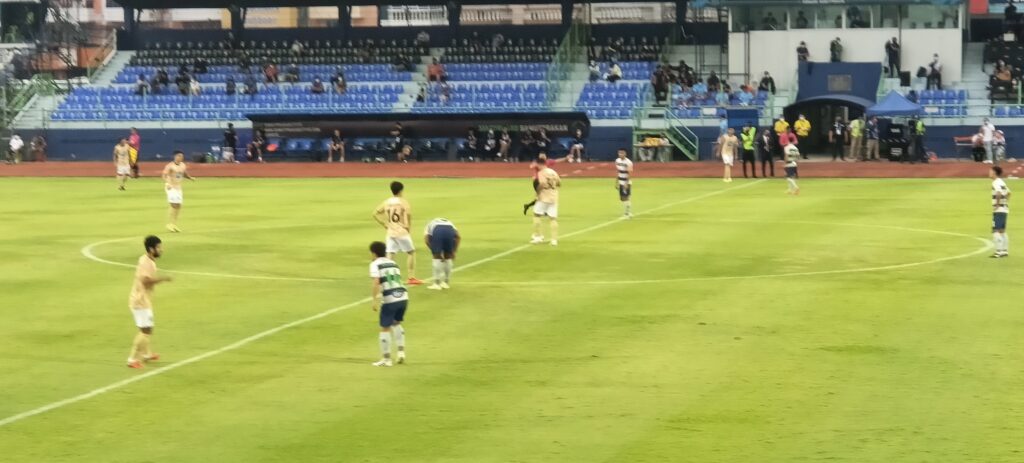 I checked game also via AIS play apps, they have 1 minutes delay show so I can check play in VTR in the phone. Nowadays, Football are adopting video assistance technology so this TV screen will helps to see close view of controversial scene.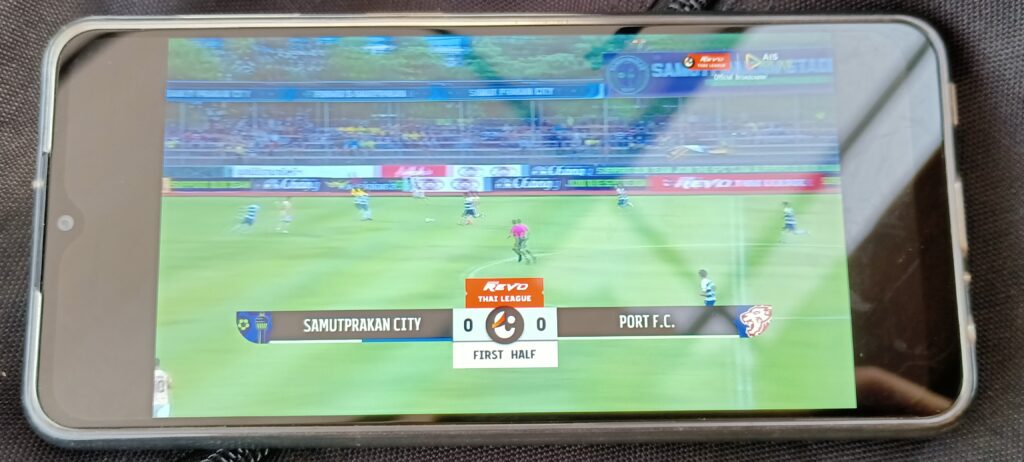 No. 14 Sakai is Japanese left mid field player who joined Samut Prakan city F.C. this year. I thought he is Japanese from his face so I checked and confirmed yes he is Japanese. Today, His running and dribble toward the goal gave a threat to Port F.C.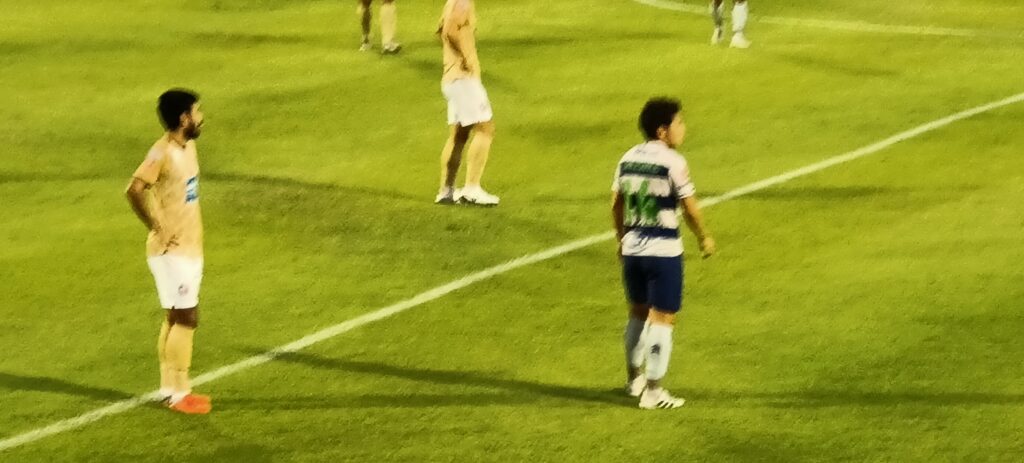 At 18′, No. 27 Aris headed in a cross from right side! It seemed he scored but referee didn't blow the whistle! A minutes later, Referee requested to check the VAR (Video assistant referee) then he finally judged it was goal!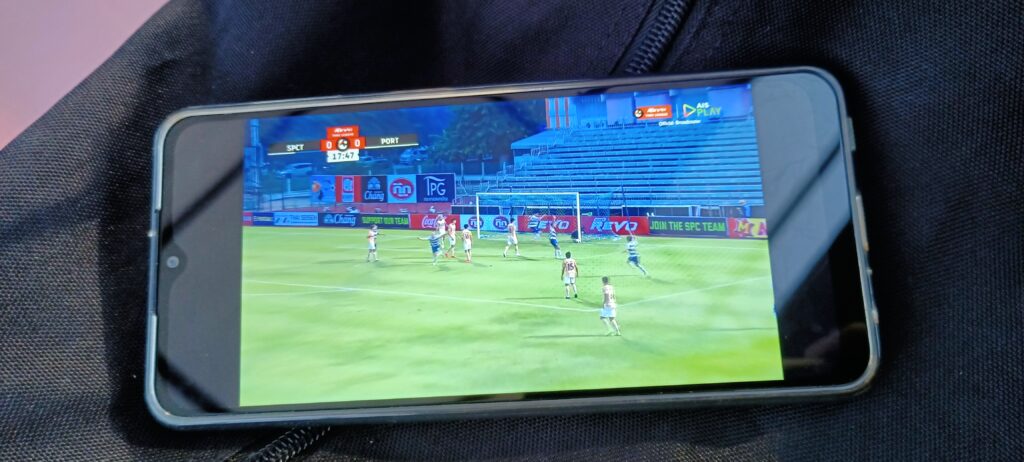 Decided as first goal by VAR.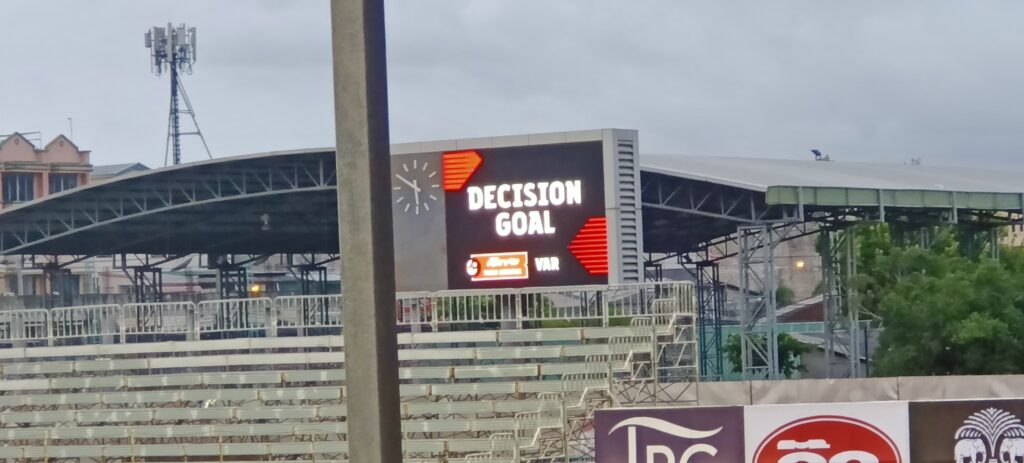 The crowd cheers for the success of home team!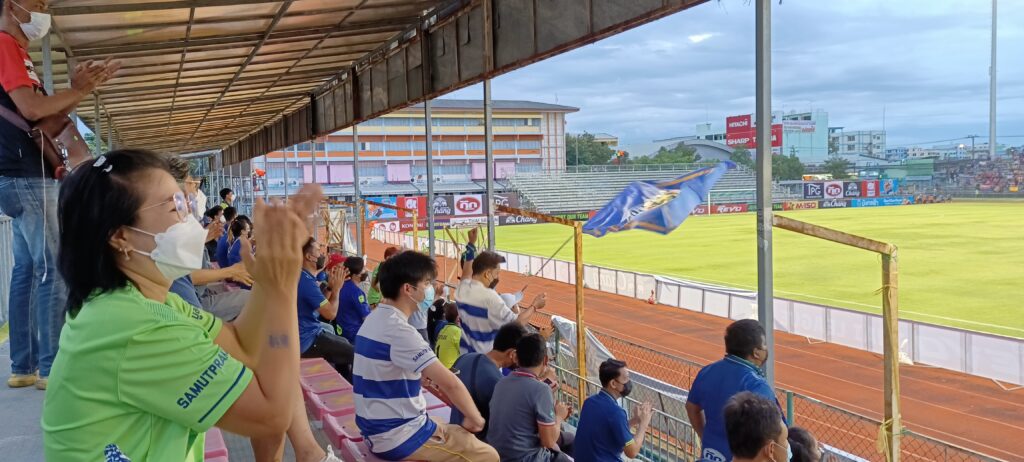 Yes, the ball crossed the line.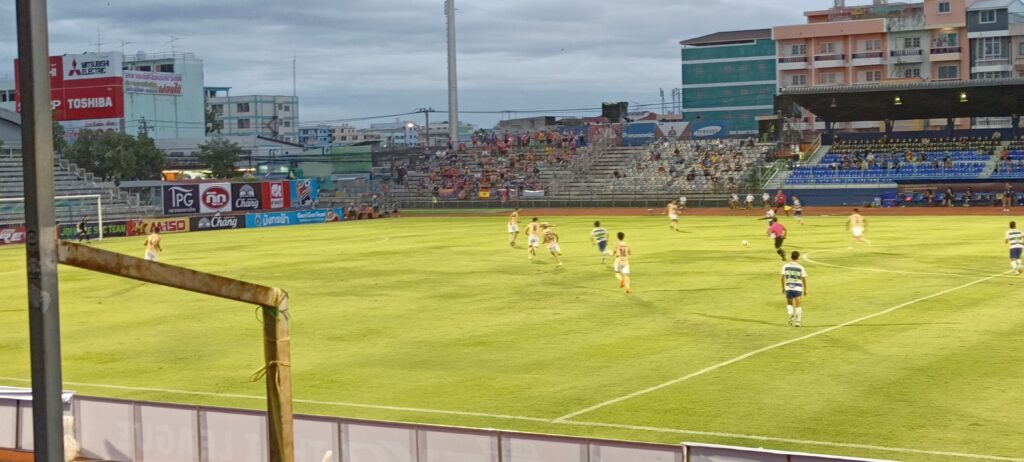 Samut Prakan supporters with big flags.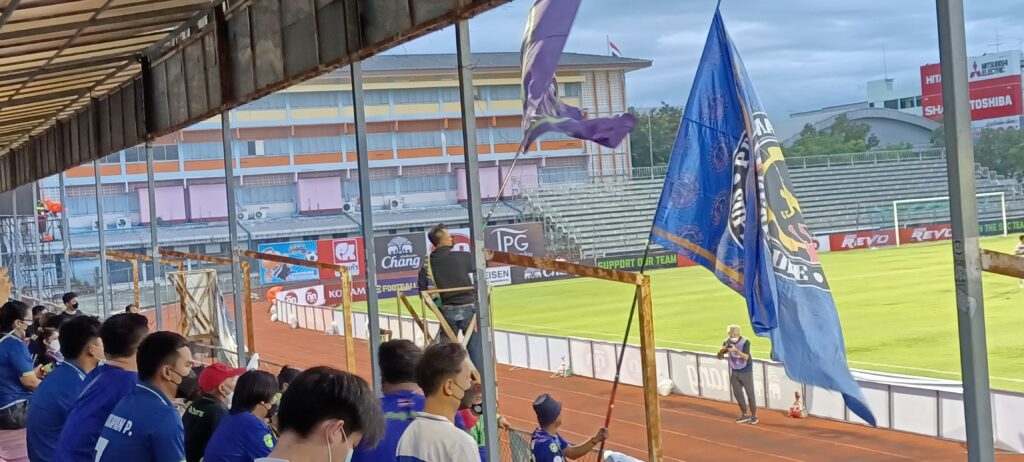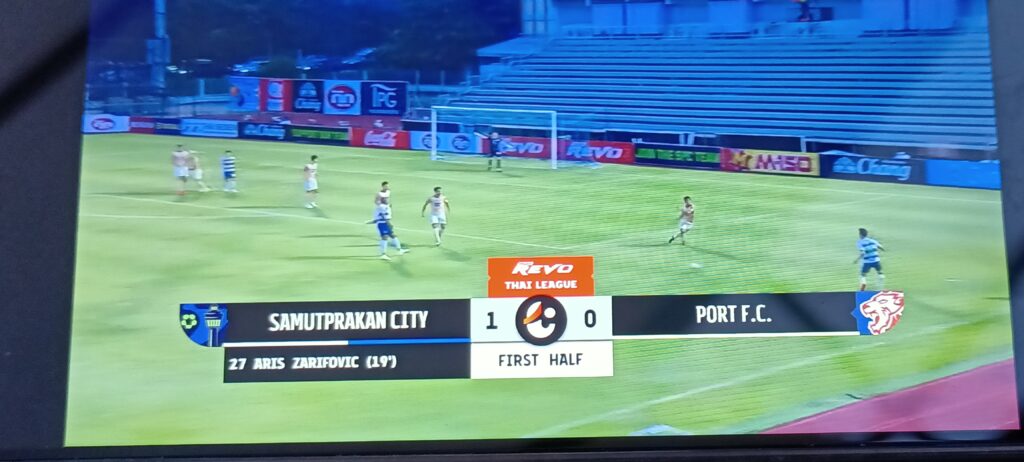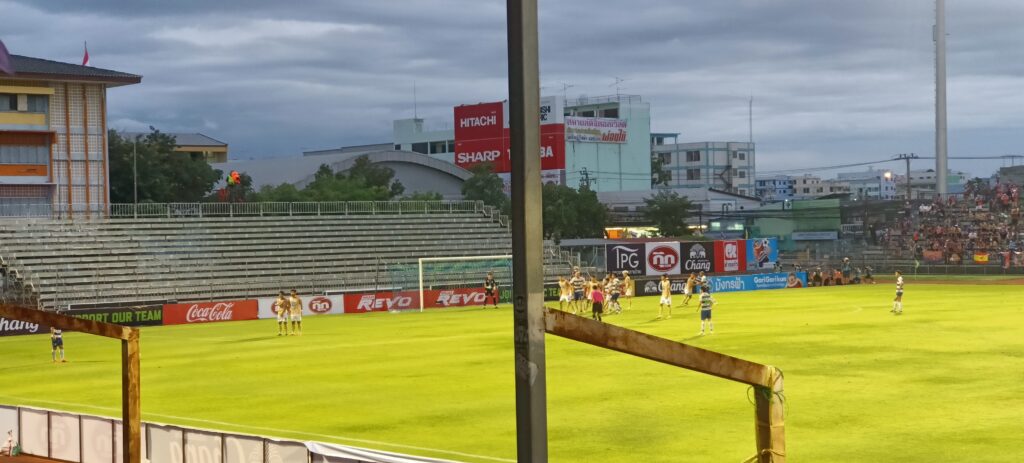 21′ Another big moment for Samut Prakan, captain No. 9 Chayawat shot inside the penalty area but the goal keeper showed big saving at this time!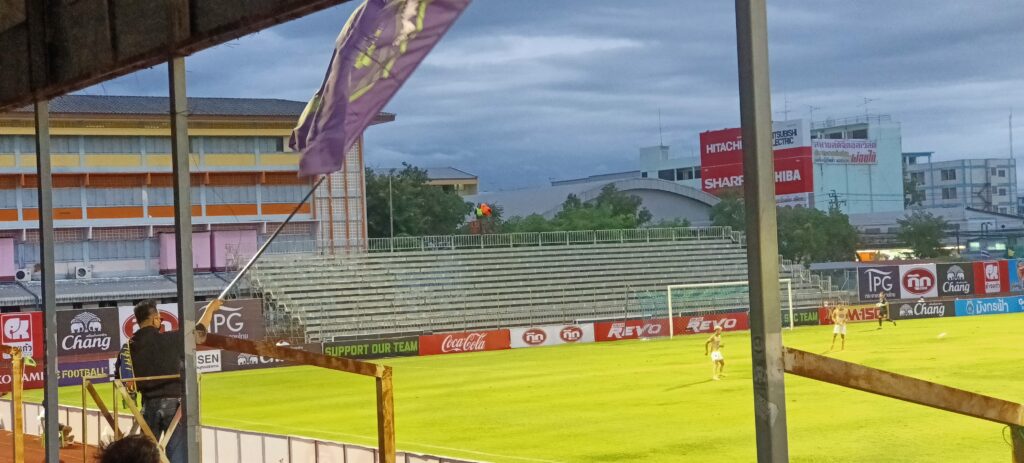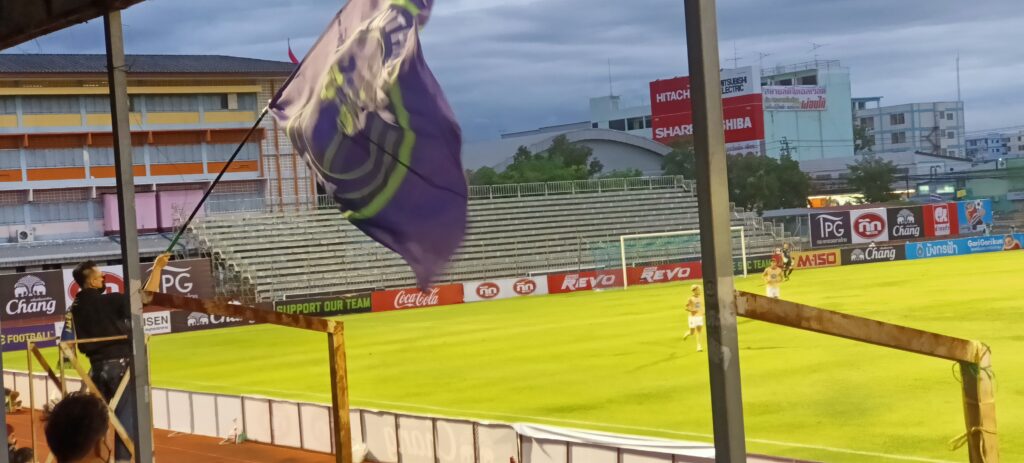 '26 Port F.C. supporters are making noise then I noticed that a stray dogs intruded in the field then ran straight to go out from the stadium, haha.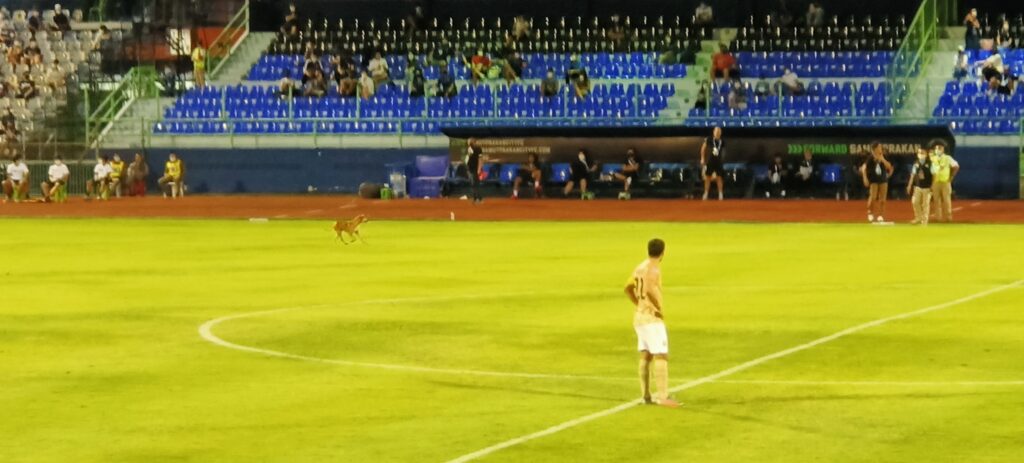 laughing moment in the fight.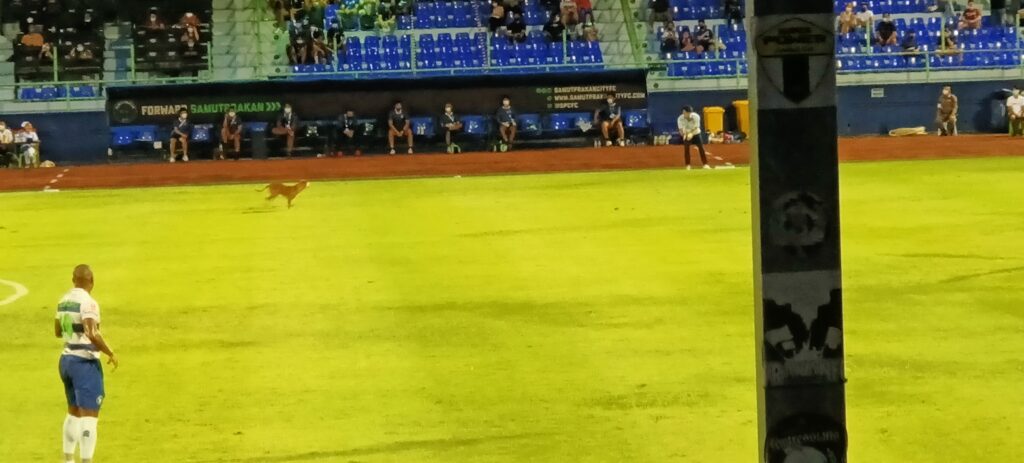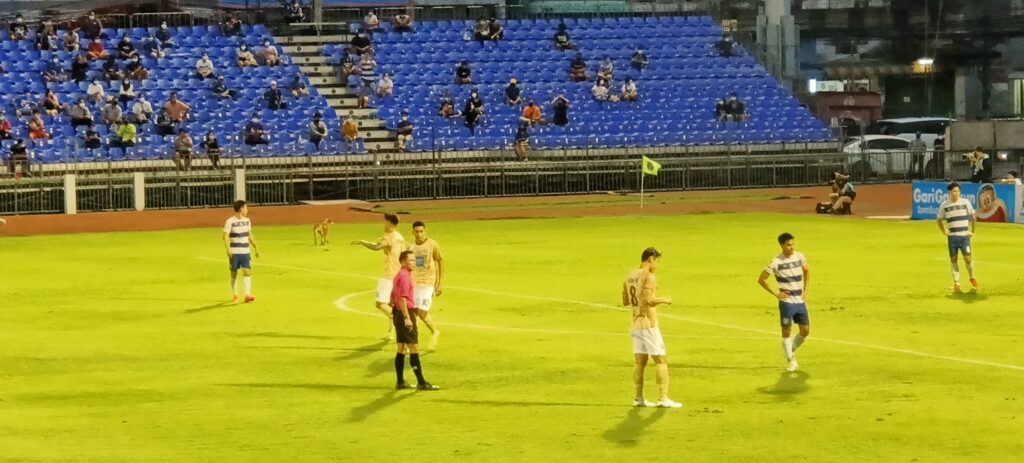 Samut Prakan F.C. is directed by Japanese coach, Mr. Ishii. He won the J league division 1 season champion title before in Japan.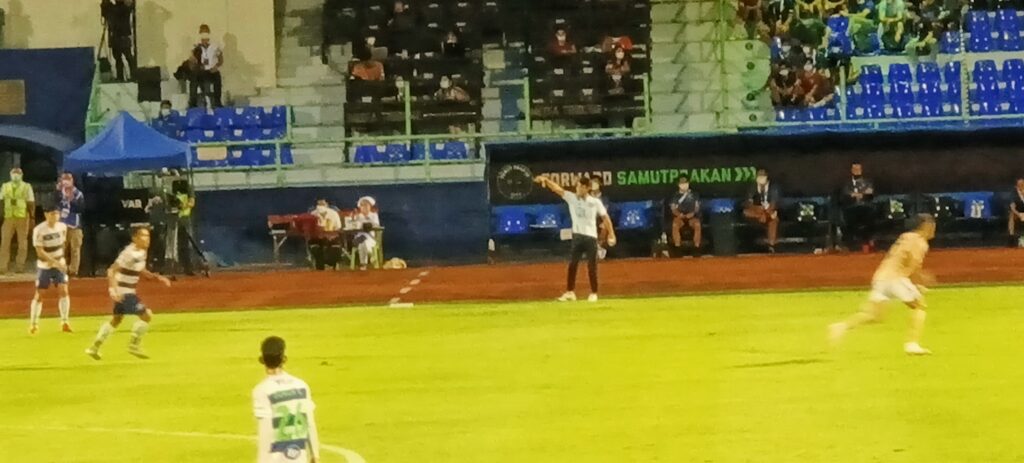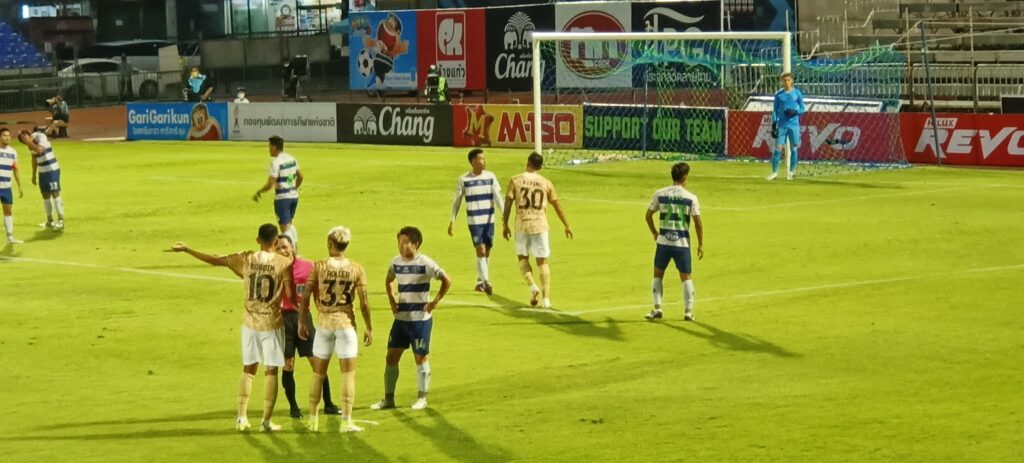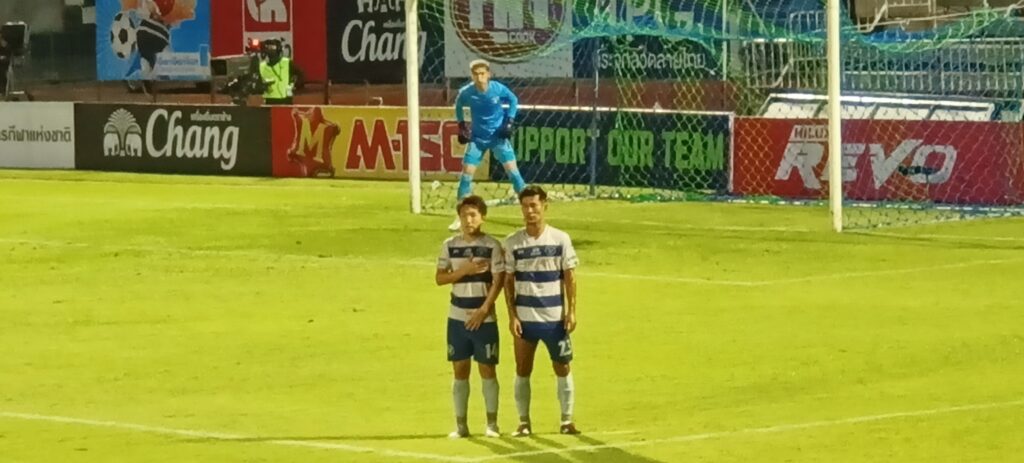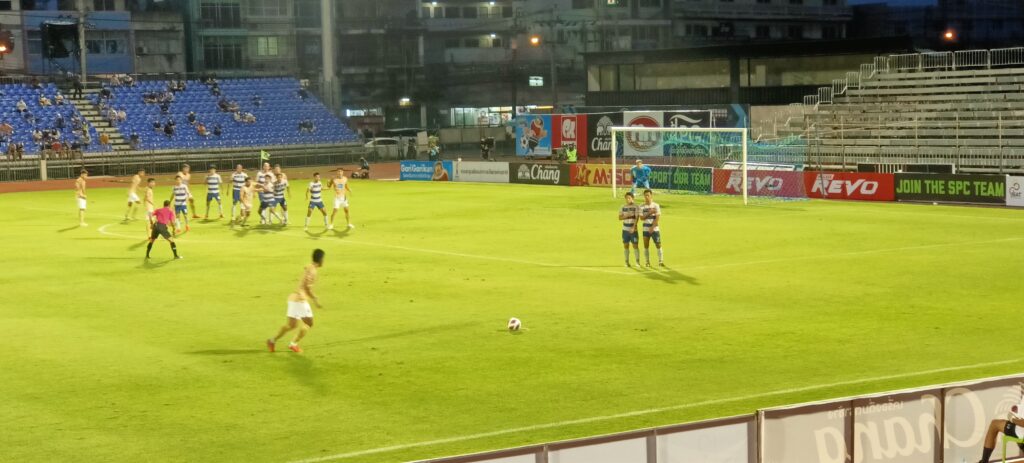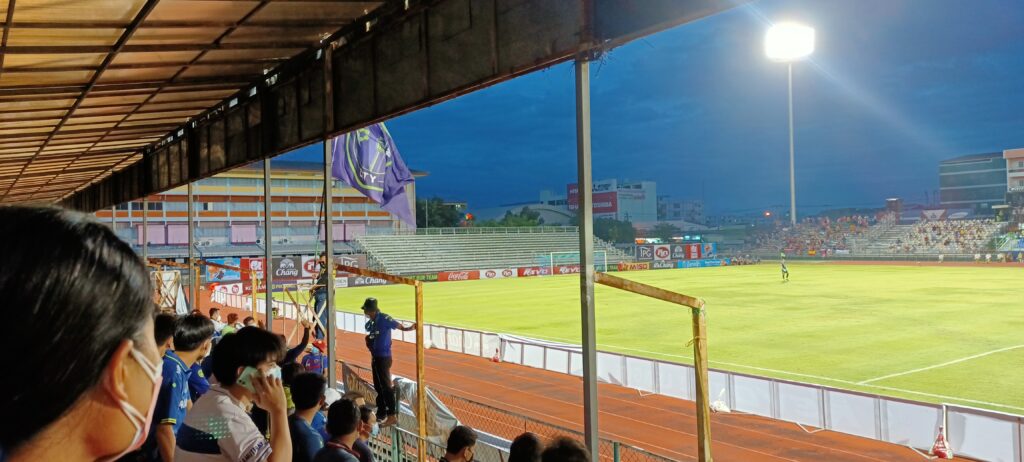 38′ game stops a while for healing the injured player. 35′ There was big chance for Port F.C. from corner kick.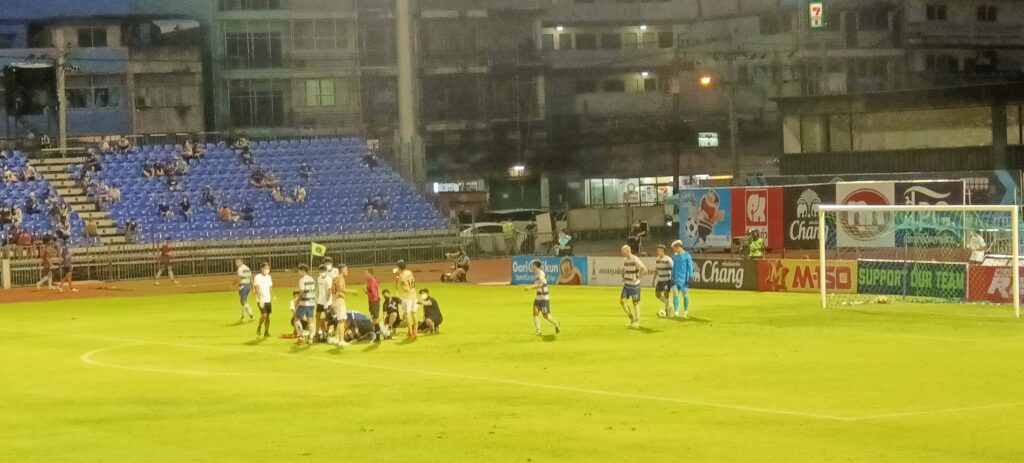 Stadium staff came to supporters to stop waiving big flags. Maybe it is not allowed under Covid-19 preventive protocol this time.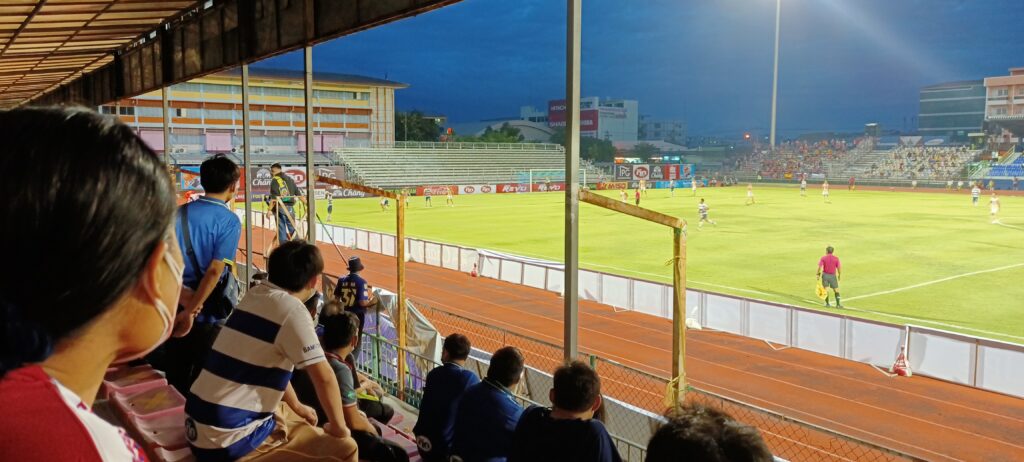 First half ended. Samut Prakan leads the game 1 – 0.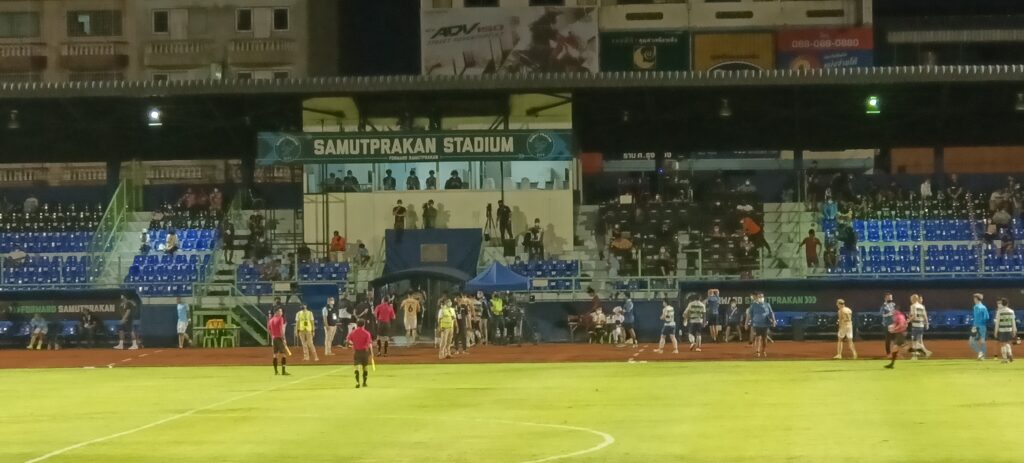 People watching the game for free, 55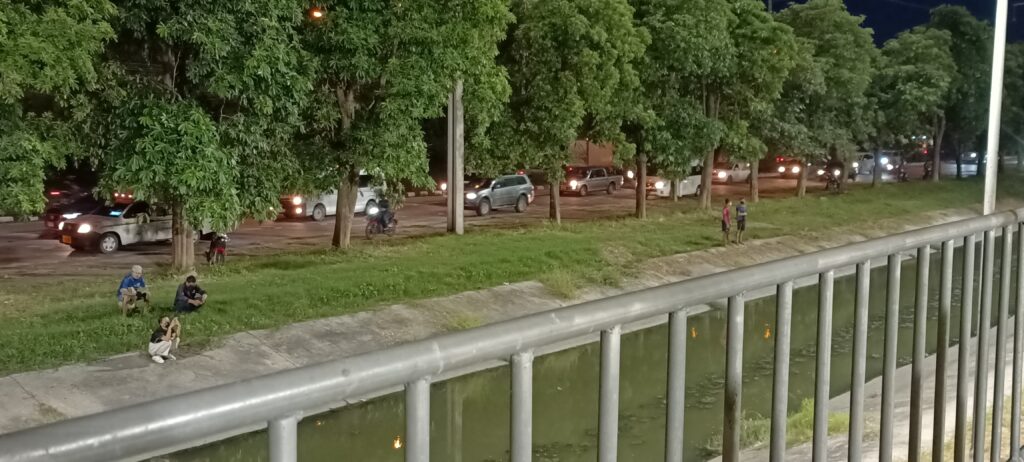 Get back to rumble for 2nd half!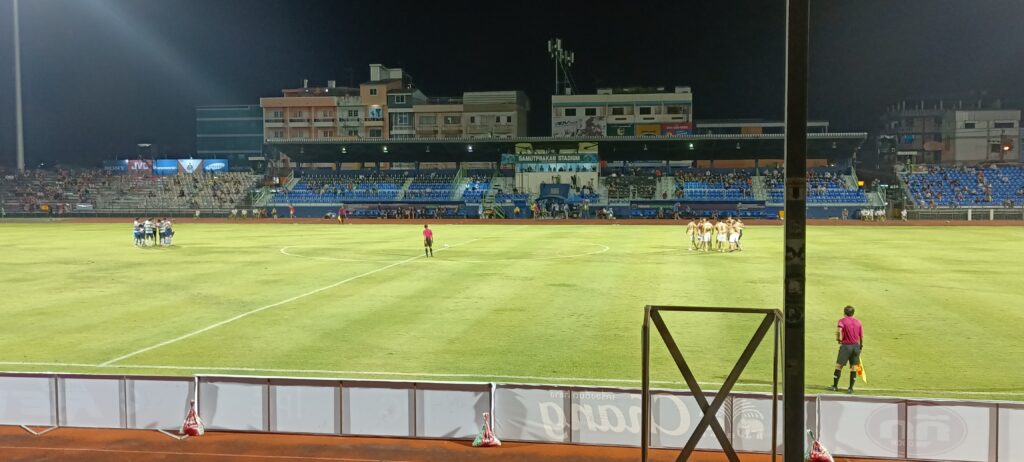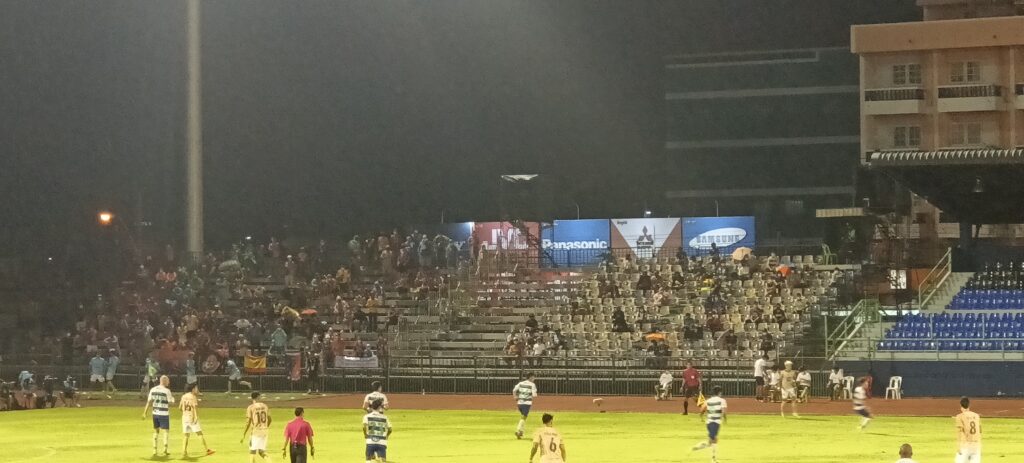 Score even! a goal from ocorner kick by Port F.C.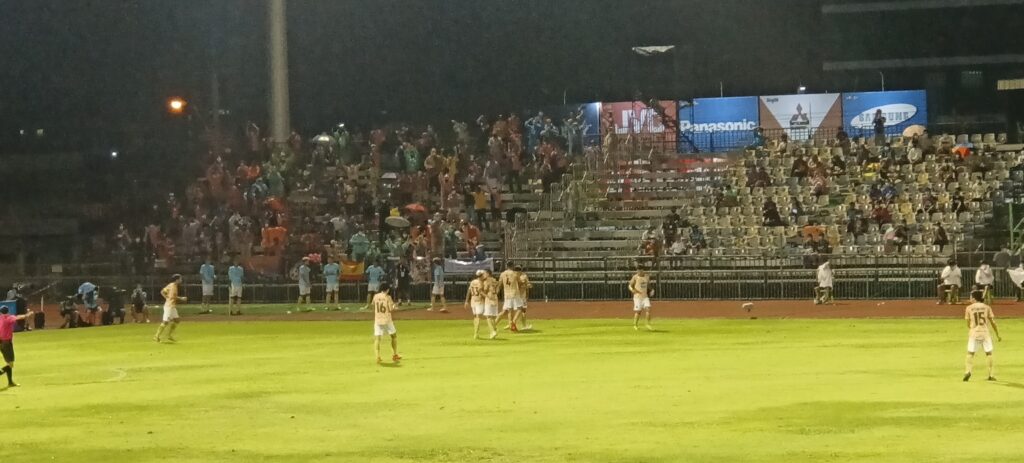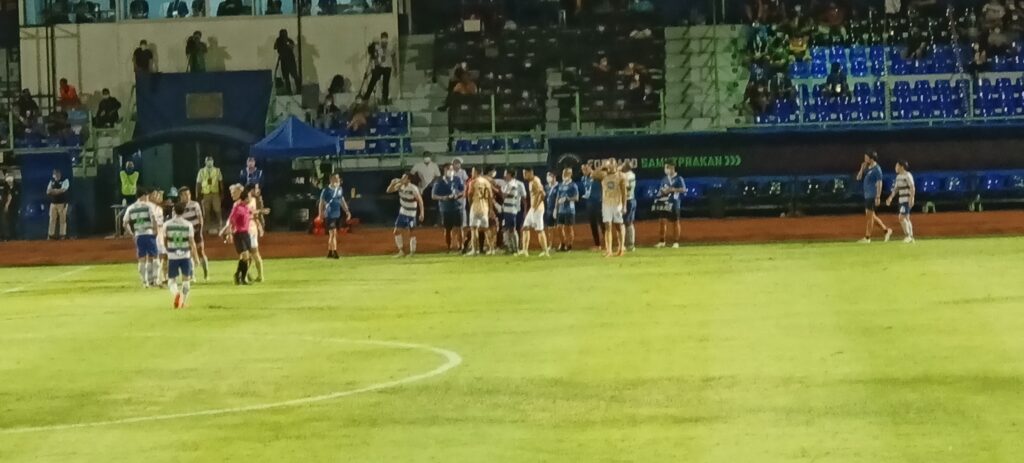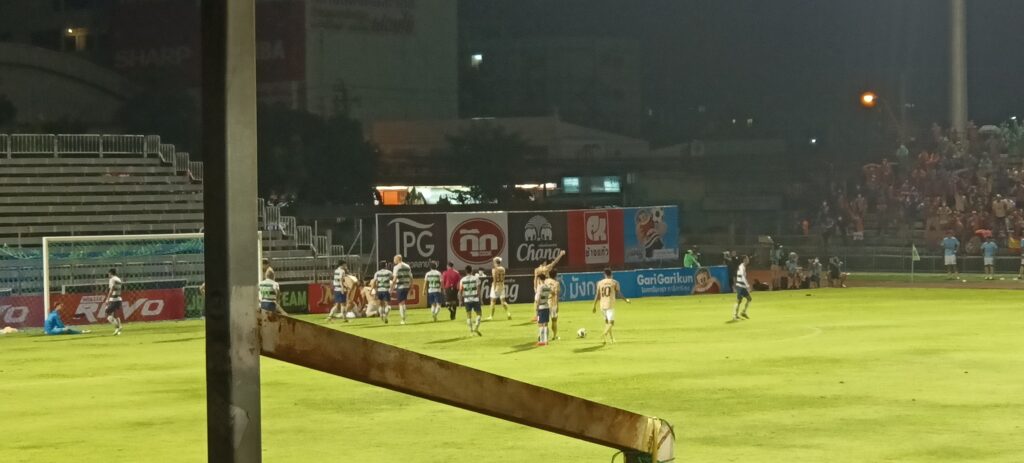 75′ Another goal by corner kick for Port F.C.! Port F.C. players are taller than defenders of Samut Prakan, they used this advantage to score 2 goals by corner kick.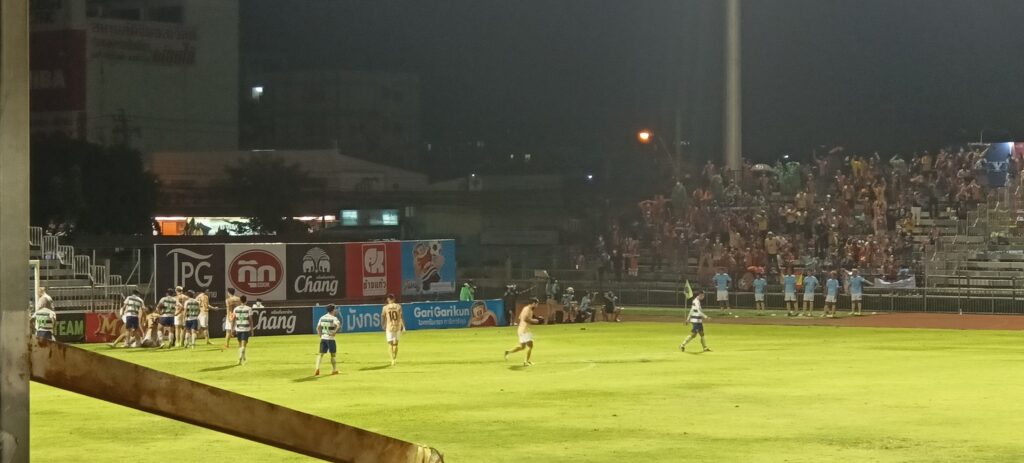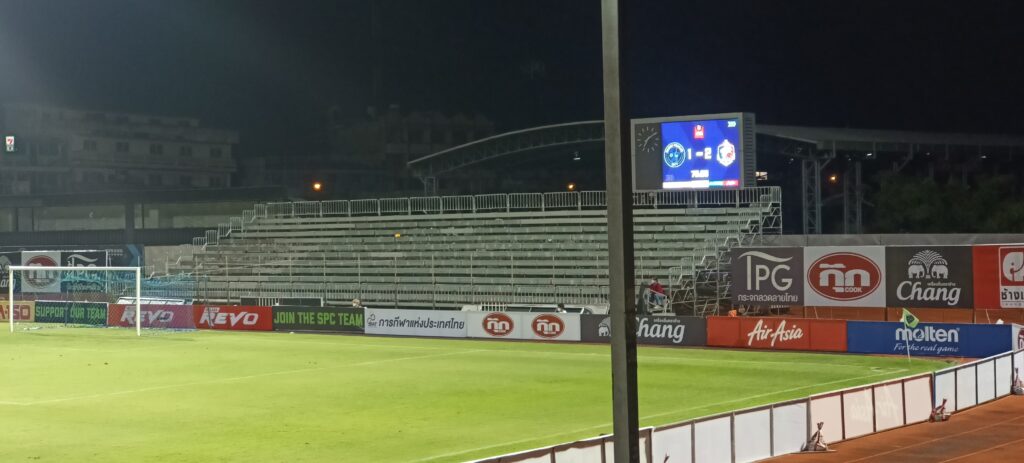 81′ Captain Chayawat headed to the goal from left cross! No. 14 Sakai marked assist for this goal.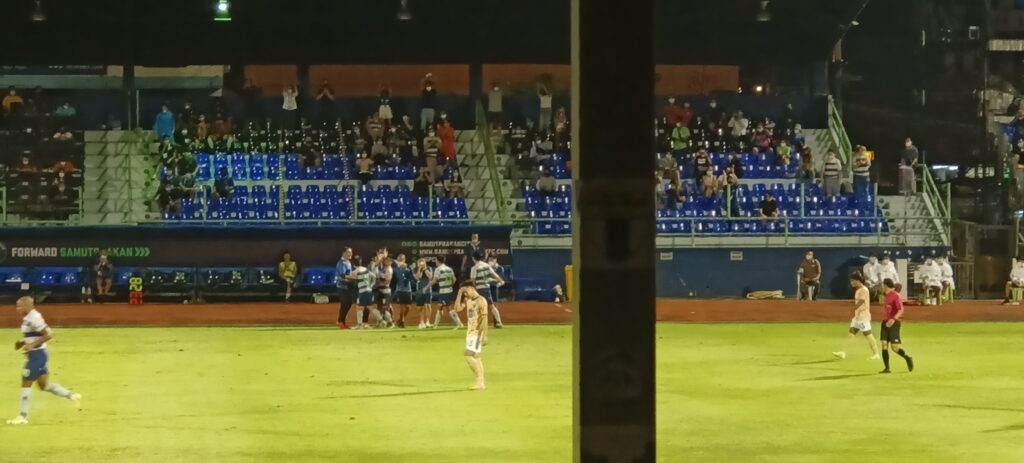 Biggest excitement comes to back stand covered with Samut Prakan supporters!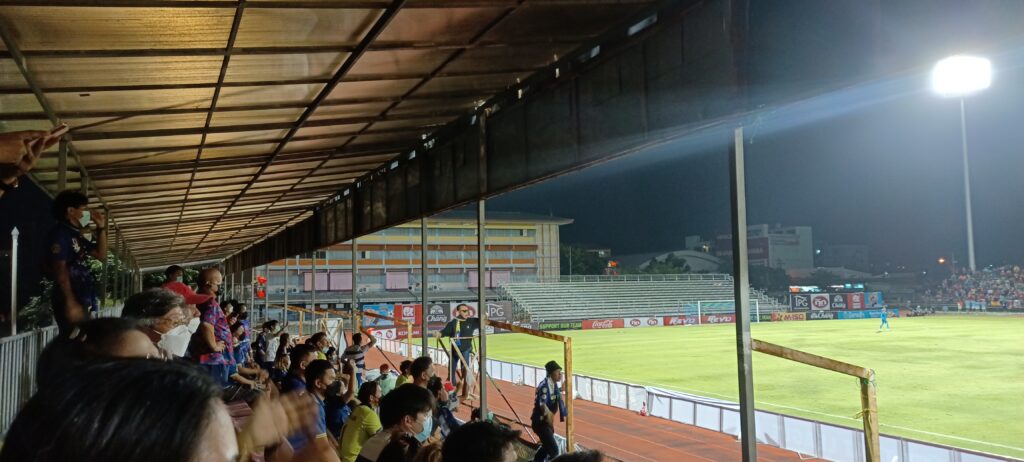 Game is getting close to time up. When entering additional time of 2nd half. No. 14 Sakai dribbled and entered penalty area again then held down by the defender! Referee pointed penalty circle for PK!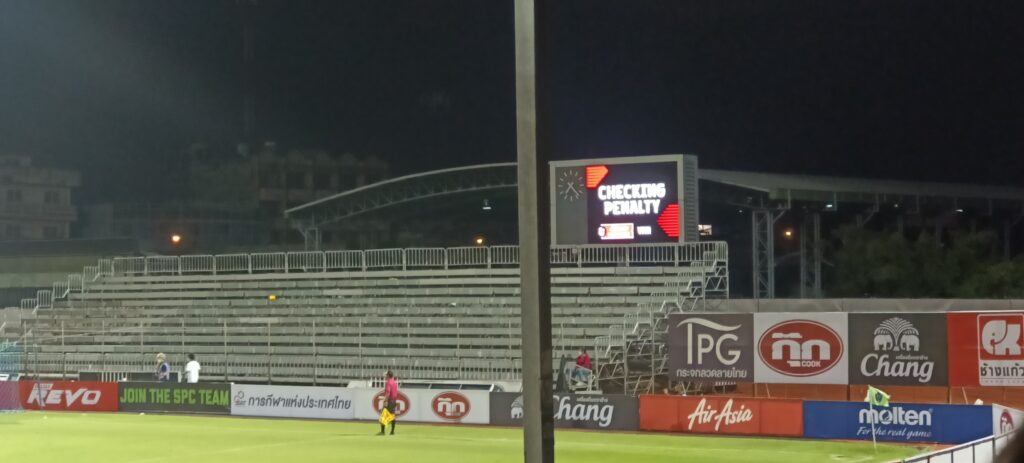 Referee called VAR check, players waits a while for judge to decide the game.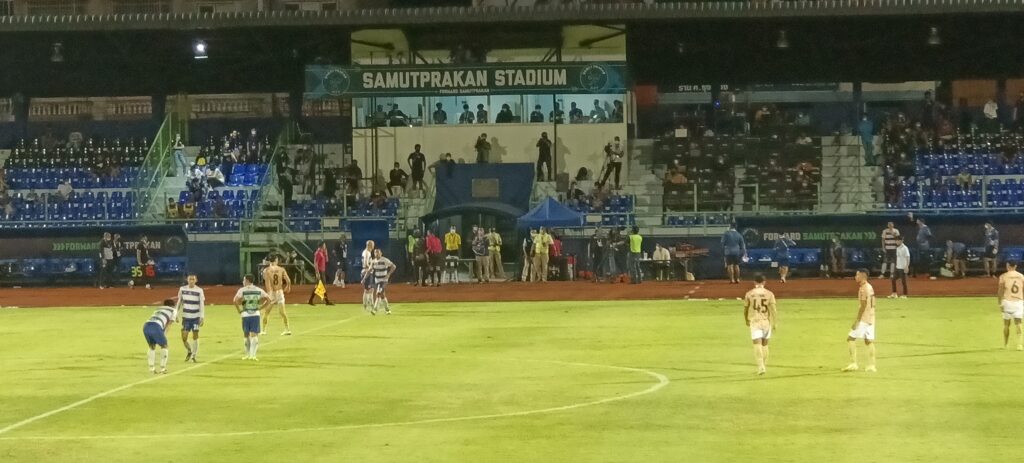 Ball was set already for penalty kick.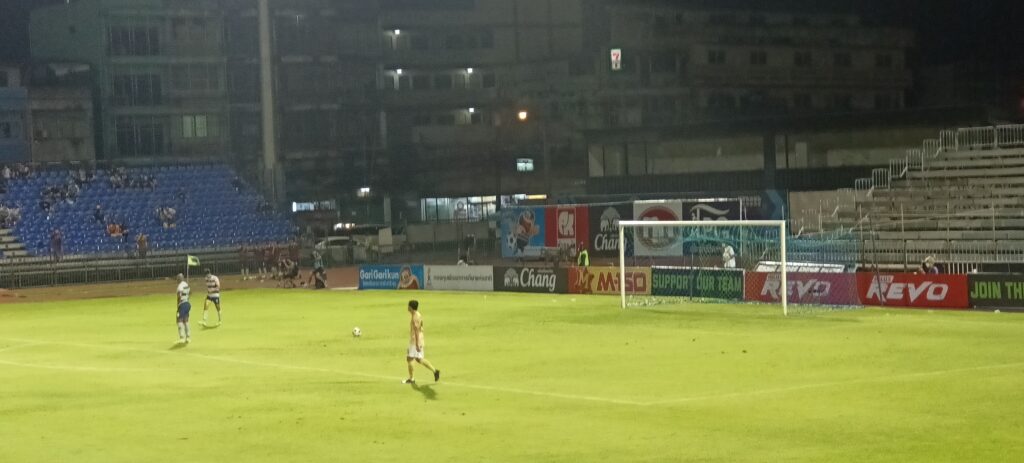 Referee came back to announce the decision.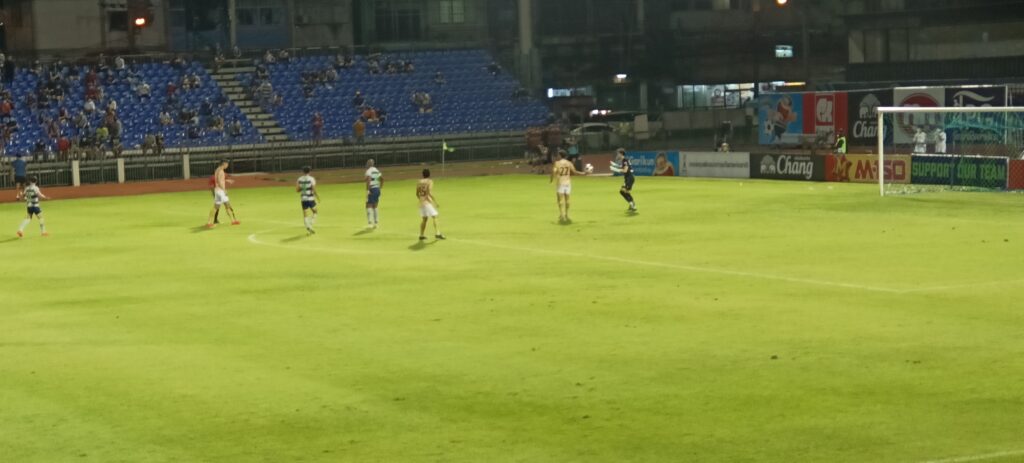 Decision was no penalty! Holy shit!! Huge booing from back stand.
Game is up. 2 – 2 for final score.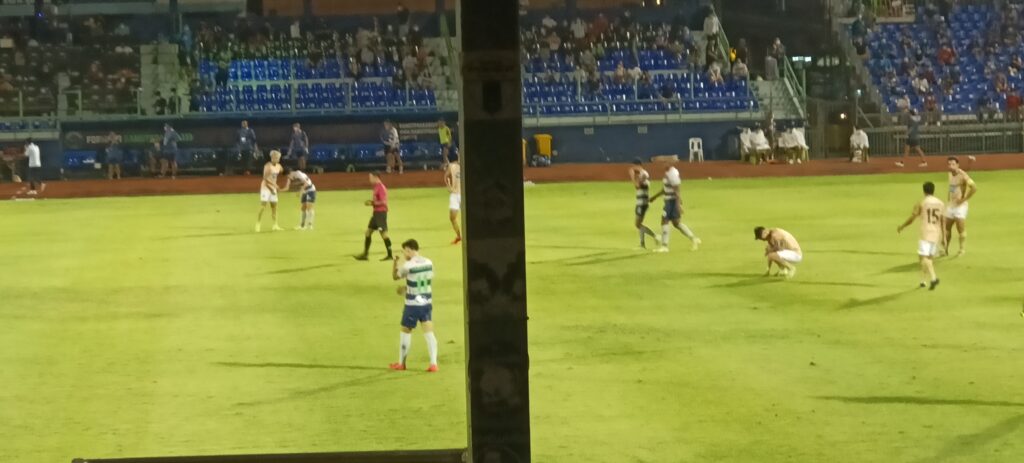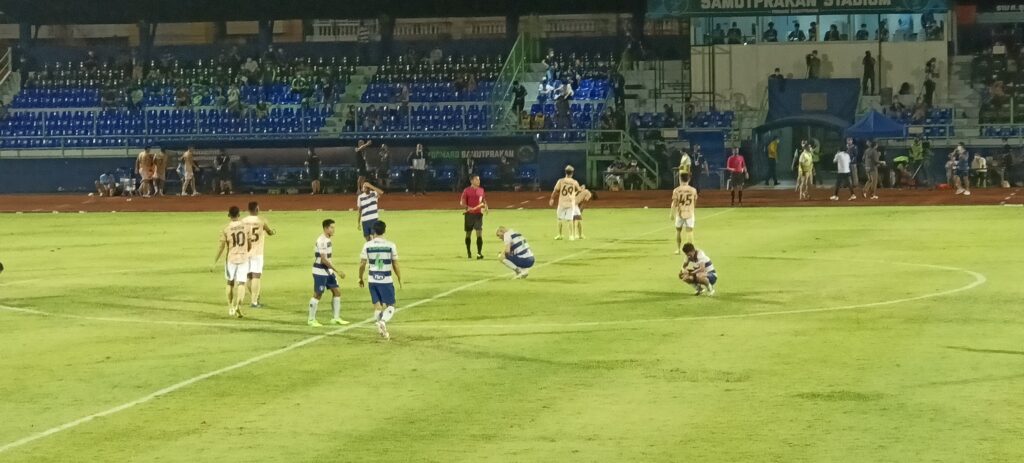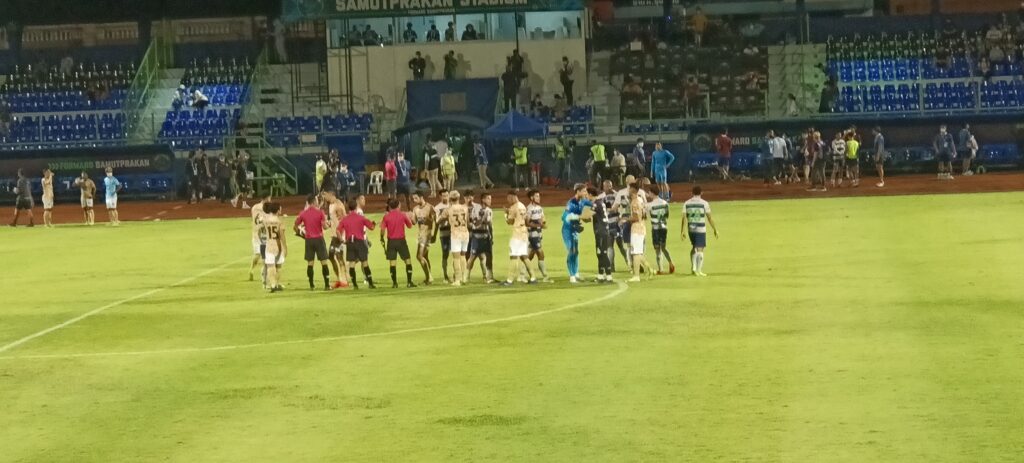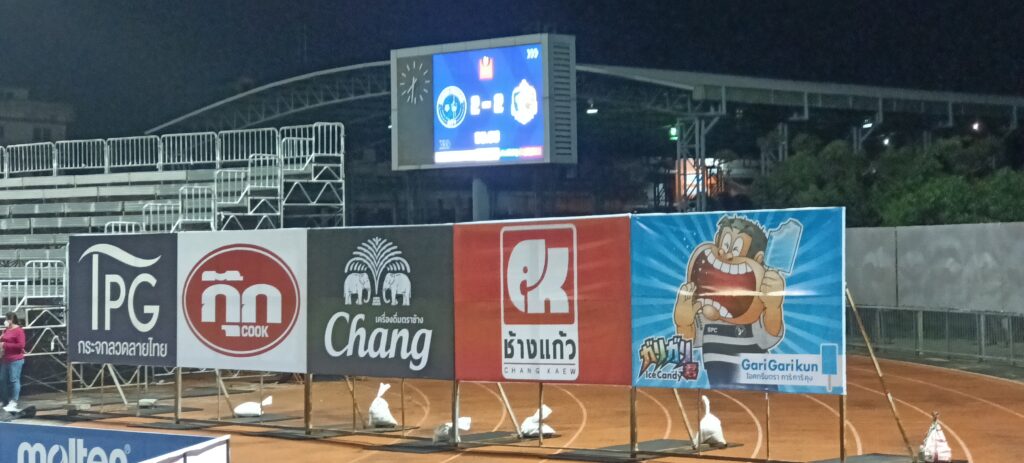 Going back to Bangkok
After the match I came back to bus stop go back to Bangkok. Since I live in Ladkrabang area, I planned to drop off at Home pro (Market place Suvarnabhumi) then take song teaw. If you would like to go back to Sukhuvit area, you can take No. 132 or 133 whichever comes first.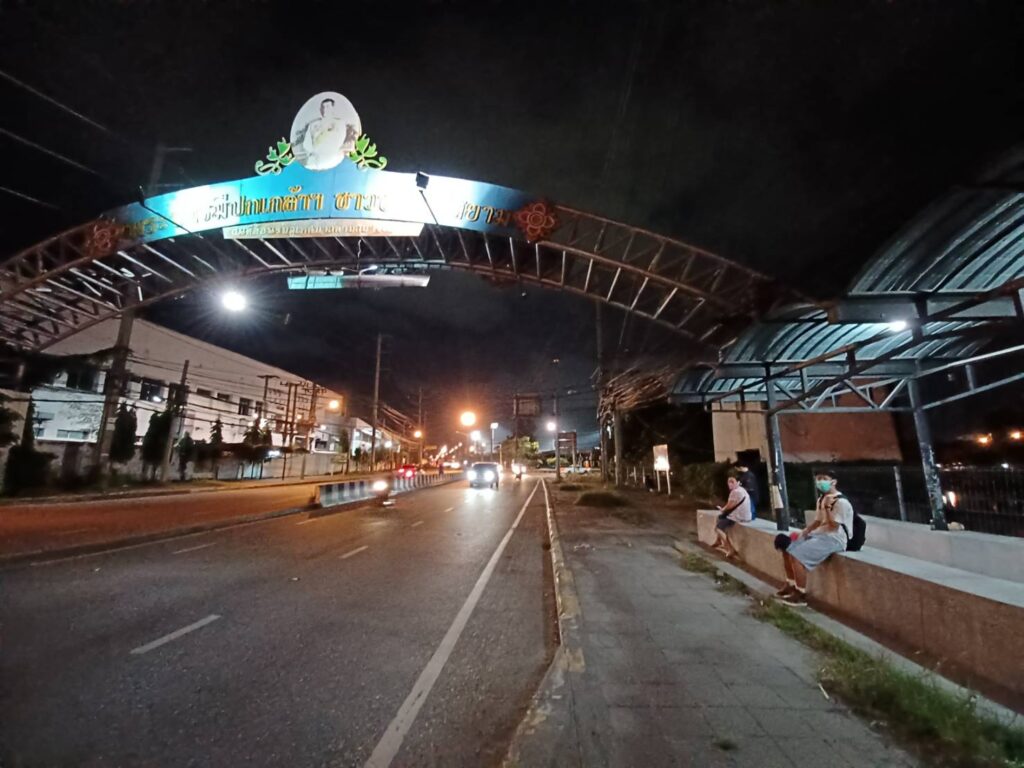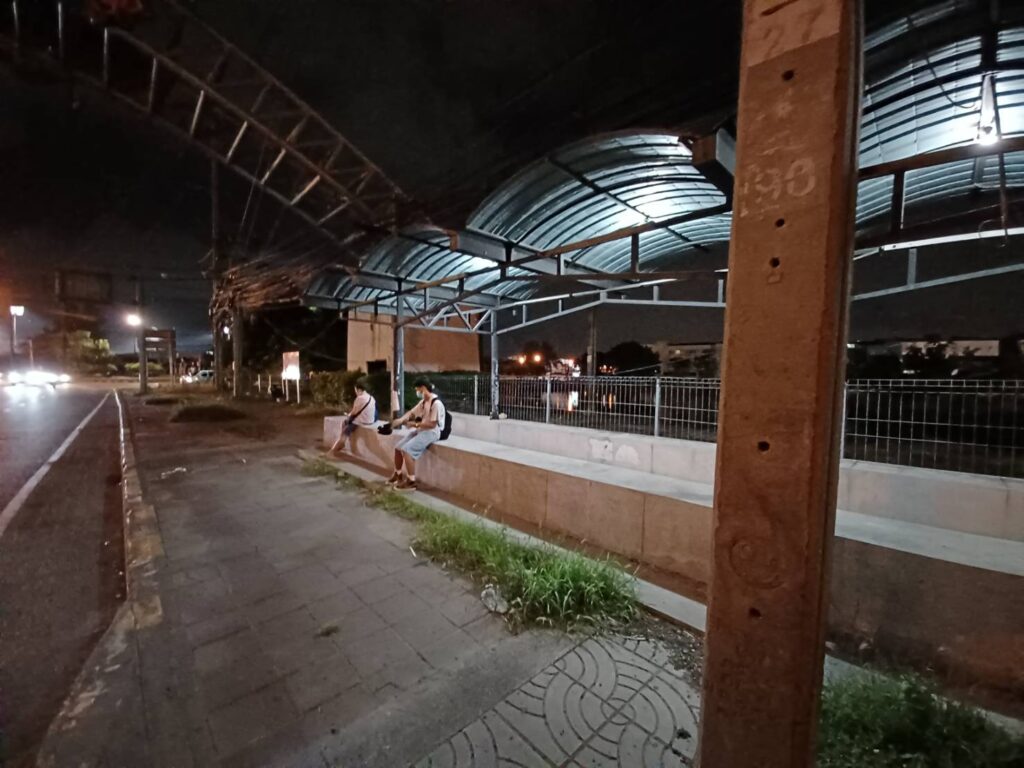 I took bus No. R26E which is going to Victory monument at last via Bangna-Trat and Srinakarin road.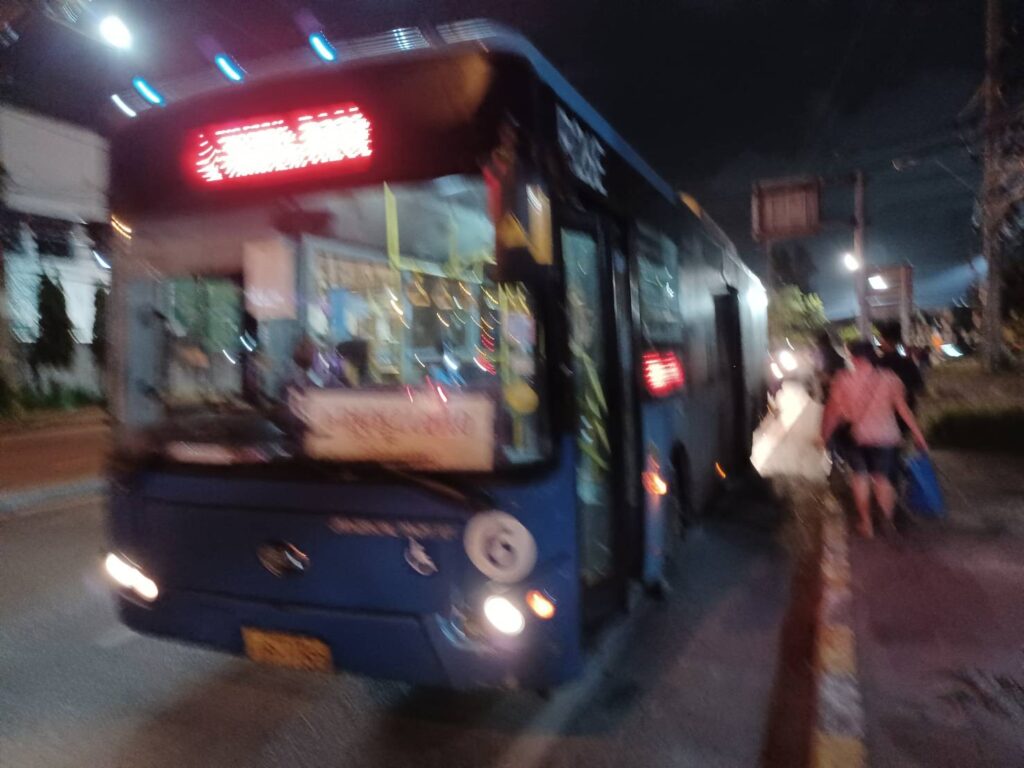 Inside the bus with aircon.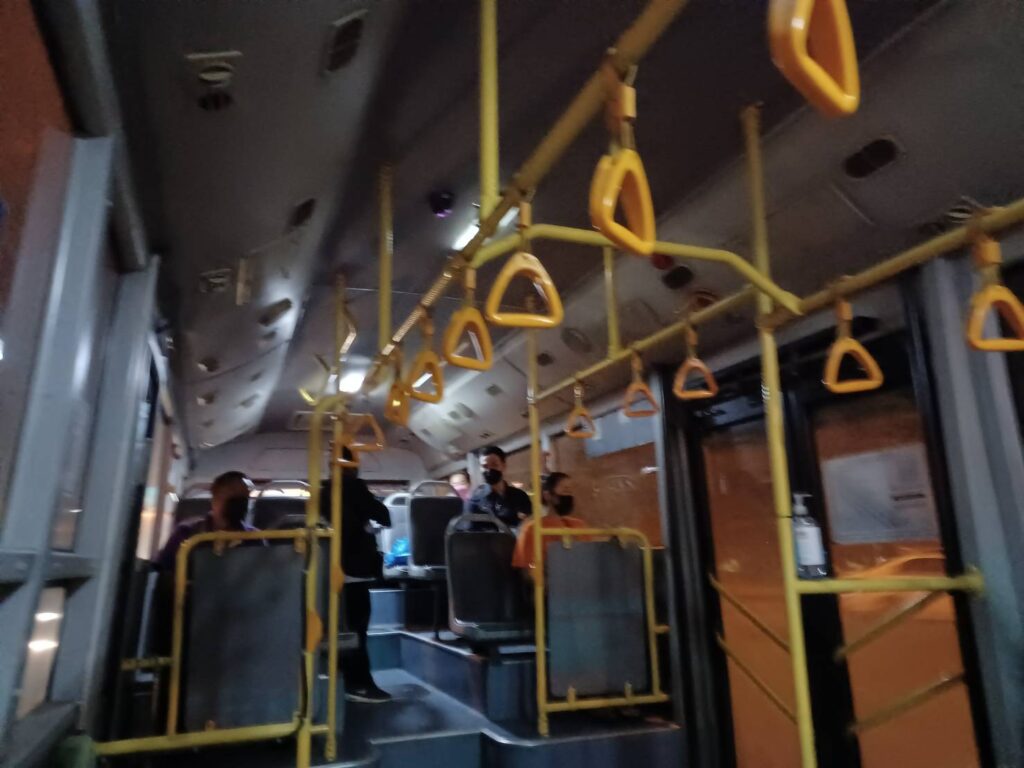 I paid 19 THB to Home pro.