Suvarnabhumi airport is main hub of Thailand and I am sure that readers well know it and use often. This time, I will show you how to move to Onnut area from Suvarnabhumi airport only 11 THB (0.3 USD). I think this is the cheapest way to go to airport from the city center.
Onnut to Suvarnabhumi airport
Onnut is located about 24km away from Suvarnabhumi airport. Onnut is getting more and more popular to live not only for Thai people but also for foreigners who works in Thailand locally. Place is convenient to commute to the city center only 20 minutes to Asok and 30 minutes to Siam by BTS sky train.
There are various shopping options such as Big C, Tesco Lotus, Century mall and so on. You can easily find housing such as condominium and apartment. Condominium monthly fare starts around 10,000 THB (300 USD only) for one bed room with gym and pool facilities. Apartment is much cheaper, studio room costs around 5,000 THB per month.
Other transportation choices to Suvarnabhumi airport
Before introducing 11 THB way, I show here other transportation option.
Taxi 200 – 250 THB (30 minutes)
Taxi is the most convenient way from door to door to go. Make sure that driver opened  the meter so as not having trouble when arriving for fare.
BTS + ARL 89 THB (1 hour)
Taking train trip is also not bad for cost and time spent. You can take BTS skytrain from Onnut to Phaya thai (44 THB) then change to Airport rail link (45 THB)
Minivan can be taken from Onnut Tesco Lotus to Airport. If you have luggage to bring in, you might pay additional fee for space.
Going to Suvarnabhumi airport by only 11 THB
Next is the main topic of this article about how to go to Suvarnabhumi airport by 11 THB only.
Bus No. 1013 + Airport shuttle route C (11THB)
Tips to go by 11 THB only is to take bus early in the morning from 4am to 6am. During this time only, bus operates by non aircon bus which costs only 11 THB while 20 THB for aircon bus day and night time.
Bus goes to Hua tahke from Onnut in front of Big C. To change bus to Airport free shuttle, please drop off at Suvarnabhumi market (Tarat Suvarnabhumi).
Take bus No. 1013 from Onnut
Bus stop to Suvarnabhumi market is on Onnut road near Big C Extra. Next to Big C Extra, you will see high tall condominium "NightsBridge", bus stop is opposite of this condominium.
From Sukhumvit road, walk along Onnut road then pass Big C Extra.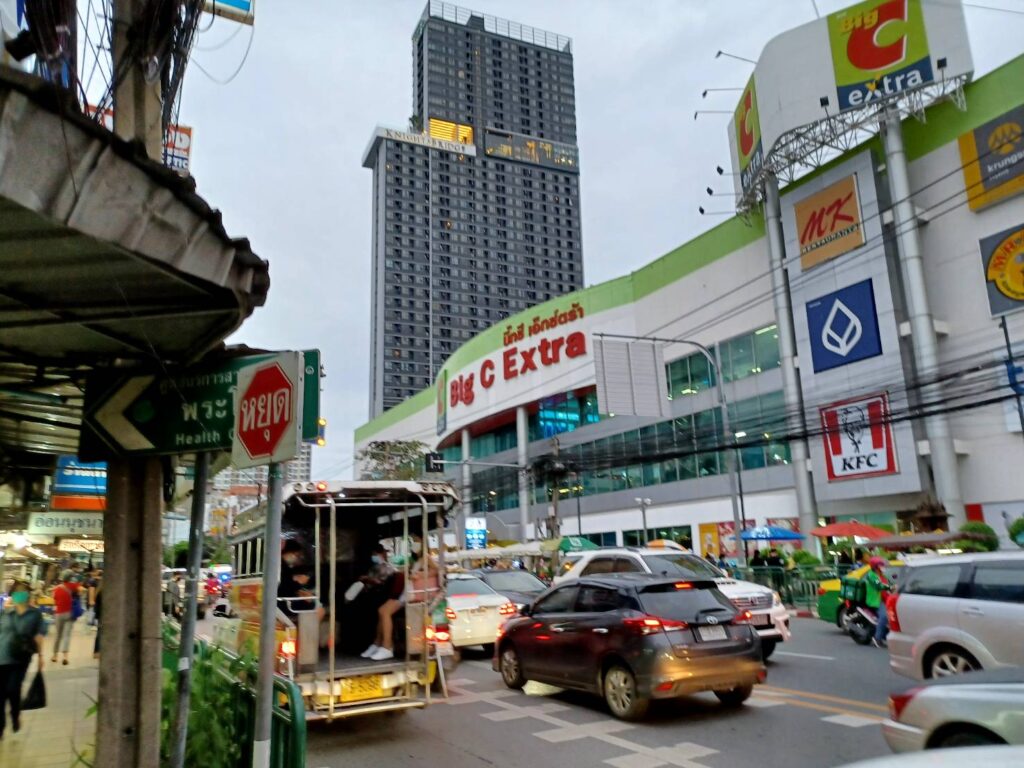 Bus stop is in front of Blocs 77 condominium, and opposite side of NightsBridge.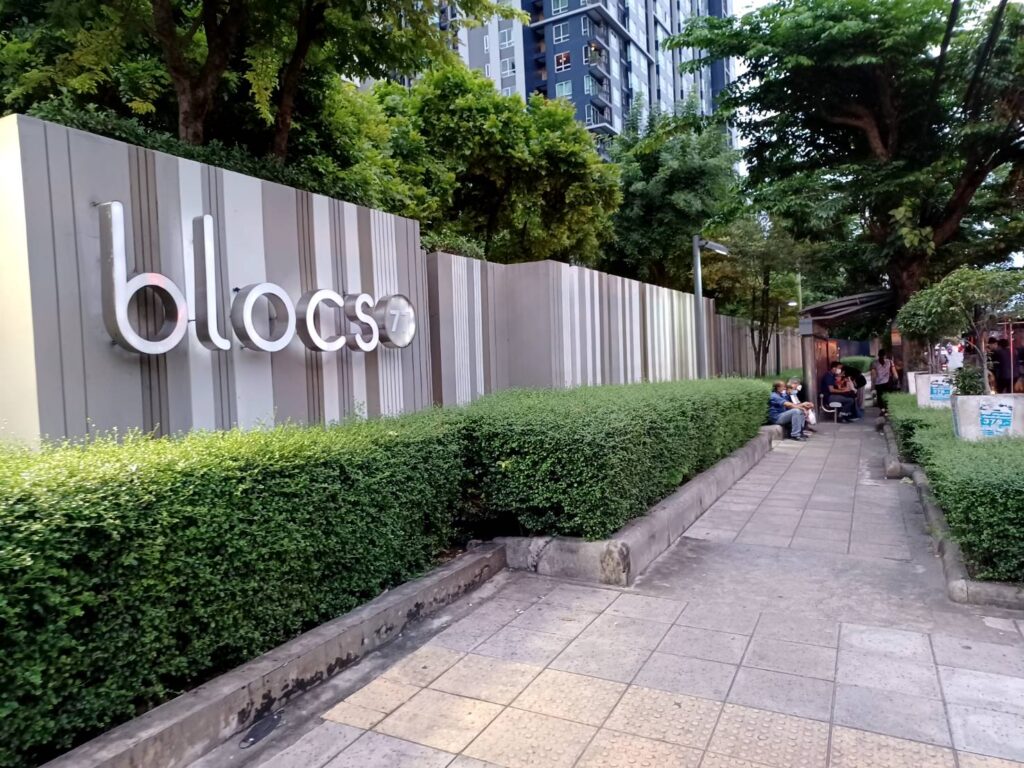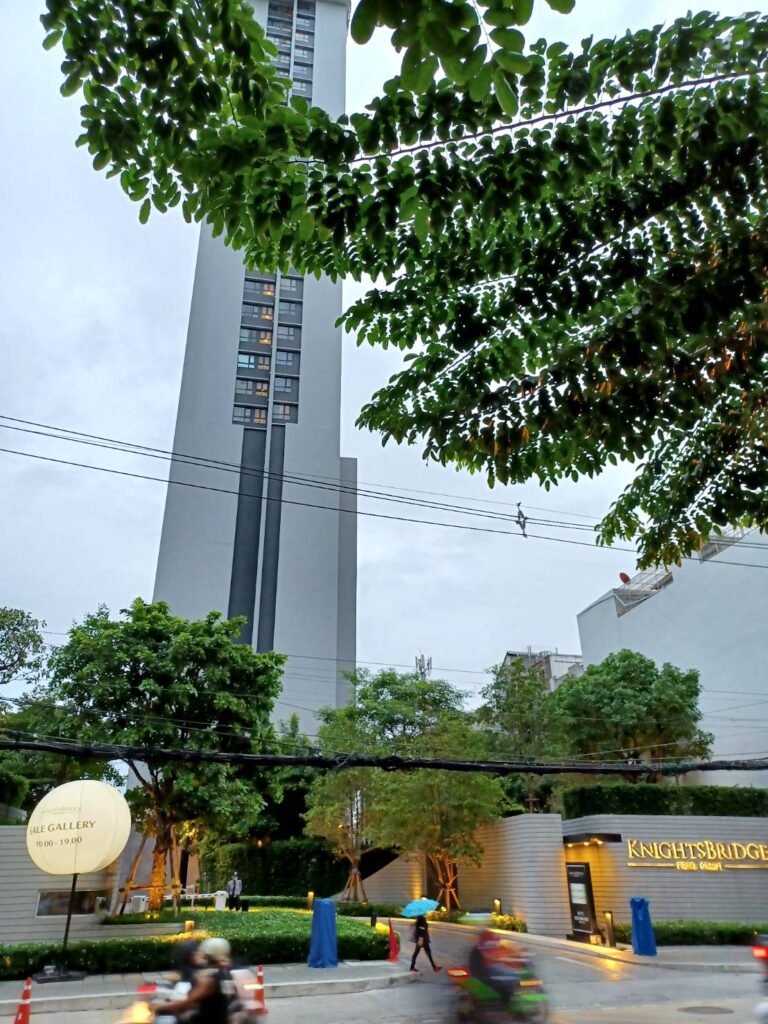 Bus stop in Onnut.
Bus guide map at bus stop.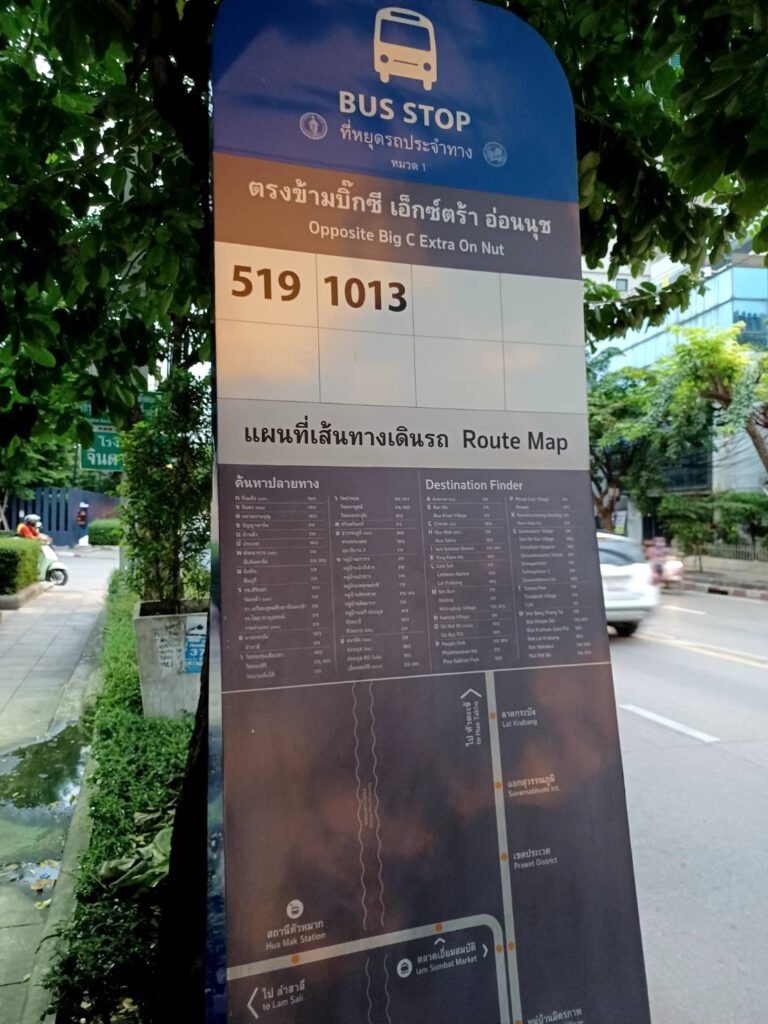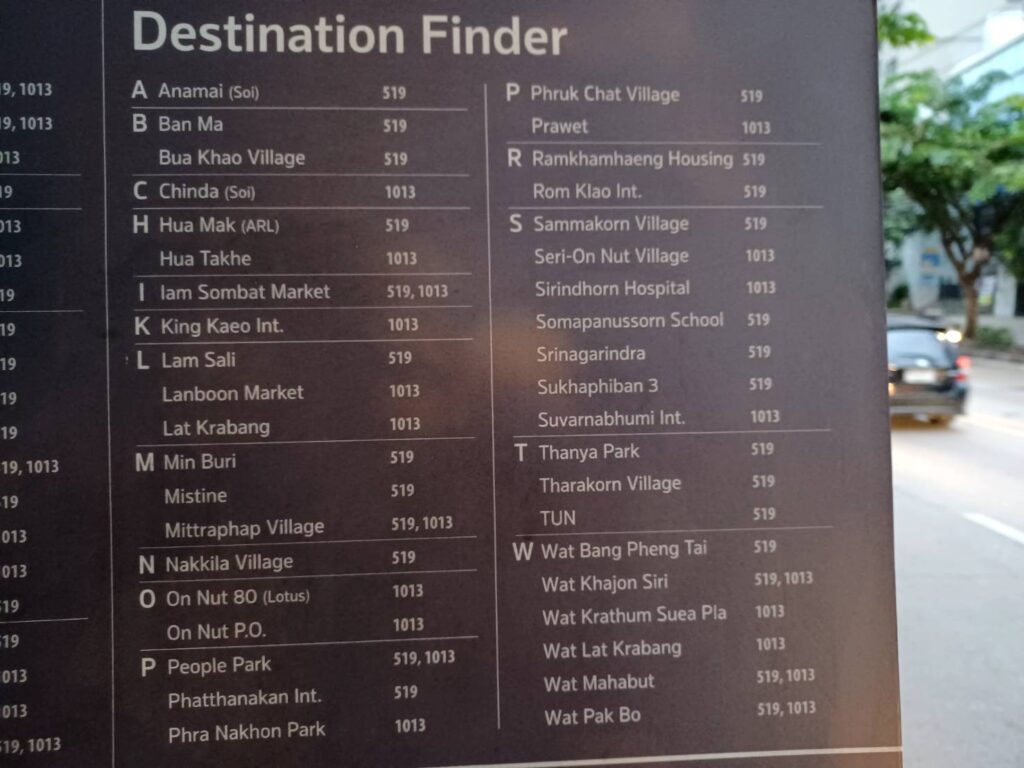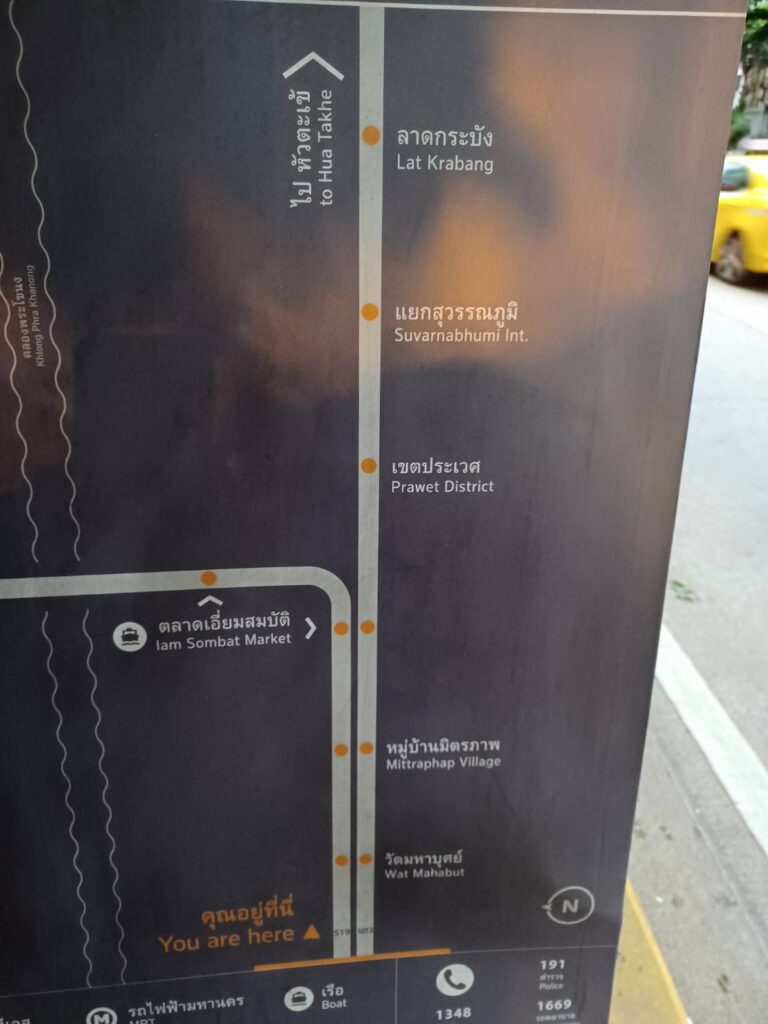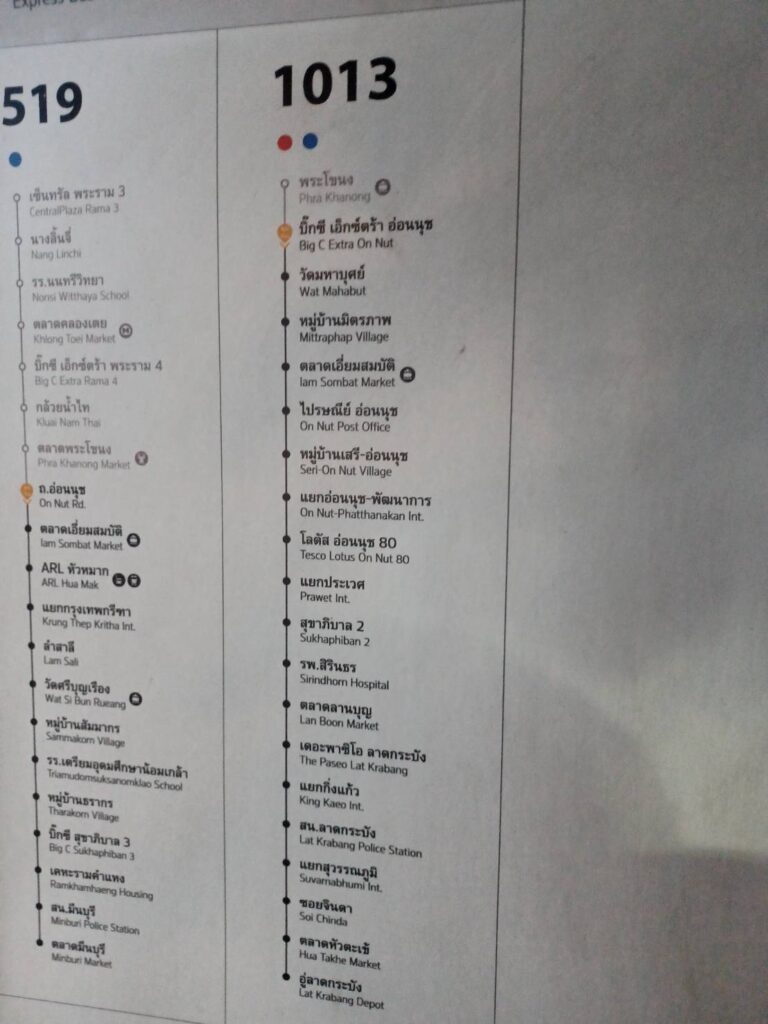 Bus operation is around every 20 – 30 minutes. As I mentioned, only early morning time, they have non aircon bus while other after 6 am, aircon bus will serve you to Hua Takhe.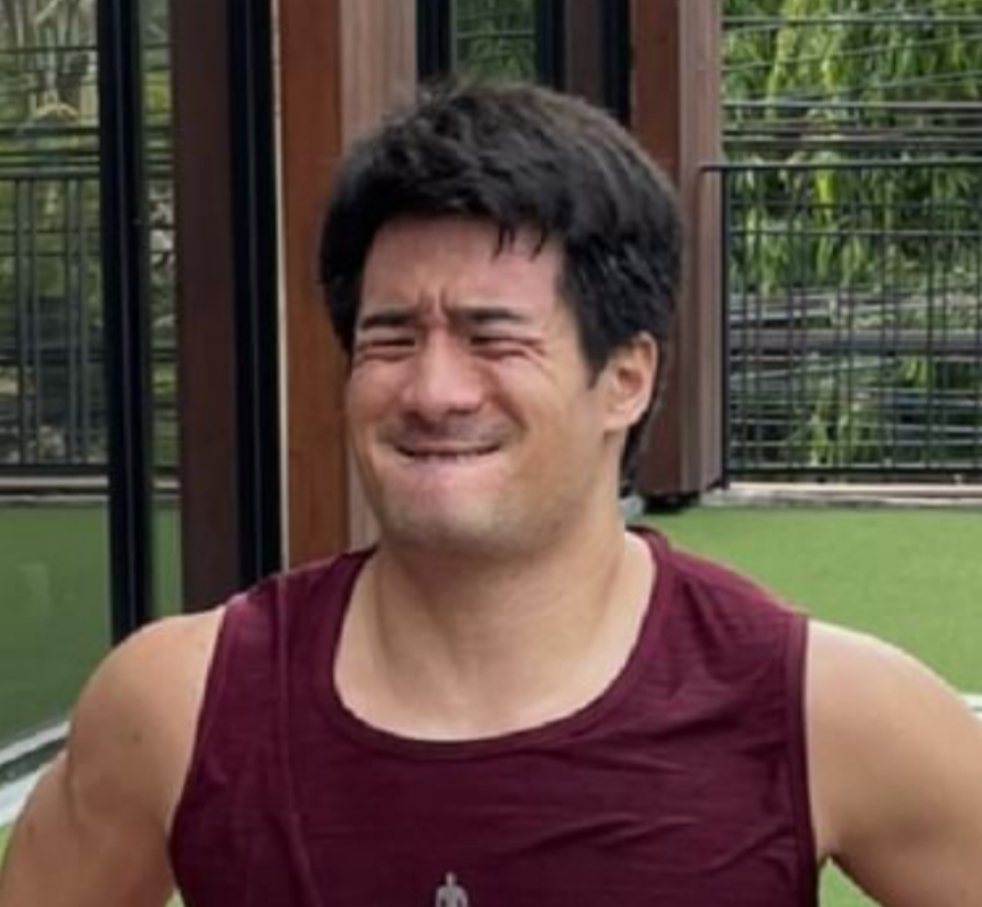 I saw non-aircon bus No. 1013 is operating at 8 am and 2 pm on Saturday. It seems recently they are increasing the operation of non-aircon bus!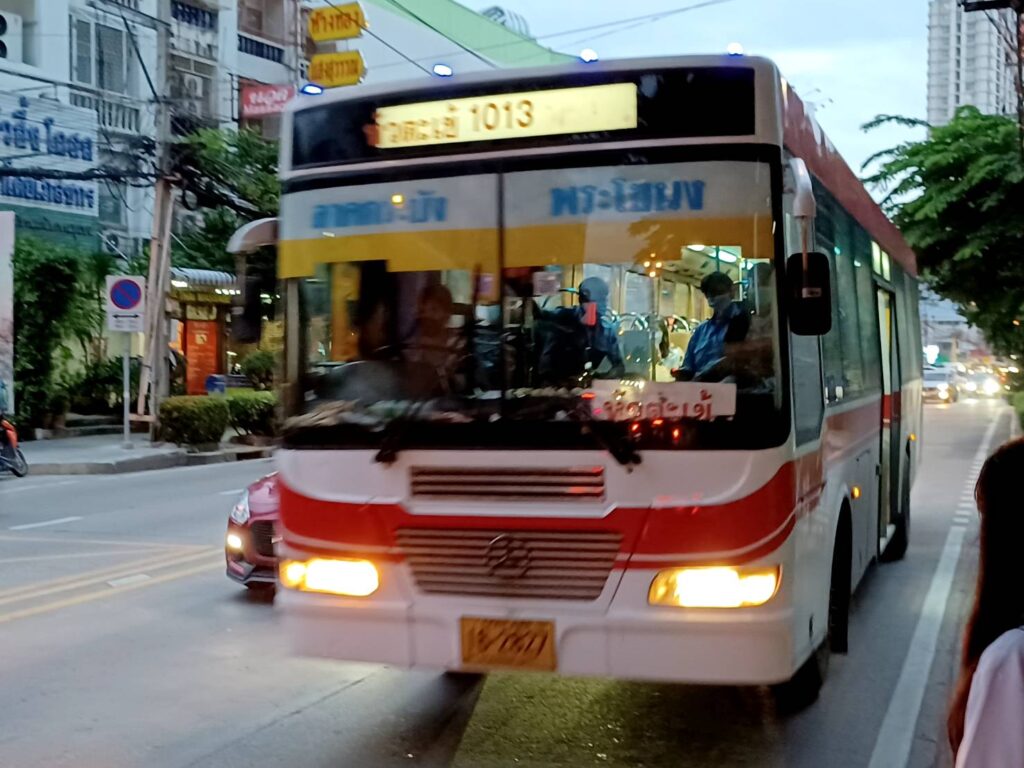 Inside the bus, you can also bring suite case or big stuff with you. You may ask bus conductor to put near driver seat or you can keep it with you on the isle.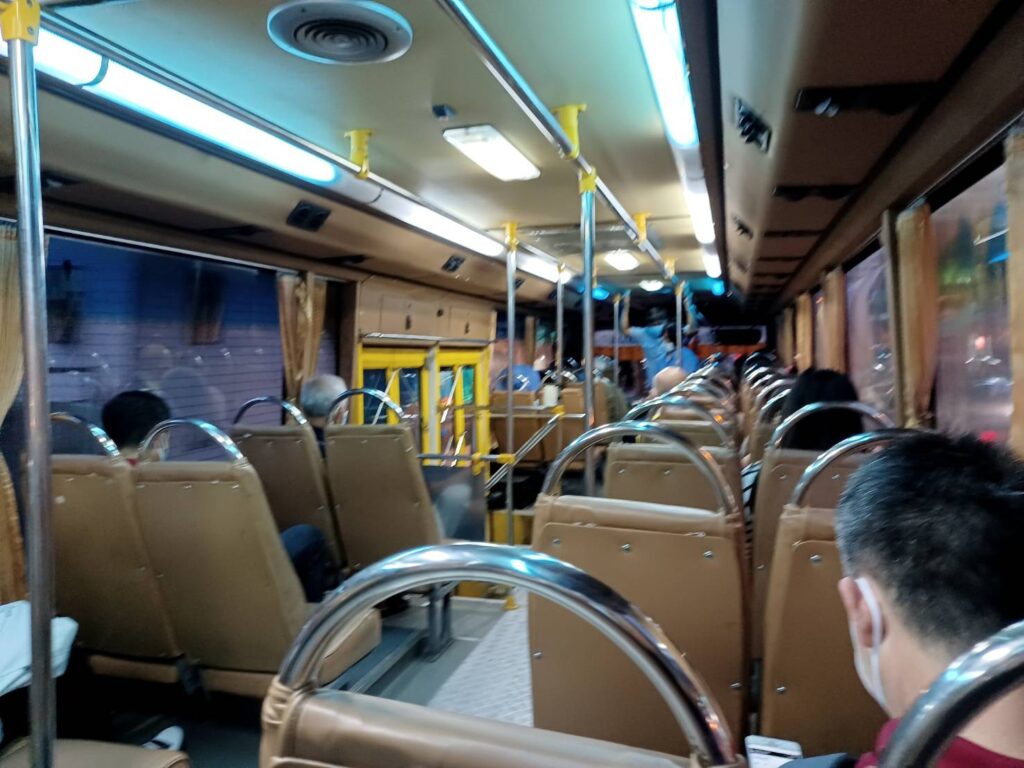 Bus goes straight from Onnut road to Lad krabang road around 40 minutes to Suvarnabhumi market bus stop. Below is the bus stop that you need to get off from the bus to change to airport shuttle.
Bus stop is in front of Milk land store.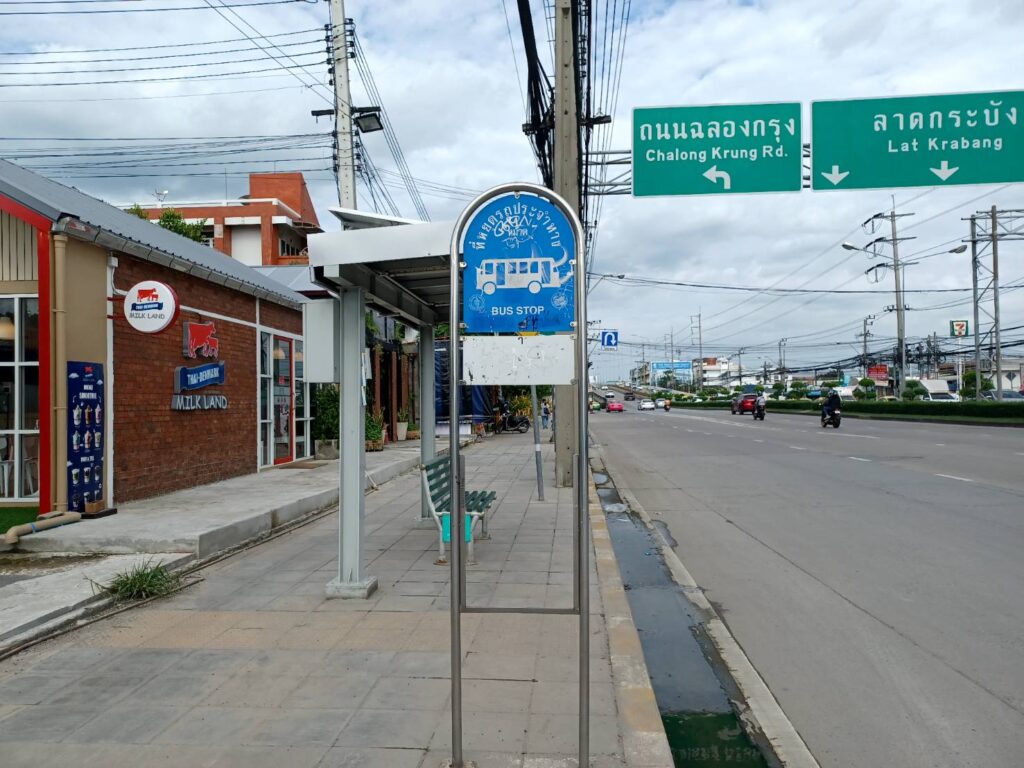 Once reached at bus stop, go back to the way you have been a bit then walk on the cross road to other side.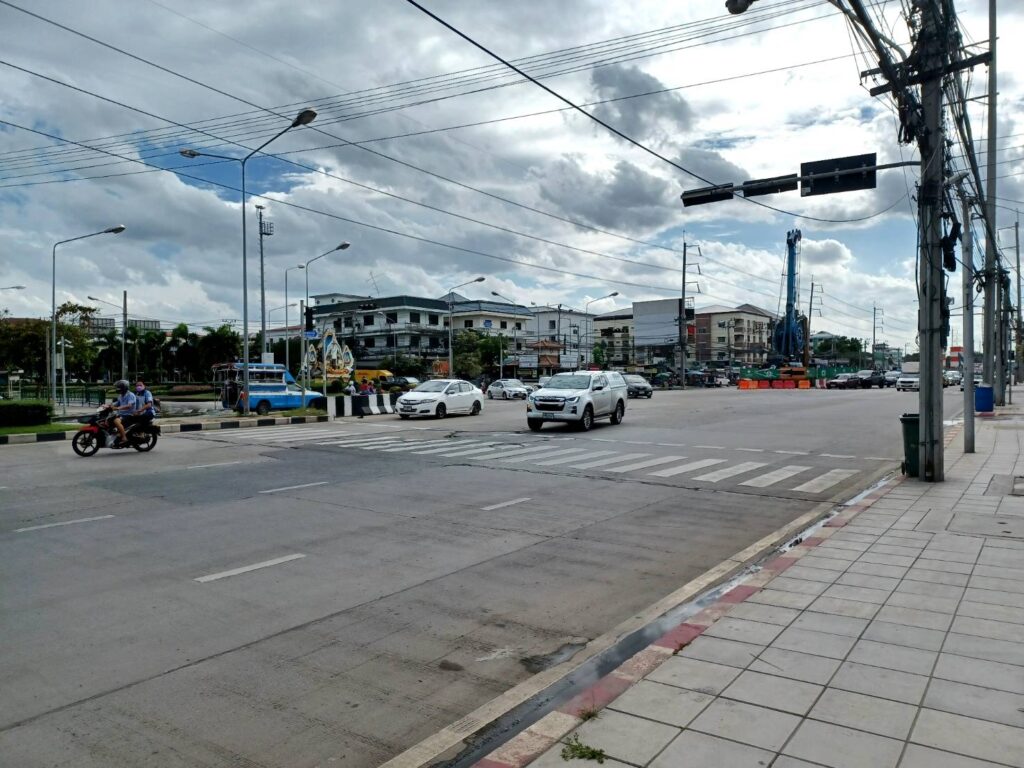 After 200m walking straight, you will see this tent bus stop for airport shuttle bus. Airport shuttle route C comes every 15 minutes here to bring airport and airline staff to bring to airport and neighboring building for work. Bus is mainly used for such staff at the airport but anybody can use for free to go to airport. I use this bus many times but seldom see person who looks like traveler like me so you can feel something awkward surrounded by staff with uniform, haha.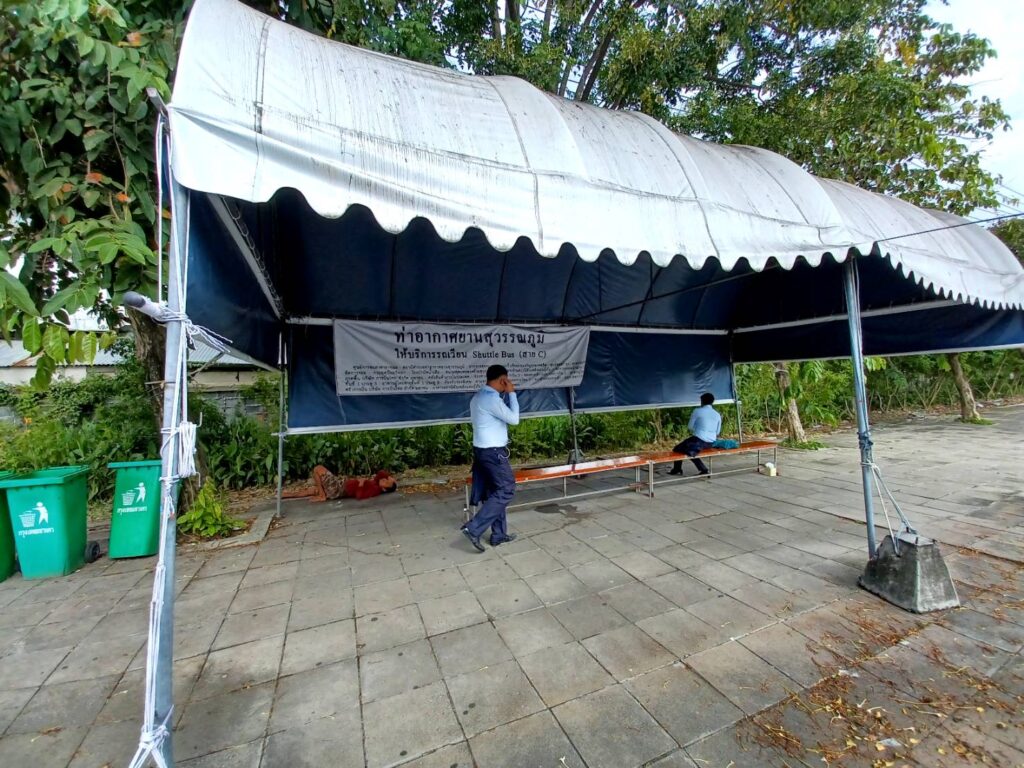 Airport shuttle C comes every 15 minutes.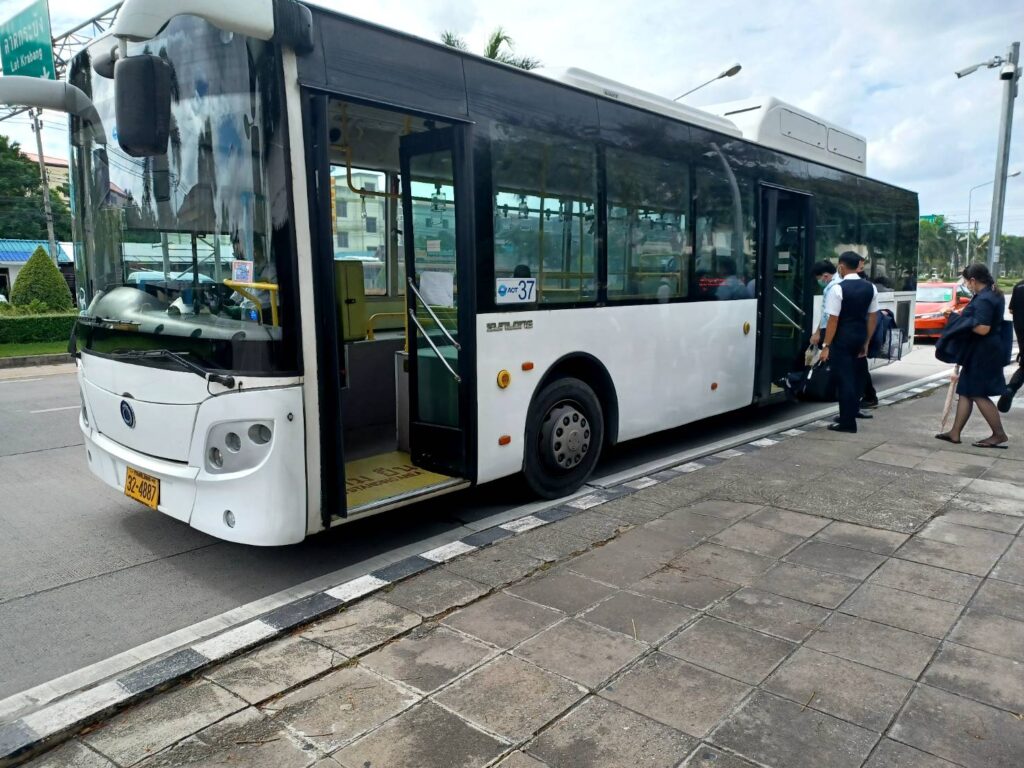 There is luggage space also inside.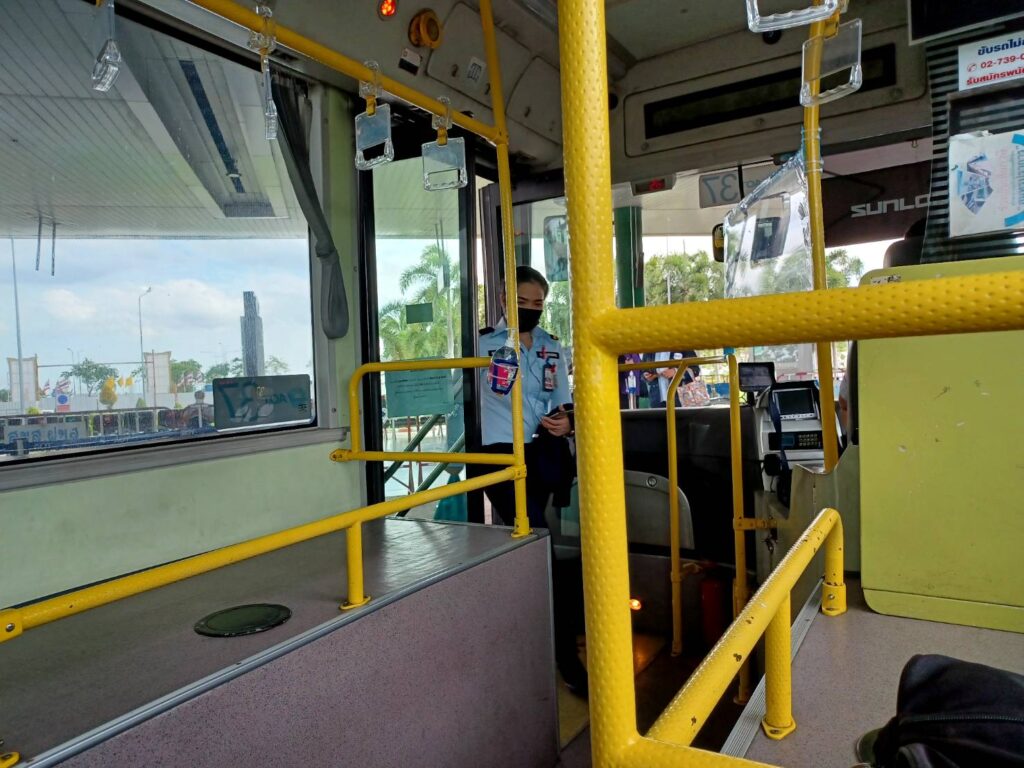 Airport bus route C is crowded every time with airport workers. Maybe below picture is other airport shuttle route.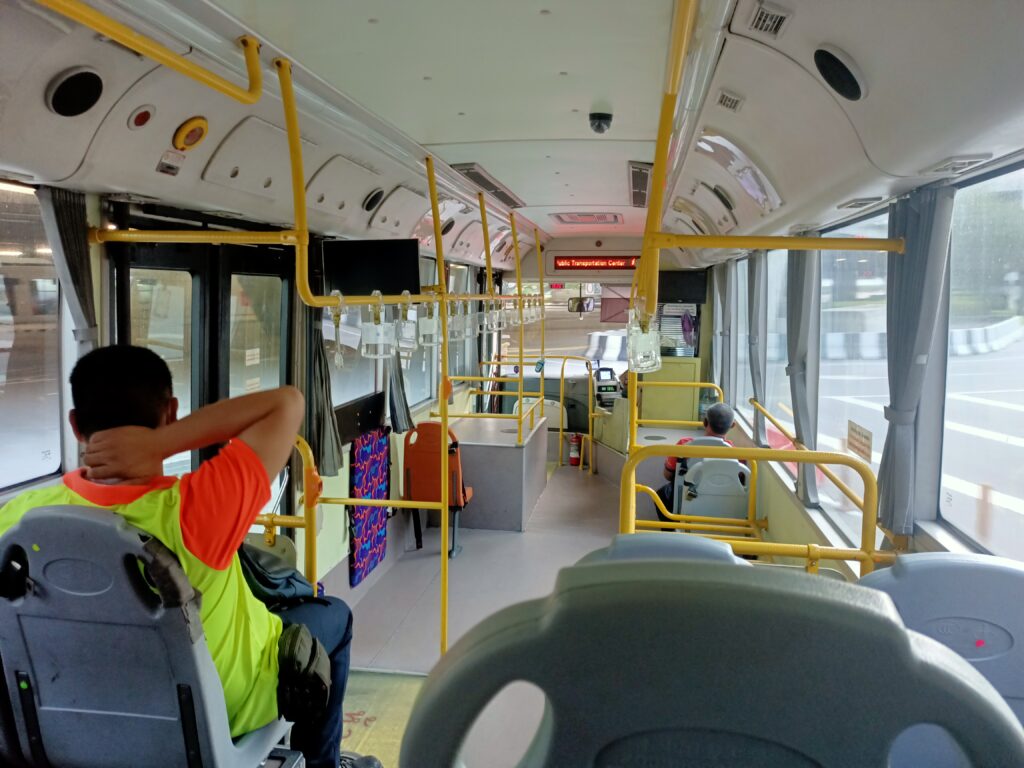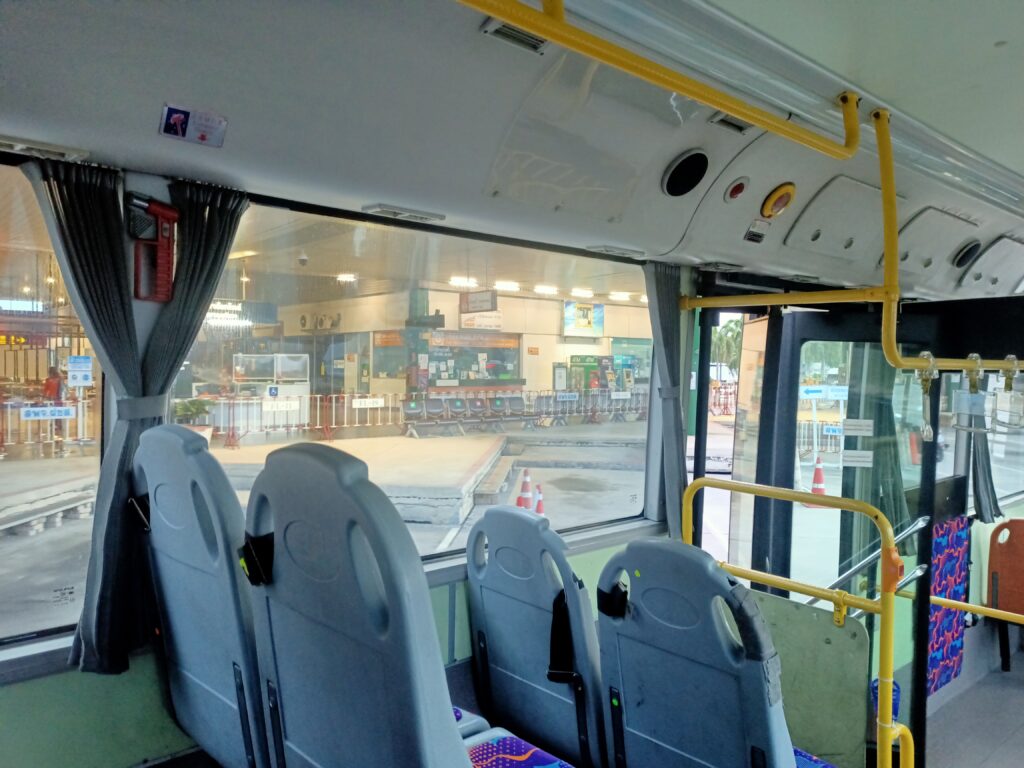 With only 10 minutes, airport shuttle bus arrives at Suvarnabhumi airport ground floor.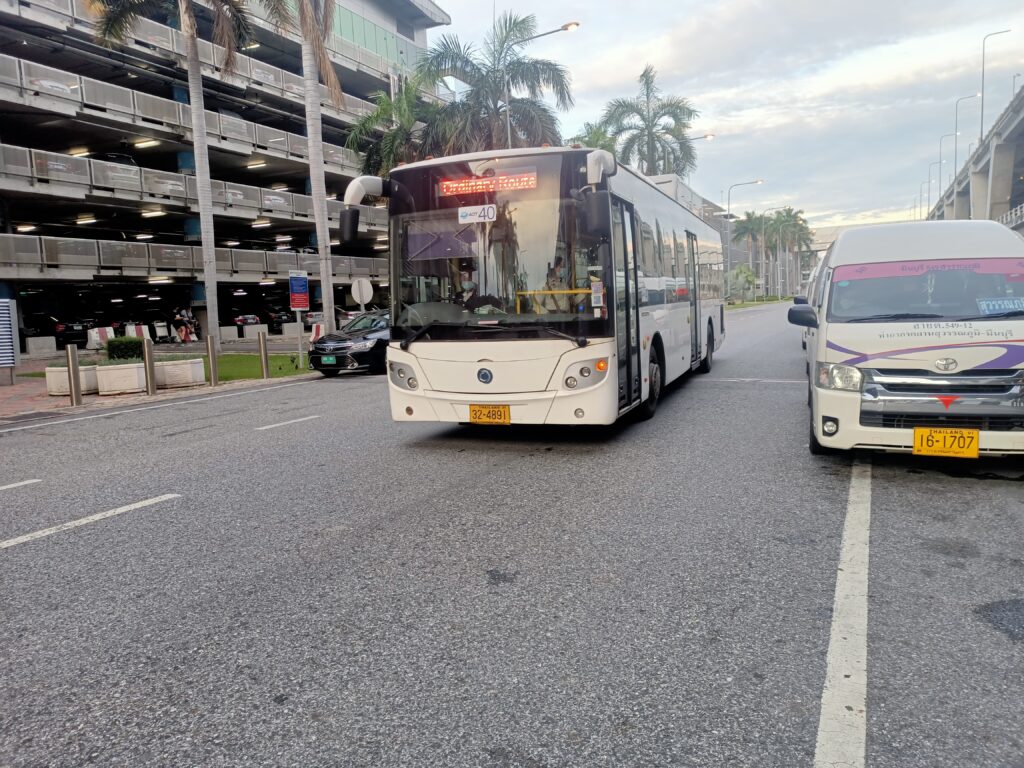 This tent is waiting area for airport shuttle bus. when you go to Onnut from Suvarnabhumi airport, you can take shuttle bus here.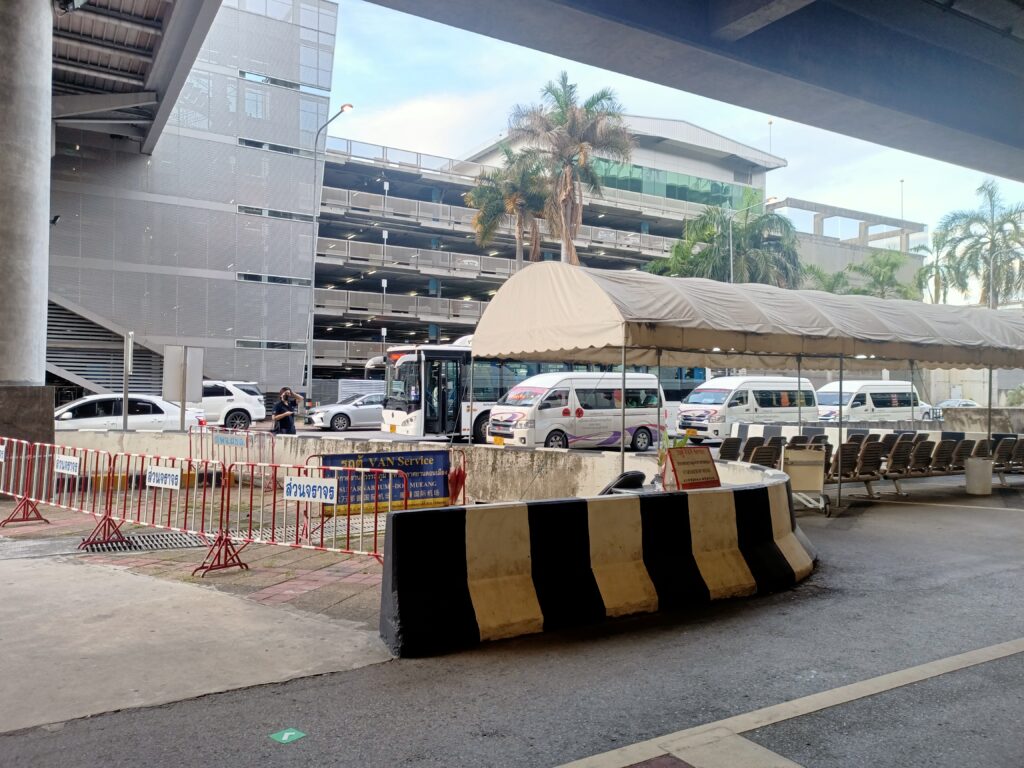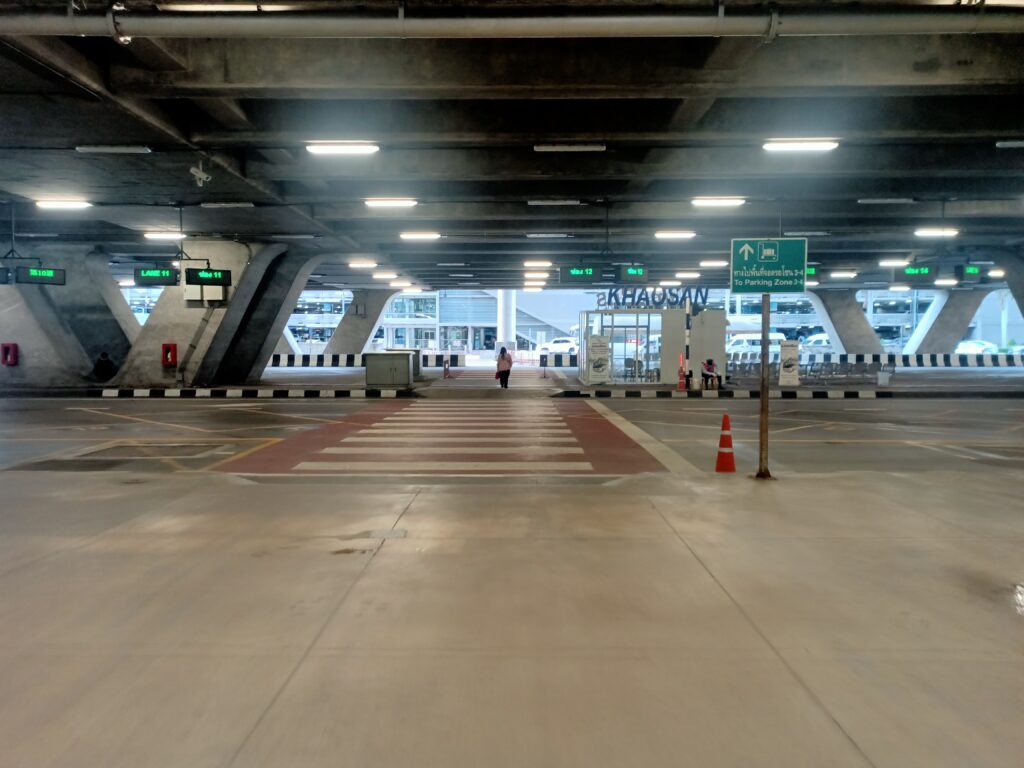 Way to airport building.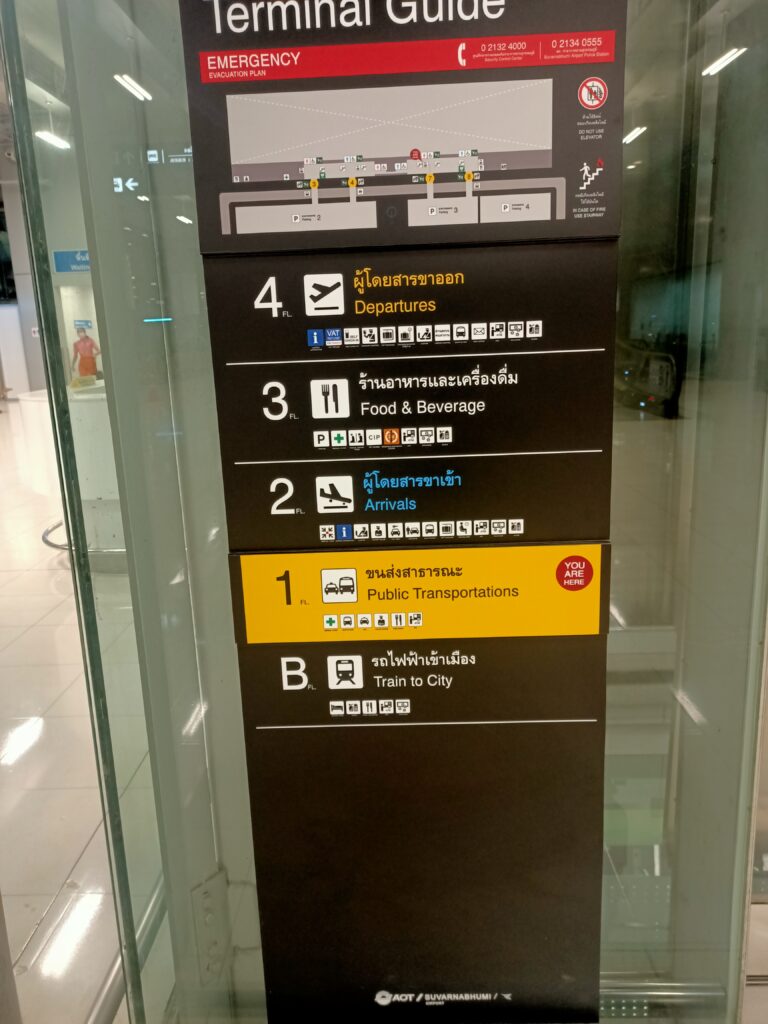 Full of cancellation of international flights during Covid spreading time!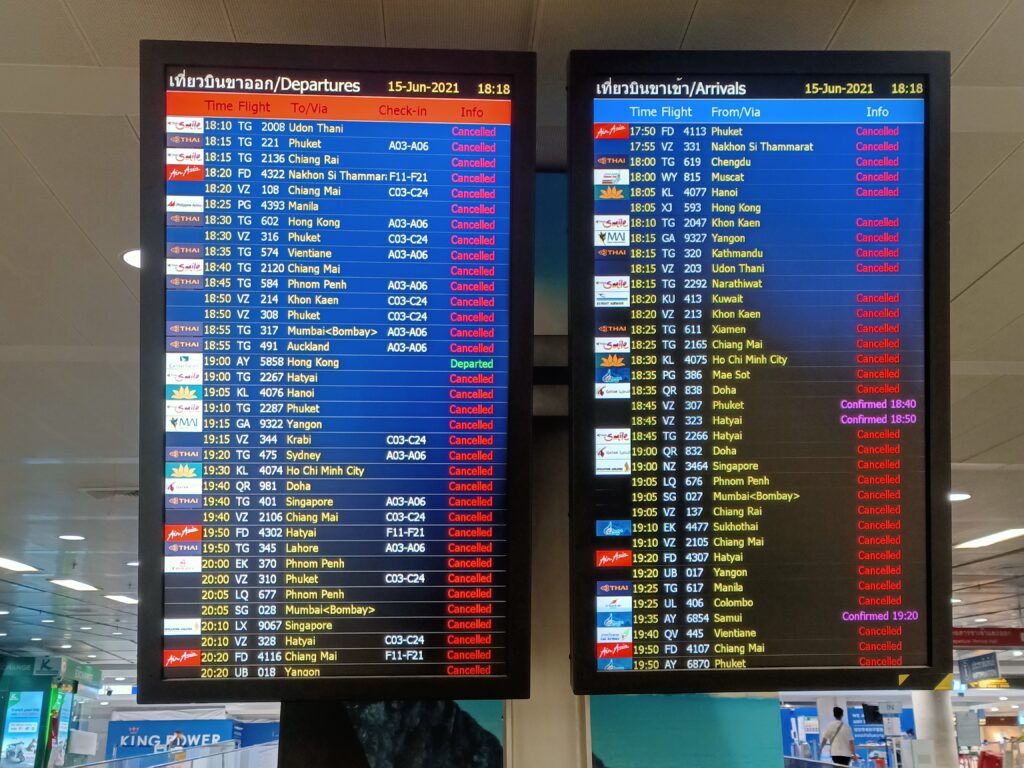 When entering the airport building, you need to go through temperature checking.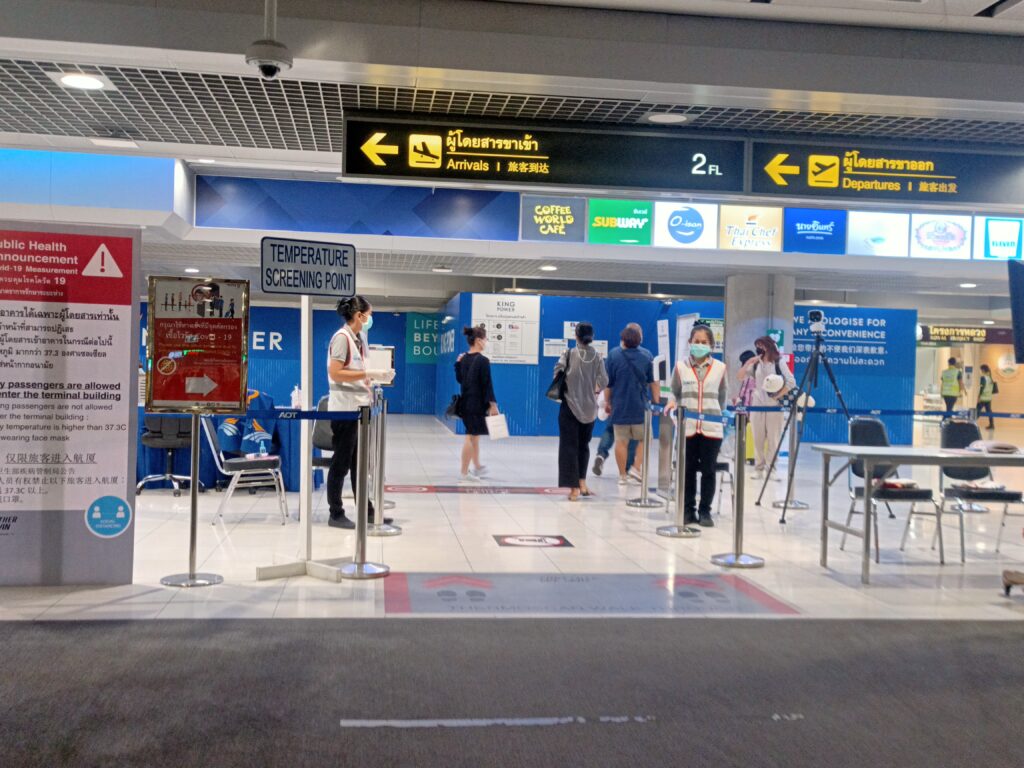 Once entered airport building, you will see several bus counters. All closed as of Jun 2021.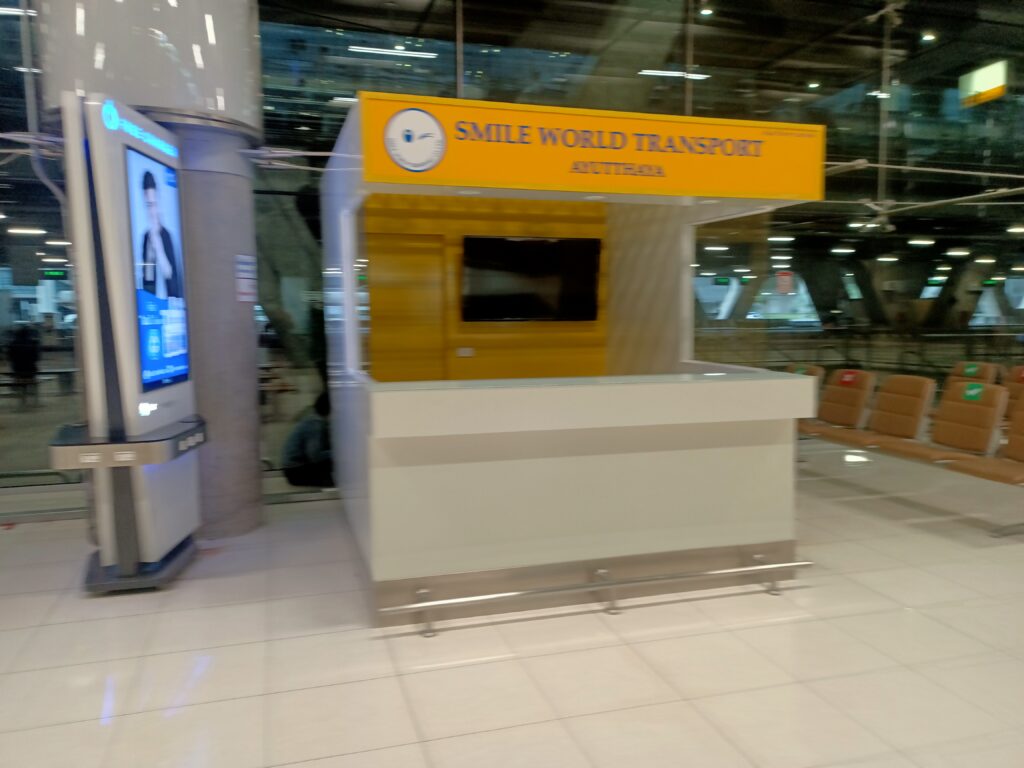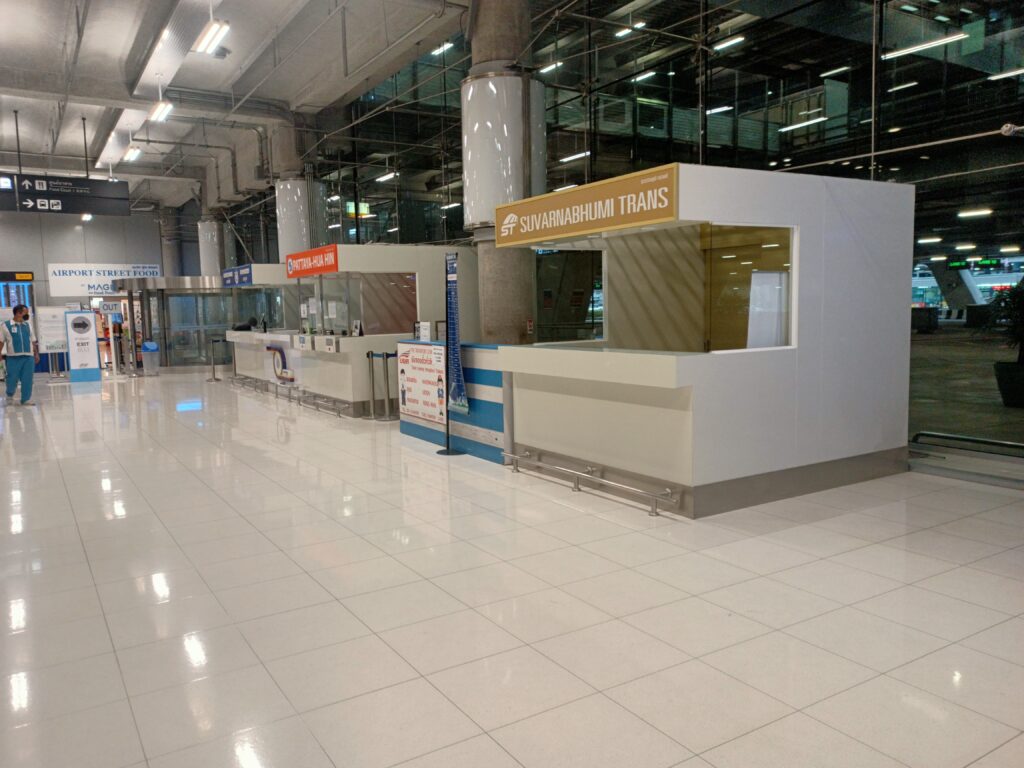 It mentions that Pattaya and Hua Hin route service resumes from July but actually they didn't.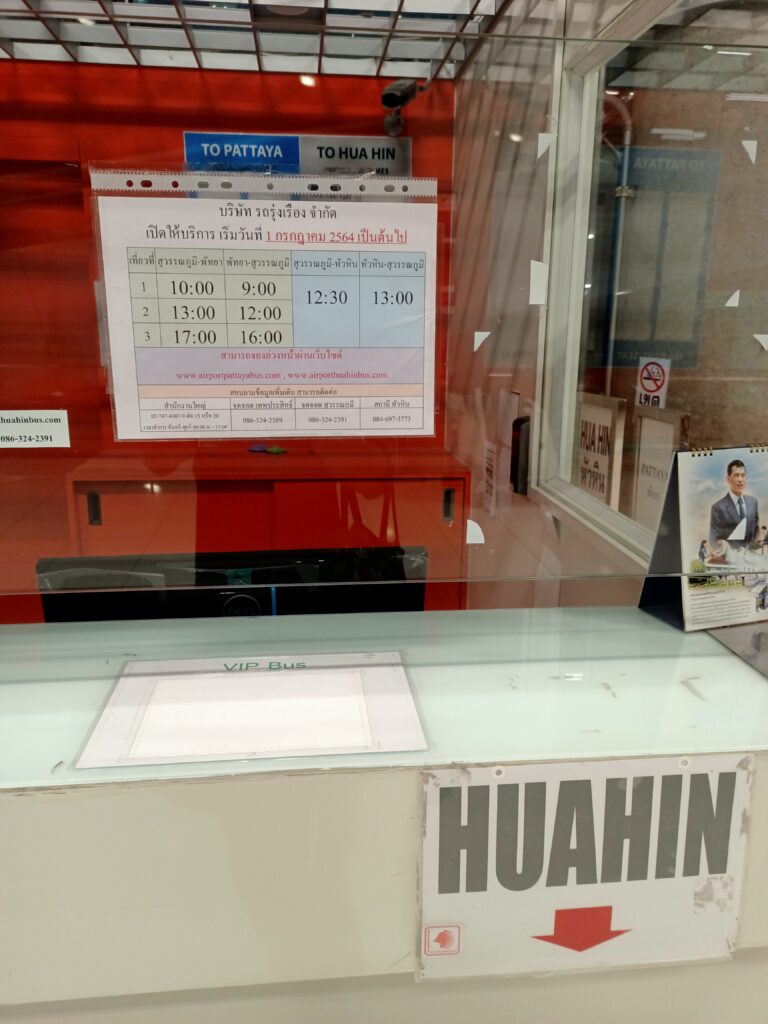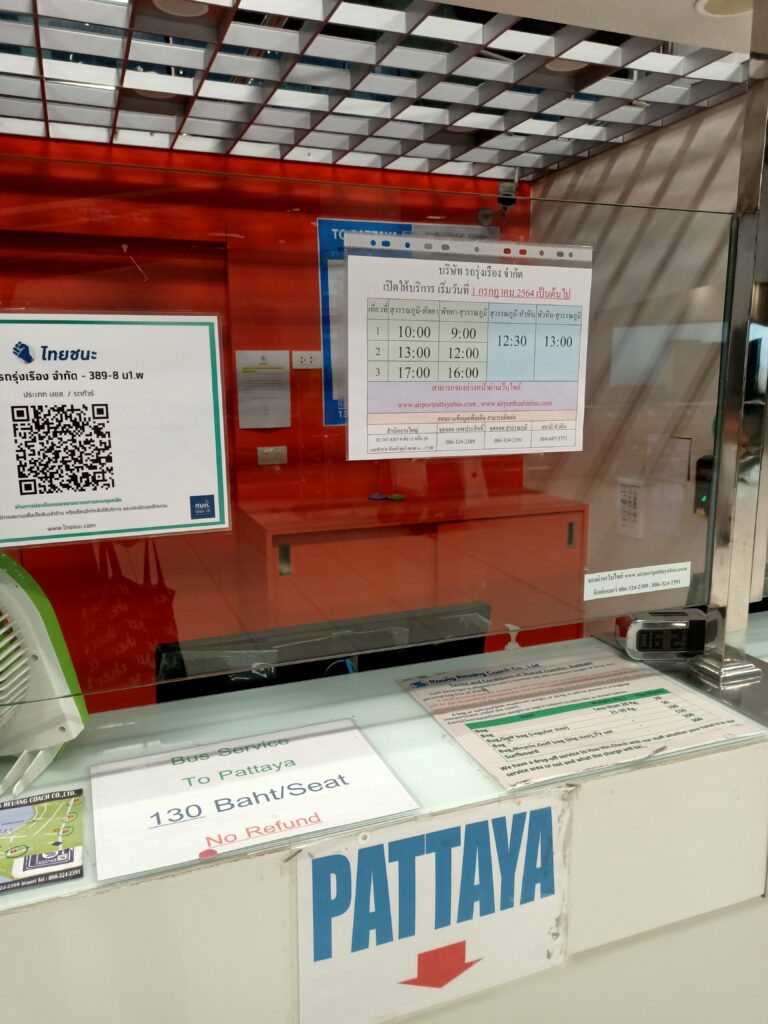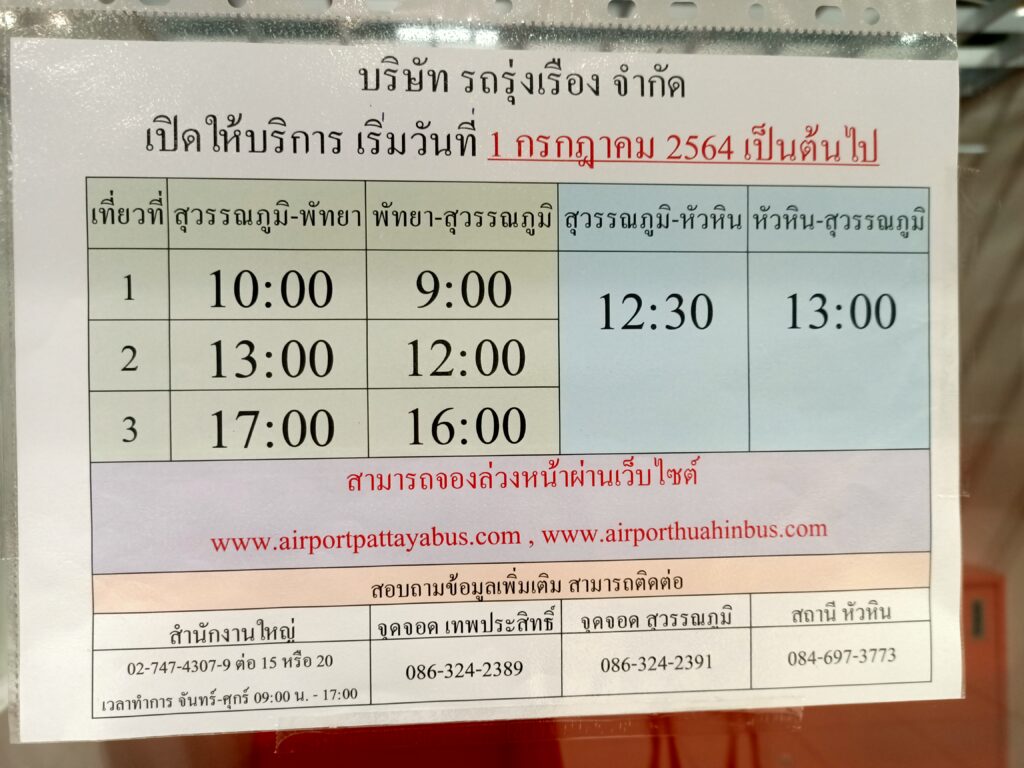 From Suvarnabhumi airport to Onnut.
Please let me mention reverse trip from Suvarnabhumi to Onnut. At airport, Take airport shuttle bus at ground floor after you exit from gate 8. There are several routes for shuttle bus services but eventually all will cease operation at Suvarnabhumi bus center. At bus center, you need to take route C bus as coming trip.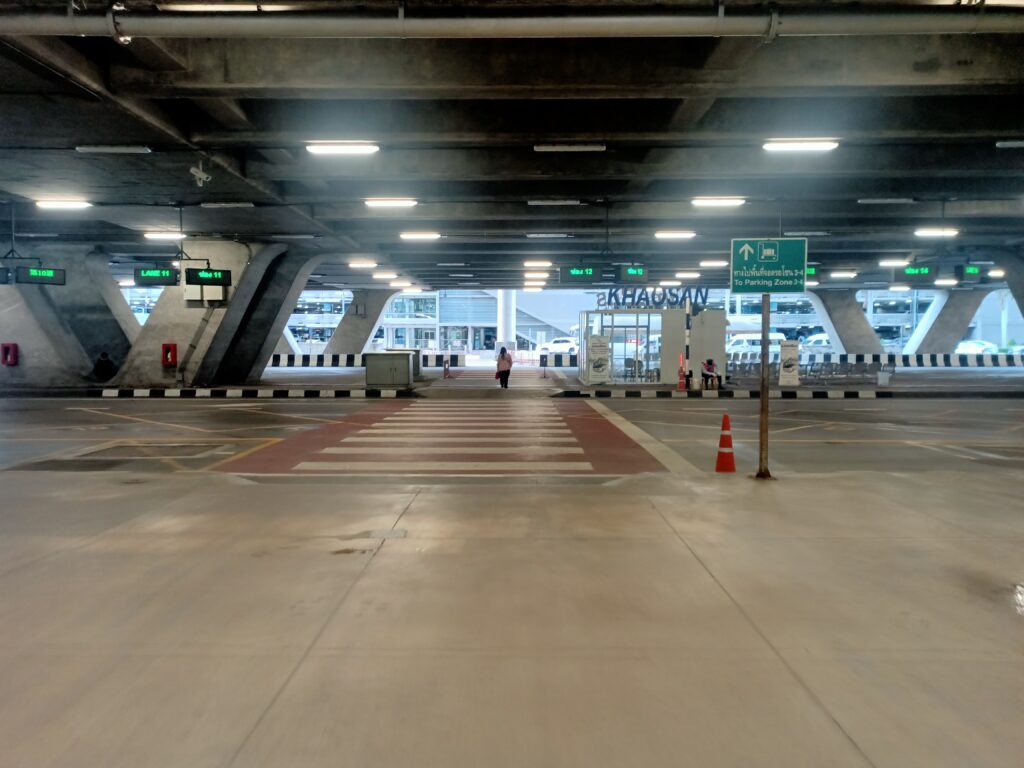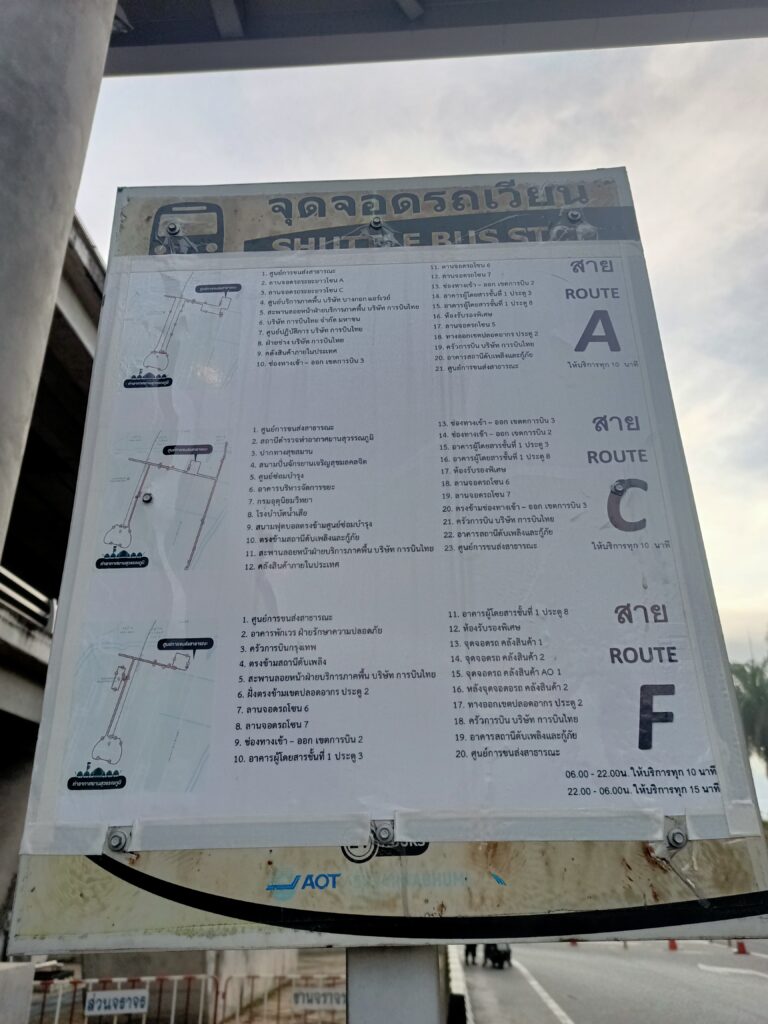 Suvarnabhumi bus center
Once arrived at Suvarnabhumi bus center, you can change to airport shuttle route C to go to Lad krabang road. Not only free airport shuttle, you can also take other transportation such as taxi, mini van and public city bus. Taxi from here will not charge 50 THB additional airport fee, so if you do not want to pay 50 THB additional for tax fare when you get taxi at airport, you can come to this bus center then take taxi.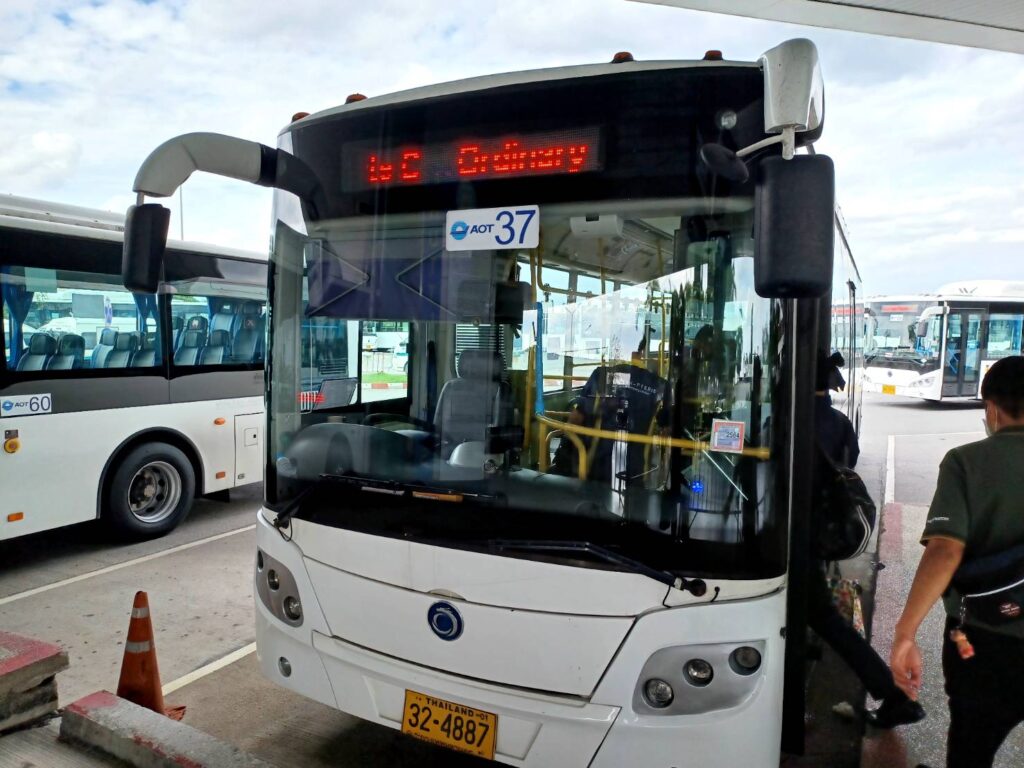 Let's take route C to Lad krabang road, you will notice many airport workers are getting inside, living near airport.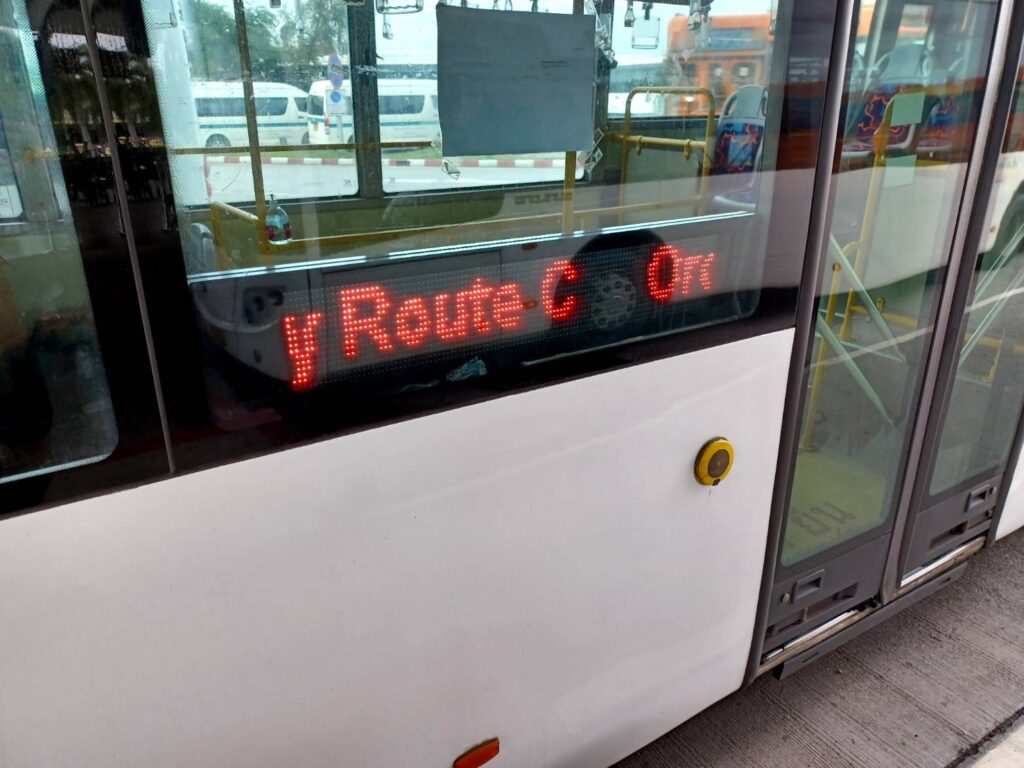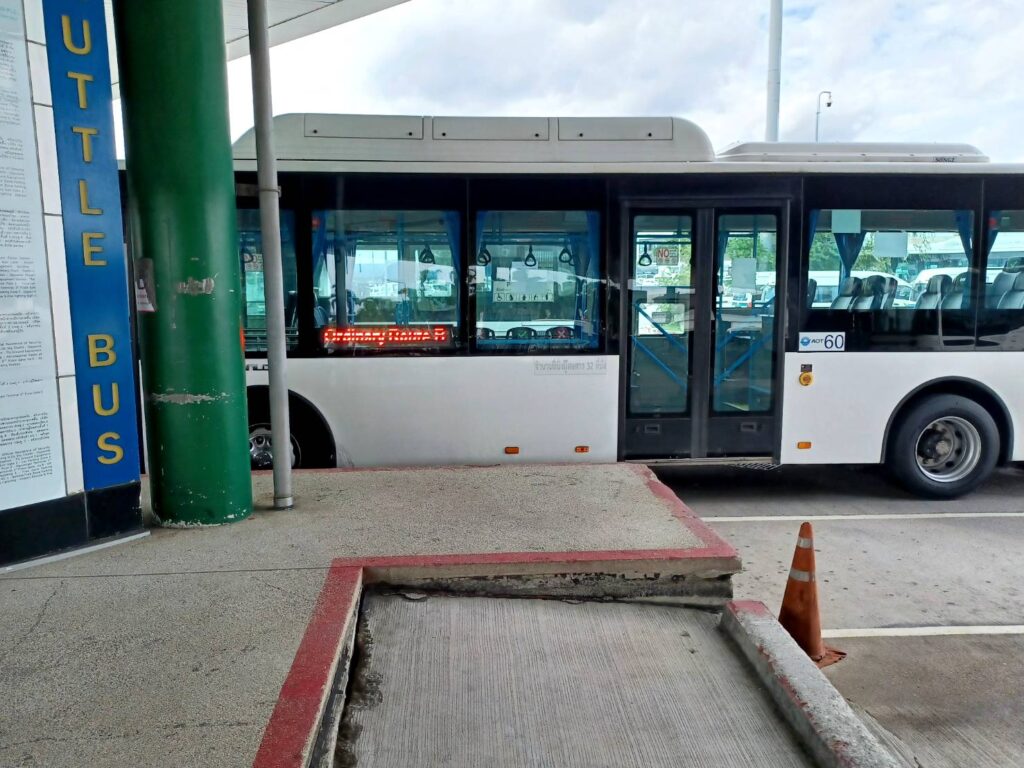 You can take taxi from bus center. Unlike taking taxi from airport, they do not charge 50 THB airport fee.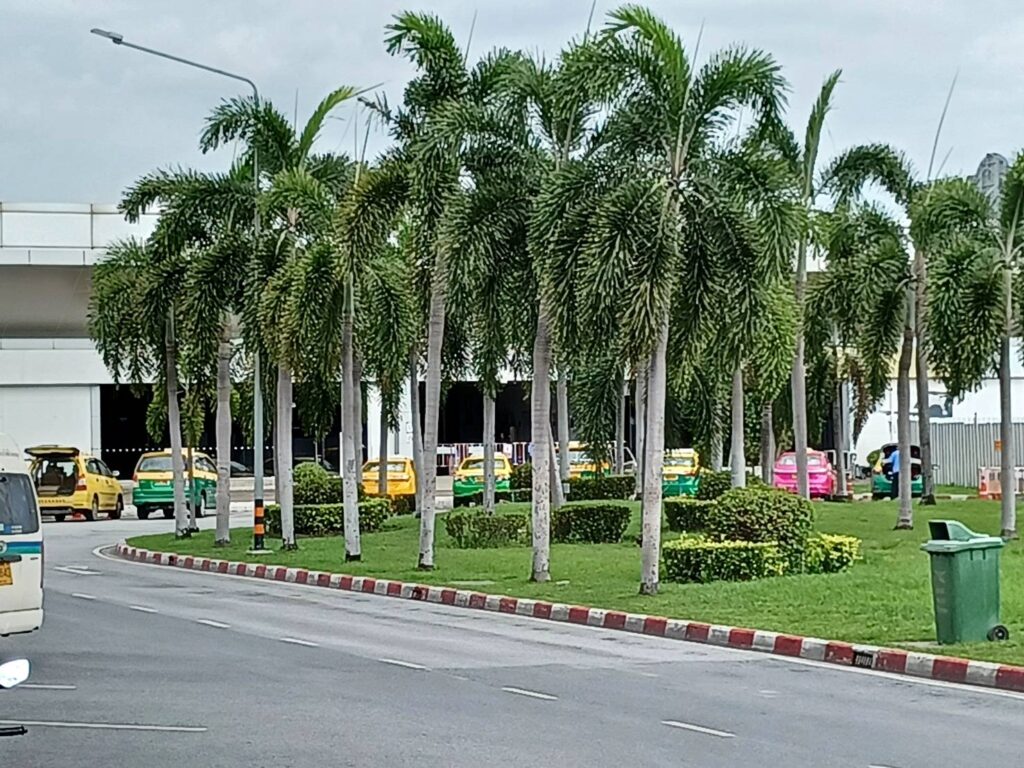 Bus No. 554 and 555 is going to Don Mueang airport and Rangsit future park. If you have air ticket booking, you can take free shuttle bus from Suvarnabhumi to Don Mueang airport. If not, you can come here at this bus center first then take bus No. 554 or 555 to Don Mueang airport.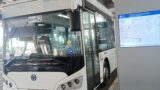 Free shuttle bus from Suvarnabhumi airport to Don Mueang airport
One Saturday March, 2022, I used free airport shuttle bus service from Suvarnabhumi airport to Don Mueang airport so I r...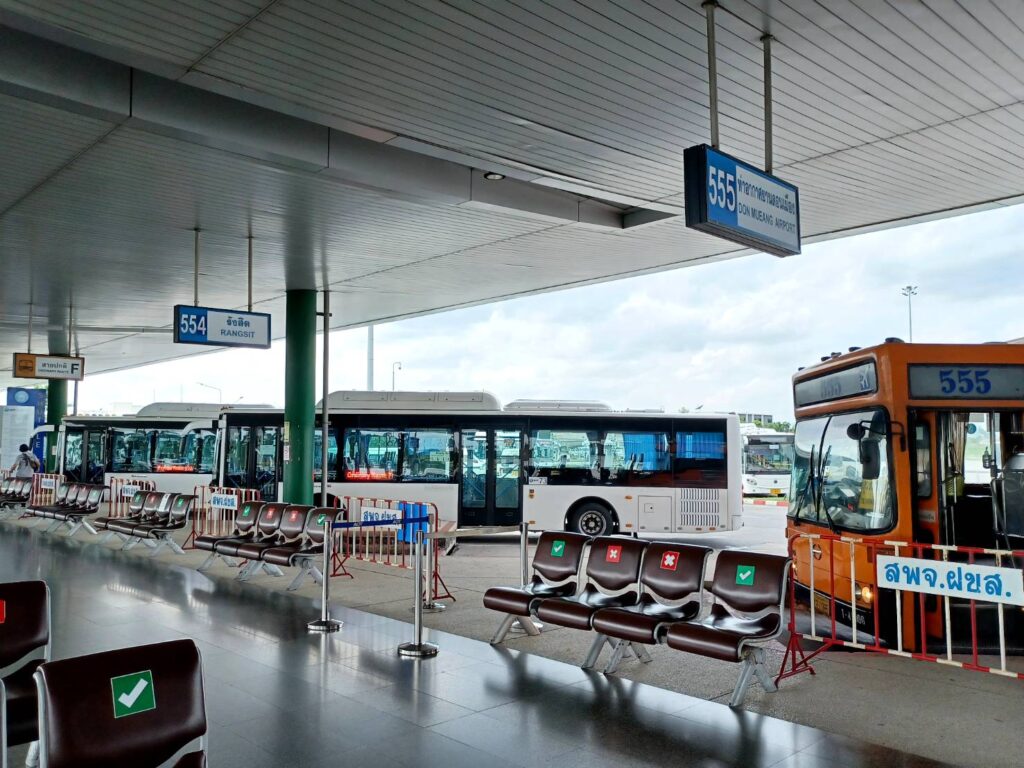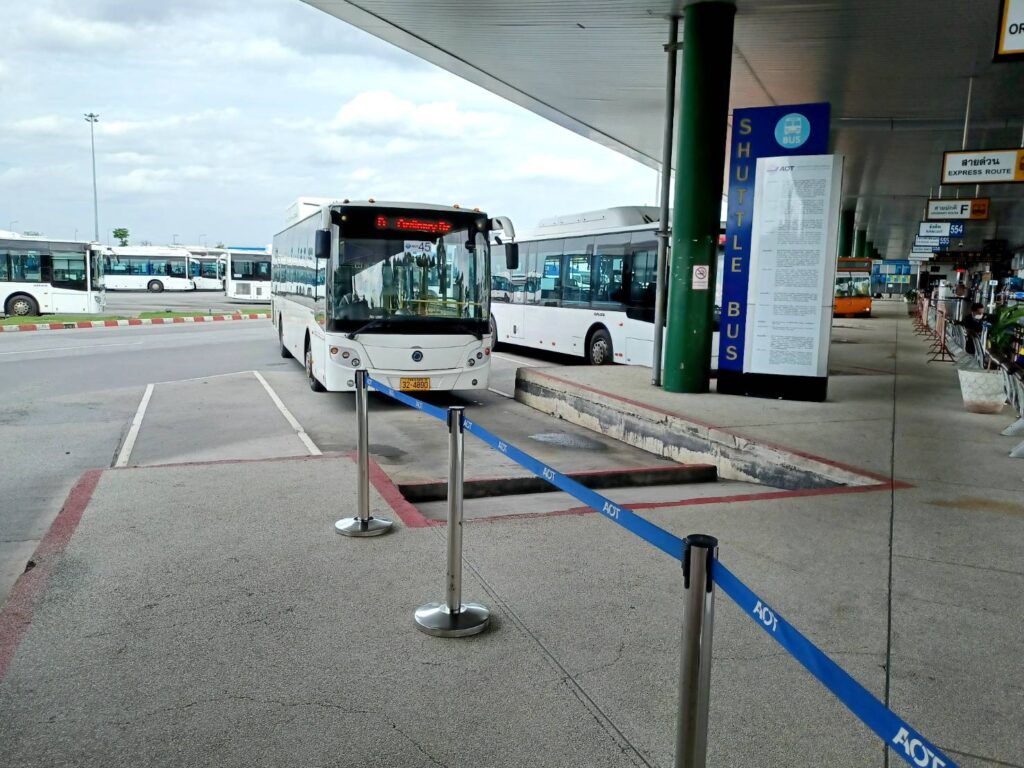 Airport shuttle bus is connecting from Suvarnabhumi airport to Suvarnabhumi bus center by stopping building nearby for airport workers to go to work. All shuttle buses are free of use for anybody.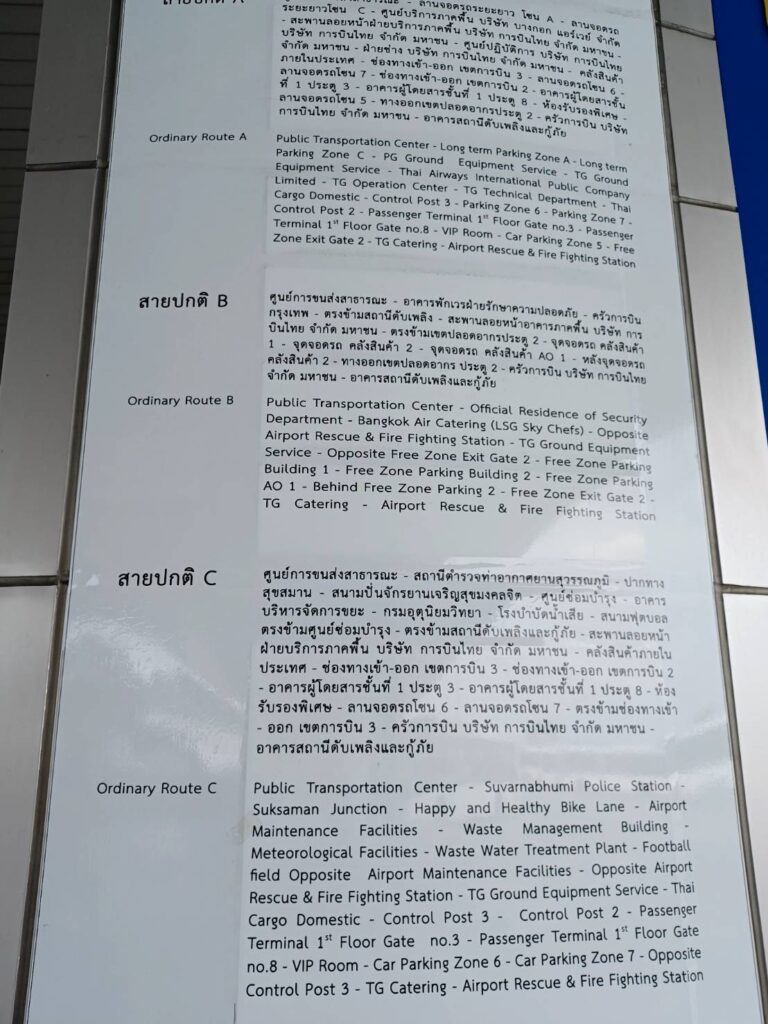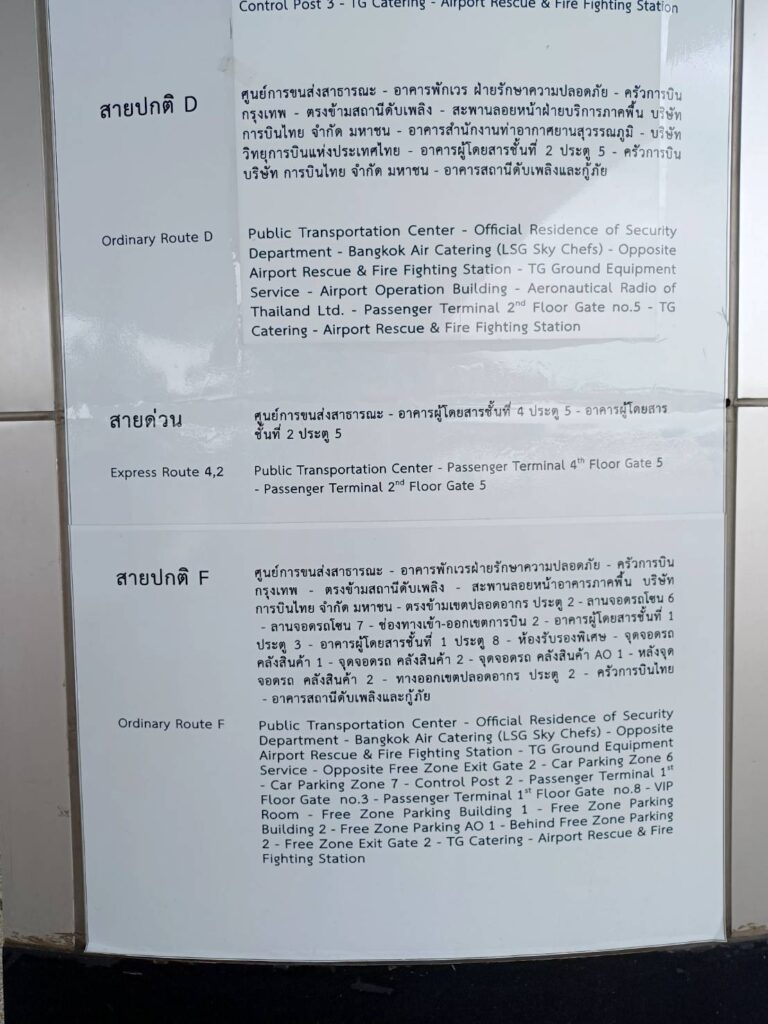 There are several minivan is also available as below. It is good to use if you do not have much to carry because larger baggage might cause another charge inside van. Other buses to Pattaya, Chanthaburi and Trat also from Suvarnabhumi bus center, I will make bus center introduction post in another occasion.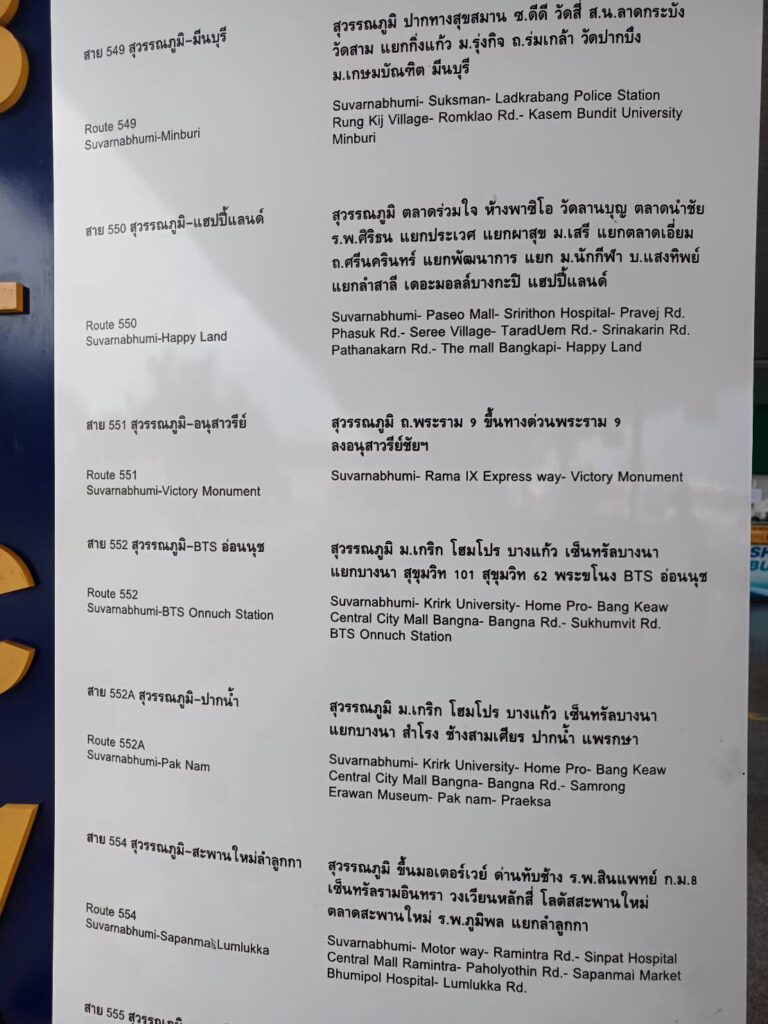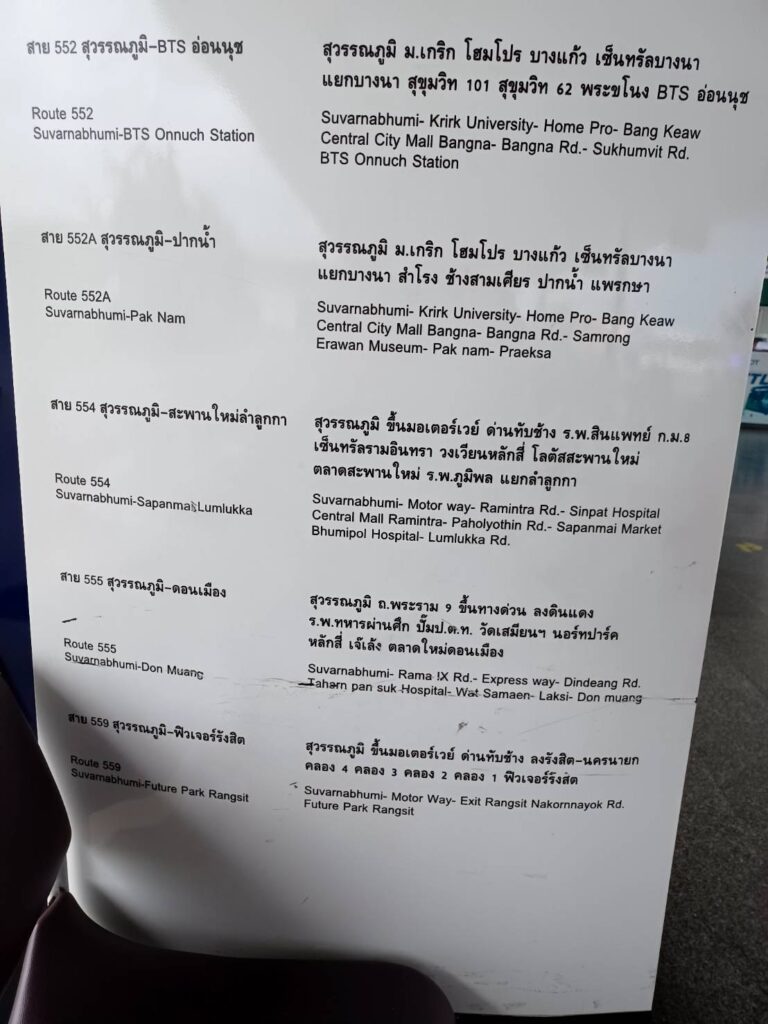 Coming back to tent airport shuttle bus stop along Lad krabang road. Let's walk a bit to bus stop to take Bus No. 1013.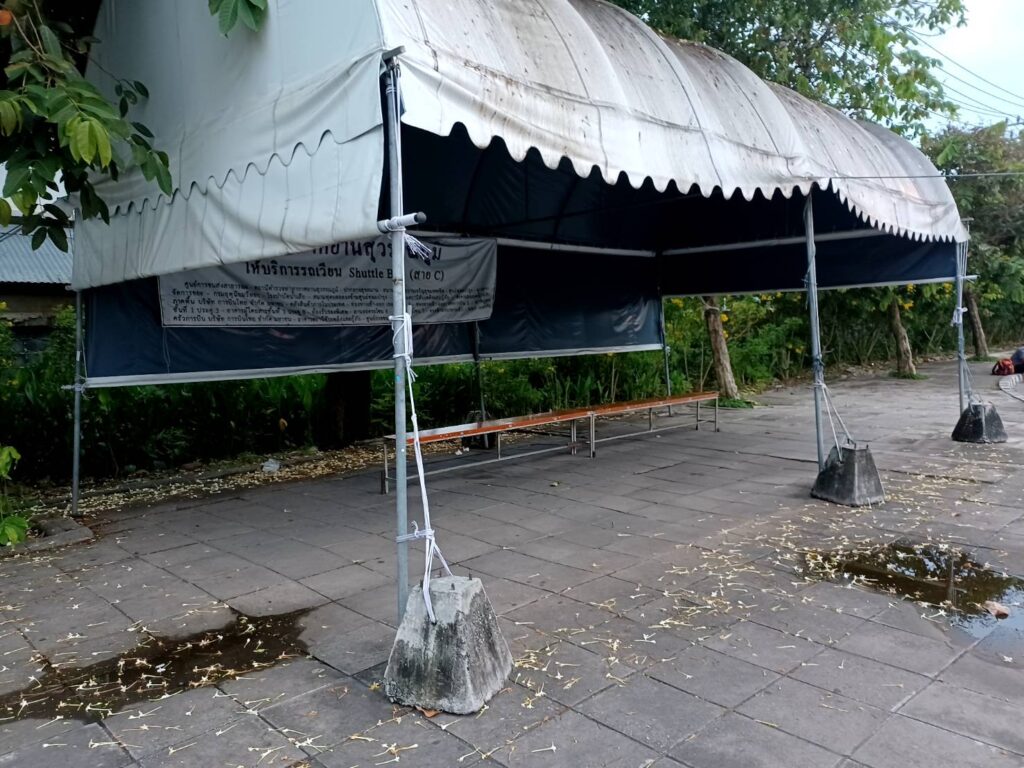 Go straight to Lad krabang road then walk to left on cross road to bus stop. Be careful of flood on this area. When it is raining from June to November, this place will get easily flooded.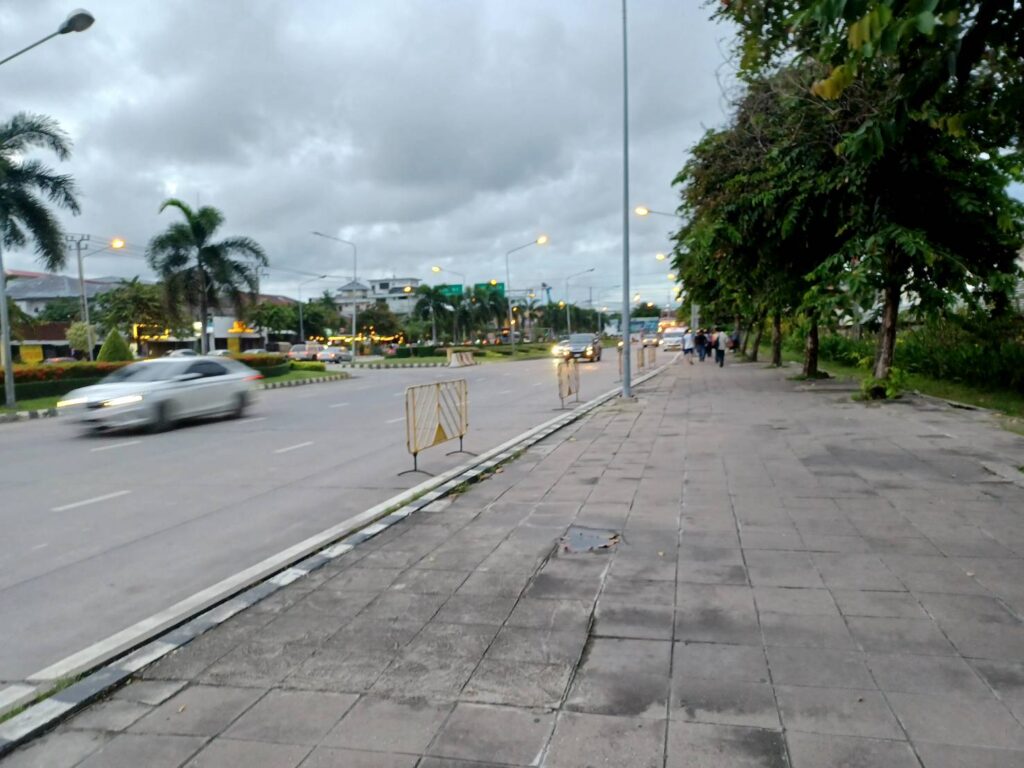 Walk left on cross road then you will see bus stop after Seven eleven.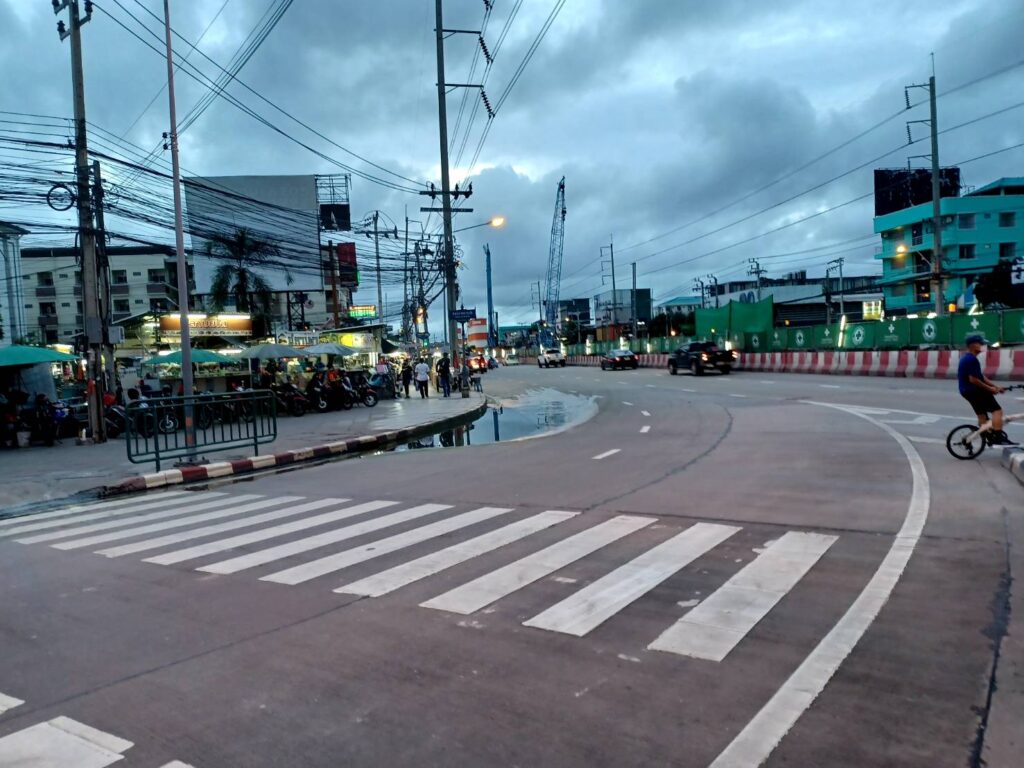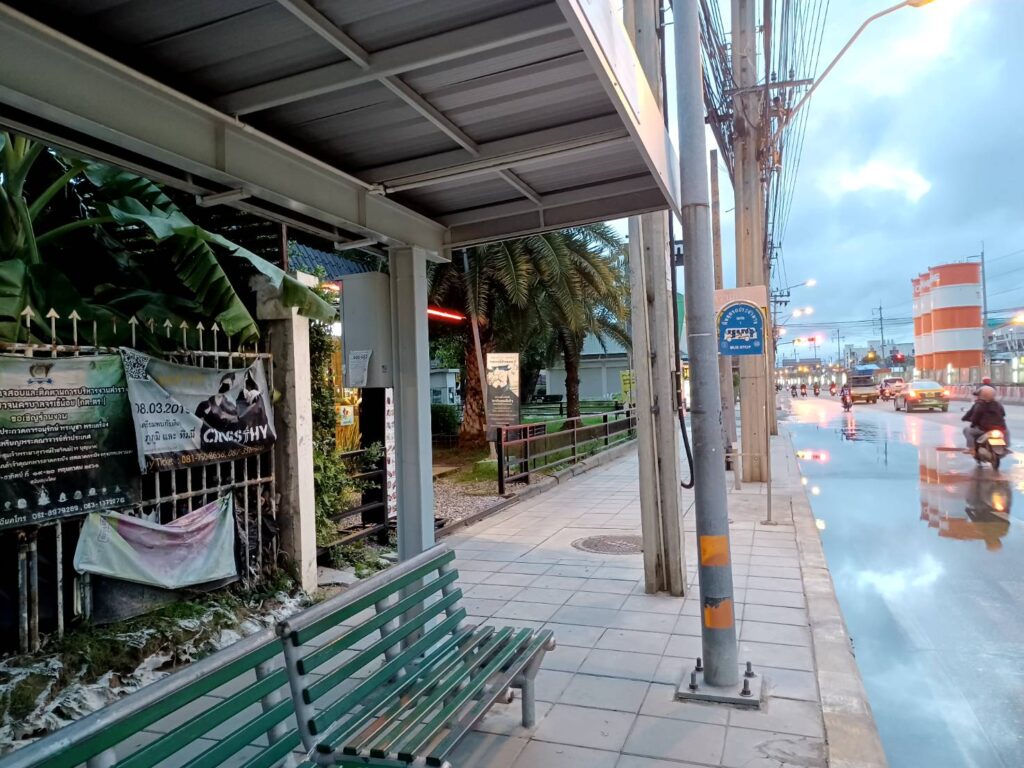 Let's wait bus No. 1013 to go straight to Onnut Big C shopping center.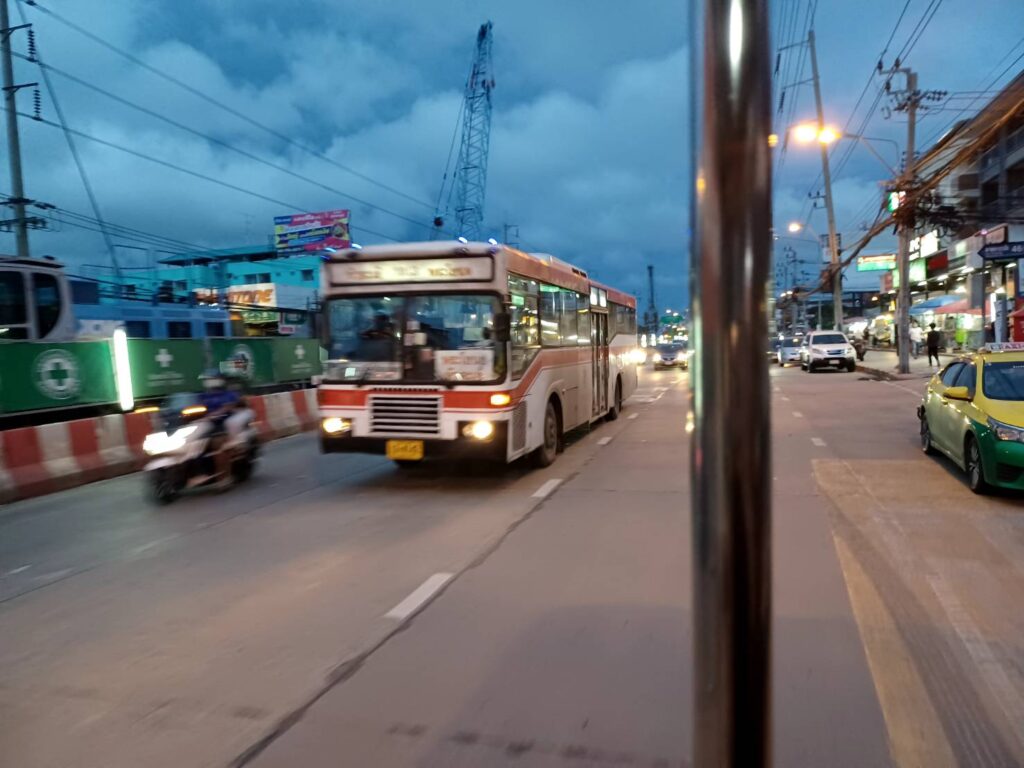 Be careful not all bus no. 1013 is going to Onnut. There is another route bus for No. 1013, if you see green color on front top glass as below, these buses go to Seacon square and Paradise park at Srinakarin road.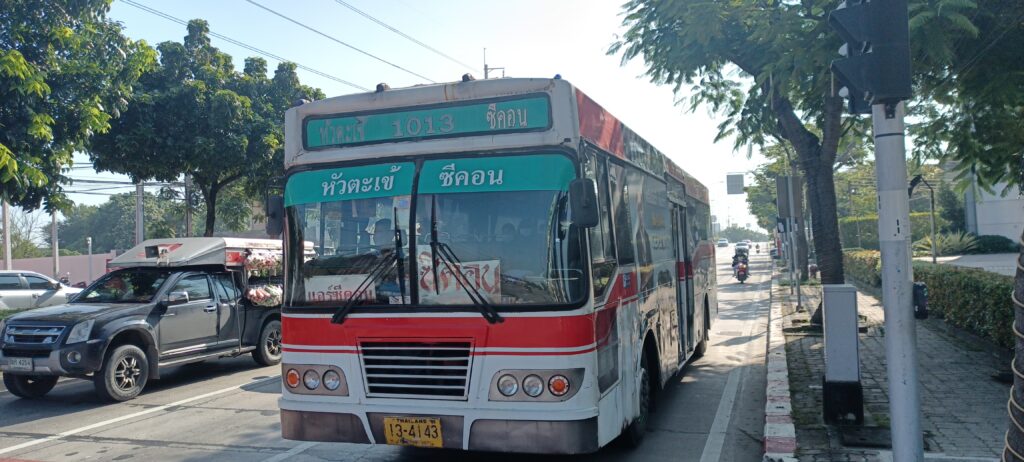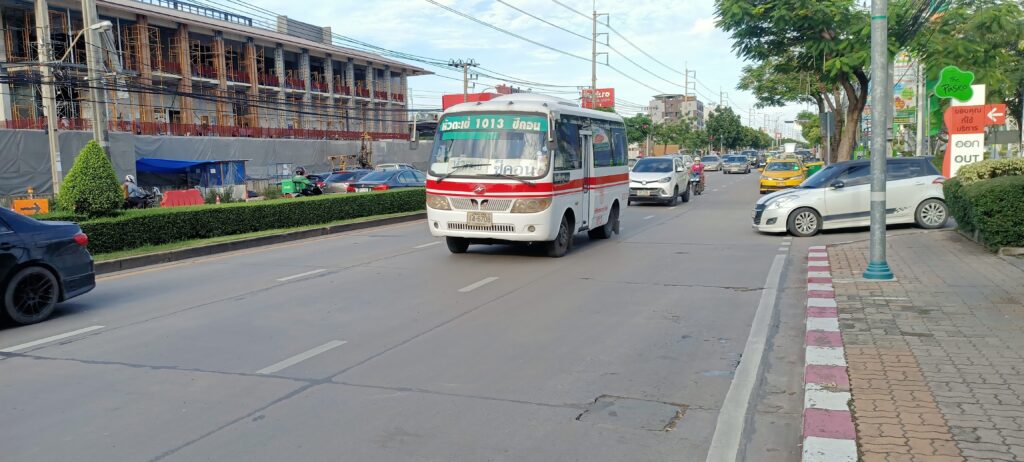 How about the posts this time? 11 THB way from Onnut to Suvarnabhumi is only available at very early morning and some other times. However daytime and night night, you can still complete this route only by 20 THB. If you are interested, please try this route so you can save more and feel local way of trip in Thailand.
See ya!