After the gym work out, I headed for the train station to buy train ticket.. I actually got at loss many times on the way, haha due to my carelessness on google map. When reaching at the station, it was already one hour before the departure time.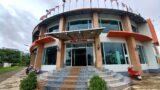 Whole body workout with fully equipped gym, Fit Fit Fit Fitness Buriram
2nd day of Buriram trip I had to do my major purpose in here to do work out in gym. To utilize my shot time in Buriram, ...
Walking from the gym to the train station, observing morning routine by local people.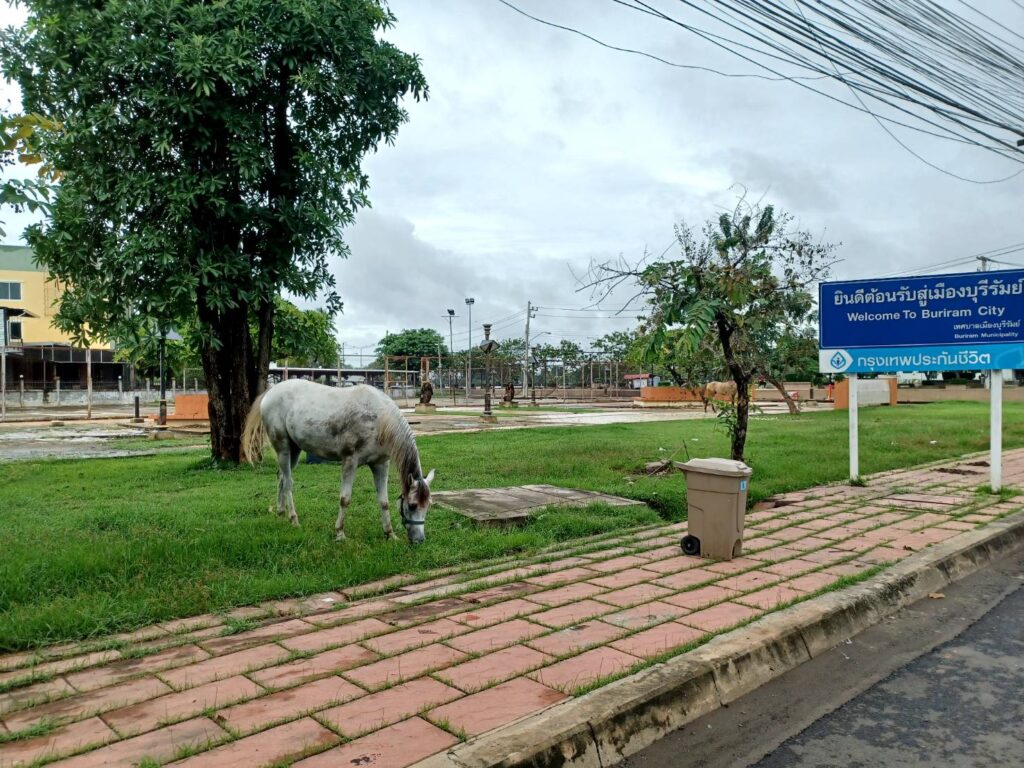 Many people are coming to morning market in the city center.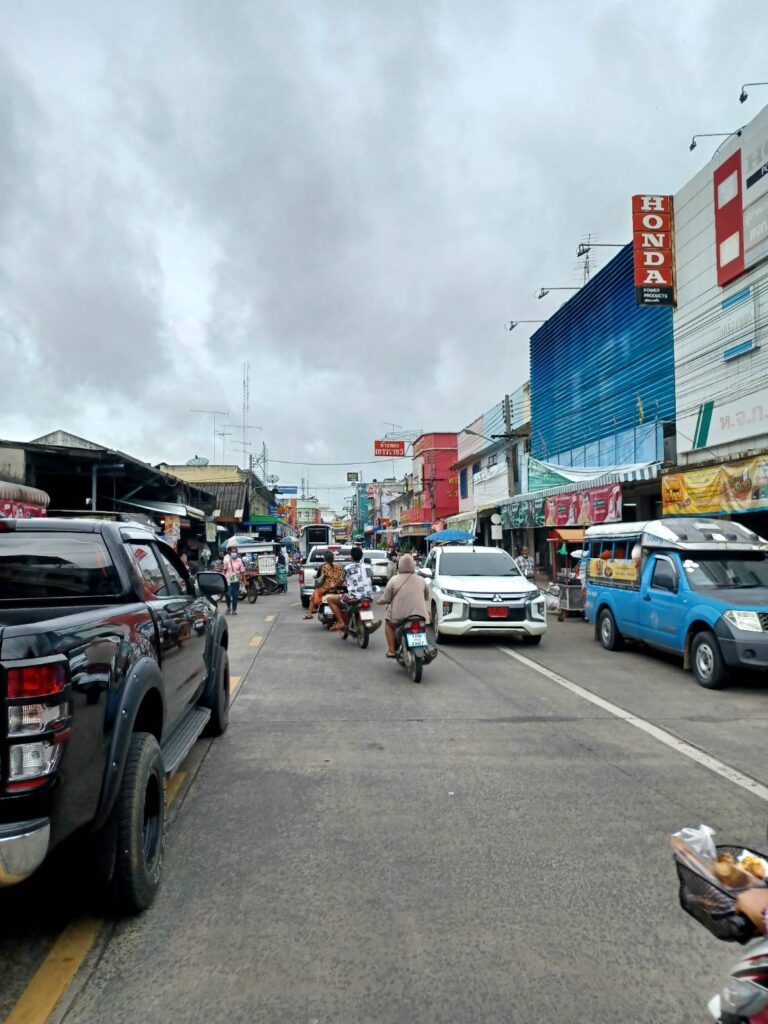 Entrance of local market.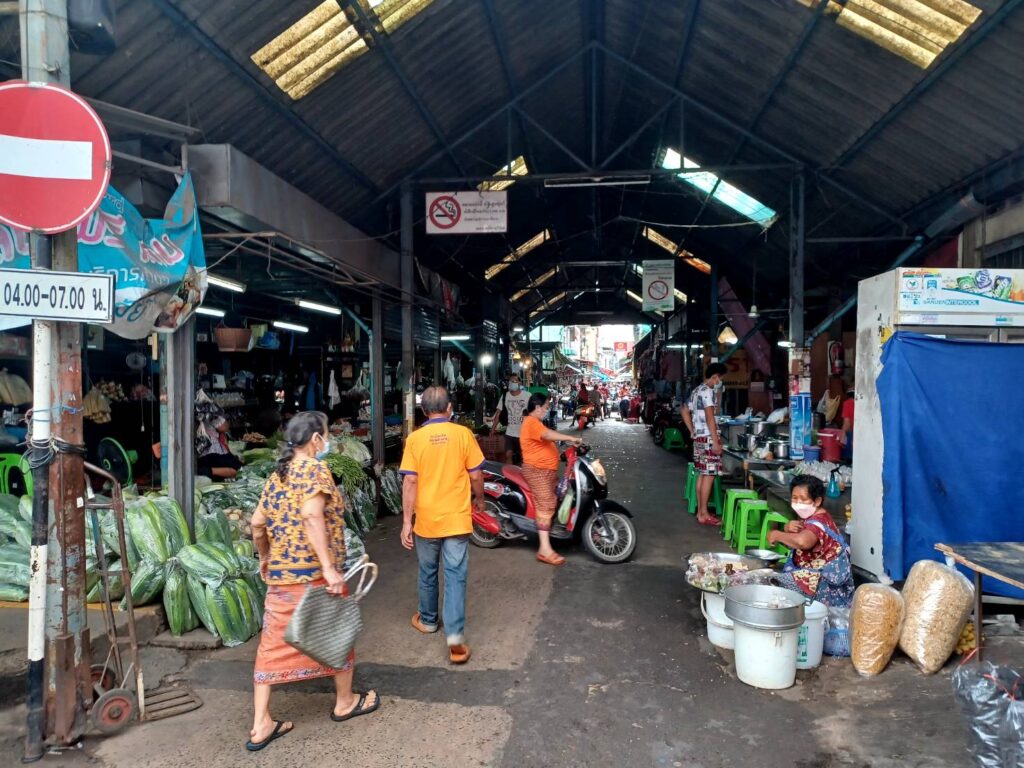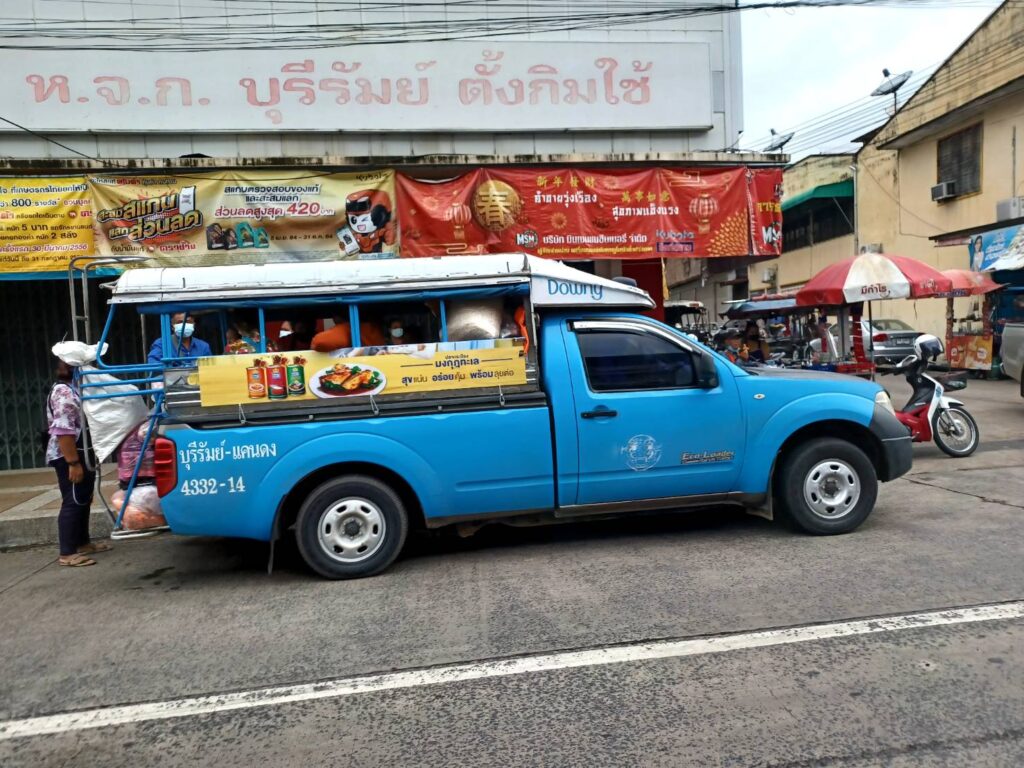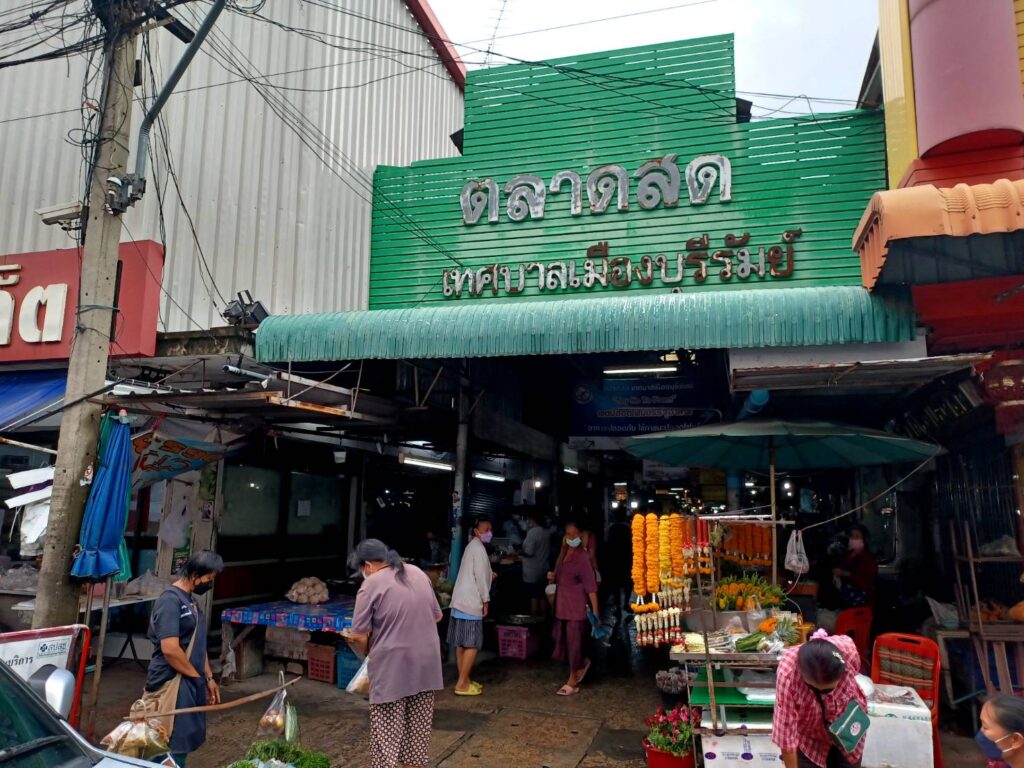 Finally reached at the train station. I got bad news and good news there, unfortunately 3rd class non aircon ticket was already sold out but I managed to buy 2nd class air con ticket, fare is almost twice as non air con car, 335 THB to Hua Lamphong, Bangkok. Anyway it was good, at least I got the ticket to go home while I had nightmare that I failed to do it last week in Khon Kane… Currently, number of train is very limited so as seat is due to Covid travel restriction so I highly recommend that you purchase the ticket in advance if your schedule is fixed already.
See my nightmare story that I couldn't buy the ticket at Khon Kaen…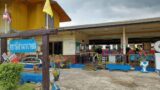 Escape lockdown in Bangkok again to work out in Khon Kaen, disrupted trip schedule by limited train operation
Hello, welcome back to "fitravelife.com". Same as last week, I made weekend trip to Khon Kaen province by train 8 hours ...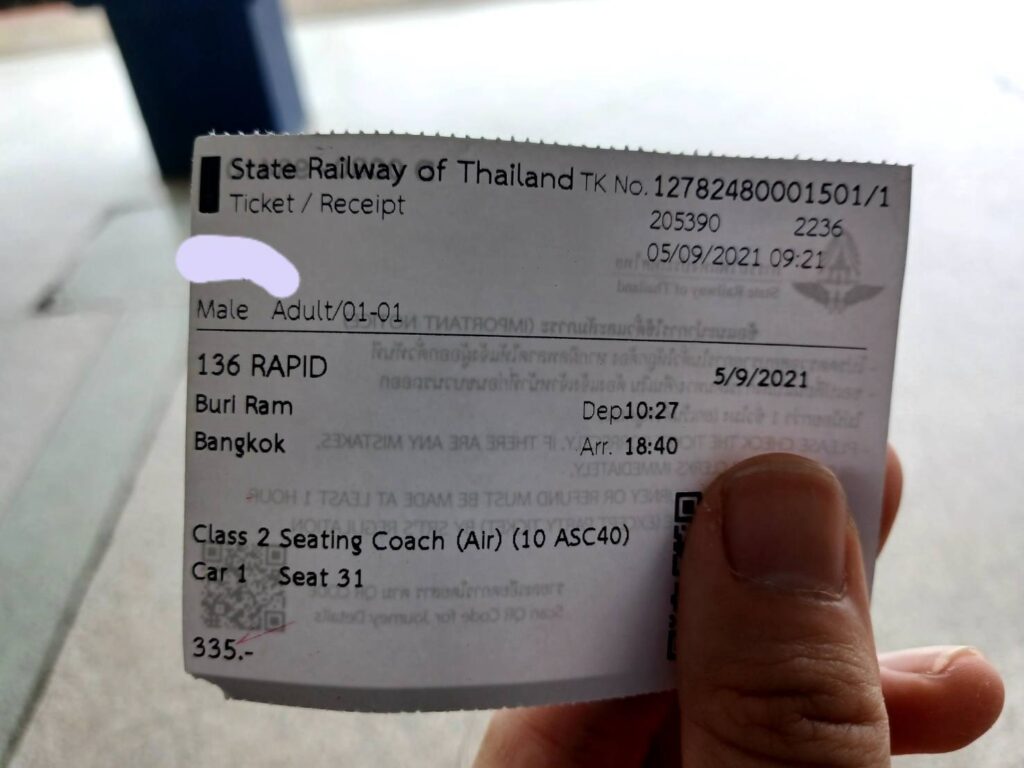 After successfully purchased the ticket, I walked back to the hotel to check in, then bought food to consume during trip then come back to the train station.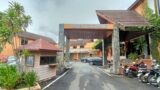 Comfort and budget stay at Siam Boutique Hotel in Buriram
Arriving at Buriram province by train from Bangkok, I tried to find a hotel to stay one night at the city center. Since ...
There is clock tower in front of train station, This is very typical provincial scene to have such tower in the city center in Thailand.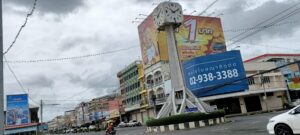 Thai favorite Cafe Amazon here.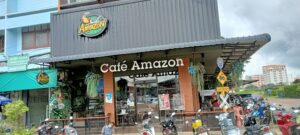 If you prefer the local food, you can get it also in local restaurants.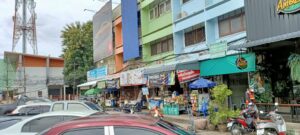 Buriram train station. Motor bike drivers are waiting for customers here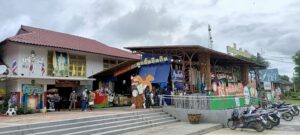 Hmm nice market just in front of train station.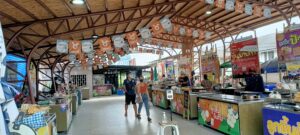 I come to inside the train station building. You Wall plate to know the history of Buriram station.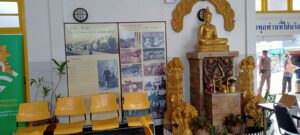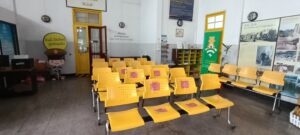 Measure temperature first to enter the platform. Many passengers are already in the plat form when I reached 10 minutes before the scheduled time.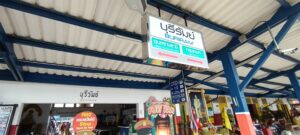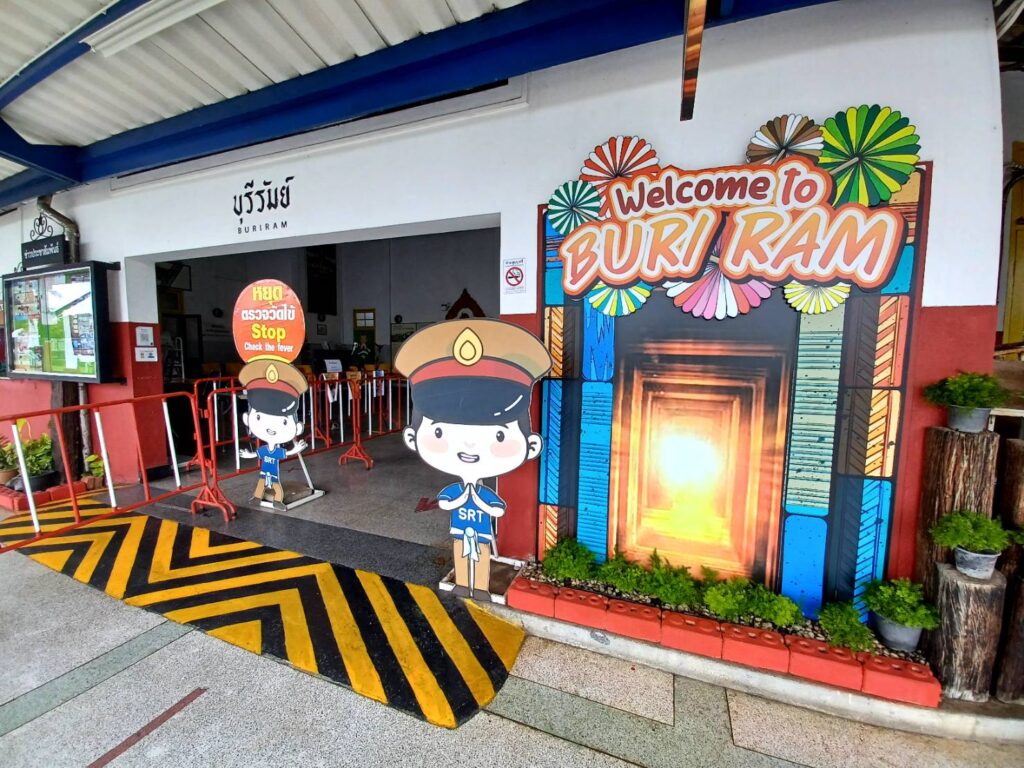 Station cat seems does not like me, He (or She?) was scared of me a lot, sorry sorry!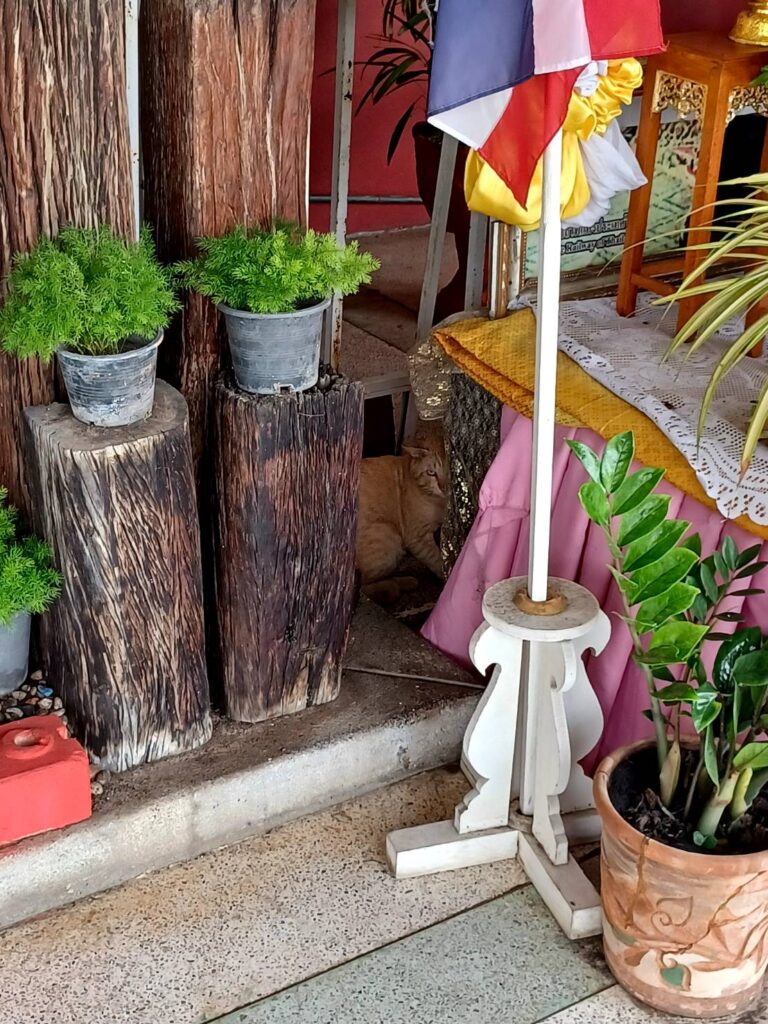 It was already 30 minutes passed from the scheduled time. Station staff comes out to make sure safe arrival of train and send off passengers.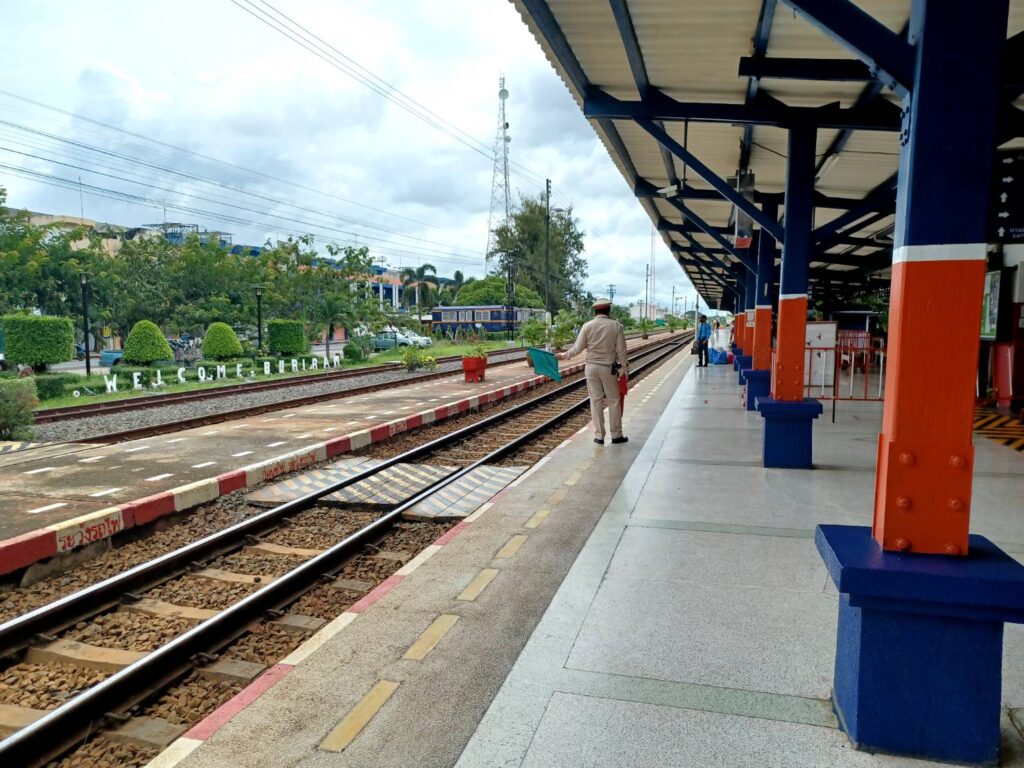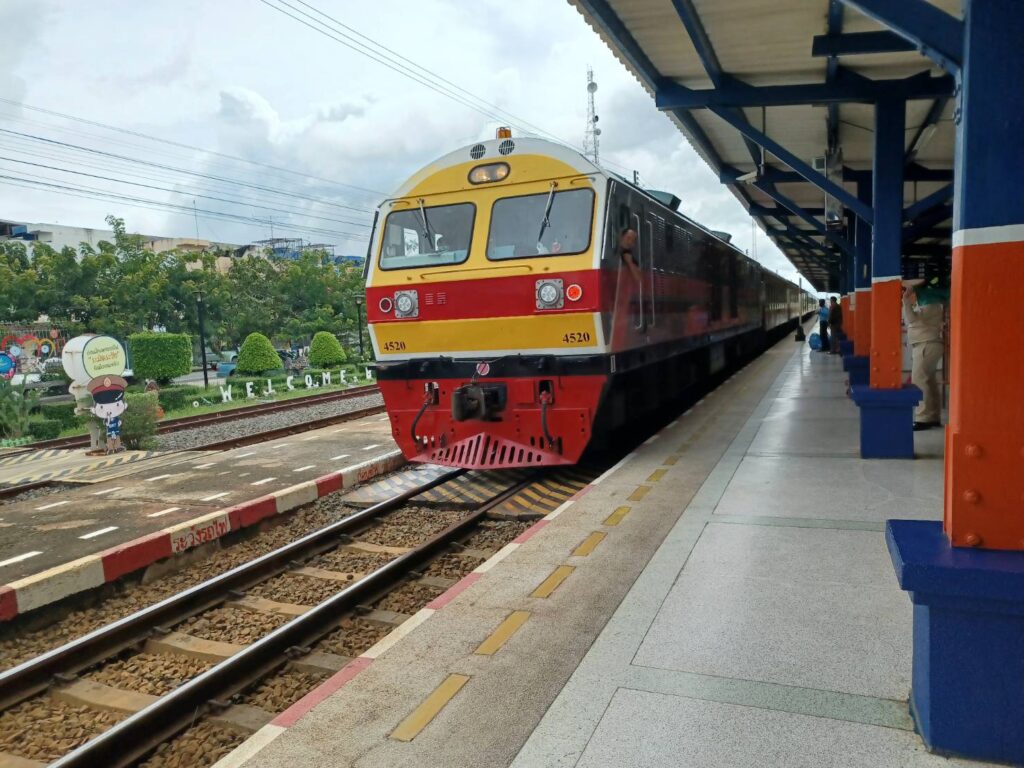 2nd class air con car is on the front line.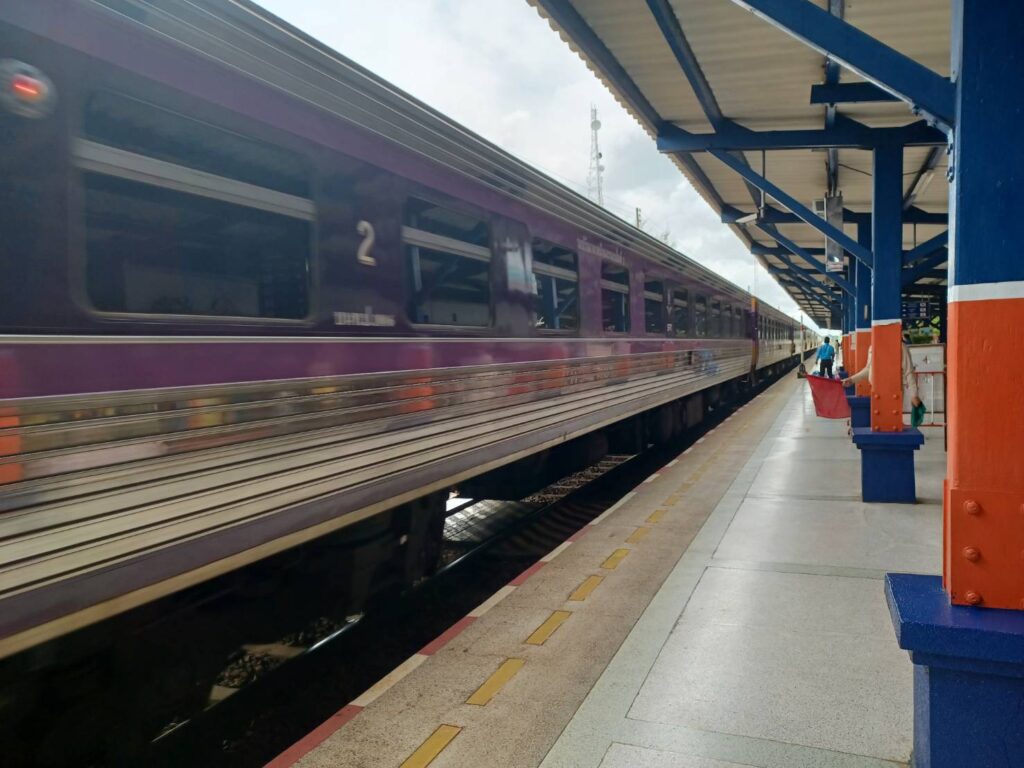 This is my car No.1 to Bangkok.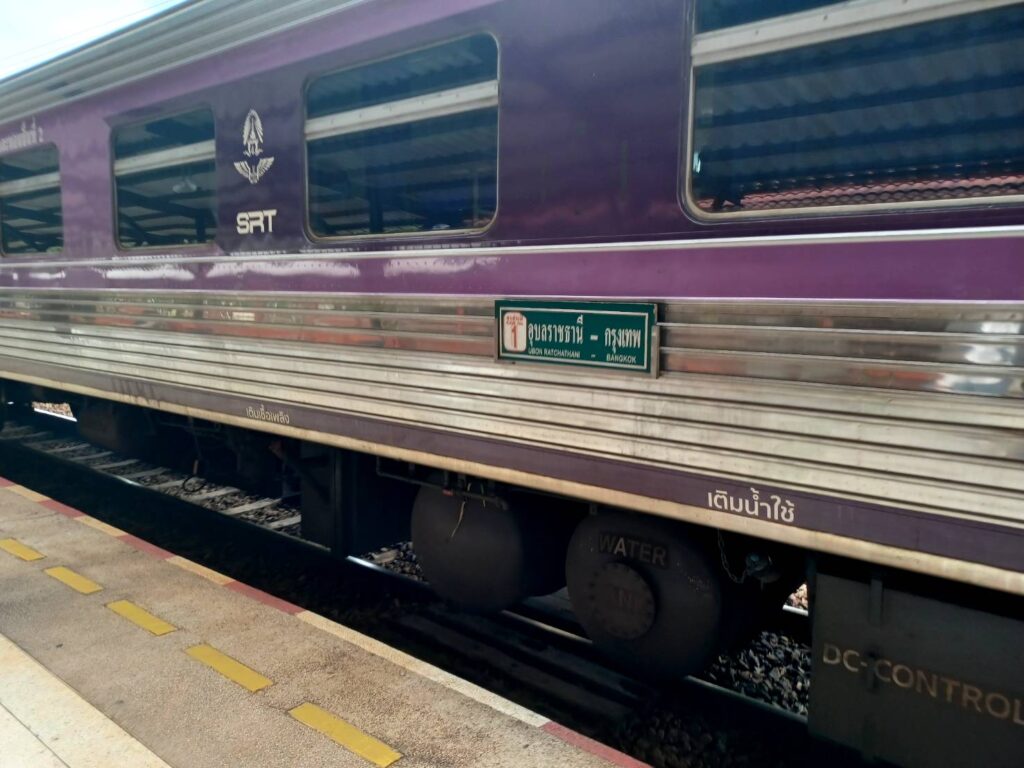 Door is unlocked but closed tight so I needed to push hard to open the door to get in the car.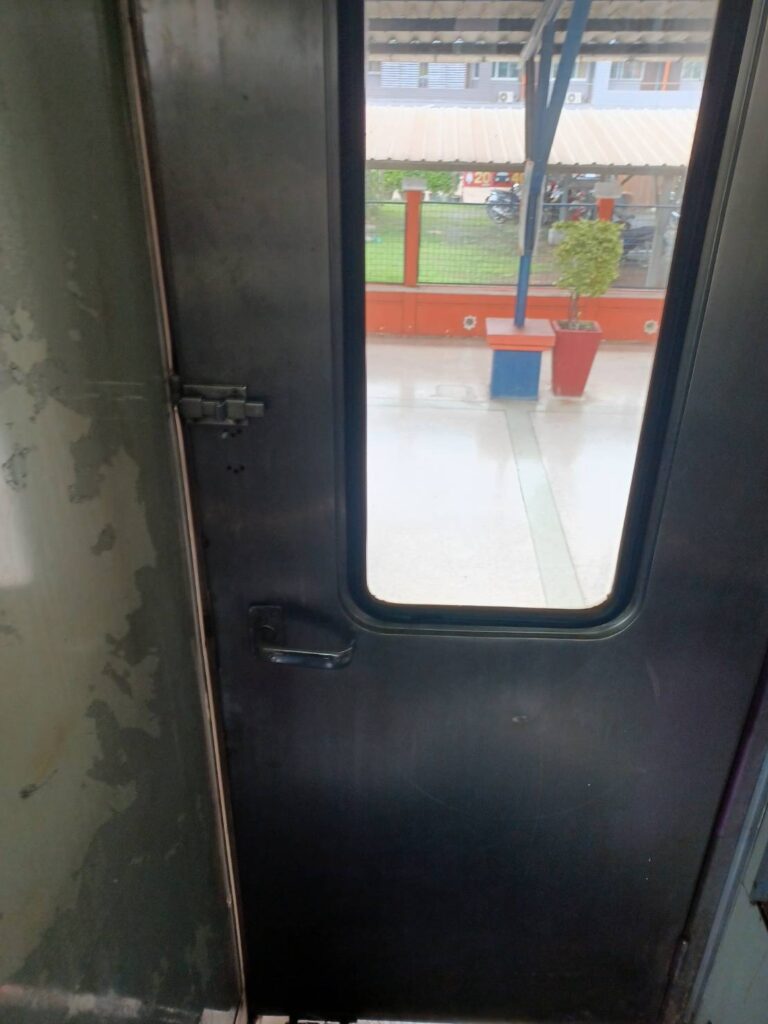 Inside the 2nd class of air conditioned car. This is actually sleeping car. During night night bunk bed can be arranged by train conductor. Due to Covid curfew restriction from 9:00 pm to 4:00 am in 29 dark red zones, train is not operated during curfew time so bed making will not be done at all.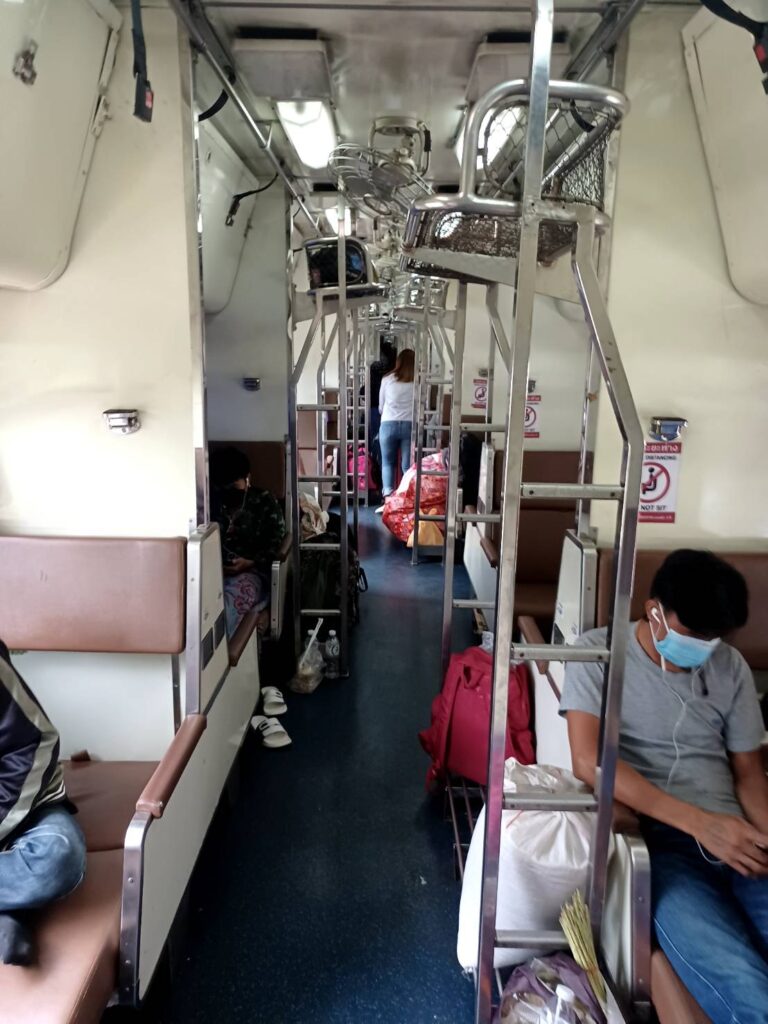 Space to put the bags and belongings. Fan also here but not used.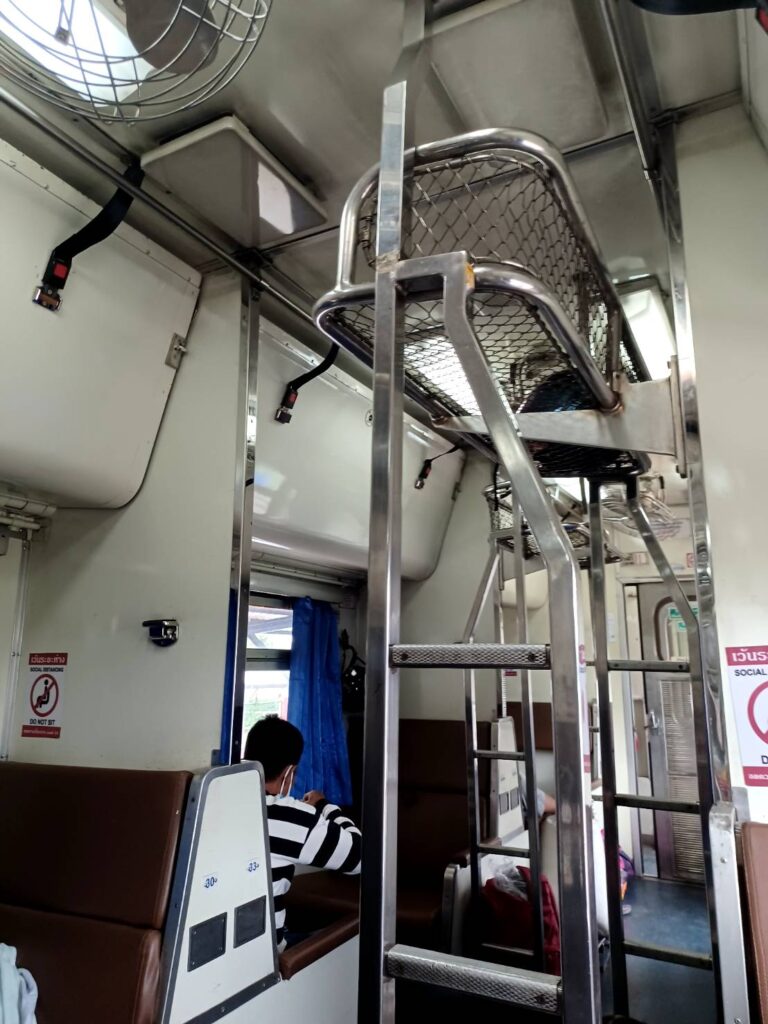 Let's take a look at the seat, seat leather is thicker than those in 3rd class non aircon car to you can sit much relaxed and not get tired much to be seated long time. Seat width is 1.5 person wide. This is narrow than the seat at 3rd class because 3rd class seat for 2 person while only person is seated for 2nd class. Due to Covid restriction, passengers are limited so using 3rd class will let you have more space on the seat, occupying one seat per person.2nd class seat is almost full when I take my seat, in front of me, there was big guy already.
Inside car is of course air conditioned, I heard that it is too cool in some blogs but it was not that much for me, I feel like it was around 25℃ so very comfortable for me. Besides all doors and windows are closed, that made inside a car very quiet. Unlike 3rd class, you do not need to to be worried that your lap top or thing will be full of dust and sand in closed, 2nd class car.
Money I paid was actually worth it, I spent 7 hours trip in very good condition.
One thing that I was wondering is plug for charging electric device. As far as I looked for it, I couldn't find it, that I mention here for reference.
Once train departed Buriram station, train conductor came to me to scan the ticket.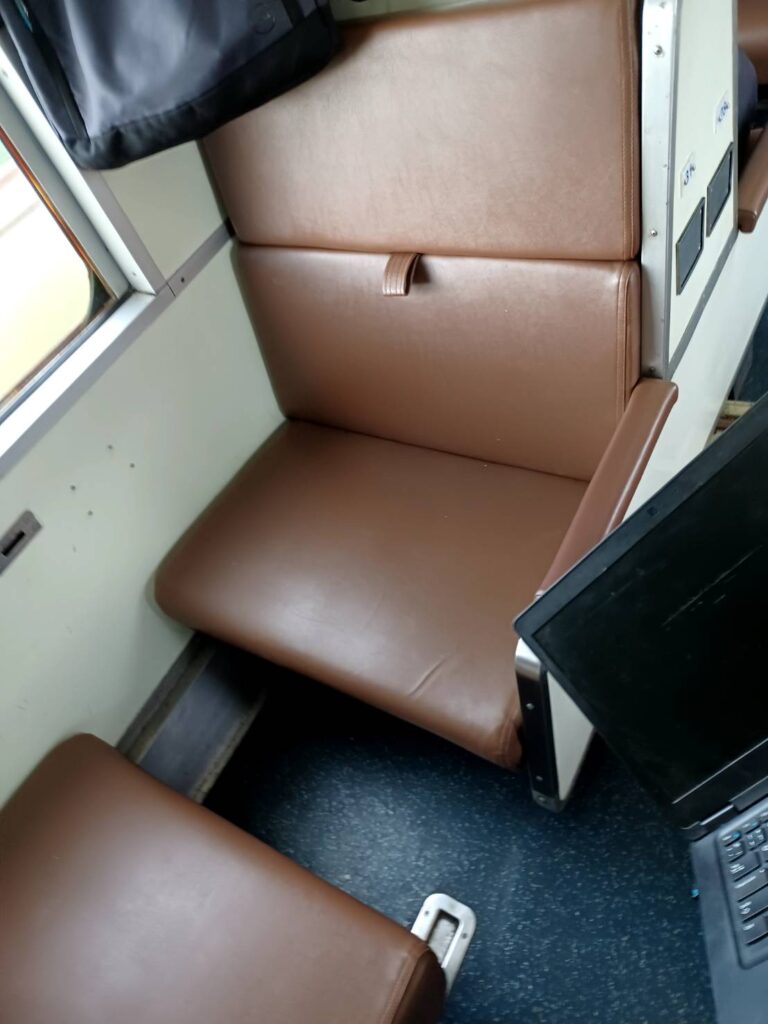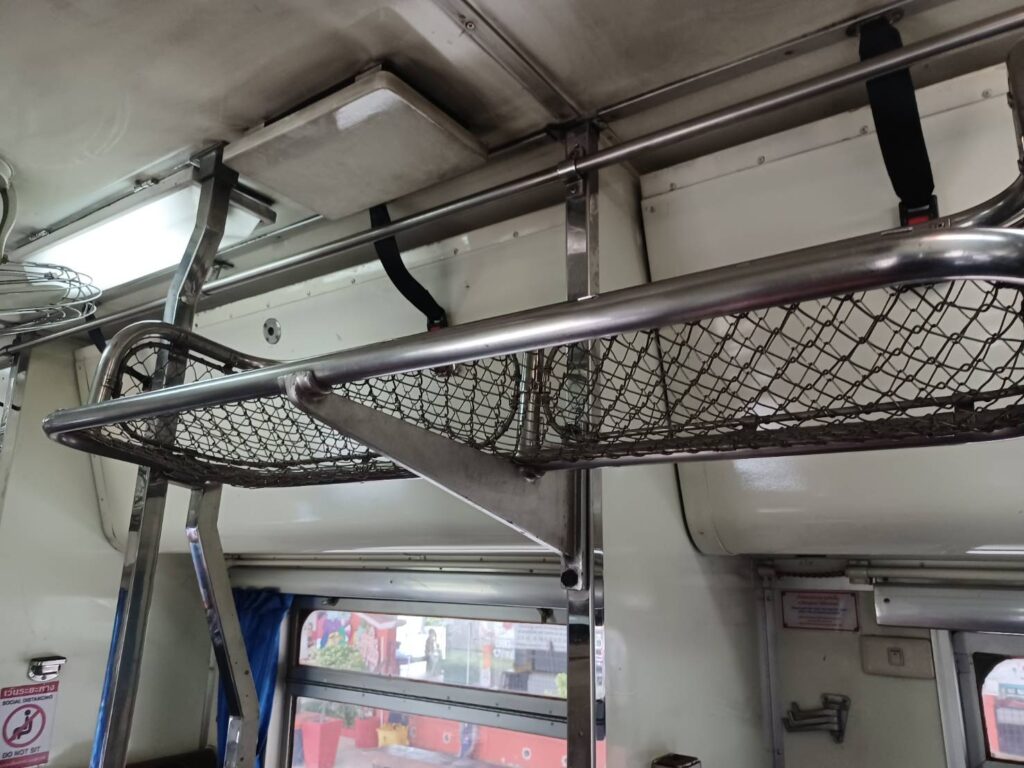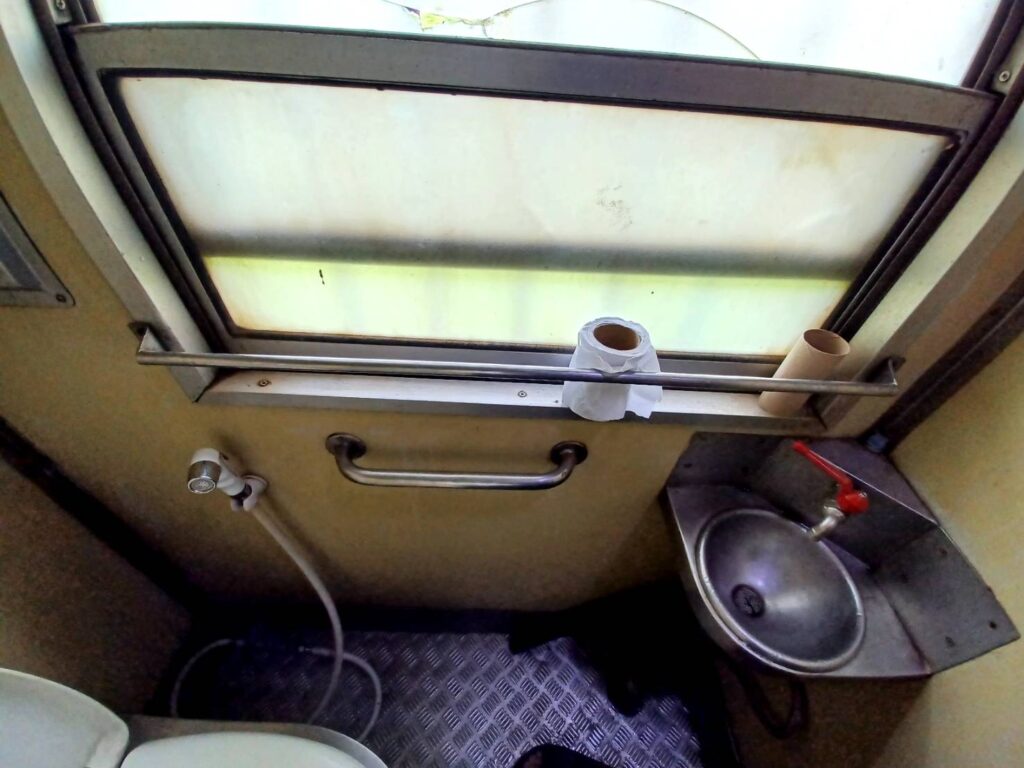 Toilet on 2nd class car. There is toilet seat.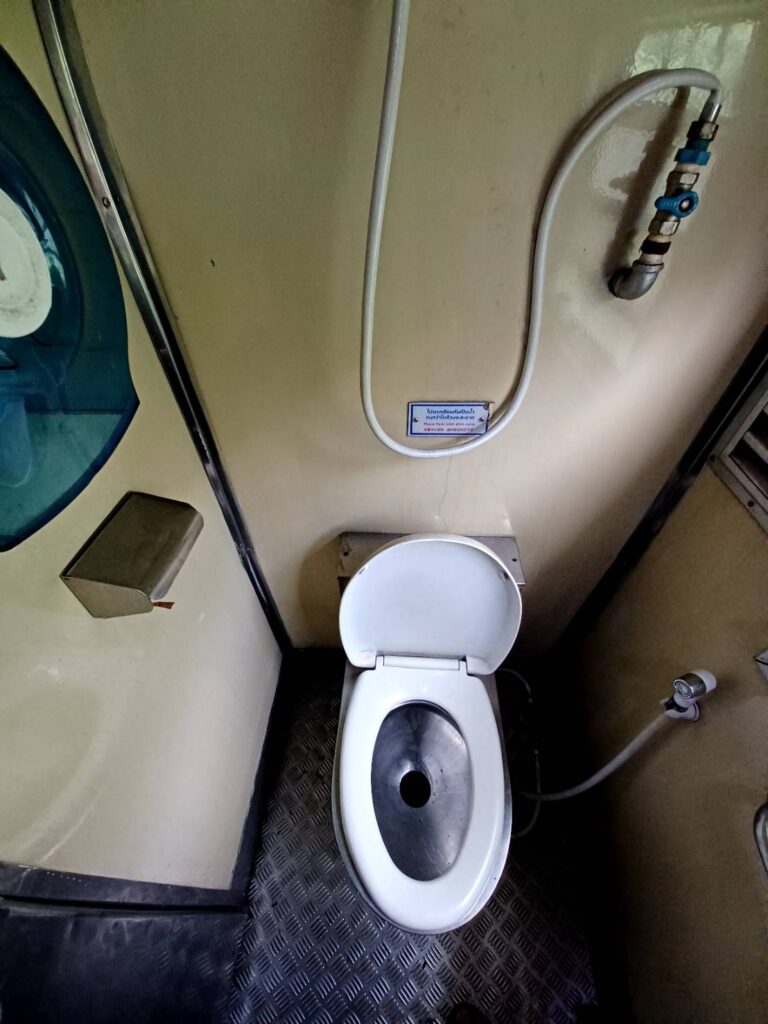 Washstand area has mirror above on the wall. I used this to area to brush my teeth 2 times.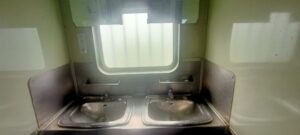 September is still rainy season in Thailand. Even Buriram and on the way, we caught heavy rain every day.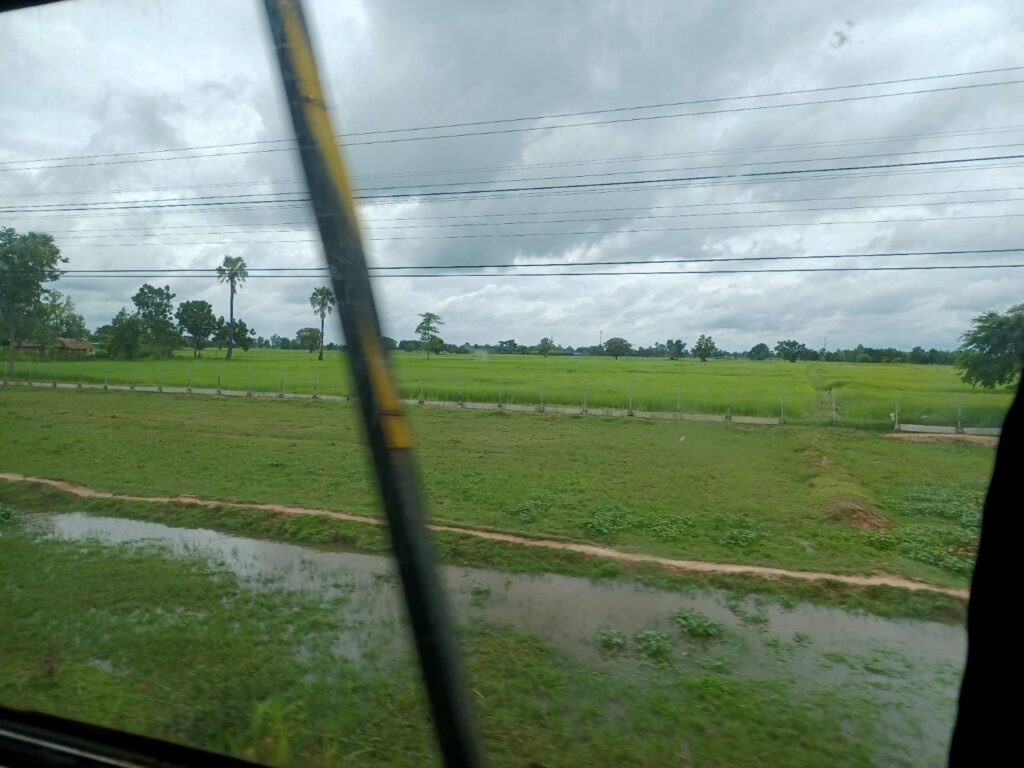 During train ride, train staff will often come to passenger car to offer food and drinks. It seems that no street vendor coming to the car unlike 3rd class non air con car. For 2nd class, only train staff will serve you.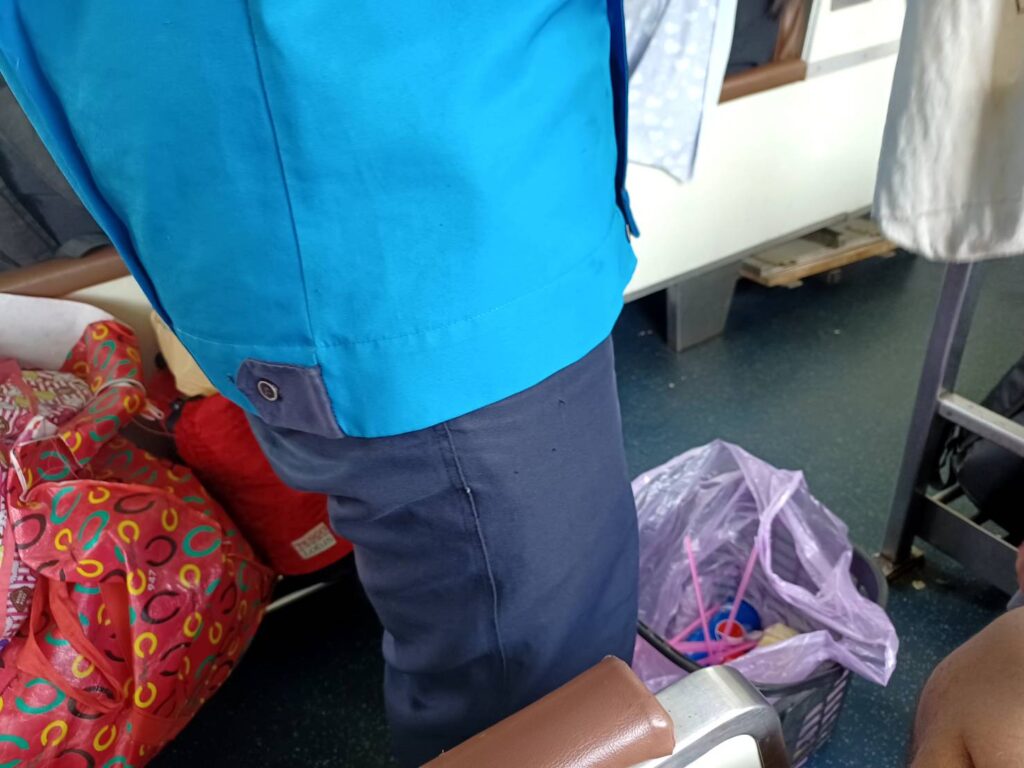 Chicken and sticky rice to offer. Payment by cash directly to staff.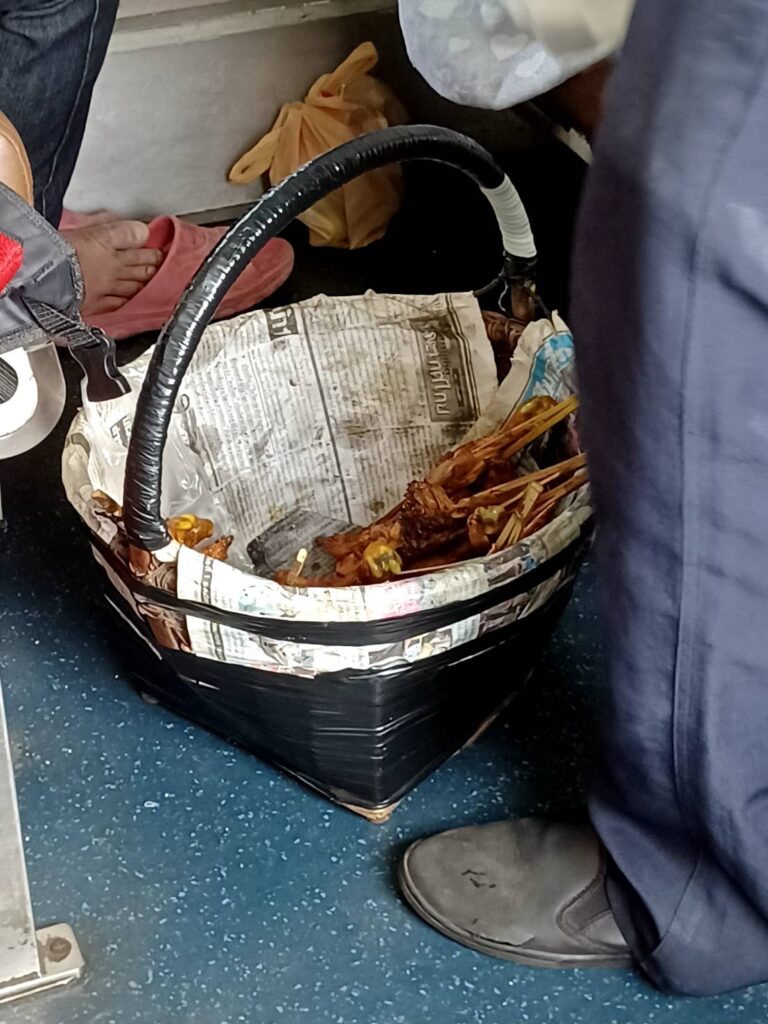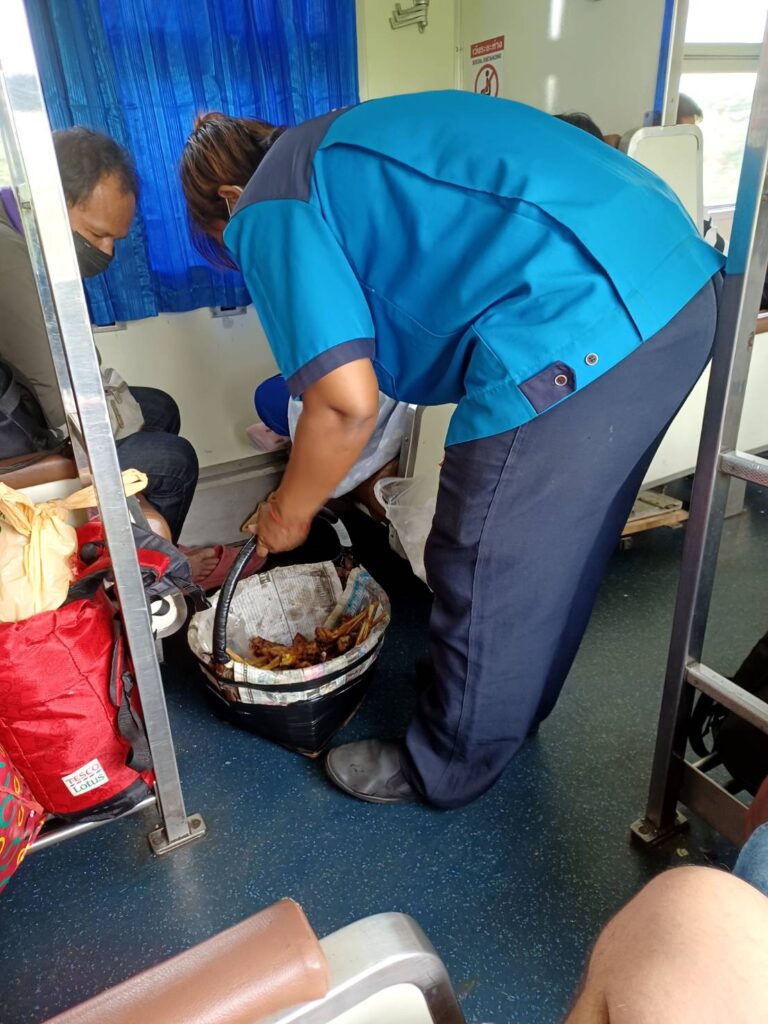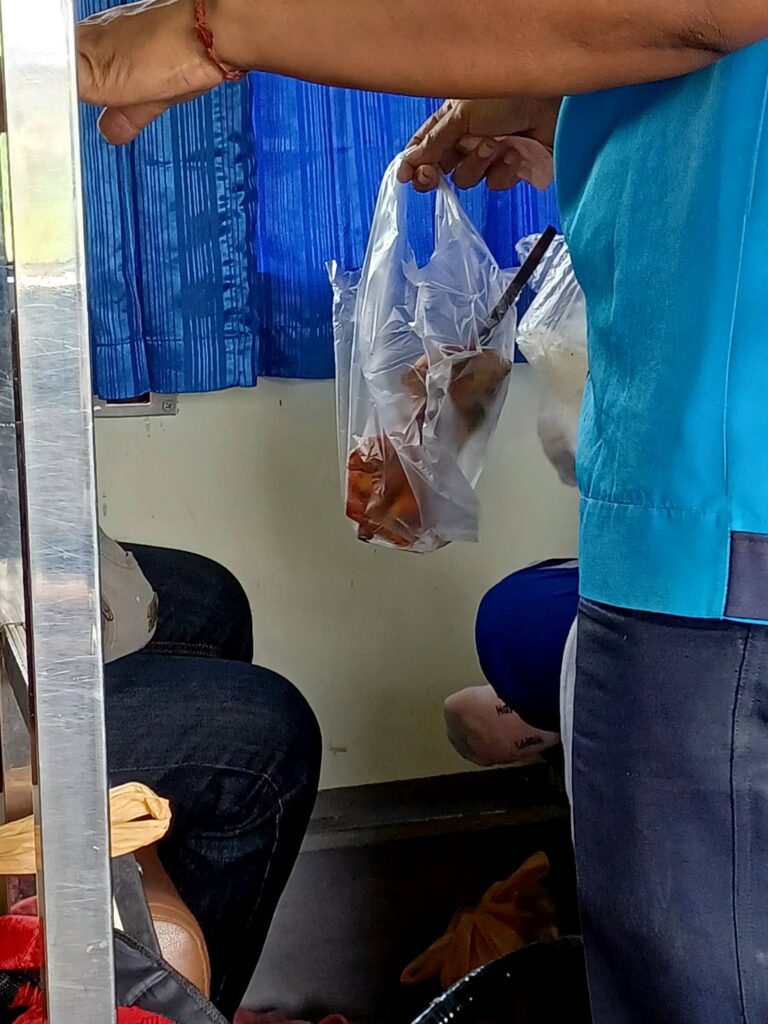 She brought cold drinks next coke, tea and water in bottles. 25 THB each for soft drinks, maybe water is cheaper.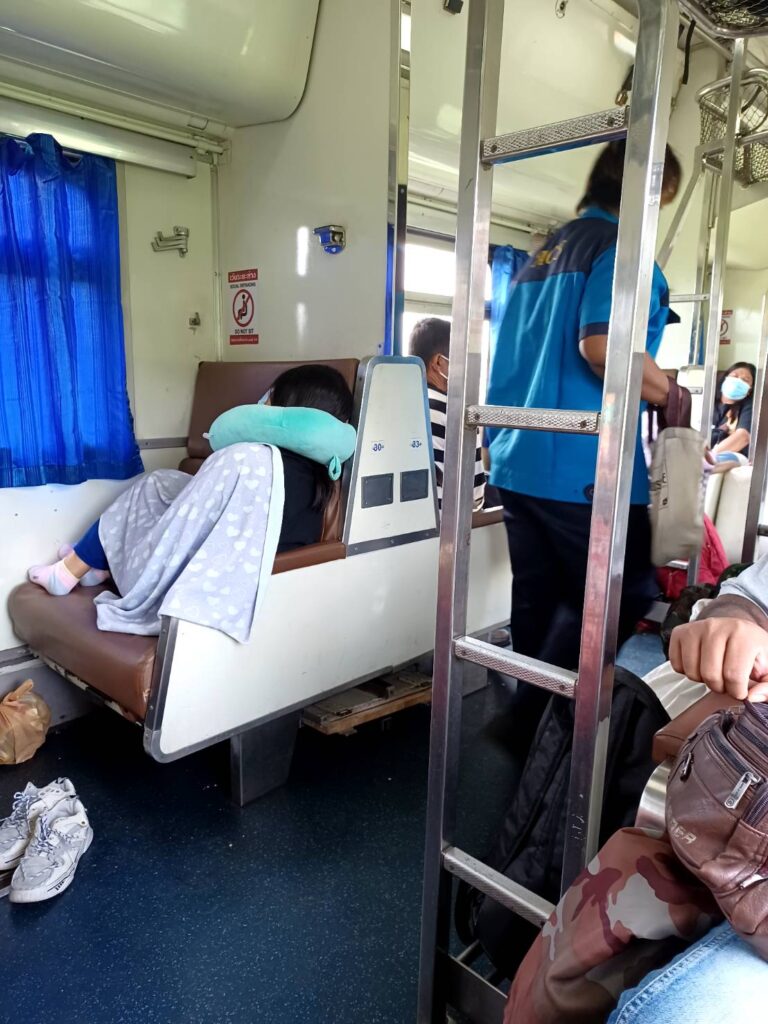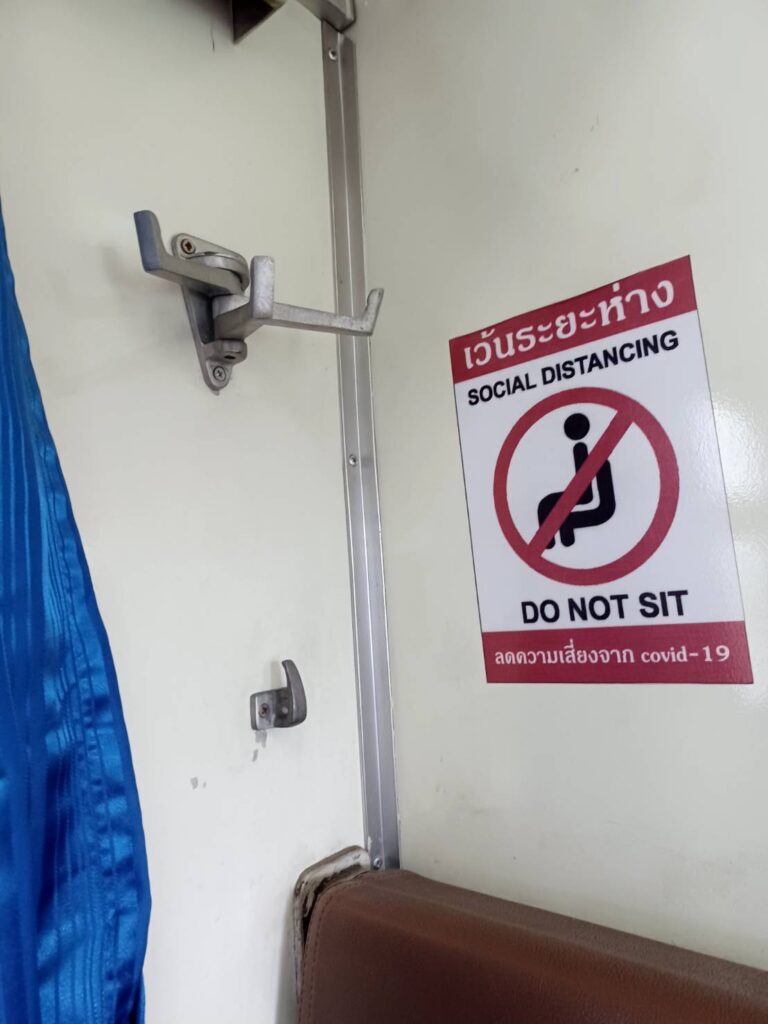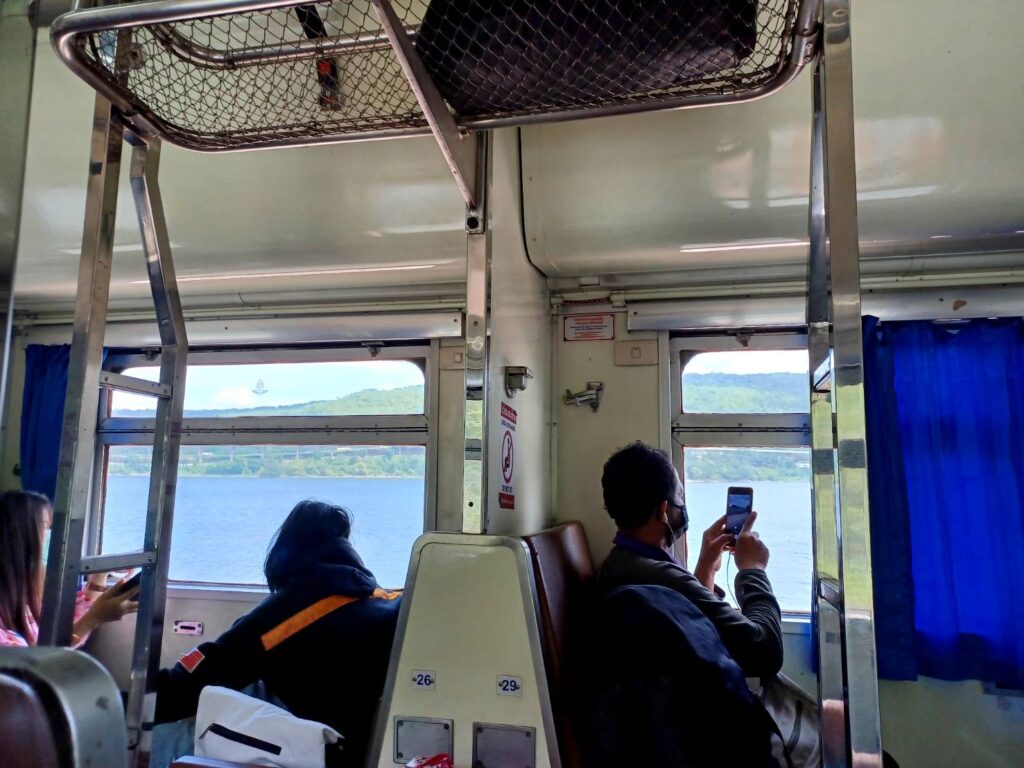 Saraburi station, maybe.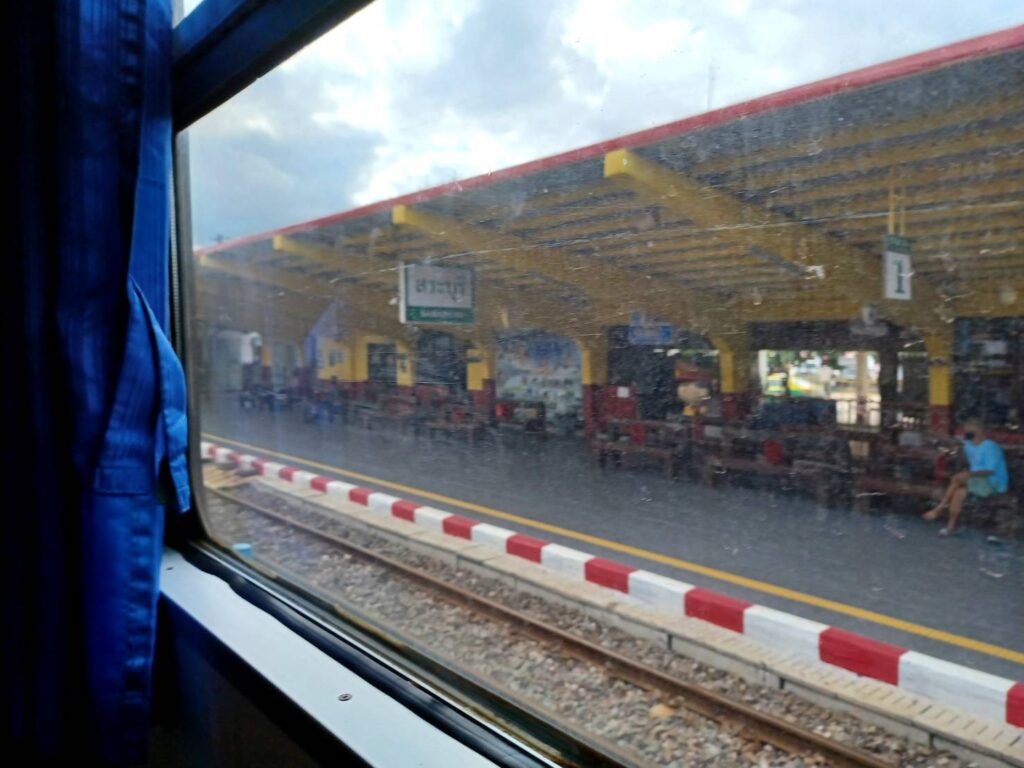 At Saraburi station, the guy in front, he got off so I could use 2 seats to be relaxed more. Since this is sleeper train, seat can be rearranged to the bed as this.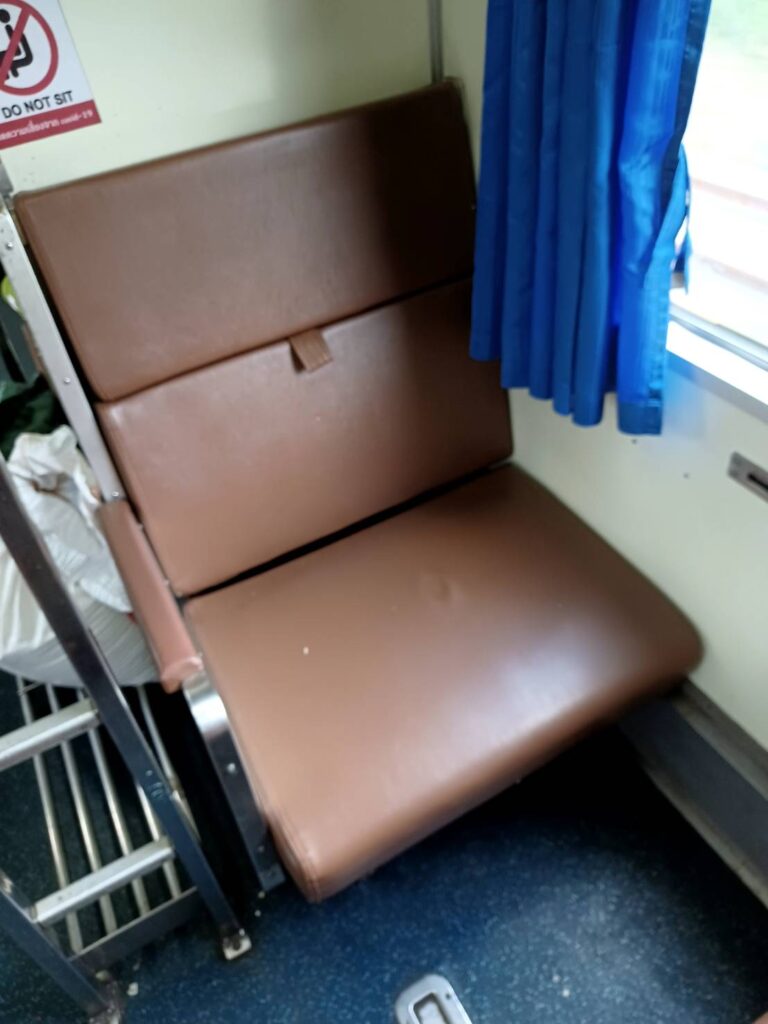 Slid down lower back seat the connect seats each other to make bed style.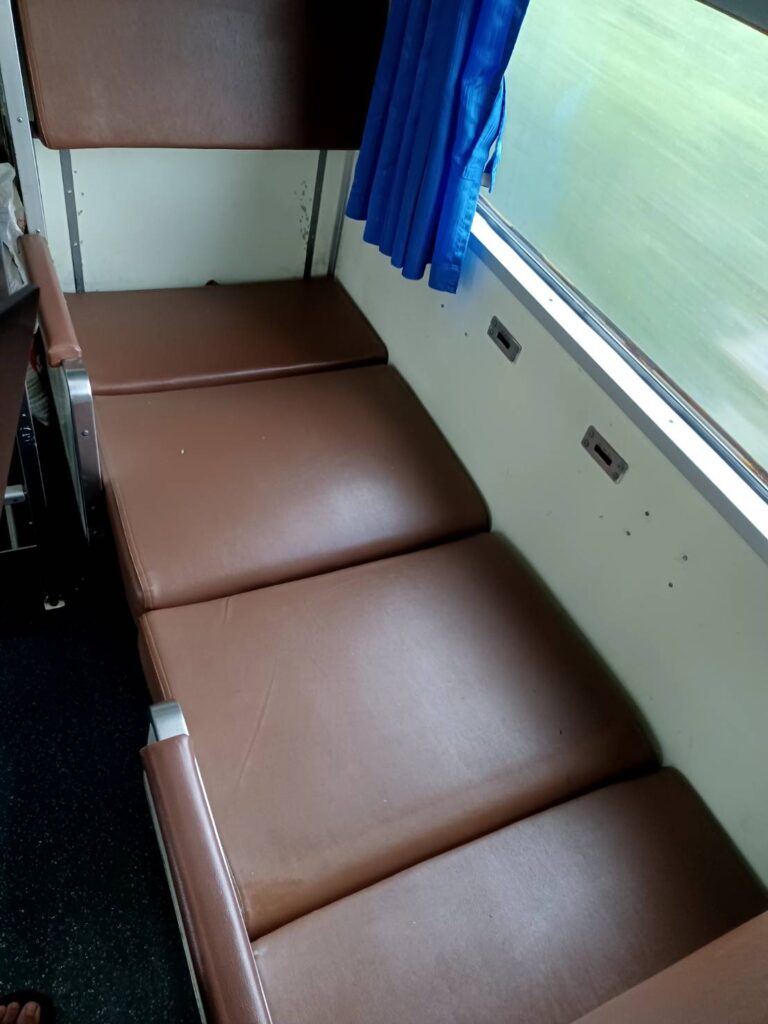 Writing blog on the train in very relaxed posture like this, haha.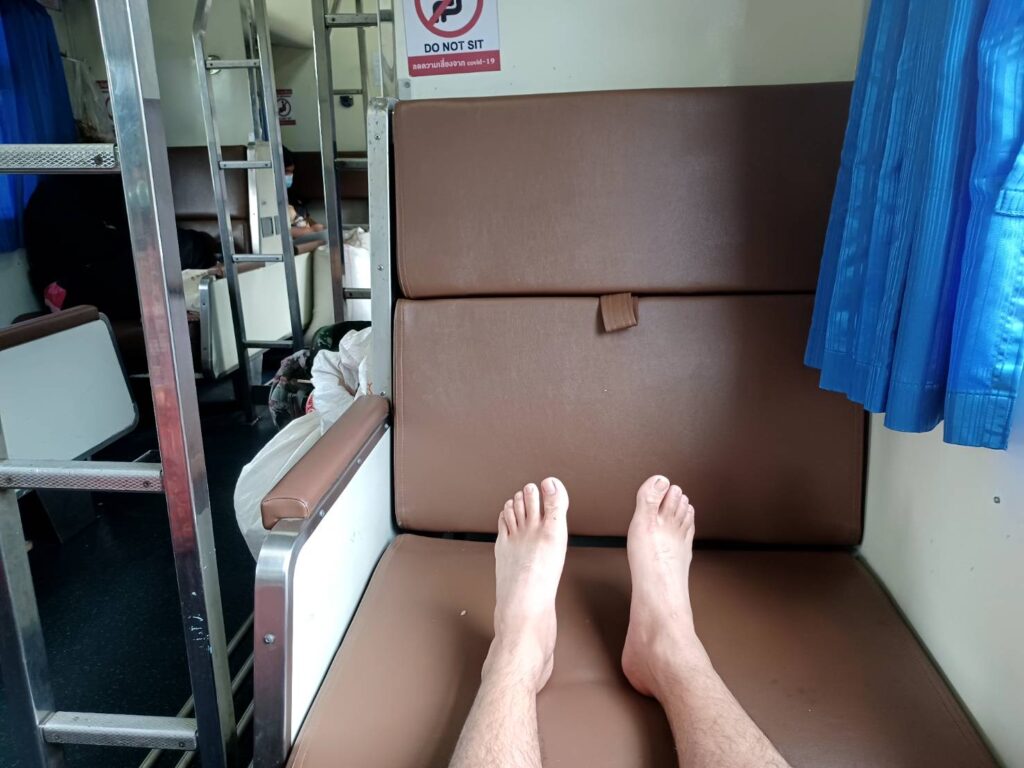 Same houses in the areas.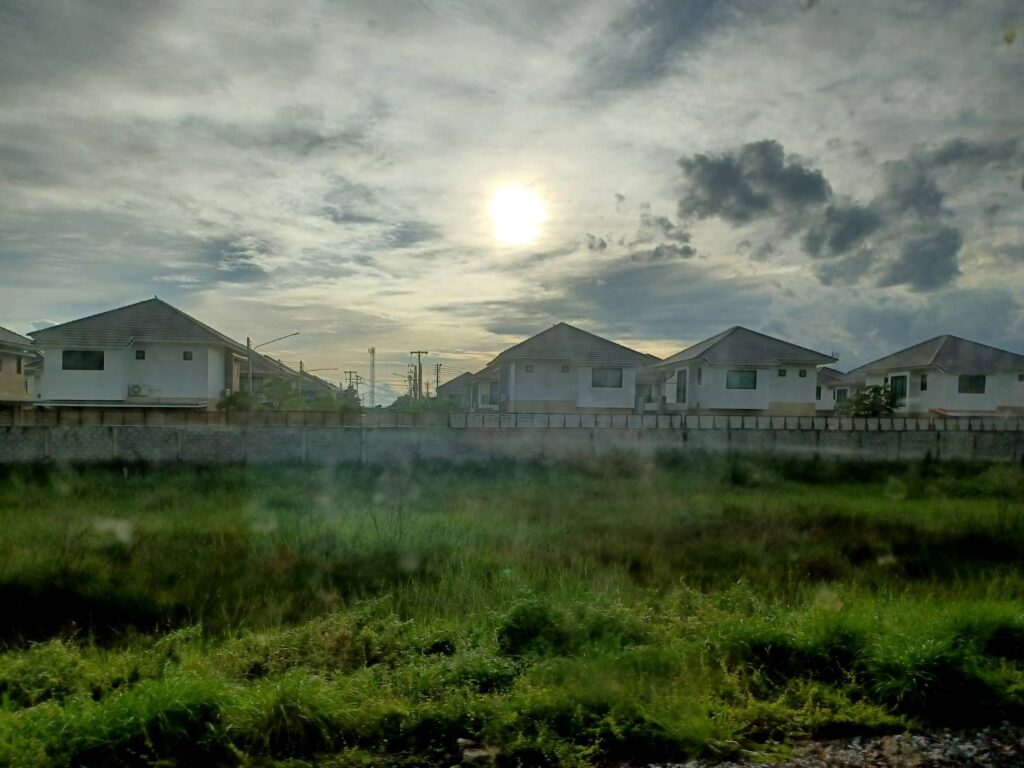 Thai students are taking photo maybe for graduation ceremony.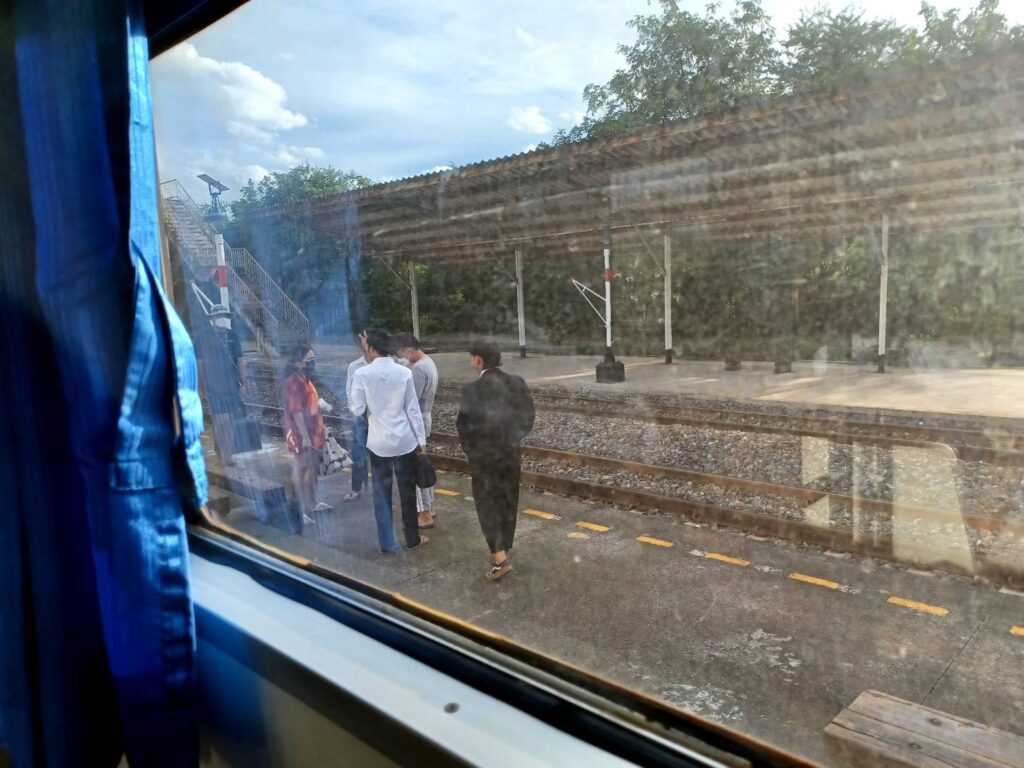 Train arrived at Rangsit station only 5 minutes late. It means that delay was recovered by 25 minutes from Buriram station, wow, that was really nice, almost on time so I can go home early than expected.
I got off at Rangsit station to take bus to Suvarnabumi area near my home. Train continues to go to final destination, Hua Lamphong station, 50 minutes more from Rangsit station.