One Saturday March, 2022, I used free airport shuttle bus service from Suvarnabhumi airport to Don Mueang airport so I record my experience here. Please watch out their operation is a bit different before COVID-19 era. Now they have reduced operation due to less tourists coming to Thailand.
Suvarnabhumi airport to Don Mueang airport
At Suvarnabhumi airport, bus stop is at the outside of Exit 3, 2nd floor arrival hall.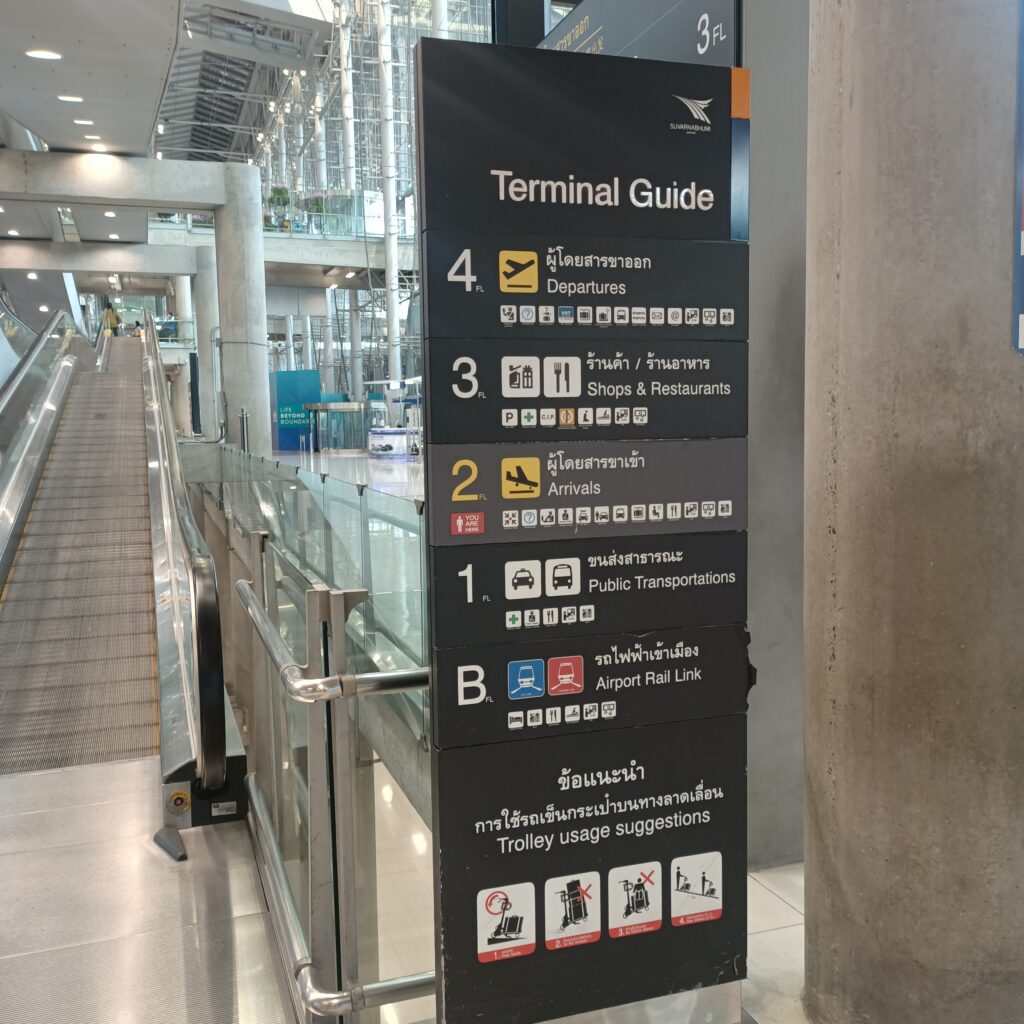 Going out through exit No.3.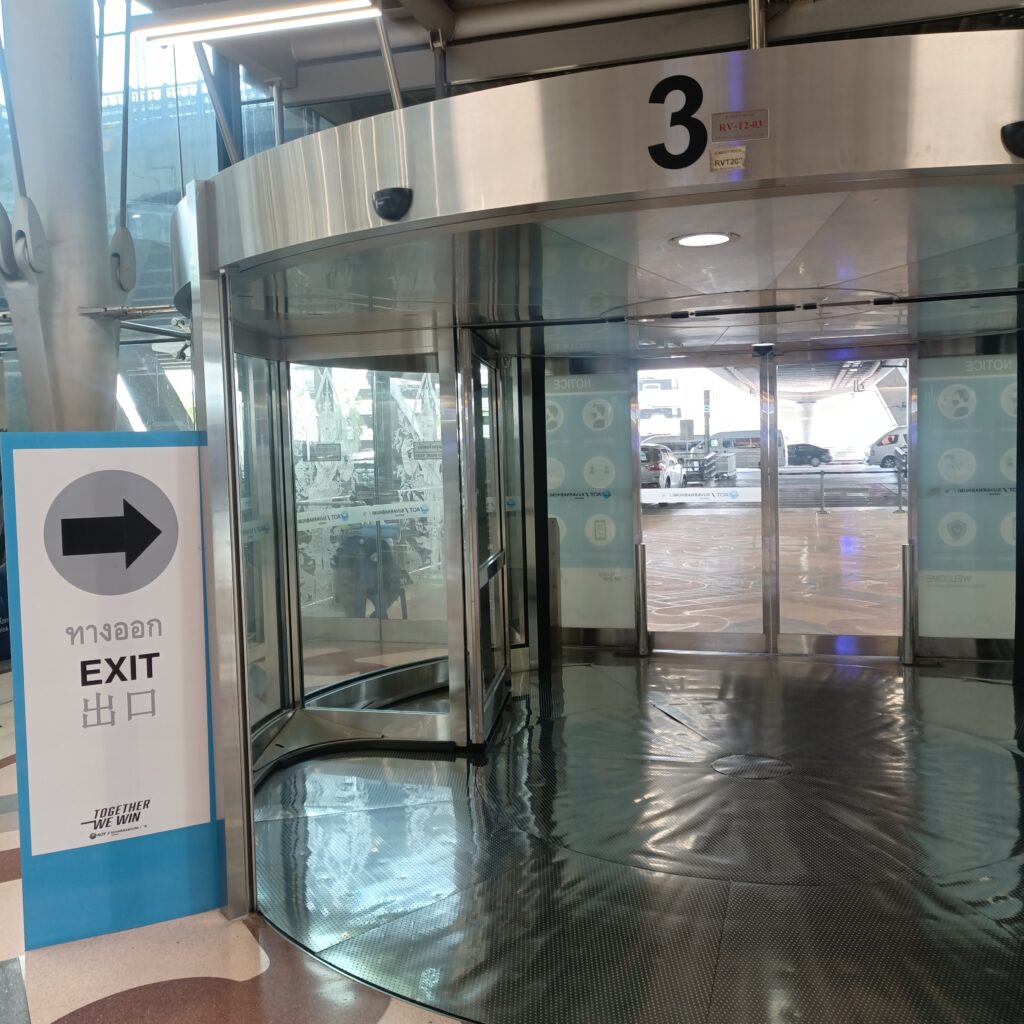 You will see shuttle bus sign and counter. Shuttle bus can be used only for those who has flight schedule on the day or next day if you use shuttle bus at night time.
Bus operation time is every hour only from 5am to 10pm. 5 am to 12 midnight (noticed operation extended on Feb 2023) while they used to have more buses every 30 minutes before COVID-19. Counter staff told me that the number was reduced due to less users. They might increase frequency if the kingdom welcomes more guests from other countries as before.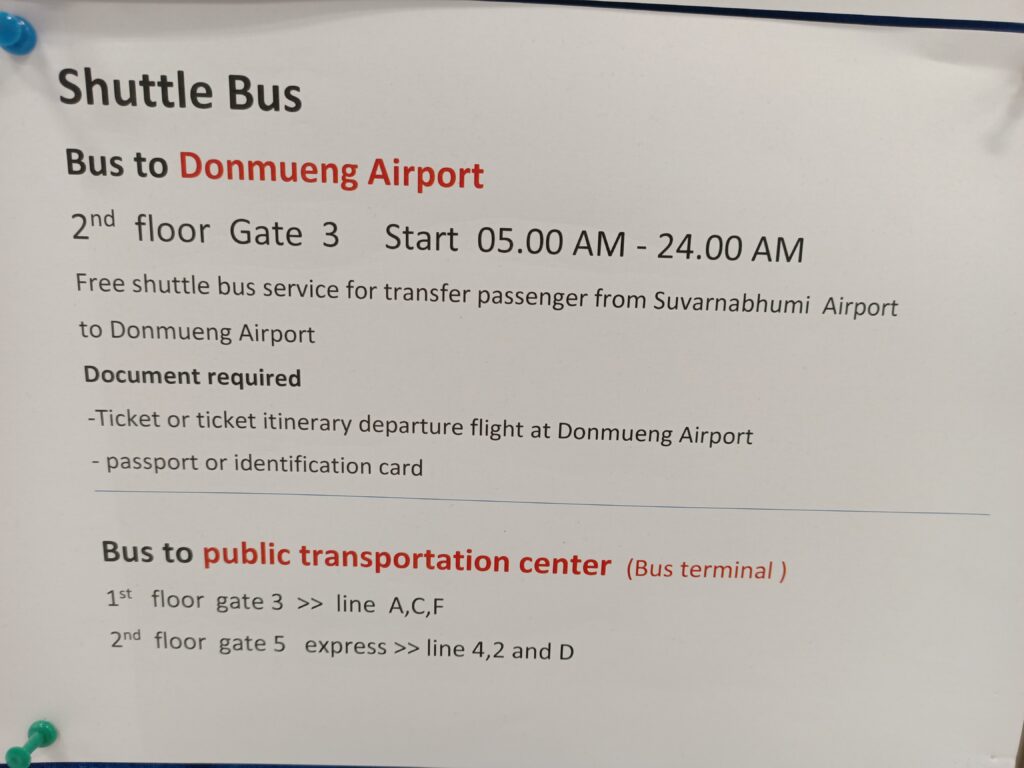 Bus stop at Suvarnabhumi airport.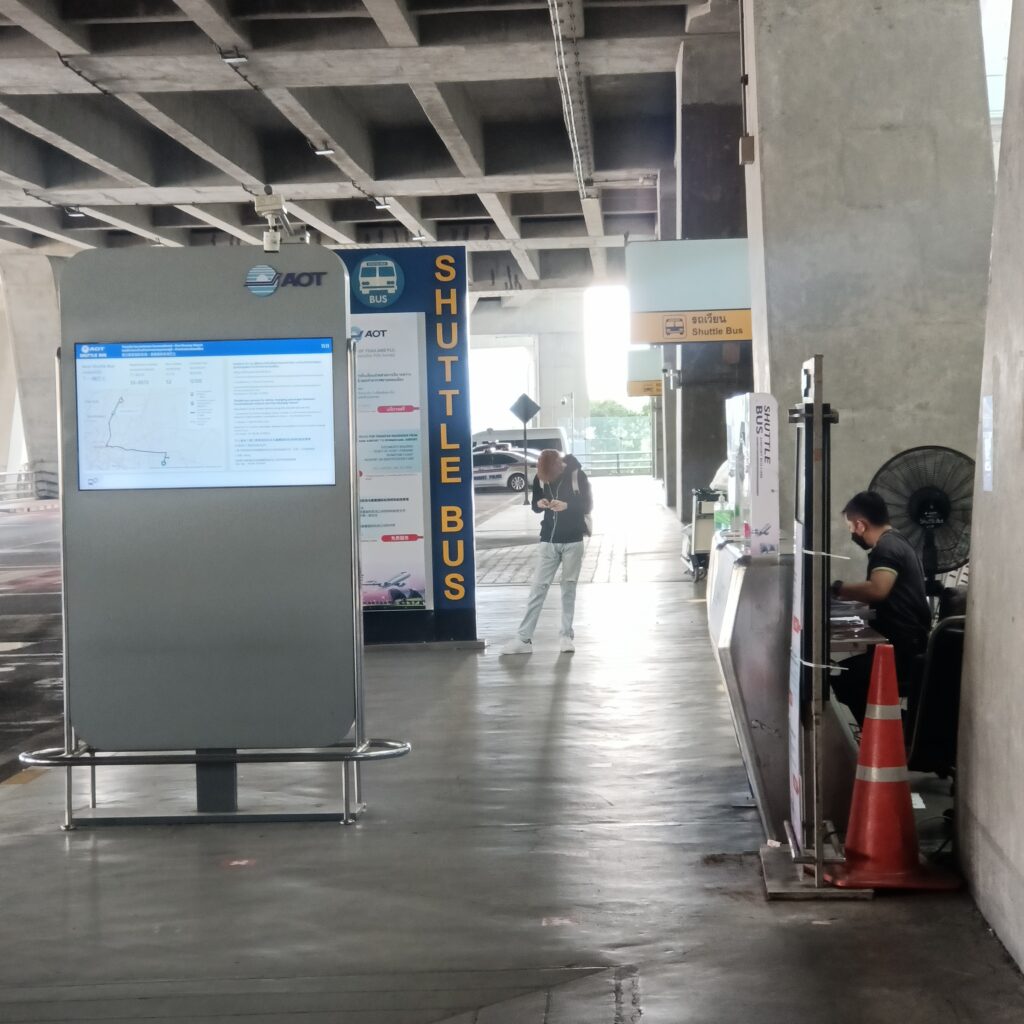 At the counter, please show your identification card or passport and travel itinerary to confirm you have flight from Don Mueang airport.
In case, you do not have flight but wishing to go to Don Mueang airport, you can take city bus from Suvarnabhumi transportation center. From there, you can take bus No. 554 or 555 which passes by Don Mueang airport. Bus fare is 37THB for No. 555 and 34THB for No. 554. How to go to Suvarnabhumi transportation center, you can refer to below link.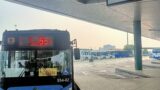 Local bus trip from Suvarnabhumi airport to Don Mueang airport
Welcome back to fitravelfe.com! This time, I will introduce to you how to go to Suvarnabhumi airport to Don Mueang ai...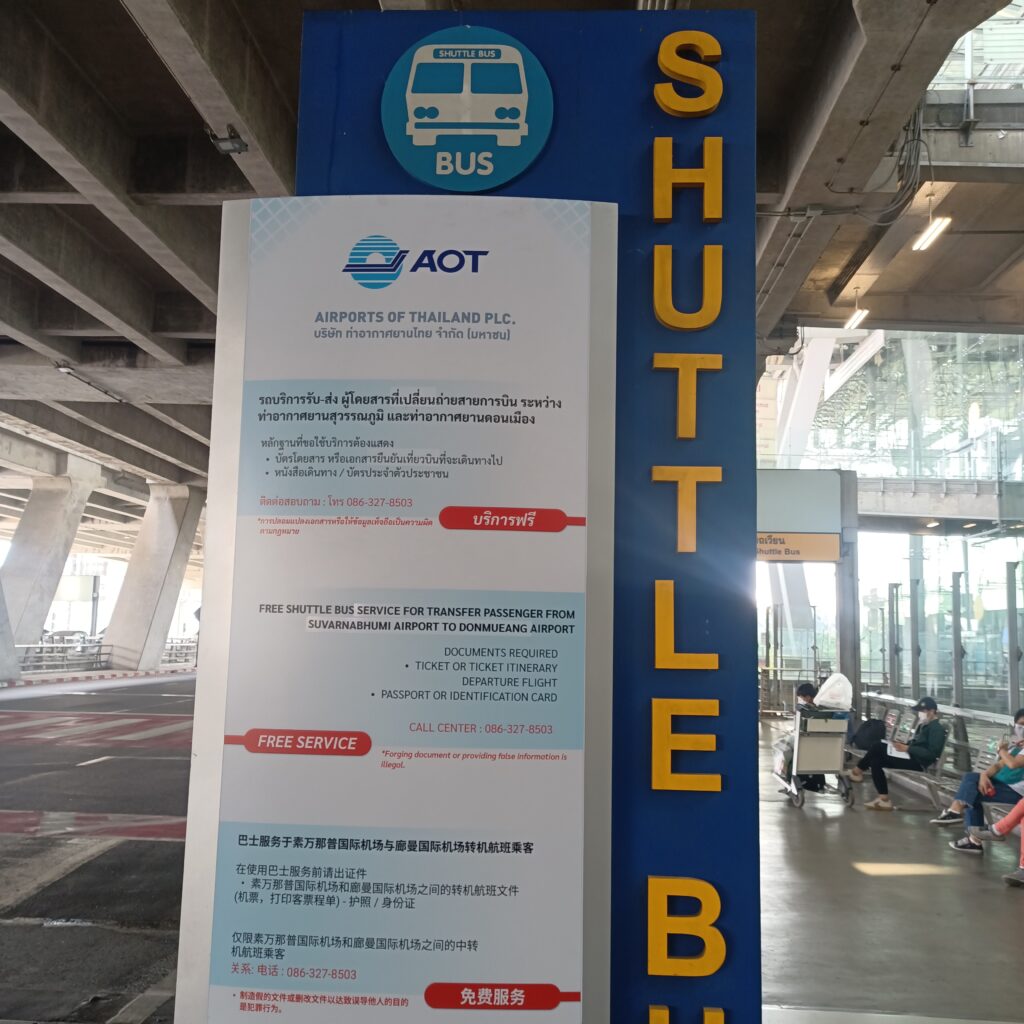 Before COVID-19, they have bus trip schedule on the board but now it was removed as of March 2022.
You can check real time bus operation on the screen. This time I had to wait for 40 minutes more to get in the bus.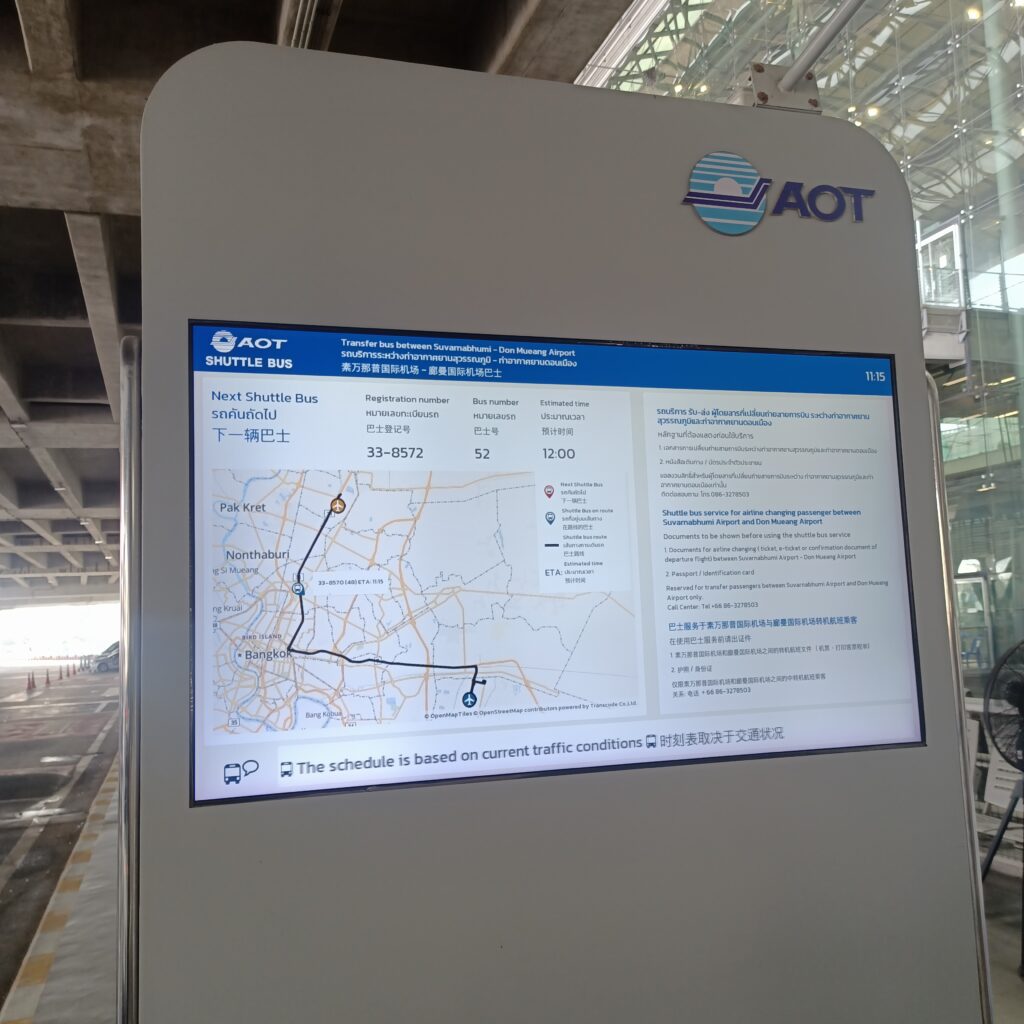 Counter staff gives you sticker to put on the your chest.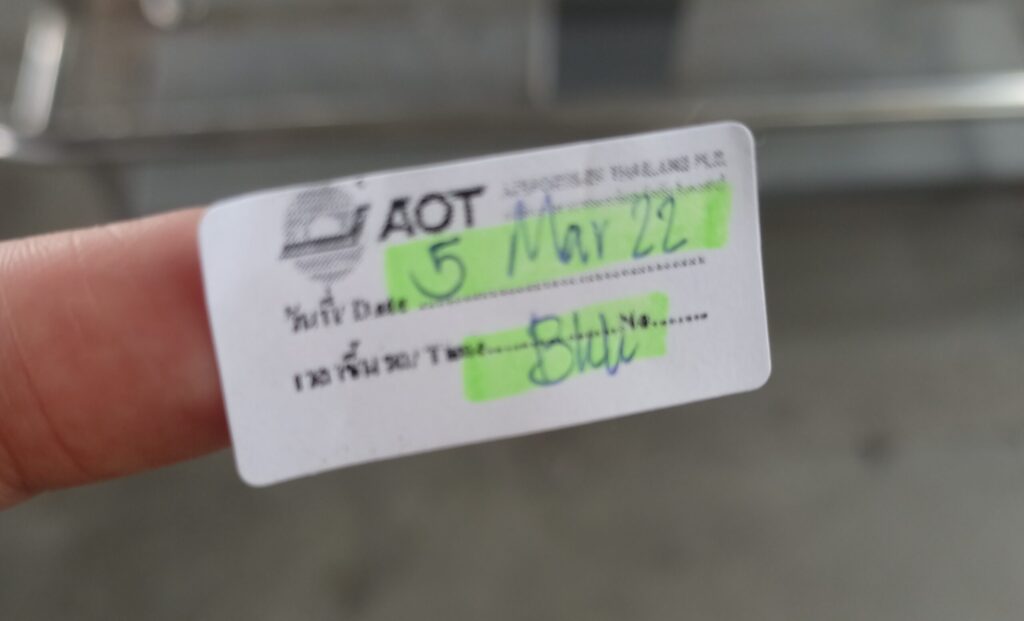 Bus finally came! 5 minutes before scheduled departure time. After 5 minutes of driver's rest, immediately bus starts at 12:00 sharp.
Passengers were only 2 including me. I understand that AOT, Airport of Thailand, operator of this bus service decreased the number of service.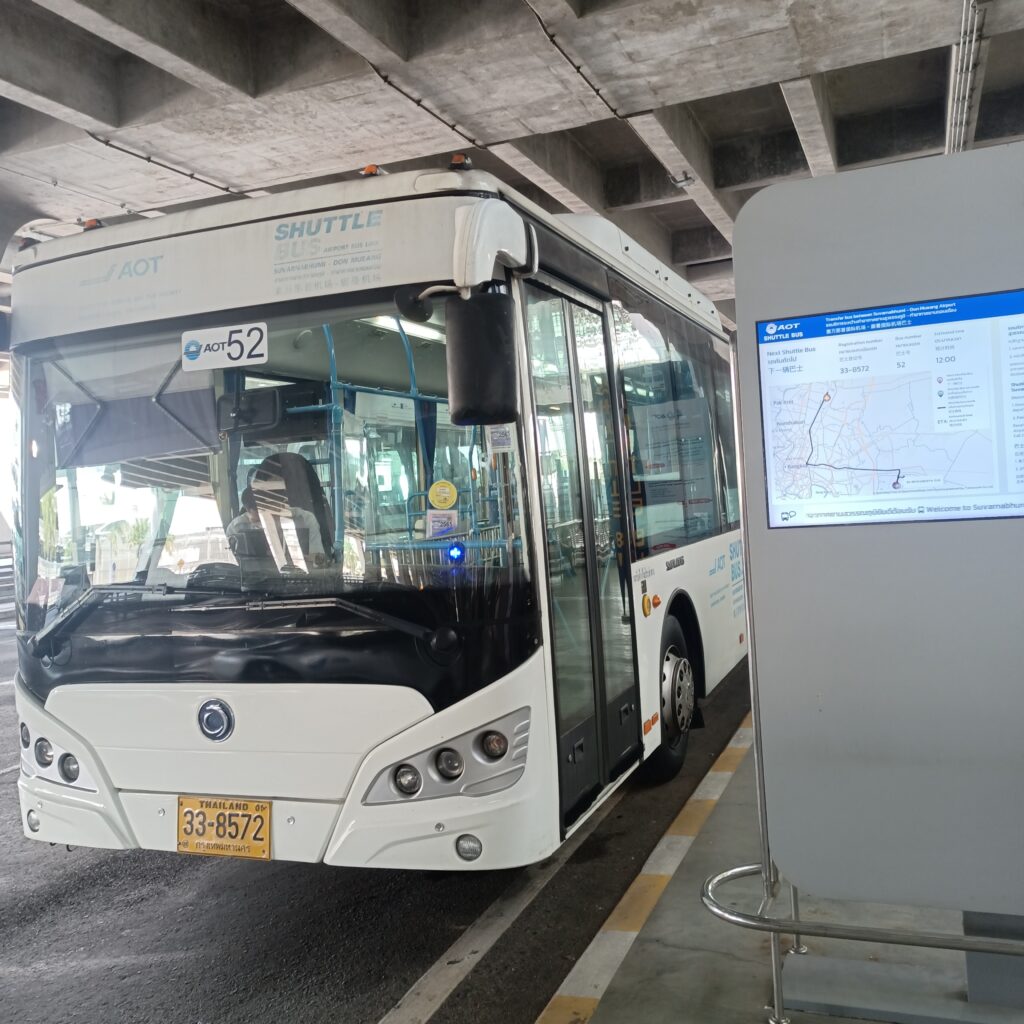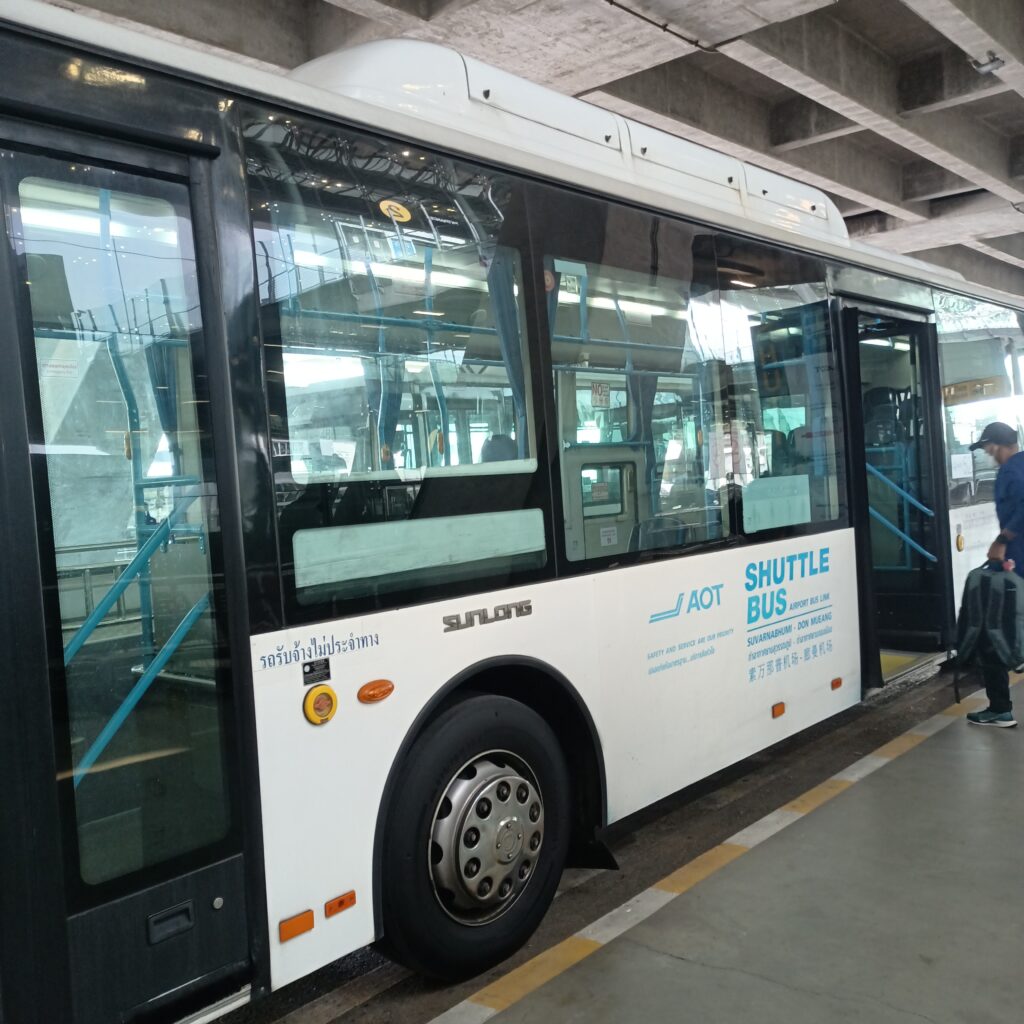 Front side, there is space for suitcases.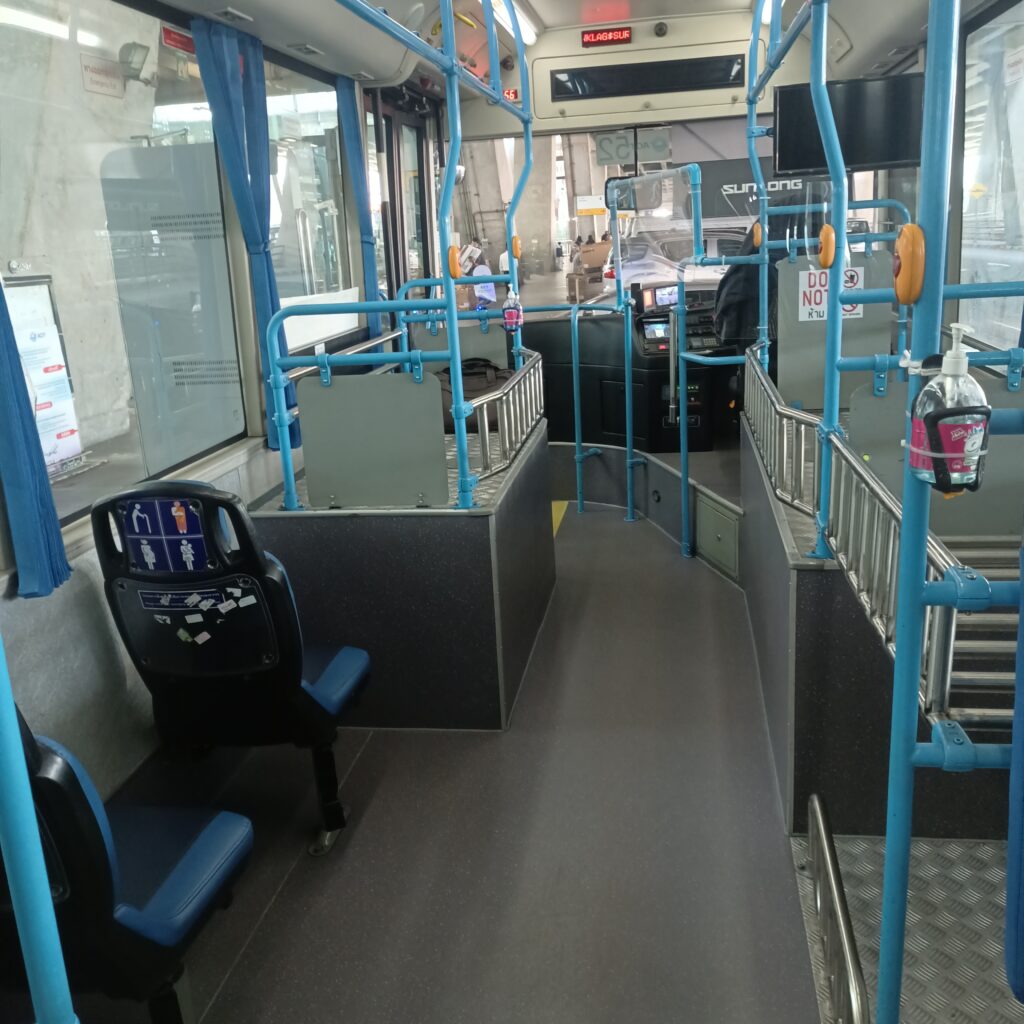 Back side seat.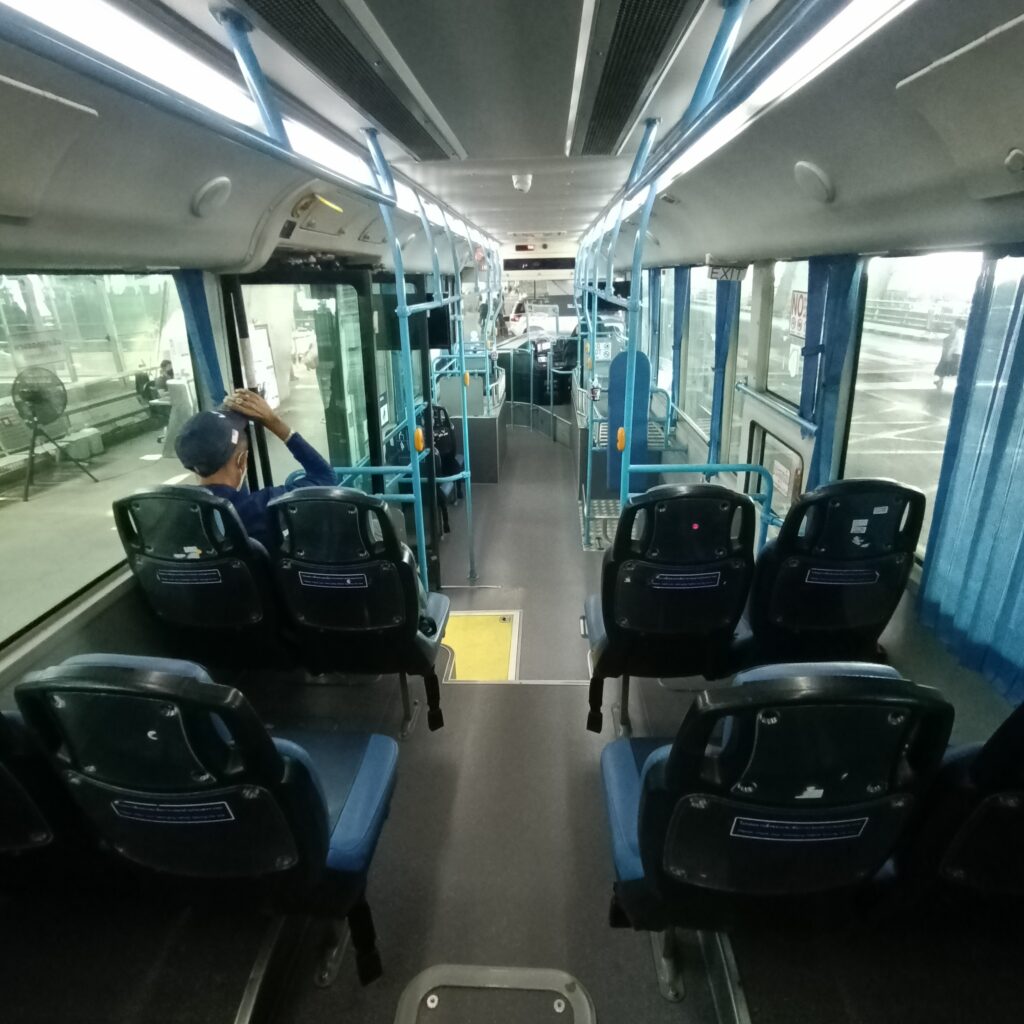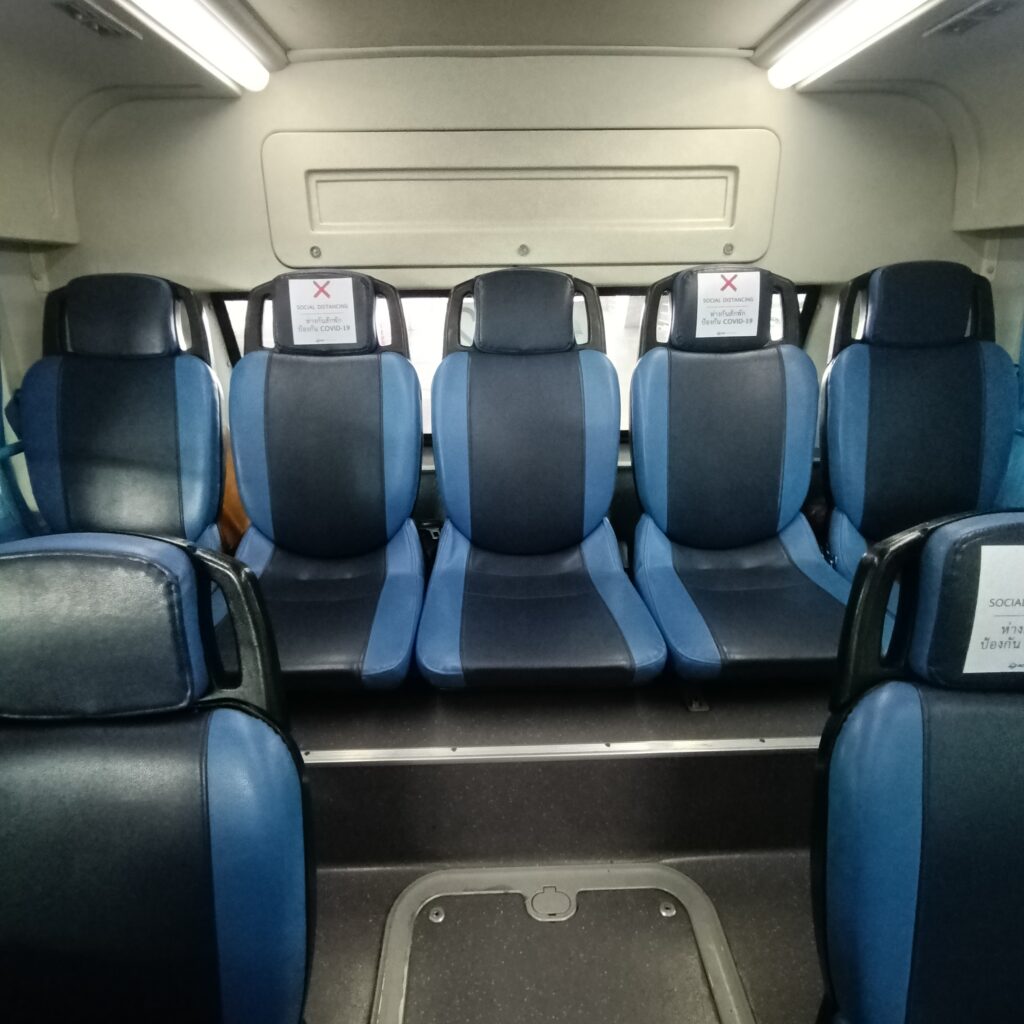 Be patient while traveling an hour.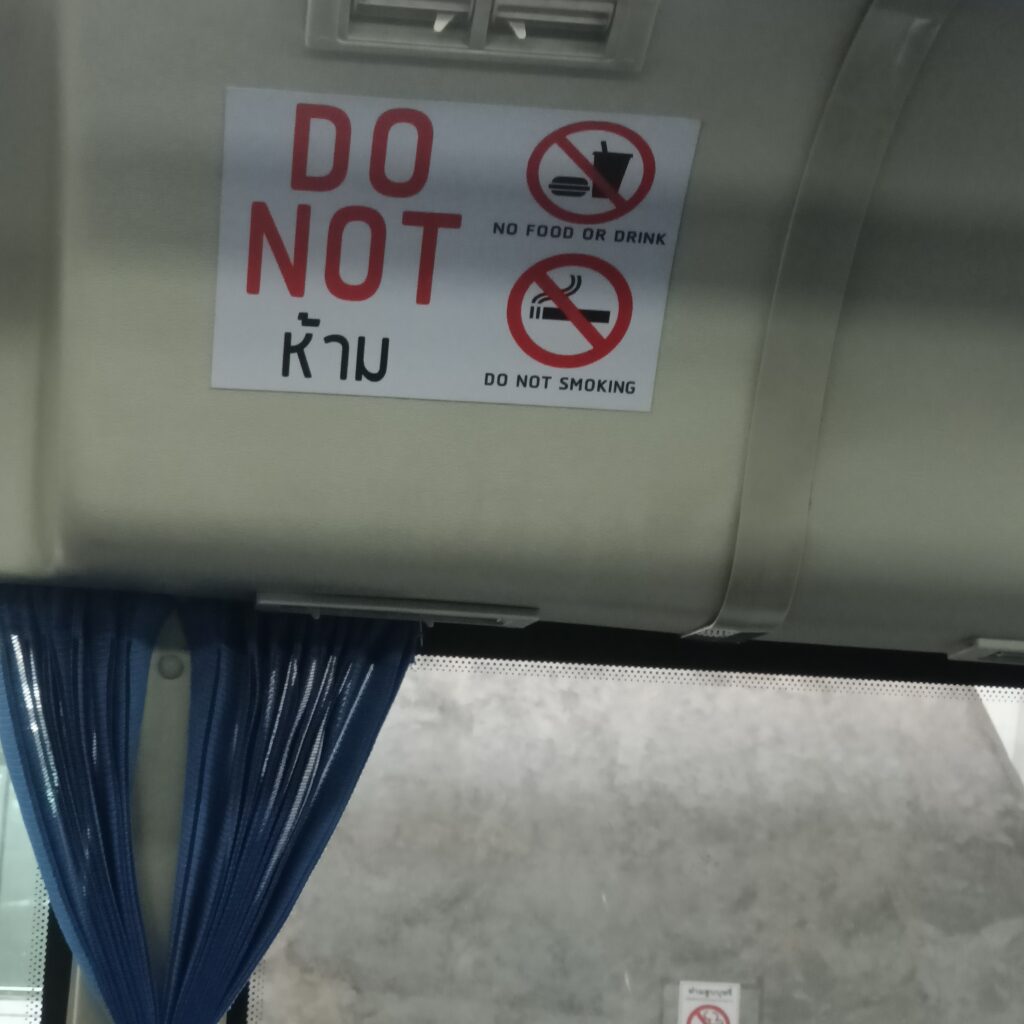 Bus goes on high way with no stop to the destination. You can enjoy skyscrapers of metropolitan Bangkok on the way.
Thanks to few traffic at all, bus reached to Don Mueang airport within an hour. All passengers shall get off at Terminal 2 international departure gate.
46 minutes passed to see Don Mueang airport then the bus will u-turn to enter airport realm.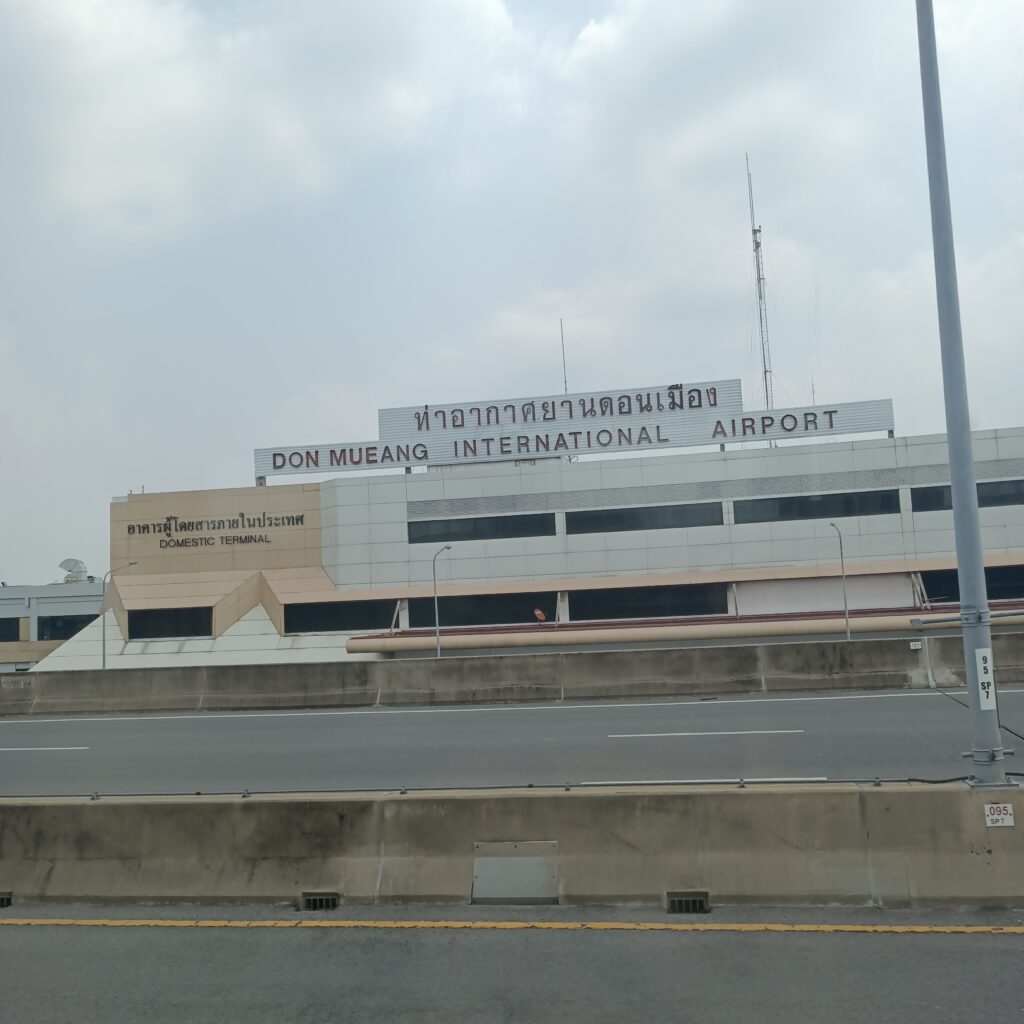 Bus stops at international terminal gate 7. Due to limited service of international flights, not all gates including here is operated.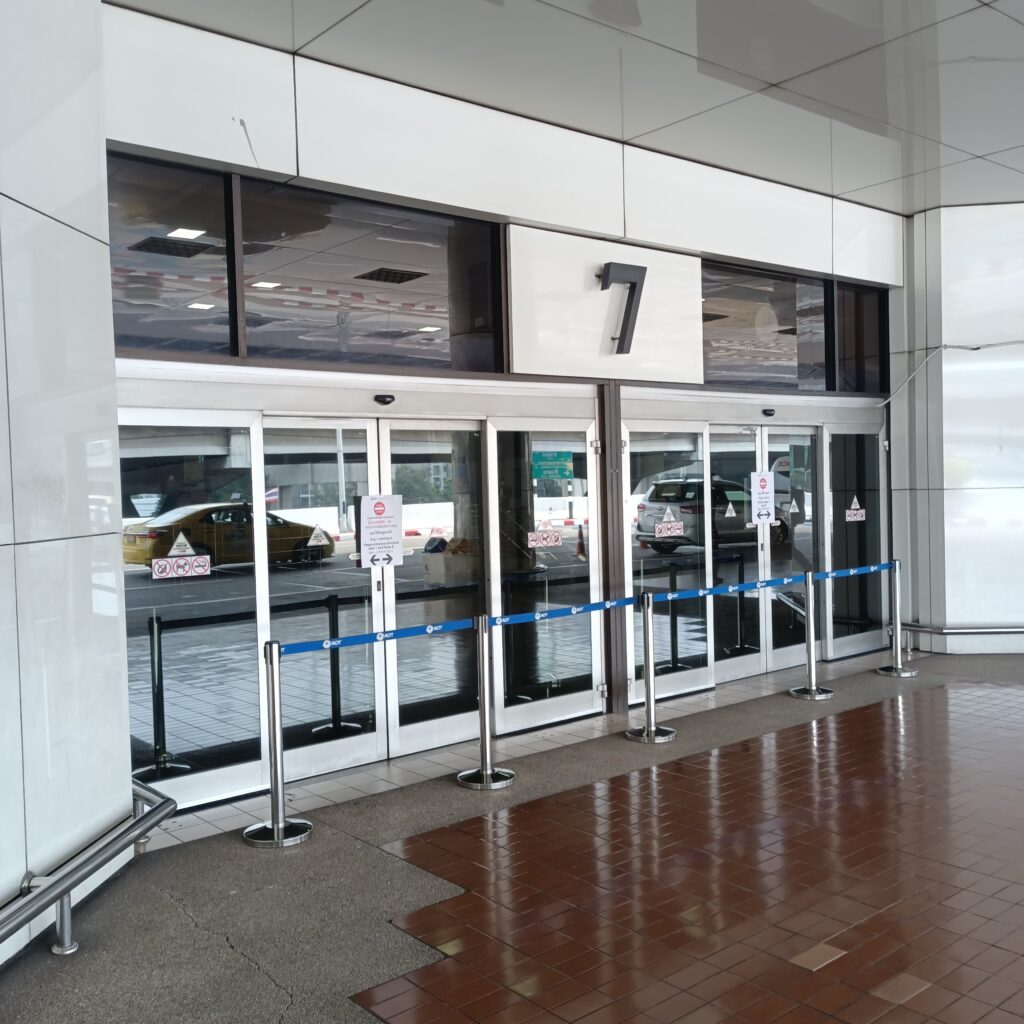 Let's find another gate where it is open.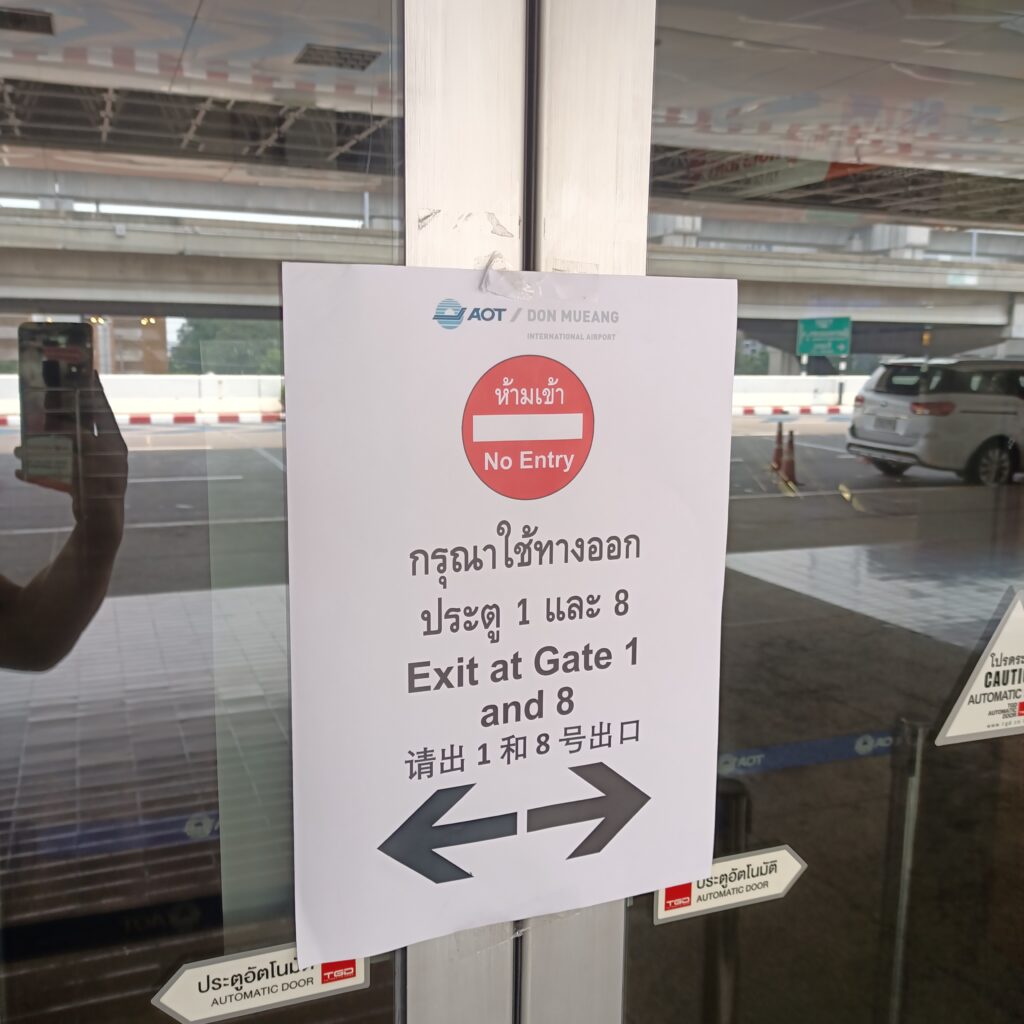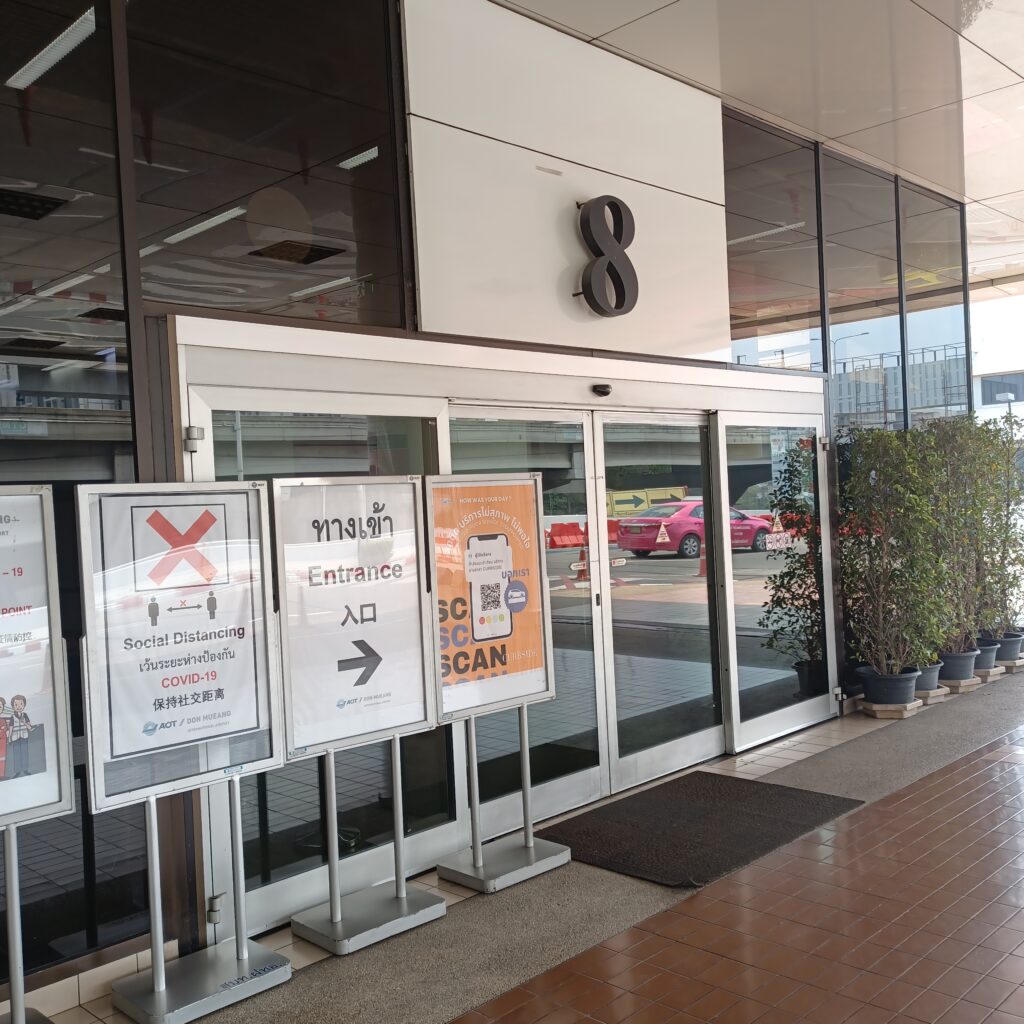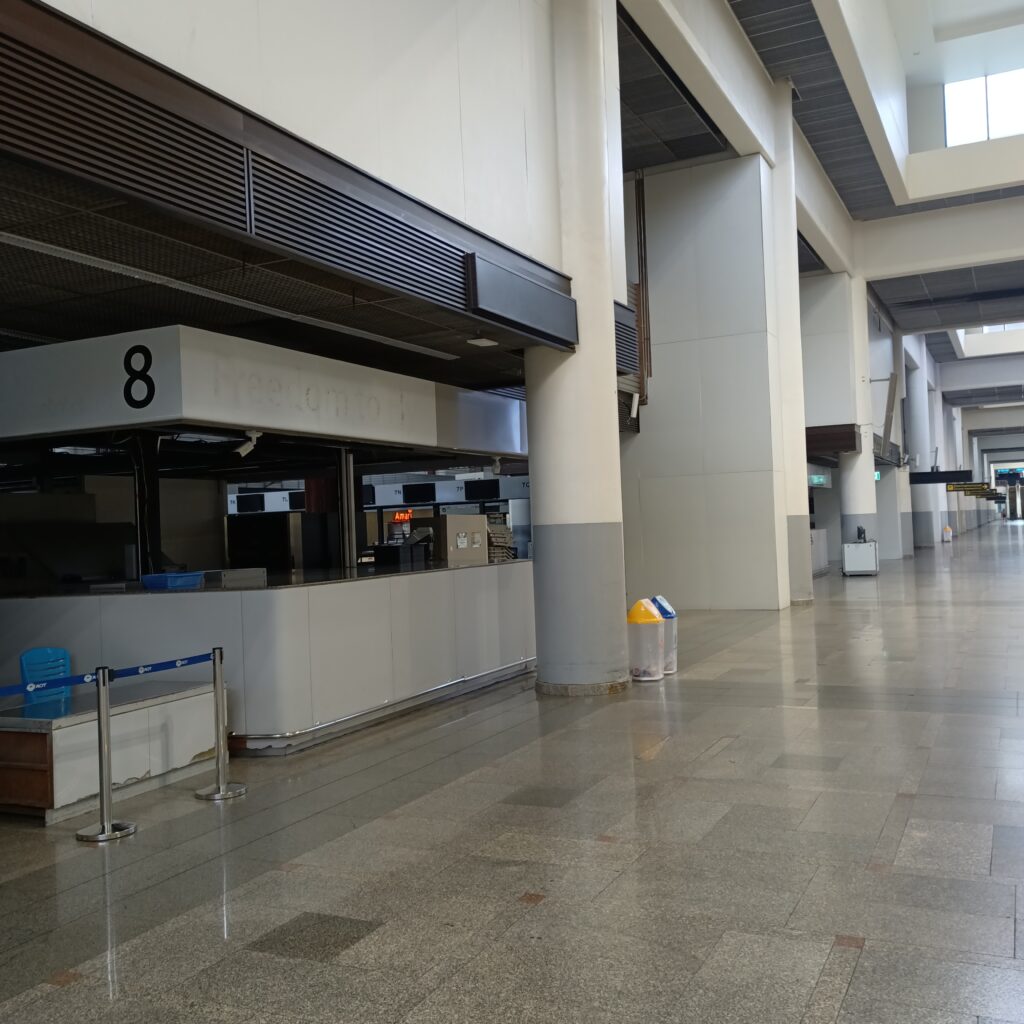 Departure counter areas for international flight are almost all closed at the moment.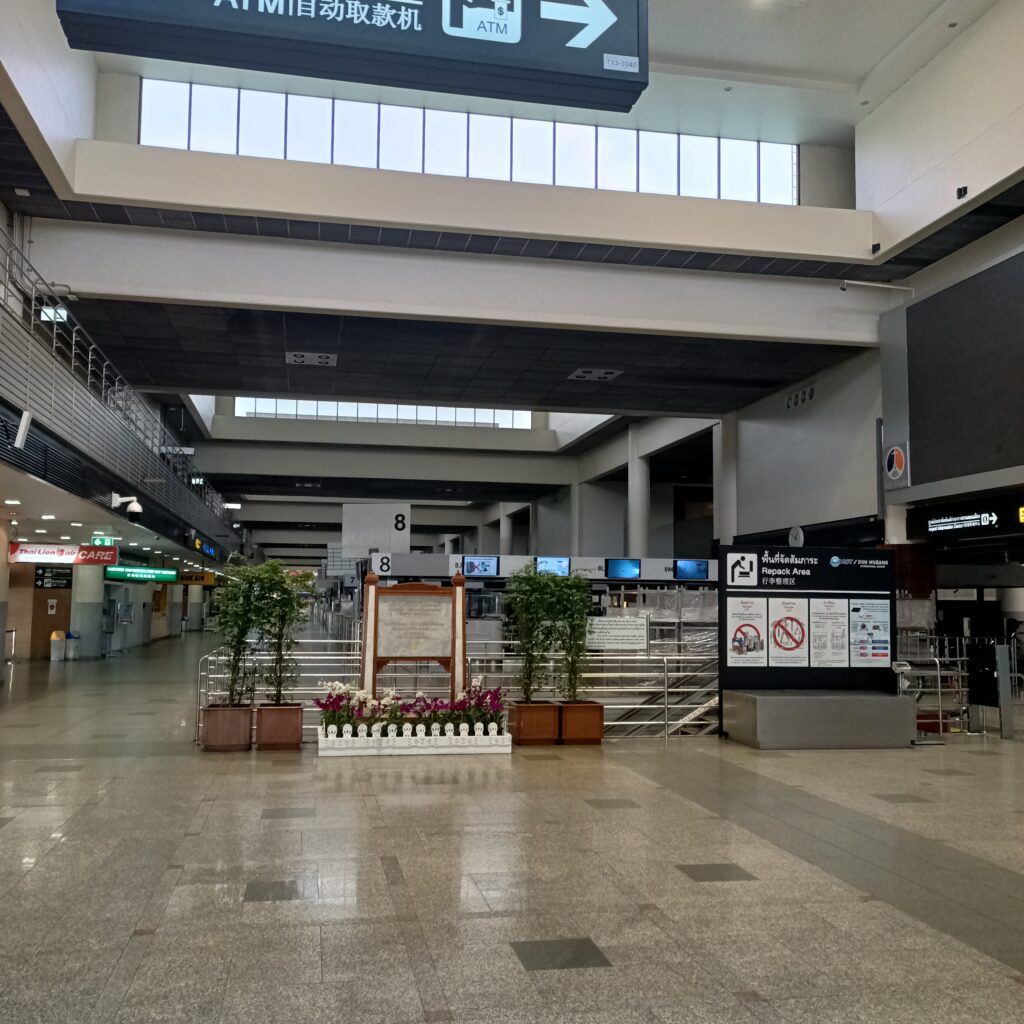 Thanks for the comfort ride!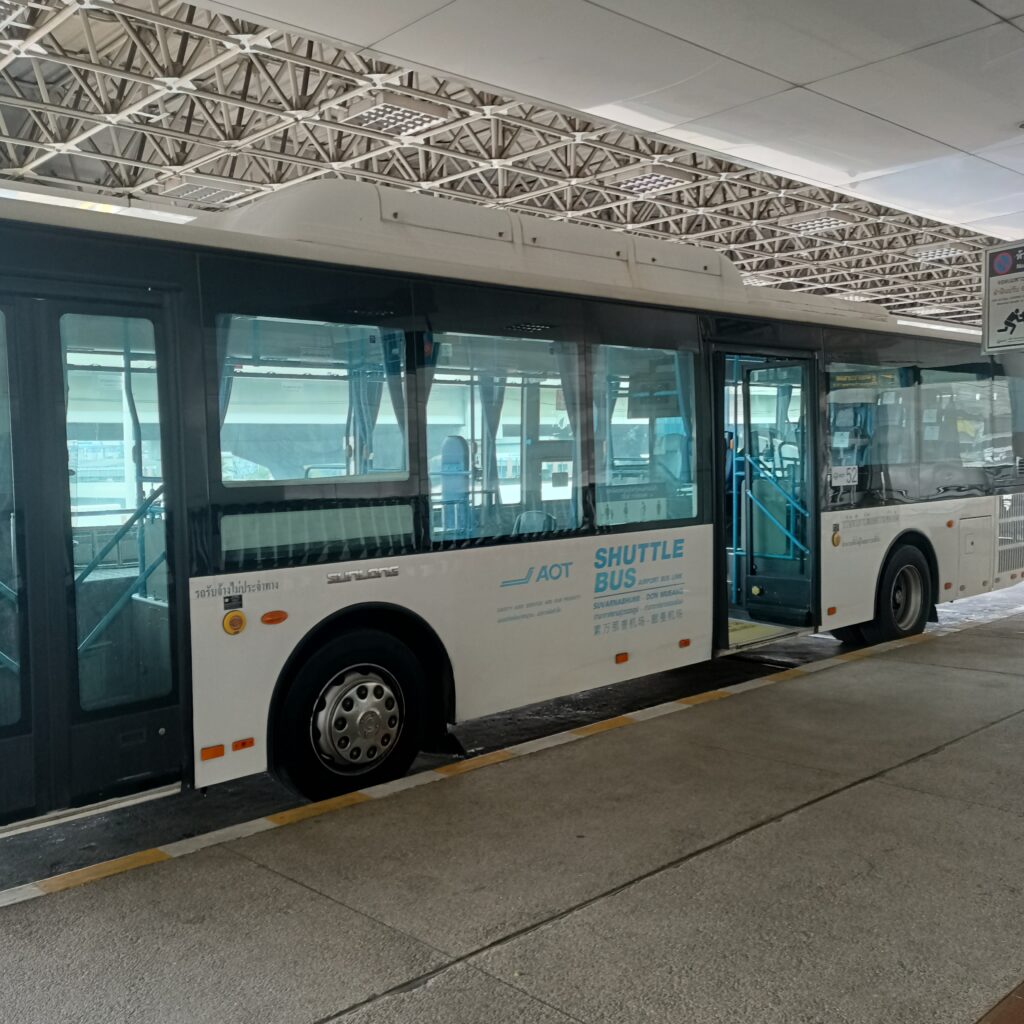 5am first operation a day.
I took bus from Suvarnabhumi end of March 2022, at 5am in the morning.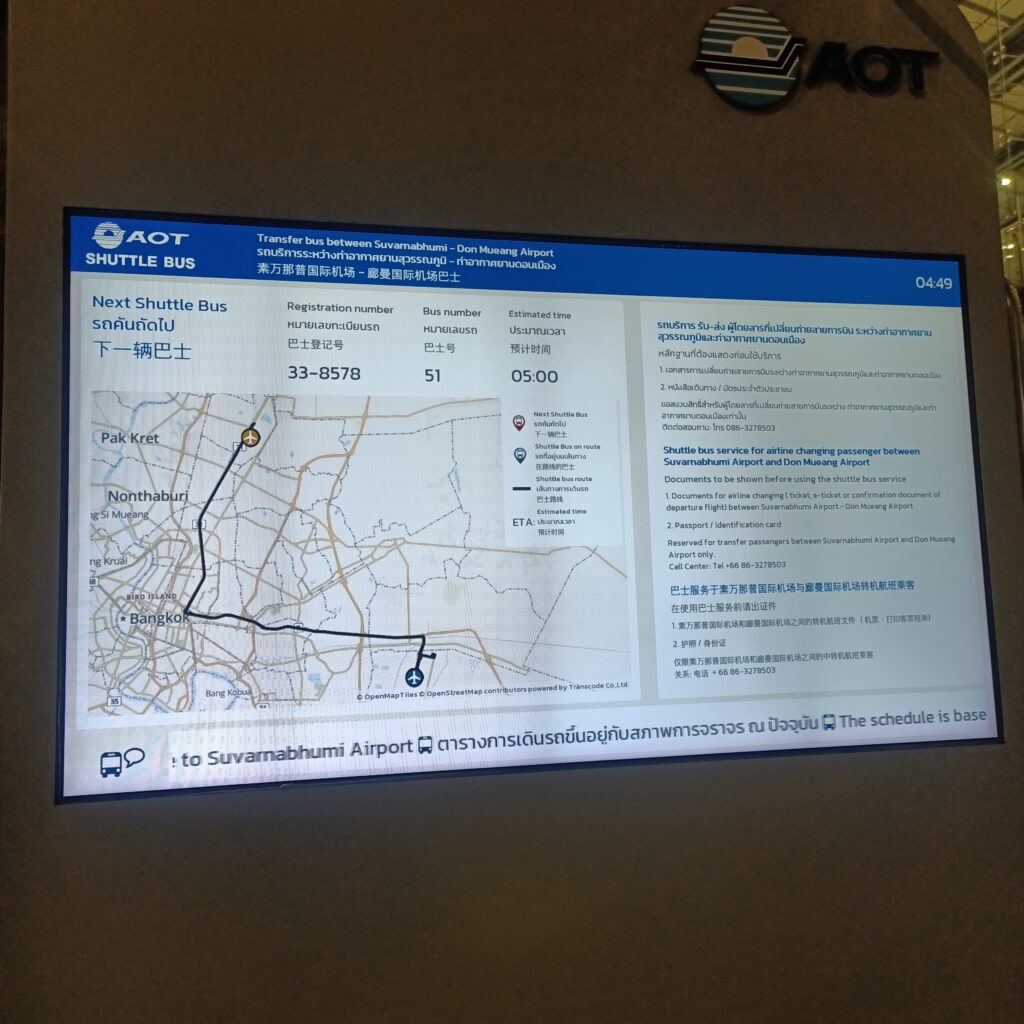 Arrived at bus stop 4:50am by taxi, no bus nor staff stands by at the moment.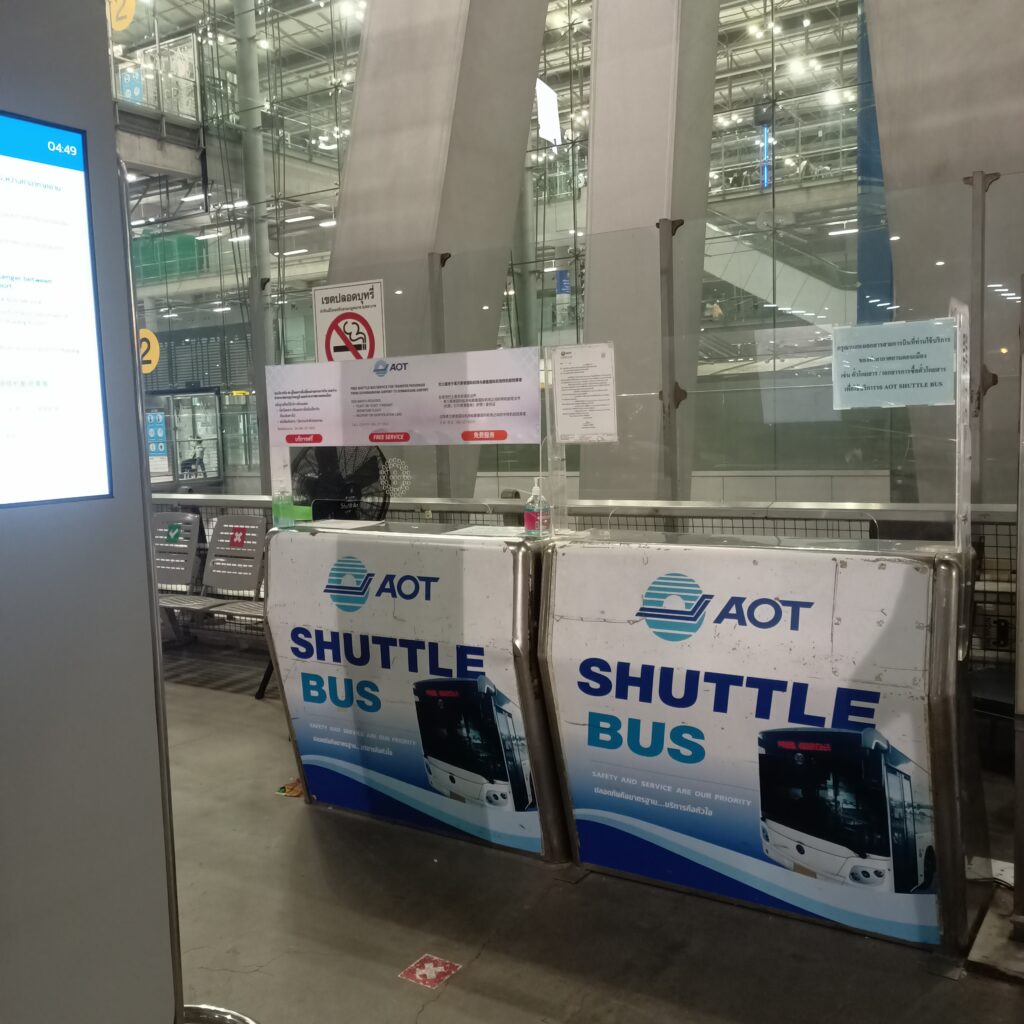 Bus comes at 4:55 am. Counter staff came out from the bus then completed my check in process.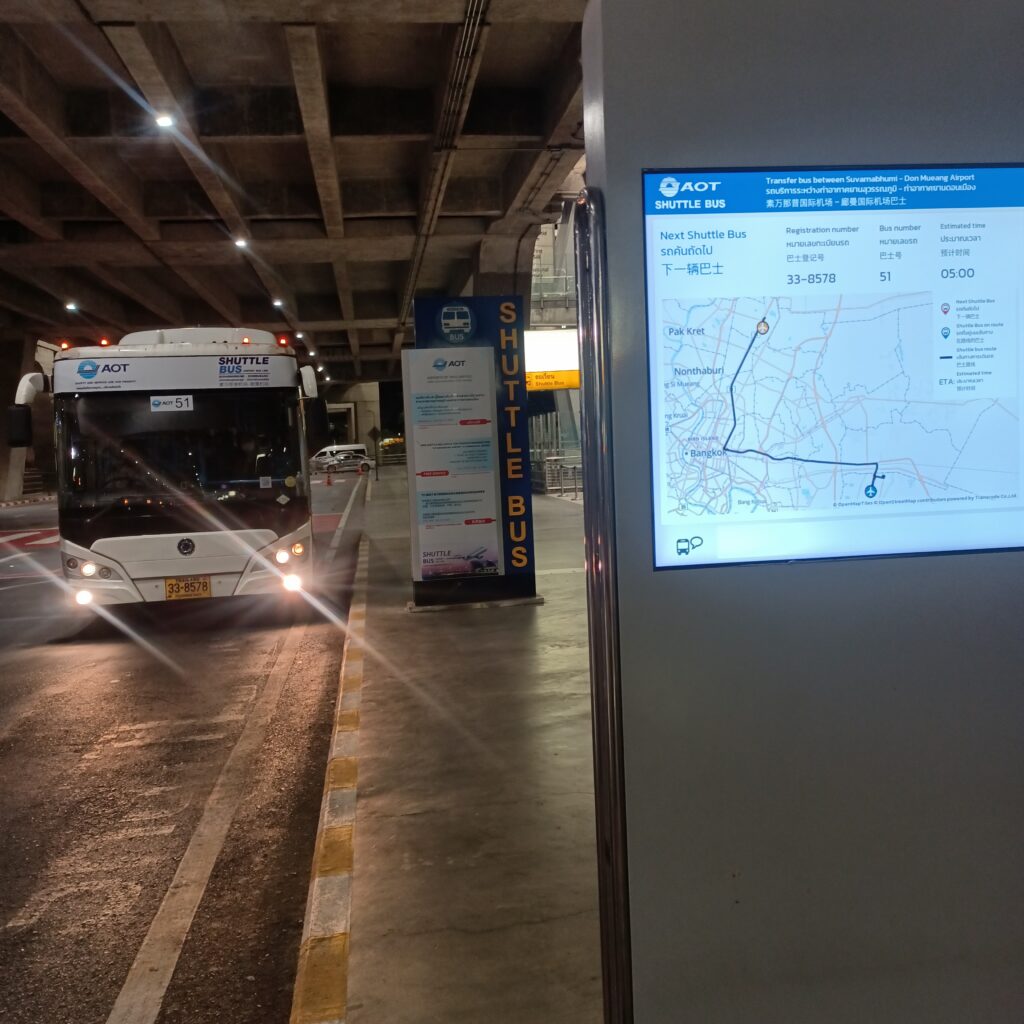 Again, chartered bus trip to Don Mueang airport started at 5am.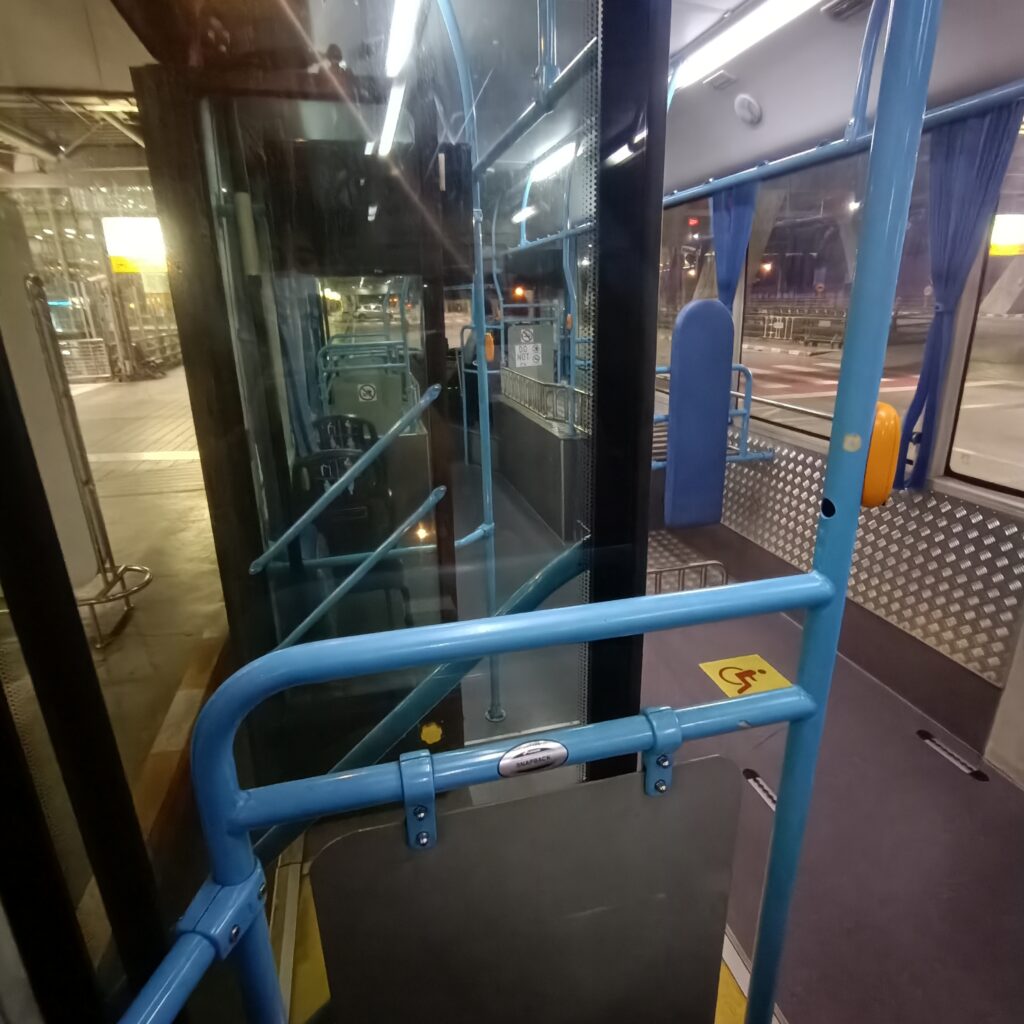 June 2023 ride
I took first bus again from Suvarnabhumi airport to Don Mueang airport on June 2023.
When reached at bus stop, already few passengers have been waiting. At 4:43 am, bus arrived with staff. Once they comes, check in process began one by one.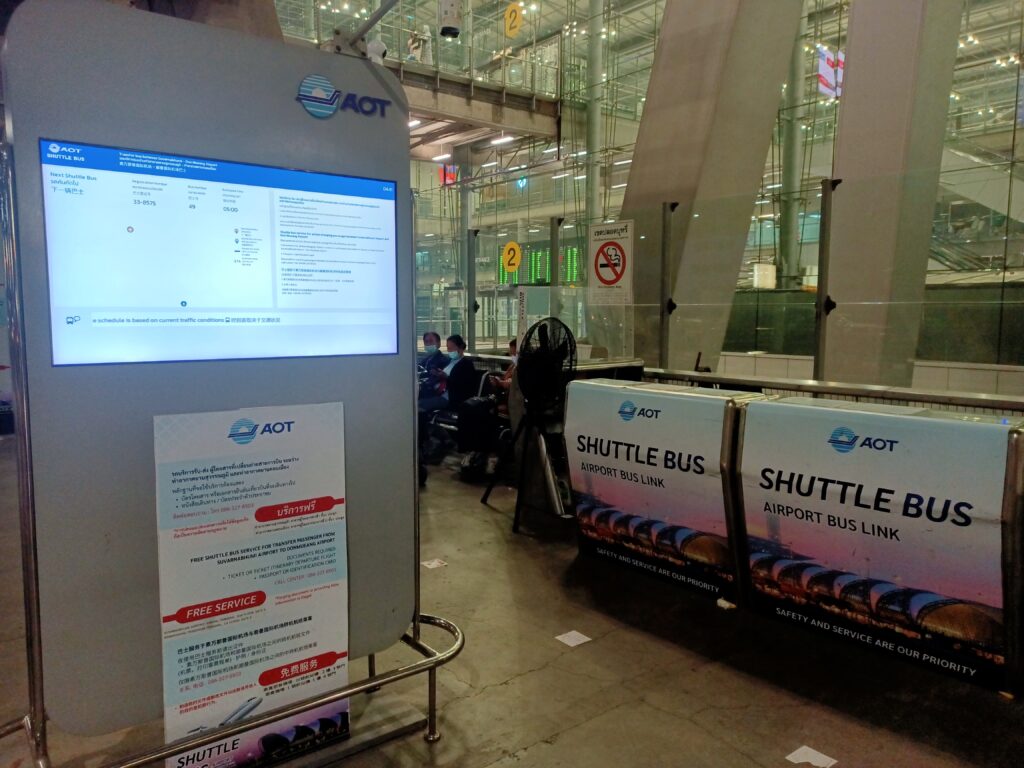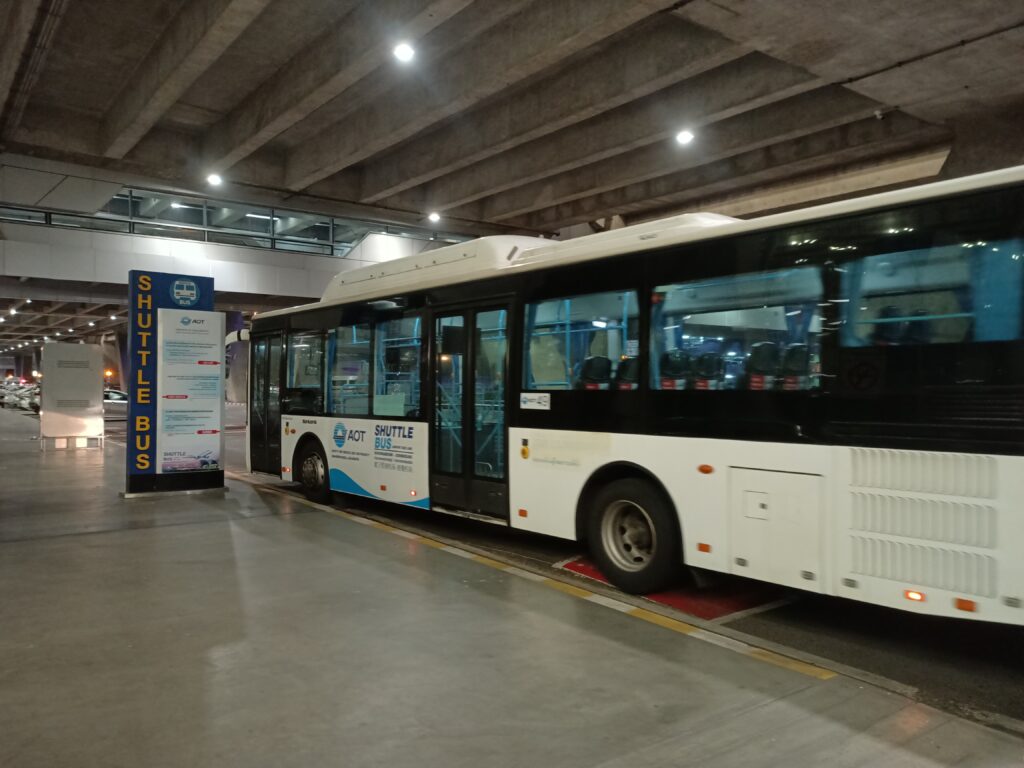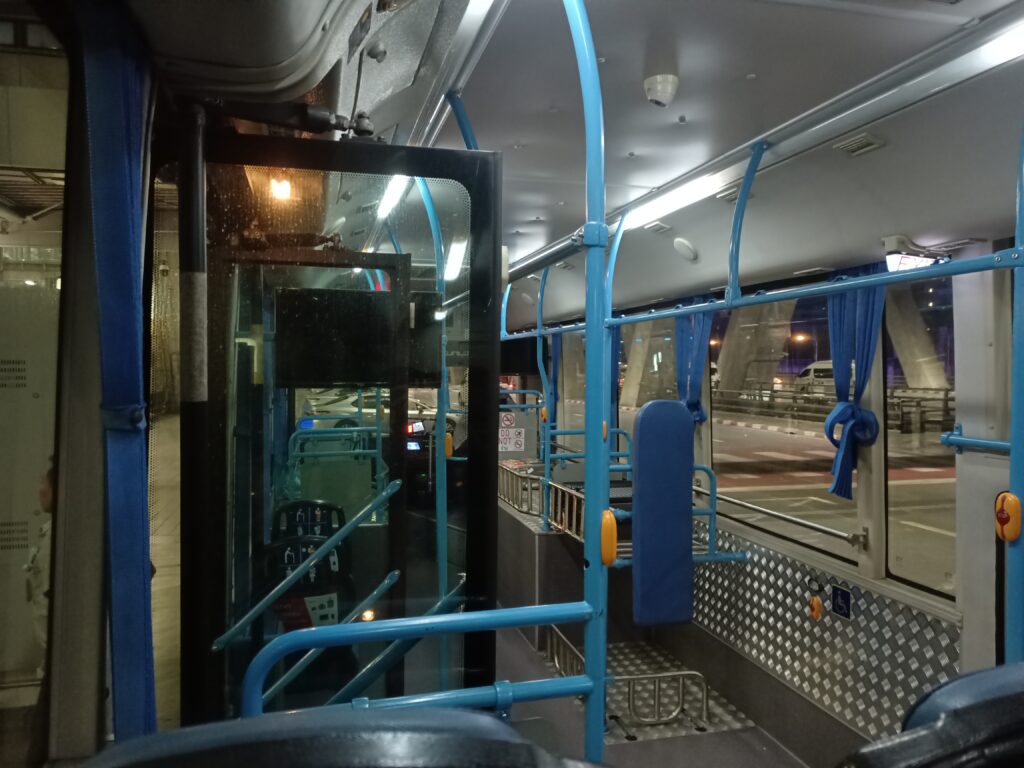 It seems tourists are coming back to Thailand already after COVID-19 pandemic period. I was always taking this first bus alone last year but today we got around 15 passengers, who occupied almost all seats.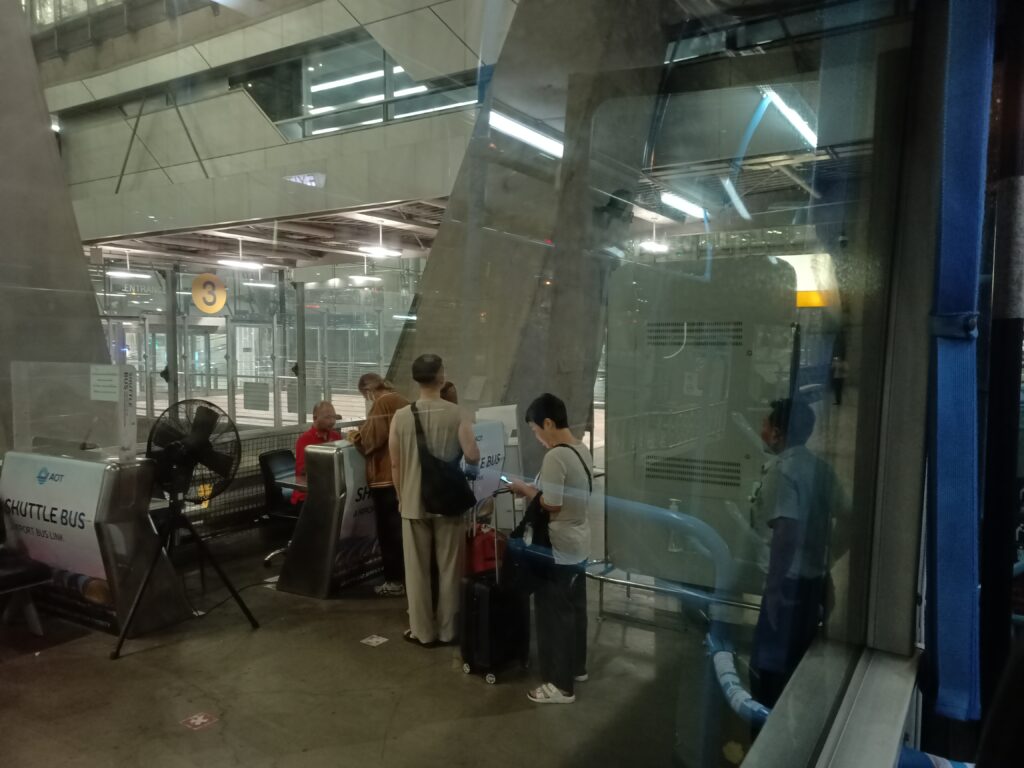 Don Mueang airport to Suvarnabhumi airport
Bus from Don Mueang airport to Suvarnabhumi airport is available also for those who has air ticket from Suvarnabhumi airport. Bus check in counter is located at international flight terminal 2 gate 6.
Operation from 5am to midnight. Sorry, I never tried to hop in this reverse route bus trip. I will update here when I have opportunity in future.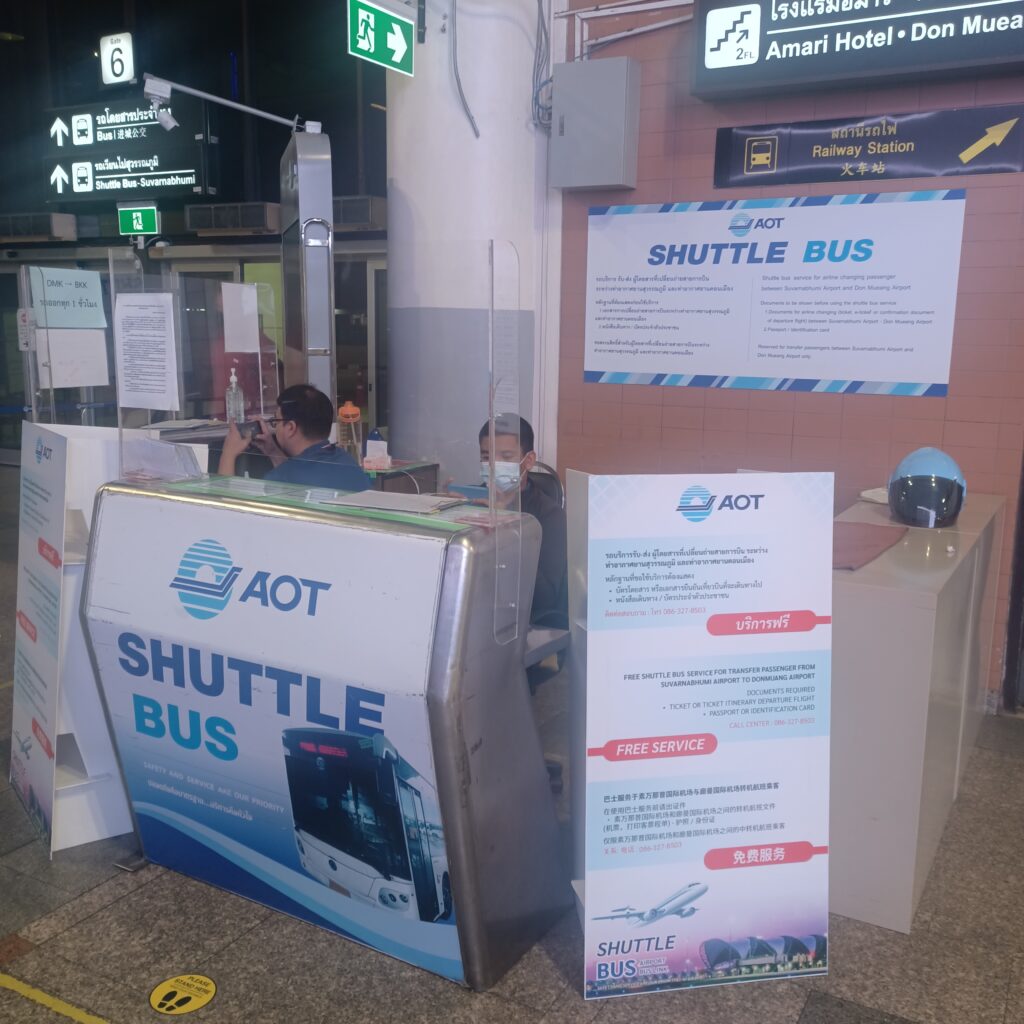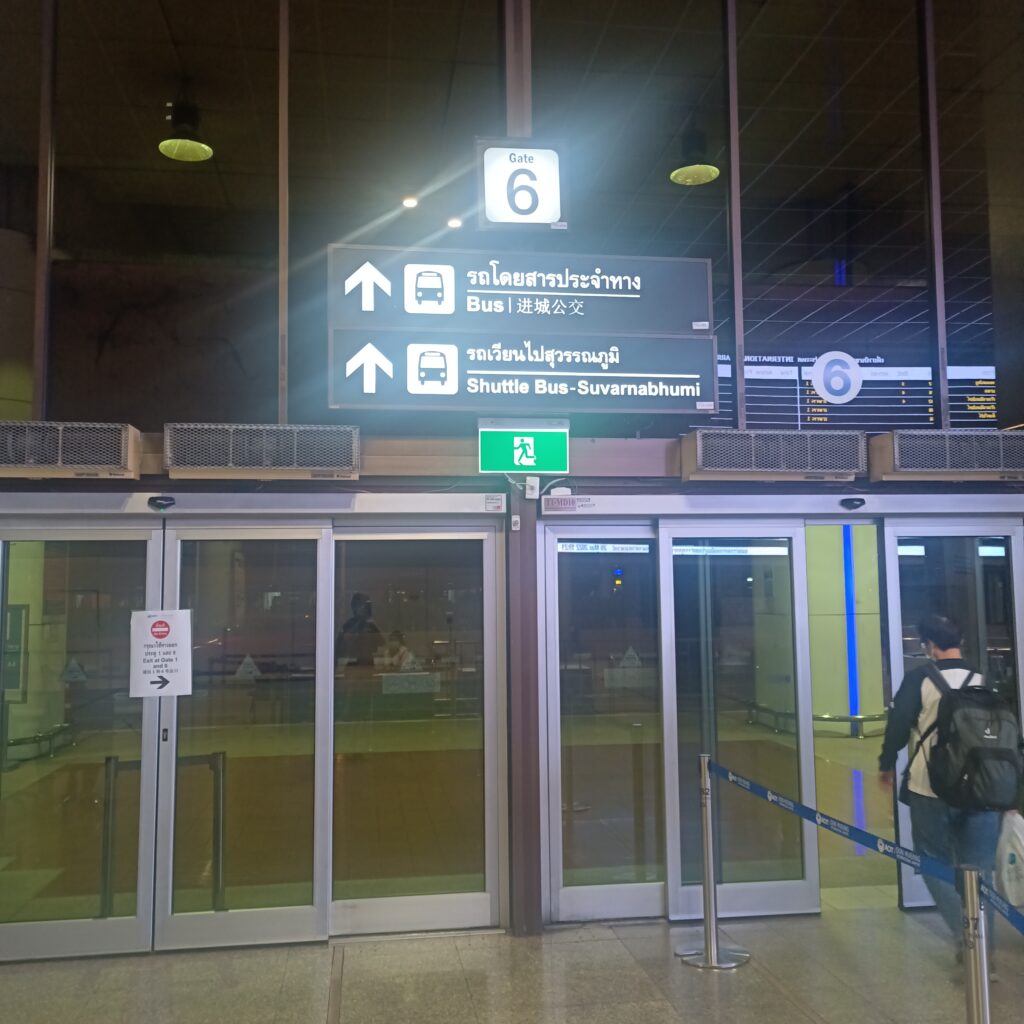 OK, That's all for introduction of free shuttle bus between 2 major airport in Bangkok. Bus ride takes an hour in normally, including waiting time, I would say you have to have 2 hours for whole trips. Enjoy free and comfortable bus ride and don't be late for your flight!
See ya!