Hello, welcome back, everyone. Today, let me report about current covid situation in Thailand and new rule starts from July 12 which is imposing lockdown and curfew in greater Bangkok area.
As you might know, Covid situation is worst in Thailand since last year. Everyday the number of new infected person hit the daily record so the government decided to implement stricter rules to curb the spread of Covid 19.
New measure was announced Friday afternoon on 9th July and takes effect from Monday 12th July 2021. In case of violation of these rules, penalty will be charged so please be careful not to violate, and follow the rules to fight against this crisis disaster.
Here are the new rules effective from July 12th. All information source is Centre for COVID-19 Situation Administration (CCSA) where Prime minister Prayut Chan-o-cha acts as chairman.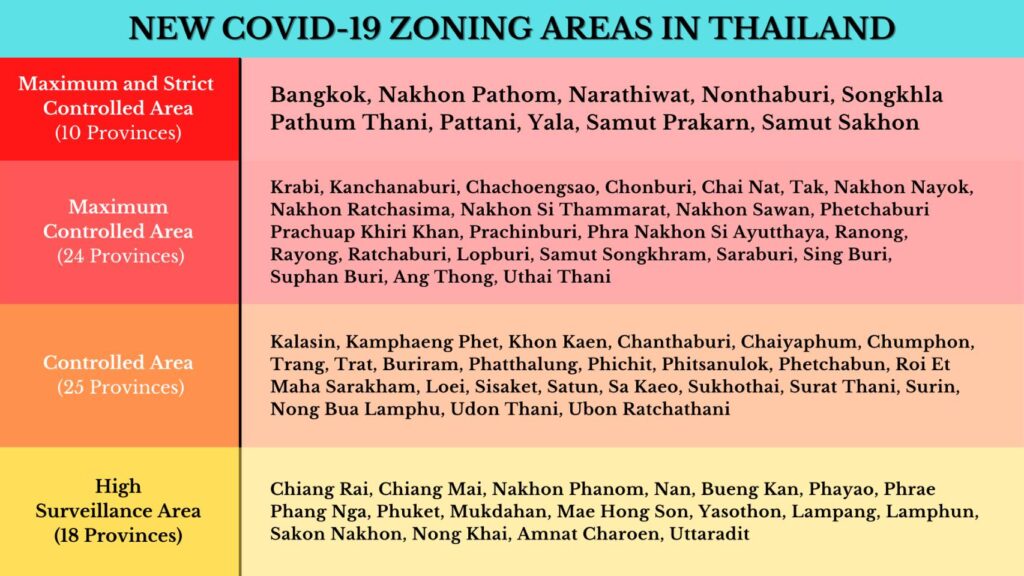 Color coding was slightly changed except 10 provinces in Dark red zone (Maximum and strict controlled zone are) remains same. Dark red zone provinces are Bangkok and neighboring provinces (Bangkok Metropolitan area) and southern 4 provinces. New stricter measures are to be applied to these dark red zone areas only.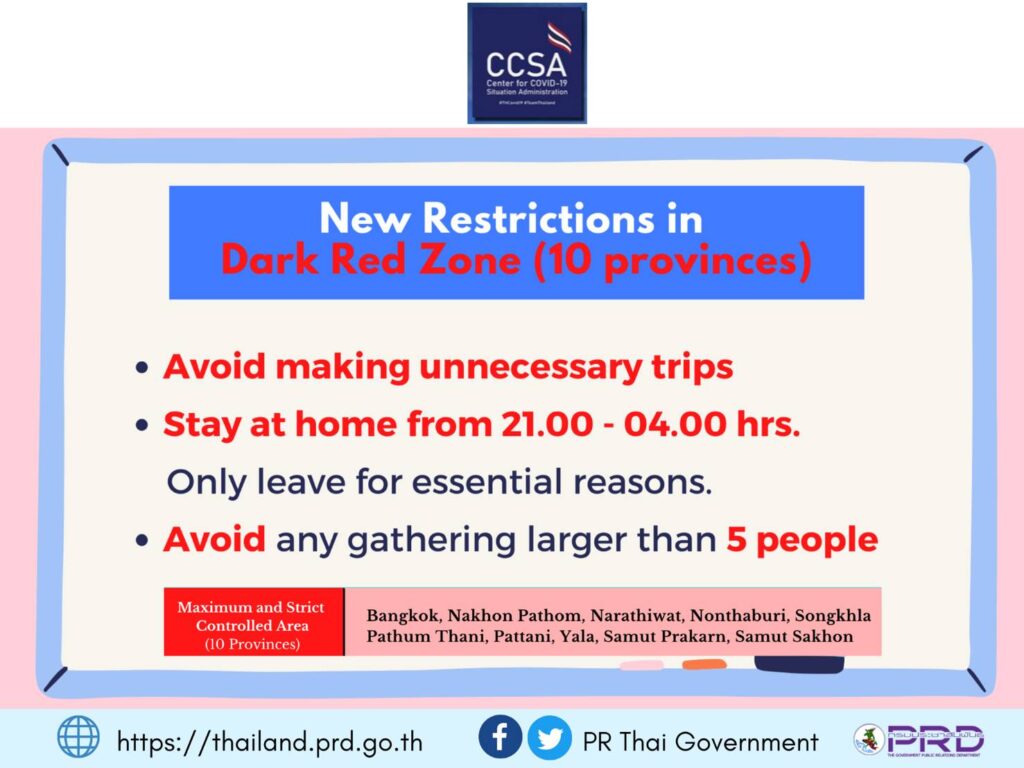 Trips especially inter provincial trips is highly advised to refrain but not prohibited. There is curfew rules imposed again same as last year, from 9 pm to 4am, everyone stays at home unless you need to go out for medical treatment or essential works with certificate as proof. As mentioned above, group gathering more than 5 people is also prohibited, In case of violation of above measures will be result in penalty by the police so please be reminded at all time not to breach.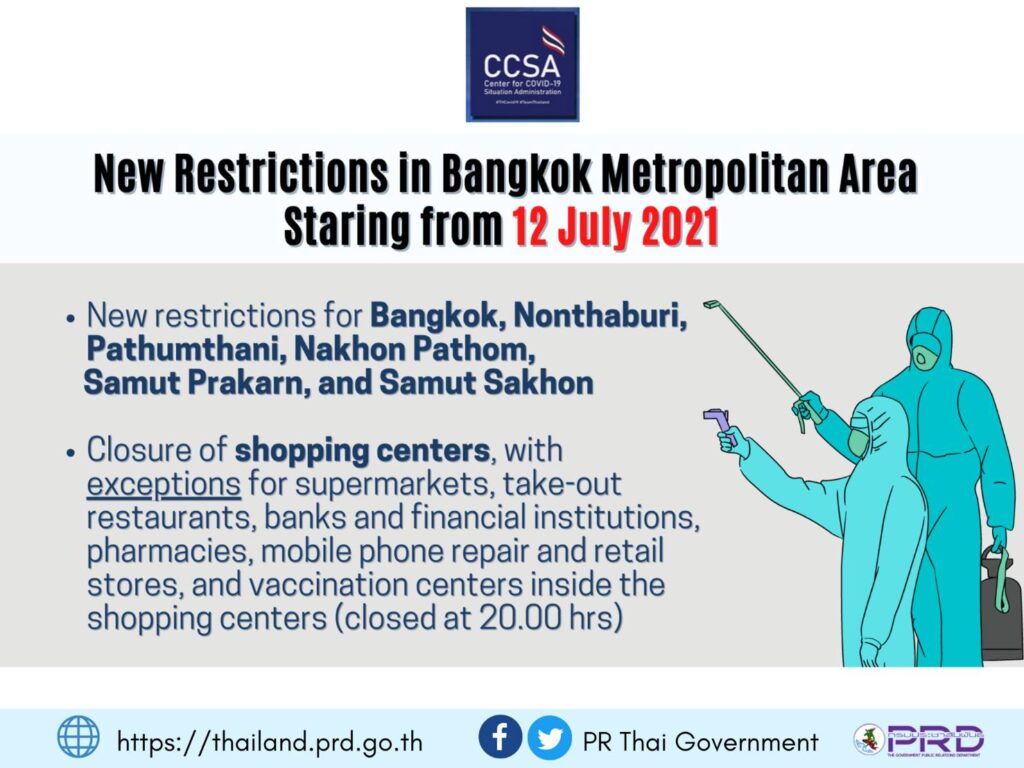 In dark red zone areas, shopping malls shall be closed except food (take out only), banks, pharmacies and phone shops only.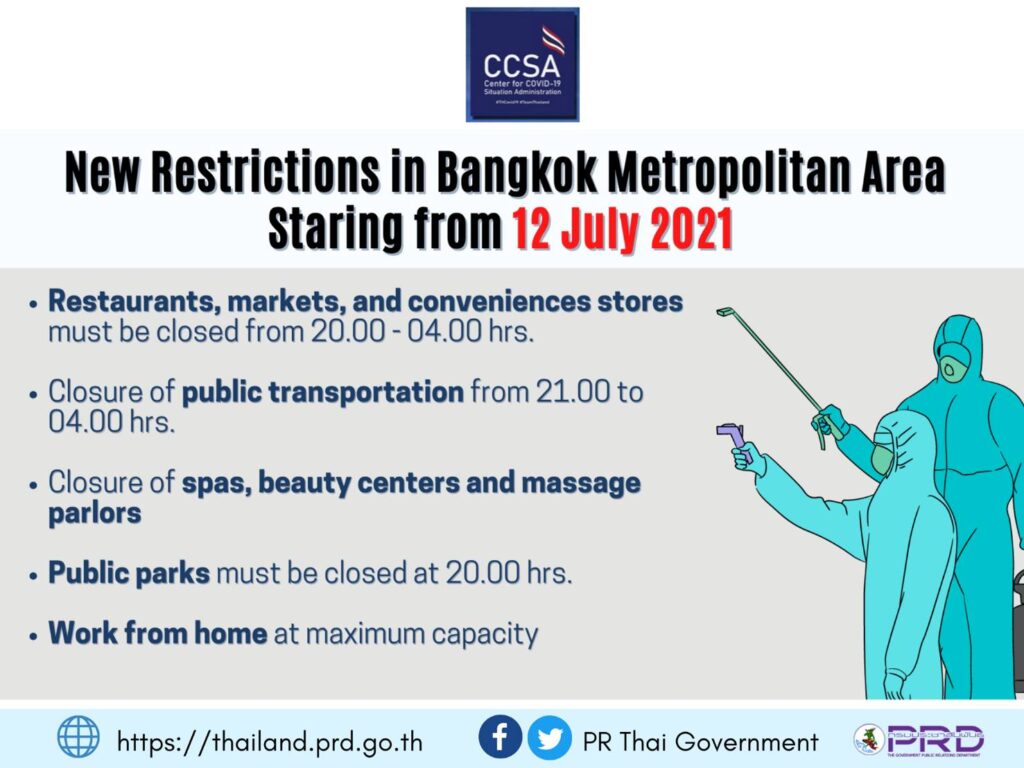 Restaurants, supermarkets, convenience store and public transportation must be closed to follow the curfew time from 9 pm to 4 am. Work from home is also required with full capacity as much as possible but no numerical target at this time.
Conclusion
Government decided to impose harder restriction so-called "lockdown" since last year March. This is because currently we are increasing Covid new case affected by Delta variant and Vaccination program is not carried on as planned. In Thailand, There is only Sinobac and AstraZeneca available for vaccination. One of them Sinobac's  effectiveness is dubious in some researches so Government is pushing import of vaccine by Pfizer and Moderna from October hopefully.
Now is the toughest time for all in Thailand so let's stay home and safe as much as possible to contain the spread of Covid virus!