Welcome back to "fitravelife.com"!
This time, I would to share how much I spent for my daily lean bulk up meal as amateur bodybuilder.. As a bodybuilder, I normally cook and prepare for my food by myself not relying on world famous Thai street food, restaurant food or ready made in supermarket to control nutrition and calories as much as possible to build my body, I hope this post will have some inspiration for those who would like to follow clean and body-building food.
As introduced in my previous post, currently I follow bulk up meal plan to increase my muscle slowly by gaining weights 2-3 kg per month. Kindly check my post below for detailed food plan.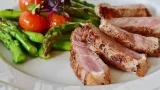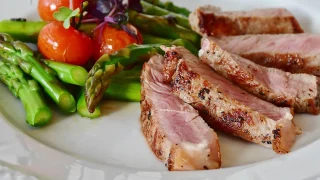 Lean bulk up plan after E-san classic competition
Welcome back to "fitravelife.com" For the past 2 months, I was preparing for the bodybuilding competition, "E-san Classi...
Full day meal plan
Here is my complete food and calories intake per day. Remember, I eat exactly have same food on same amount so that I can easily adjust to achieve my target for bulk up.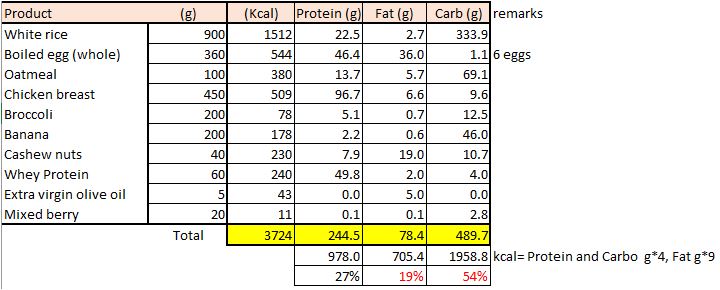 While working as typical office worker, I separate my meal as below. As possible, each meal is evened for the balanced of protein, carbs and fat.

6:00 am – 22THB
Protein 25g, BCAA 3g
Once I woke up, I take protein and BCAA to absorb nutrition faster to take amino acid after depletion of nutrition for long hours of sleep.
Protein, normally I purchase through online via Shopee or Fitwhey cost around 2,600 THB to 3,100 THB per 10lbs. (4.5kg) Price was much cheaper last year about 500THB looking back to my purchasing history. It's sad that all commodity price including food are higher than before.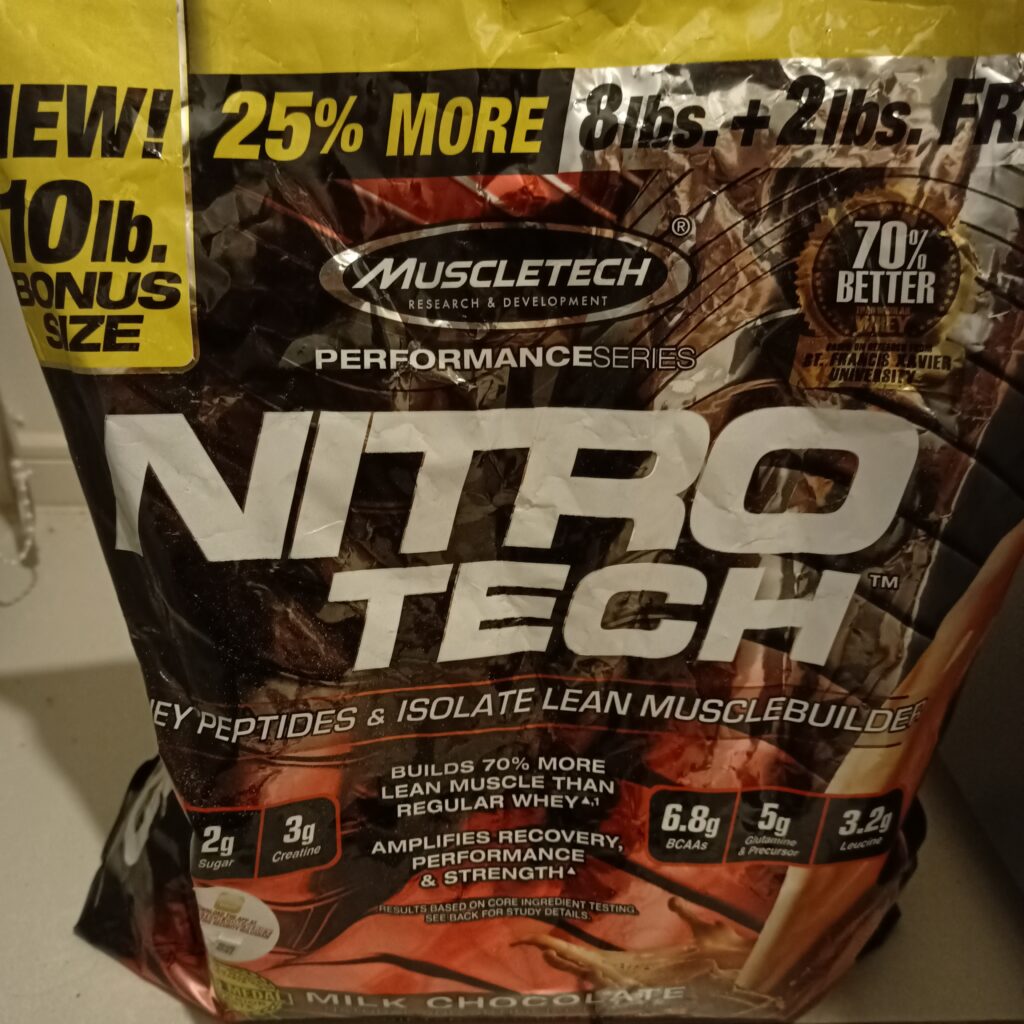 MuscleTech whey isolate is 3,100THB for 10lbs.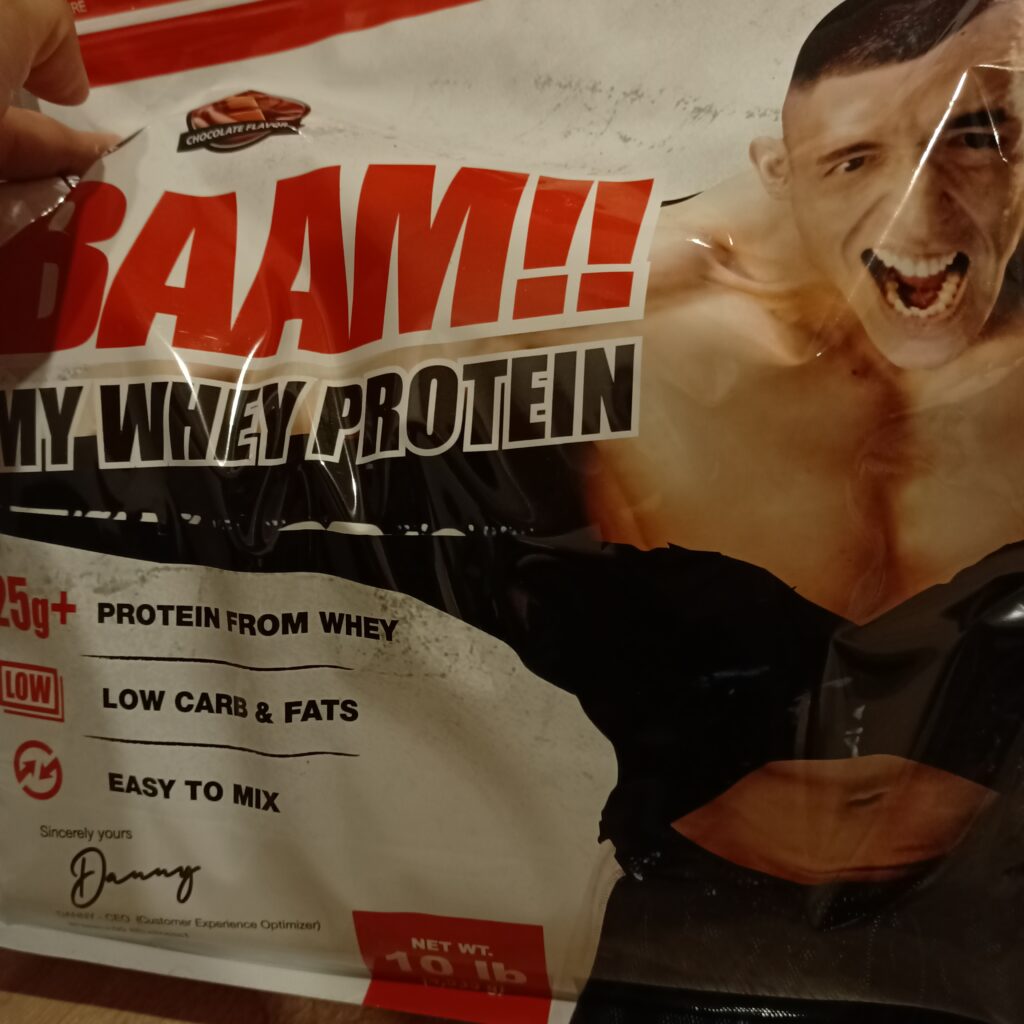 BAAM fitwhey Whey concentrate is cheaper, around 2,600THB at Feb, 2022.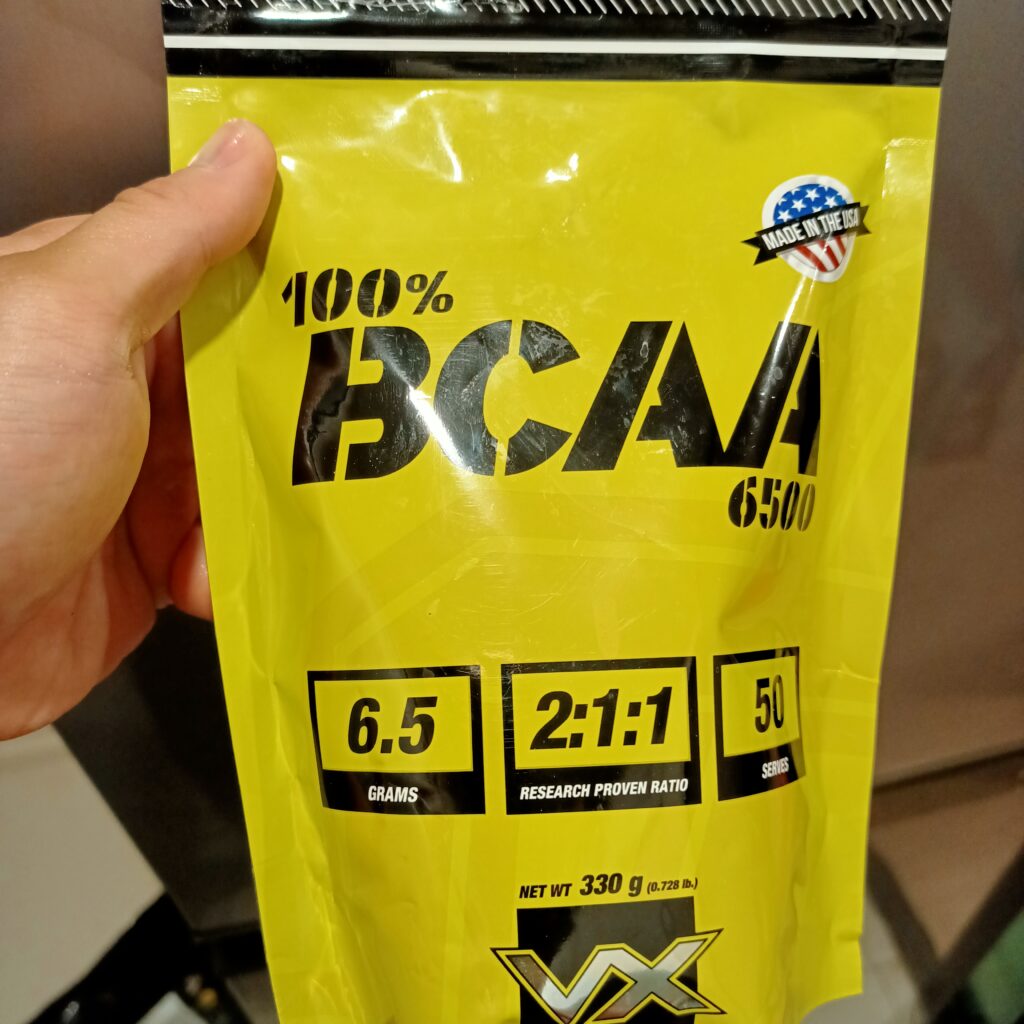 25g of Protein is around 17THB and BCAA 330g costs for 486THB last time so 3g of BCAA is about 4.5THB. Totally morning supplement cost is 22THB.
8:00 am – 24THB
Rice 300g, Chicken breast 150g, Broccoli 60g
I have this breakfast meal at office canteen. Rice is offered for free by the company so there is no cost for rice of my full day meal.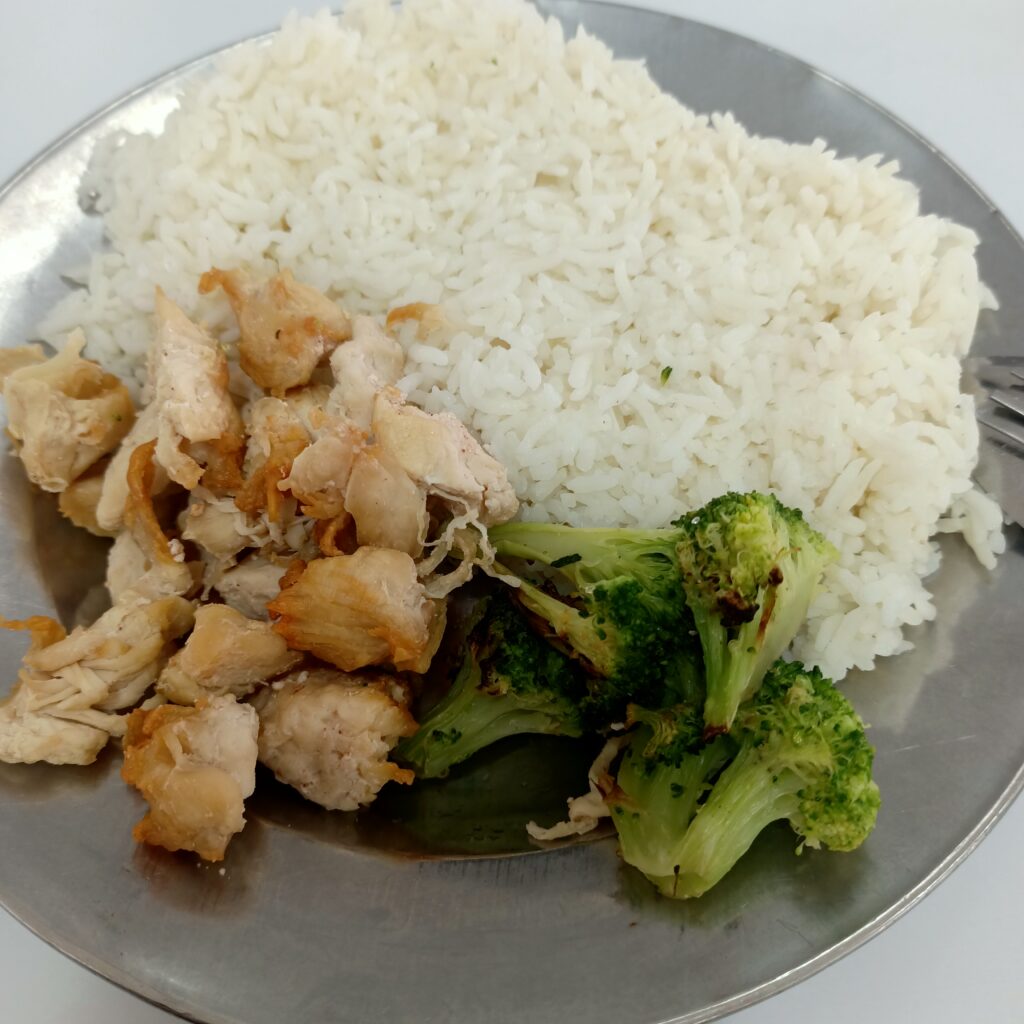 Chicken breast price is getting higher recently, price is now 115THB per kg at Tops market. 150g will be considered as 18THB.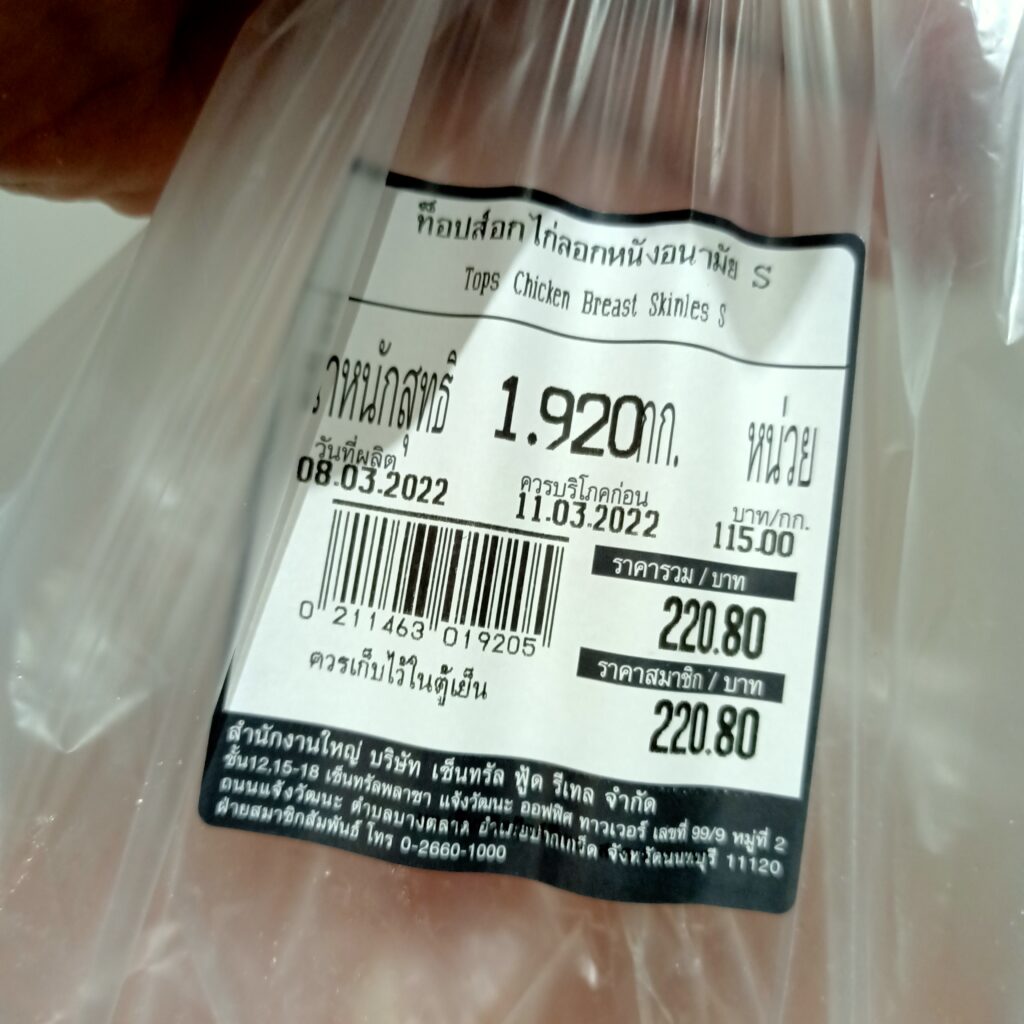 Broccoli comes from frozen package at Makro shopping center, wholesale supermarket in Thailand. They sell 1kg for 79THB. Therefore, 60g is 6THB.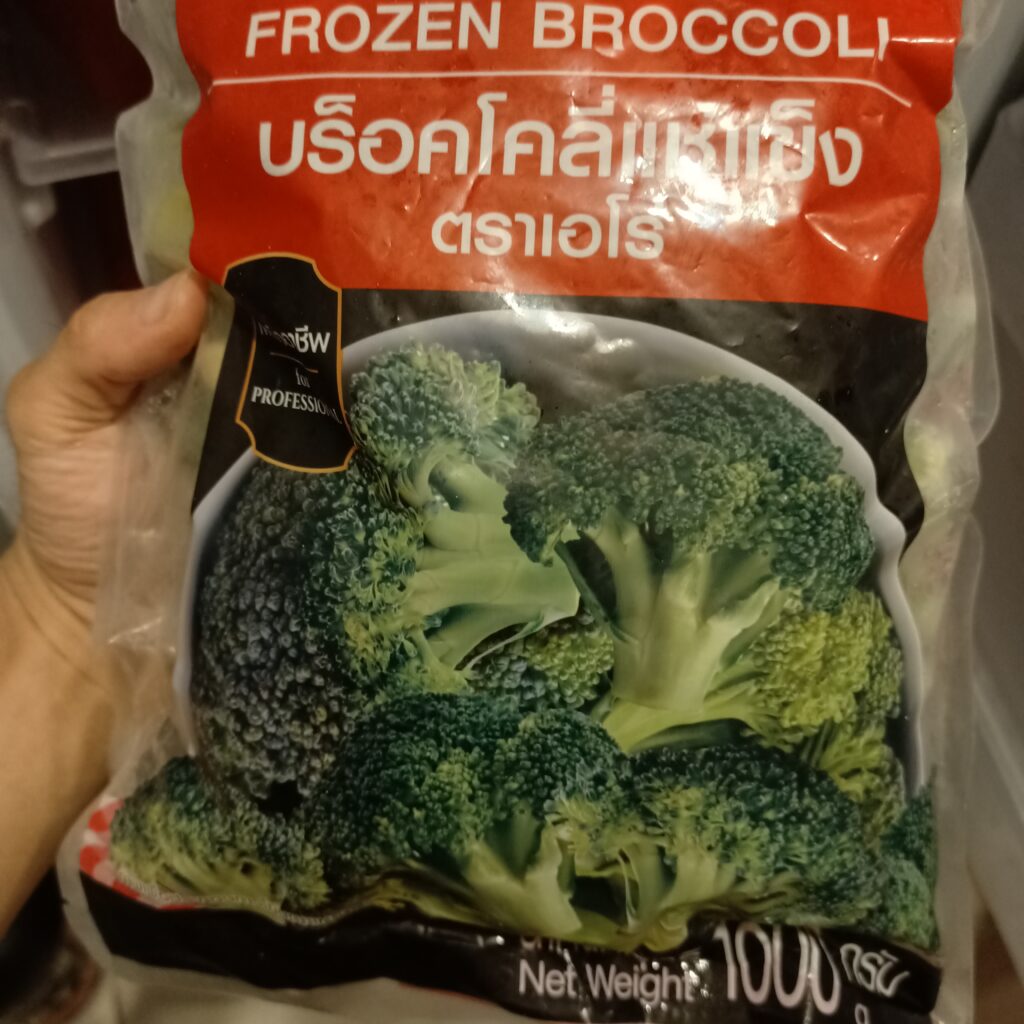 If you prefer to buy rice at street, 300g of rice is only for 10THB at typical street vendor. On weekend, I had to buy rice only since I cannot get free rice at office.
Before reporting to office, I cook chicken breast 300g and Broccoli 120g using air fryer to eat at office for breakfast and lunch.
I, actually cannot cook any nice food but air fryer is breakthrough technology to ease any cooking by heat. This is very convenient and easy so I recommend to all if you do not have much time for cook like me but prefer to prepare for food by your own not by readymade food at shop.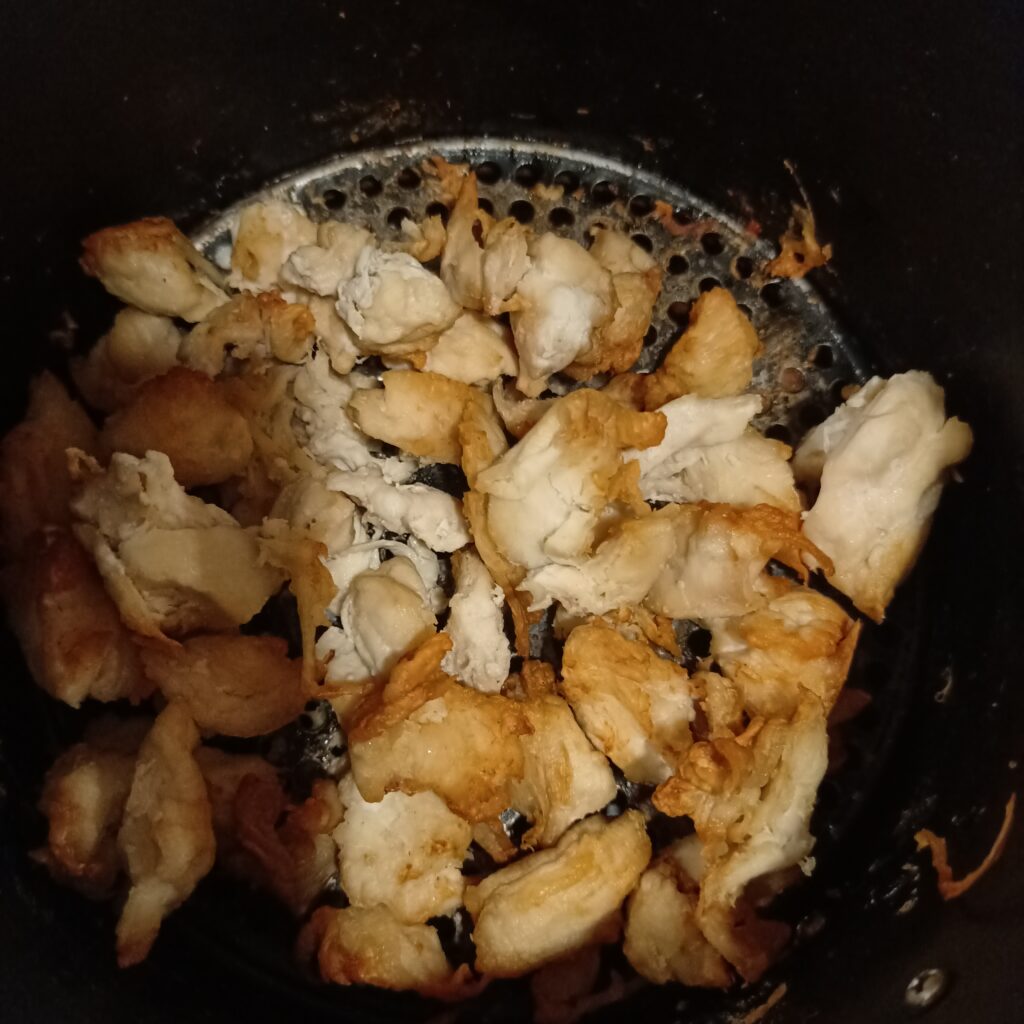 12:30 pm – 27THB
Rice 300g, Chicken breast 150g, Broccoli 60g, Cashew nuts 20g
My lunch is basically same as my breakfast meal set. In addition to this, I take 20g of Cashew nuts for fat intake.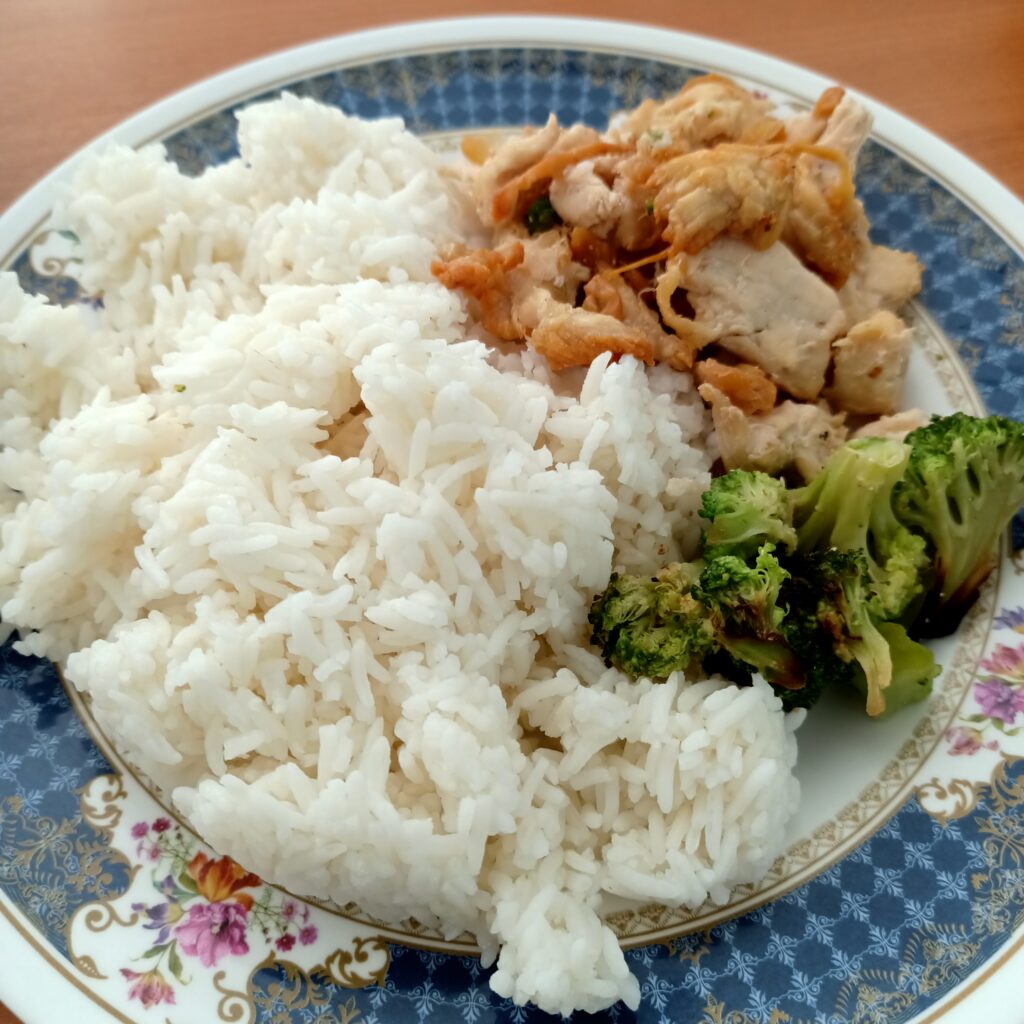 Cashew nut 20g.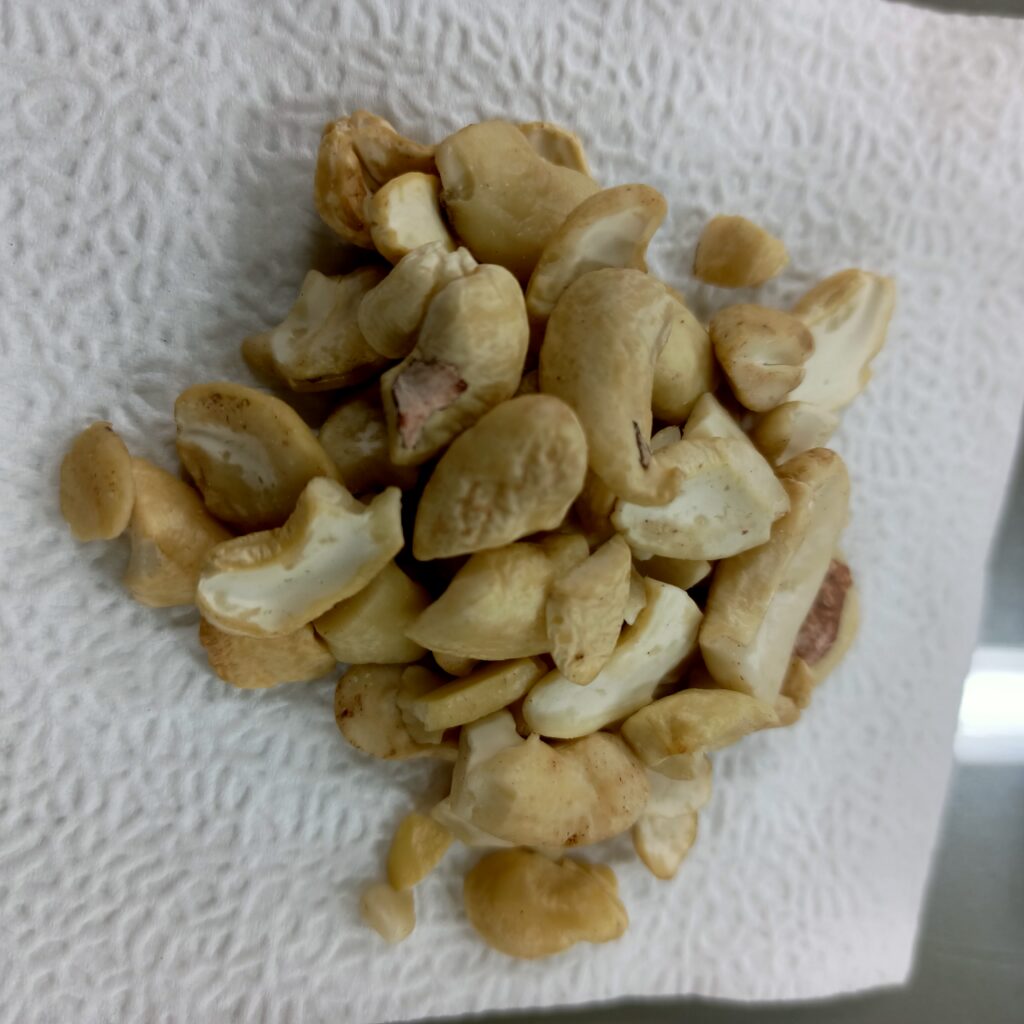 Cashew nuts also I get from Makro shopping center, the price is 130THB per 800g. So 20g of Cashew nuts is only for 3THB.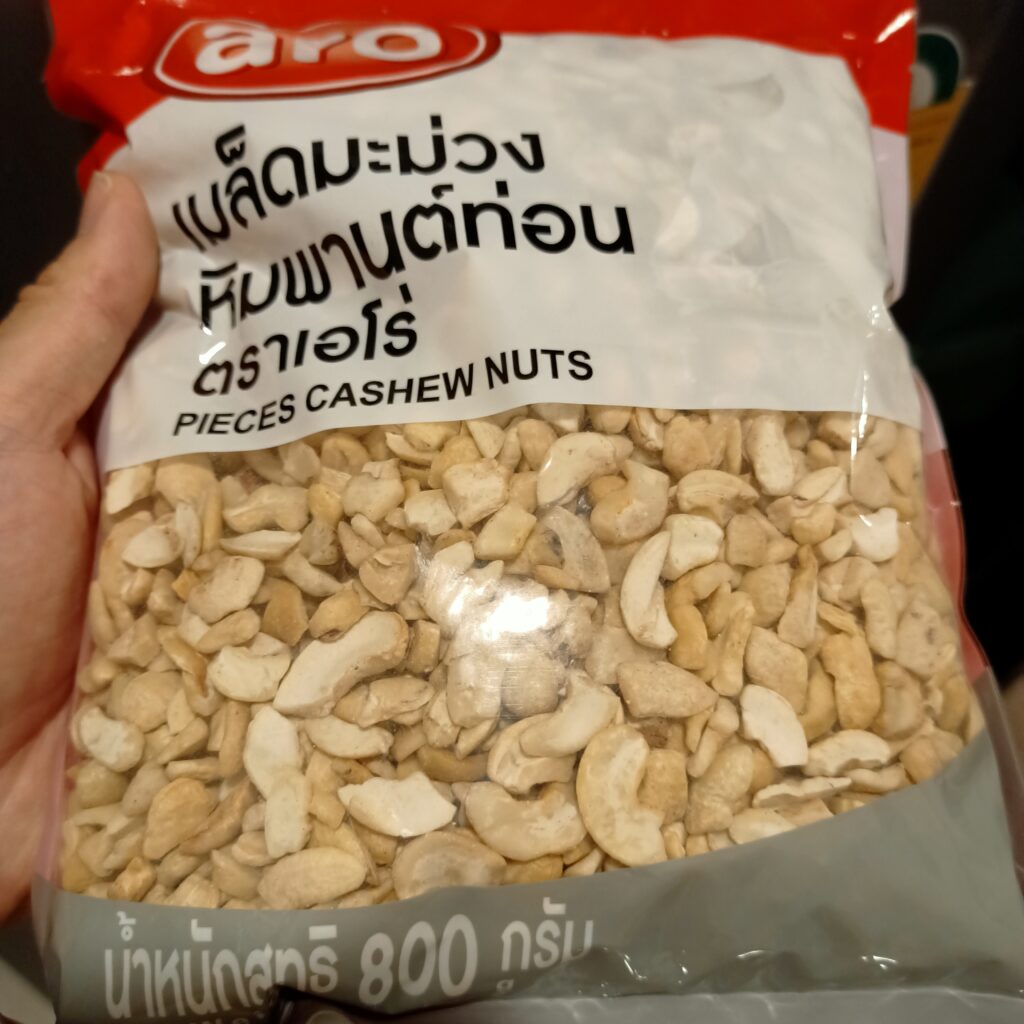 15:00 pm – 12THB
Boiled egg 3
Before my dinner time at 7pm, I take eggs 2 times and one banana.
Eggs also I purchased from Makro shopping center. Nowadays, any food ingredients price is increased so as egg's price is. My 120 eggs set is now 412THB. One egg cost is around 3.5THB. This means 3 eggs are 12THB approximately.
Eggs are actually not boiled but heated by air flyer at previous night.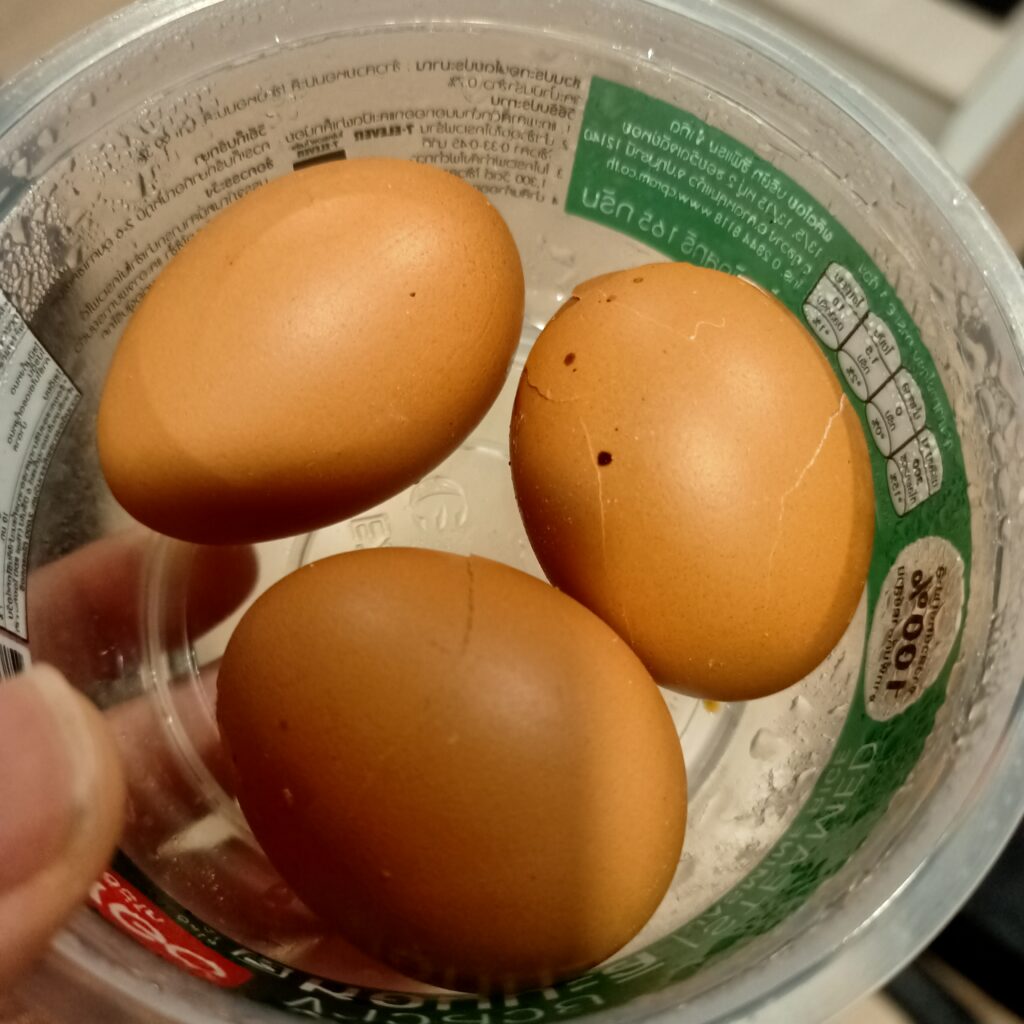 Normally I buy 120 eggs package at Makro. All will be consumed for 20 days in my current  meal plan.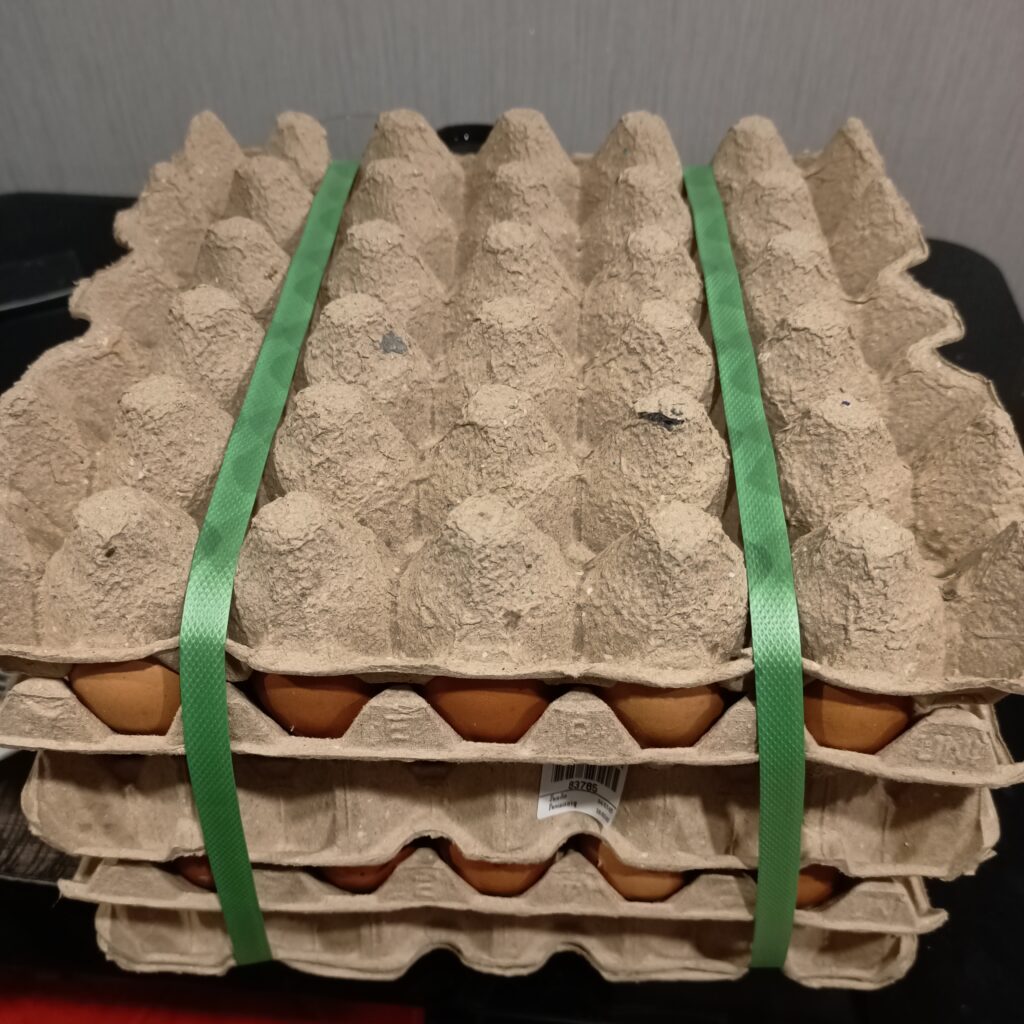 17:00 pm – 21THB
Boiled egg 3, Banana 1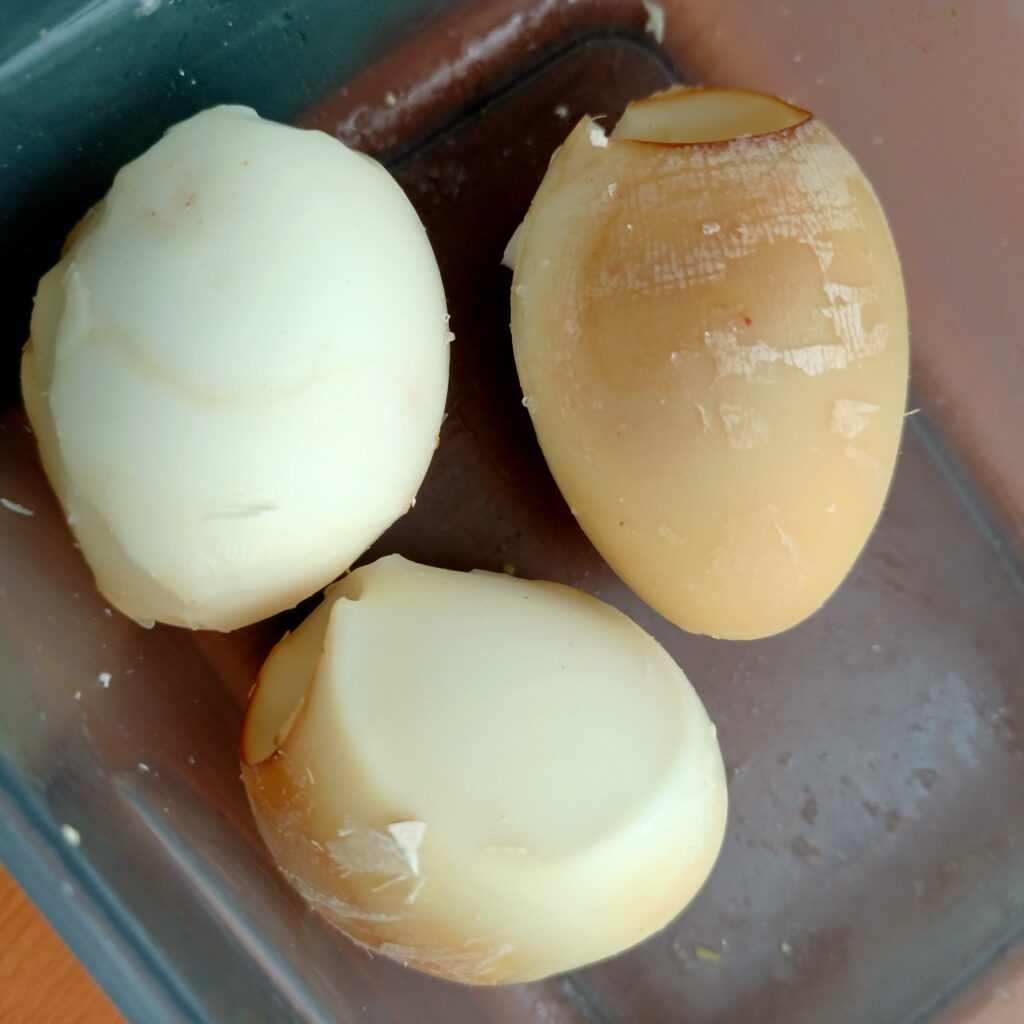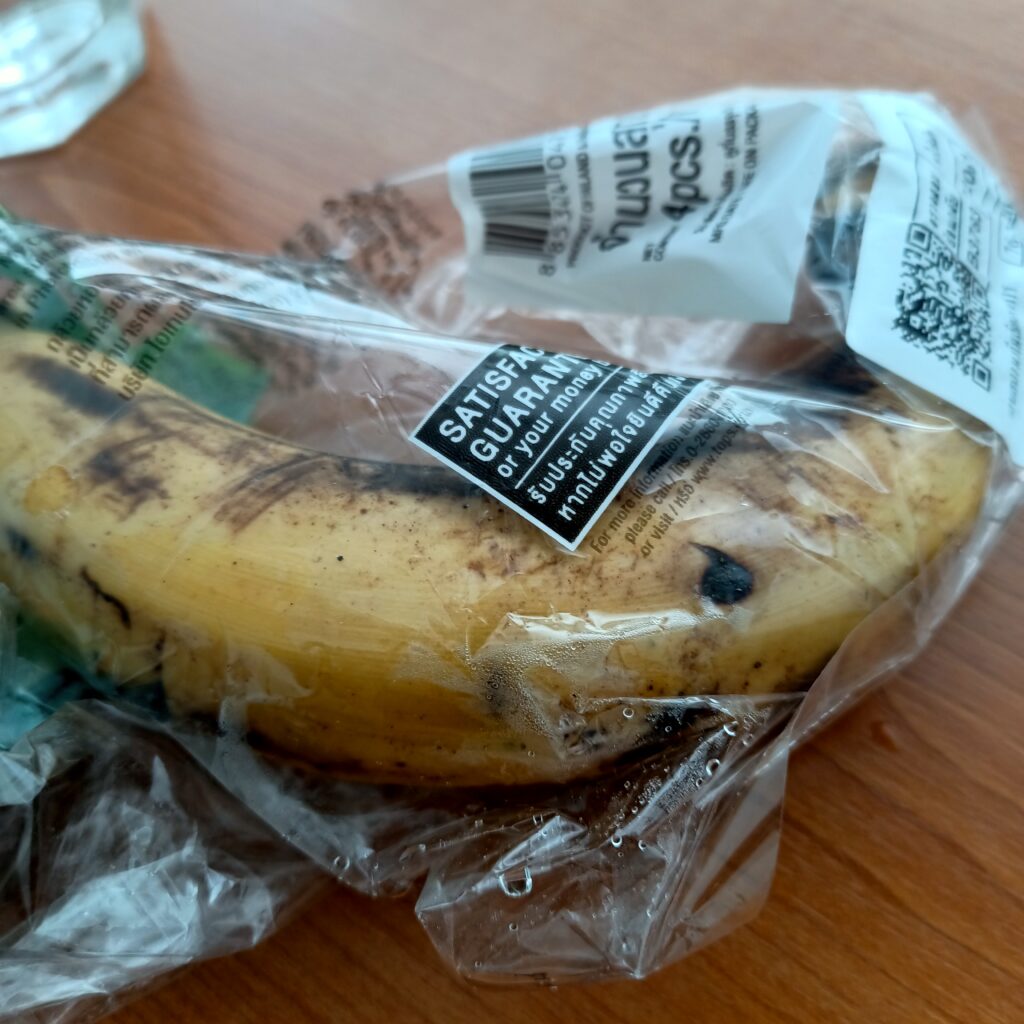 At 5pm, soon to go home from office, I take another 3 of whole boiled eggs and one banana. Banana, I usually get from Seven eleven.9THB per pcs.
19:30 pm – 47THB
Rice 300g, Chicken breast 150g and Broccoli 80g. Olive oil 5g
BCAA 5g, Fish oil, Zinc and multivitamin 1 tablet each (Pre workout)
My dinner is also same as breakfast and lunch time meal with slight difference only.
BCAA 5g can be calculated as 8THB. Other supplement is just what was obtained form pharmacy store Watsons. One tablet for Fish oil 3THB, Multi Vitamin 4THB and Zinc 4THB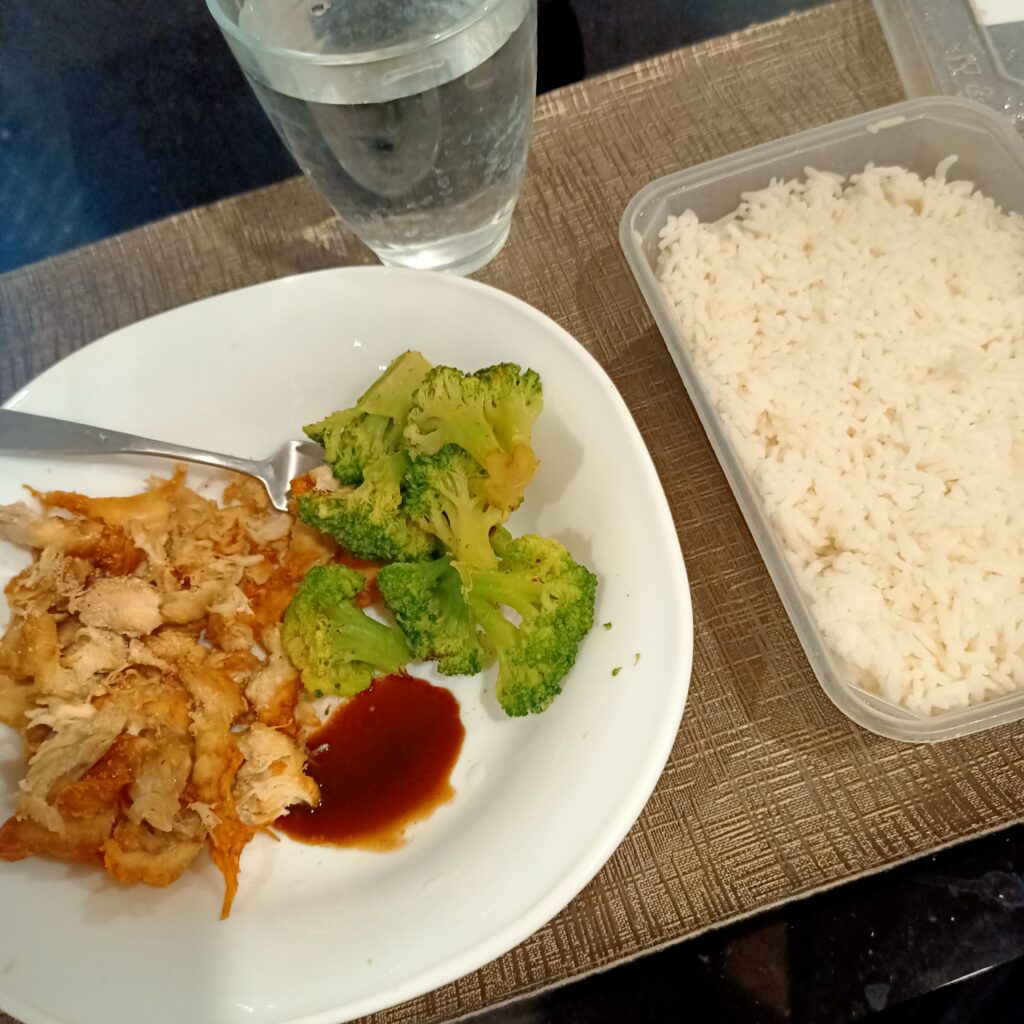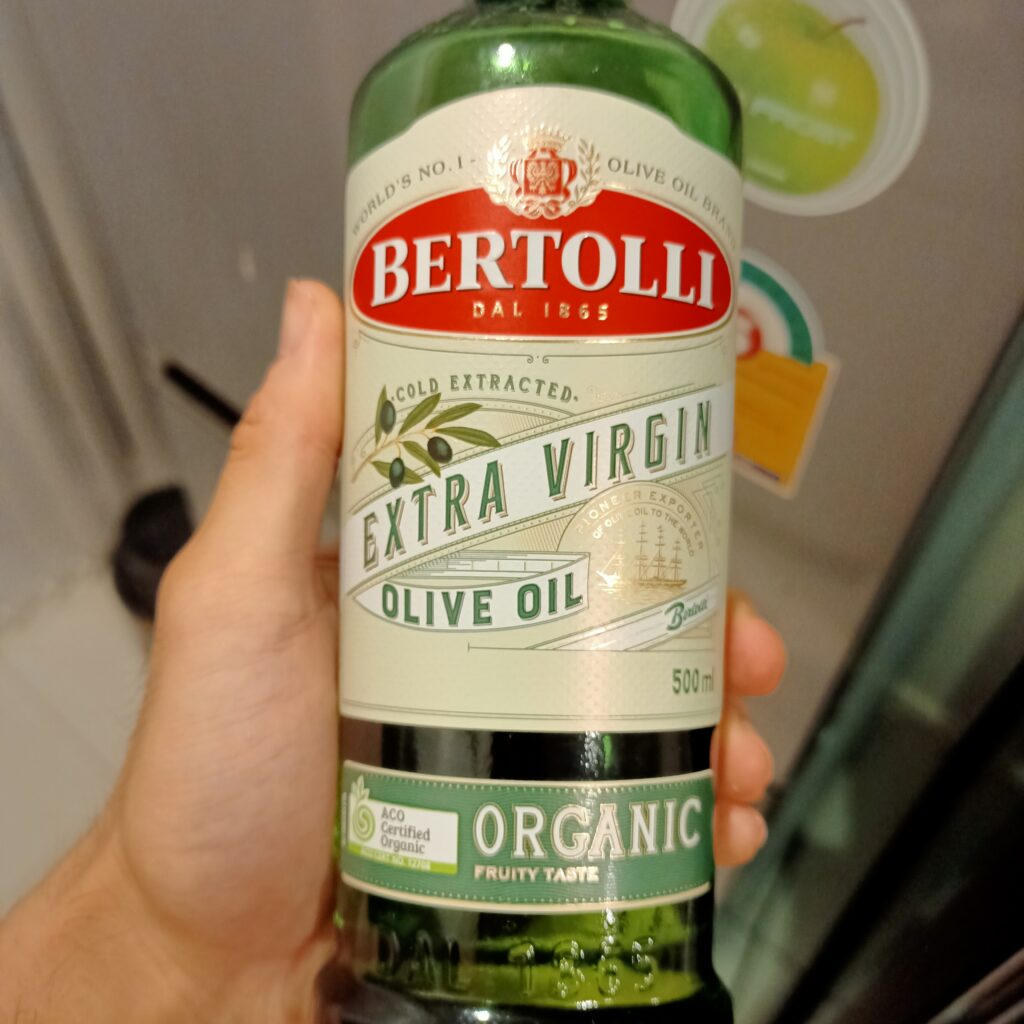 500ml Olive oil price is 219THB. I just drink Olive oil itself 5ml per day l, that means daily cost is 2THB.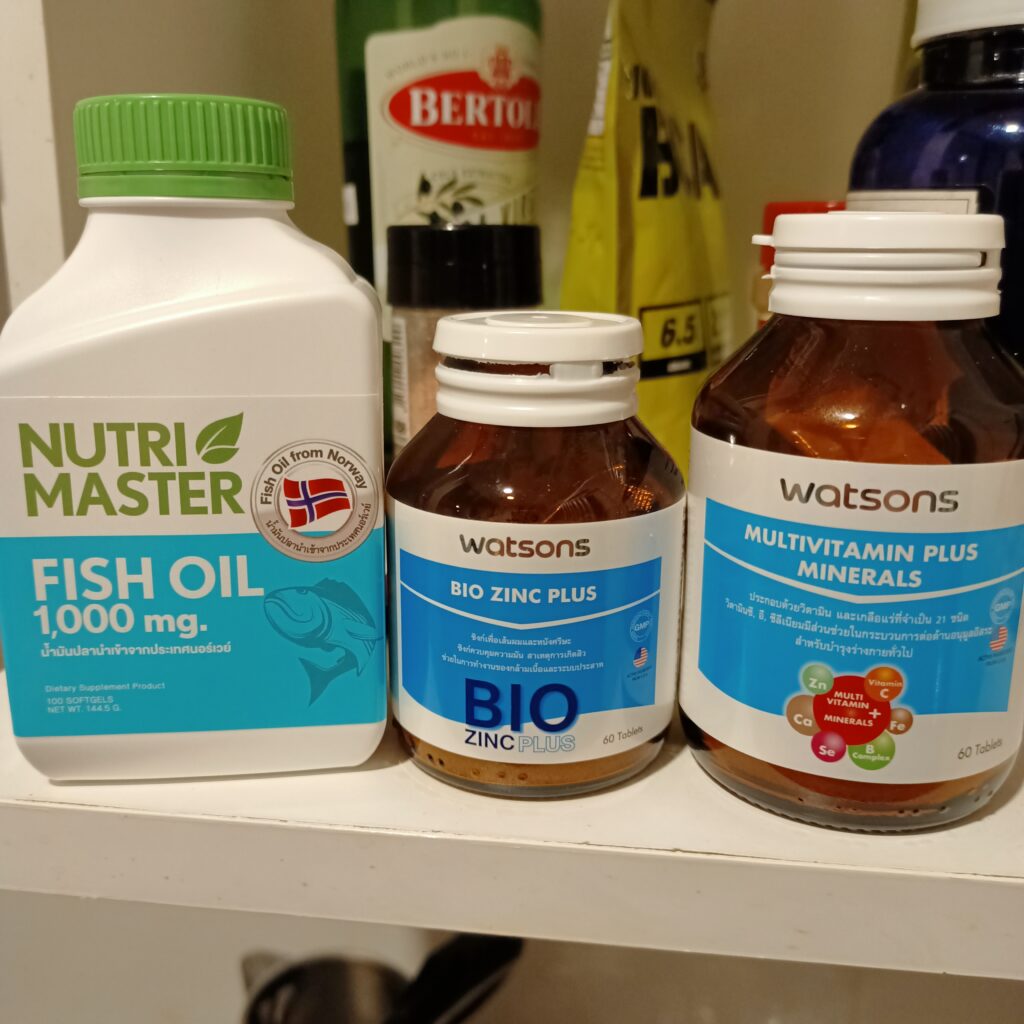 21:00 pm – 27 THB
Banana 1, Creatine 5g, Glutamine 10g (Intra and Post workout)
One Banana costs around 9THB when purchasing at Seven eleven. Even at Tops market, price is almost same.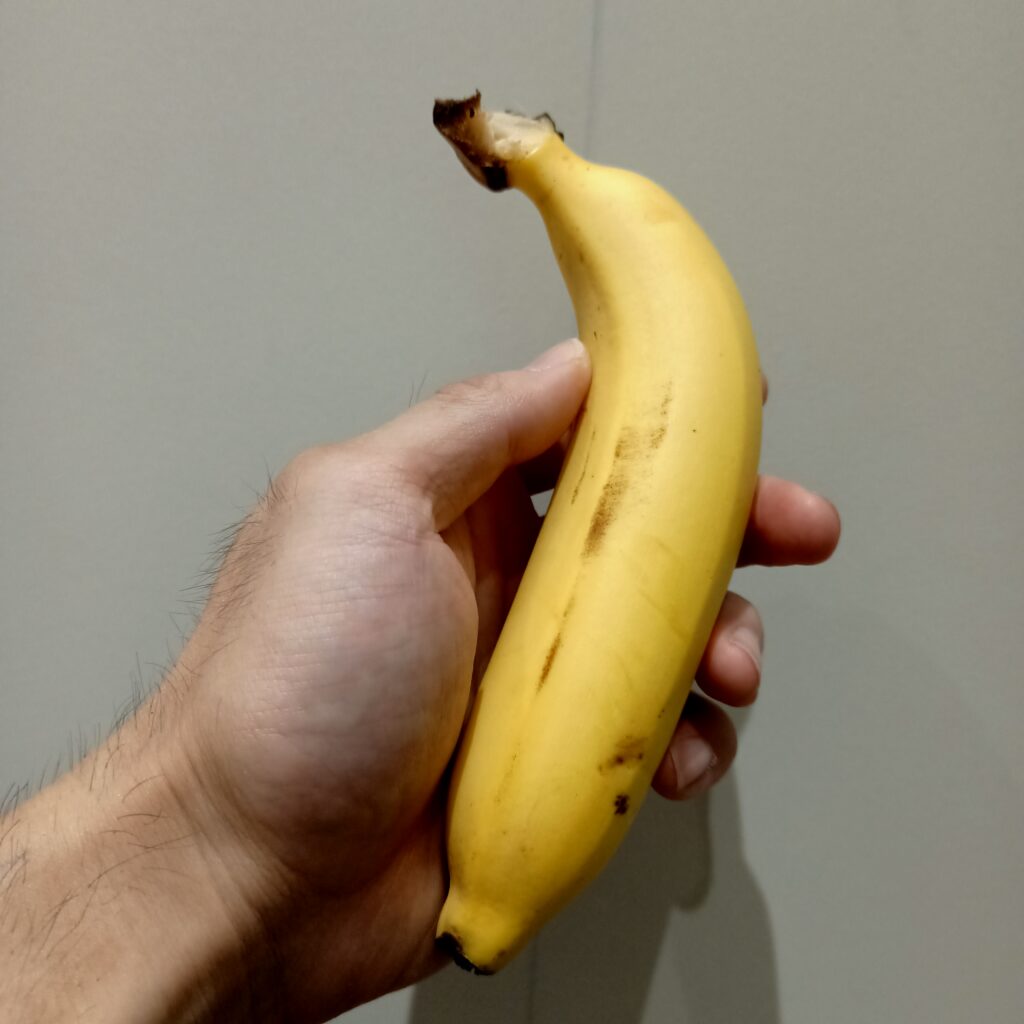 Creatine and Glutamine is my post workout supplement. I might not take glutamine any more after I use up current pack since I do not feel much benefit for this. Creatine pack was purchased for 1,108THB for one kilo while 585THB for 500g Glutamine. Therefore one time cost will be 6THB and 12THB for Creatine 5g and Glutamine 10g.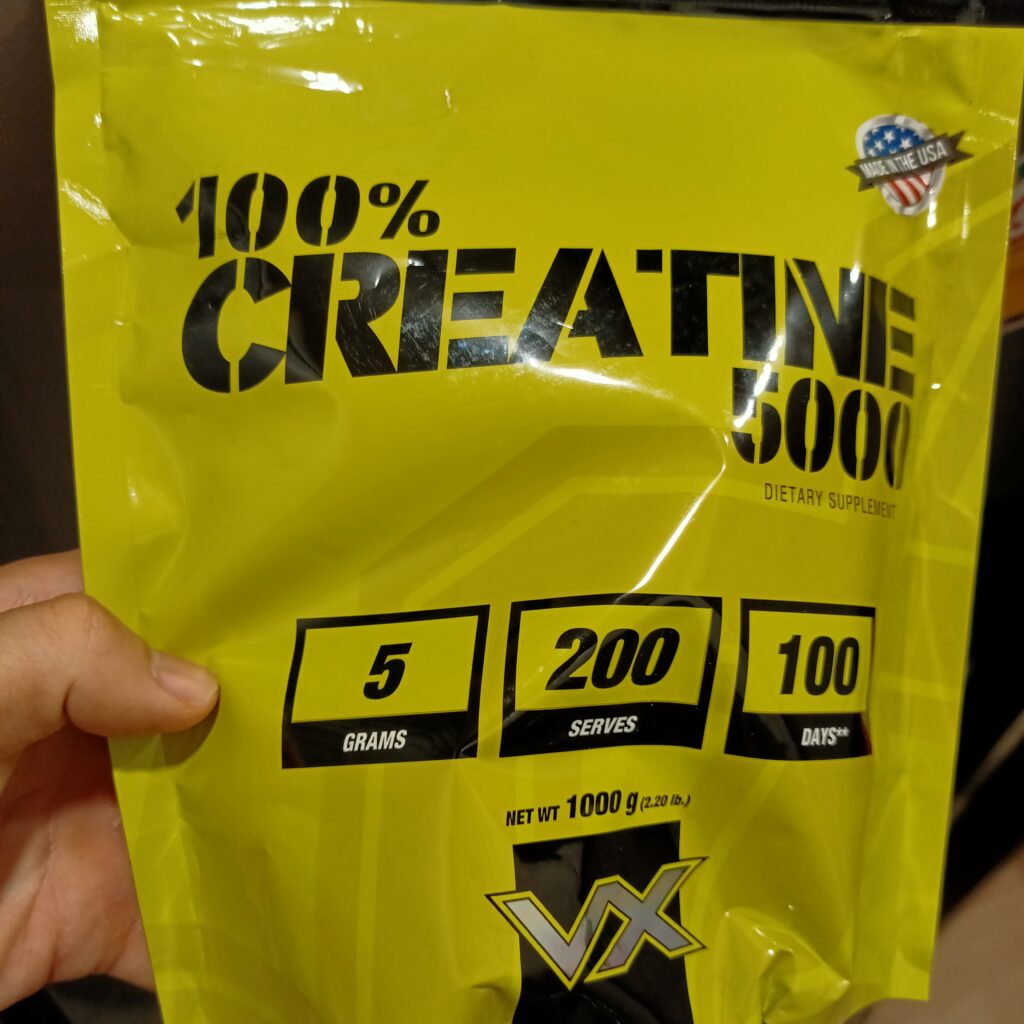 22:30 pm – 40 THB
Oatmeal 100g, Cashew nuts 20g, Mixed berry 20g and Protein 35g
After the daily workout. I take carb from Oatmeal and protein form whey protein powder.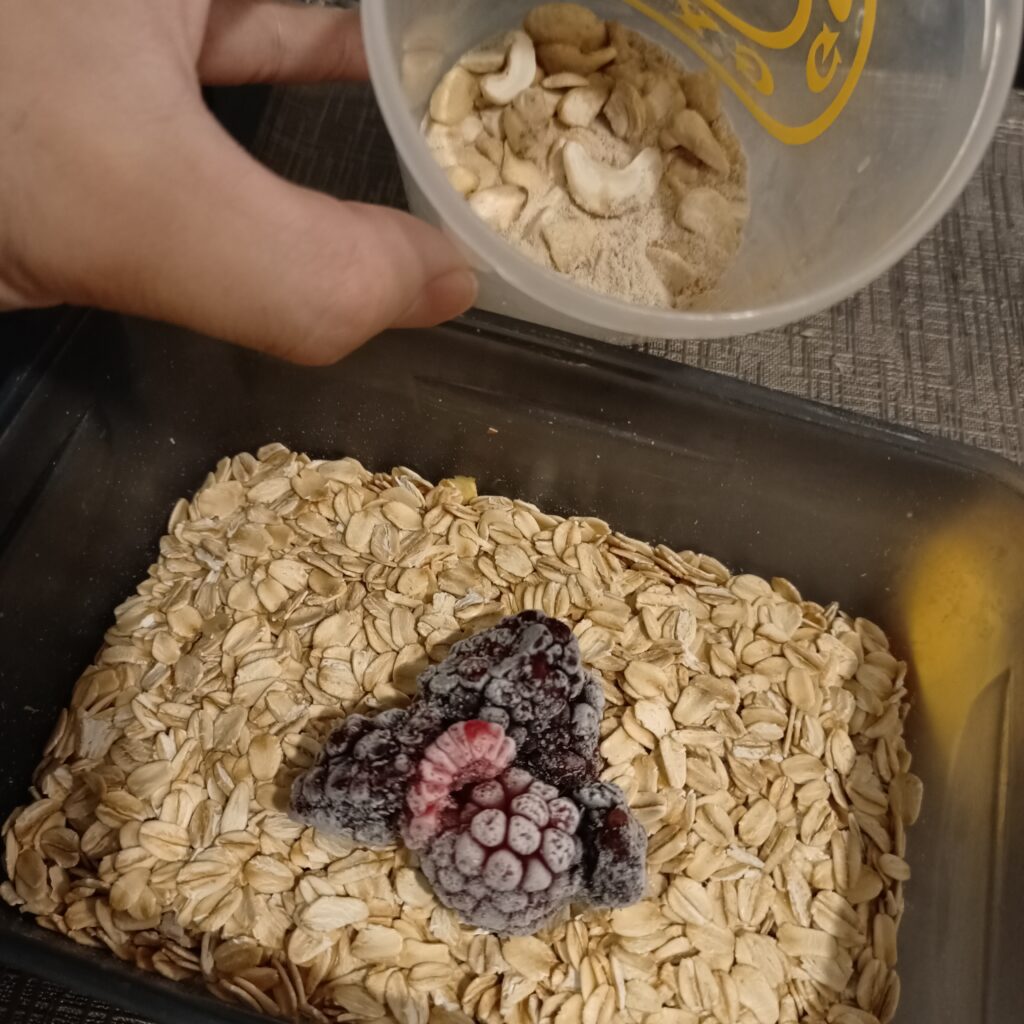 My oatmeal is McGarrett one, the price is 40THB per 400g. Sometimes at Villa market, they have promotion buy 2 get 1 campaign. In such opportunity, sorry to other oatmeal lover but I clear all stocks then keep for a year.
Oatmeal cost per day is 10THB only.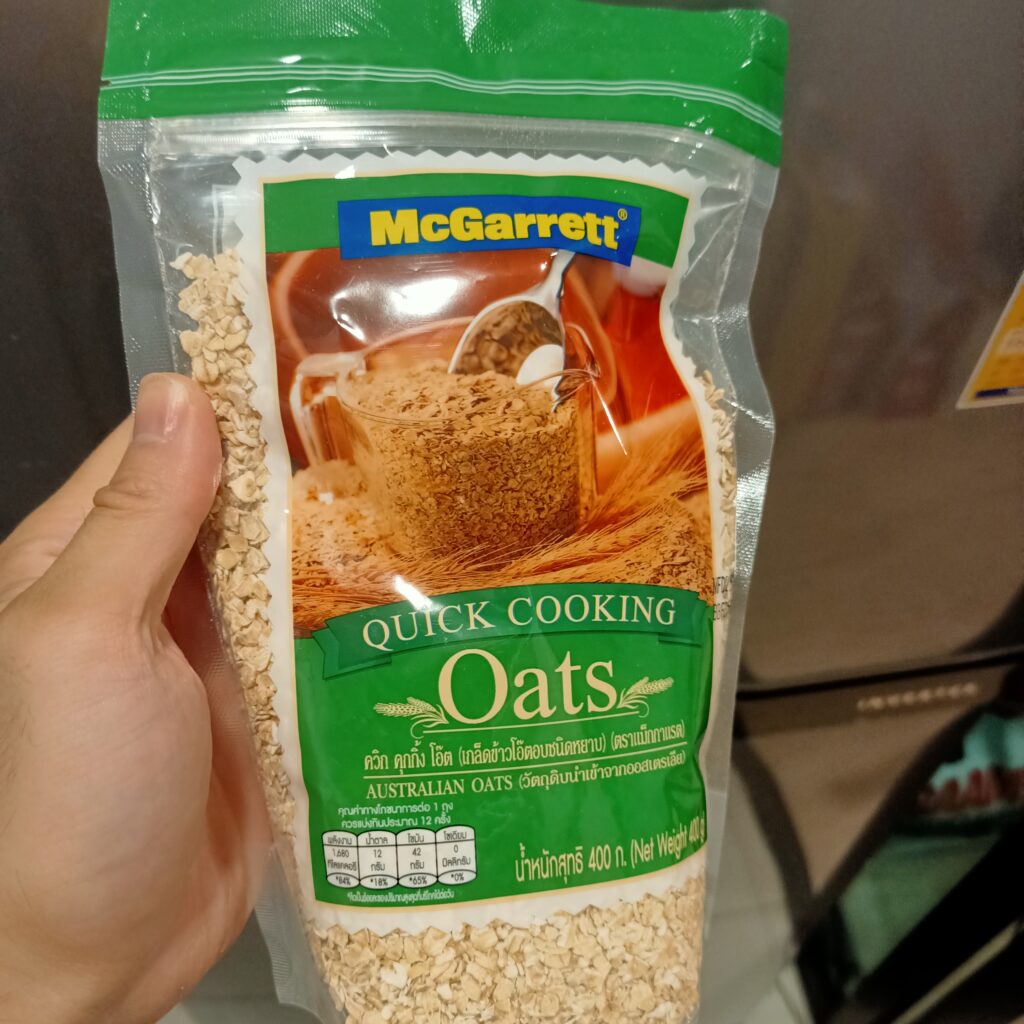 Mixed berries from Makro also. One kilo pack is 179THB so 20g is just 4THB. There is not that much reason why I take berries. Just to balance  food ingredients in a day, I take some fruits things from this berries.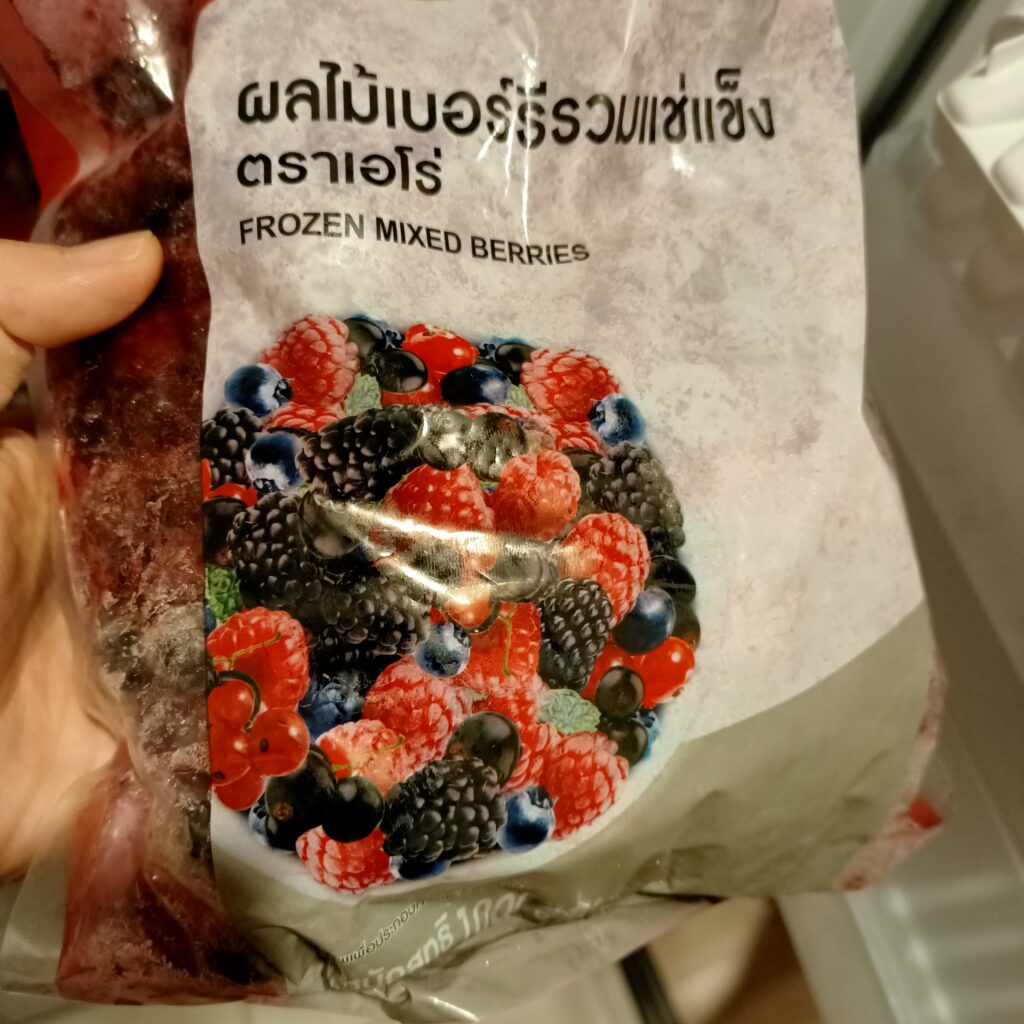 Cashew nut 20g is 3THB as calculated at lunch meal. Protein 35g can be considered as 23THB.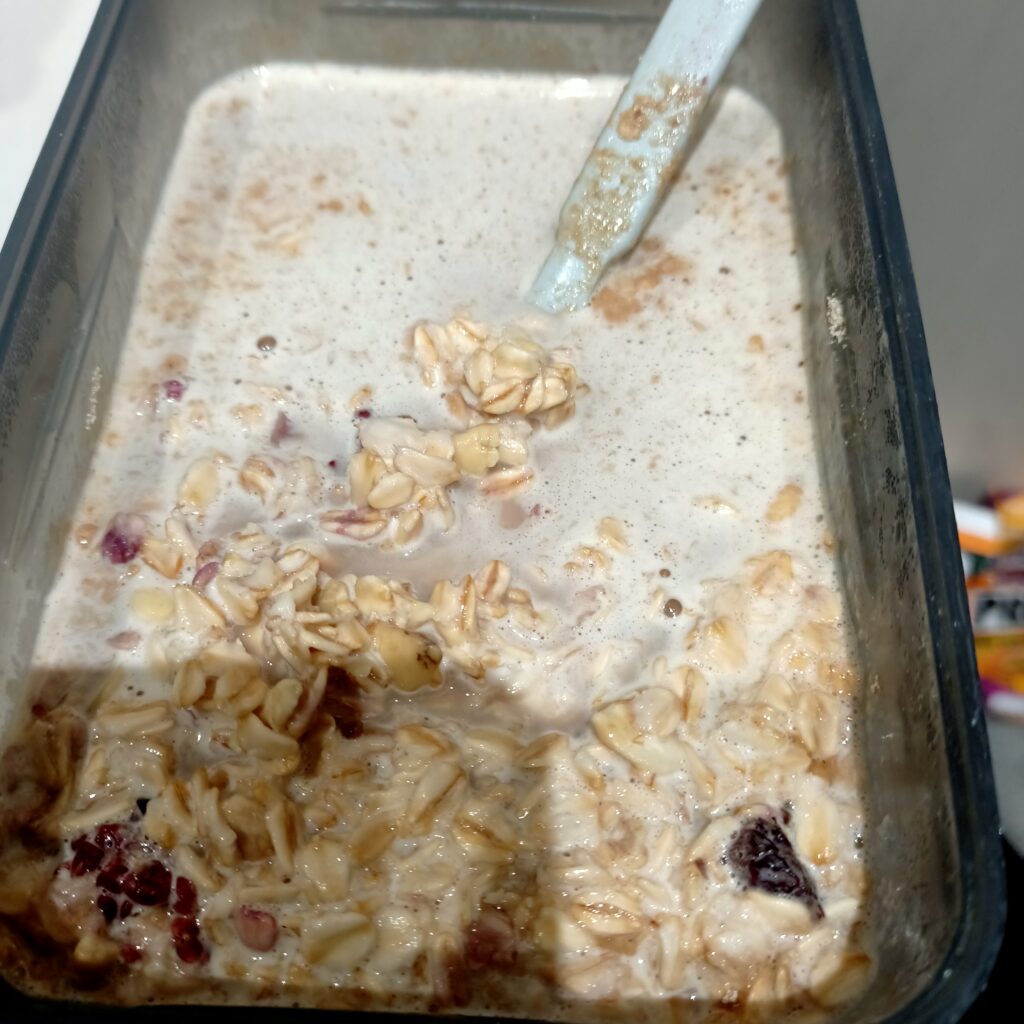 Total cost – 220 THB
Finally, all cost per day was calculated, 220THB (7USD) is the amount I spent for one day meal and supplement.
I actually have some other cost for condiment and drinking water but these expenditure is not that much. Let's say 10THB additional per day is reasonable amount. This time I will not include these amount to my meal.
Total amount is quite ok, just 220THB only. This meal plan can supply for what I need to gain more muscle in lean bulk up period.
For another month, I will continue 3,700kcal intake per day then do diet next.
I hope this post will help you to build your body economically.
See ya.