Exactly after 2 months from my first vaccination, I receive 2nd vaccination schedule from Thai social security office.
My second vaccination is on 21st September. Since 1st jab was conducted on 15th July, it is approximately 9 weeks passed from last time. AstraZeneca vaccine which I got is advised to have 2nd time after 8 to 12 weeks from first one to have appropriate immune system built in your body.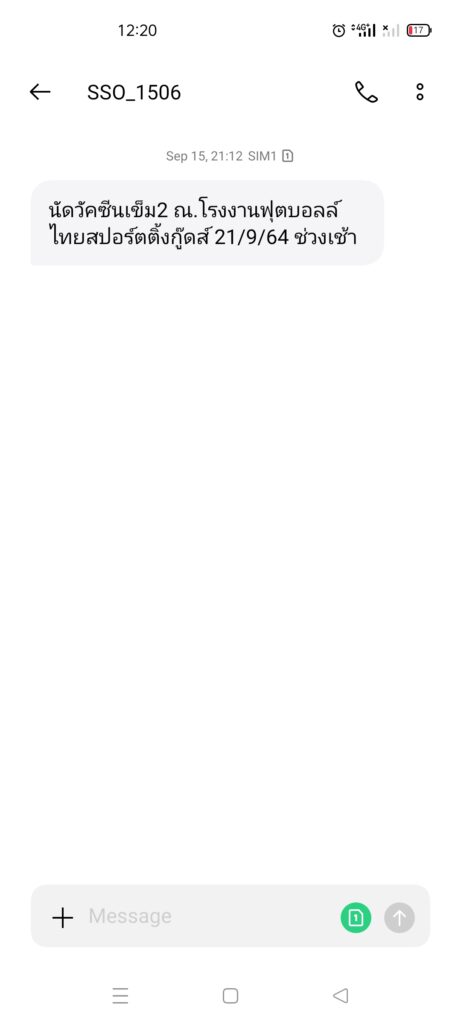 In last time, I went to the vaccination place in a group with my company staff. However, this time each everyone's schedule is different so I went alone.
With company car, I arrived at FBT factory in Lad krabang around 8:50 am.
Many people already came to the place. Mostly they are factory worker like me so group visitors are wearing same company uniforms.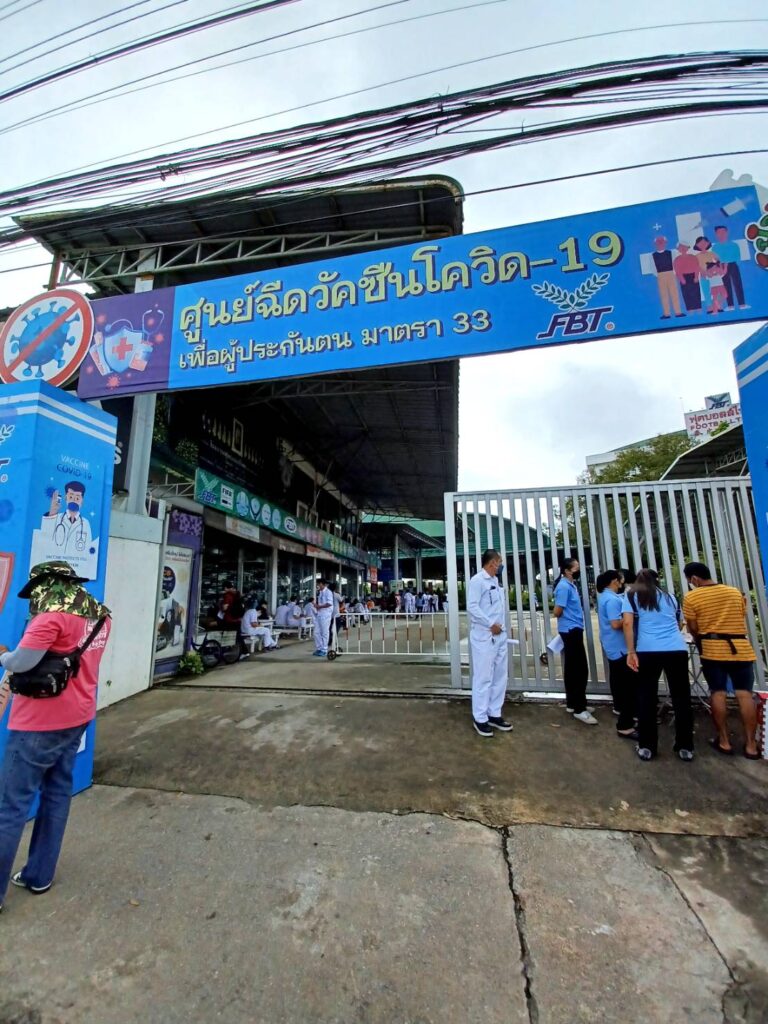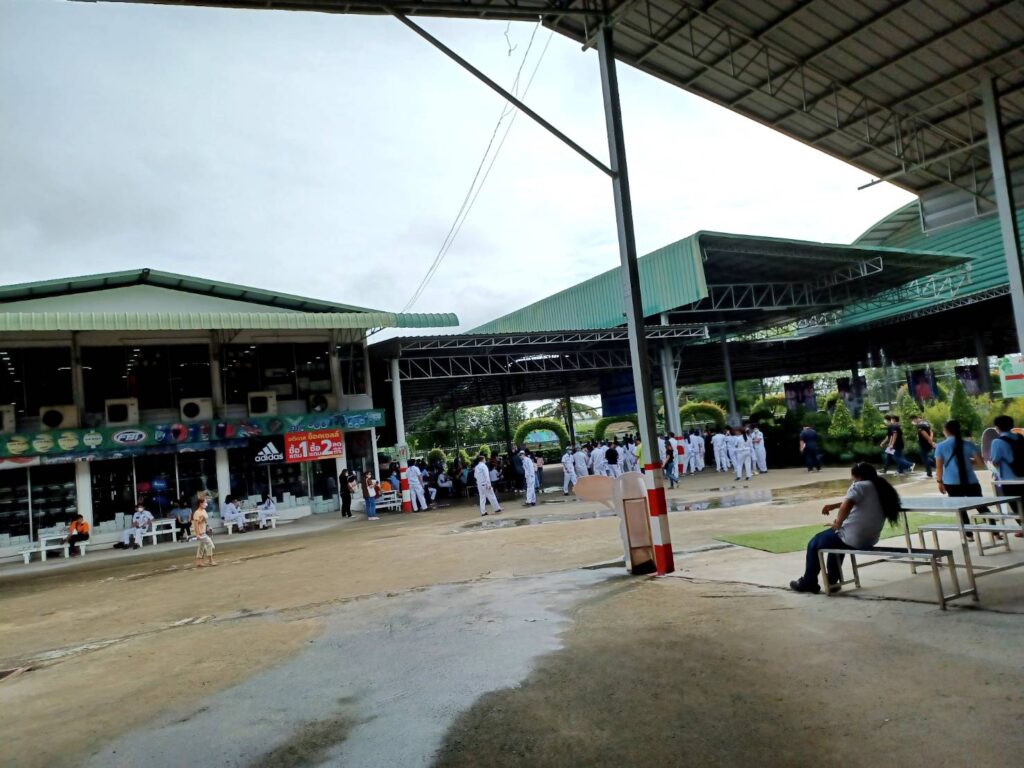 First, I went to entrance for waiting line to vaccination. I received number card 561 so I had to wait until my number is called.
When I got my number, No. 250 to 260 were being called. Until my turn for 561, I needed to wait around entrance area.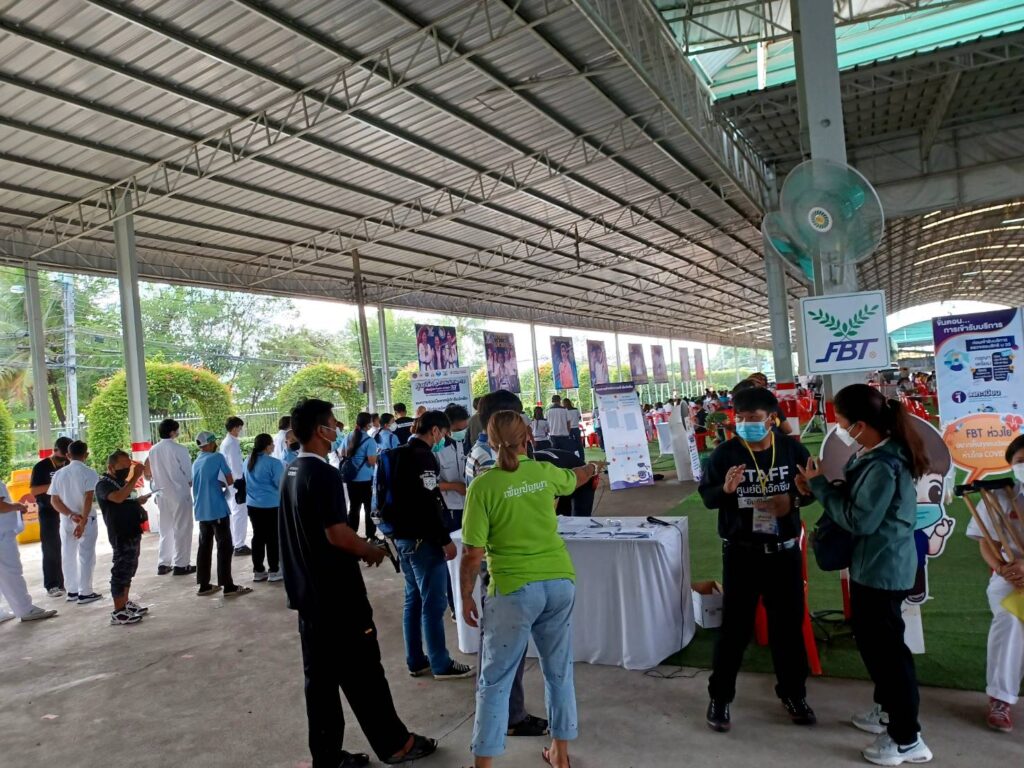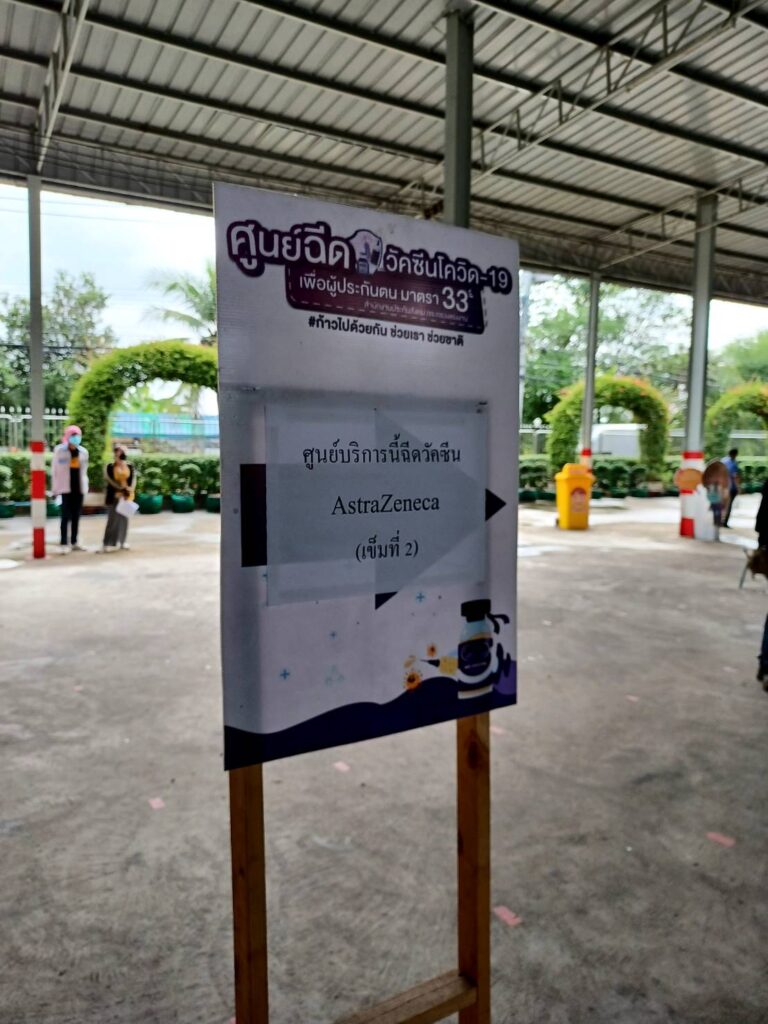 People waiting for the number called. Mostly they are the factory workers like me in Lad krabang industrial estate.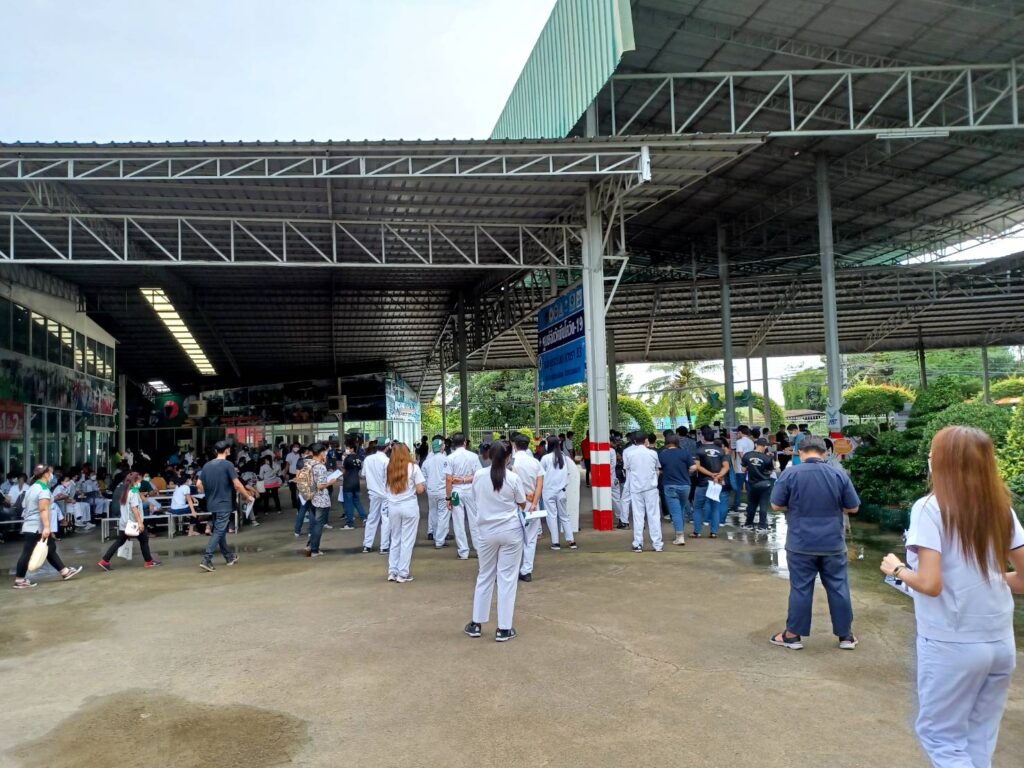 My number was 561. At the moment, I had to wait for my turn to come after 300 people are called so I killed my time walking around FBT factory.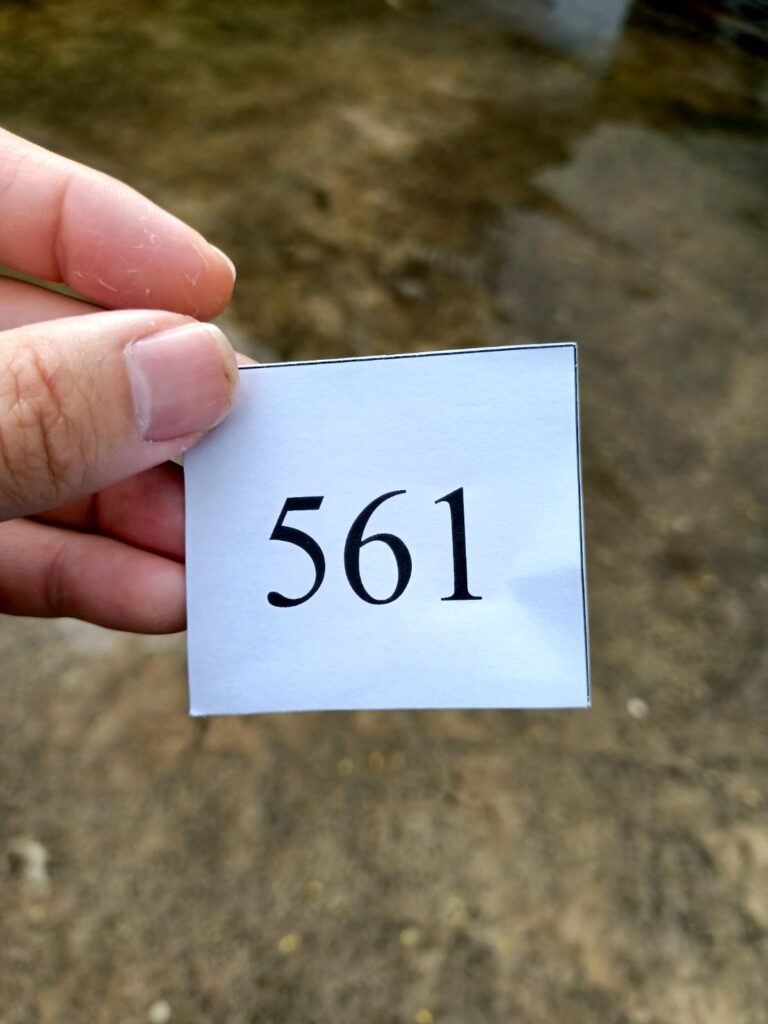 Entrance for company's reception at factory has showcase of their products.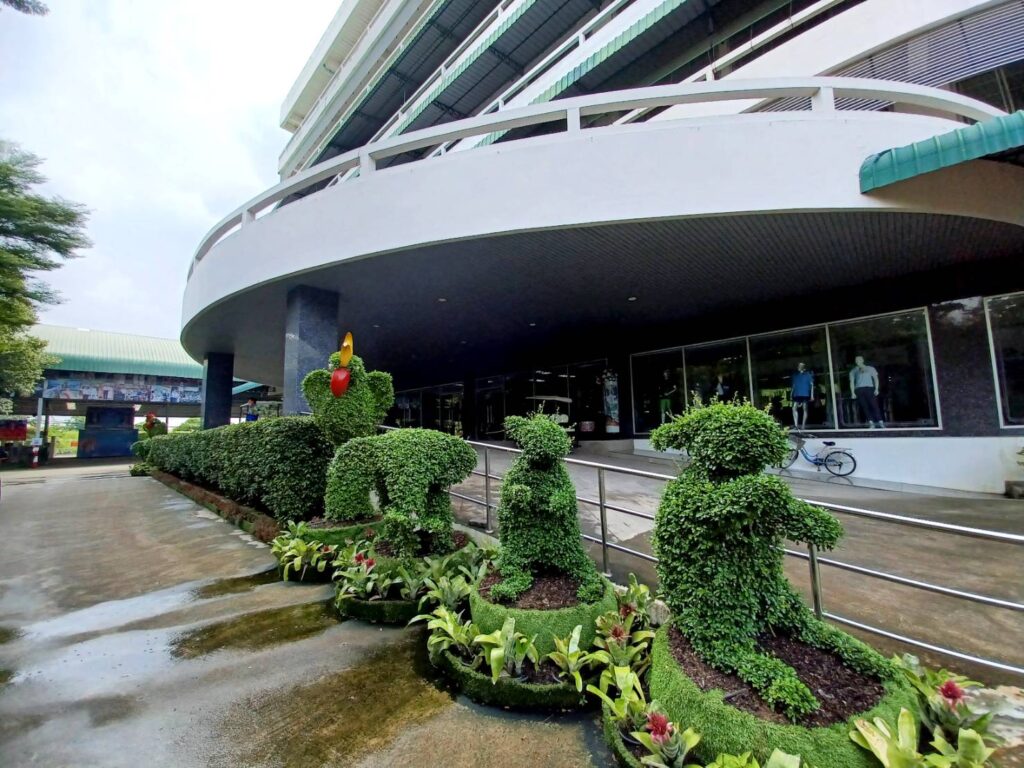 This factory is making various sports goods as in the picture.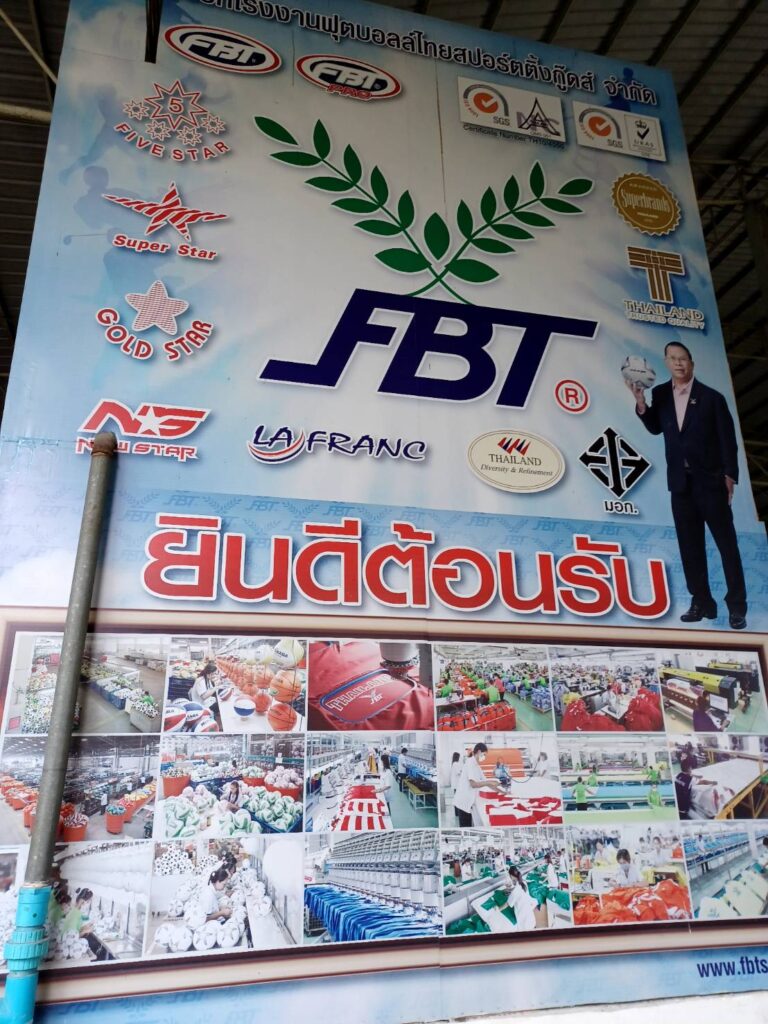 There is panel of Ms. Panipak "Tennis" Wongpattanakit (left) who won gold medal at Tokyo Olympics for Taekwondo competition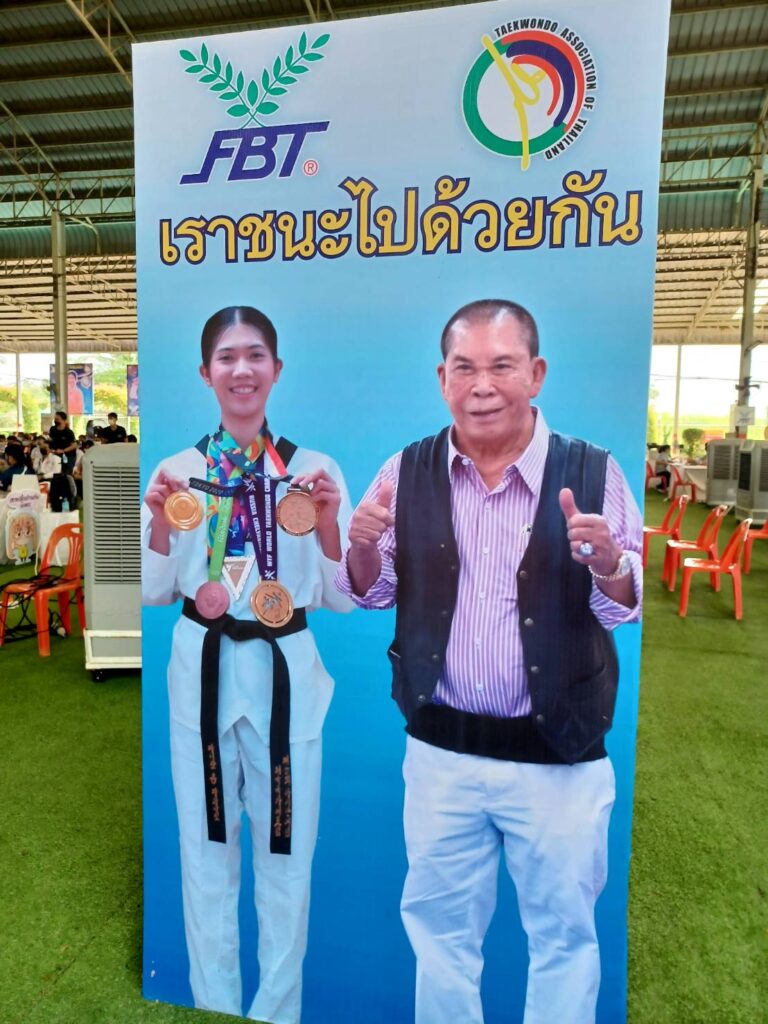 Factory building.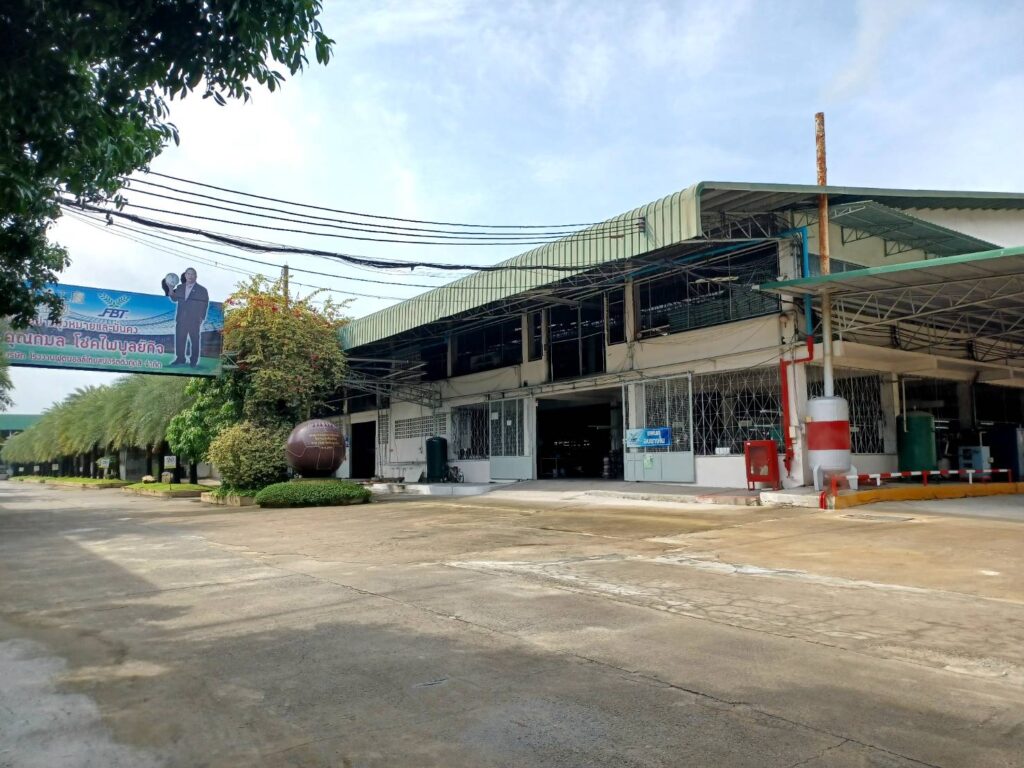 Canteen for factory workers.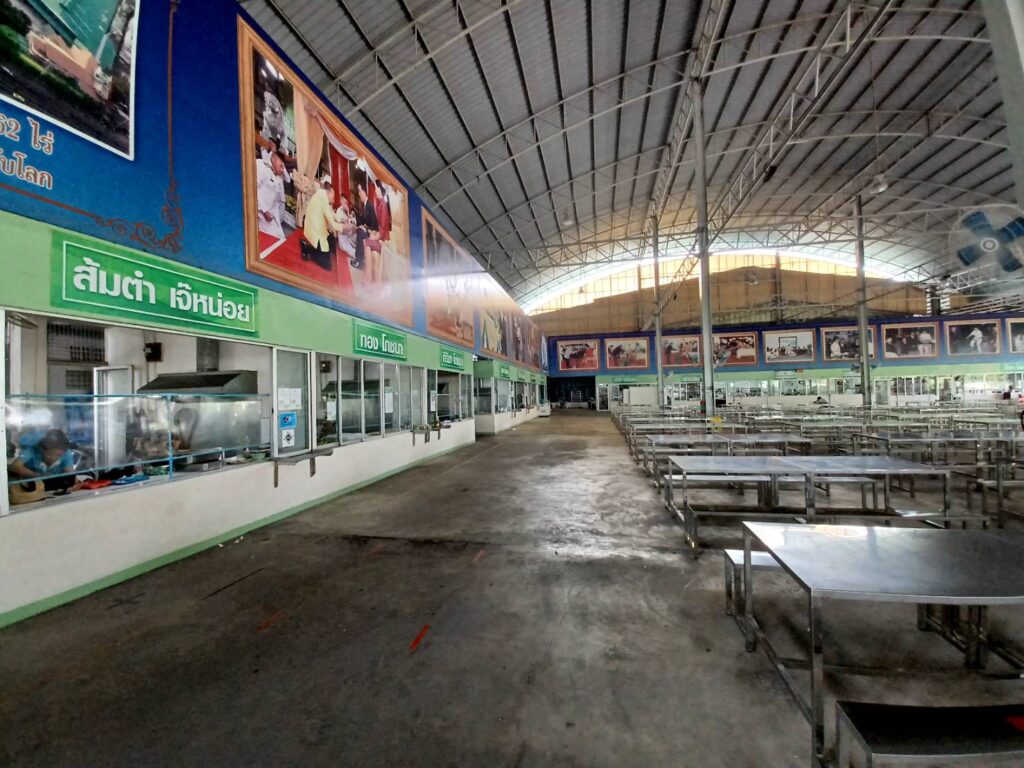 There are quite more people waiting than my 1st time in 2 months ago.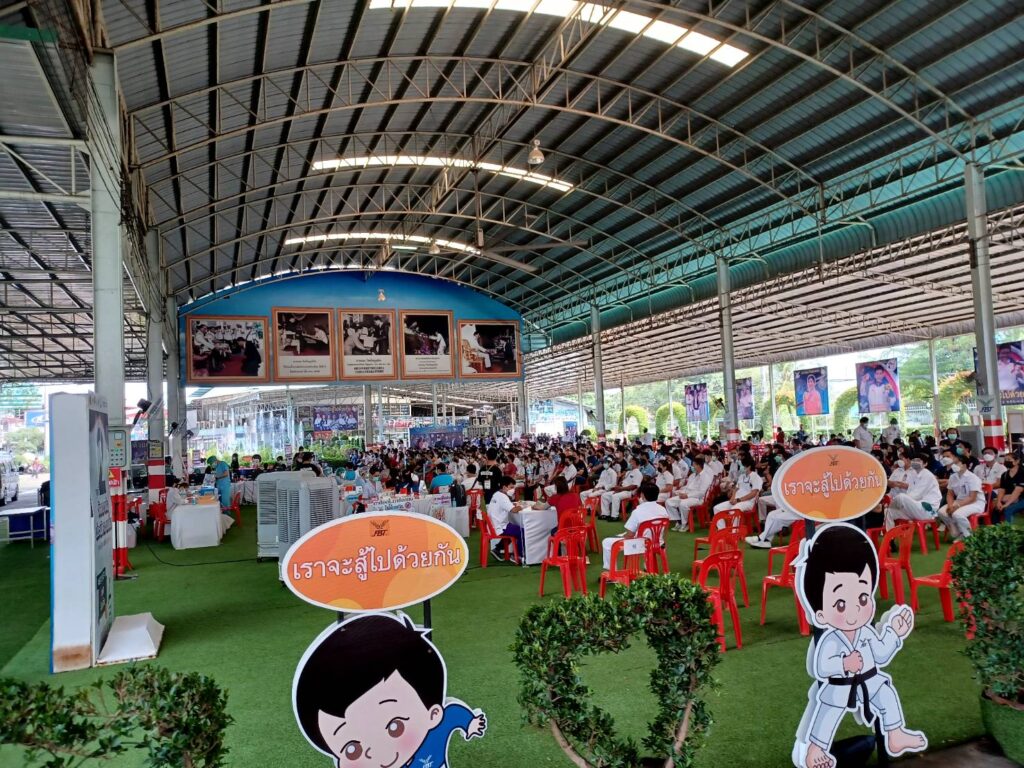 Ms. Tennis again!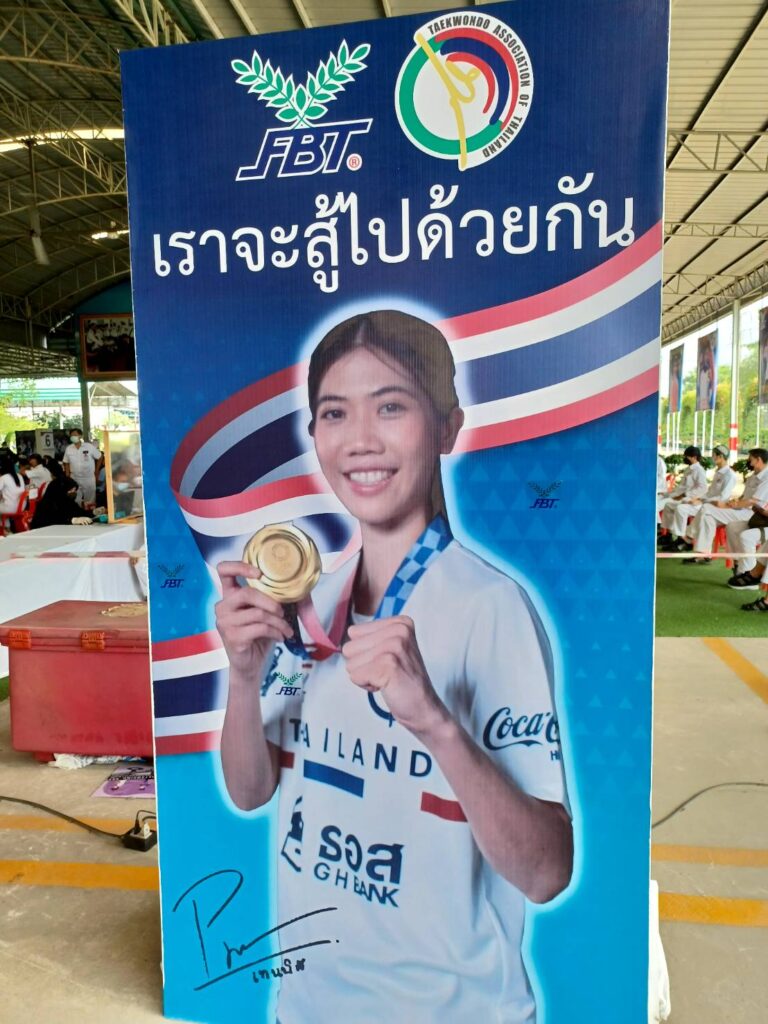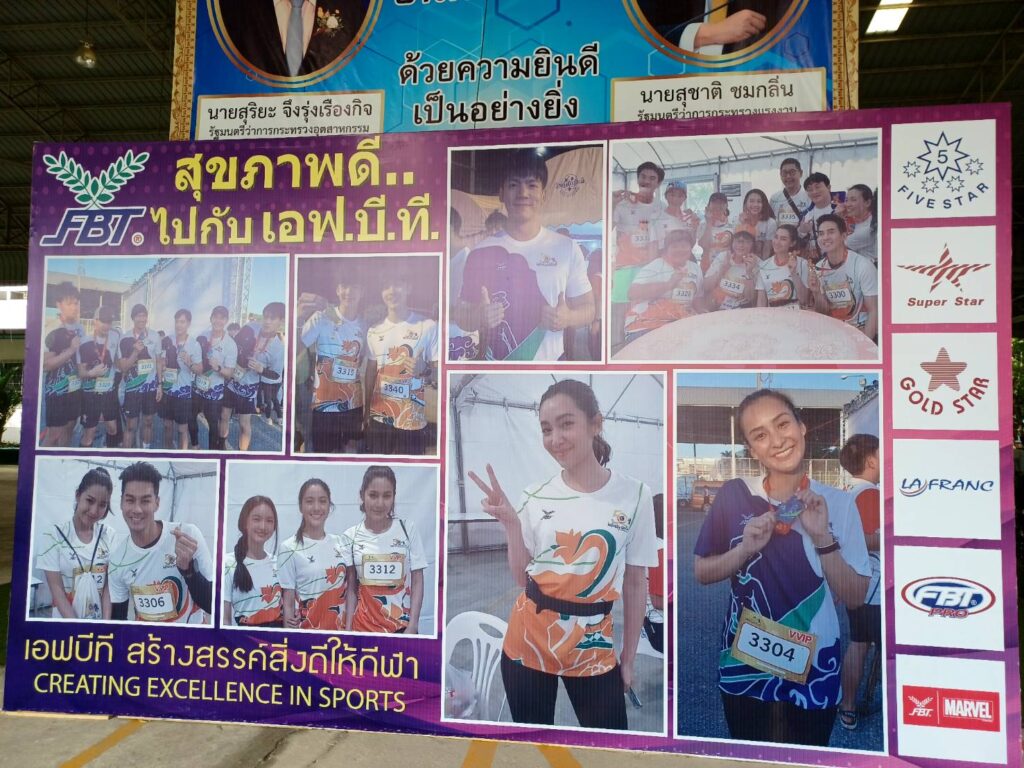 There is also shop in the factory where you can buy various sporting goods produced here. Below is ball for Sepak takraw, one of famous sports in Thailand. In Thailand, you can see sometimes that people gather to play Sepak takraw in sports ground. Ball is a bit hard but thai people really handle it by foot no make rally like a volleyball.
Nice thing is there was cool air inside shop so I was killing time comfortably. hehe.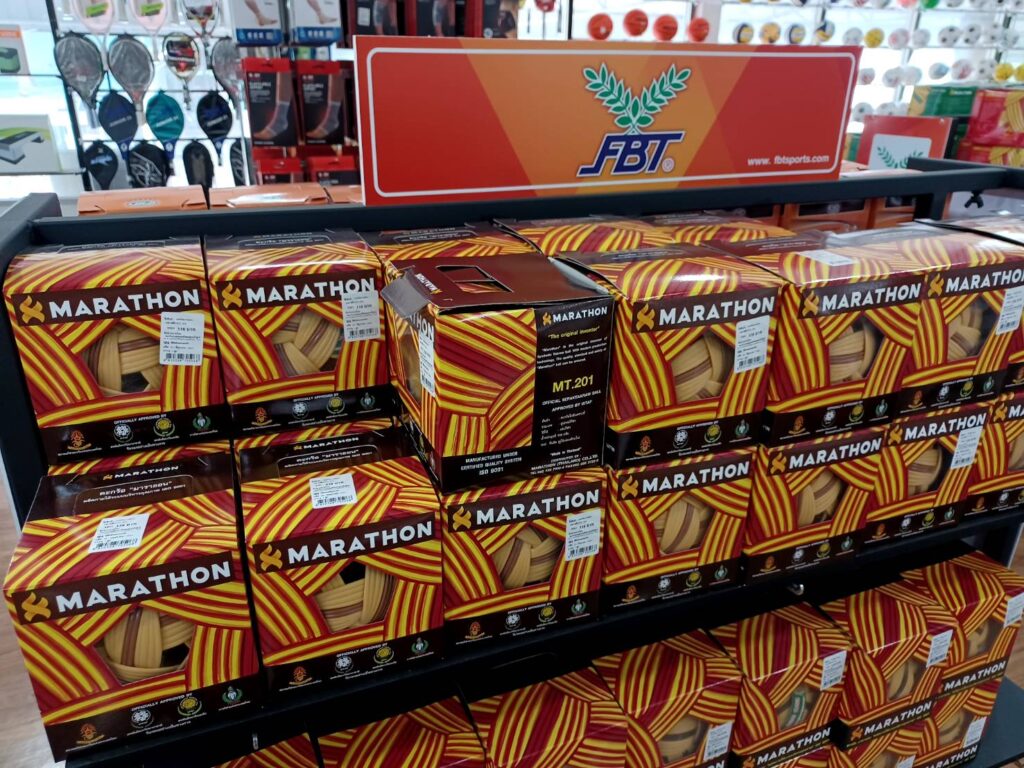 my number was called, exactly one hour after I got the cue number. At 9 : 50 am, almost 20 persons called at one time then staff made us to wait in line by mumber.
Staff checks documents one by one in my line. I didn't write the place name and code of the vaccination place so I had to write it down.
Staff asked to proceed one by one to next steps. There is document check by staff again, this time it seems they are checking against record in the database.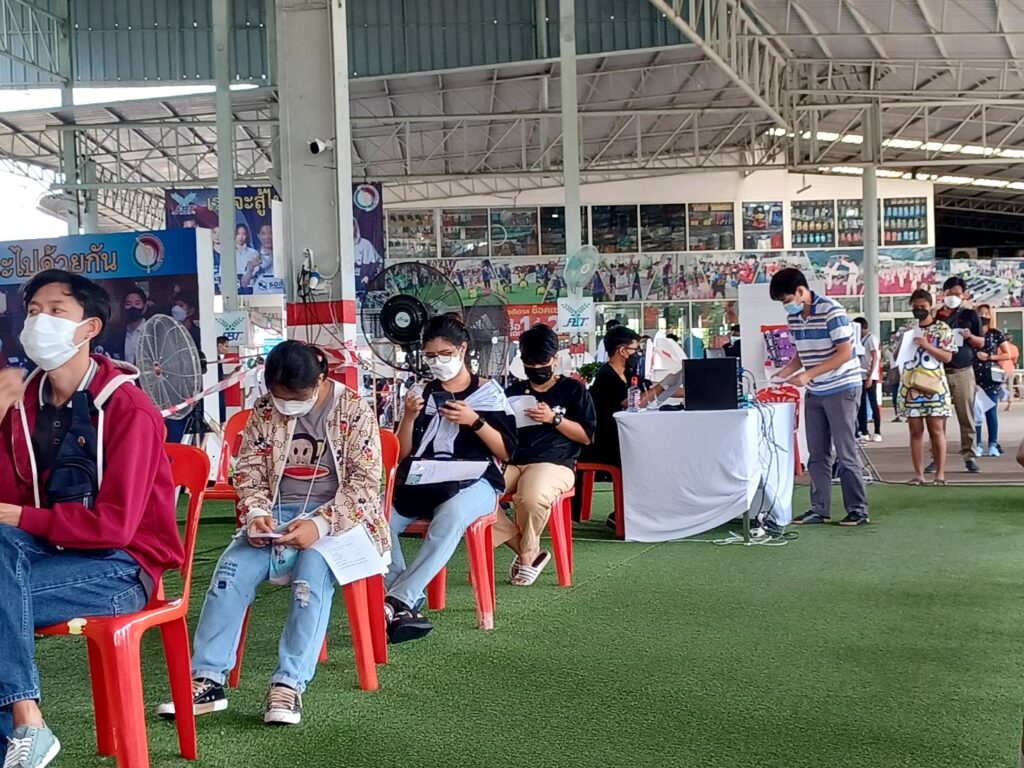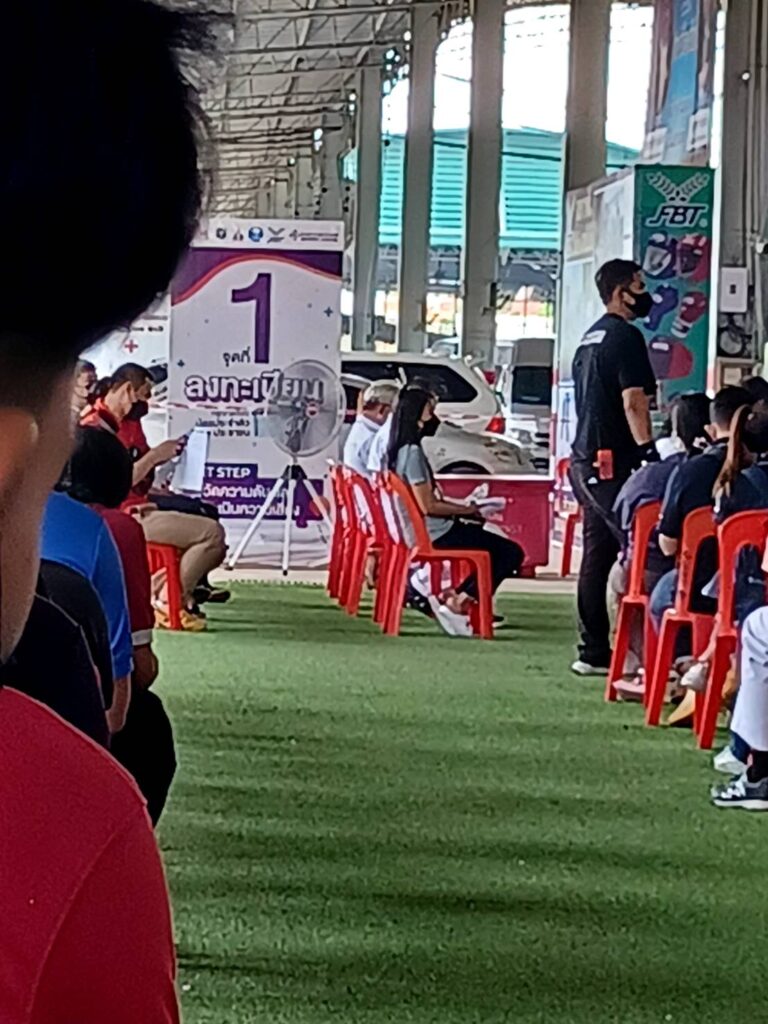 In first section, you will be in need to show prepared documents and passport so staff can generate registration form below.
For foreigners, this process takes a bit more because form can be obtained easily by scanning Thai national ID while for foreigner, staff needs to type some items in system.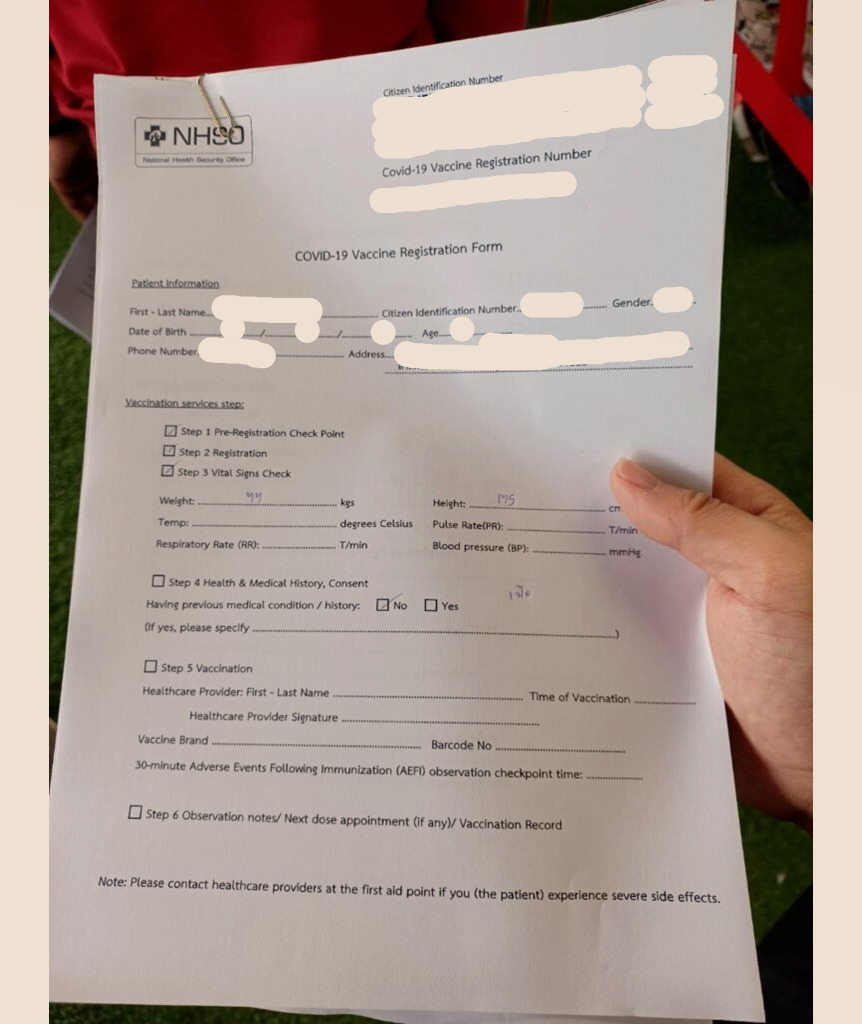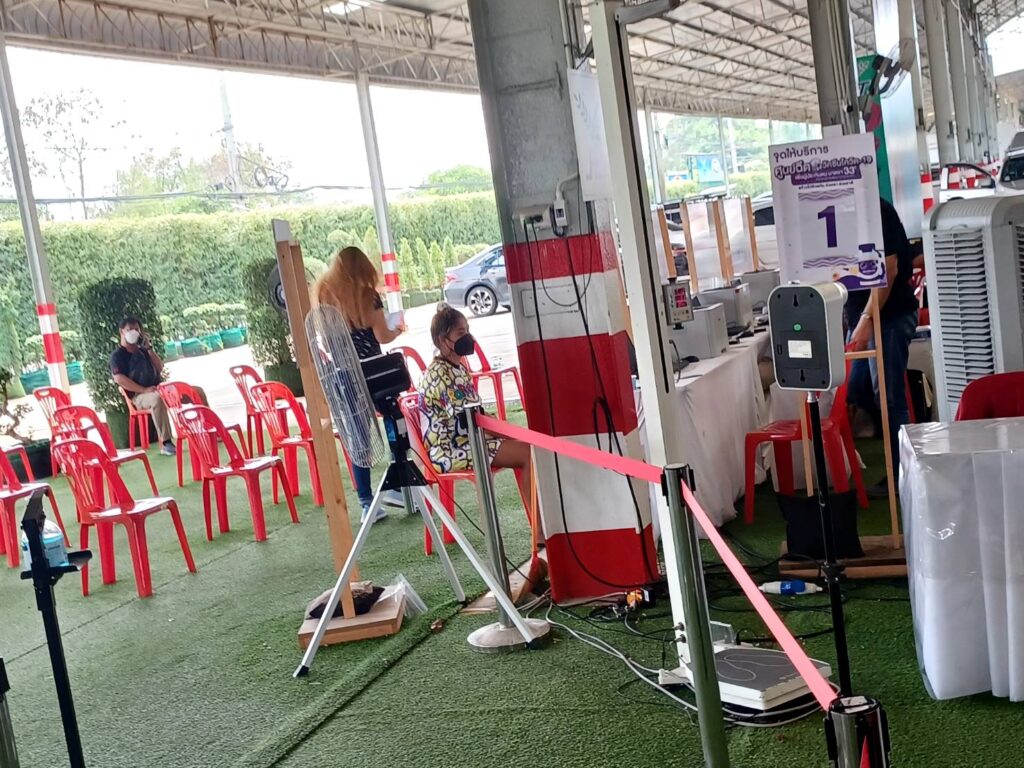 Once received registration form, take temperature measurement then consult with physician. She just checked if my temperature is below 37.5℃ surely. And also past disease history and allergic reaction. Registration form is submitted at this point.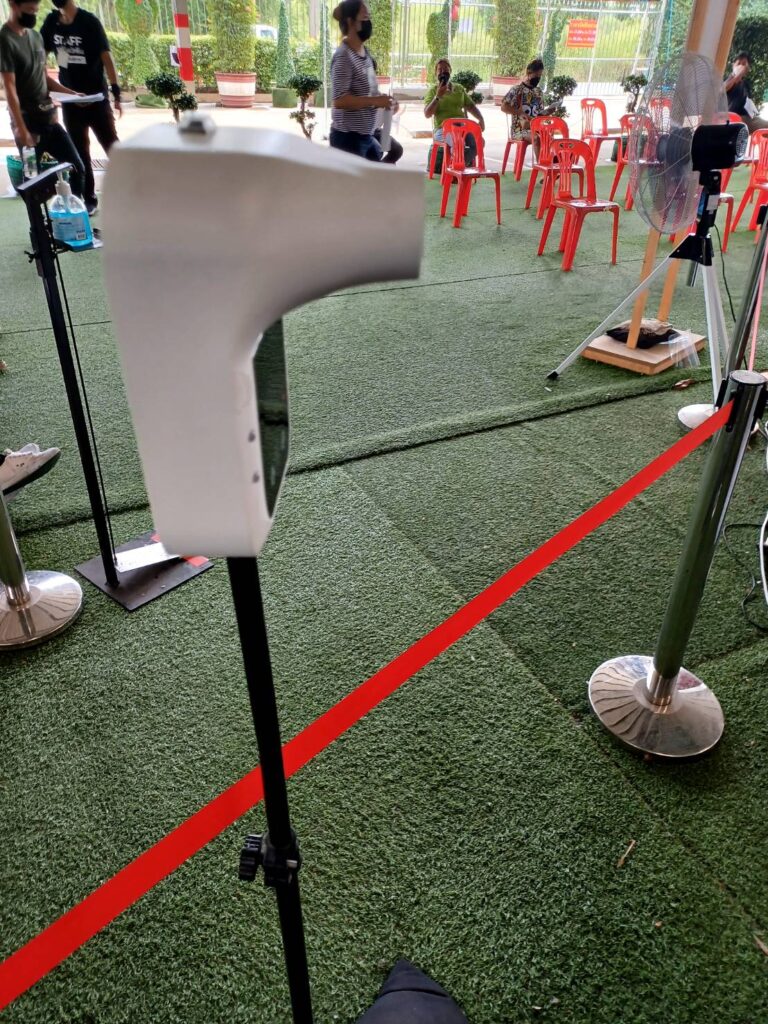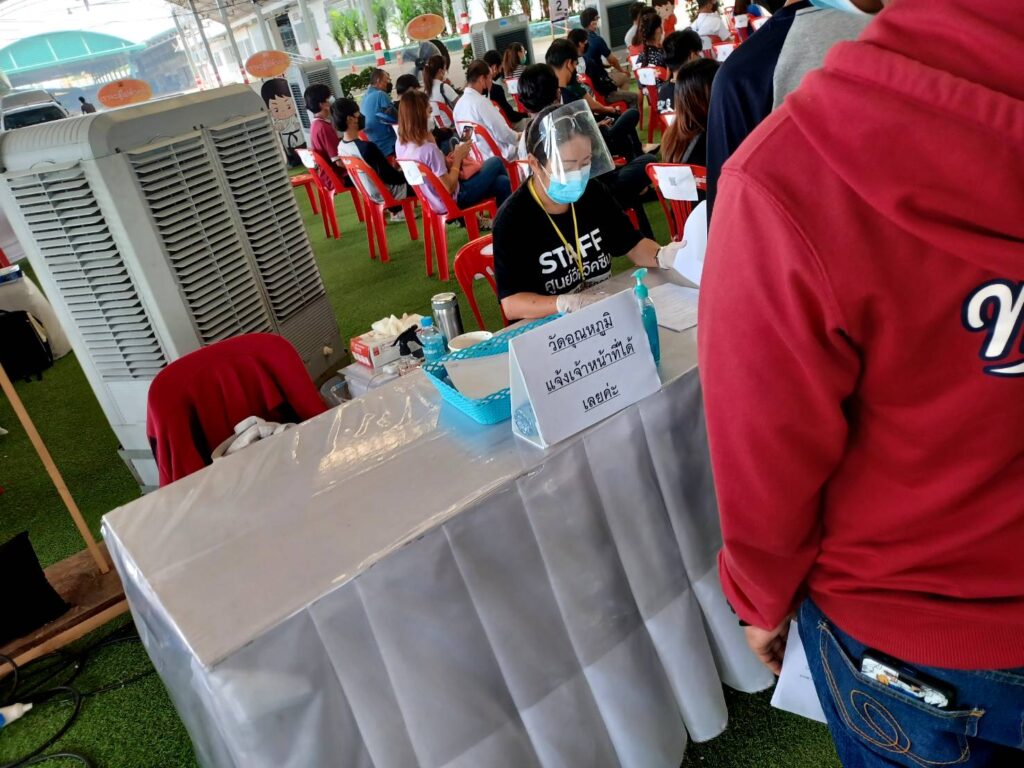 People waiting for vaccination jabs. I also wait here for another 30 minutes to have my turn.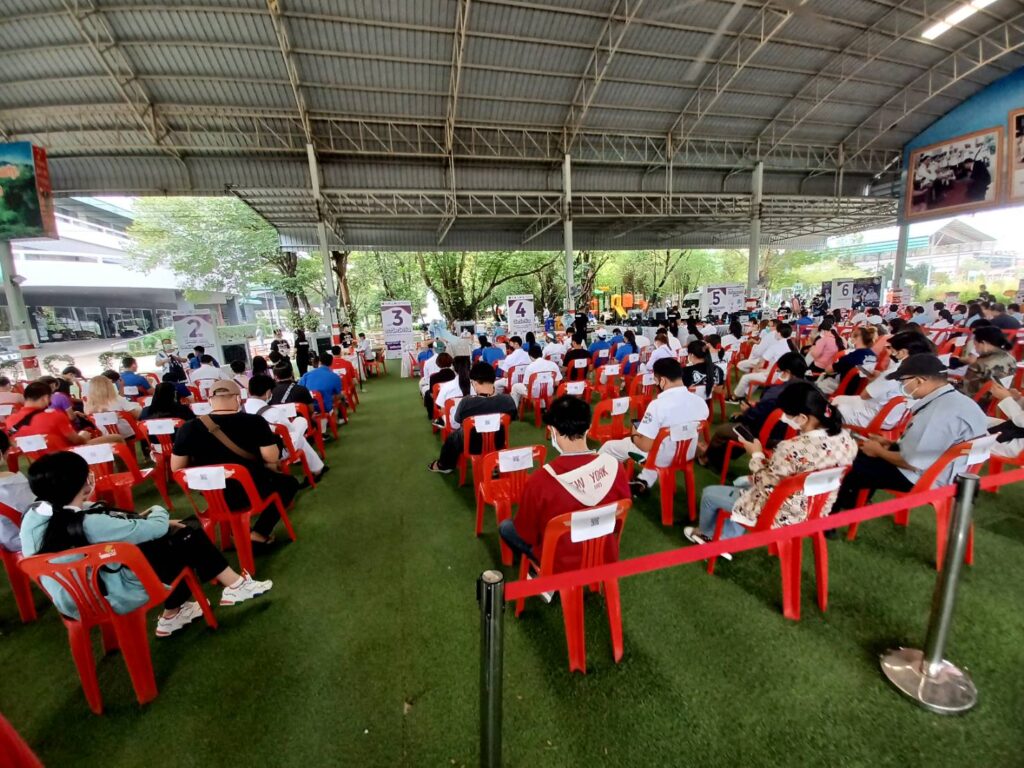 We just wait for name to be called. staff will call each one's name then escort to available booth for vaccination.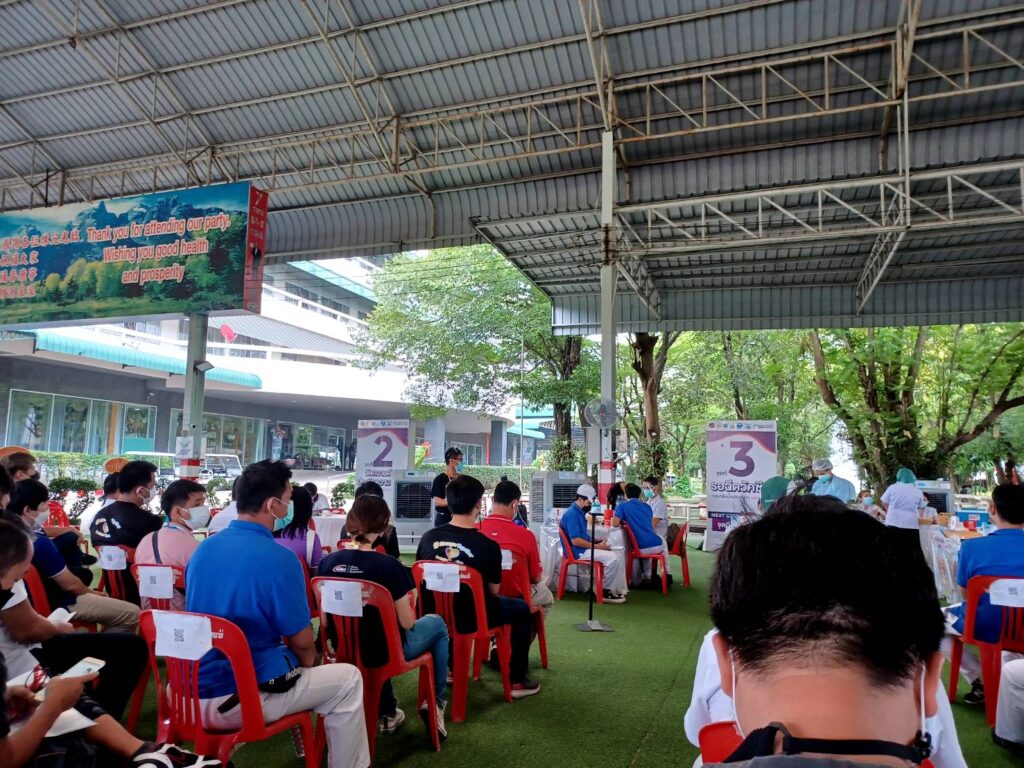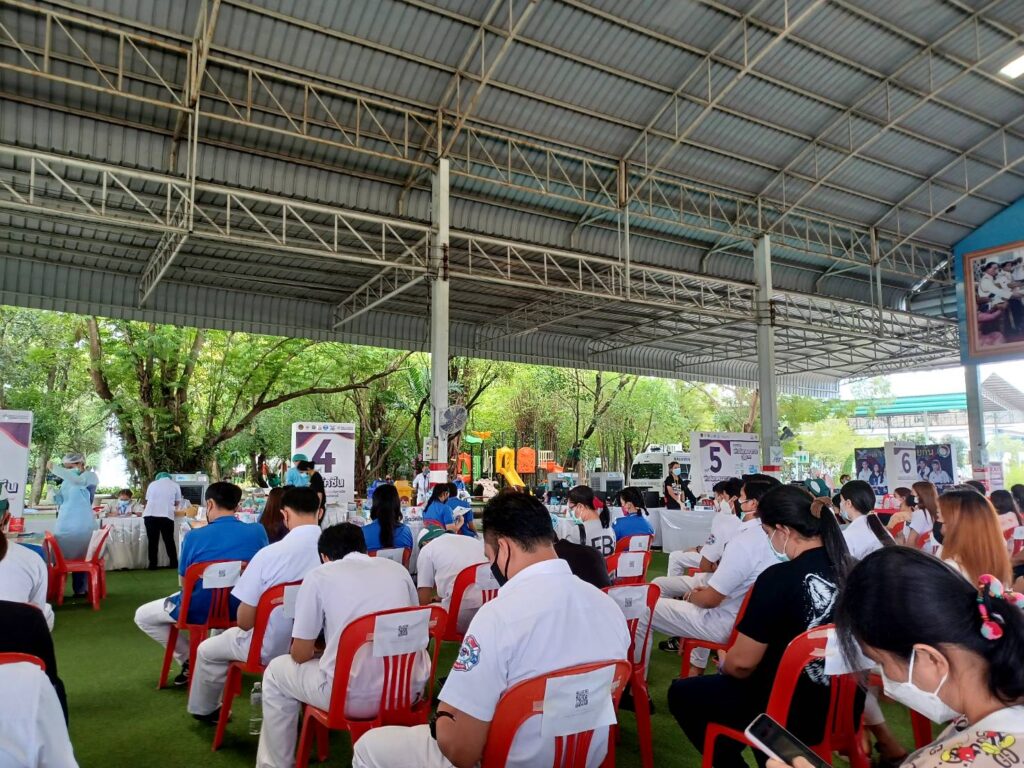 Blood pressure check is not for everyone unlike 2 months ago. Most people including me are not required this time.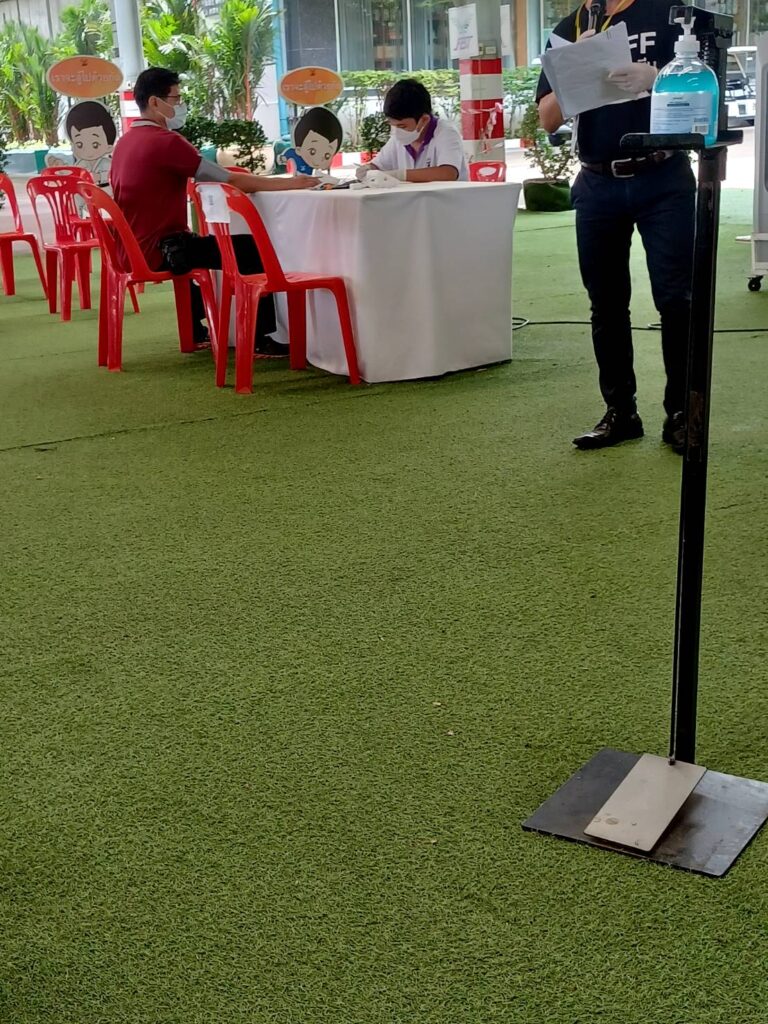 My turn is coming soon, whole process is very smooth although it takes time due to many applicants.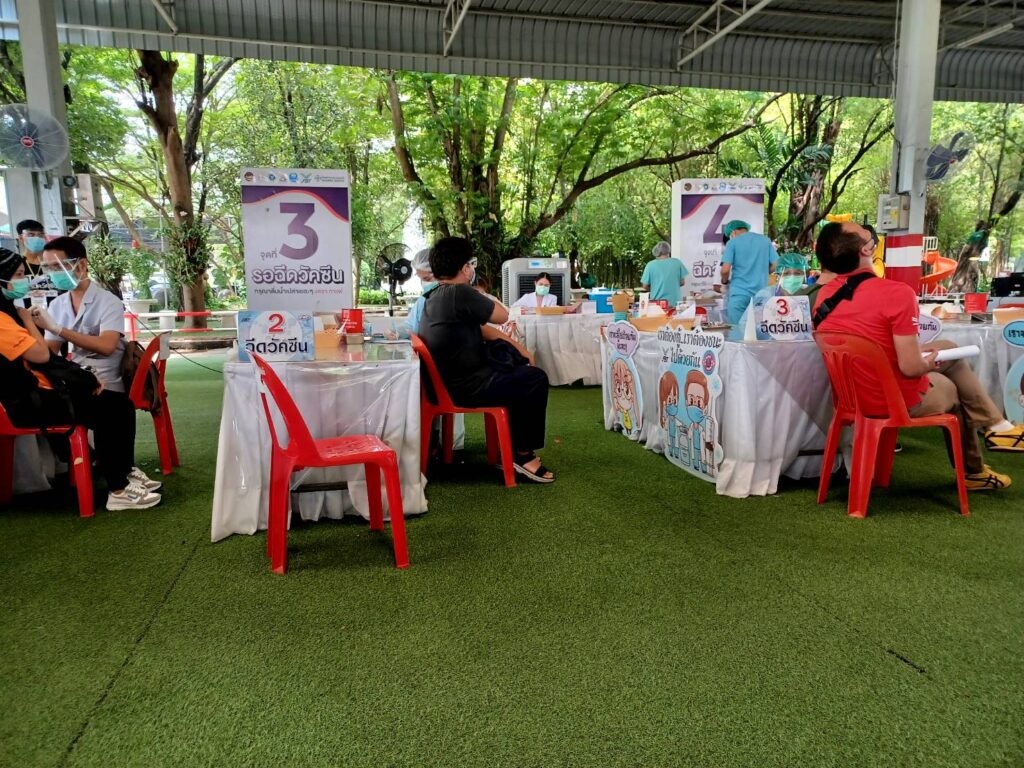 Nurse staff told me that this is AstraZeneca vaccine then injected!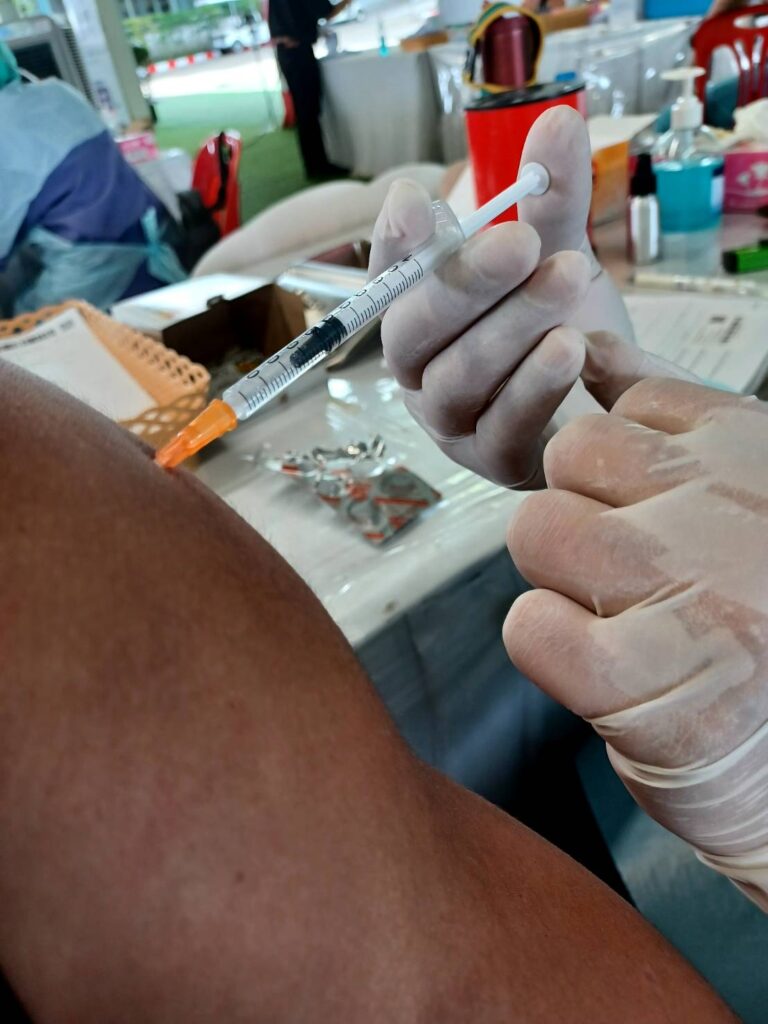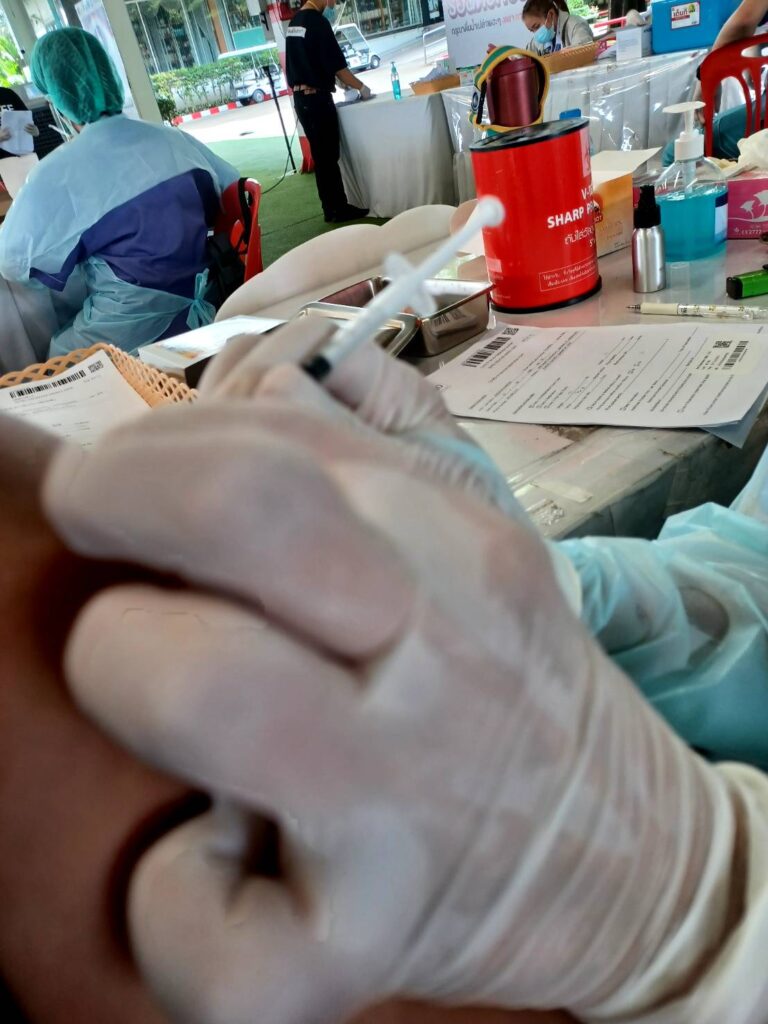 Thanks, she put the band on the spot.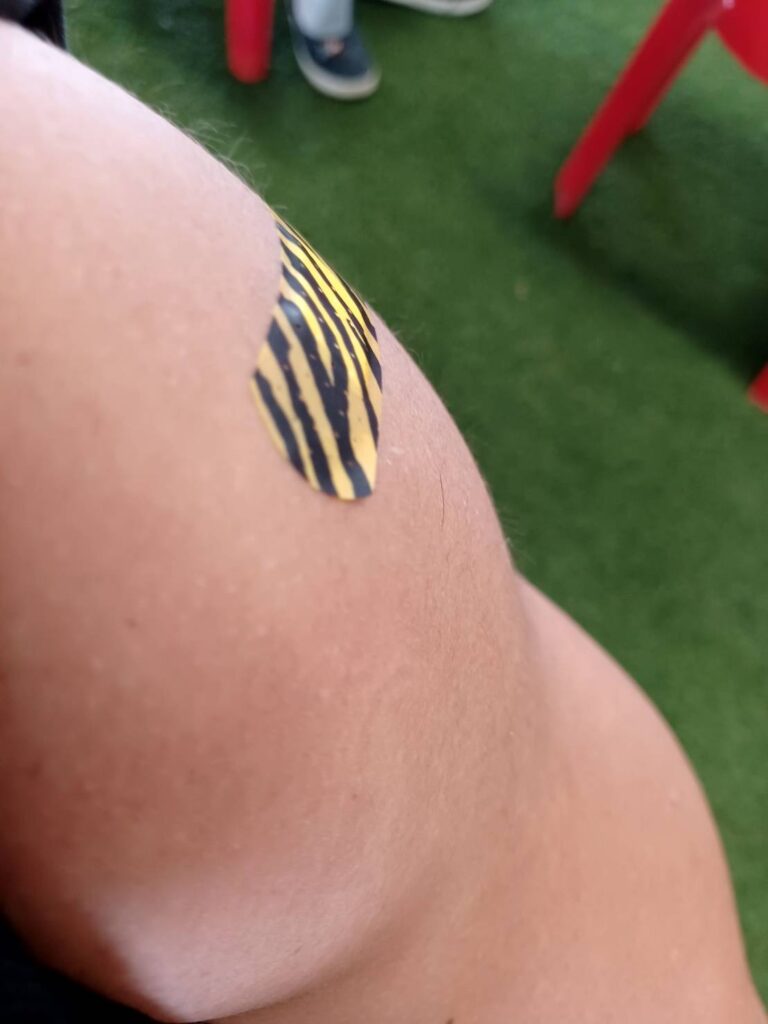 After injection, all needs to wait for 30 minutes at the place to see the reaction. If no reaction happens, you can just be excused.
For me also, fortunately, I didn't see any effect so I went back to office for work.
Before going out from the place, my name was called and received the certificate to show the completion of 2 time vaccination. From October, in some places, such as massage, and football stadium requires vaccination record to use facility. In such occasion, this paper can work, I think.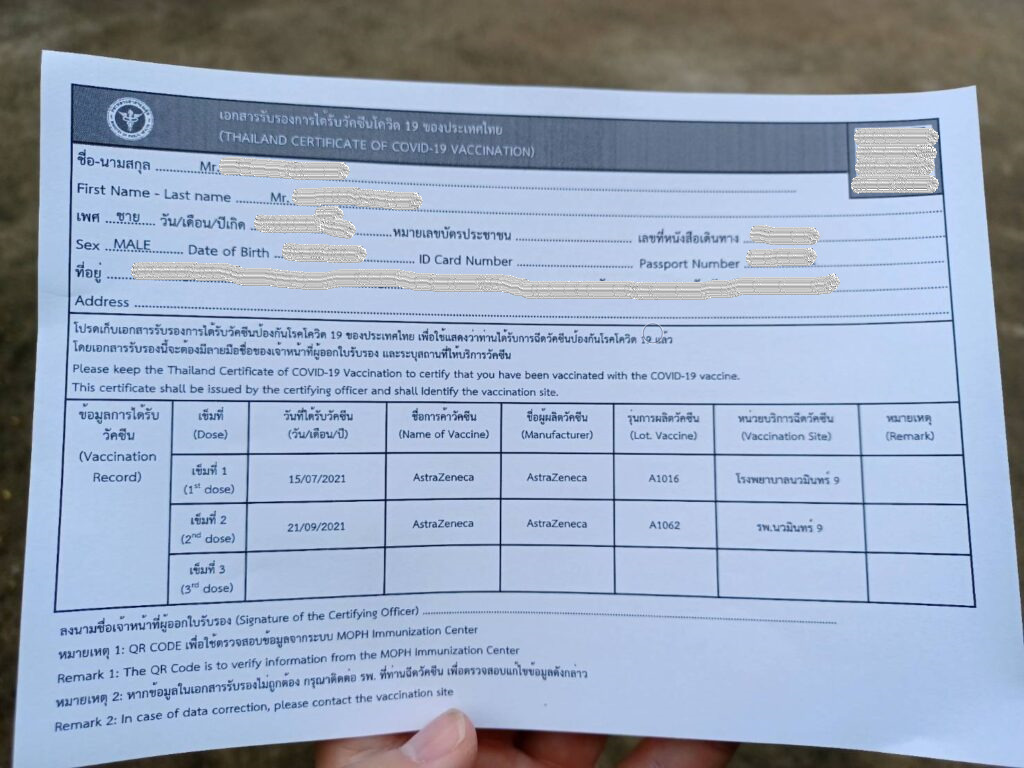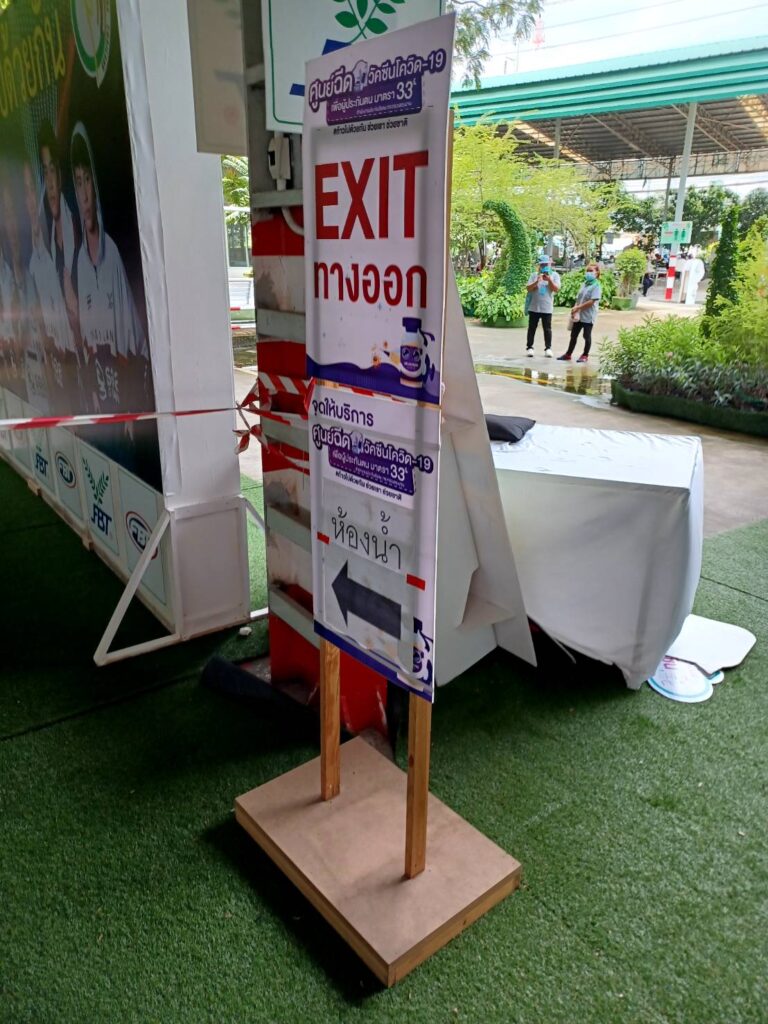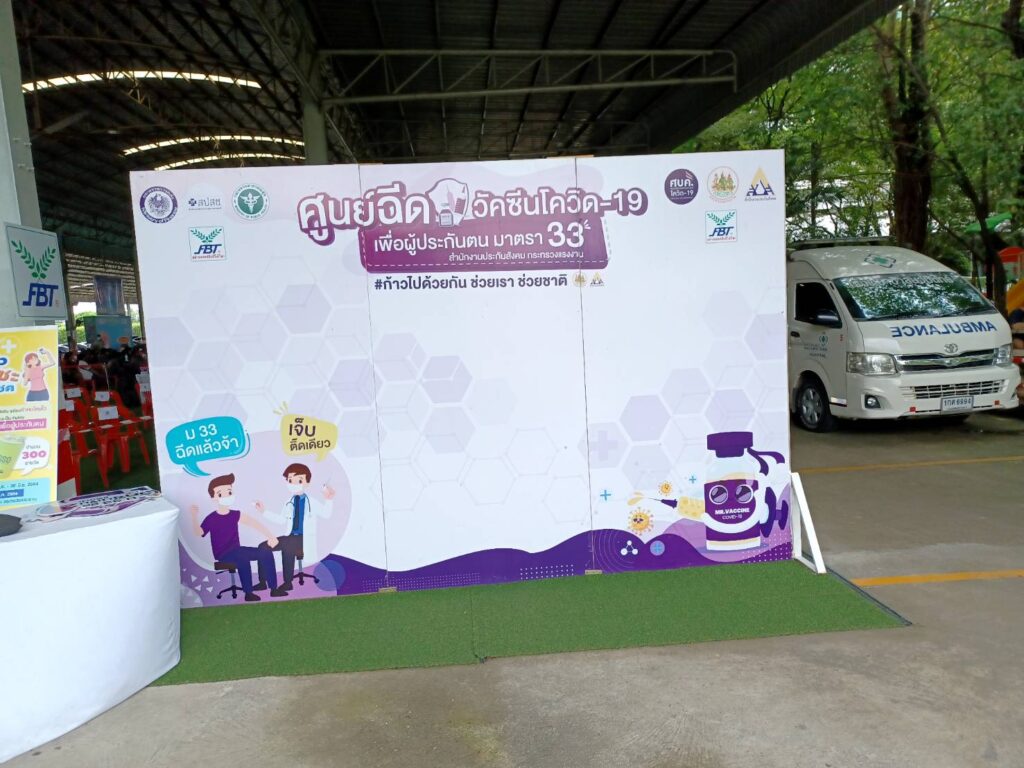 Total processing time was 2 hour and 30 minutes this time, I waited my number called for an hour and another hour to complete vaccination. After that I sat down on the chair for 30 minutes to see any symptom from vaccination.
Following day also, I had no symptom after vaccination luckily unlike 2 months ago, I actually didn't feel well on the next day of vaccination but no fever I had.
Anyway, for the meantime, I am vaccinated so at least I can reduce the impact of Covid-19 when caught. And I  have much more freedom to use service and facilities that is not provided for non-vaccinated person under the current situation.
Last but not least, I would like to thank to all related person to provide vaccination to people for free, such as place owner medial staff and volunteers. Thanks to them, we can gradually go back to normal life as before.