One Sunday, I received short message from Citibank, it says that 23,000THB was charged to my card. I totally do not remember this transaction so I immediately called Citibank call center to report misuse of the card then cancel such transaction.
This time, I will record this incident as time line  so that you can refer in case same kind thing happed to you. By the way, the card targeted this time was Citibank Prestige card that I use as my main transaction for my daily lives.
Oct 31st, 2021 Credit card used suddenly by somebody
On 31st October , 2021, I received below message that total 4,301. 55 CNY was charged to my Citibank credit card for online transaction. It was not absolutely what I made so I called 24 hour contact service center of Citibank credit card (66)2-232-2333.

I reported that my card was used by somebody so requested to cancel this transaction. Call center staff told me that the transaction will be cancelled so as credit card does. New card will be issued in a 5 working days.
Below is the transaction which was recorded in my credit card statement. Transaction seems it was made in China so I googled some items recorded in the statement.

Baxianguozhai can be translated to eight immortals in Chinese mythology. It can be used as a name of shop that accepted this transaction but it cannot be known for this. and Bao tou shi is the name of prefecture city name in inner Mongolian in China. This areas has more larger population of Mongolian people than entire Mongolia as I checked in Wikipedia. That was nice to know such trivial information from credit card fraud, haha.
Nov 3rd, 2021 Pending status disappears
Since CNY fraud amount was charged to my account, I checked every day to see the changes in my transaction. After several days later, I found "pending" status was removed then total amount 23,006.11 THB was charged to my account…

Nov 13th, 2021 No action by Citibank for 2 weeks
2 weeks passed since I reported issue to Citibank but New card has not been delivered yet to my address. Therefore, I called again to call center then found no action was made since information was not shared to other department in Citibank…. Officer told me that they will take action immediately then send card by EMS which arrives faster than normal mail.
After the call, I received below message states that my card (old one) was cancelled.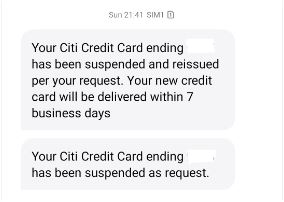 Nov 17th, 2021 Temporary card number available on apps
On apps, my new card number and with temporary CVV number is available after 3 days of my second call. with these numbers, I can make online transaction and apps transaction. Apps also mentions that once I received physical card, I have to update the number where it was registered.
Nov 18th, 2021 Received new card finally
On the following day, finally I received new card and the fraud amount was offset in card statement.
New card can be activated on apps by click only.
Once received new card, CVV number will be changed from temporary one so I needed to update the information in payment apps such as true money wallet. If you have subscription program registered, you also needed to update card information. However installment, you do not need to take any action, installment information will be linked to new card as call center agent informed.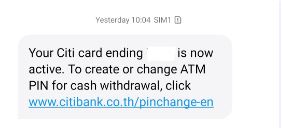 Conclusion
That is all my experience of first time credit card fraud and replacement process. Nowadays, credit card scam is very common in Thailand and almost impossible to defend card from this kind of crime… One thing that I care is check card transaction all the time and report immediately card issuing company if I notice suspicious transaction.
You can also have preventive measures such as keeping eyes on the staff when you give credit card for store transaction or use secured website only for online transaction. And keep several credit cards in case one of your card is blocked stop transaction is your card information doubted leaked.
Be careful and enjoy shopping always! See ya!