Thai government announced relaxing of Covid1-19 preventive measures from October and now it becomes into effect. Fitness gyms are one of them, now it can be opened with appropriate virus control action. My gym, Jetts fitness, they sent to all members by SNS that they are opening from October 1st, so I could finally enjoy gym work out in my home from since April 26th, 5 months ago that all gyms in Bangkok was shut down.
There is also other new rules applies to 29 dark red designated areas including Bangkok. I will recap the summary of new rules here for share.
Announcement by Thai government
I normally follow Thai government PR account in Facebook or Twitter as below. You can follow them to get news as official. At this time, normally restrictions are lifted in dark red zone 29 areas.
The Center for #COVID19 Situation Administration (CCSA) has approved the relaxation of certain measures in the 29 dark red zone provinces from 1 October 2021 onward. The relaxed measures are as follows: pic.twitter.com/5jwIU2yYYN

— PR Thai Government (@prdthailand) September 29, 2021
Curfew hours
Currently we have curfew restriction in dark red zone areas. From October 1st, new rules applied curfew time was one hour shortened from 9 pm to 4 am in original but now it becomes to 10 pm to 4 am. Following this change, business establishments can be opened now until 9pm
Reopening business
Main part of the changes this time, following businesses are now allowed to be opened. Most importantly gym is now open so I went to do workout every single day since its reopening.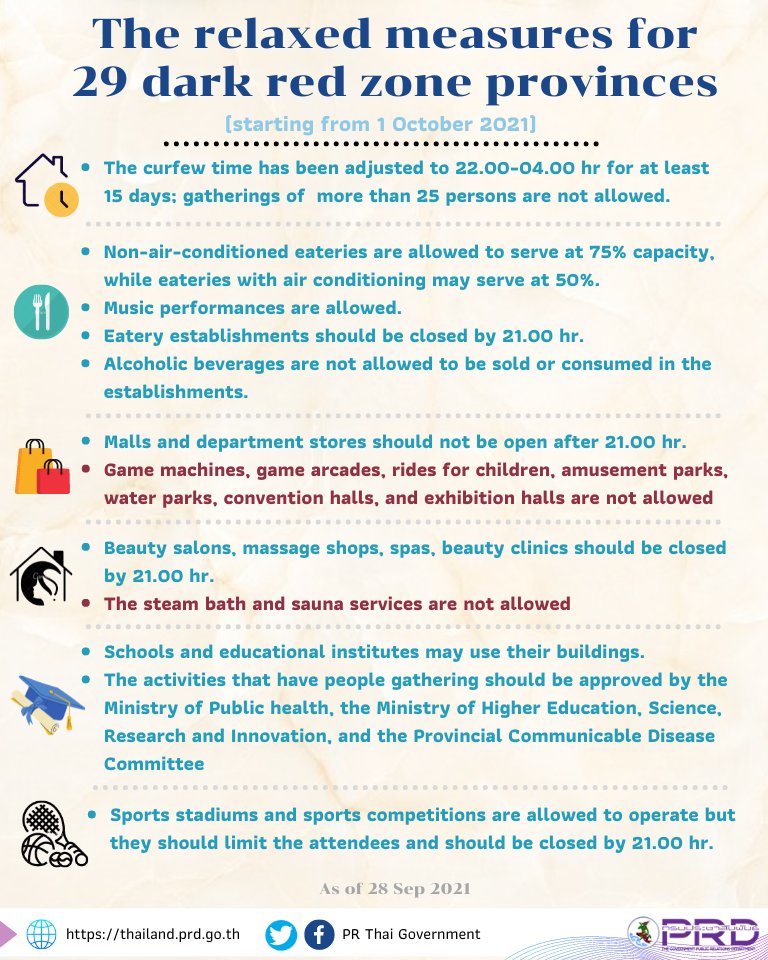 Music band for restaurants and eatery are now allowed.
Beauty salons and beauty clinic.
Spa and massage not only for foot.
Indoor and outdoor sports facility, fitness gym
Schools and educational institution facility
Museum and libraries
Movie theater with social distancing seating.
Above is the main business that can be allowed to be open from this time. Some services actually needs Covid vaccination record to show such as spa and massage but when I went to whole body massage, I was not asked to show so it may be not implemented strictly at this time.
SNS message from my gym, Jetts fitness to announce reopening.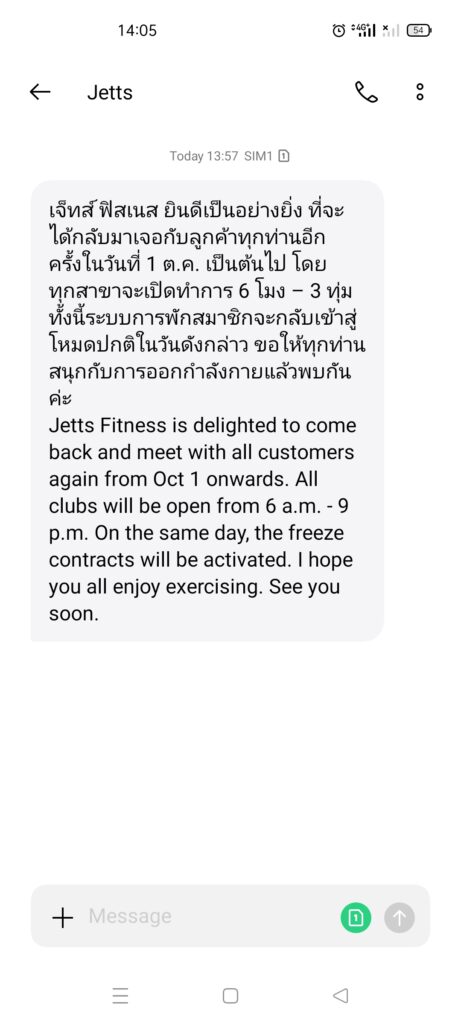 Weekend visit to Jetts fitness, Siam square one. This is newest Jetts as of October, 2021.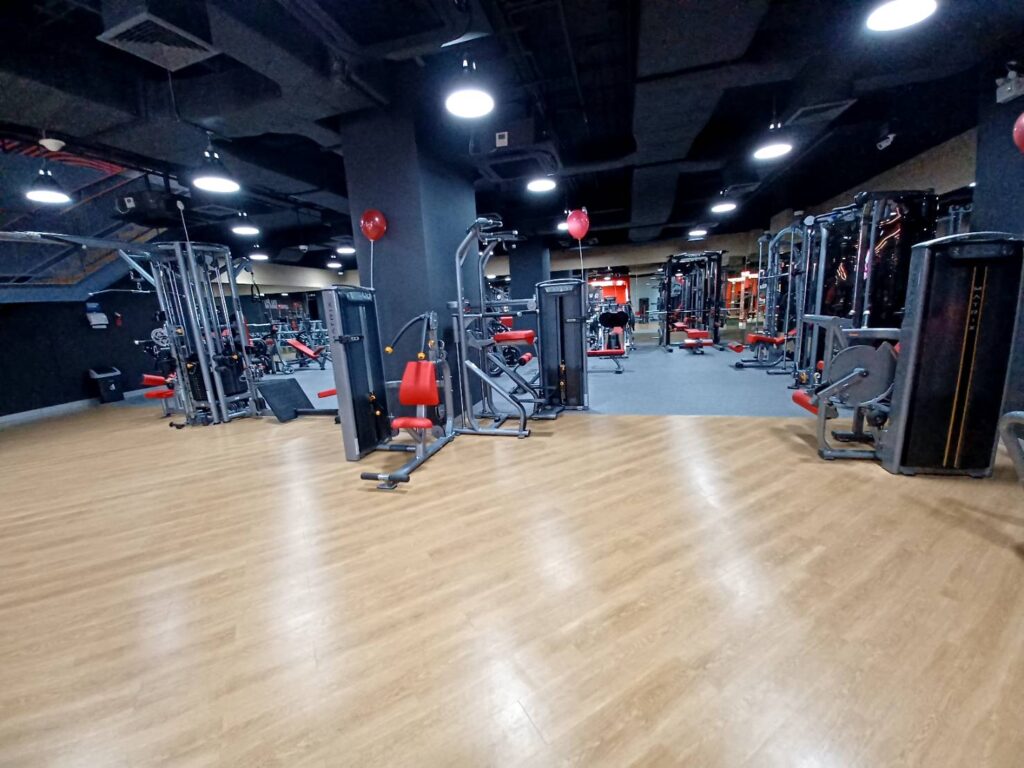 For the past 5 months since April 26th, I had to embark on provincial trip to do gym work out not in Bangkok. May, June, I was in Petchaburi province. Pattaya in June, July, Chaing Mai, Khon Kaen, Buriram and Nakhon Sawan for the rest of weekend. It was tough time, just to do gym duty, I had to take long bus or train trip but now it is so easy and convenient to go to gym> I can go to my home gym by walk during opening hours. Even weekend, I can visit nearby gyms by just 1 or 2 hours trip then can come back to my home at the same day.
On contract to above, there are some businesses prohibited, waiting for another relaxing measure at the next consideration.
Night clubs and massage parlors
Game arcade and game machines
exhibition and convention halls
Alcohol serving at eating places are still banned but it
Sports event can be held with no spectators for indoor games and 25% of its capacity allowed for outdoor games.
I wanted to watch football game Port F.C. VS. Muangthong United this week but it was decided to be held as closed match so I could not go. Hopefully, next week football association is ready to welcome guests so that I can also experience live game again in Bangkok.
New entry rules to the Kingdom
Thai government is now completely shifting to lift several measures to accept foreign visitors again to the kingdom. From October 1st, compulsory quarantine period will be shorten to 7 days from 14 days for those who had received vaccination jabs as stipulated. Depending the situation of Covid-19 in Thailand, they are also thinking to reduce this quarantine days so that the countries is easier to visit as before.
In may case, the last time when I exited Thailand was February 2020, so almost 2 years, I am stuck in Thailand. Before that time, I was going out for overseas almost every month but now I am accustomed not to have trip to the other countries.
There is still quarantine required and insurance covering 100, 000 USD so I would not consider to going back to japan nor visiting other countries until Thai government stops imposing such rules to avoid unnecessary expenditure. Hopefully I can come back to Japan this new year as Covid-19 situation is much better at that time.
This new rules applies to 14 days then considered to be revised. I hope the situation will be much better based on the progress of vaccination program so that the government can ease restriction more in near future.
See ya!.