Welcome back to fitravelife.com!
Now I am taking FREE comfortable bus trip to Suphanburi province, arranged by Bangkok United F.C. to watch Chang FA cup semi final against Police Tero F.C.
Here is the report of my experience for whole trip😉
For bus trip booking steps, you can also check my another posts.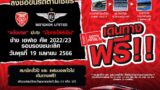 2022-2023 Thai FA cup semi final trip arranged by Football club on 19th April
Welcome back to fitravelife.com!! Becoming April 2023, Thai football season is coming to end soon. One of 3 major tit...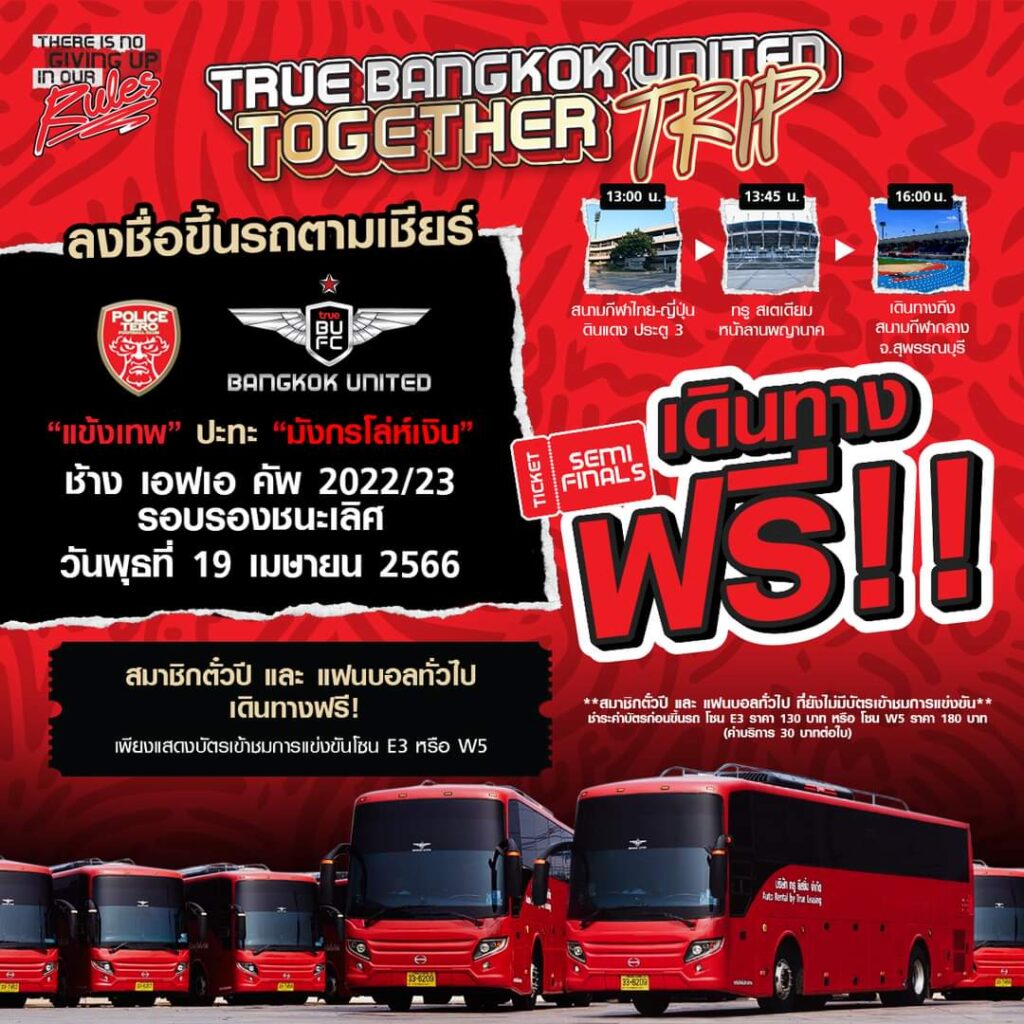 Trip itinerary
This free trip was conducted on 19th April, 2023
13:00 Pick up at Gate 3 Thai-Japanese Stadium Din Daeng
13.15 Departure from Thai-Japan Stadium Din Daeng
13.45 Pick up at E Stand of True Stadium, Thammasart Rangsit Campus
14.00 Departure from Thammasart Rangsit Campus
16.00 Arrive at Suphanburi Provincial Stadium
18.00 Kick off
20.30 Departure to Bangkok
22.30 Arrive at Bangkok, stop at pick up points each
Pick up at Thai Japan Stadium
Thai Japan stadium is a bit far from train station. Relatively, BTS Victory monument or ARL Ratchaprarop station is near. Sorry I didn't check which bus goes, you can check Viabus apps if needed.
Anyway, for me I like to walk a bit around 2km to the pick up point, I did from Ratchaprarop station.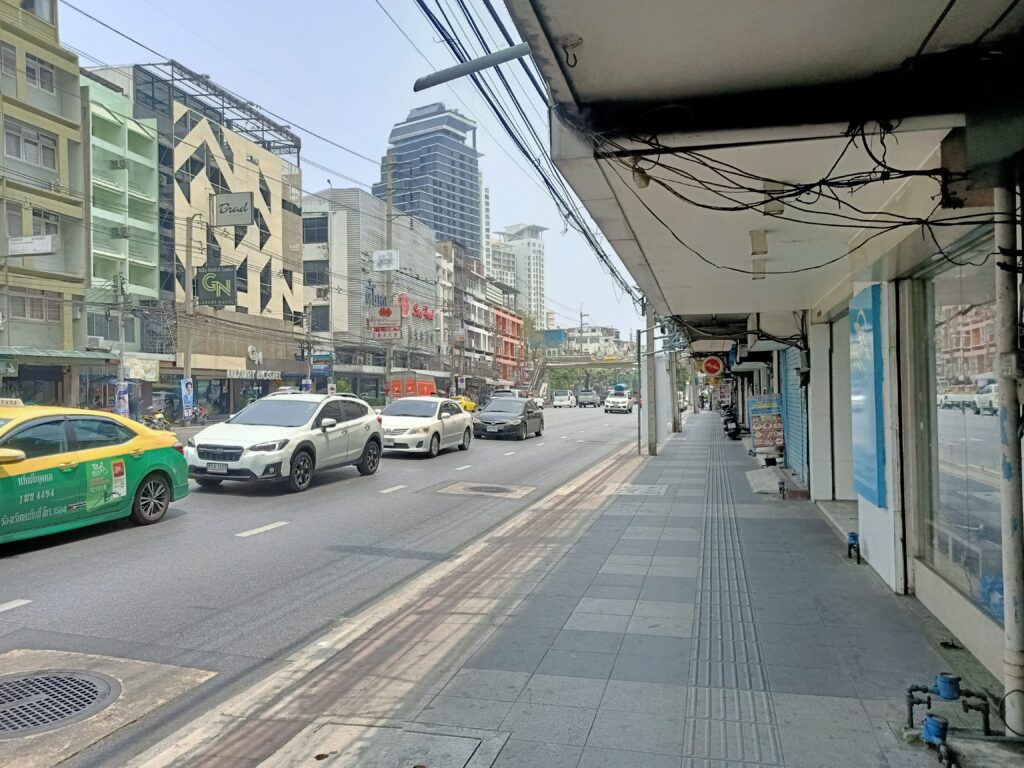 Cat stuck on the window, haha.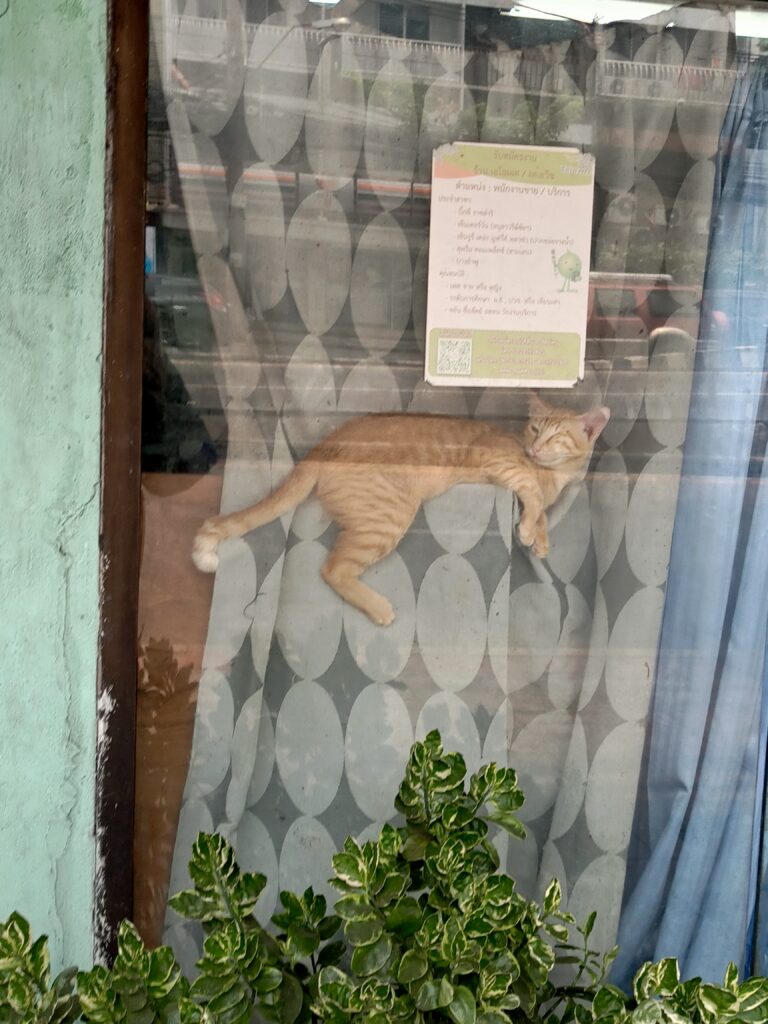 Be very careful walking on overpass for elictric wires in Bangkok.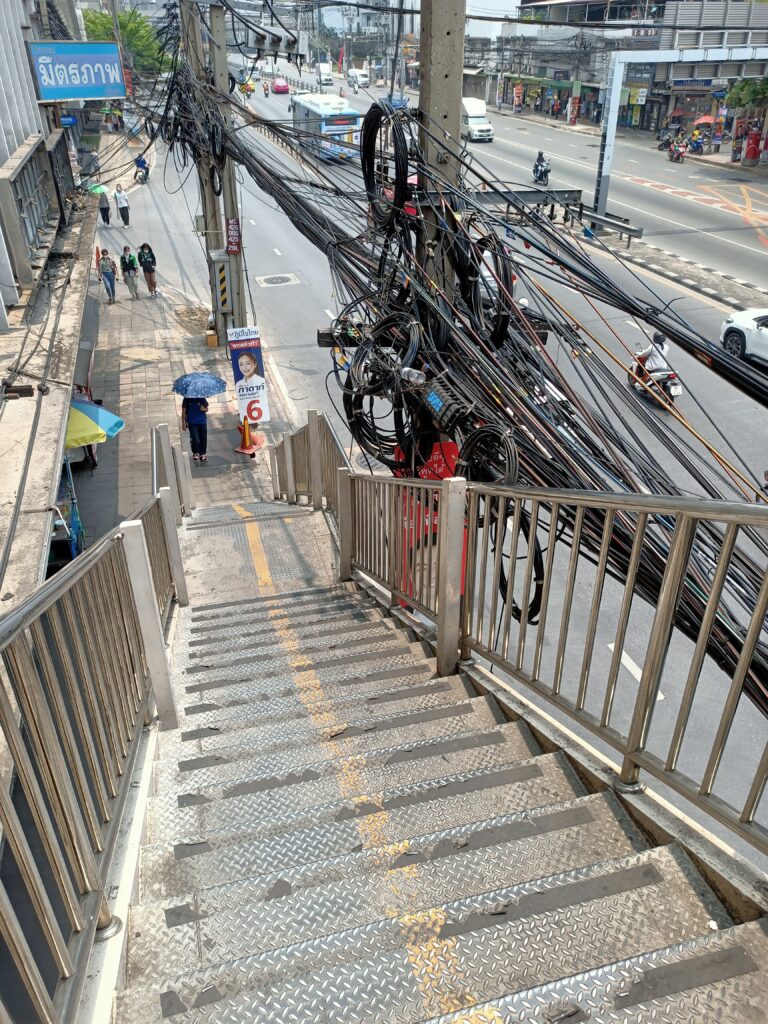 Big national election comes next month so you will see candidate pictures over the nation at this time.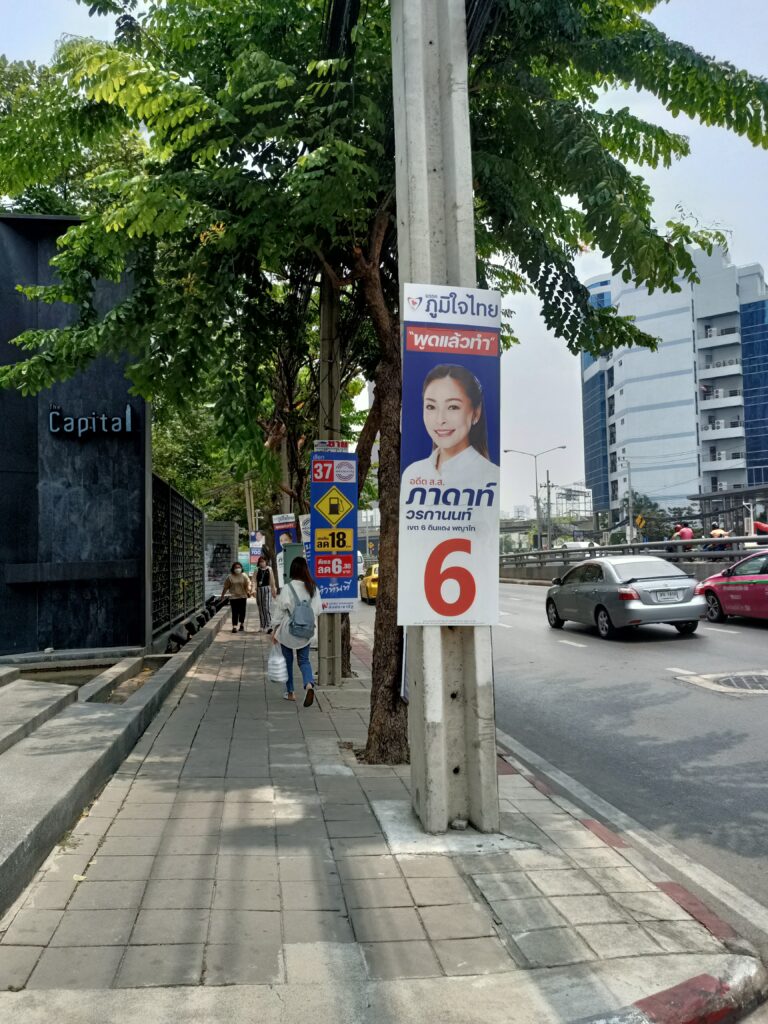 Walking carefully on the road with no lights.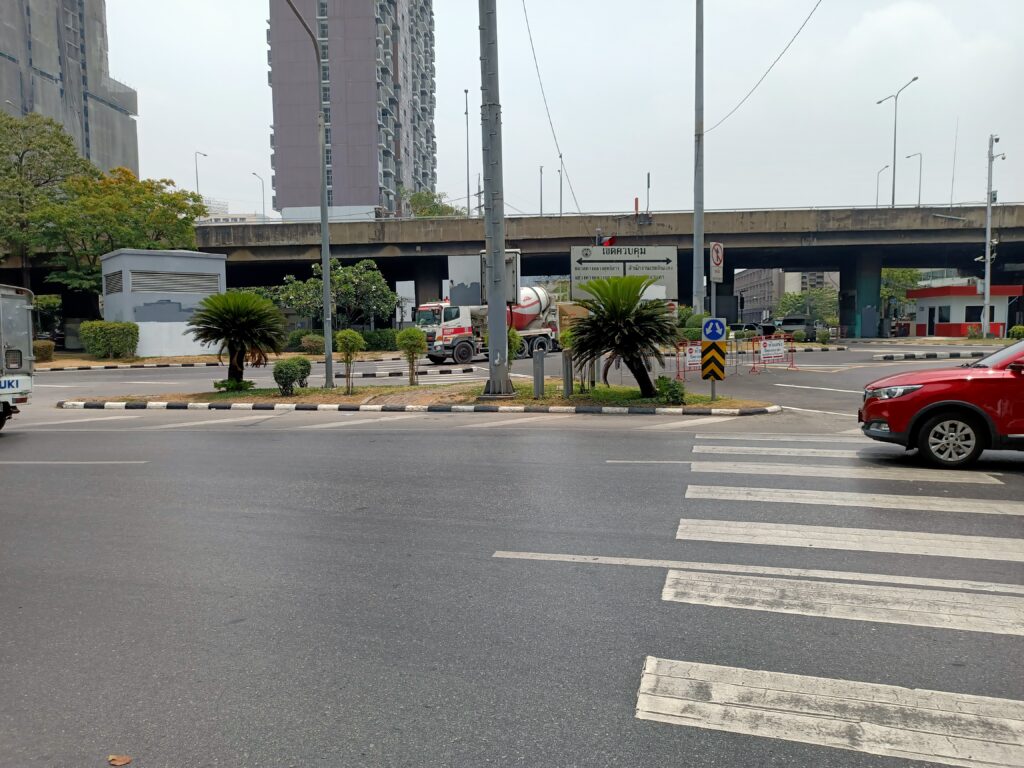 Hmm, I do not know this kind of bus. It seems this bus operates from Victory monument to Thai Japan stadium🤔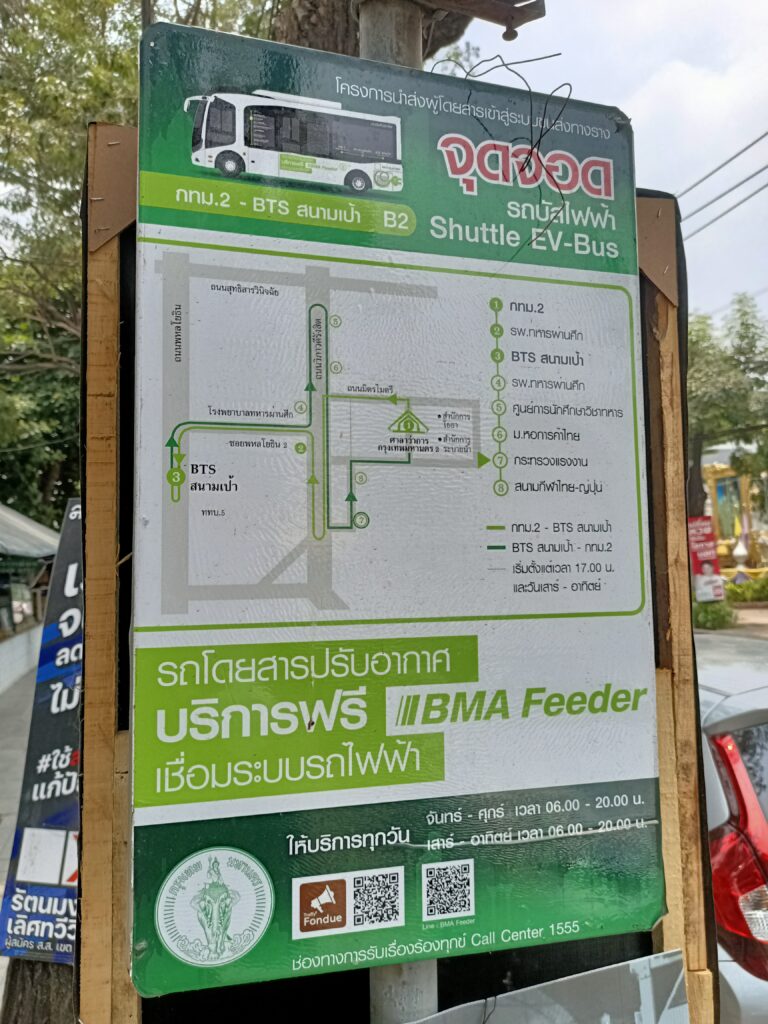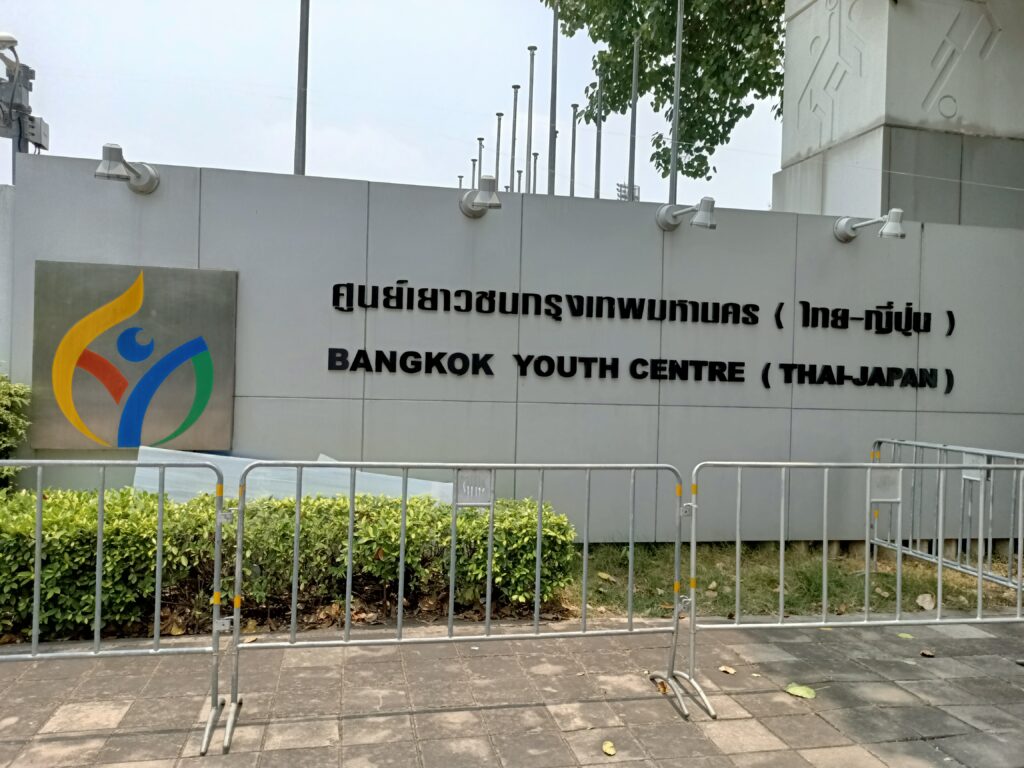 I reached 20 mins before at the gate 3 of Thai Japan stadium. Staff was already standby at the gate and checked my name.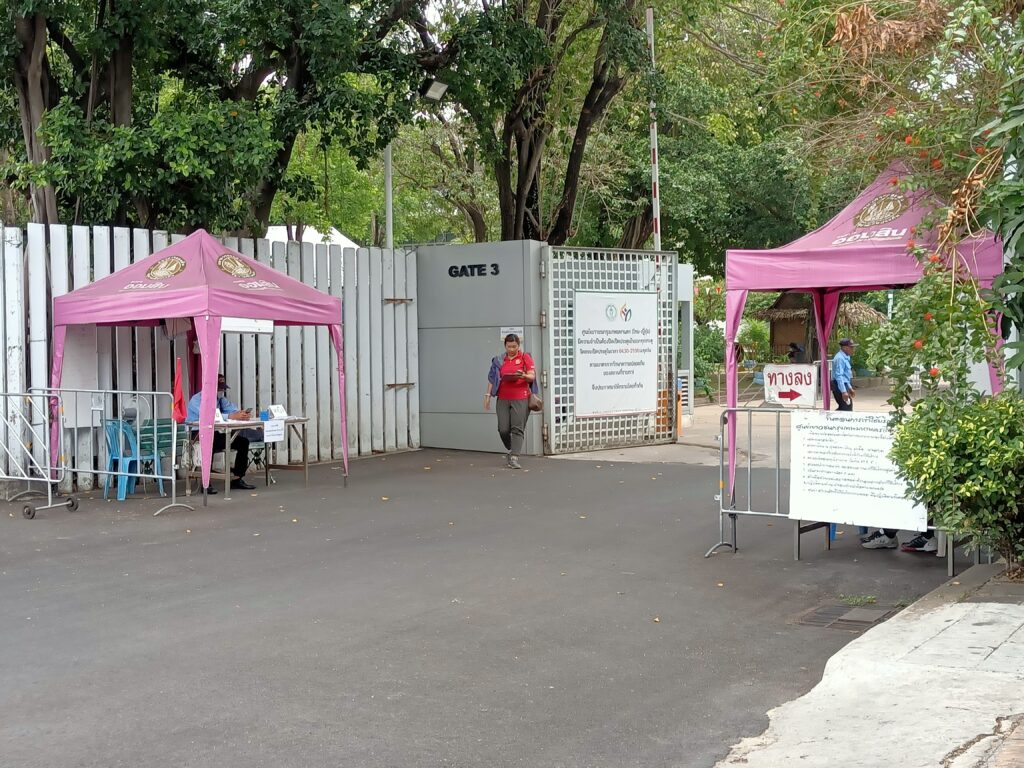 Bus came 12:50. Team staff confirmed all 14 passengers hopped in bus already so it departed earlier at 13:05 towards Thammasart University.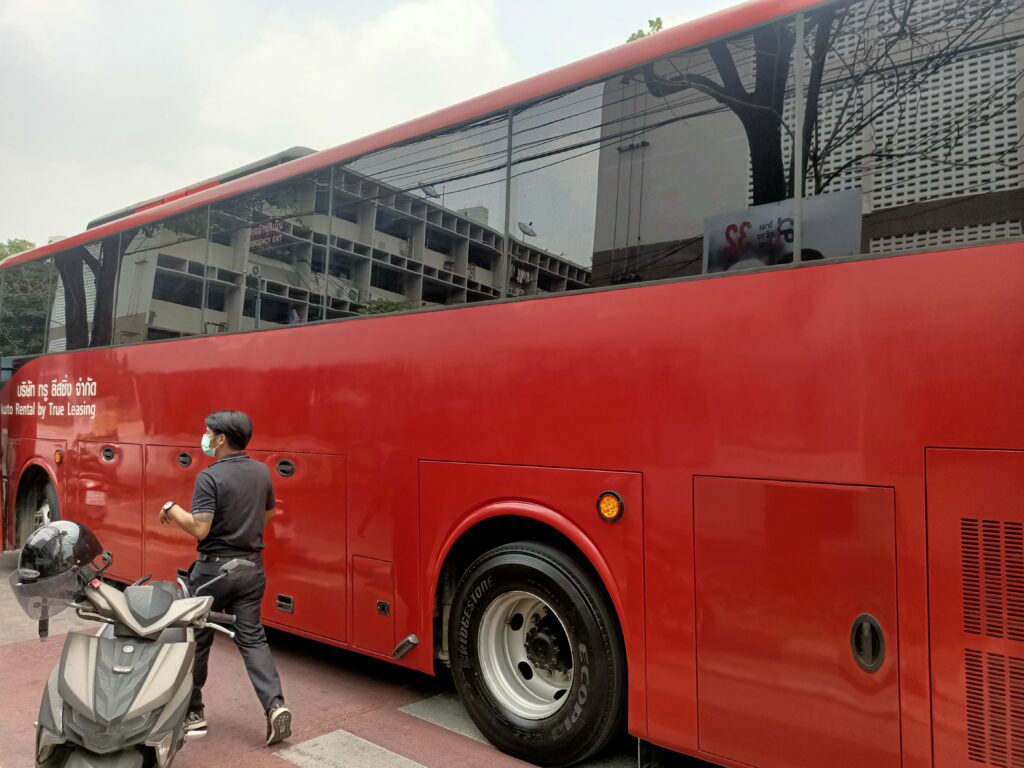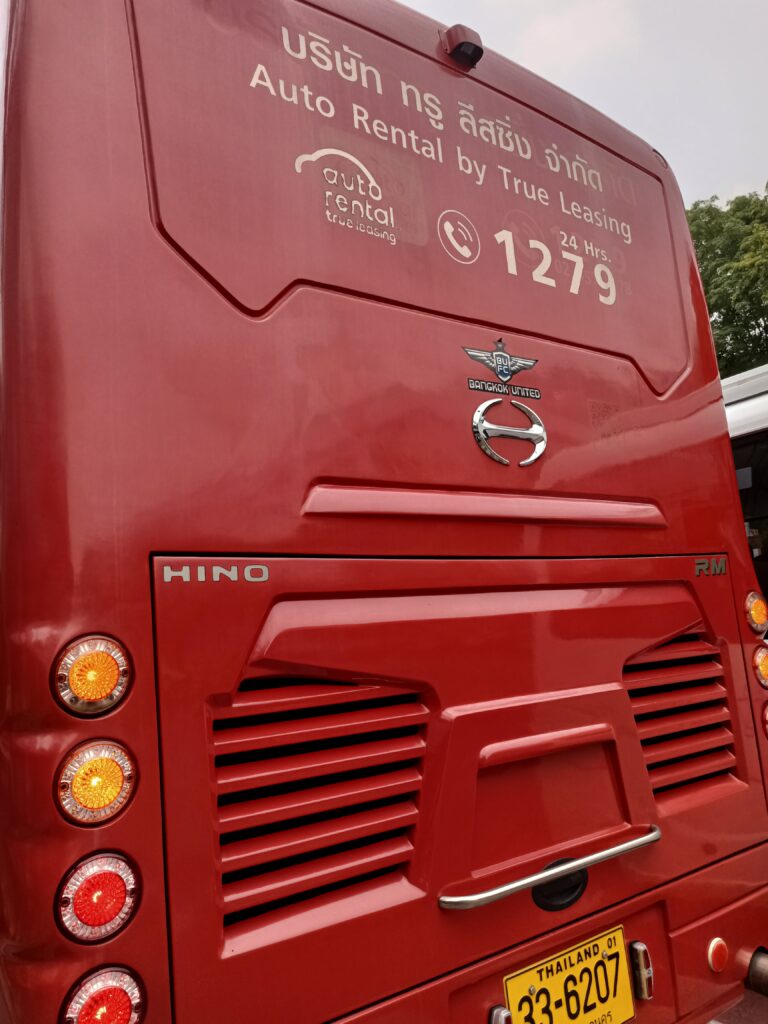 Very confortable free air conditioned bus ride. Even USB charging port is installed under armrest.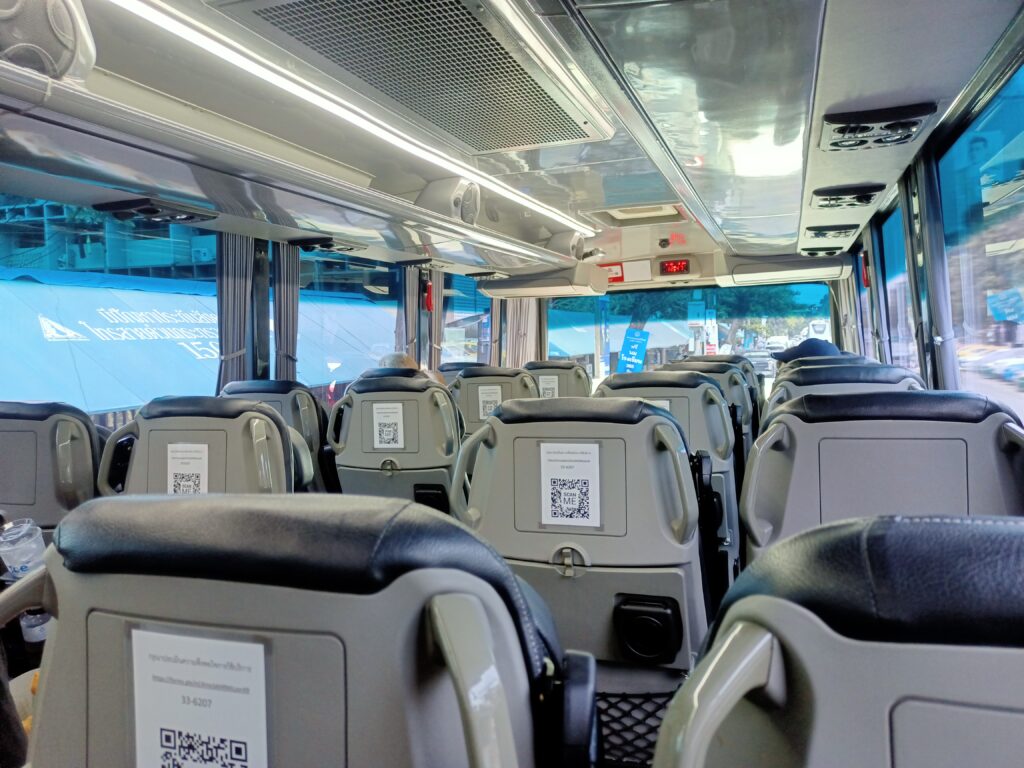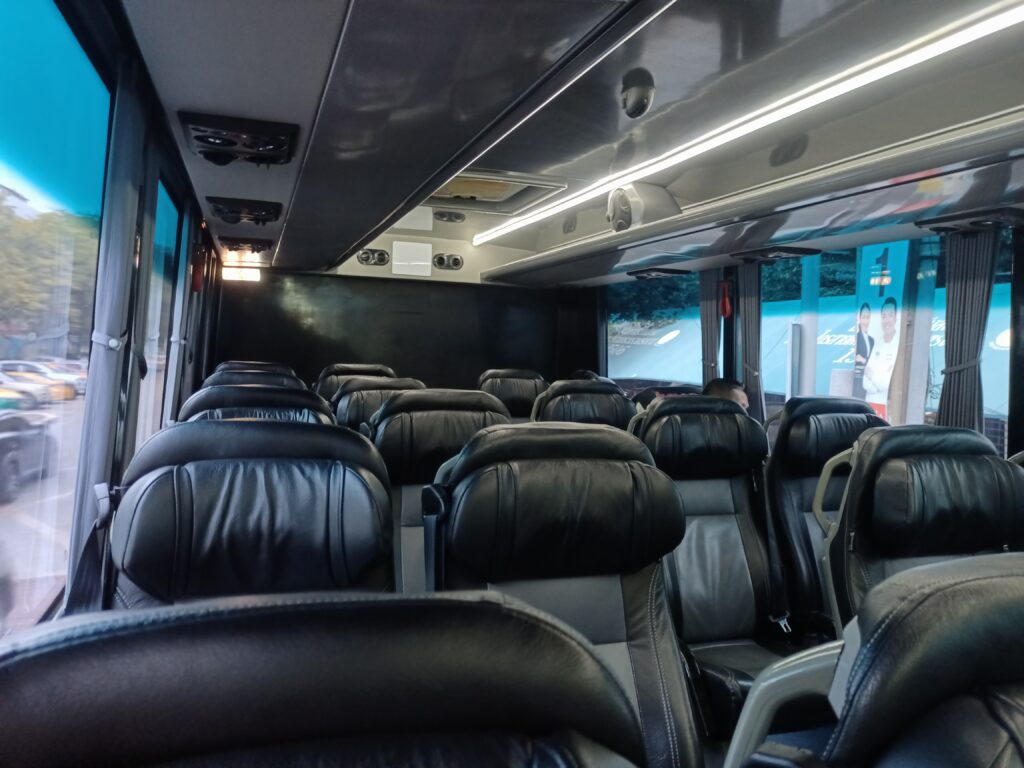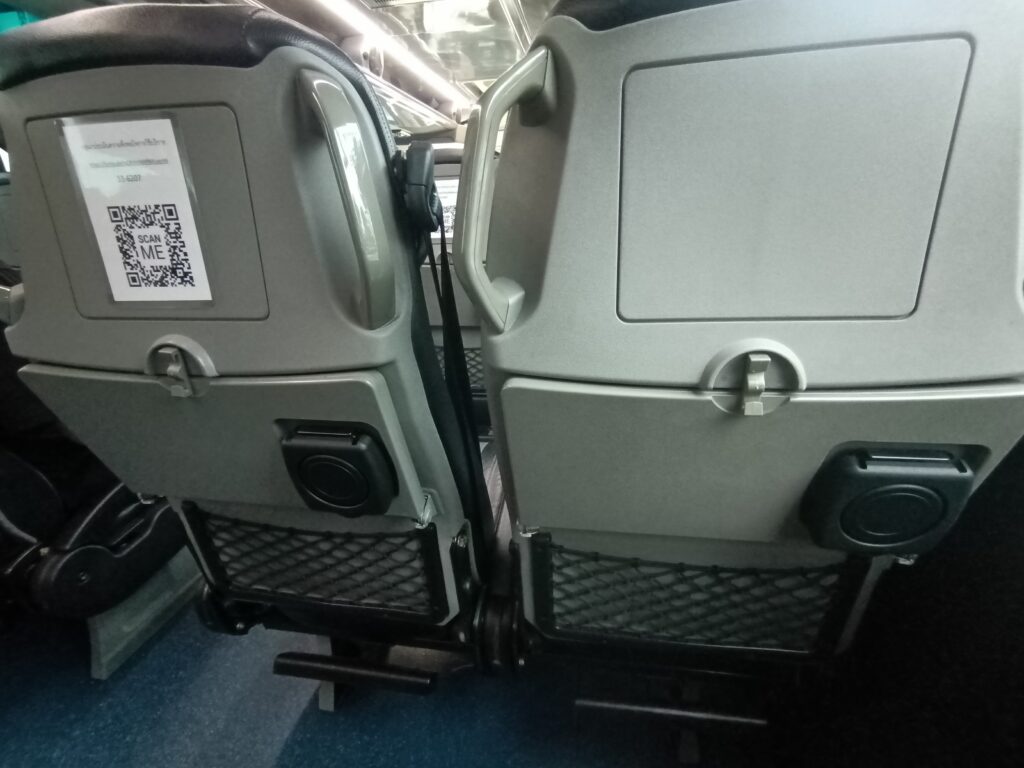 USB port under armrest.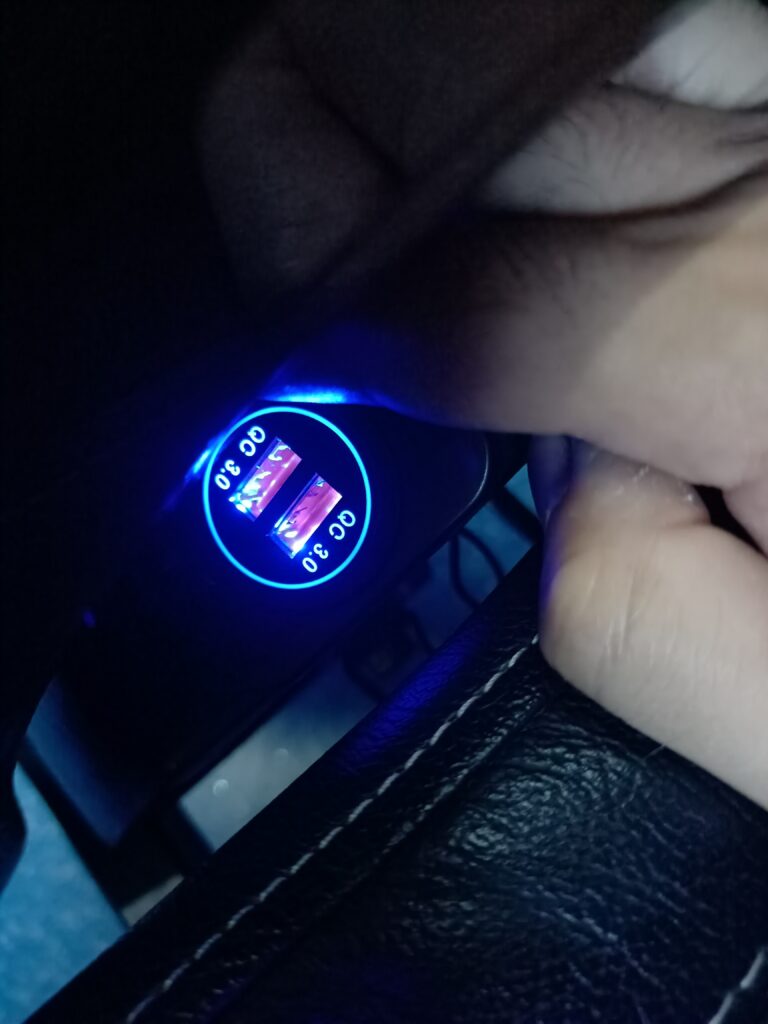 While bus goes on highway road, staff explained today's itinerary. She said 85 person will join today so one more bus will be added at next pick up point. If ever I understand correctly what she said, haha.
And ticket fee for me 130THB was collected on the bus.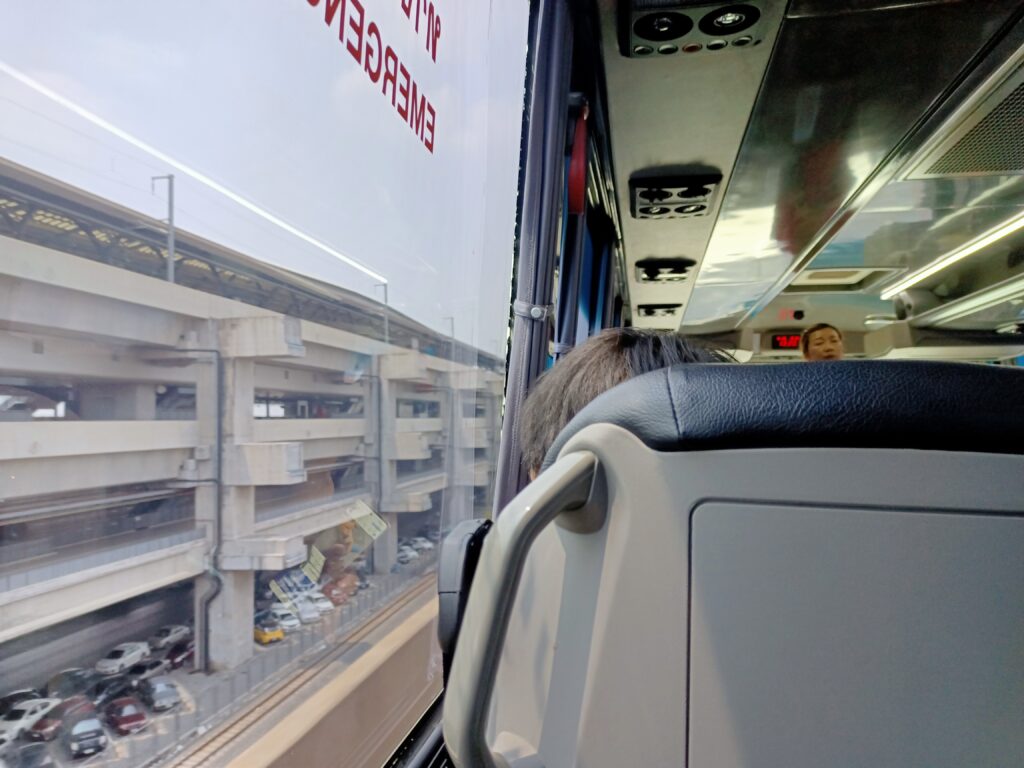 At 13:45 bus already passed beyong Thammasart University, 55. It seems I misumderstood, this bus maybe goes directly to Suphanburi privince.
13:56 Bus stops at PTT gas station Bang pa-in on the way. Staff said we were waiting here for bus comes from Thammasart Univ…. maybe she said, haha in Thai language. I got off from bus for toilet and coffee at Seven eleven but outside was really hot under scorching sunshine! So I came back to bus very quick and just wait.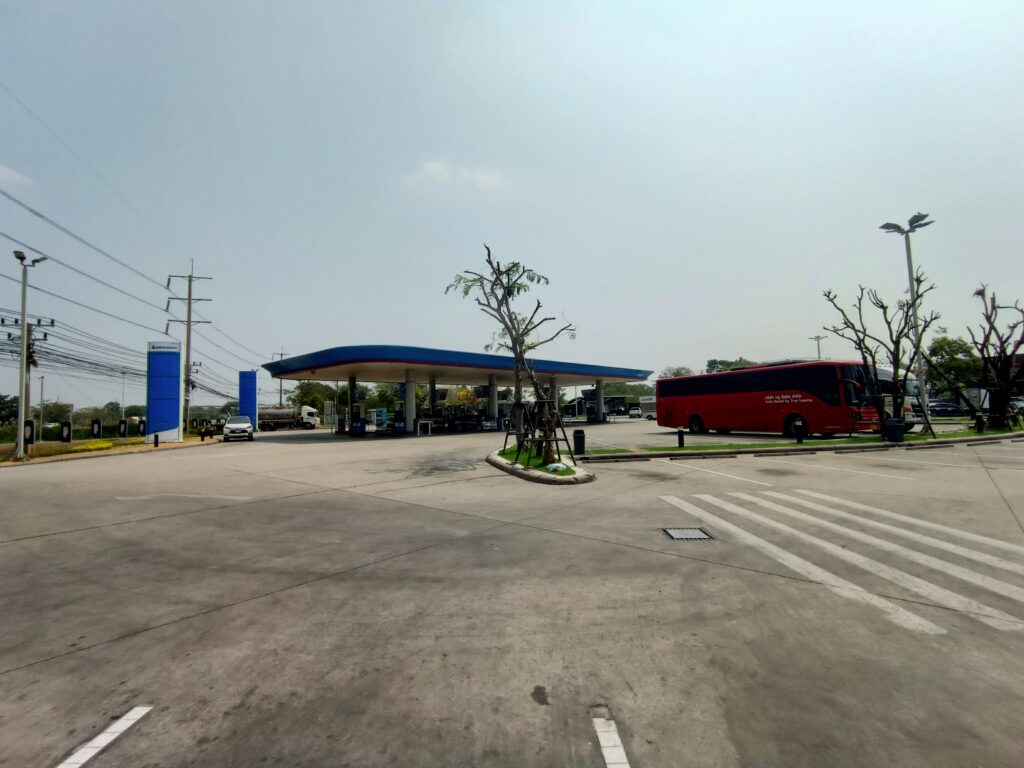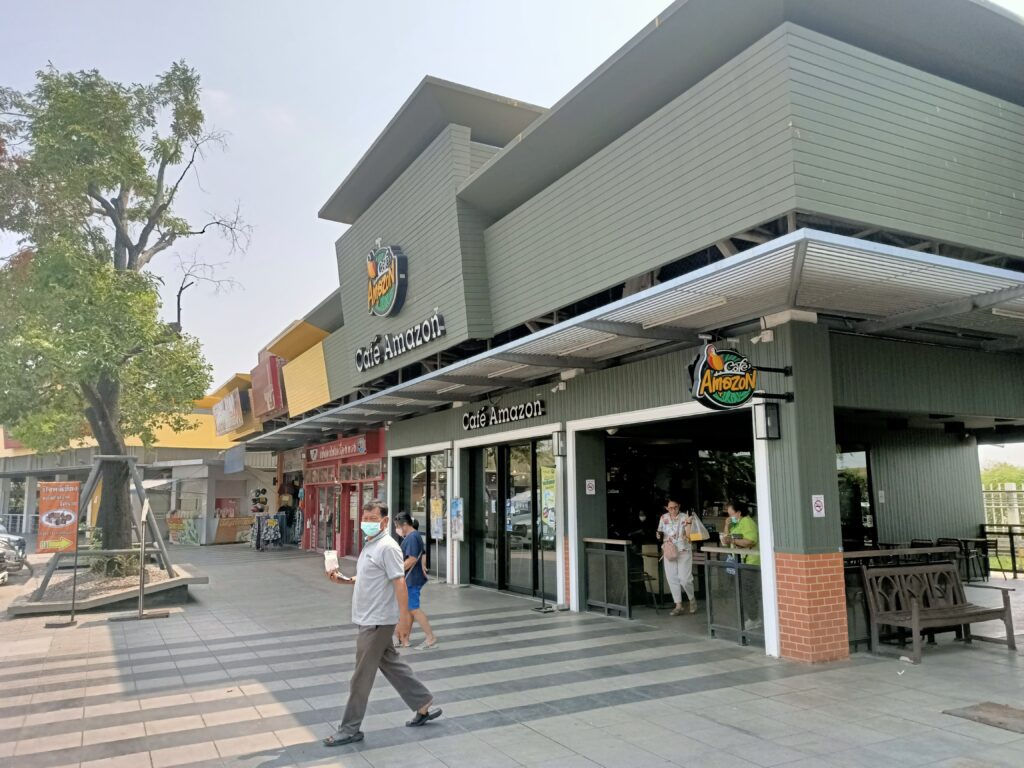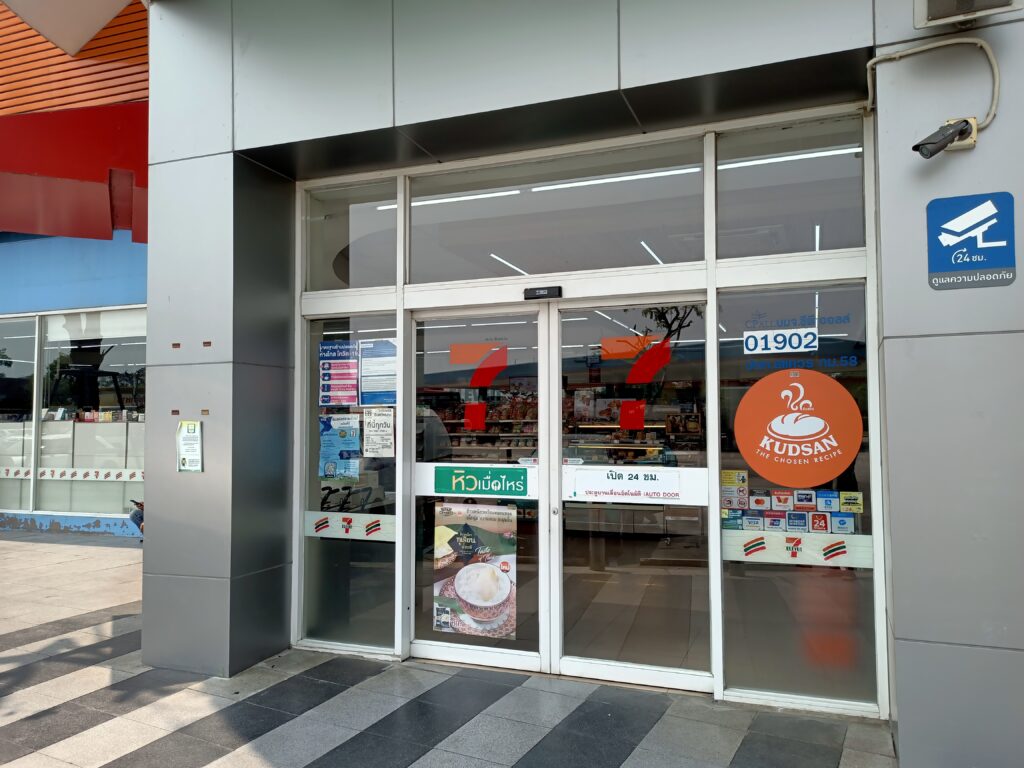 14:29 another bus arrived at gas station. All passengers asked to come out to take photo shot in one group 555.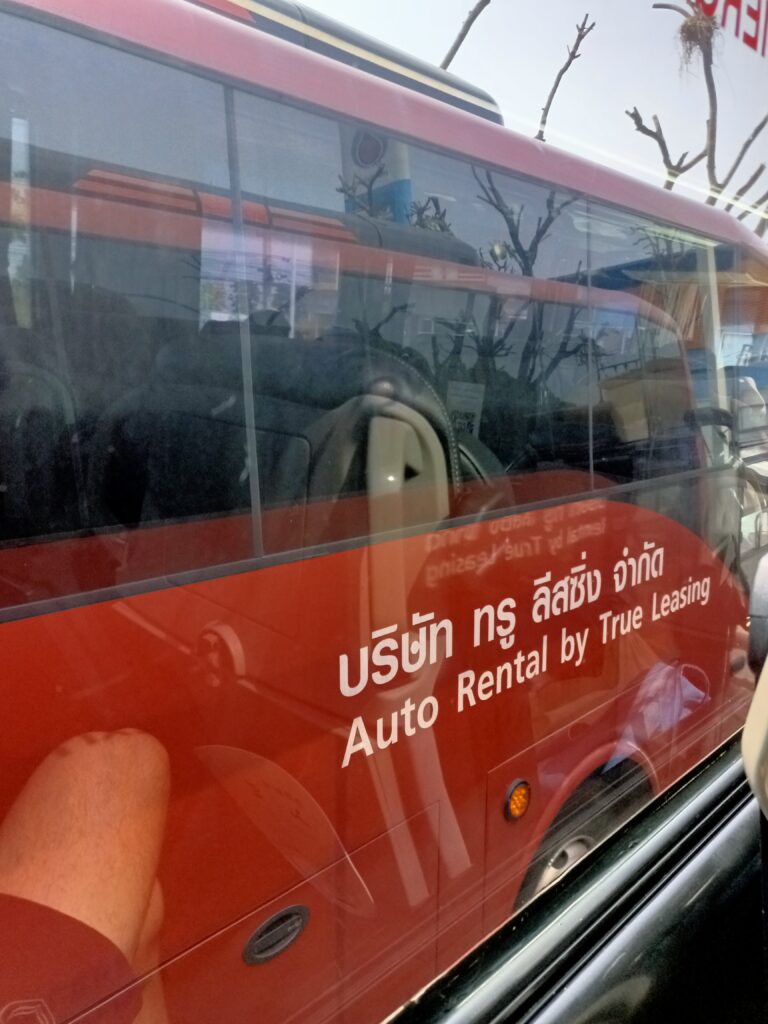 During stop at gas station, water and snacks were distributed to all guests. Again, this trip is competely free so how nice of their service by True Bangkok United😋😉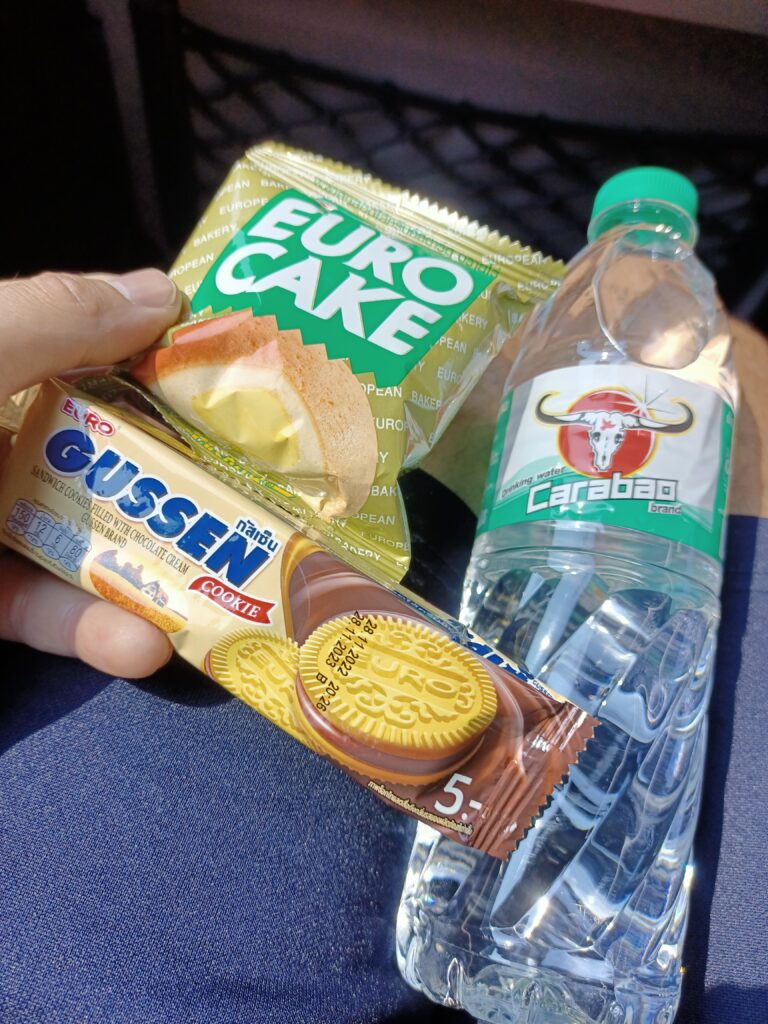 14:43 bus restarted to Suphanburi province. Maybe we will visit at temple on the way to stadium? as staff announced.
Running on rural areas…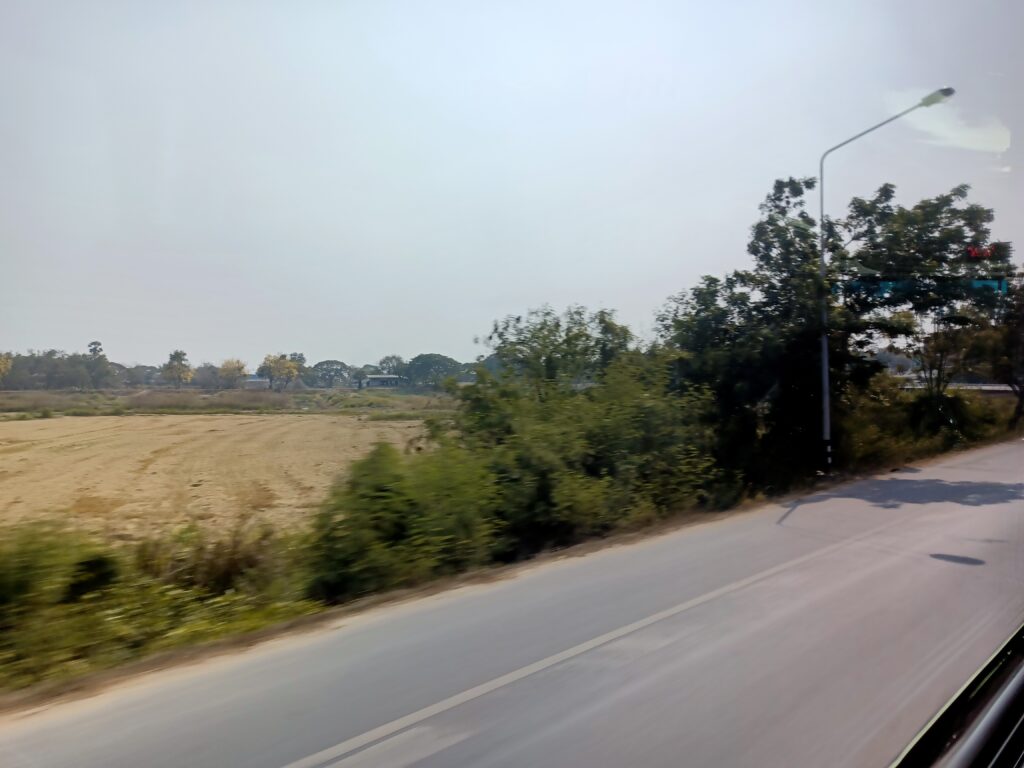 Suphanburi Stadium
15:55, finally we reached Suphanburi stadium😉😉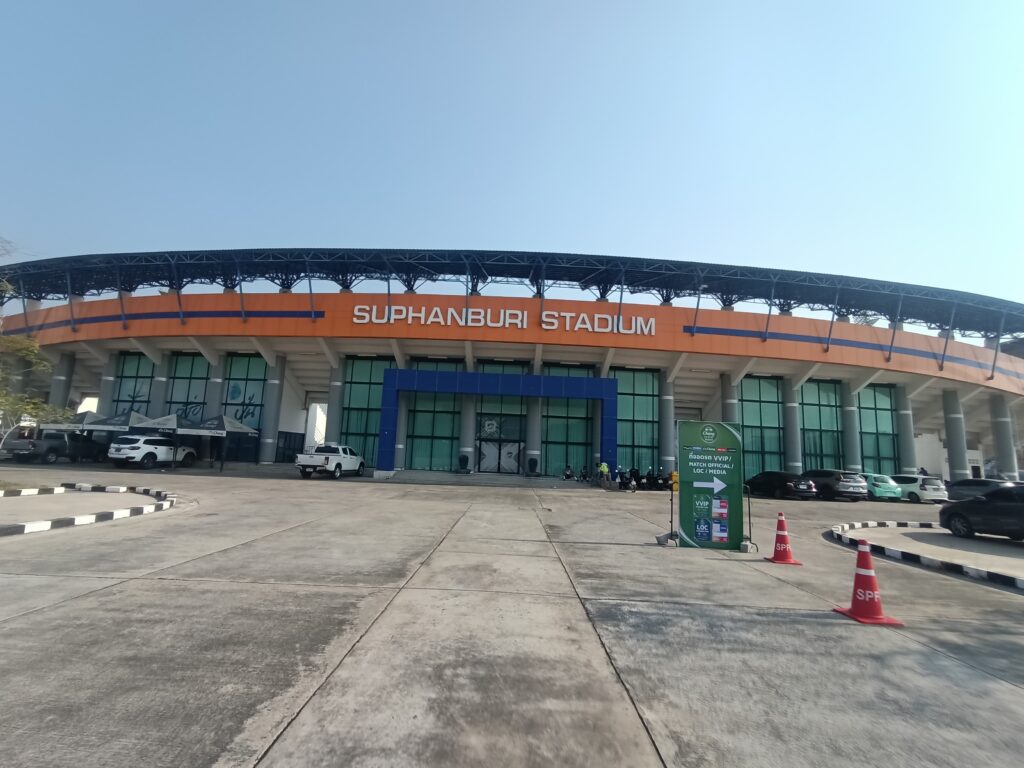 Main stand side to welcome players both team. Tickets are also sold at booth.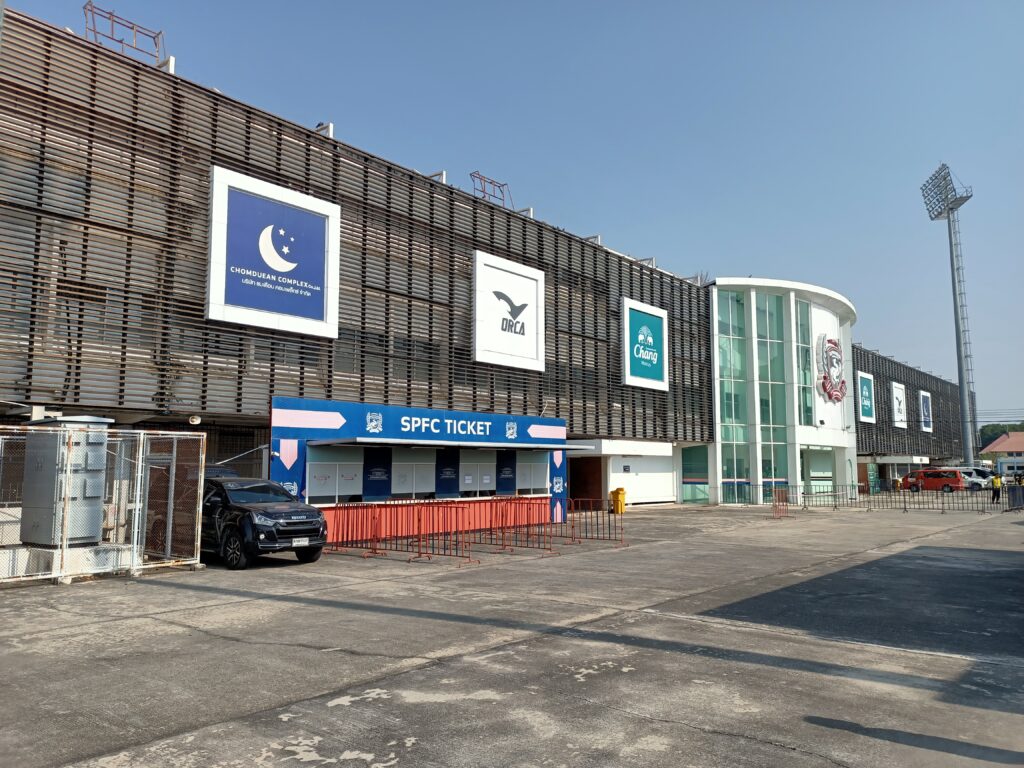 True Bangkok United players came soon as we moved to main stand side. I was just watching away to avoid heat from sunshine. hehe.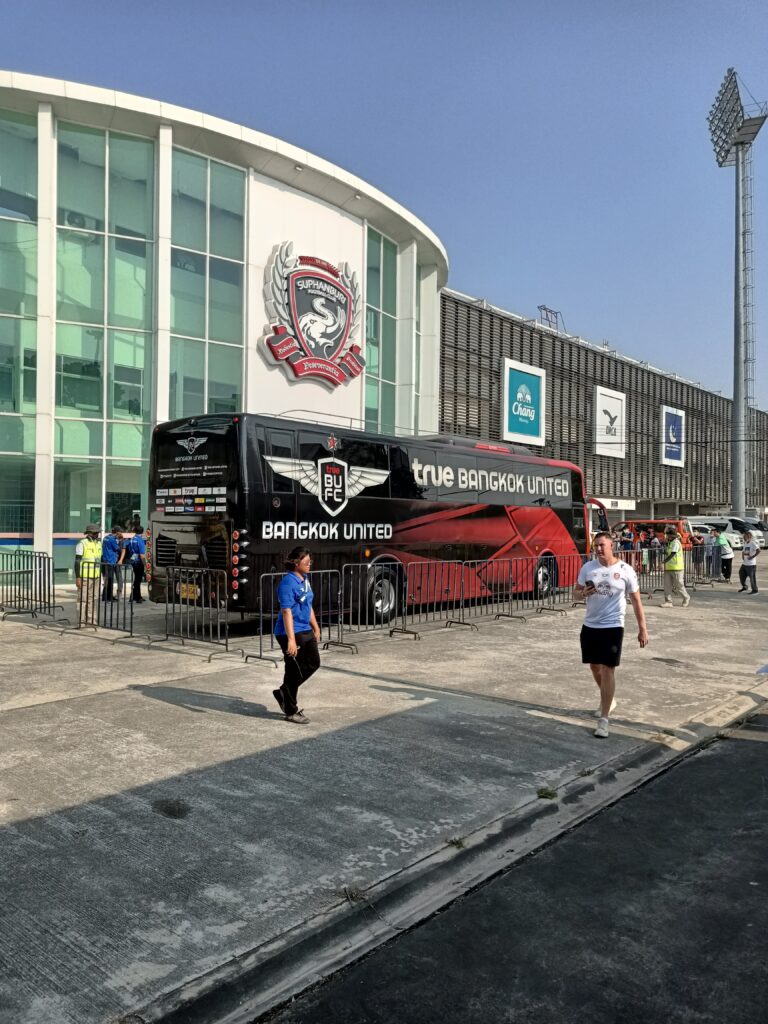 Police tero F.C. players comes with normal long distance bus… They do not have team bus🤔🤔?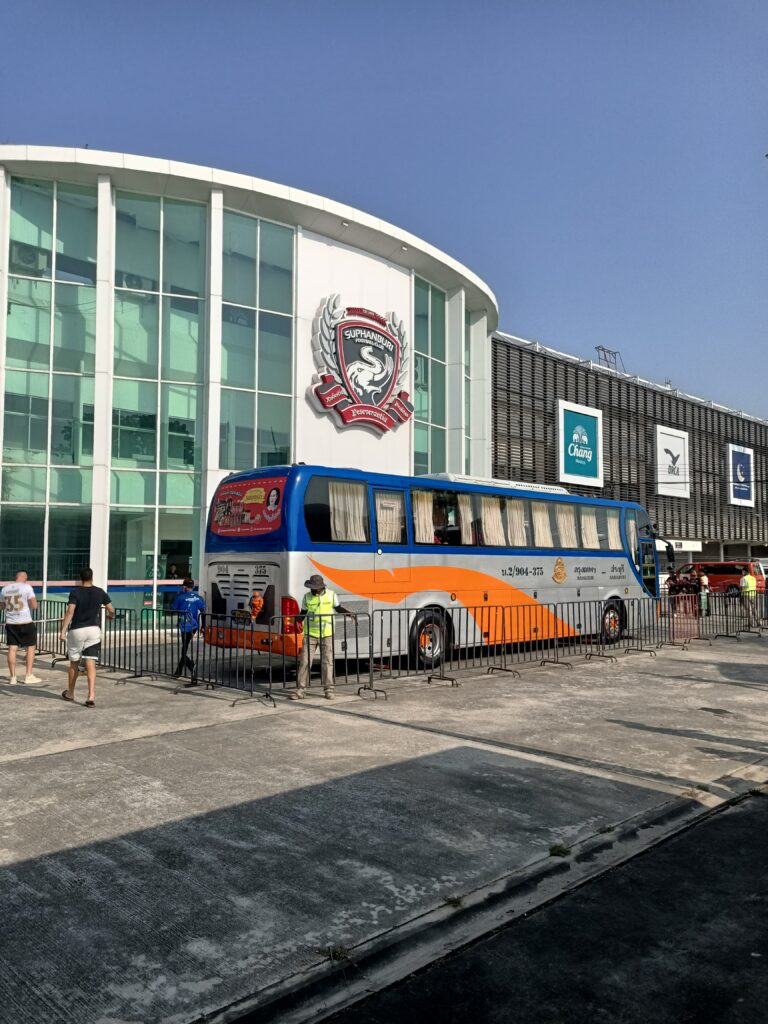 Taking photo with fans.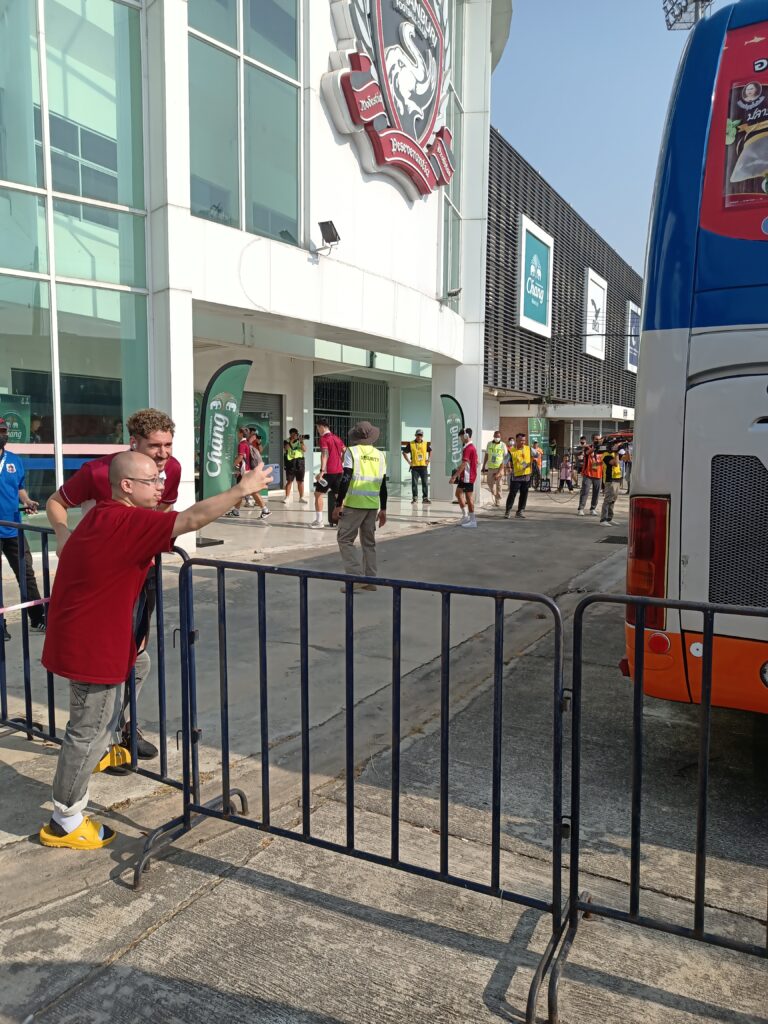 Got ticket from Bangkok United staff at back stand. Since I have much time before kick off, I spent walking around the stadium.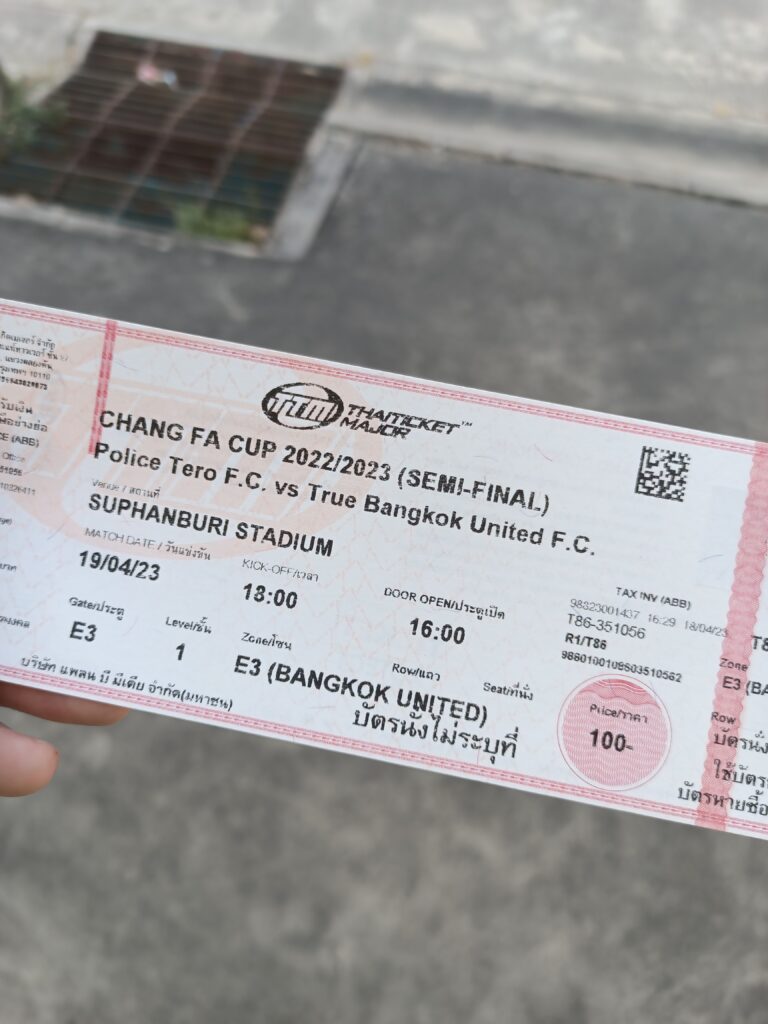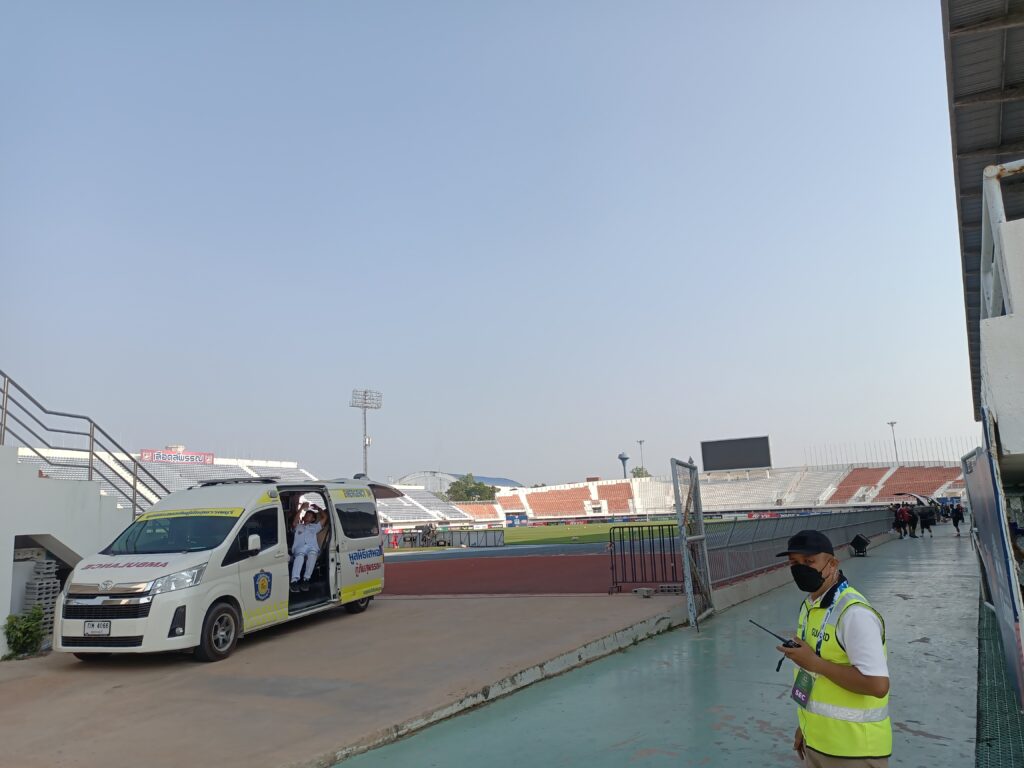 Suphanburi F.C. players photo.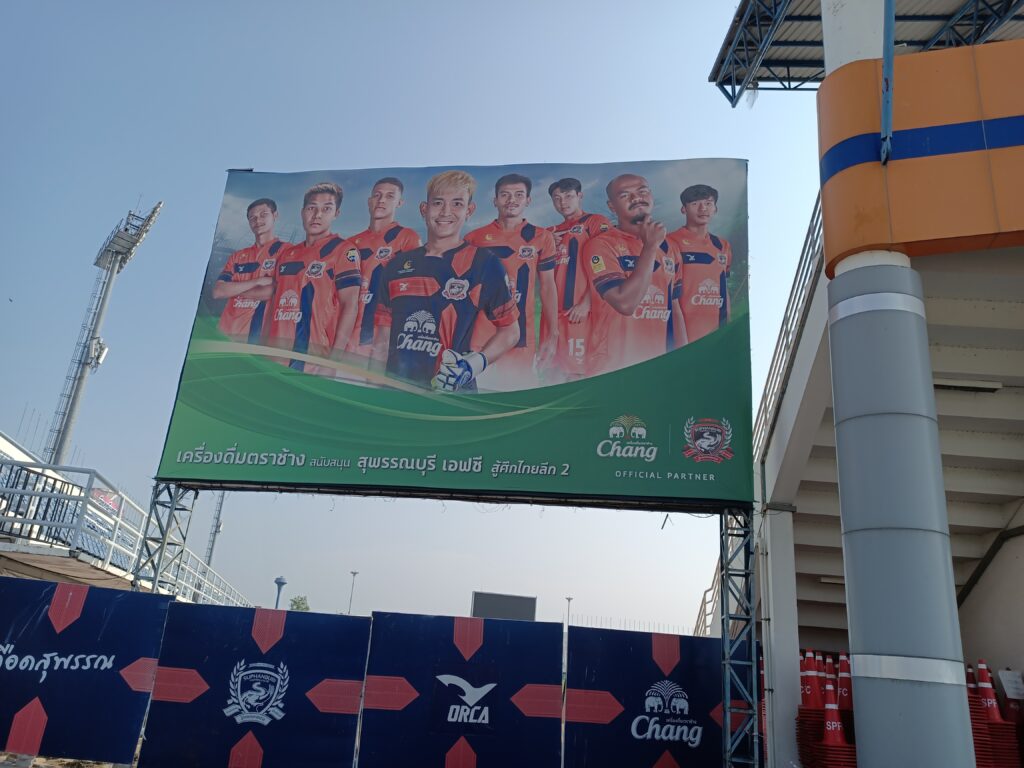 Under the backstand seats, they have offices.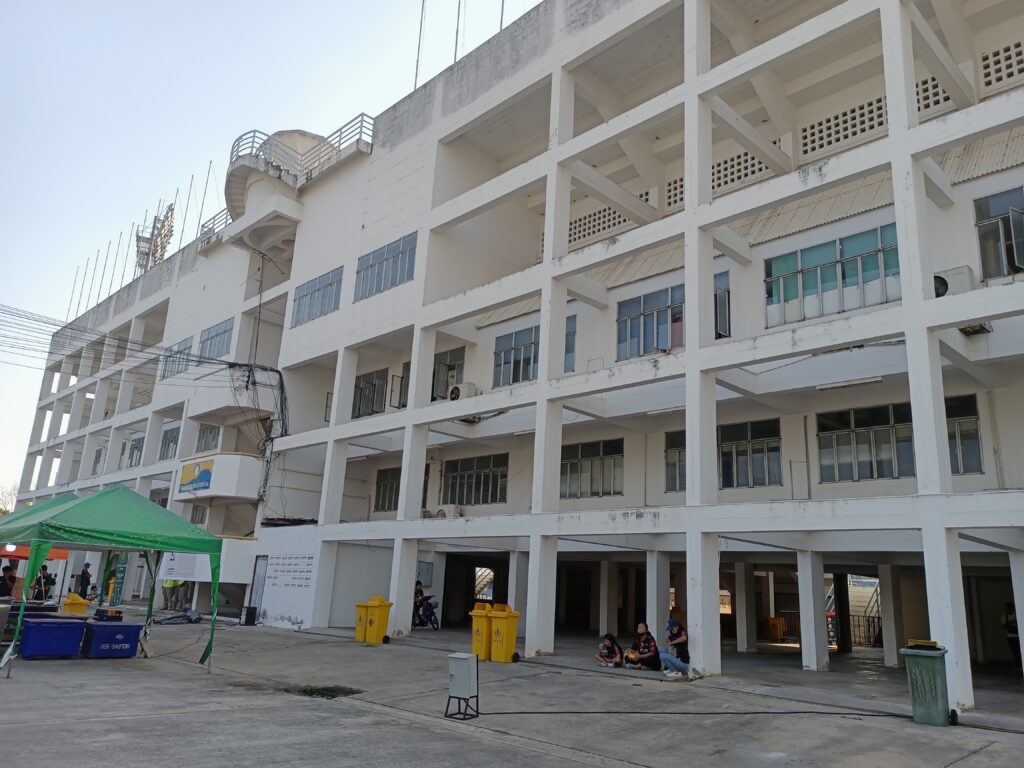 Many food stalls come to serve fans.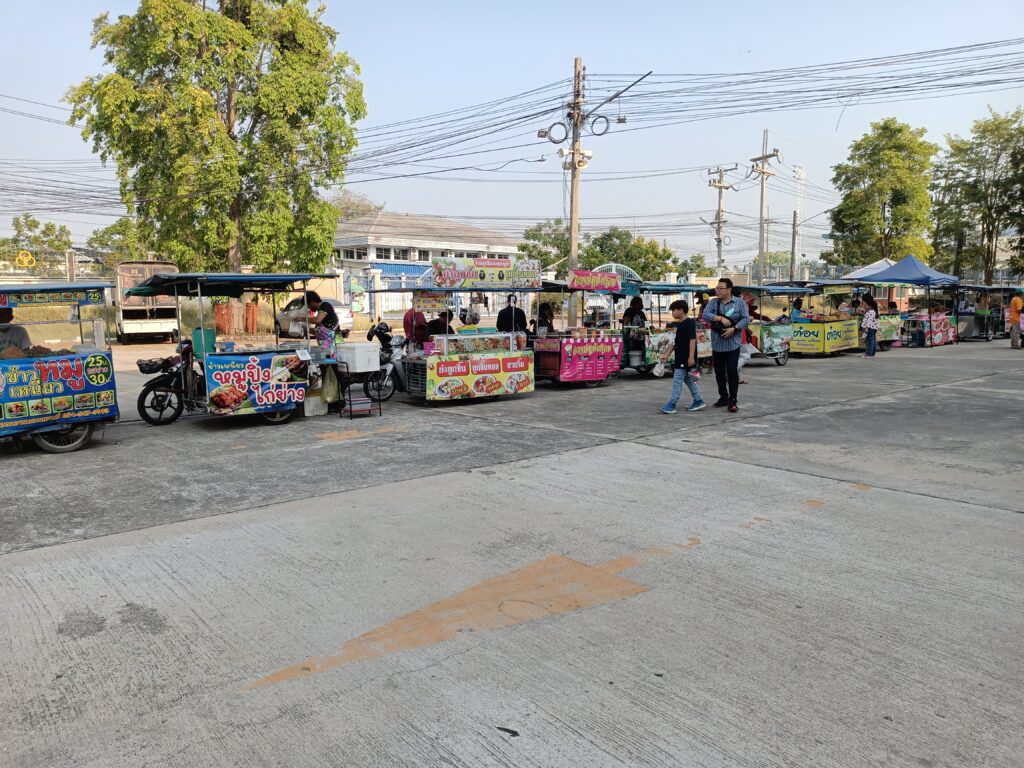 Thai national team attires.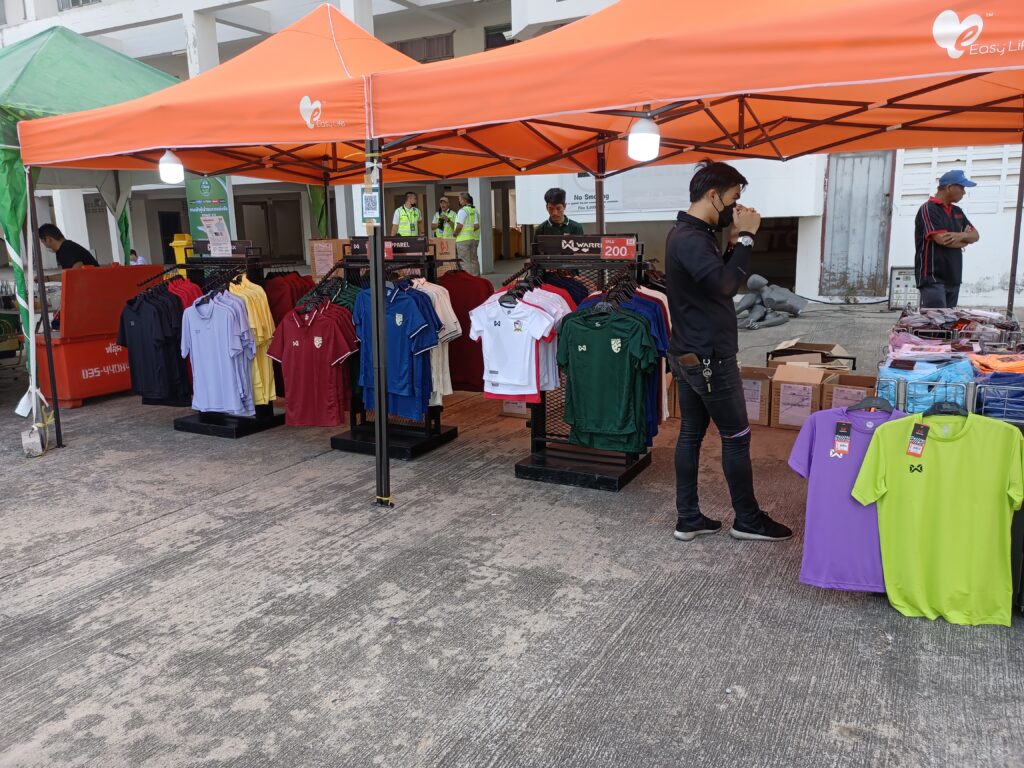 Even Bangkok united official shop truck comes to the stadium. Felt how dedicated their team to win this FA cup title.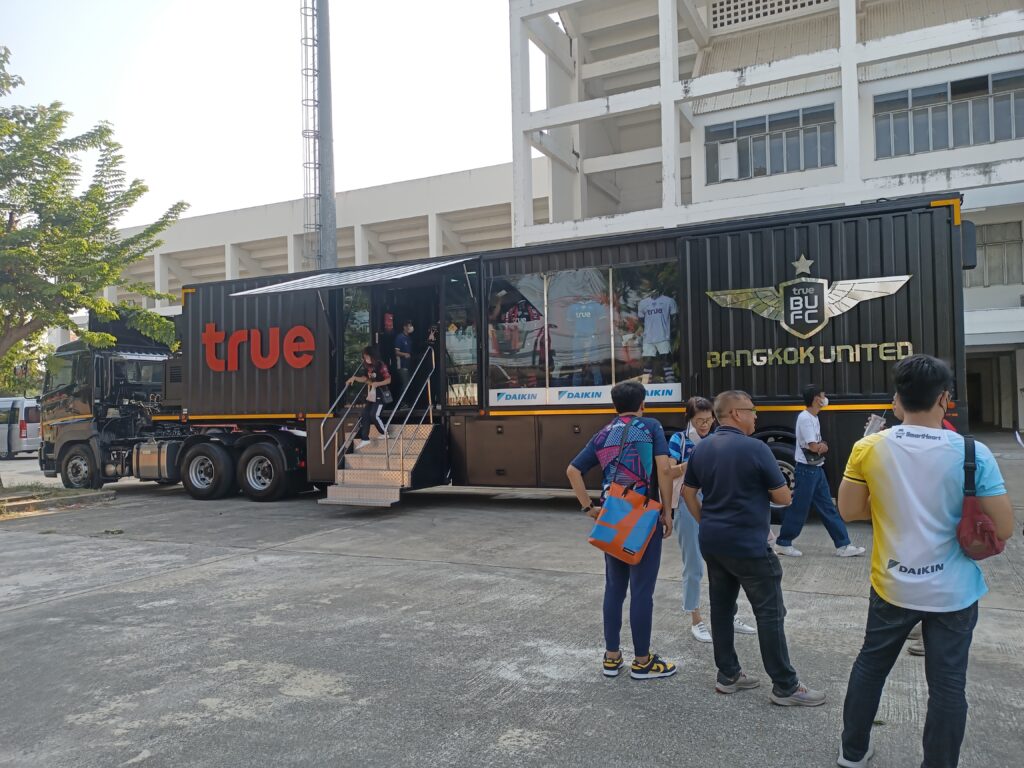 Ok, let's finish toilet before entering the stadium but which??🤔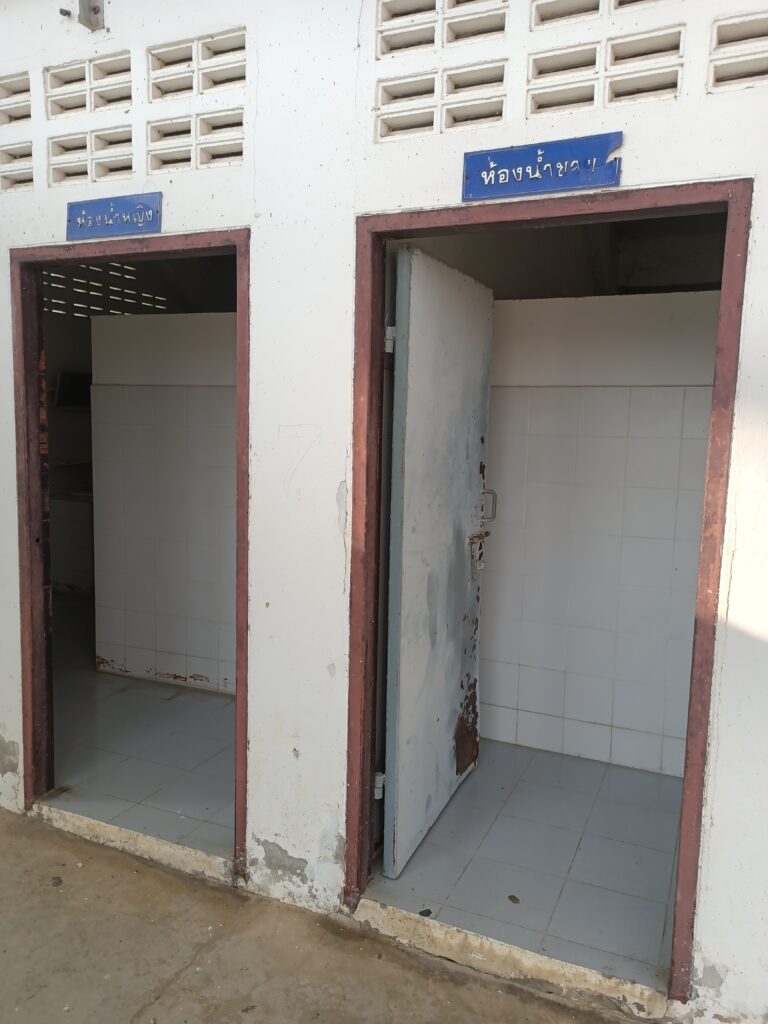 Main stand side does only beer and drink service.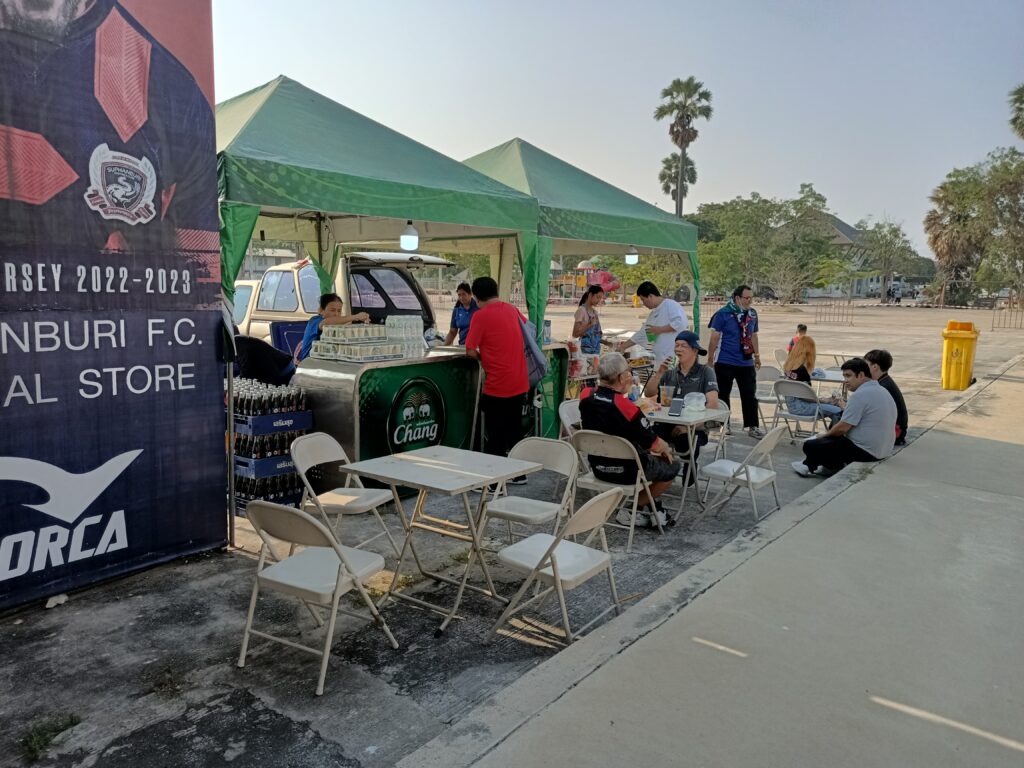 I found another toilet area besides back stand seats where it clearly shows which I should enter haha.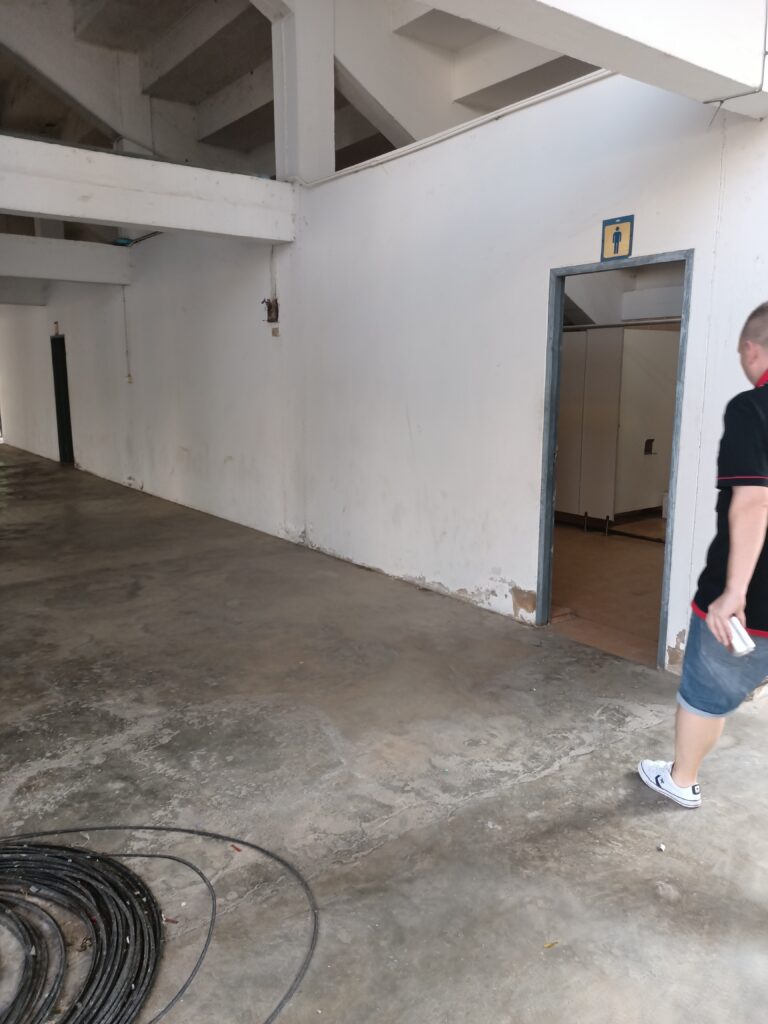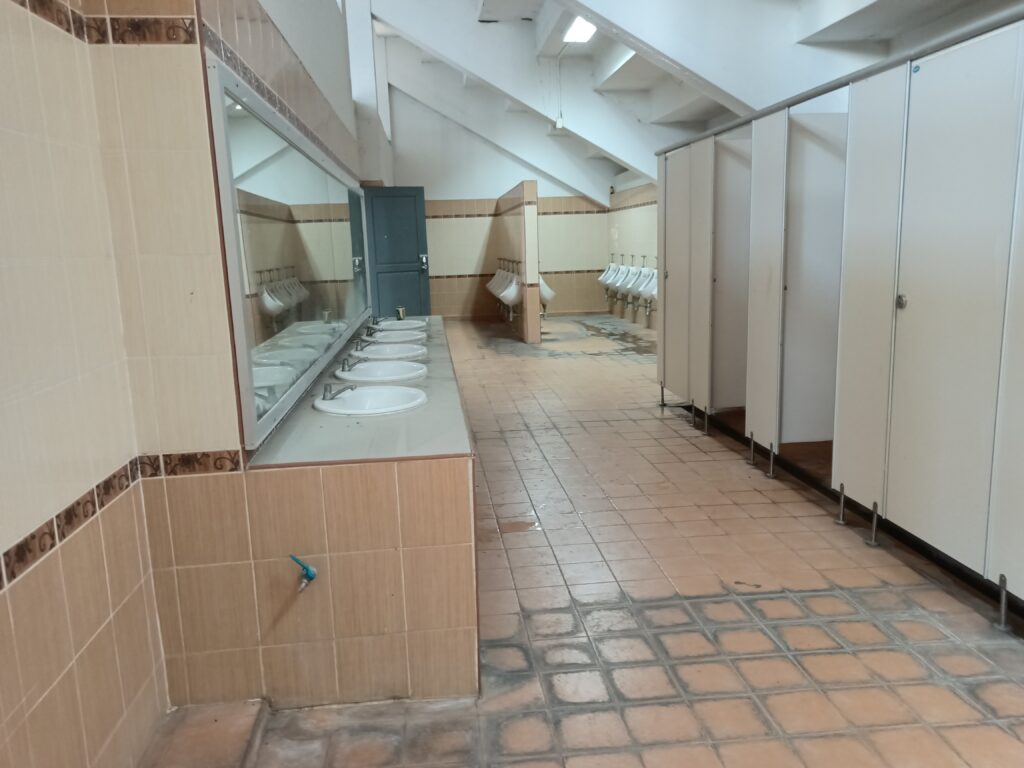 Don't forget to bring small toilet paper when visiting sports stadium in Thailand. Normally paper is not installed.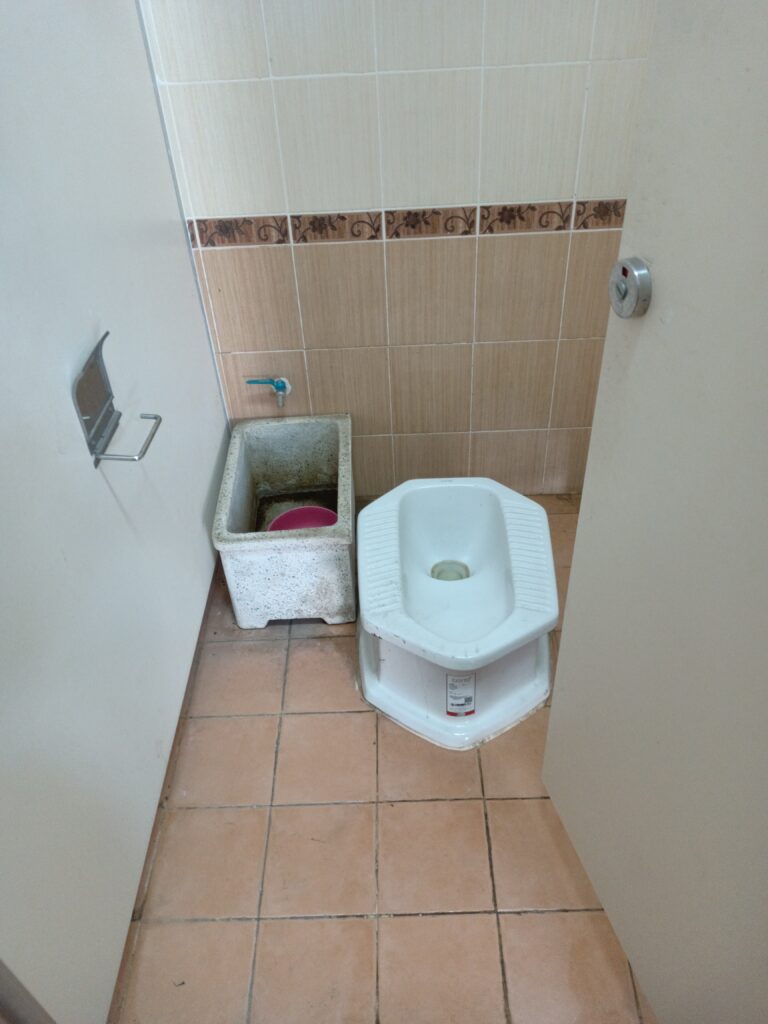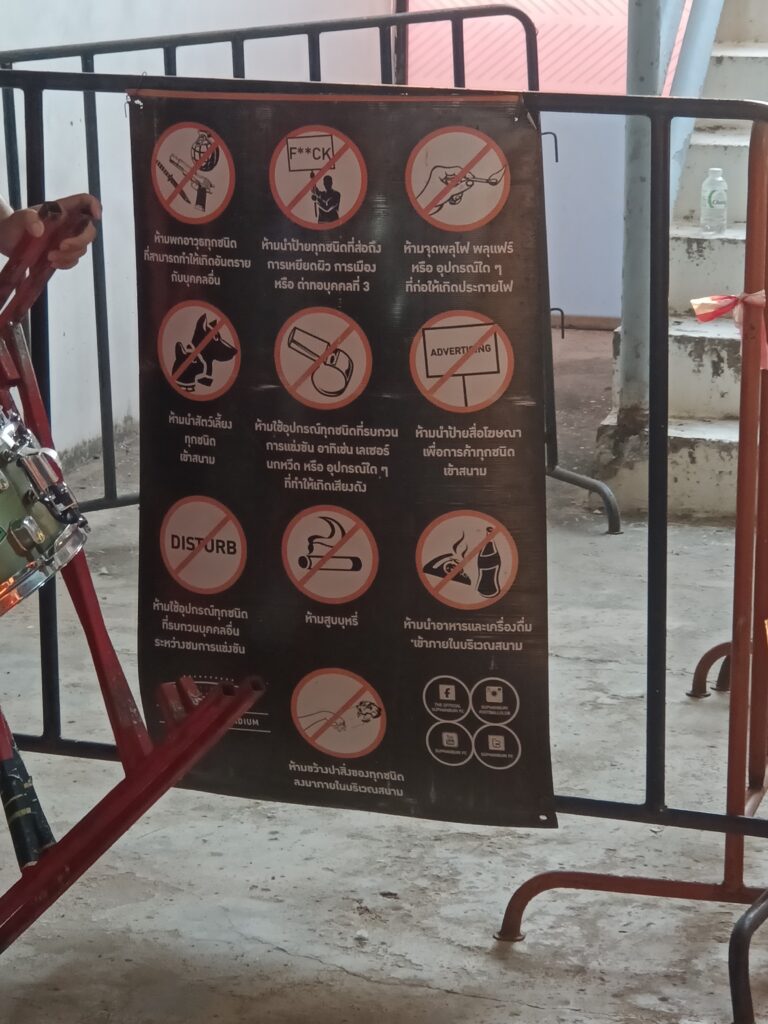 I do not know why but we aren't allowed to enter until 23 mins left before kick off time. When entered, warming up was almost done then players are heading back to locker room for preparation. Security scans code on the ticket then checks inside the bags.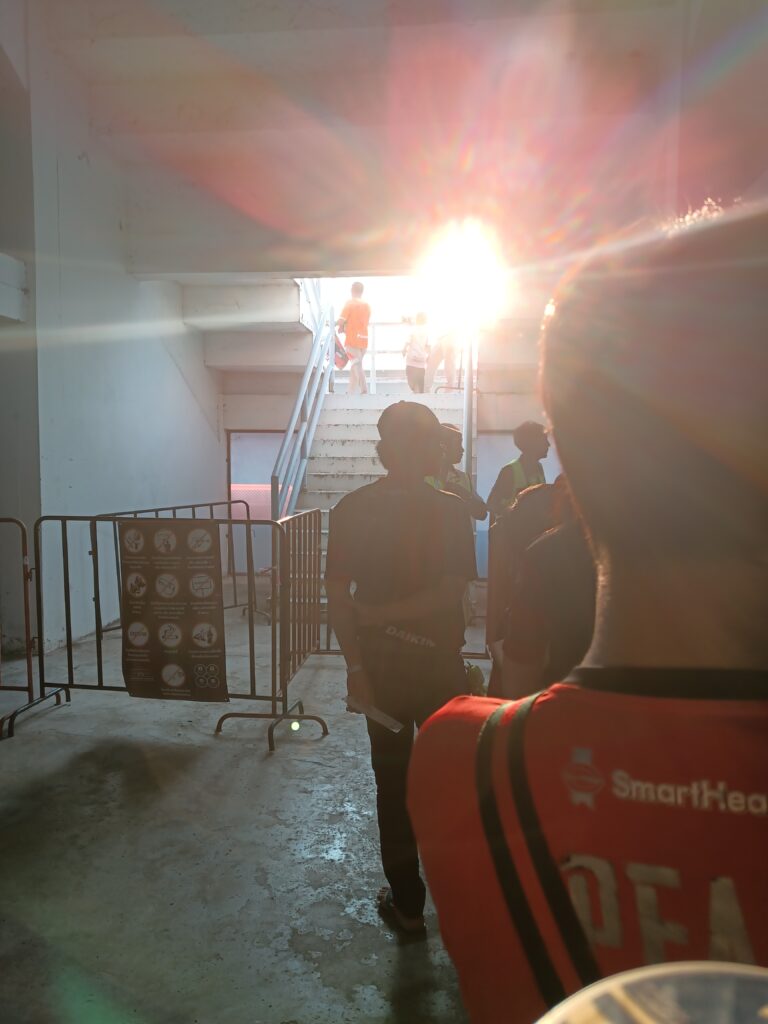 Views from back stand. Main stand and right behind goal area has roof.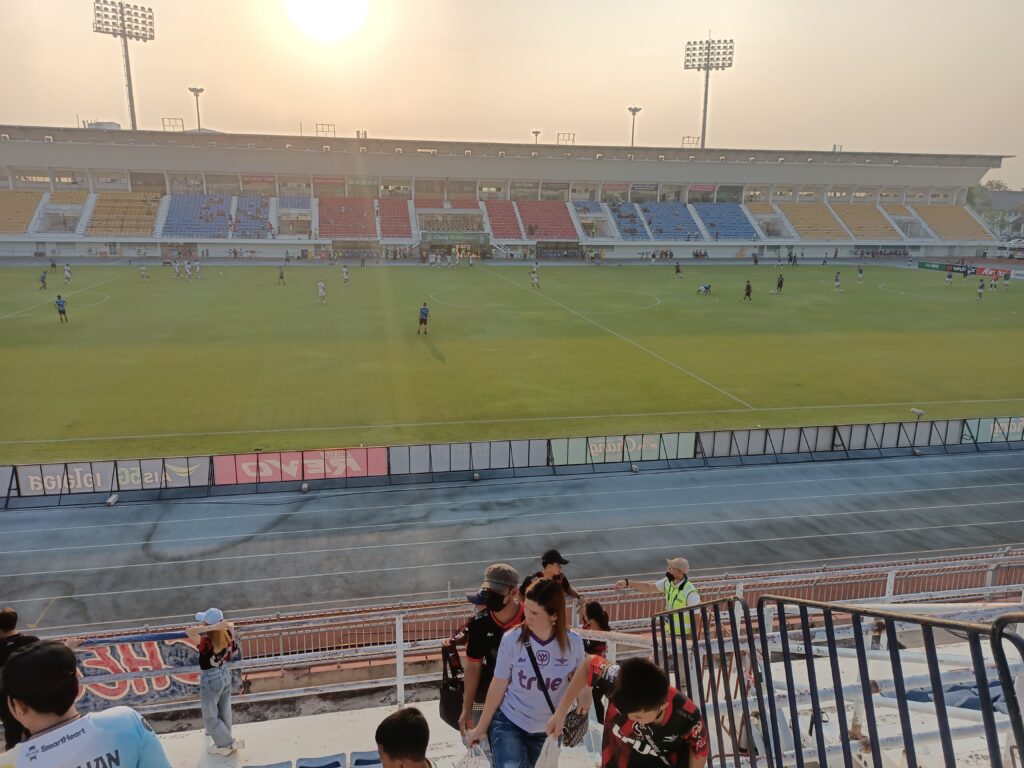 Left side behind goal with big screen. Bangkok United supporter sits on this side.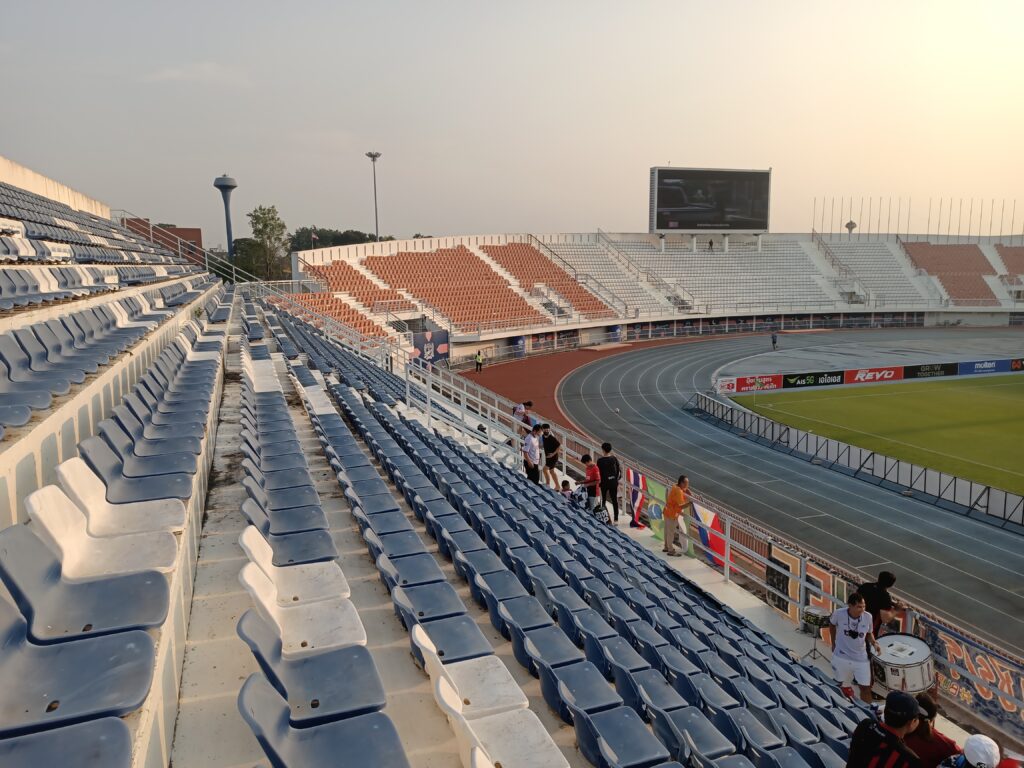 Right side zone. We had buffer zone between Police tero supporters area and police officer was standby.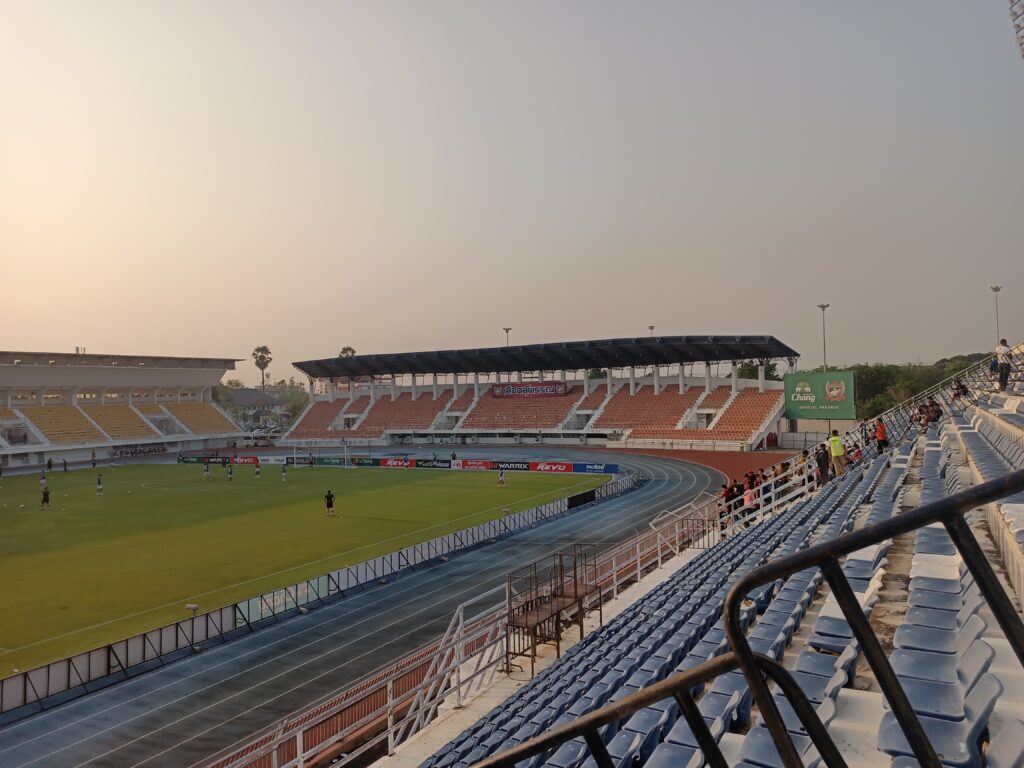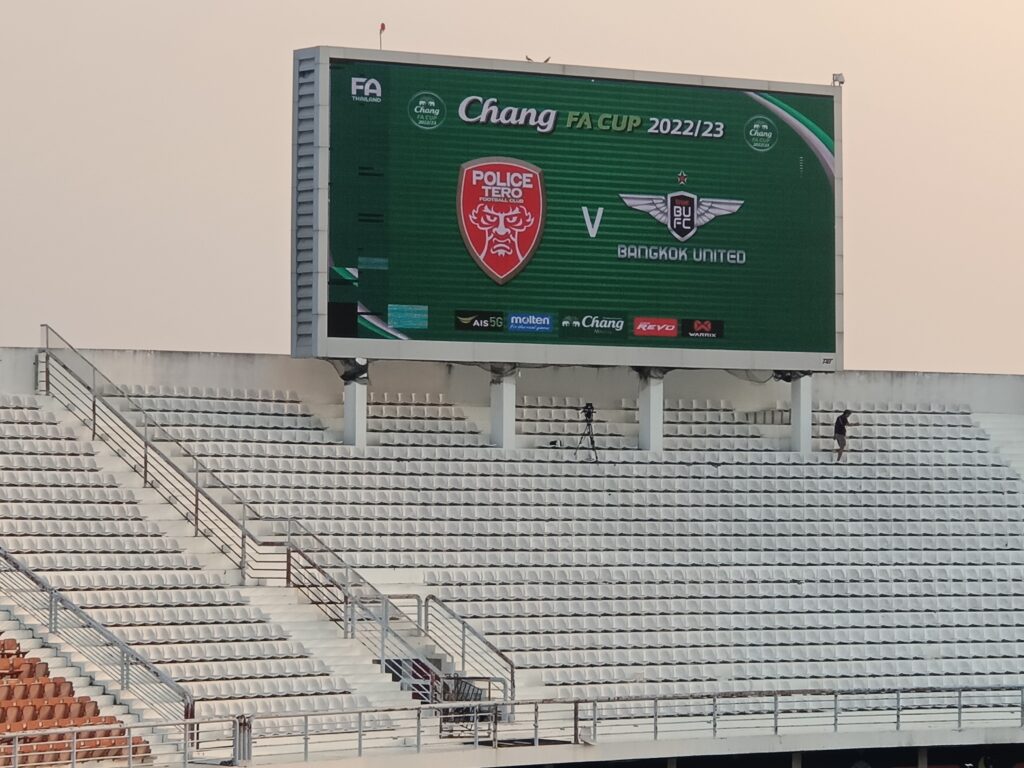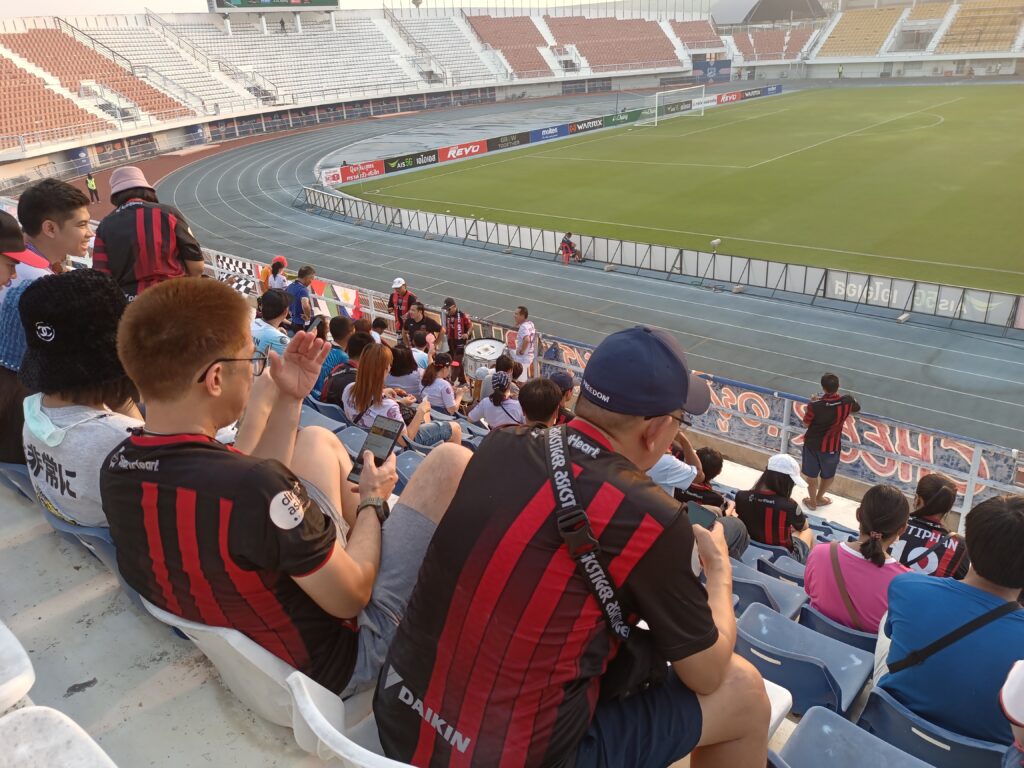 With Thai football anthem song, players come to the field.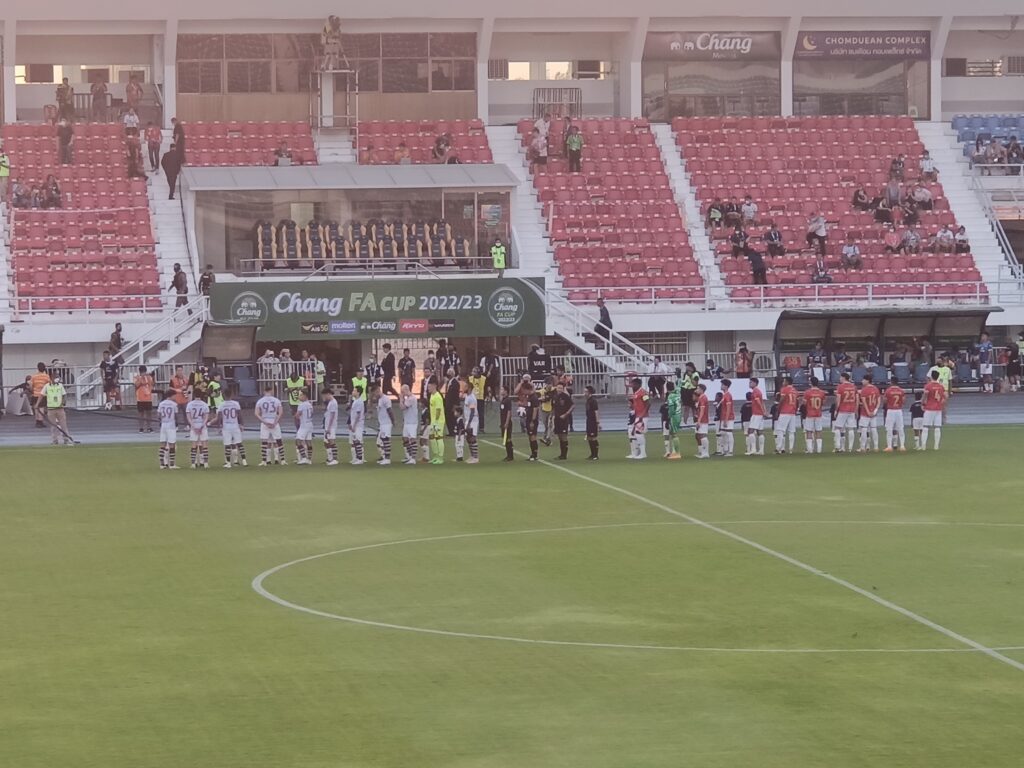 Standing to show respect to royal family in Thai.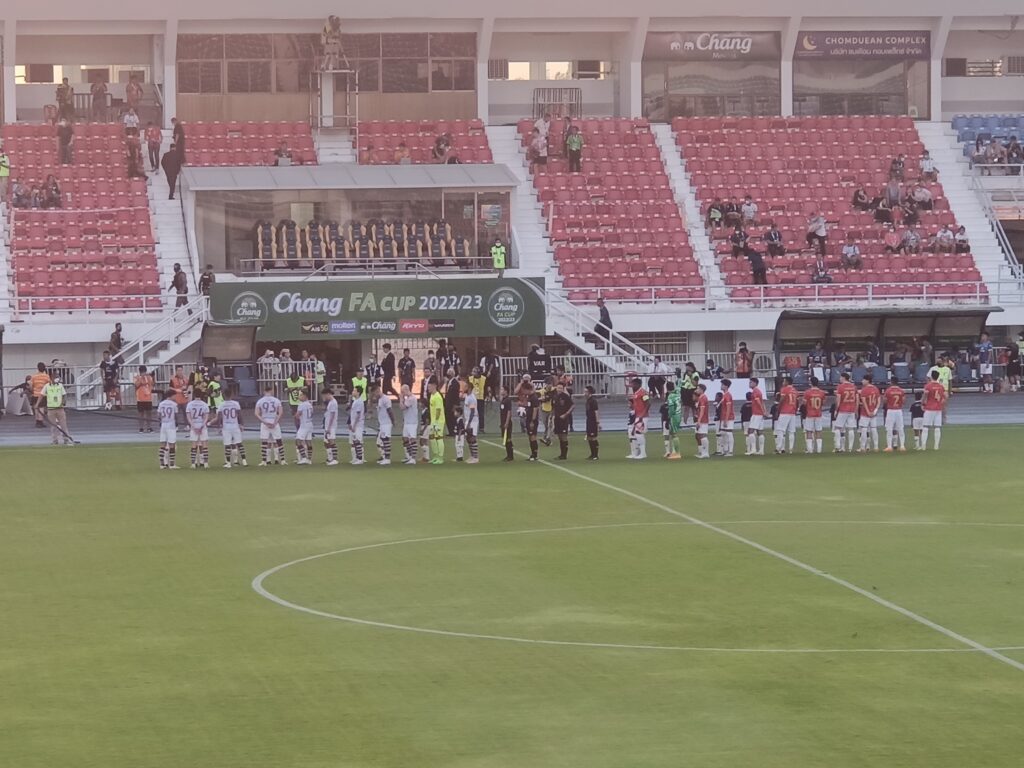 Police Tero starter members.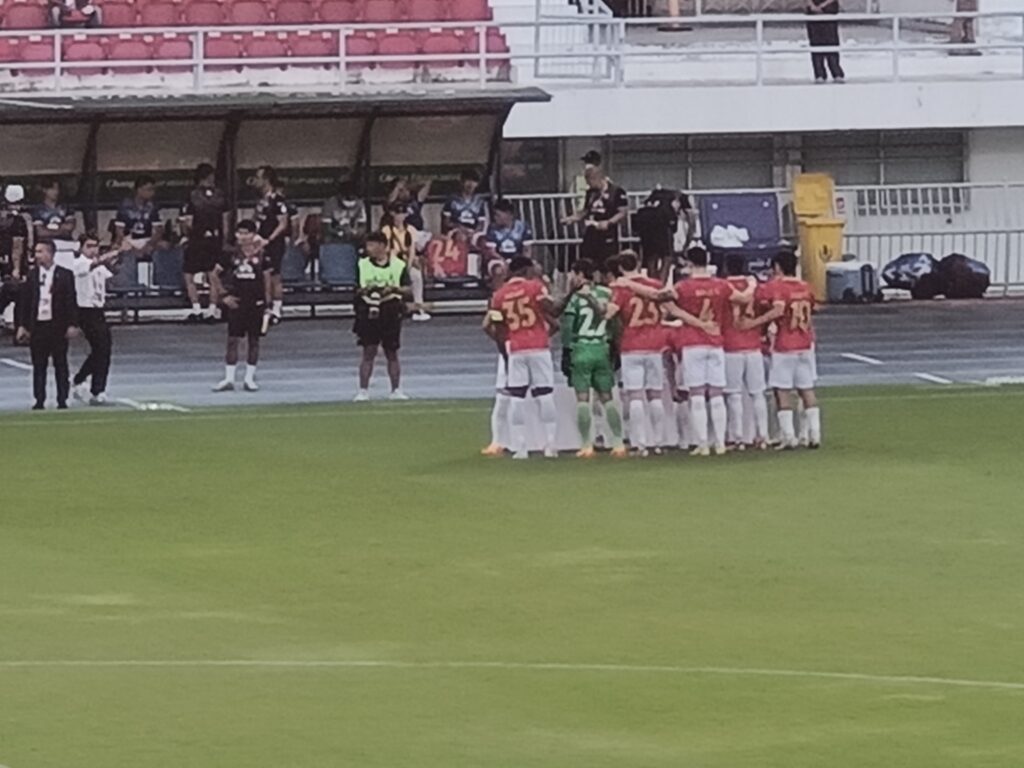 Bangkok United F.C.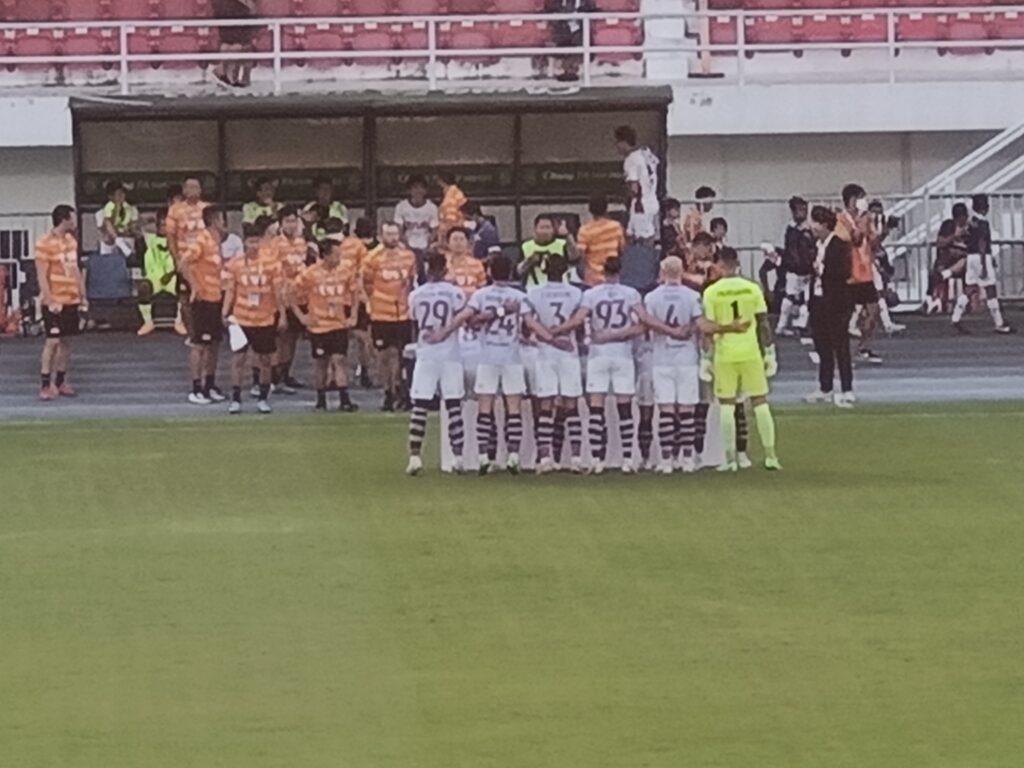 Kick off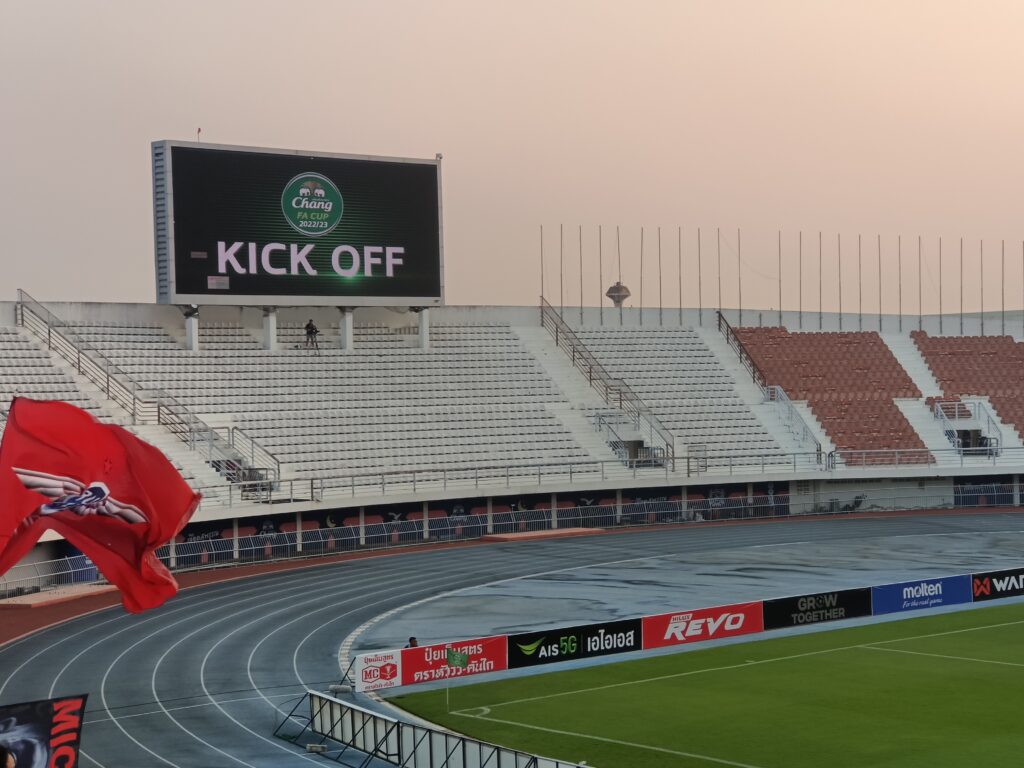 First VAR moment for Bangkok United! Unfortunately, Penalty kick was not given.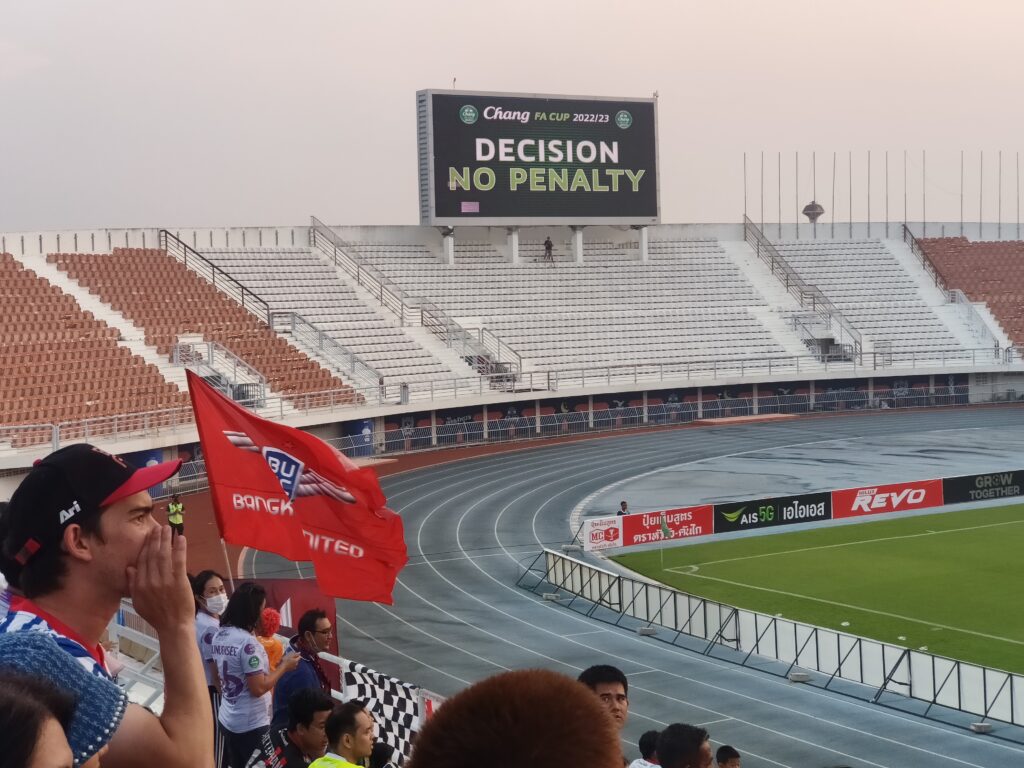 No. 18 Thitiphan scored first by header!!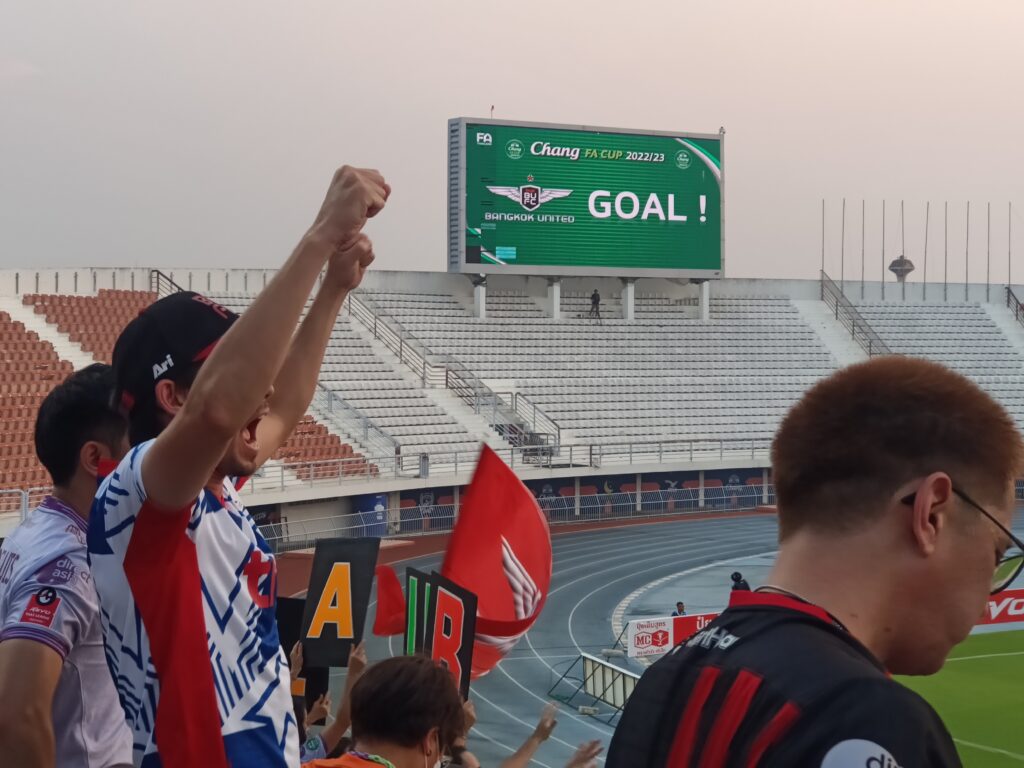 Celebration by Bangkok United.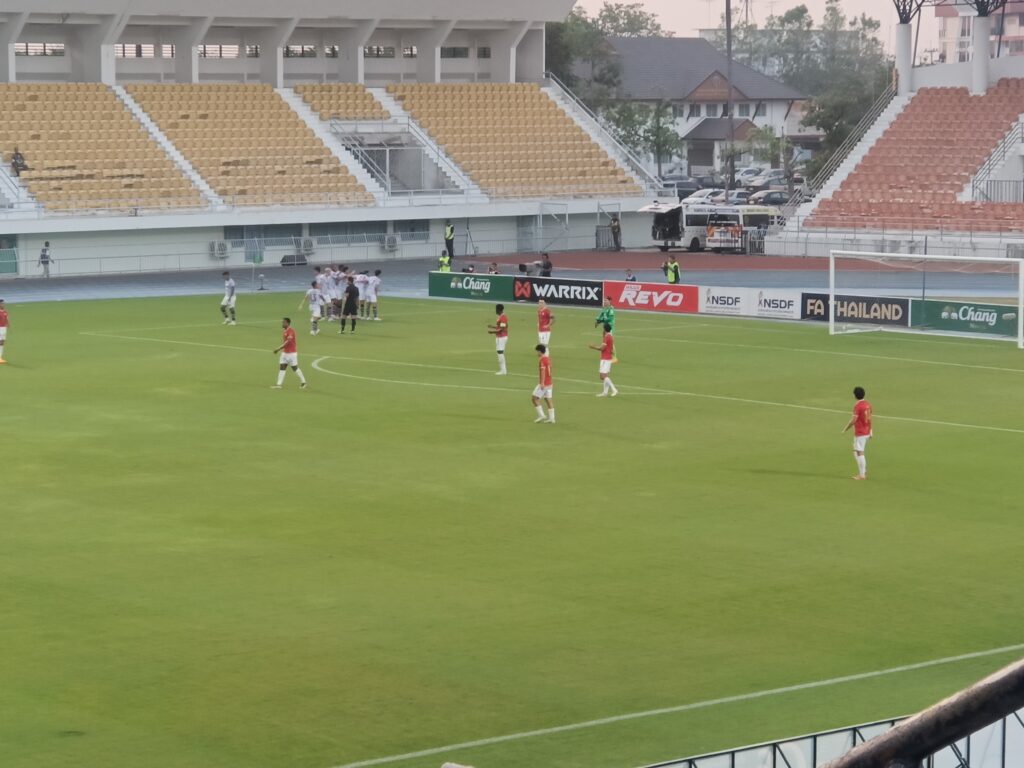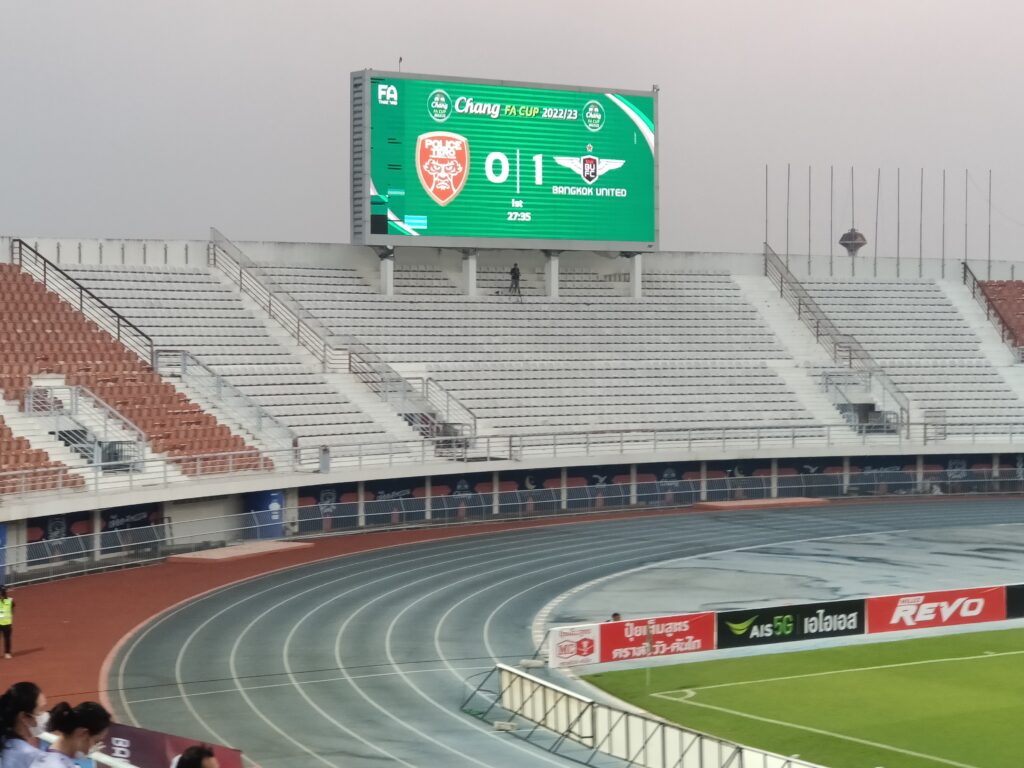 Police Tero F.C. played very rough at this game, play was disrupted several time to treat injured Bangkok members.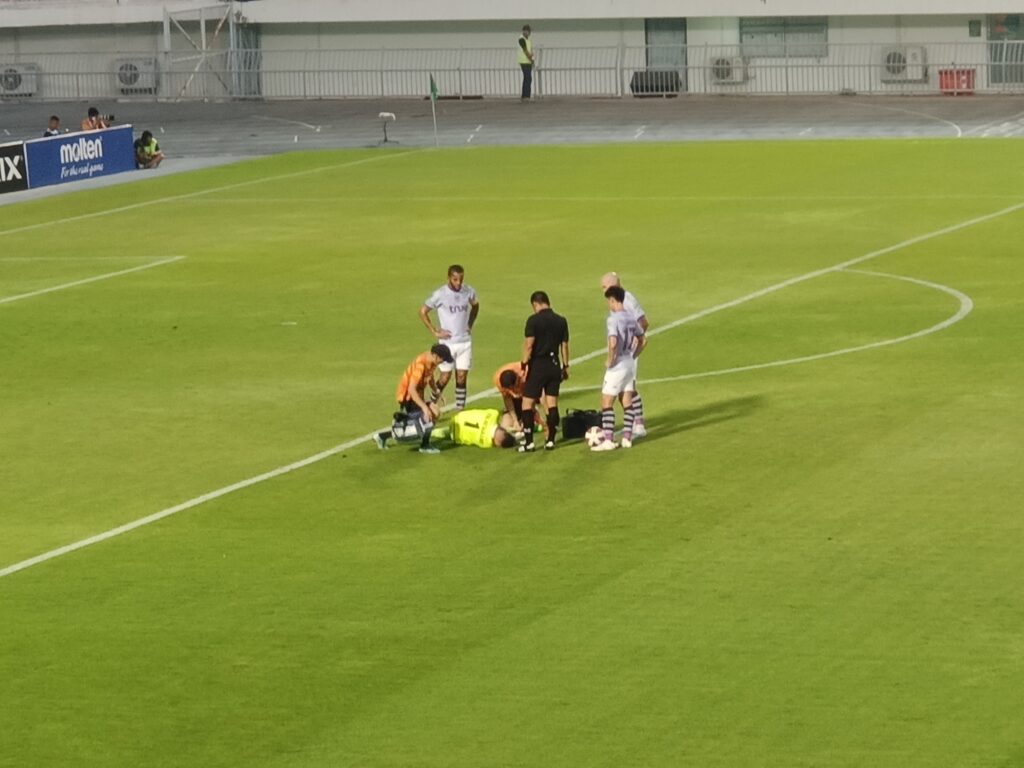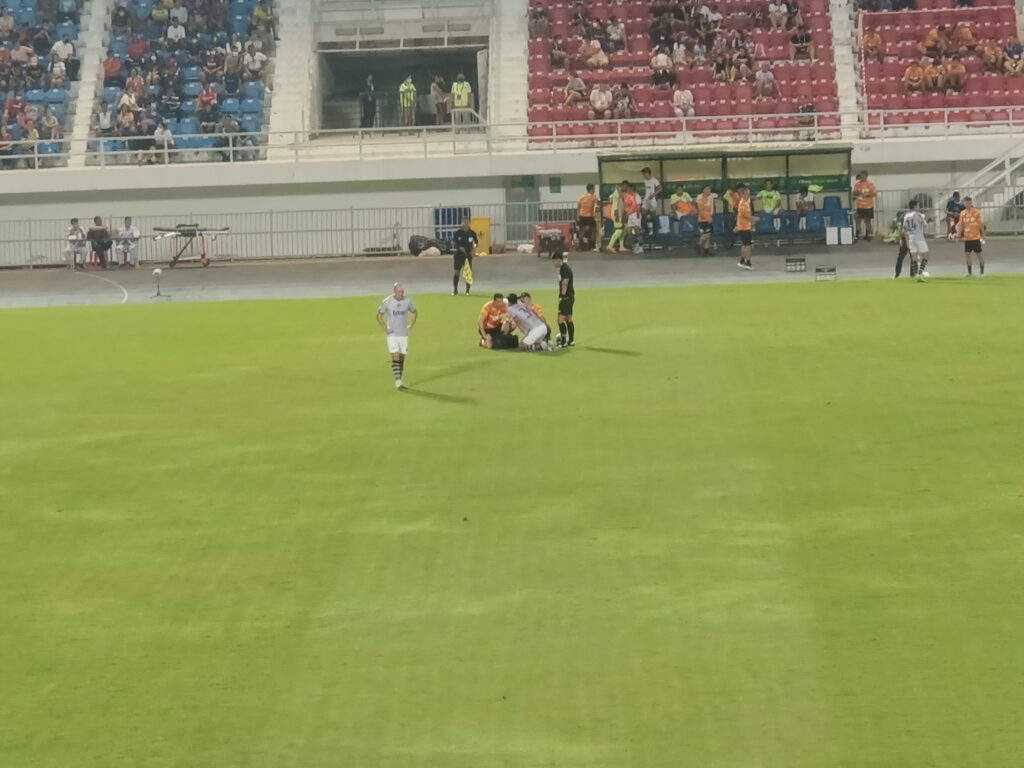 Saw the moment to almost start to fight due to hard attack by Police Tero.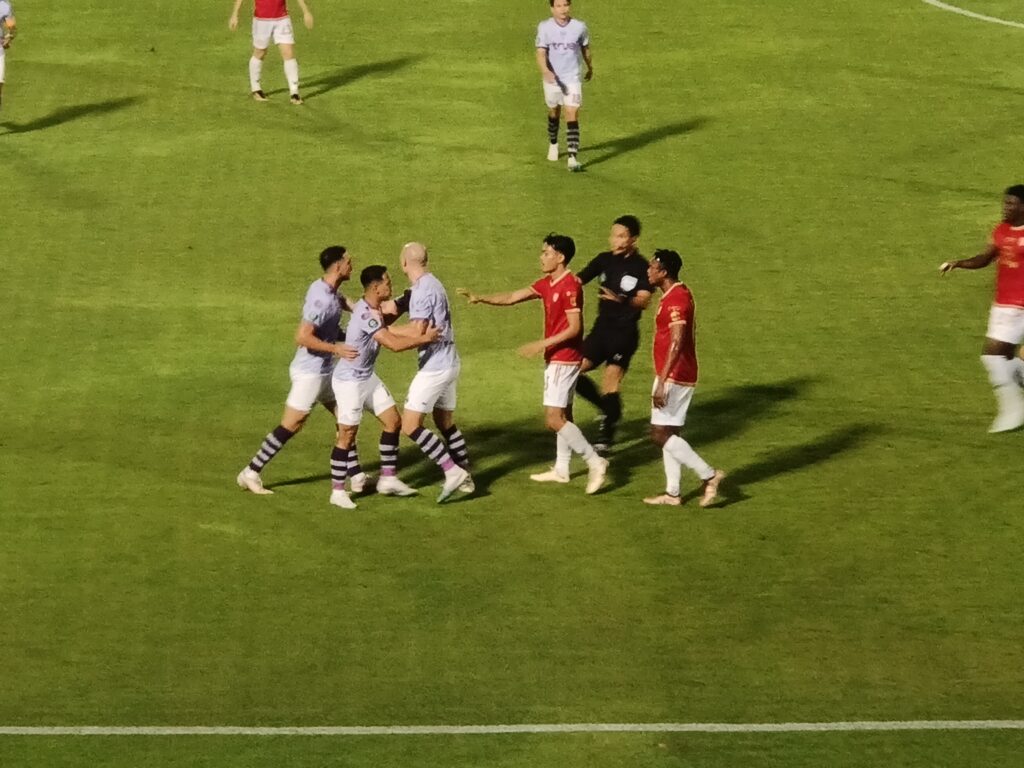 2nd half started. it was my mistake to choose seat next to aisle. People come in and block my eyesight, 55.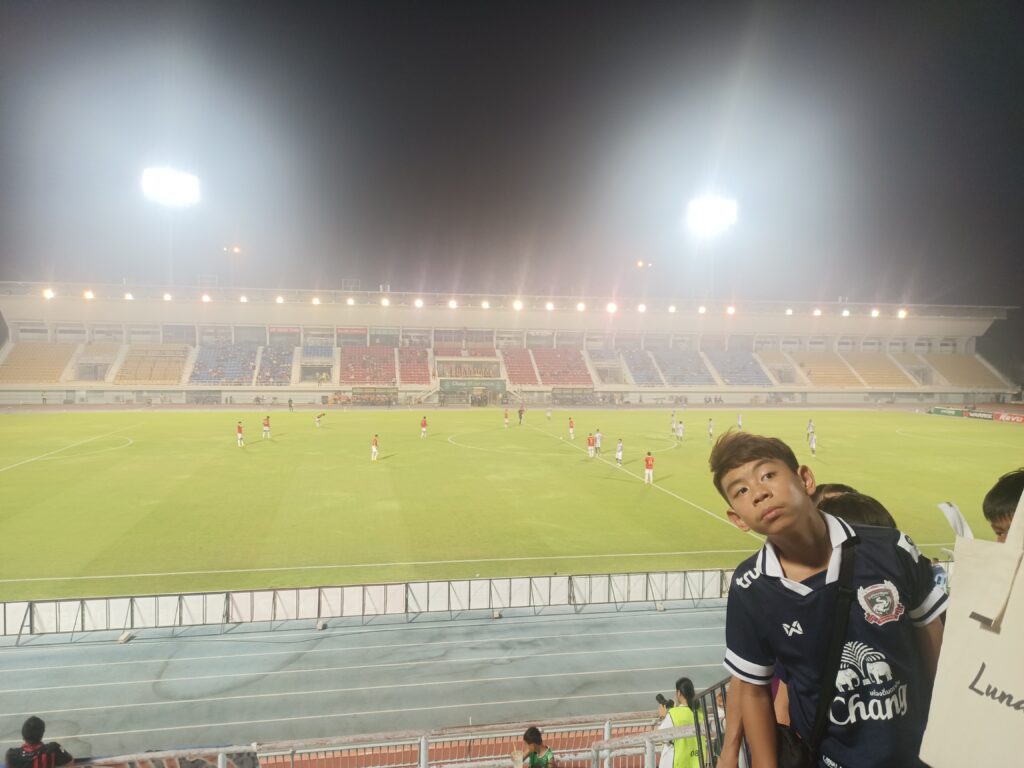 Red card was given to Police Tero defender and penalty kick offered to Bangkok United!! Referee deemed Police Tero due to handling.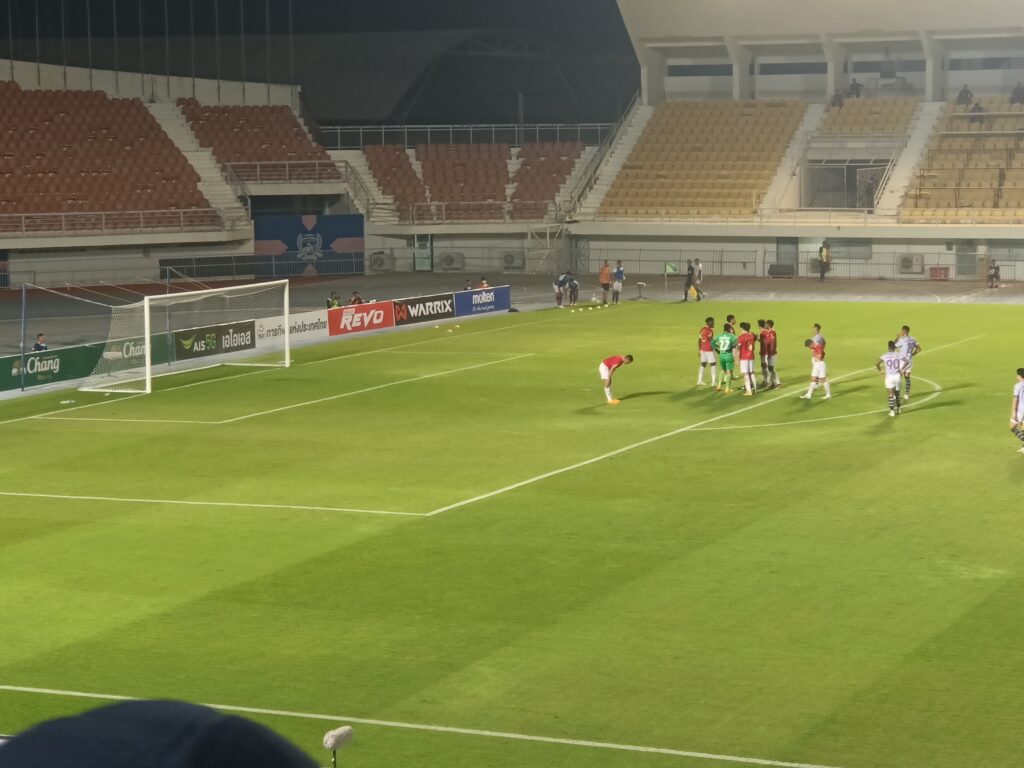 Again VAR reversed the judge by referee!! Penalty kick chance was stripped 2 times.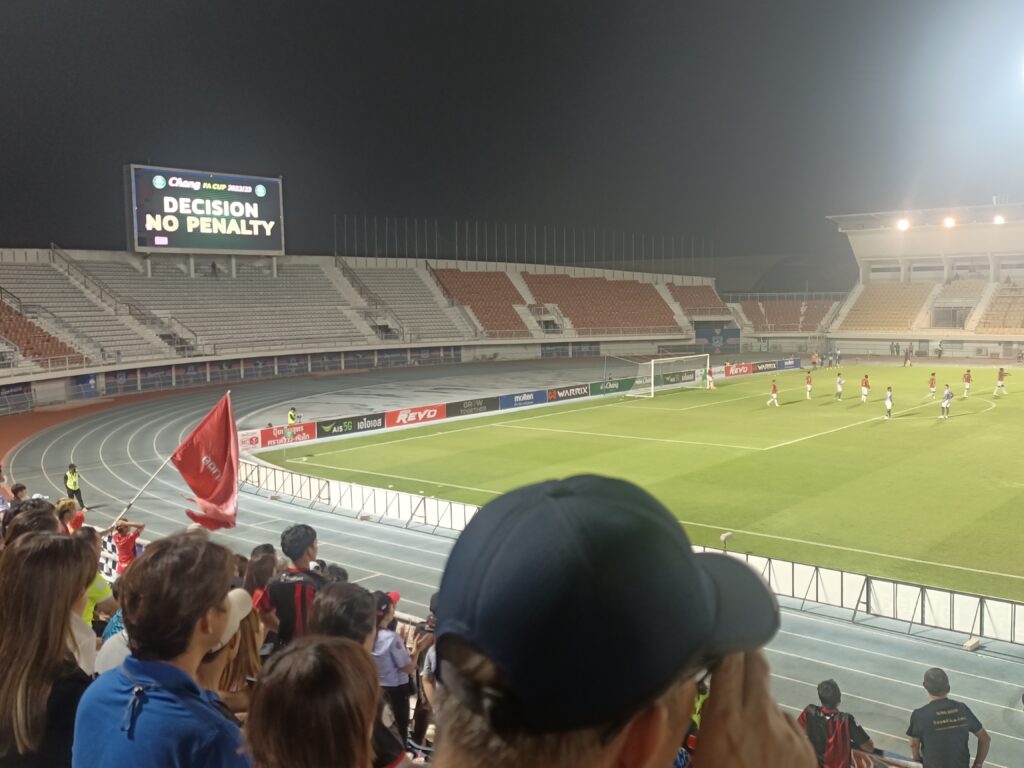 72′ header by No.29 Willen!!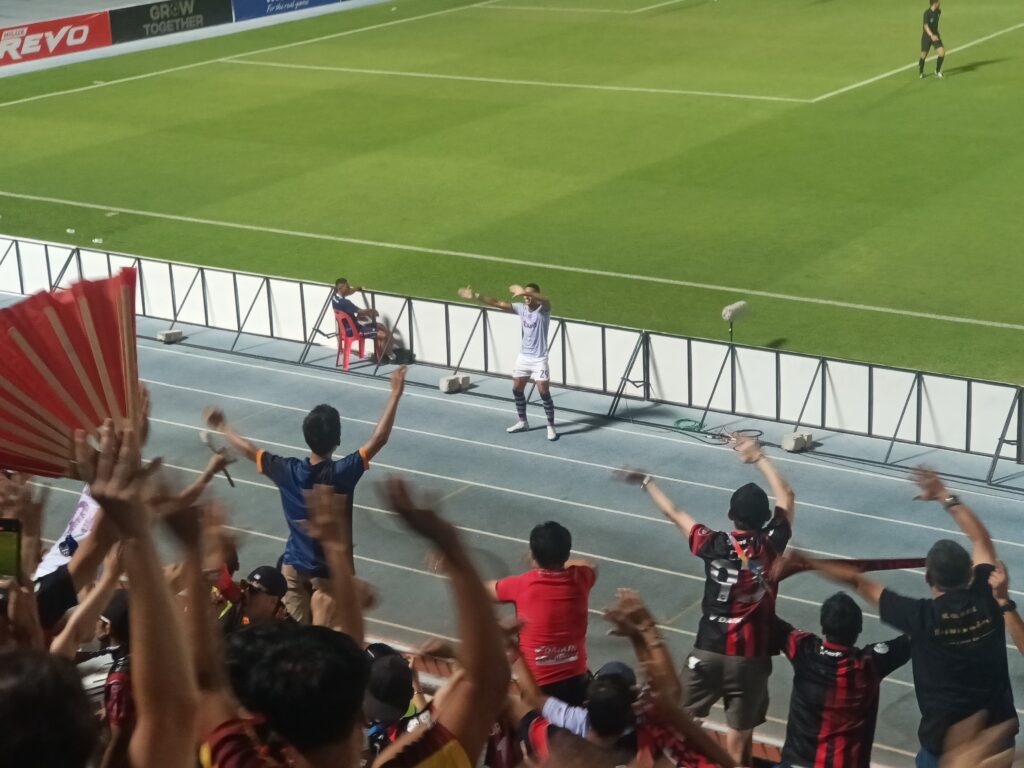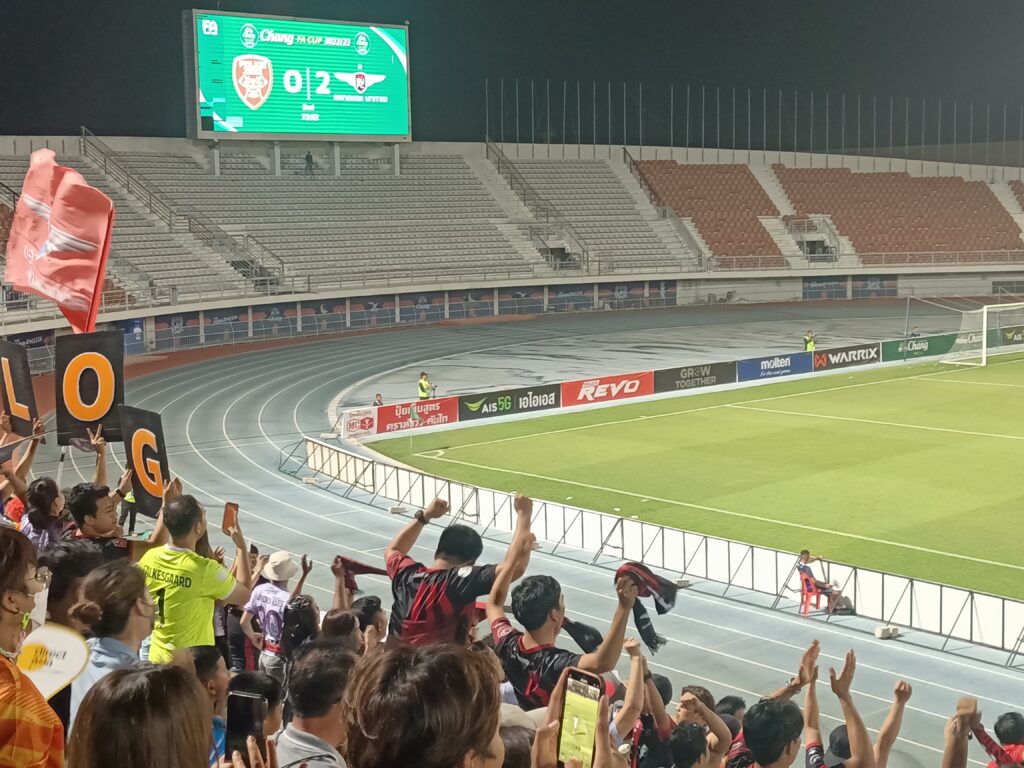 Monitor was damaged by heat outside??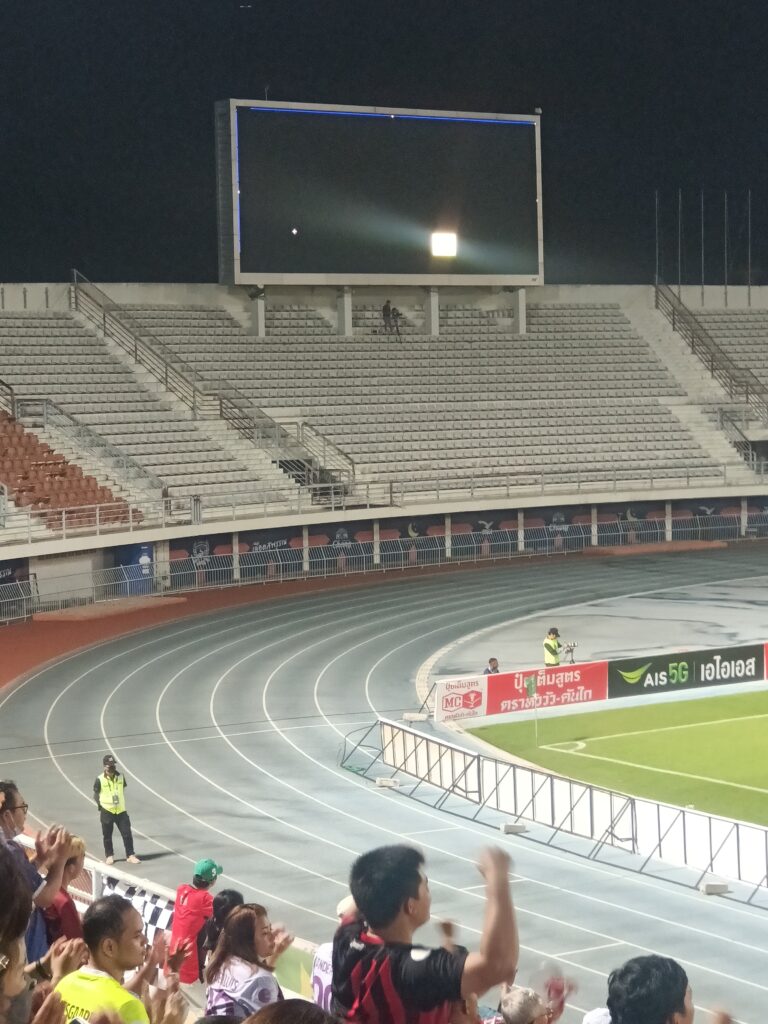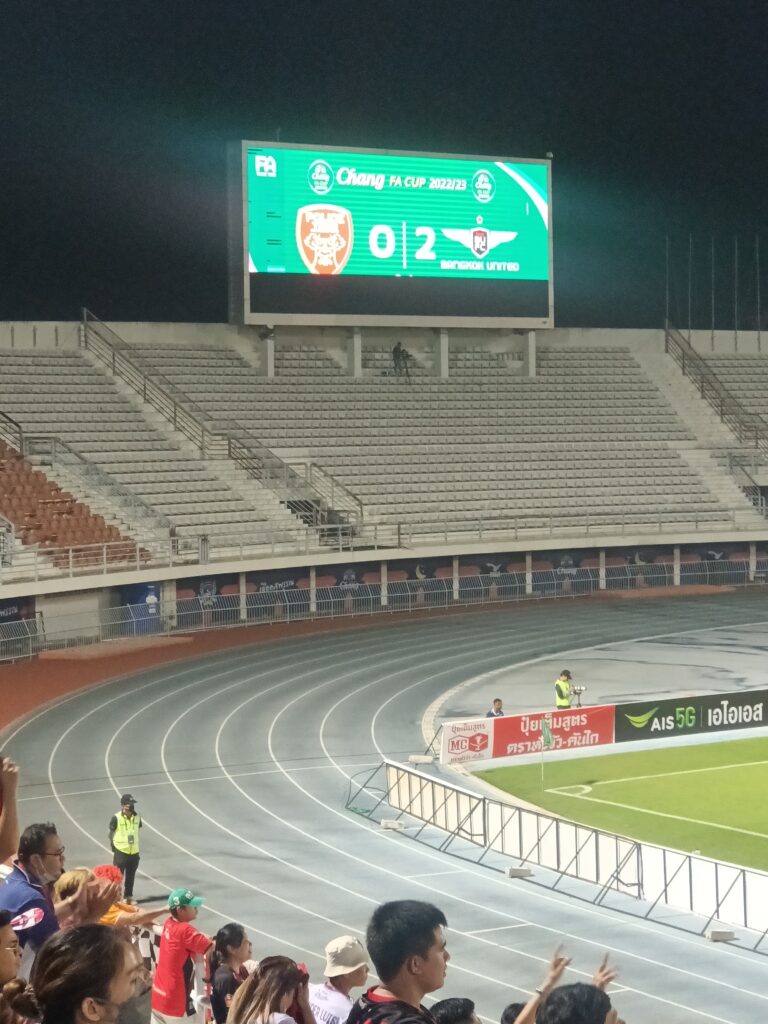 Goal more by No. 93 Mahmoud!!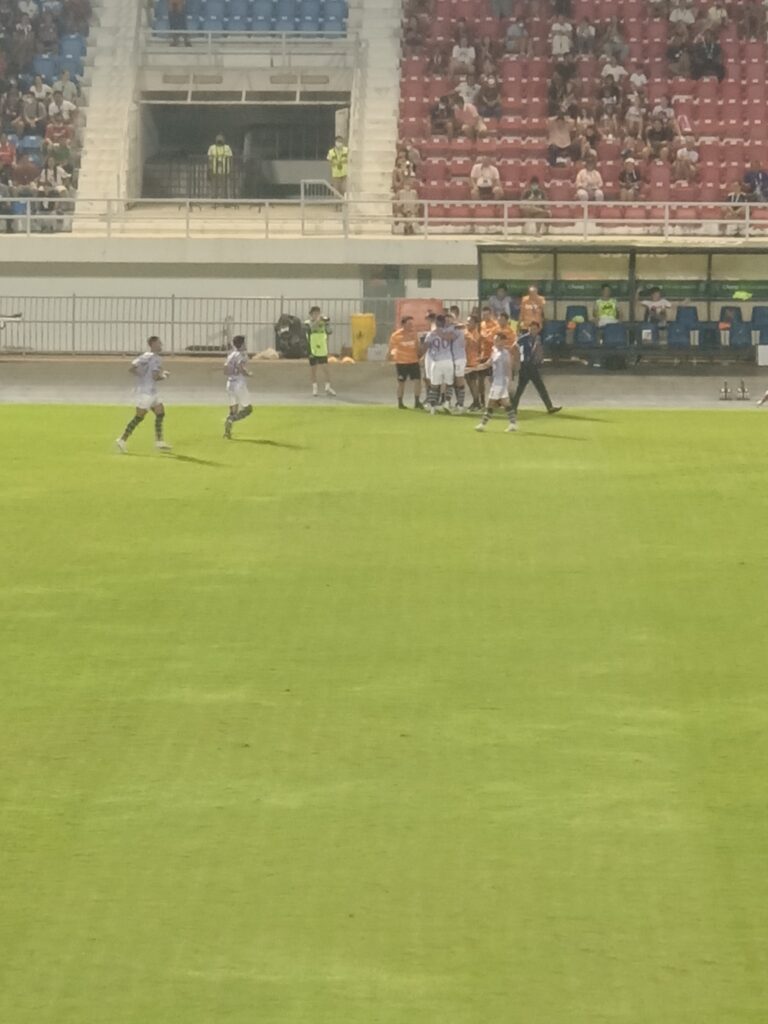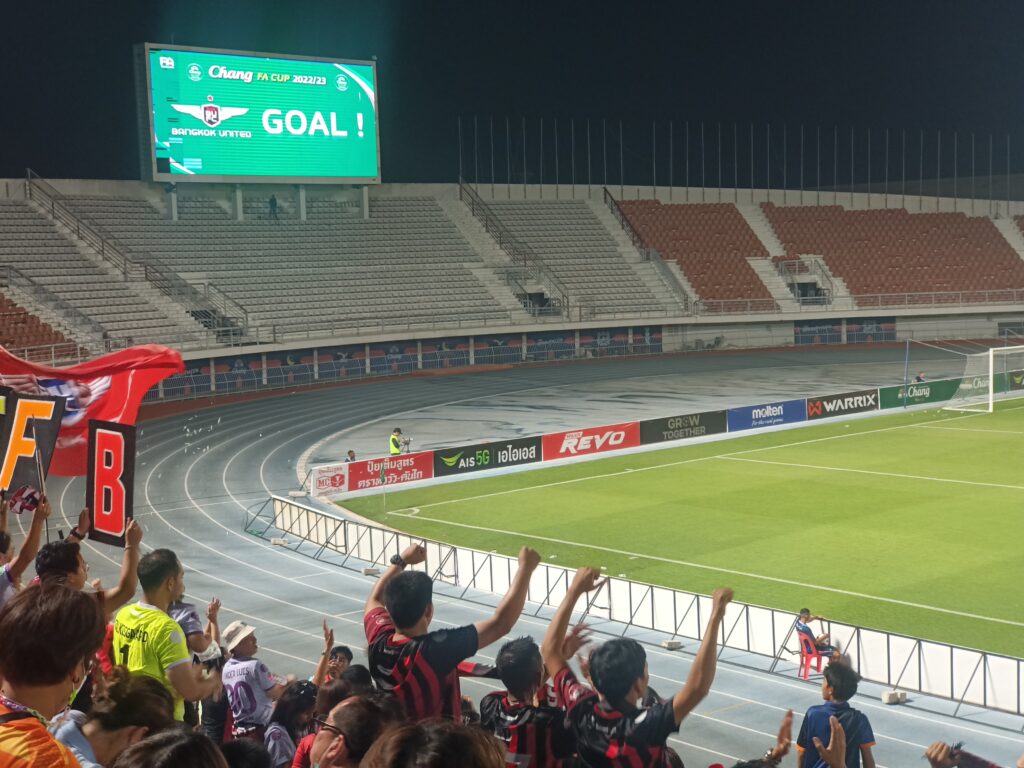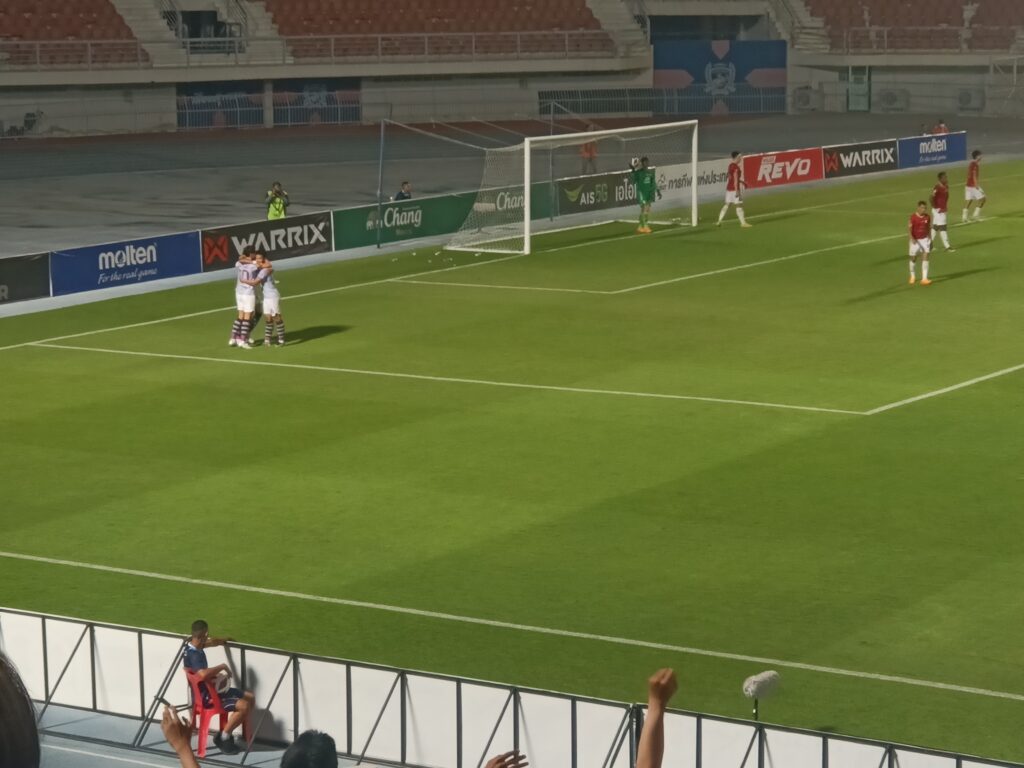 2nd goal by No. 29 Willen at 84′.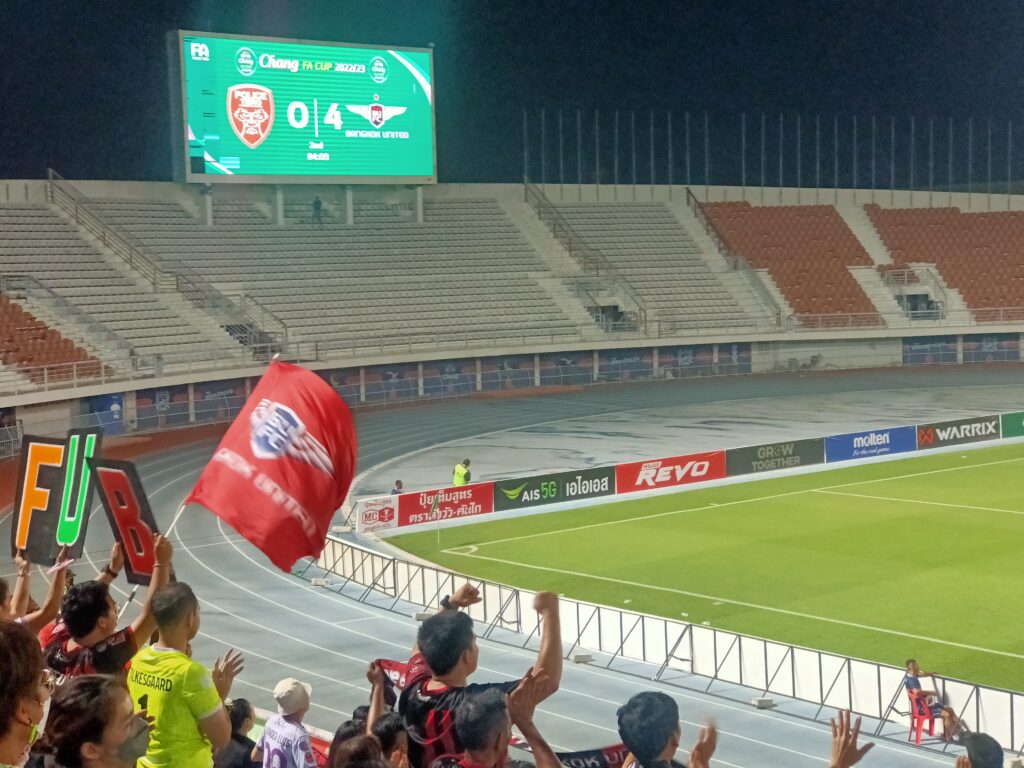 Game over, win by Bangkok United 4 – 0 Police Tero. This match card happened in 5 days later for Thai Revo league cup and Bangkok United again wins by 4 goals.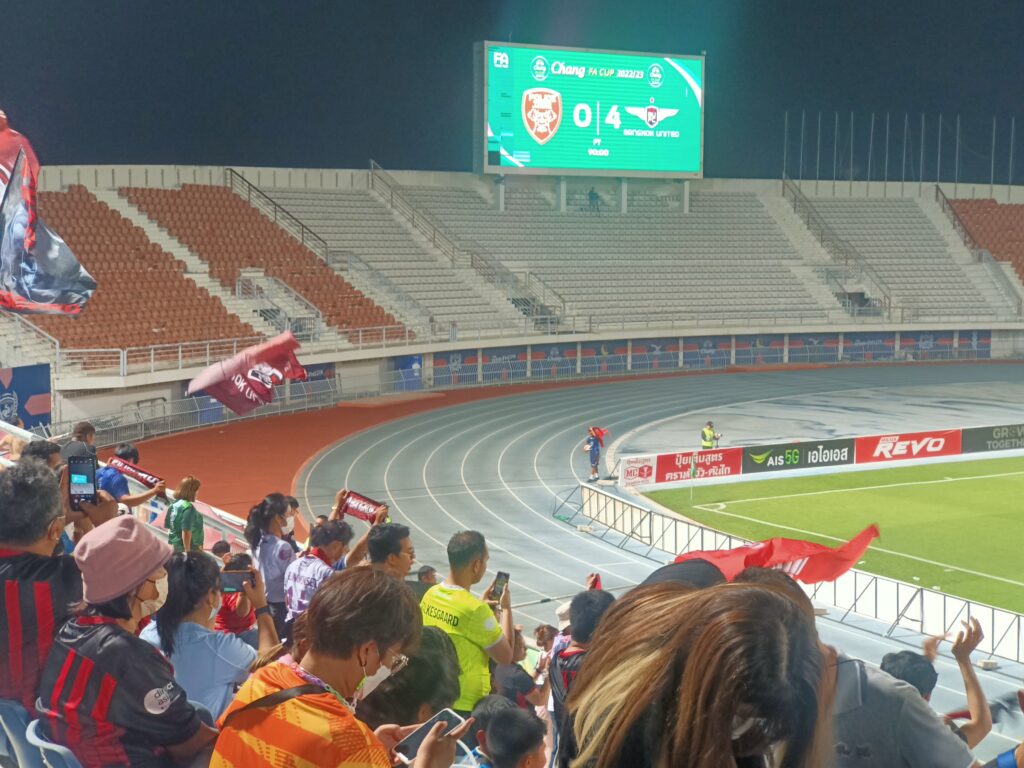 Match highlight
Once the game is done, I came back to the bus soon but no other guests nor staff came back, seems that they are sending off players bus maybe??. I was just waiting inside bus checking another semi final match progress. As expected, Buriram United wins so final will be Bangkok United vs. Buriram United on 28th May.
Going back to Bangkok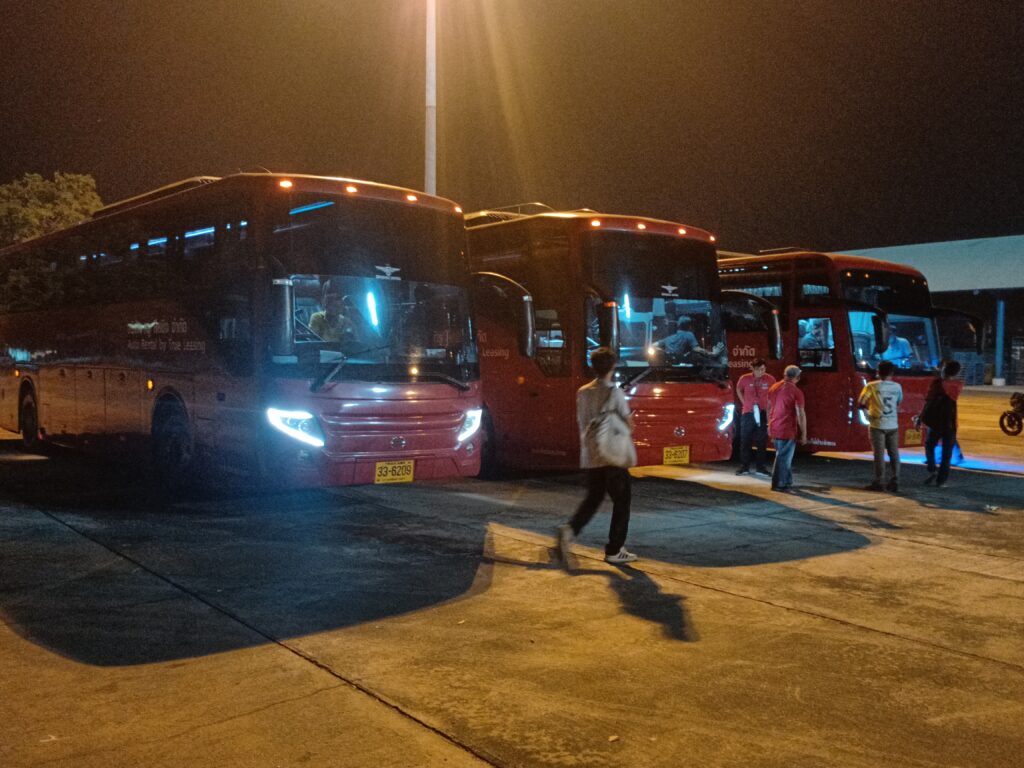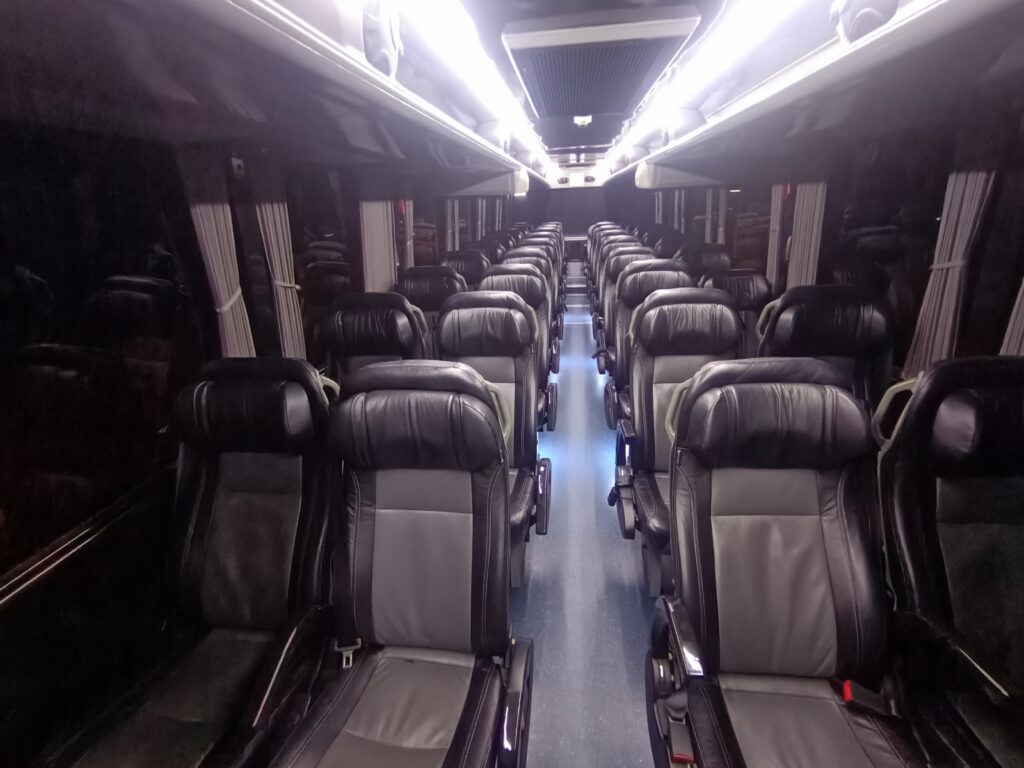 Bus departed from stadium at 20:48.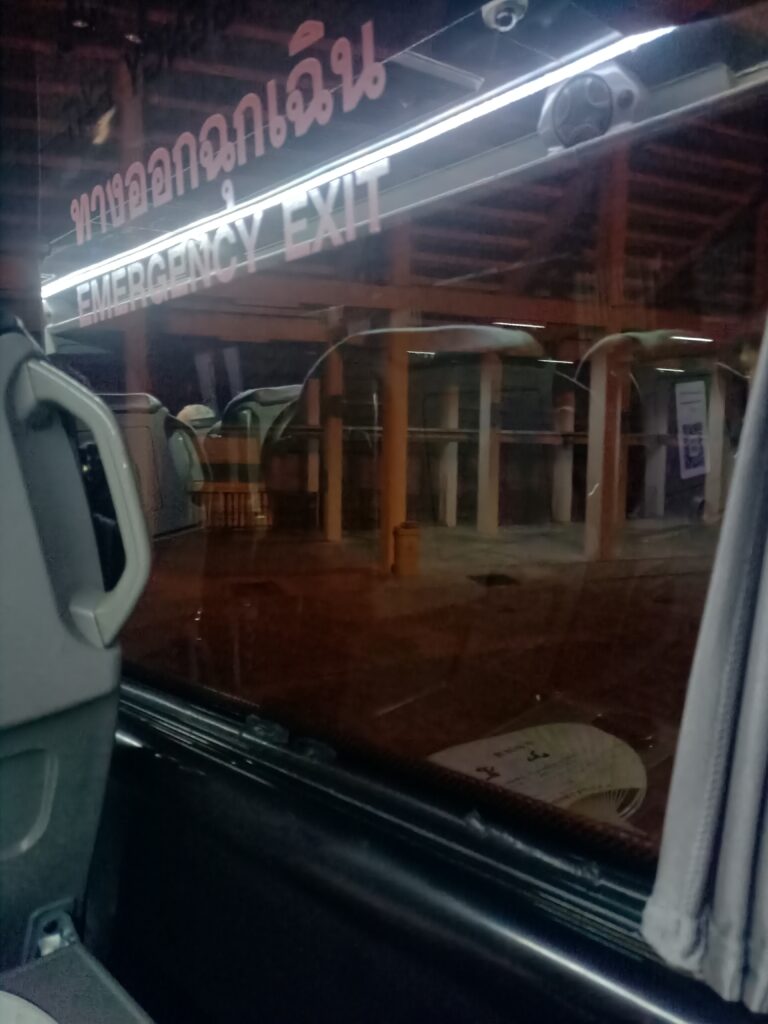 Thank you so much for great care by Bangkok United. Snacks again.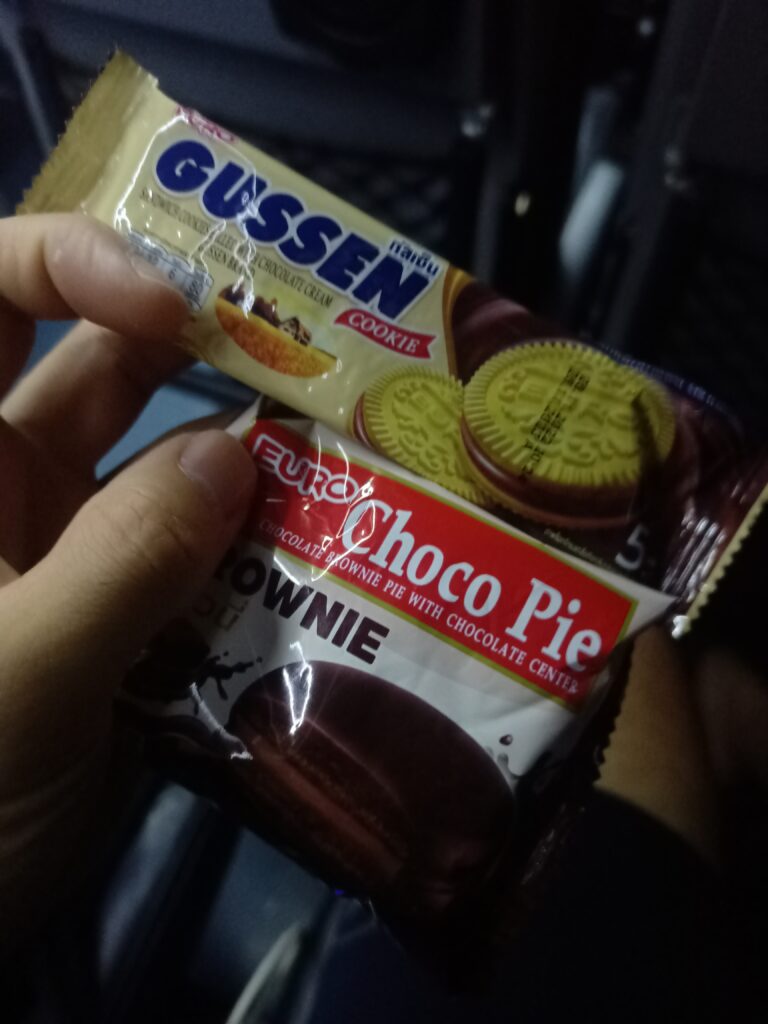 On the way back, I was sleeping thoroughly. When woke up, Bus stopped at Yaek Nonthaburi MRT station to drop 2 people. After that, Bus also drops other passengers at Kasetsart University and MRT Lat Phrao then came back to Thai Japan stadium at 22:40.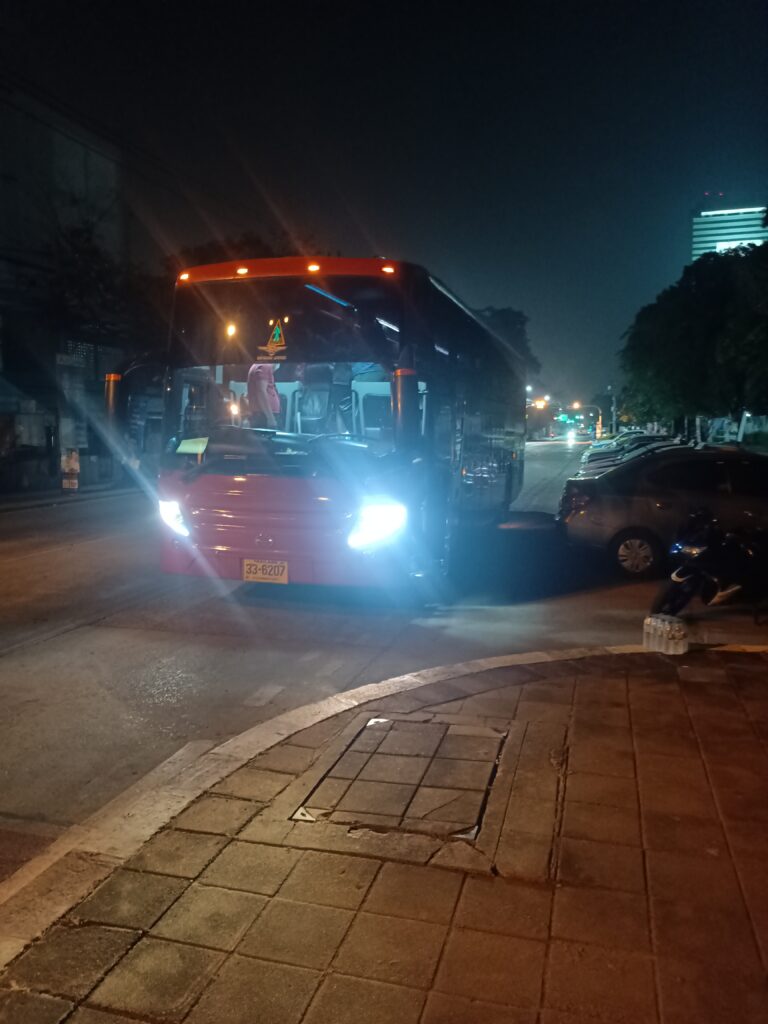 I would like to thank again to Bangkok United team, staff and bus driver for providing such nice trip for FREE!. It was enjoyable and very comfortable during whole trip. I want to join again if they offer next.
Since it was already so dark outside, I did not dare to walk back to Airport rail link station but took bus nearby stop from the stadium. Even few hundred meters walk, I feel so scared, there might be dogs around.
Bus No, 13, 54 and 73 goes to ARL Ratchaprarop station and BTS Chit rom station.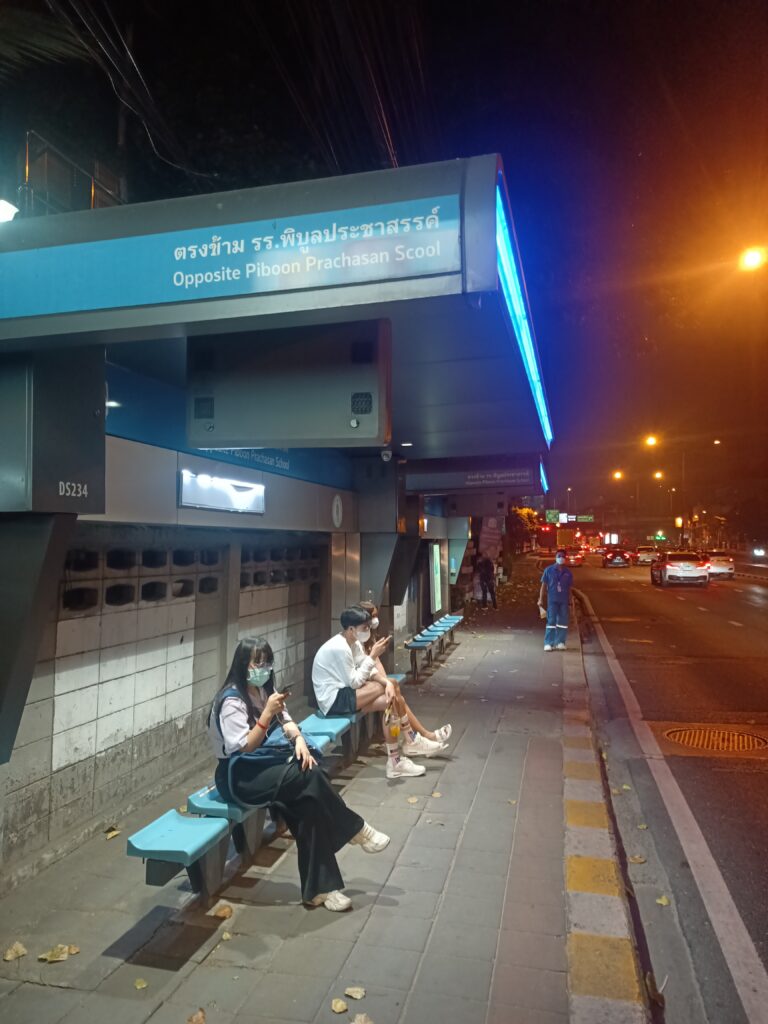 I took Bus No. 54 for 8 THB only, Less than 10 minutes ride to Airport rail link station.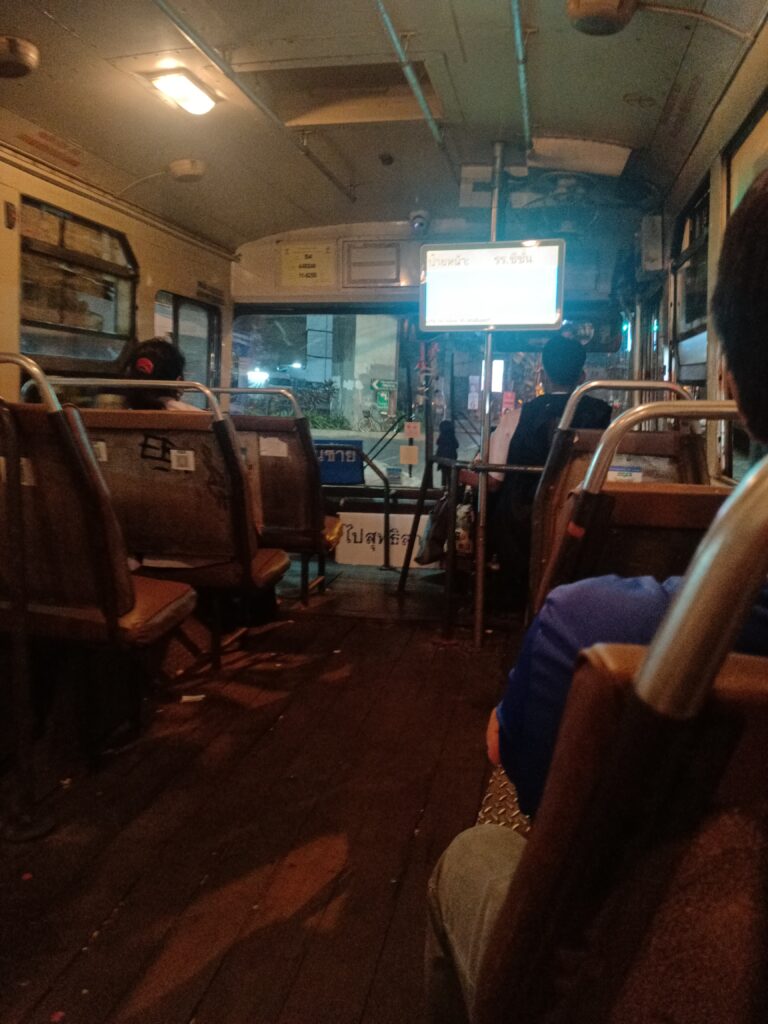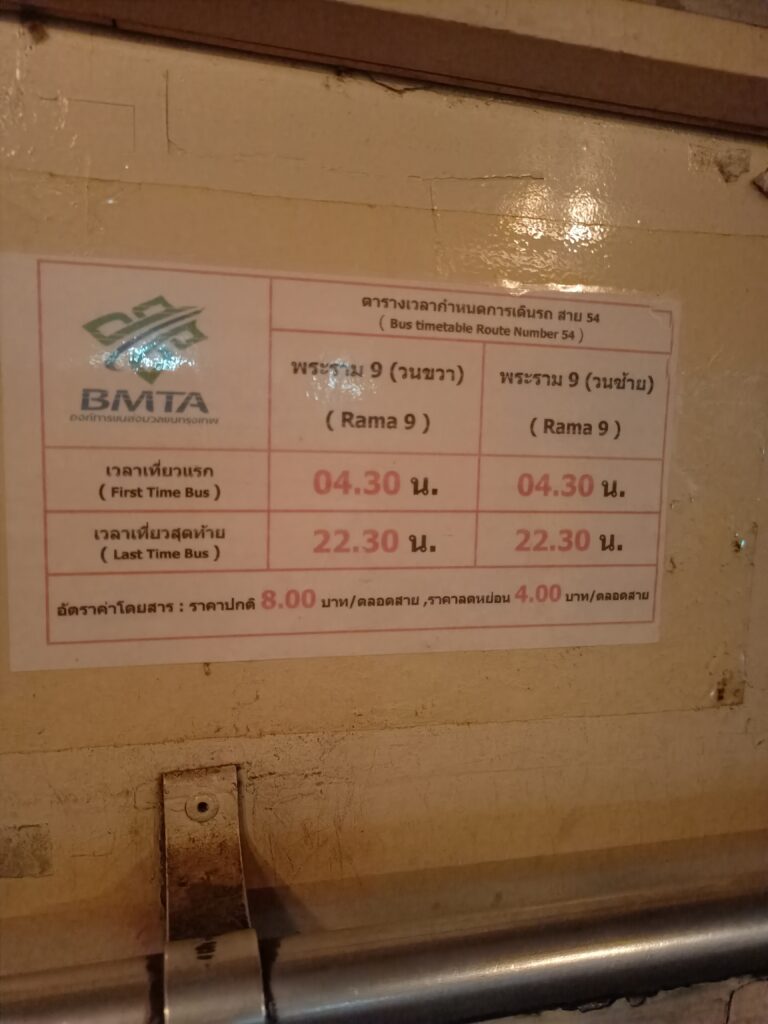 Ok, that's all for my trip experience! As far as I know, Big football club such as Buriram United, Bangkok United and BG Pathum United arranges away trip or game trip in neutral location so please check their official Facebook or Instagram page to check latest info.
I will update again if I have chance to join the trip by football team.
See ya!