Half year already passed for year 2022. As usual, I will make my living cost summary post for June, 2022.
Total cost – 26,535 THB
| | |
| --- | --- |
| Fitness | 4,274 |
| Travel | 0 |
| Food | 4,475 |
| Housing | 7,600 |
| Utilities | 1,217 |
| Others | 8,969 |
| Total | 26,535 |
Total cost for June, 2022 was 26,535 THB, the amount was almost within my budget target 25,000 THB per month. I refrained from travelling this month to save money for my trip to Indonesia and Malaysia in July and Philippines in September. Although I saved money for skipping travelling, my expense got more due to my teeth treatment.
Fitness – 4,274 THB
Gym
2,400
14 months for 16,800THB, 1200THB/month
Free for 5 month due to COVID closure period in 2021
Personal training 3 times (800THB/session)
Protein
1,210
50lbs (9kg) Whey protein pay for 10 months
Supplement
664
Creatine 300g*2
This month, since I didn't have any trip for weekend, I could have personal training for 3 times. From this month, I will not count Jetts fitness membership fee since it was exempted during gym closure in 2021 for 5 months. I already payed and counted currently membership fee.
Travel – 0 THB
No travel this month!
Food – 4,475 THB
Food cost is a bit cheaper than usual month around 5,000 – 6,000 THB.
Normally I eat same food every day as below. This month I just had lunch one time at Thai airways cafe.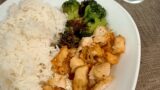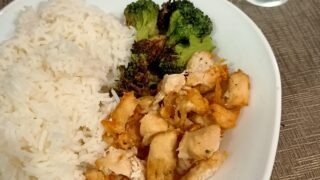 Diet meal for bodybuilder in Bangkok and recent workout routine
Welcome back to fitravelife.com! Since June, 2022 I started diet now to prepare for my competition in July and Septem...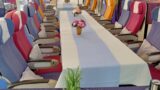 Let's take on board on ground! Feeling like flying at Thai airways Royal Orchid experience
One Saturday June 2022, I visited Thai airways Royal Orchid dining experience restaurant so I introduce their service, f...
Housing – 7,600 THB
My rent is for one bed room 28m2 for low rise condominium in Ladkrabang. Sad that owner just told me that rent fee will be raised to 8,000 THB from January 2023.
Utility – 1,217 THB
| | | |
| --- | --- | --- |
| Electricity | 551 | (146 kWh used) |
| Water | 36 | (18/unit  2unit used) |
| Phone | 324 | 10Mbps Unlimited |
| Server | 306 | for blog |
Since I stay more in room than travelling, electricity cost is a bit higher but well 500 THB is still not bad for single man use.
Others – 8,969 THB
Credit card
720
Citi prestige card, M gen card
Laundry
160
40THB/time
Transportation
762
Bangkok only
Hair cut
300
one time
Deodorant
398
Buy one get one 2 pcs *2 total 4 pcs
Entertainment
879
Movie 120+330*2
Pop corn 99 THB
Clothes
350
Shorts
Dental
5,400
Root canal treatment 3,500THB (2nd time)
Posting 3,000 THB
Crown 4,500 THB (another 4,500THB be paid in July)
5,600 THB paid by company benefit
Credit card fee is divided into 12 months for annual fee.
My problem is teeth, This was 5th time for me to do root canal treatment in Thailand. Once time costs more than 20,000 THB. I have support from the company 10,000 THB annual but it already exceeded such budget…. I do not understand Why I have a lot of oral problem, I do not eat sugary food, junk food… I hope I will not have these problems anymore by frequent brushing and check up at dentist…
Conclusion and first half of cost.
Ok ,that's all for my June expense in Bangkok. Next month, I will have more trips so cost might be higher.
Below is the summary for first half of year 2022.. monthly I spend around 35,000 THB which is 10,000 over from my budget this year… Maybe considering my other cost and high travelling cost, I will adjust my target to 30,000 THB from next month.

See ya!