Welcome back to fitravelife.com👏
On 31st October 2023, I joined Football game trip organized by True Bangkok United to Nakhon Si Thammarat province for FA cup round 64. This time was 3rd time for me to join this "Together Trip". You can also refer to my previous post and join next time😊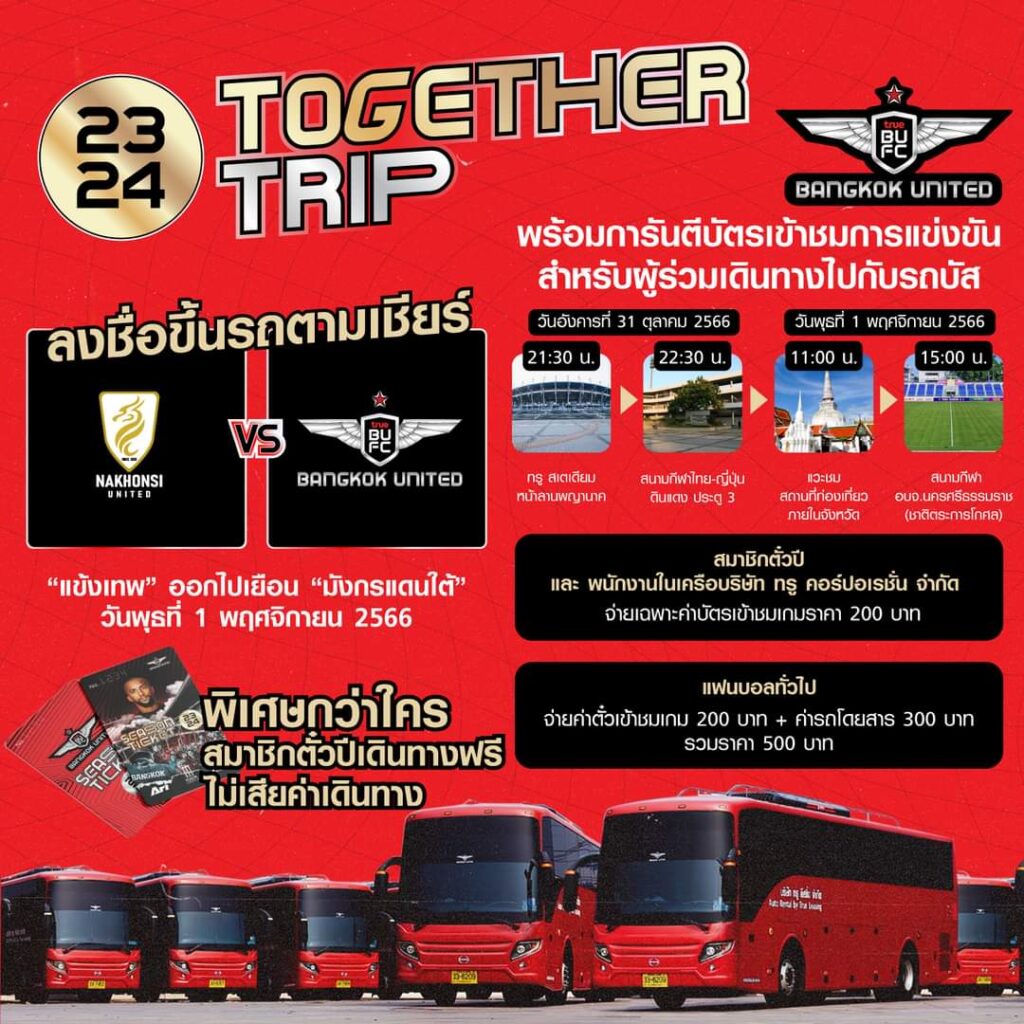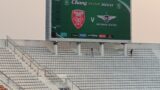 Bangkok United FREE bus trip to Suphanburi province for Chang FA cup semi final
Welcome back to fitravelife.com! Now I am taking FREE comfortable bus trip to Suphanburi province, arranged by Bangko...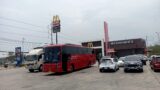 True Bangkok United Away trip! vs. PT Prachuap at Sam Ao stadium
Welcome back to fitravelife.com!Again, I joined football trip arranged by True Bangkok United on 30th April 2023 so I ma...
Registration
Trip schedule and registration details are announced several day before match day on their Facebook or Instagram. Not to miss deadline, please follow their account first. Registration will be done by google form, you just need to provide basic info about you.
https://m.facebook.com/story.php?story_fbid=pfbid015PzAEVo7rdshzSdy1fNG9W7PiUrrHRsm4PD5SijHBMraLbCUYWXDNv2AHwEyuSTl&id=100044557303045&mibextid=Nif5oz
Trip fee
Everyone needs to pay 200 THB away stand ticket. If you are not season ticket holder nor True corporation staff, you also need to pay 300 THB for trip fare.
Since I have Silver season ticket, which costs only 750 THB. I just owe 200 THB for away ticket.
Payment will be done at trip day.
You can buy season ticket at stadium or official Facebook account.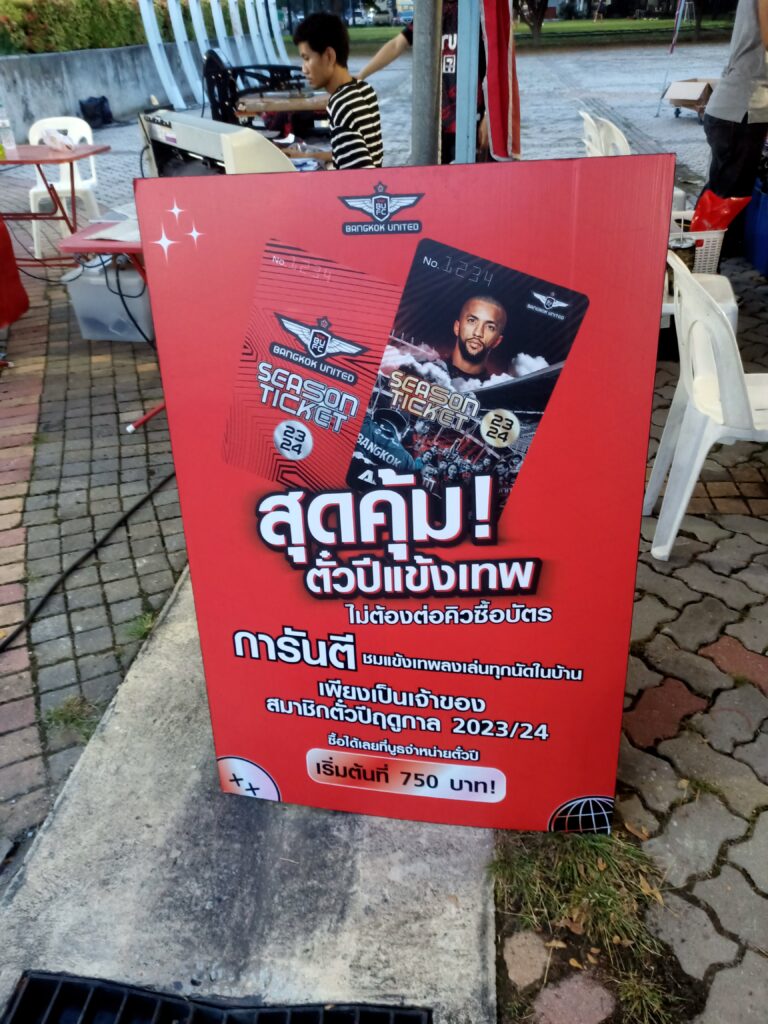 I put season ticket into my card case. To enter the home game match, staff will scan QR code on the back of card.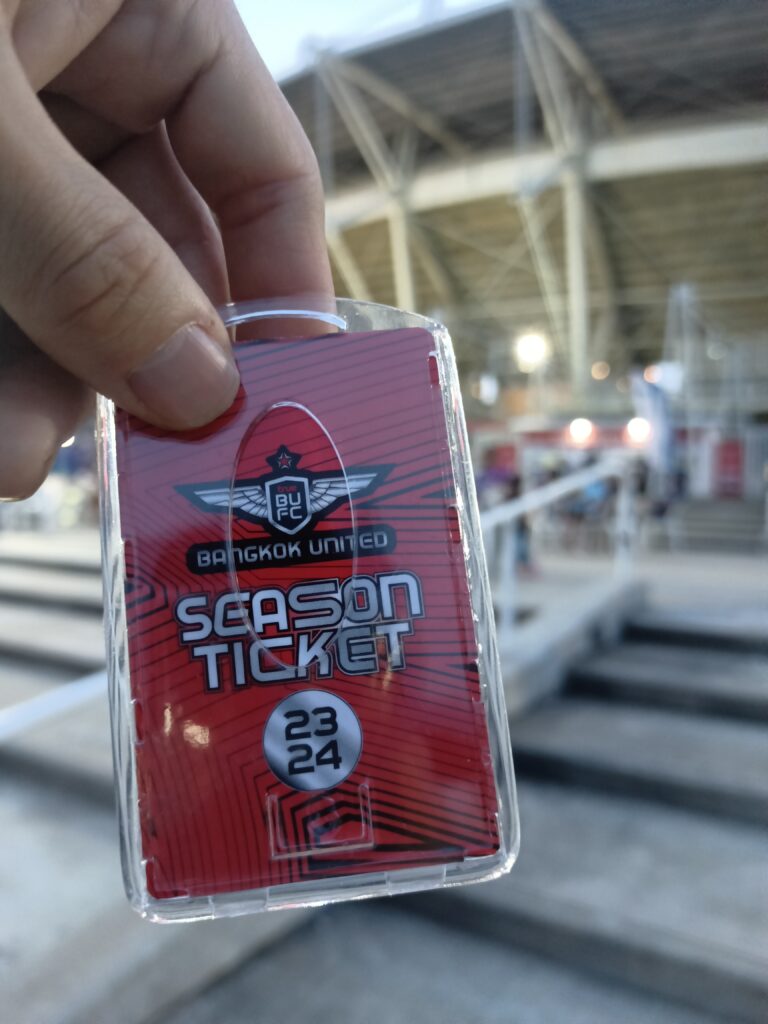 I got small poster too for free. I gave this to a thai lady since she asked where I got this🤣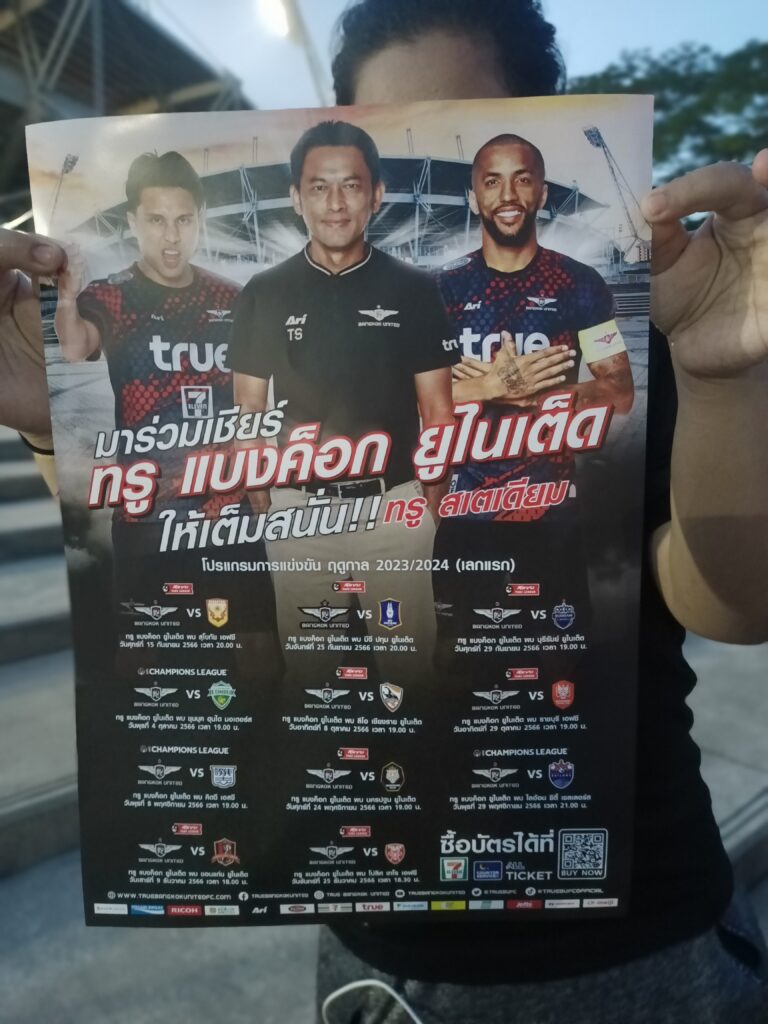 Schedule
Nakhon Si Thammarat province is quite far from Bangkok, around 800km away so trip takes 3 days and zero night.
31st Oct 2023
21:30 Pick up at Thammasart Stadium
22:30 Pick at at Thai Japan stadium Din Daeng.
1st Nov 2023
11:00 Sightseeing at Nakhon Si Thammarat
15:00 Arrive at stadium
17:00 Kick off
19:00 Going back to Bangkok
2nd Nov 2023
Trip to Nakhon Si Thammarat
I arrived 30 minutes before pick up time at Thai Japan stadium gate 3. Already one person at there and total 6 person were picked up from here. Bus arrived late a bit due to Halloween road congestion.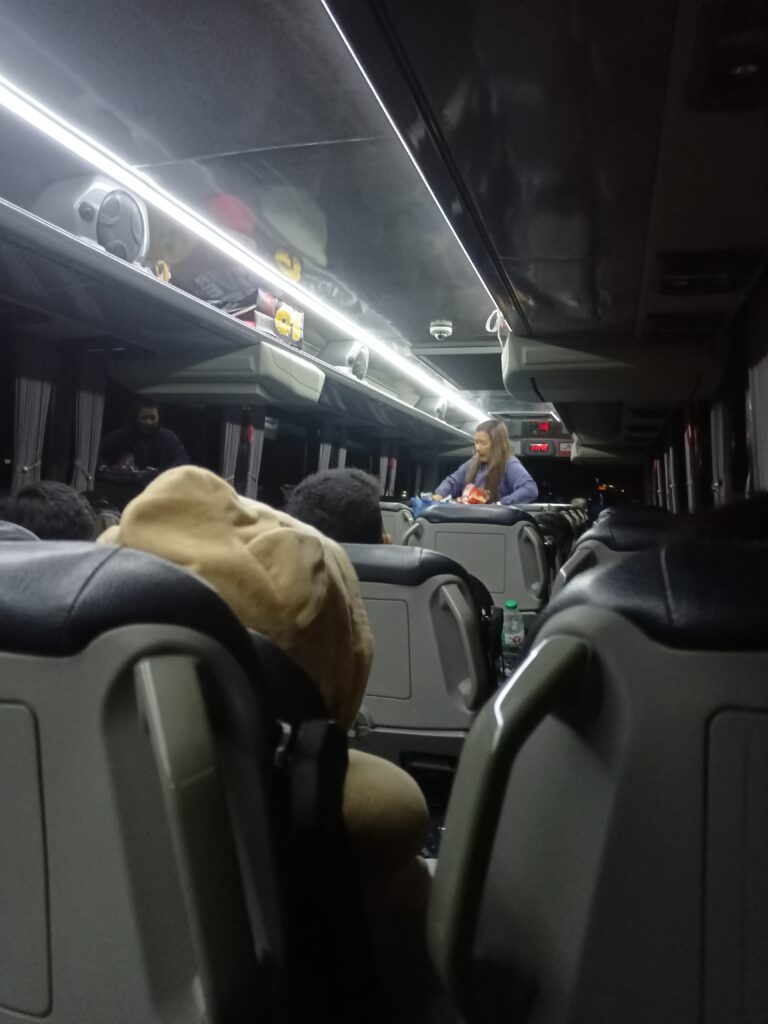 Around 20 fans from Thammasart at bus already. Once we took bus, staff distributed water and snacks for free😊 Thank yoy so much😉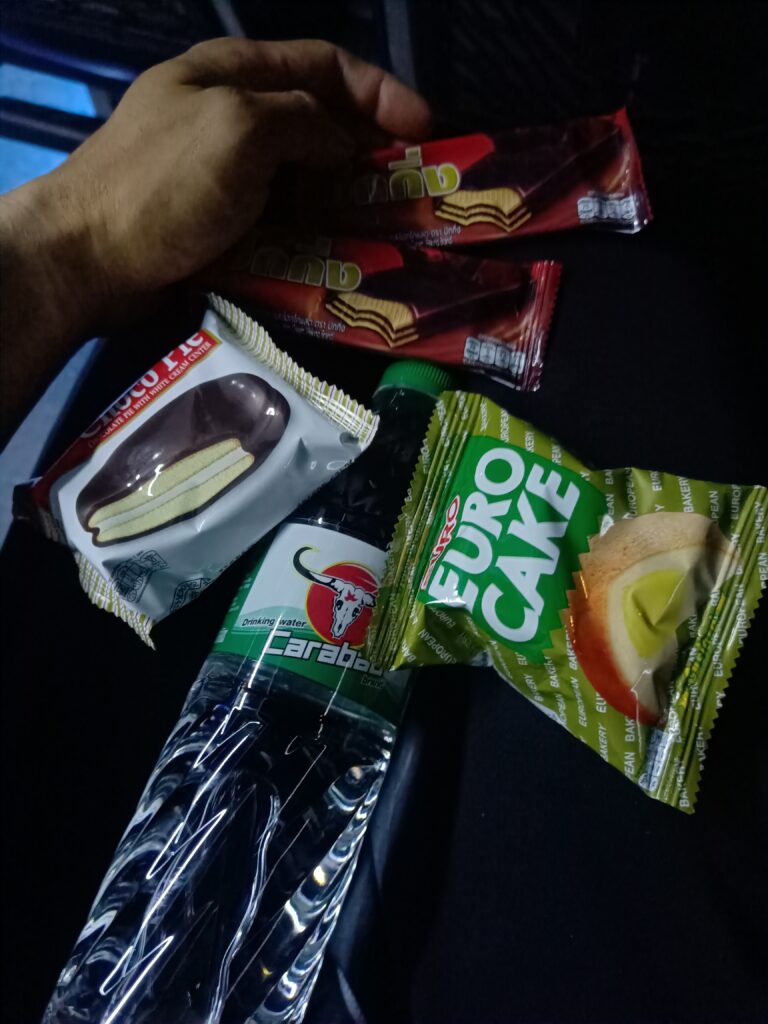 Inside bus is so cool, you better bring blancket or jacket. Bus stops very often every 2 hours for toilet and food purchase at convenience store.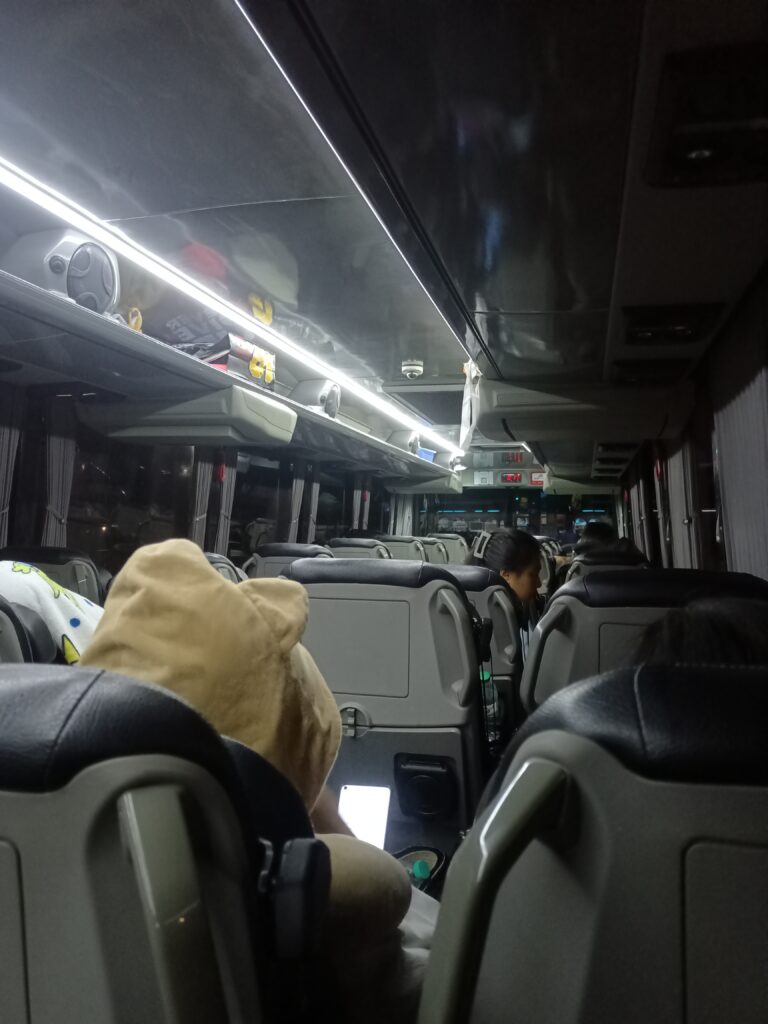 I got red bean ban and snacks at first gas station rest time. Bus stops every 2 to 3 hours for rest.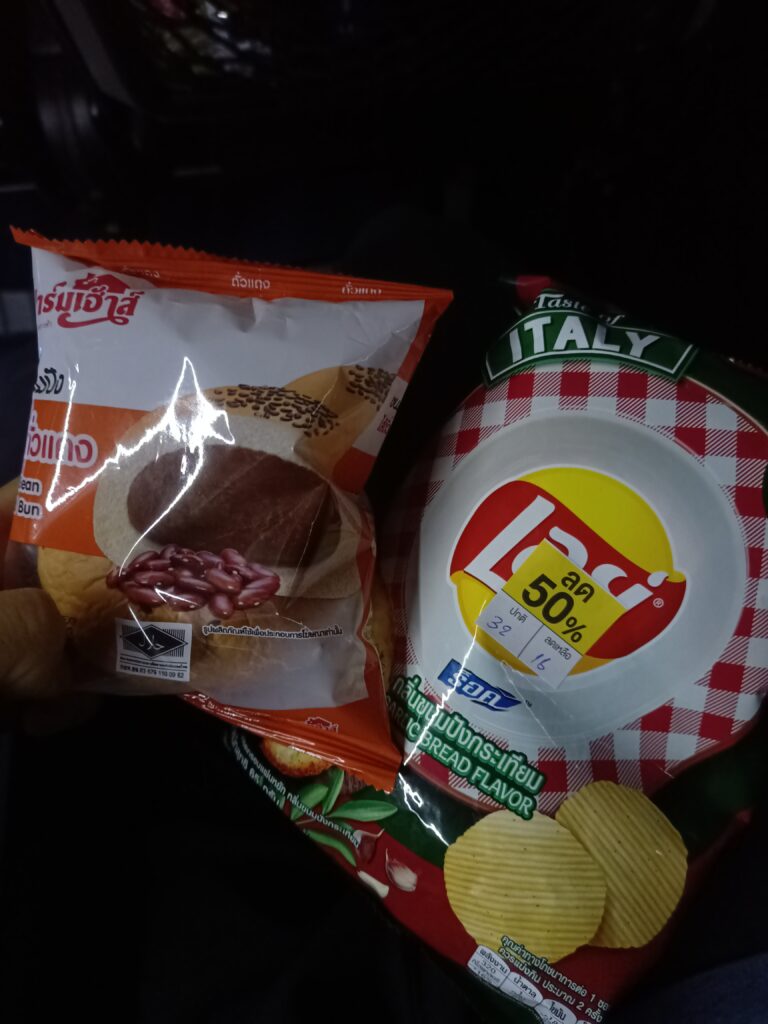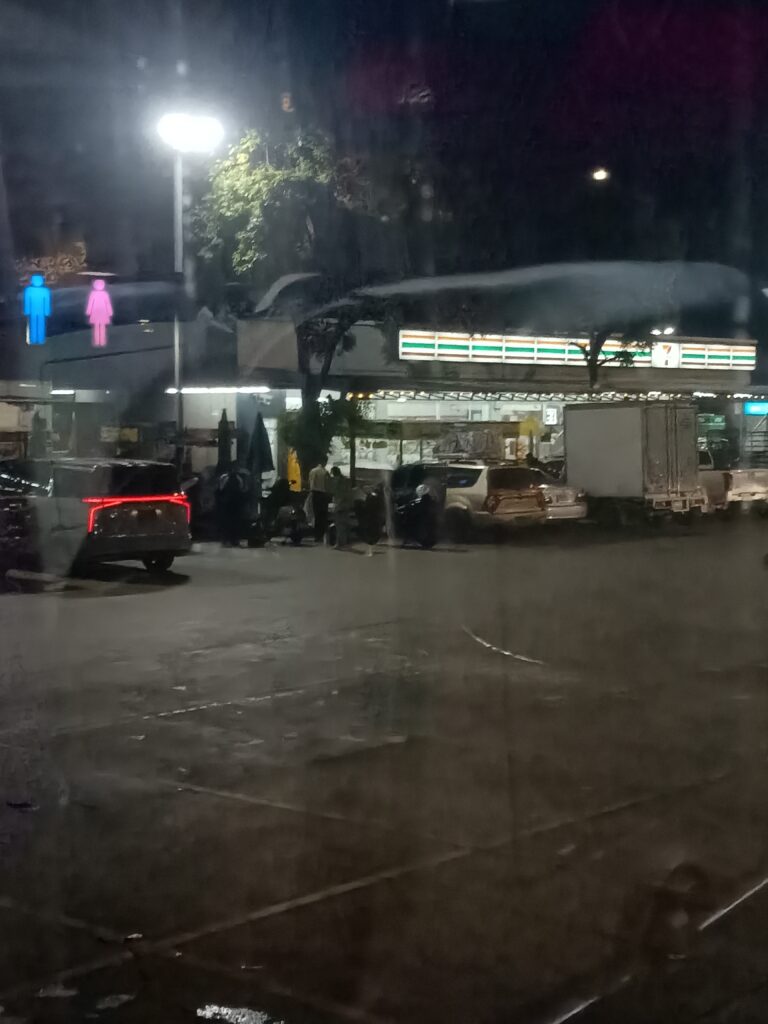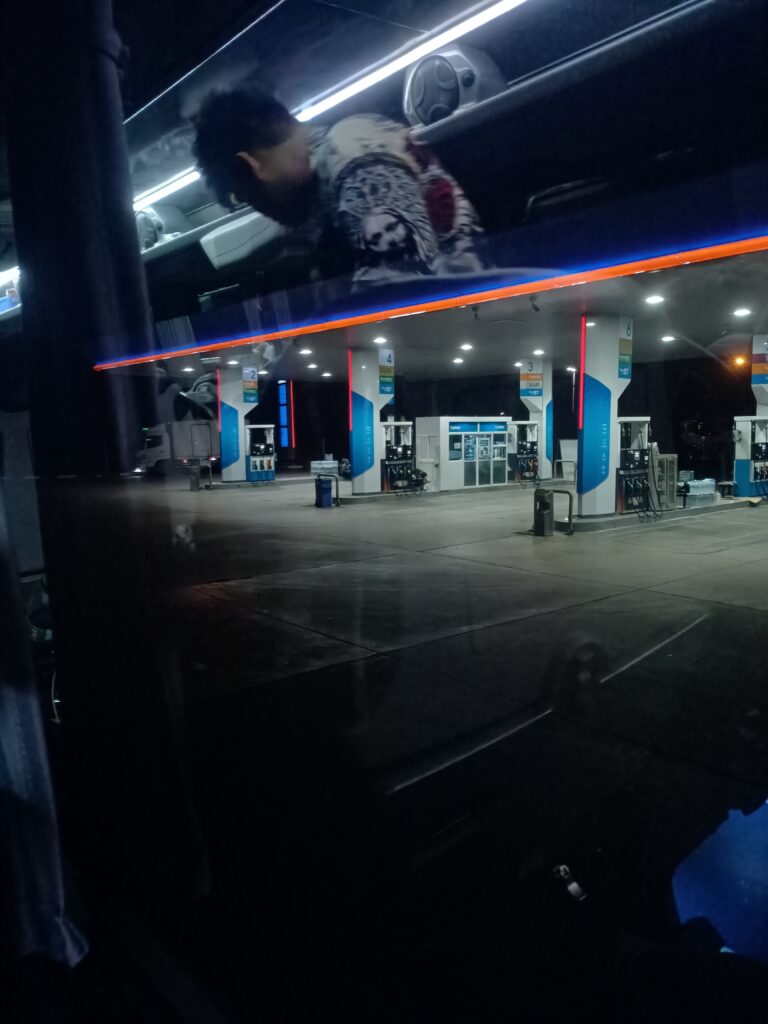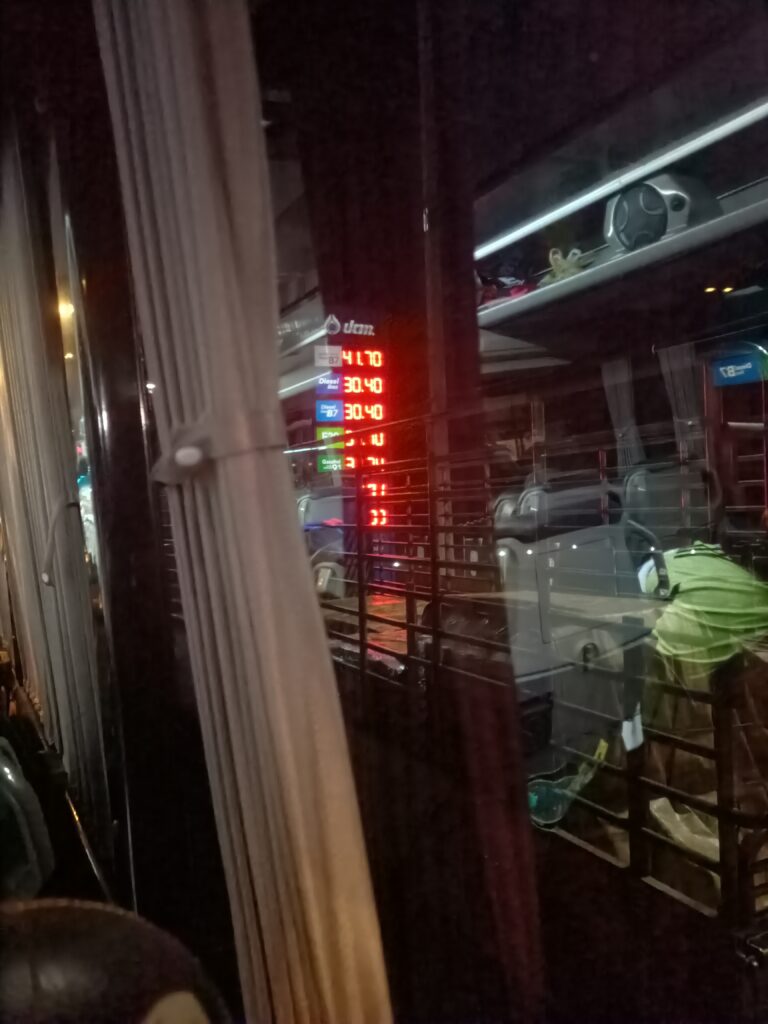 When we entered Surat Thani province, morning alwady came to see sun rise. Most passengers got off to take breakfast at canteen.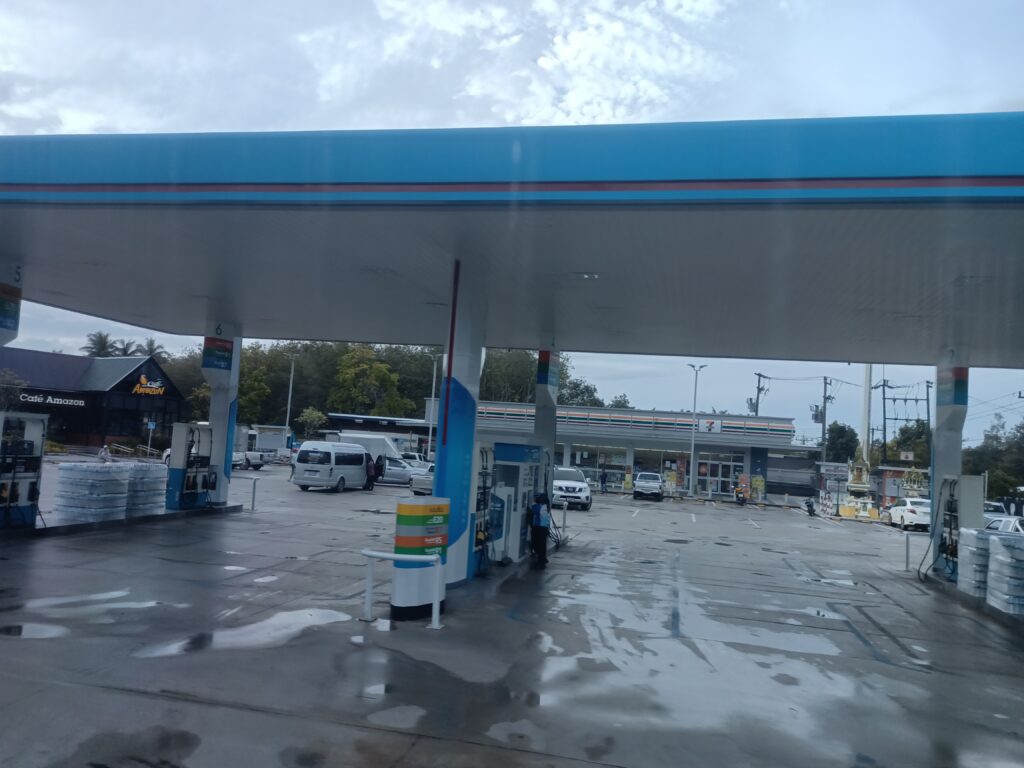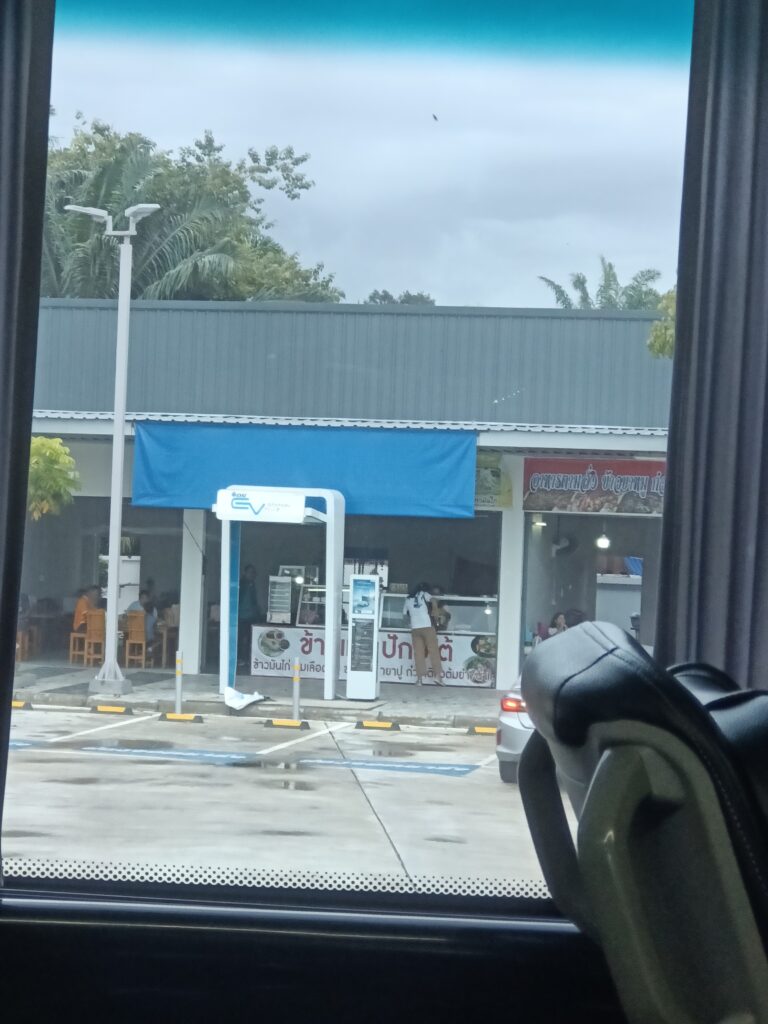 I just bought rice to eat with my tuna can.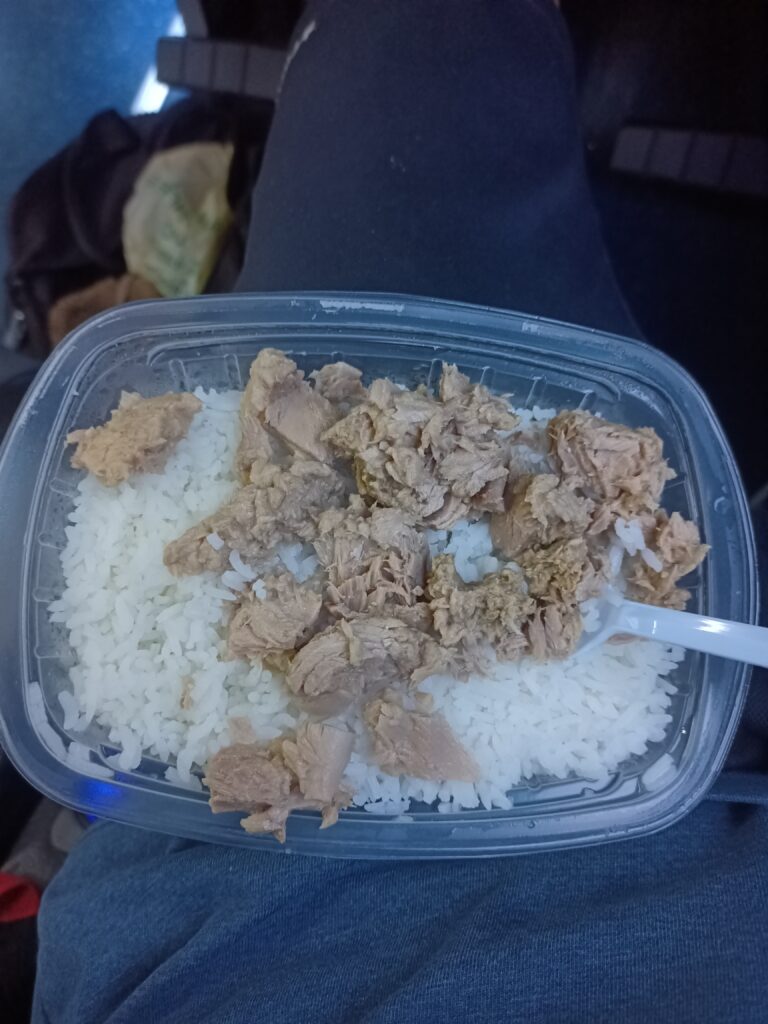 Got new water from True company😉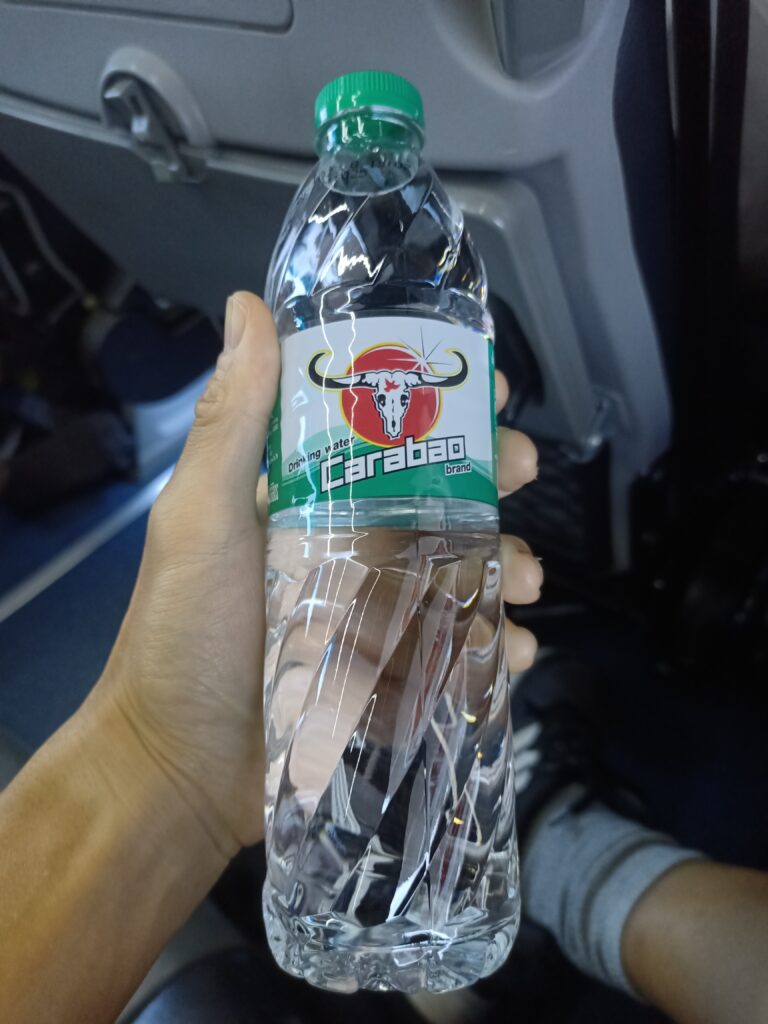 Sightseeing time
Around 1pm, we stopped at Wat Chedi Ai kai temple, featuring chicken. They have numerous chicken statue all over the temple. and surrounding shops, they also sell chicken statue for souvenir.
Huge 2 chicken statues welcomes all guests at main entrance.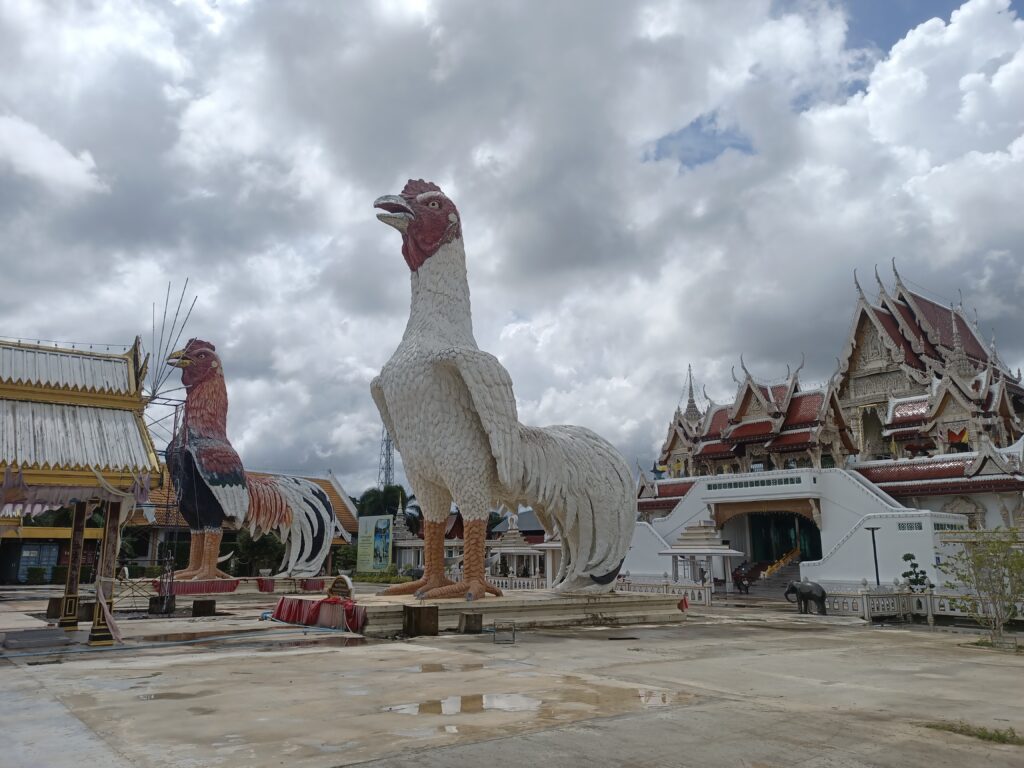 Millions of colorful chicken dolls are displayed all over the temple.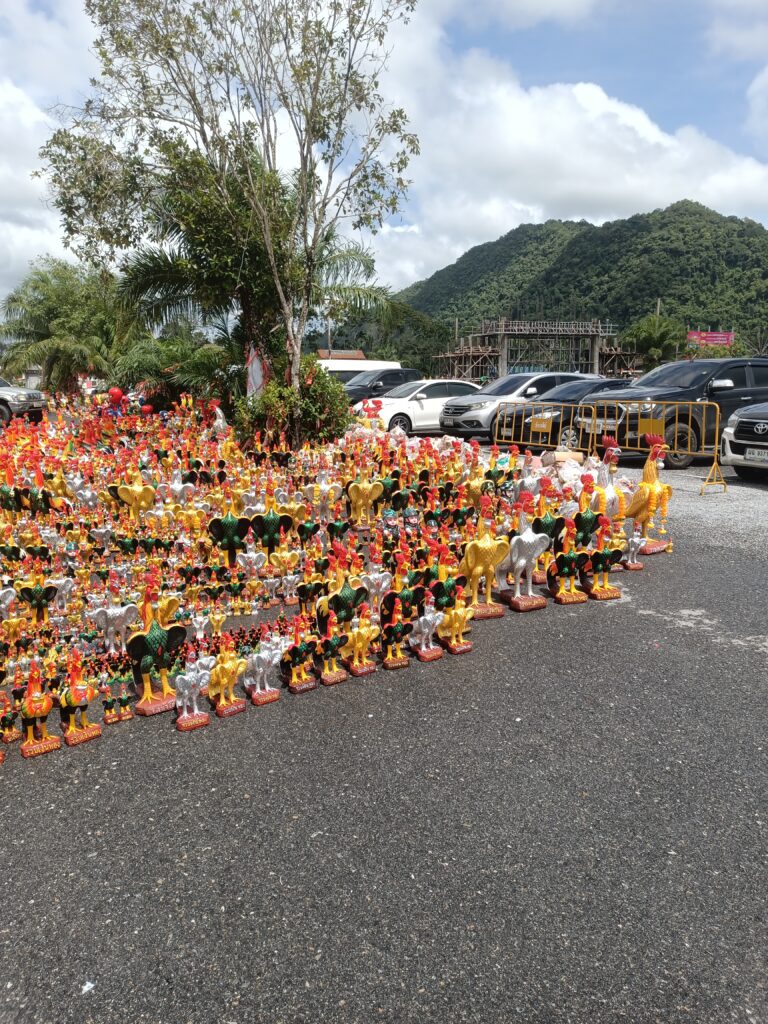 Thai people have very ardent buddhist culture in mind. They don't miss a chance to pray for good fortune in temple, especially rottery win, 55.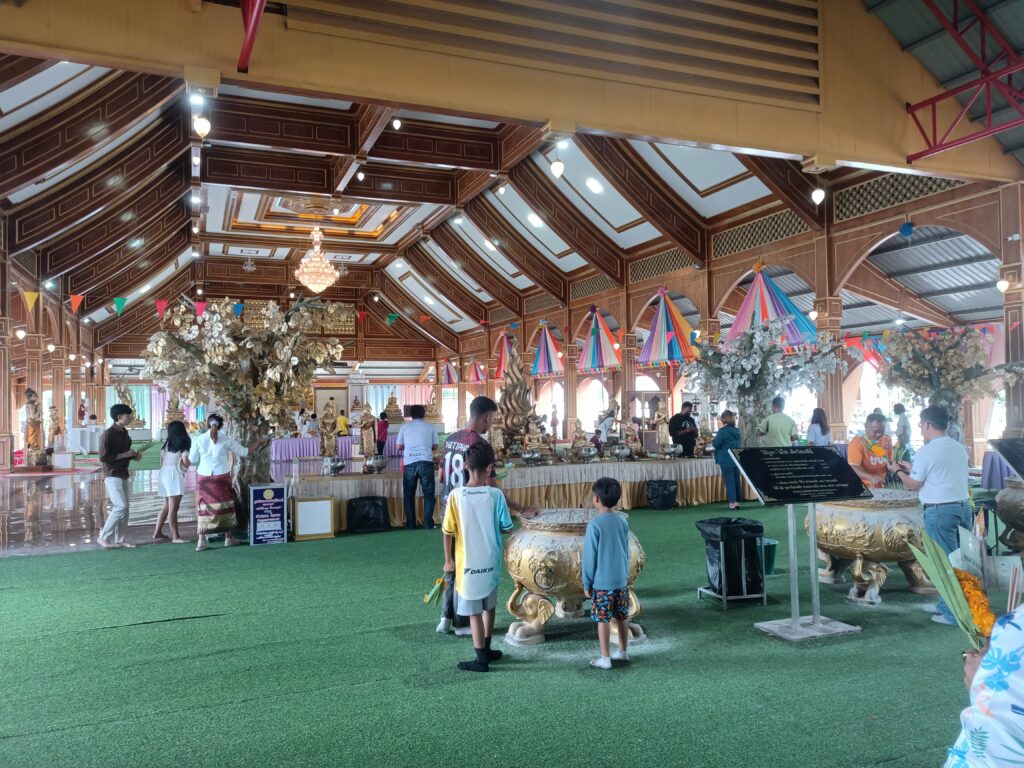 Thai people put gold leaf on statue.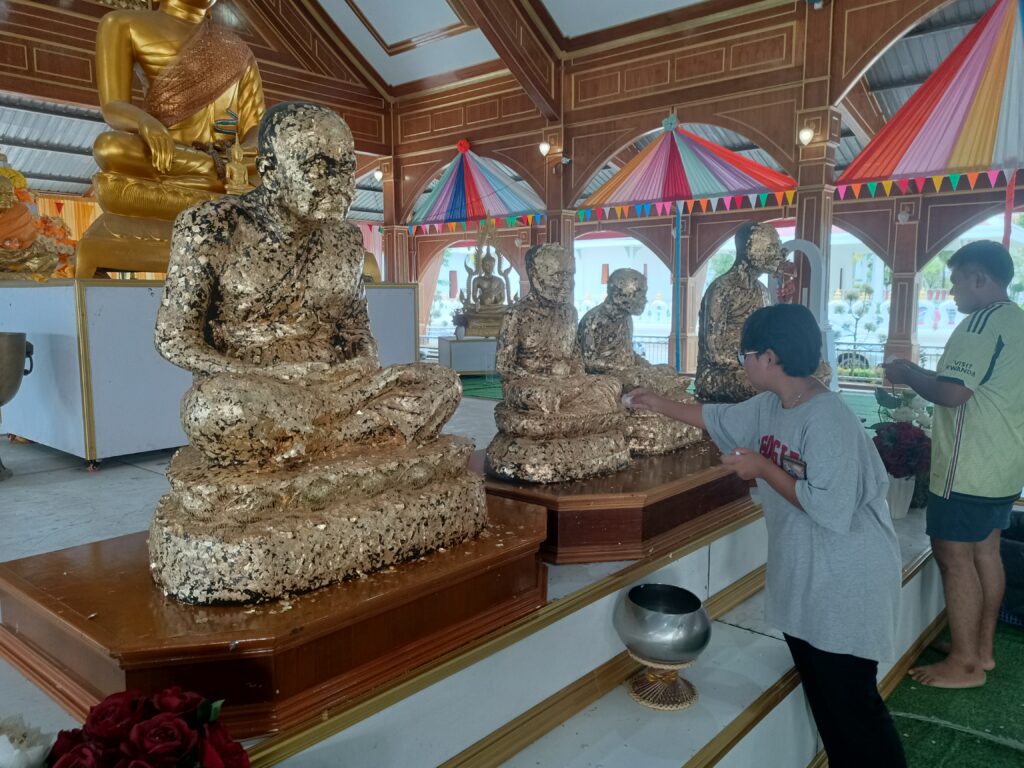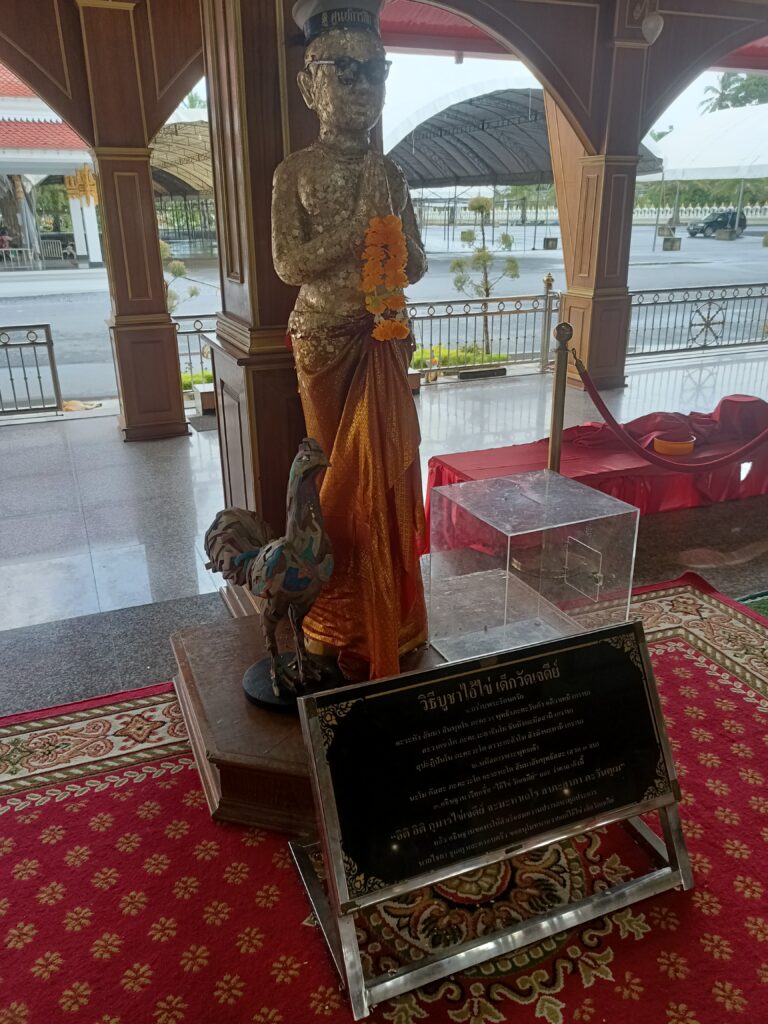 Another ritual way to put banknote with flowers.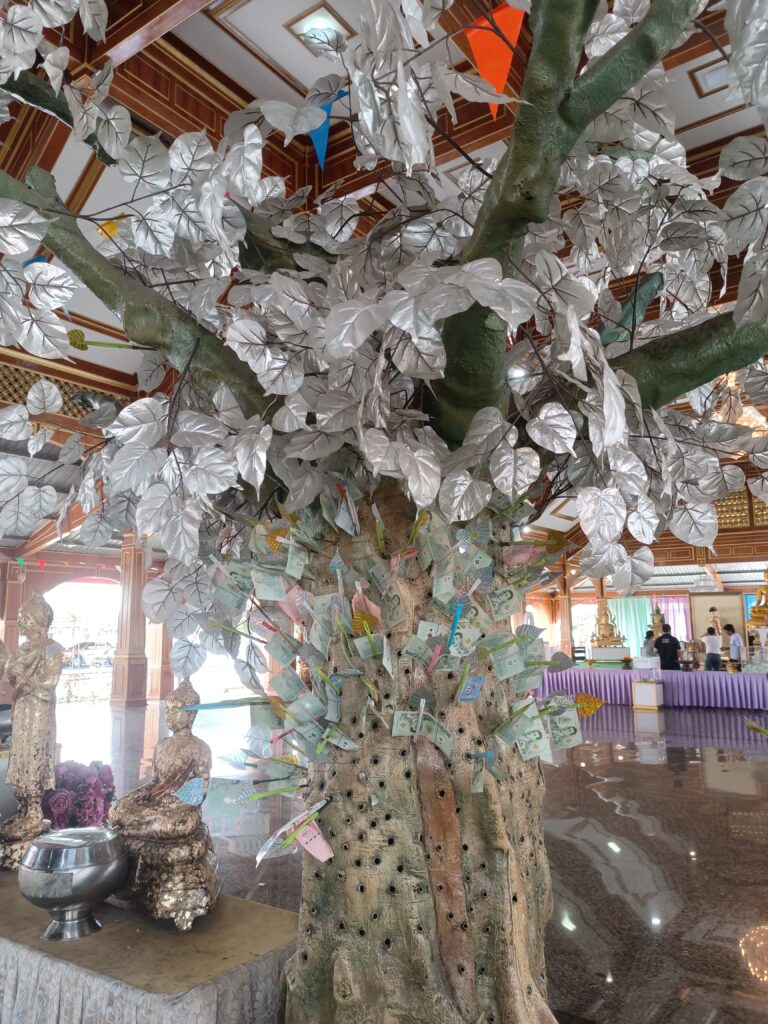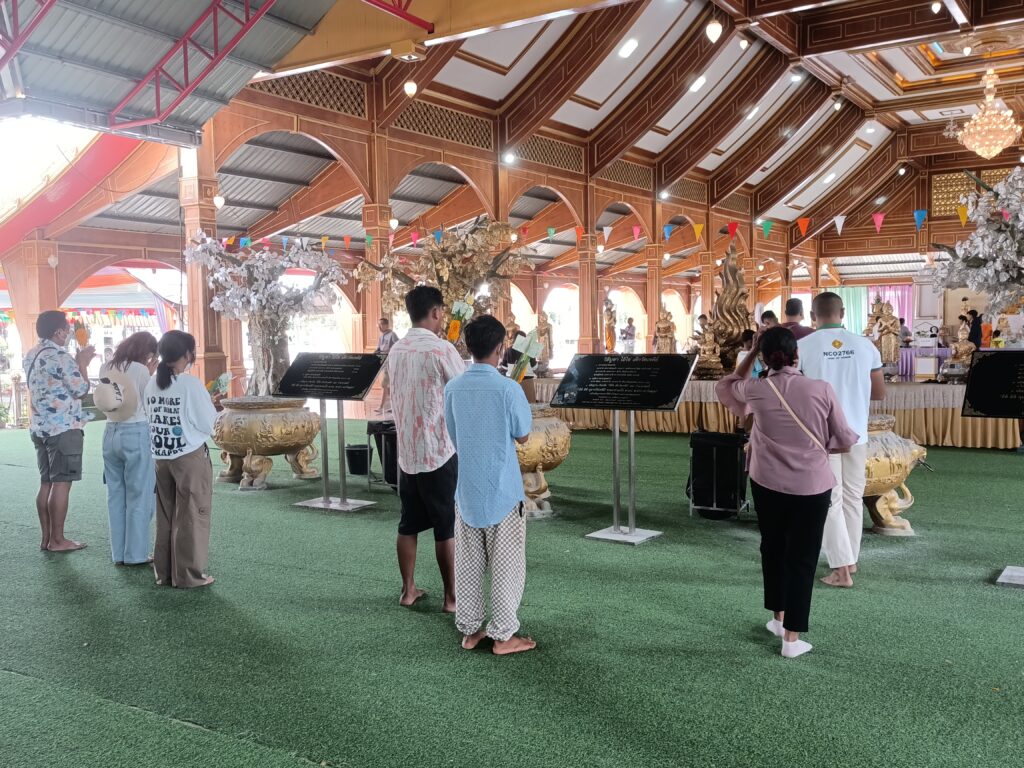 After praying, now time to purchase rottery ticket to realize their dream. 1st and 16th of every month, results will be announced by official to win up to 6 million thai bahts. Rottery is very popular in Thailand, when I worked in office before, everyone was checking the winning numbers around 4pm on the days.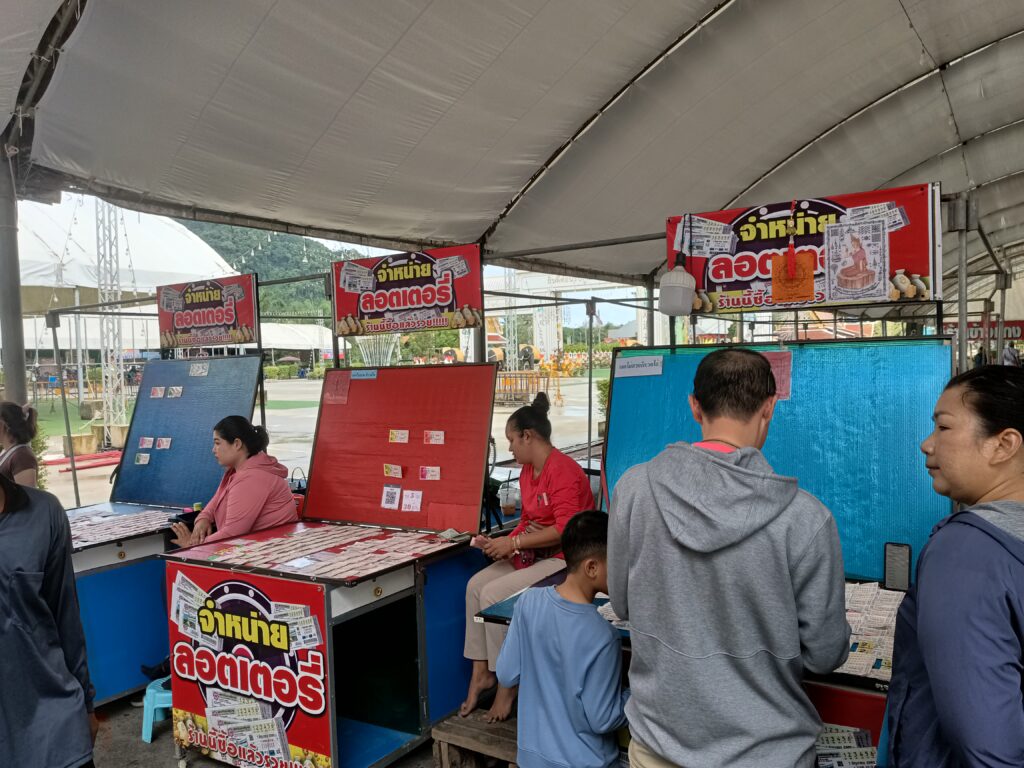 One rottery ticket is 80 – 100 THB. Foreigners also can buy and get money, so why not try once?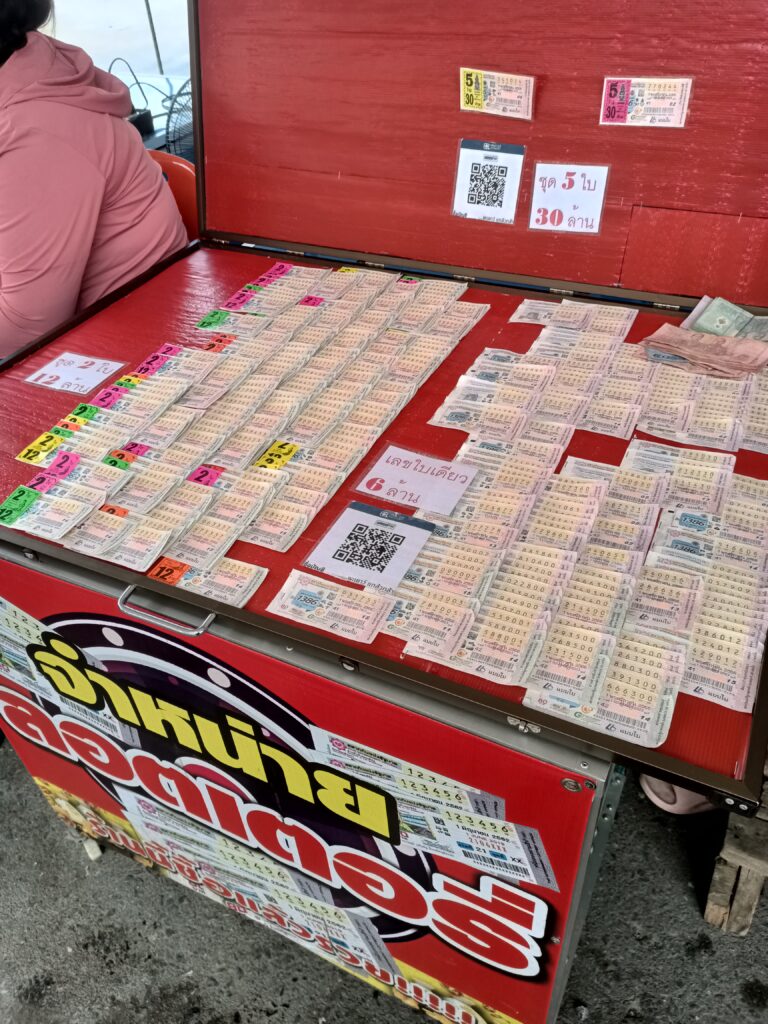 They sell chicken too inside the temple, maybe raised here😊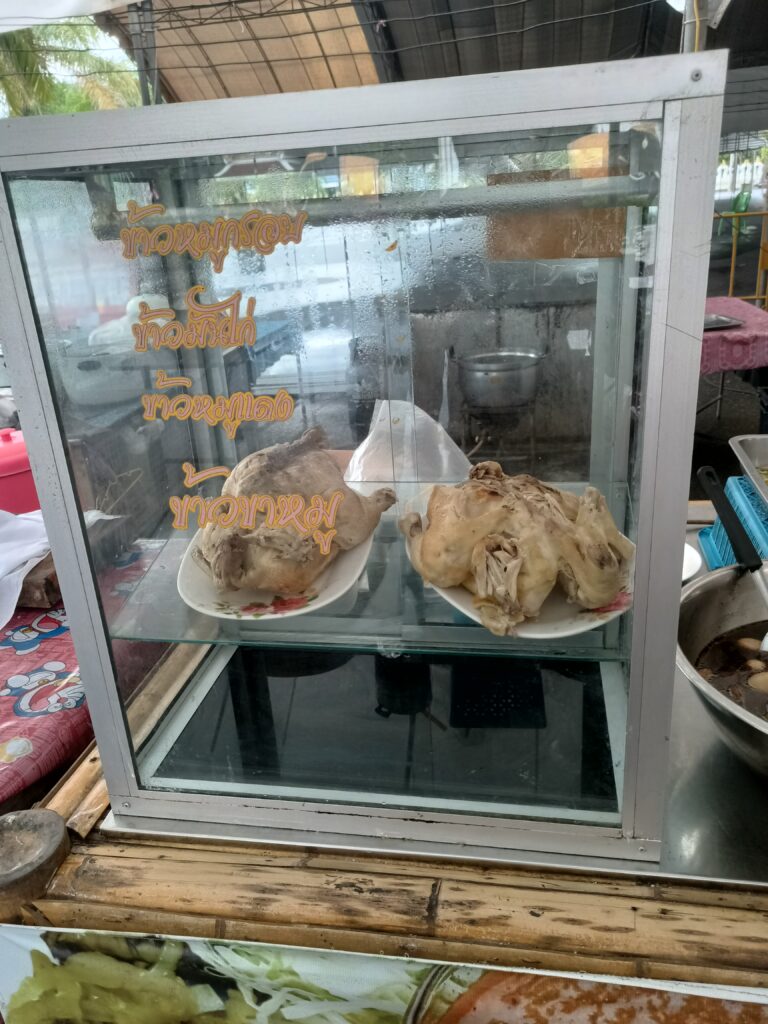 Bangkok United fans enjoys lunch here for a while.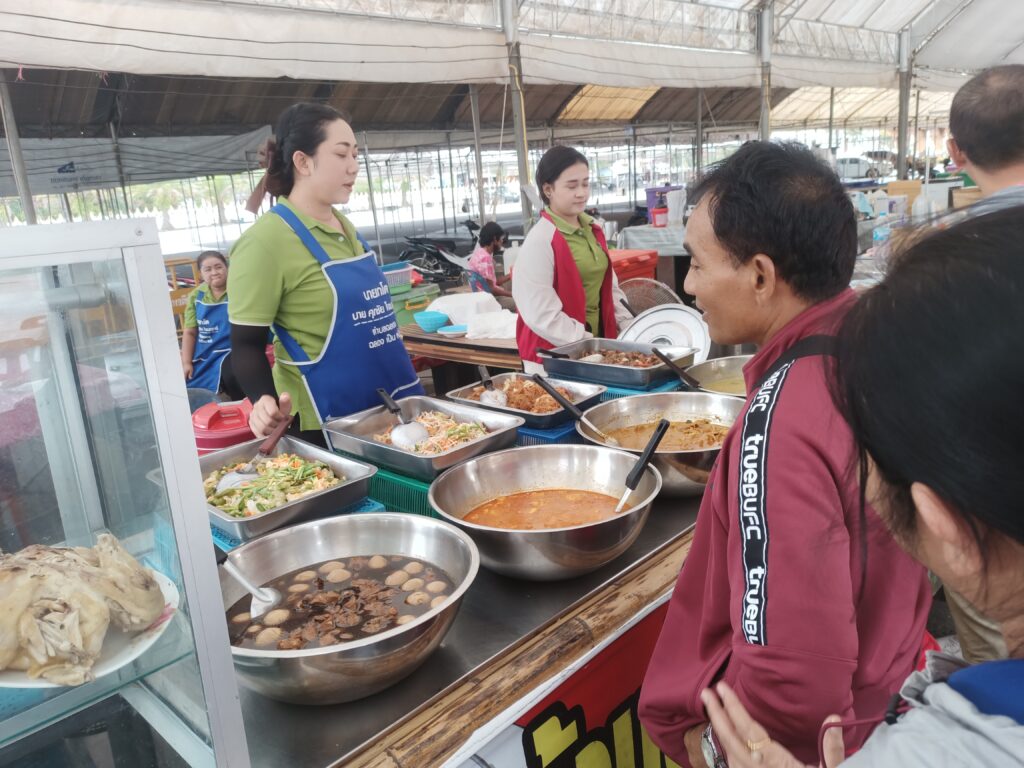 Including lunch time, we stayed here for 45 minutes.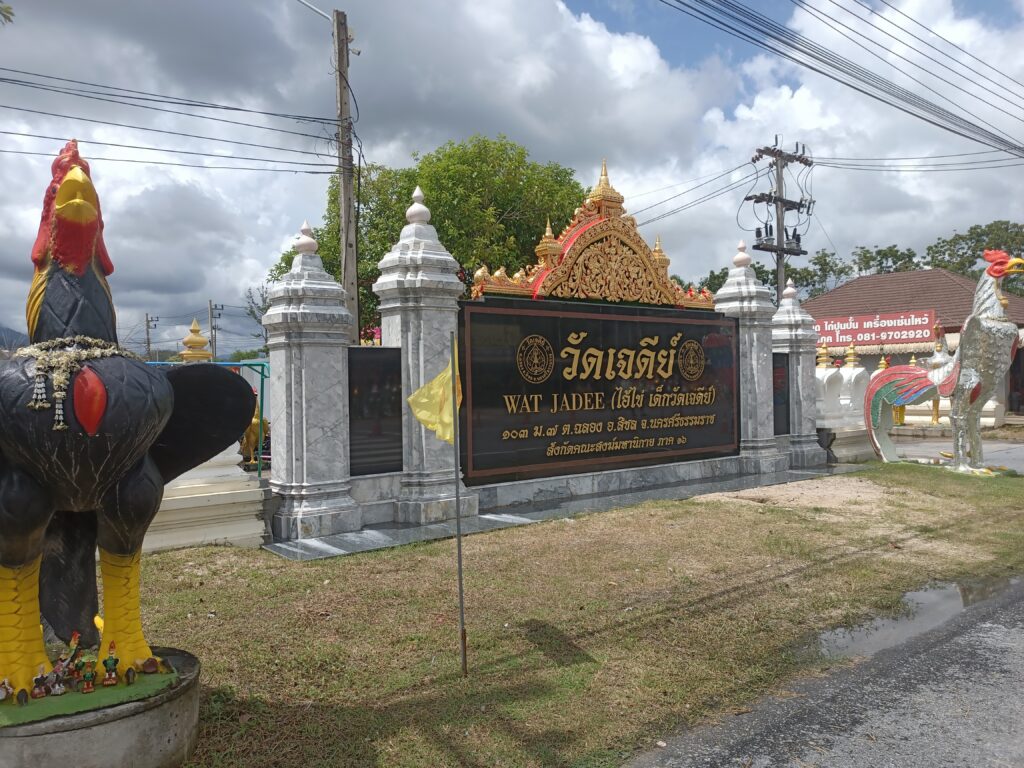 As we getting closer to the stadium, rain comes to start to fall heavily.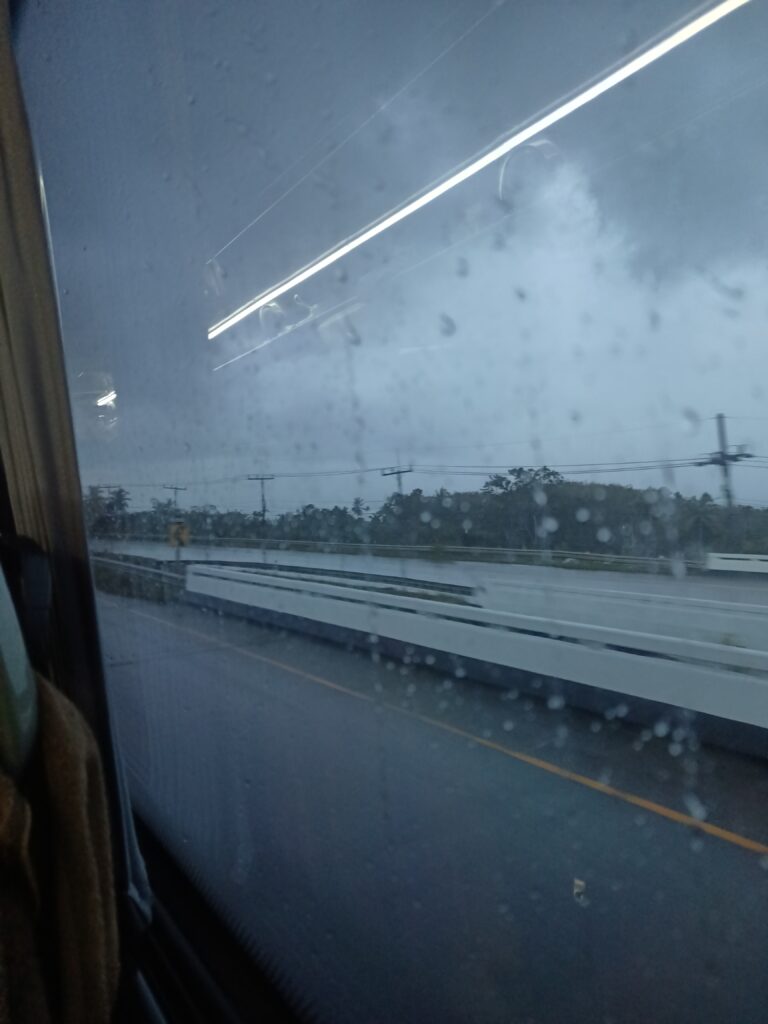 Thank you again for snacks distribution time. Away ticket and trip fee are also collected at the moment. Fee can also be payed by QR bank transfer or of course cash.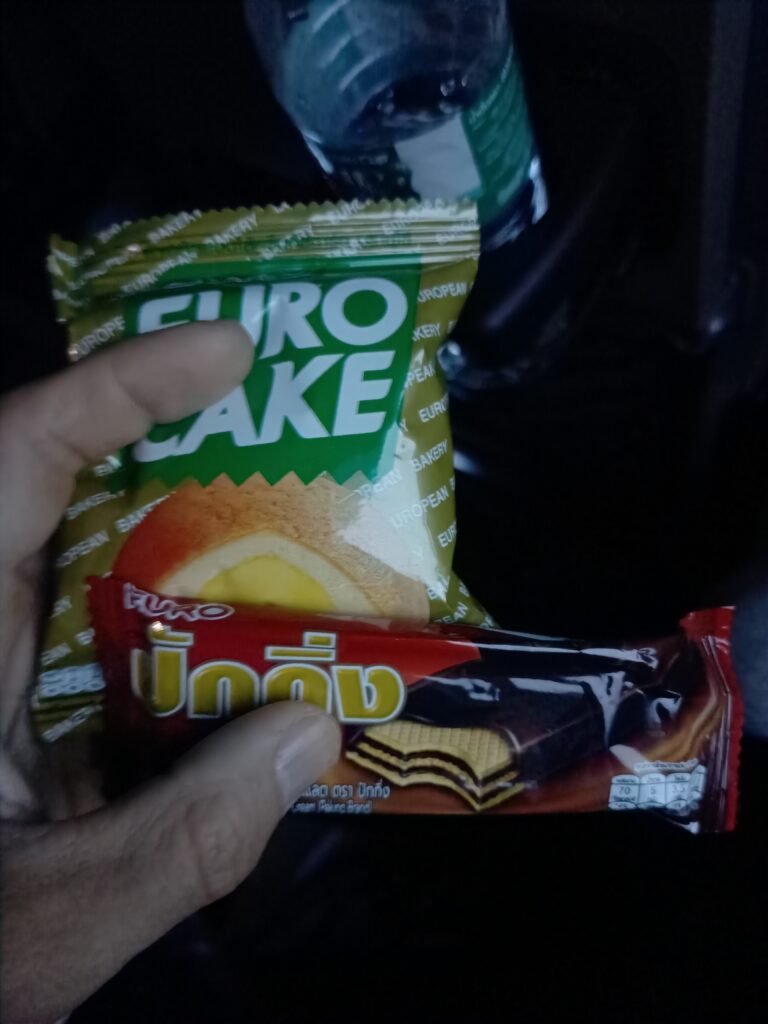 At stadium
Bangkok United shop truck always come together for away trip to provide thier goods in reasonable price to fans in provinces. They have promo priced items so please check when you come to the stadium.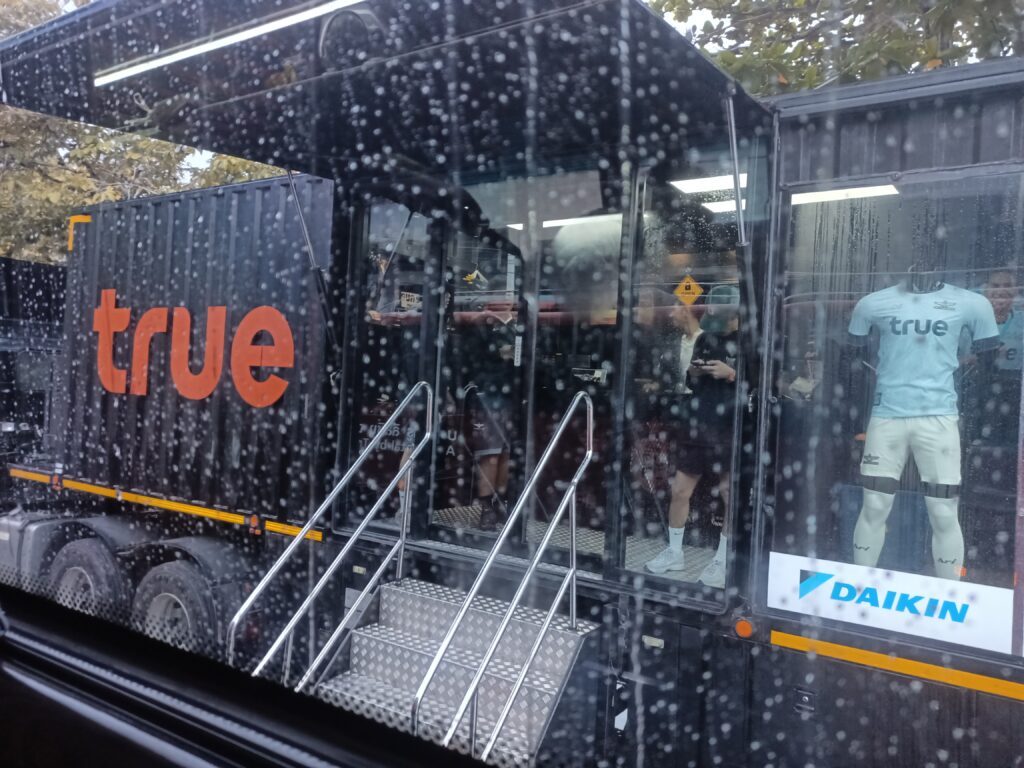 Since we had much time more than 2.5 hours before kick off. I walked to Big C supermarket by walk under the rain for 20 minutes.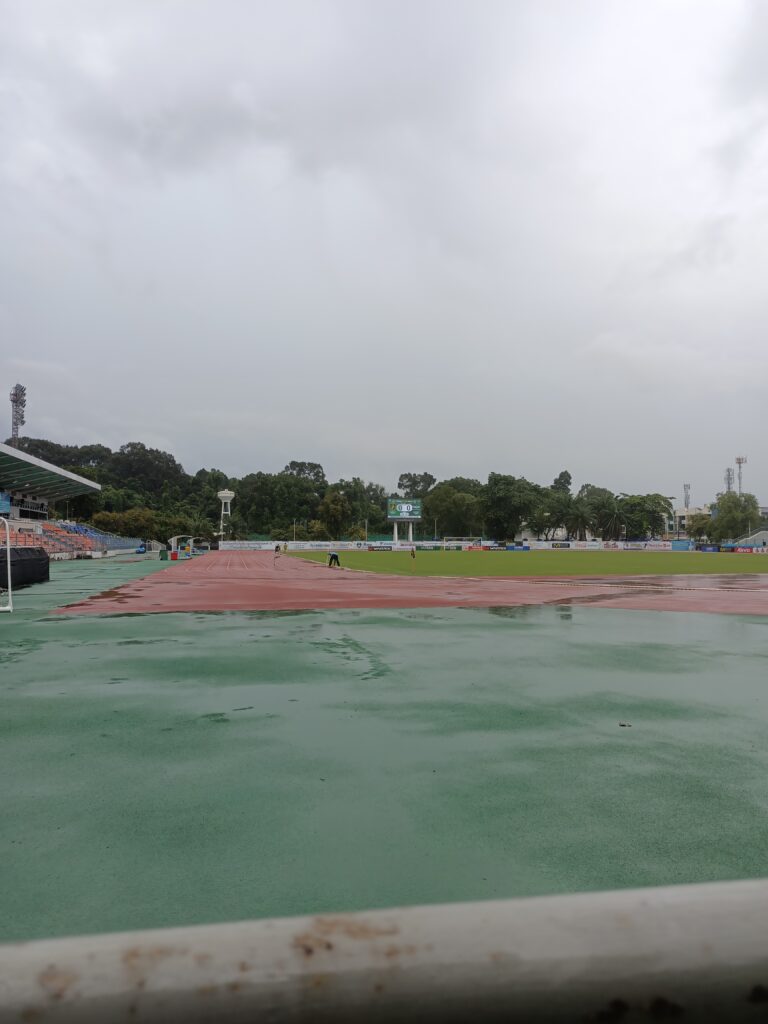 Nakonsi Stadium is located in sports complex where they have good facility including gymnagium and other sport field.
Toilets besides gymnagium is well cleaned maintained.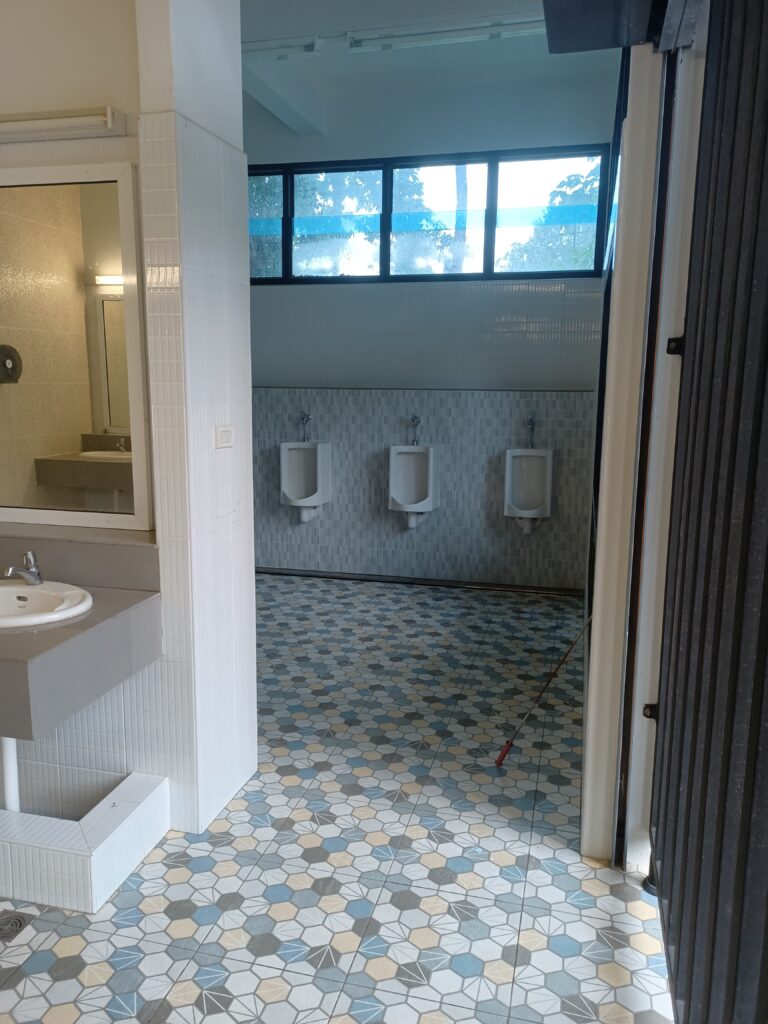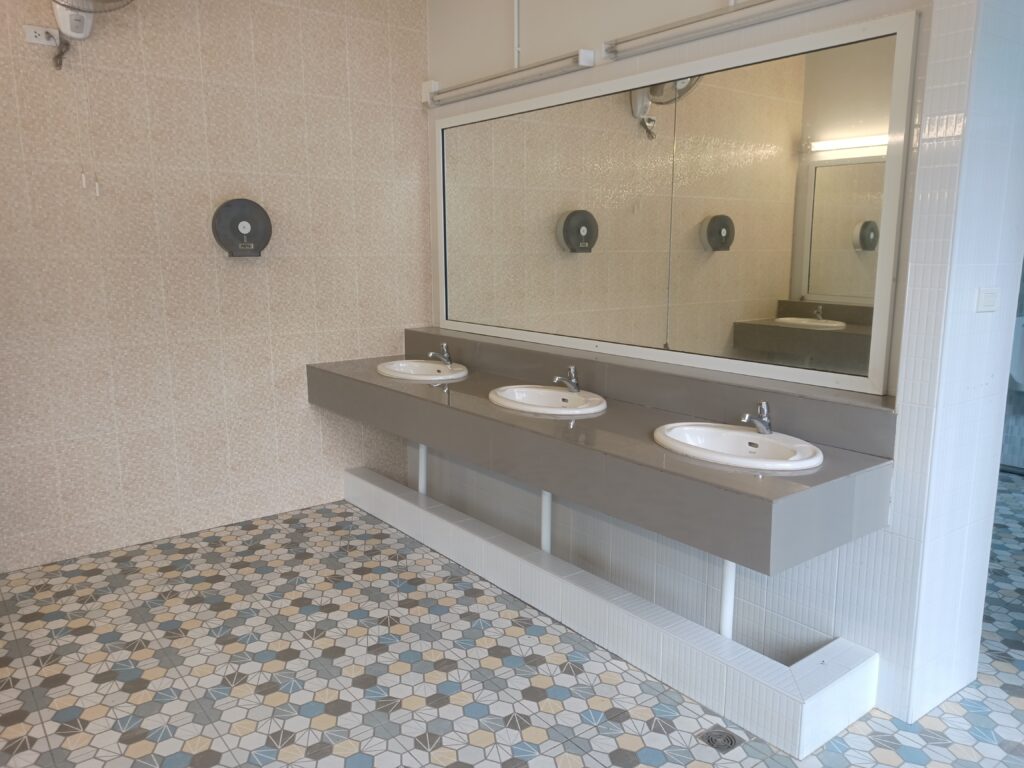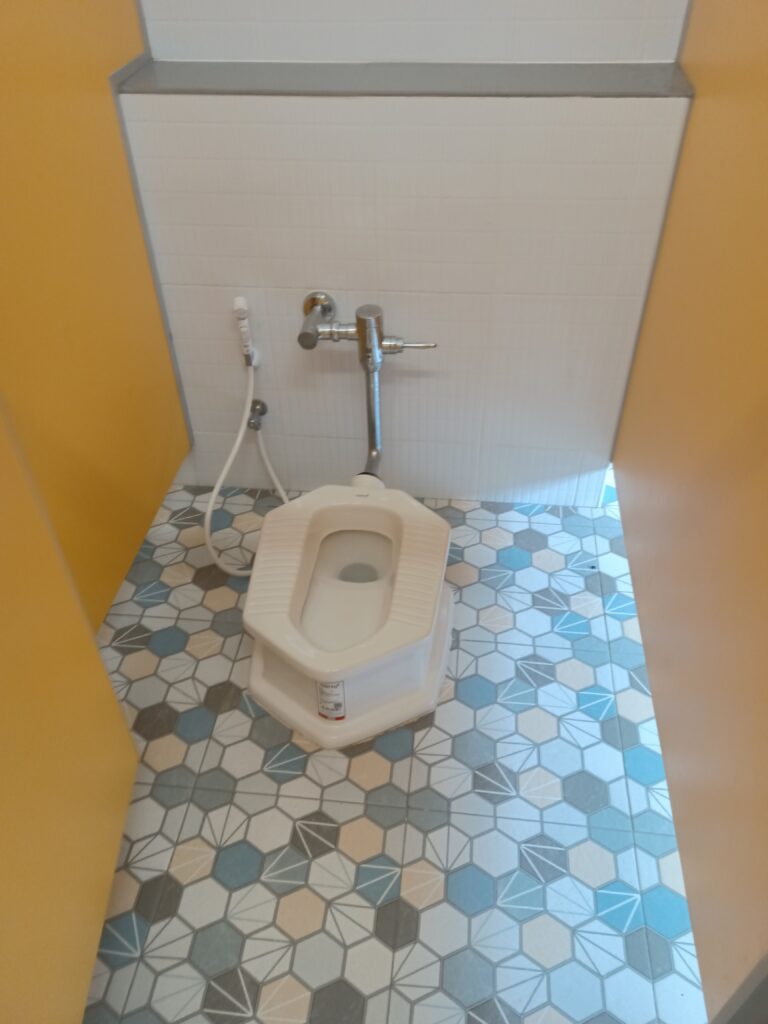 Ticket booth. For us, True Bangkok United staff will purchase and give later.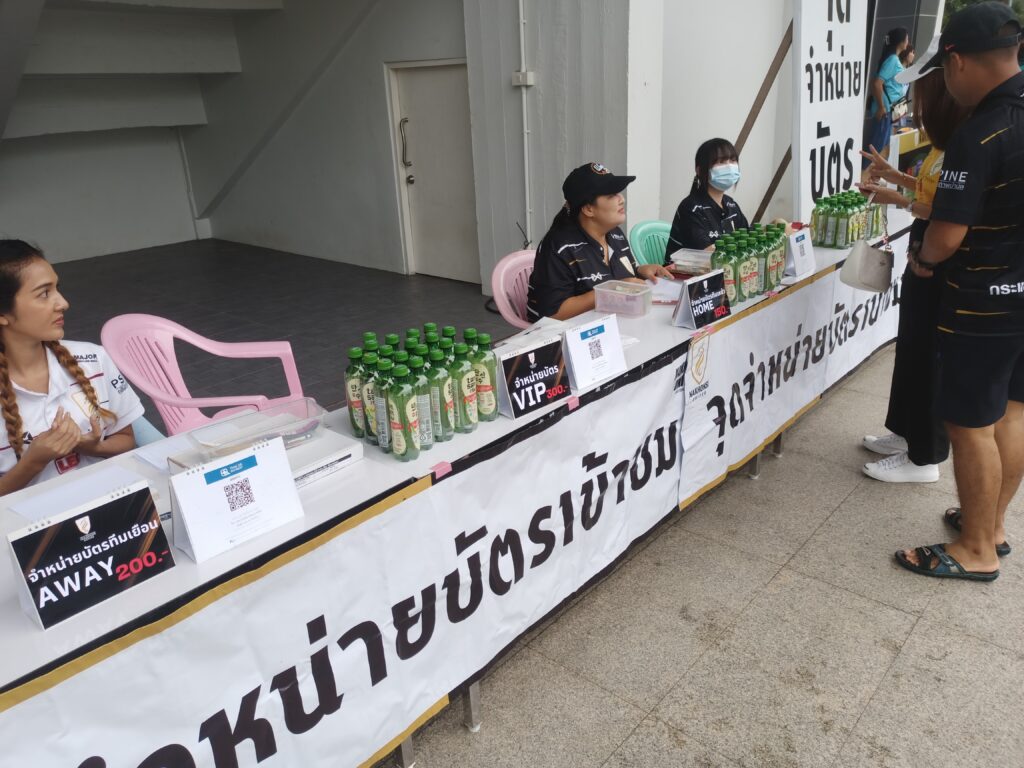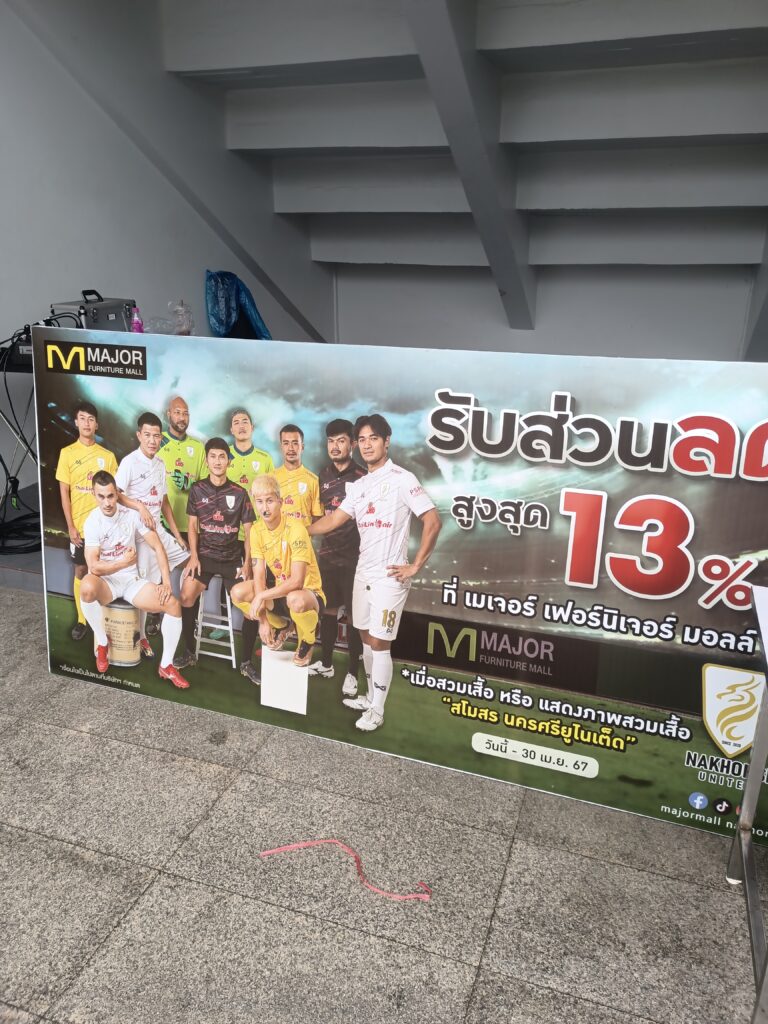 Away zone for us in main stand edge side with red colored.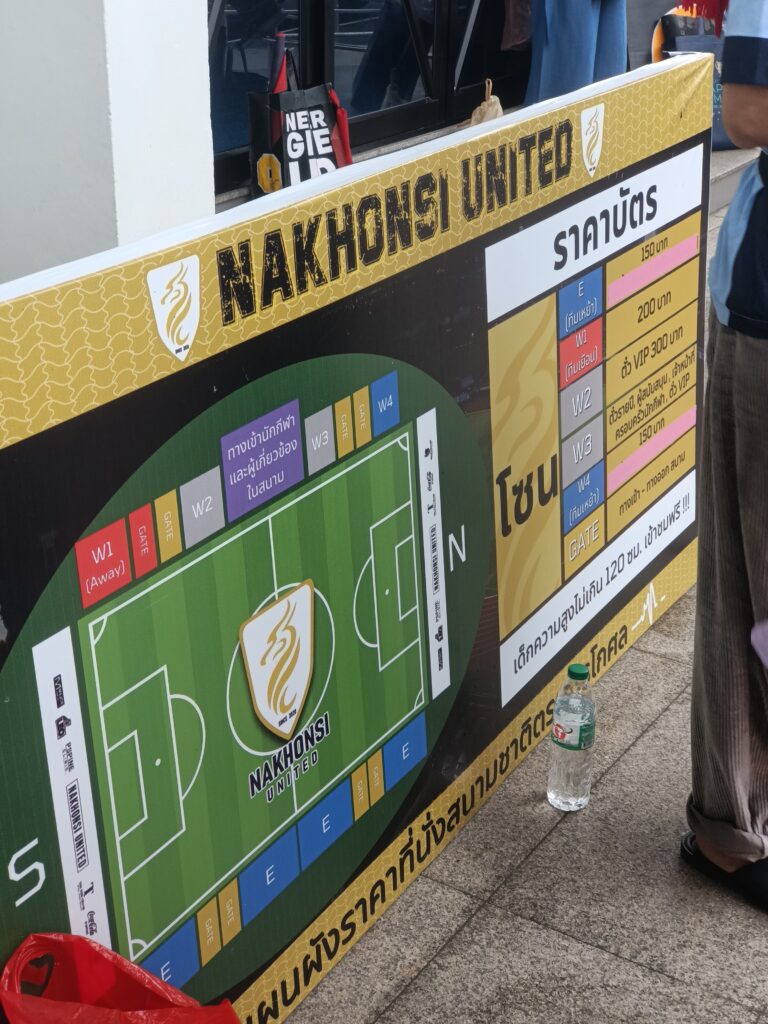 30 minutes before the game starts, I came back and got tickets from staff. Ticket is paper made wrist band.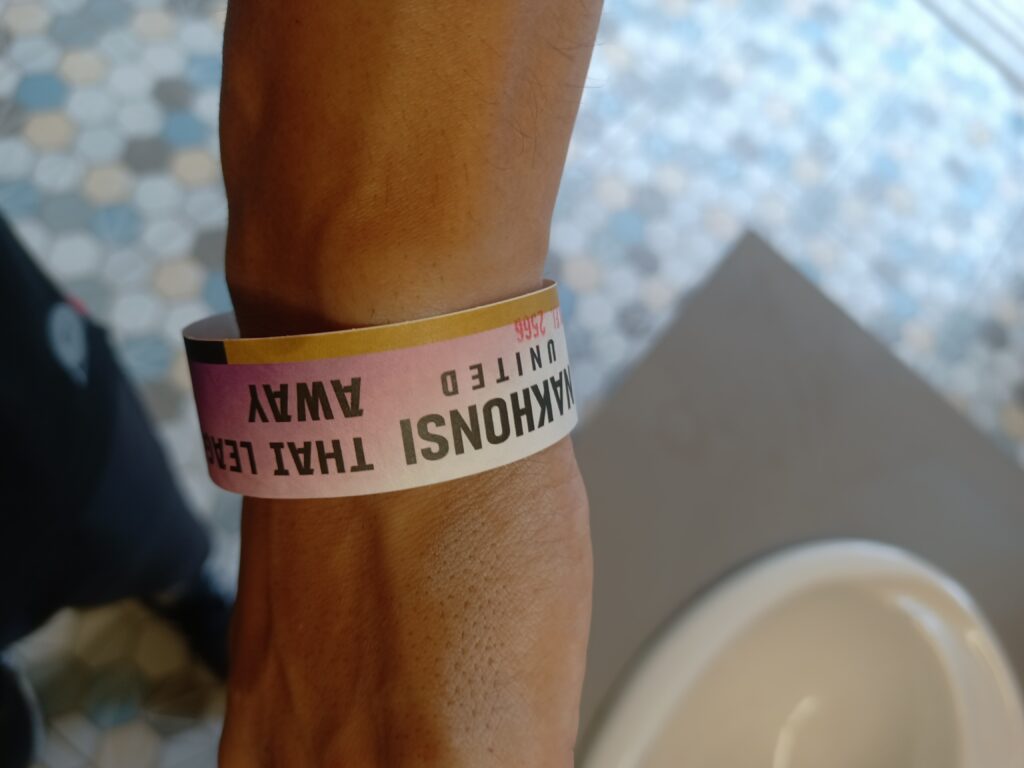 Free drink from Nakonsi United, 55.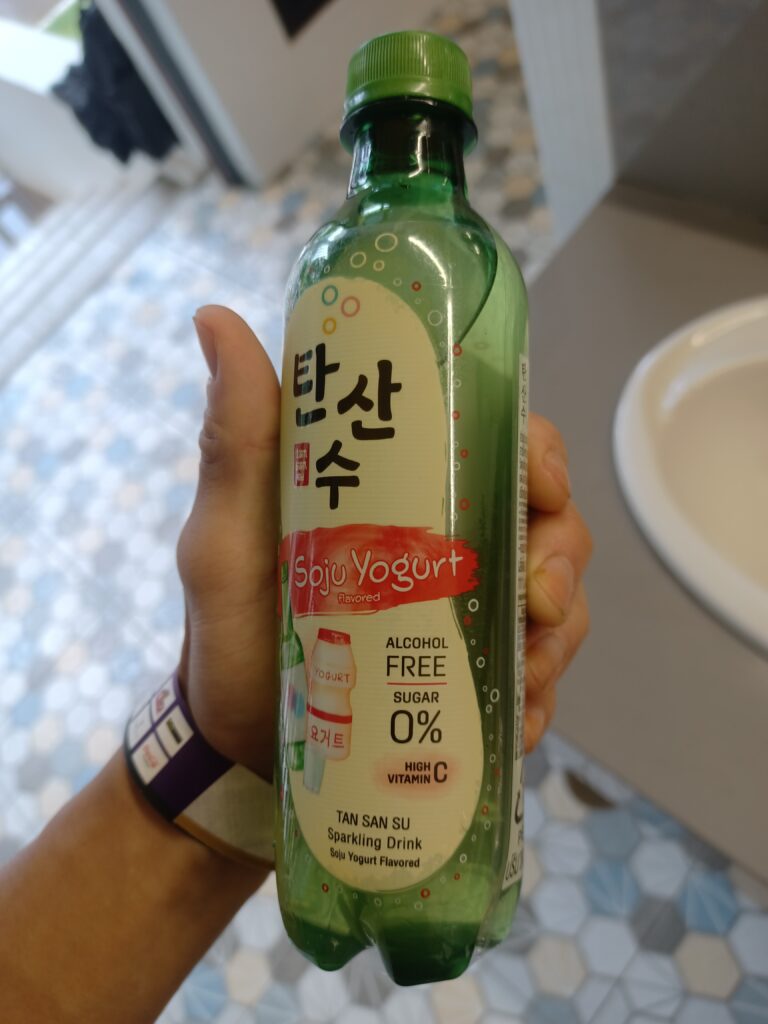 Main zone entrance.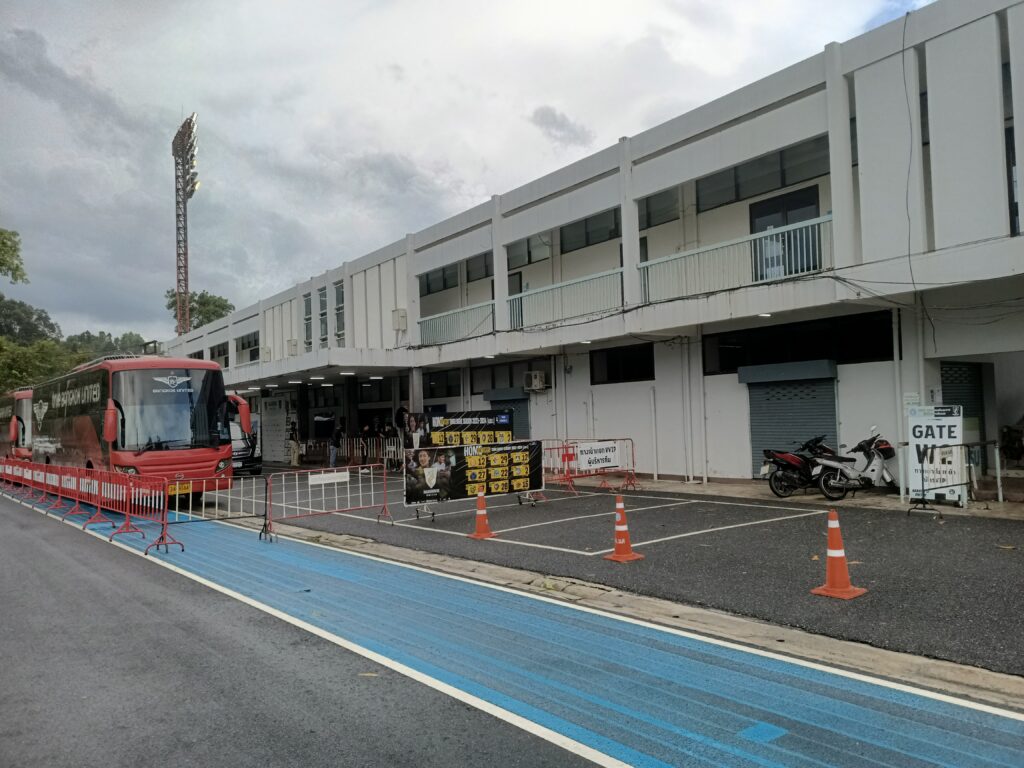 Security check is not so strict. I can bring food and pet bottled drink for sure.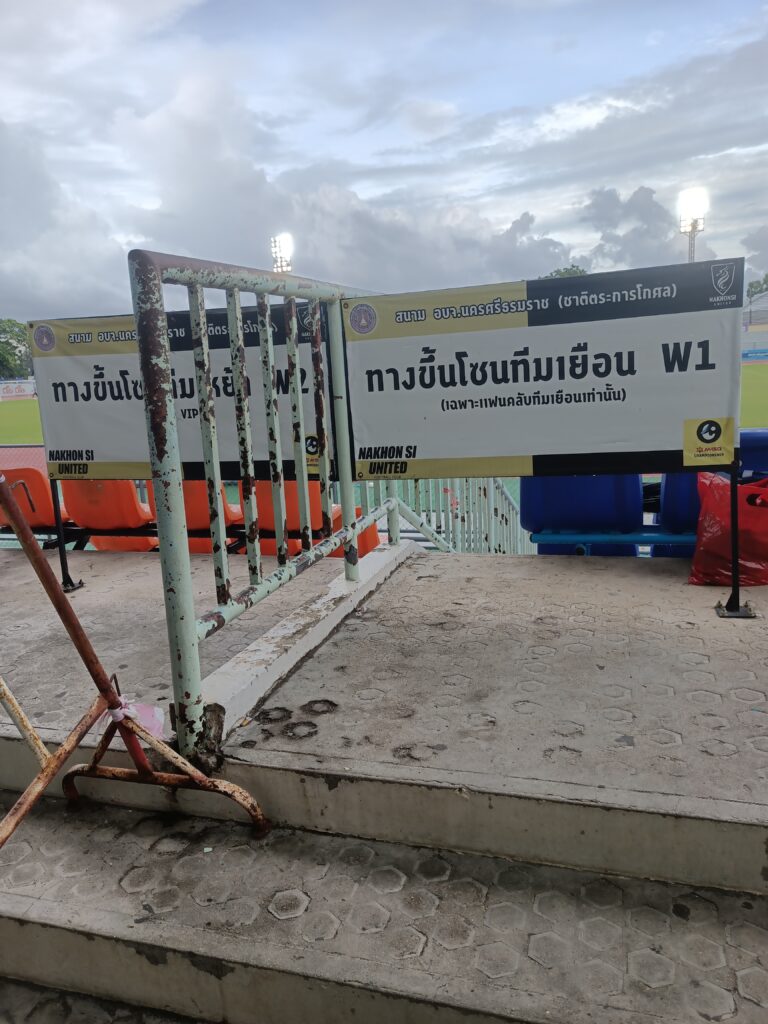 Very nice seat with backrest.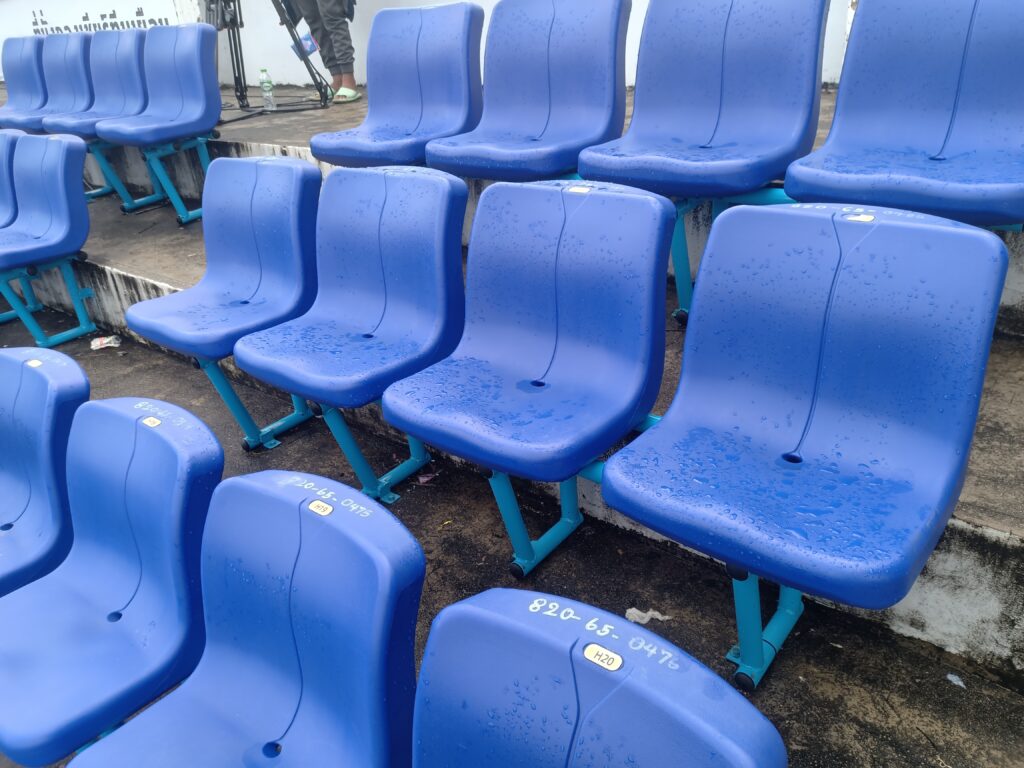 Game on with Thai league anthem!!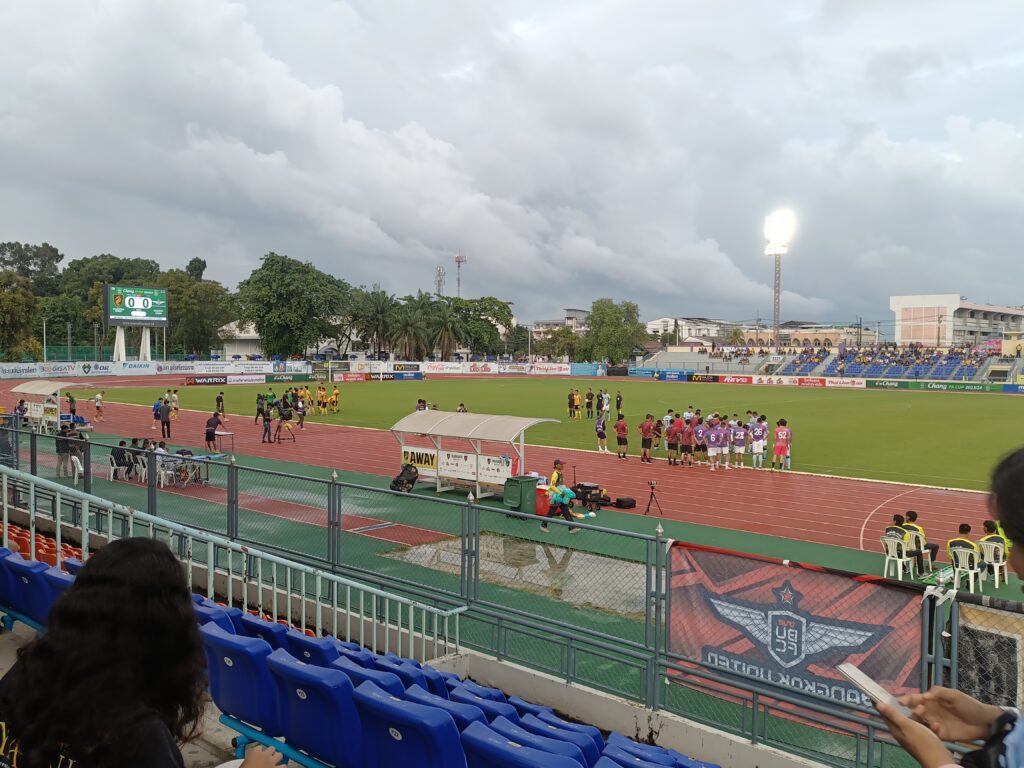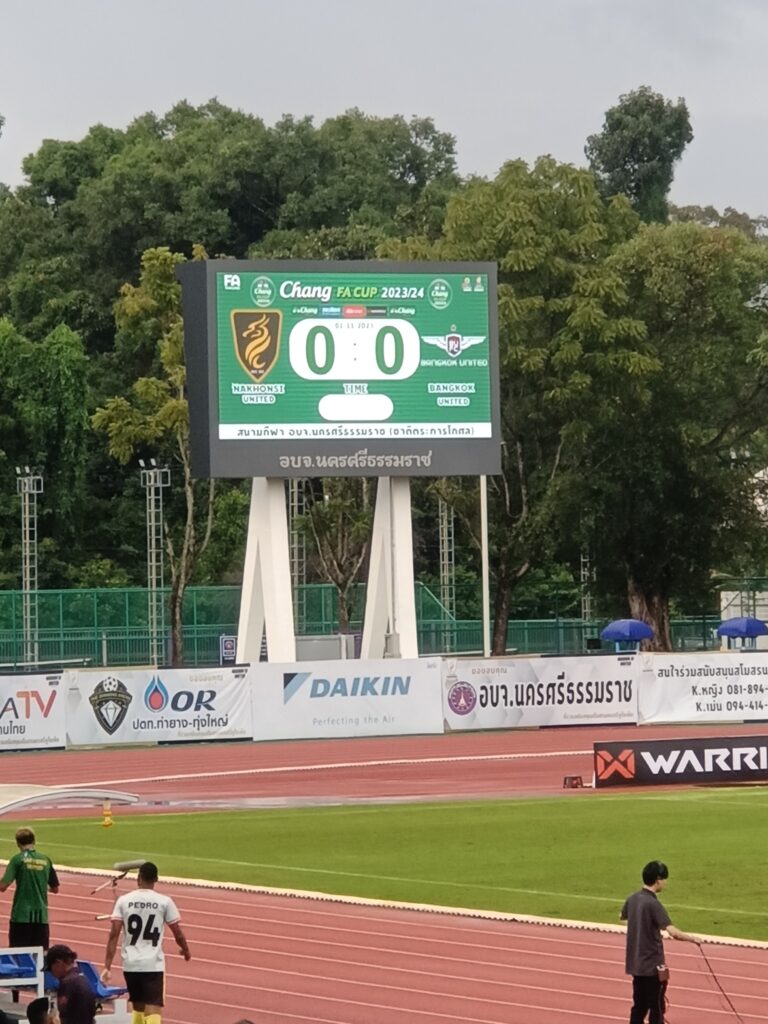 Kick off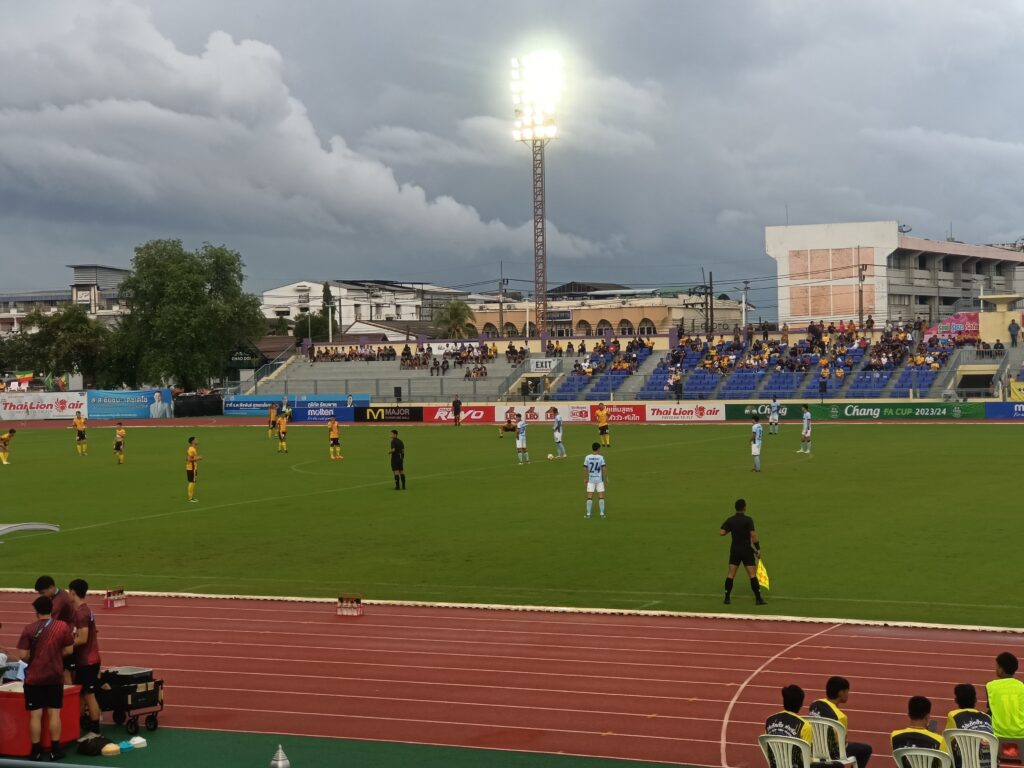 Bangkok United scores first by header☺️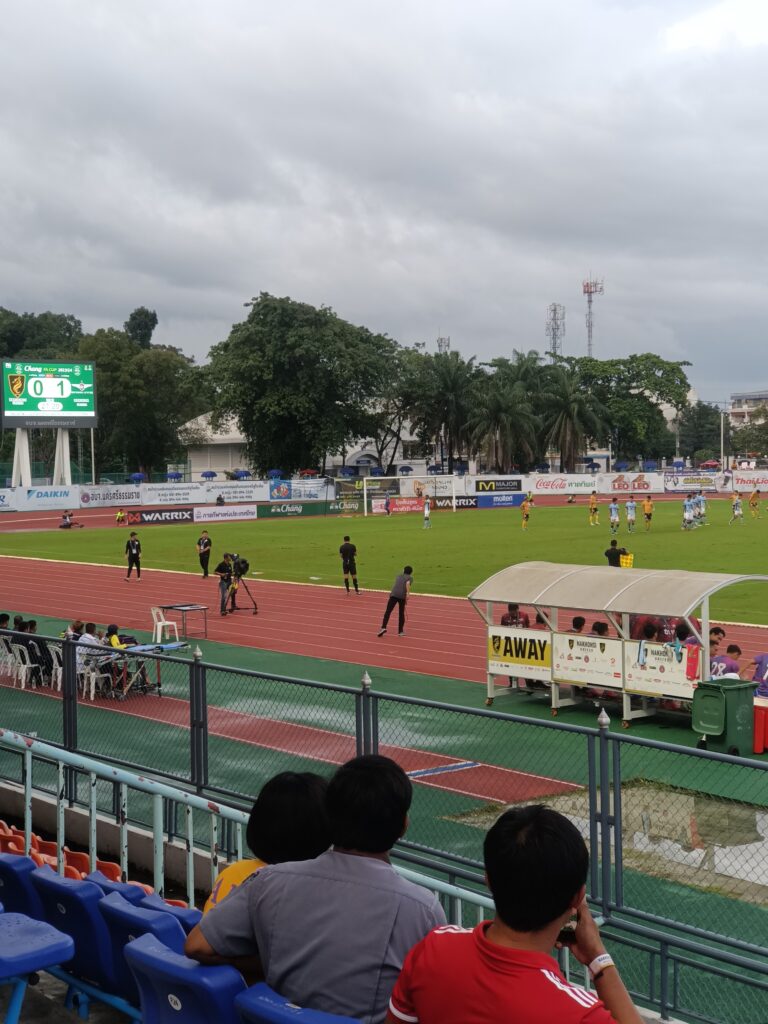 Throughput the game, Bangkok United showed the difference and dominated the game. we also blocked several harsh attacks at the end of game.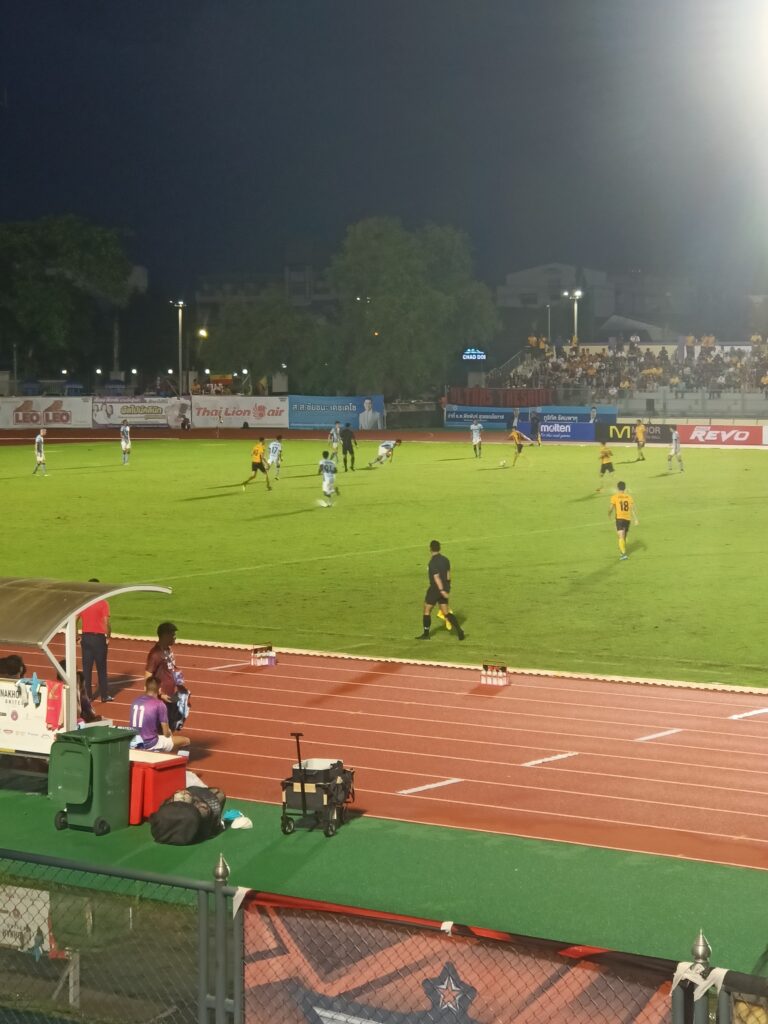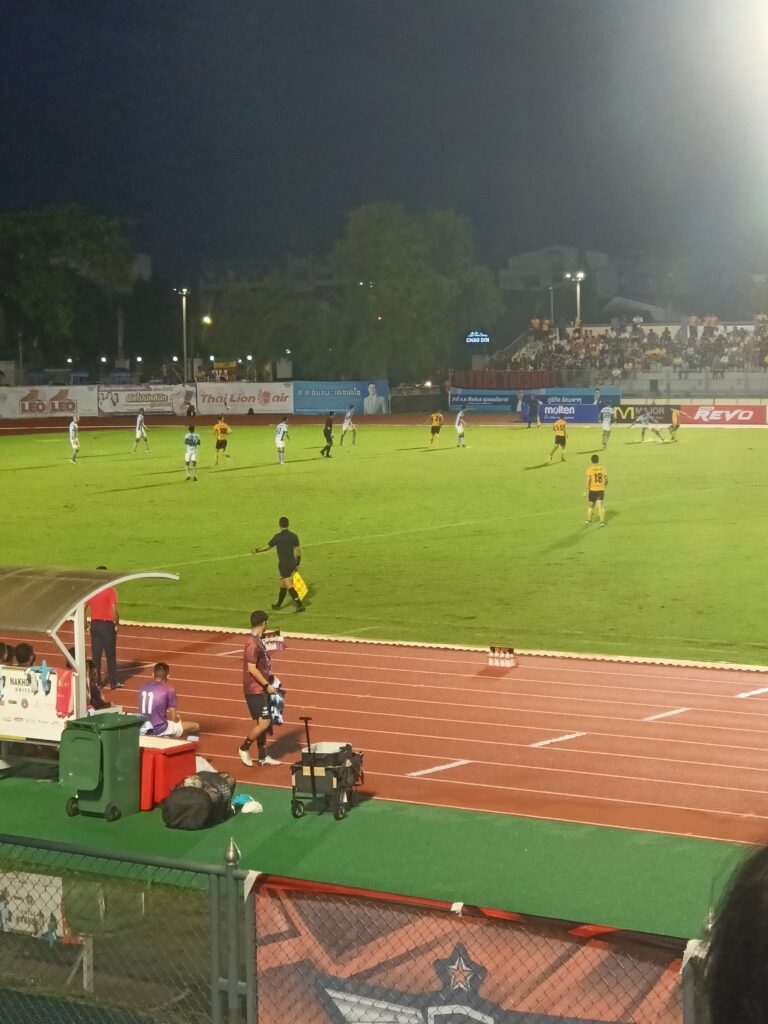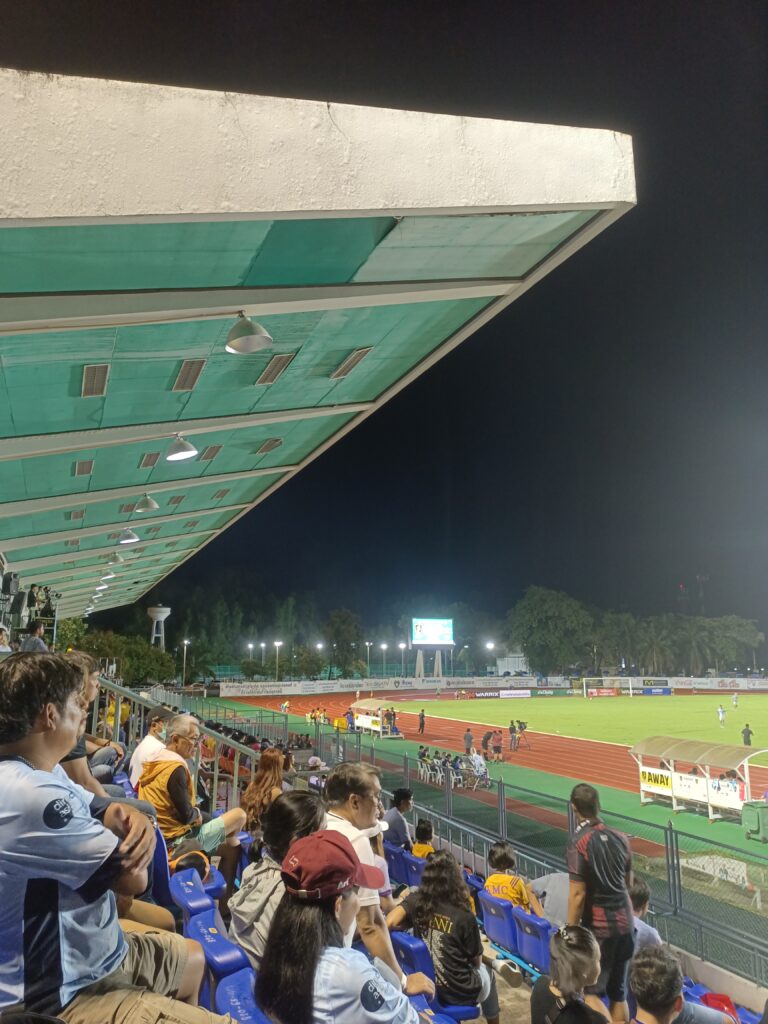 Yes, we won by game with minimum score. In next round we will also travel to Mahasarakham province in northeast province. Anyone can join this trip, if you are interested, please join next time☺️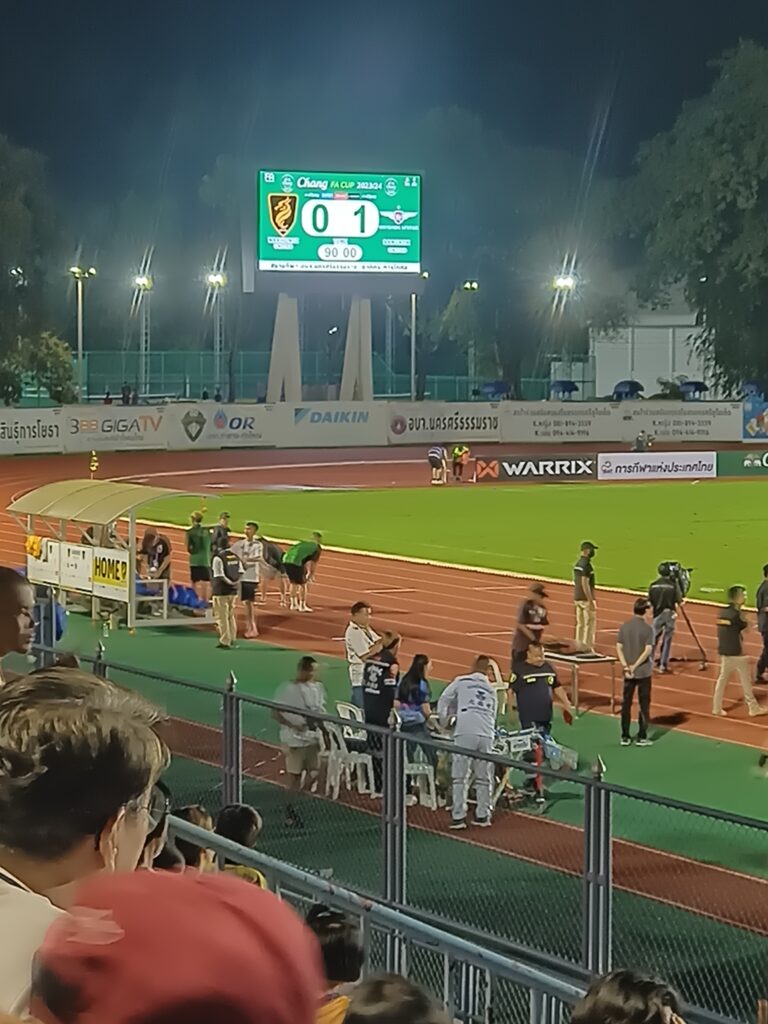 Good game and nice fight to Nakonsi United.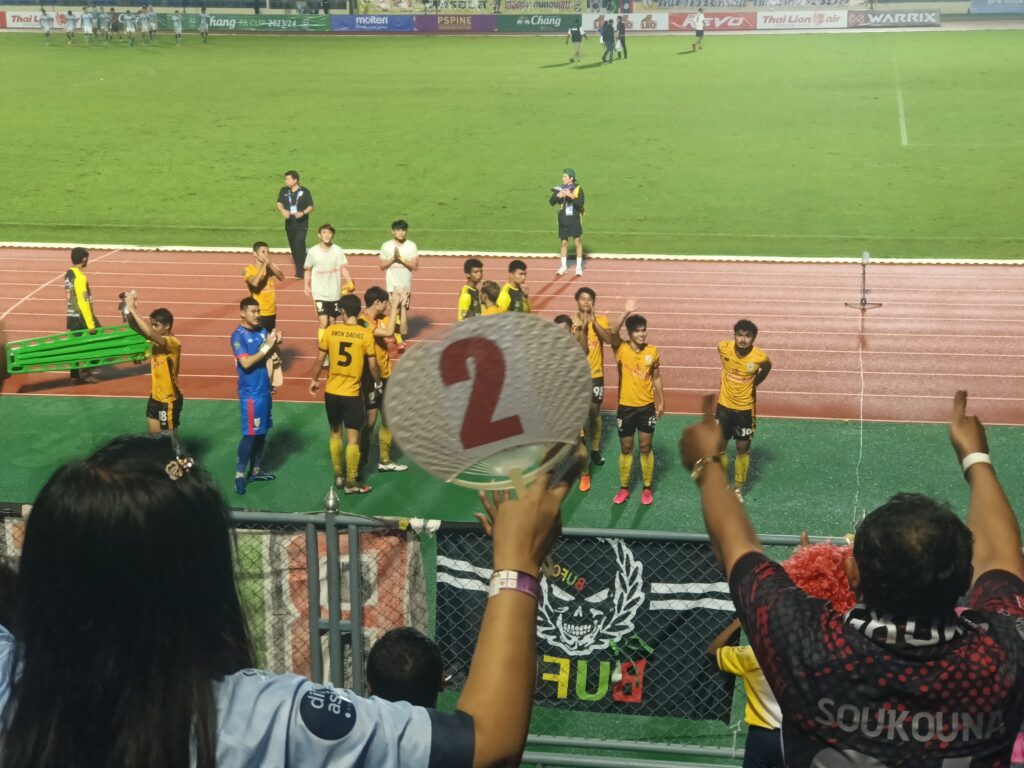 Congratulations to our win😉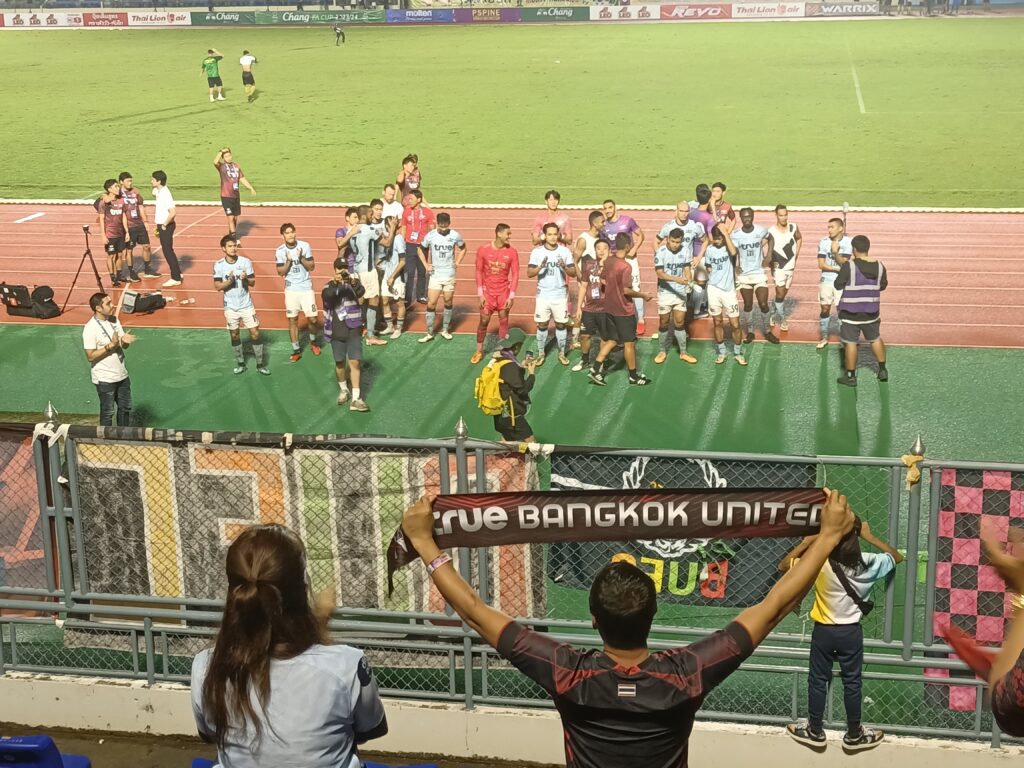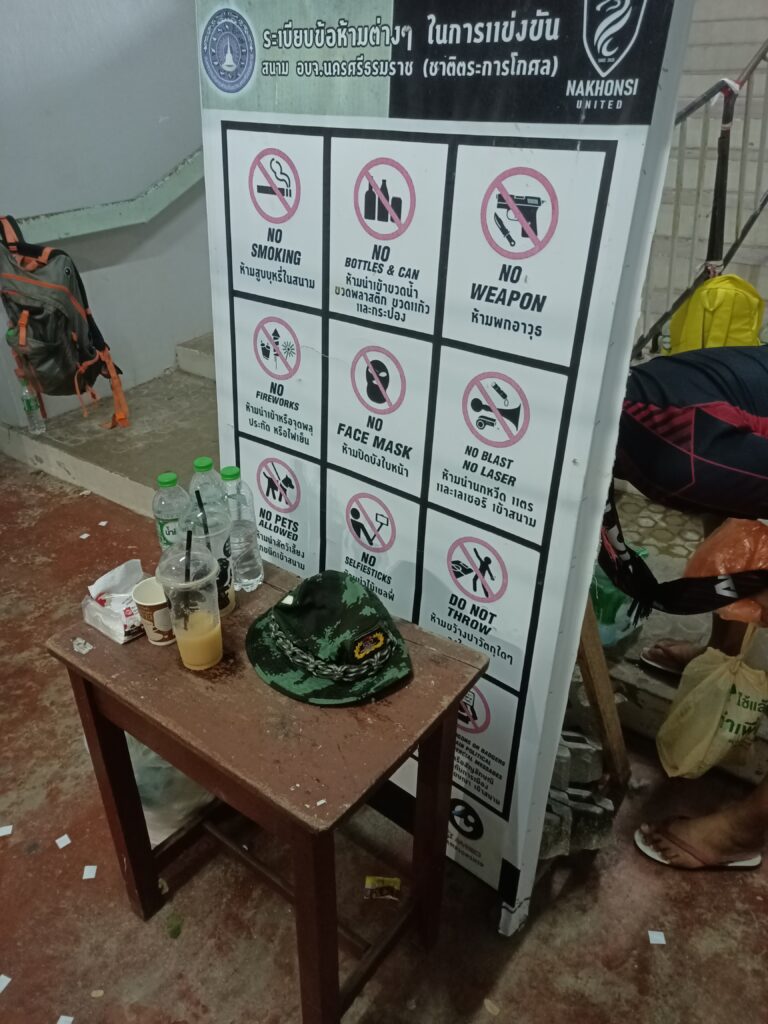 Going back to Bangkok
19:58, we headed back to Bangkok again, 800km bus trip. As soon as we departed, very nice dinner box Gapao rice was provided for free!! Again, their service is really nice, caring for fans, thank you so much again True corporation😊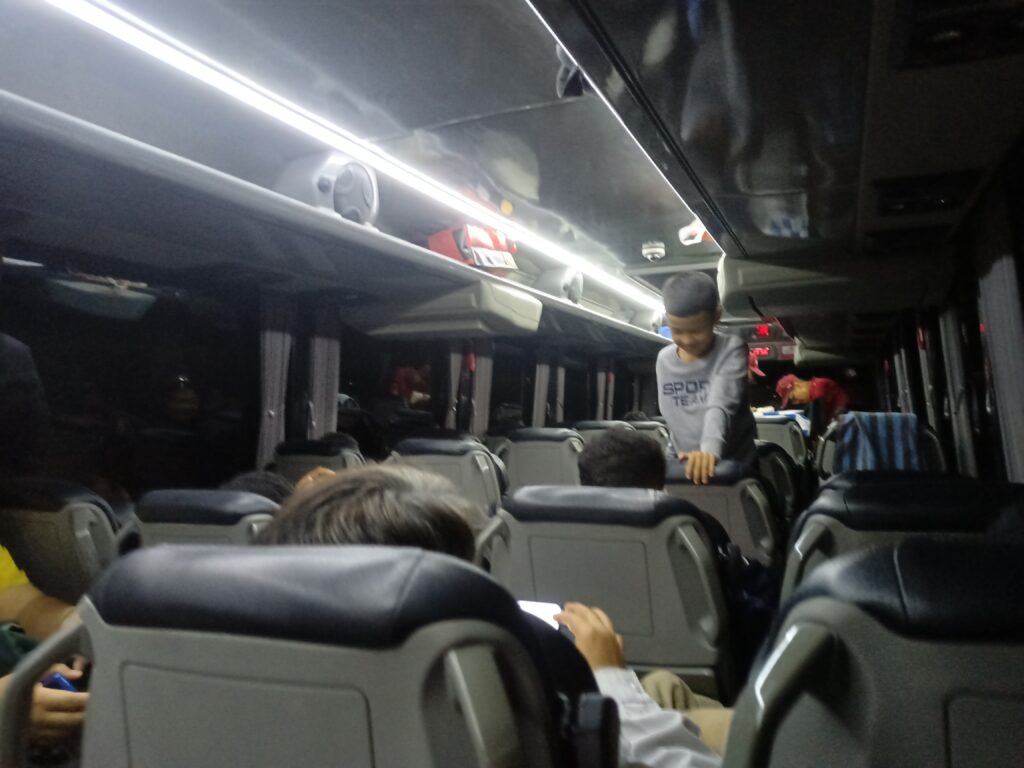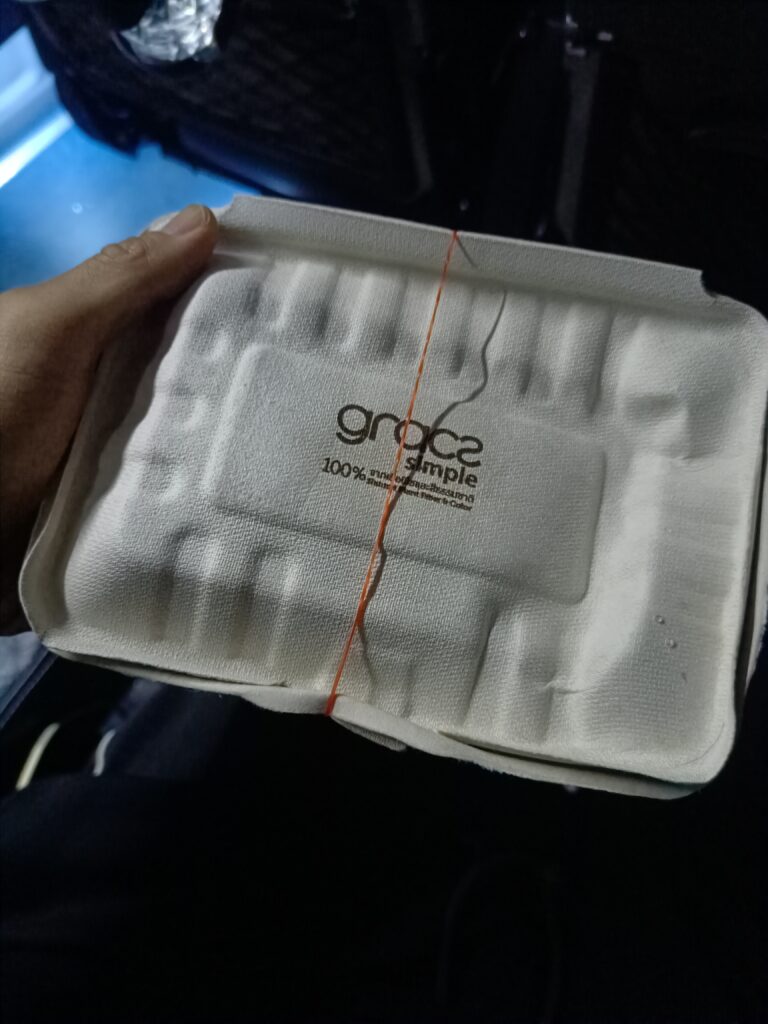 Nice Gapao rice with spicy salad.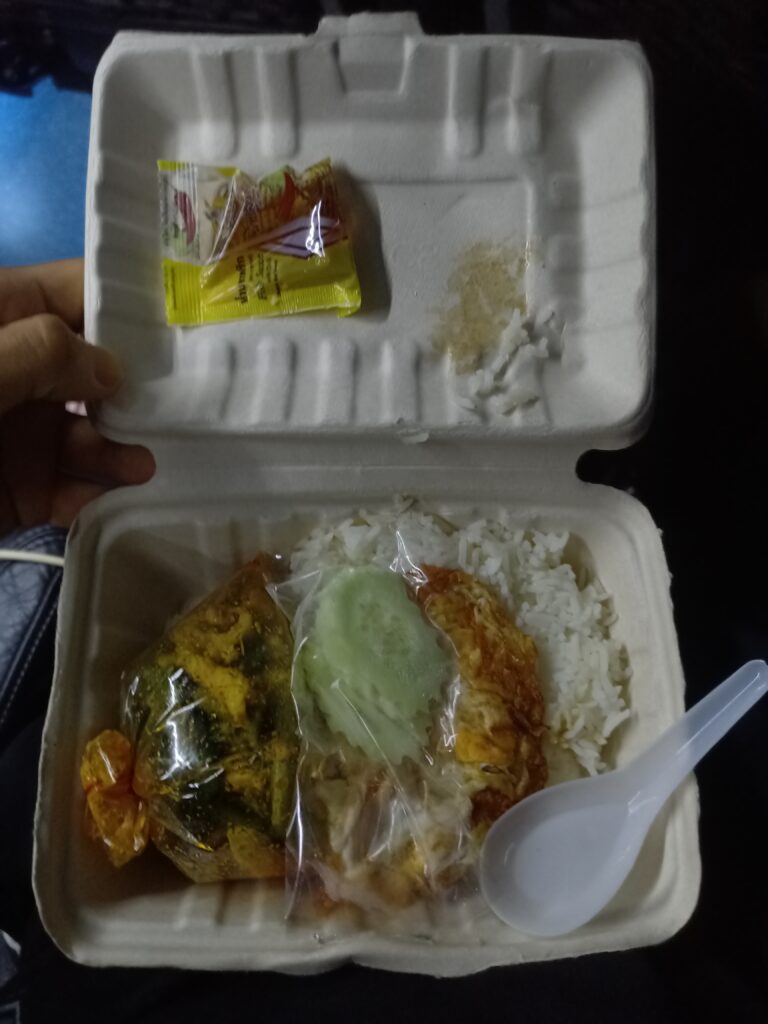 Got water again too.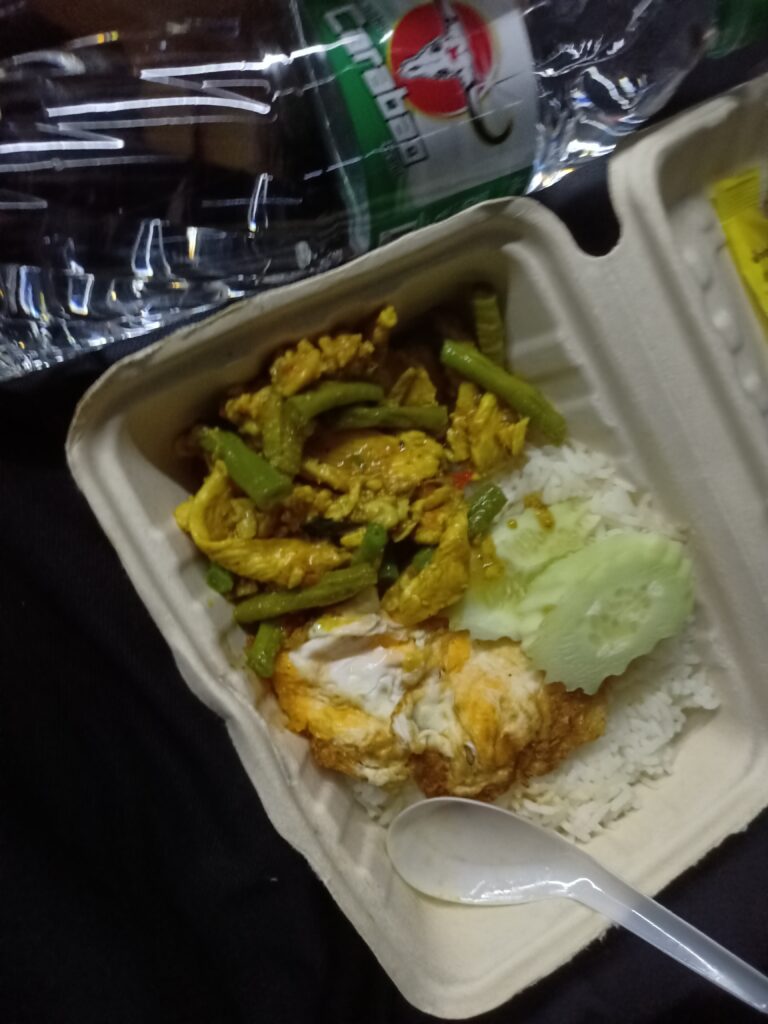 Bus continues trip with sleeping passengers. On the way back, they also stops every several hours so do not worry about toilets and food purchase at Seven eleven or Jiffy store.
It became already dawn time when we came to stop for breakfast at 7am, Petchaburi province. The way along you will see gigantic rock structure on coastal side.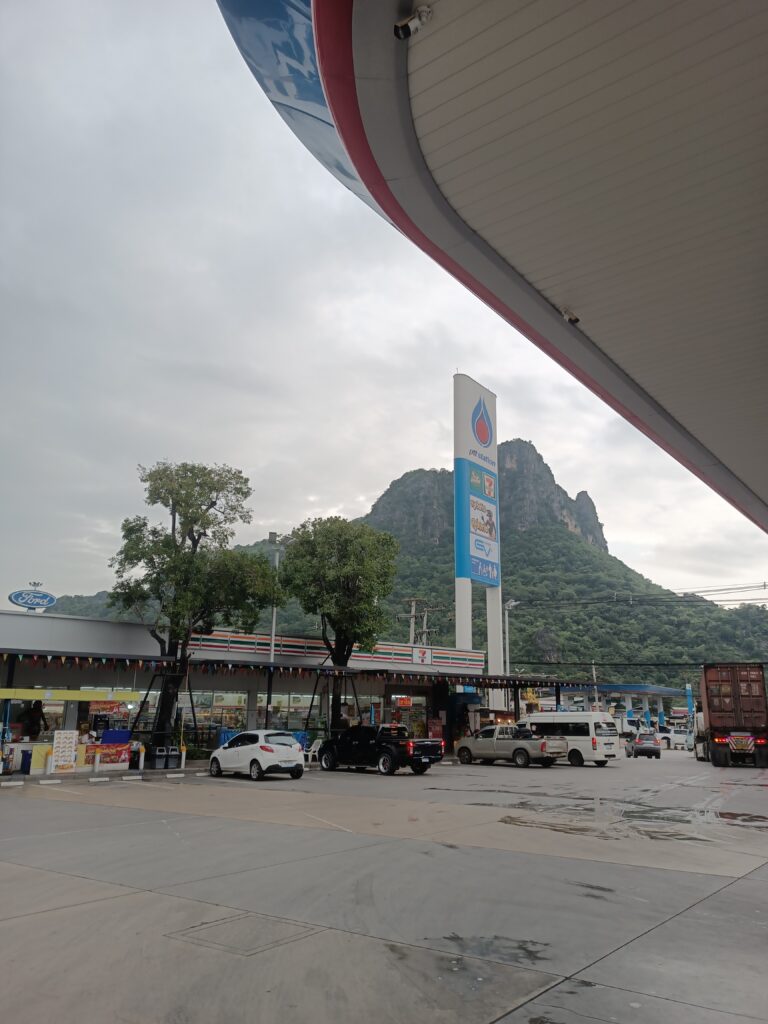 Currently Seven eleven collaborate with Minions and LINE characters, my favorite dolls.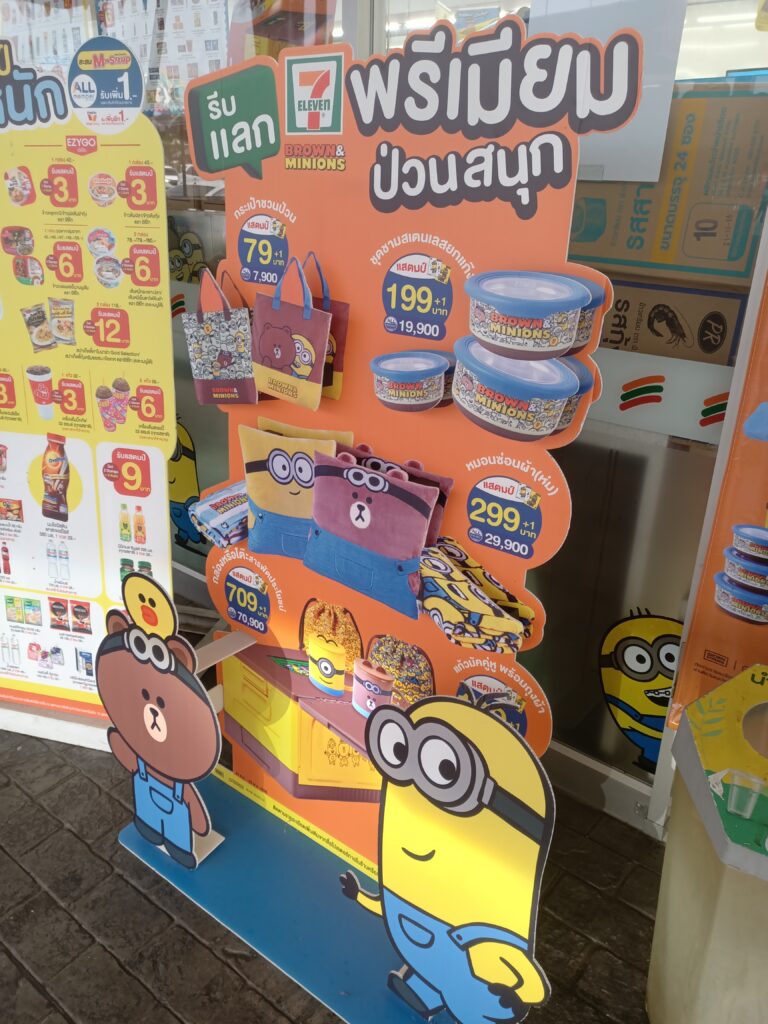 I got some snacks and coffee.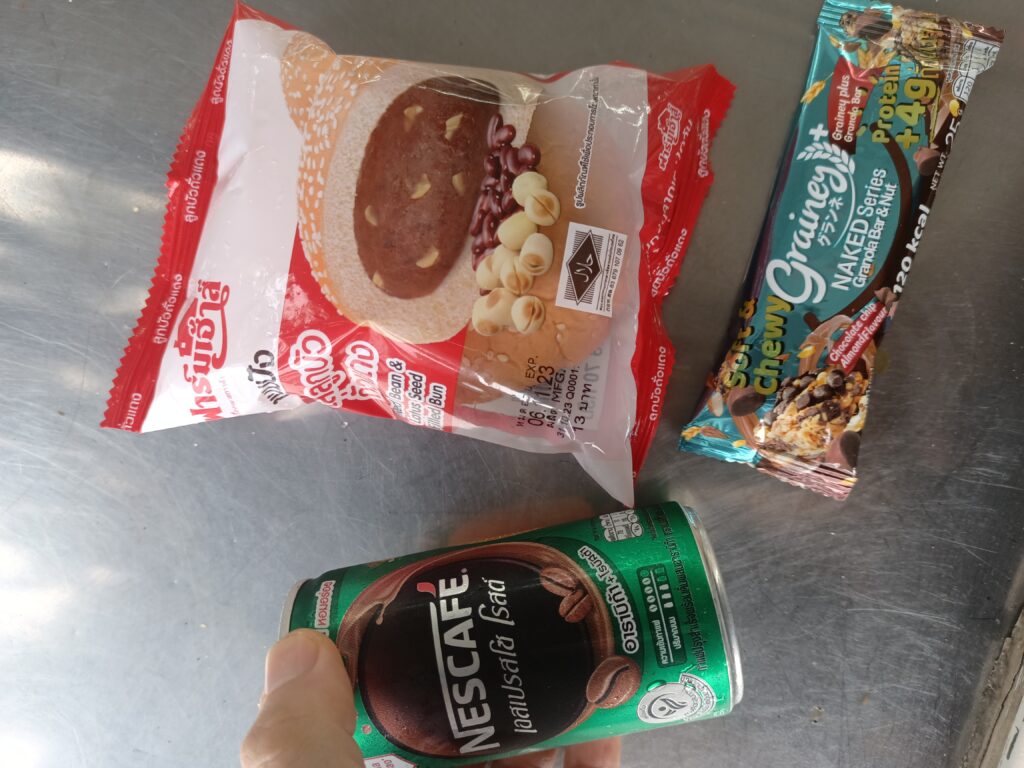 At 11 am finally we came back to Thai Japan stadium where we started trip 2 days ago.
Again Thank you so much for True Bangkok United to provide this wonderful trip to all fans! I will continuously join their trip and report here my experience.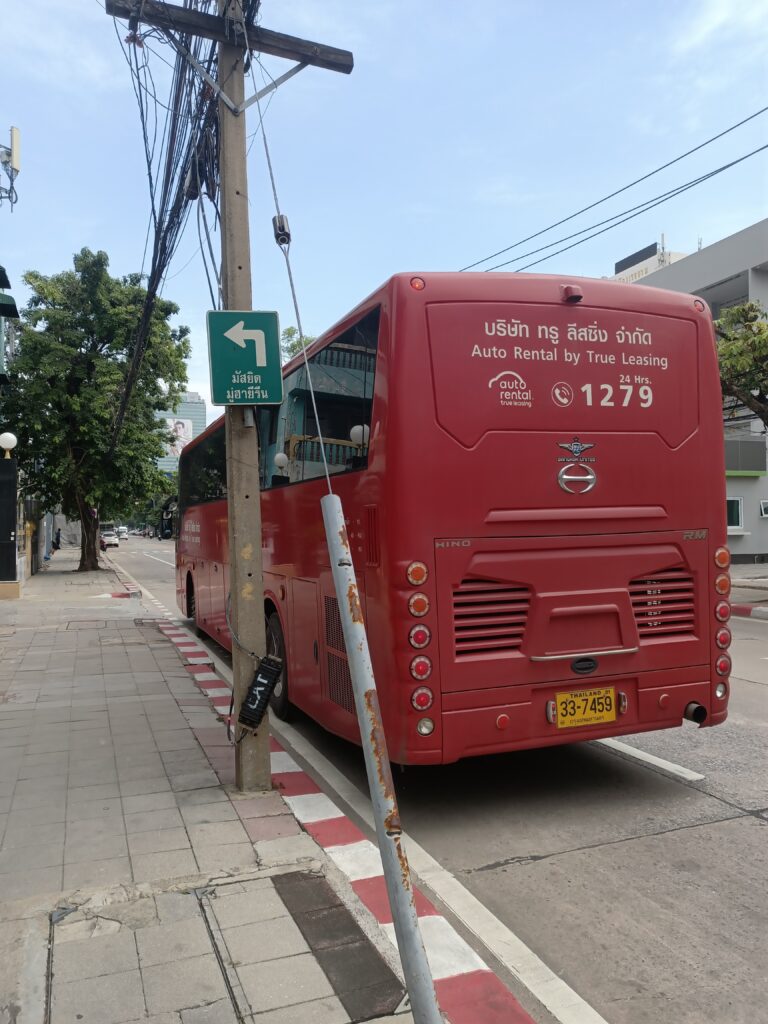 See ya😉