Welcome back to "fitravelife.com"! From September 1st 2021, long distance bus operation was resumed so I tried another place for my gym workout in a weekend.
Prior to the trip, I searched for nice gym in non dark red zone area then found one in Nakhon Sawan province. Nakhon Sawan province is central region in Thailand, 240km away from Bangkok. The city is relatively prosperous among other neighboring cities so I also could book nice and affordable stay for the rest.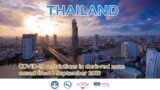 Covid control eased in Thailand from September 1, 2021
Hello, welcome back to "fitravelife.com"!. I have to mention that finally Thai government decided to live with Covid and...
How to go to Nakhon Sawan by bus
At 6 : 00 am, I left my home for Mo chit bus terminal in Chatuchak area, Bangkok. This time, I used BTS to Mo chit station then changed to city bus to long distance bus terminal. Mo chit BTS station is connected to Chatuchak MRT station so you can reach by subway for your convenience.
Train is available from Hua Lamphong station but it starts very early 6:00 am one trip per day so I do not choose train for transportation.
Requirements to travel to Nakhon Sawan province as of Sep 2021
Travelling is not prohibited at all even at lock down period. And from Sep, 2021, airplanes and land transportation was resumed so it is much easier to have a trip in Thailand.
One thing that you need to check before the trip is the requirements that each province is imposing on the visitors from dark red zone areas. It depends on each provincial order so you need to check one by one in advance. in some provinces, you do not need to do self quarantine if you have got vaccination already, while in other provinces 14 days self quarantine is mandatory no matter vaccination status.
To check the requirements in Nakhon Sawan province, I asked my Thai friend to call Nakhon Sawan provincial health office (056 803 606) then confirmed that those who had vaccination of AstraZeneca 1 shot or other vaccine 2 shots more than a month, are not required to undergo quarantine upon arrival.
Provincial order regarding Covid control in Nakhon Sawan (Thai)
このページを見るには、ログインまたは登録してください
Facebookで投稿や写真などをチェックできます。
Mo chit bus terminal
Mo chit bus terminal is the biggest land transportation hub to go to all over Thailand. Although bus operation was resumed from September 1, 2021, they seem to provide limited service considering advice from the government to refrain inter-provincial trip as much as possible, many ticket counters remain close at the moment.
If you come by BTS to bus terminal, go through exit No. 4 then go down to the ground. Turn left then walk to northern side 200m.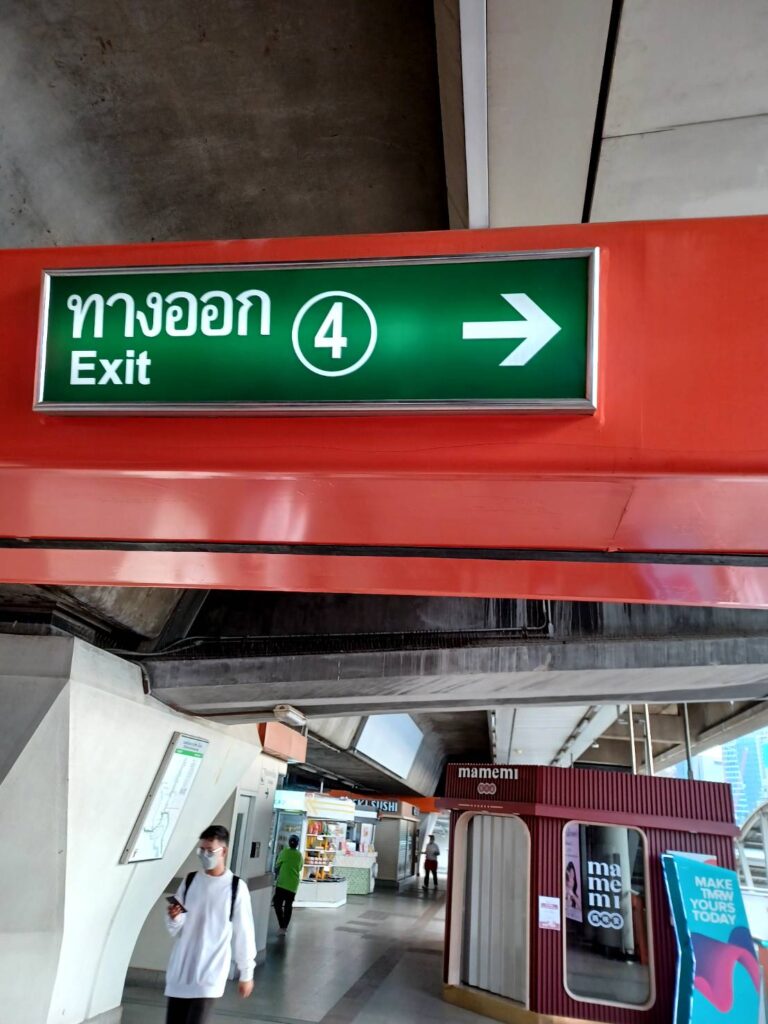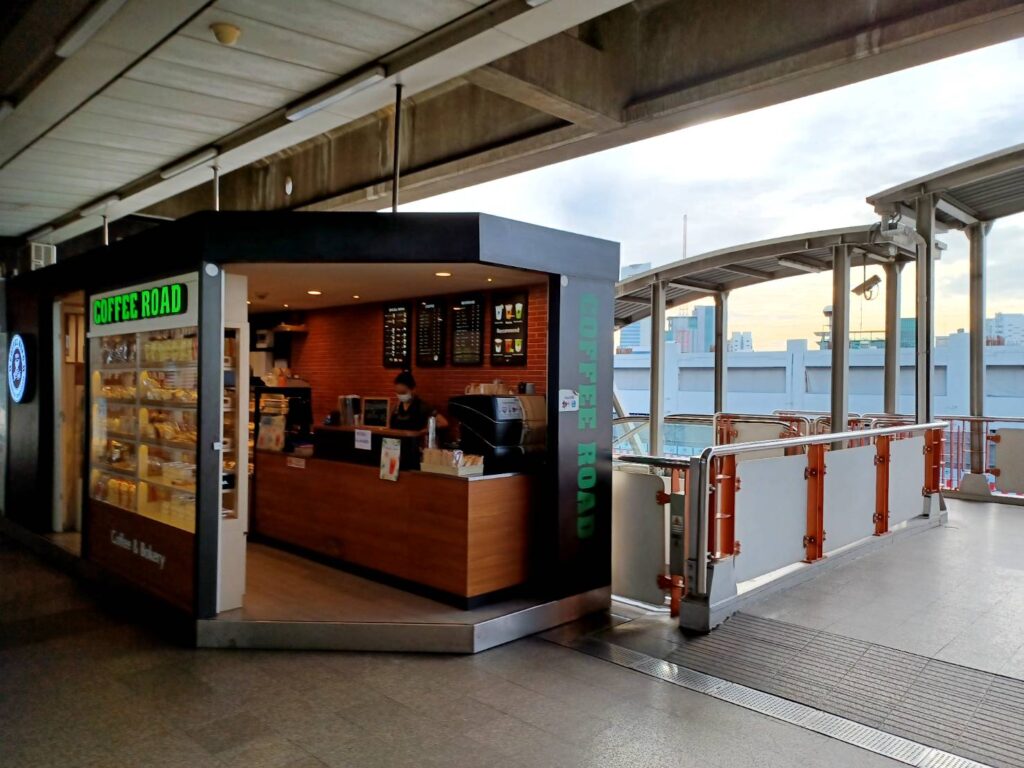 Walk down to the ground then turn left to bus stop.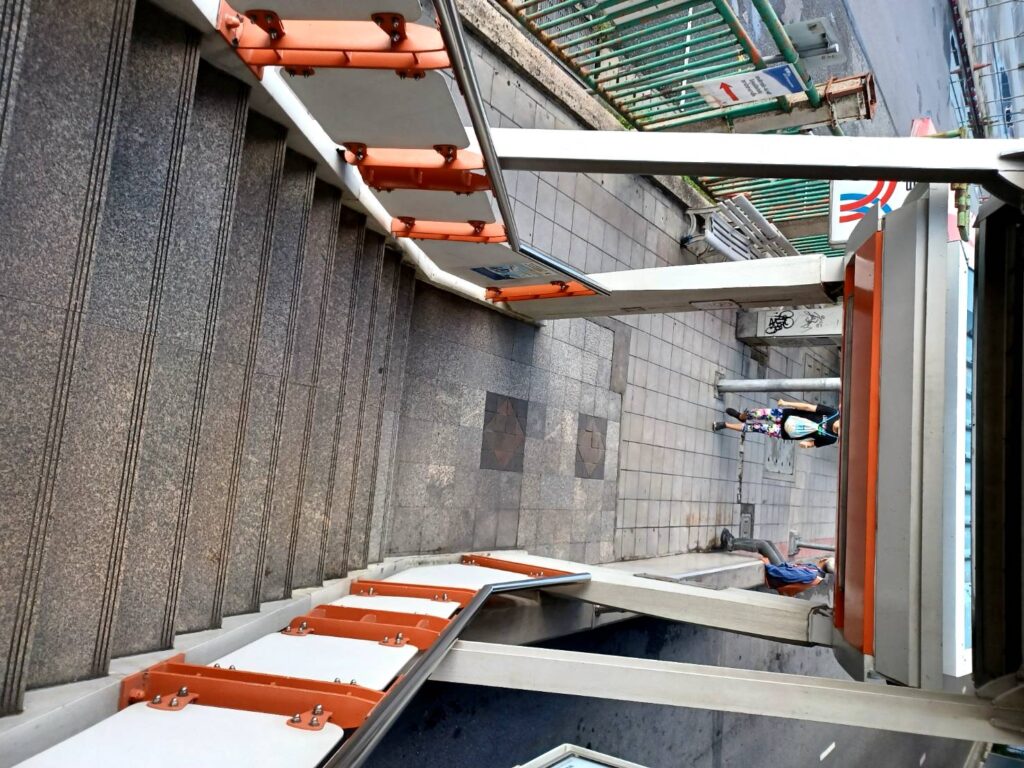 in case by MRT, exit from No.3 entrance then walk straight to bus stop by 100m.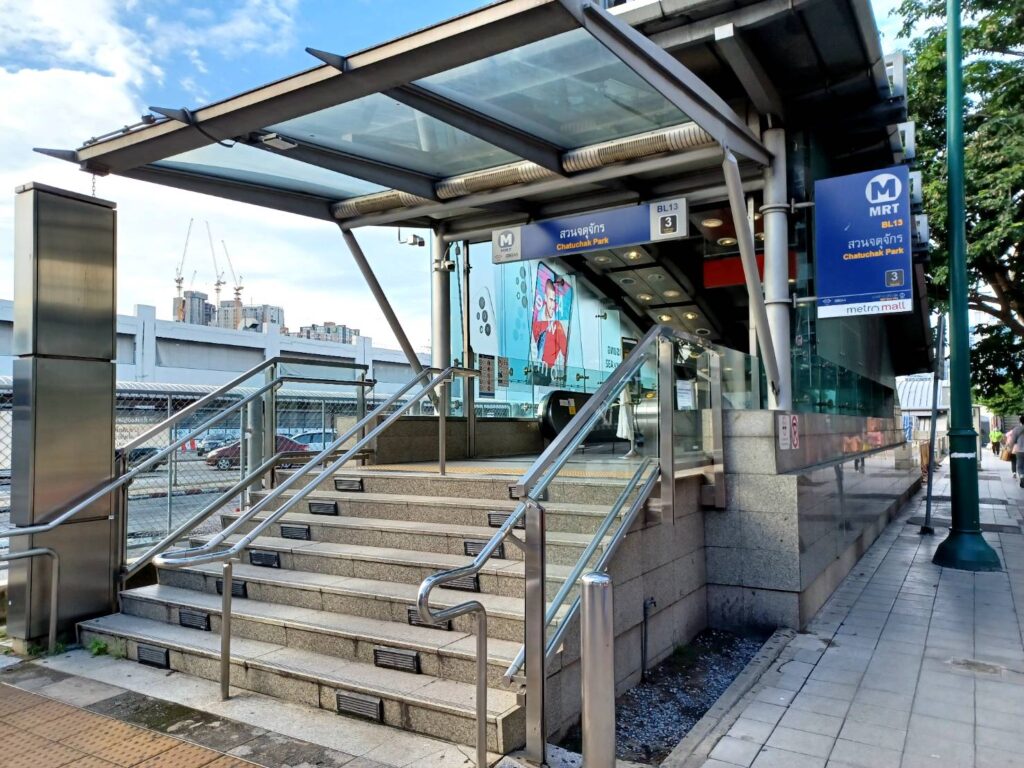 Here comes the city bus stop. All buses stops here are eventually reaching Mo chit bus terminal so you can take any buses which comes first.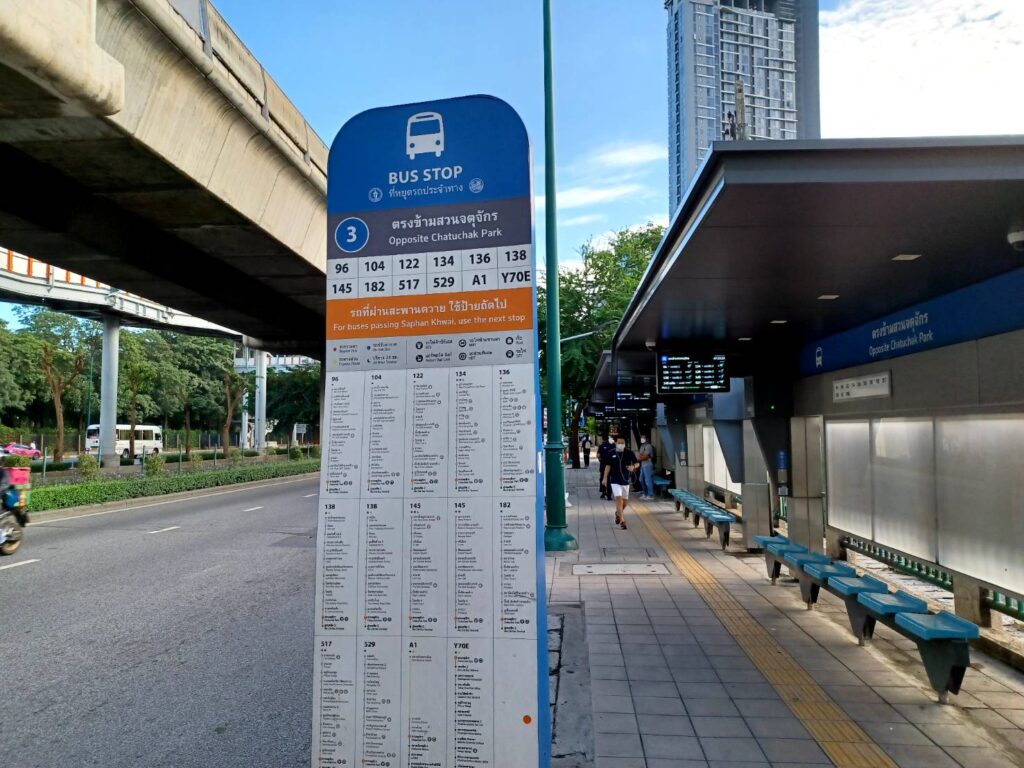 All city bus is going to Mo chit bus terminal.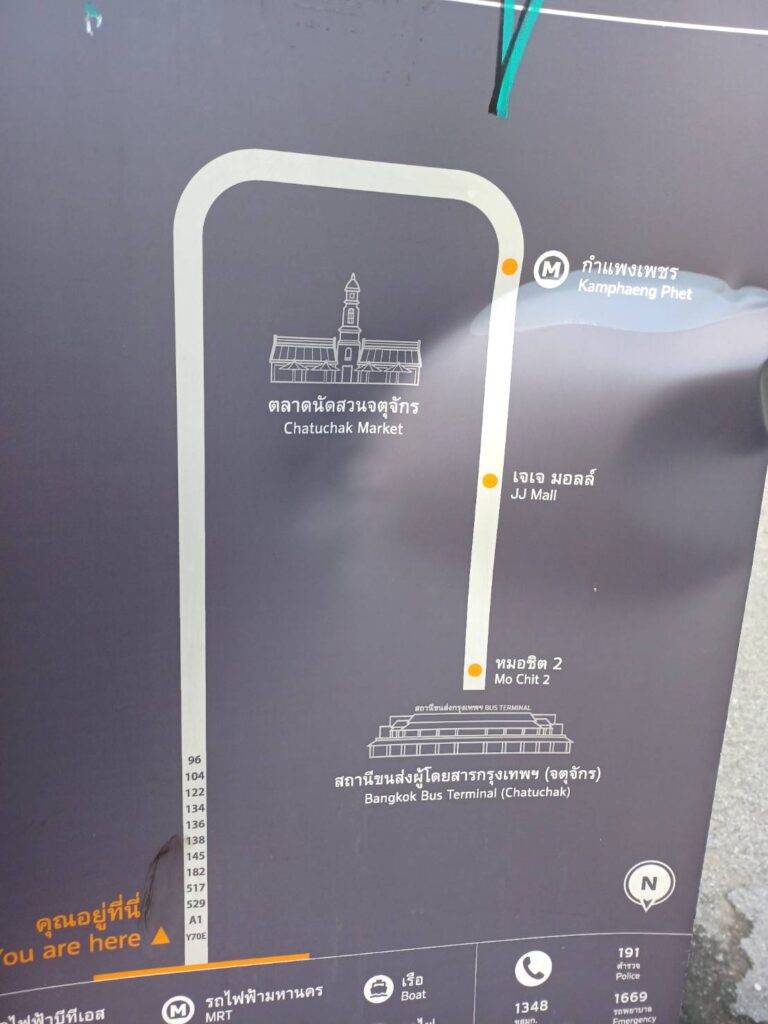 This time, I took bus No. 136, non aircon bus which costs 8 THB.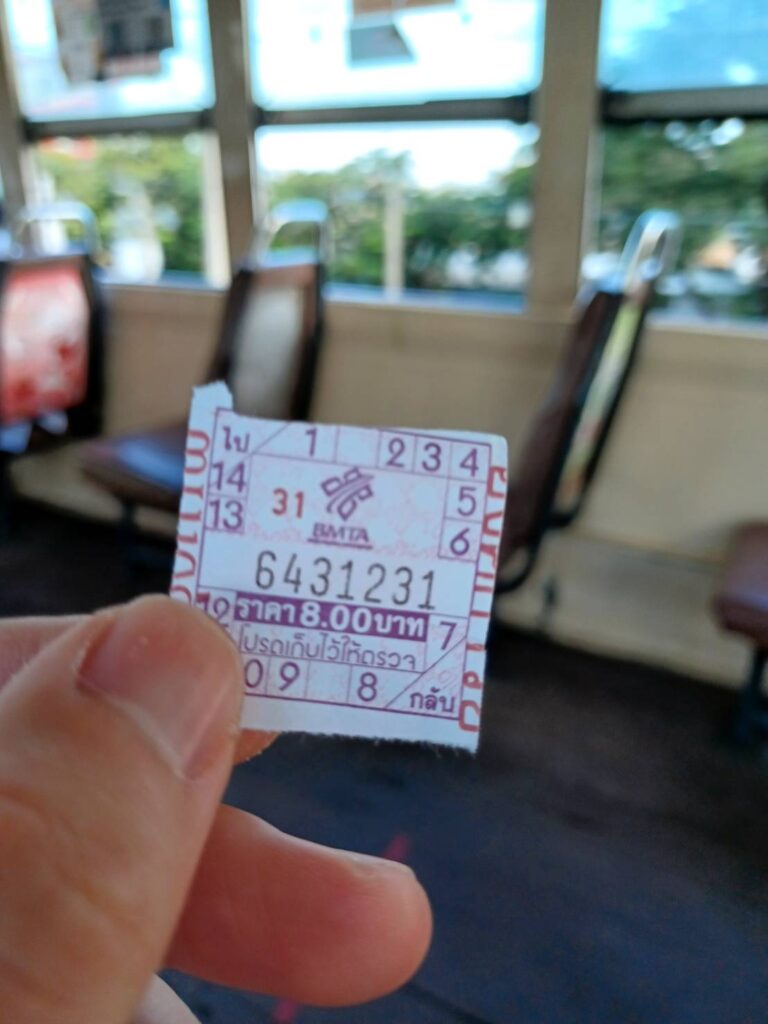 Bus went around Bang Sue grand station then arrived at Mo chit bus terminal. Time spent by city bus is around 15 minutes.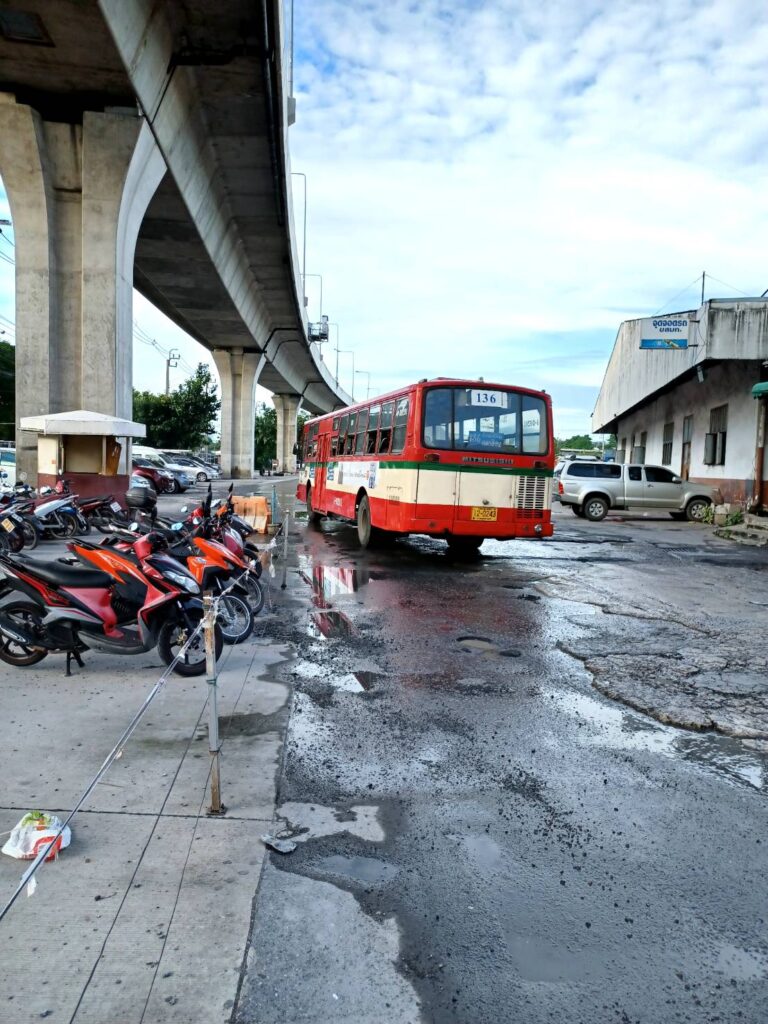 All bus stops in front of this Seven eleven so please drop off here. Long distance bus terminal is 3 minutes walk from here, you can follow the sign to walk to bus terminal building. Due to Covid situation, seven eleven is closed since less customers are using bus terminal.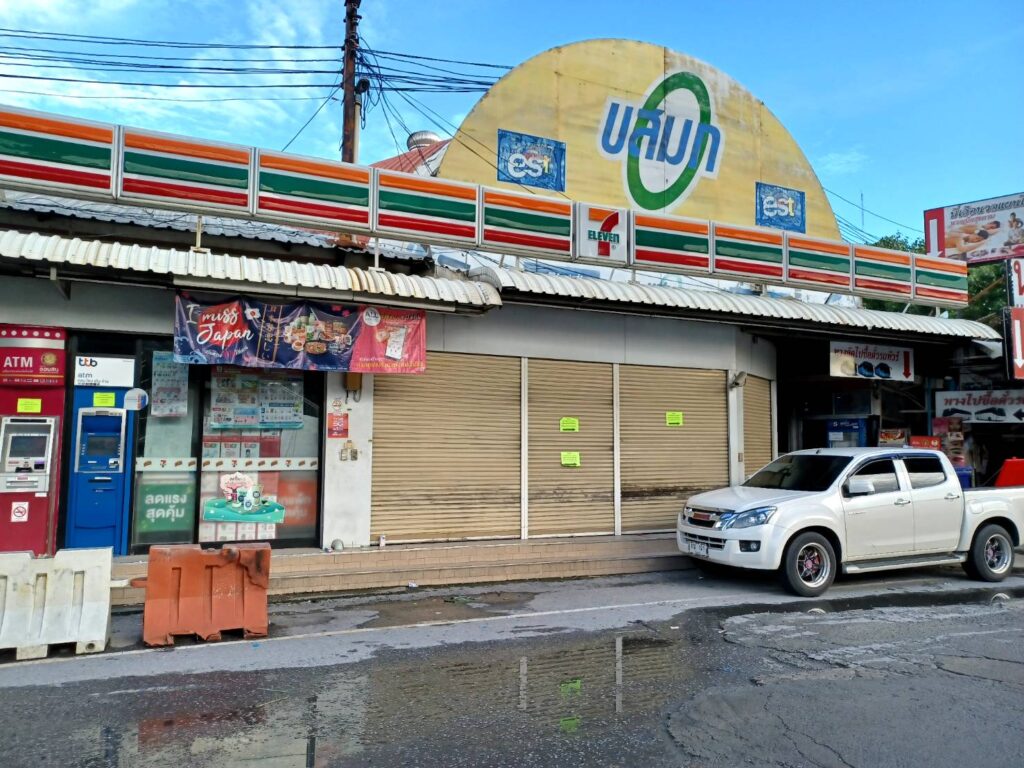 Follow the direction to bus terminal.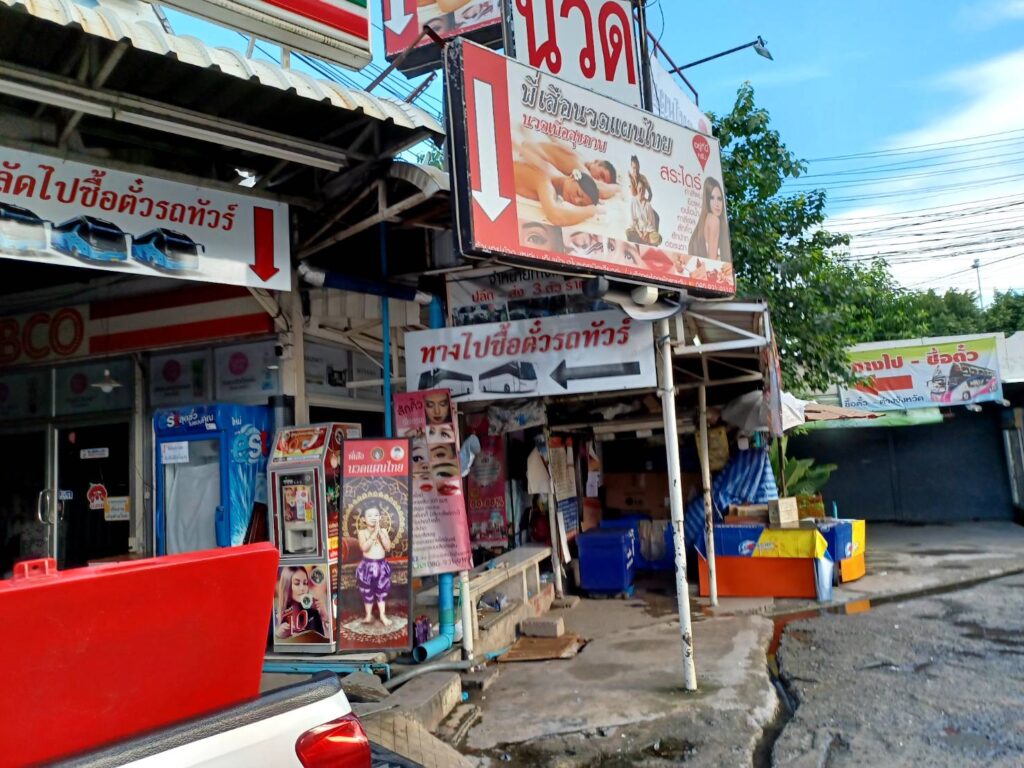 Before Covid is struck, there are so many street stores here to sell clothes, shoes, phone goods, etc. But now almost all stores are closed.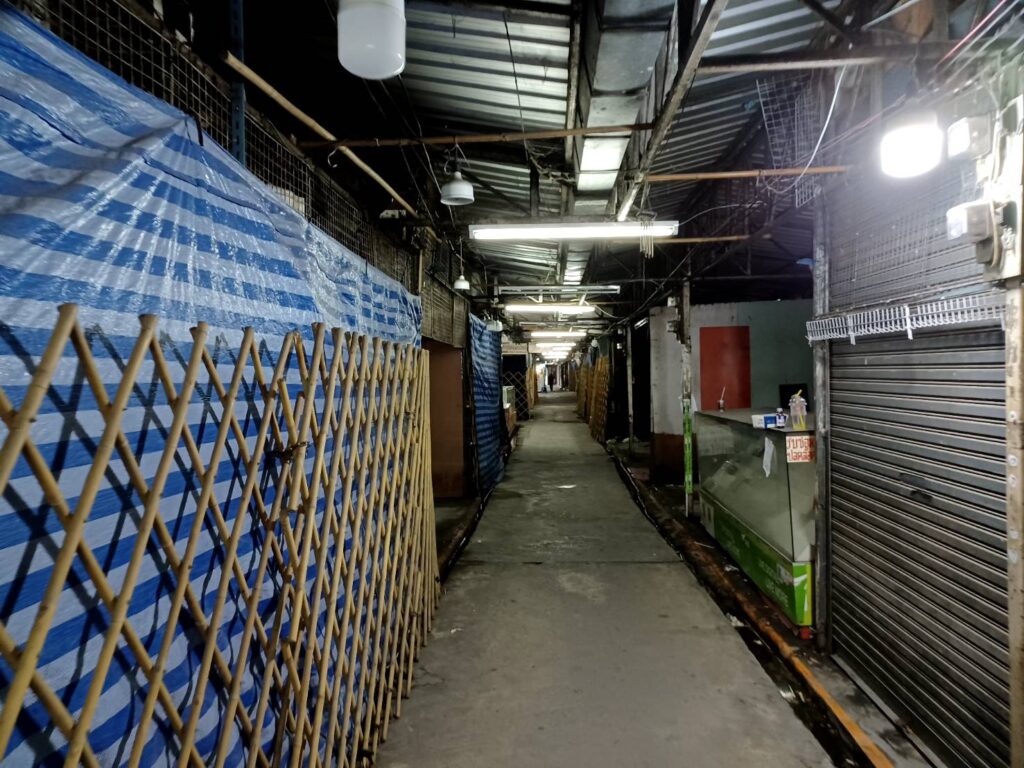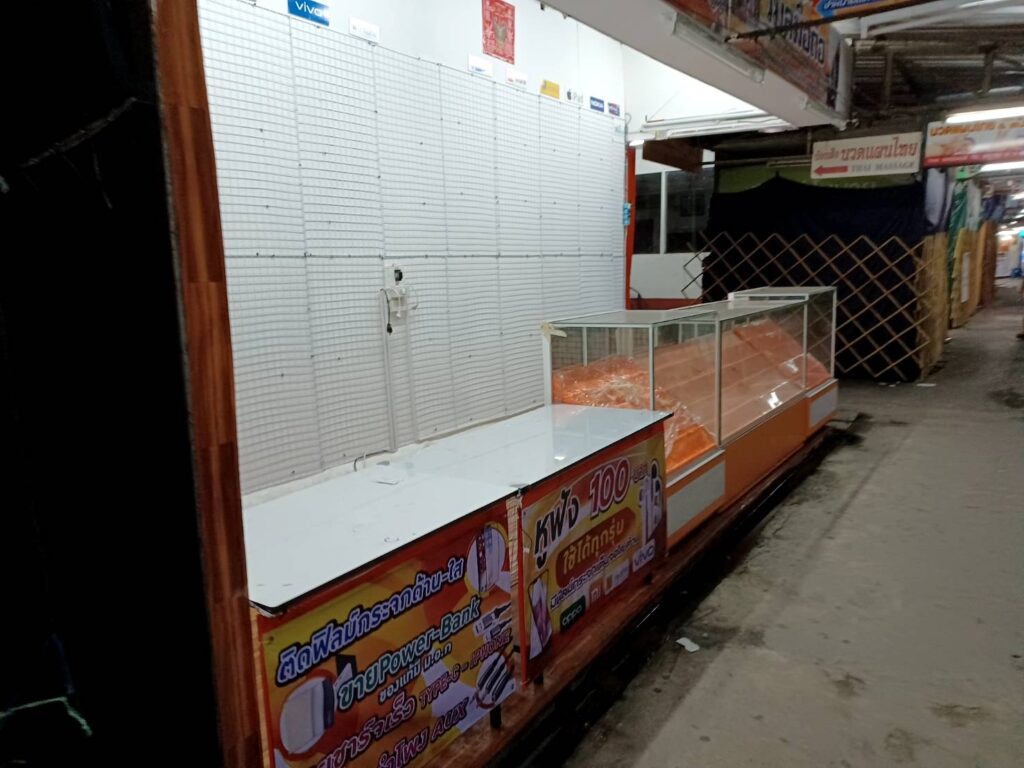 Turn right at the next Seven eleven so you will see the path to bus terminal building.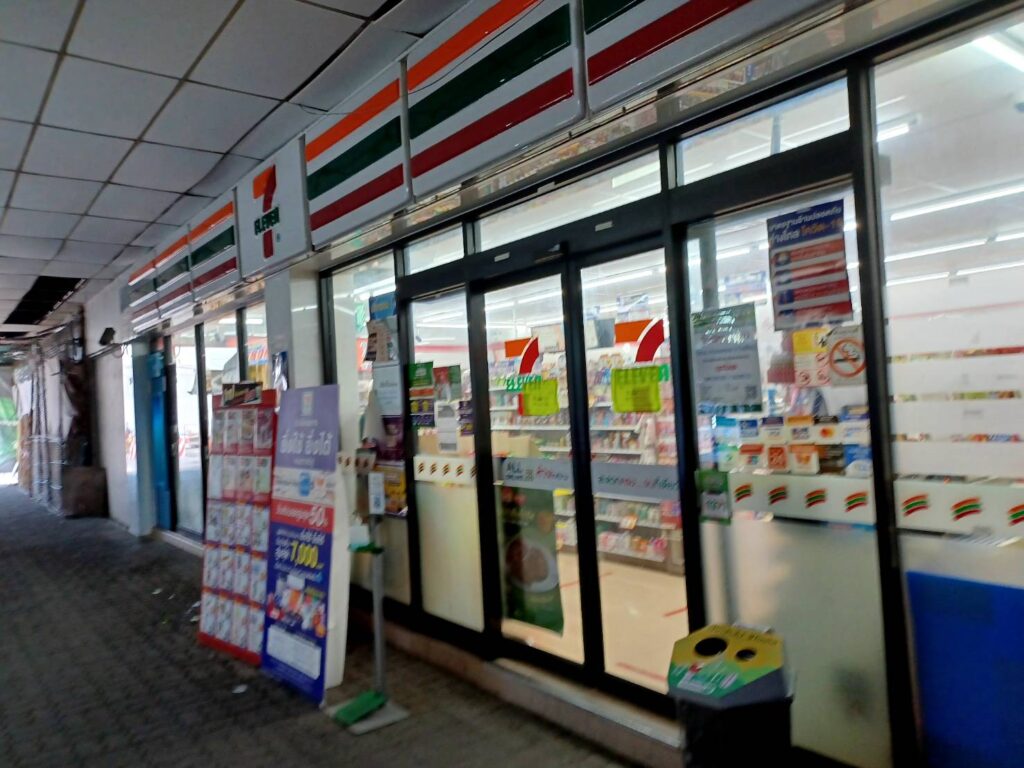 Go straight on the crossroad.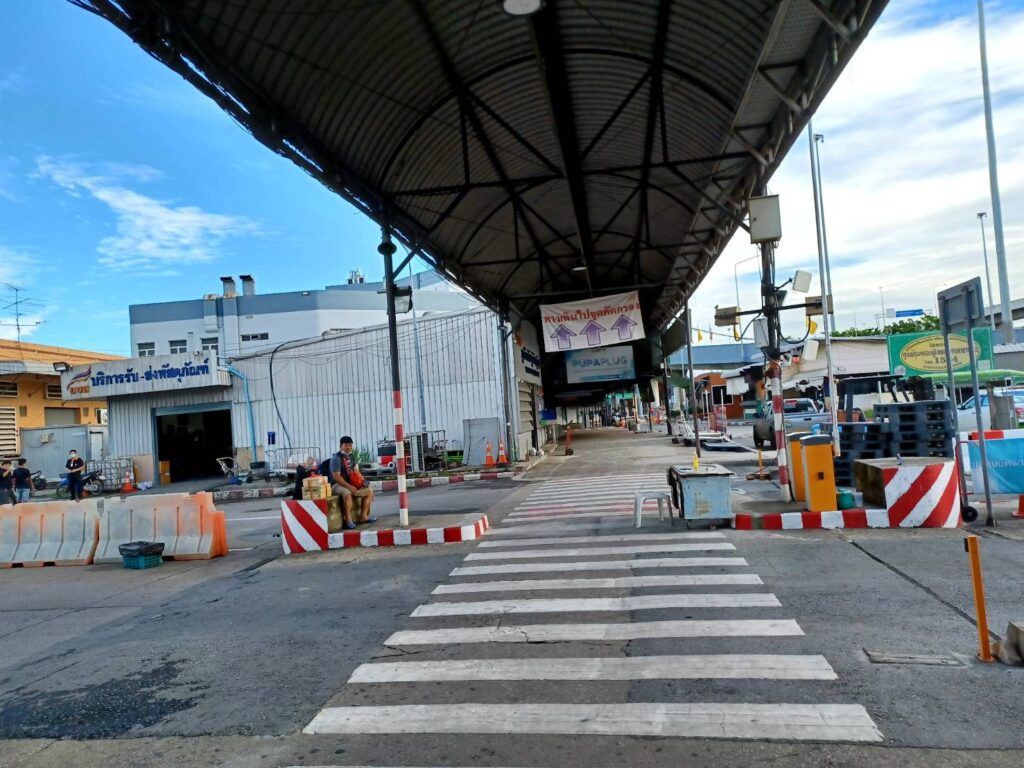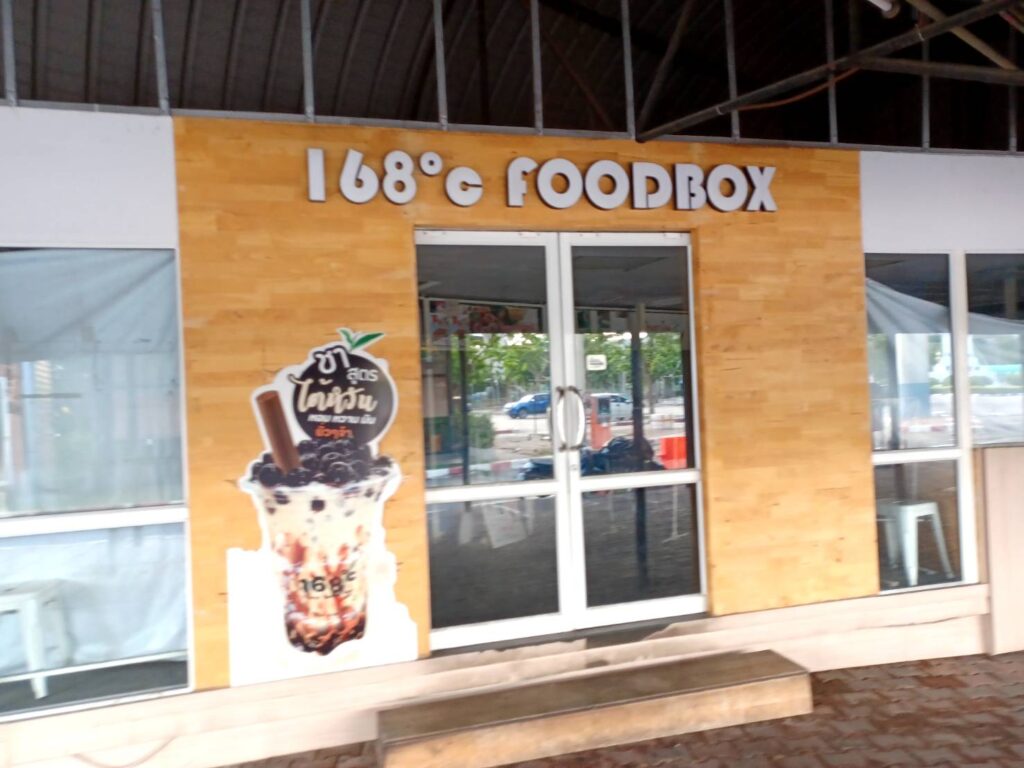 Entrance to the terminal building.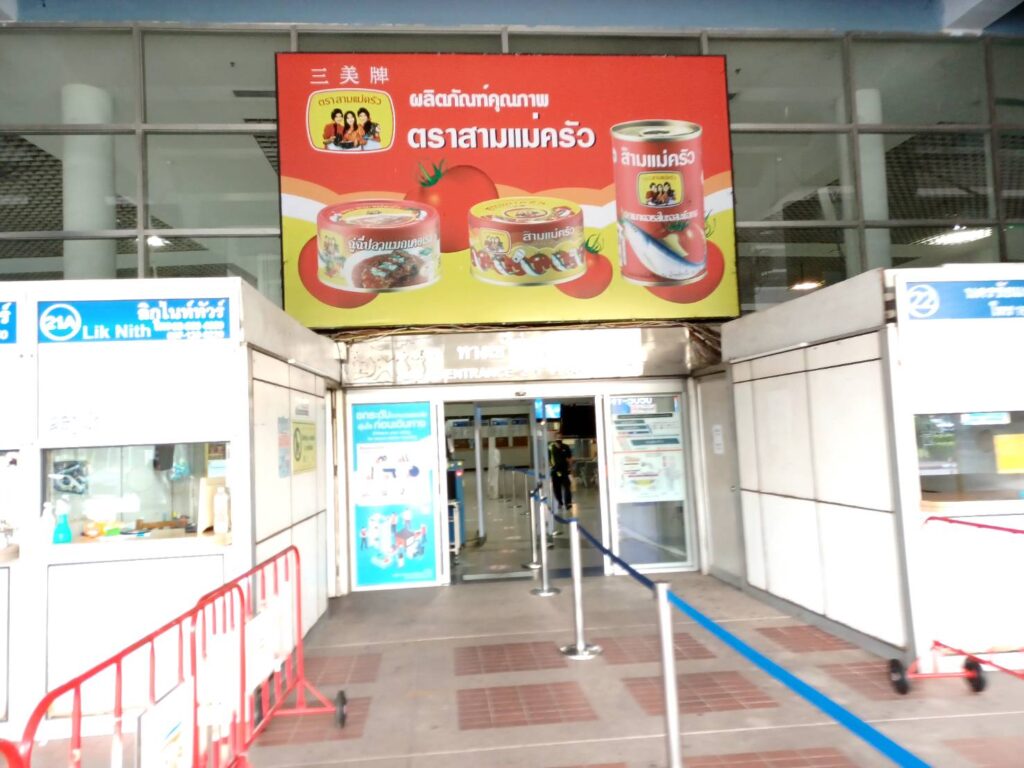 At 7: 50 am in the weekend morning, there were very few passengers waiting for the departure. Ticketing counter is open but the operation is very limited for a few.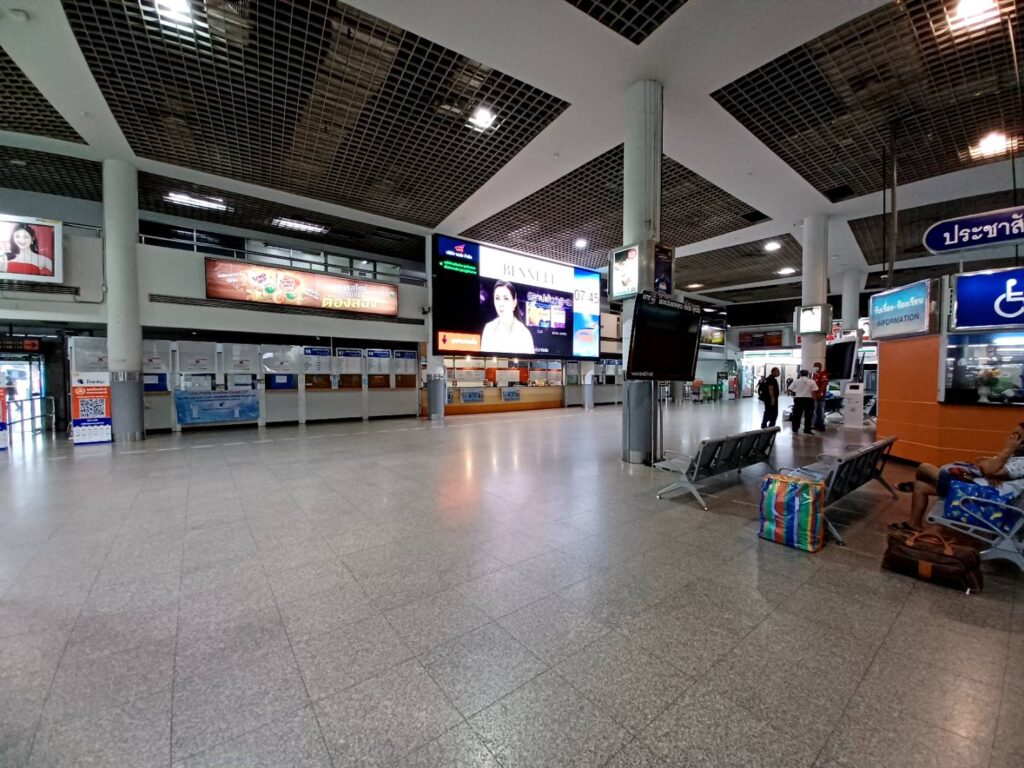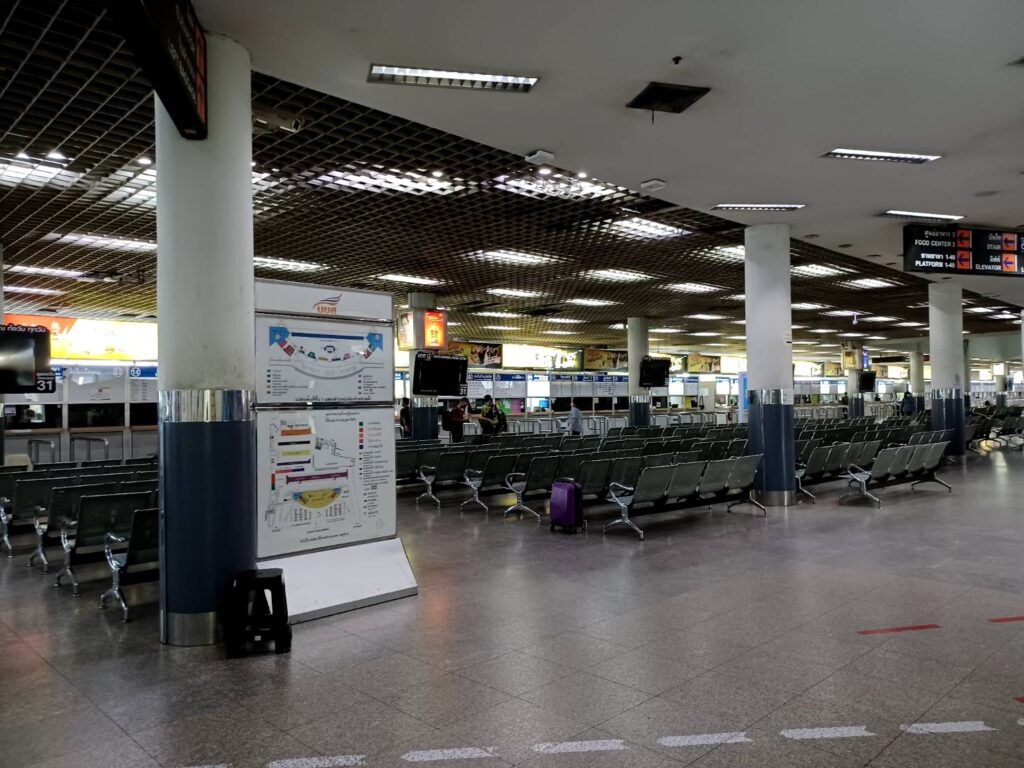 Going up to 3rd floor to buy the bus ticket to north and central areas.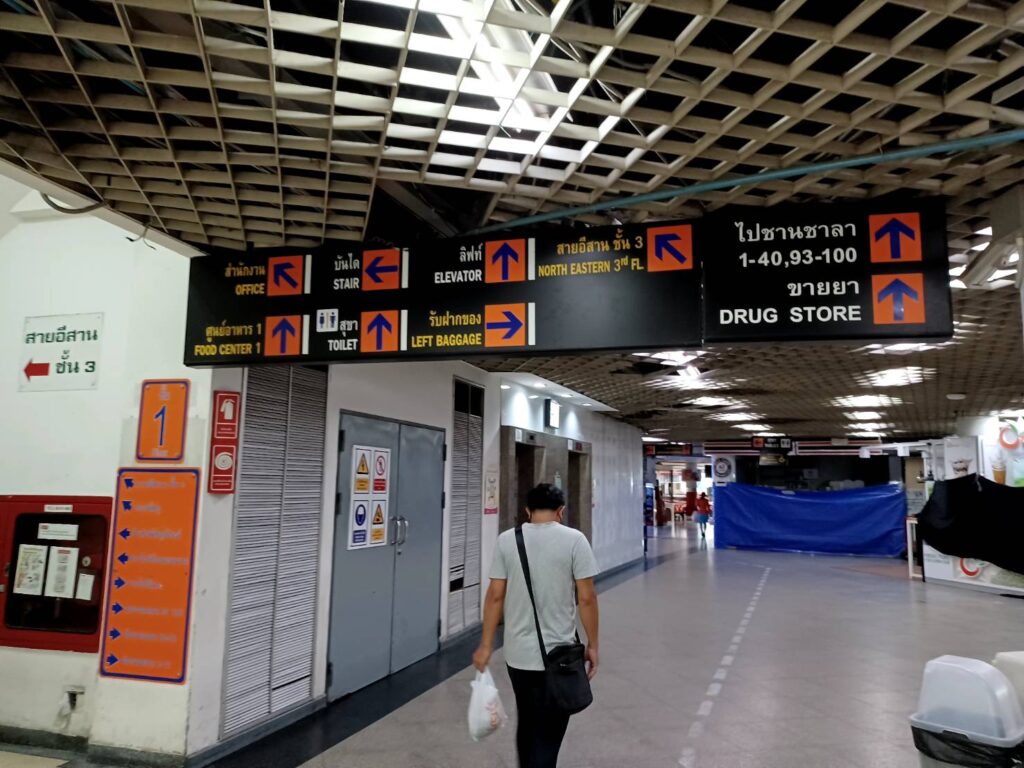 I asked the staff where to buy ticket to Nakhon Sawan at the floor but was told that I needed to buy the ticket outside counter so I left the building through the main entrance.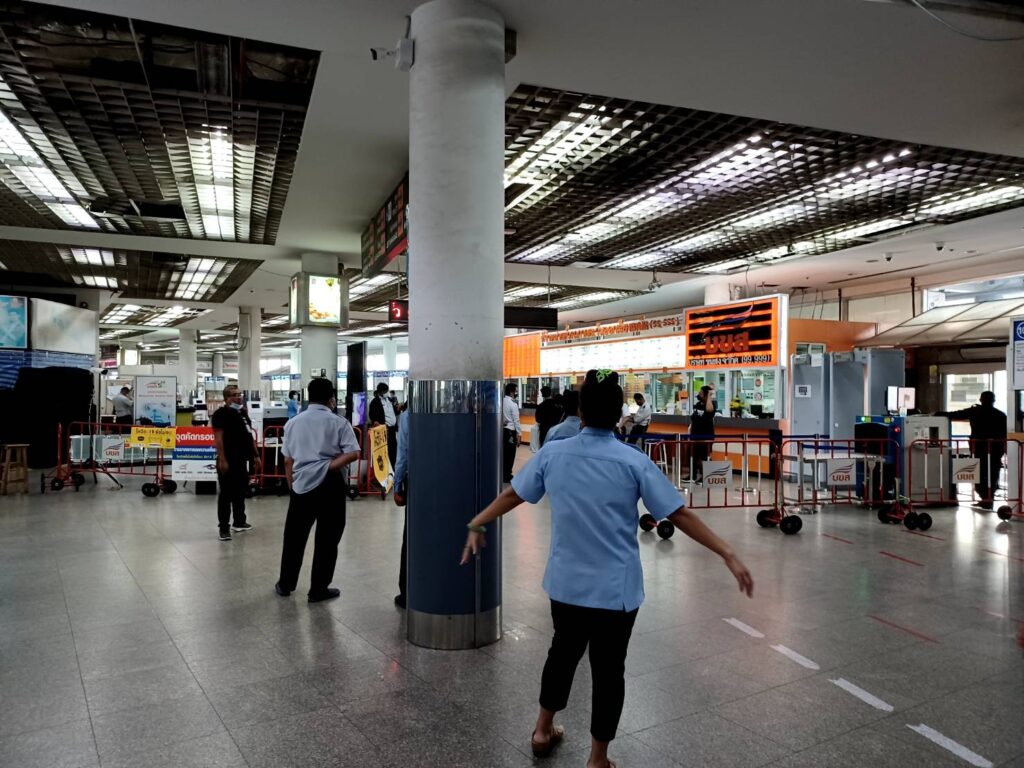 Not yet fully operated as of Sep 2021.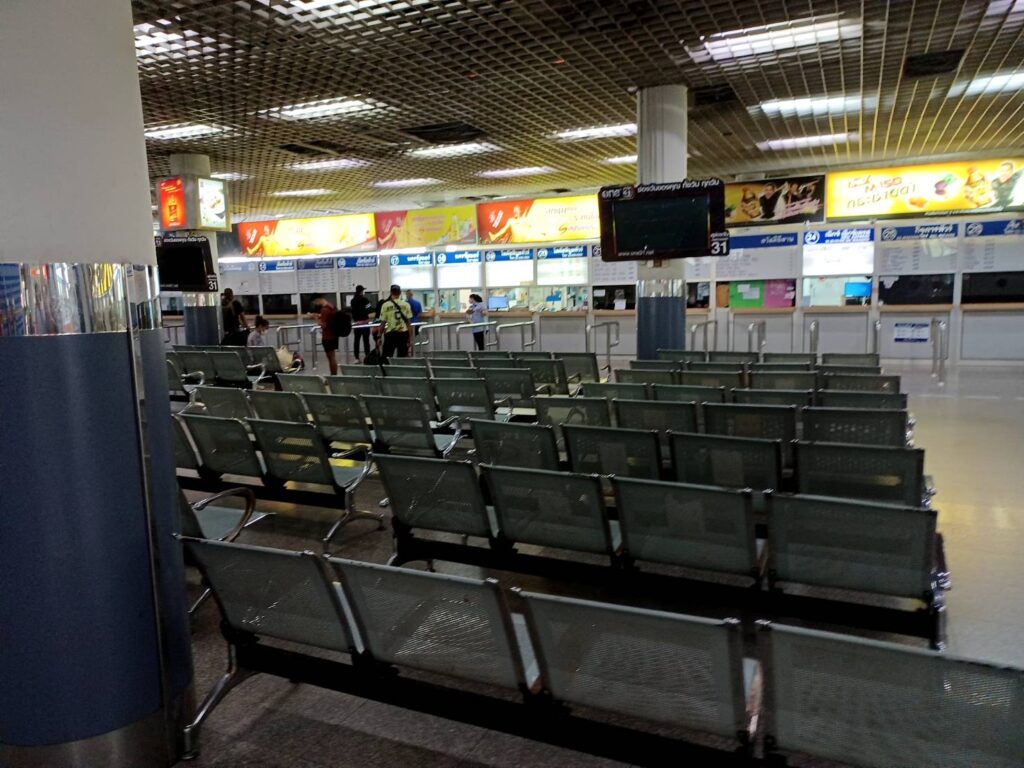 Came back to outside again. I found the ticket counter to North region at the right side of main entrance.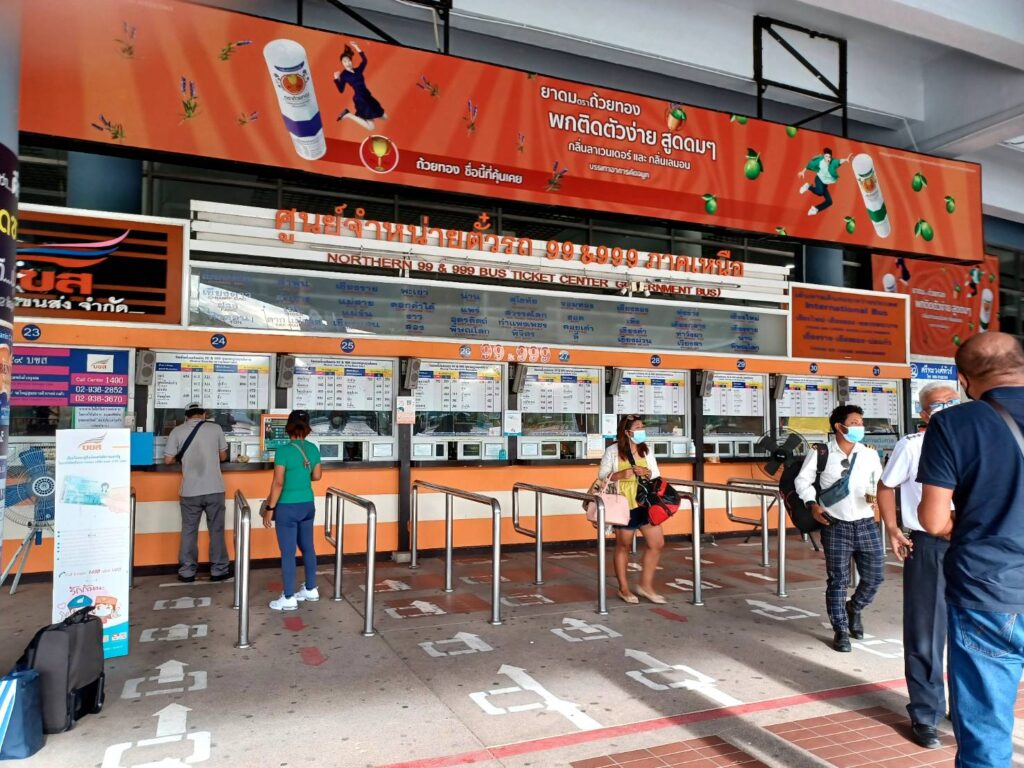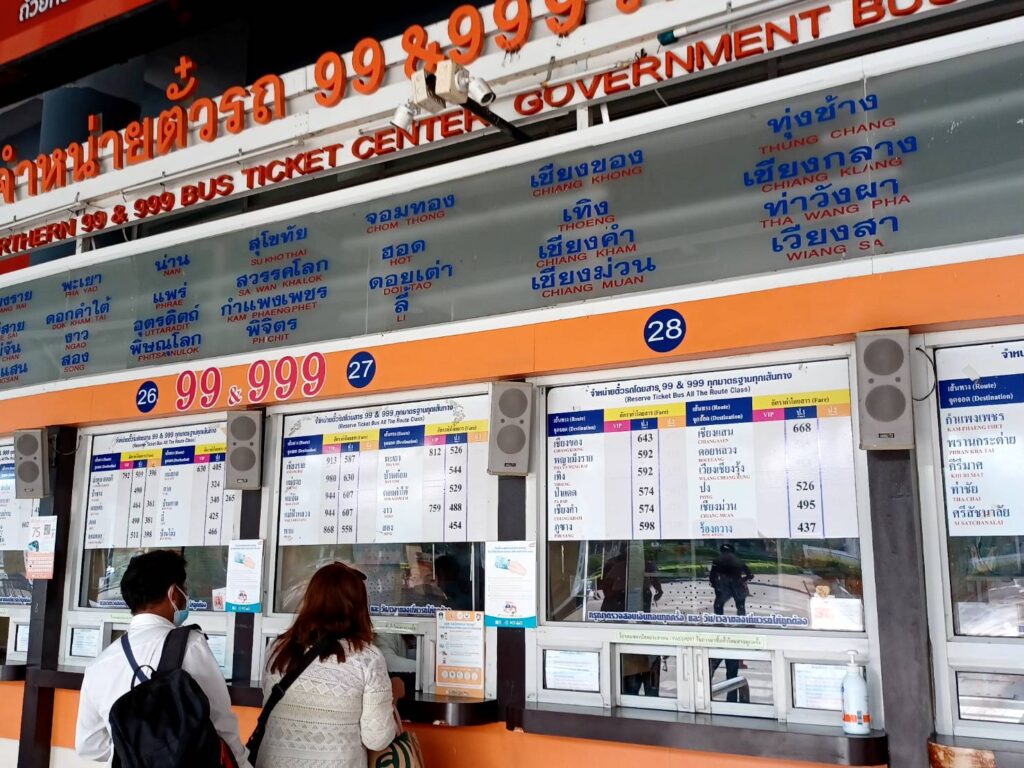 Air conditioned bus ticket, 194 THB to Nakhon Sawan province. Bus's final destination is Uttaradit province. I still had 30 minutes before bus departs at 8:30 am so I took breakfast in the lounge area.
To buy the ticket, you need to show passport so they record passenger details then print your name on the ticket. Staff also shows available seat on bus seat map via monitor so you can tell your pick.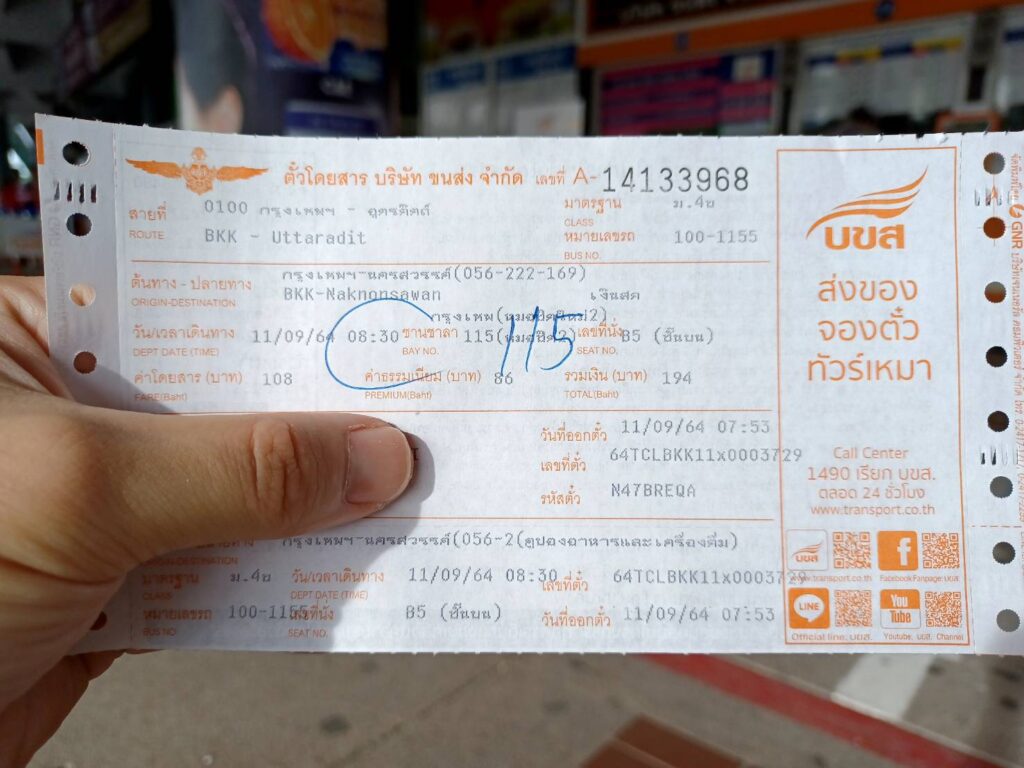 Going back to the terminal building to have breakfast. The commodity price at Seven eleven of bus terminal is a bit pricy compared to those in the city.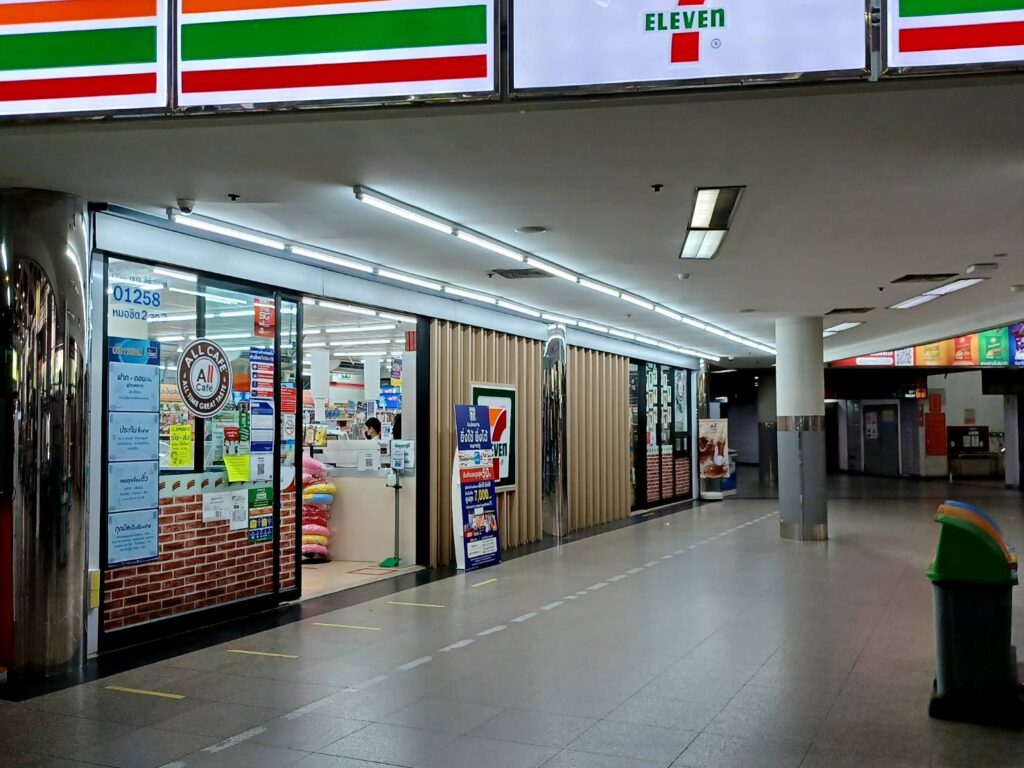 Let's go to toilet first before long trip. Several toilets can be used free inside the building, I do not know that there is free and clean toilet here because I remember that there was toilet with pay inside before, several years ago.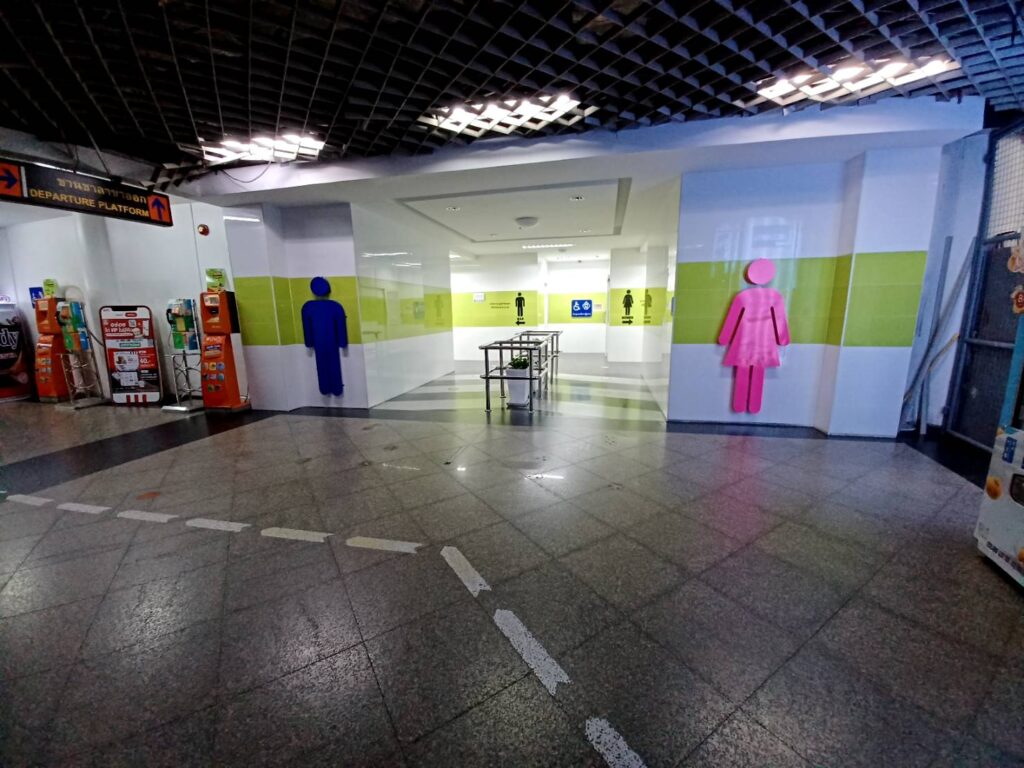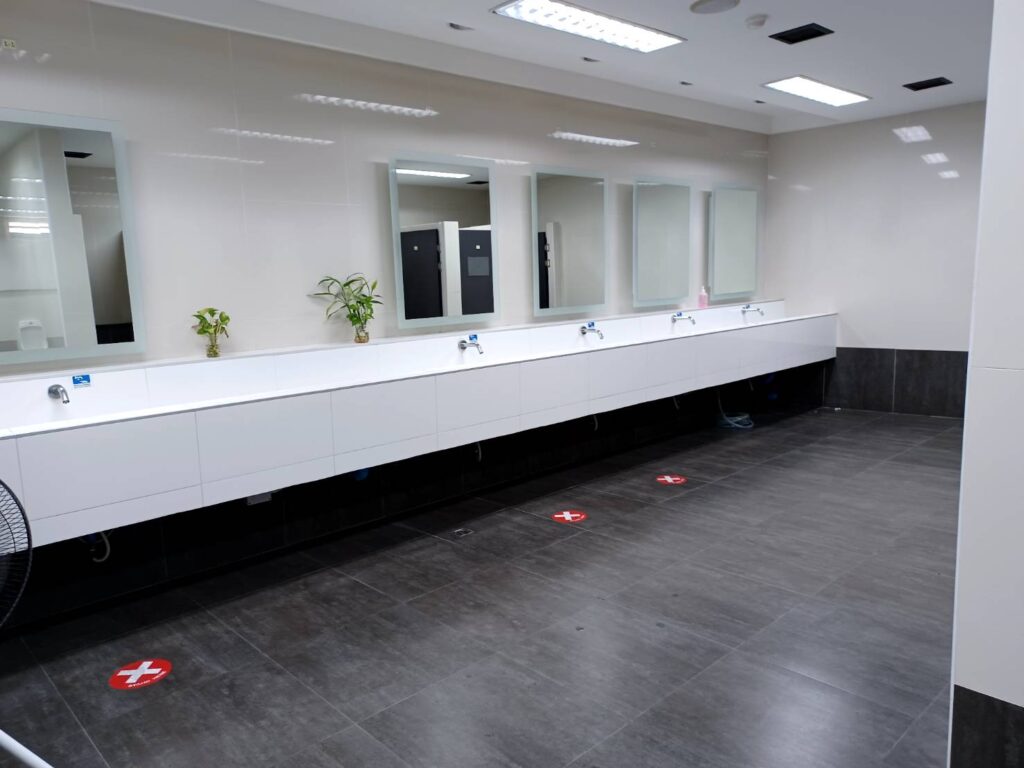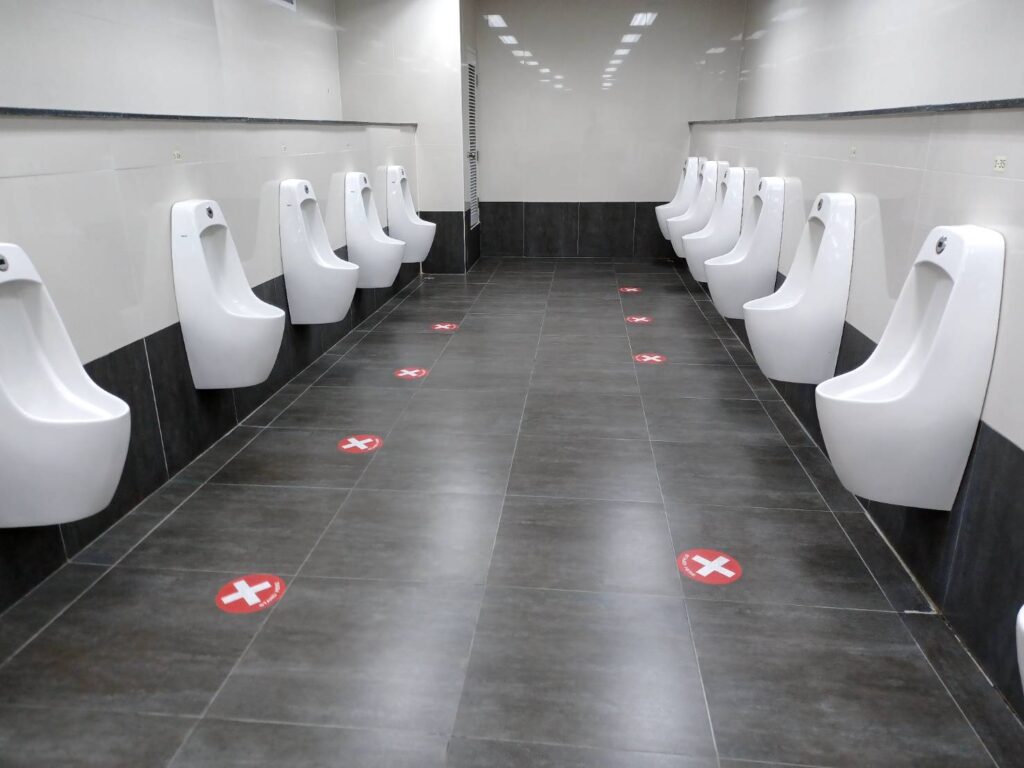 As 8:00 am coming, digital clock counts then everyone stopped walking to stand up. At 8:00 am national anthem plays to show all respect to Thai royal family. In Thailand, 8:00 am and 18:00 pm every day, you will hear national anthem in public place. You must stand up still to show respect to the royal family.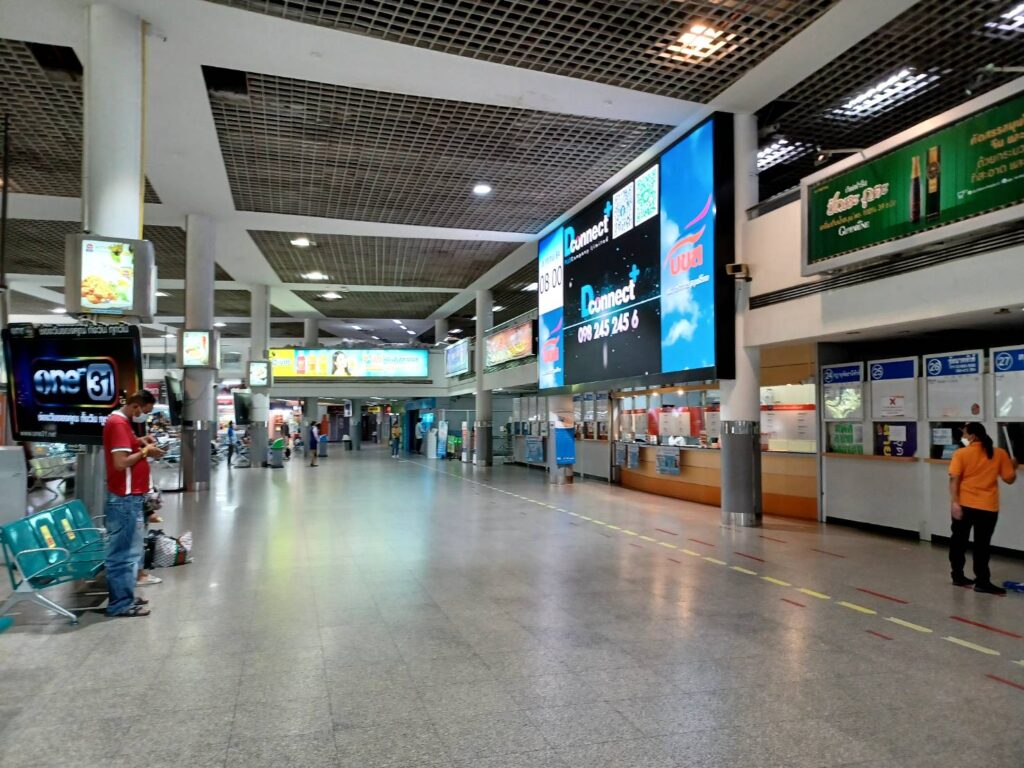 Heading for the waiting area by checking my bus gate number 115.  When entering the waiting area, Staff will check the temperature and ticket destination.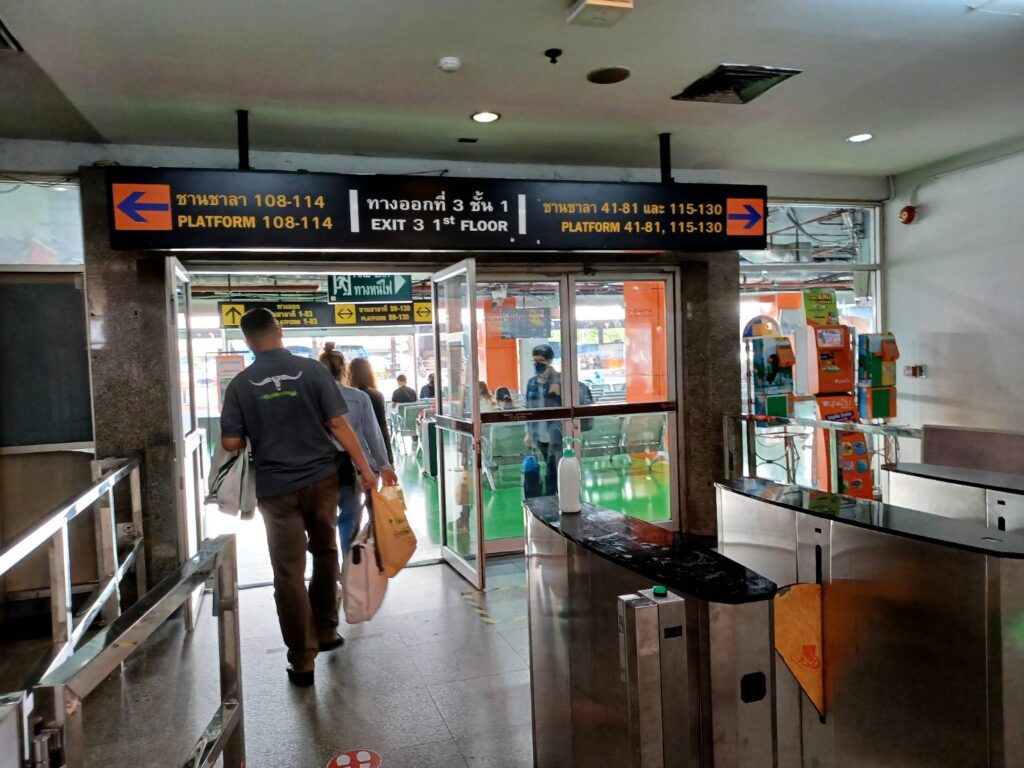 Waiting area.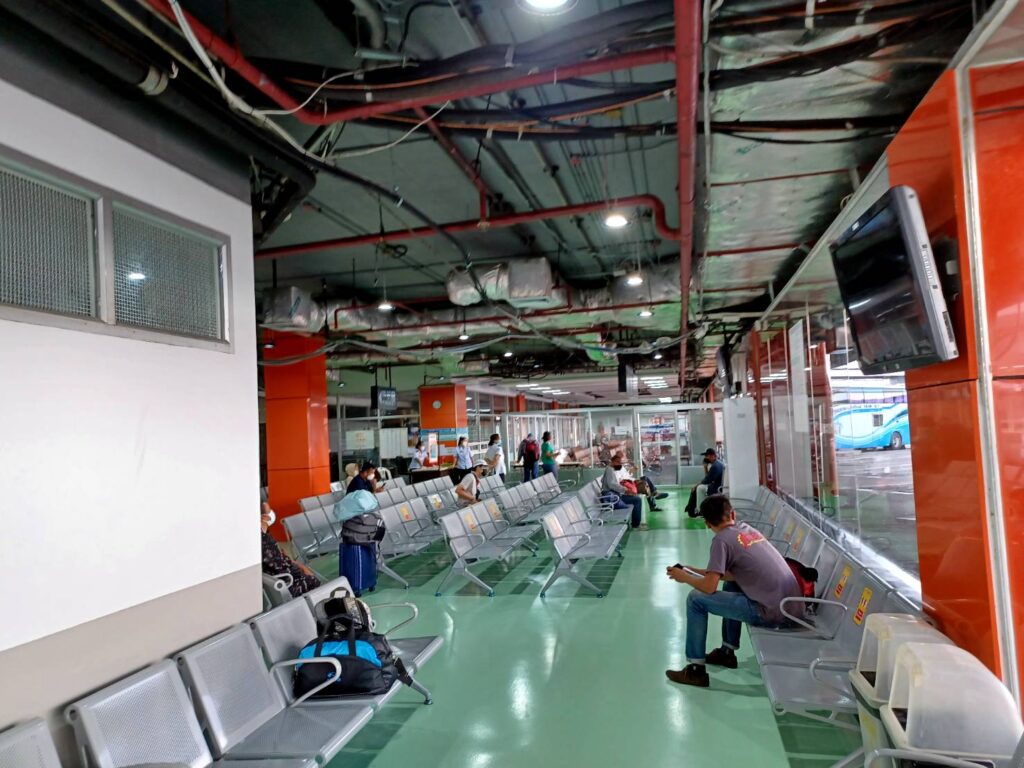 Bus to Uttaradit arrives 8:20 am. Be careful of the announcement not to miss it.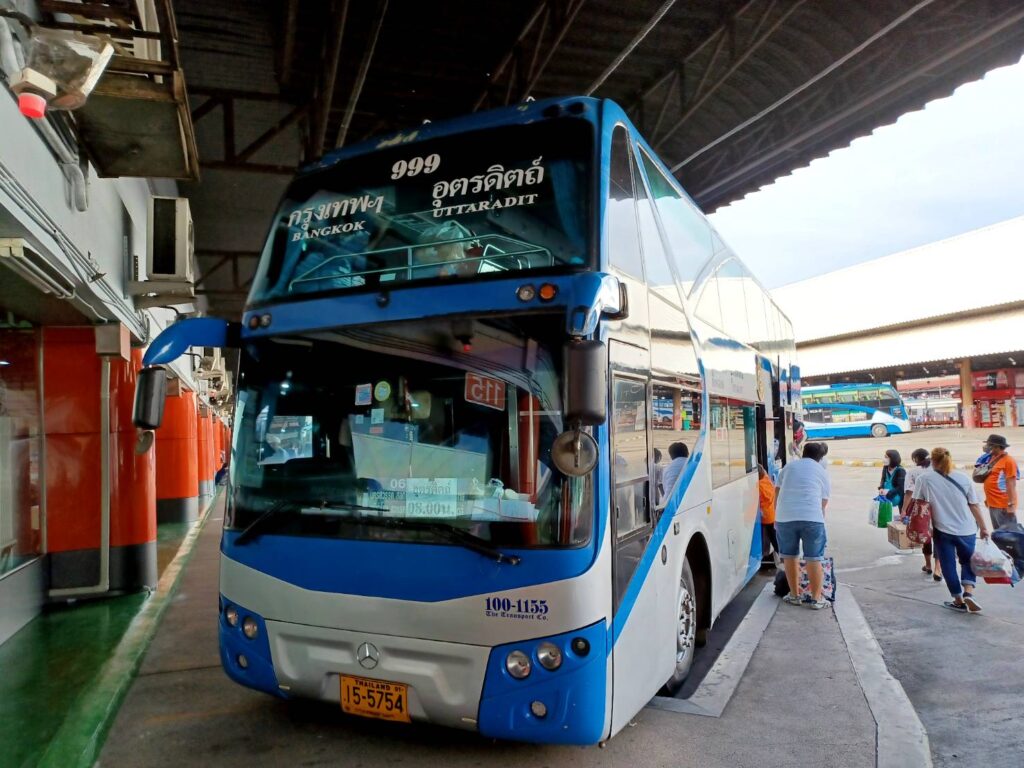 Bus departure time from Mo chit is 8:30 but bus show 8:00 as departure so the bus must have departed somewhere at 8:00 then come next to Mo chit station. As evidence , there are many passengers already inside bus.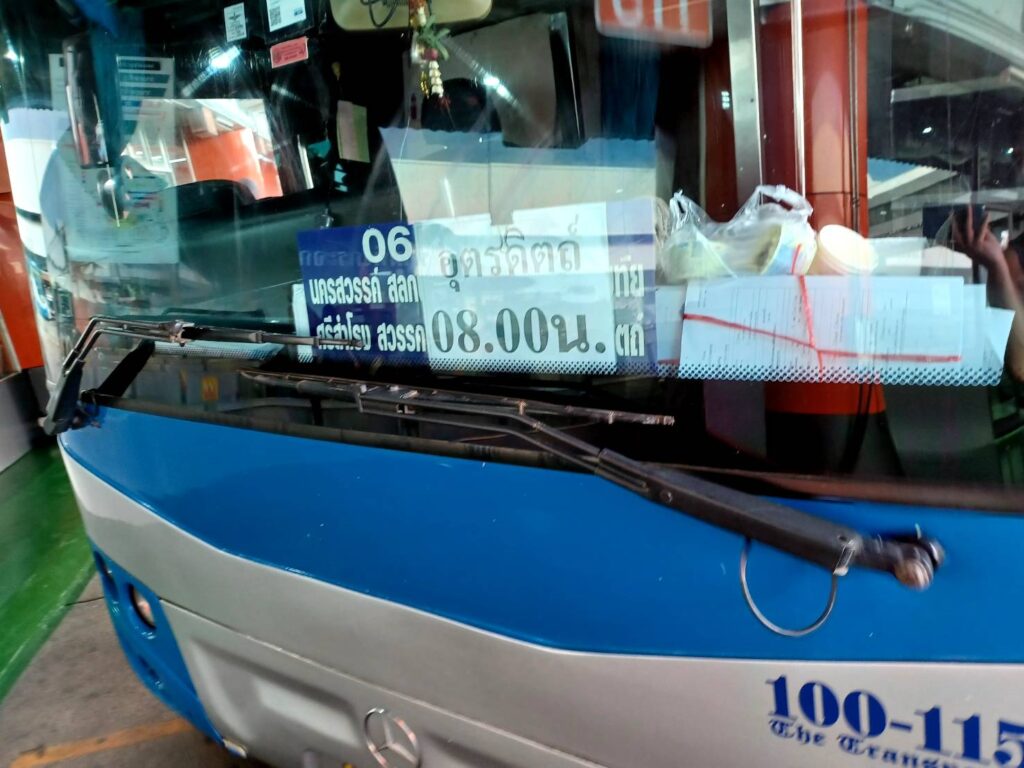 Bus is 2 story air conditioned. At the back side of lower floor consists of storage area so you can put your luggage there.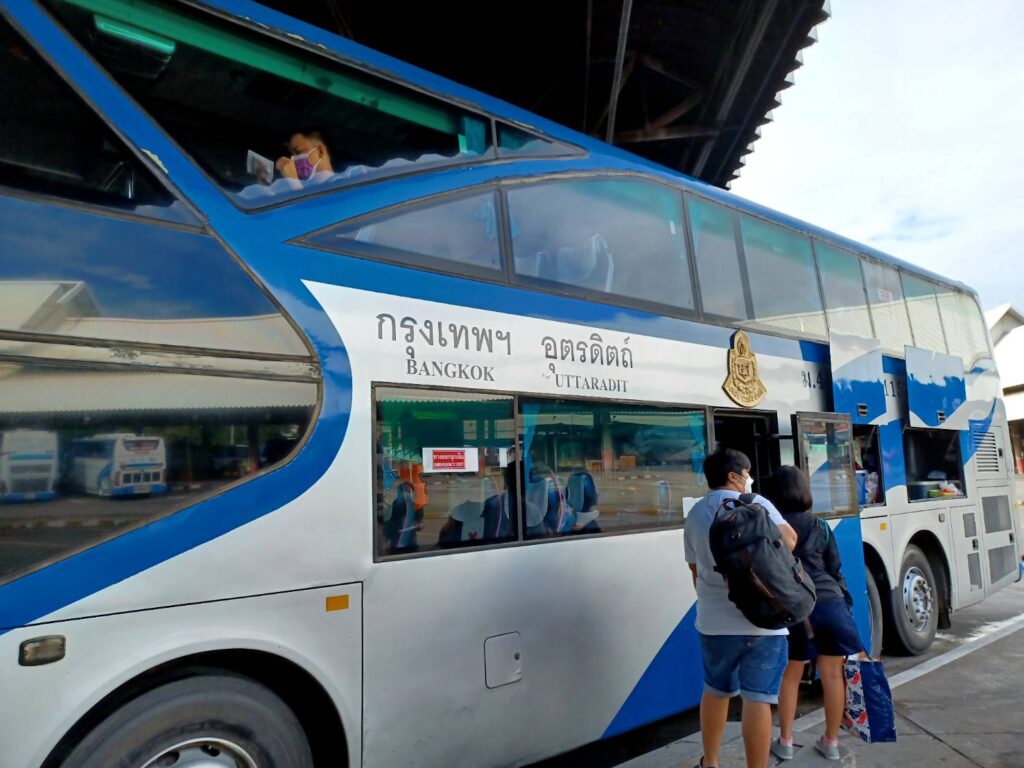 My seat is on 2nd floor. Your seat number can be checked at the back of the seat .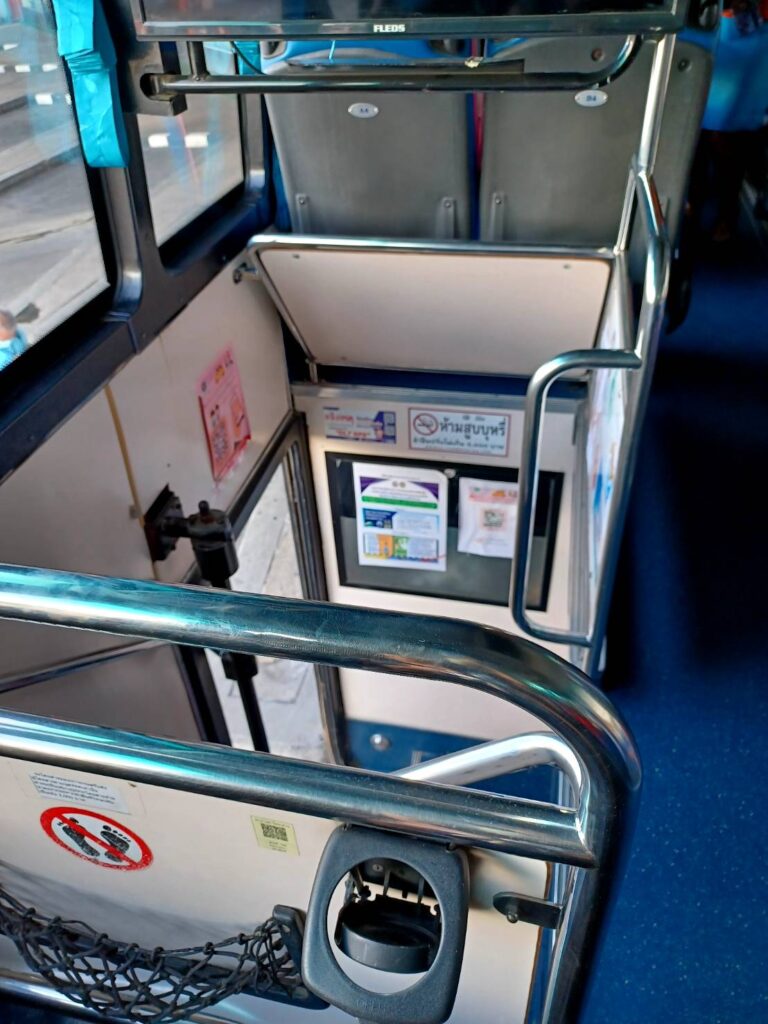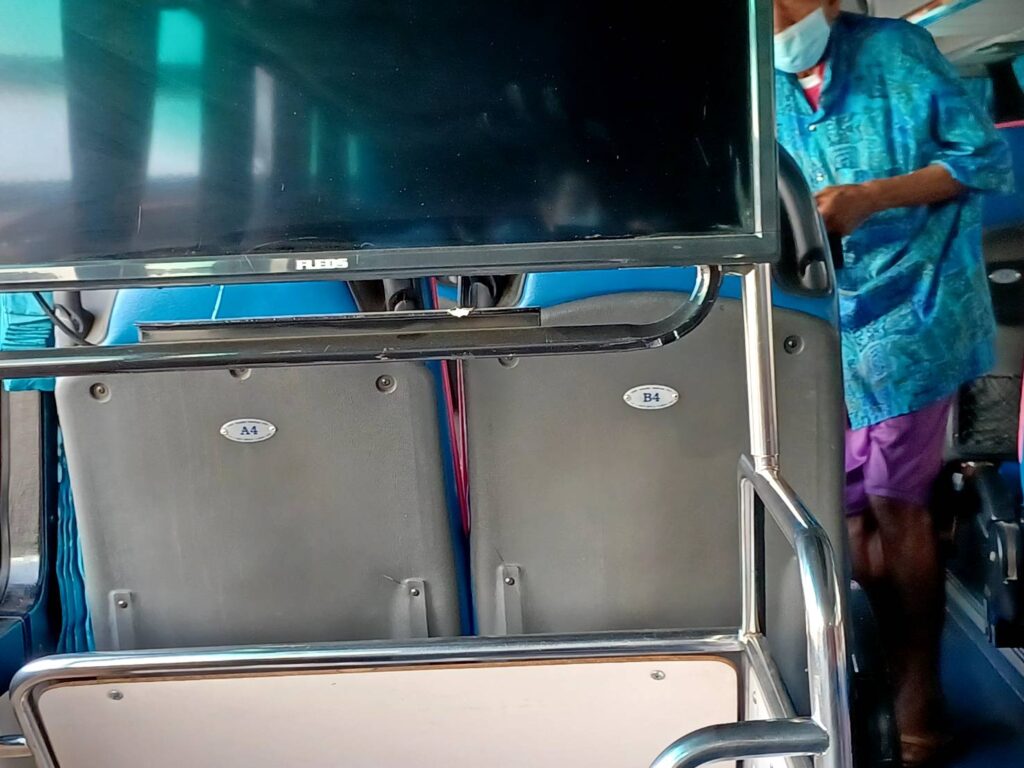 There is enough space between each seat so you can stretch your legs to to get tired.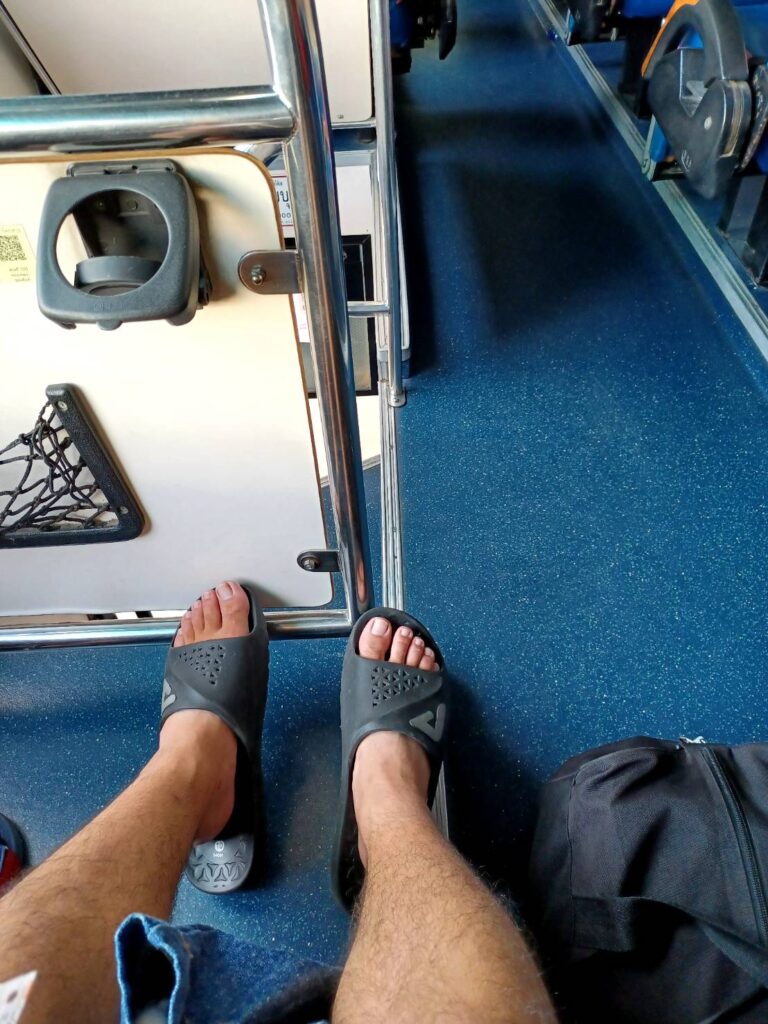 Bus ride to Nakhon Sawan 3 hour 30 minutes
Bus departed at 8:40 in the morning. Once moved, bus conductor approached passengers one by one to collect the documents below. Other passengers already had it filled in but at the time, I never had the form so the staff gave me the paper and lent the pen.
10 minutes later, bus conductor lady came back to me then collected the documents. She also required me to fill in another form with name, phone number, destination and destination address. I do not attach the picture of another form since other passengers already completed their information written. All are filled in Thai language so I guess foreigner was only me at the bus. She also asked you the drop off point at your destination. You can just tell her "bo ko so" (bus terminal) in case you do not have specific point to get off the bus.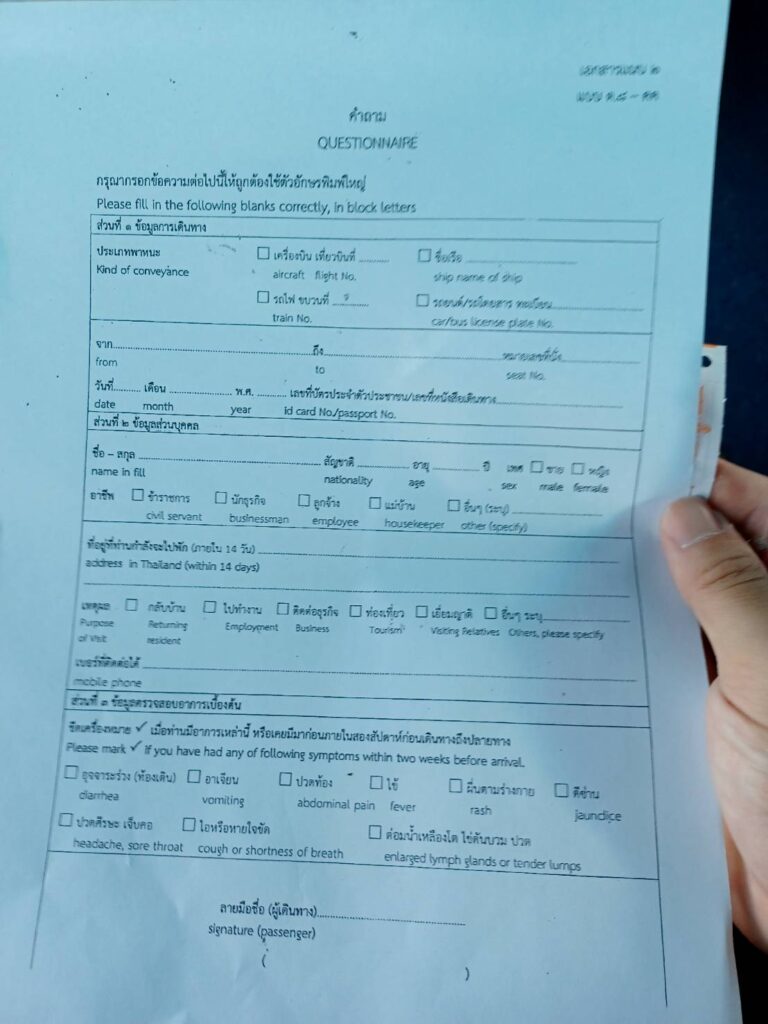 Around 60% occupancy rate, Corona restriction measure does not allow more than 75% of seats at transportation.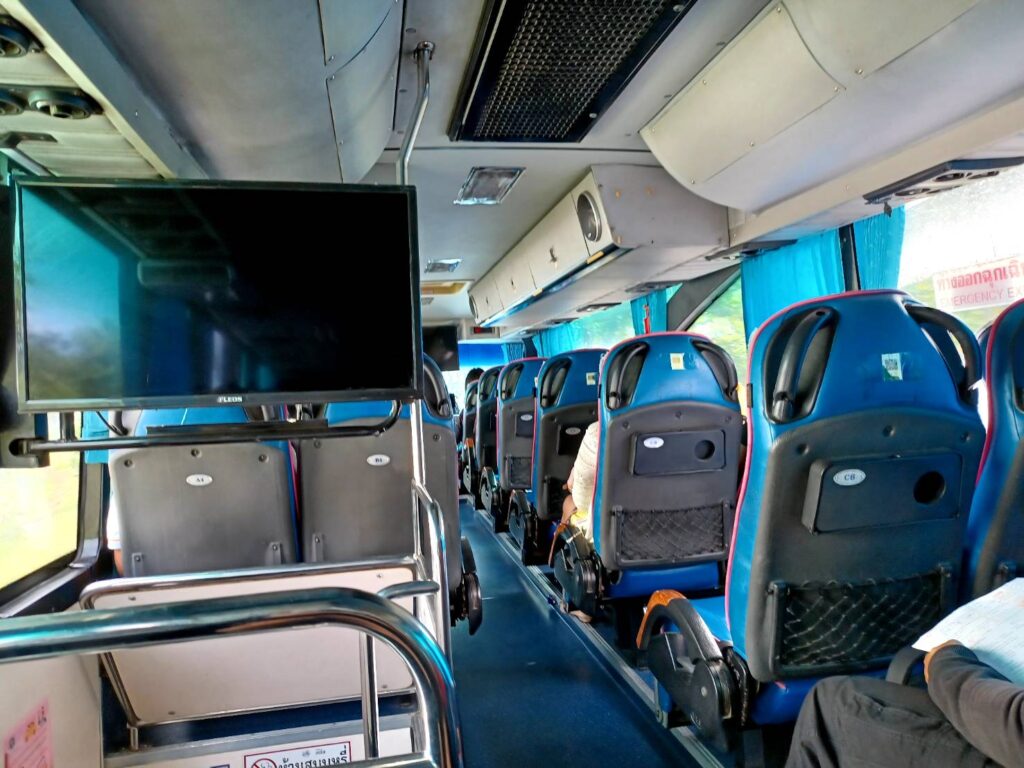 Free water distribution to all.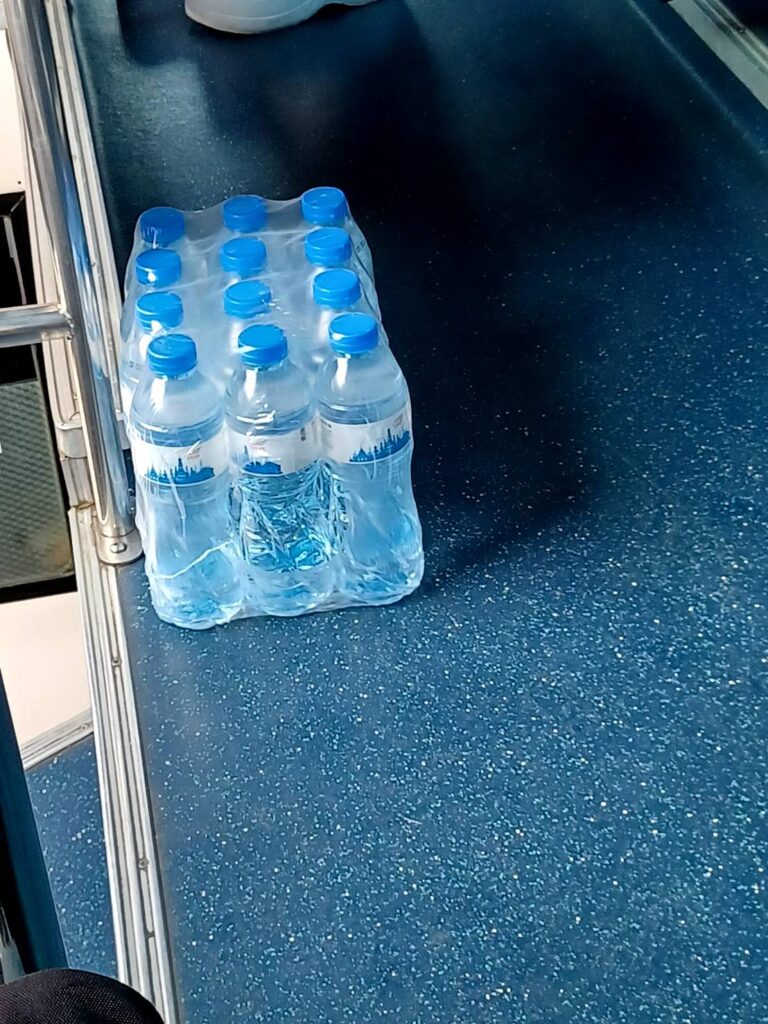 Toilet is available at 1st floor. They did not have paper so please be with you always for your provincial trip.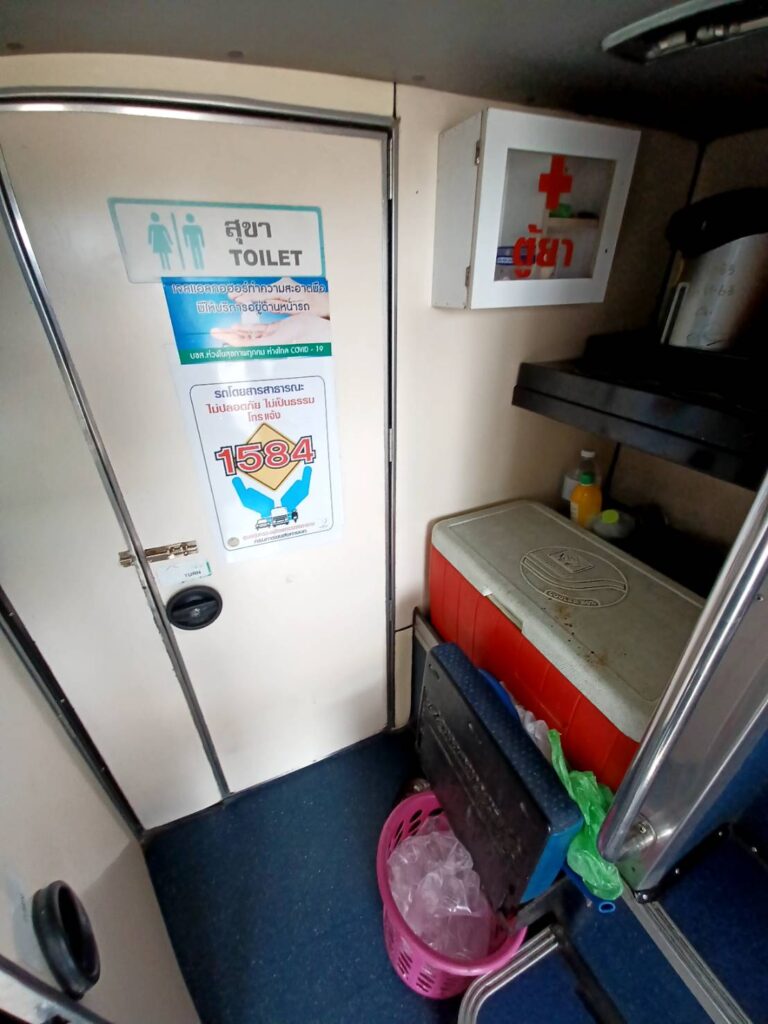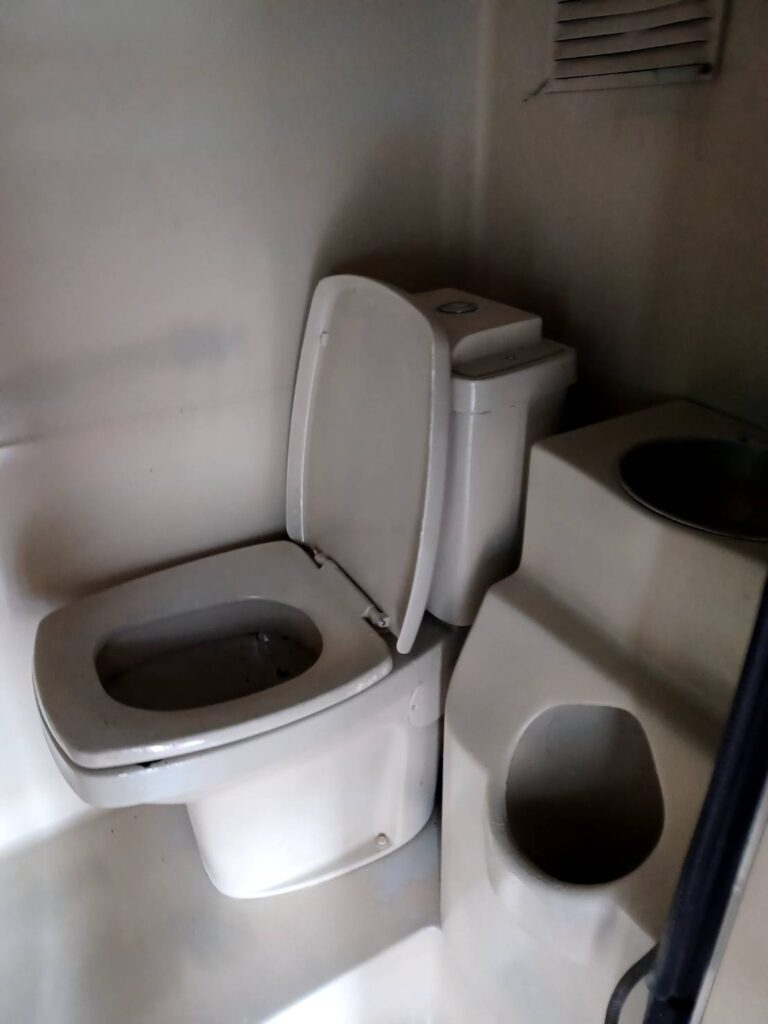 After 2 hours from Bangkok, Bus came to stop at the bus station in Sing Buri province. Bus stops around 30 minutes here for the rest.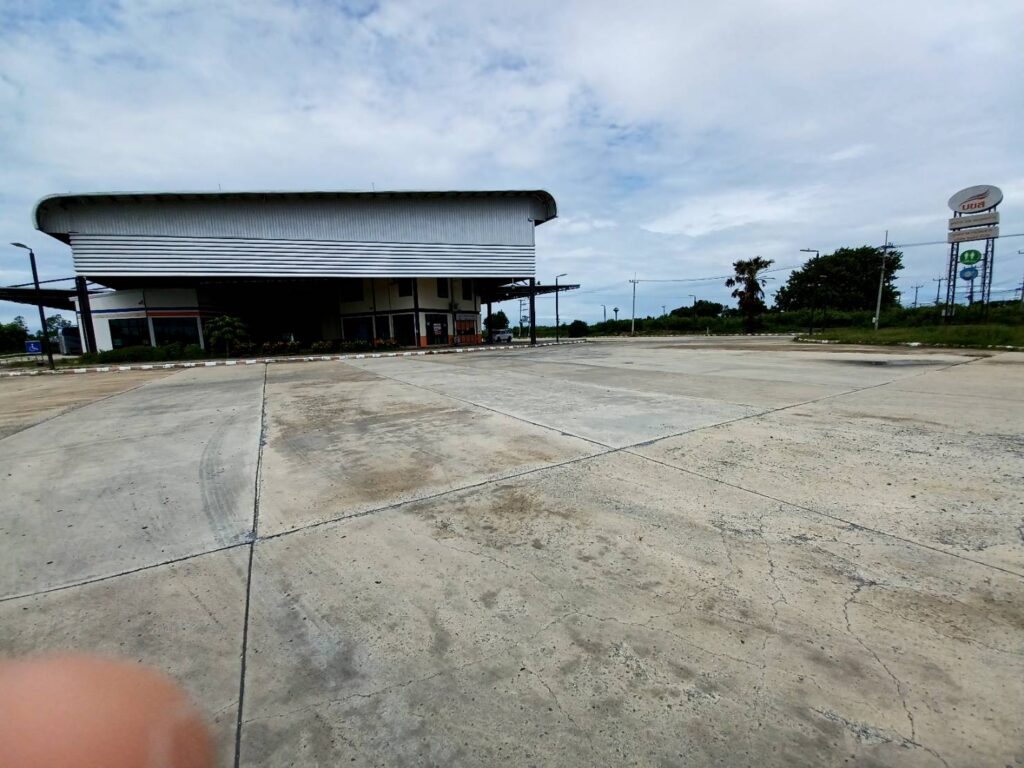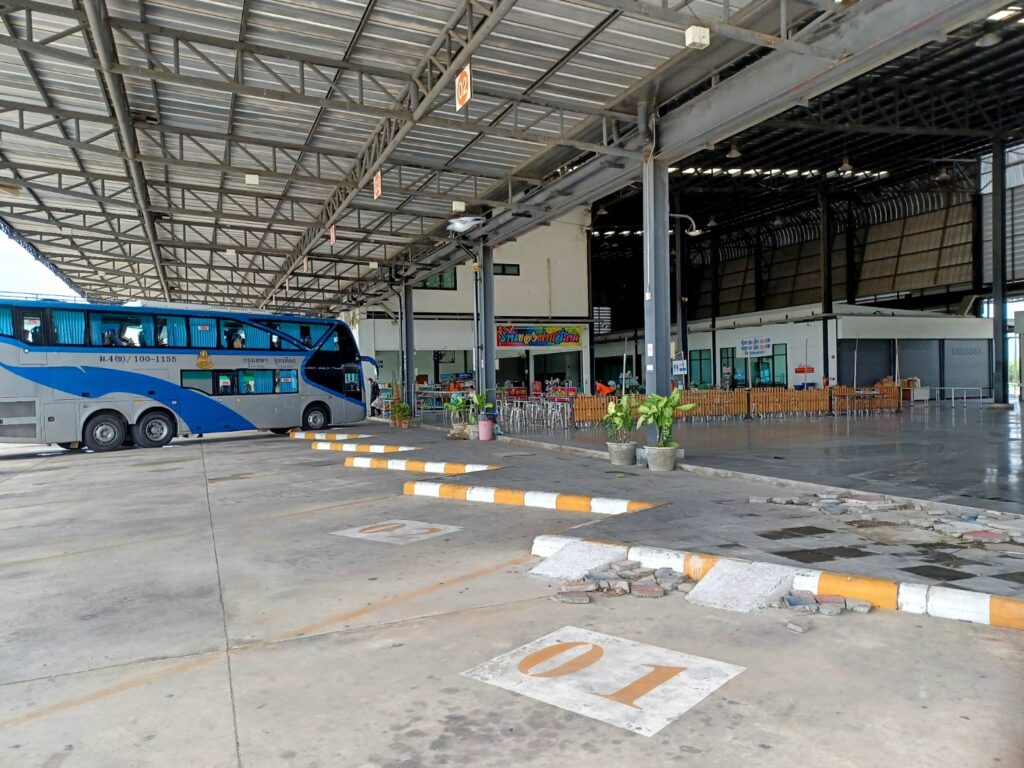 There was food stall for noodle and rice plate. I observed other passengers to show the bus ticket to get one bowl so I followed them then get my rice plate for free.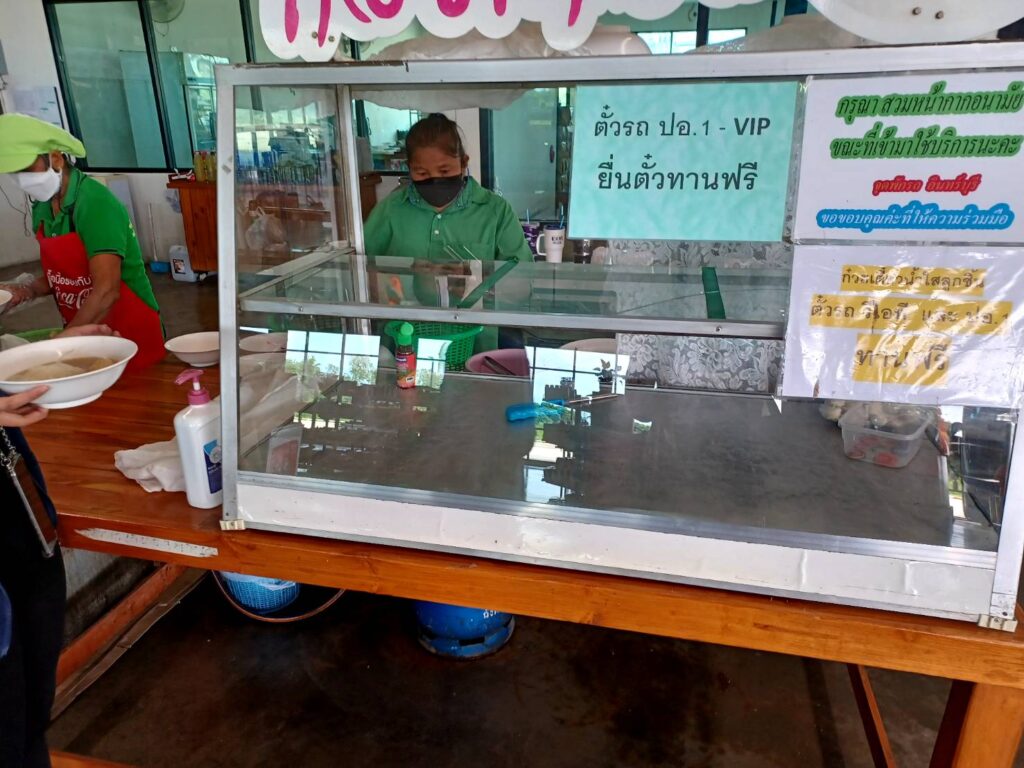 This is for rice meal, you can choose rice toppings.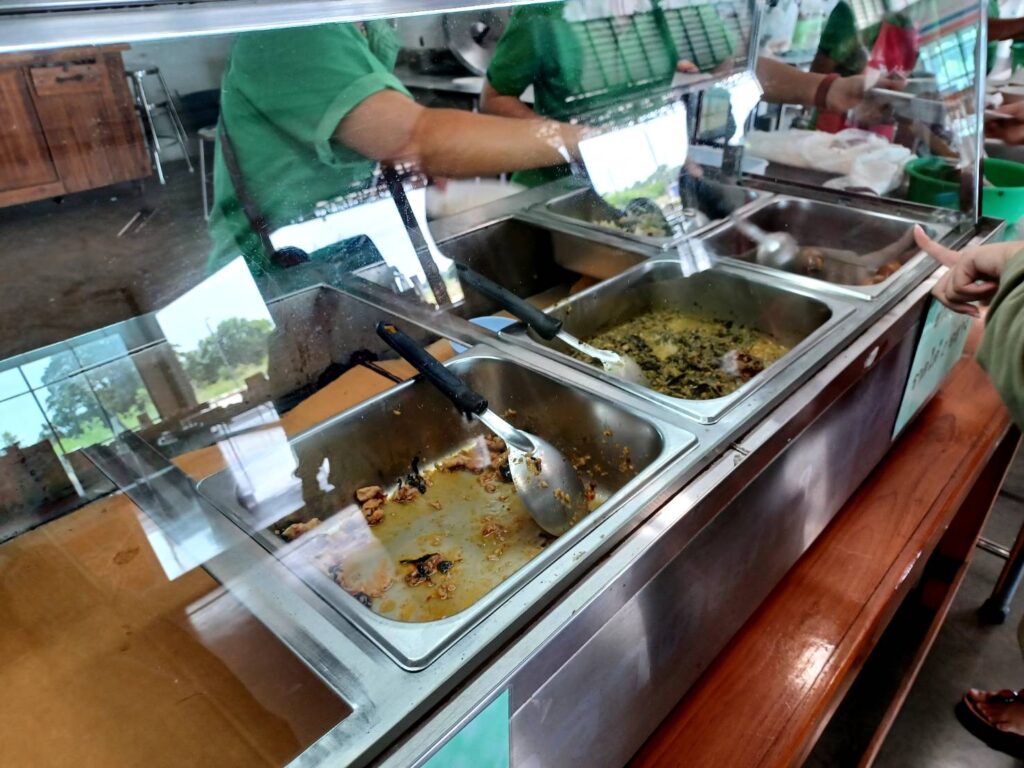 Condiments for your preferred taste.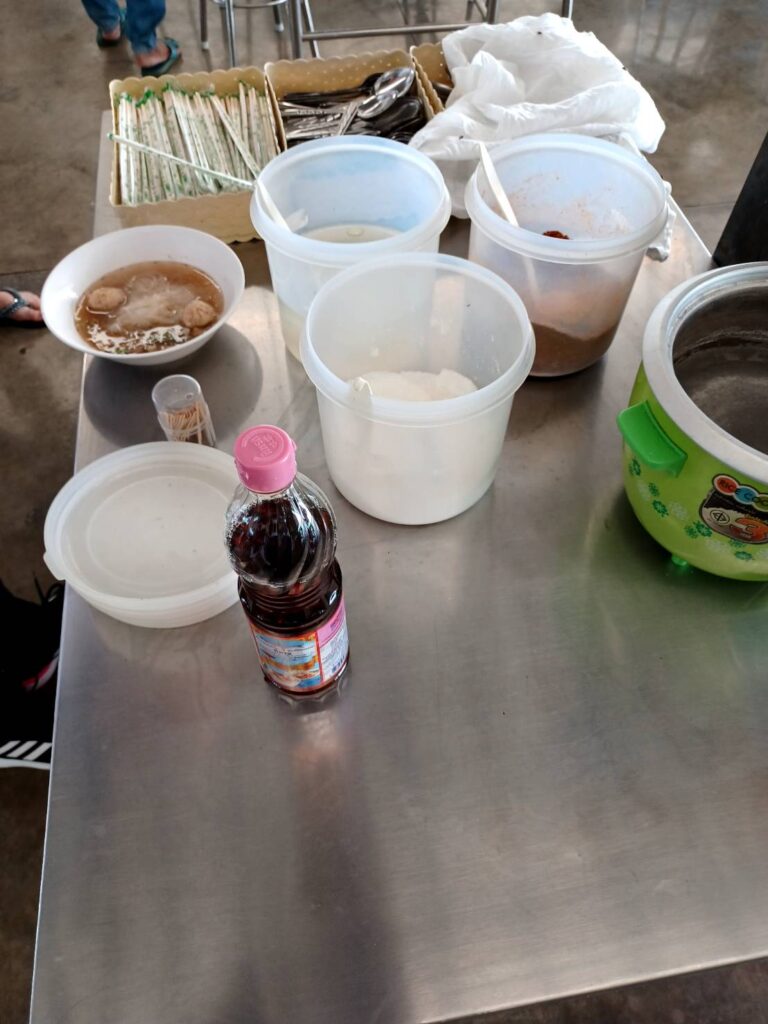 Here is my rice meal with vegies and egg. Nice but a little bit sweet. Overall taste is good.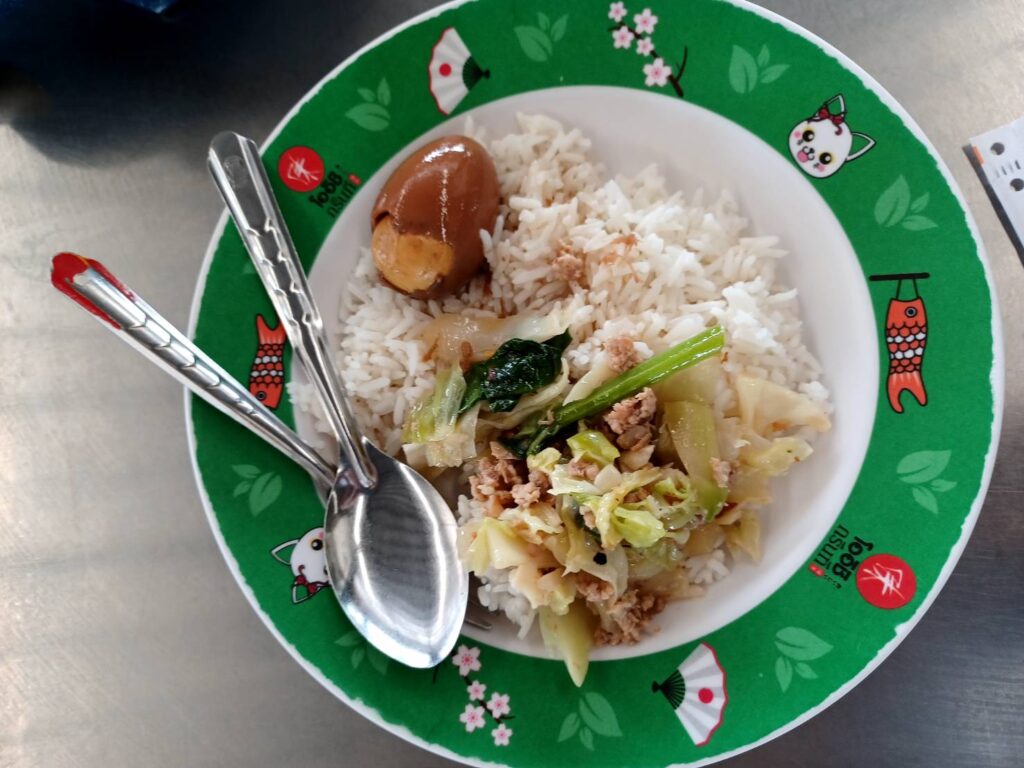 Put dishes here after eating.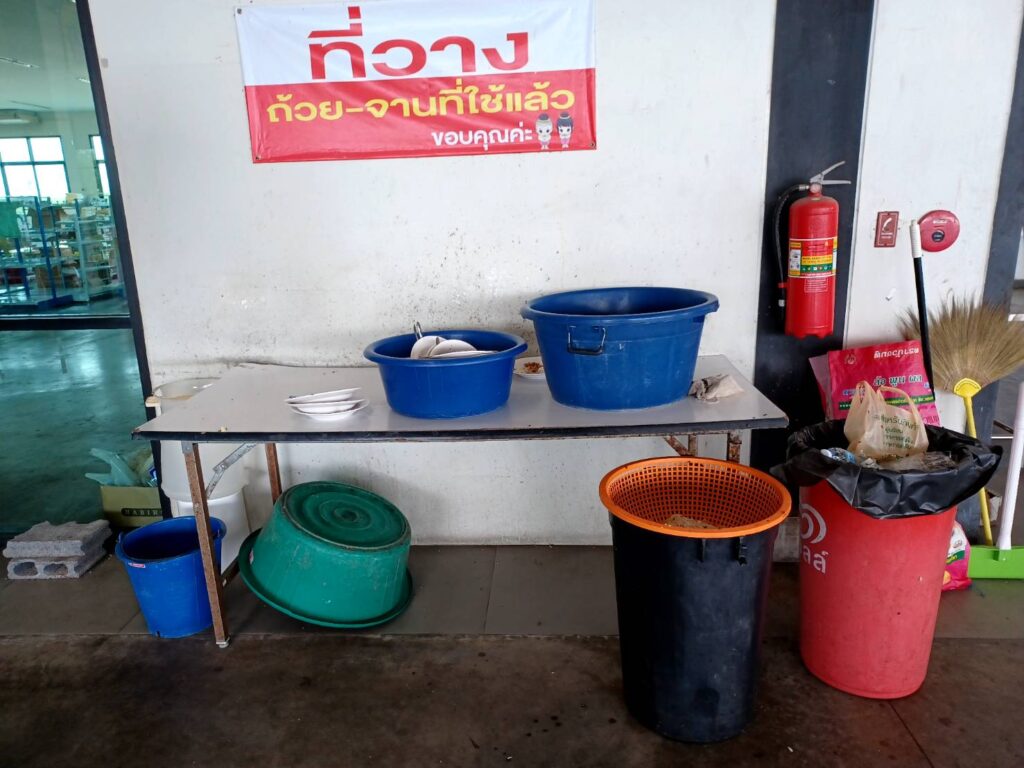 Toilet before leaving.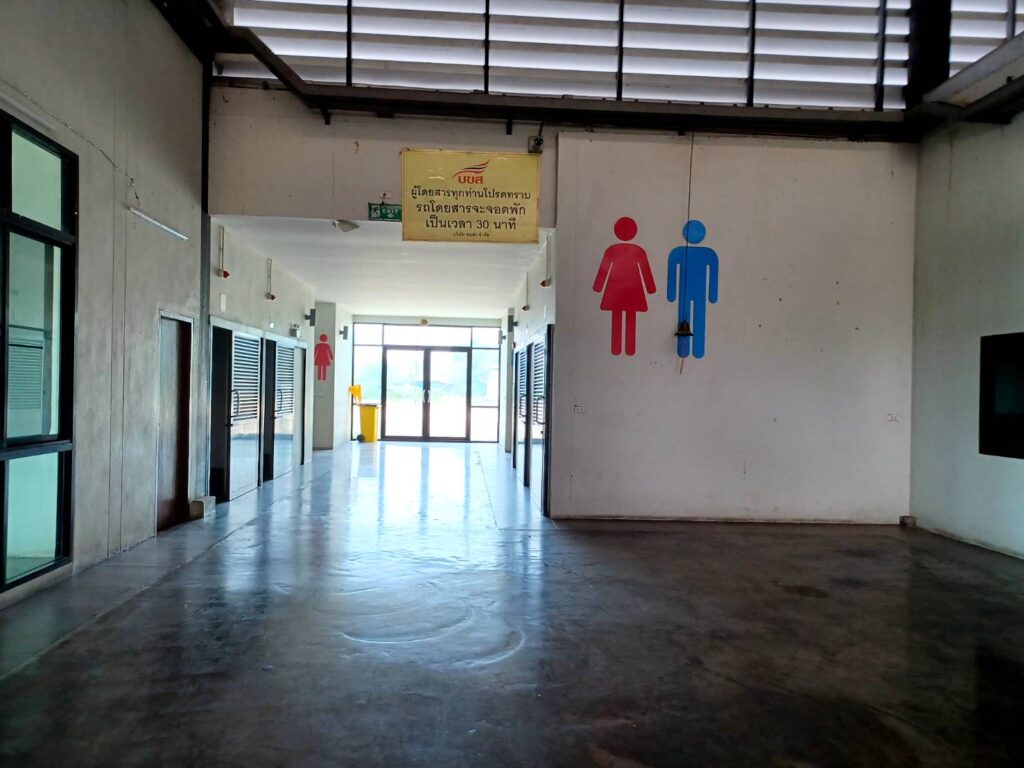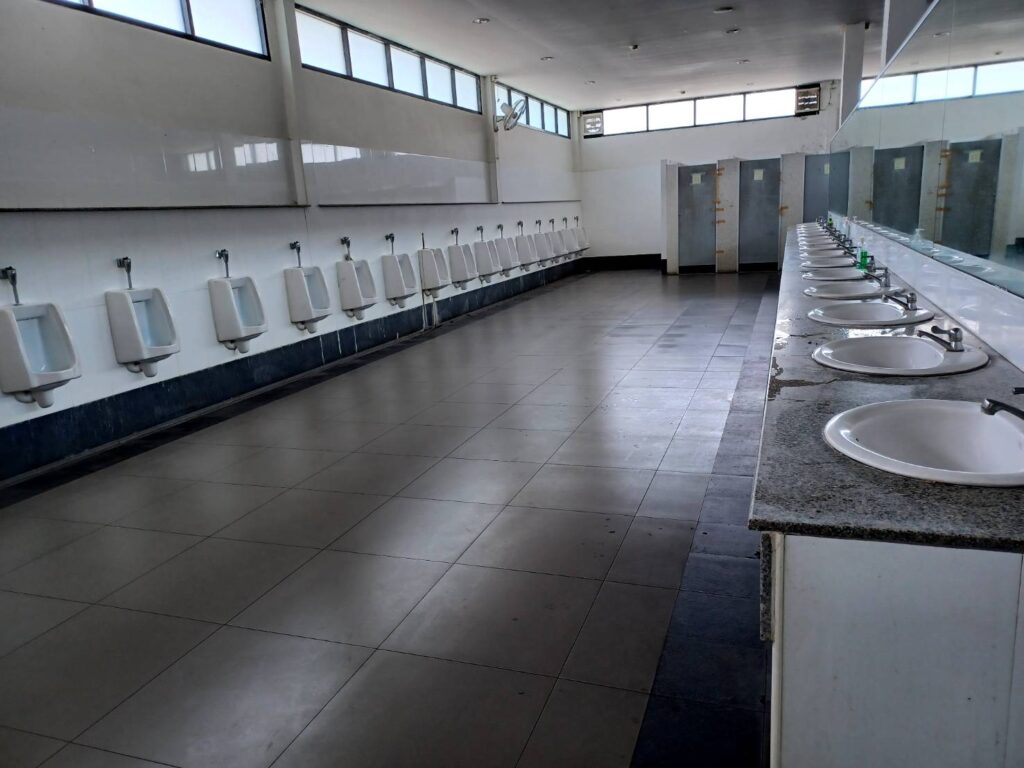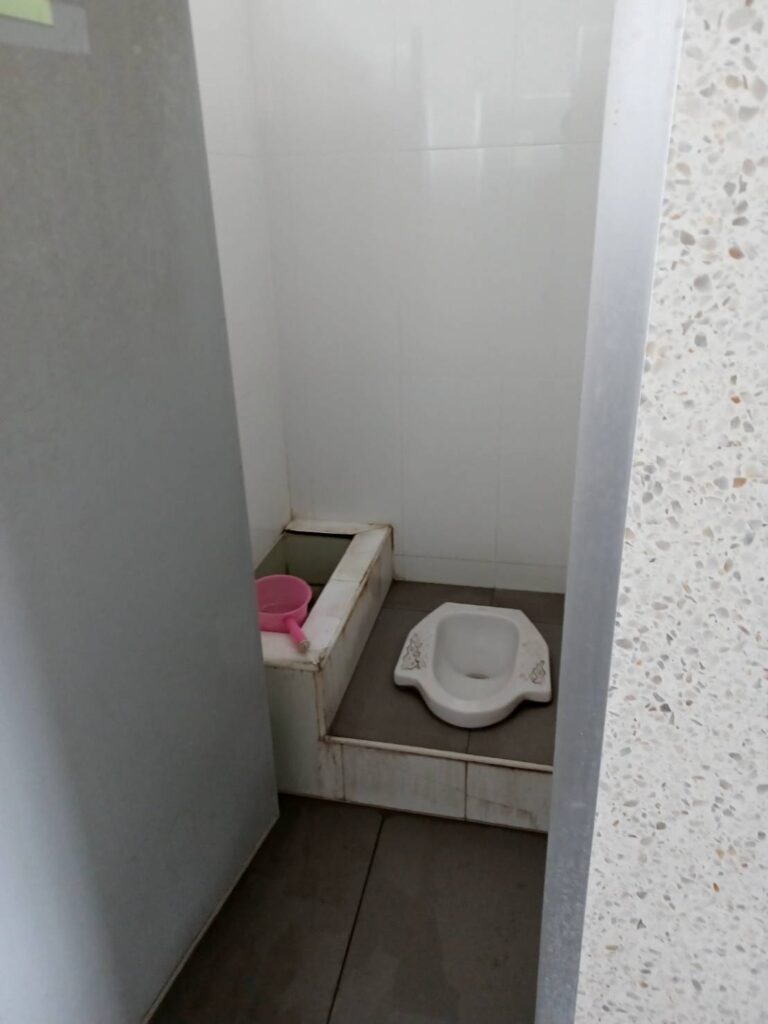 Late breakfast time for passengers.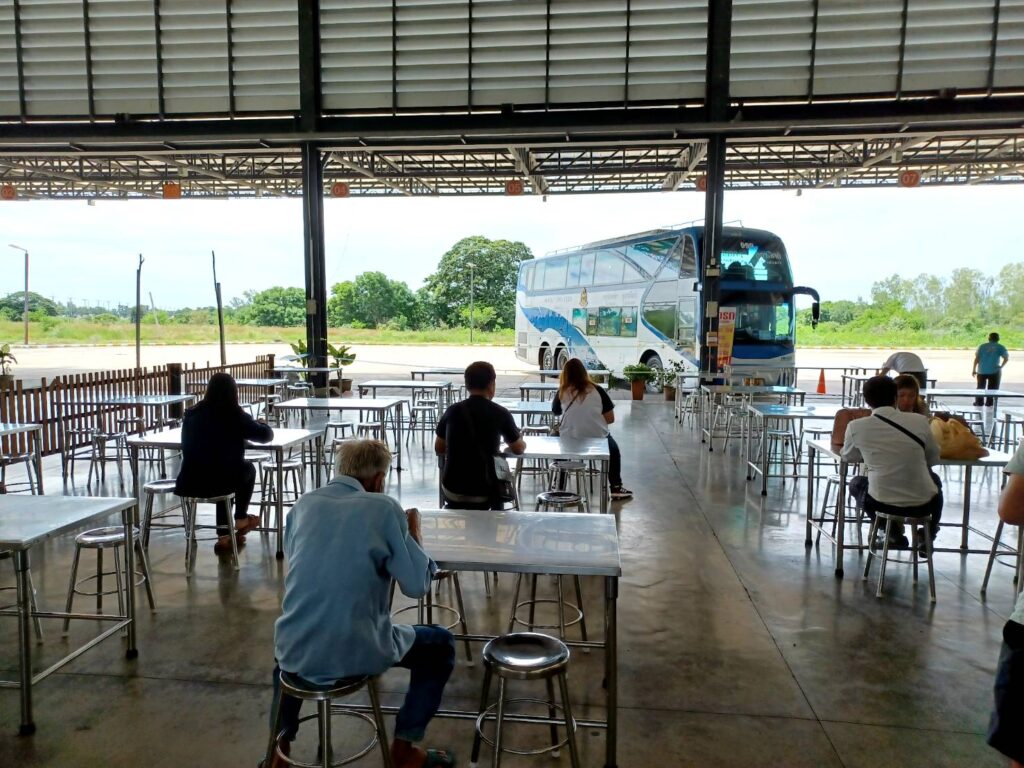 Drinks and souvenir items are on sale.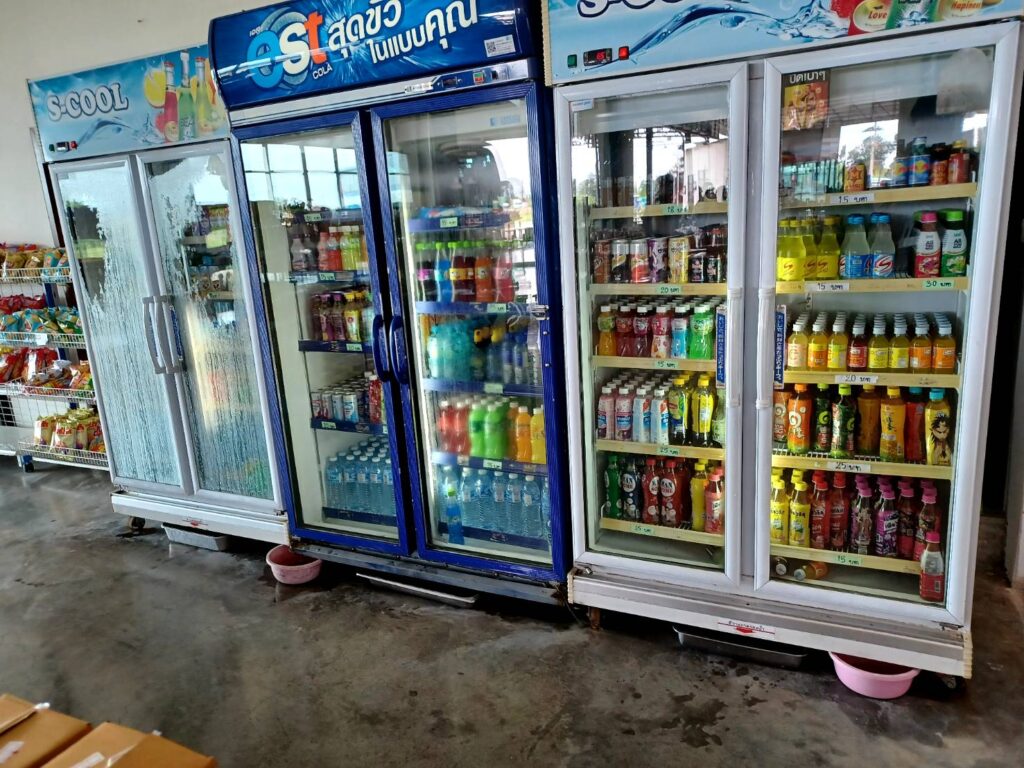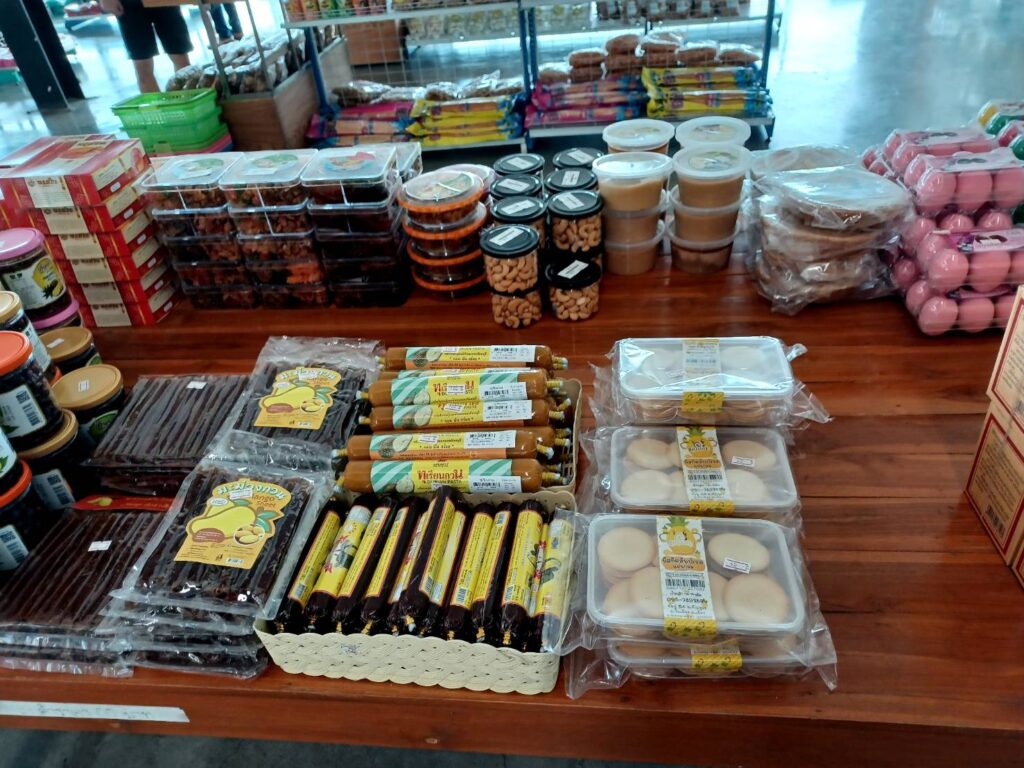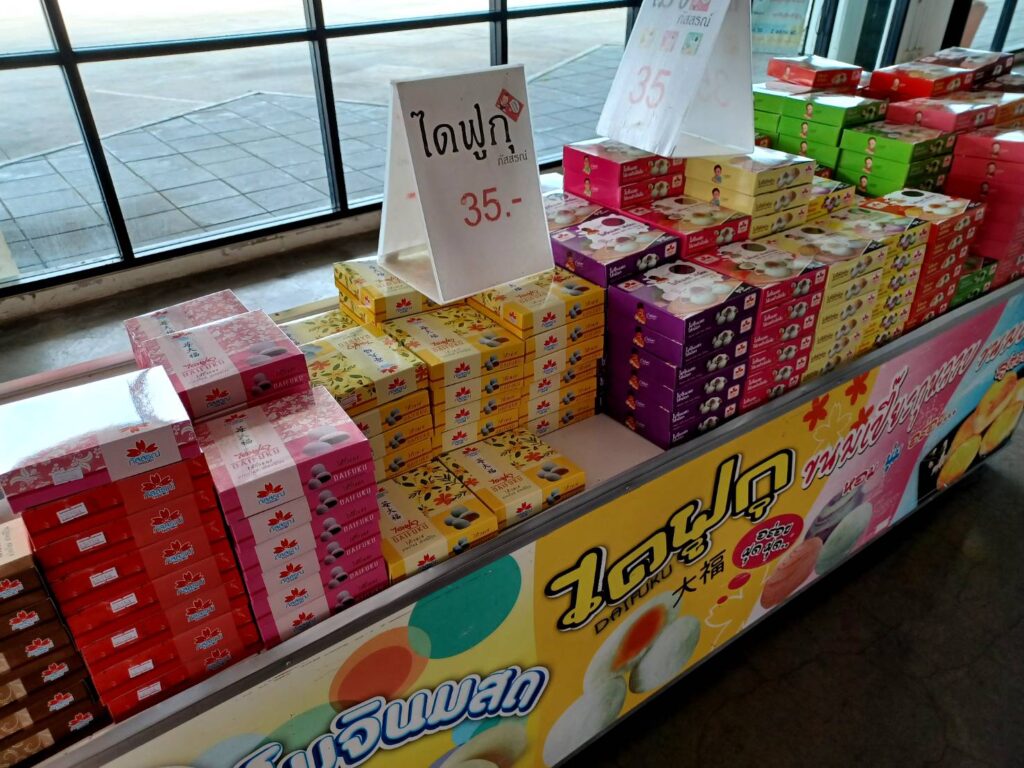 Cute small cups comes with herb(?) tea.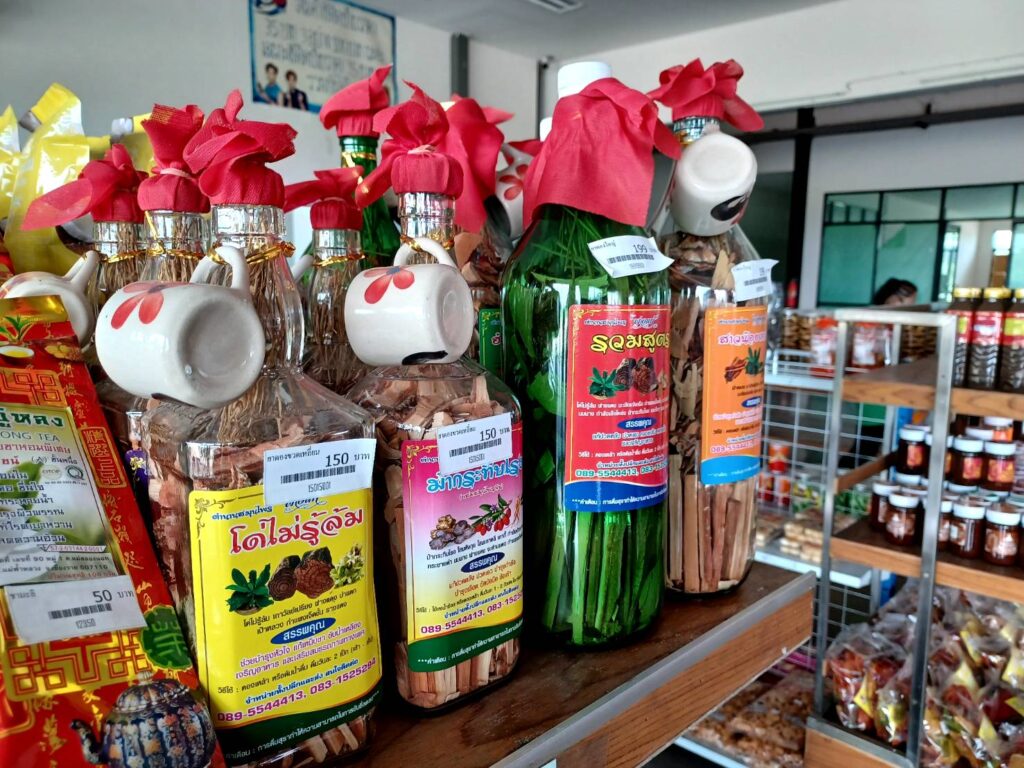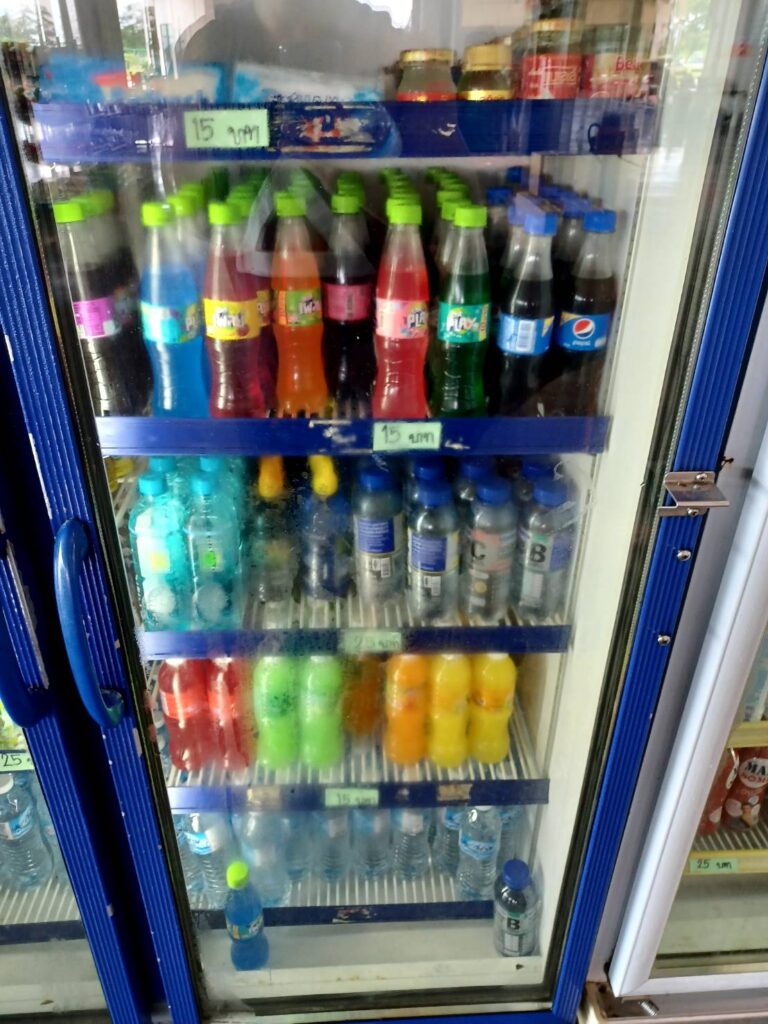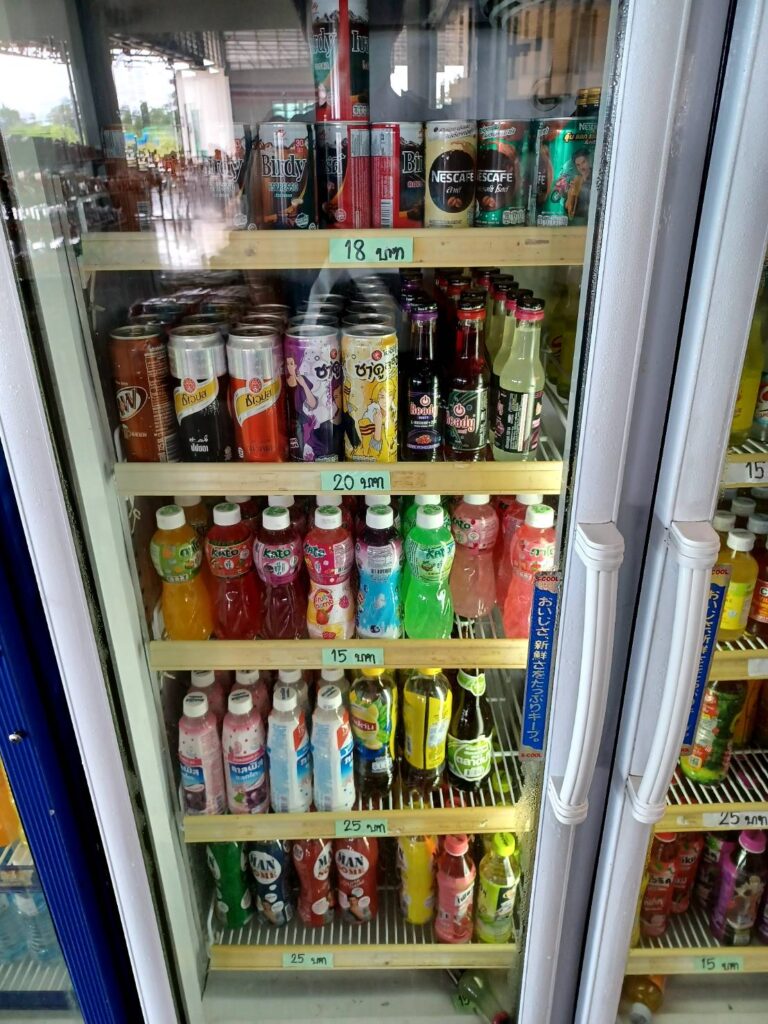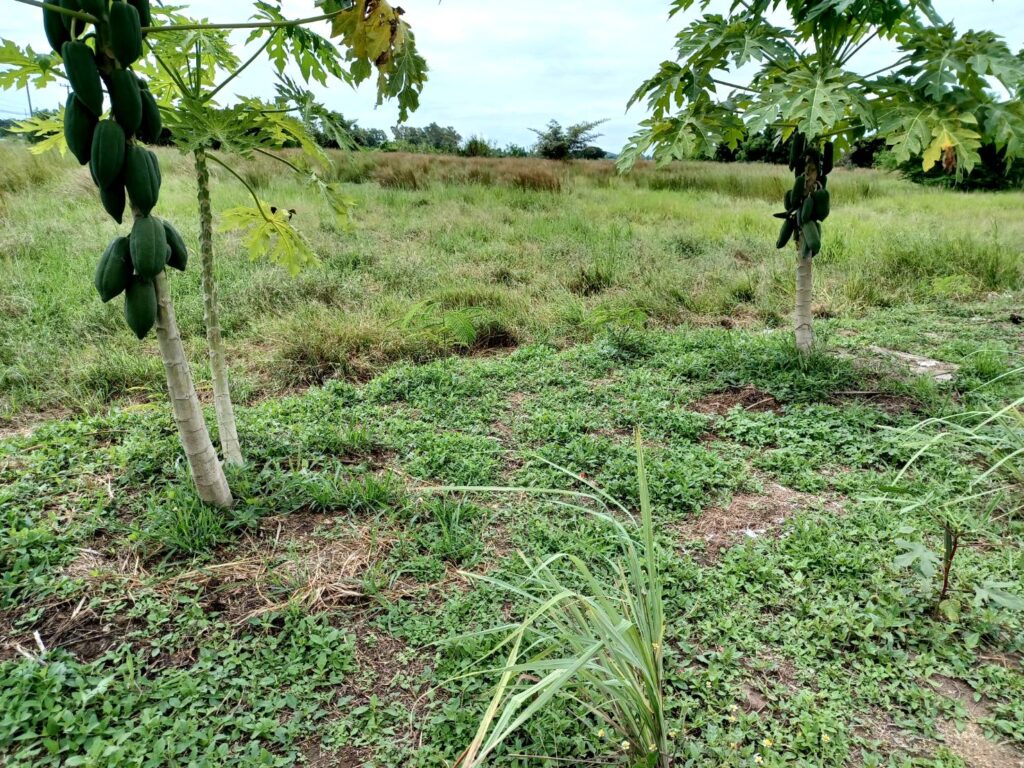 Bus restarted after 30 minutes rest. It was 13:30 pm when reaching Nakhon Sawan city center. Without rest time, bus trip takes 3 hour and 30 minutes in total from Mo chit, Bangkok.
Crossing Chao Phraya river when entering Nakhon Sawan city center.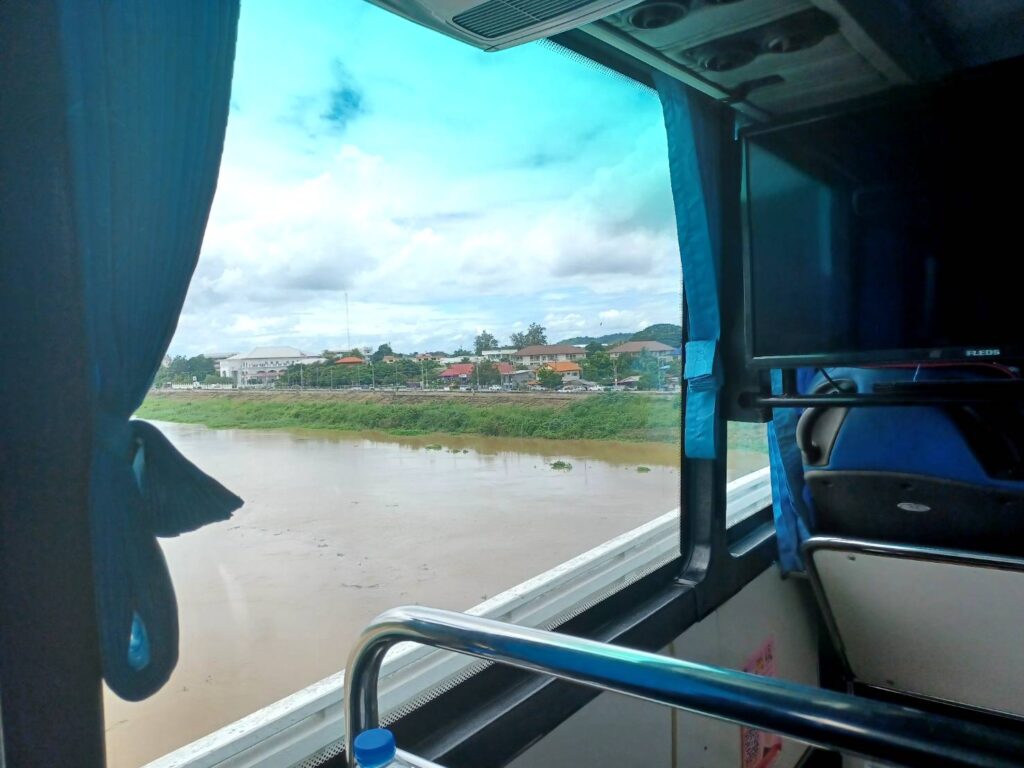 I received snack box when leaving the bus at Nakhon Sawan bus terminal.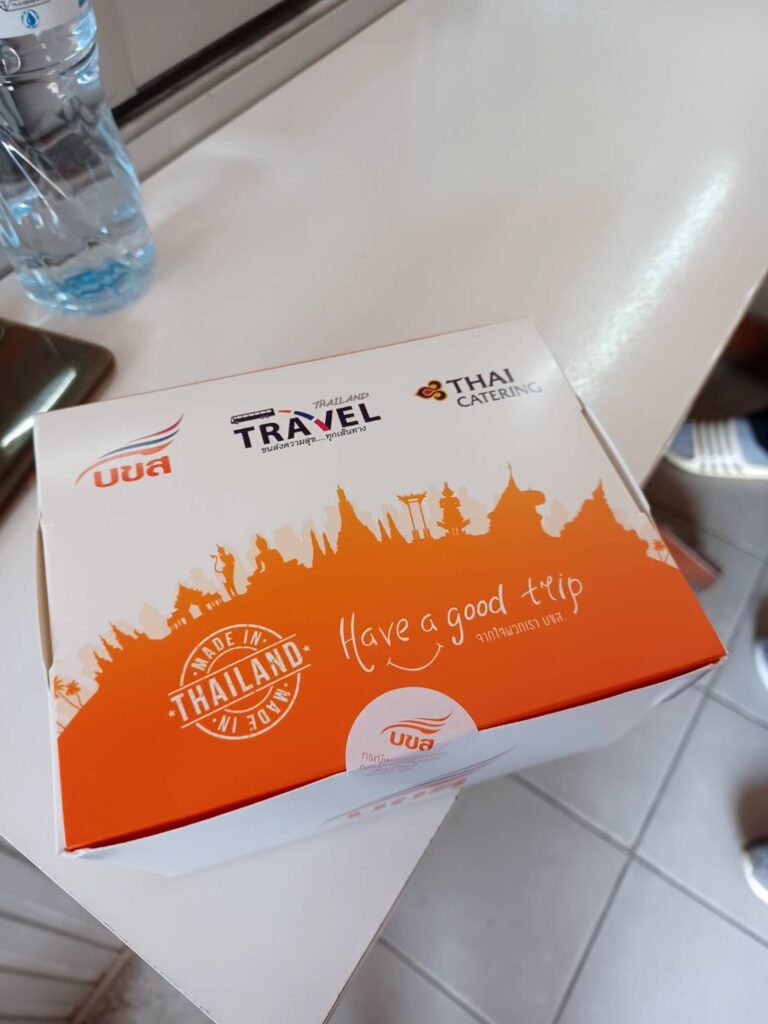 Coffee bread and coffee for lunch snack.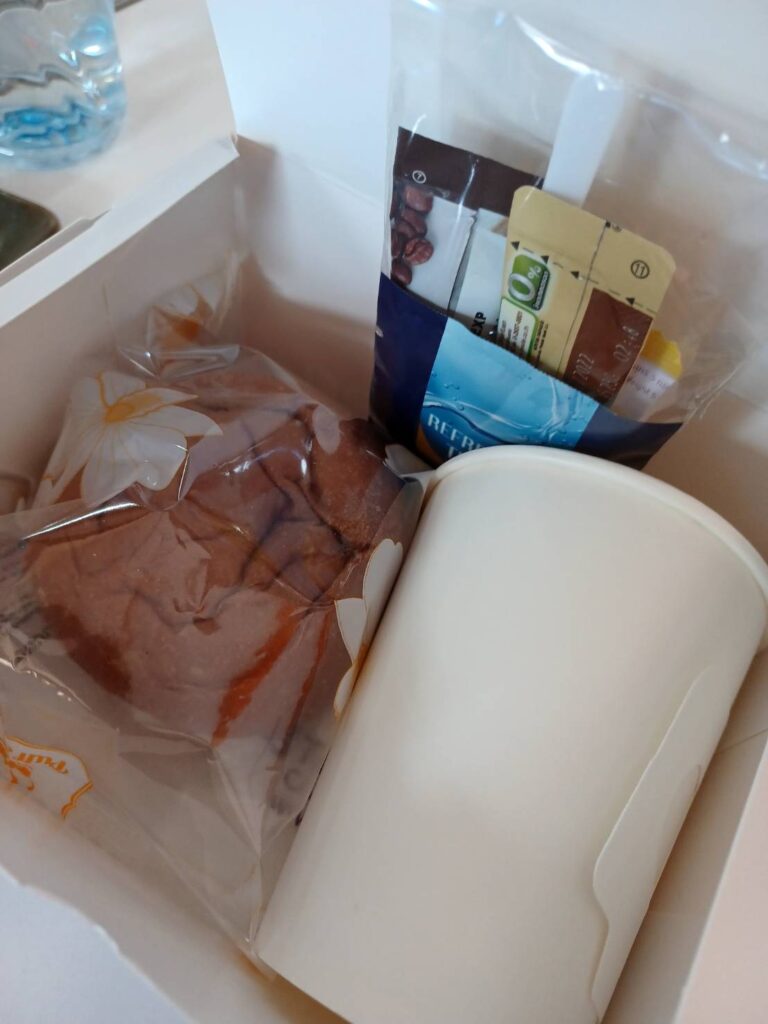 Nakhon Sawan bus terminal
At the bus terminal at Nakhon Sawan, I was escorted by company staff to register the information to enter the city. I gave my passport to record and told them that I go to gym for my trip purpose.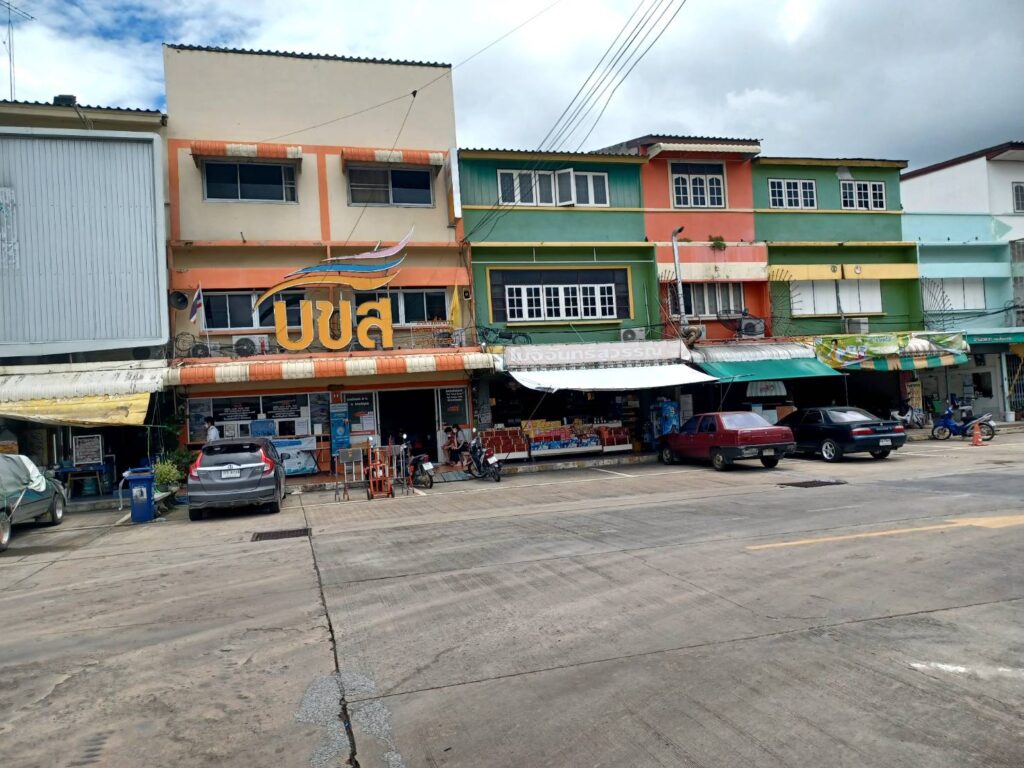 Waiting area for bus terminal.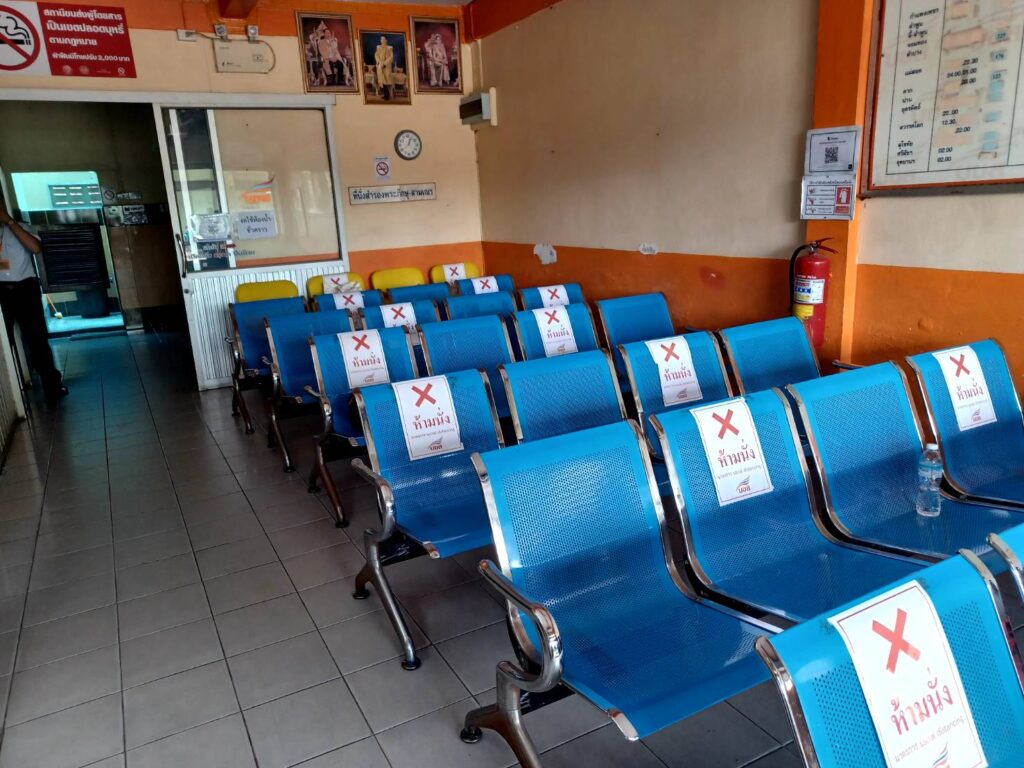 Bus operation time table from Sep, 2021 at Nakhon Sawan.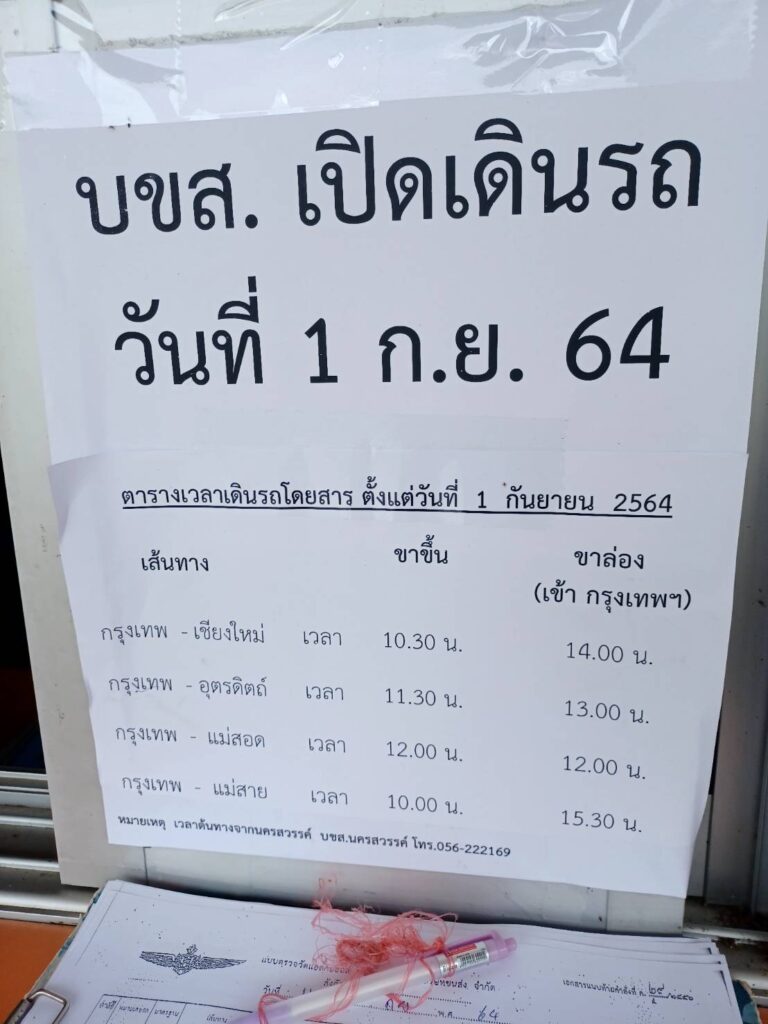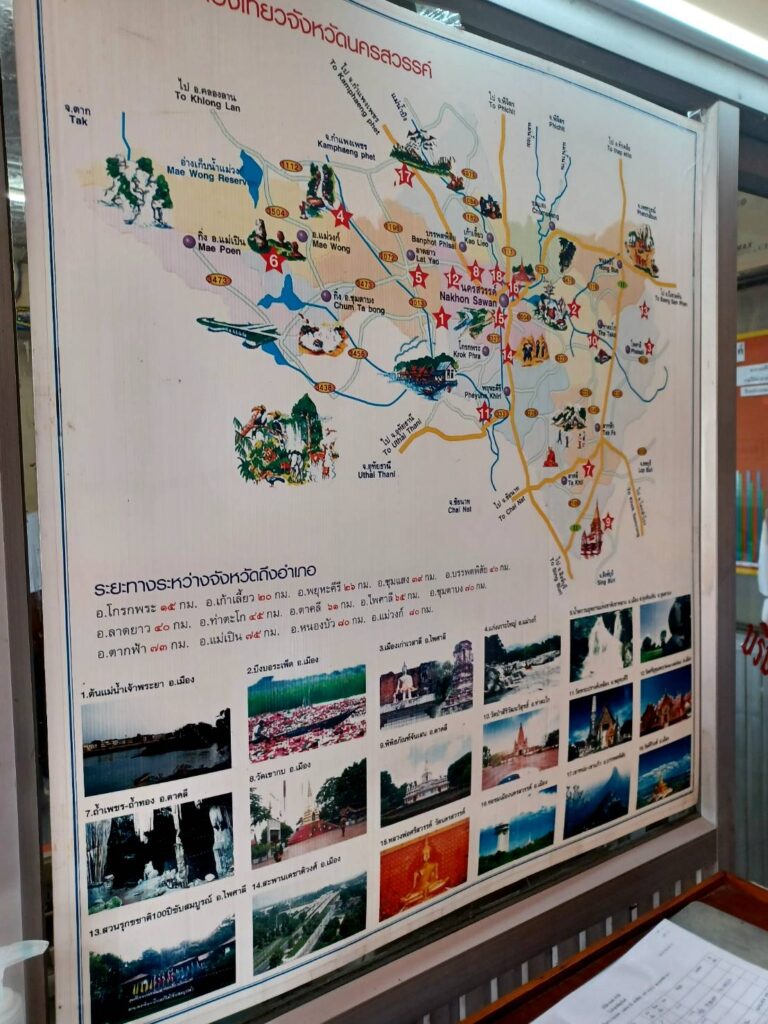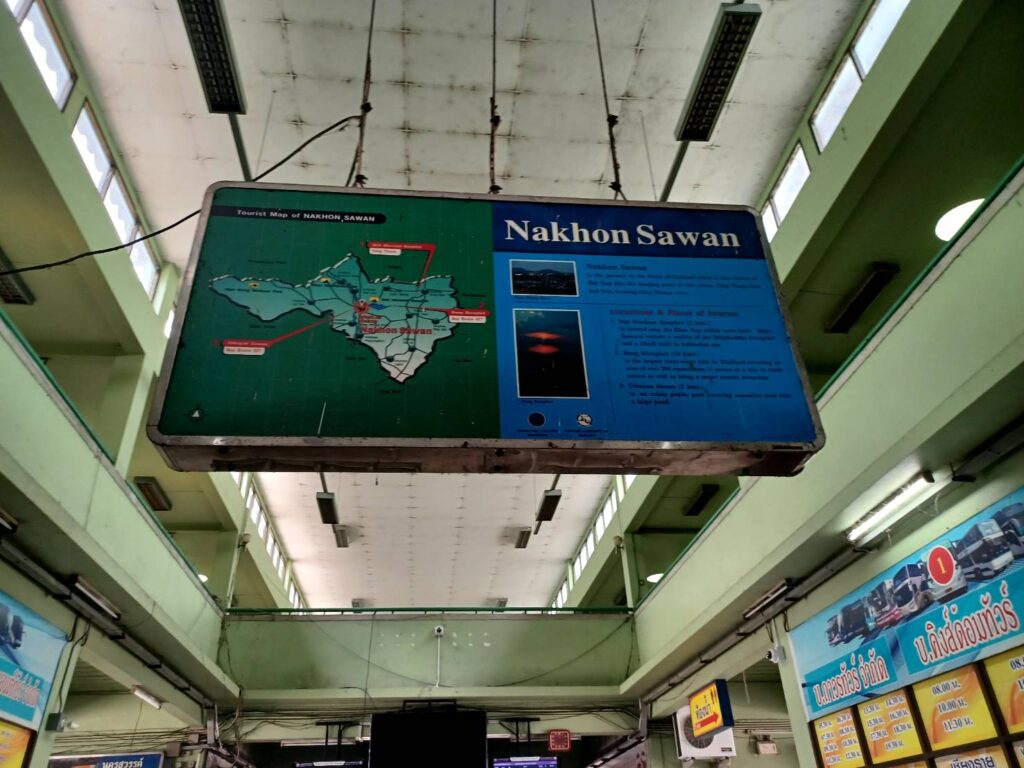 Toilet for 3 THB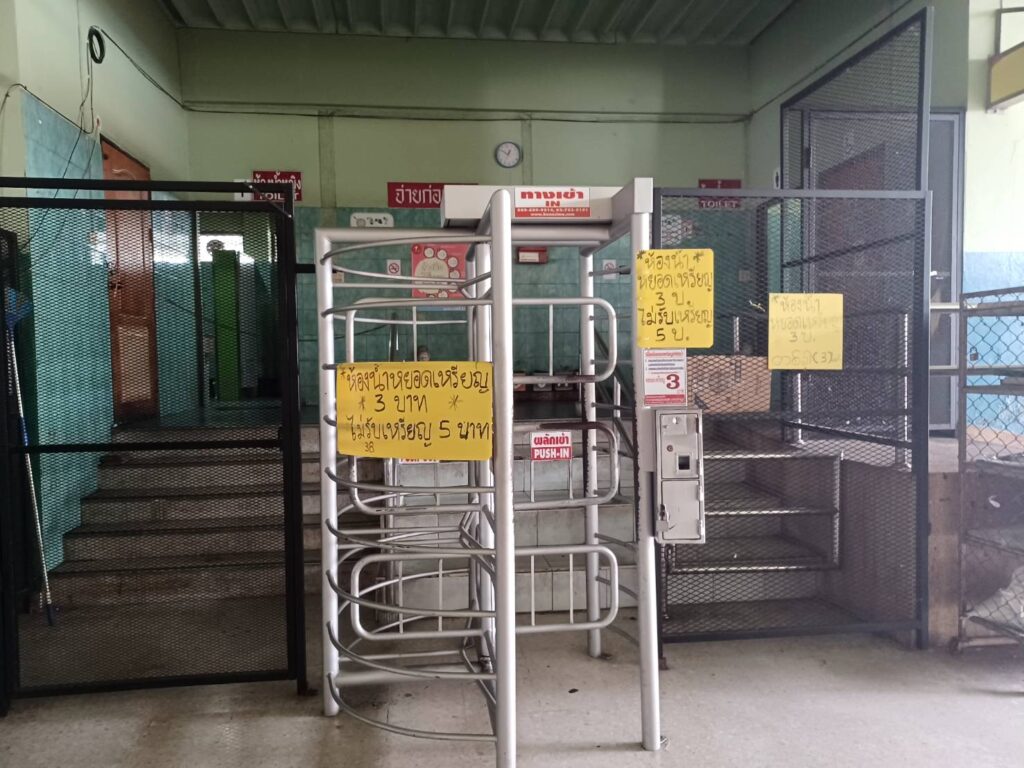 There are several ticketing counters available for other provincial trip and mini vans to Bangkok. I bought mini van ticket for tomorrow, cost is 182 THB.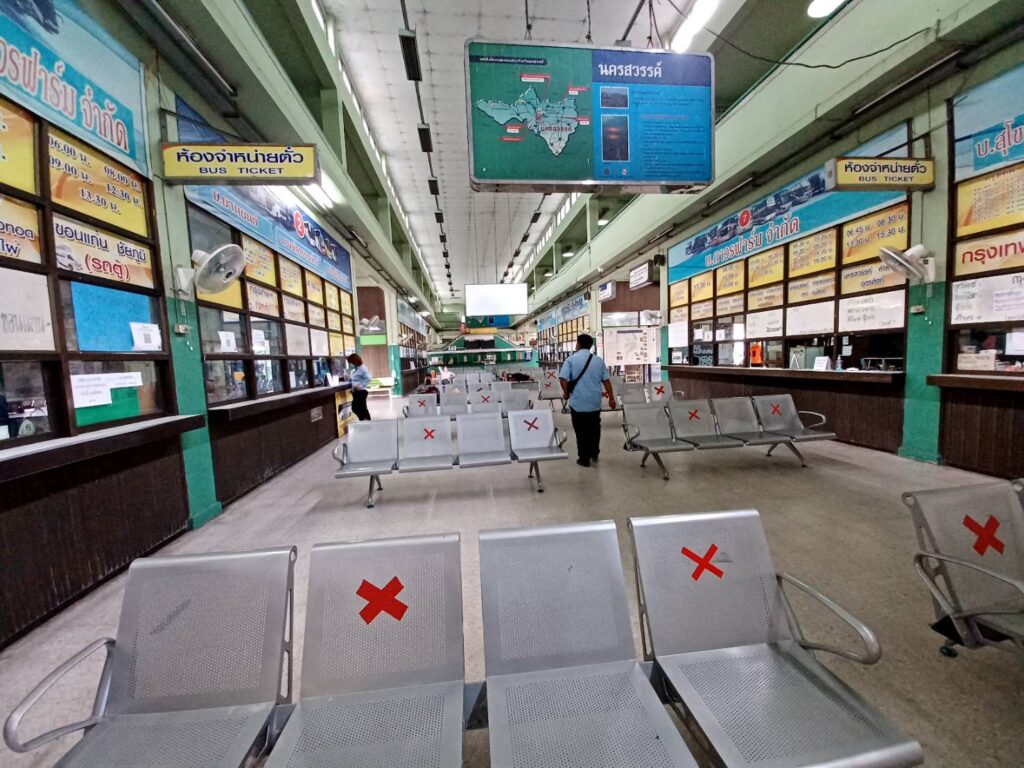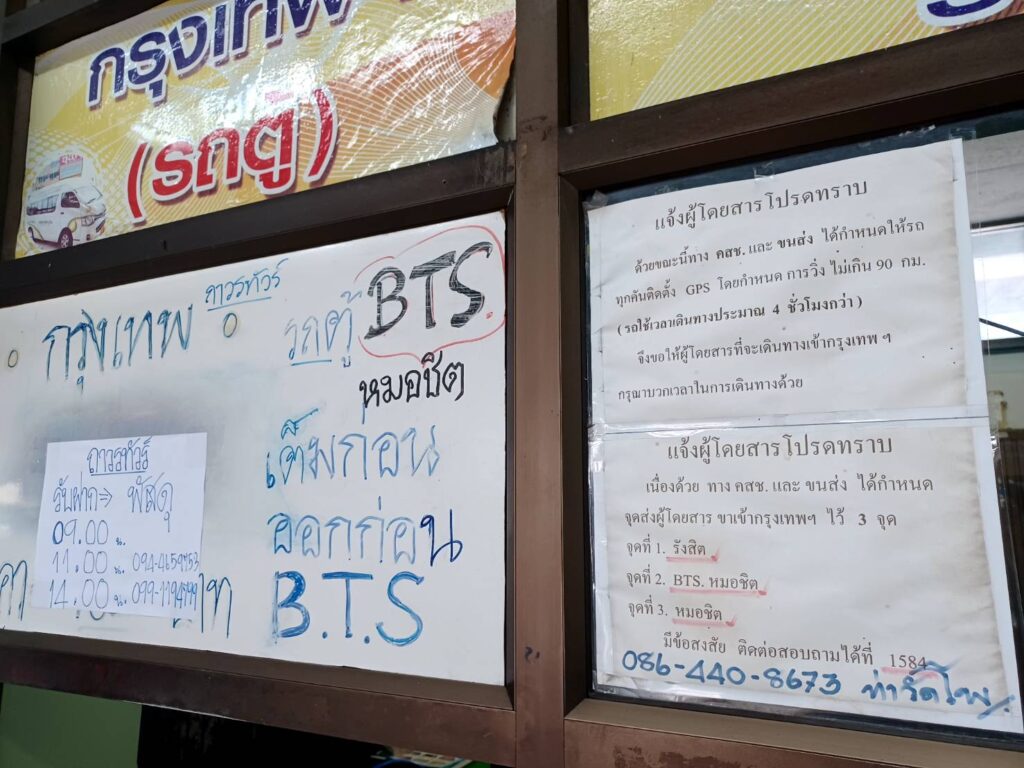 Mini van departs from Nakhon Sawan at 11:00 am. Staff told me to be at the terminal before 30 minutes from departure time.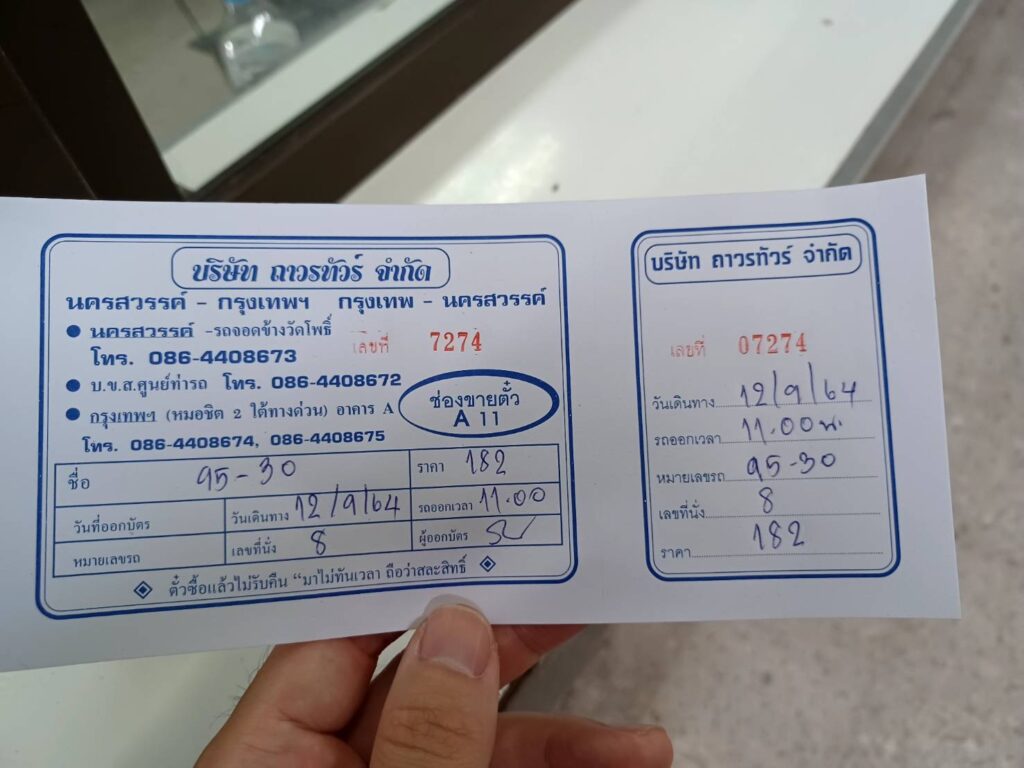 TukTuk and motor cycles are wanting inside bus terminal. You can negotiate the price to your destination.