Welcome back to fitravelife.com!
A cooler day in Bangkok November 2023, I visited Fitness24Seven Nana branch where currently I hold the membership with.
For general information about this gym, please refer to below post especially membership fee.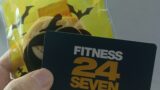 Complete guide to Fitness24Seven in Thailand and newest branch Happyland
Welcome back to fitravelife.com!From October 2023, I changed my home gym to Fitness24Seven from Jetts Fitness. It's al...
Location and direction of Nana branch