Hello, everyone! Welcome back to "fitravelife.com." This time, I would like to show the nice goods that represents the image of Thailand. In my opinion, so far I think this is the best souvenir for Foreign visitor and Thai residents.
One baht coin coaster
Here is it, ONE baht coin coaster!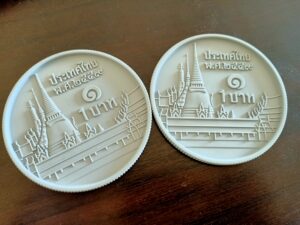 Look at this coin design coaster, very cute isn't it? There are 2 coasters in one package which costs 150THB.
Let's put together with real one baht coin so you will know design is perfectly copied from real coin.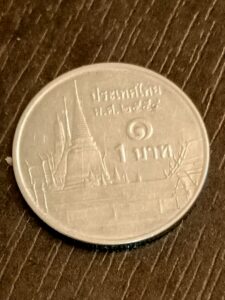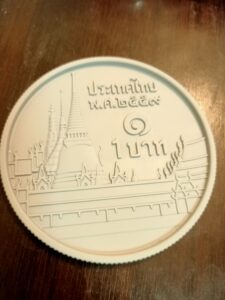 ↑Left is real one baht coin and right is One baht coaster.
Design is exactly same but size is different. One baht coaster is approximately 4.5 times bigger than real one.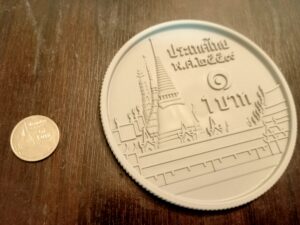 You can also learn the history and design of One baht coin from the product package. It mentions that current One baht coin was established on August 8, 1986 and most issued coin among others. The image on the coin is Pra Sri Rattana Chedi, a golden pagoda inside Wat Pra kaew.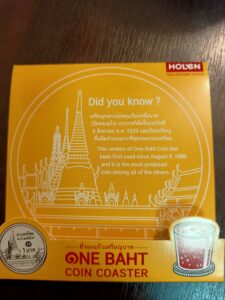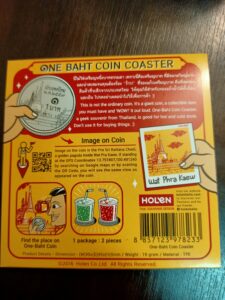 Below is the location where you can see the same scene on the coin front. You can check by google street view or you can see real scenery when you have chance to visit the site.
Where to buy?
In the past 5 years of living in Thailand, I only see this product in one place only, which is Seven eleven at the back of Conrad Bangkok in below location. You enter this Seven eleven then turn left so you will see the stand for Thai souvenir. One baht coaster is in there.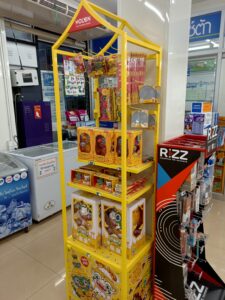 It seems the maker has online shop so you can also contact maker to get one by below link.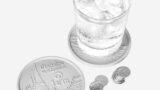 ONE-BAHT Coin Coaster (ที่รองแก้วเหรียญบาท)
โฮเล่น Hello! ภูมิใจนำเสนอ "ที่รองแก้วเหรียญบาท" : ONE-BAHT Coin Coaster ที่สุดของสินค้าที่ระลึกจากประเทศไทย! ที่ใครได้ครอบครองก็ต้องร้องว้าว!! Holen say Hello!...
This time, I introduced to you One baht coin coaster for souvenir. If you like it, why not grabbing one for your Thai souvenir? Either you are in Thailand or not, you can always be reminded of Thailand memory when you use this coaster.
In this blog, I will continuously show you nice goods I find in daily lives in Thailand, so please check it out and don't miss it. See you!
March 2023 update
Thai souvenir corner at Seven eleven is removed already😅 However they still keep coin coaster gift at the counter so please ask staff if they have stock enough.