One Saturday June 2022, I visited Thai airways Royal Orchid dining experience restaurant so I introduce their service, food menu and atmosphere. You can feel flying and on board to airplane even on the ground, if you are fun or travelling or airplane, you must try this restaurant!
Basic information
Thai airways Royal Orchid experience
Opening hours: 9:00 – 14:00 Mon – Sun
Address: 89 Vibhavadi Rangsit Rd, Chom Phon, Chatuchak, Bangkok 10900
Contact: 025452066
How to go
Thai airways Royal Orchid experience is located in Thai airways headquarters at Chatuchak area, nearest station is BTS Mo chit, MRT Chatuchak or Phahon Yothin station.
This time, I came to Phahon Yothin station by MRT then walked 15 mins under scorching sun from Exit No.1 to Lat Phrao soi 4.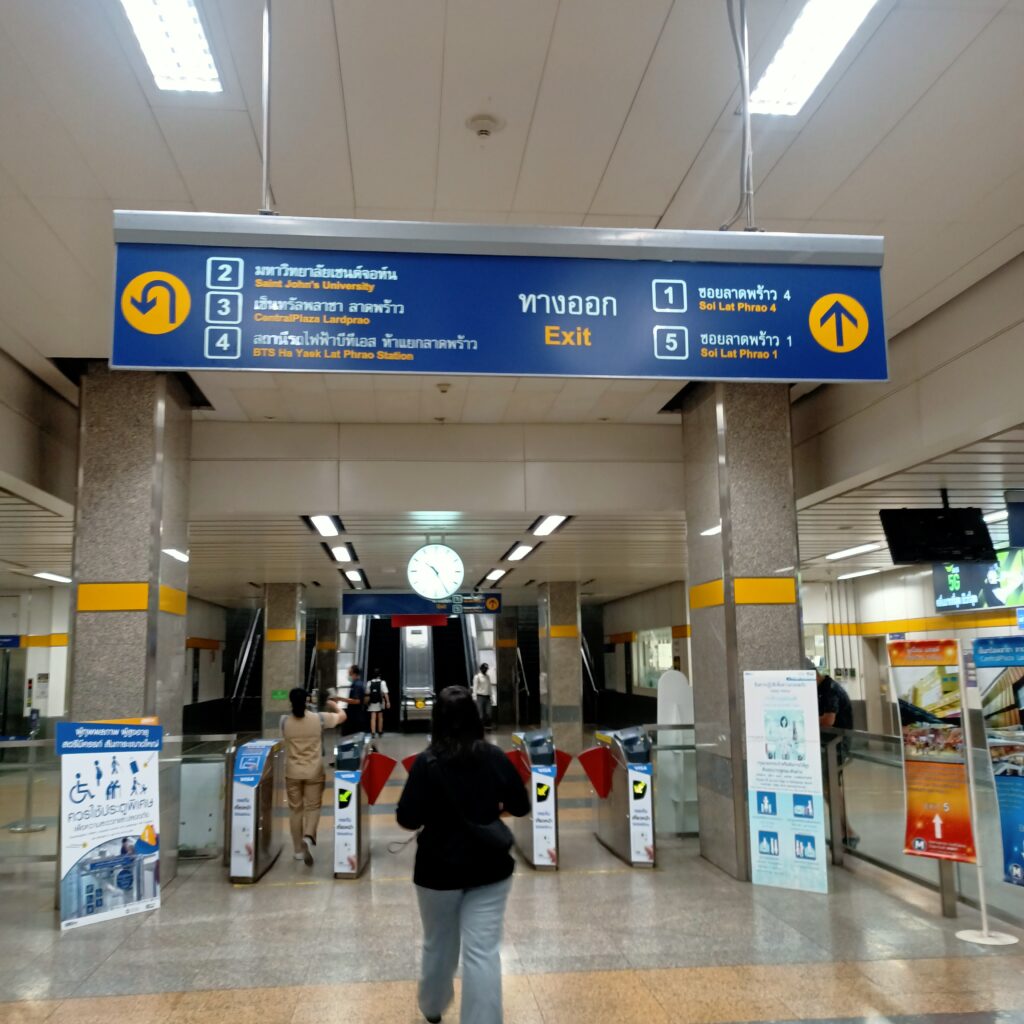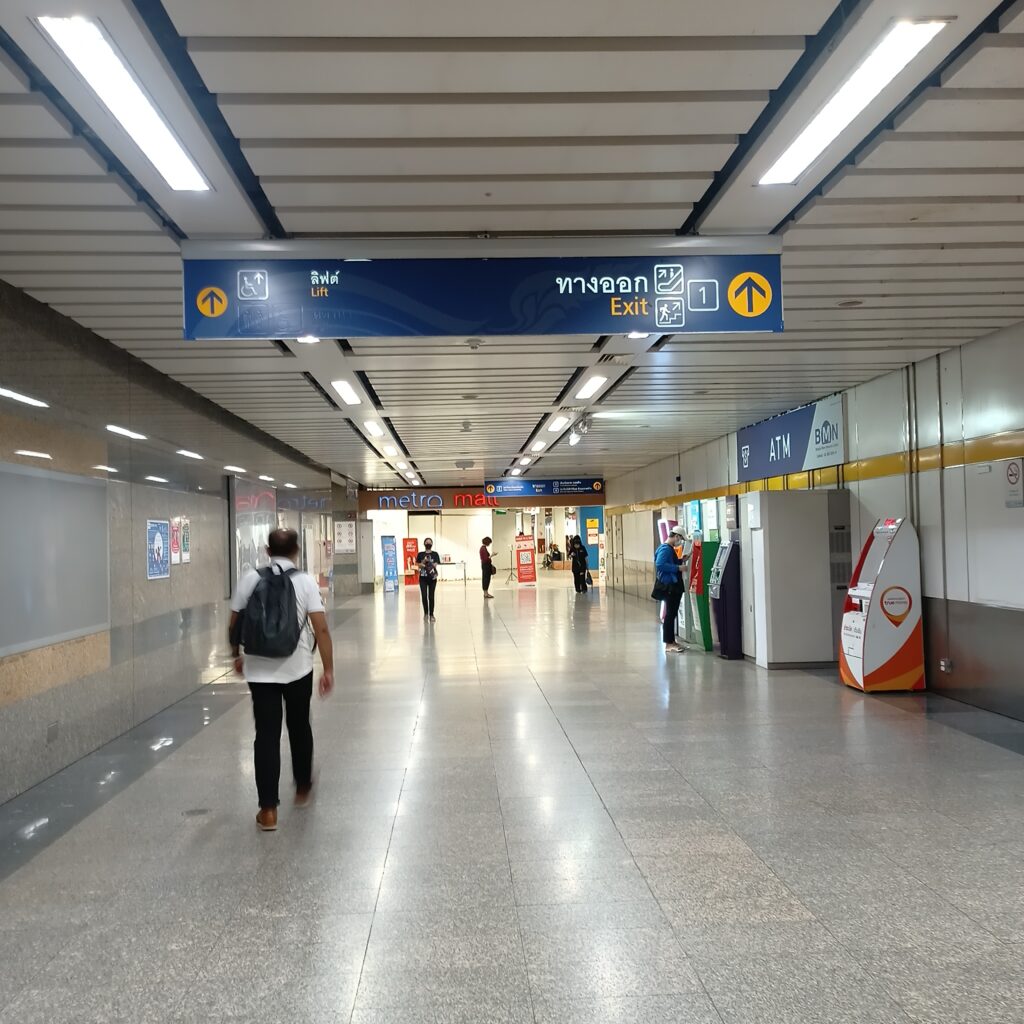 Going right to enter Lat Phrao soi 4. At Soi entrance, you can also take motor bike to reach the destination.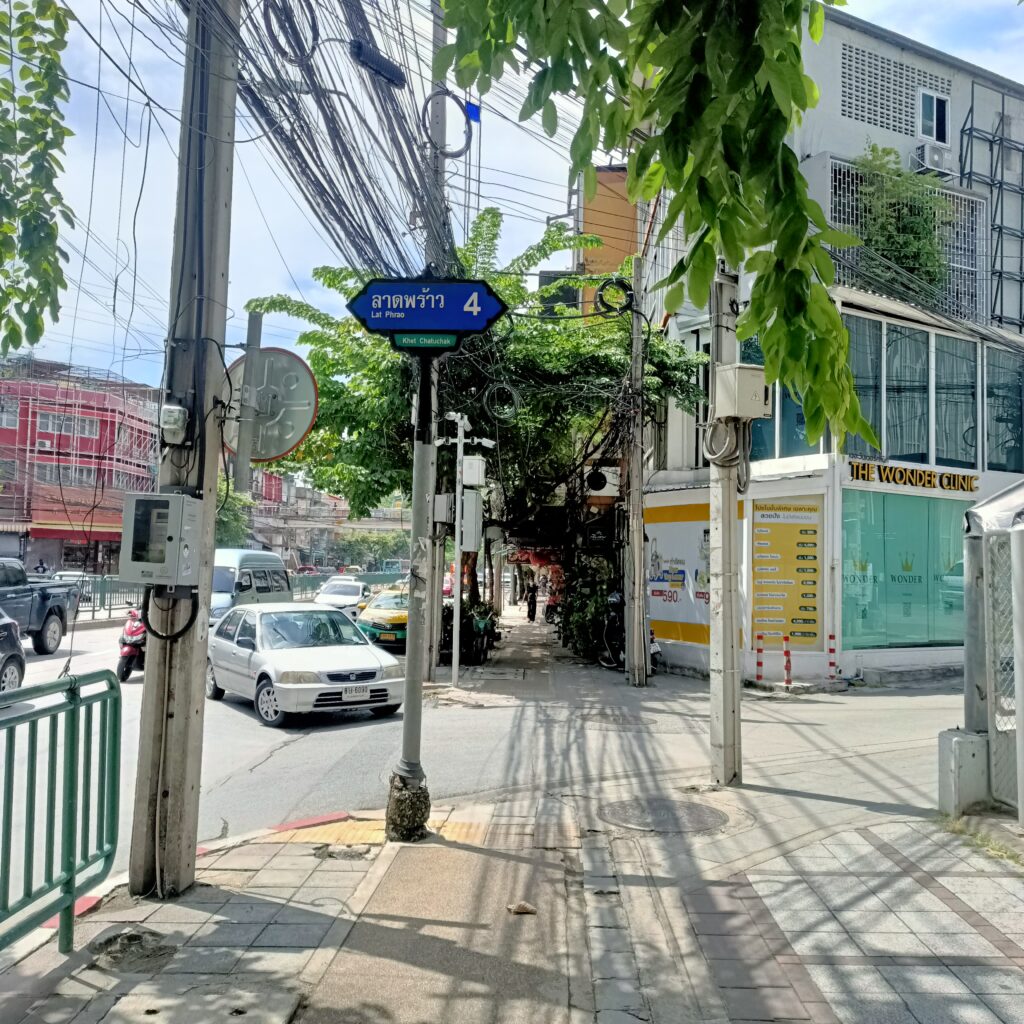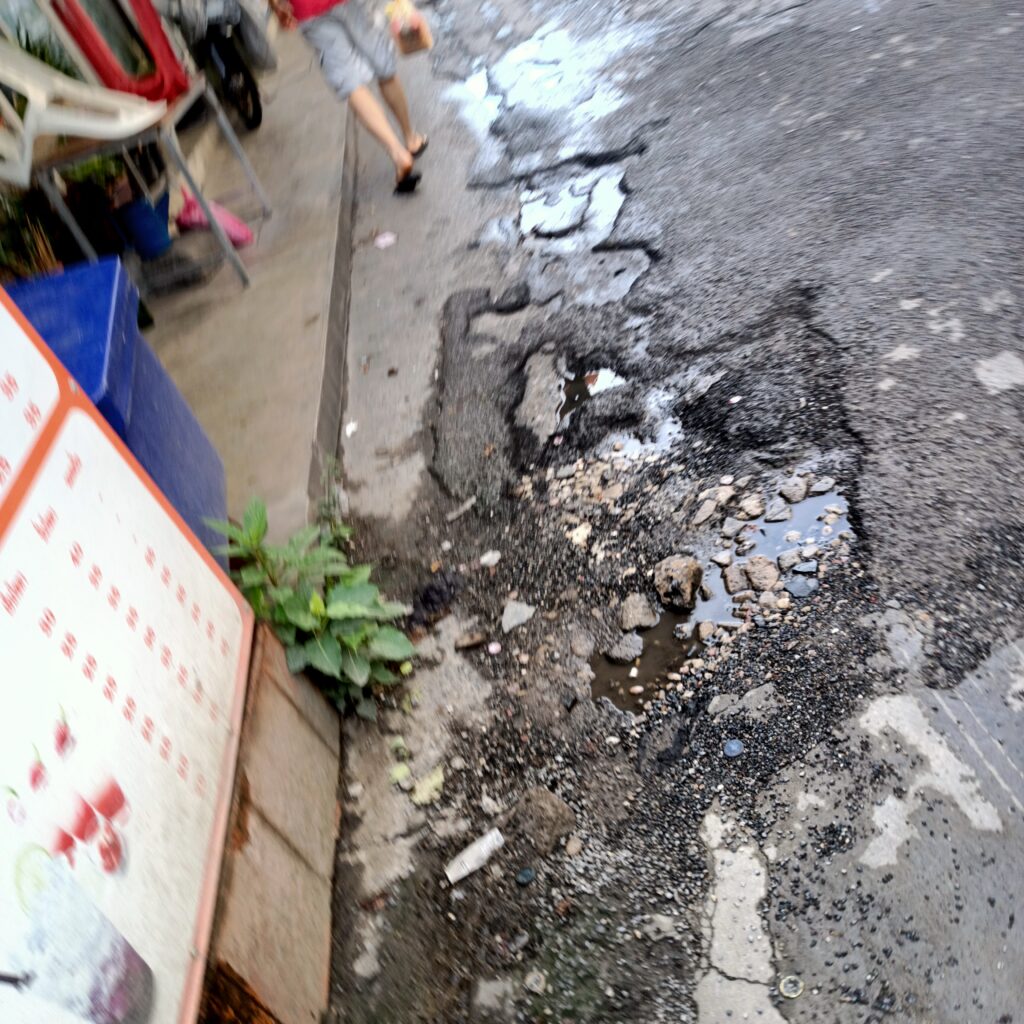 Once you see Thai airways building, go turn to right to walk alongside main road.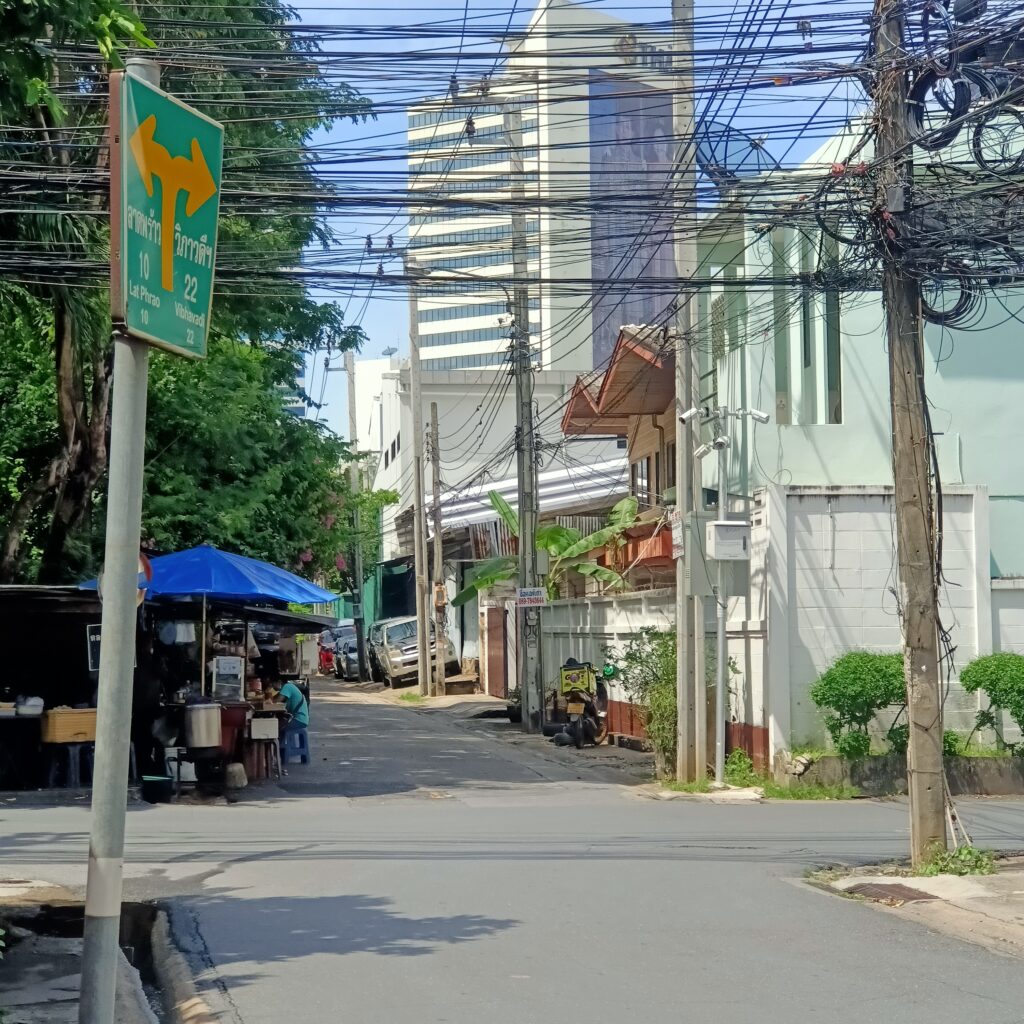 Entrance of Thai airways headquarter building.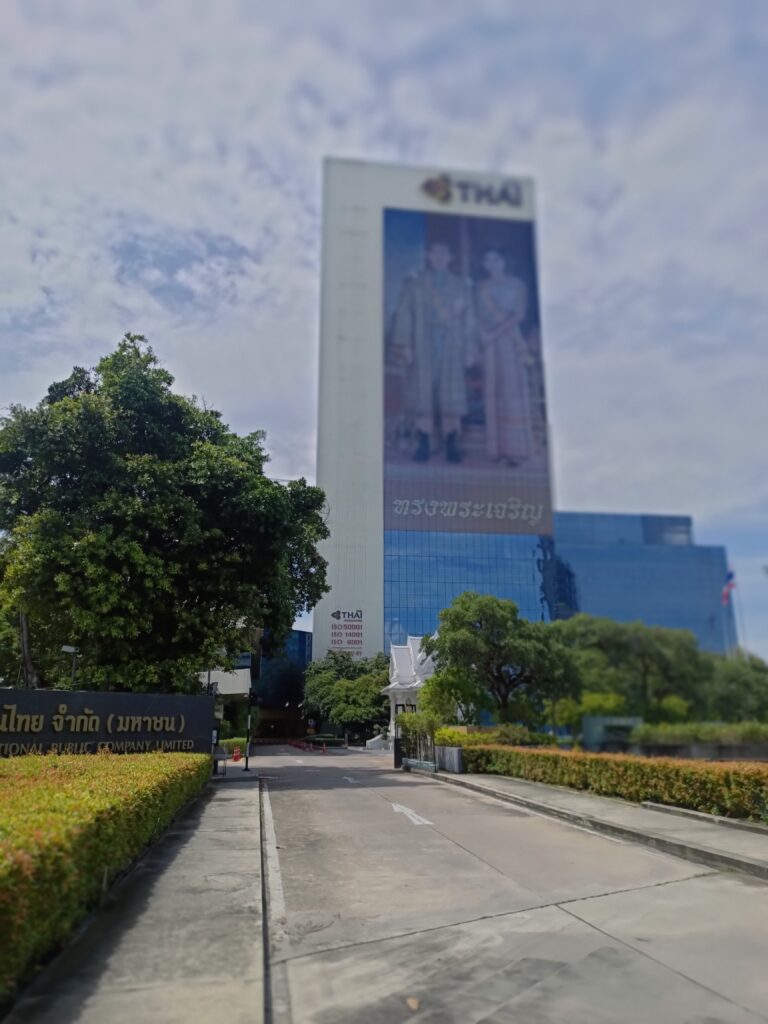 Soon after entering main entrance, you will see ramp stairway so let's climb here!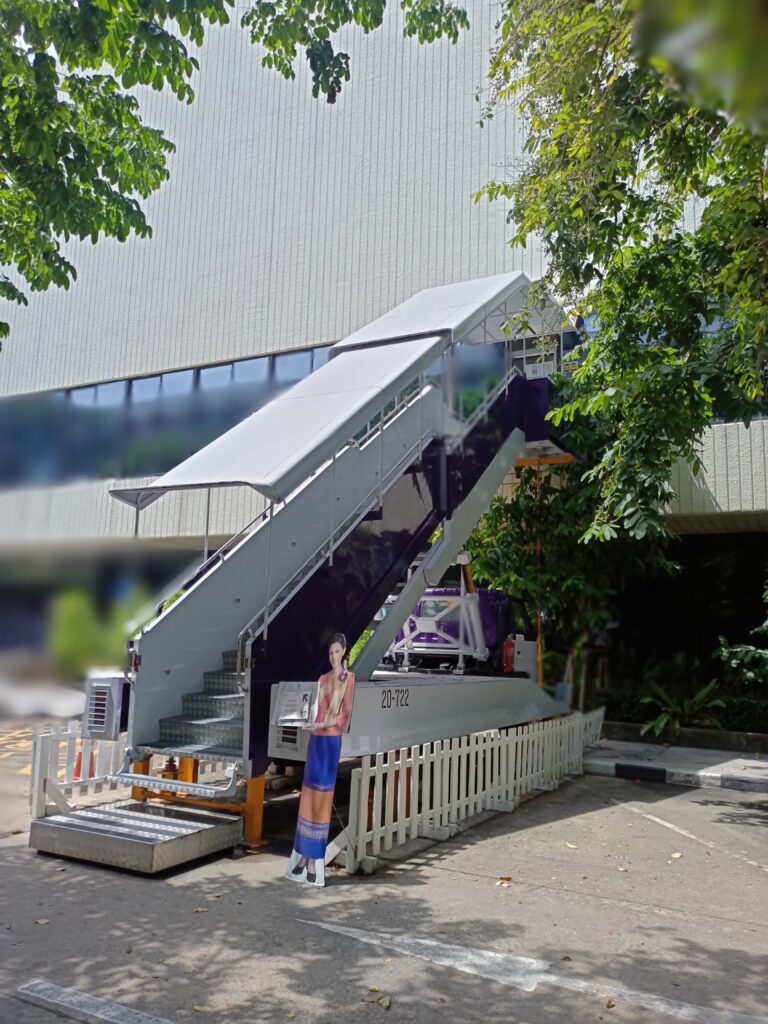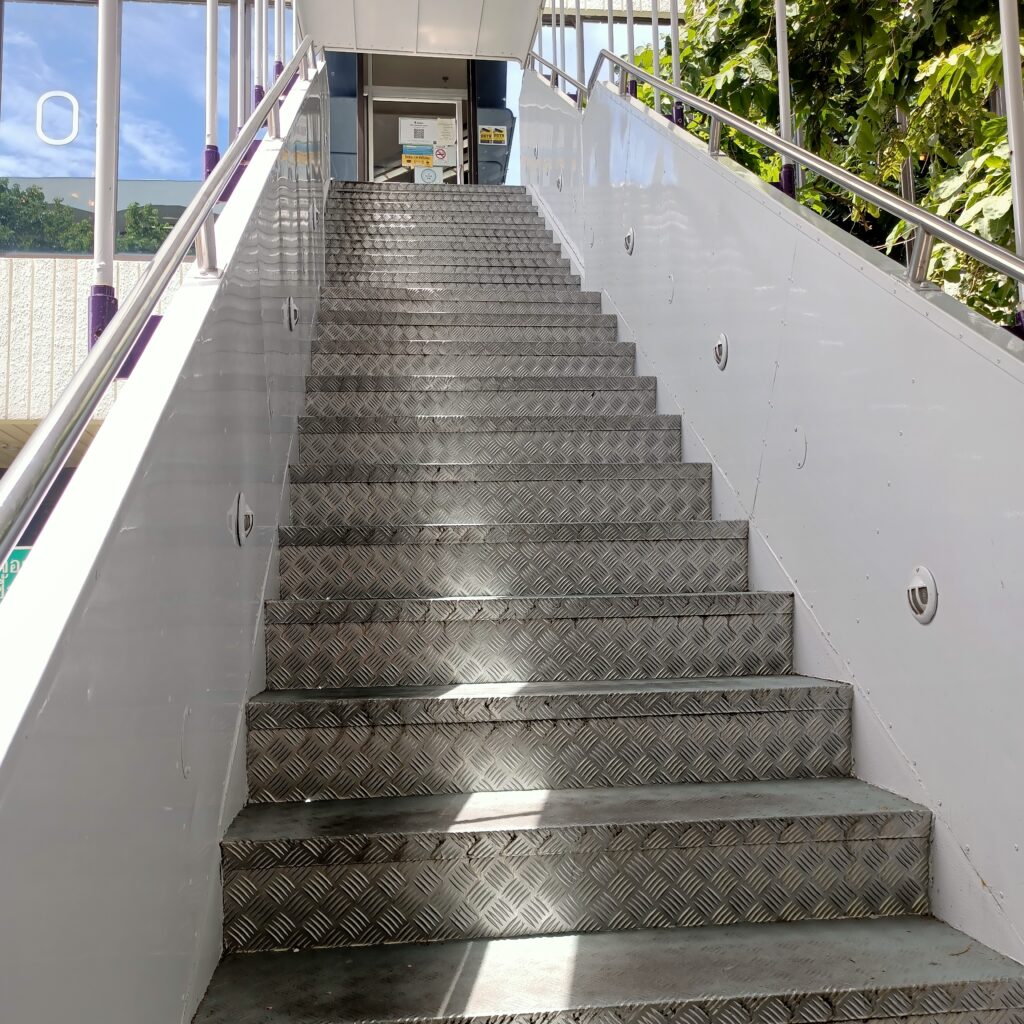 Windows of restaurant is decorated as airplane window.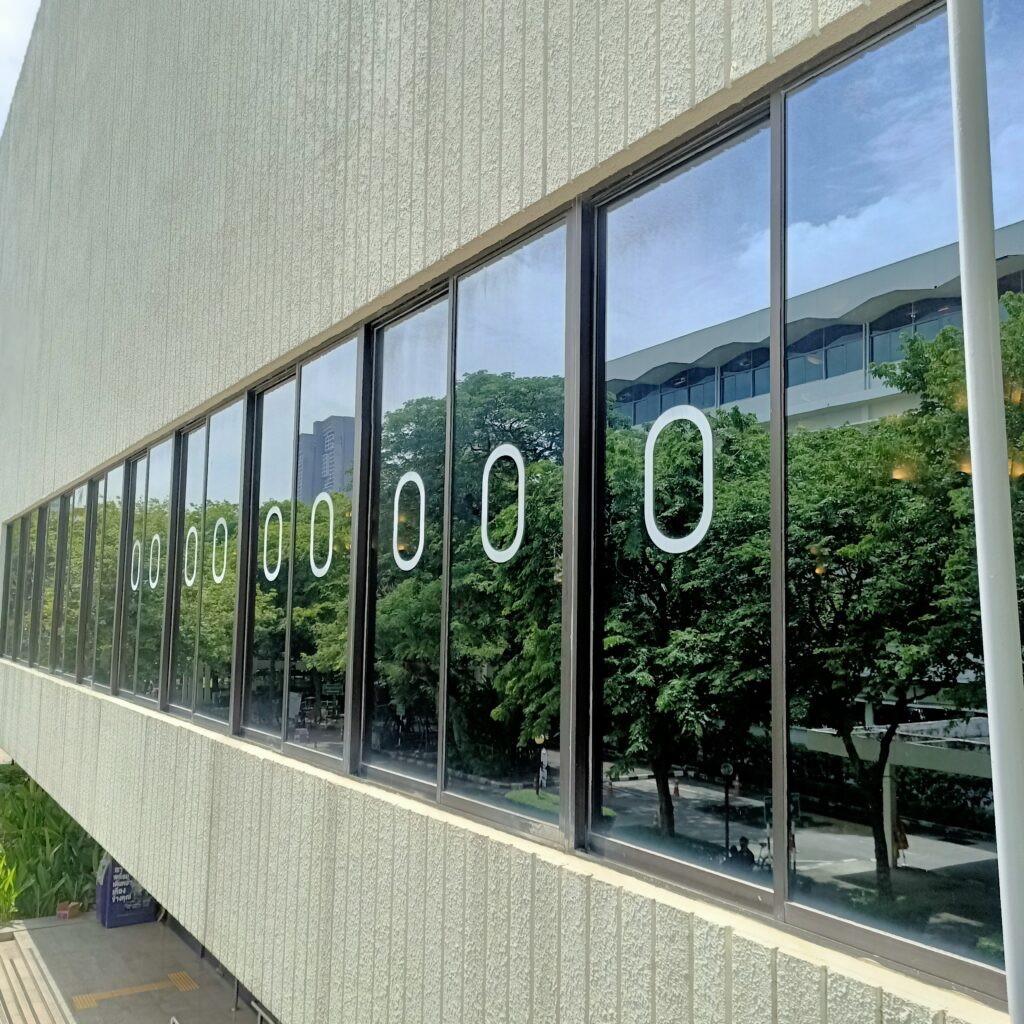 We arrived at the restaurant 11 am. Although some reviews mentioned that during lunch time, there are so crowded, luckily they had few customers on this Saturday. Maybe more people come on weekday from surrounding office building nearby.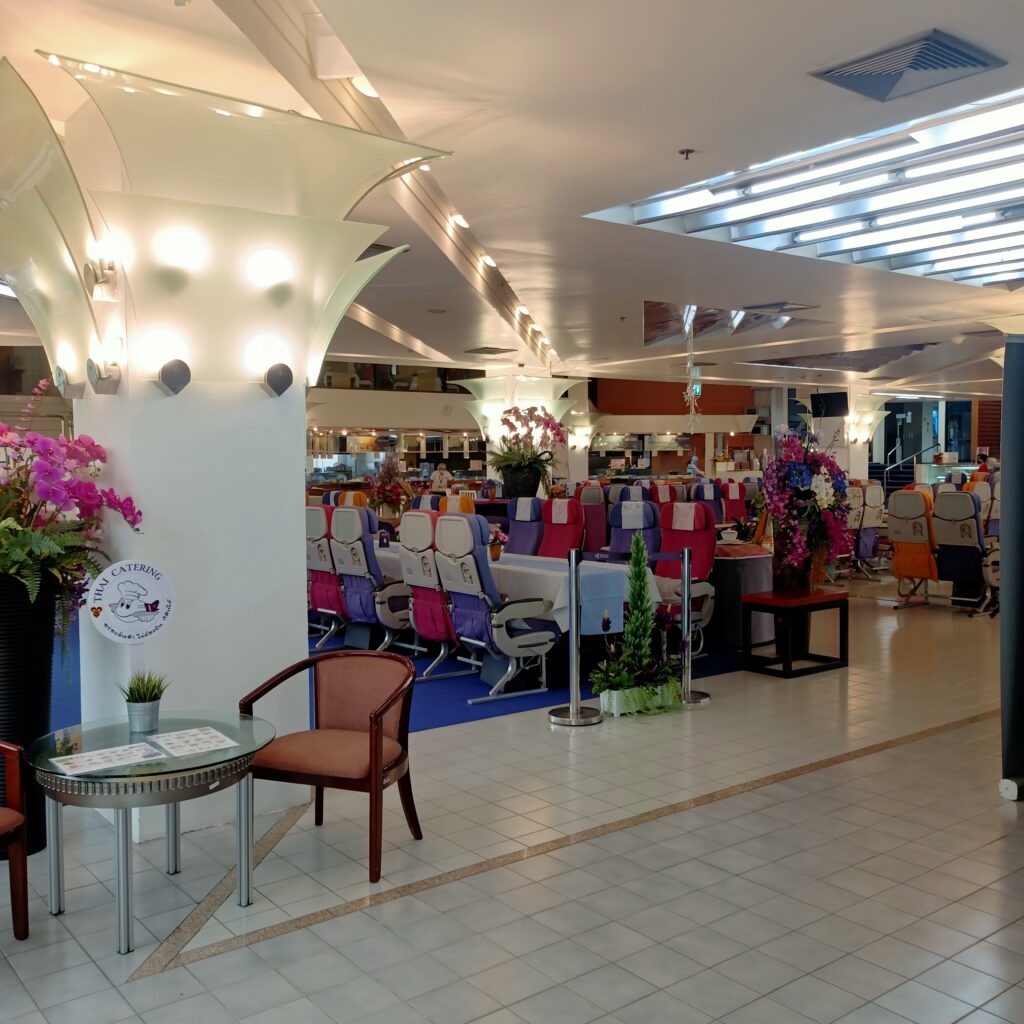 Since this was first time for me to come, I inquired the restaurant system with flight attendant guy. They are real flight attendants stand-by in the restaurant to serve food and you can take picture with them.
They have 3 order system as below for you to choose.
Economy class service
Economy class service can be used as self ordering style same as food court style. Price range is around 100 – 200 THB, quite affordable price.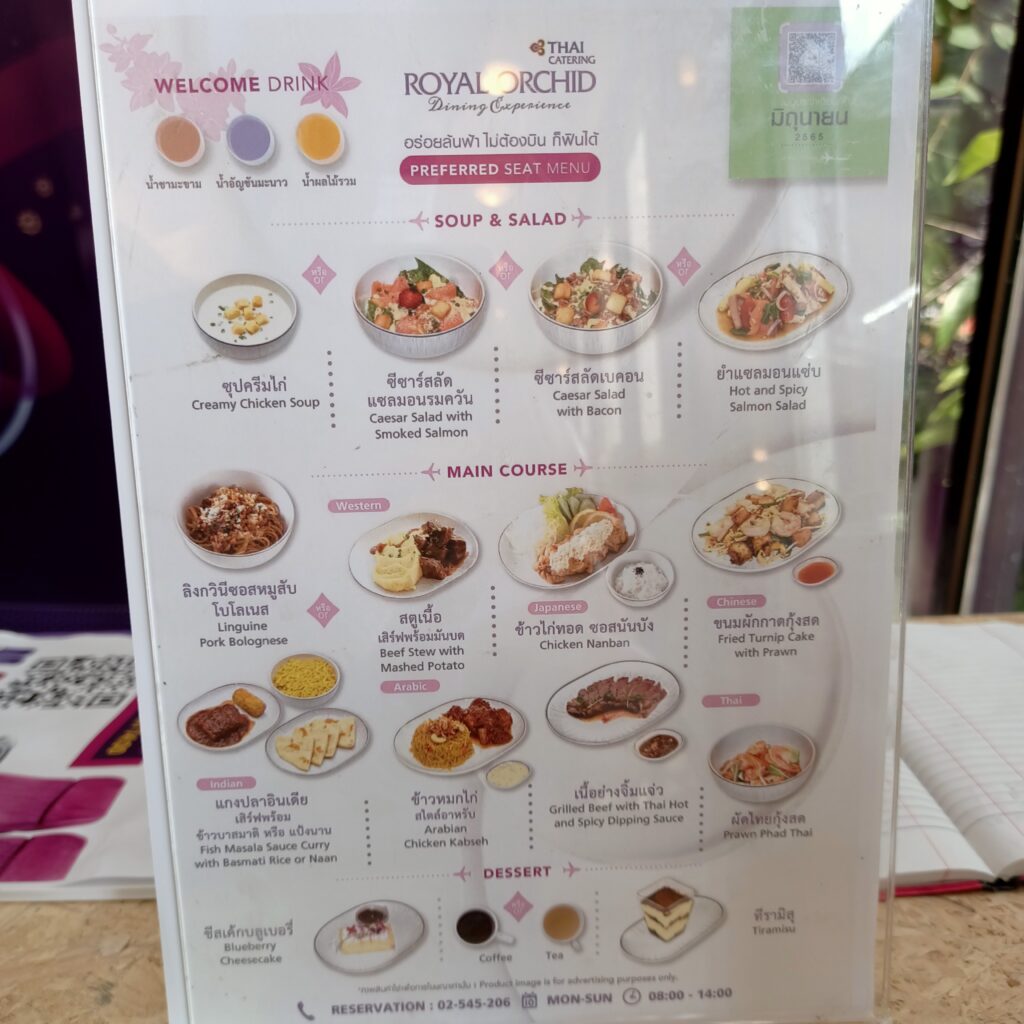 You tan choose any seat, normal table, table with economy class seat and some business class seat also available. Fortunately, we can occupy business class seat to have lunch here.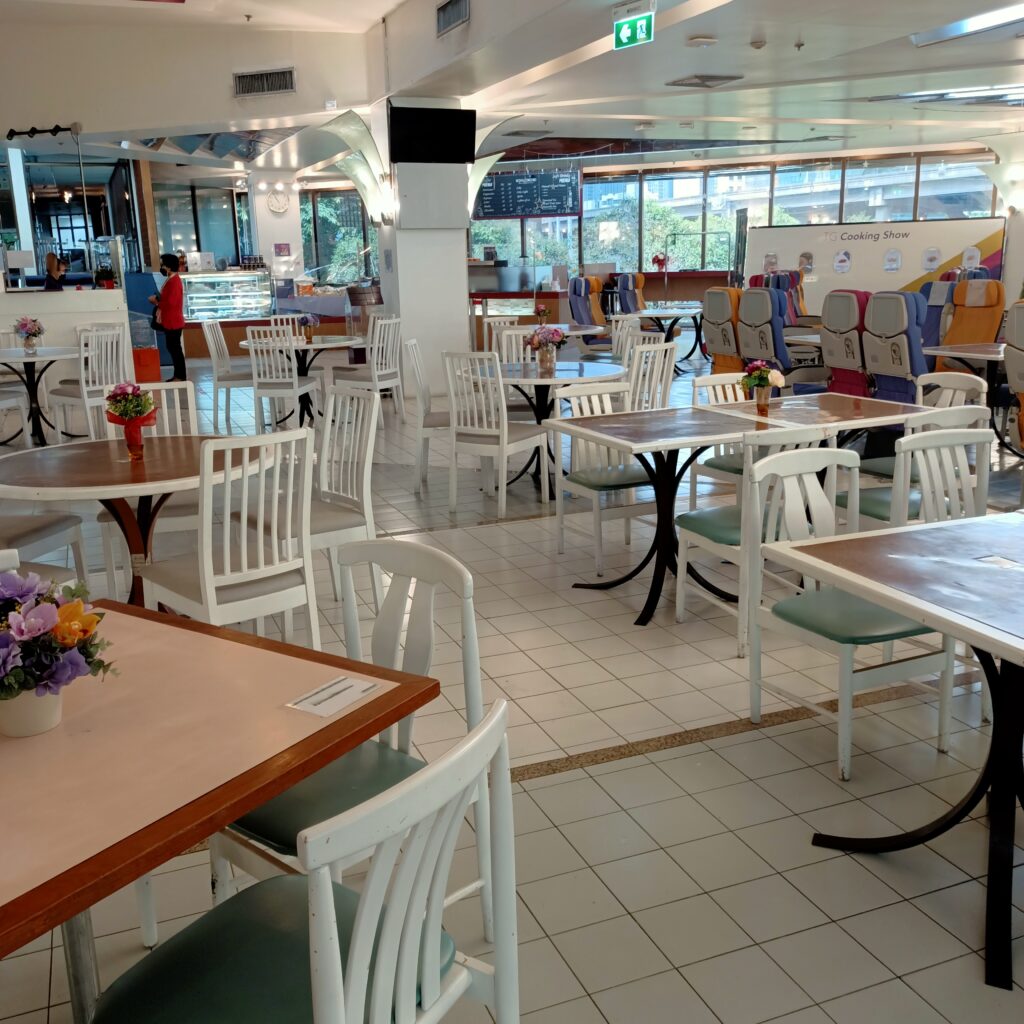 You can order your food at cooking counter. Food will be ready after 5 -10 minutes for you to bring by yourself. Hall staff was kind to support me to carry food to my table.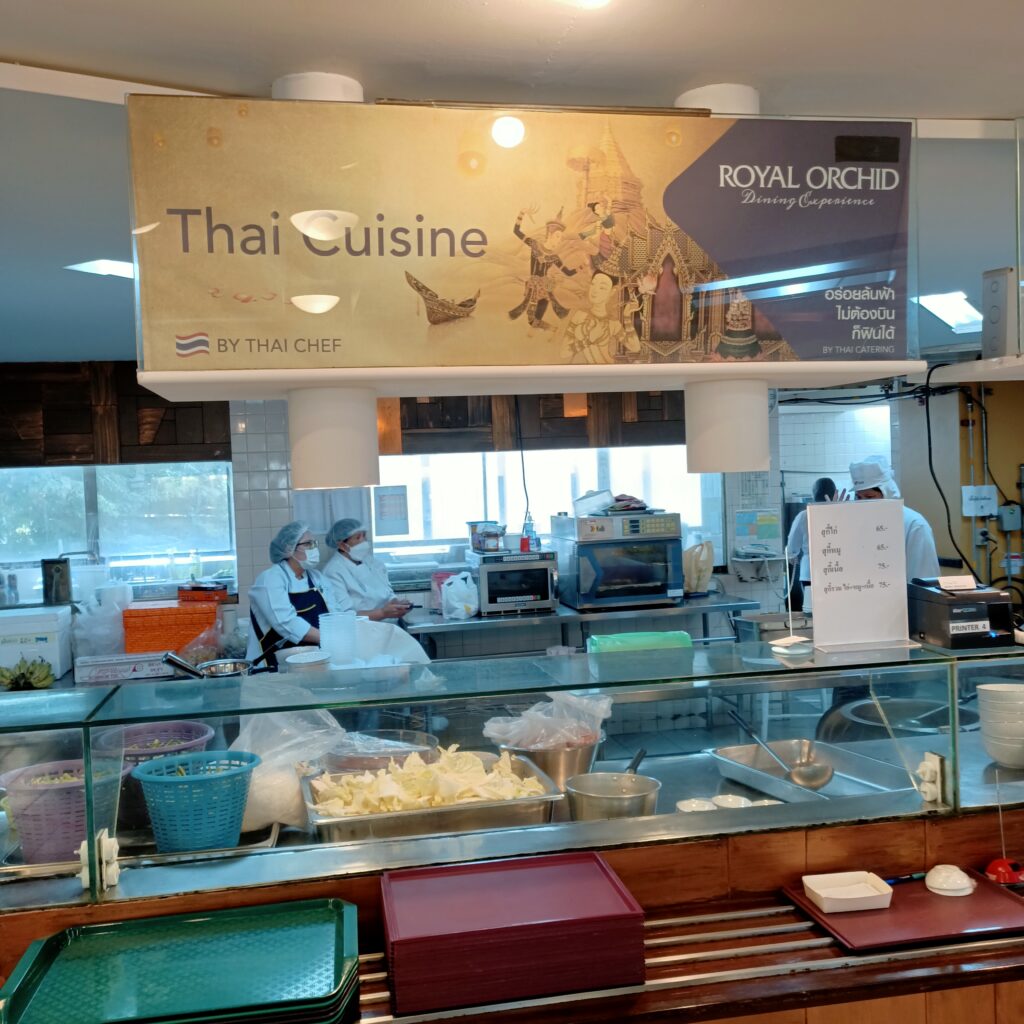 Thai, Japanese and Western style food is for your choice.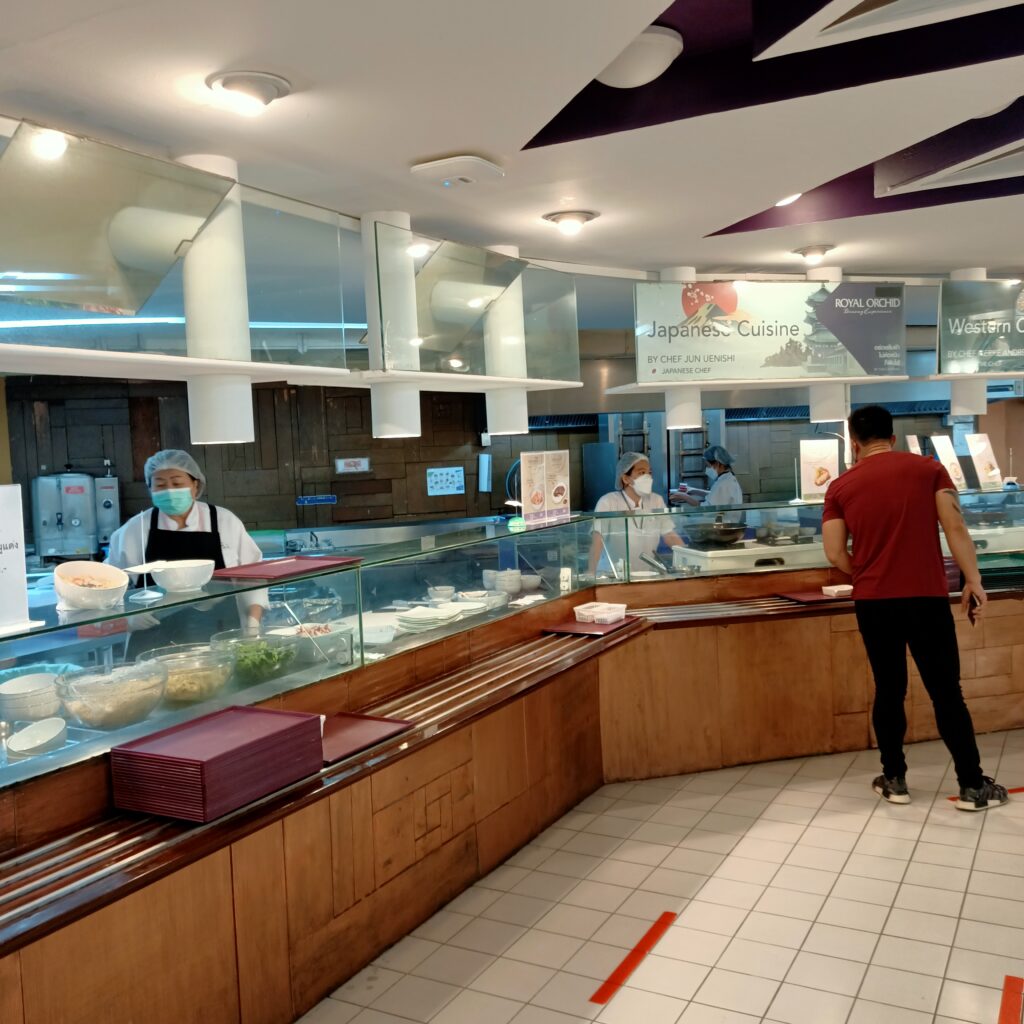 I ordered salmon salad at 99 THB and Chicken namban for 139 THB.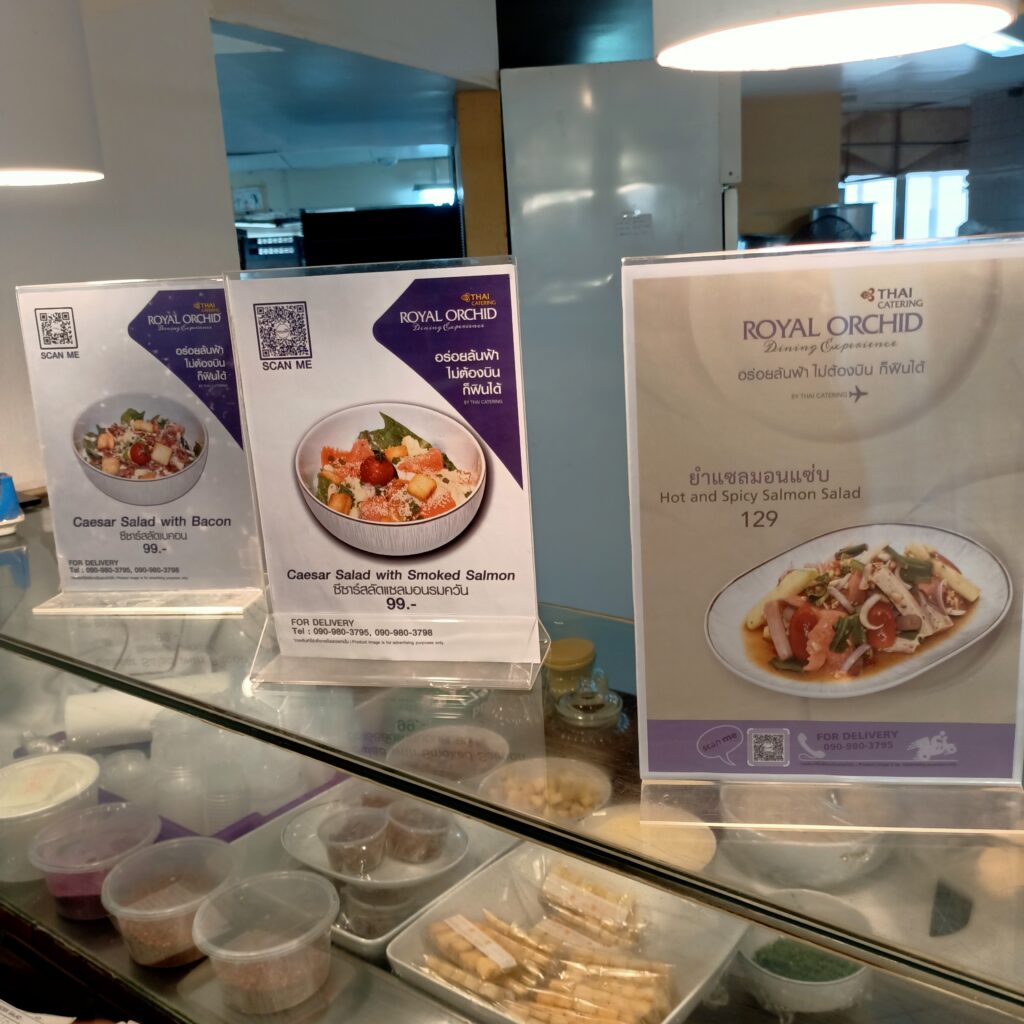 Once you get for order slip, proceed to pay at cashier. Credit card can be used for more than 300 THB for single slip. I paid via QR code payment by bank apps.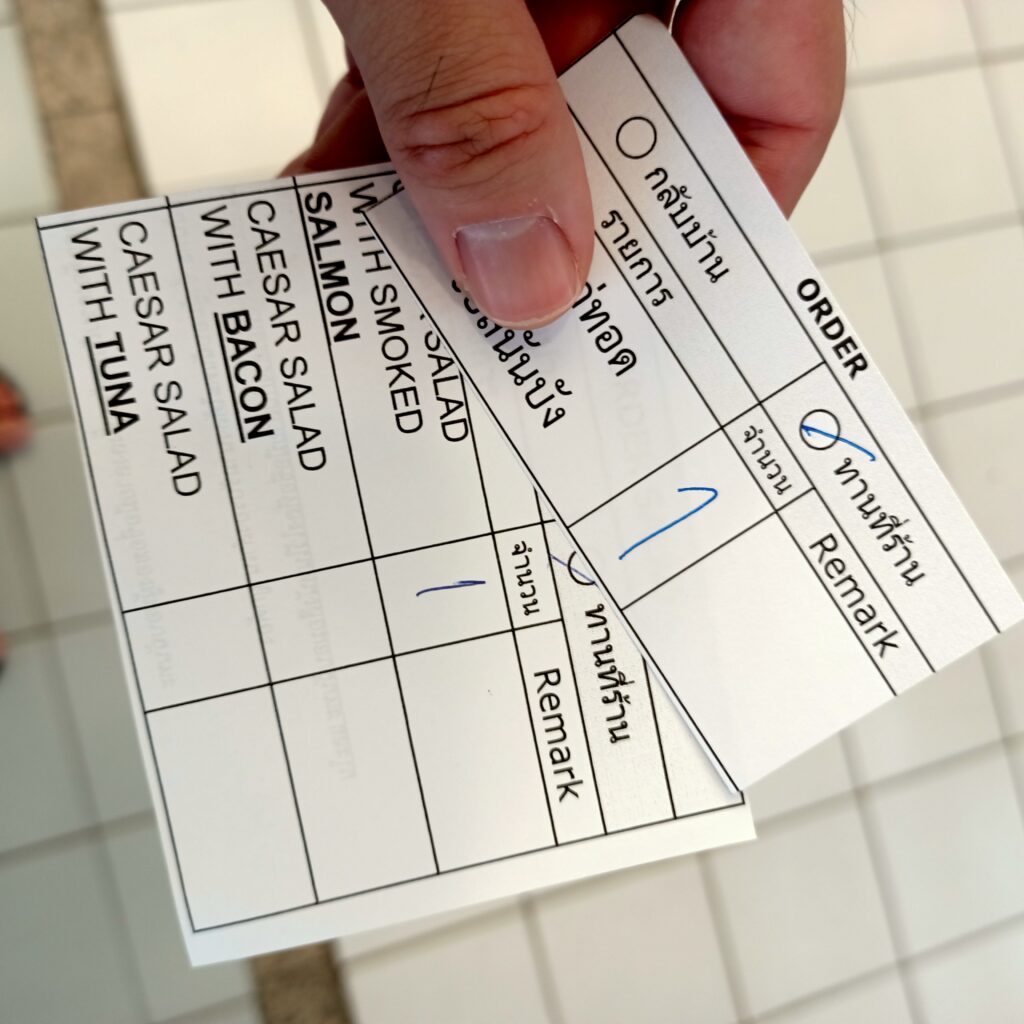 Food will be put here once ready, so please show your payment slip to the staff to get your food.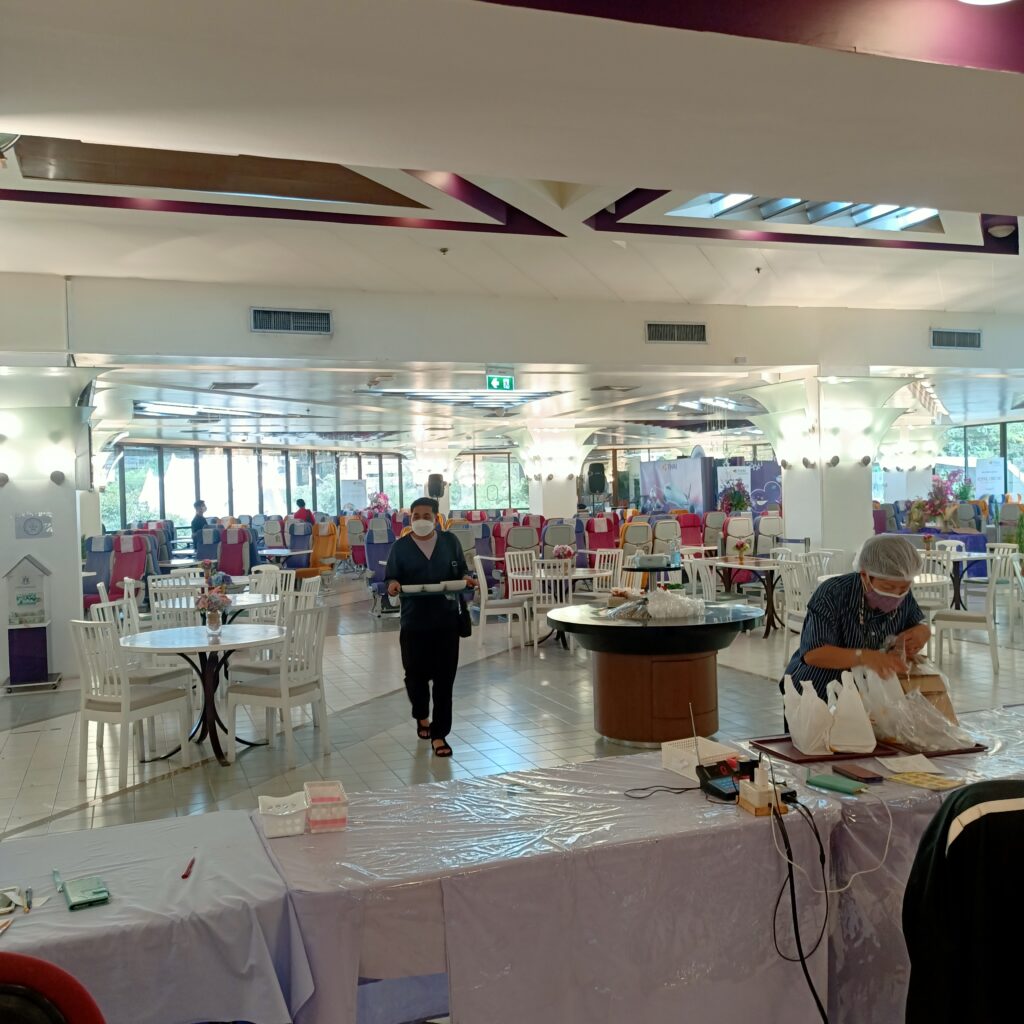 Mini bar is also available right next to kitchen counter.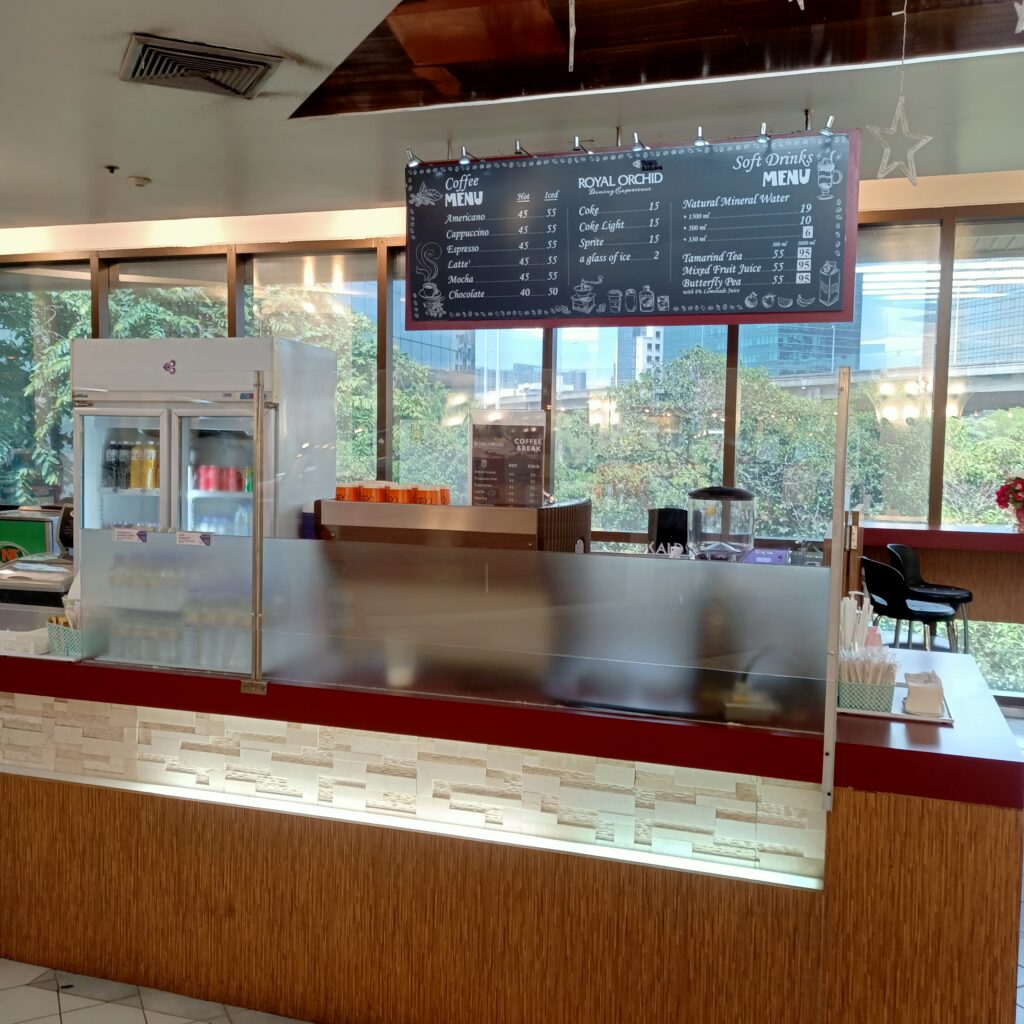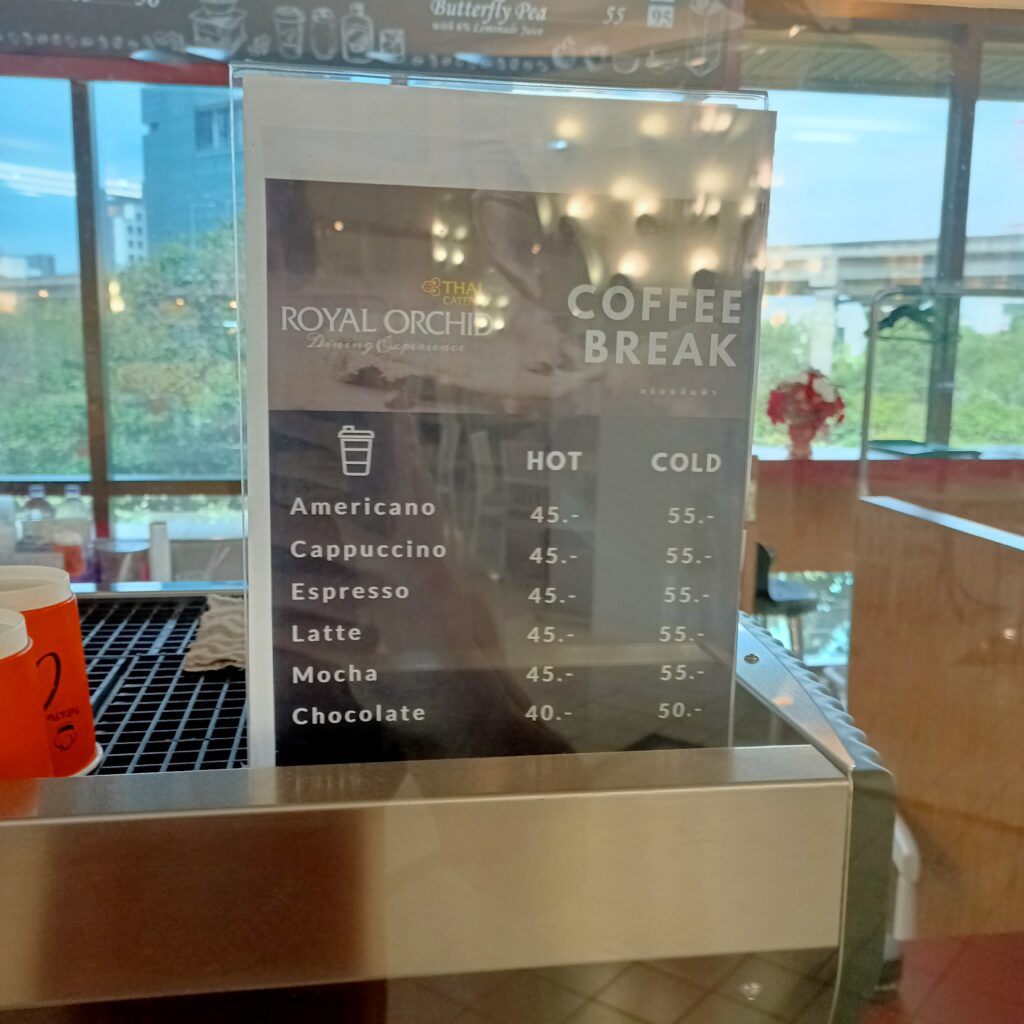 Thai dessert and snacks also available.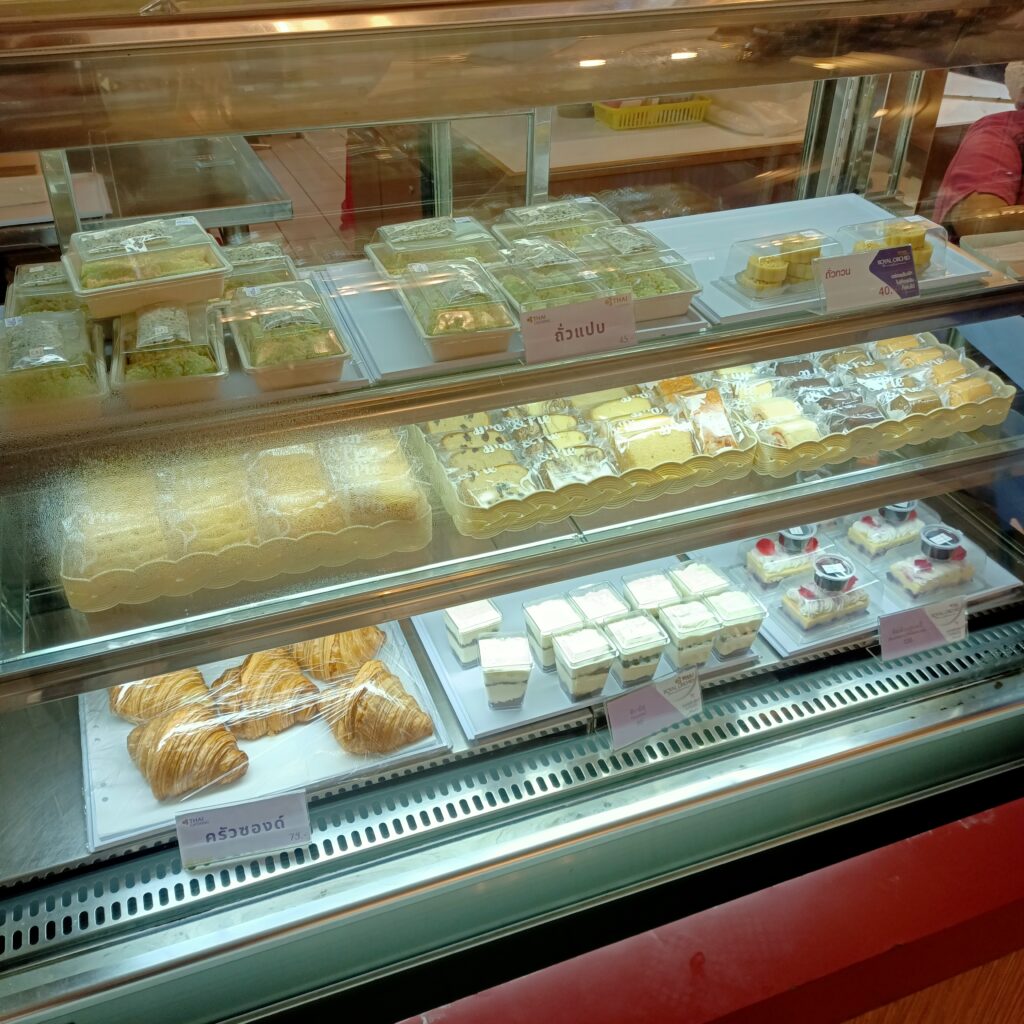 My Thai friend bought this and gave me try some. I forgot the name but taste is good like mochi with coconut and nuts on it.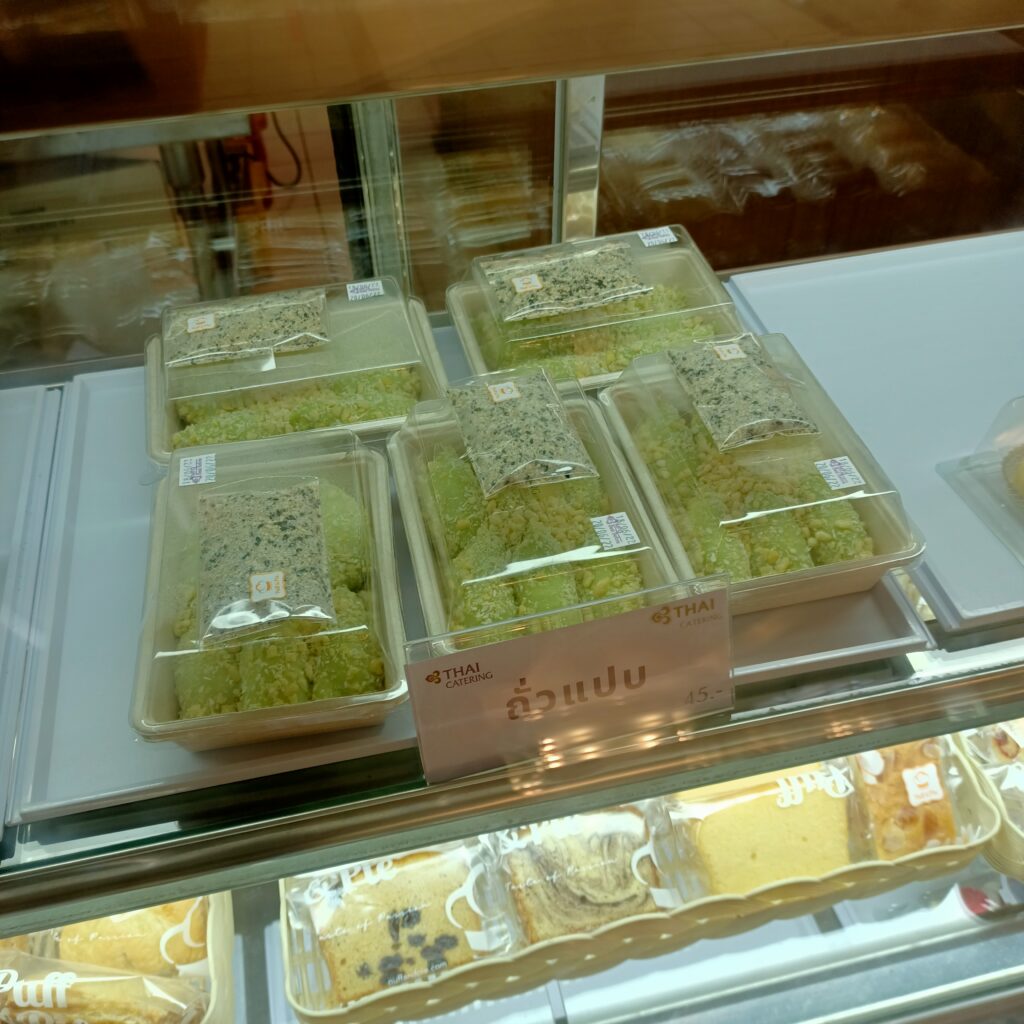 Tiramisu at 90 THB. I skipped this because I am on diet now. hehe.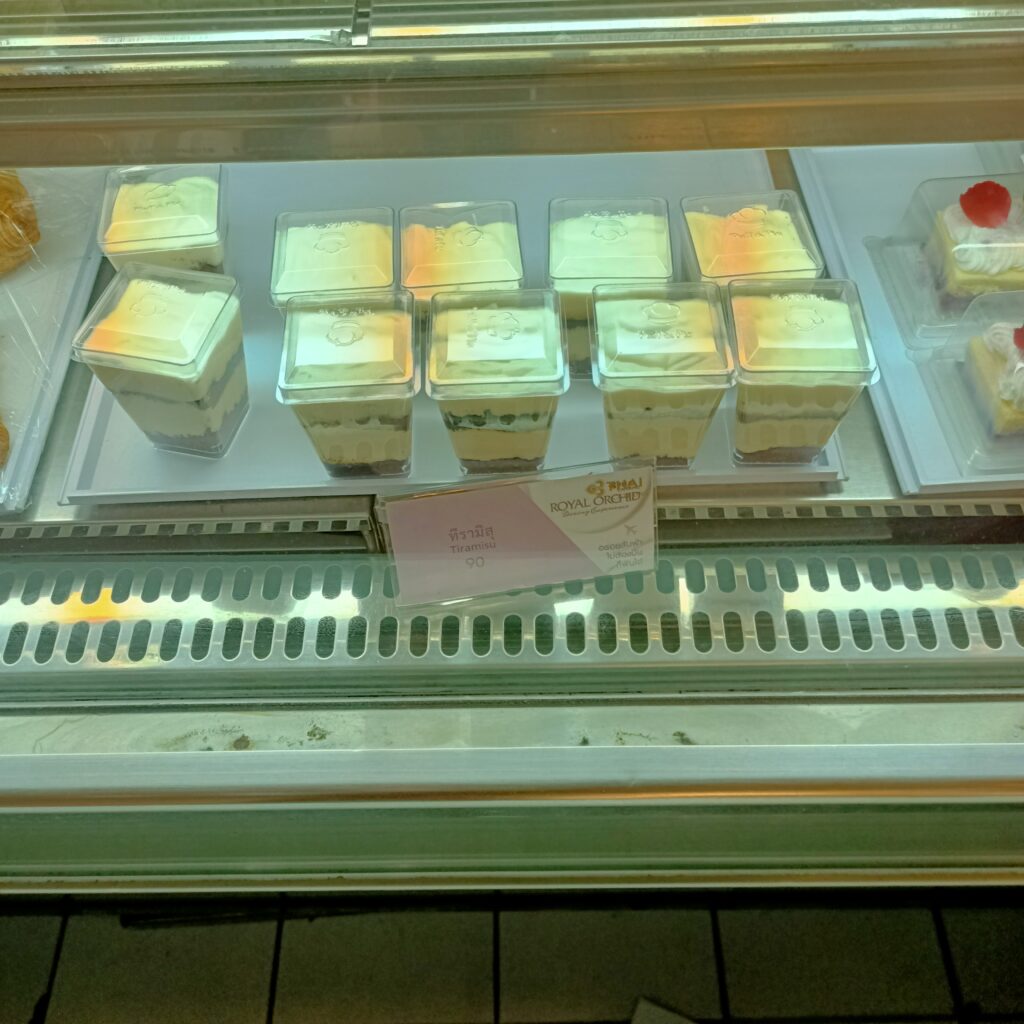 Blueberry cheese cake for 120 THB. I cannot miss this one since blueberry cheese cake is my favorite. I will try definitely next time!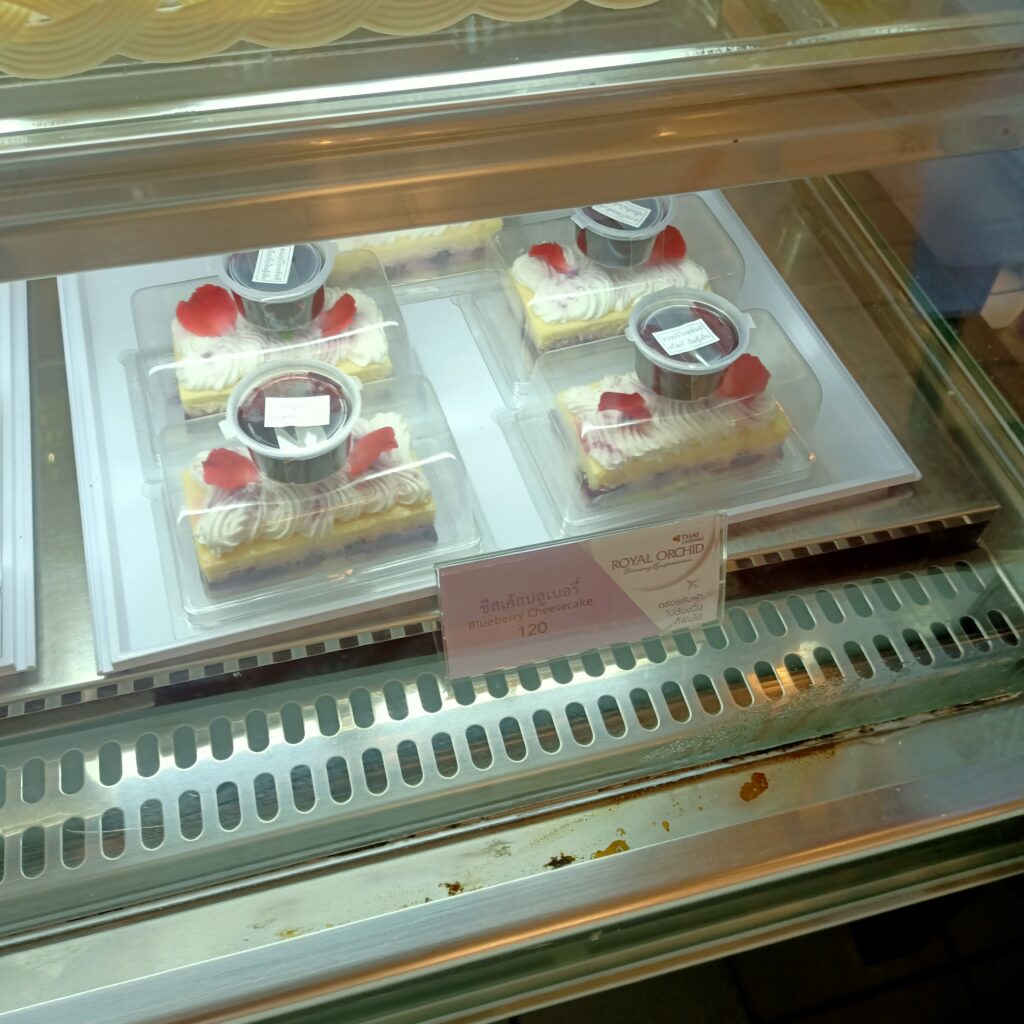 Big sized Croissant for 75THB.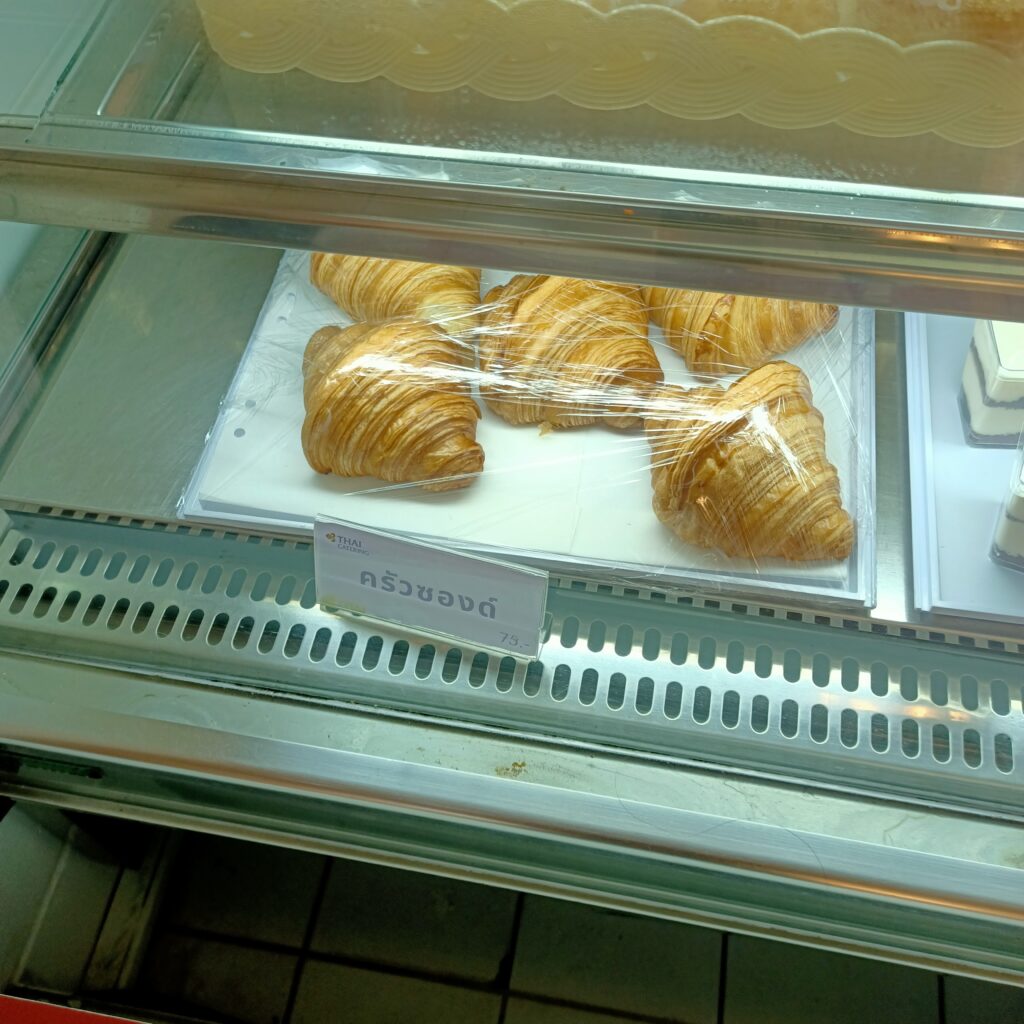 Some other package food is good for souvenir or take out.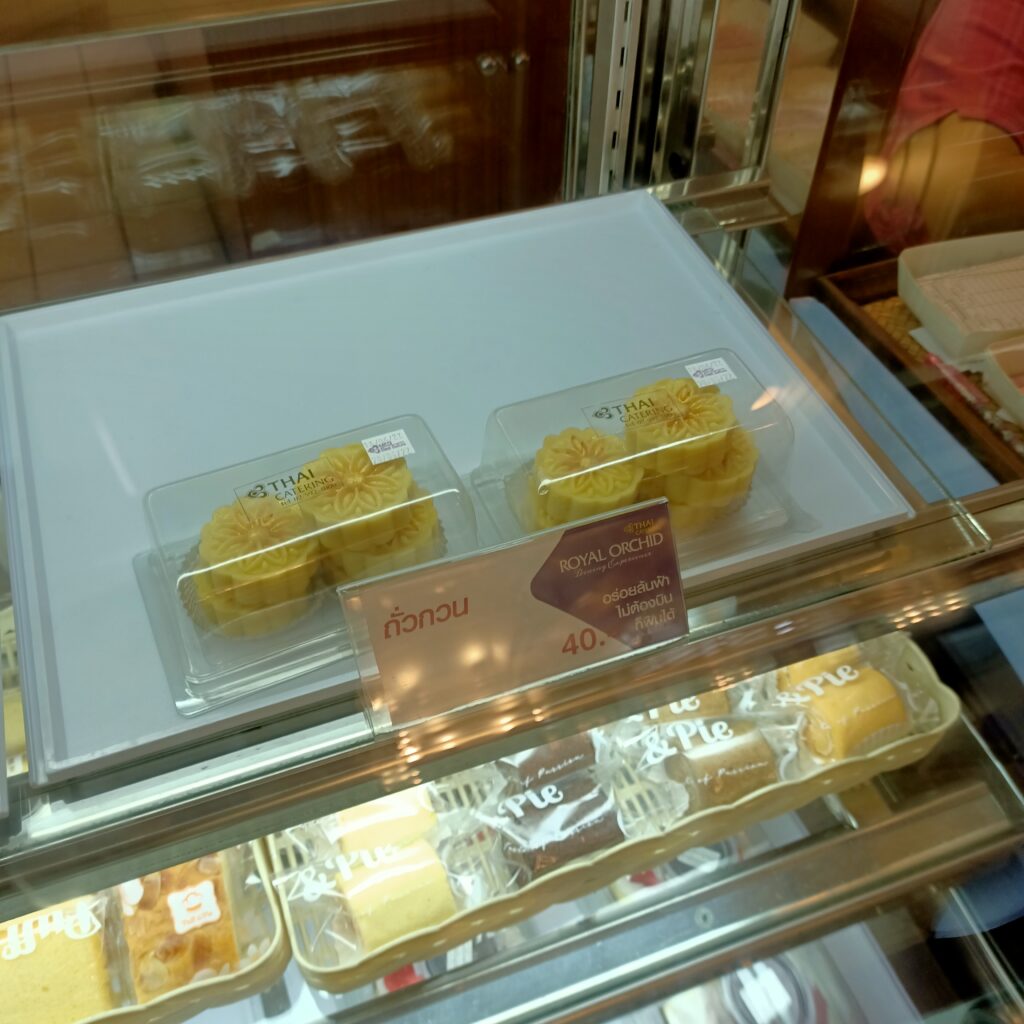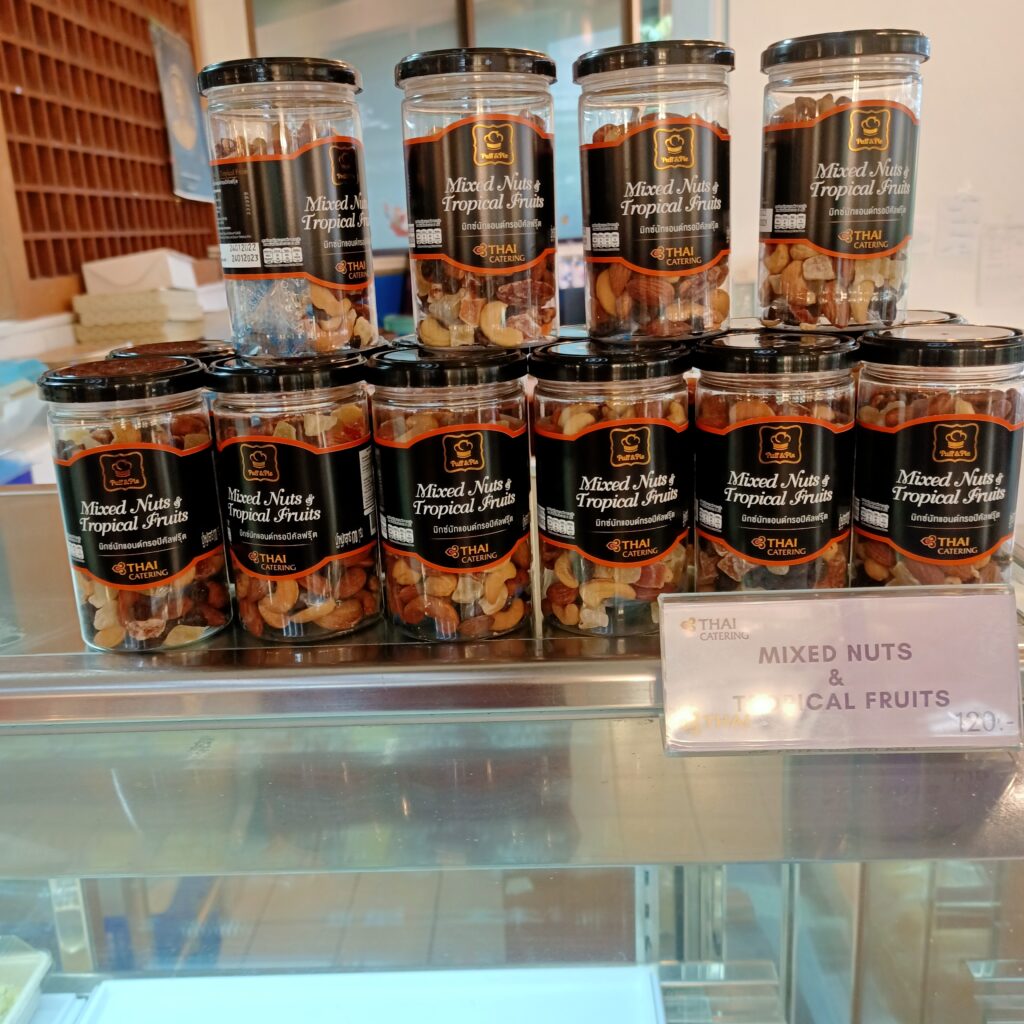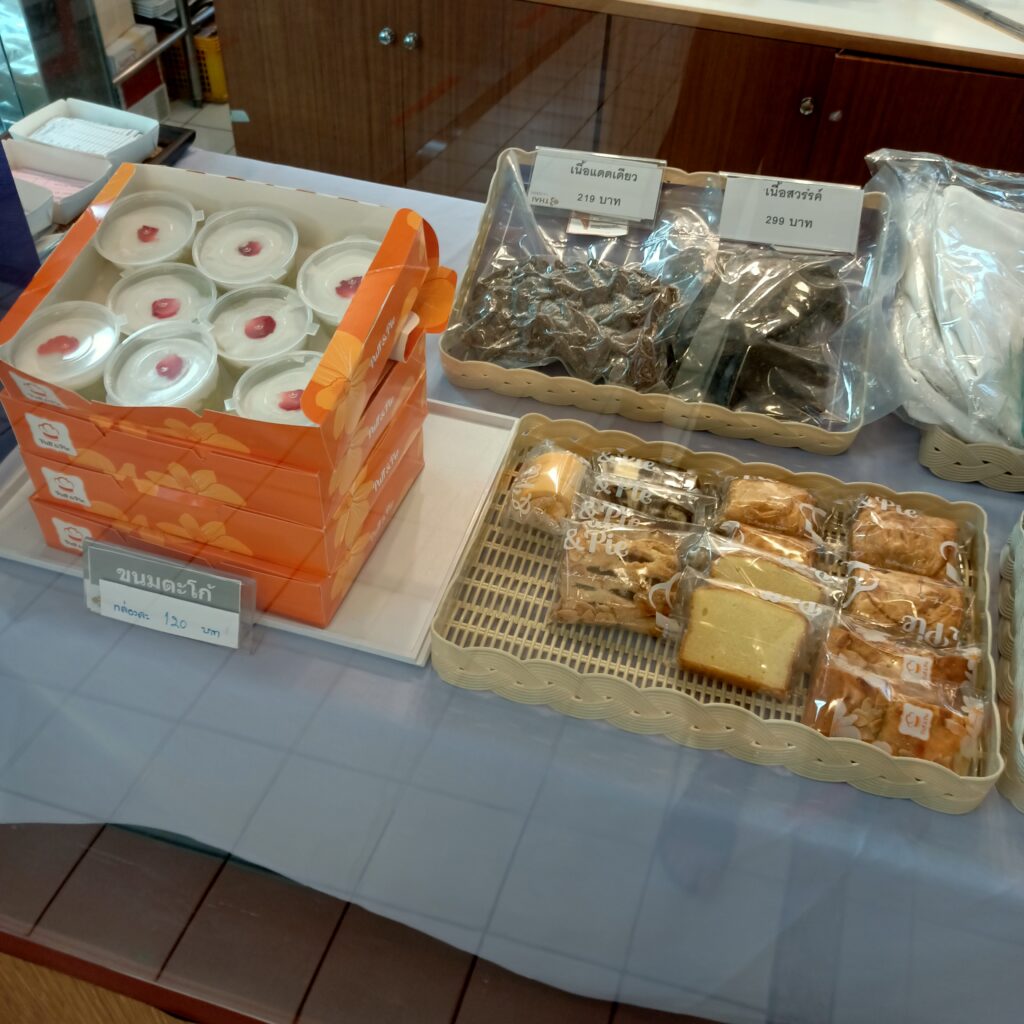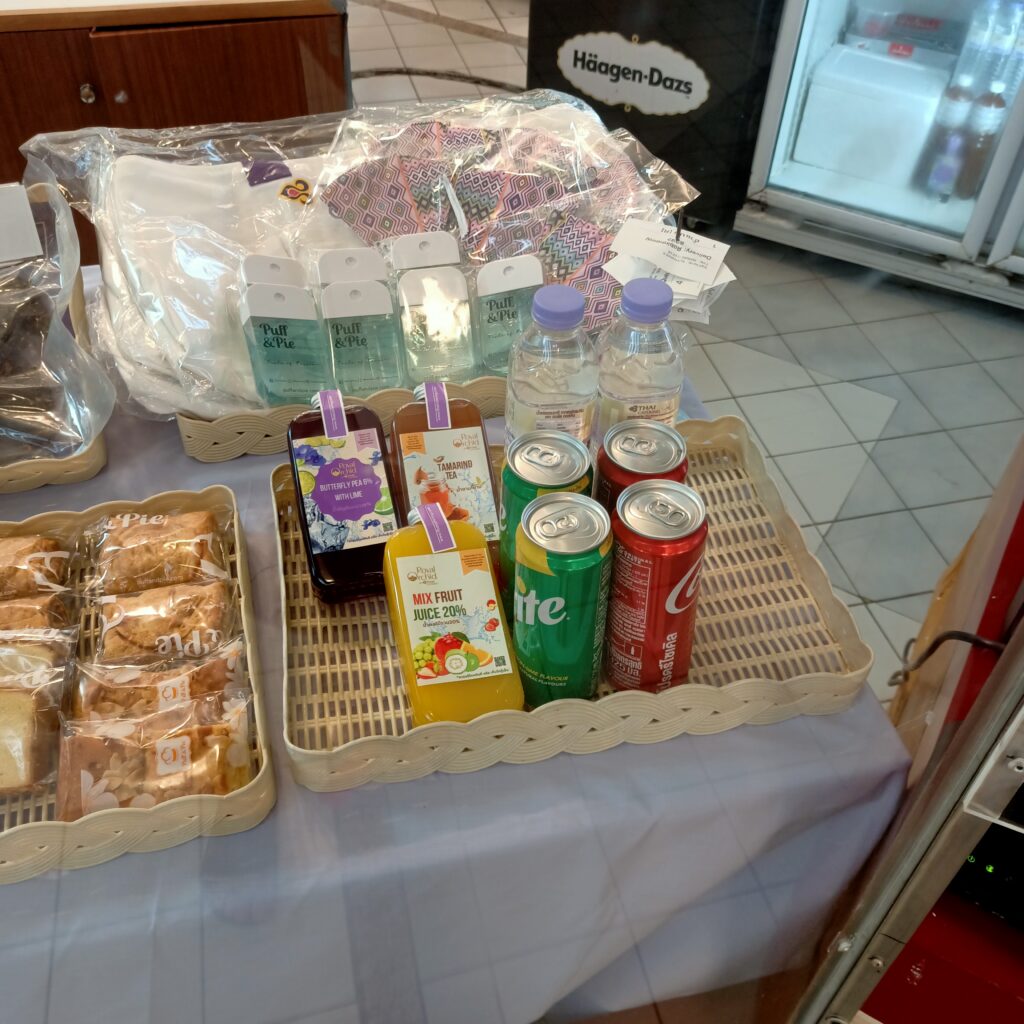 Business class service
As flight attendant staff explained to me, upper level class service "Business class service" can be used for 699+tax per person (and maybe service charge also?). Food will be served by flight attendant staff gently,  unlike economy class self serving style, at the table decorated with flower and tablecloth.  Food menu will be consist of one set menu and dessert. I might try this superior service next time, I will report it what you can have it by this upper class service.
Business class service table.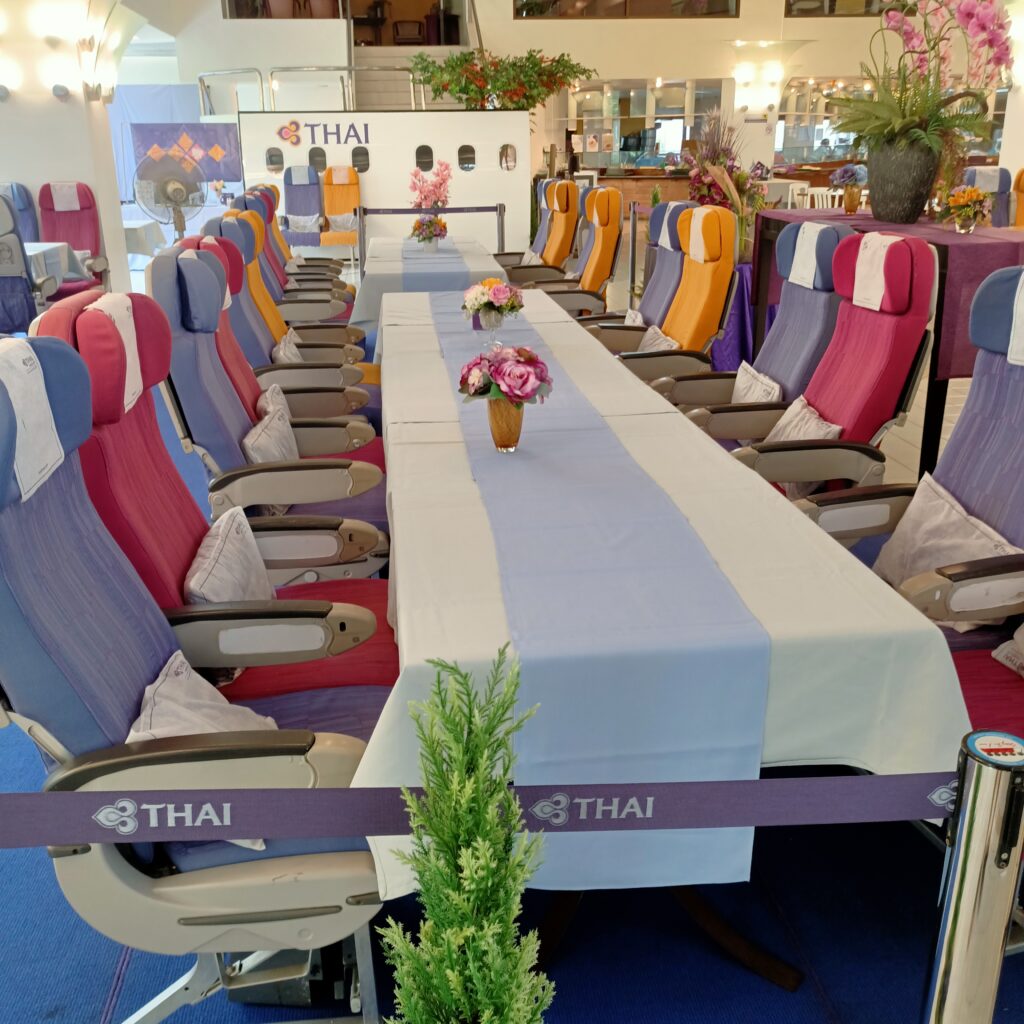 First class service
Staff also introduced there is "first class service" for 1,999 THB+tax per person. He told me that customer can have special moment with full course menu prepared by chef. To use this service I was advised to make reservation at least 2 days before so that the chef will be at the site to cook for you. Wow, considering chef comes only for this service, I think price is not so high. You can try on this superior service if interested.
First class service will be enjoyed at upstair closed area.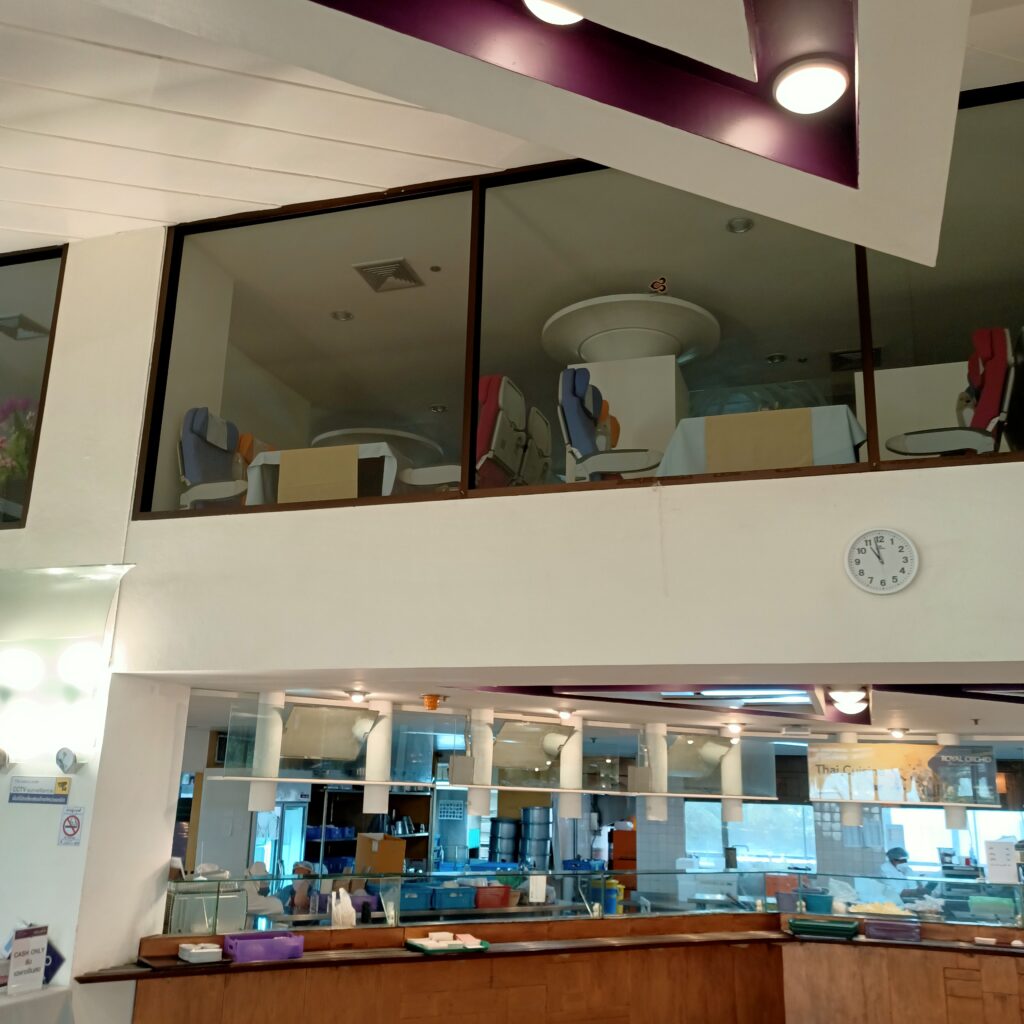 In-flight meal on ground
We sat at the business class seat near the entrance. Table pole looks lie shaft of airplane wheel, I guess?
ops, I didn't take clear picture of face.to face 2*2 business class seat.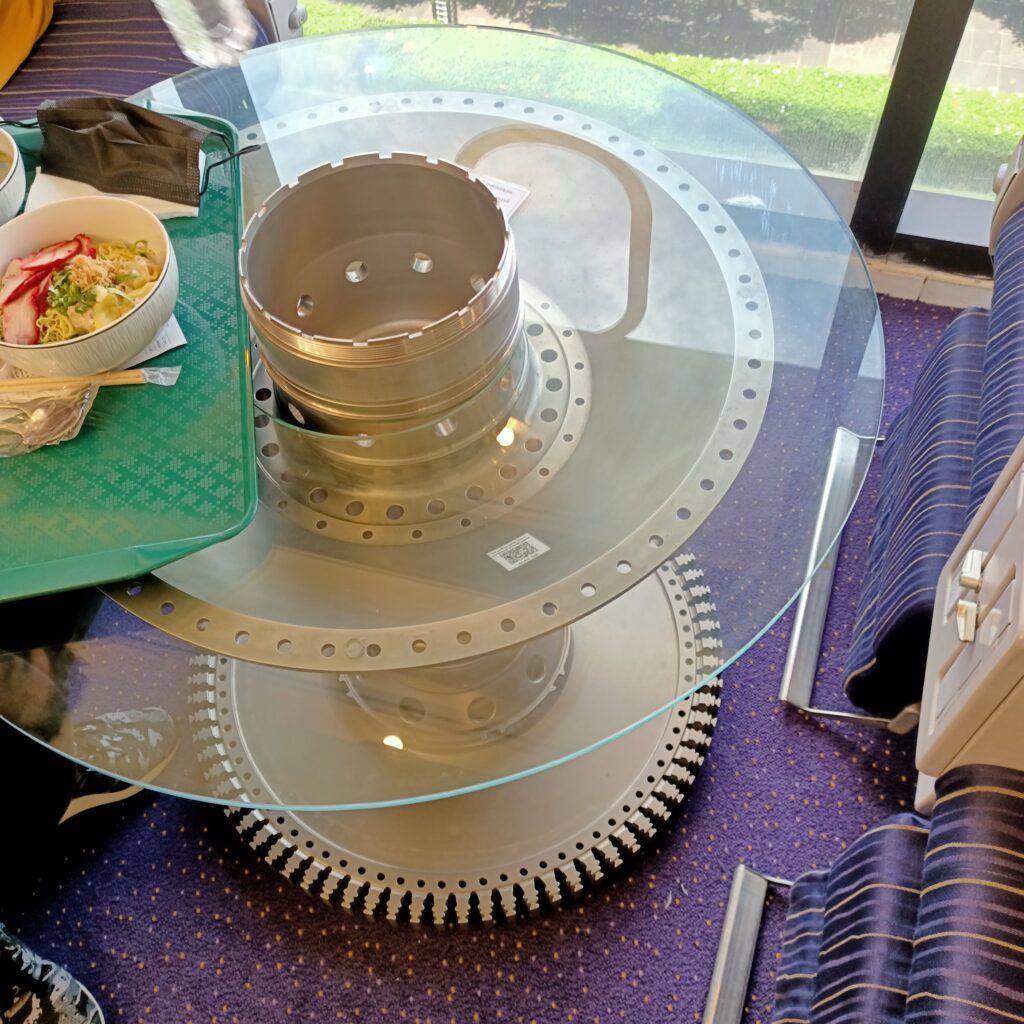 My friend ordered Thai noodle and Phadthai.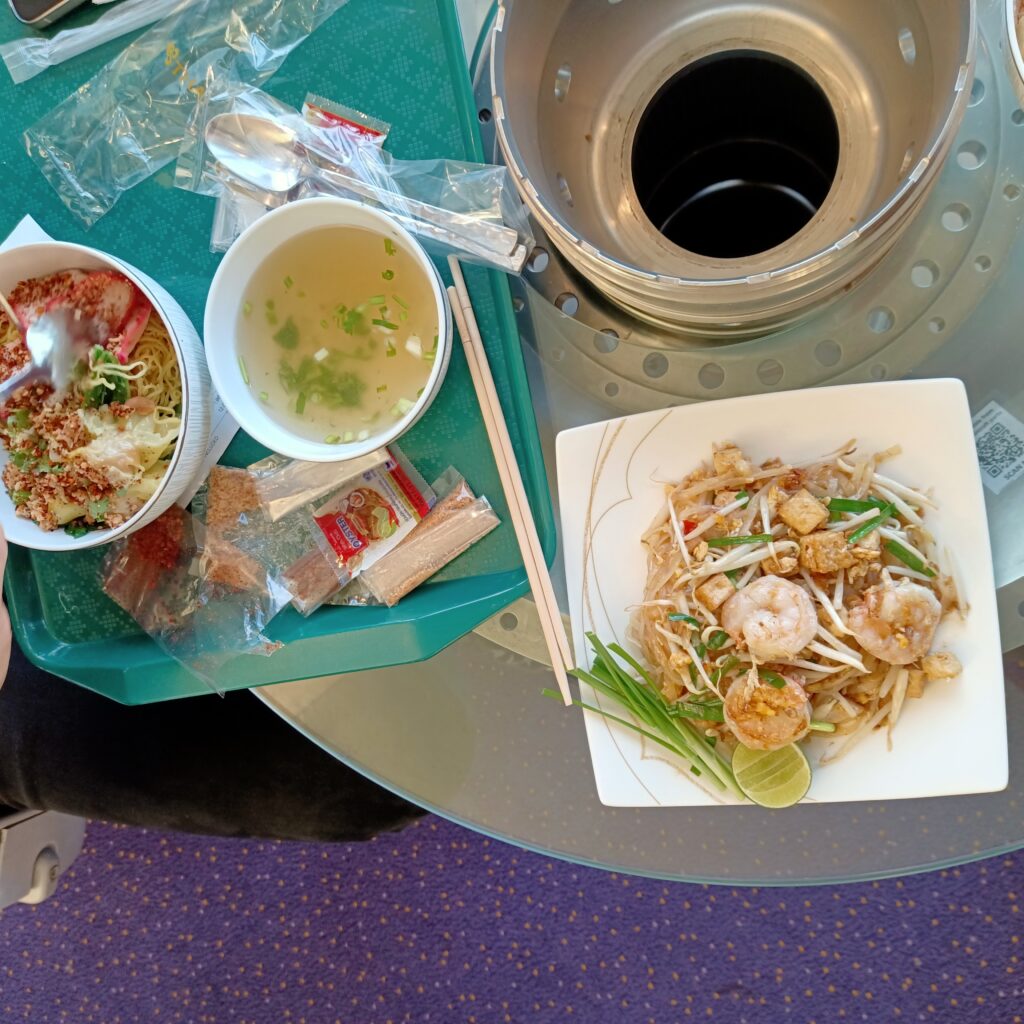 Here is my order chicken namban.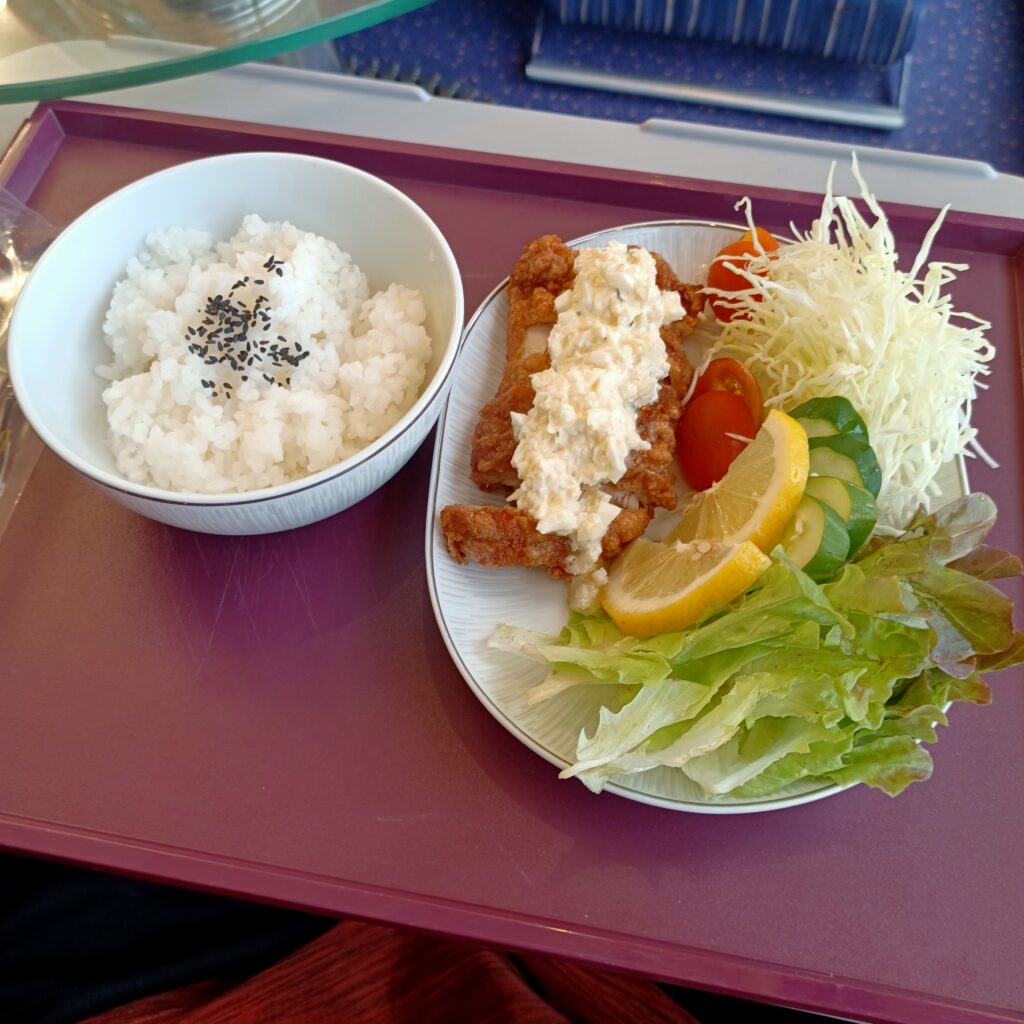 salad with many slice of Salmon.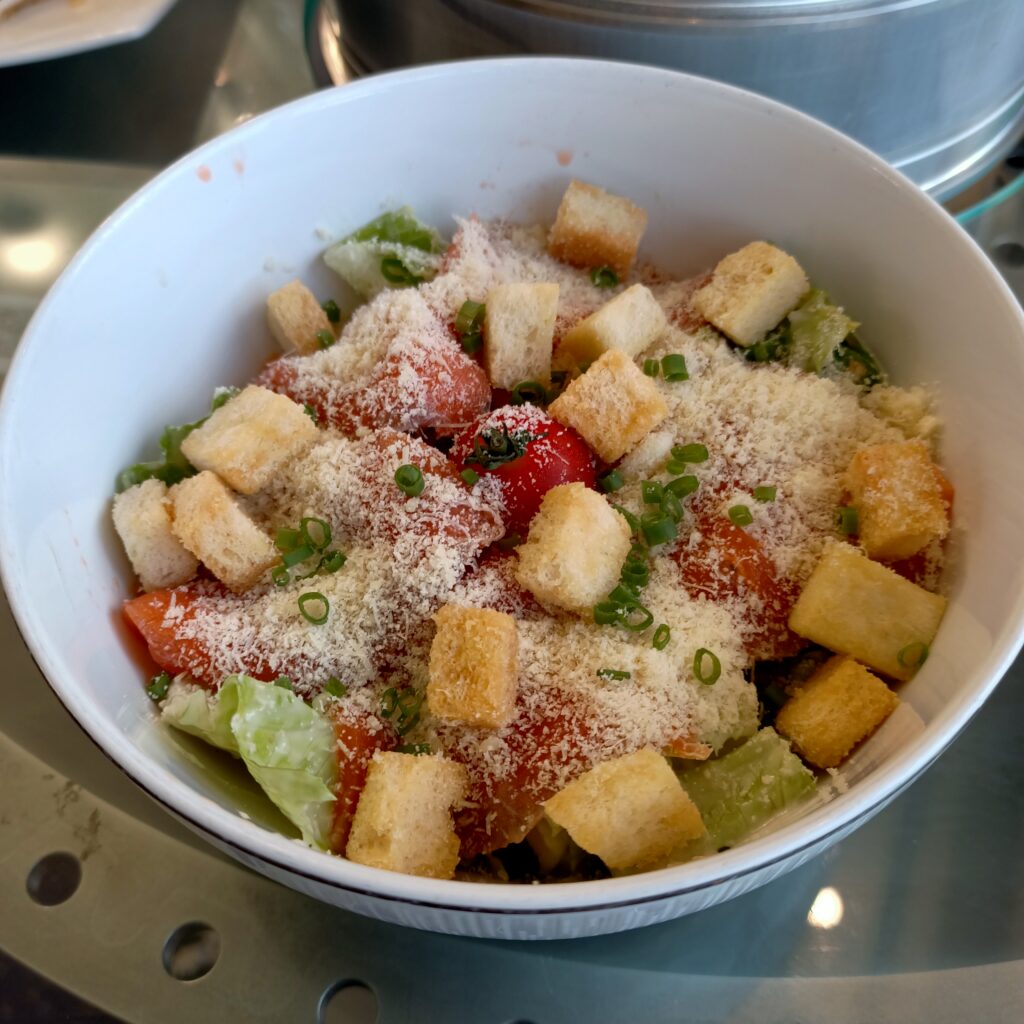 cutlery is used on board for upper class seat, you can see the sign of "Thai airways" on back.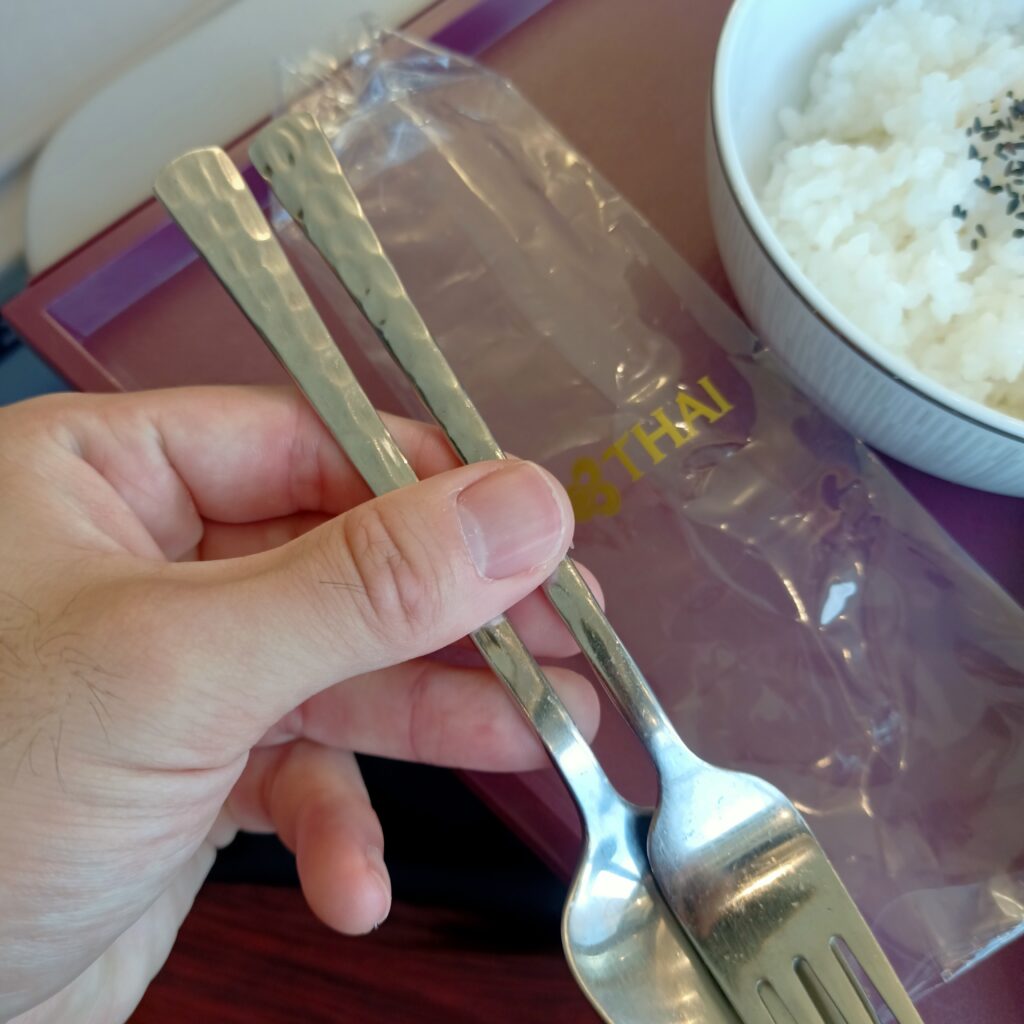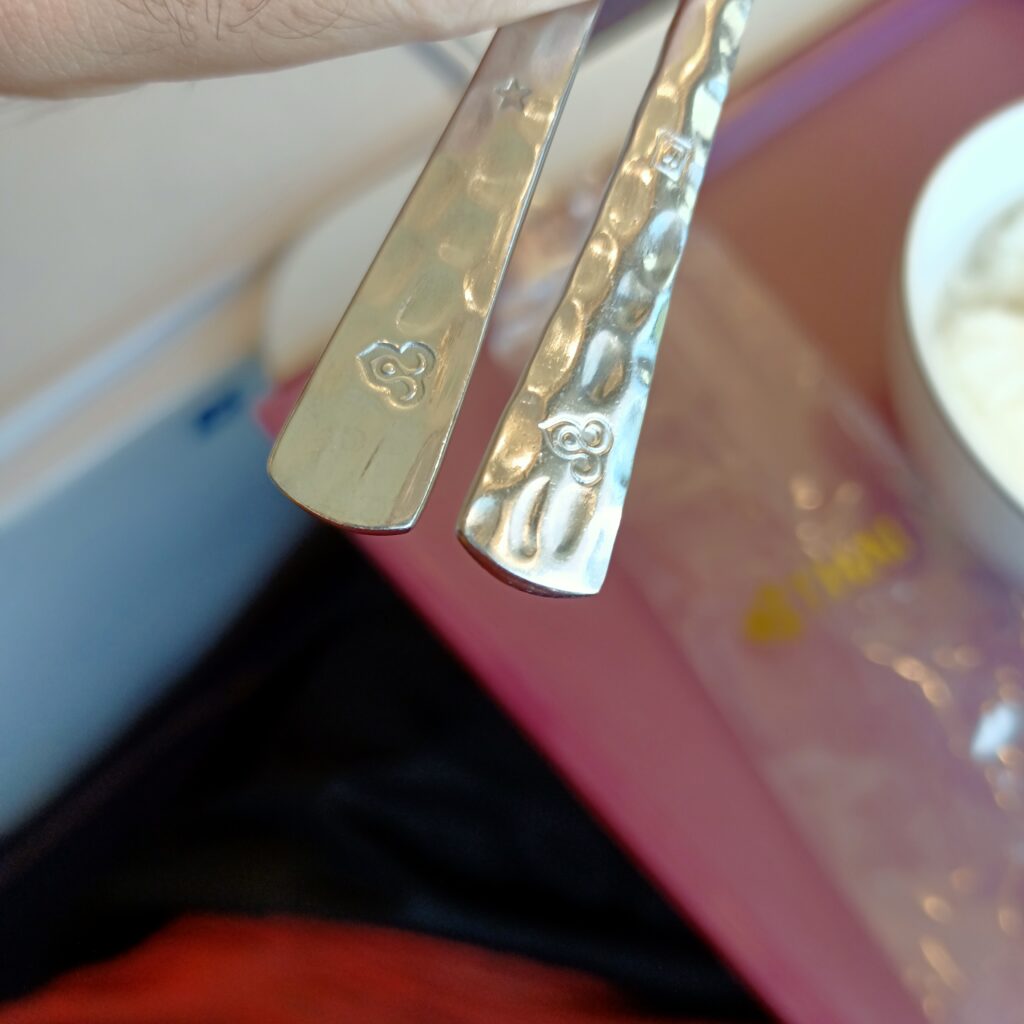 I try to use entertainment screen from armrest but it is not working! haha. Function as business seat is disable for seating only.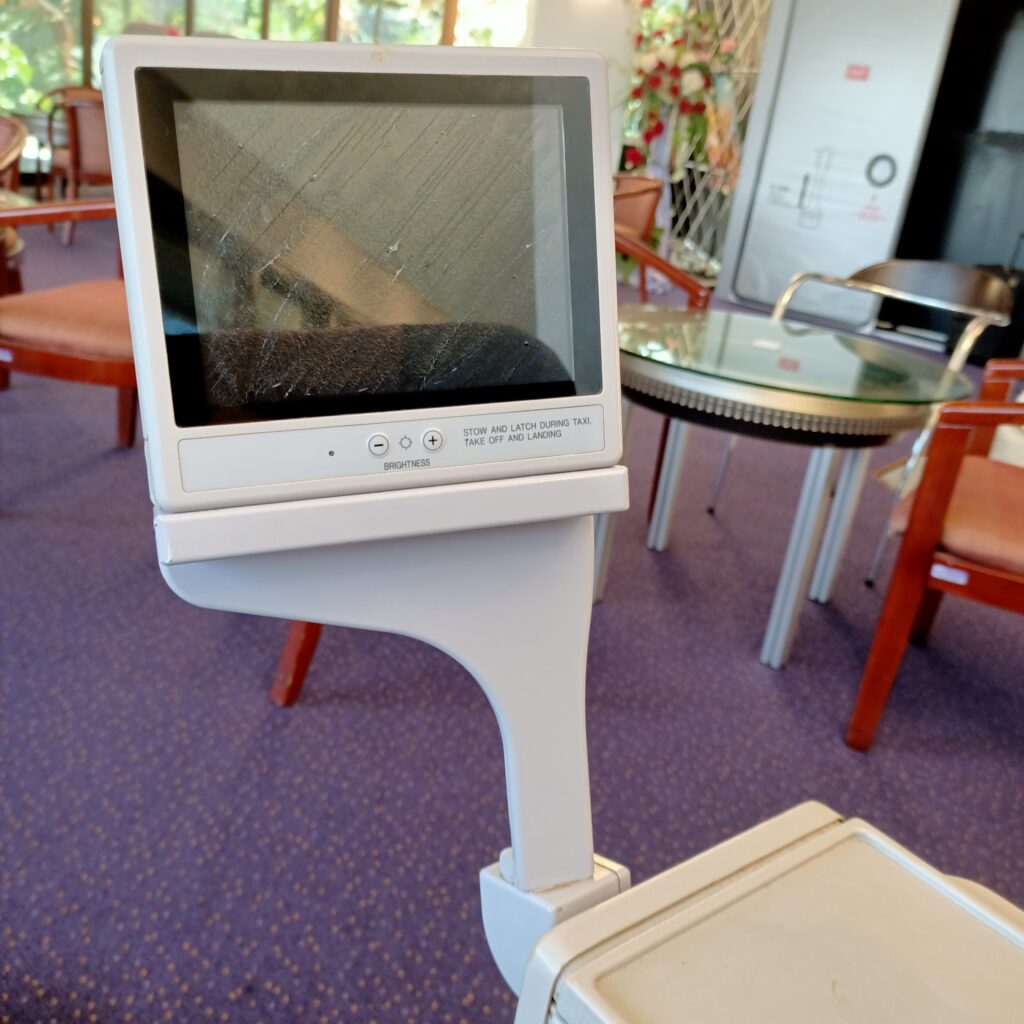 Looks like my friend was so hungry alot to order Thai dessert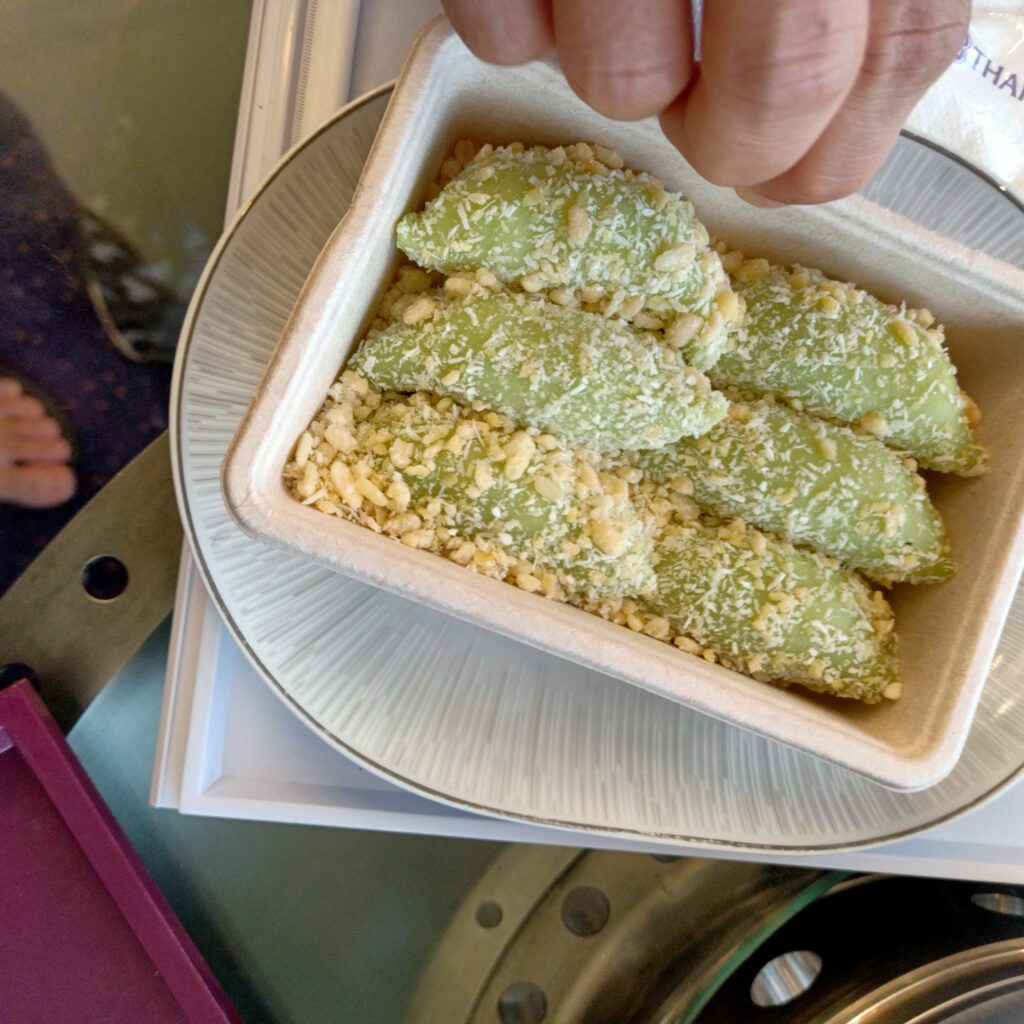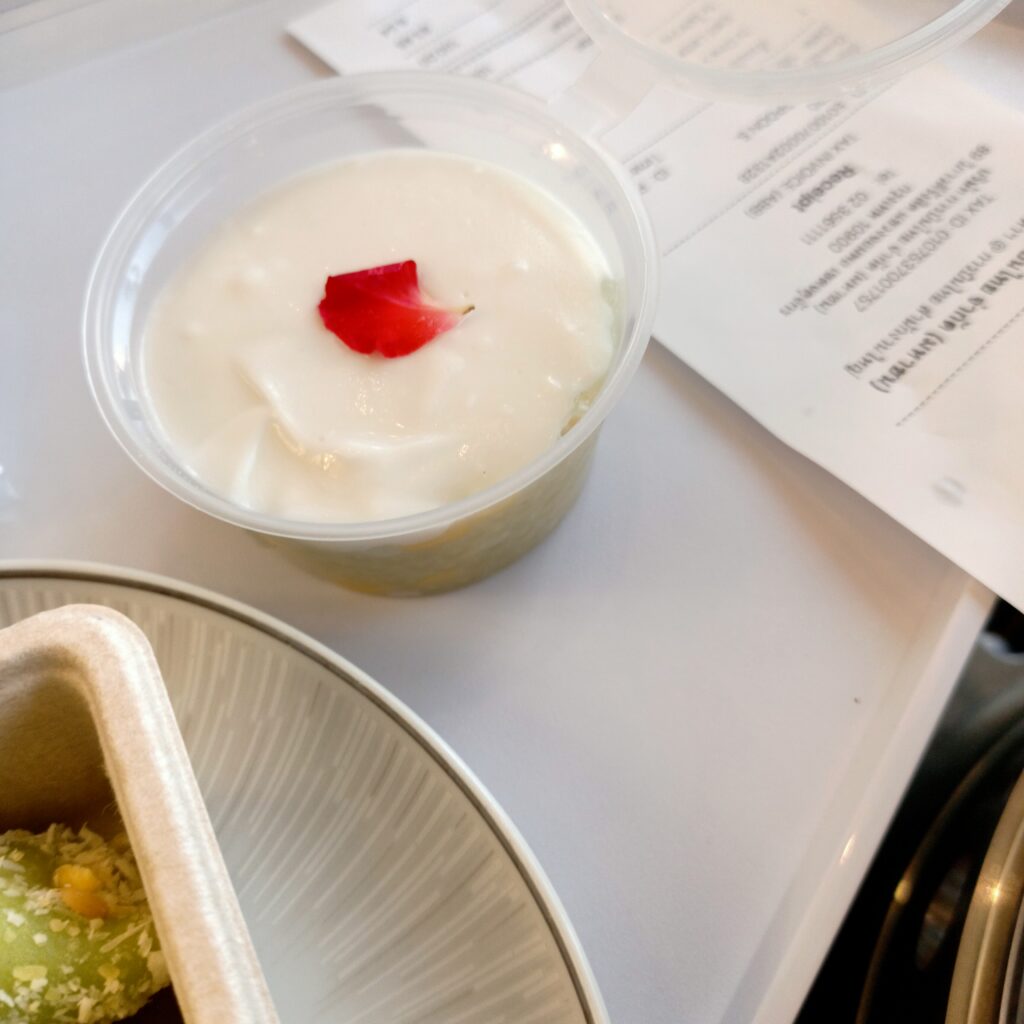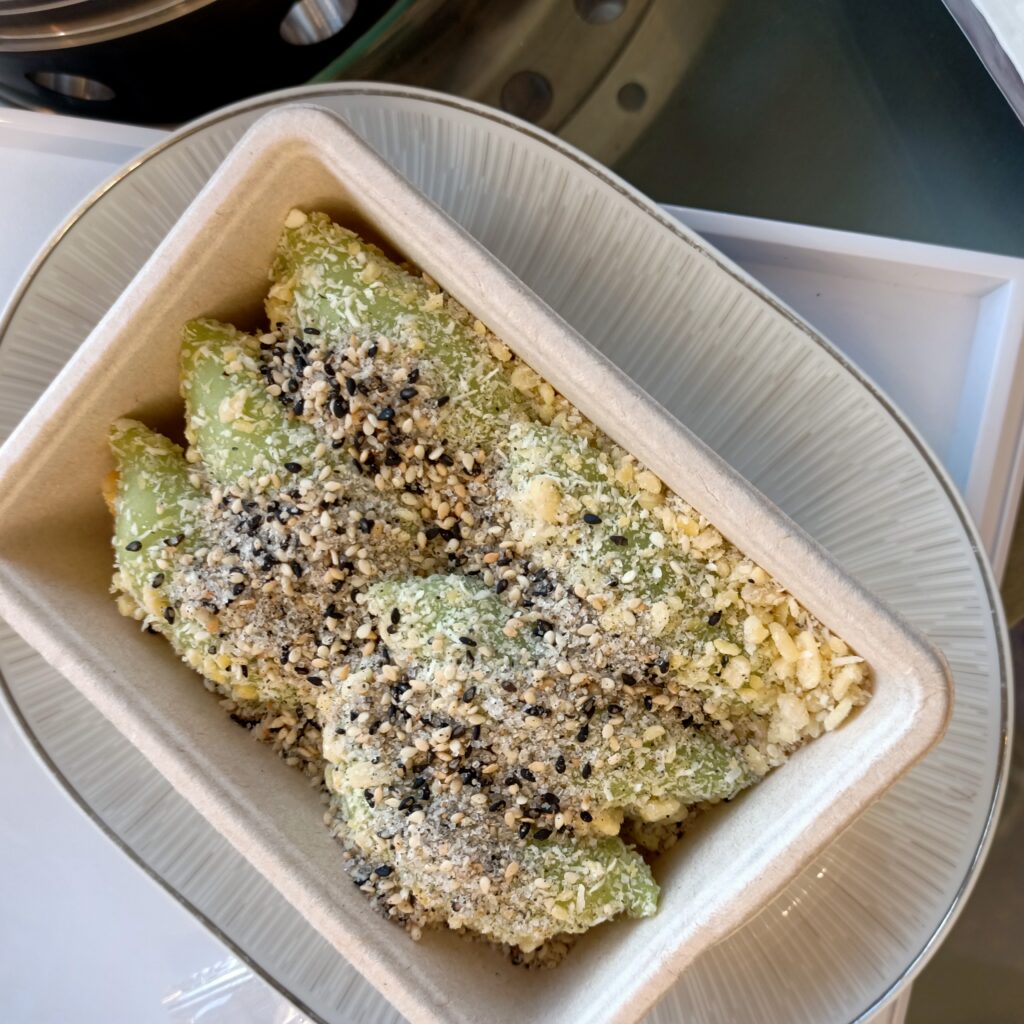 In side the restaurant, you can see various stuff and parts of airplane not only seat. Below is the menu sheet for Thai airways Business class, Royal silk class.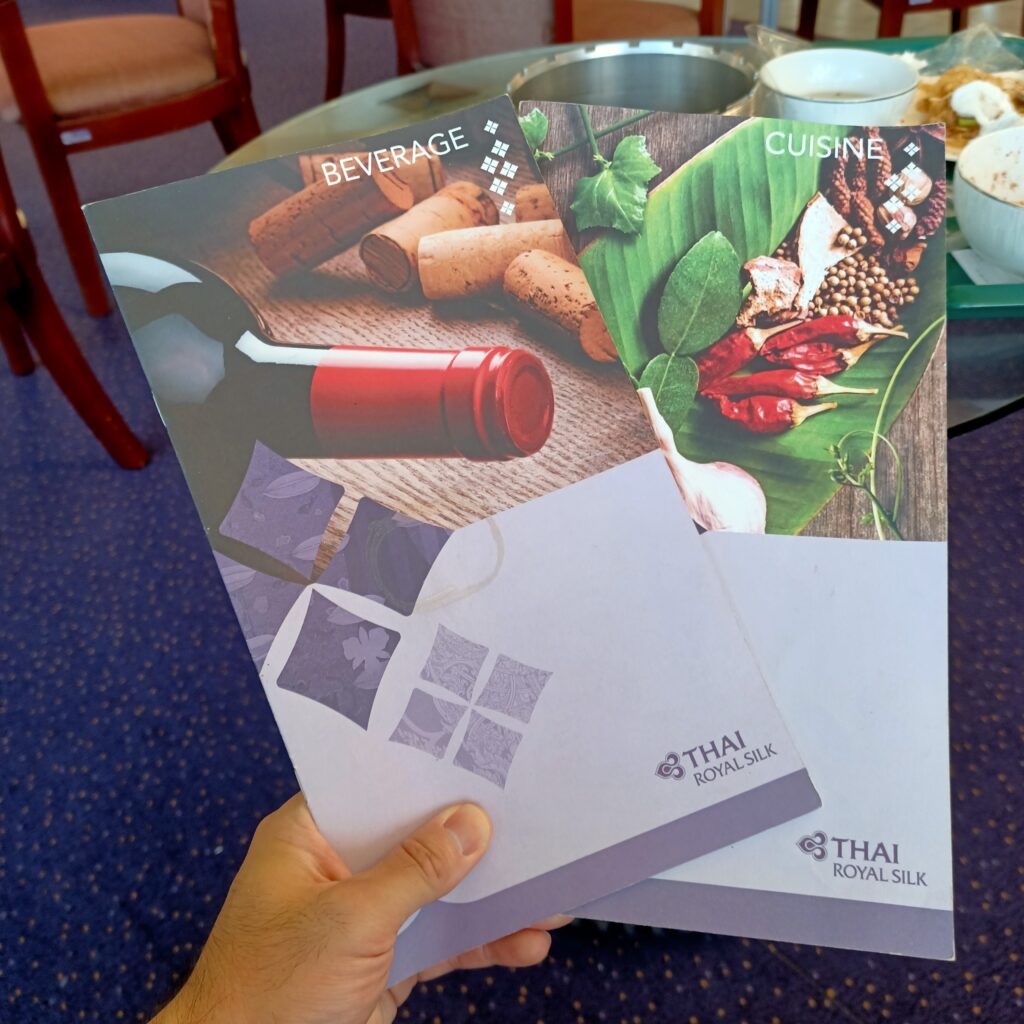 This must be first class seat when used for short haul trip as I checked!. This seat is only available for one, beside business class family seat. It must be best place for photo taking.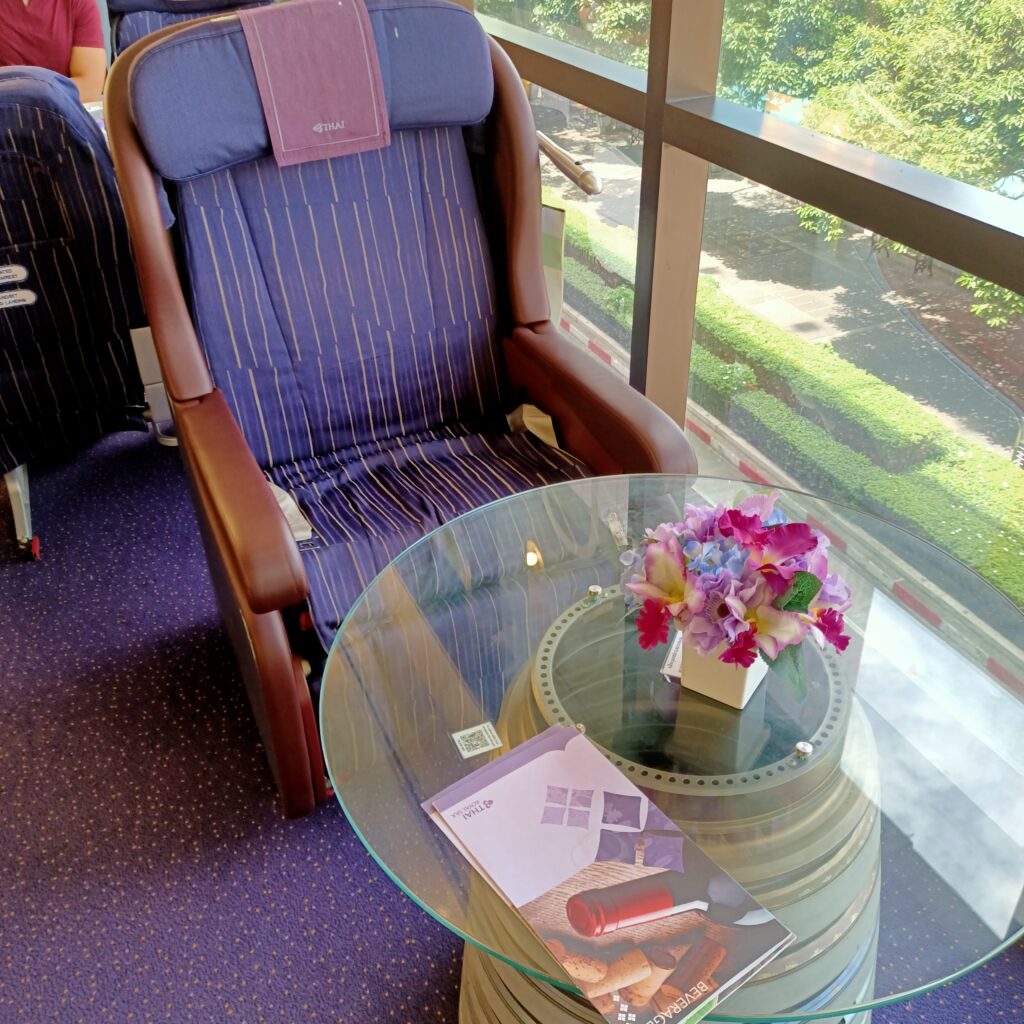 Tire wheel is used as low height table stand.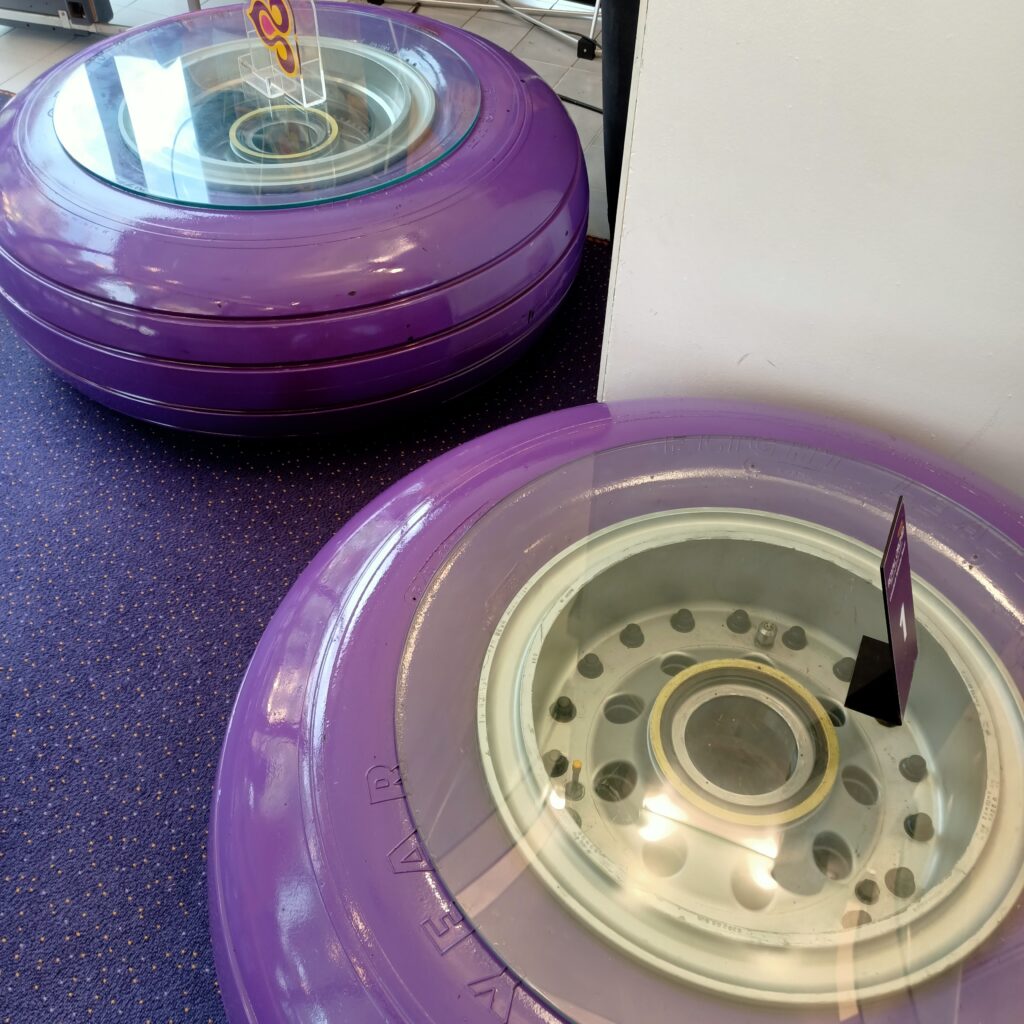 Guess what this is? This is window shield for drink stand.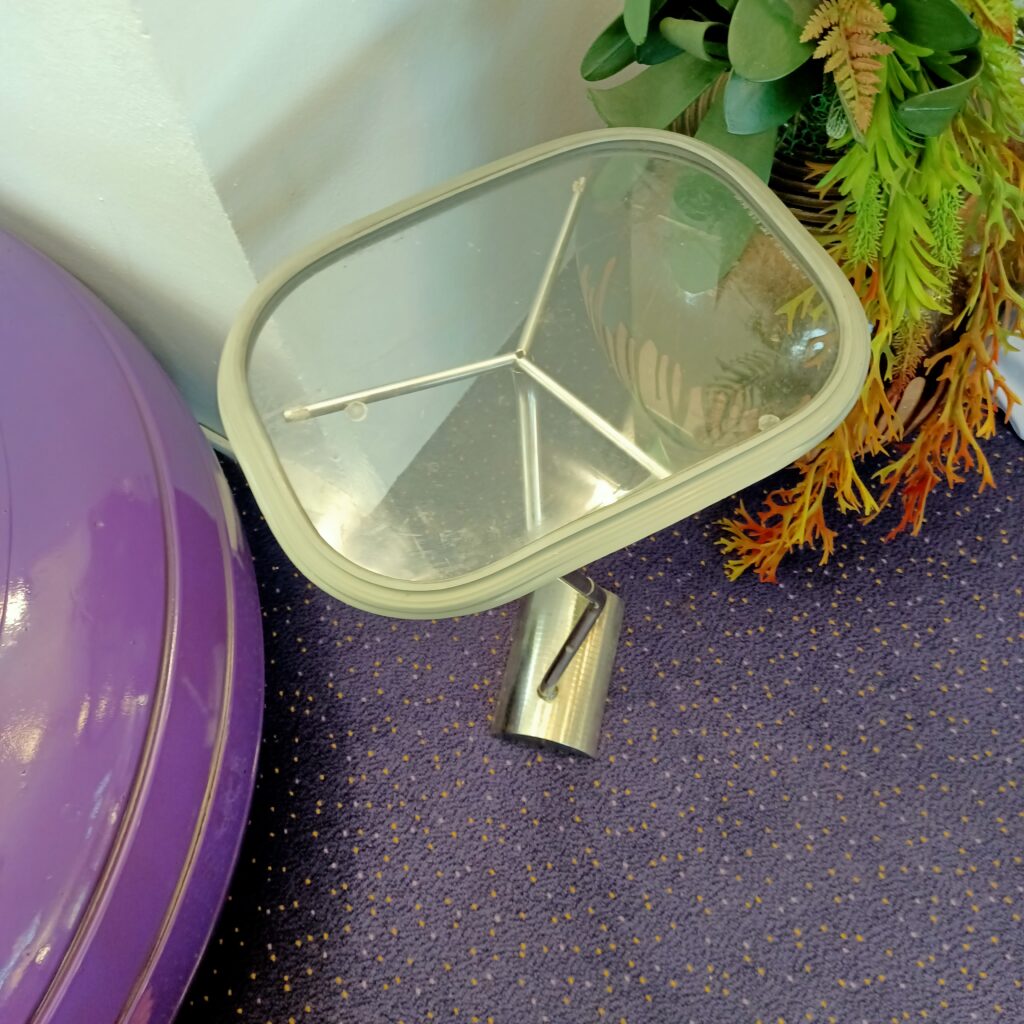 View from business class family seat we occupied this time, looking for clean pool (or pond?).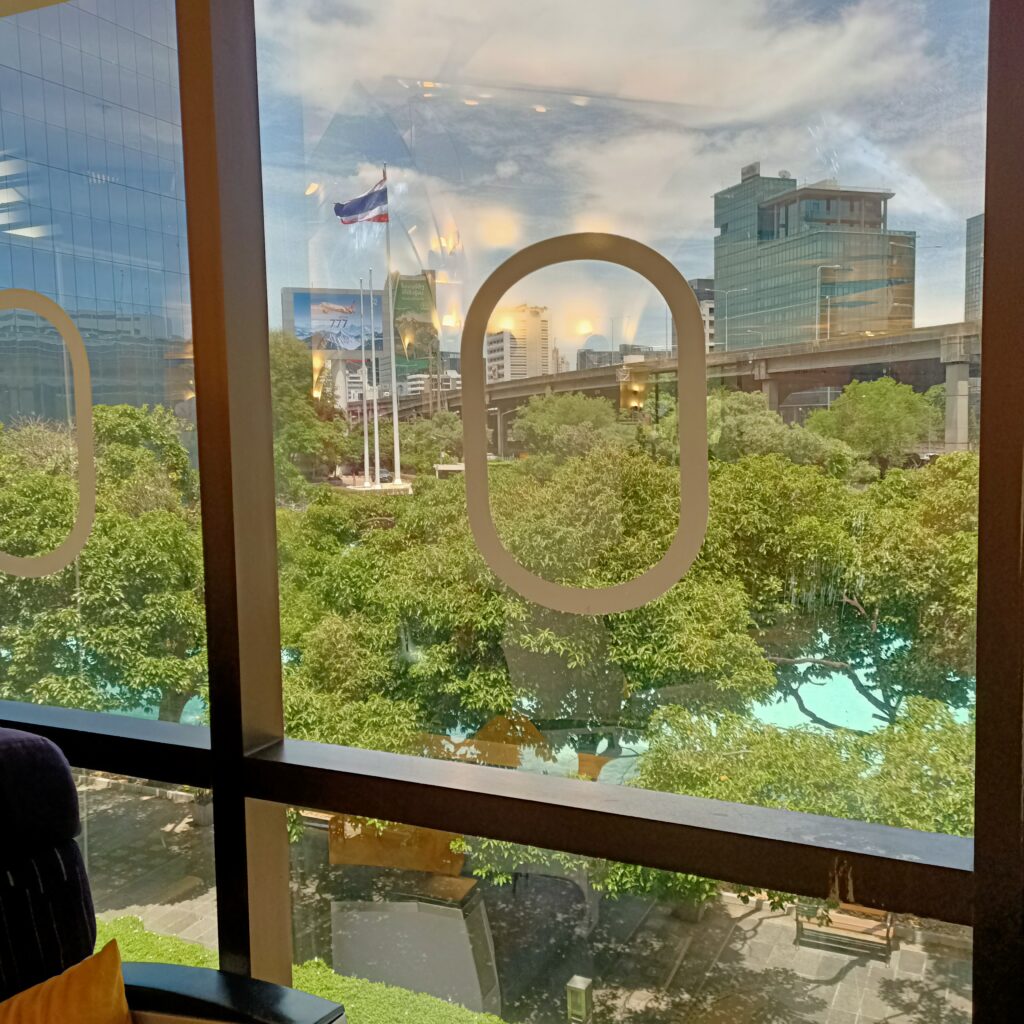 Emergency exit model stand and luggage bag, these can be used for your photo session too!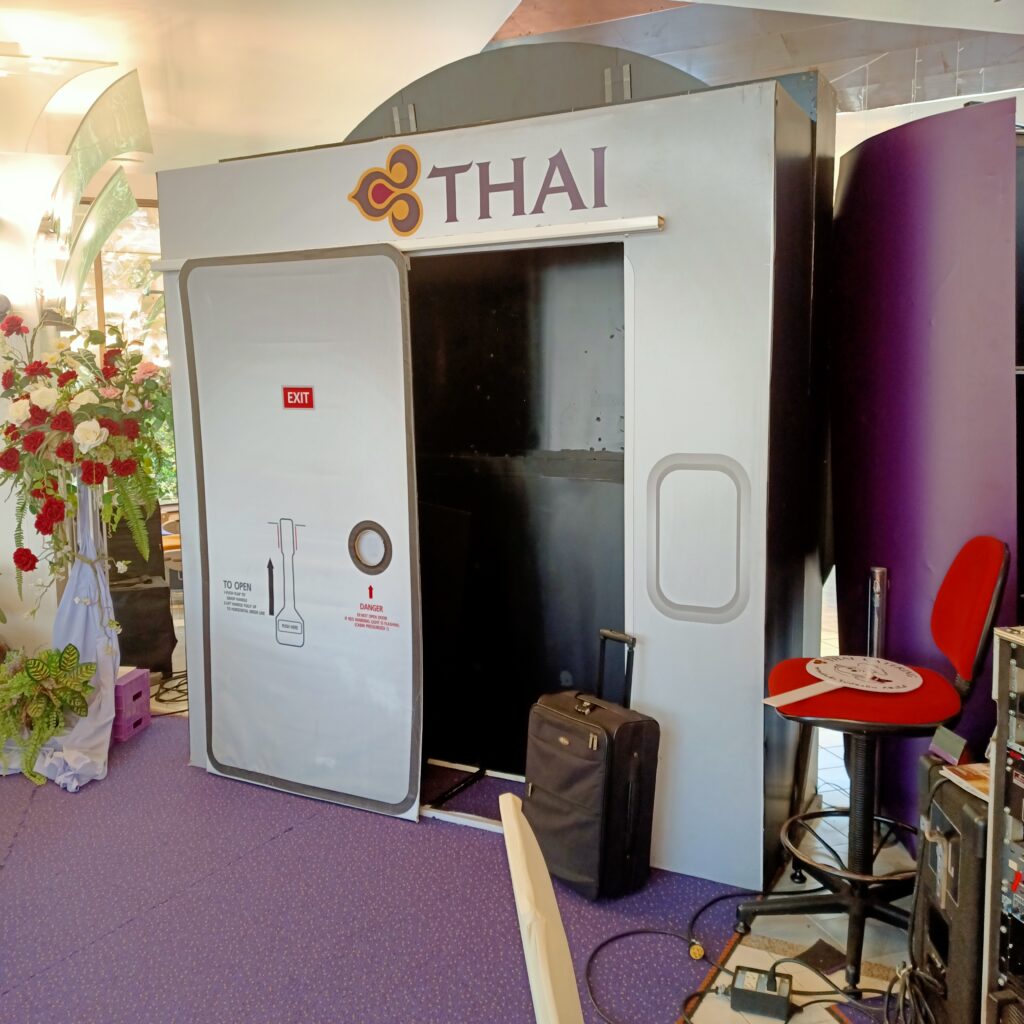 There has also event stage, I didn't see any event this day, there might be some more on weekday.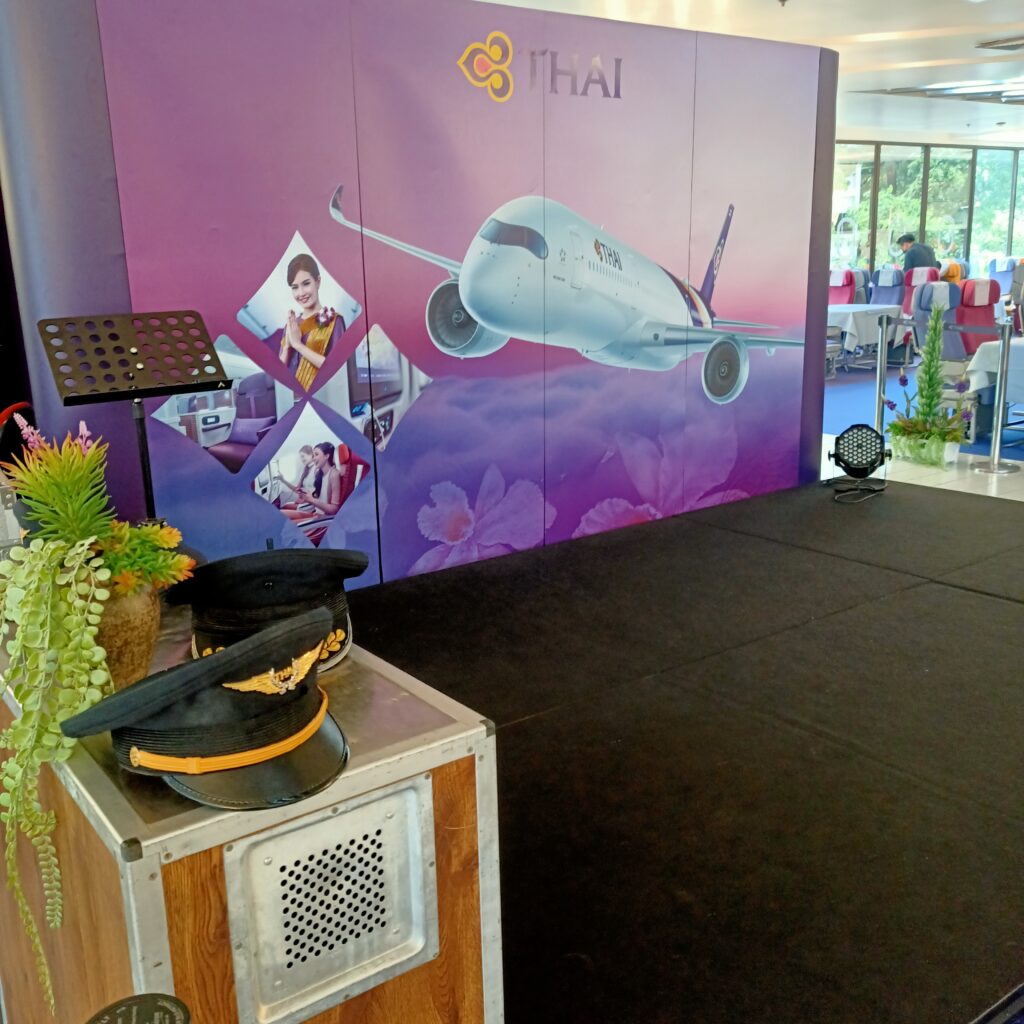 Garbage box at toilet is food storage box in airplane.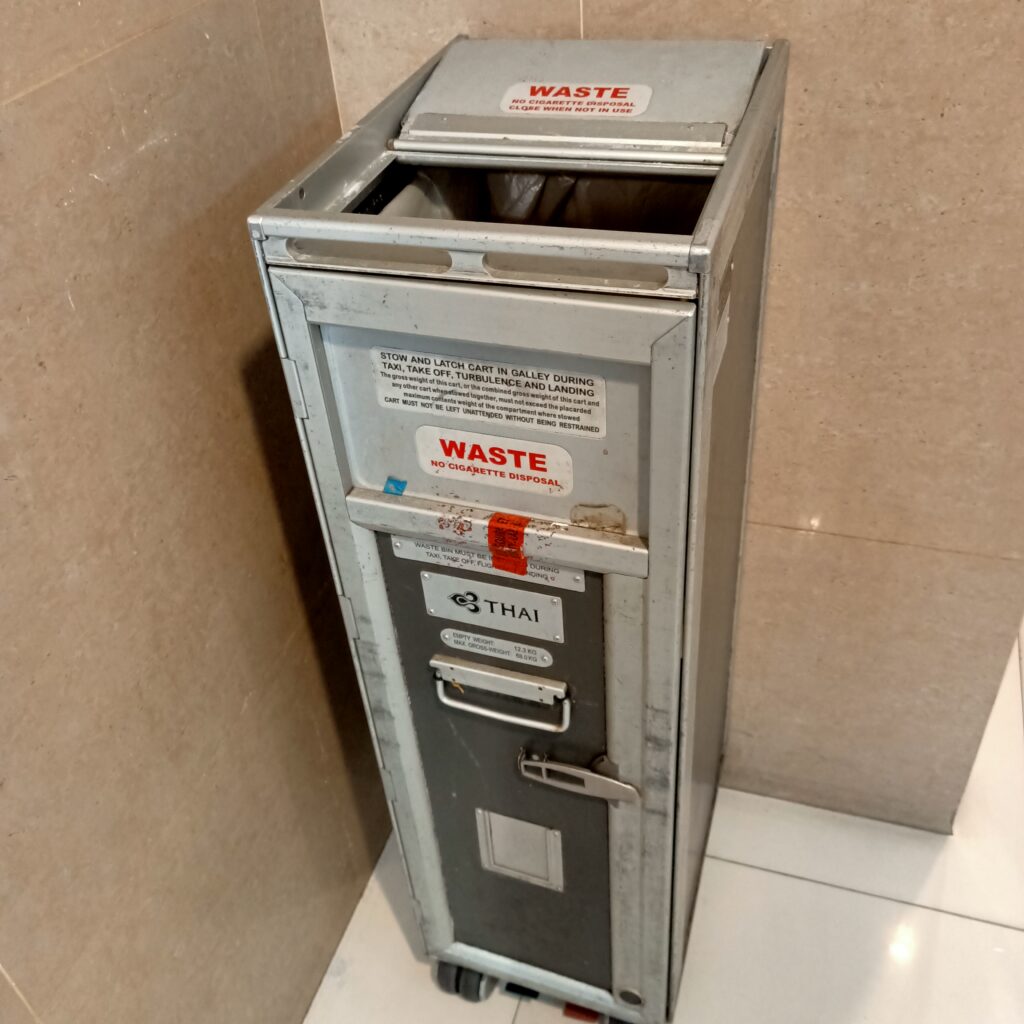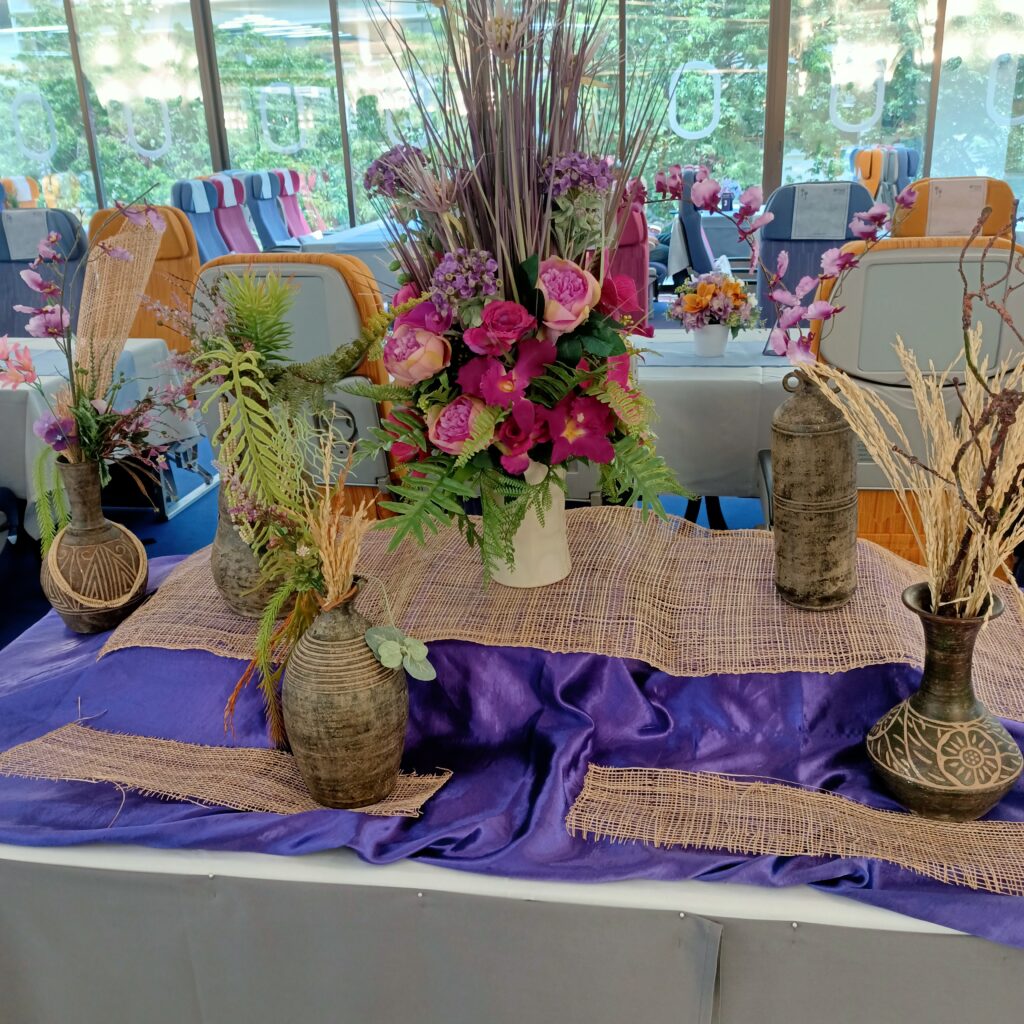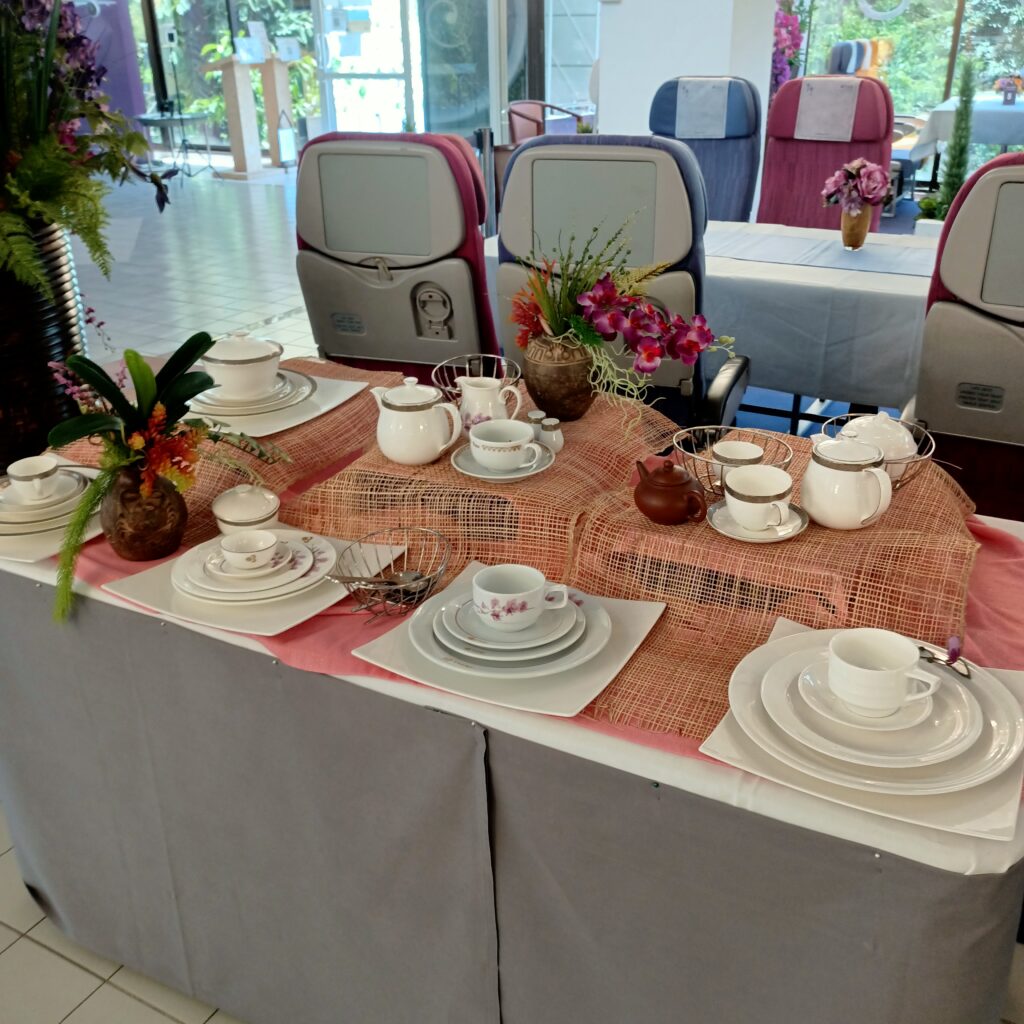 At the next to restaurant area, there is also Thai airways goods shop but staff told us that it is closed on weekend. Famous street market in the realm of headquarter to sell branded goods in cheaper price is also closed at this time. For airline fan, it is better to come on weekday to see their merchandise.
Conclusion
Ok, that's all for the review of "Thai airways Royal Orchid experience." As travel and airplane fan, I was really looking for coming here and glad finally to make it! Fortunately there are few crowded in the restaurant on Saturday, so we could enjoy airplane like atmosphere and food served there.
I will definitely revisit here again, maybe I will enjoy business class service for next time then show you guys how it is like. If interested, please try also!
See ya!