Welcome back to fitravelife.com!
Sorry for not updating my bodybuilding competition challenge in 2023 for long time! Last year I joined WNBF (World Natural Bodybuilding Federation) competition 2 times in the Philippines and Los Angeles. I haven't made my post for these events yet… I will! please wait a bit more.
For the meantime, I want to update my plan in 2023 this year. At the beginning of this year, I decided to join WNBF Malaysia end of October. For this event, I already completed registration and on the process of diet prep since April 2023.
Since my diet progress is good and very smooth so far, I also contacted ANNBBF (All Nippon Natural Body Building Federation), oldest affiliate organization of WNBF in Japan to join the All Japan Championships on 1st October 2023.
HOME | ANNBBF
ANNBBF(全日本ナチュラルボディビルディング連盟)はスポーツとしてのボディビルディングを支え 競技の公正さ、選手の健康の安全性を守る為禁止薬物の使用を一切禁止している団体です。
What is WNBF?
For those who are not familiar with WNBF (World Natural Bodybuilding Federation), WNBF is one of biggest natural bodybuilding federation in the world, operates more than 50 countries now.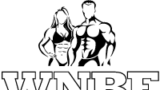 World Natural Bodybuilding Federation
The Elite Drug Free Platform for Bodybuilding and Physique Athletes Worldwide WNBF Features WNBF Partners
When I started to do performance on the stage in 2021, unfortunately I got to know that majority of famous bodybuilders are NOT natural, using PEDs (Performance Enhancement Drugs) such as Steroid, Growth hormone, Insulin and so on. As long as they do not have drug testing process, it is considered contestants are freely using these PEDs. This is tacit understanding in fitness industry.
As a natural, drug free athlete, to complete in a fair rule, I tried to find the natural bodybuilding competition then I started to struggle in WNBF in last year. WNBF imposes all competitors to take polygraph test before the show. And awarded athletes must go through urinal drug test to make sure their achievement.
For my goal, I will win Pro card of Physique class of WNBF then compete as a professional athlete in near future.
Banned substance list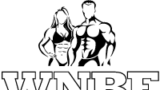 Drug Testing Policies
Click To Print Banned Substance List ATTENTION ATHLETES! Don't ever consume a "supplement" or pill given to you by your coach/trainer unless you know the ...
ANNBBF All Japan Championship 2023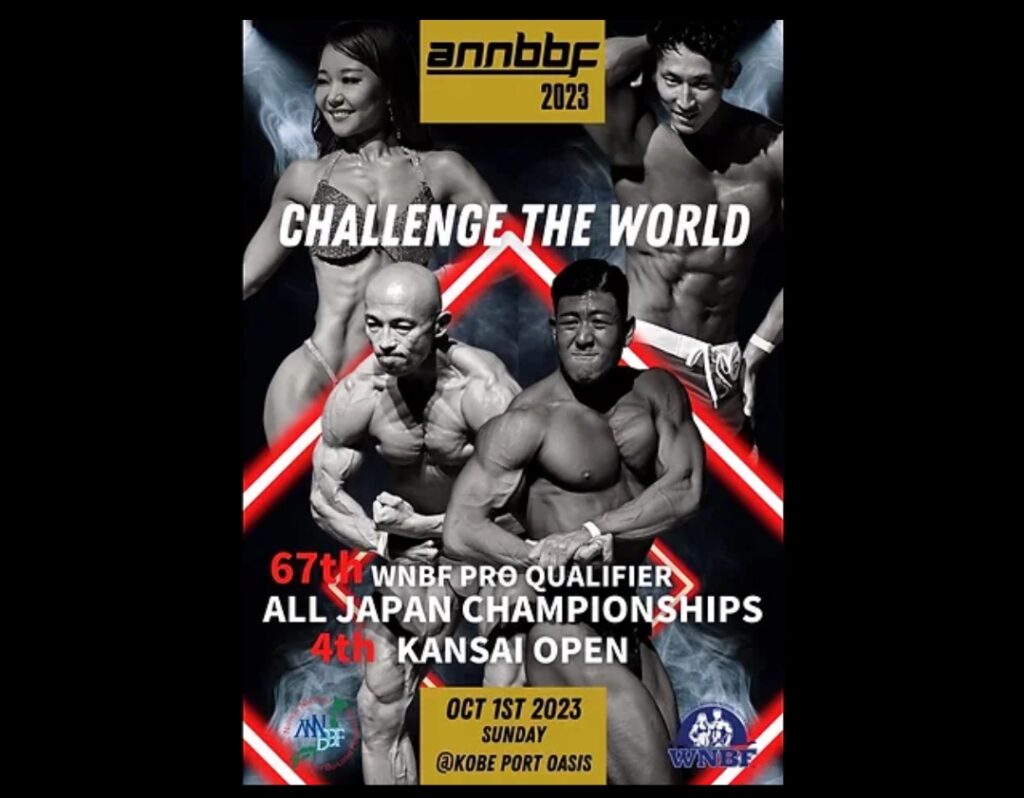 Event details
Date: 1st October 2023 (Sun)
Venue: Kobe Port Oasis, Kobe city Japan
Category: ① Men's Bodybuilding Overall ② Men's Bodybuilding Over 50 ③ Men's Bodybuilding Over 60 ④ Men's Bodybuilding Over 70 ⑤ Women's Body Shape ⑥ Men's Physique ⑦ Bikini
Qualification: 1. Lifetime natural athlete who understands the ANNBBF policy 2. ANNBBF member or any WNBF affiliate active member 3. Tattoo is banned. Small one can be concealed.
In Japan, other natural bodybuilding federation such as JBBF, Muscle gate also ban tattooed athletes to complete. If it is small enough, below the size 15cm x 15cm, you can put make-ups to conceal. To make sure to be qualified, please contact officials via Instagram DM.
ブラウザーをアップデートしてください | Facebook
Registration
To compete at All Japan Championship, you must complete 2 registration steps below.
Registration of ANNBBF or any WNBF affiliate
Registration for ANNBBF All Japan Championship
Registration of ANNBBF or any WNBF affiliate
If you already have active membership of any WNBF organization like, you do not need to purchase ANNBBF membership. Please show the proof of active WNBF membership to official to confirm eligibility.
In case, you do not have, you need to join ANNBBF first. First timer will be charged joining fee 10,000 yen and annual fee 5,000 yen, total 15,000 yen. Payment channel is bank transfer or Paypal for your convenience. Please contact officials for payment.
In my case, I already joined WNBF Philippines last year so I renewed its membership then sent updated member card to ANNBBF.
Registration for ANNBBF All Japan Championship
Once you become WNBF (ANNBBF) family, next please proceed to pay event entry fee of All Japan Championship. Fee is 15,000 yen including drug test.
In Japan, due to law regulation, mandatory polygraph test cannot be posed on all performer. Instead drugs test will be conducted for all participants from this year.
Tickets
Spectator seats sale : 5,000 yen (advance) and 5,500 yen at show day
Back stage pass :3,000 yen. One pass only for each athlete for supporter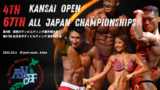 ANNBBF KANSAI OPEN & ALL JAPAN CHAMPIONSHIPS | ANNBBF
⚫︎チケット購入後の払い戻しは行っておりません ⚫︎受付はAM 9:20からになります ⚫︎開場直後は混雑が予想されますので、あらかじめチケットのご用意をお願いいたします ⚫︎4歳以上のお子様からチケットが必要になります ※3歳以下のお子様をお連れの場合は保護者同伴のもと、お膝に乗せて観戦く...
Award
Top 10 for Men's Bodybuilding Overall and Top 6 for other categories. WNBF Pro card will be given to the winner of Men's Bodybuilding Overall, Women's Body Shape, Men's Physique and Bikini. To be pro qualifier, each category needs to meet participants at least 10 persons.
Tanning
Tanning must be done one day before show day either by yourself or official salon. I will book tanning by official salon. They will come to event venue to handle tanning before the show day. For details, I will update here.
That's all for the general information for the competition. I will update time by time for future contestants from overseas in future.
My progress 3 weeks before the show
My progress so far is very good I think, I started my diet since April 2023. I already reduced 13 kg so far from 82 kg to 69 kg with maybe around 5 % body fat now.
My plan is very simple, I do not change my training routine since bulk up phase. I continue 9 days work out training cycle; Chest-Back-Shoulder-Leg-Chest-Back-Shoulder-Leg-Rest throughout this year. Diet menu is also simple, I just continuously reduce carb intake amount and adding more and more fasting cardio program in the morning.
I will also make show day post to let everyone know the result. At this time, I really want to get awarded at least medal, hopefully WNBF Pro card.
Please cheer me up!
See ya!