Hello, everyone! Welcome back to "fitravelife.com"
Today I would like to show new train service in Bangkok, Thailand, which is SRT (State Railway of Thailand) Red line. This is on going project in Thailand and from August 2nd, 2021, SRT soft-opened part of their lines from Taling Chan to Rangsit in Pathum Thani province. During soft opening period, fare is free for public and grand opening is panned on November 2021 with fare.
Newly opened line is separated to 2 lines (Taling Chan – Bang Sue line and Bang Sue – Rangsit line), starting from Newly opened Bang Sue grand station. I went to Bang Sue Grand station first then try to ride on new line. To go to Bang Sue Grand station, I took MRT reached MRT Bang Sue station which is connected to Bang Sue grand station on ground.
Bang Sue Grand station
Bang Sue Grand station is located in Chatuchak area in Bangkok. This station is newly built one, soon to  replace Hua Lamphong Station which is main hub train station in Thailand for both short and long distance train trip all over Thailand. Easiest way to go by MRT Blue line so I took MRT to Bang Sue station.
I mentioned a little bit about Hua Lamphong station in my previous post so you can check it also.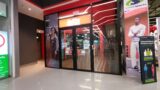 Jetts Fitness - Robinson lifestyle Petchaburi
Once arrived at MRT Bang Sue station, let's get go up to the ground then head to Bang Sue Grand station. Exit No. is 2.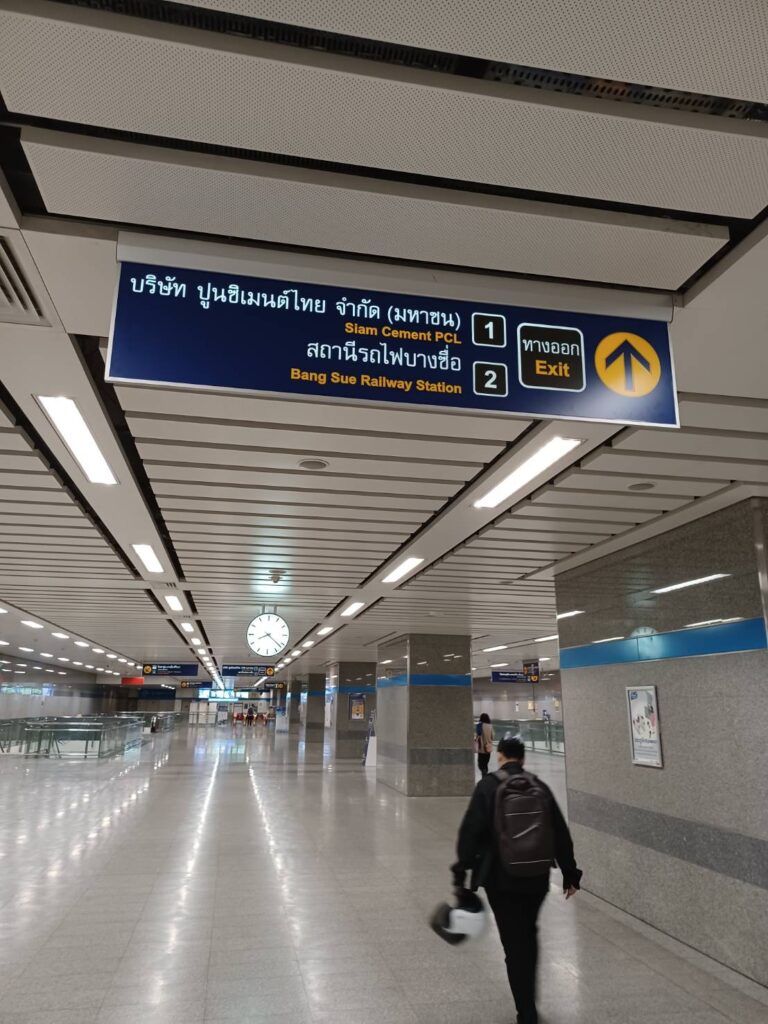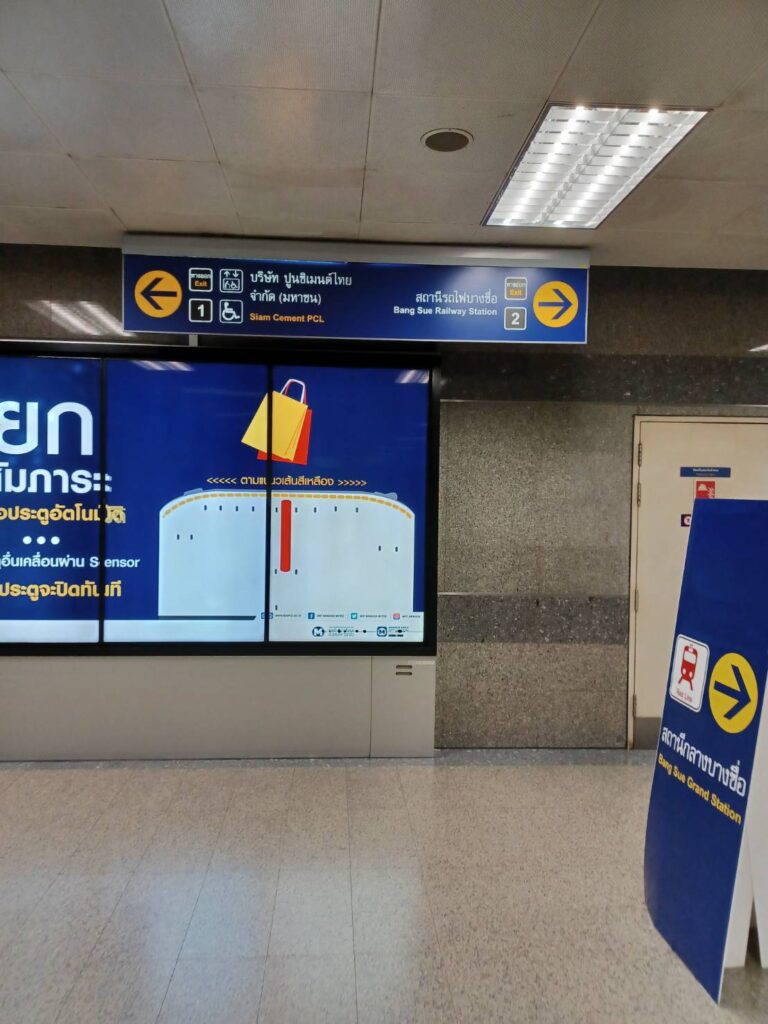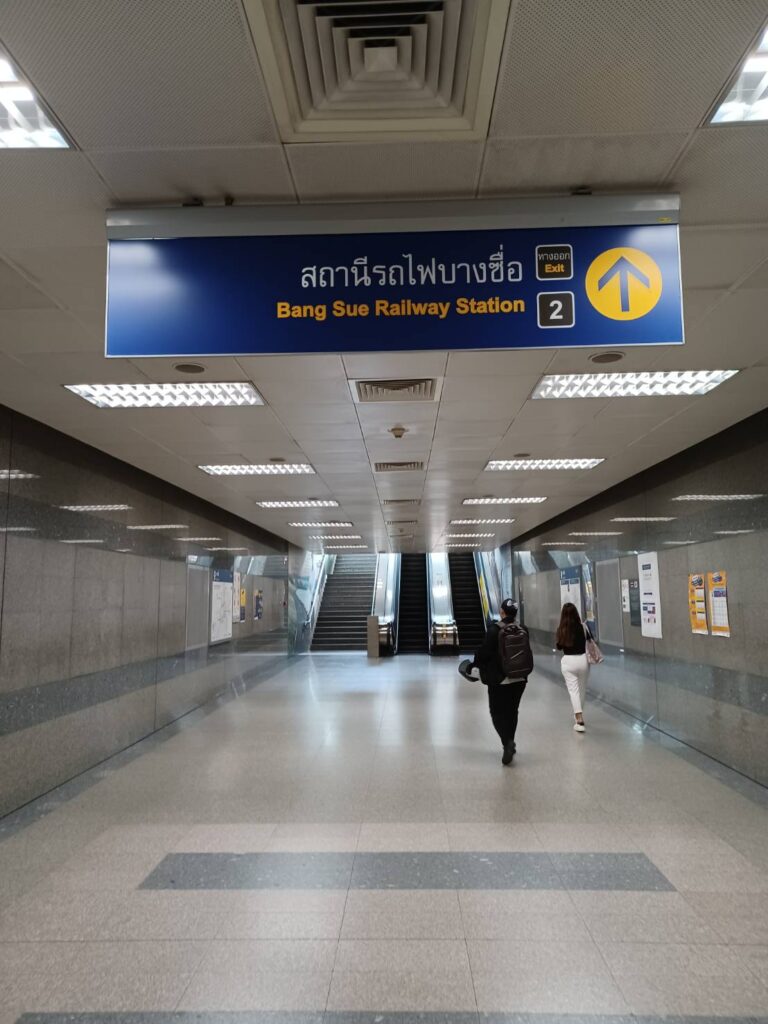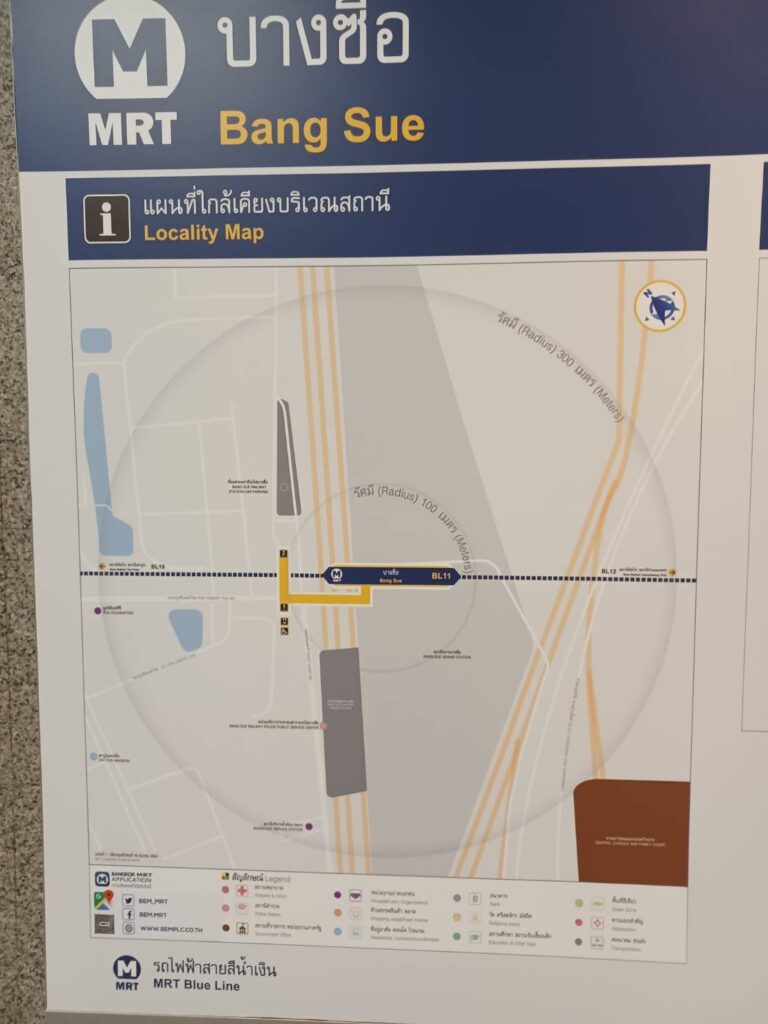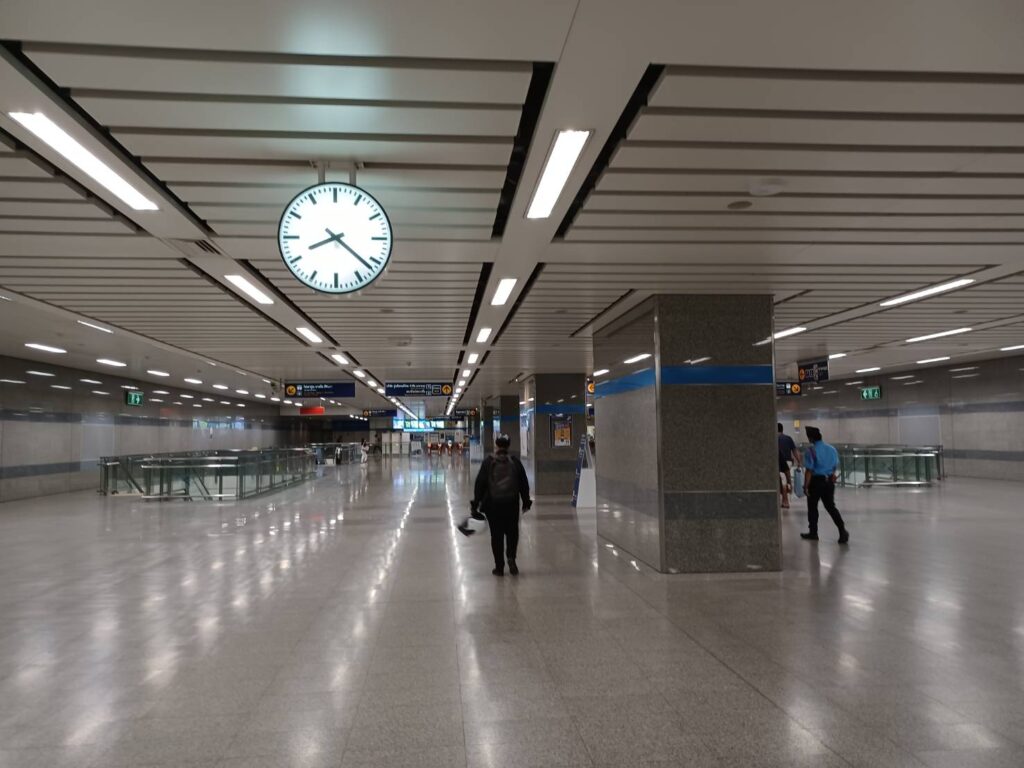 Bang Sue Grand station seen from MRT exit.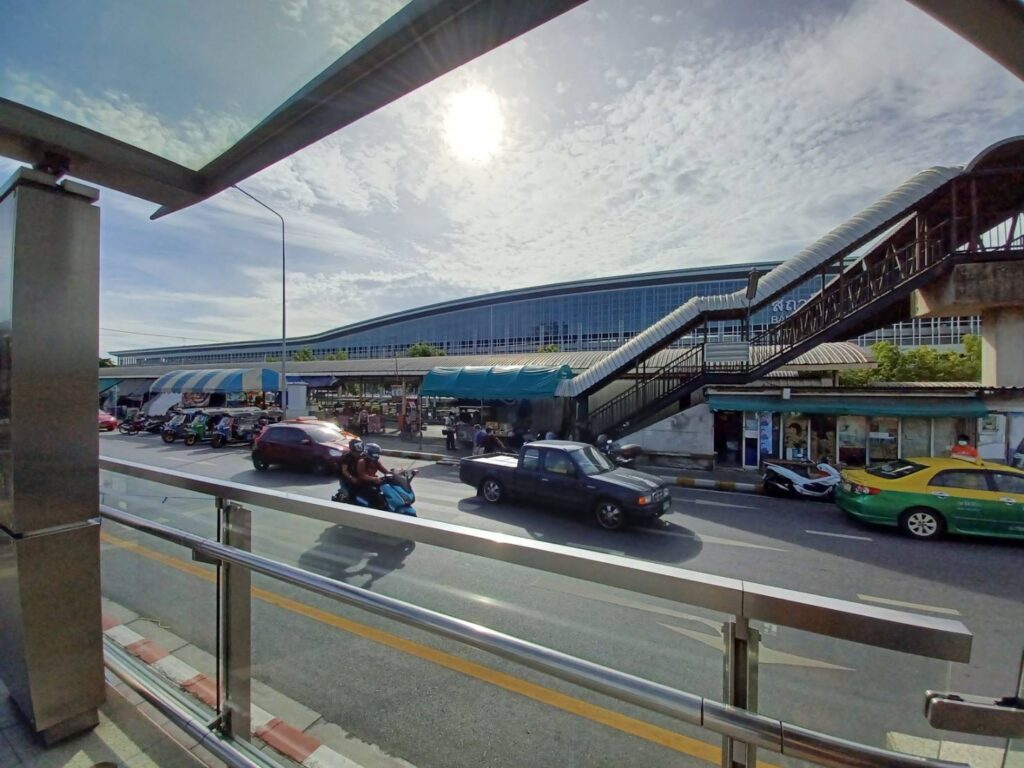 Opposite side of Bang Sue Grand station, you will notice that there are many buildings for SCG, Siam Cement Group, which is one of major and biggest company in Thailand, offering various type of products and service such as cement and construction materials. If you are football fan in here, you might know this company as  owner company of Muangthong United F.C.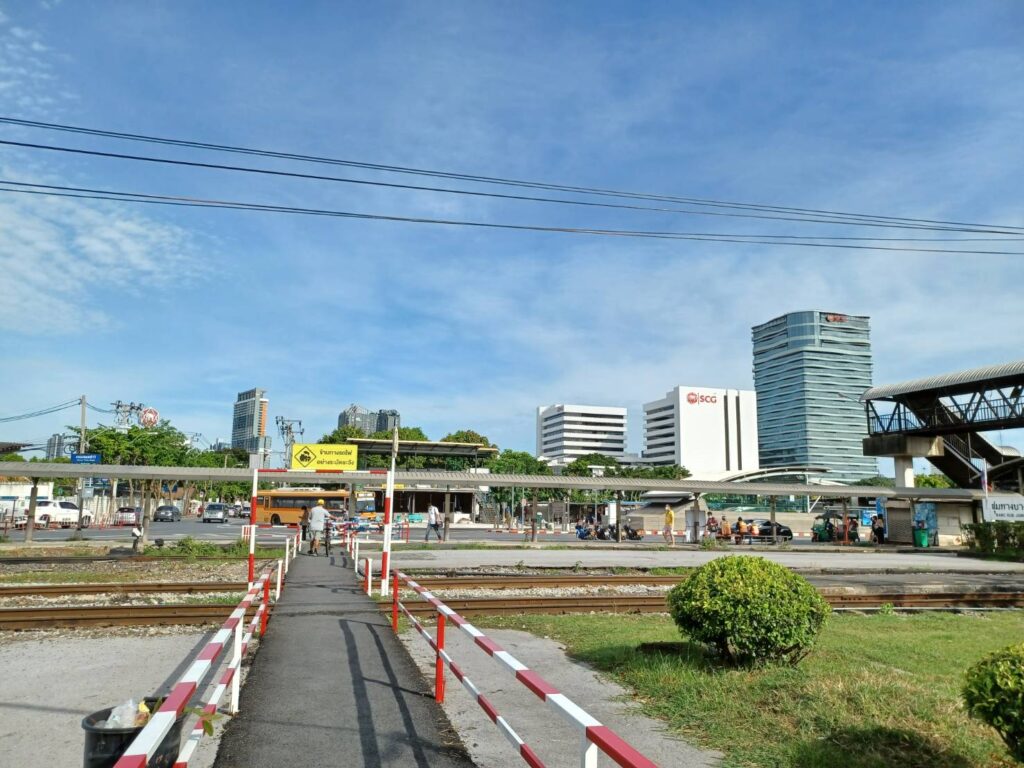 Below photo shows the contrast of old and new Bang Sue train station. Building behind is new train station Bang Sue Grand station while the front shows current station, Bang Sue Junction station.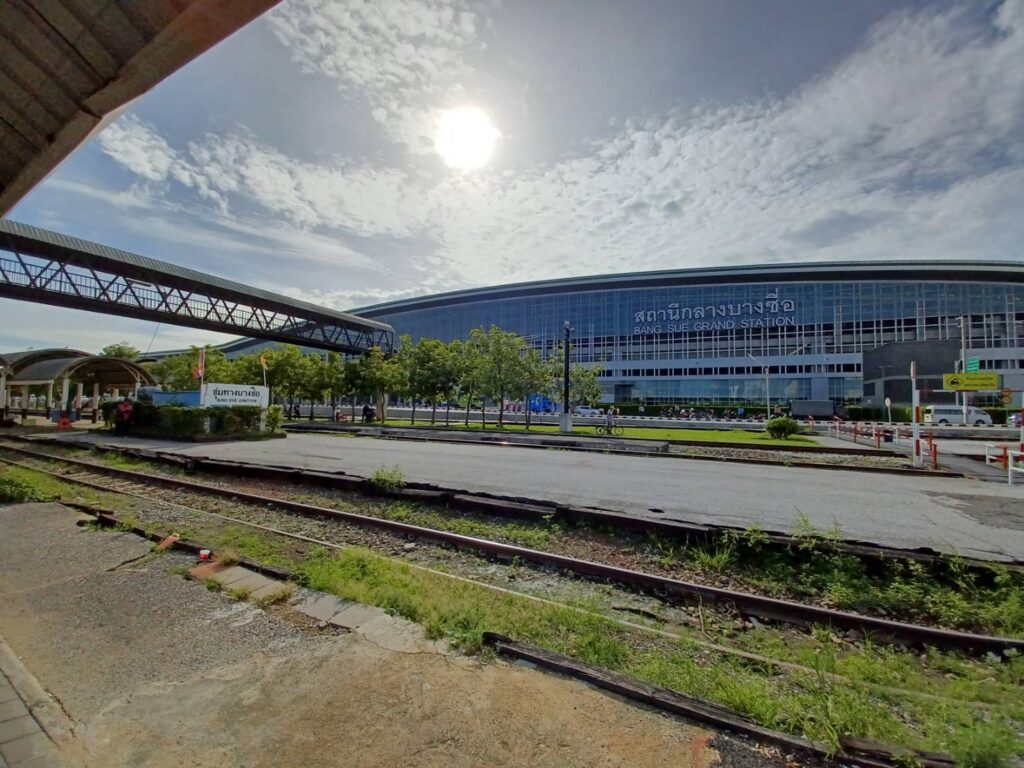 Following the direction sign to enter the building of Bang Sue Grand station.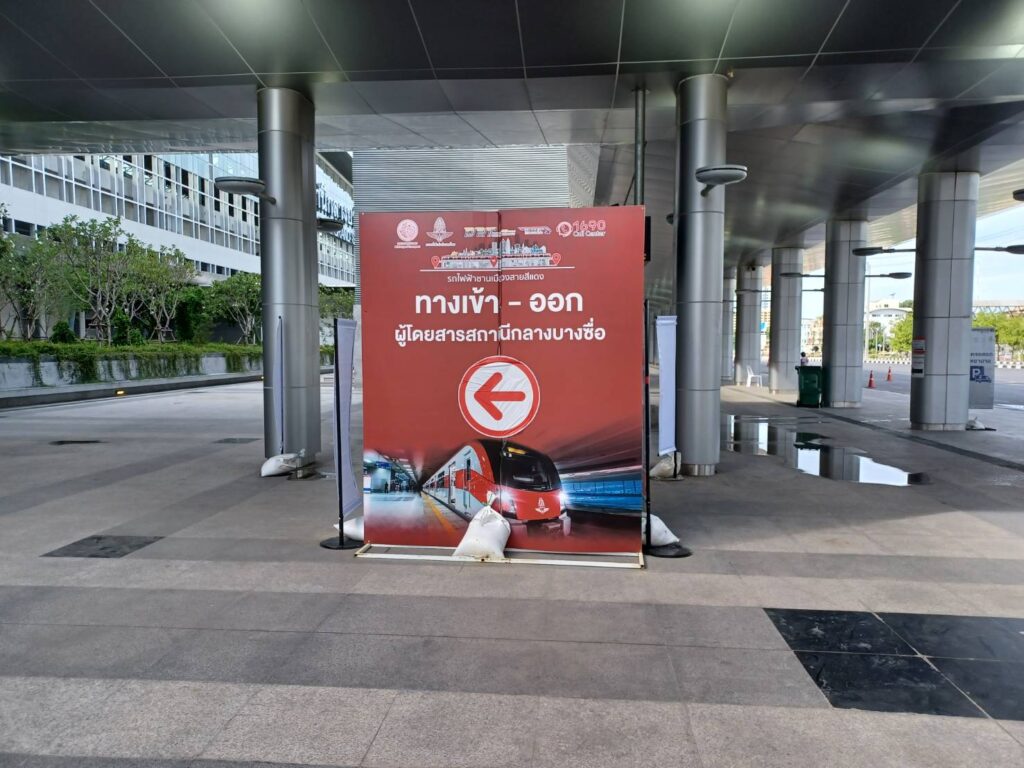 Terminal building of Bang Sue Grand station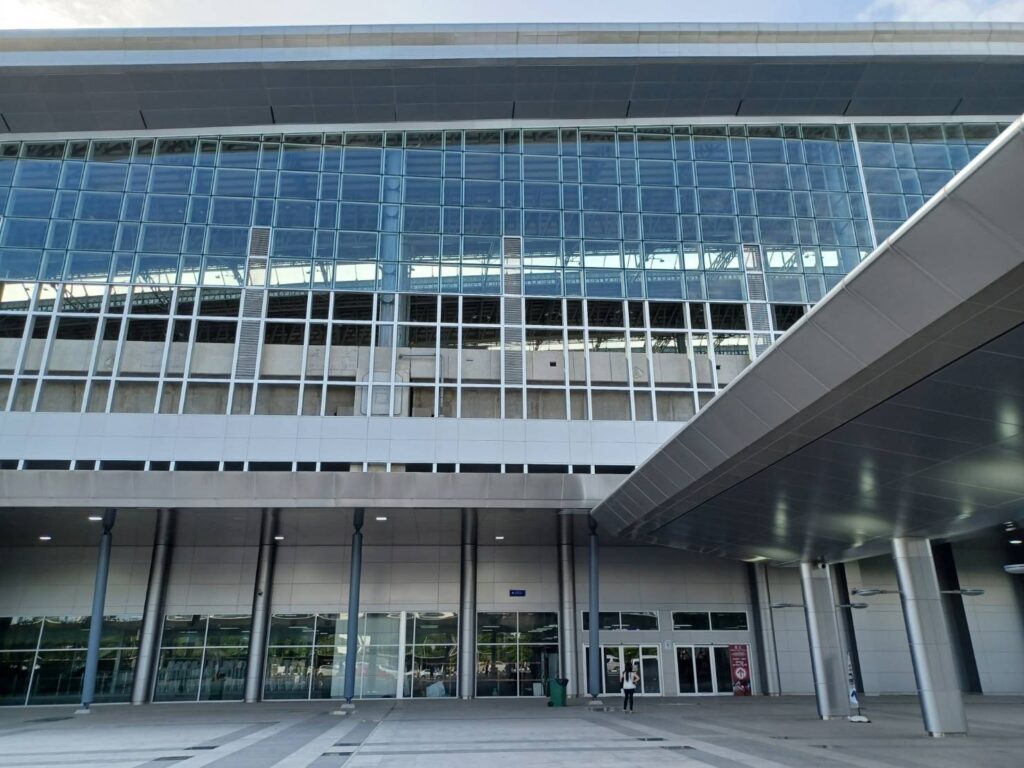 You will see the vas areas of station once you enter the building. Since now is soft opening  period, there is no stall nor shops inside the station. And not all space is accessible for completing construction.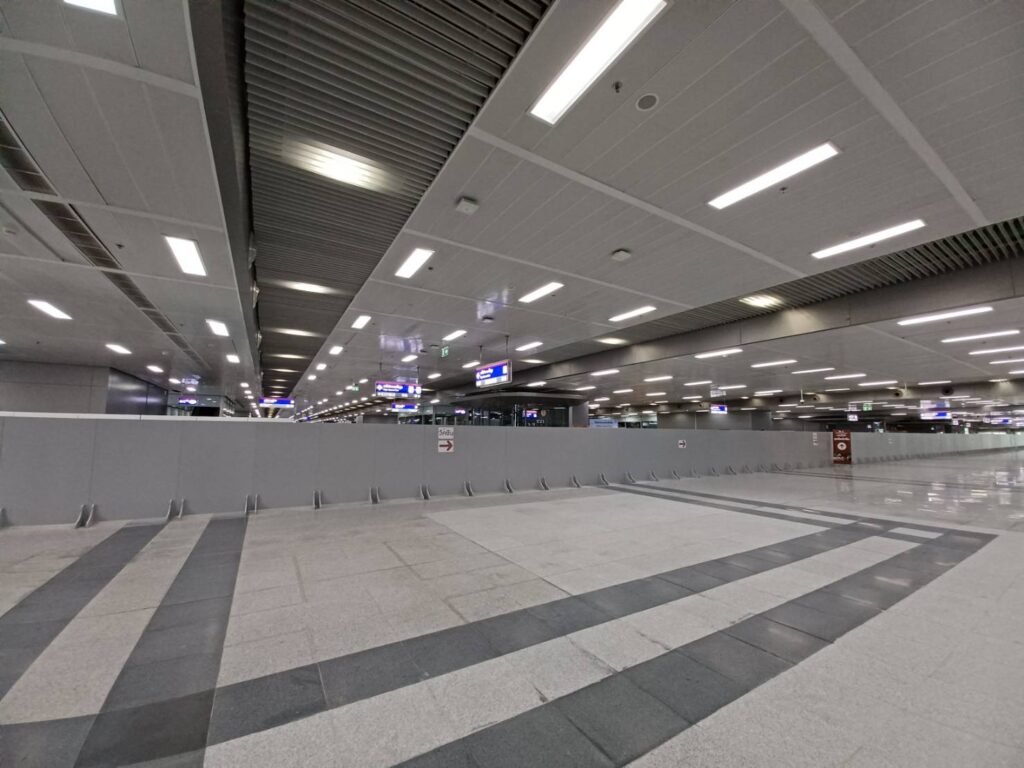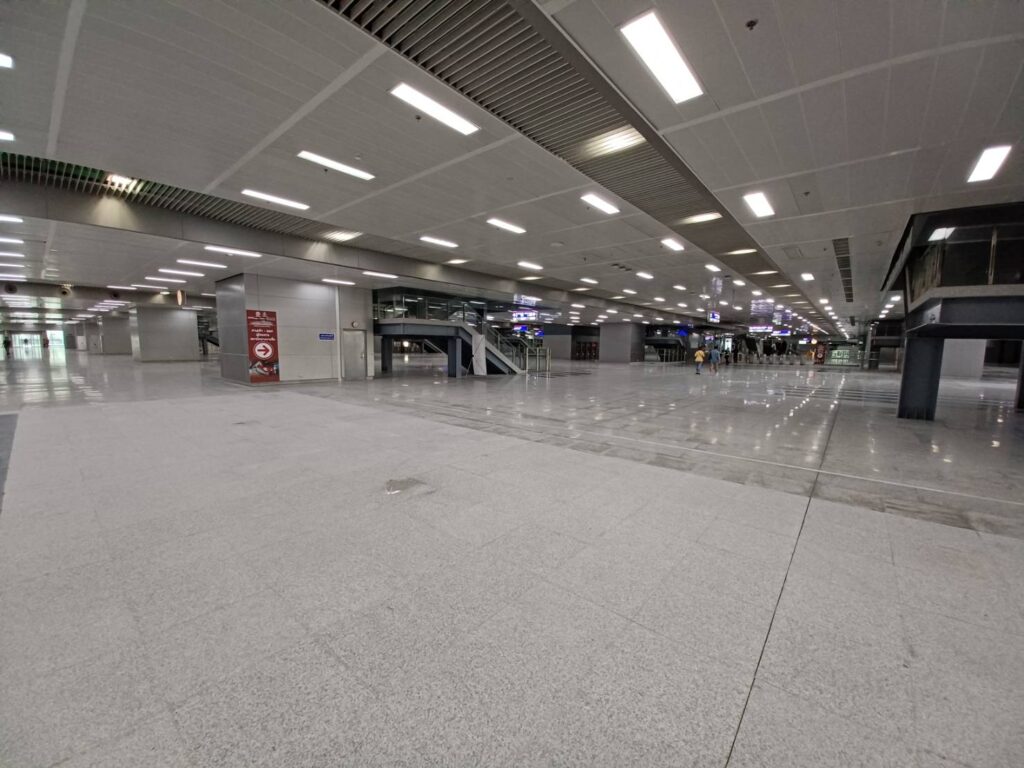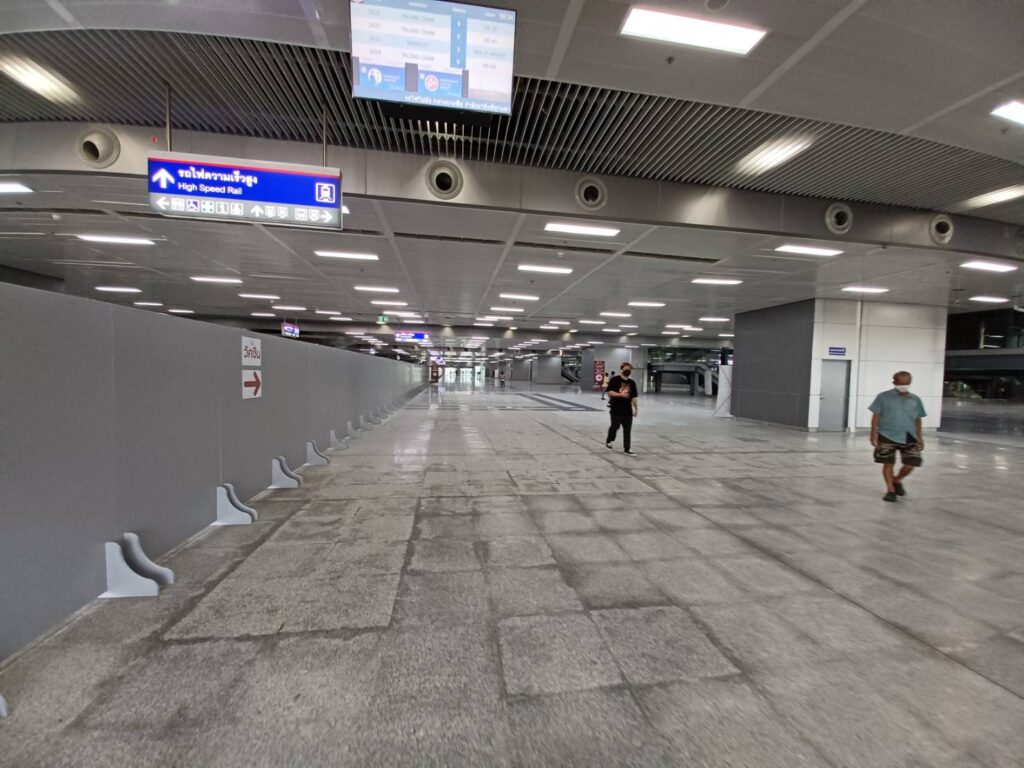 Ticket machine is not available also at this moment. In Thailand, normally in soft opening period, they offer the free ride so you do not need to buy the ticket at this moment.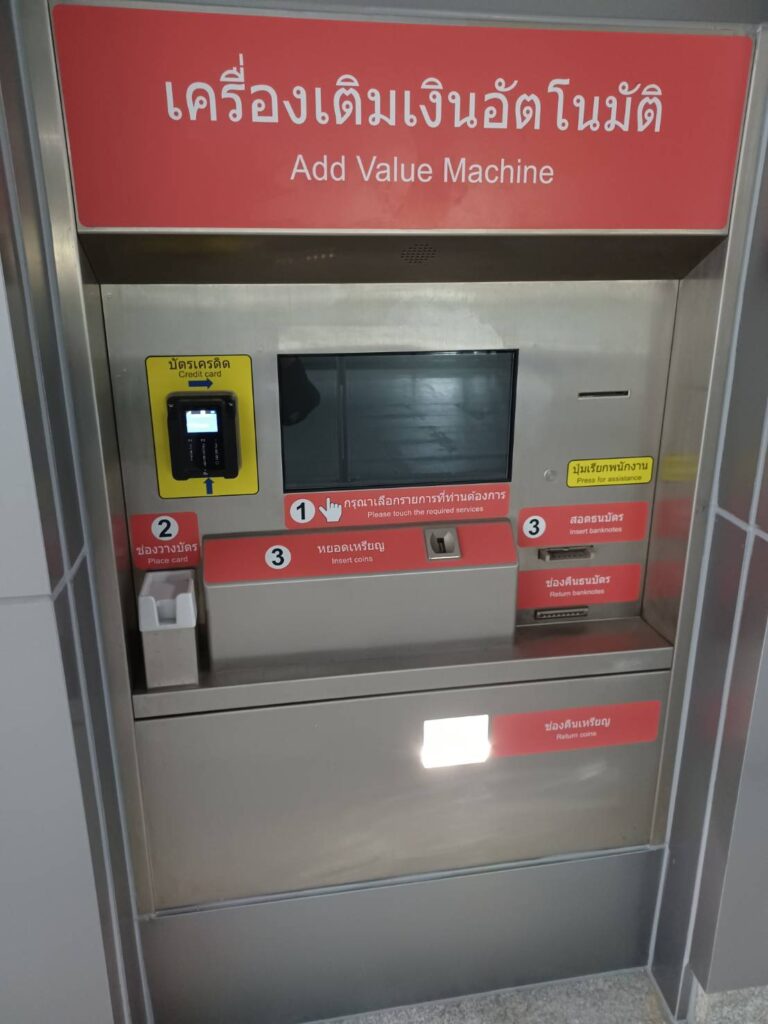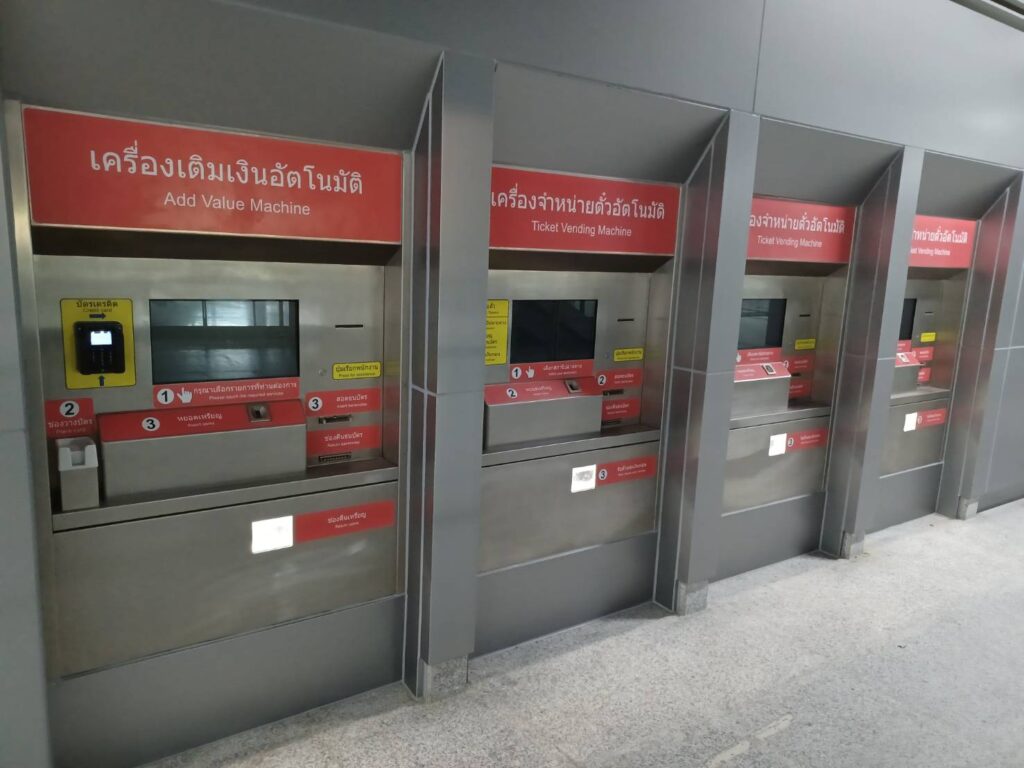 Red line seems offering token type ticket same as MRT and Airport rail link.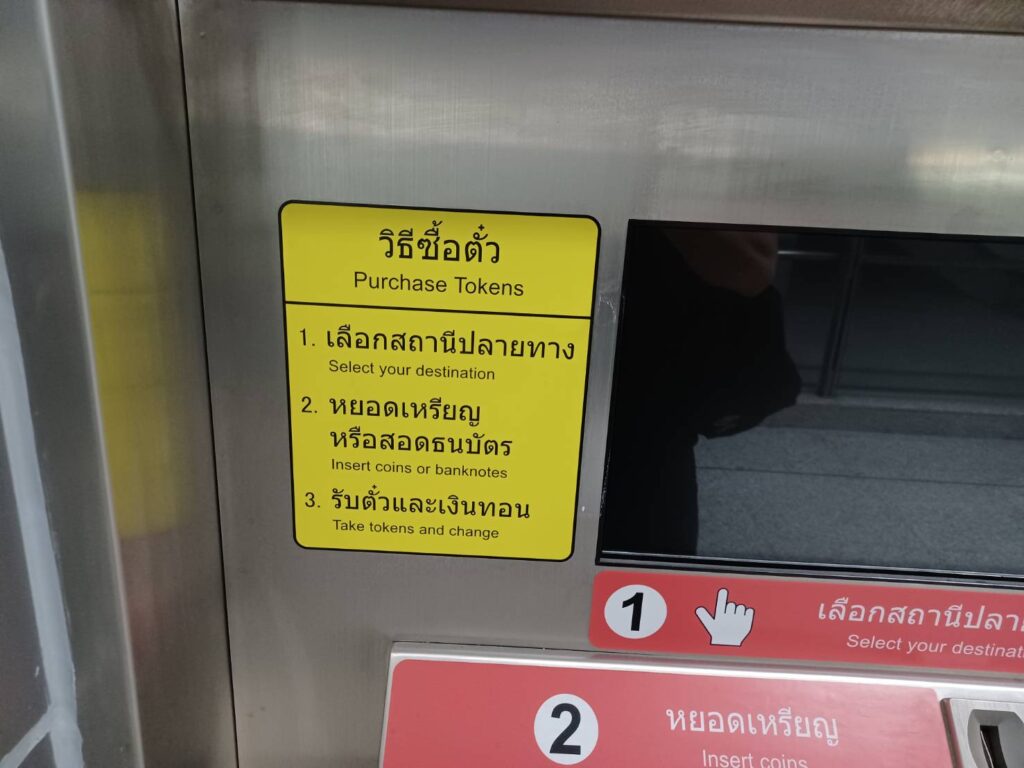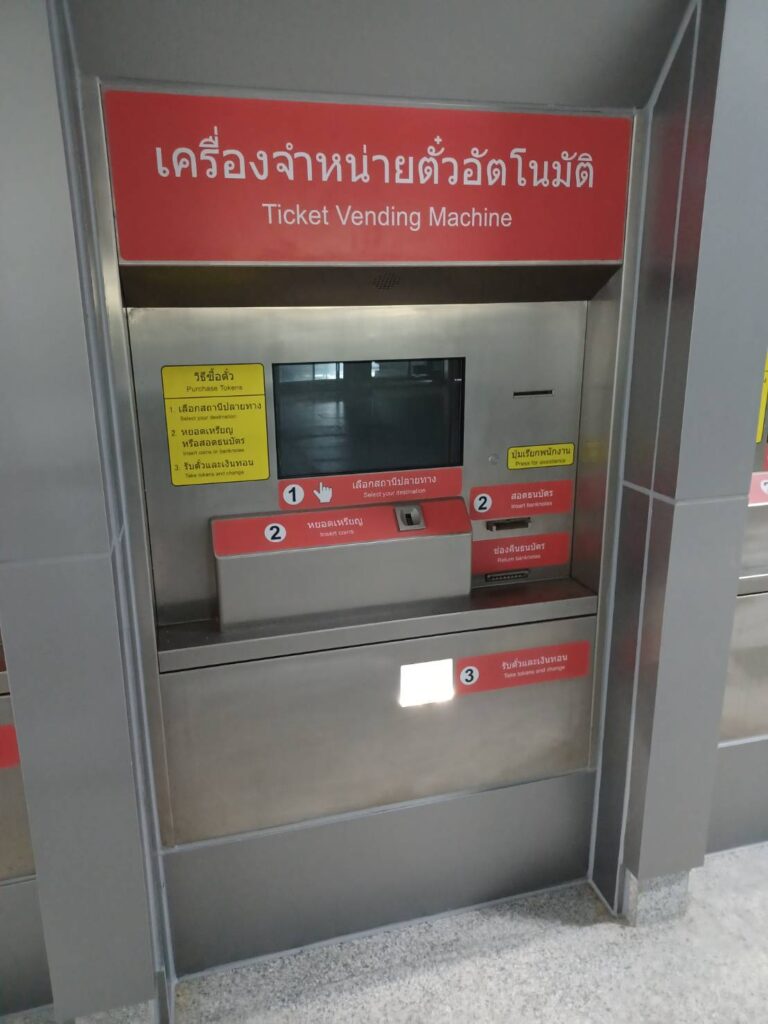 These stairs are not available yet.
Here is the entrance for platform. First, I head for Taling Chan station. Only 3 station away from this main terminal to the south crossing Chao Phraya River.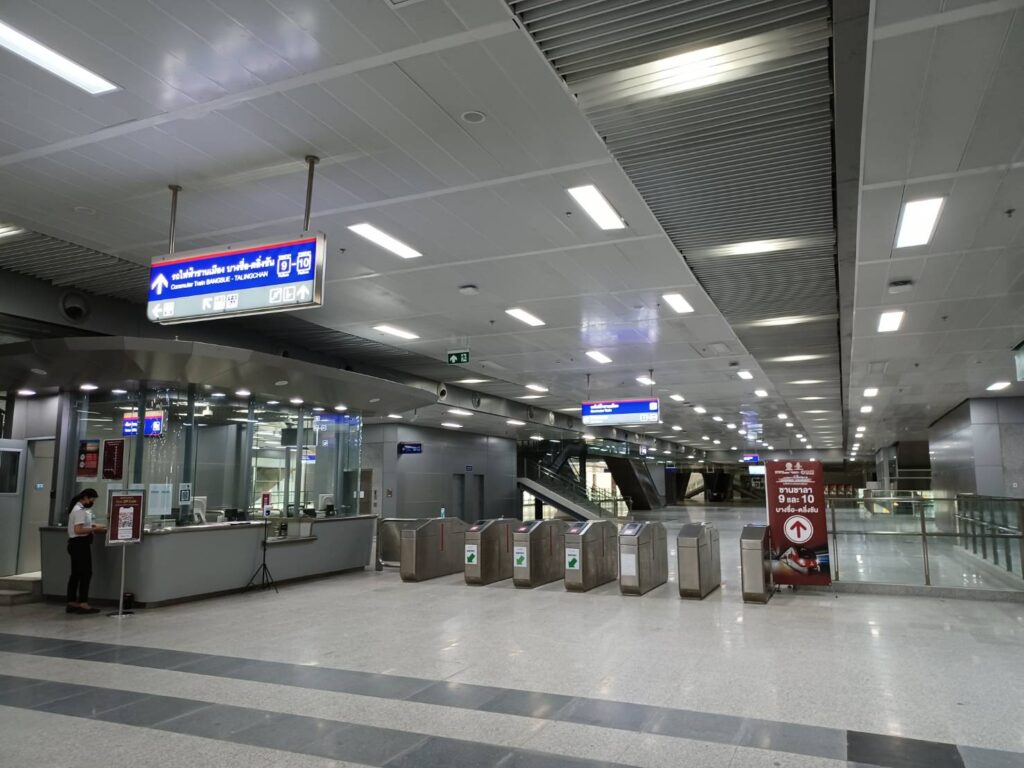 Staff required me to scan below QR code then input my destination station then submit.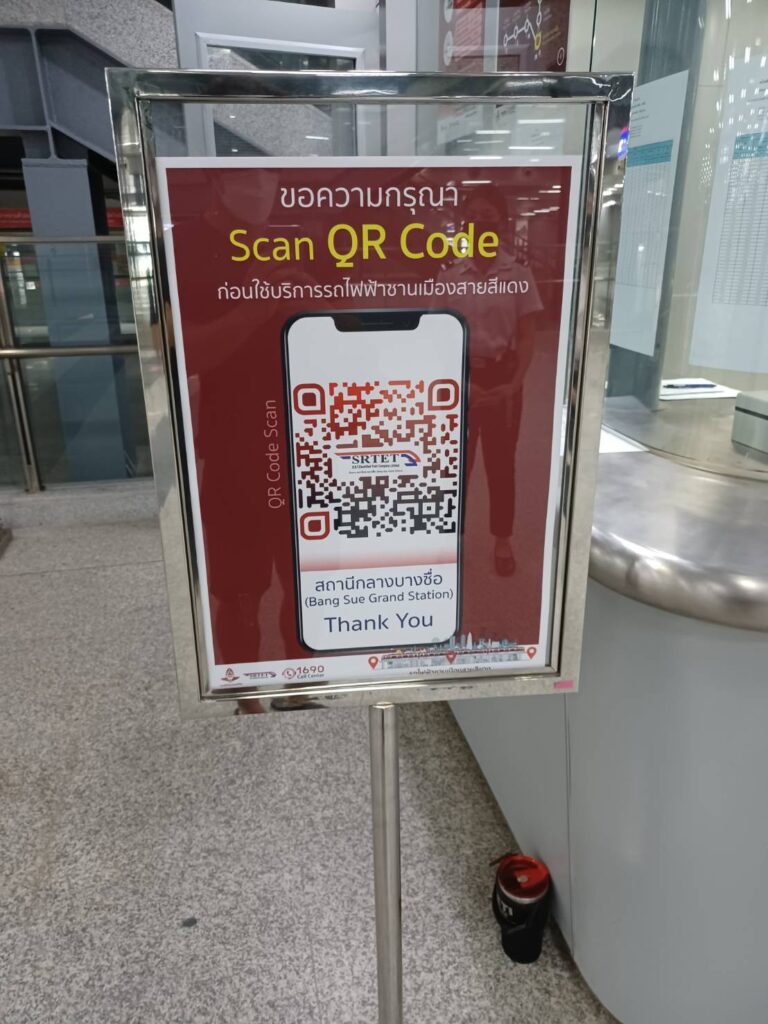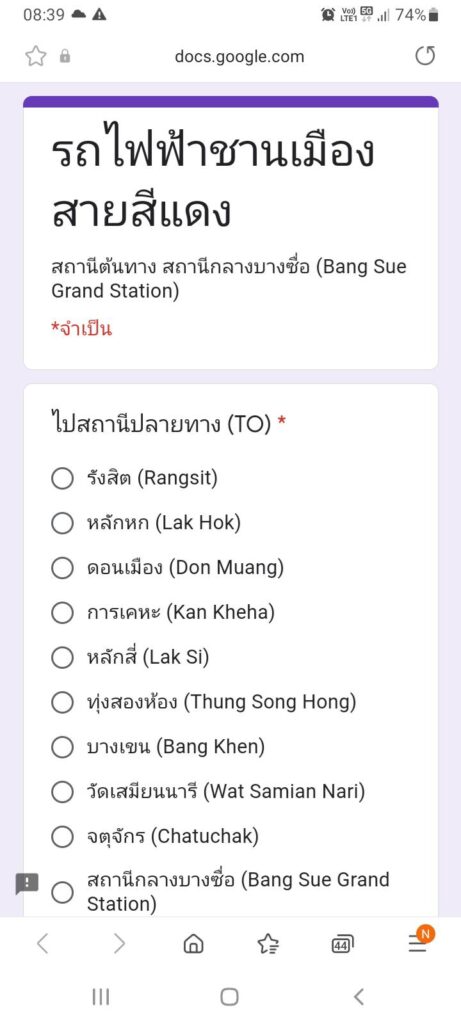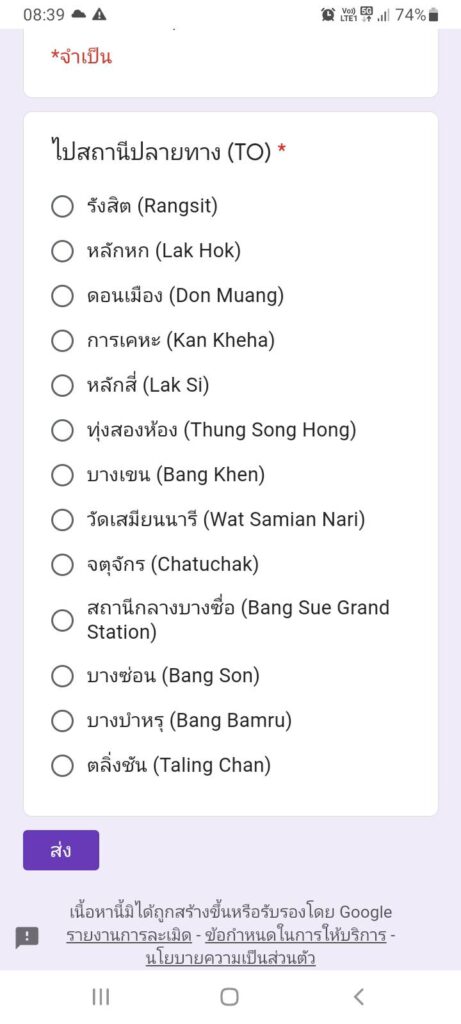 There are stairs and escalators are available to climb up to the platform. Elevators are in progress for open.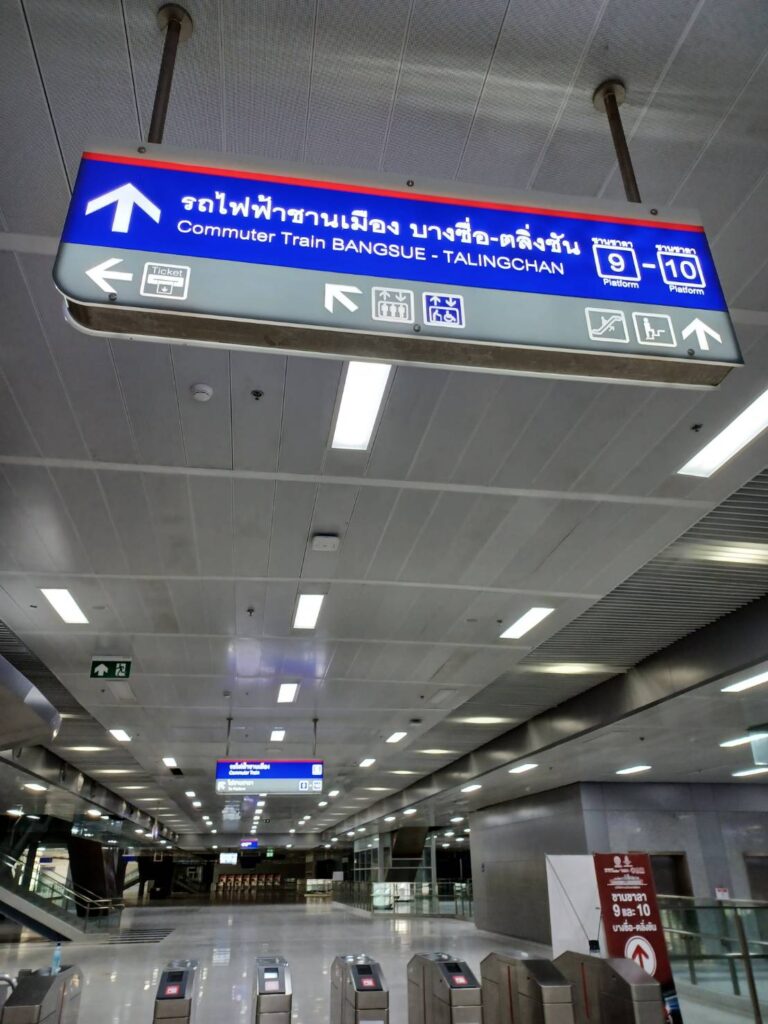 Platform to Taling Chan direction. To change to Rangsit direction, you have to go back to ground level.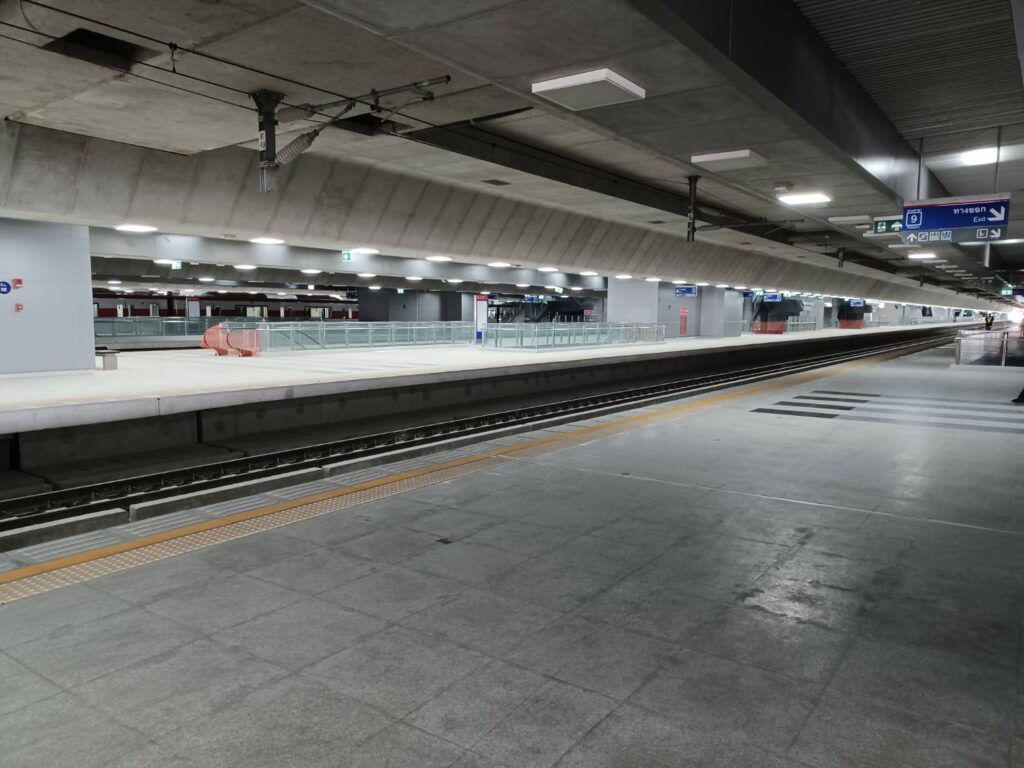 Here is the new train "Red line" which consist of 4 cars. Car and train station development was conducted by the cooperation of Japanese company group.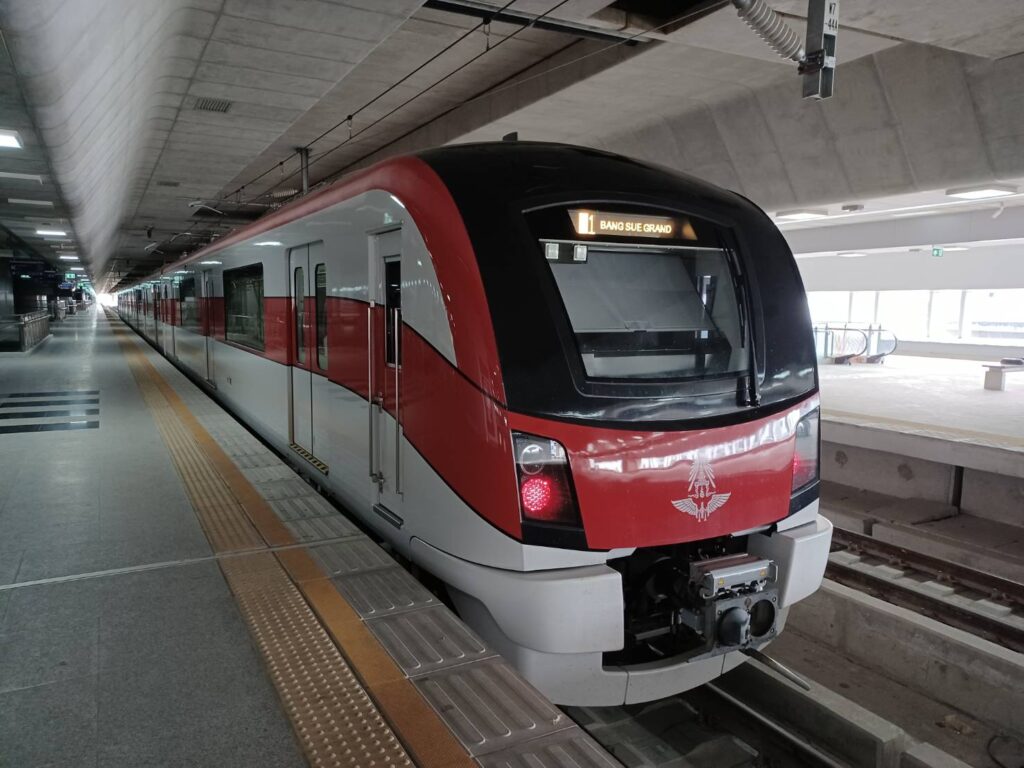 New train ride from Bang Sue to Taling Chan station
Bang Sue to Taling Chan route is only available for below stations at soft opening. Approximate riding duration is around 20 minutes in total.
Bang Sue Grand station
Bang Son
Bang Bamru
Taling Chan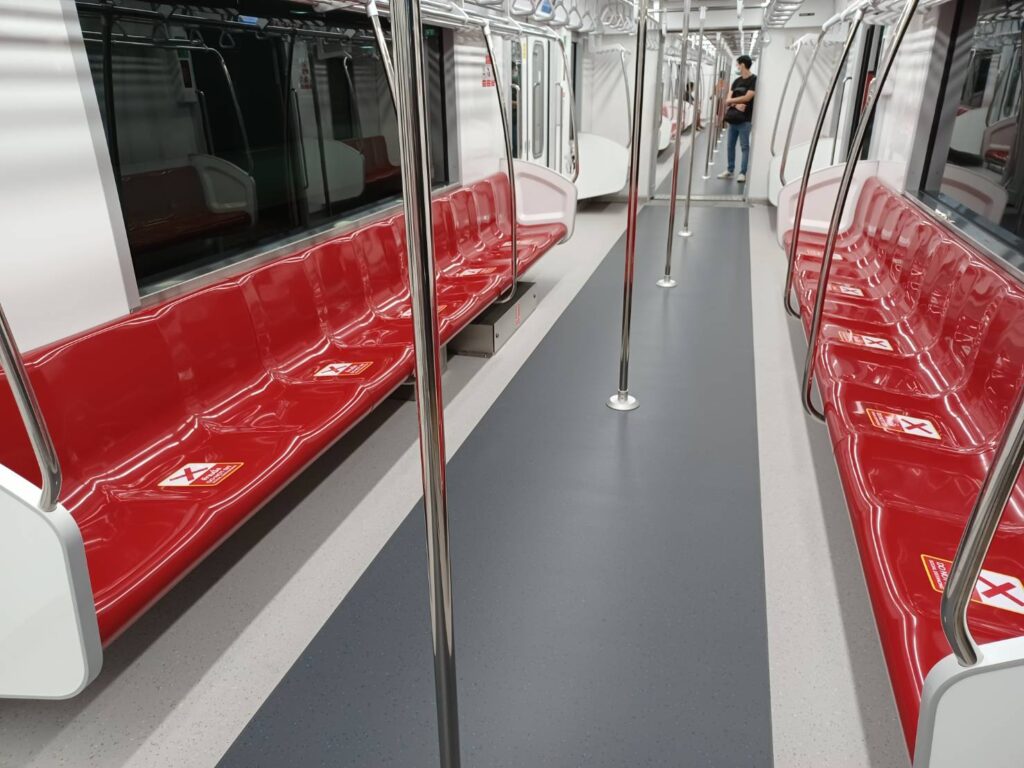 Give priority seat also to Monk in Thailand.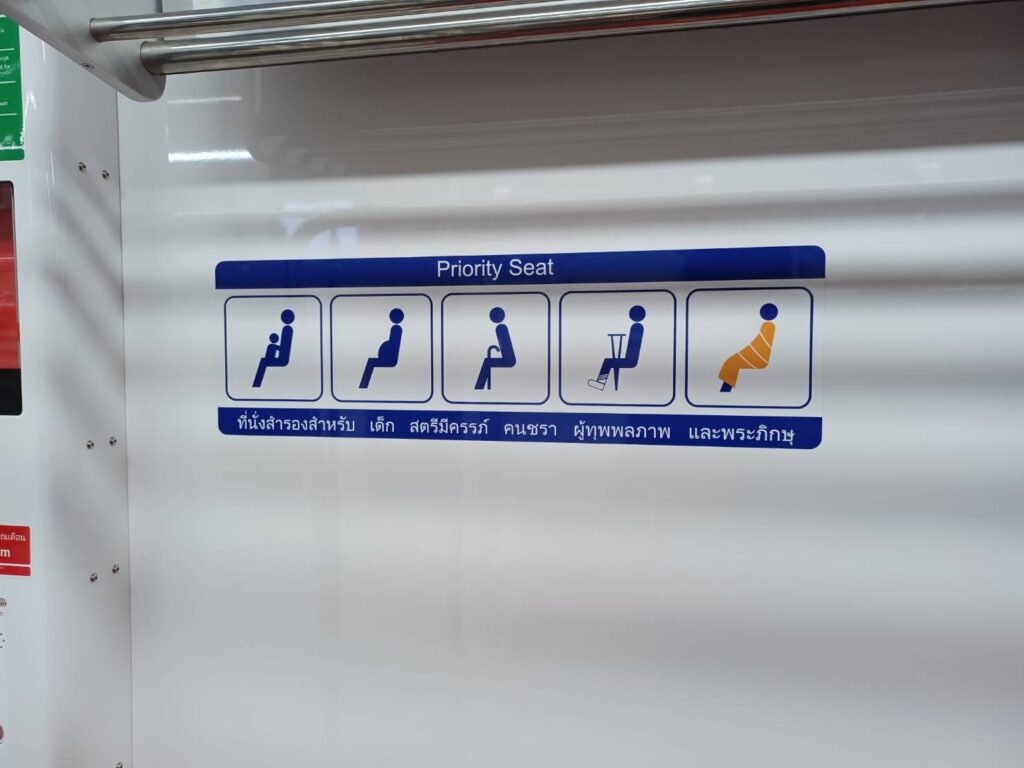 To follow Covid preventive measures. seat maximum capacity is restricted only up to 50% availability.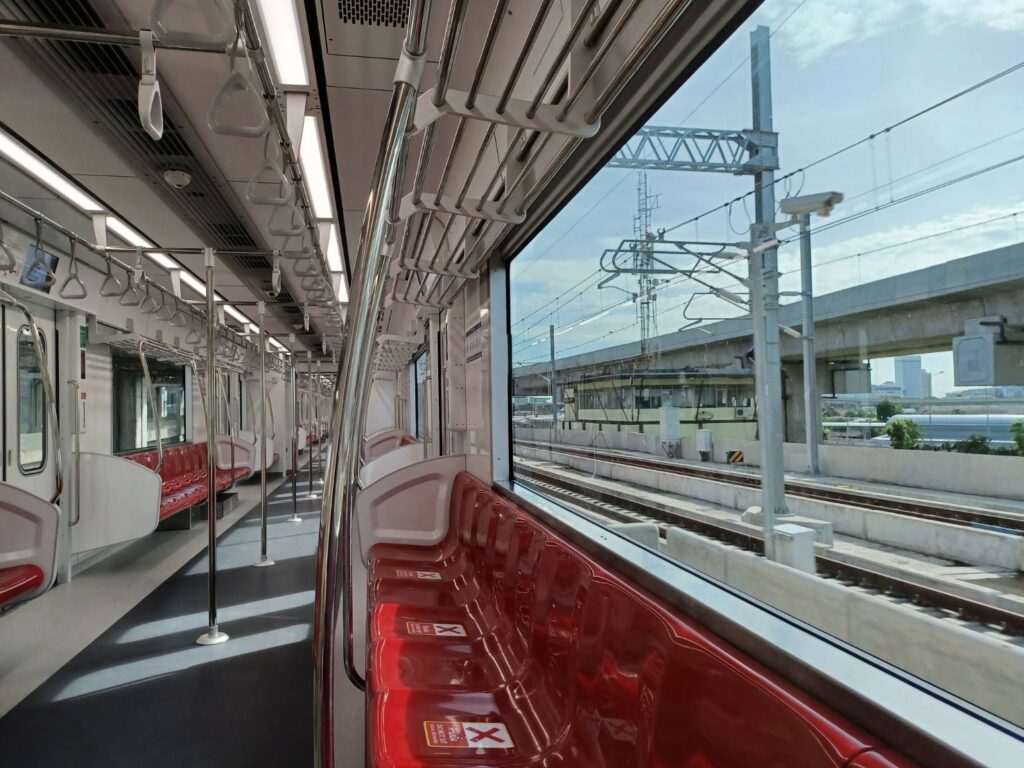 Train ride is very sooth, not shaking at all on curve way and overhead tracks.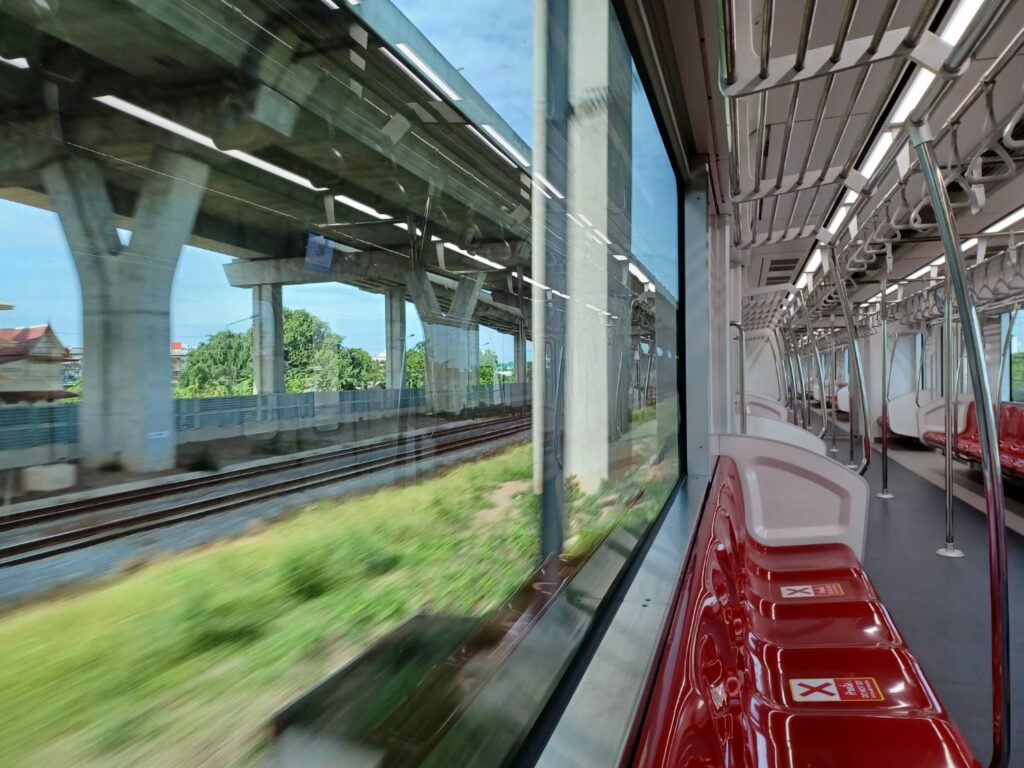 Crossing Chao Phraya river. Before reaching Bang Bamru station, train goes down to the ground level track.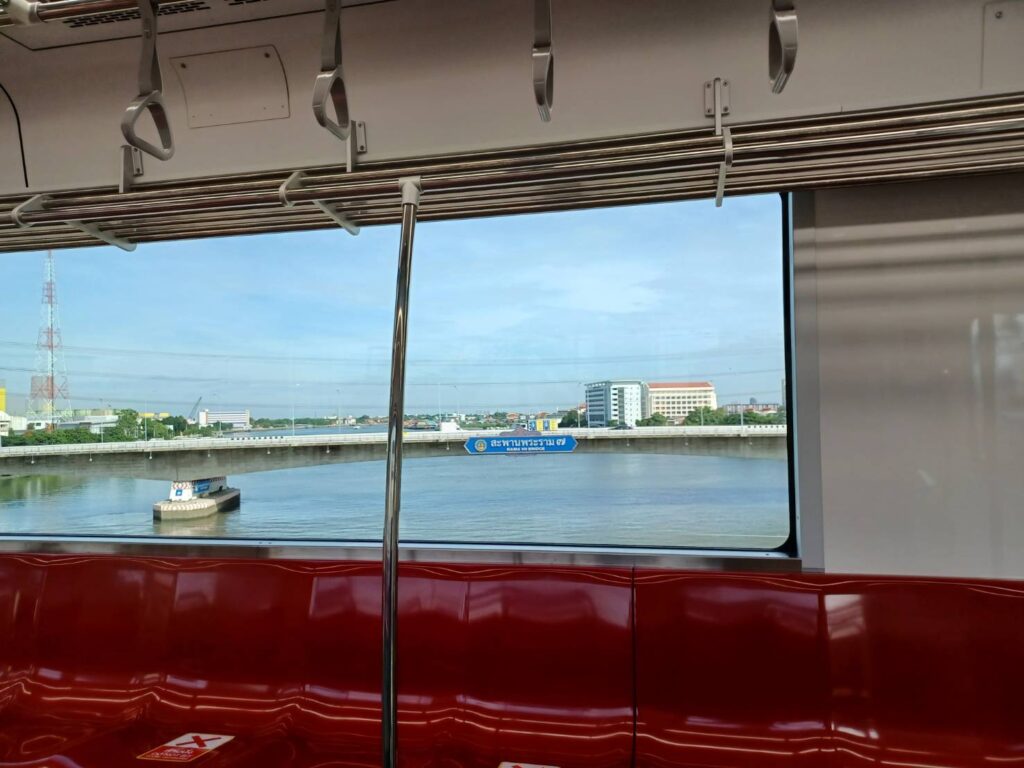 Arriving at Taling Chan station with a bit delay due to technical issue.
Newly build Taling Chan train station. There is nothing at all around this station yet so I just went back to train to Bang Sue station. Sooner or later these areas will be developed more thanks to convenience of new transportation.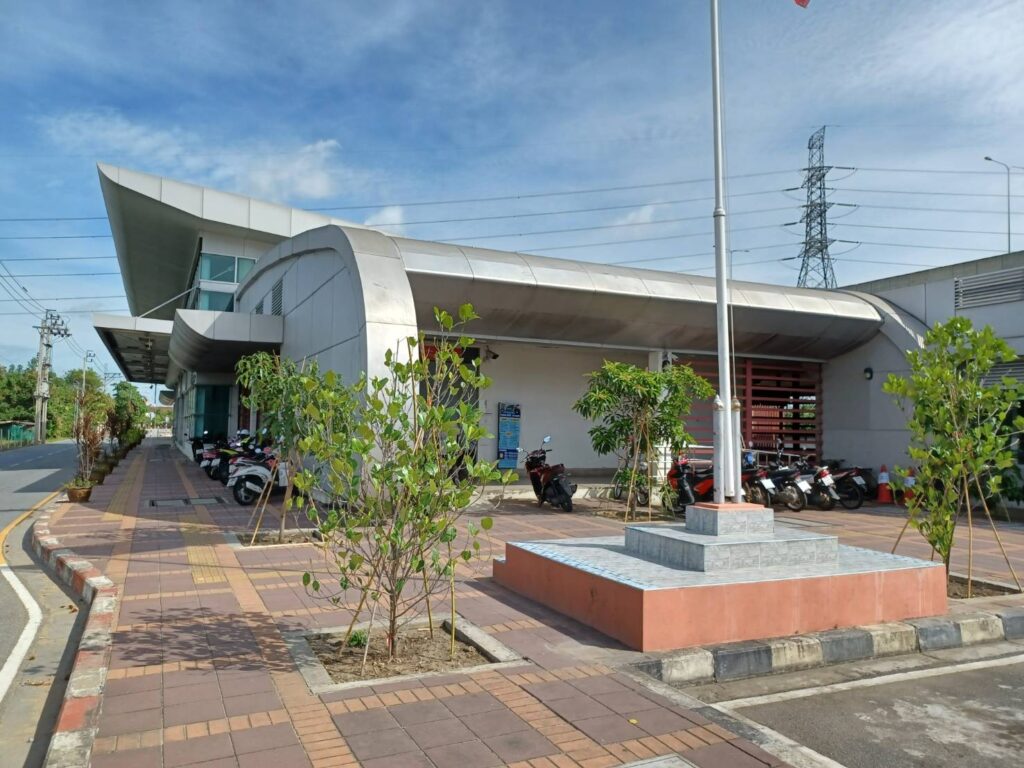 So let's go back to where we were. Procedure is same, you are just required to scan and check the destination point by QR code. Ticket machine are not in use for soft opening period.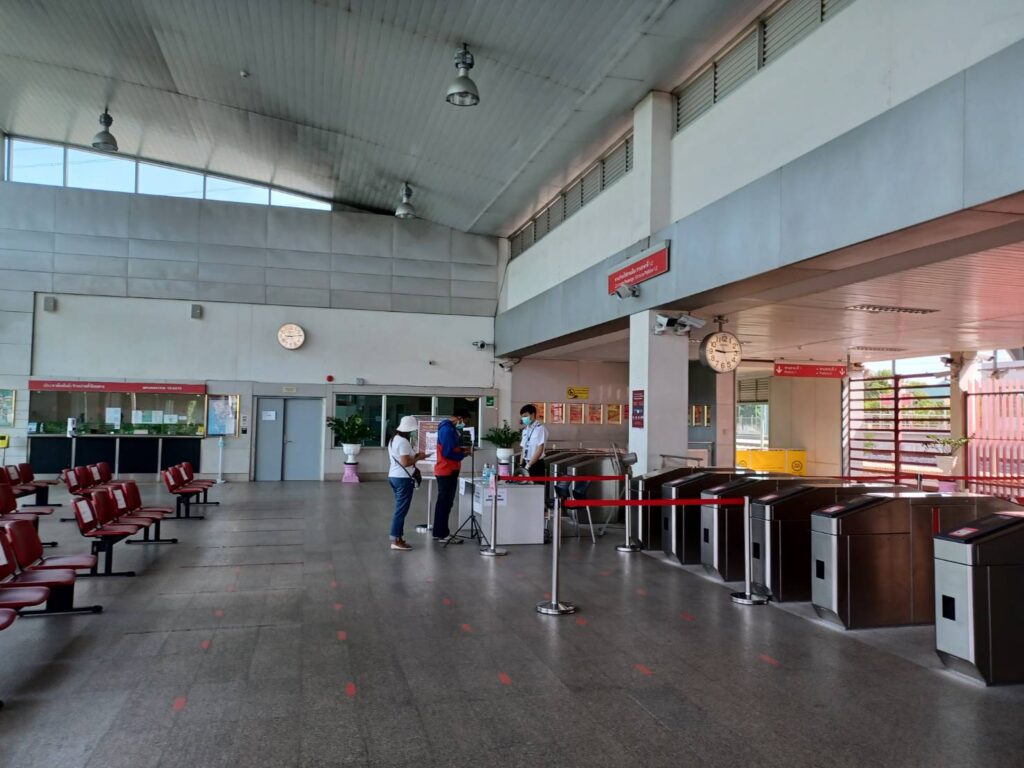 Taling Chan station.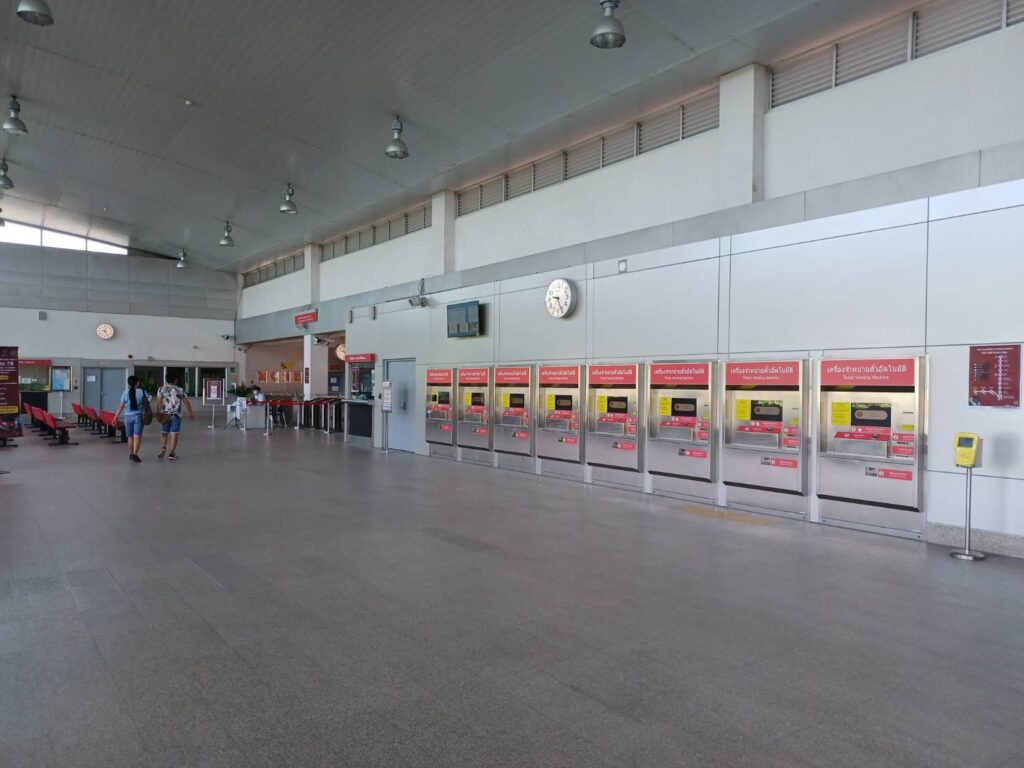 Bang Sue to Rangsit station
I will show you another line of Red line from Bang Sue Grand station to Rangsit station which is located in Pathum Thani province. This line is to be extended to Thammasat University in Pathum Thani. If you are football fan in Thailand, you might know the Bangkok United is using the stadium for their home game at the University.
Bang Sue
Chatuchak *Not connected to MRT Chatuchak
Wat Samian Nari
Bang Khen
Thung Song Hong
Lak Si
Kan Kheha
Don Mueang
Lak Hok (Rangsit University)
Rangsit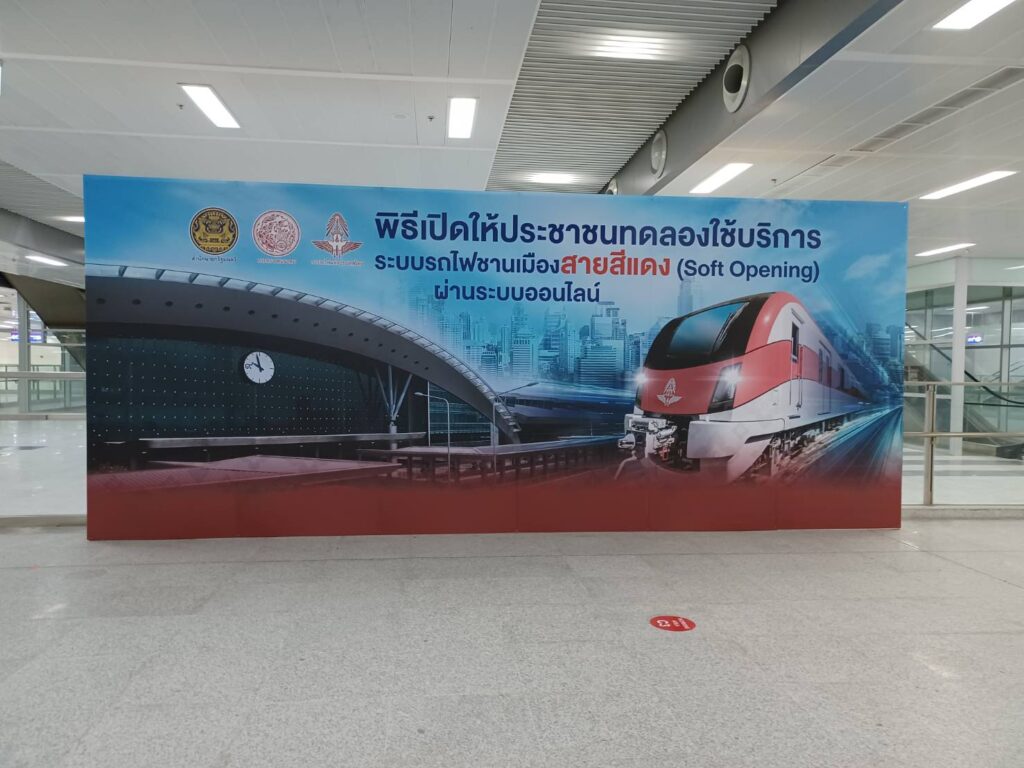 Platform for Rangsit is other side so you can have to go down to the groud level then go up again. Unlike Taling Chan route, many were waiting for train already.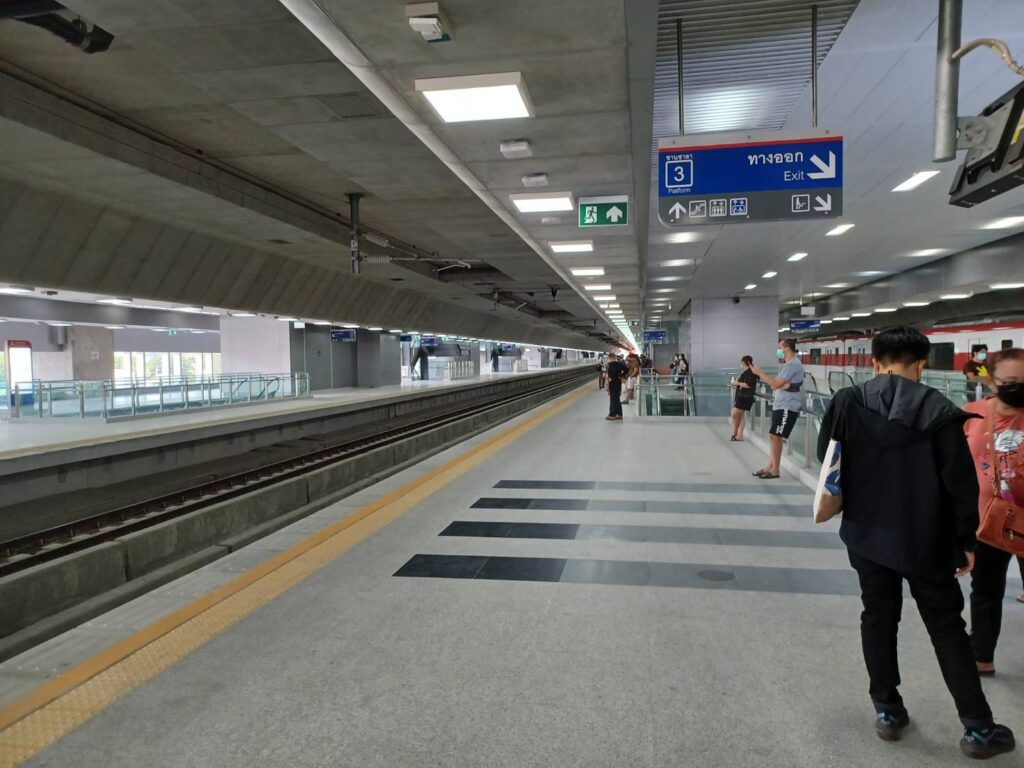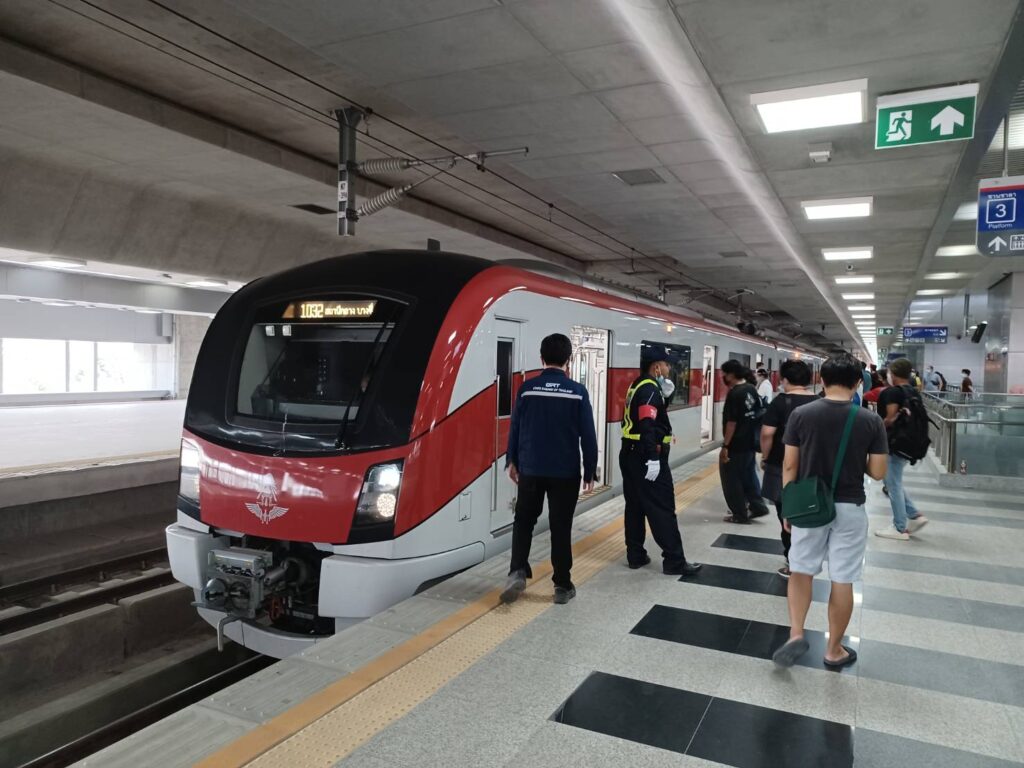 Social distancing sitting inside.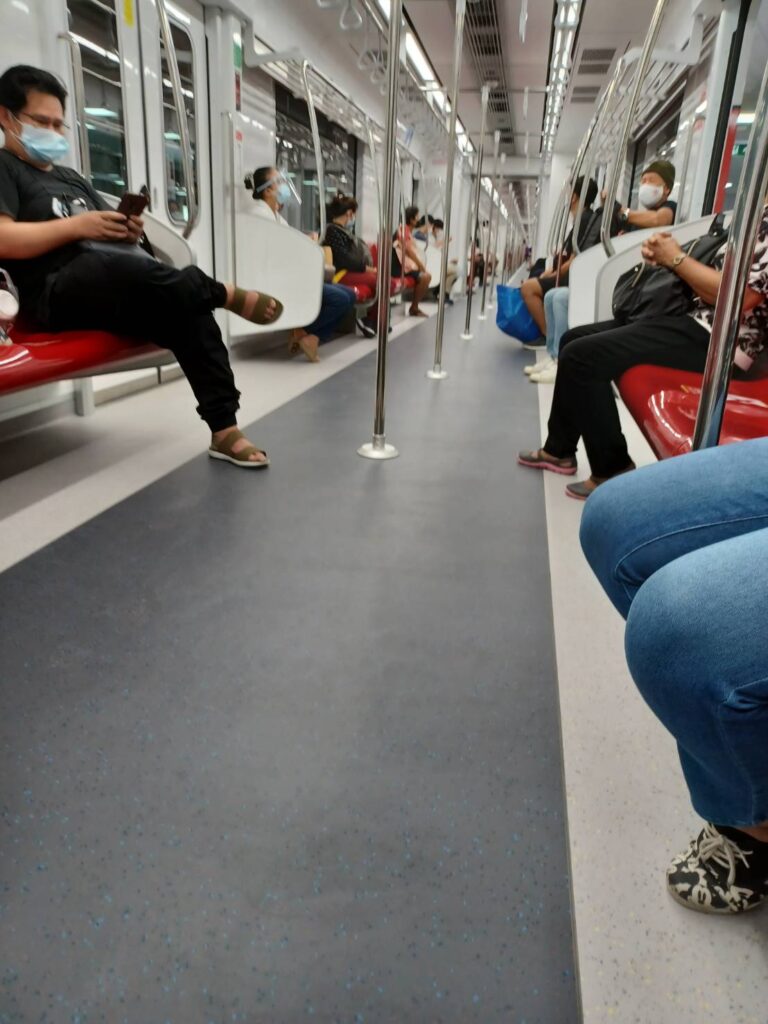 I got off at the Don Muang station on the way, from the station, you can see may airplanes parked. At this time, domestic flight from dark red zone including Bangkok so I didn't notice any flight.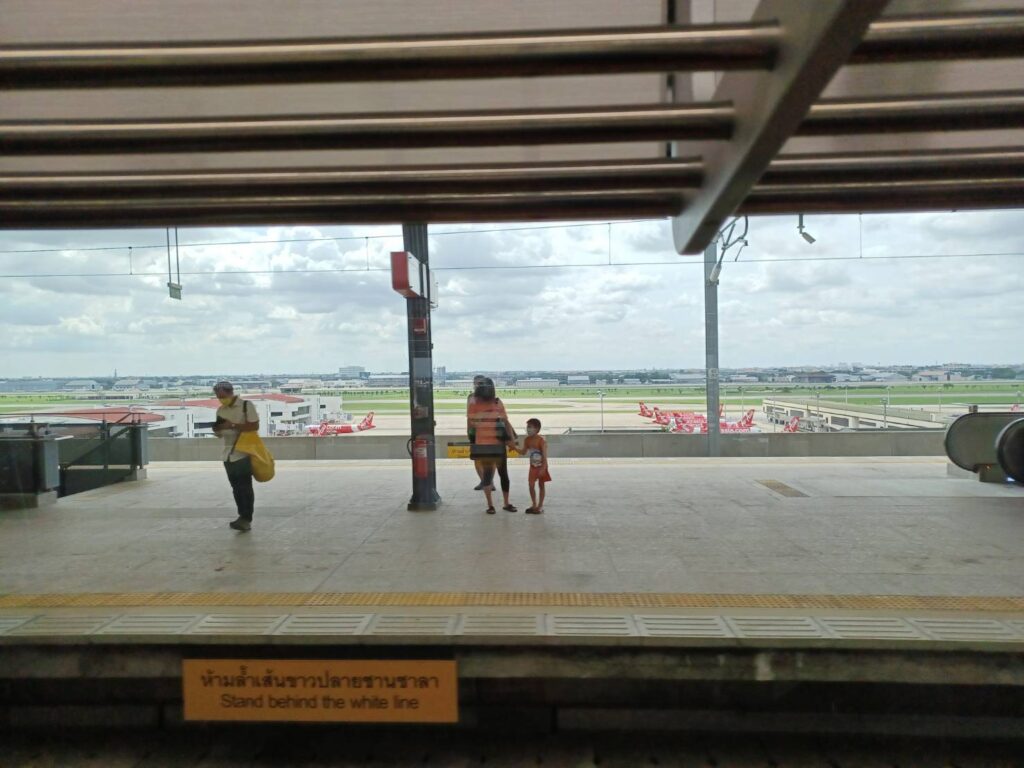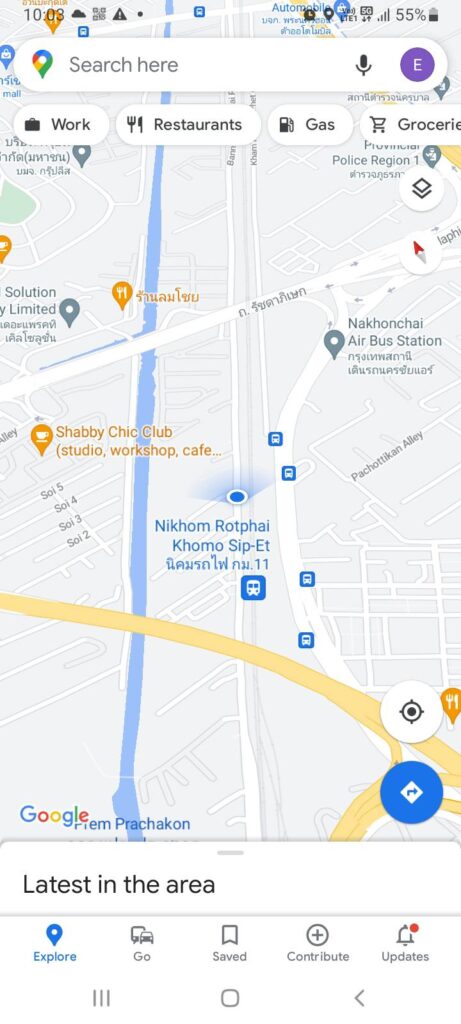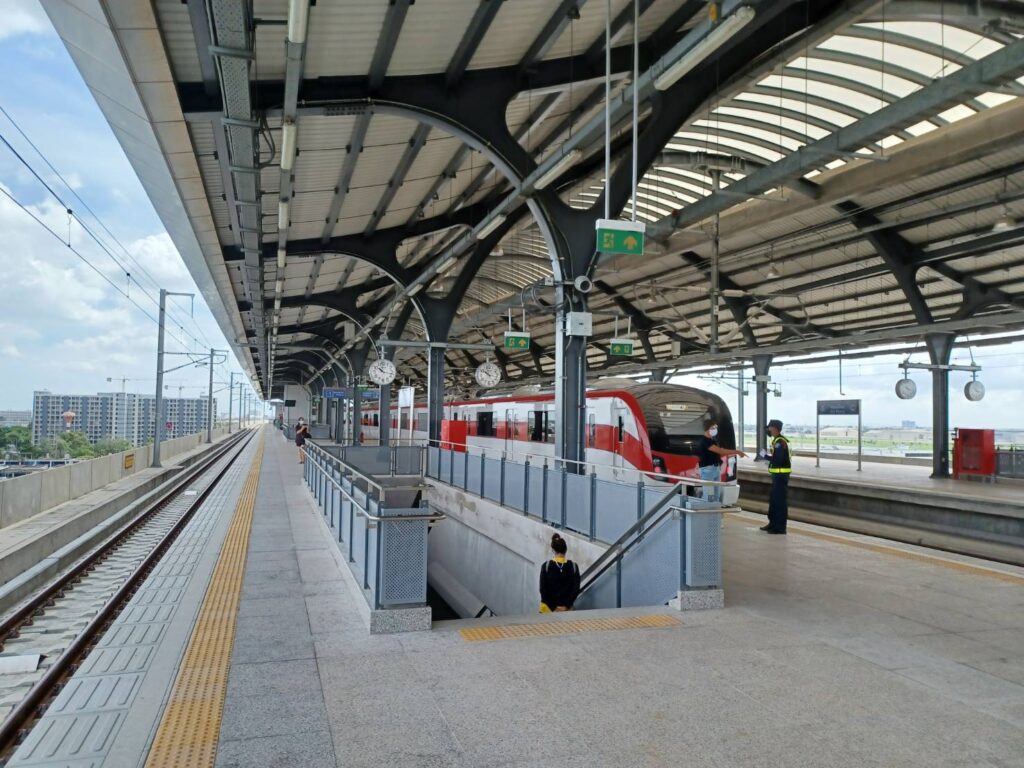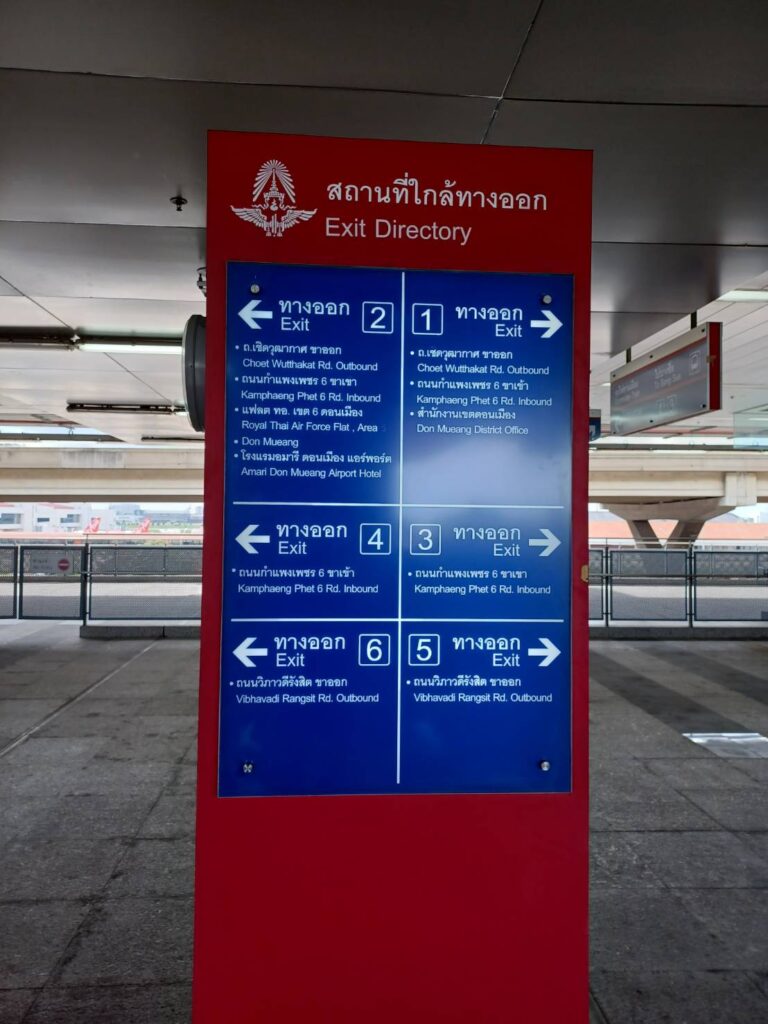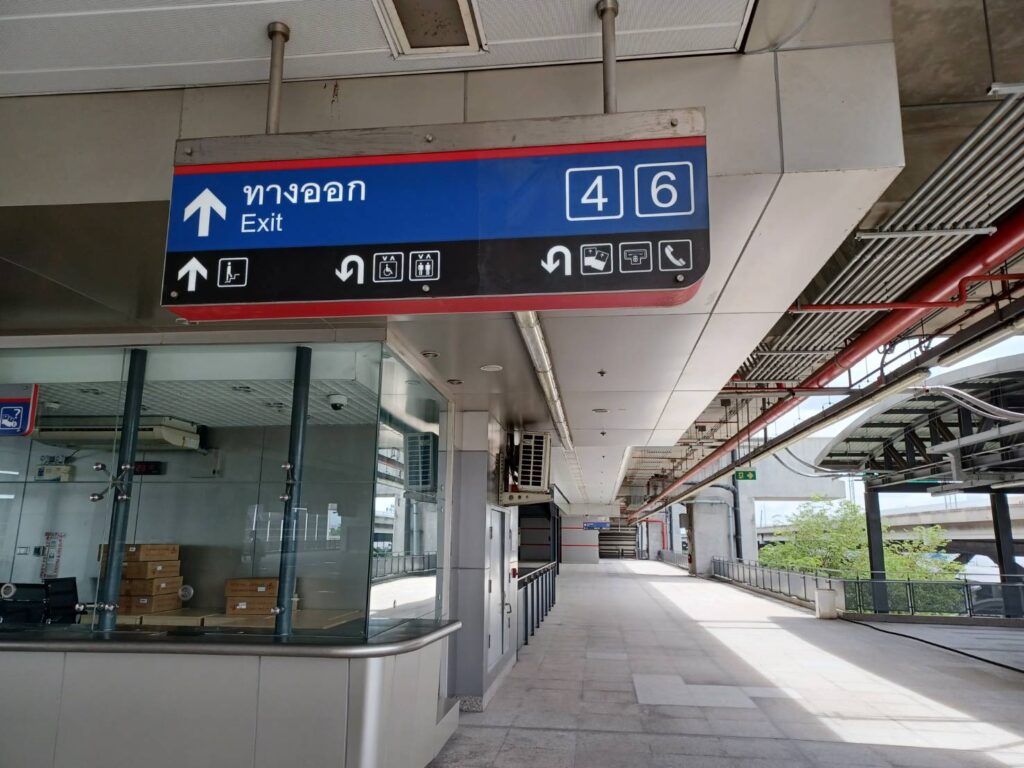 Connecting bridge to Don Muang airport building is not yet available.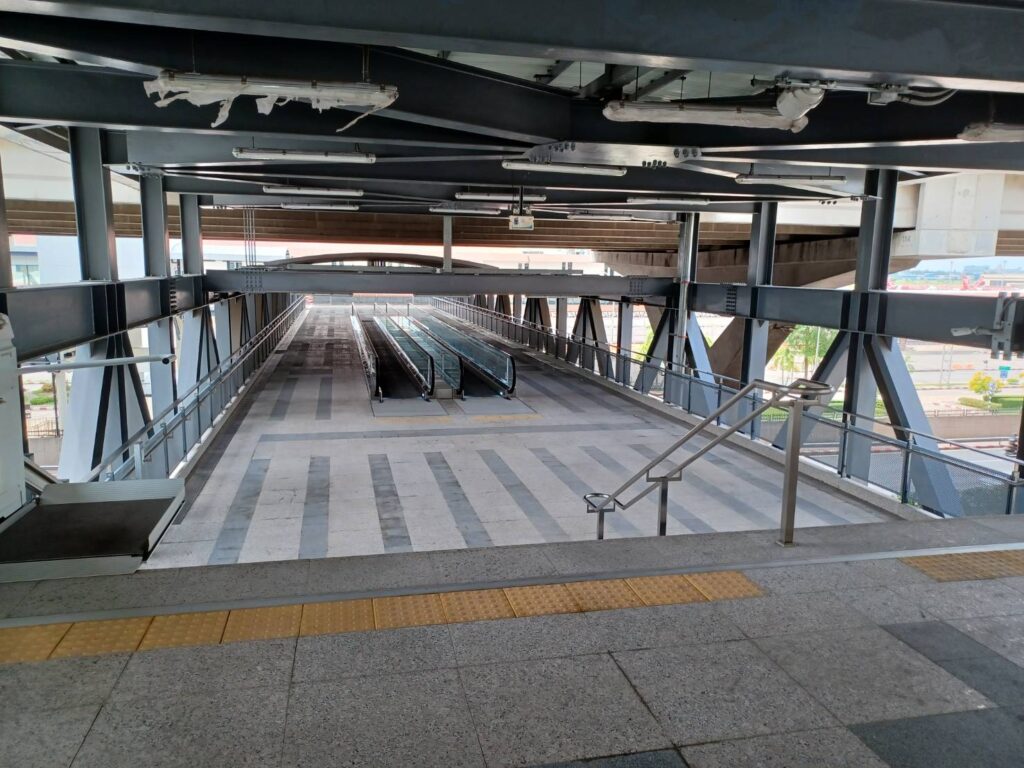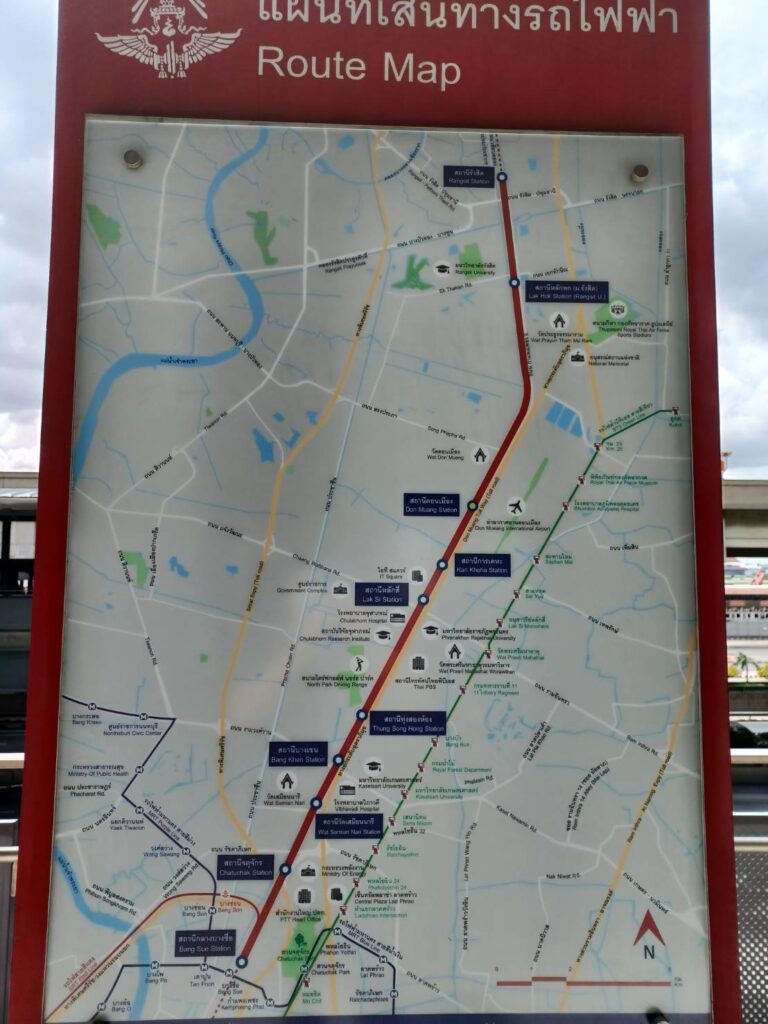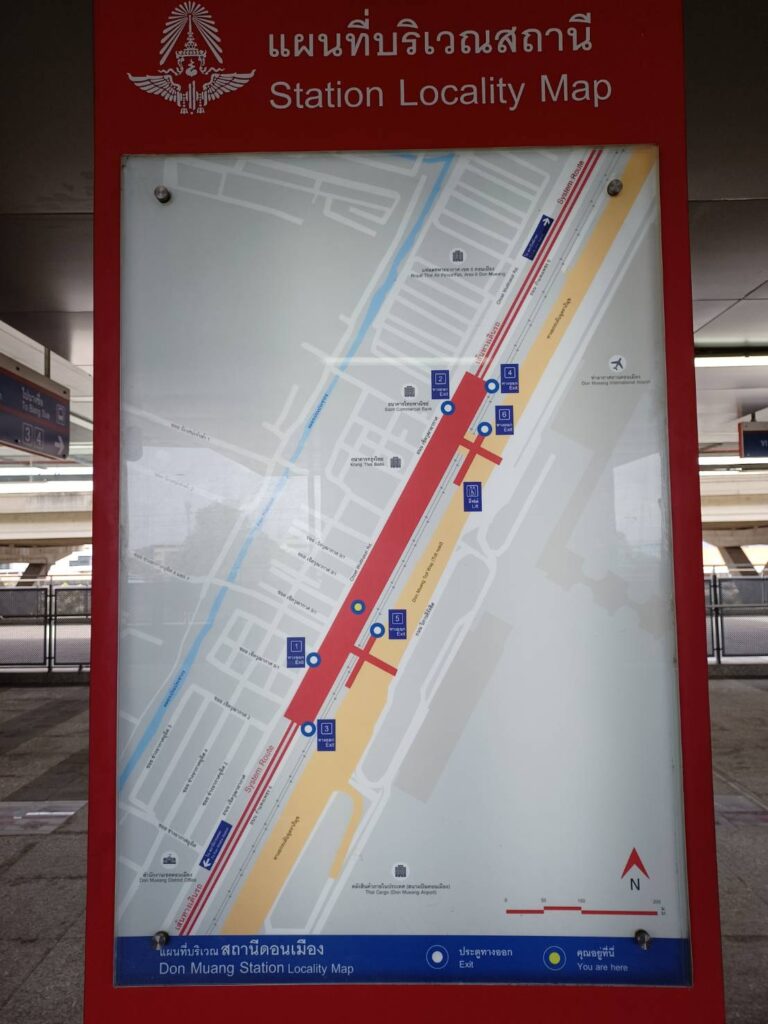 Connecting bridge from Red line station to Don Muang airport terminal.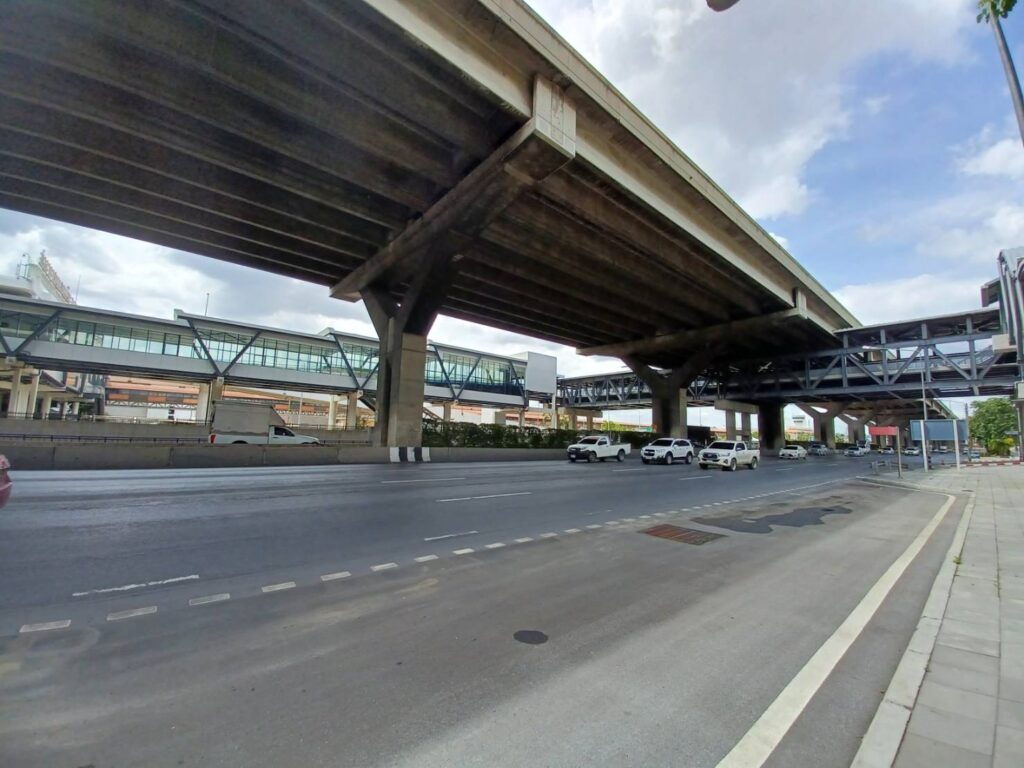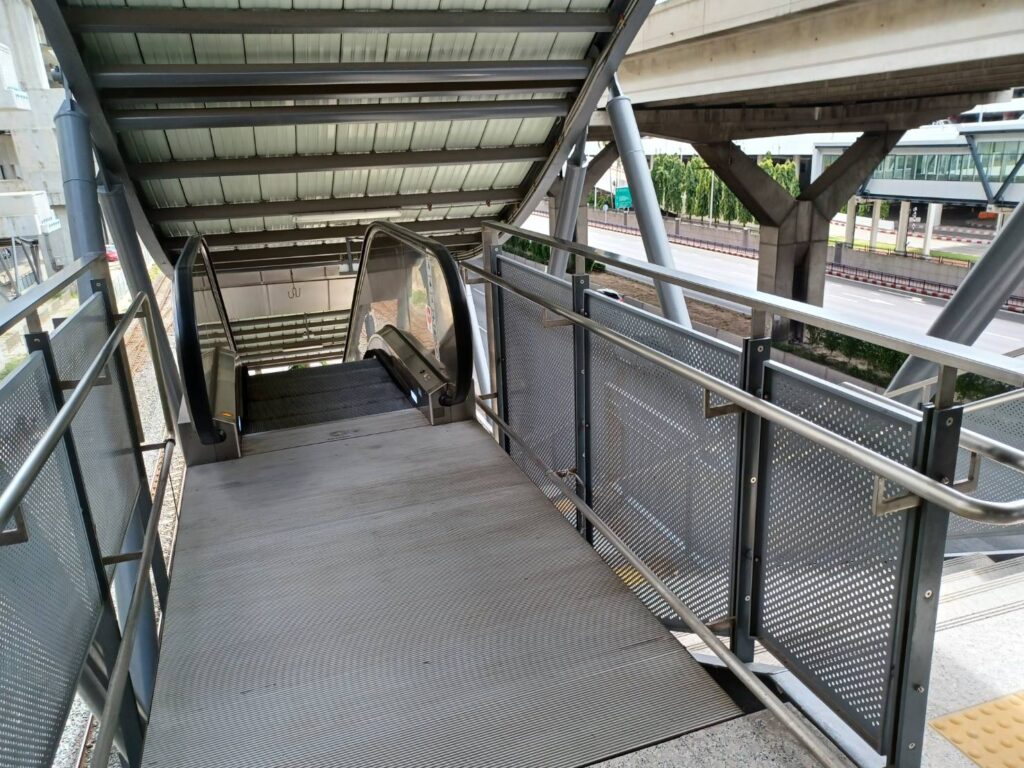 Going back to platform for Rangsit for free. I was wondering which train card is used. Hopefully red line can de ridden by the existing train card in Thailand.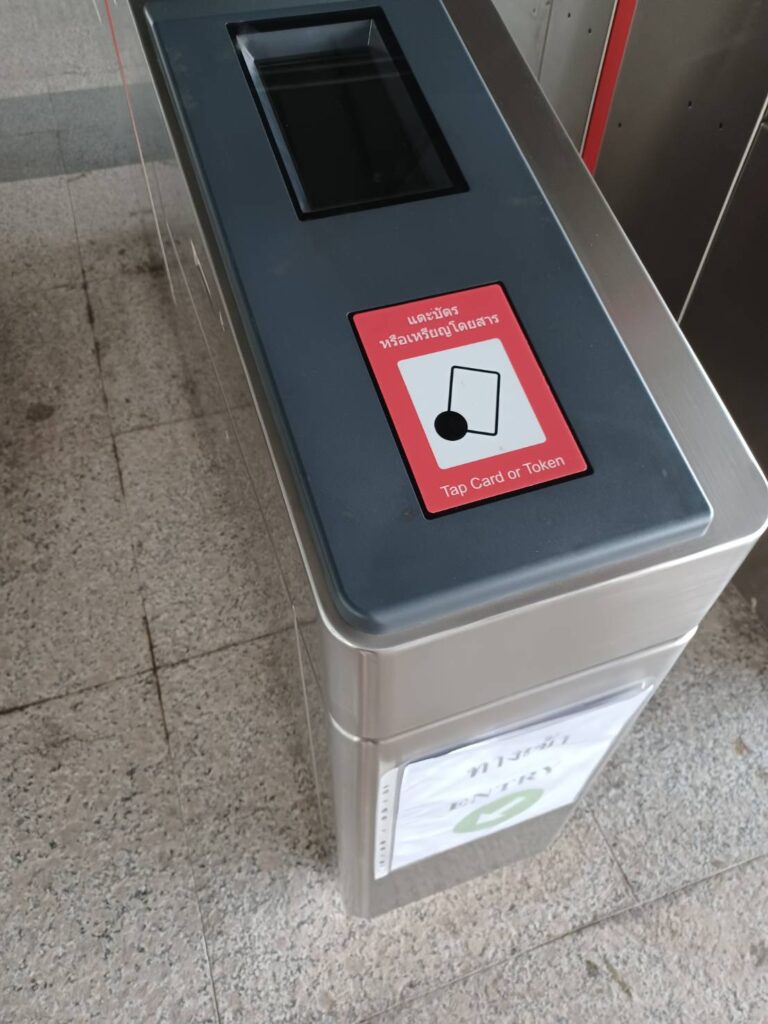 You can enjoy nice airport view from the station. It's much fun once to see airplanes fly out once operation resumes.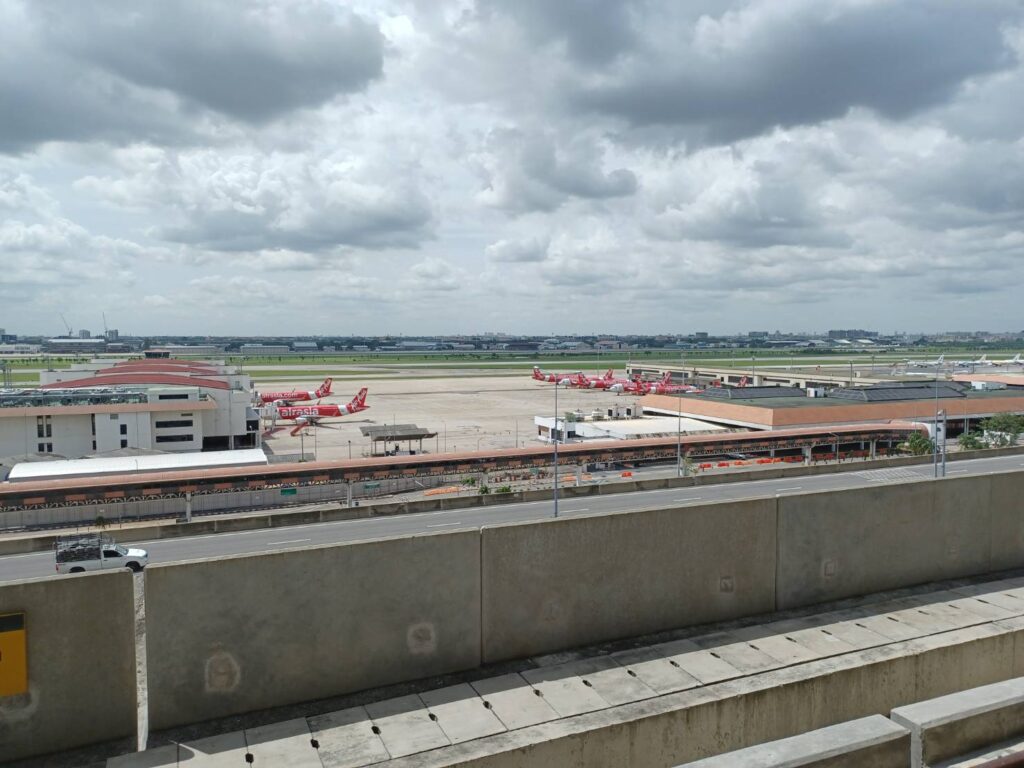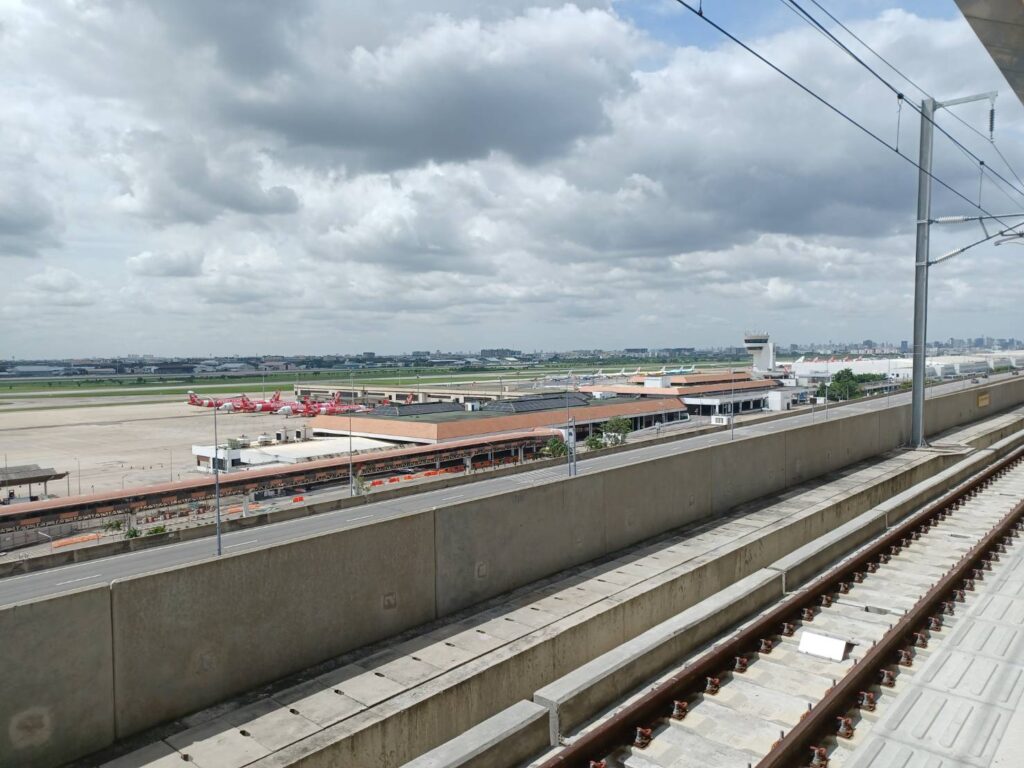 Airport terminal.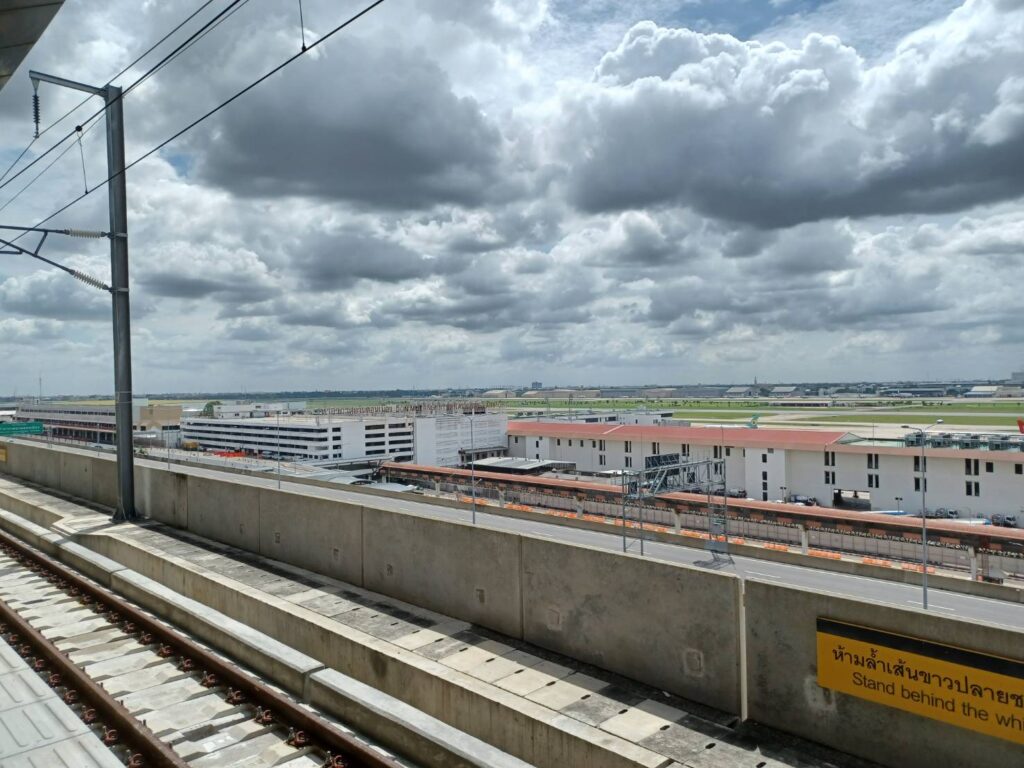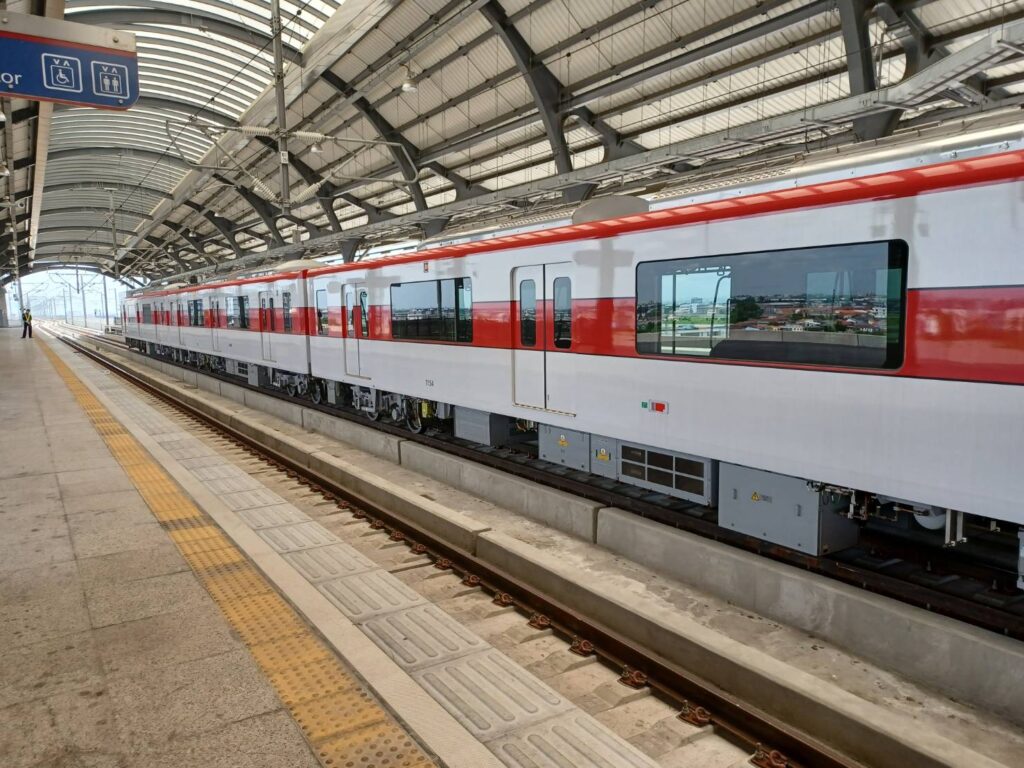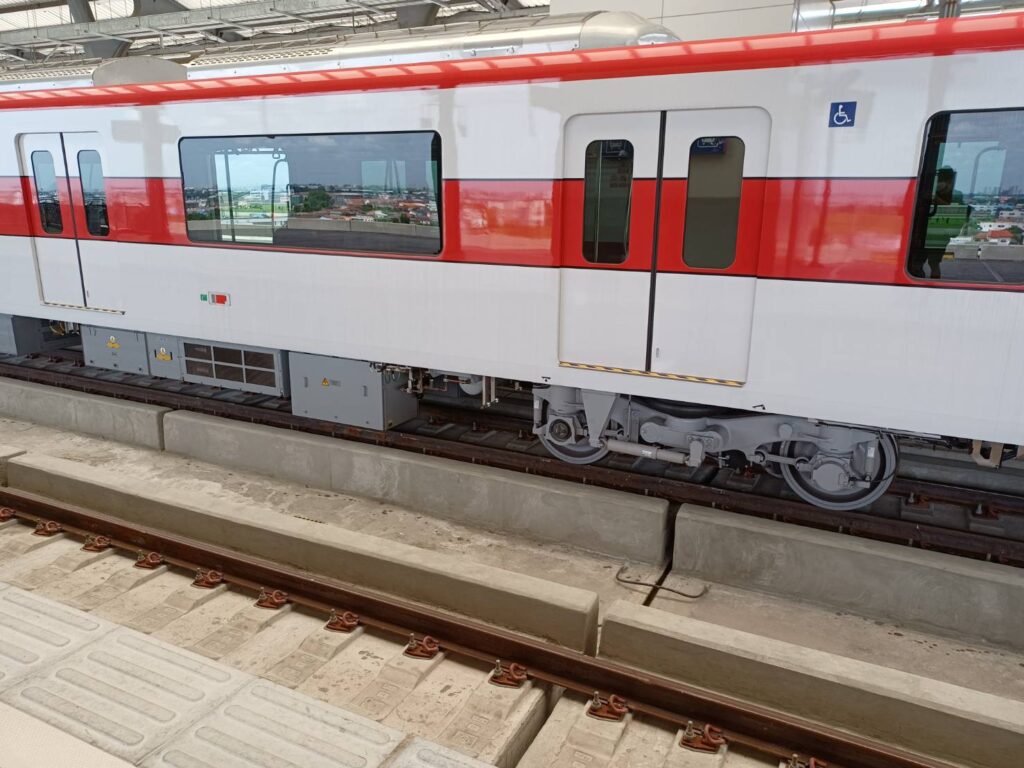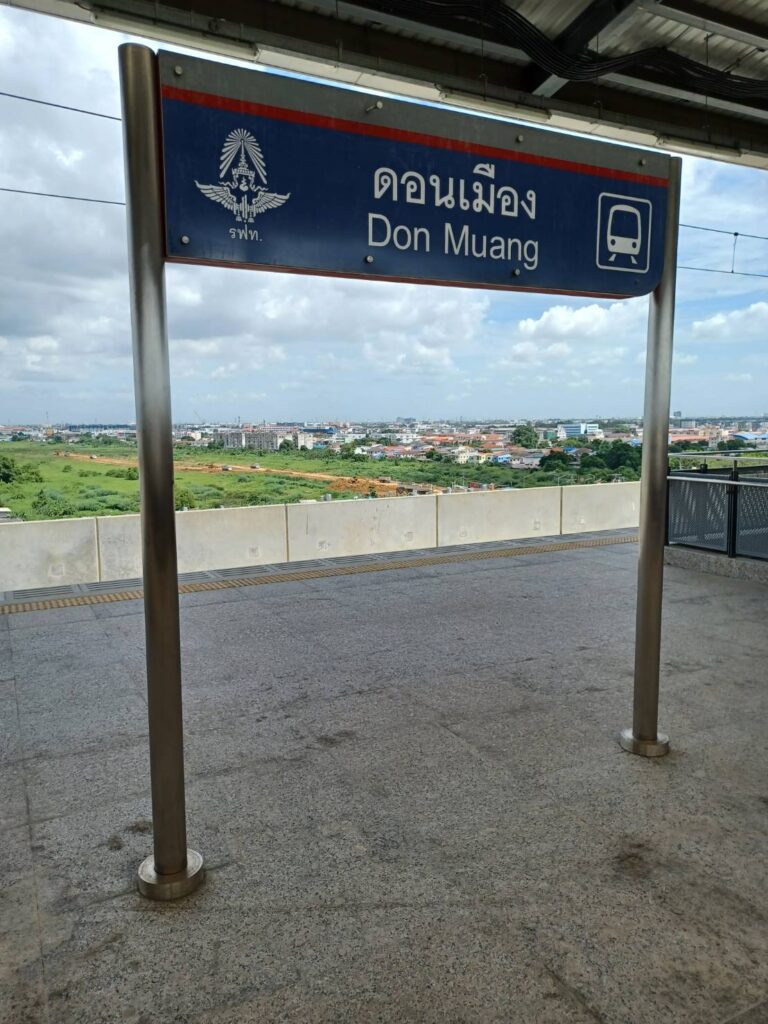 Taking back train to Rangsit station.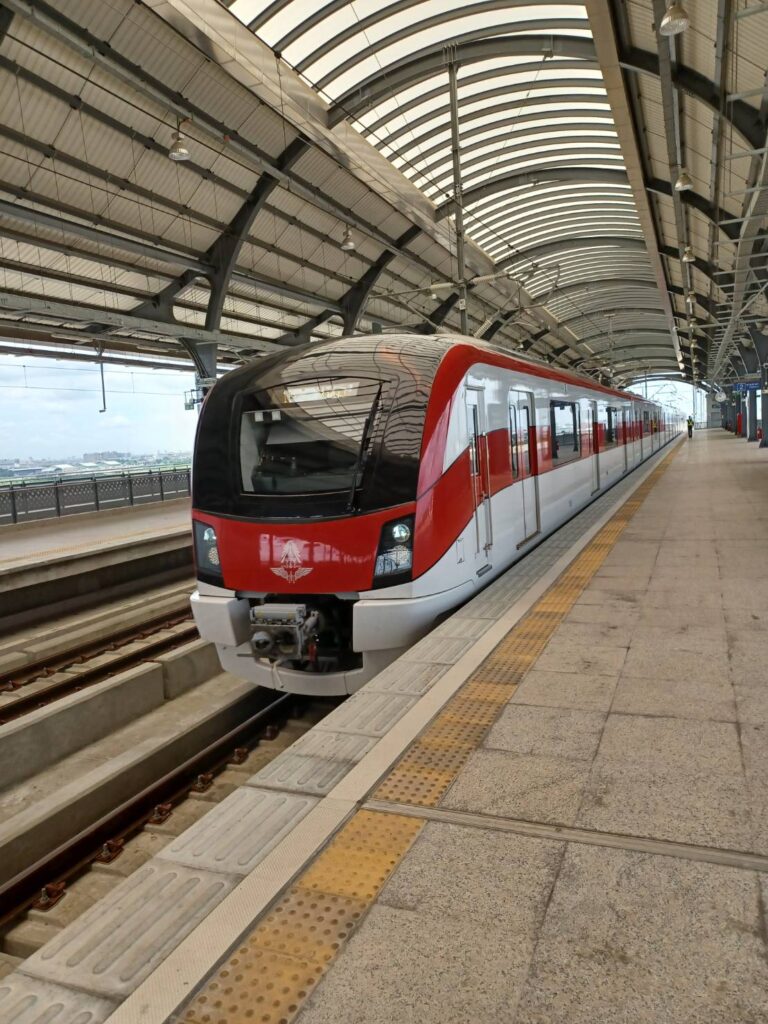 Arriving at Rangsit station after 10 minites ride.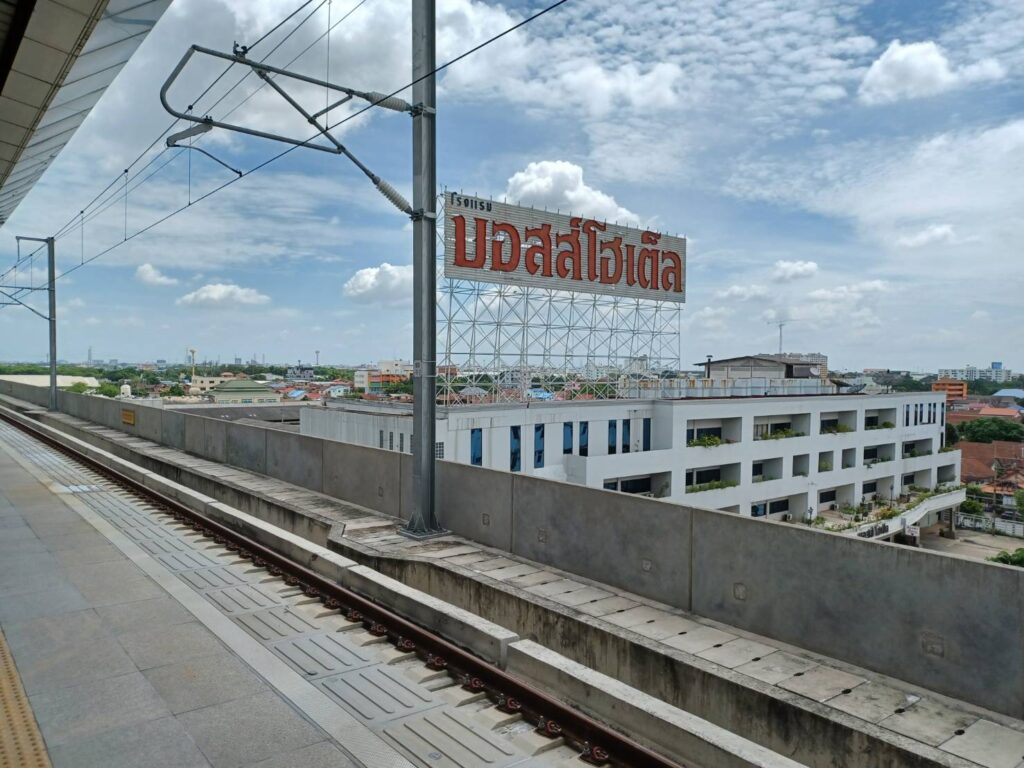 Rangsit is the main commercial area in Pathum Thani province. As you see in the picture, there are not much high skyscrapers in this area unlike the center of Bangkok.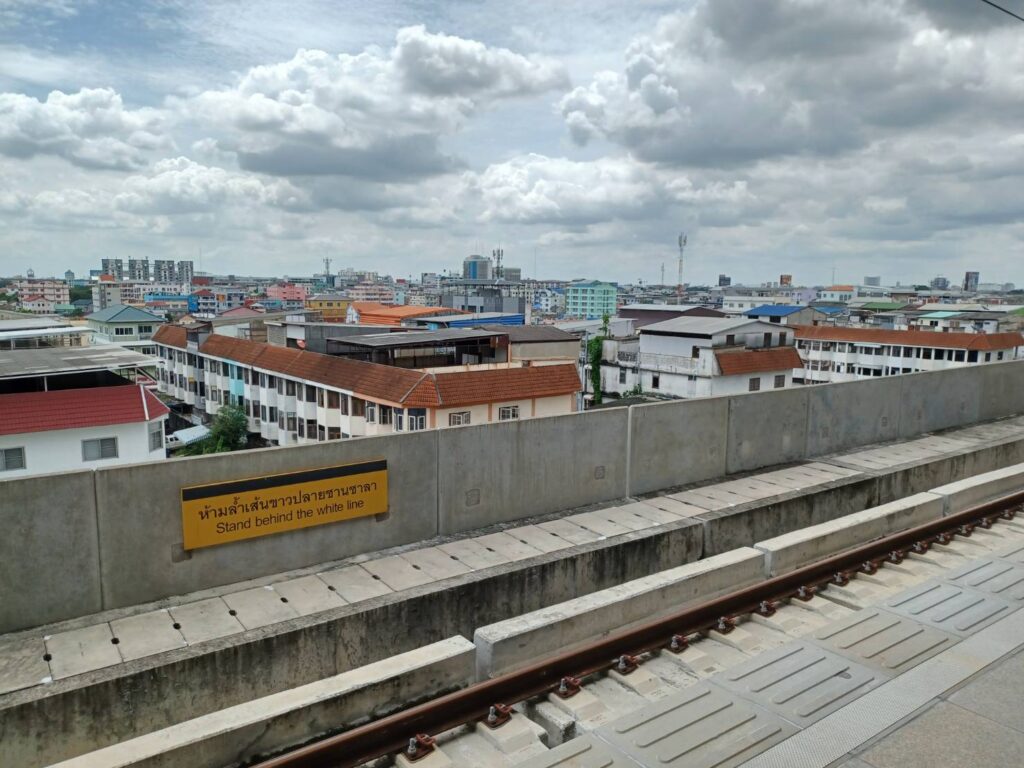 Rangsit station is current last station of red line. The track will be extended to Thammasat university.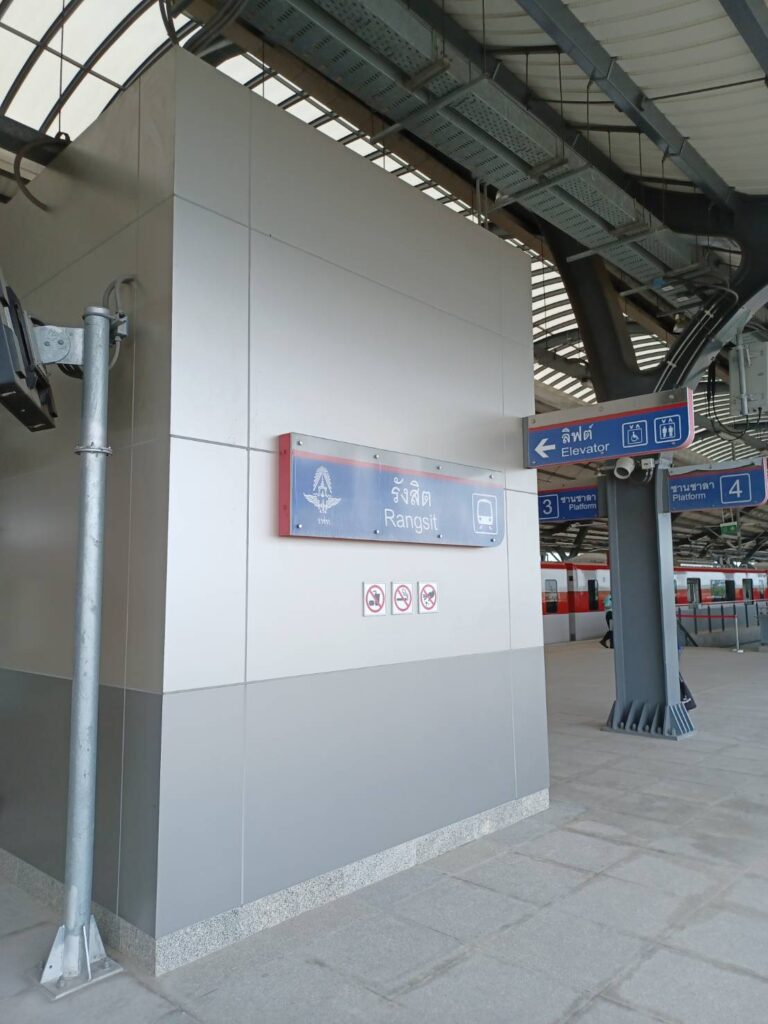 Machine to charge the prepaid card is under preparation.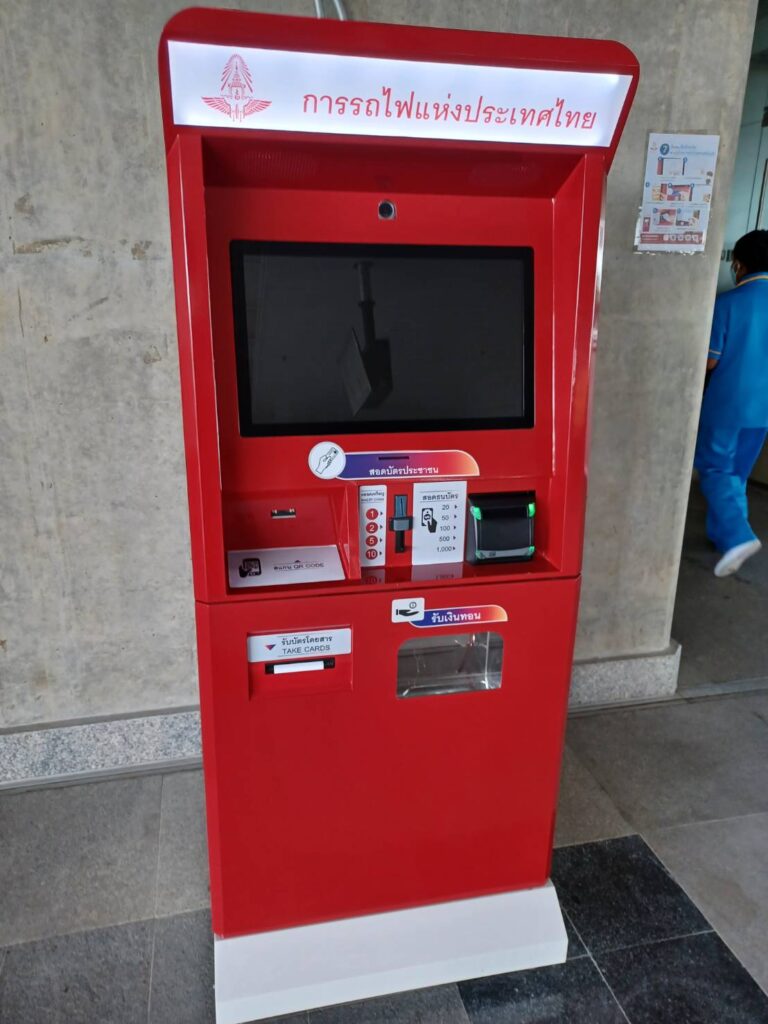 Bus No. 522 is available from Rangsit station. You can go to Future park, huge shopping mall in Rangsit and finally reaching Victory monument.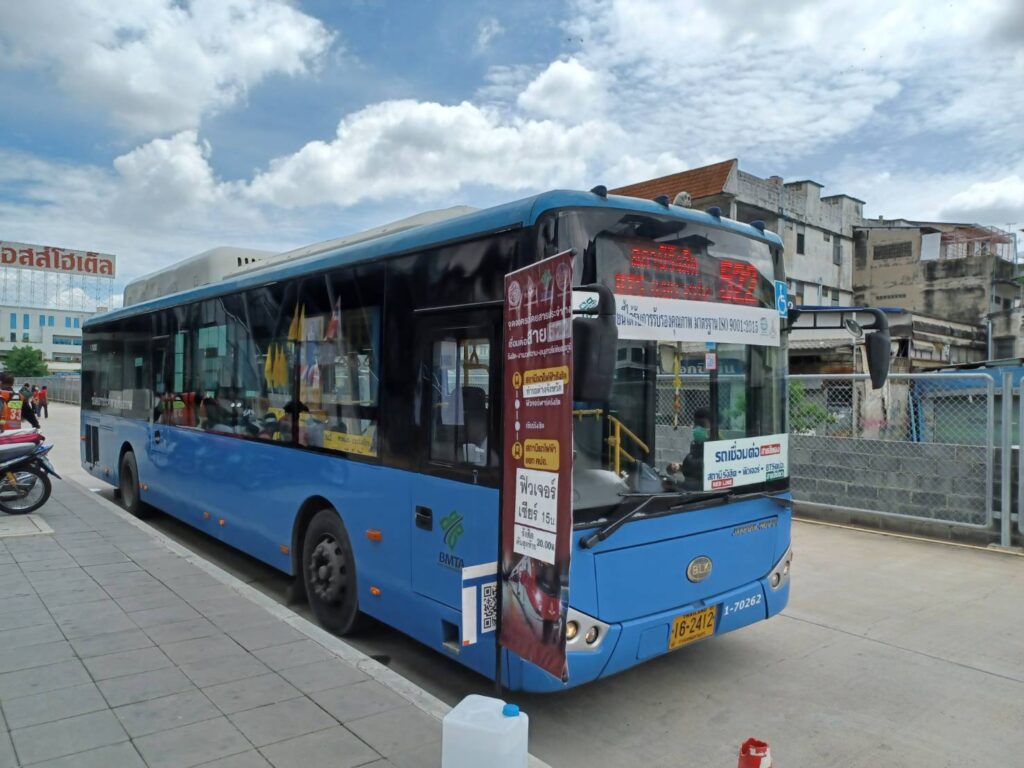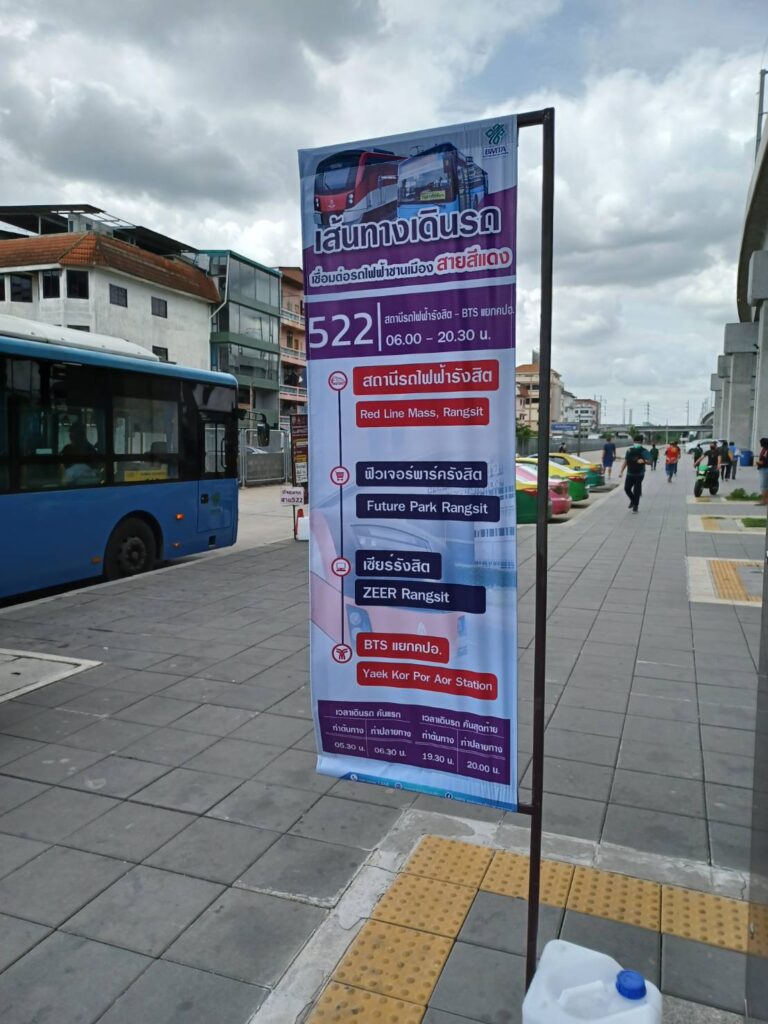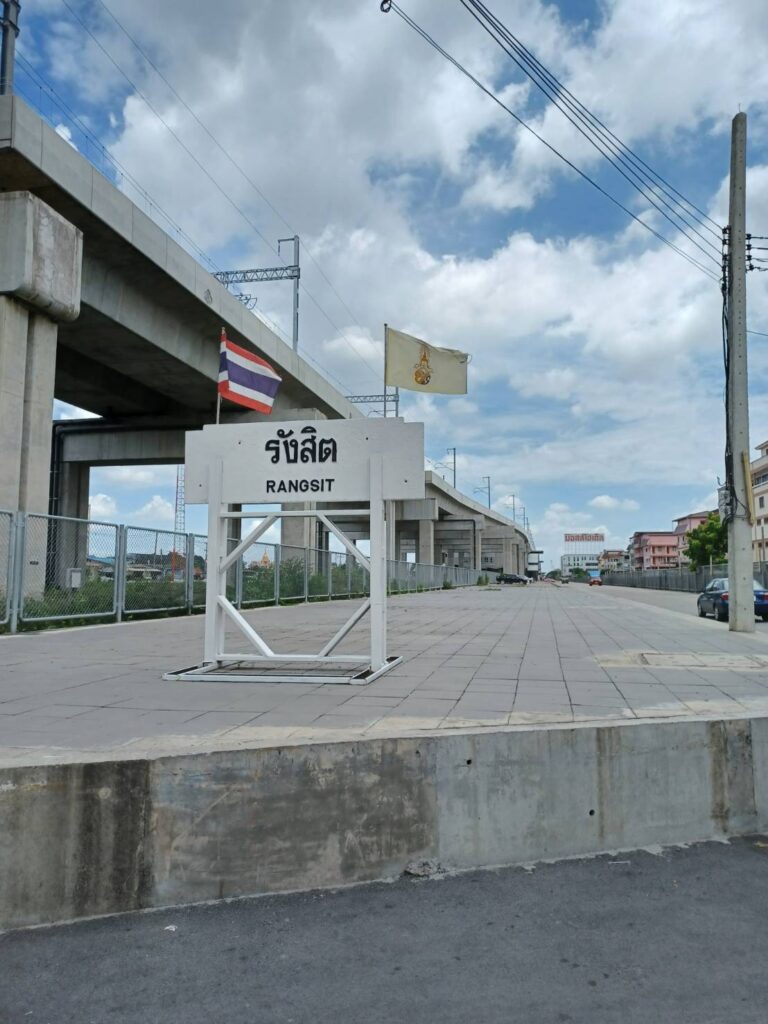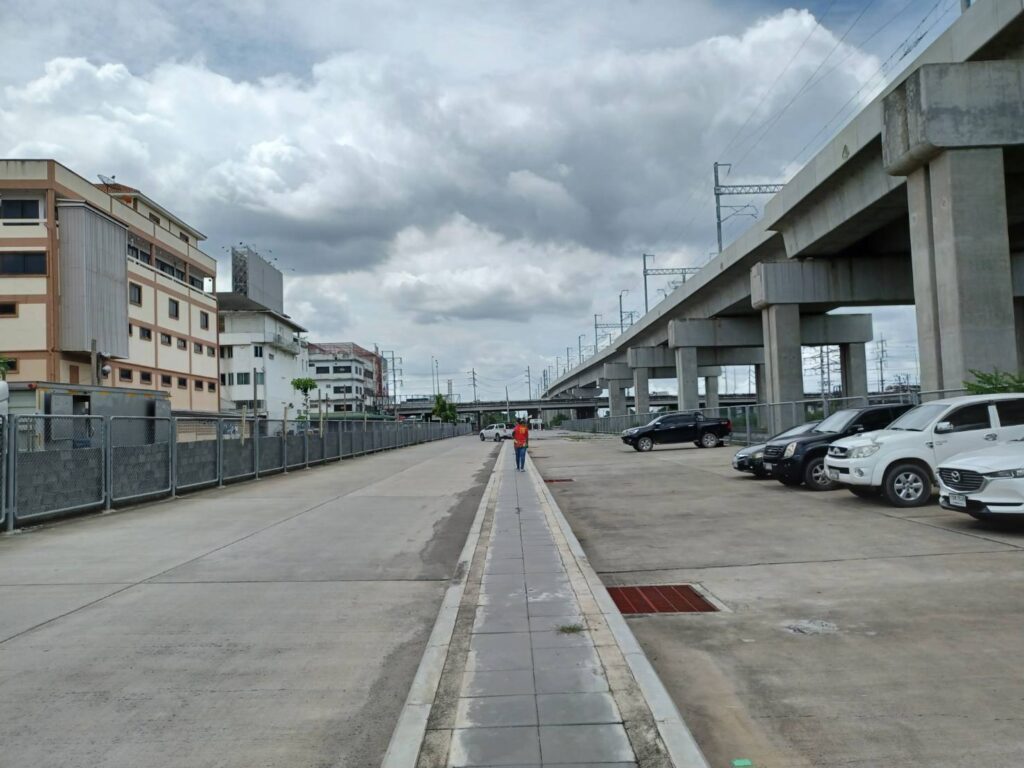 Taxi, Motor bike and Songteaw is also available for your transportation.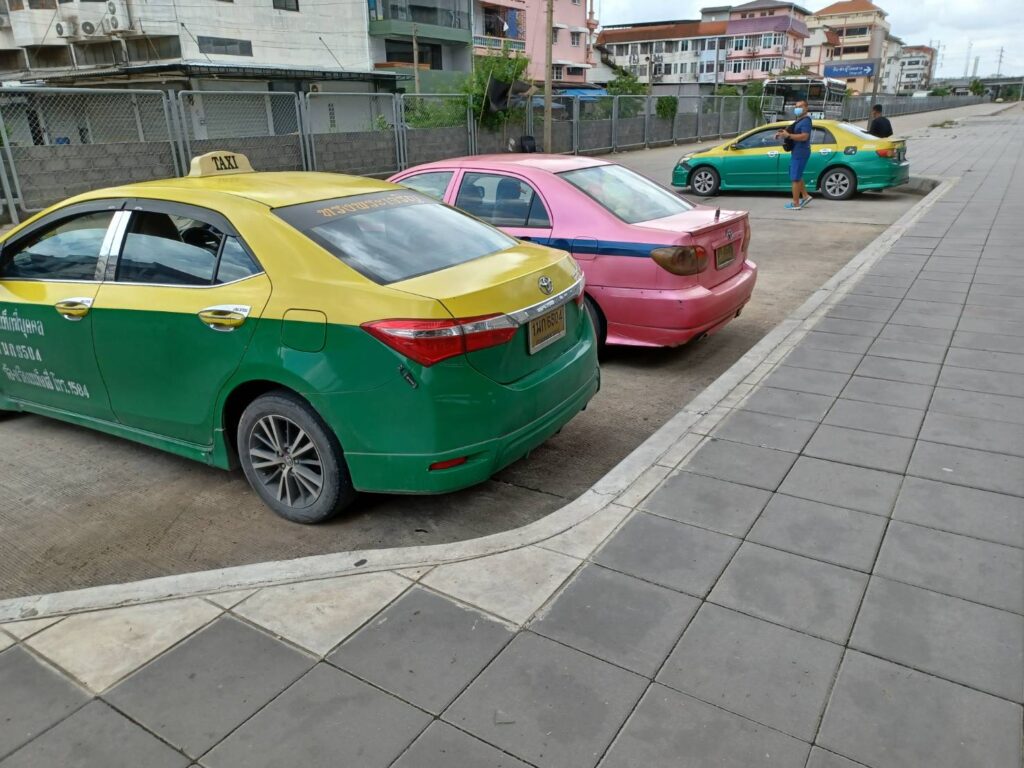 This time, I walked to Future park under scorching sun. The way is to the mall is not actually paved well for pedestrian so I do not recommend you do walk. Instead, please use air conditioned bus for your convenience.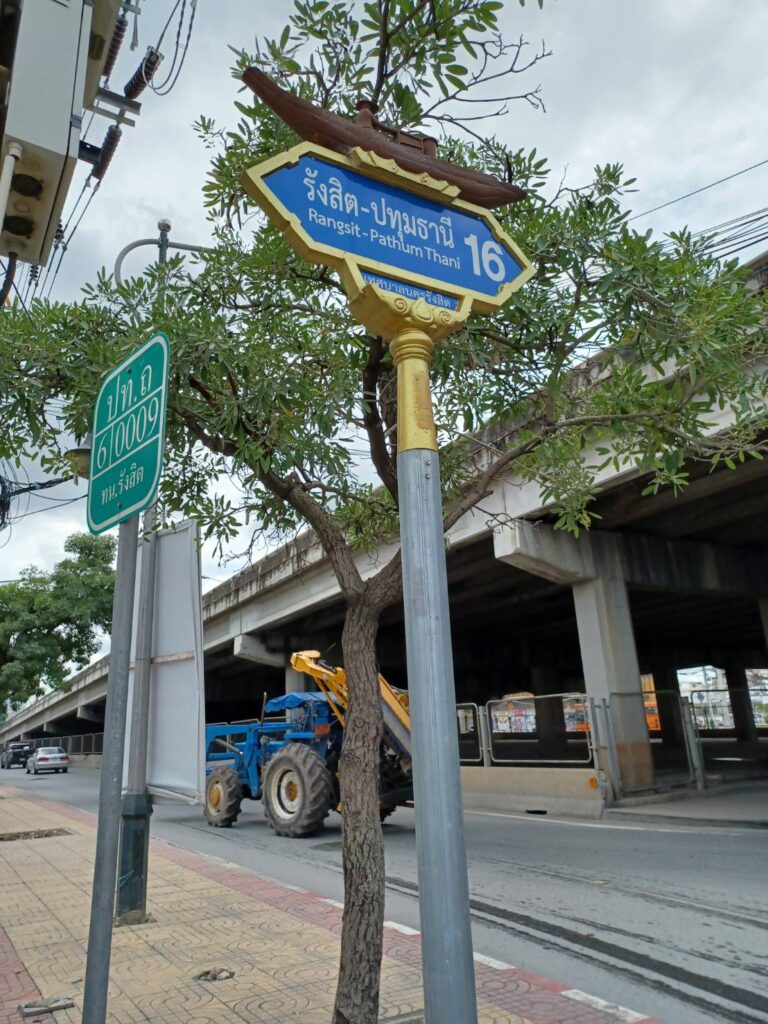 Walking east to Future park Rangsit.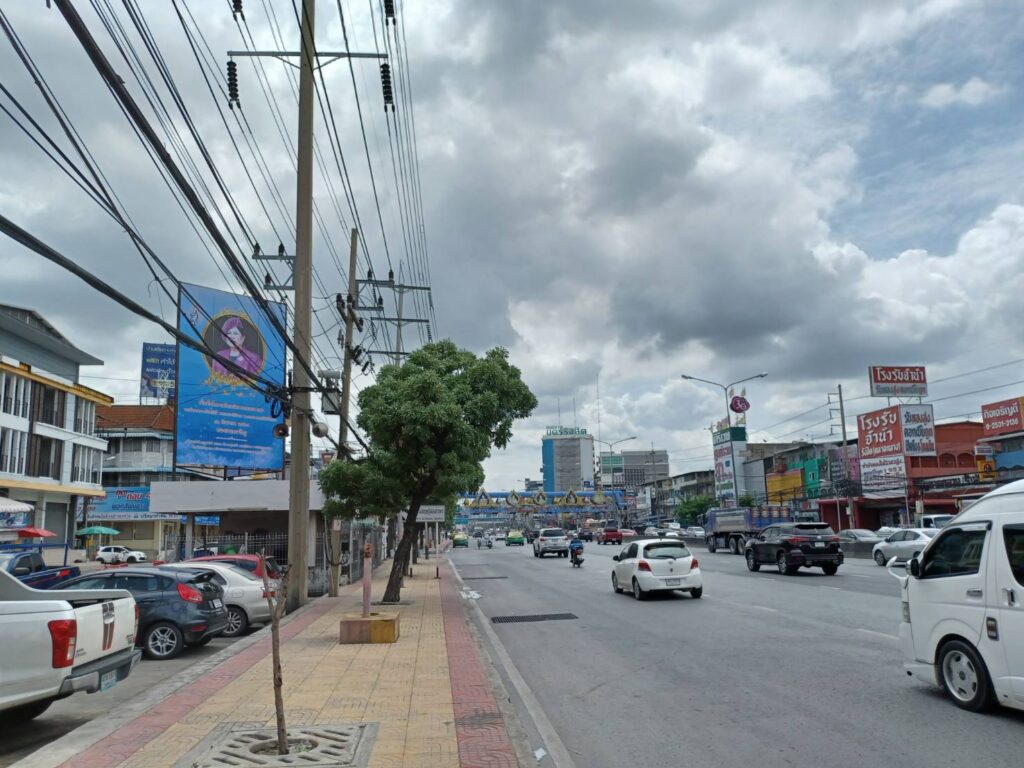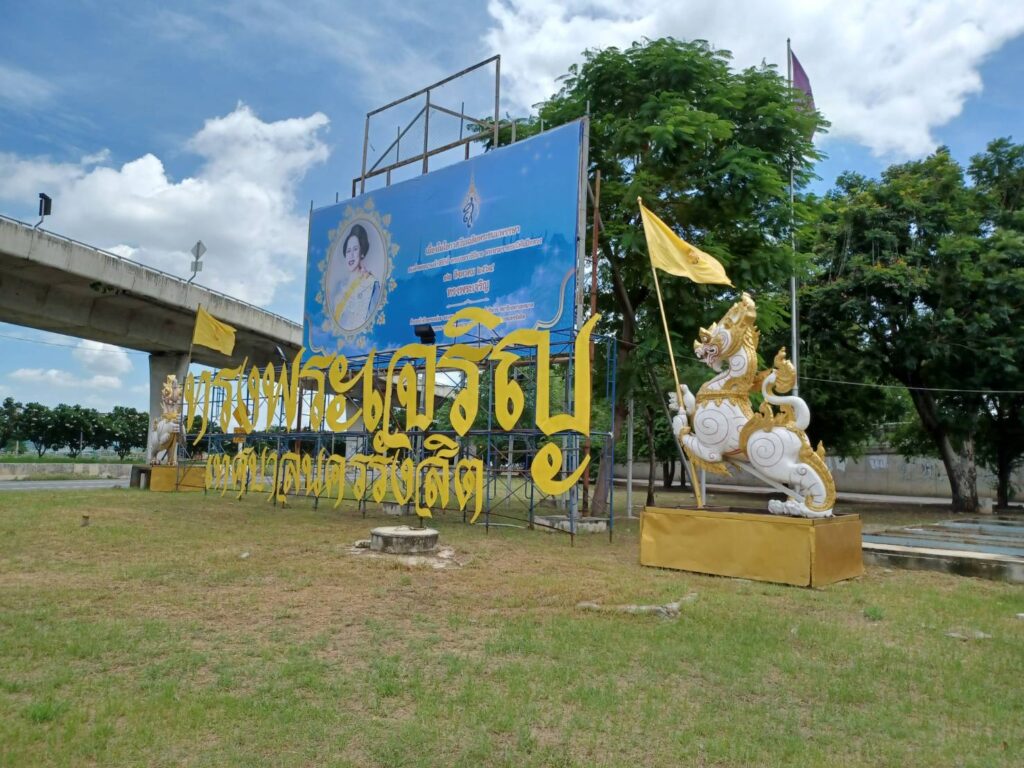 There is no walking way to continue so I passed the car way with attention. After you take overpass, you can finally reach Future part Rangsit mall, around 30 minutes walk from Rangsit train station.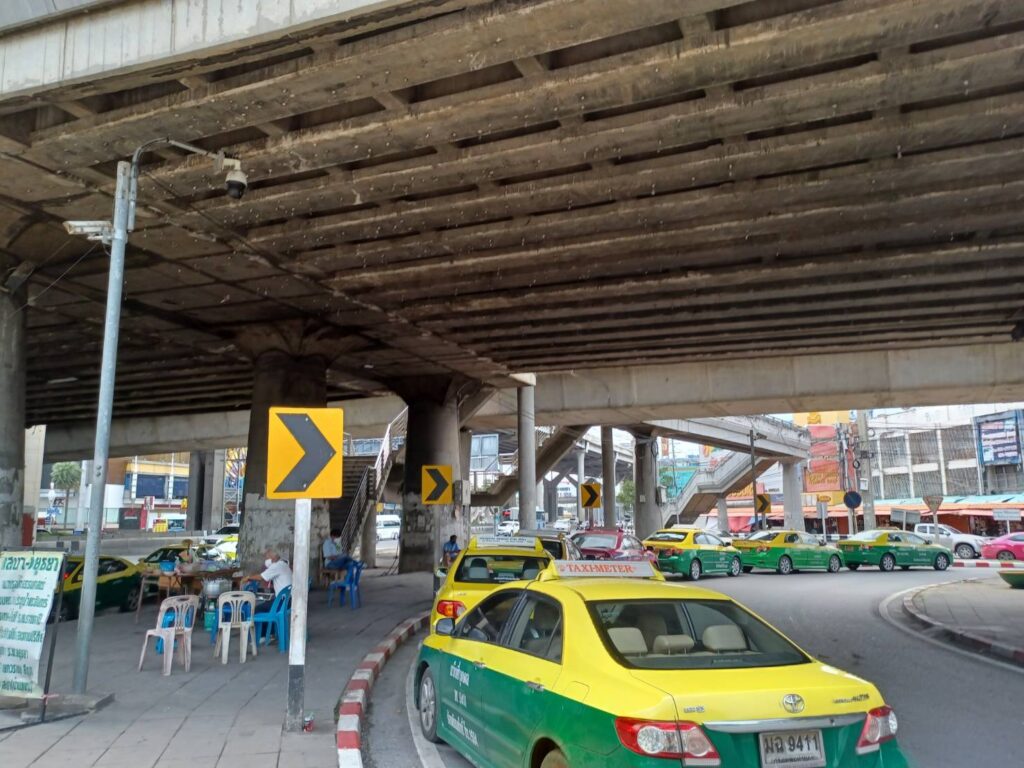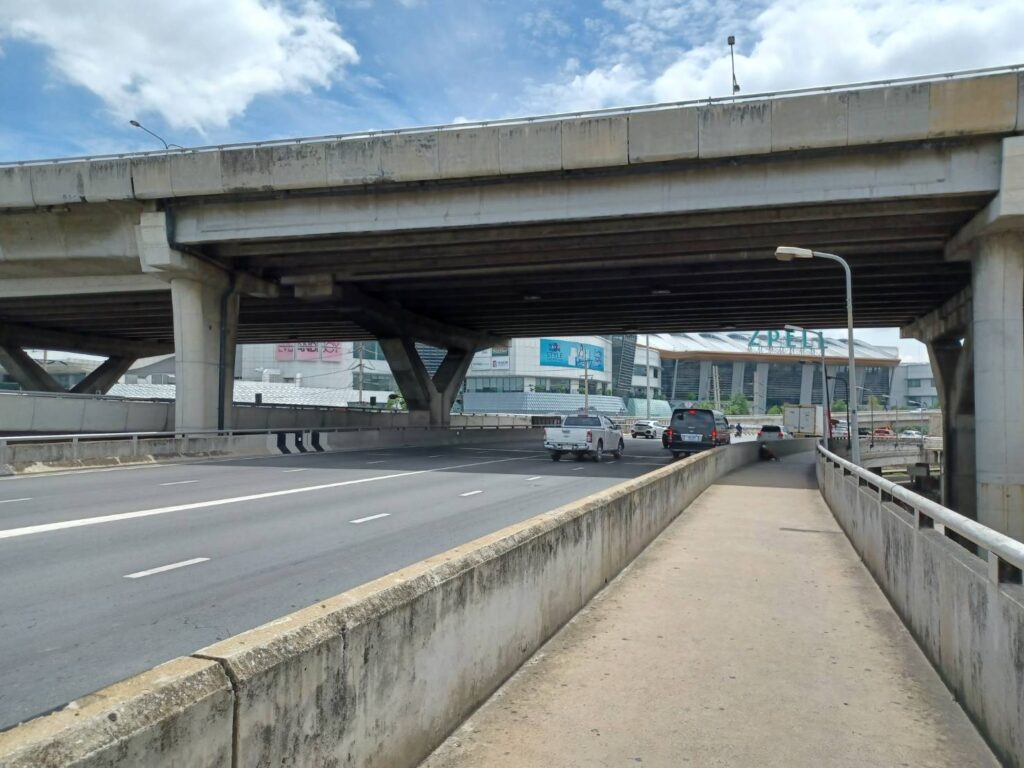 Future park seen from overpass.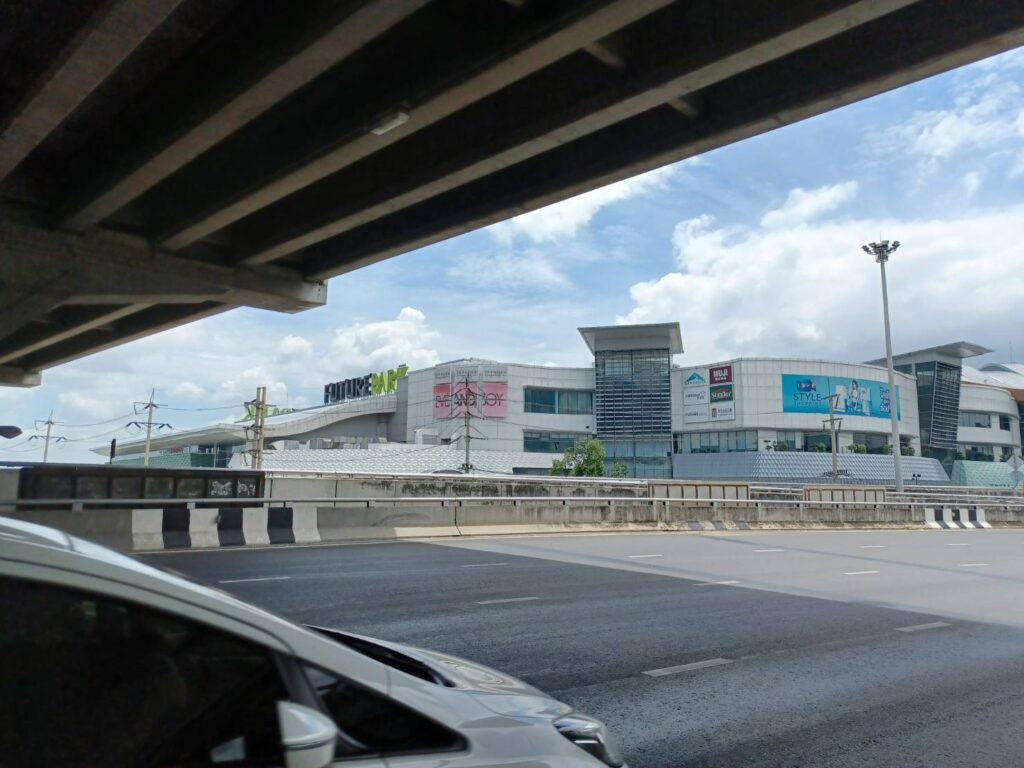 Future park is not open this time due to Covid control measure. It was used for Vaccination center for the citizens.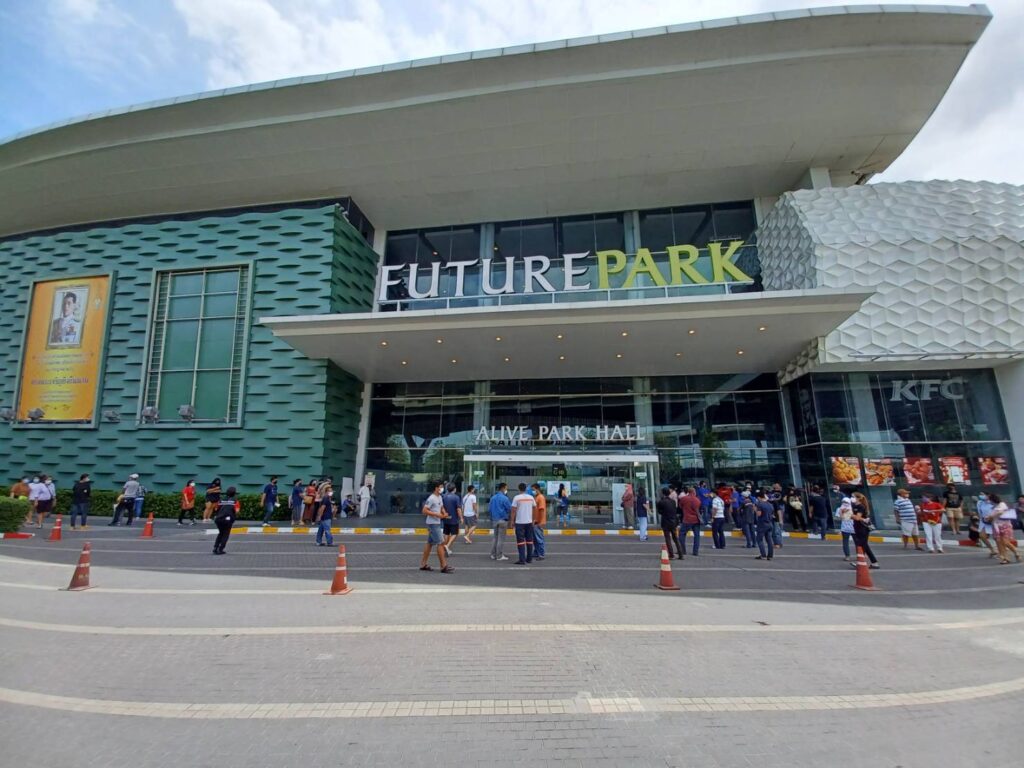 People waiting for the name called for vaccination.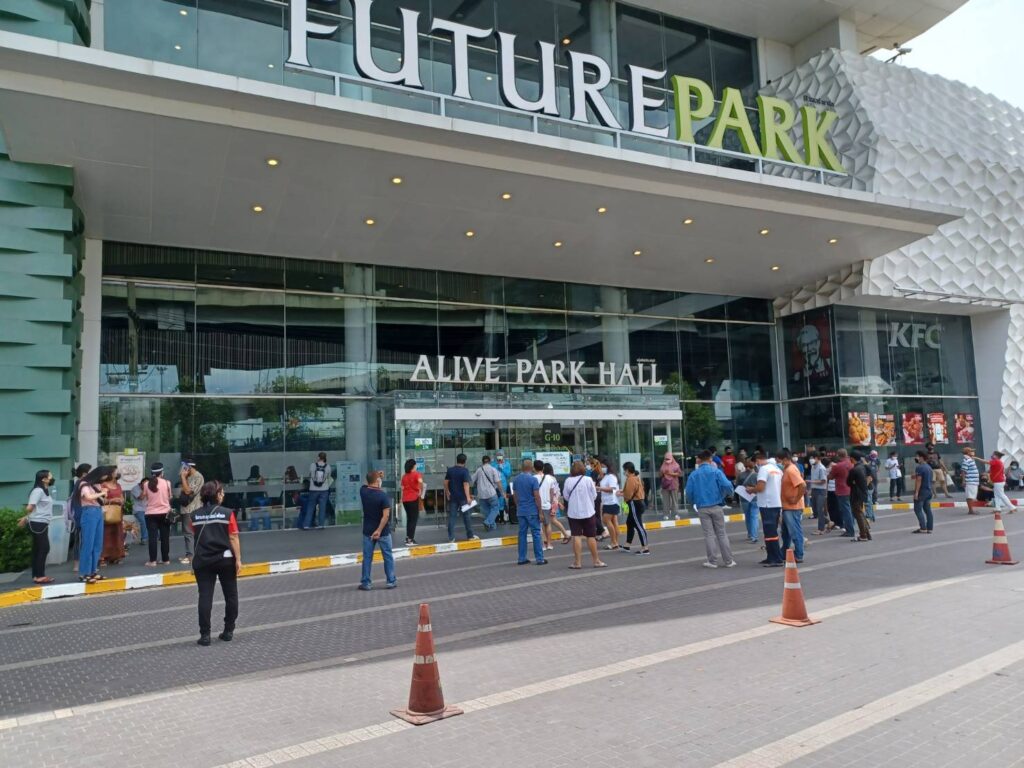 Ok, that's is all for my red line free ride experience. There are more lines to be constructed in coming years so my life will be more convenient by public transportation.
See ya!