Hello, everyone! Welcome back to "fitravelife.com" From June 14th, gym in Pattaya was reopened so I went there via bus. Due to Covid preventive measures and less tourists movement to this world famous beach resort, bus operation was also reduced so please be careful of bus service situation at this time.
Bus terminals in Bangkok
When you are heading for Pattaya from Bangkok, you have 3 choices where you depart by bus. 1. Ekkamai and 2. Suvarnabhumi is convenient to go by city train so I recommend you choose either of these. Depends on your location, you can have option of  3. Mo chit but since it is far from me, I never tried and not mention details in here.
Ekkamai Bus terminal
Suvarnabhumi Airport (or Suvarnabhumi public transportation center)
Mo chit Bus terminal (See this link how to go to Mochi bus terminal)
Ekkamai Bus terminal
Ekkamai bus terminal is located in most convenient place from the city center of Bangkok. You can go via BTS or other several city buses to the terminal. This time I chose this since this is most convenient to use at this time.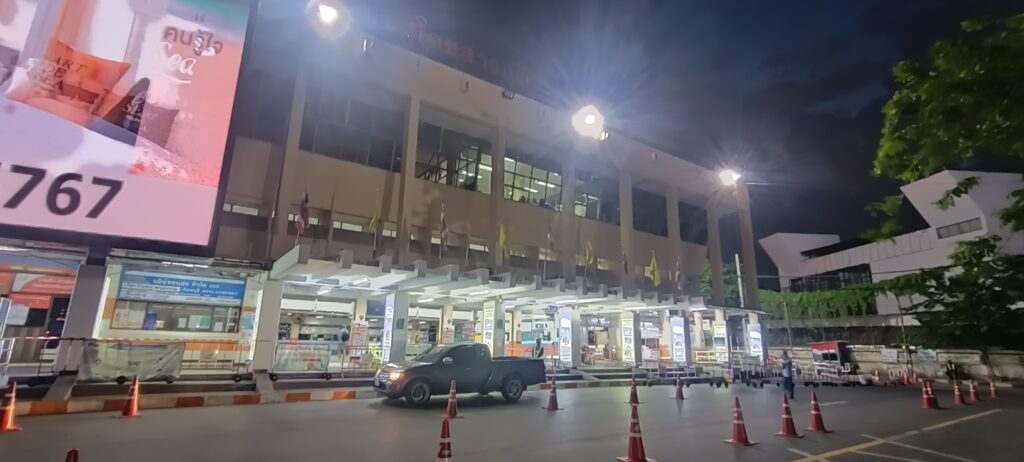 How did I go to Ekkamai?
BTS or Taxi is easier way to come to Ekkamai Bus terminal but this time, I would like to show you much local way that I prefer. First I came to Airport rail link Ramkhamhaeng station from my area Lad krabang which costs 25THB. Then walked a bit to city bus stop to go to Ekkamai Bus terminal.
Walking down to south on Soi Sukhumvit 71 then you will see local market along the walk way. With 10 mins walk, you will arrive at bus stop in front of Tops daily, so let's wait for the bus here. Bus No. 40, 71 mini, 133 and 501 is heading for Ekkamai BTS. This time, I took bus No. 40. Since this bus is aircon equipped, bus fare was relatively high 16THB to Ekkamai. If you take non air con bus, fare doesn't exceed 10THB.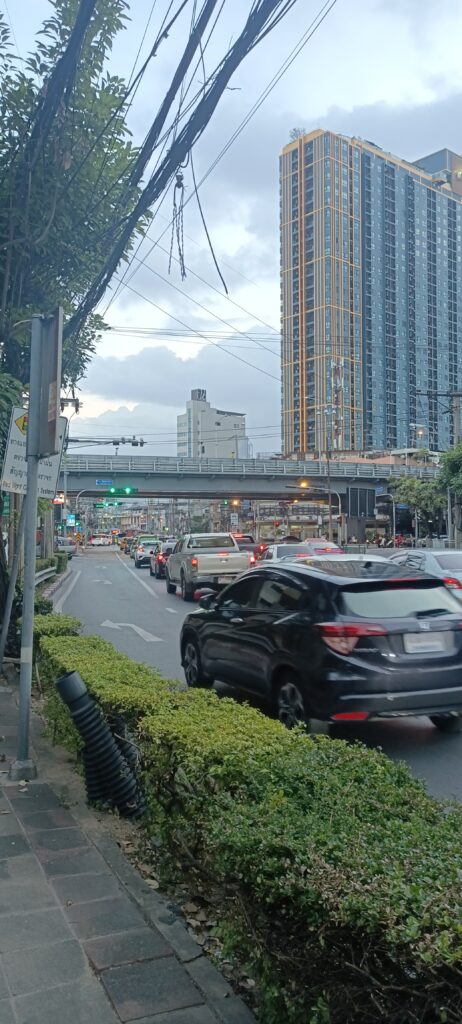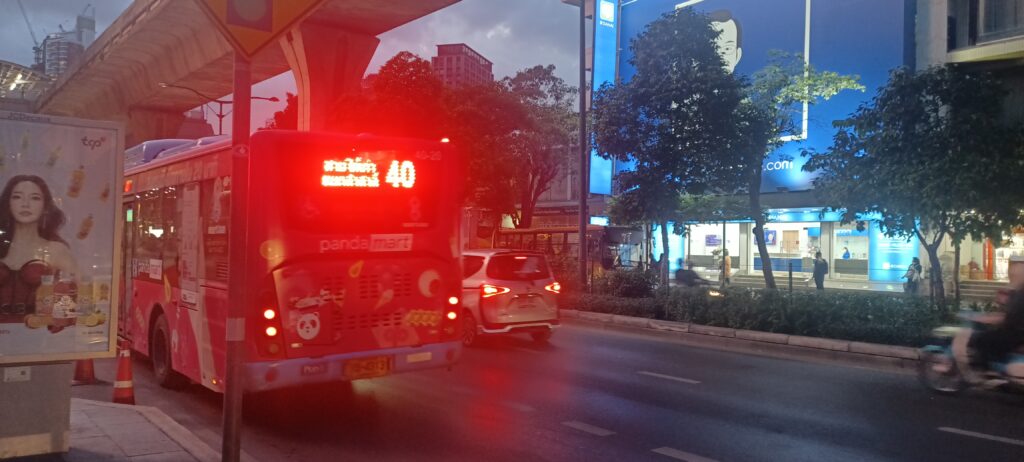 Check bus route by google map
Nowadays, google map was evolved much and it is one of items that we cannot miss for travel. In Thailand also you can rely on this up-to-date system to find right bus that you would need to hop on. There are numerous buses and its stop inside Bangkok. If you click bus stop icon on the google map the system shows the bus numbers which are available from your spot. Once you click the available bus number, you can see the bus route for each line then check if the bus goes to your destination or not.
Ekkamai bus terminal is not far, another 15 mins by bus will take you there.
Operating hours to Pattaya on Jun 2021
In normal period, bus is frequent as it departs every 30 mins from morning to late at night. However, due to current Corona preventive regulation, bus is available from 7am to 8pm only every 2 hours around.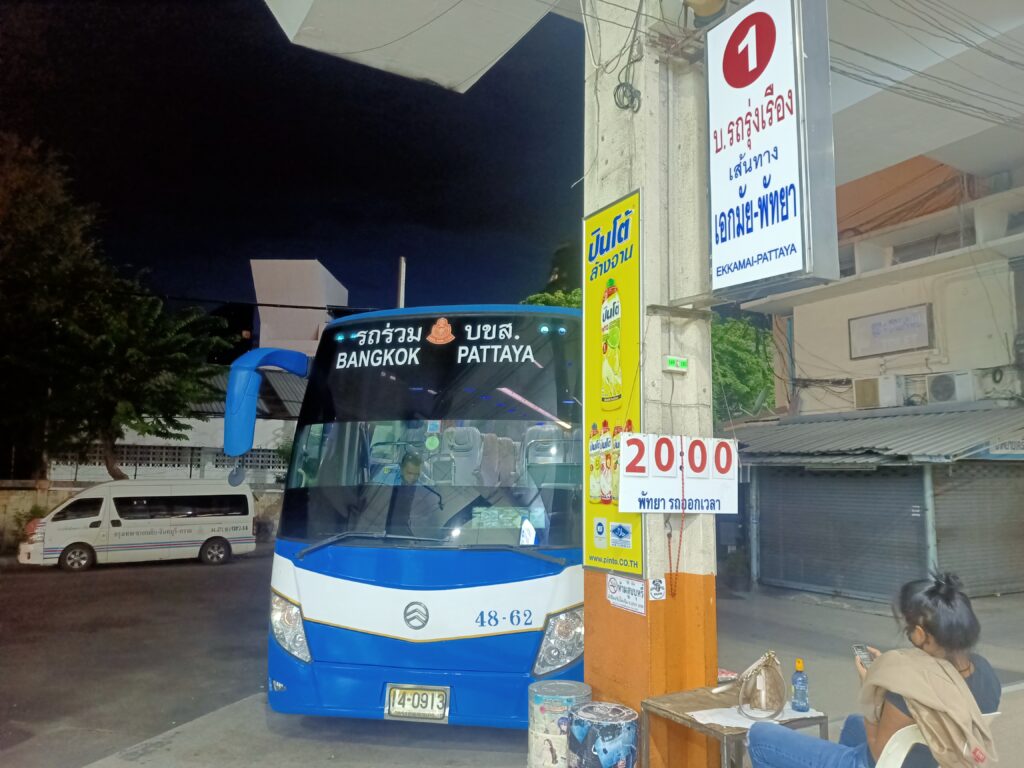 Be ready on board 15 mins before departure time. Bus seat is fixed so you can find your seat number on the back of each seat.
So I came to bus terminal at 7pm that day  I managed to get 8pm bus ticket.
Exactly after  2 hours ride, bus arrives at North Pattaya bus terminal. There are several motor bikes and Song teaw waiting inside bus terminal so you can negotiate how much to pay to your destination. There is motor bike stop also opposite side of bus terminal and in front of Macro supermarket so you can take it from here too. fare is fixed but please confirm before ride to avoid the trouble for payment. For example, Terminal 21 is 40 THB and Central festival Pattaya is 60 THB.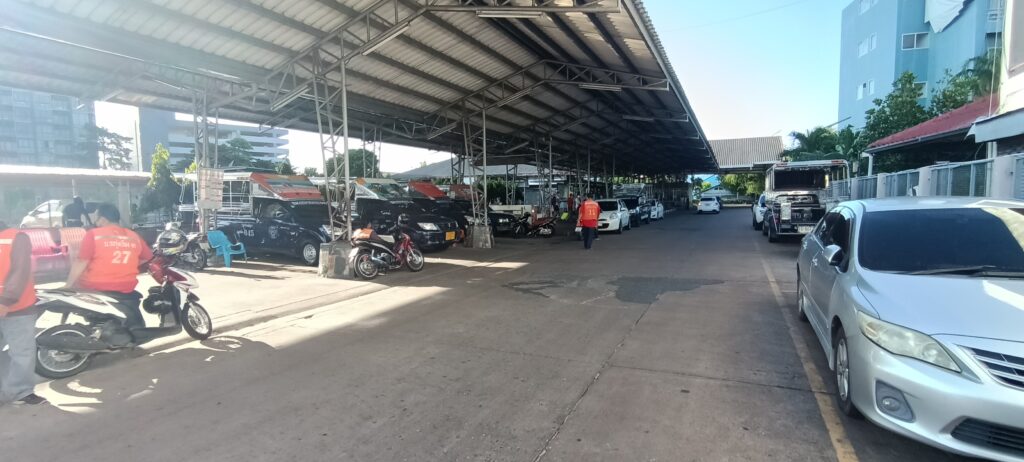 Normally I walk to Terminal 21 around 2.5 km then take Song teaw from Terminal 21 since Son teaw is very frequent for beach road and second rode loop. if you enjoy walking and want to save cost, please try walking to terminal 21 from North bus terminal. Song teaw is only 10 THB from Terminal 21 to beach road where most tourists stay.
Suvarnabhumi airport to Pattaya
Same as Ekkamai route, because of Covid spread situation, actually bus operation is closed. from July 1st, they will resume so I will post again when I try. this route is most convenient for me since I live near Suvarnabhumi airport.
Please be careful that bus stop from Suvarnabhumi is not North bus terminal. Bus still go to bus terminal near Jomtien beach as in the map below. There are several stop on the way of Sukhumvit for your convenience.
Schedule from July 1st 2021
From Suvarnabhumi airport to Pattaya 10:00, 13:00, 17:00
From Pattaya to Suvarnabhumi airport 9:00, 12:00, 16:00
From Suvarnabhumi airport to Hua Hin 12:30
From Hua Hin to Suvarnabhumi airport 13:00
↓Bus destination from Suvarnabhumi airport
Update as of July 4th!!
Bus operation is not yet resumed die to worsen Covid situation.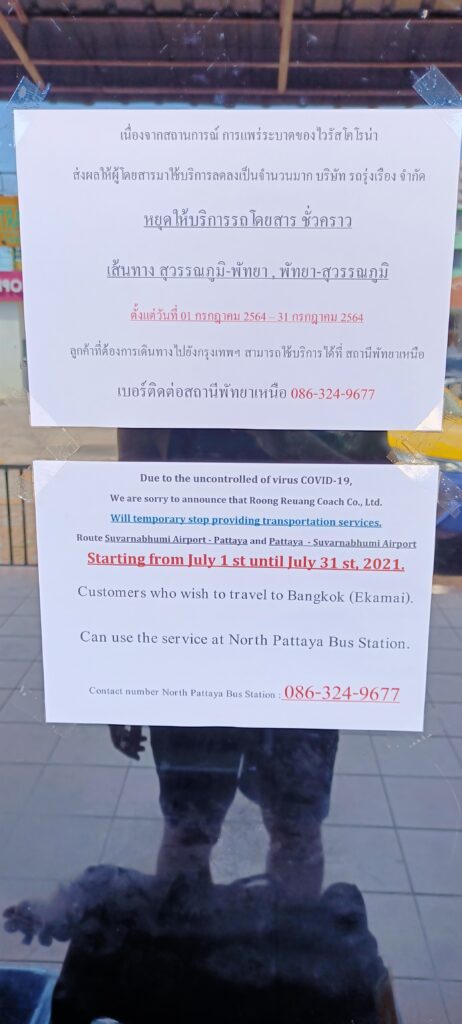 Pattaya North bus terminal to Ekkamai
Bus operation from Pattaya is now also every 2 hours only as many people prefer not to travel even inside Thailand. To go back to North bus terminal, you better find Song teaw or motor bike. Before hop on, please always confirm the price so as to avoid the trouble later. For in my case, of course I walk to North bus terminal. It is good cardio exercise for me around 30 mins.
Bus hours is from 5:00 to 20:00, every 2 hours around. Ticket is 119THB. This time I took bus at 18:00. Bus departed 5 mins before planned time so be ready on board at east 15 mins at waiting area.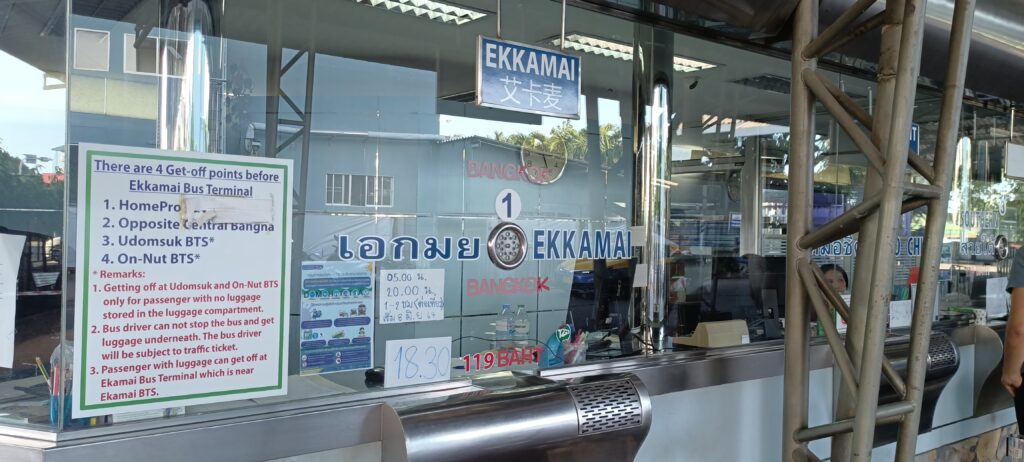 Bus stop from Pattaya
HomePro at Market village Suvarnabhumi (below map)
Central bangna
BTS Udomsuk
BTS Onnut
Ekkamai bus terminal