Hello, welcome back to "fitravelife.com". Same as last week, I made weekend trip to Khon Kaen province by train 8 hours from Bangkok. This time, unlike last week, I had many trouble so I will share to you my experience.
You can read my last trip story to Khon Kaen province below.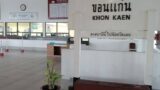 Escape from Lockdown in Bangkok, travel to Khon Kaen province
Hello, welcome back to my blog. Last week, I managed to travel to Chiang Mai province for gym workout avoid lockdown in ...
Preparation for Khon Kaen trip
Due to Covid restriction as of August 2021, There is several nuisance you need to handle for train trip.
For example, train trip is available only once a day for below schedule. This is the reason of the trouble happened to me this time…. I will mention later.
Bangkok (Hua Lamphong) to Khon Kaen 8:20 am to 15:30 pm
Khon Kaen to Bangkok (Hua Lamphong) 9:32 am to 17:10 pm
And you need to prepare the documents and registration as below.
Passport
Vaccination record (if not vaccinated, 14 days quarantine is compulsory) 1 jab for AstraZeneca or 2 jabs of Sinovac more than 28 days before the trip.
QR code registration for in-and-out from dark red zone province https://covid-19.in.th/en/
QR code registration for entering Khon Kaen province http://www.kkpho.go.th/i2021/index.php/2020-03-16-17-19-12/contact/kkpho2021-color/119-2020-05-12-03-27-01/8830-2020-12-30-23-30-59
Train ride to Khon Kaen
On my travel day, I decided to take train from Bang Sue station not Hua Lamphong station. I woke up late so I just realized that I cannot be on time for departure time 8:20 am from Hua Lamphong station.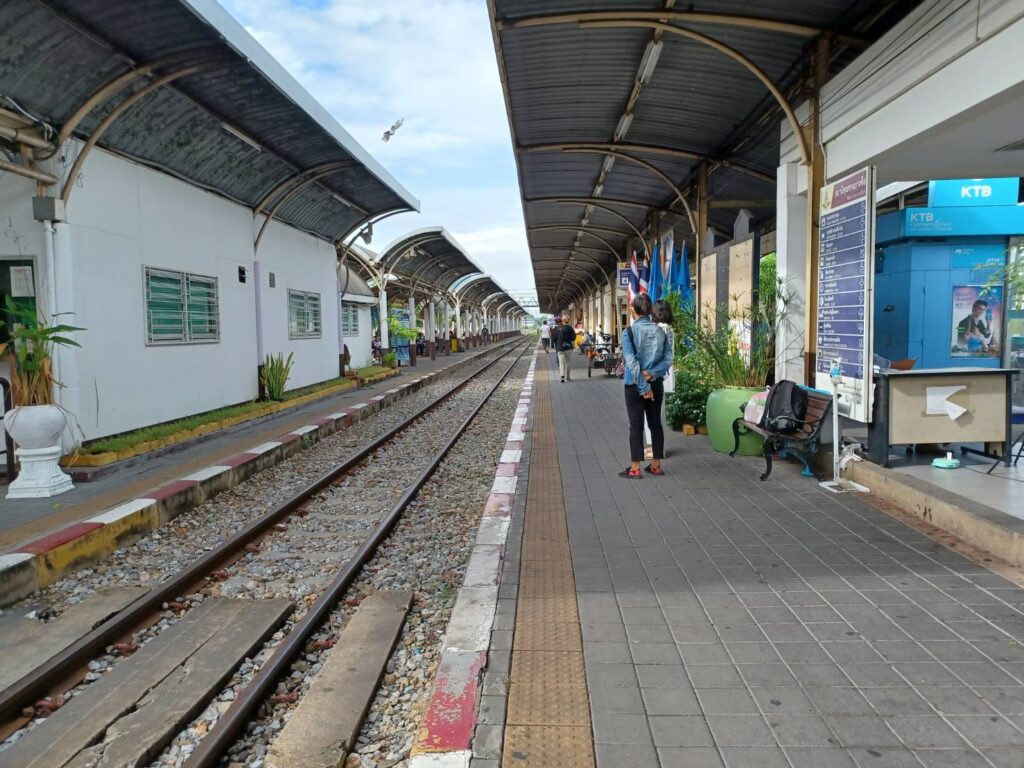 Ticket counter on the between train platform. This time I was required to show passport only no need for vaccination record to show.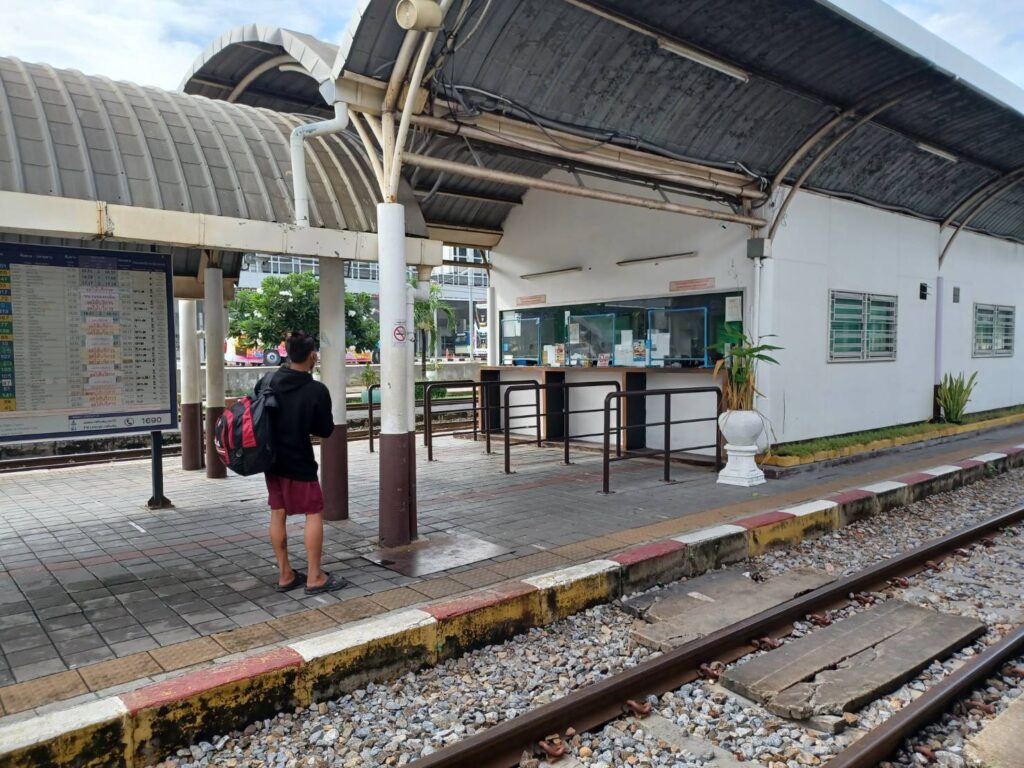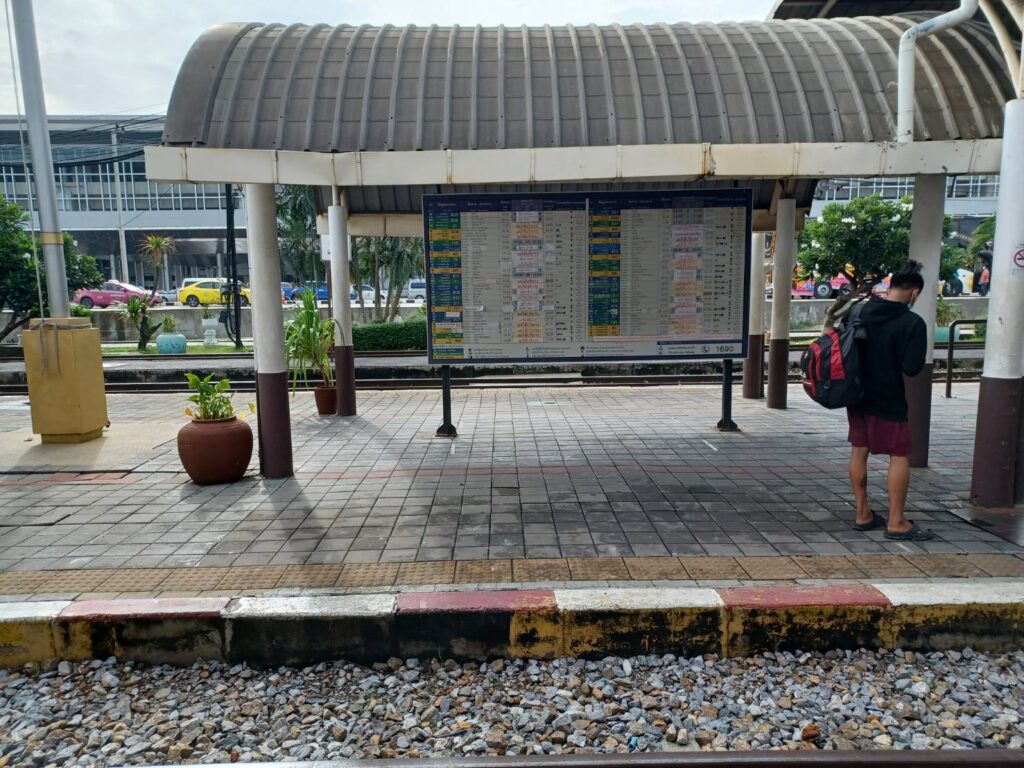 Buy food as you want before long trip. I bought rice to eat with my homemade chicken inside the train car.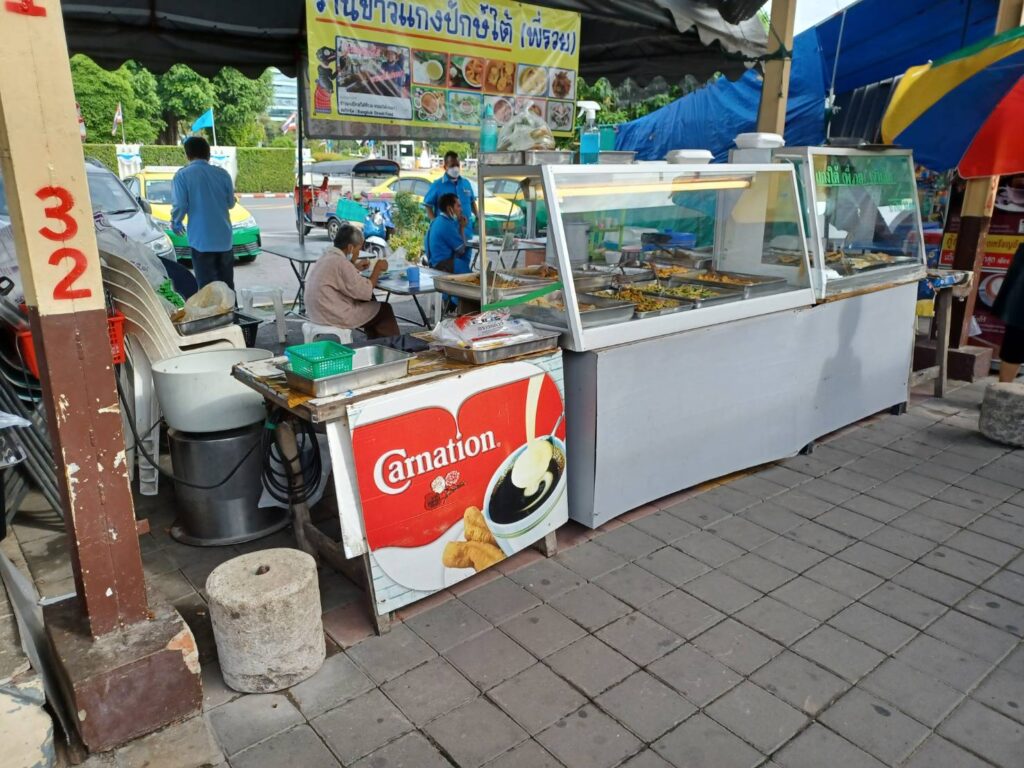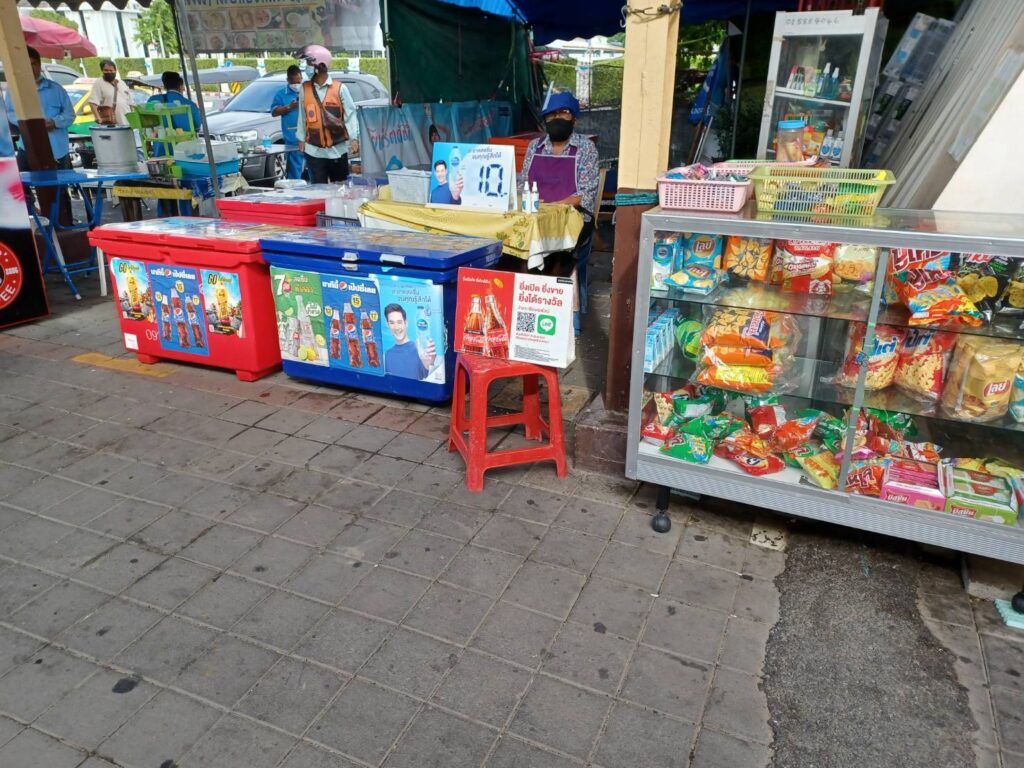 This is train station entrance but actually anybody can enter the station not through the entrance.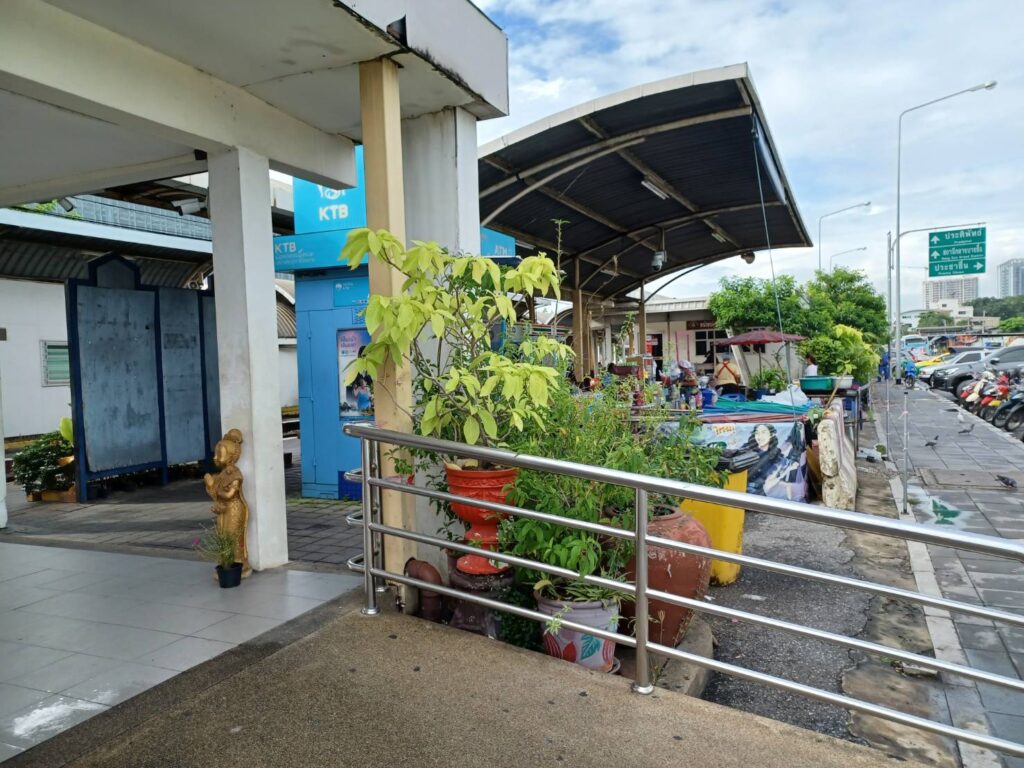 Train to Khon Kaen will stop at platform No.2 actually.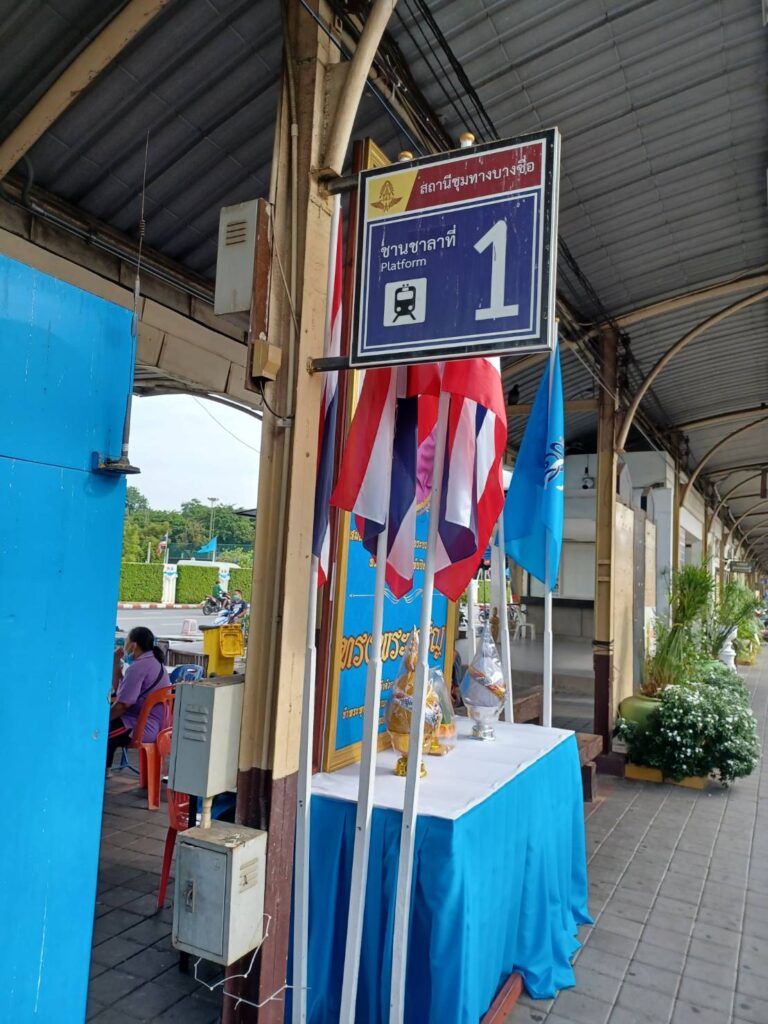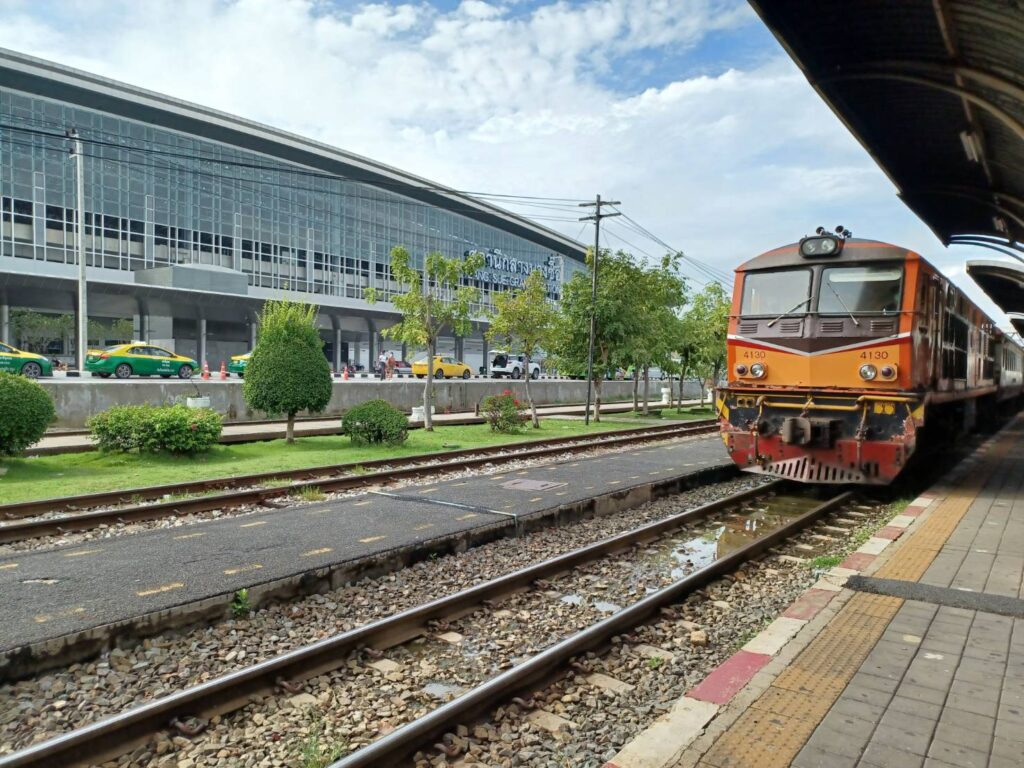 Train comes on the schedules time 8:40 am. Check the train destination on the side of cars. Final destination for Khon Kaen train is for Nong Khai, border city of Laos capital city, Vientiane.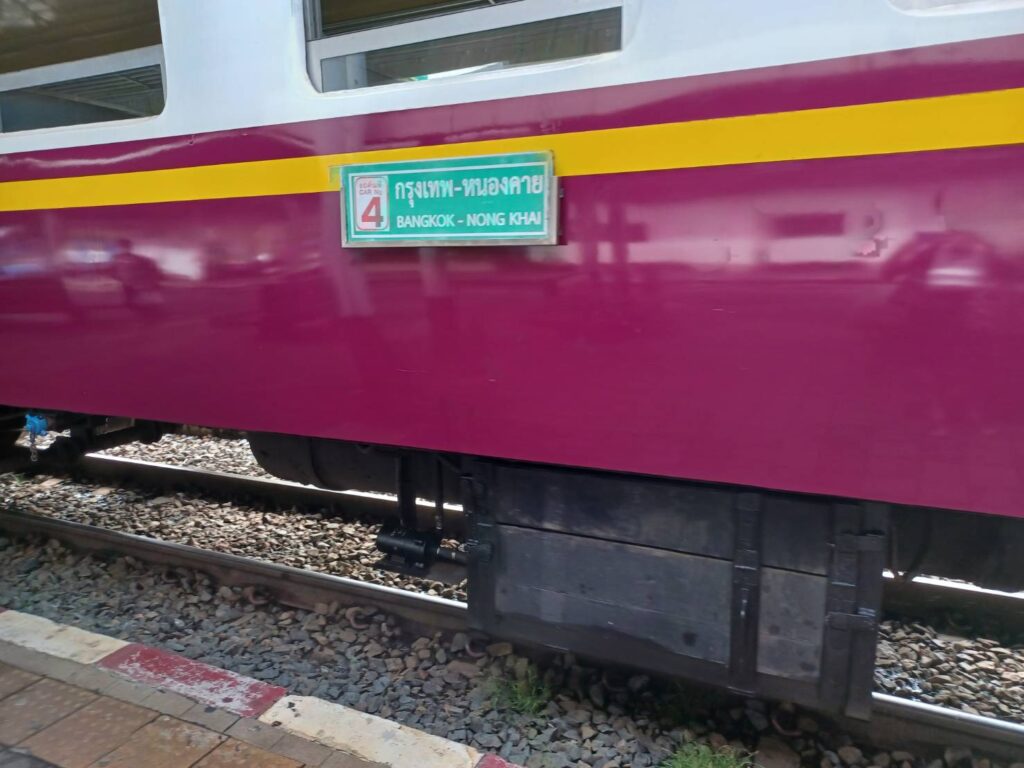 Around 25% occupancy rate this time also so I could use 2 seats to be seated relaxed.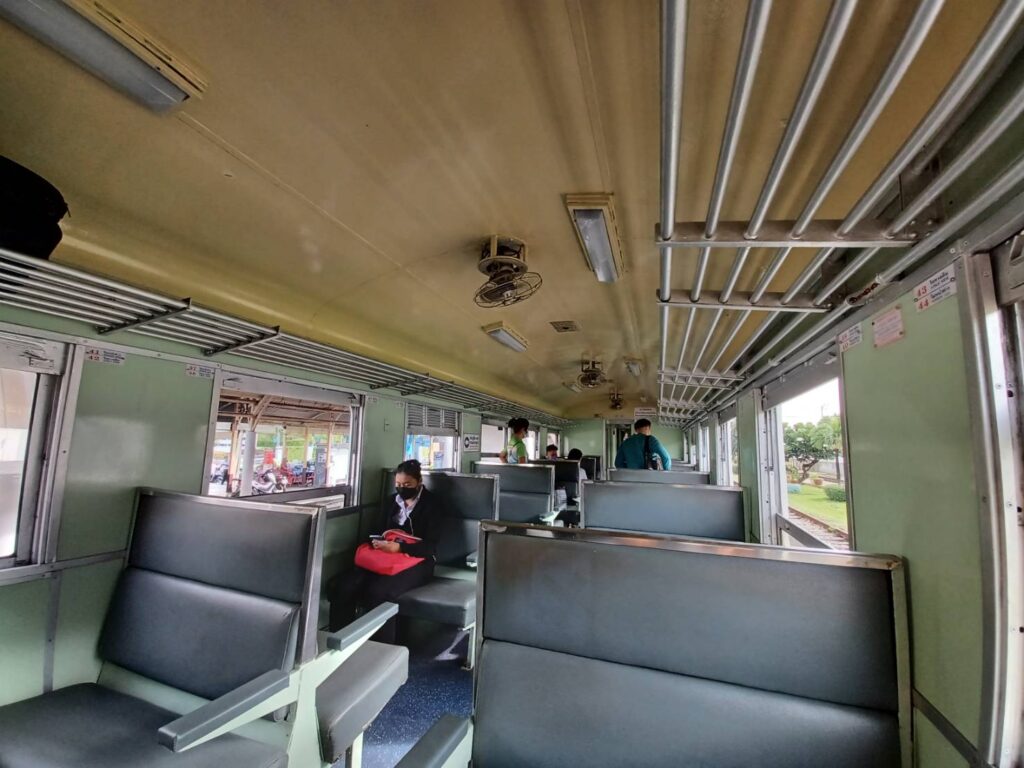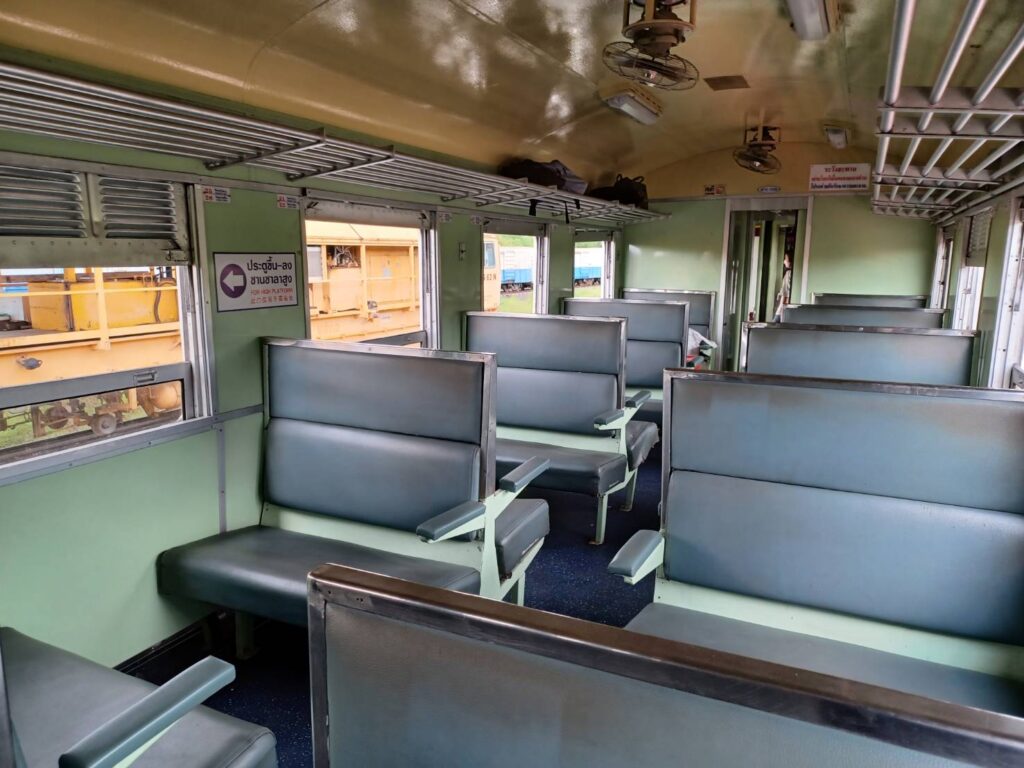 Ticket to Khon Kaen province is 227 THB for non-aircon car.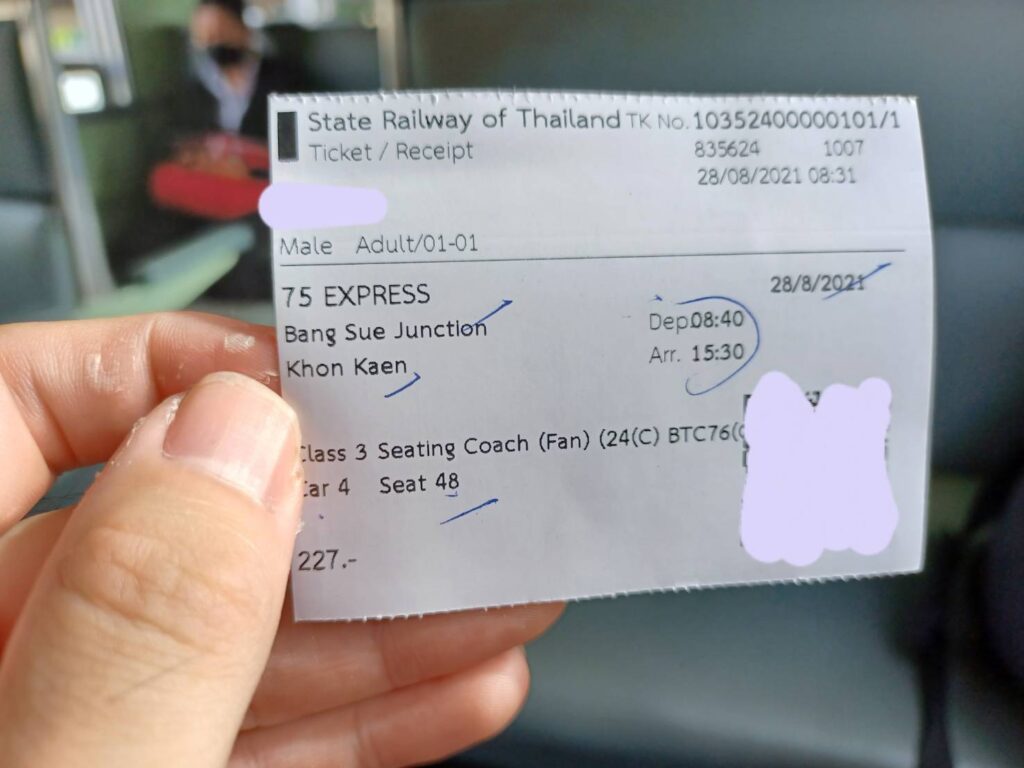 Once train departed form Bang Sue station, conductor will come to check your ticket so be ready for it.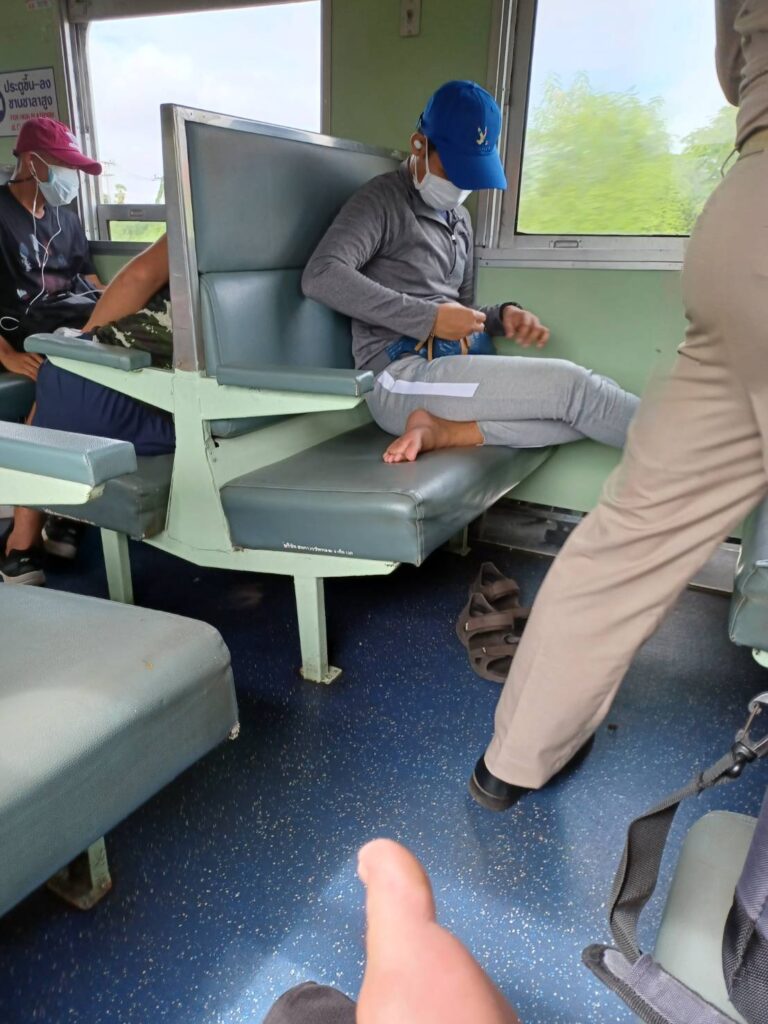 Train was going with slight delay to the destination. However, several minutes passed after leaving Lam Narai station, Lopburi province, train stopped and started going back slowly to where we have been to Lam Naria station. All passengers are surprised, thinking what is happening at all to the train. I am also confused of this, I never experienced that the train goes back on the track. Train stopped at Lam Narai station again then most passengers got off from the car since it got hotter and hotter inside the car.
Everyone getting off from the car to wait at the station.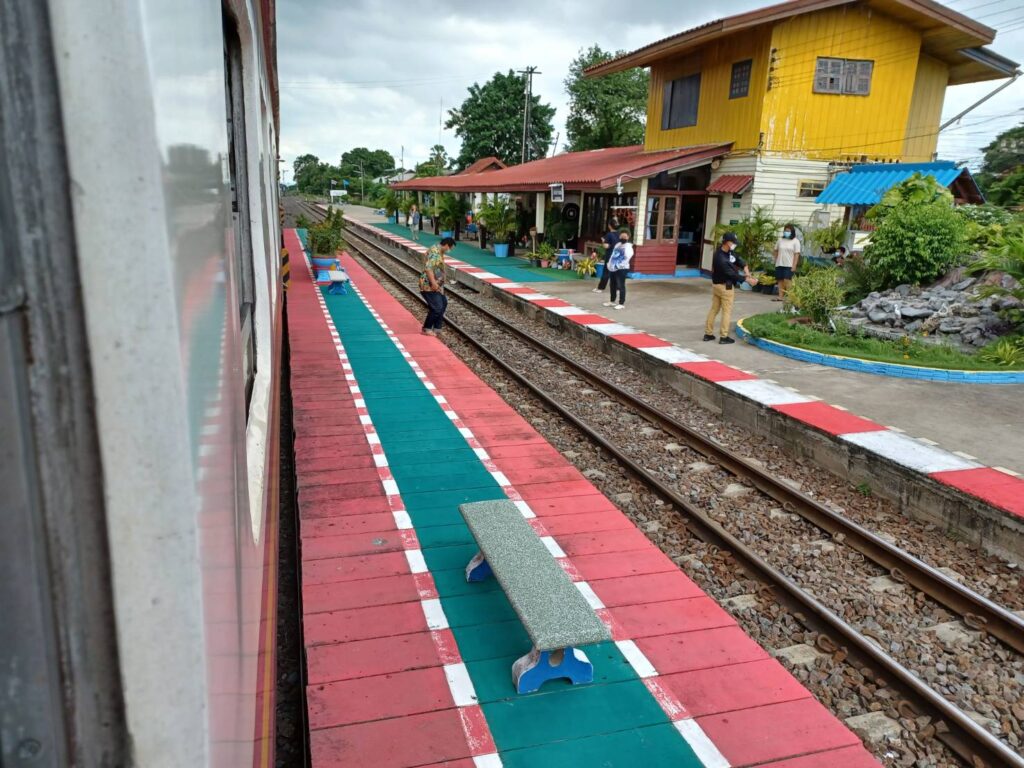 Lam Narai station.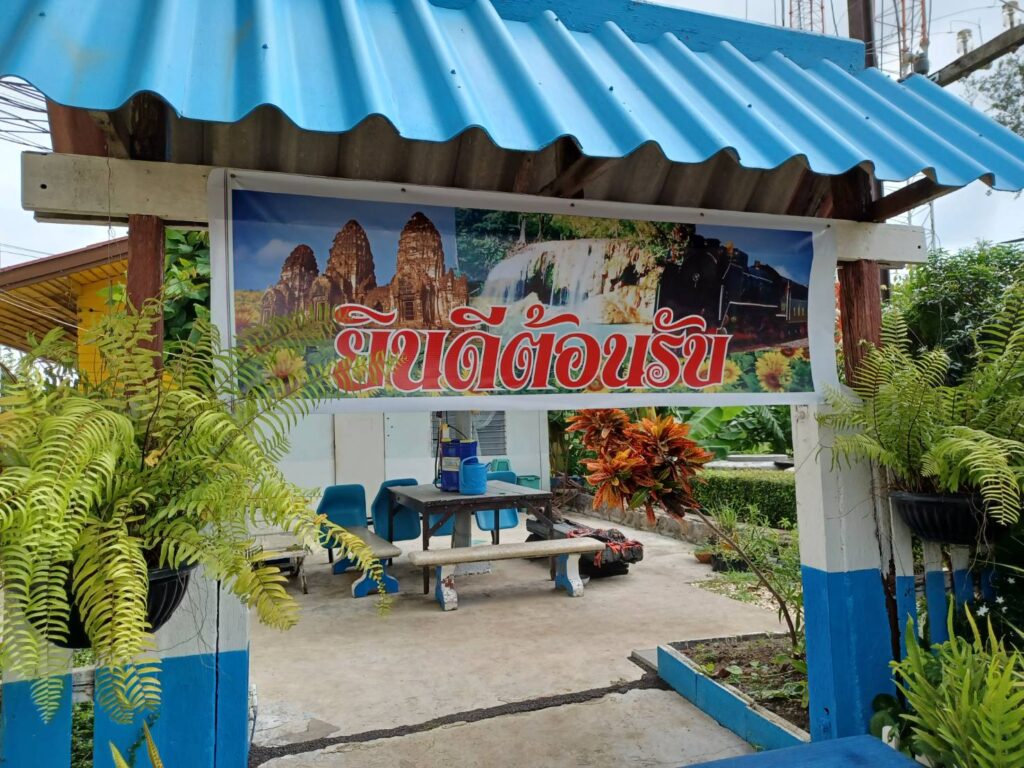 Me too! I left the train then walked around the station. I talked with the station staff then they said Train needs to be investigated for malfunction for 30 minutes. Unfortunately there was nothing to see around this rural station, I had to wait with other passengers under the roof of station.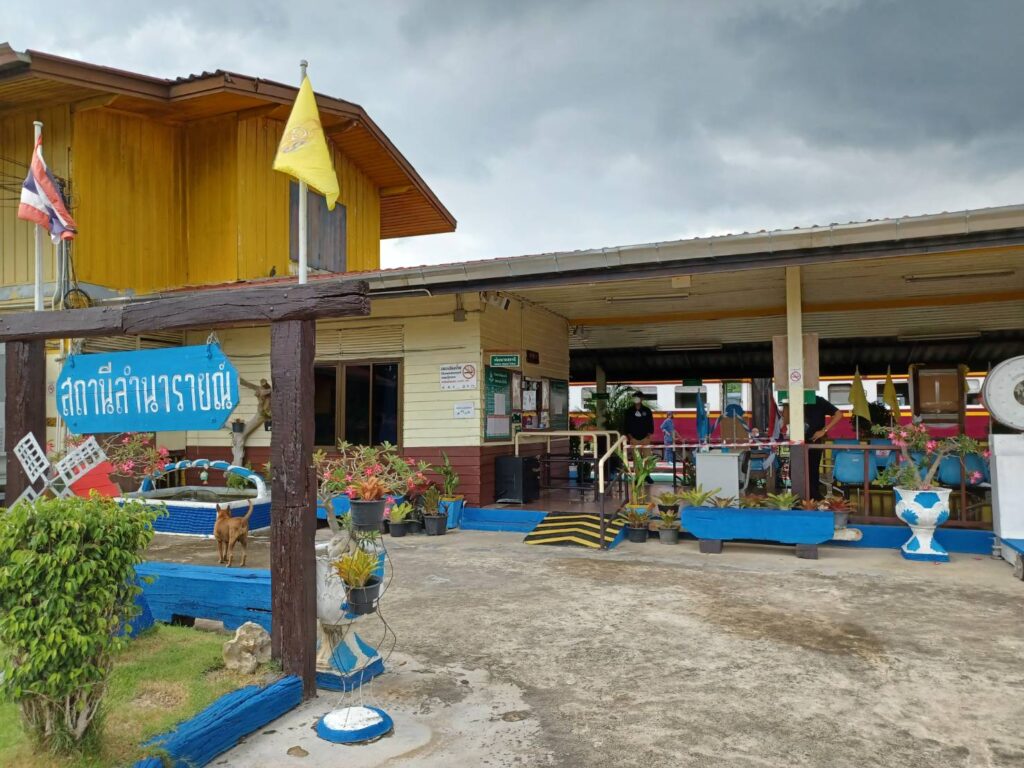 In front of Lam Narai station. Rain comes as usual during rainy season.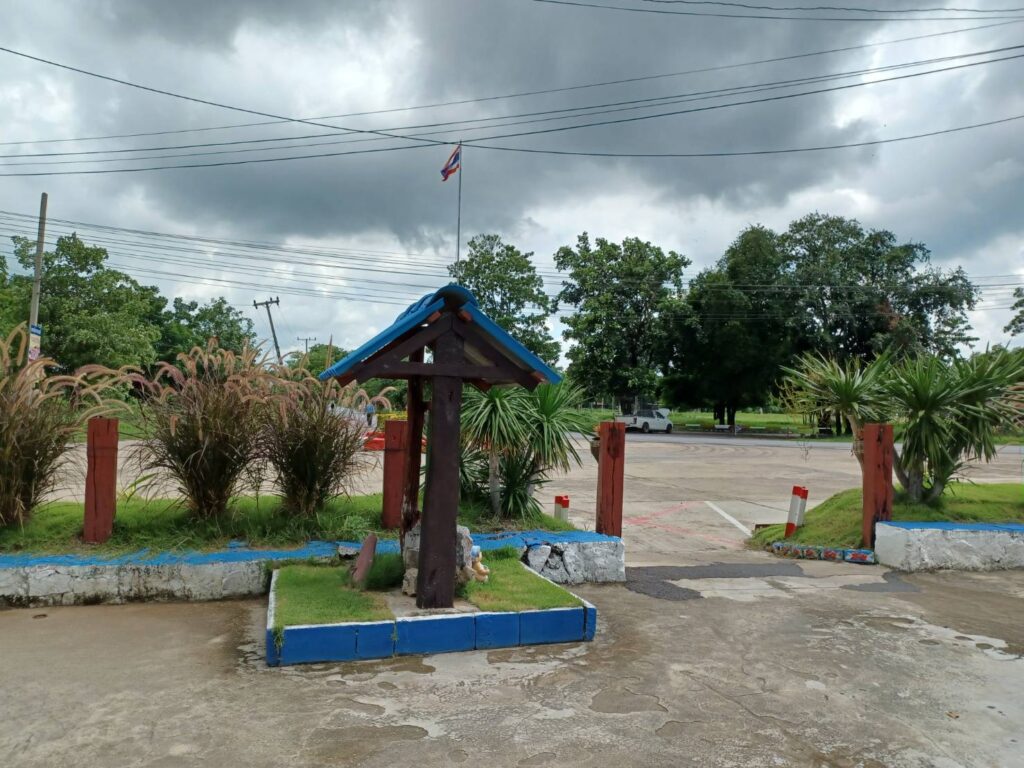 I followed people going back inside train, it looks problem is already solved and ready to restart. We waited at the station for 2 hours and 10 minutes in total. I was never ever expected such delay due to technical problem. Due to this delay, my time in the gym at Khon Kaen will also be reduced for 2 hours! Ay nak.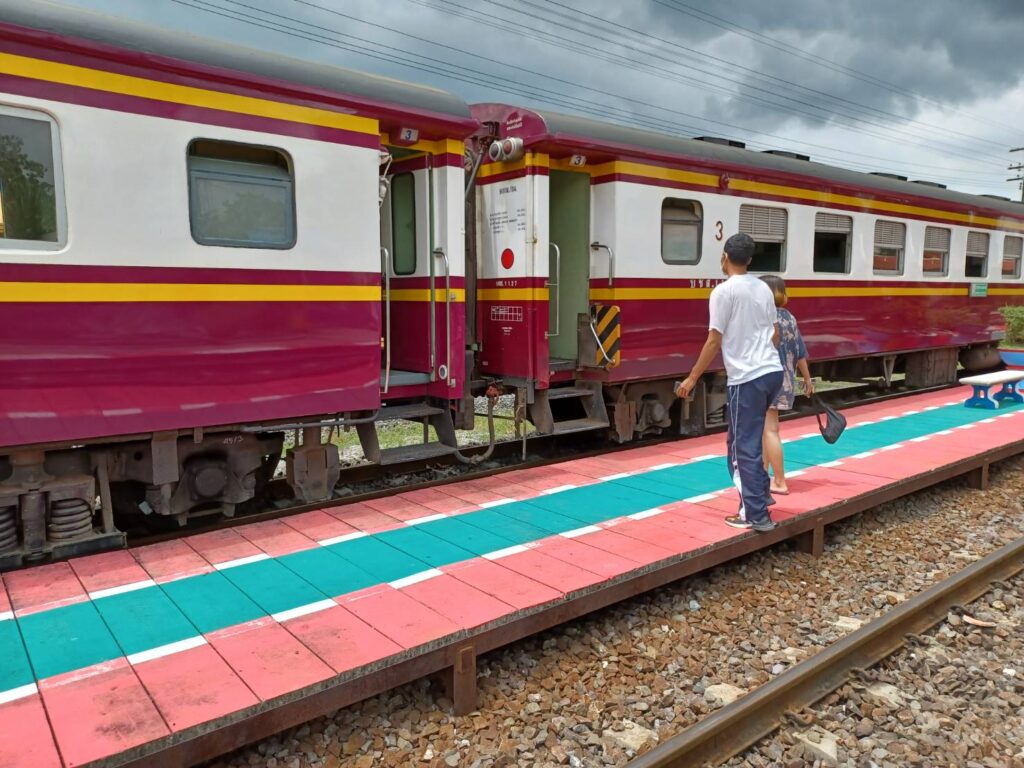 Stopped at Lam Narai station.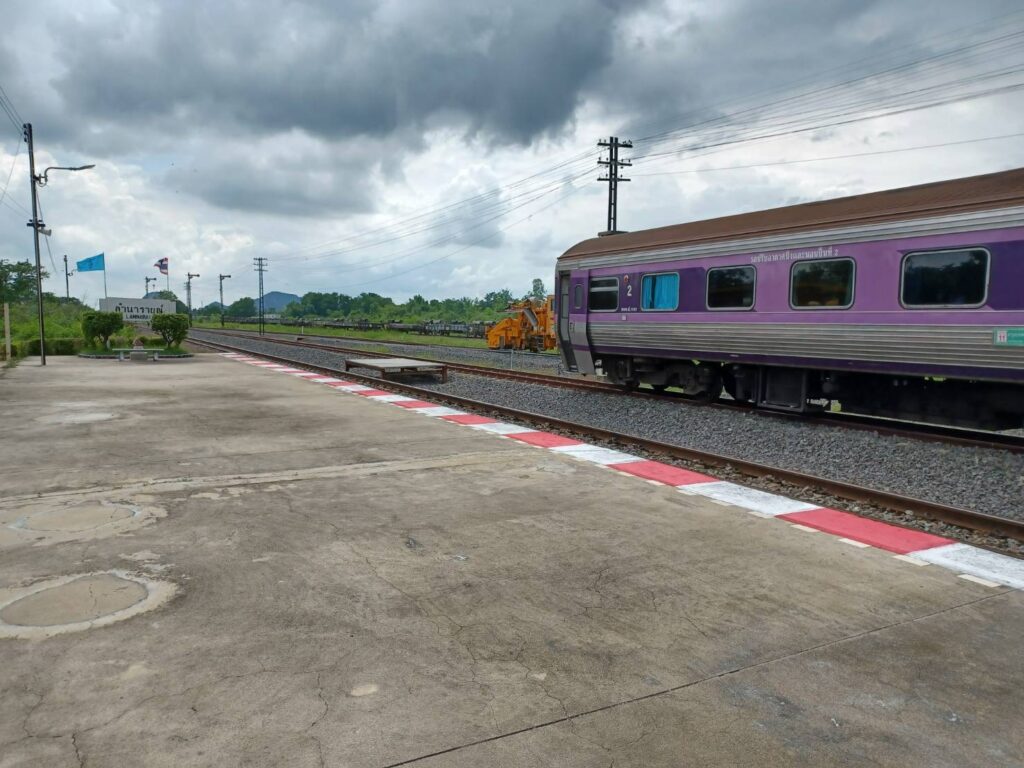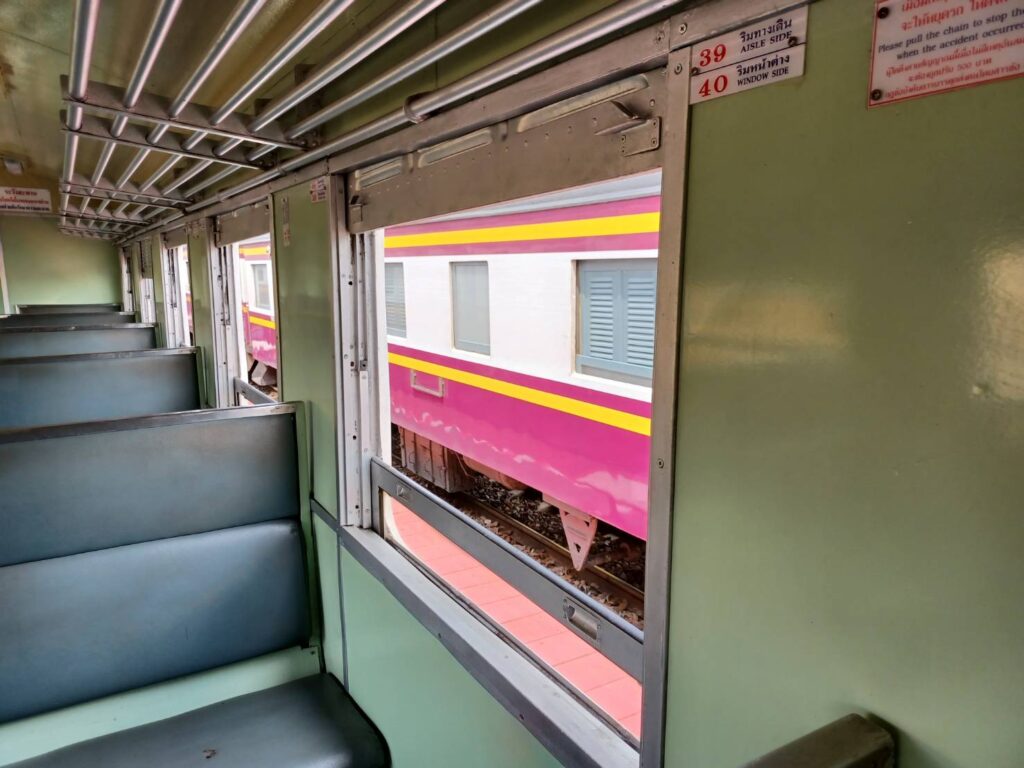 Once train delayed, there will be no recovering. Just delayed delayed lol.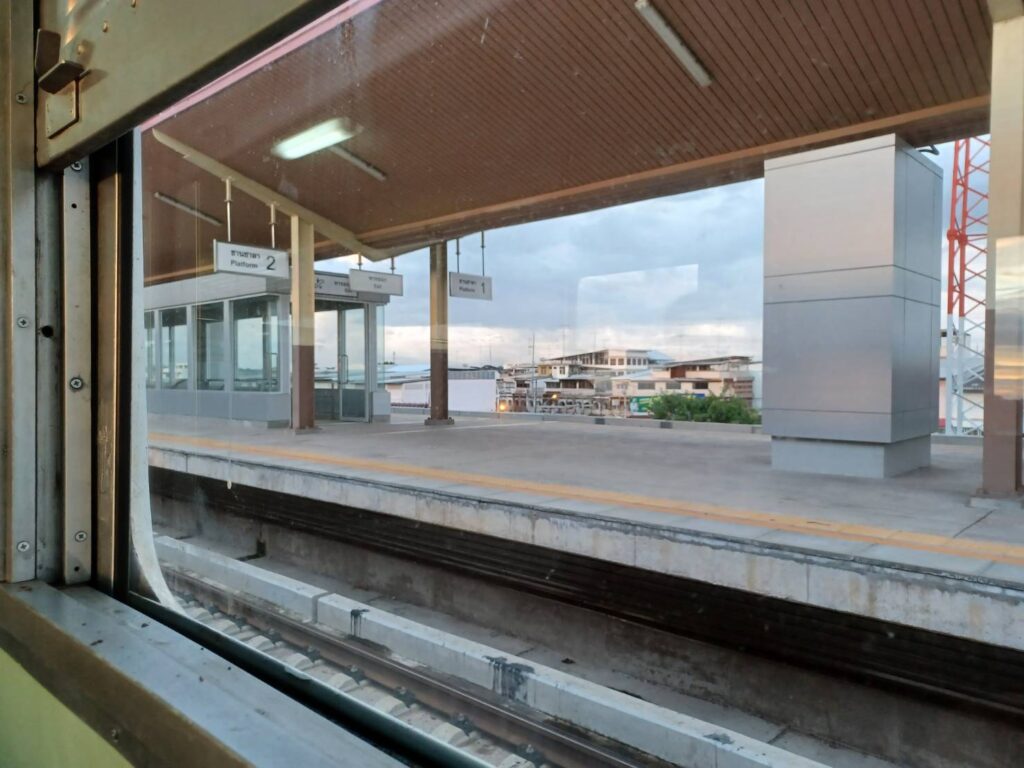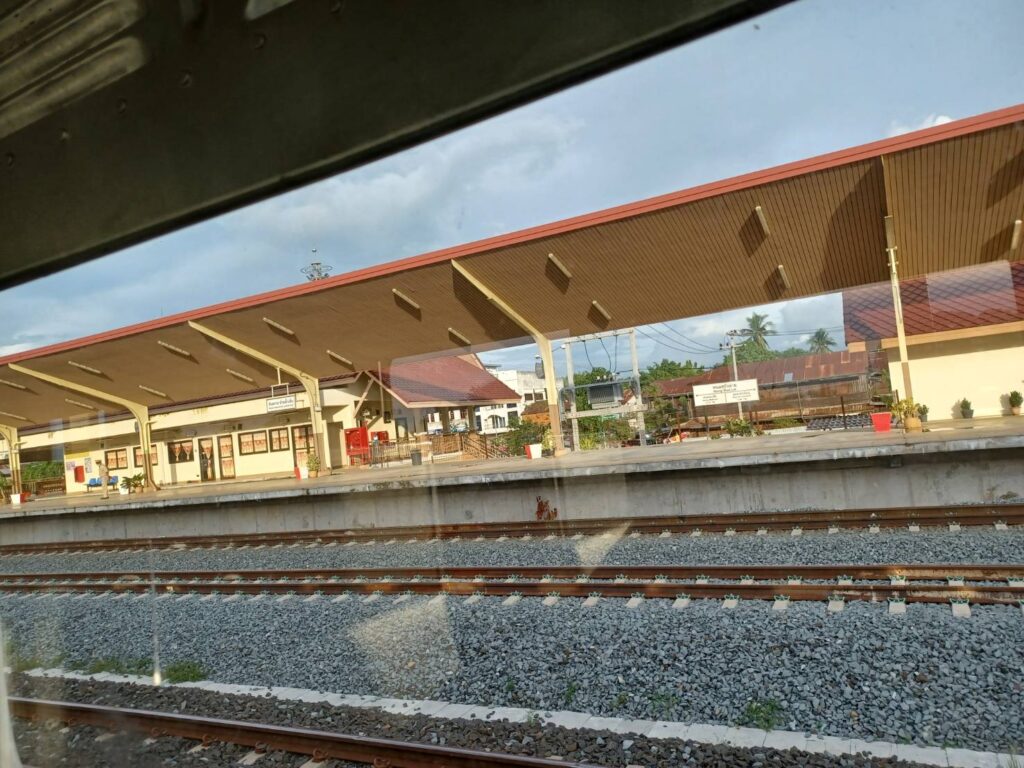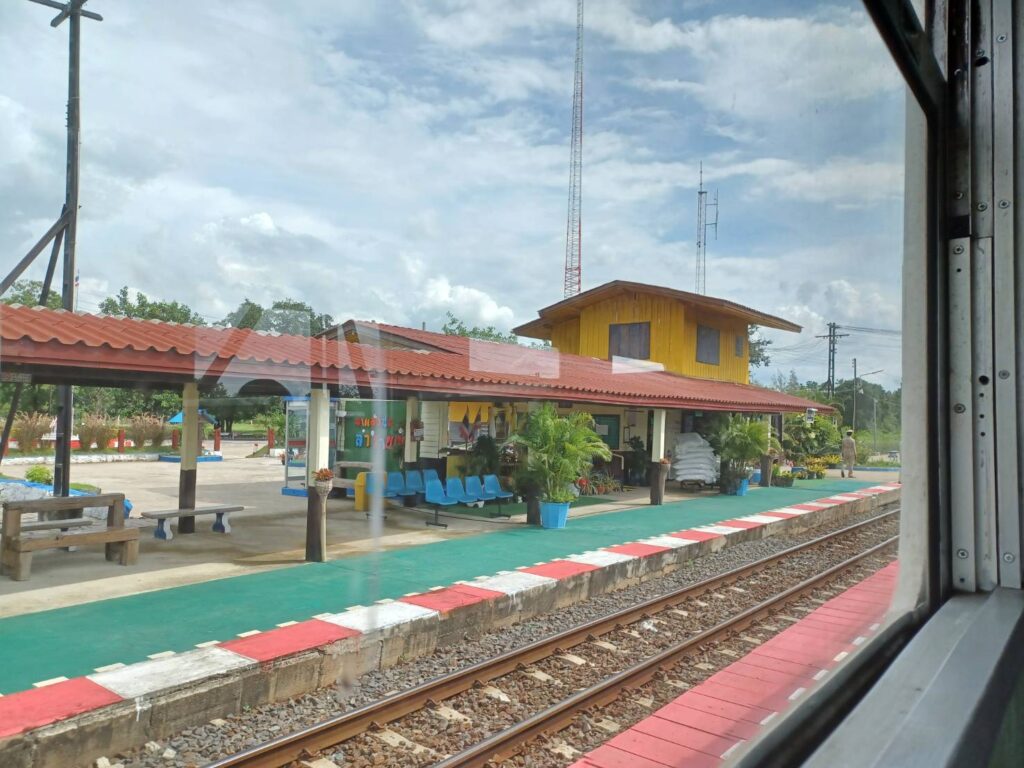 It go already dark when we arrived at Khon Kaen station at 6:50pm. Excluding stopping time at lam Narai station. 1 hour and 10 minutes was delayed in somewhere, total 3 hour 20 minutes delayed from scheduled time 3:30 pm…. This was really sad for me, I cannot have enough time to do gym workout for the day due to this heavy late arrival.
This time, I had no choice but to use train since only train travel is available to come to province at Covid travel restriction. I would like to let all readers that the train normally delays and heavily delayed sometimes like this so please avoid in case you do want to utilize your time at most.
That was also unlucky for the staff to wait for the train to arrive at the station with huge delay.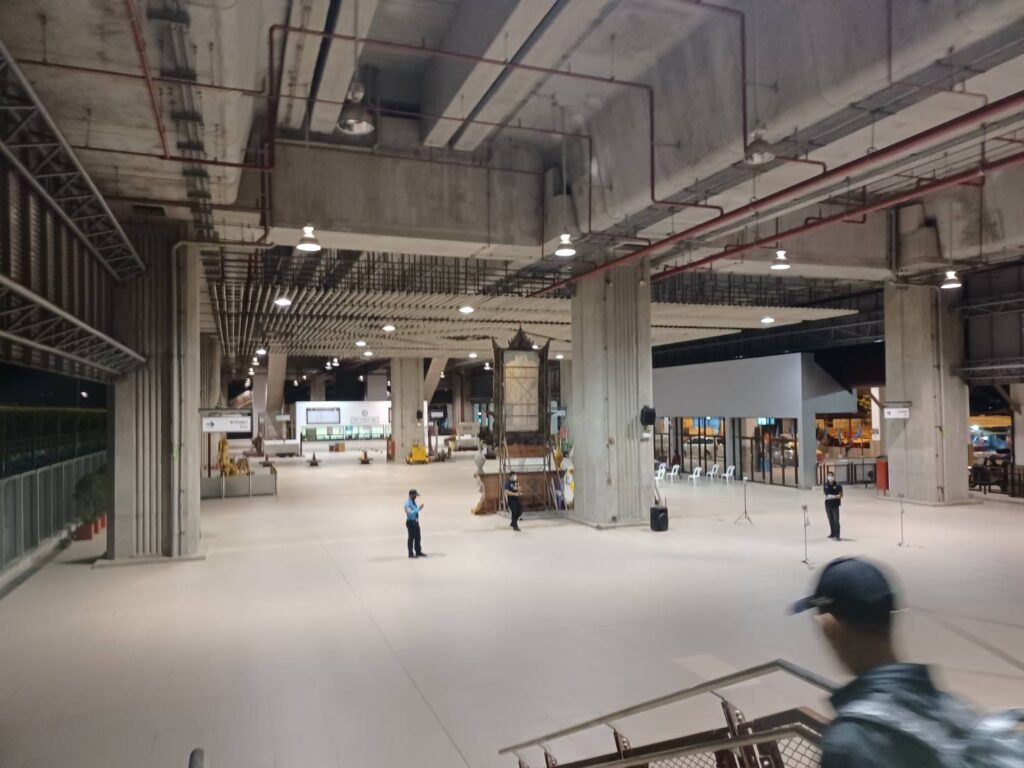 Documents to fill in to enter Khon Kaen province. Good this time it has English translation for foreigners.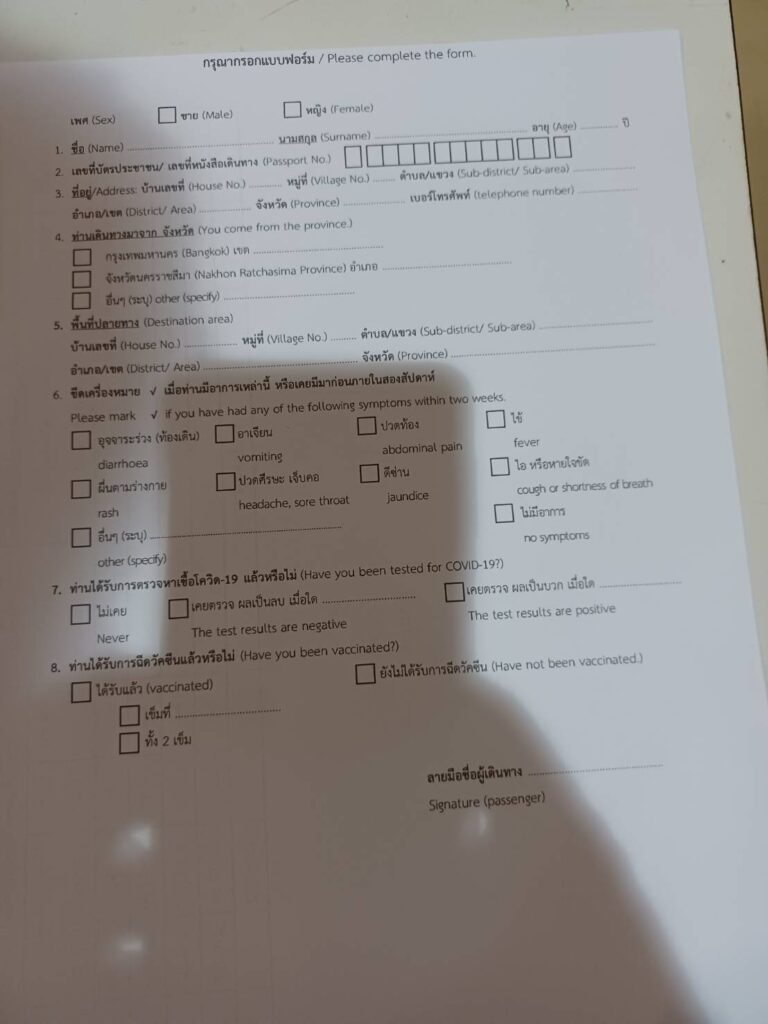 Back side is not relevant for tourists. lol.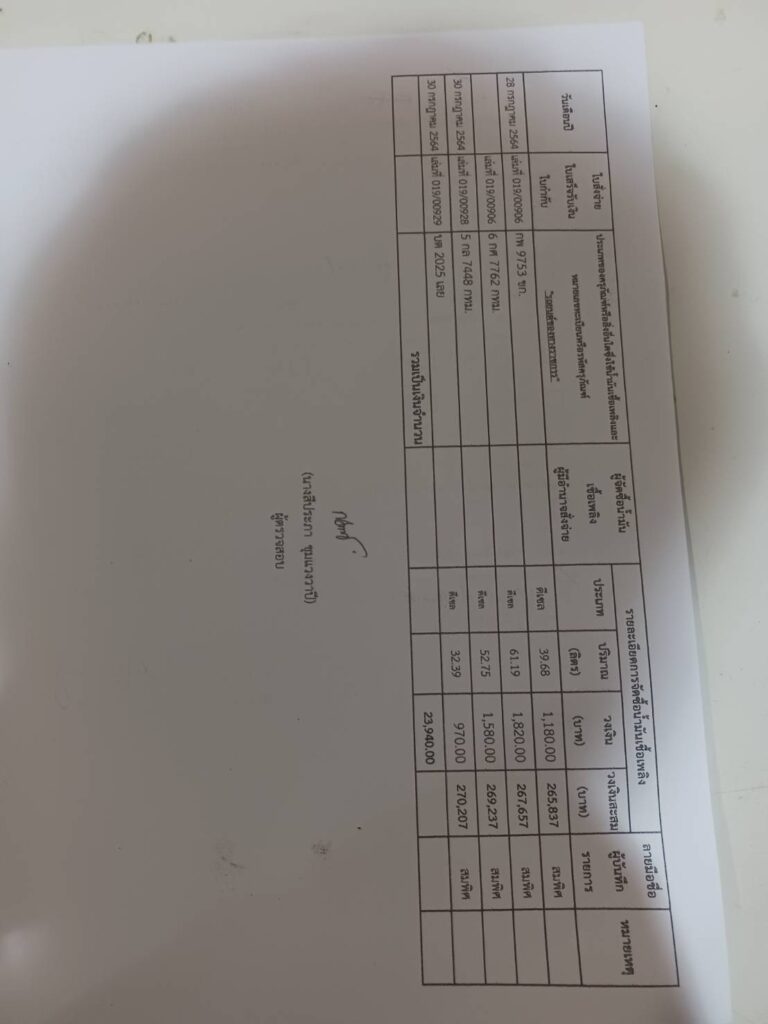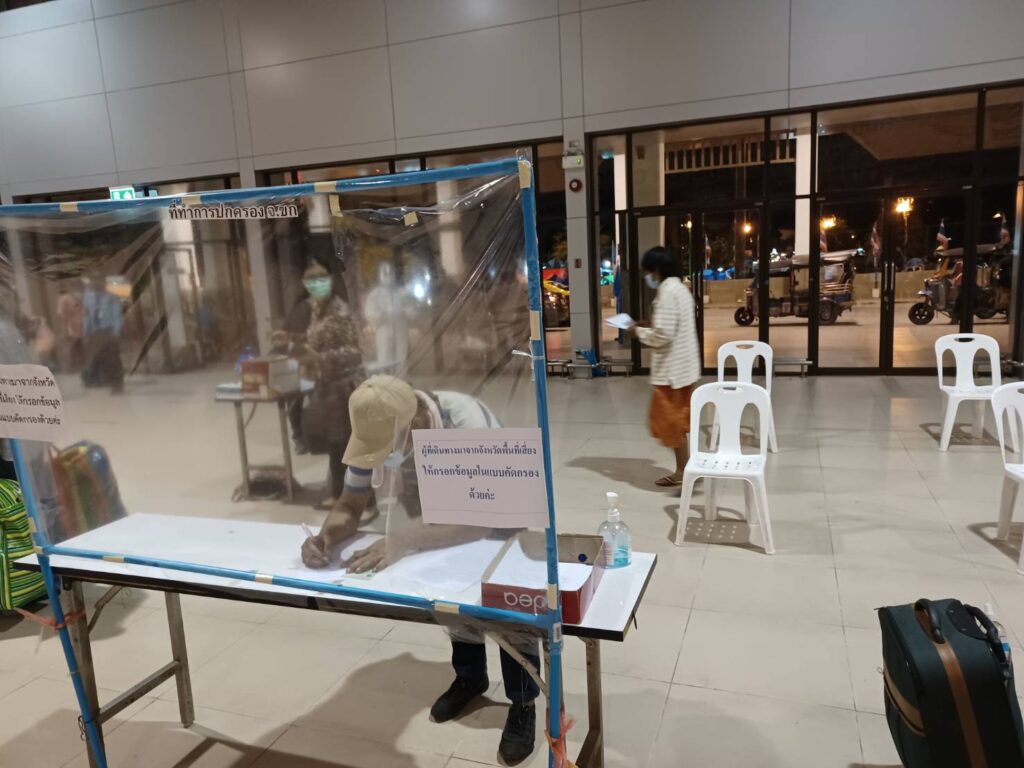 It was already 7 pm when leaving station. I walked as fast as I can to my stay then when to gym also. This time I had only 1 hour and 30 minutes in gym but I concentrated for whole body work out, mainly bench press, deadlift and squat.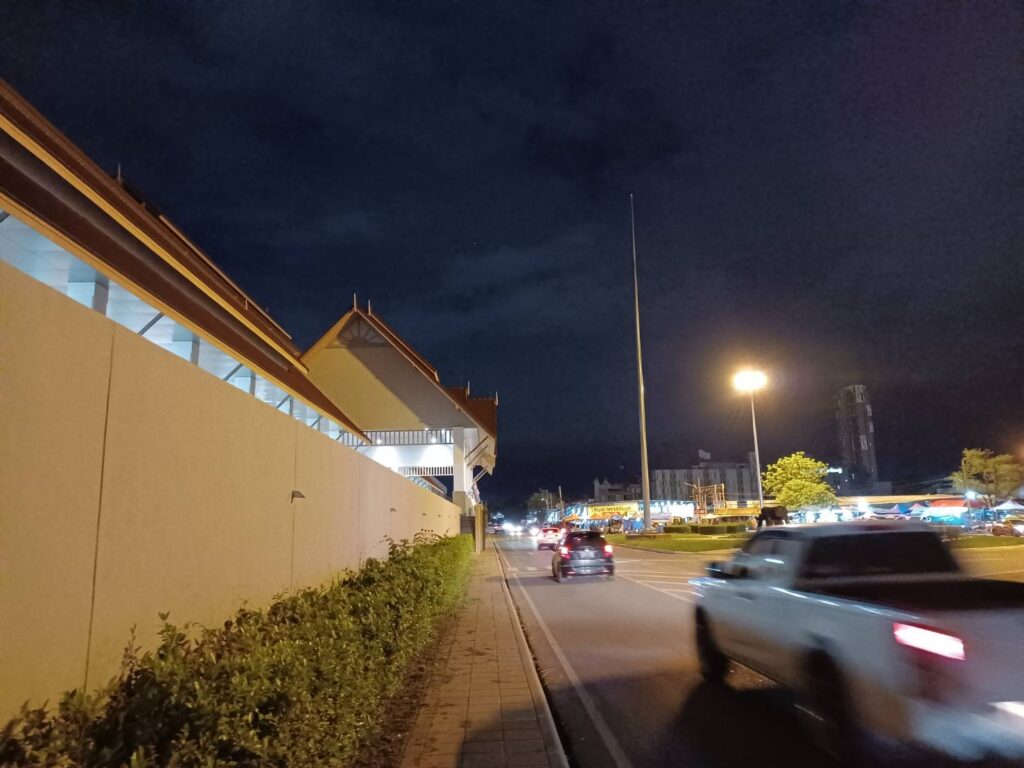 Walking close to the gym, surviving fully wired overpass.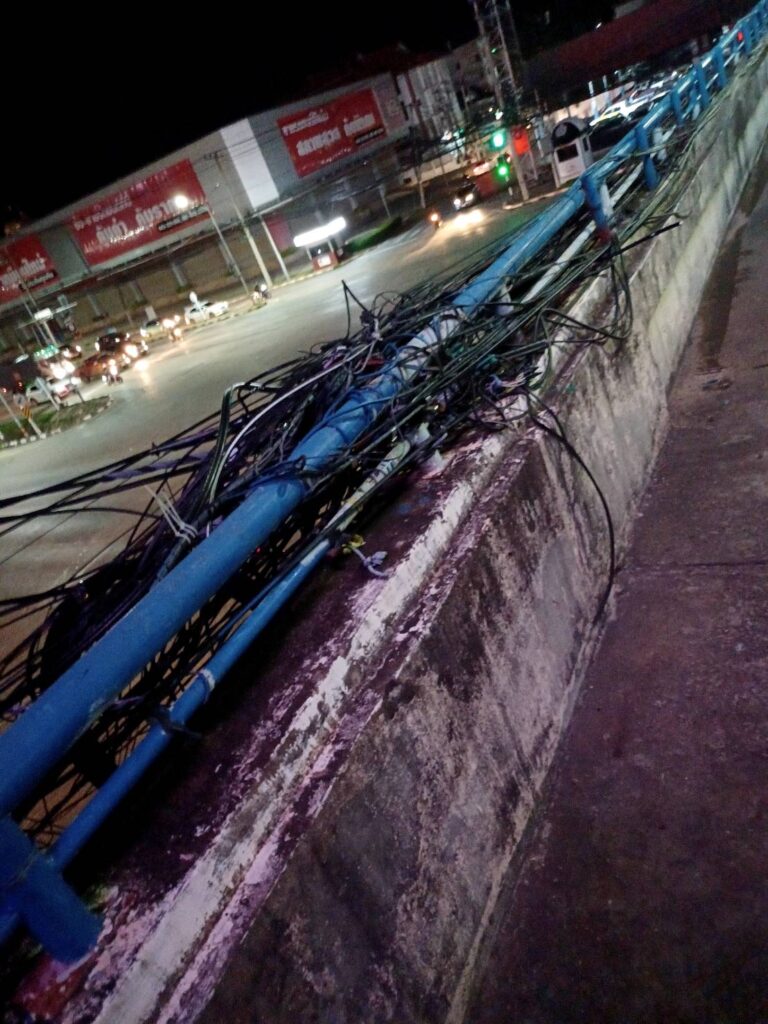 Yes! Finally reached the gym. It took more than 12 hours since I left my room in Bangkok.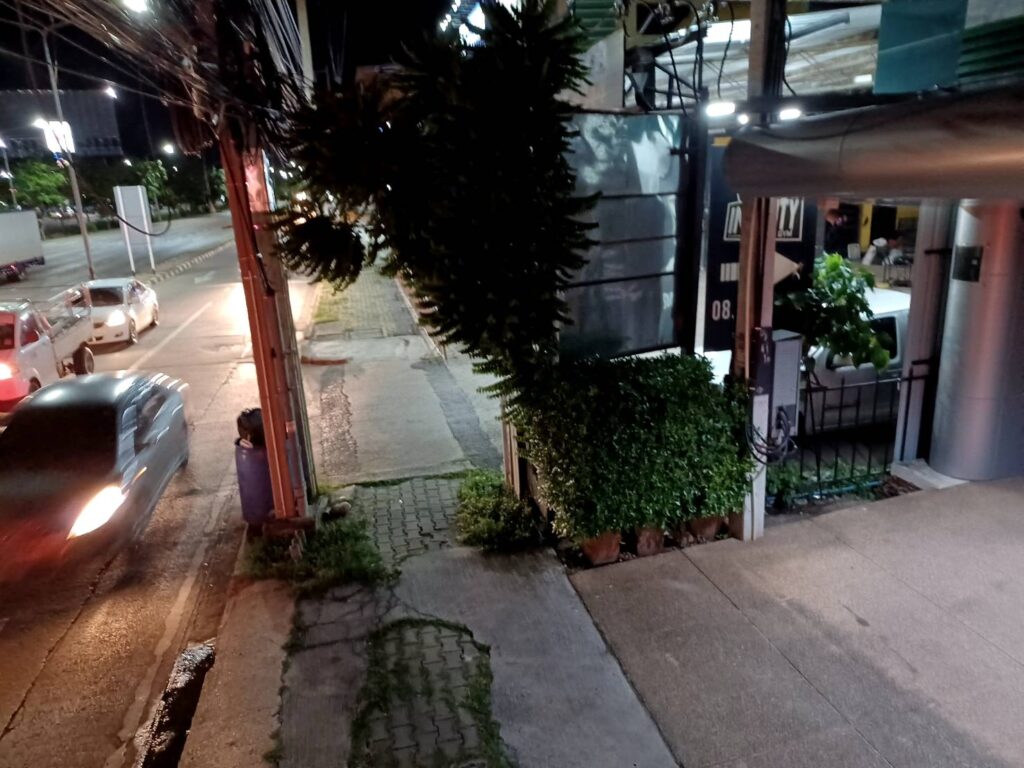 you can read my review in Khon Kaen.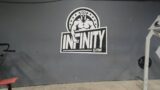 "Infinity gym" fully equipped warehouse gym in Khon Kaen
Weekends of August, I came to Khon Kane province to do workout. Before going on a trip, I googled then found nice gym wi...
Going back to Bangkok but the ticket is fully booked!
Following the day, I had to go back to Bangkok then report to office in 2 days. At my returning day, I woke up early so I decided to walk around the city while then go to train station 30 minutes before departure time. Well, this decision was completely mistake and I will see the nightmare later…
I came to the train station at 9:10, 20 minutes before the departure time. There are already many people waiting to go up to the platform. One person was in the line for ticket counter a the time, so I waited in next. My turn comes, I told that I wanted to buy ticket today but staff told me that it is already full. I asked ok any class aircon or non aircon. but the result is same. I even offered to them that I do not need seat, I will remain stand up during whole trip so give me the ticket but they said they cannot because they limit the number of passengers in the car to compliant to Covid restriction to reduce passenger 50%. I was completely at loss that I cannot buy a ticket, there is only one train available per day. No bus, no airplane is operated. Other passenger told me that I buy the ticket for tomorrow but that is no way! I had to go today!.
But well there is no more train tickets for the day so I had to find other way to manage my predicament. I thought there might be someone that they can change the trip date then give up the seat to me so I asked some person if they can sell ticket to me. Well, it does not work.
I asked taxi outside how much to go to Bangkok, the driver said to me 4,000 THB considering the distance. Well, it is not worth to take taxi for more than 400km.
I tried to calm down then clear my mind first so that I can consider the current tough situation well and find a way. I sat on the available chair in the station, one of vacant seats after all passengers to Bangkok were gone to platform.
I had breakfast there, the one meal with sunny side up, rice and spicy chicken from Seven eleven.
I had to accept that I cannot go back today. There is no means at all. It is ok since I can manage my work by online only. So I decided to stay more in Khon Kaen. Good thing is I can go to gym more and dine in the restaurant which I cannot in Bangkok as of August 2021.
After deciding my plan, I left the station with my stuff to find the stay.
Going back to Bangkok really!
A couple of days later, I came back to the station with ticket. Passengers are allowed to climb to platform only when train is approaching near. This day also train was already delayed 30 minutes.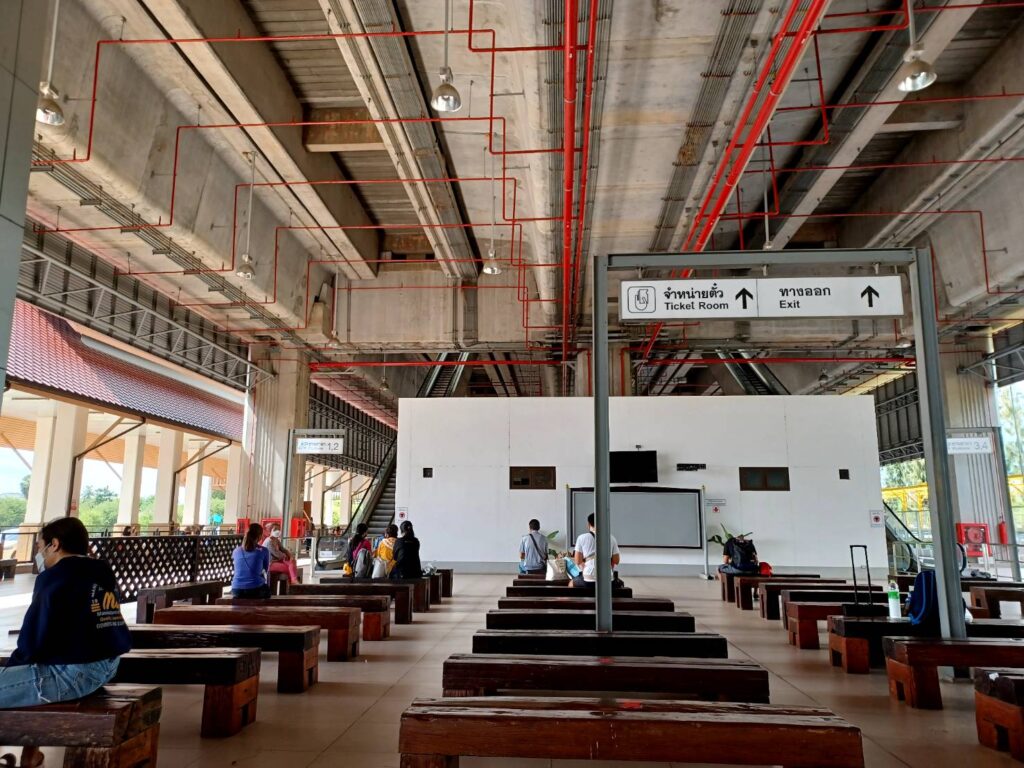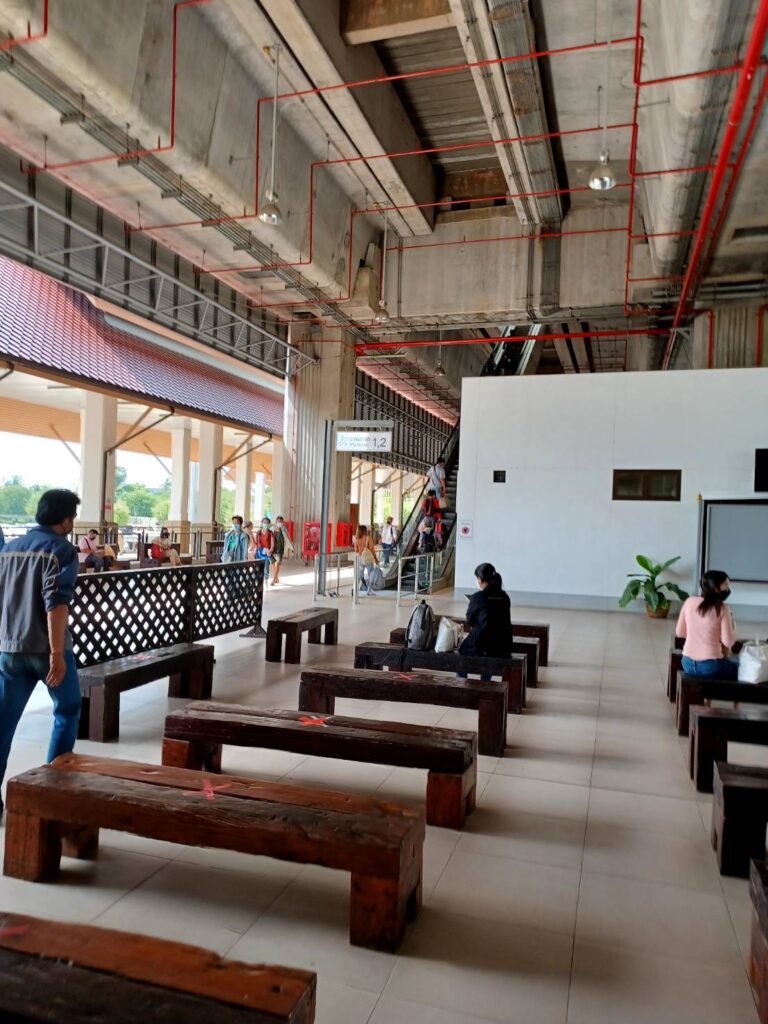 Train ticket is for Don Muang 224 THB for 3rd class non aircon. 3 THB cheaper than Hua Lamphong destination.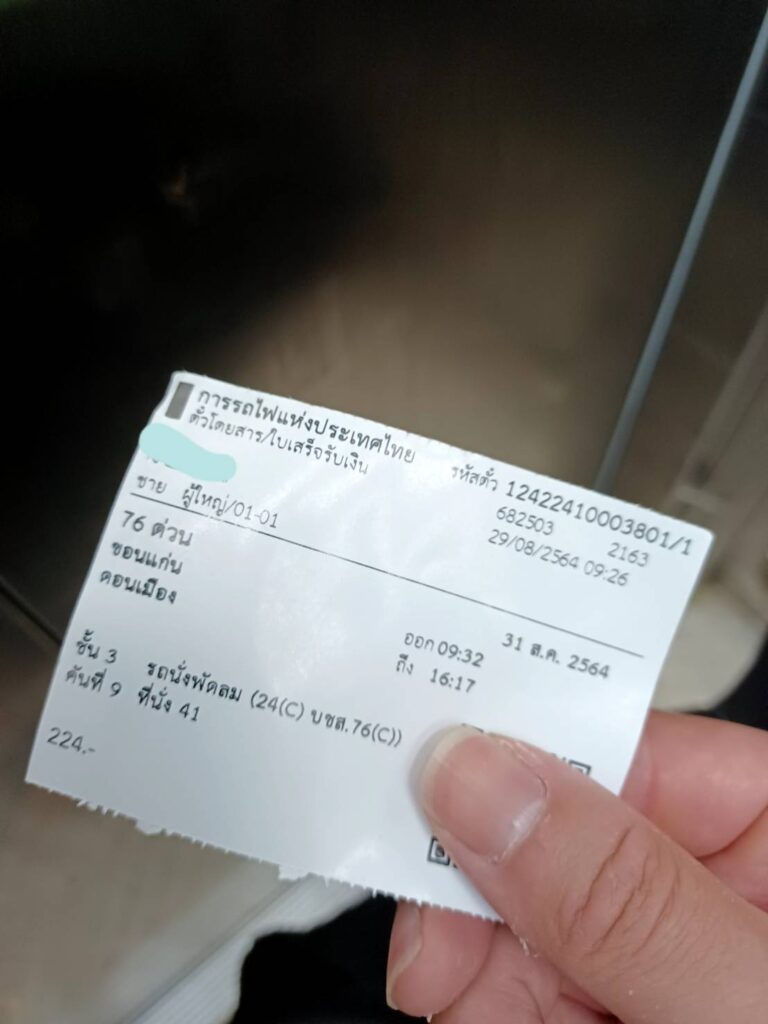 Platform at Khon Kaen station. Nice sunny day.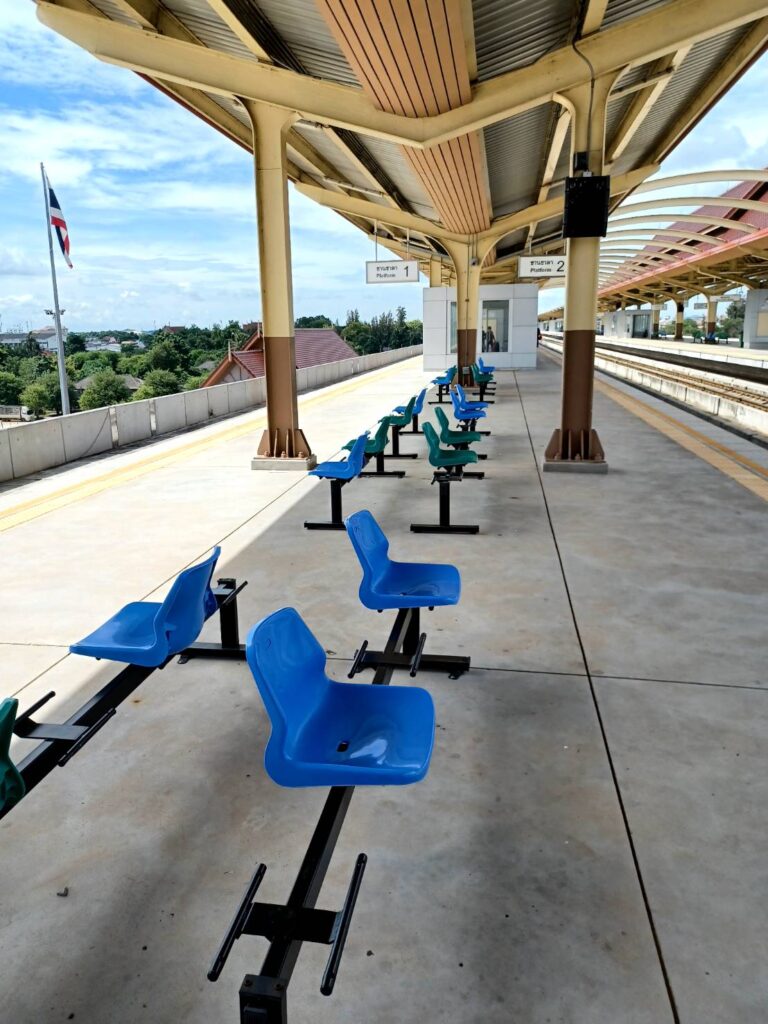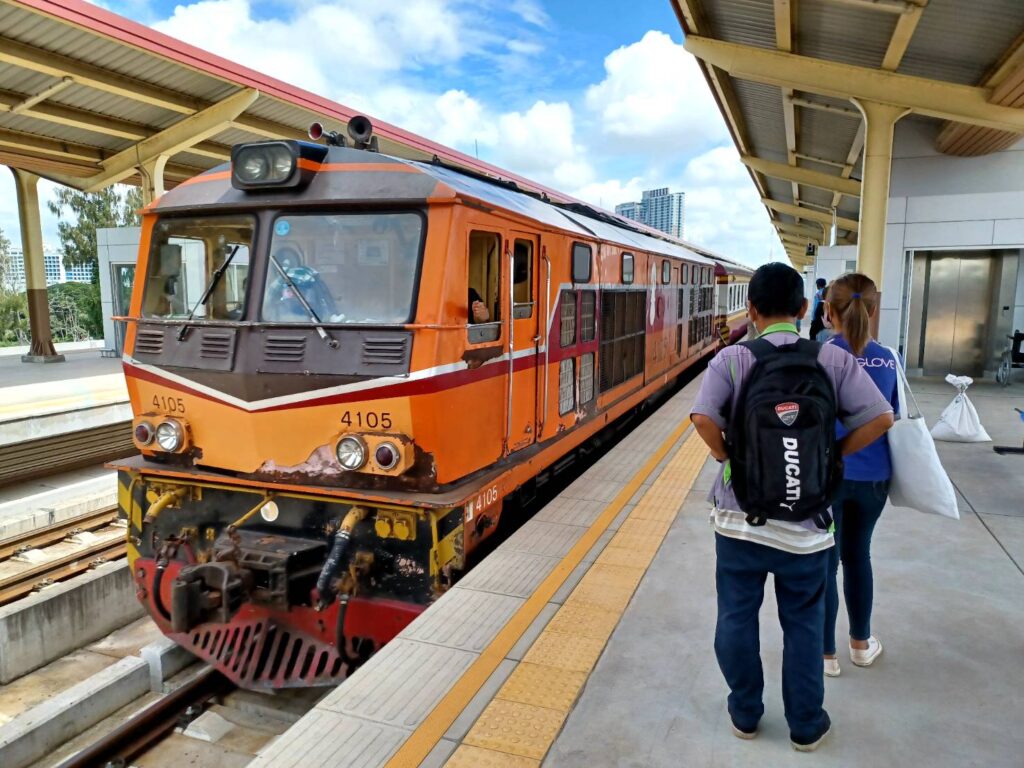 Passengers are limited to 50% of maximum capacity for Covid restriction.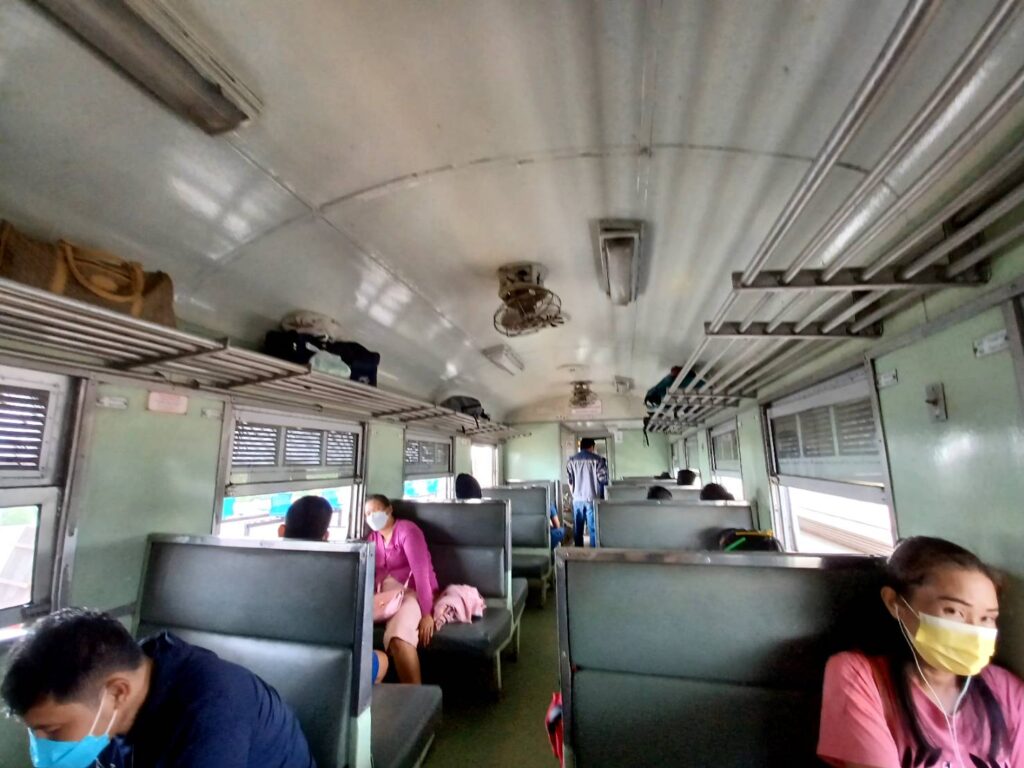 I, actually was not going to Don Muang but got off at Rangsit station because I wanted to use city bus to Suvarnabhumi bus center which is very near my house. There city bus terminal near Rangsit station so you can try it as you want. They offer bus to several destination such as Suvarnabhumi bus center, Victory monument, Hua Lamphng station, Sanamluang, Khlong Toei, Bangkapi.
Going down from Rangsit station.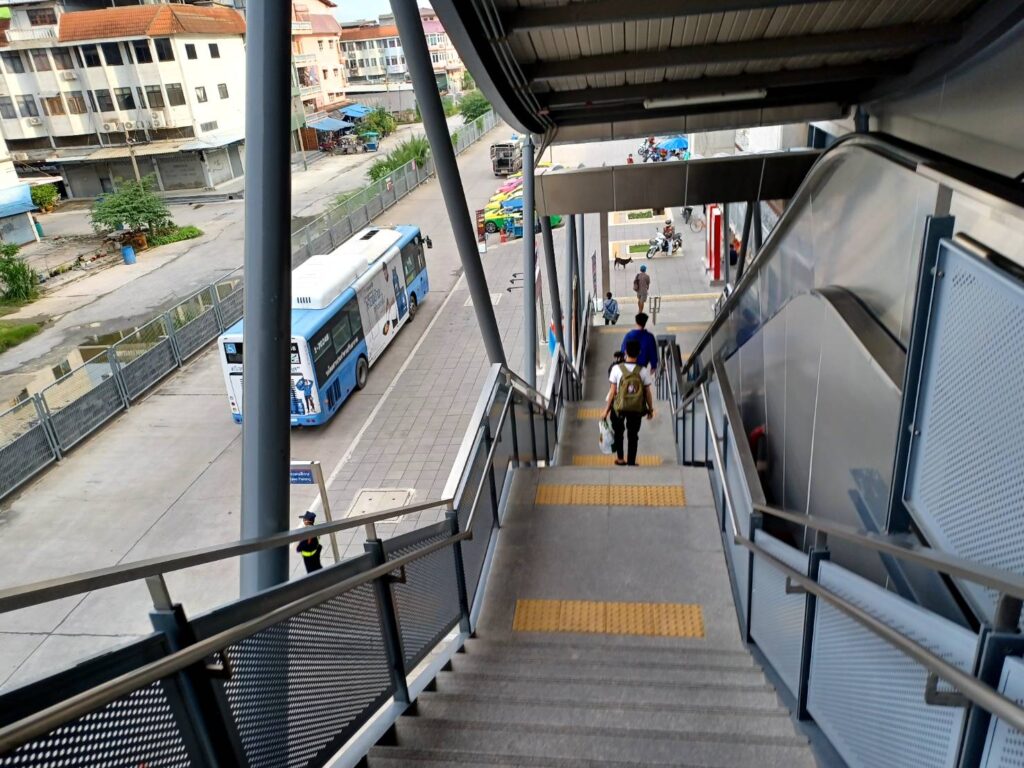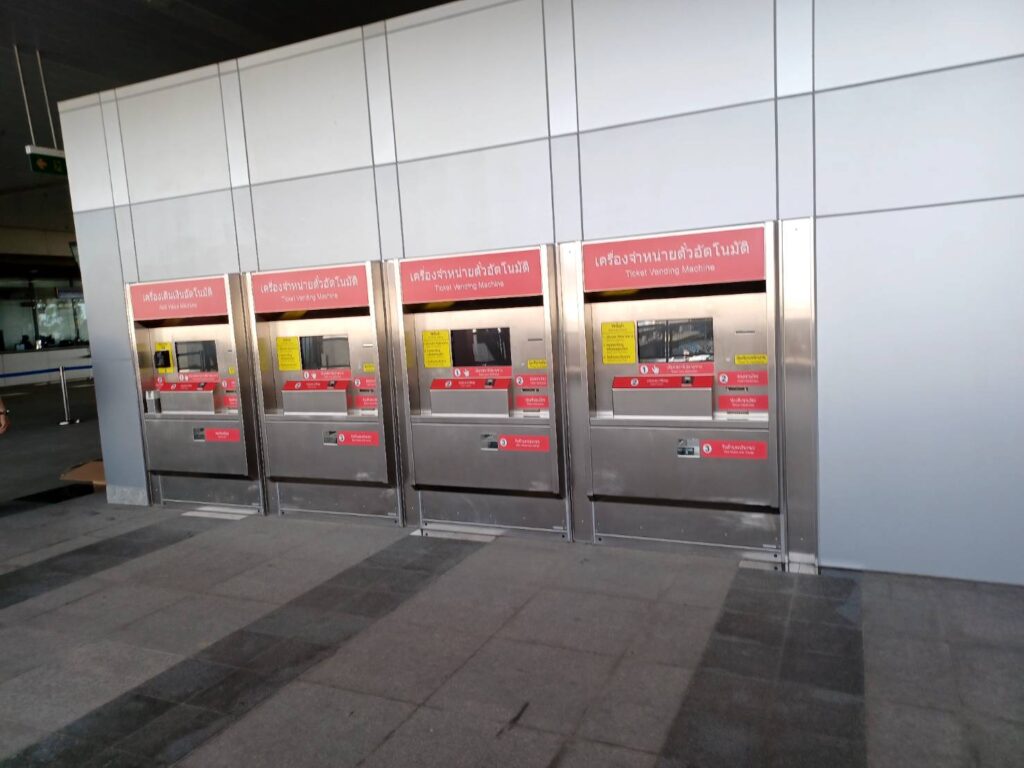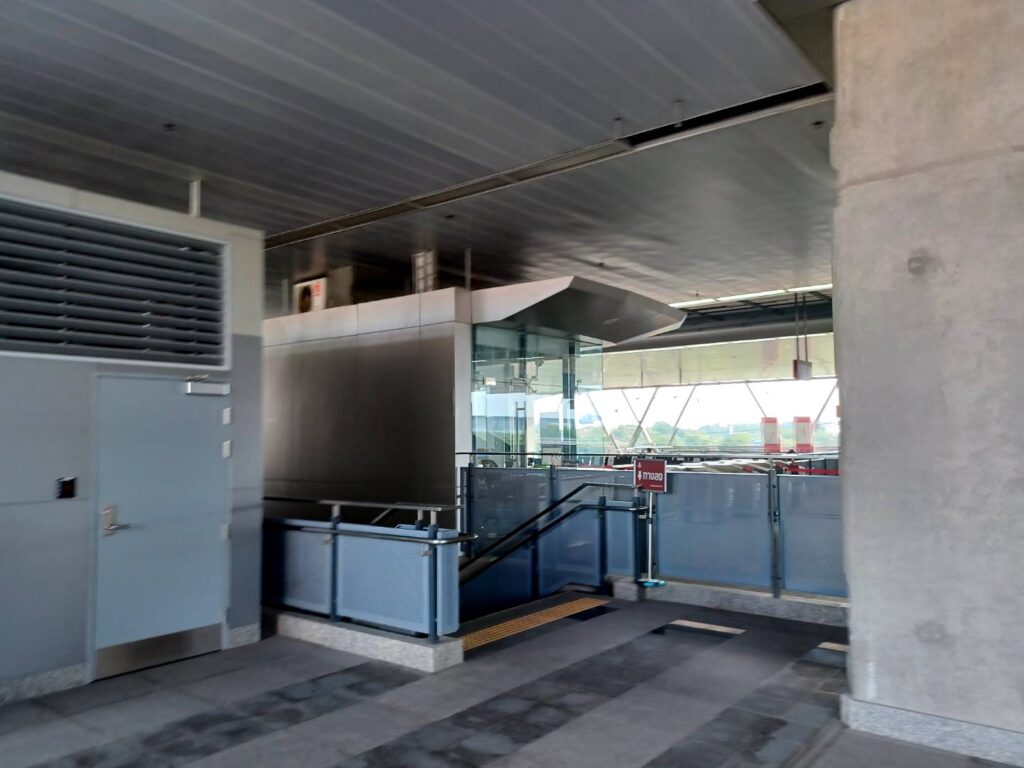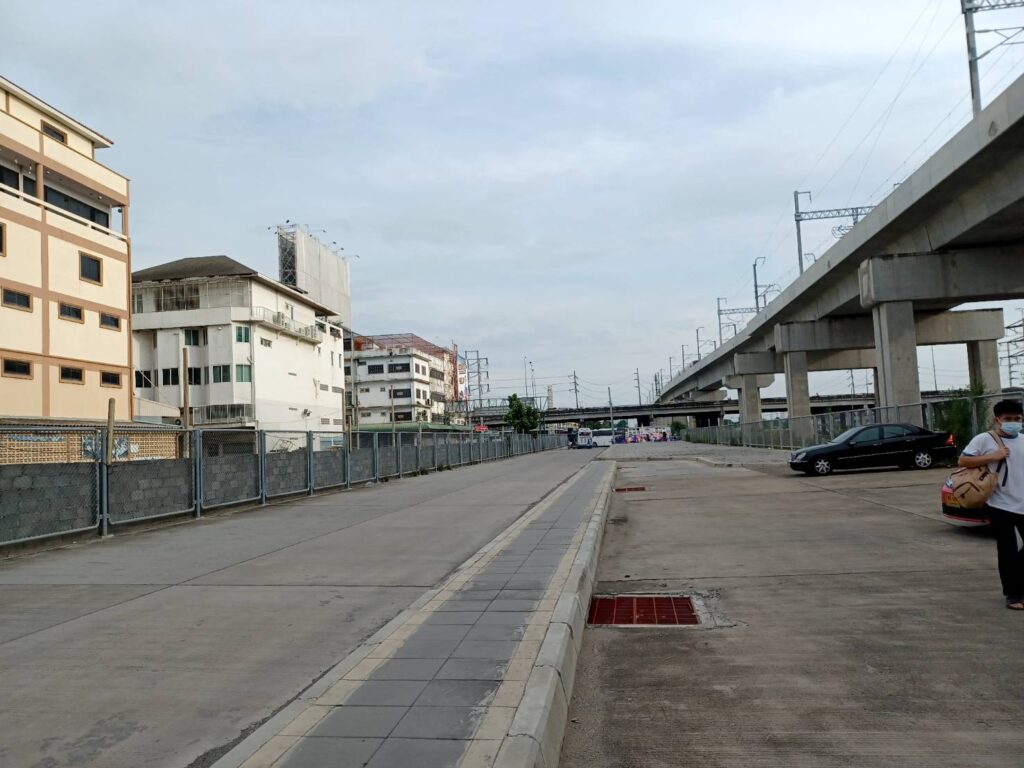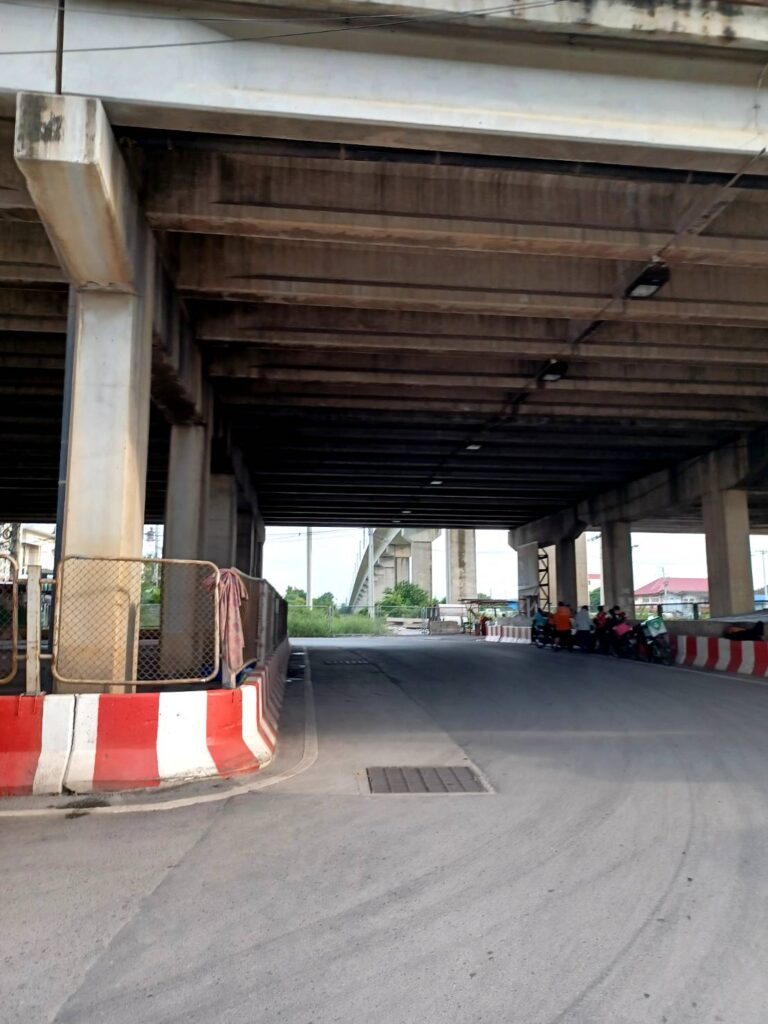 Road to Rangsit bus terminal.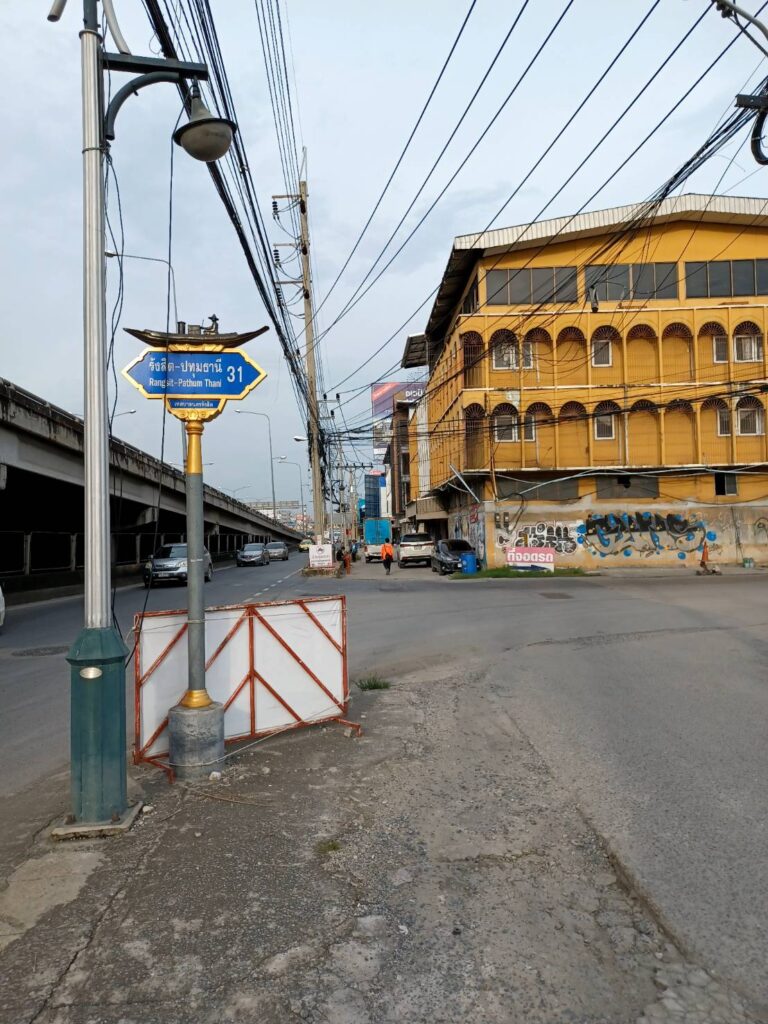 Here is the bus terminal, dozens of buses are stand by.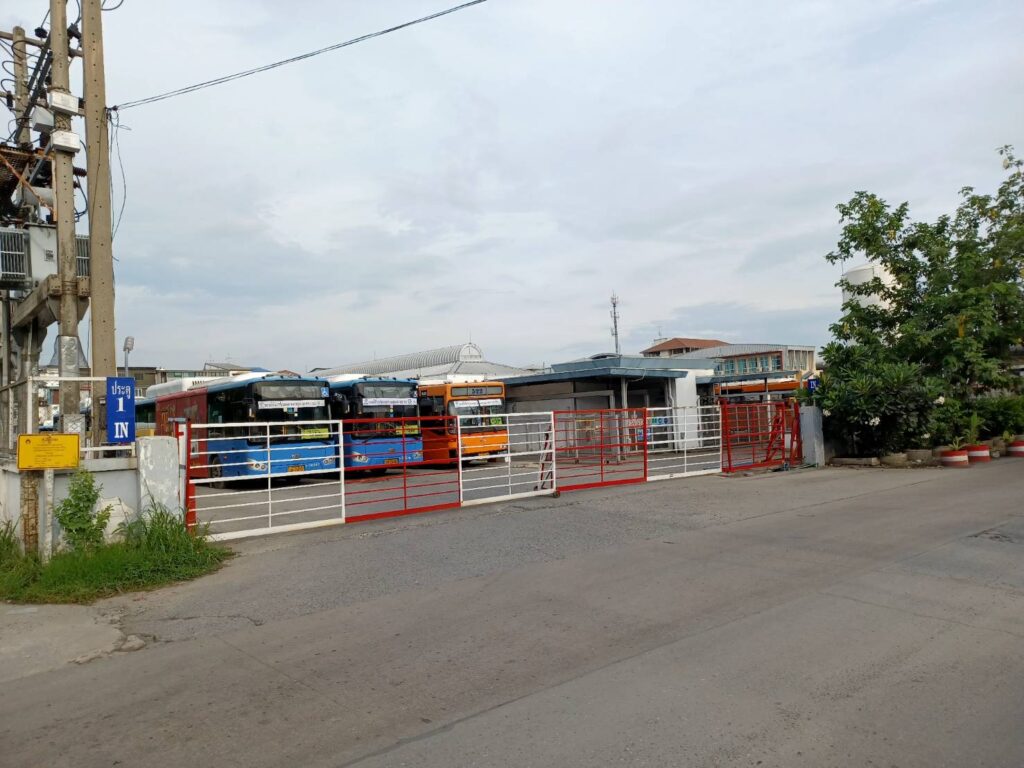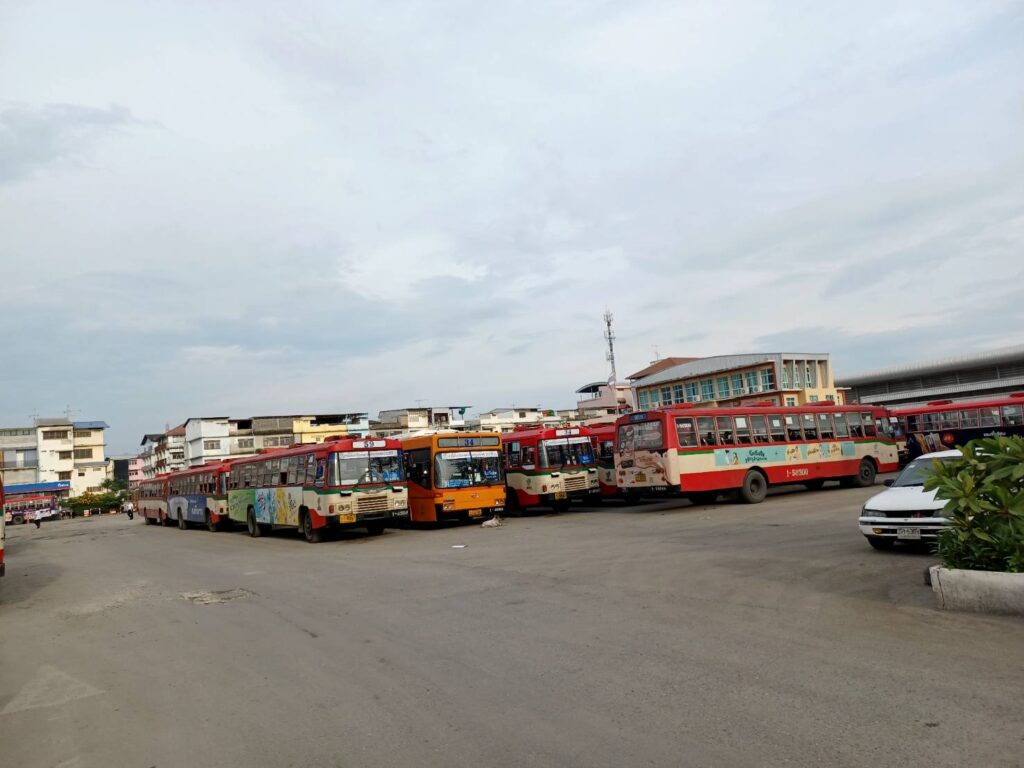 Fueling station.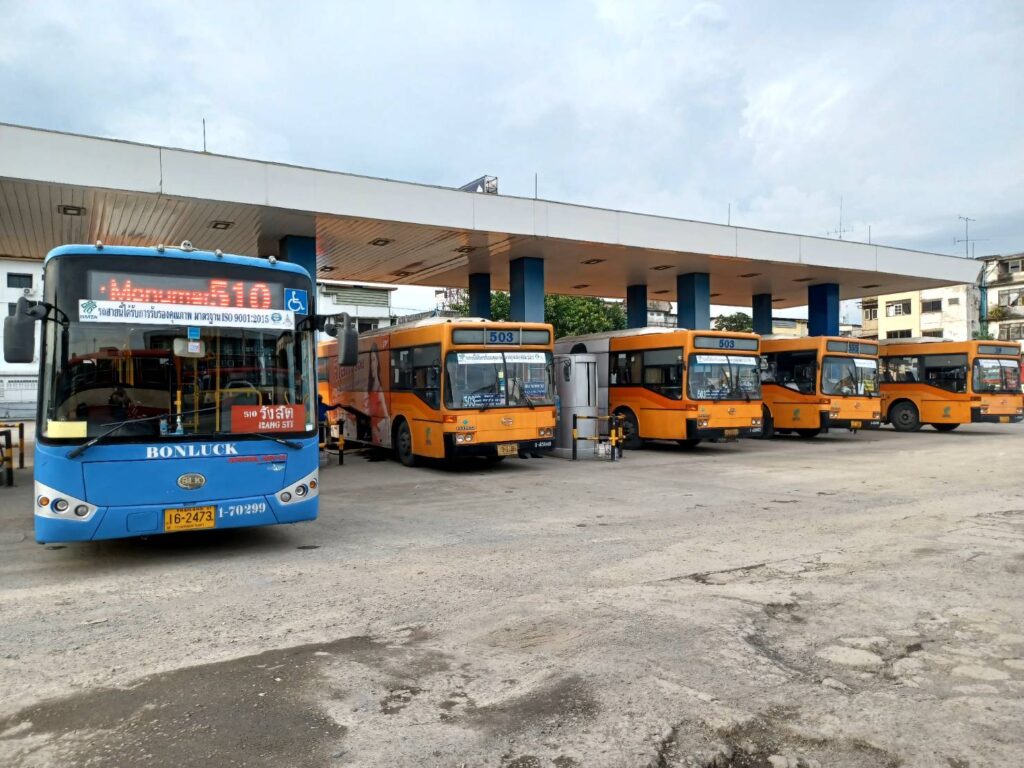 Gas fueling.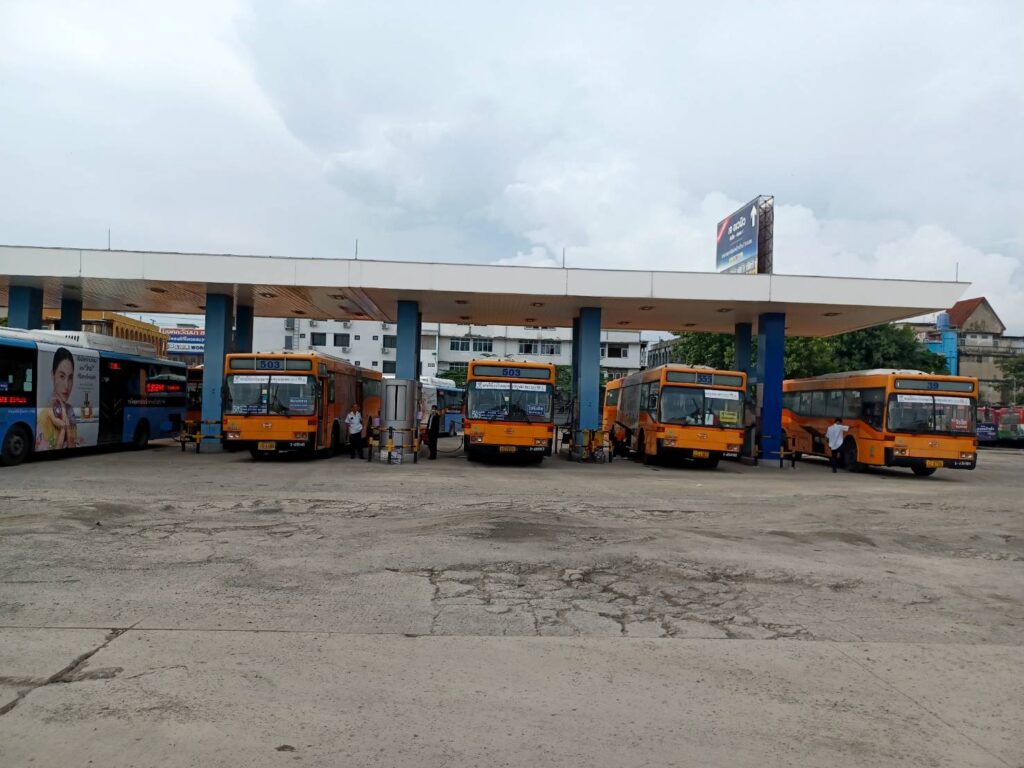 Bus terminal office building.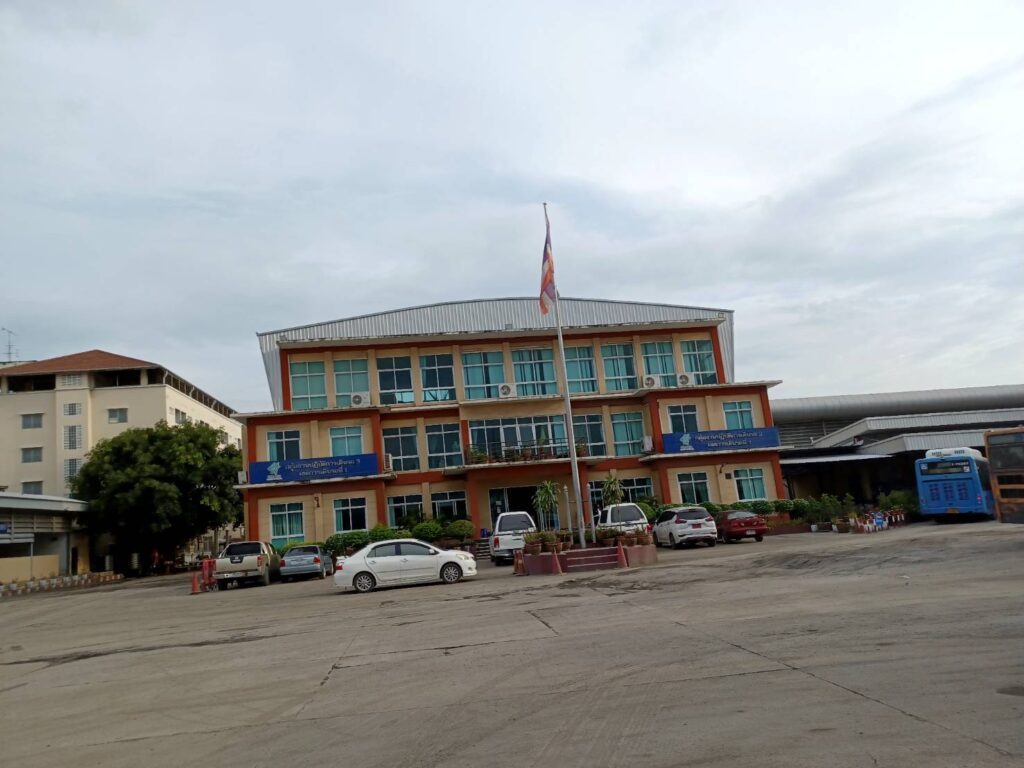 Counter for inquiry. You can pay bus fare inside bus.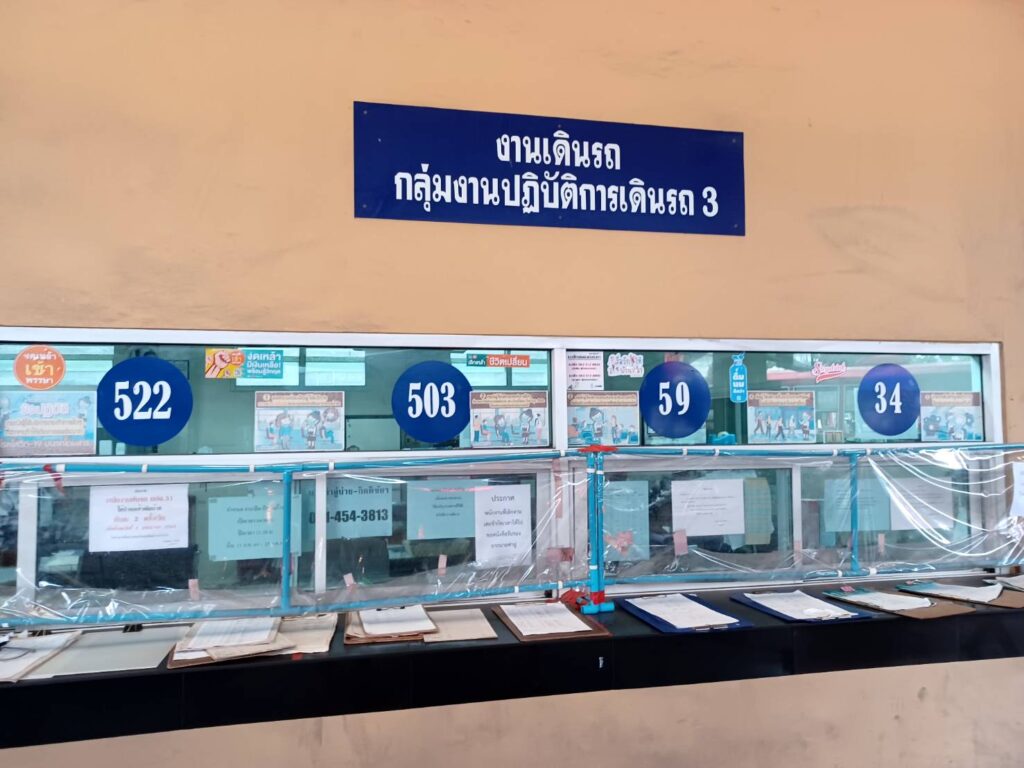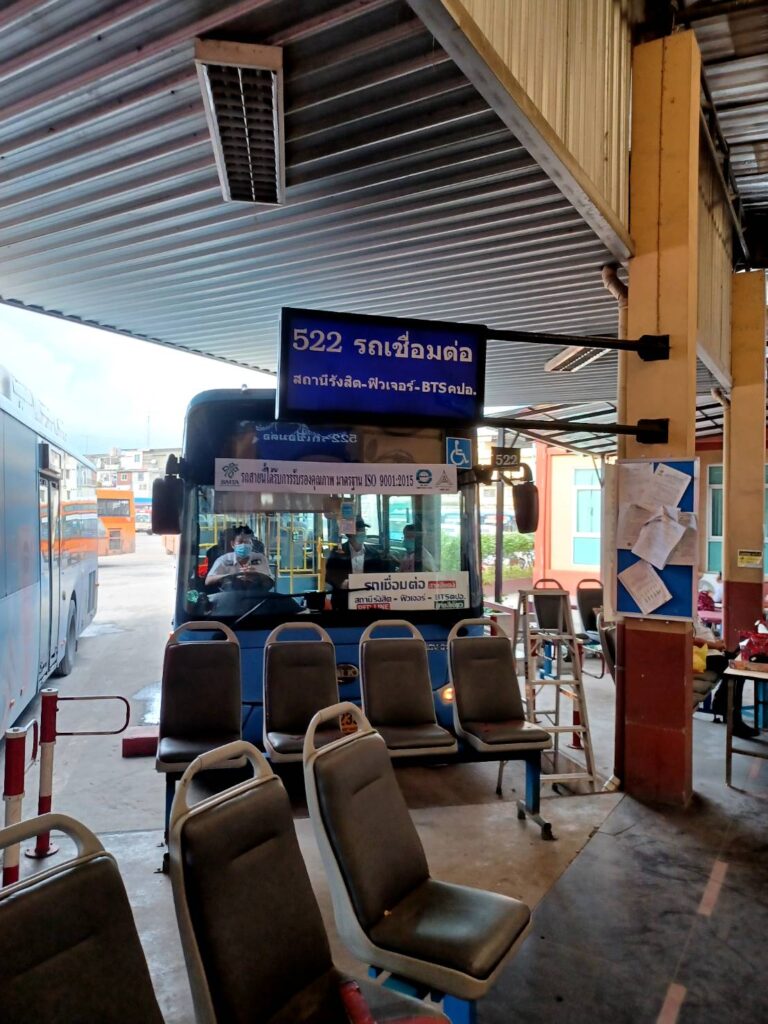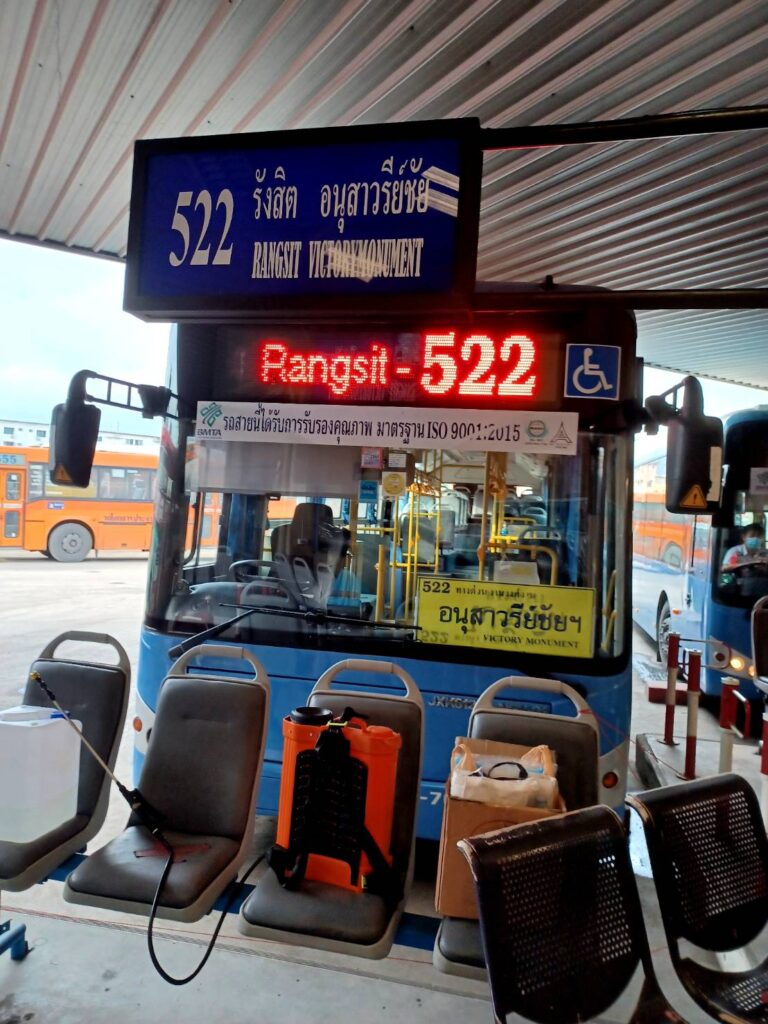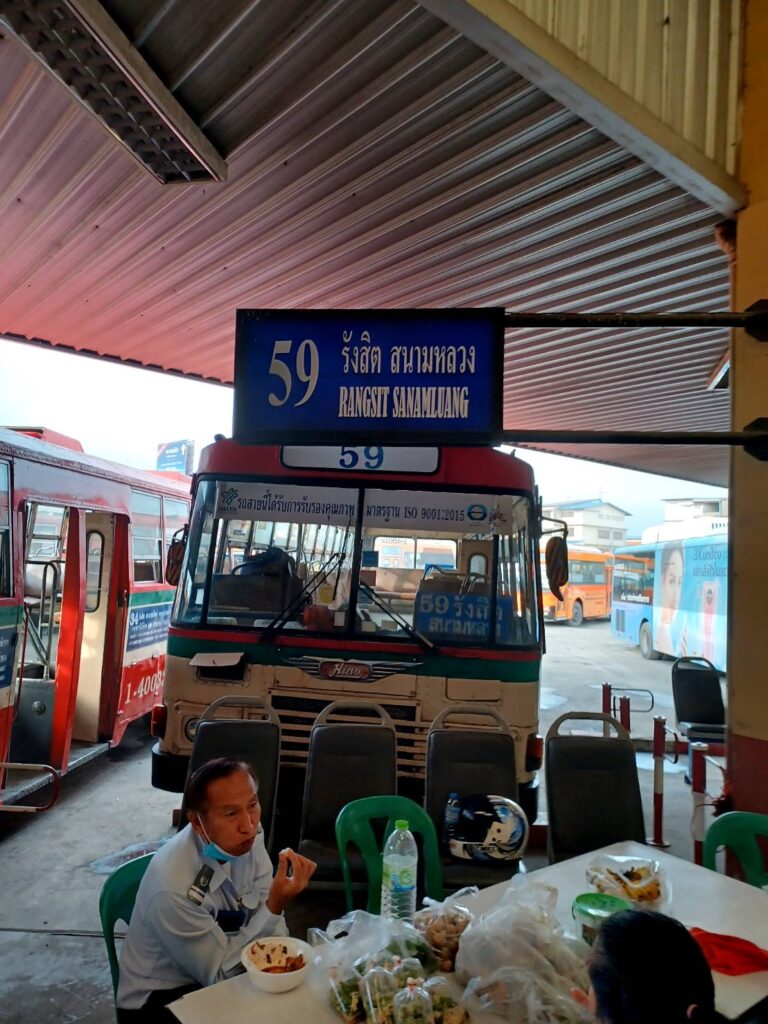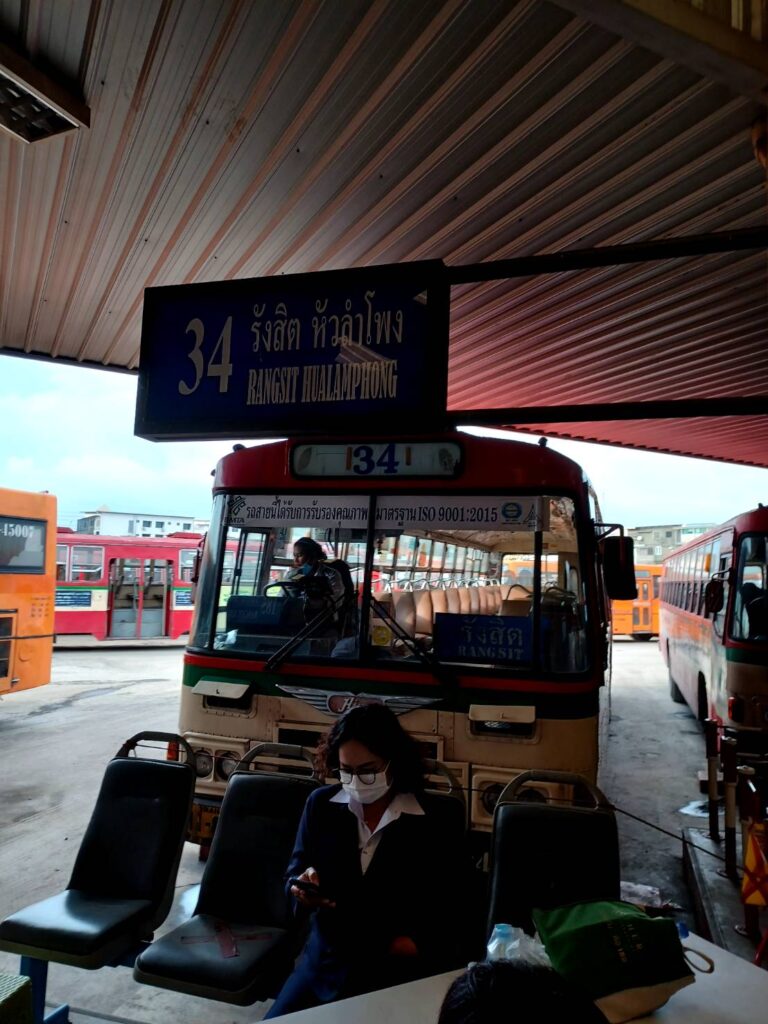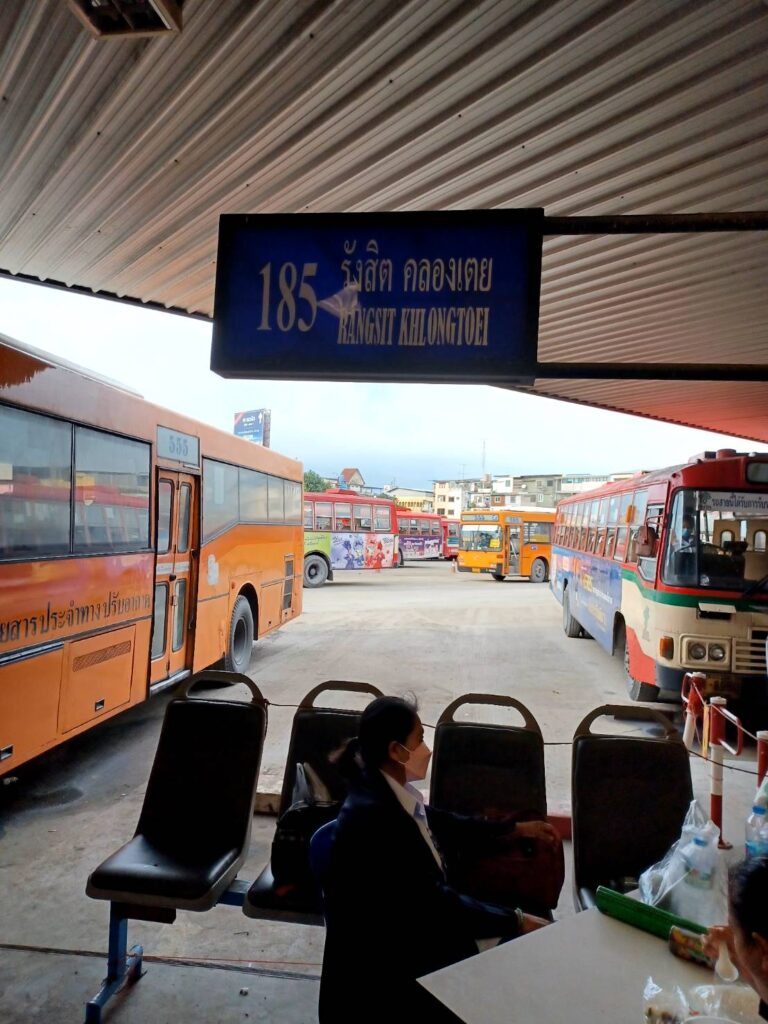 This is my bus to Suvarnabhumi bus center for 37 THB, 1 hour 10 minutes ride. If you want to go to Suvarnabumi airport, you can take free shuttle bus from Suvarnabhumi bus center.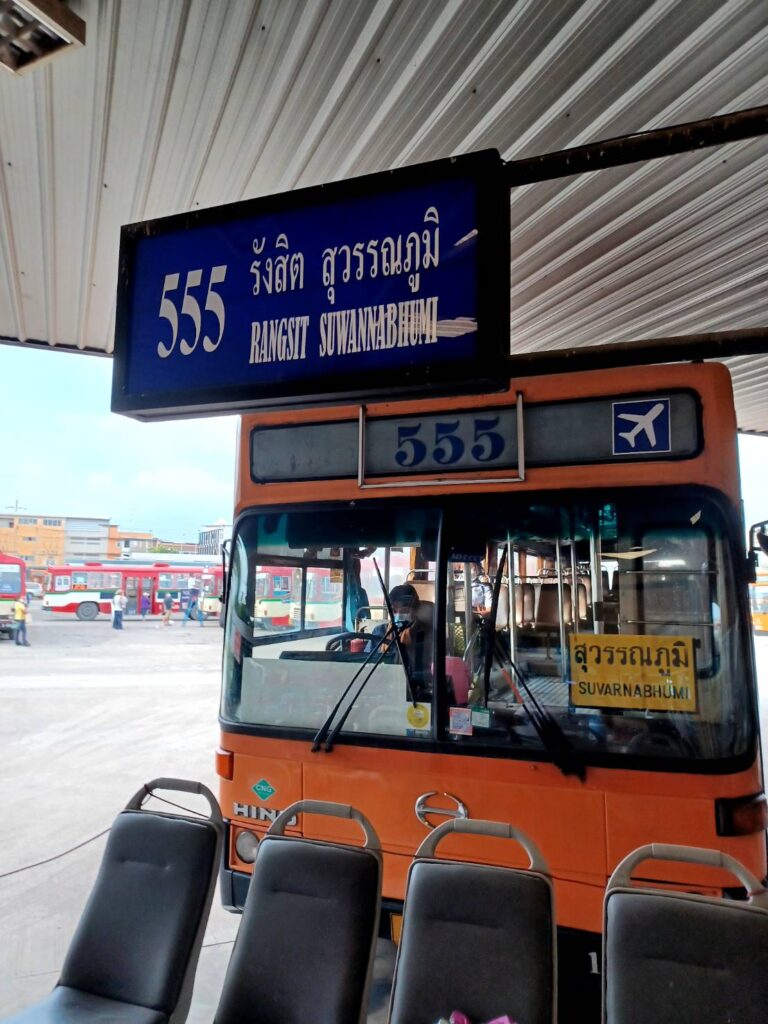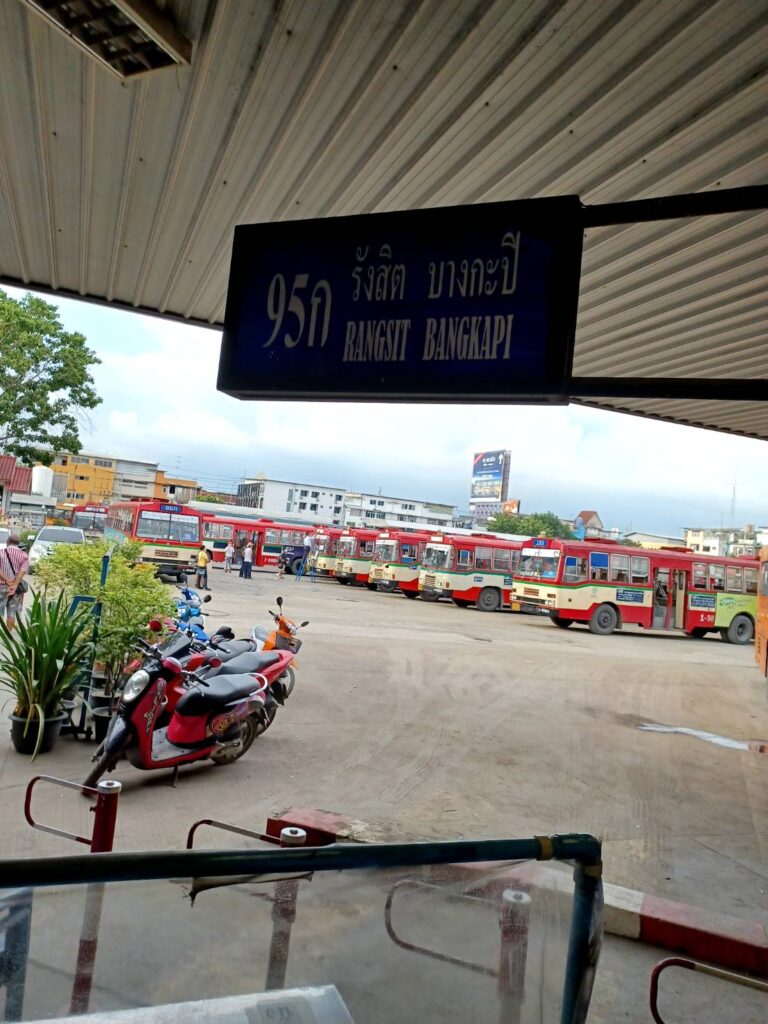 Inside the bus.