On 12th August is national holiday for former queen of Thailand and I had 4 days off so I tried the way to go to fitness gym by escaping from Dark red zone (Bangkok and 28 provinces) My fitness gym, "Jetts Fitness" is currently open only in Phuket and Chiang Mai so I consider these 2 locations for my holiday stay. Since Phuket is closed and requires negative PCR test results to enter, I quit Phuket and chose Chiang Mai for 4 days.
There are many restrictions for trip in and out of Dark red zone areas. No domestic flight is allowed and long distance bus terminal is closed for operation also. However, limited train is available still so I checked the train schedule then decided to go to Chiang Mai by train.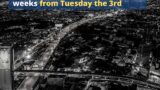 Extended lockdown policy to Bangkok and 28 provinces from Aug 3 2021
Hello, welcome back to "fitravelife.com". Covis situation is not getting better here in Thailand. Even much worse despit...
Train schedule from Bangkok to Chiang Mai
At this time, Bangkok – Chiang Mai route is only available below schedule, one choice only per day.
Bangkok (Hua Lamphong)– Chiang Mai 6 : 00 AM – 19 : 30 PM Train No. 109
Chiang Mai – Bangkok (Bang Sue)      6 : 30 AM – 19 : 30 PM Train No. 102
Train is available on day time only because now we have curfew from 9 PM – 4 AM in all over Dark red zone areas. And returning train from Chiang Mai will cease operation at Bang Sue station, not going to Hua Lamphong station. Covid situation is changed day but day and train operation will be highly be affected so I recommend you check the latest schedule in advance by calling SRT call center 1690. You can talk to English speaker by this line to confirm the available schedule.
Below website is also convenient, you can check real time operation of current available train, you just need to input departure and destination point and date so you can get idea how the operation it is under the current circumstances.
https://tts.railway.co.th/passenger/view.php
Things to prepare before Chiang Mai trip
Passport
Ticket * you can buy at train station
Vaccination record
Thai Chana and CM Chana registration
Passport and train ticket is of course you need to bring for provincial trip even not in Covid spreading period. And When you go to non Dard red zone areas from Dark red zone, please check the requirement by your destination provinces since each province has local regulation for all entering from Dark red zone areas. In Chiang Mai, as far as I checked all person is required for quarantine except you completed vaccination for AstraZeneca 1 shot or Sinovac 2 shots more than 14 days ago. In my case, I already got vaccination for AstraZeneca one month ago, I do not need to stay quarantined in Chiang Mai. To prove this, I also brought my vaccination record document. Below is the rules for quarantine. So sorry I cannot find English translation
Quarantine exemption regulation by Chiang Mai Administration (Thai) as of 22nd July
Facebookにログイン
Facebookにログインして、友達や家族と写真や近況をシェアしましょう。
Quarantine exemption regulation by Chiang Mai Administration (JPN)
7月18日付チェンマイ県感染症委員会命令第81/2564号 入県規制
Other things, you also need to download phone apps for Thai Chana and CM Chana to complete advance registration for both. Thai Chana registration is required for in-and-out trip from Dark red zone areas and you also need to submit application for CM Chana which is compulsory for all persons coming to Chiang Mai. In regulation of CM Chana, you need to finish one day before arriving at Chiang Mai but is it actually ok if you process when reaching at Chiang Mai station. There is QR code, so I saw some passengers are managing at the station. And of course, you need your travel stuff to pack as well. I my case gym gears comes with me lol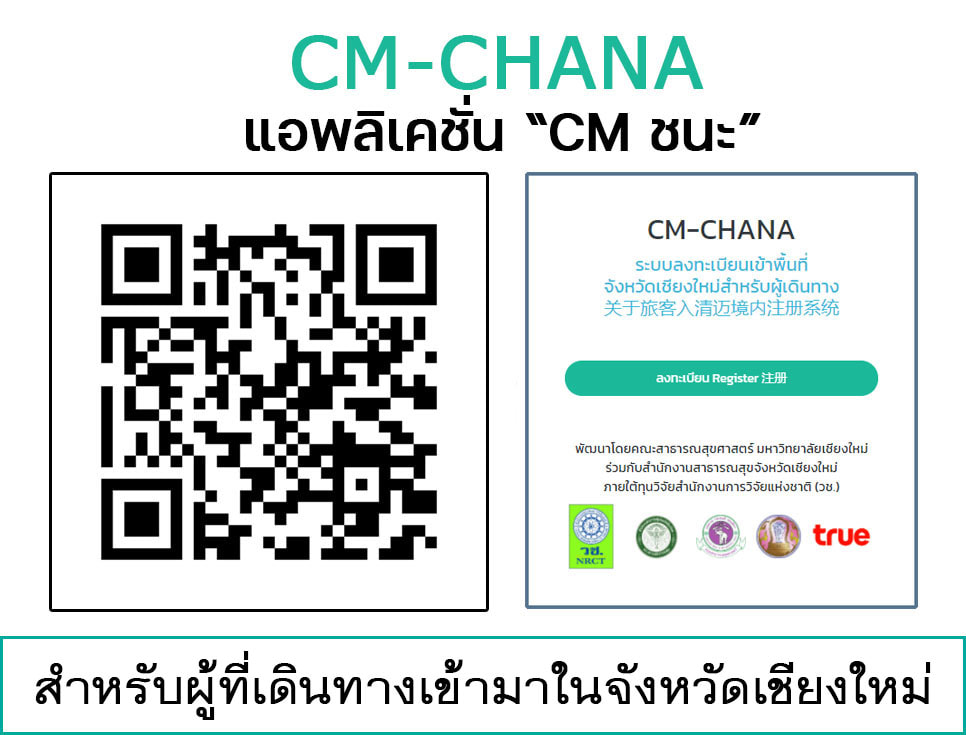 To be on time for train departure 6 in the morning, I woke up 3 AM then used local bus and taxi to reach Hua Lamphong Station…
About Hua Lamphong train terminal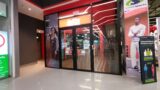 Jetts Fitness - Robinson lifestyle Petchaburi
At the entrance of train terminal, each passenger is required to show the document and register the information. I was asked by the staff for my destination and staff checked my passport and vaccination record if I am fit to the trip. Once registration is done, staff will give you the paper below, I submitted this paper at ticket counter then purchased the ticket to Chiang Mai.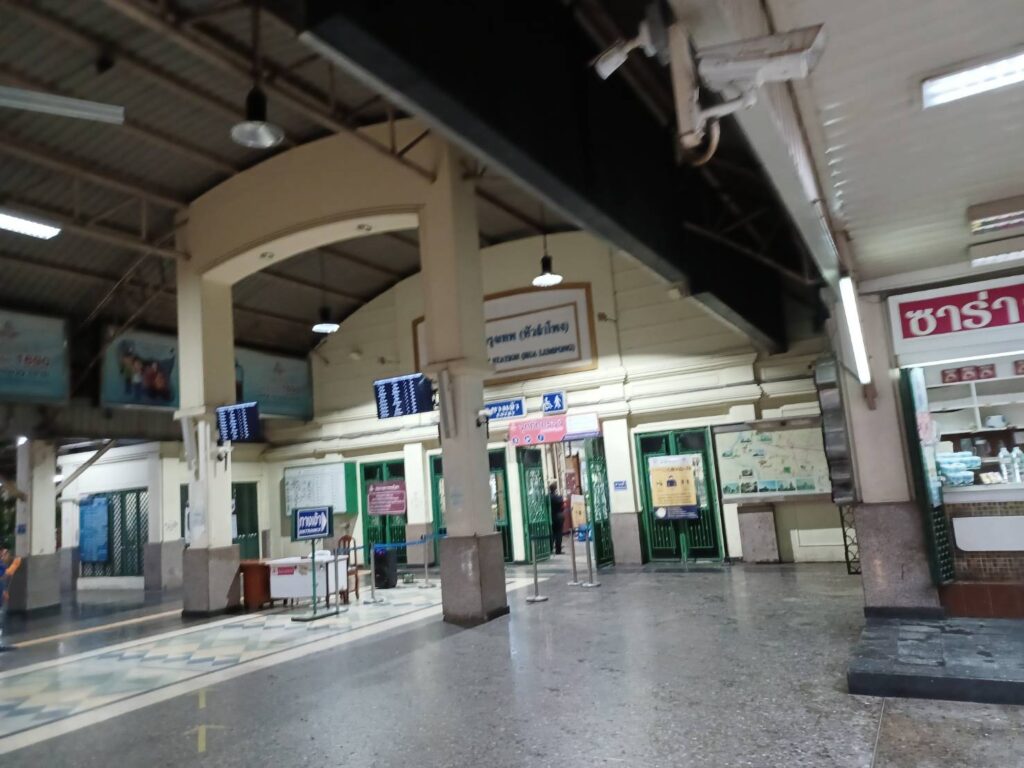 Document check counter.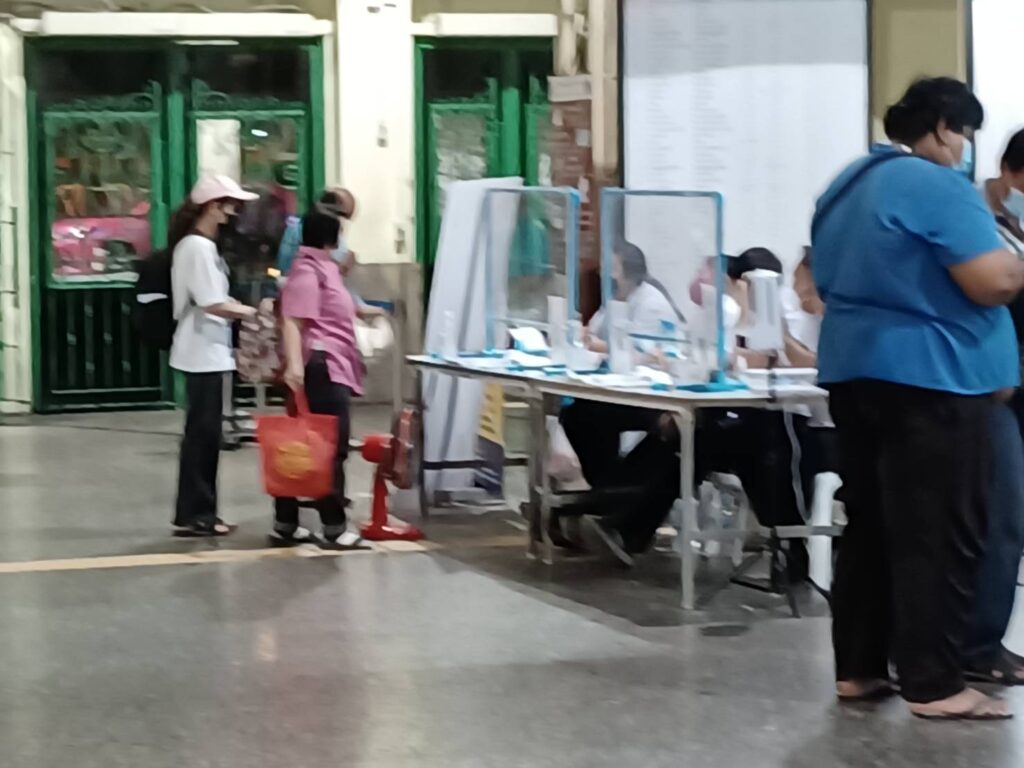 Document recorded by staff to submit when purchasing the ticket.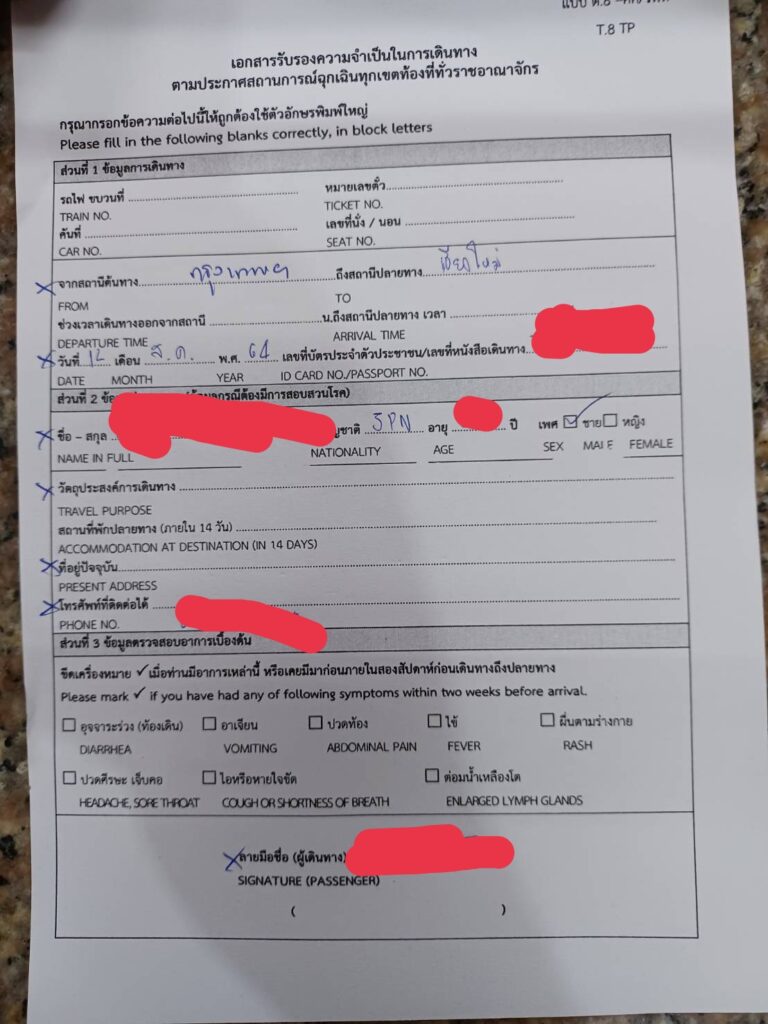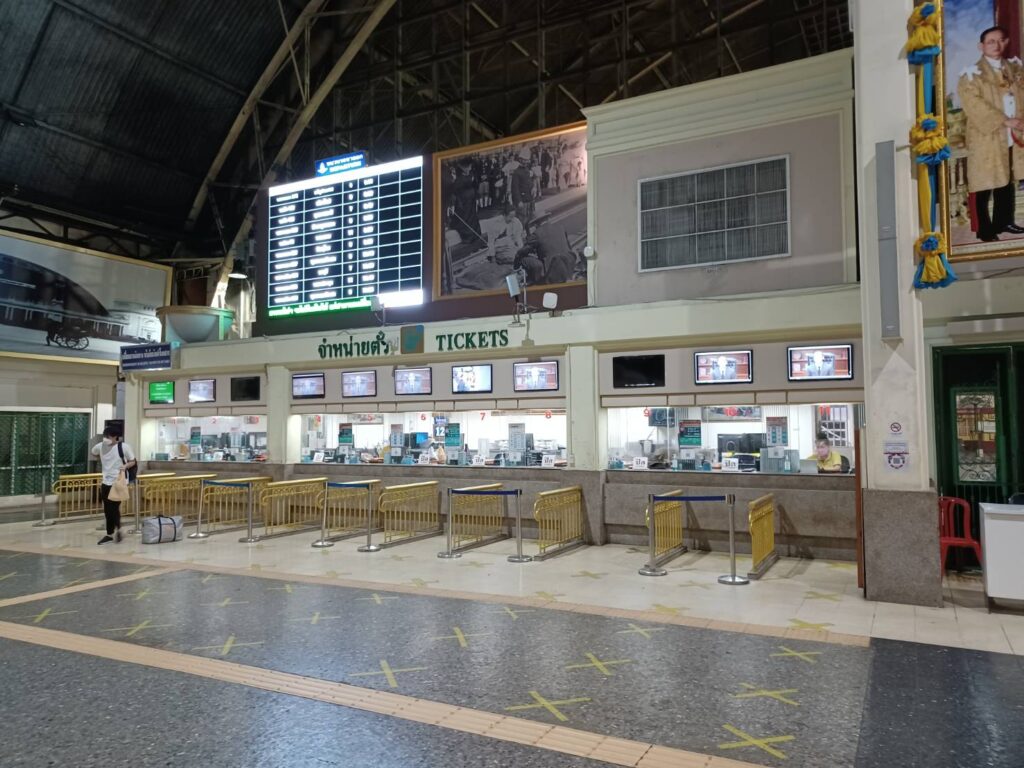 Ticket to Chiang Mai !!! 231 THB for 3rd class car.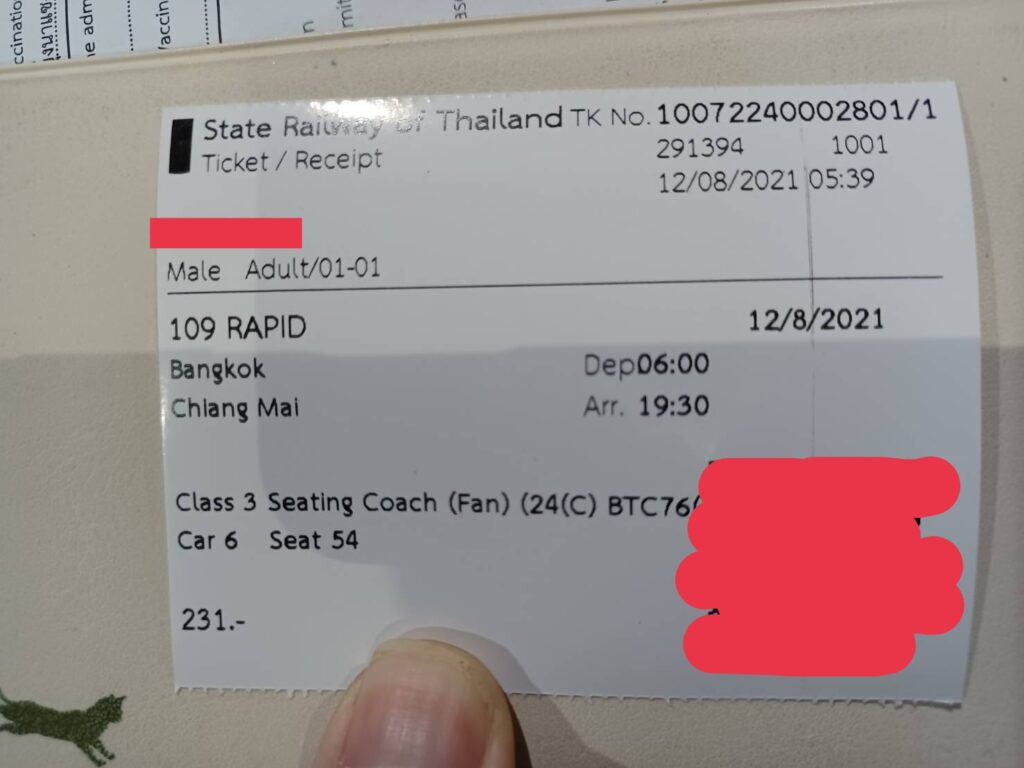 Train is not full at all, not more than 25% of seats are occupied throughout entire 14 hour journey so I can be relaxed on 2 seats used. There is also available for 2nd class car with air-conditioned. However, I used 3rd class fan car since ventilation is necessary for this Covid-19 situation and of course it is much cheaper, that is the main reason for 3rd class car choice lol.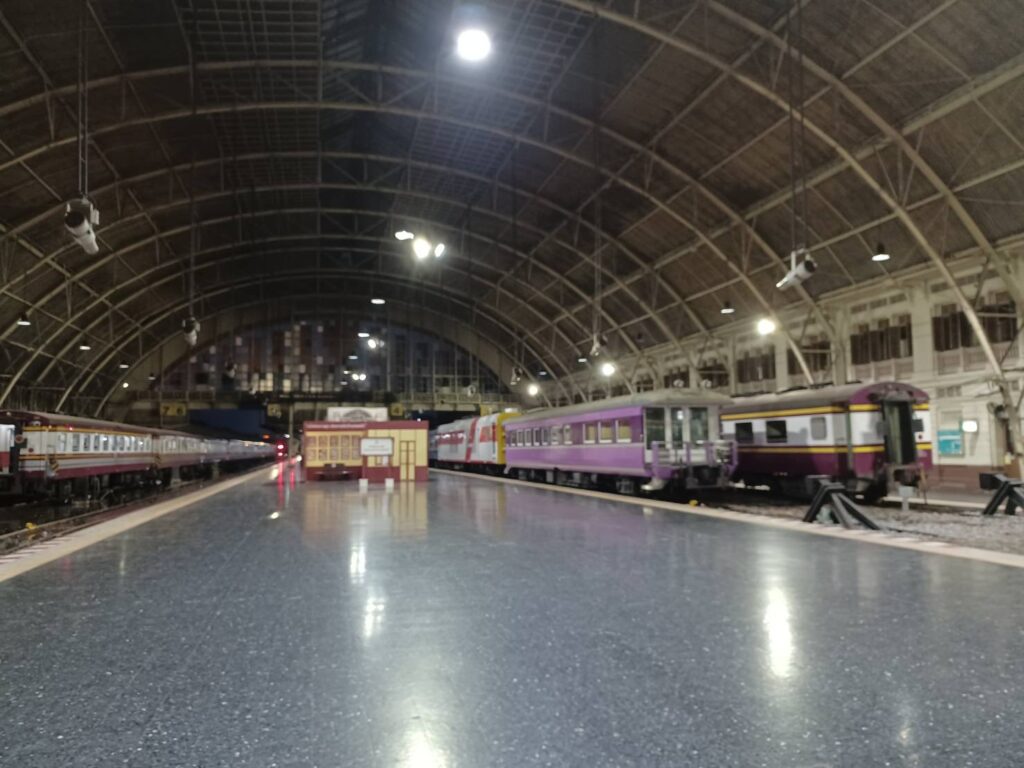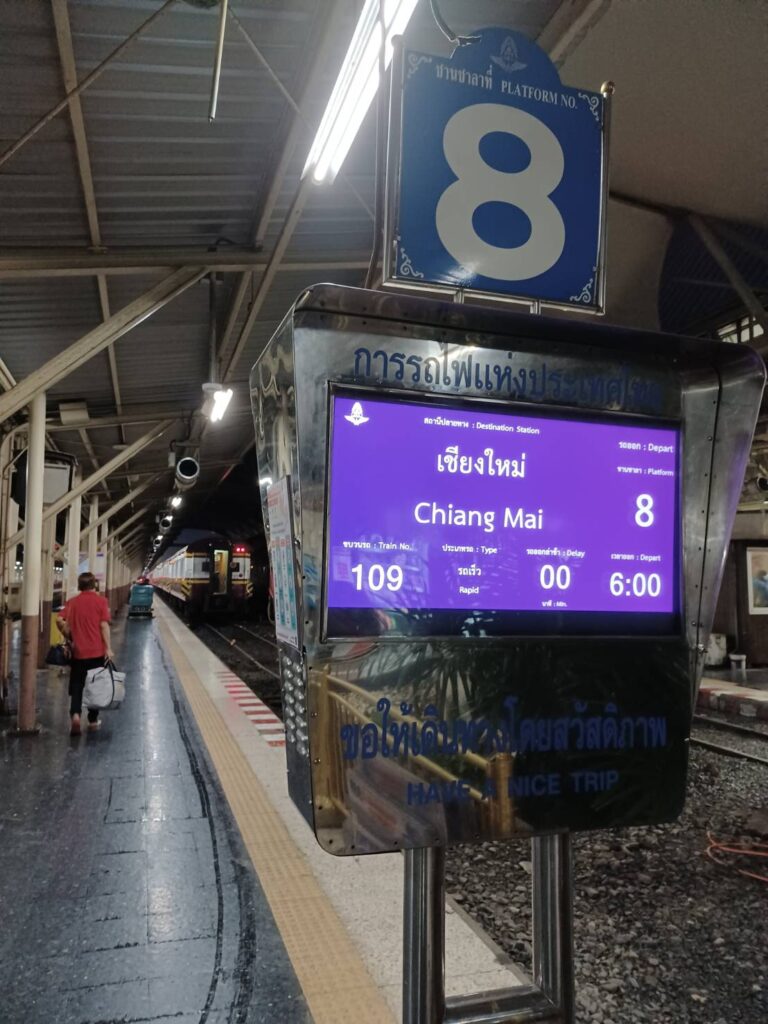 Clean seats that I occupied for whole trip.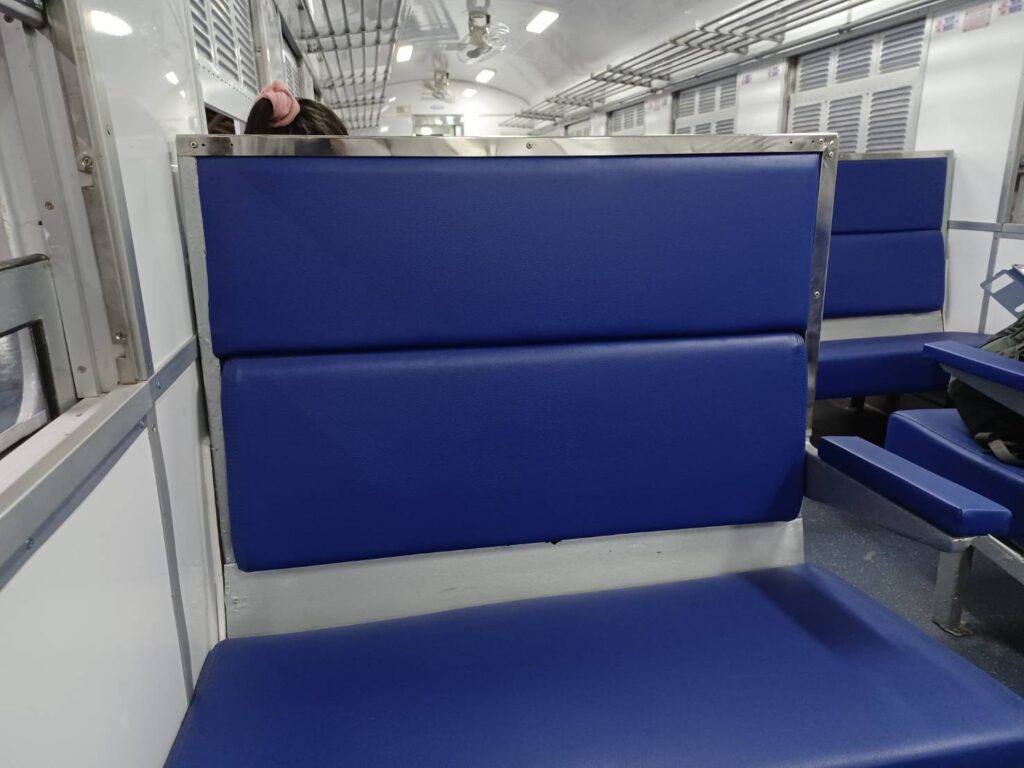 Toilets.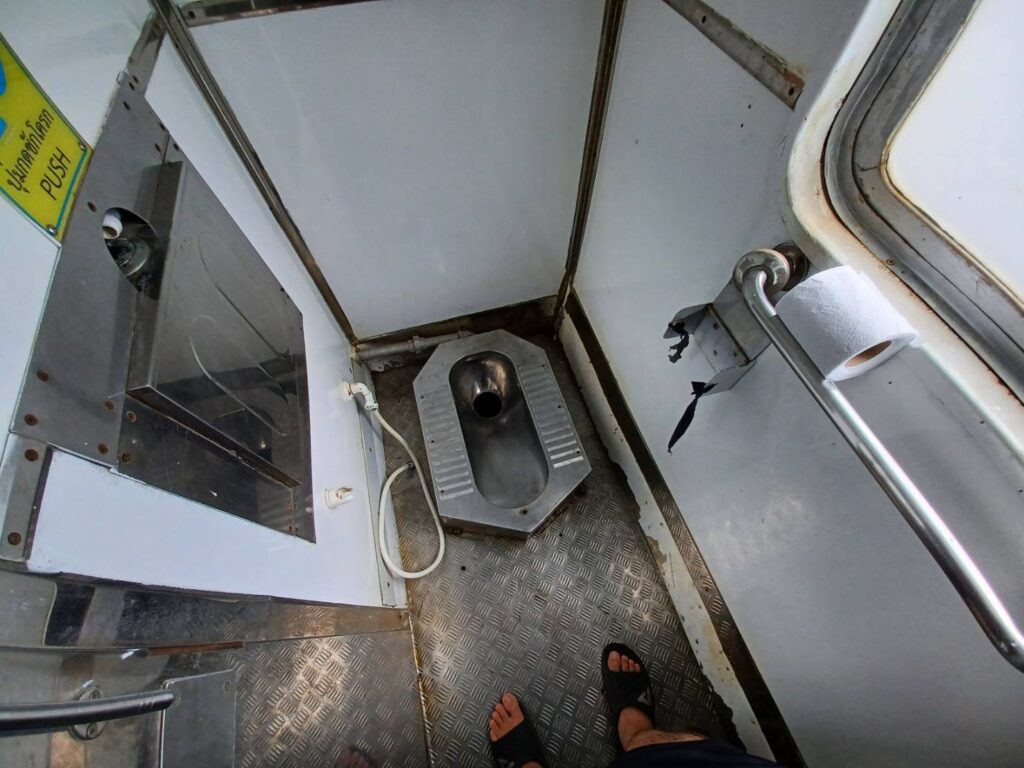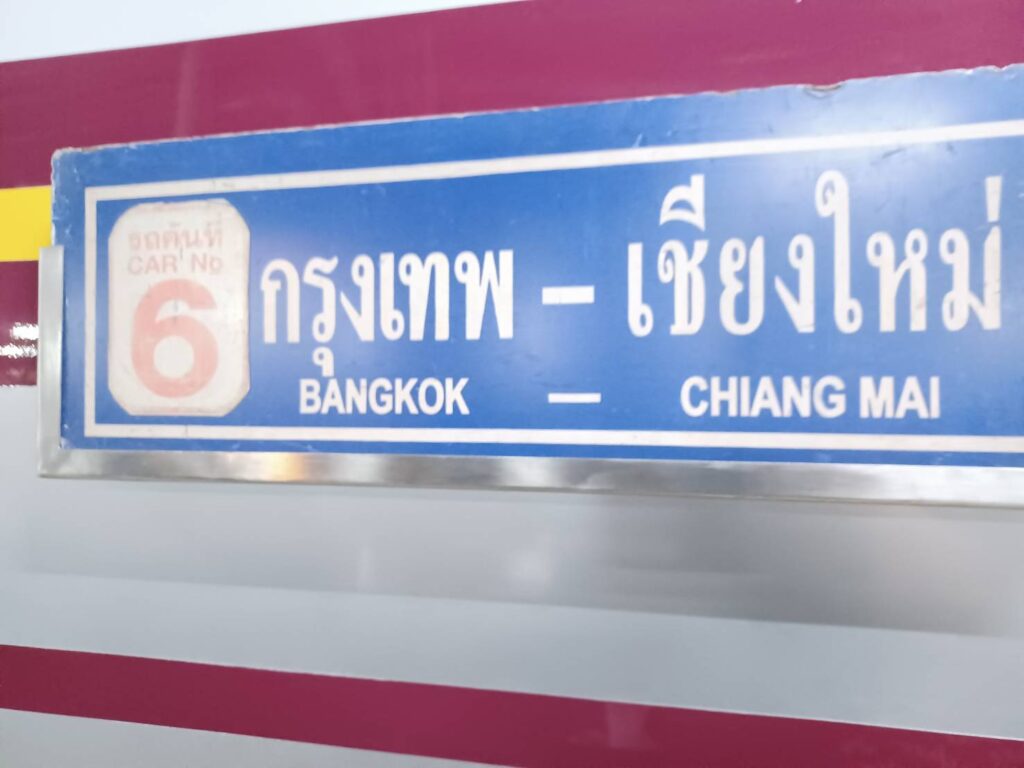 2nd class with air-conditioned.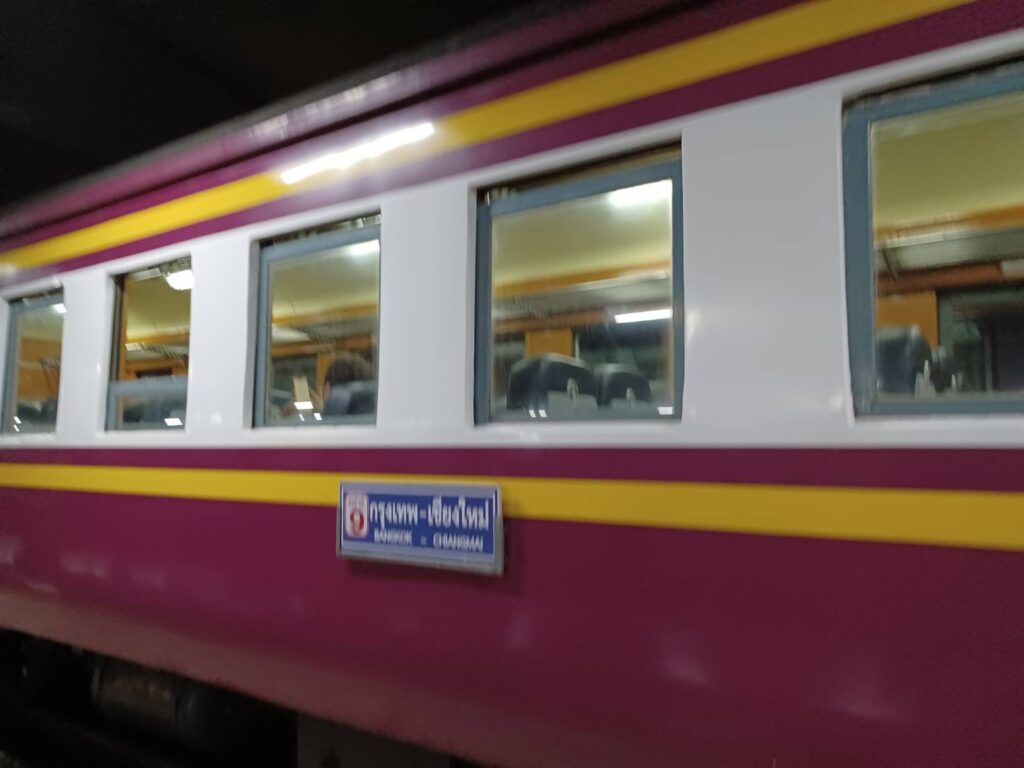 During long Train journey, I mostly spent sleeping to recover from lack of sleeping time at previous night lol. And rest, I was wiring my blog and enjoying nice rural scenery and mountainous train ride to the highlands.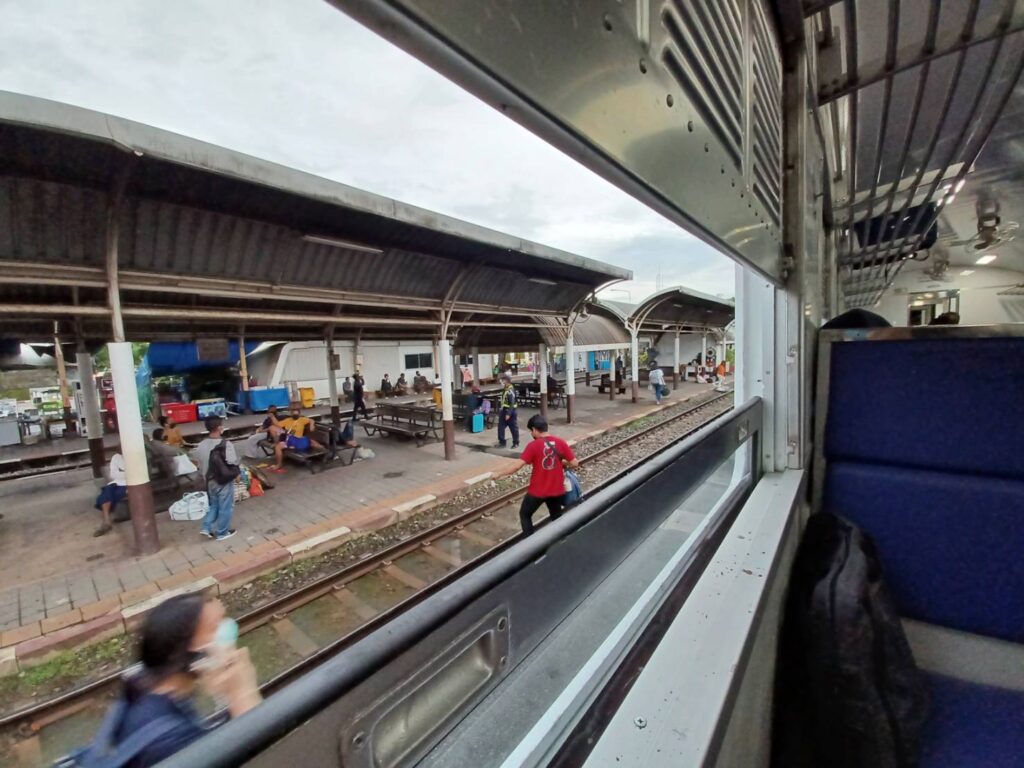 Ticket check is only once, 30 minutes after the departure.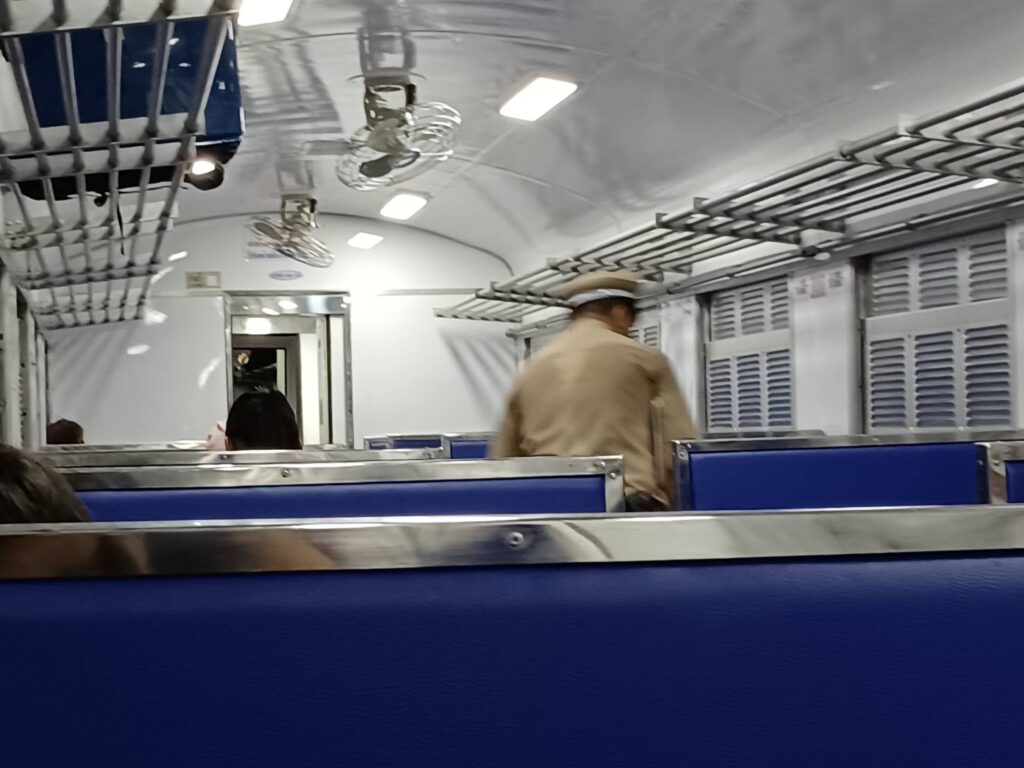 Passing newly built train station corresponding to the opening of Bang Sue Grand station.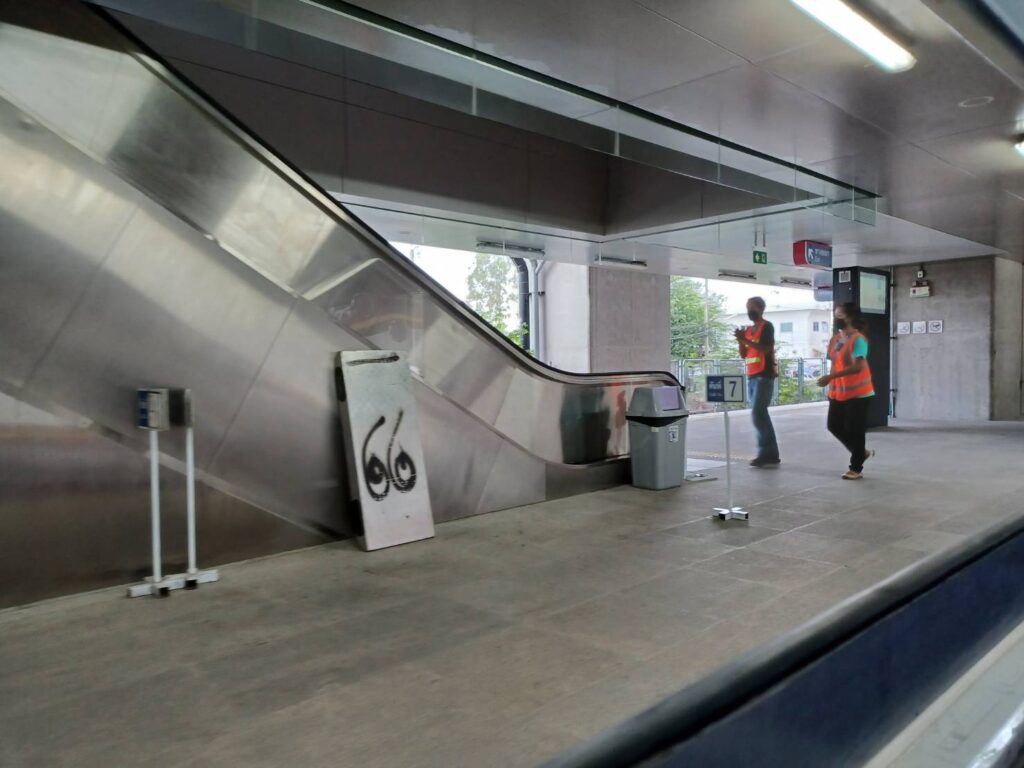 Khmer style temple can be seen at Lopburi station. Many monkeys are welcoming the guests and visitors.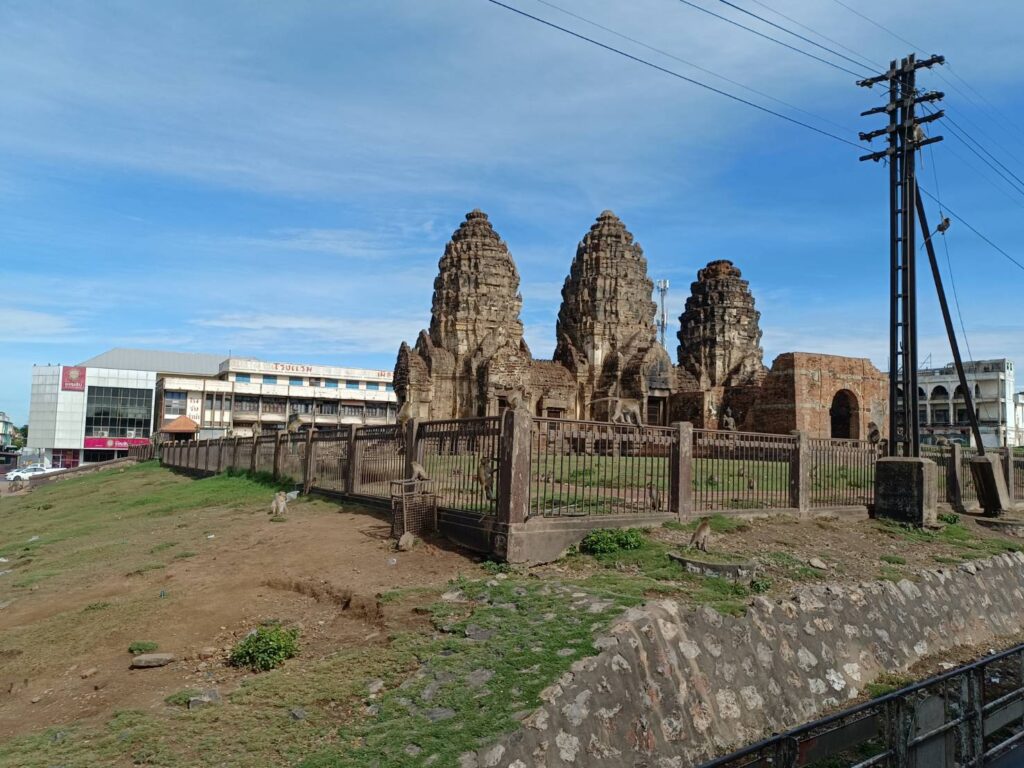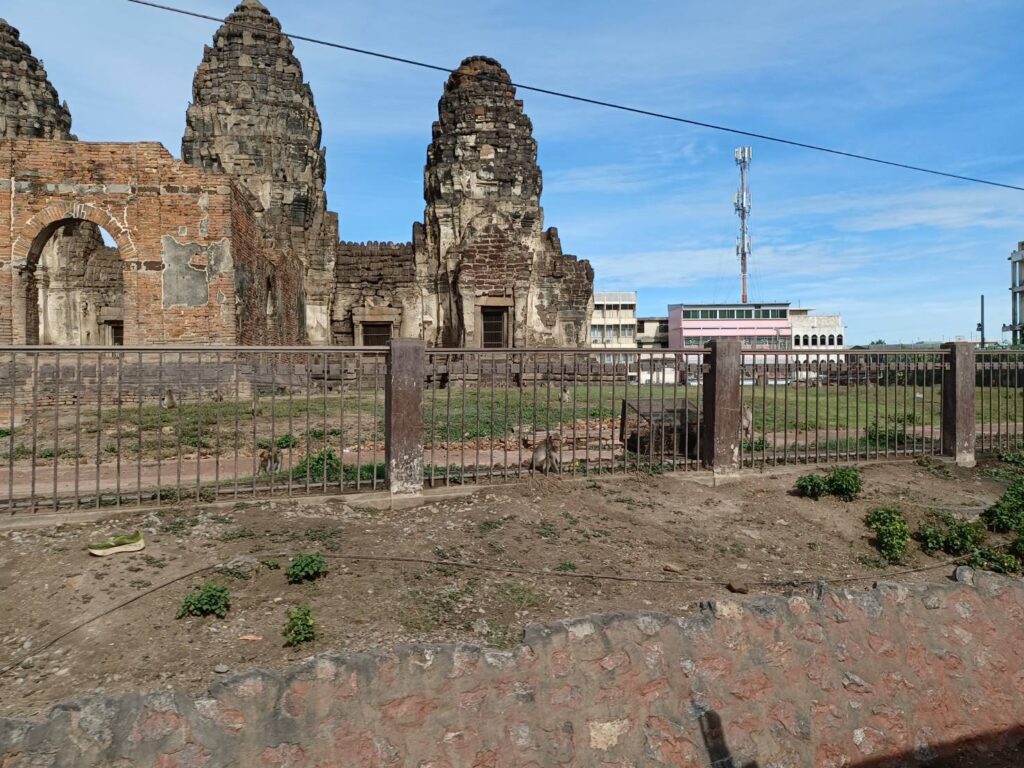 My lunch with homemade chicken. I normally cook by myself. This day at 3 am…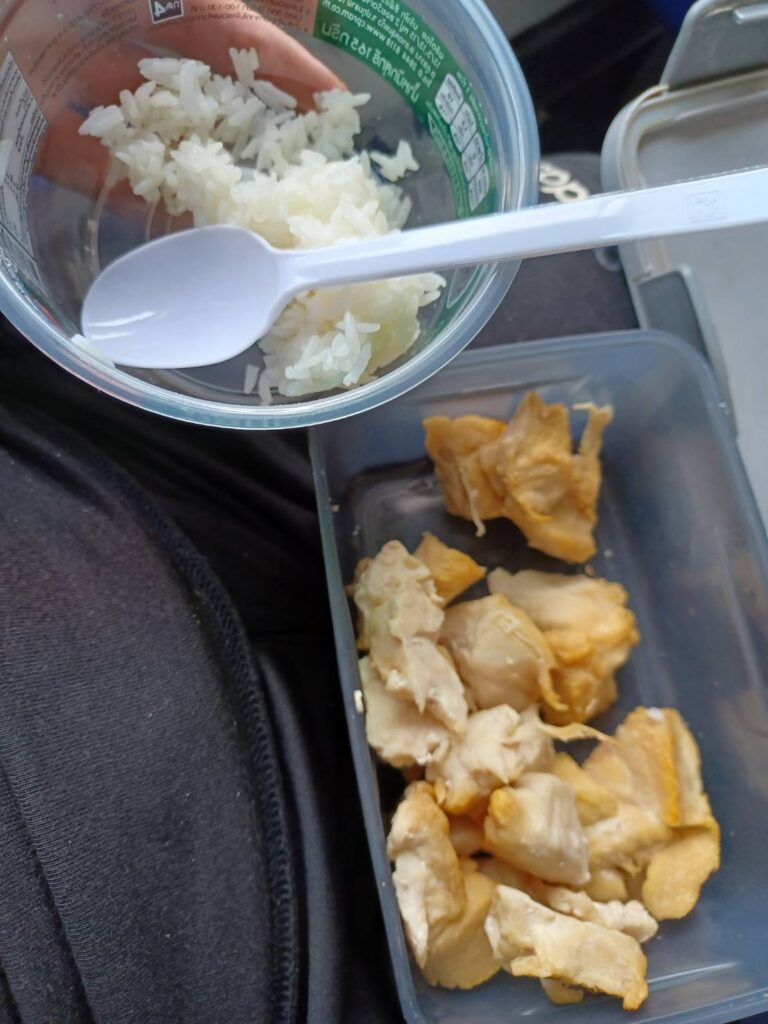 Going and going on the crop field.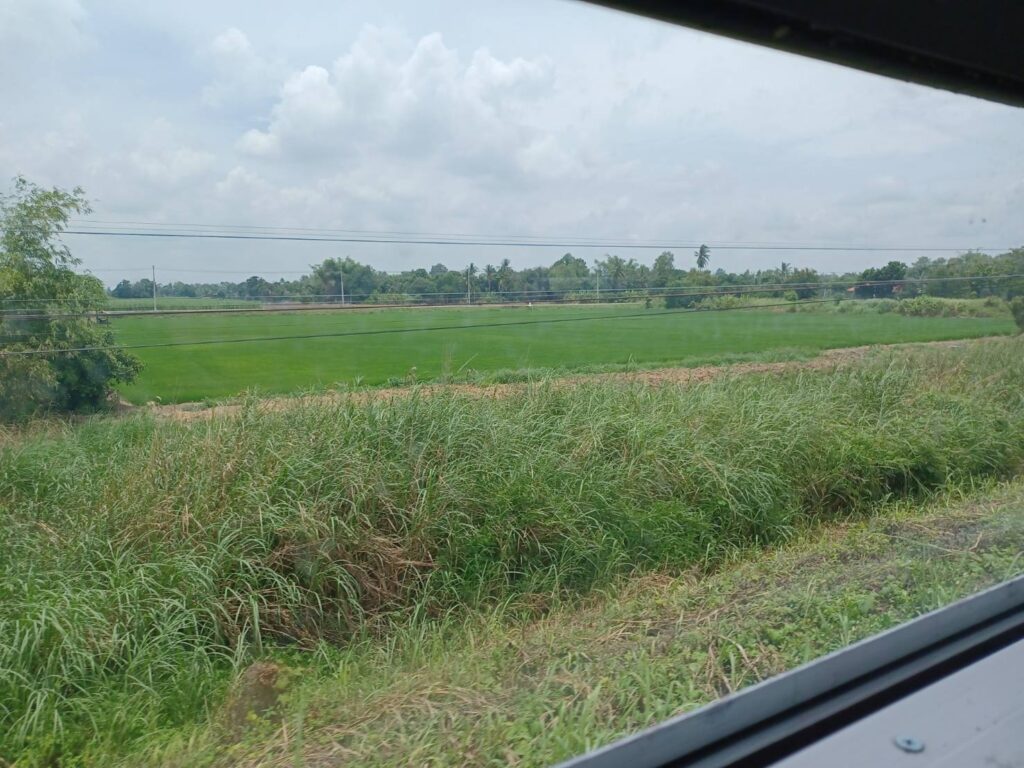 After Uttaradit station, train goes up to the mountain areas. The darkness comes when entering the tunnel inside the mountains.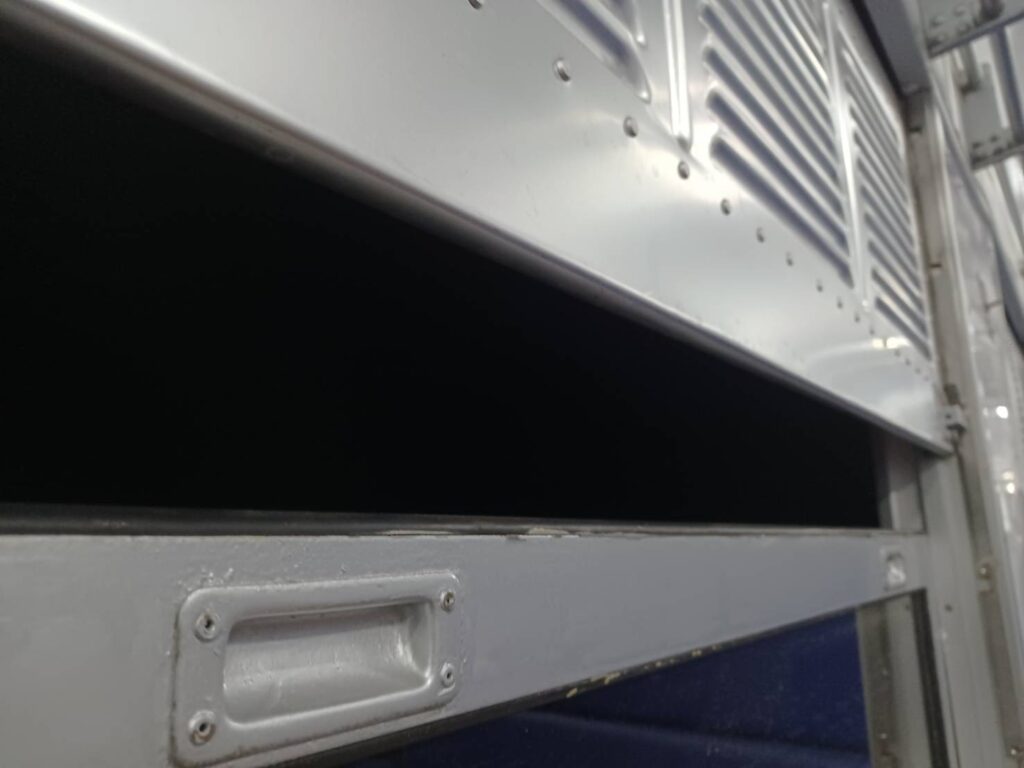 Winding tracks on the mountains.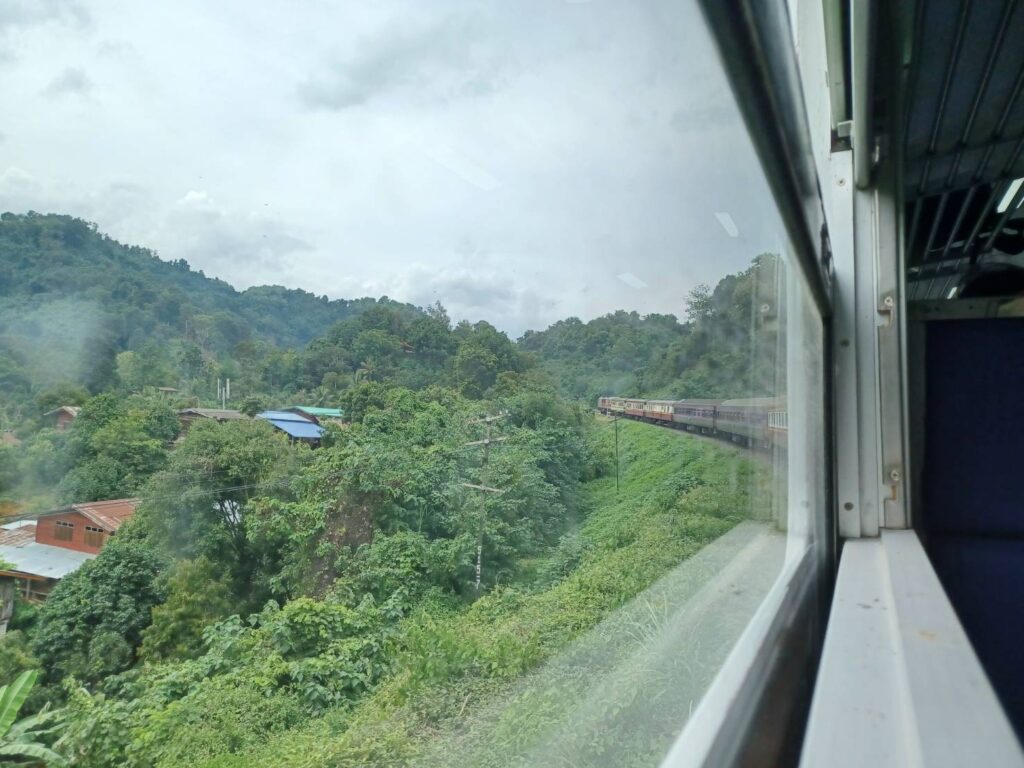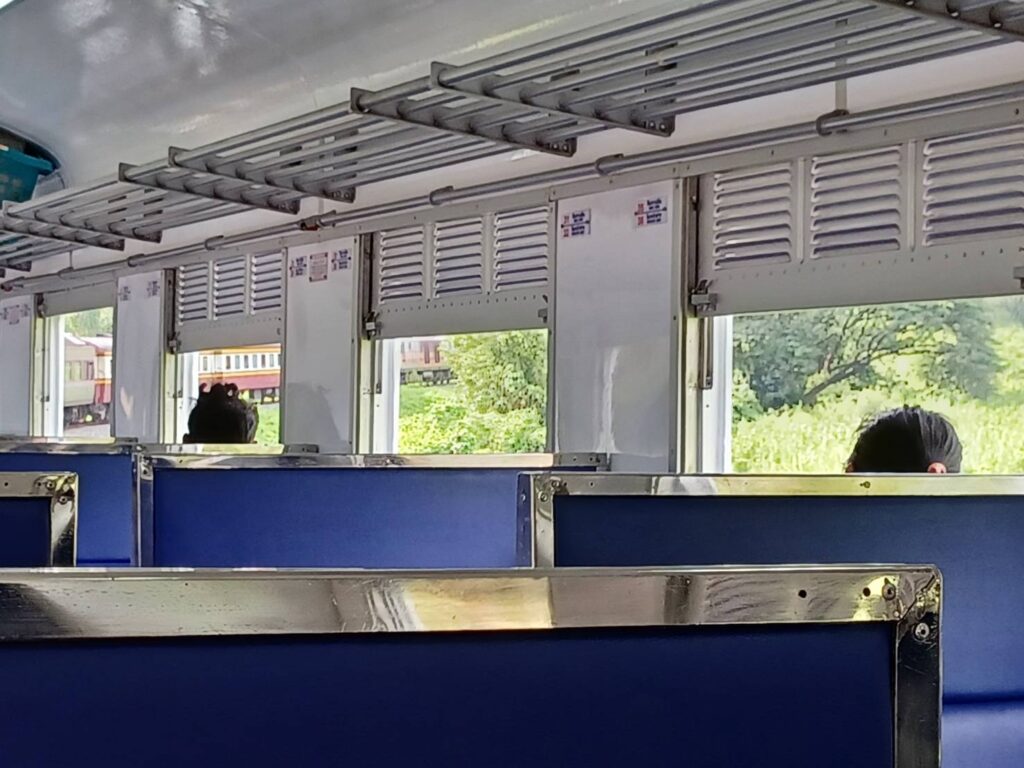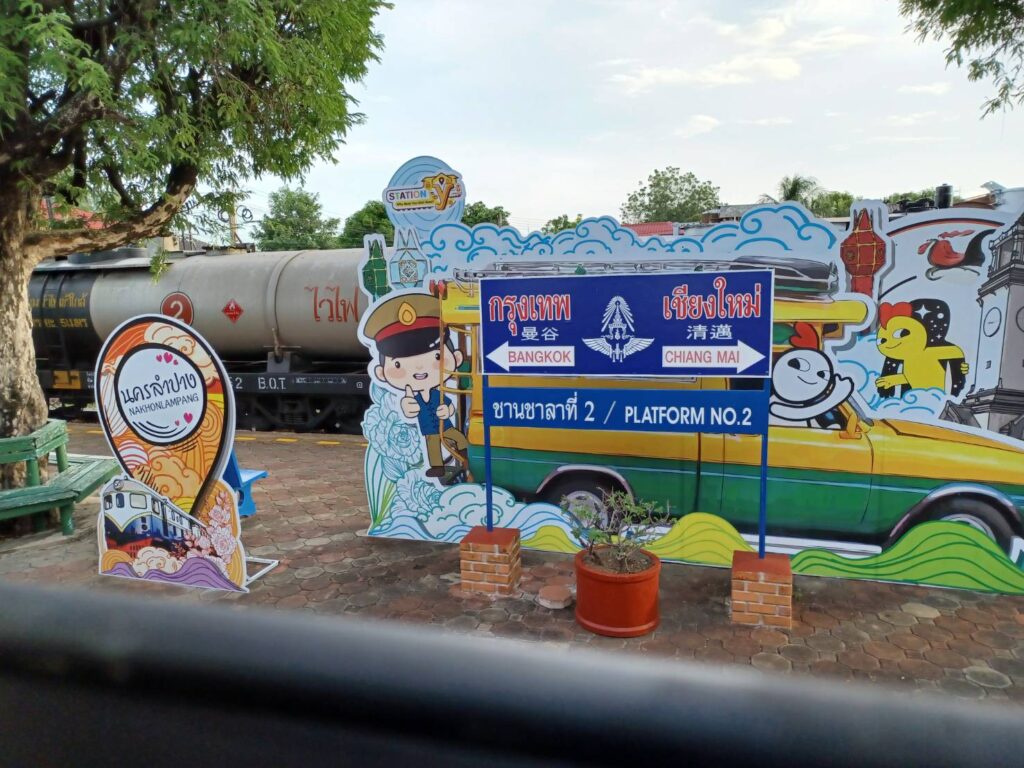 Train arrives at Chiang Mai station 8 minutes passed from the scheduled time 19 : 30 PM. Total 13 hour 30 minutes enjoyable ride!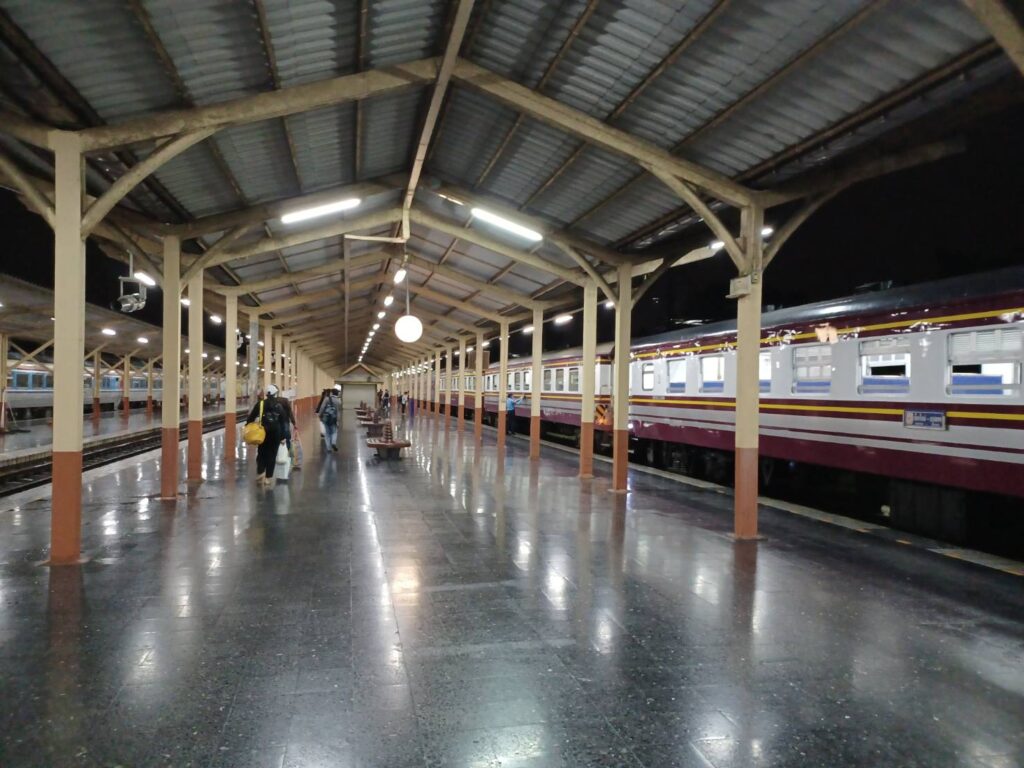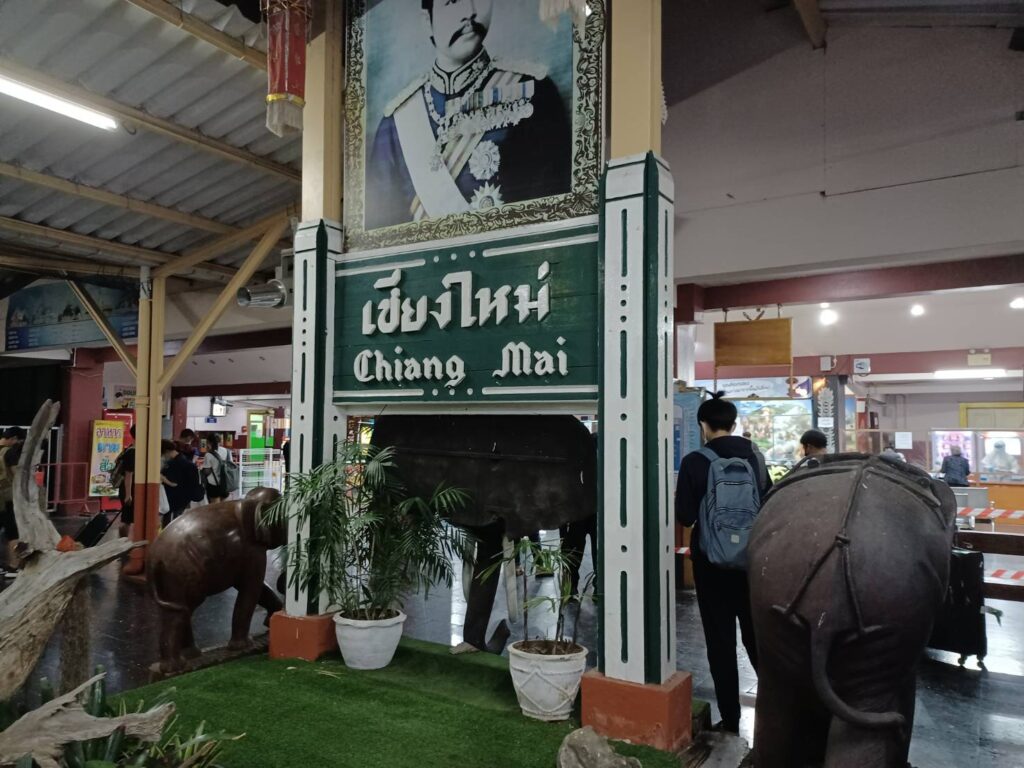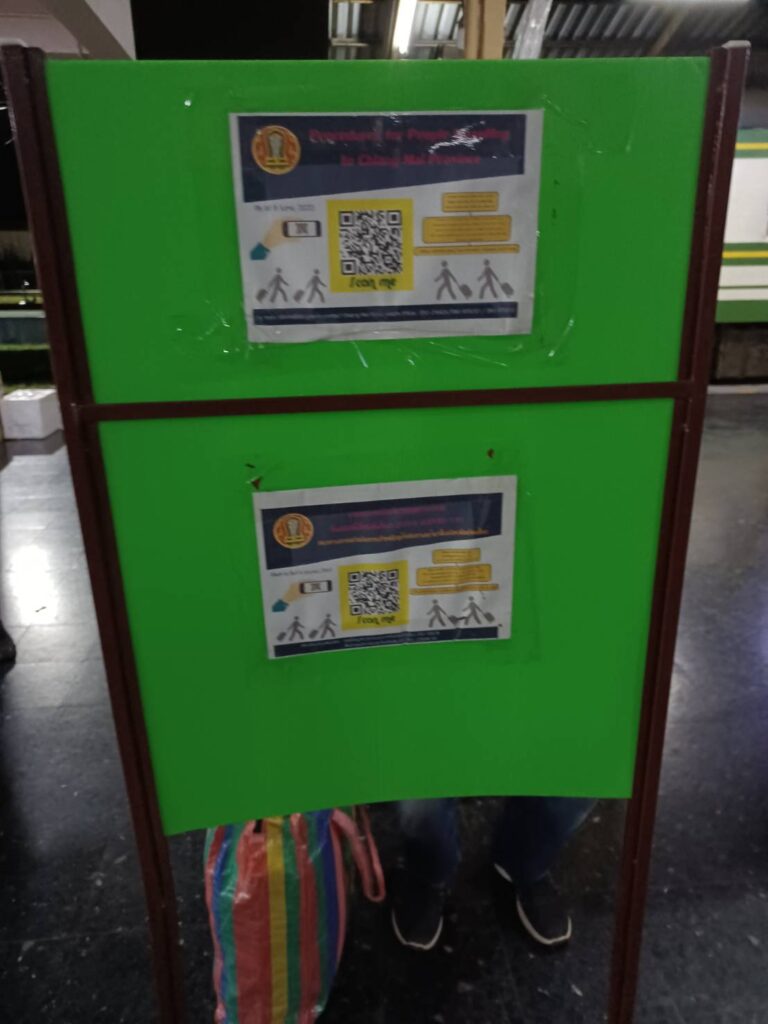 Before exiting from the station, everyone must show the document at station staff first. There are around 200 passengers are waiting in lines with social distancing. I am not sure what document I should show to the staff at all so I gave all I have to him. Passport, train ticket, vaccination record and CM Chana registration certificate on the cell phone. Staff just asked me for cell phone number additionally then I was excused from this process.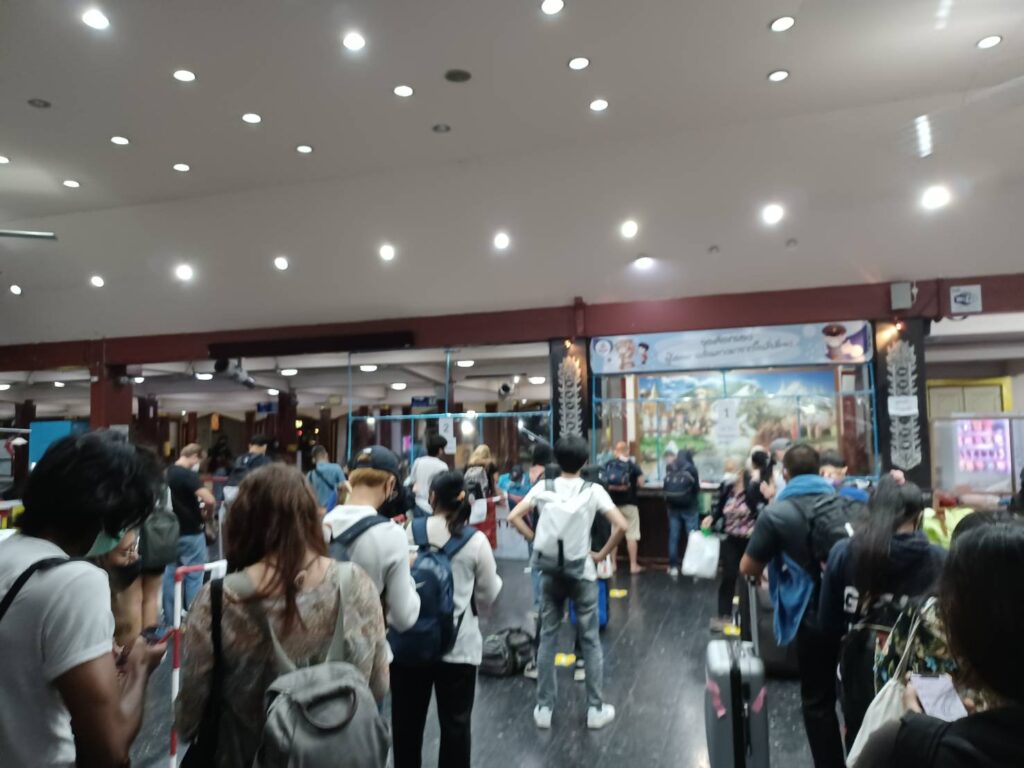 There are some Song teaw is waiting outside. Though I didn't use, I saw in some blogs says that shared Song teaw is available for 50 THB per pax to Chiang Mai city center (Old town area). If you prefer cheaper way, you can go out of the station area then find other Song teaw on the road. In this case, you can negotiate the price from 30 THB. For me, I felt like I would like to walk a bit after 14 hours train ride, I decided to walk to my hostel in old town areas around 5 km. Time was already 8 pm so It was not hot at all and lights are blight enough and luckily I didn't encounter the stray dogs at all on the way, 555.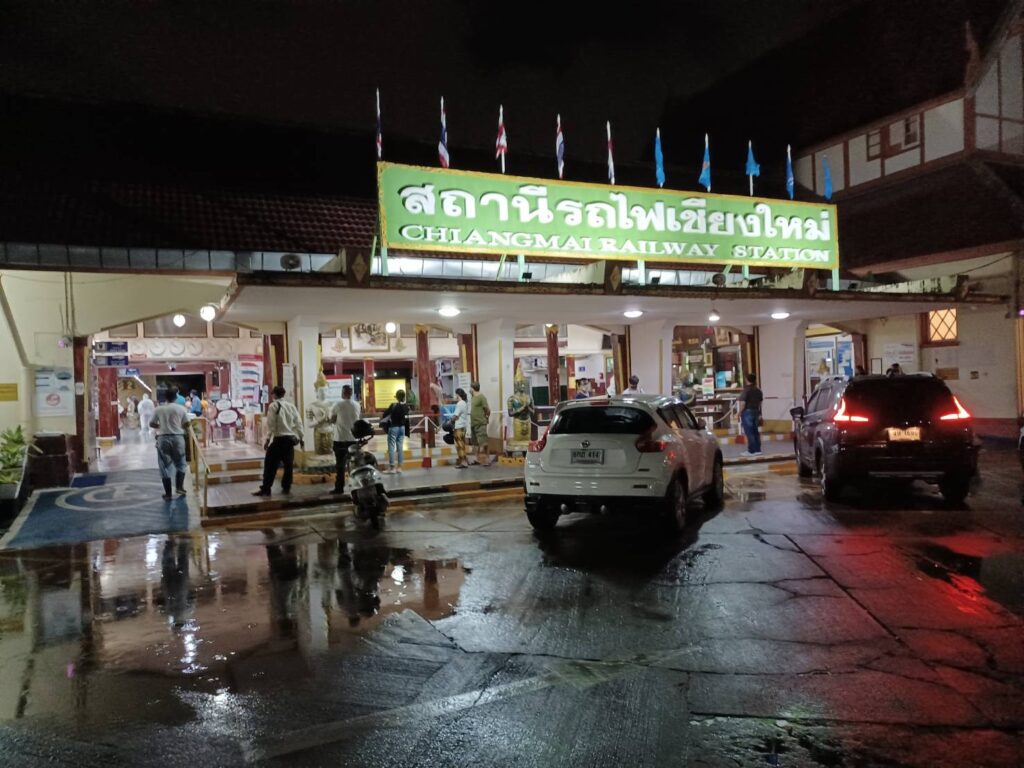 Famous Tapae gate on way to my hostel by walk…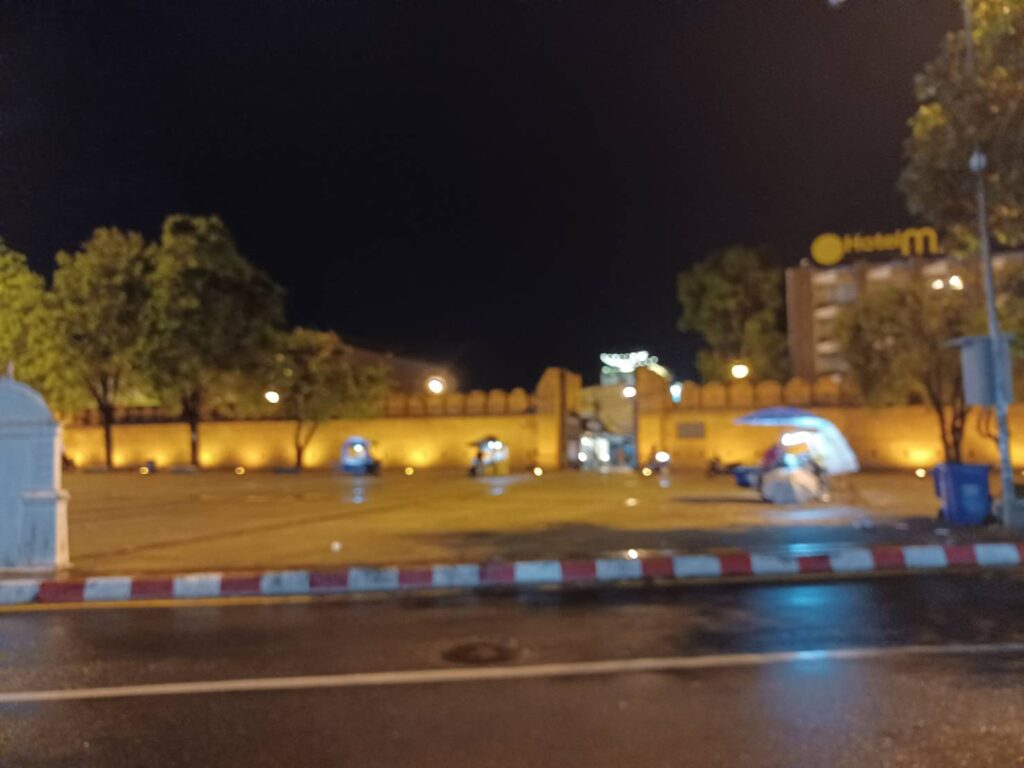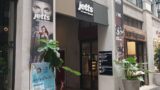 Jetts Fitness - One Nimman
Hi, everyone welcome back to "fitravelife". For Mother's day holidays, I took train for 14 hours to come to Chiang Mai, ...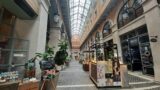 Walking around Nimmanhaemin Road, Chiang Mai Aug 2021
Hello, how are you doing? Continued from last post, I will make another article for my Chiang Mai trip in Mother's day h...
Returning trip to Bangkok
The day when I go back to Bangkok, I left my hostel at 4 : 30 am to reach to the station by departure time.. In early morning also, I did not see a dog at all during one hour walk.
Train to Bangkok is available one trip per day at this time. Please be noted that last station is Bang Sue not Hua Lamphong.
Chiang Mai – Bangkok (Bang Sue)      6 : 30 AM – 19 : 30 PM Train No. 102
I found nice Seven Eleven outlet near Tapae gate when heading for train station. In provincial areas, sometimes you will notice this kind of design.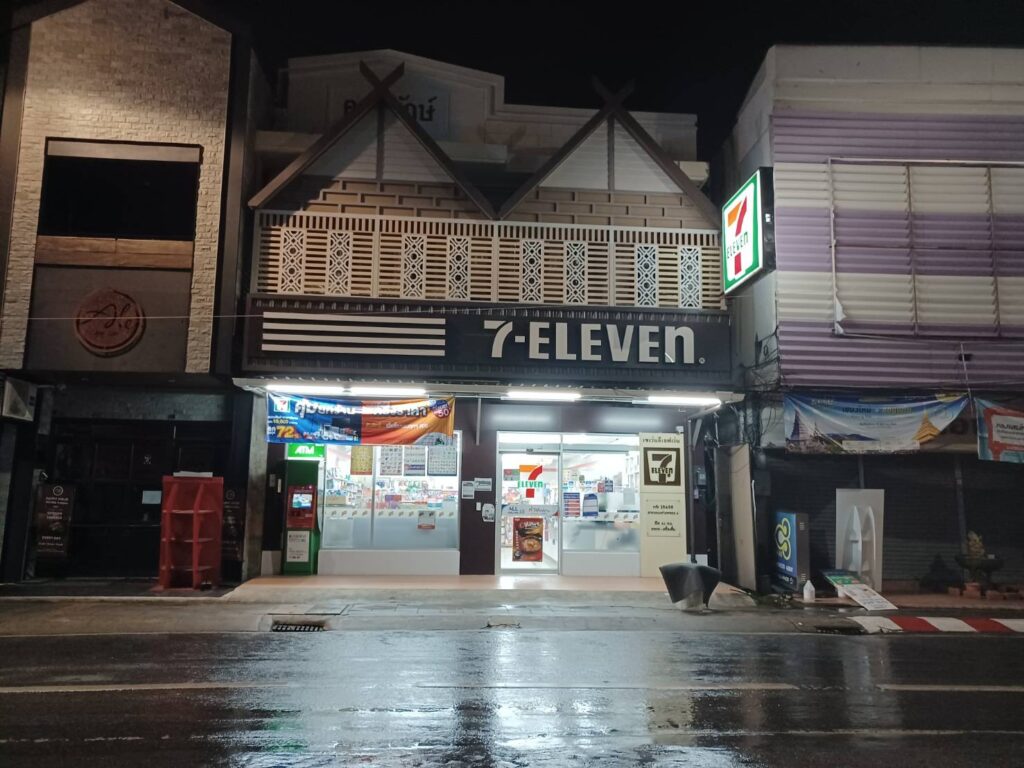 One hour walking made to train station.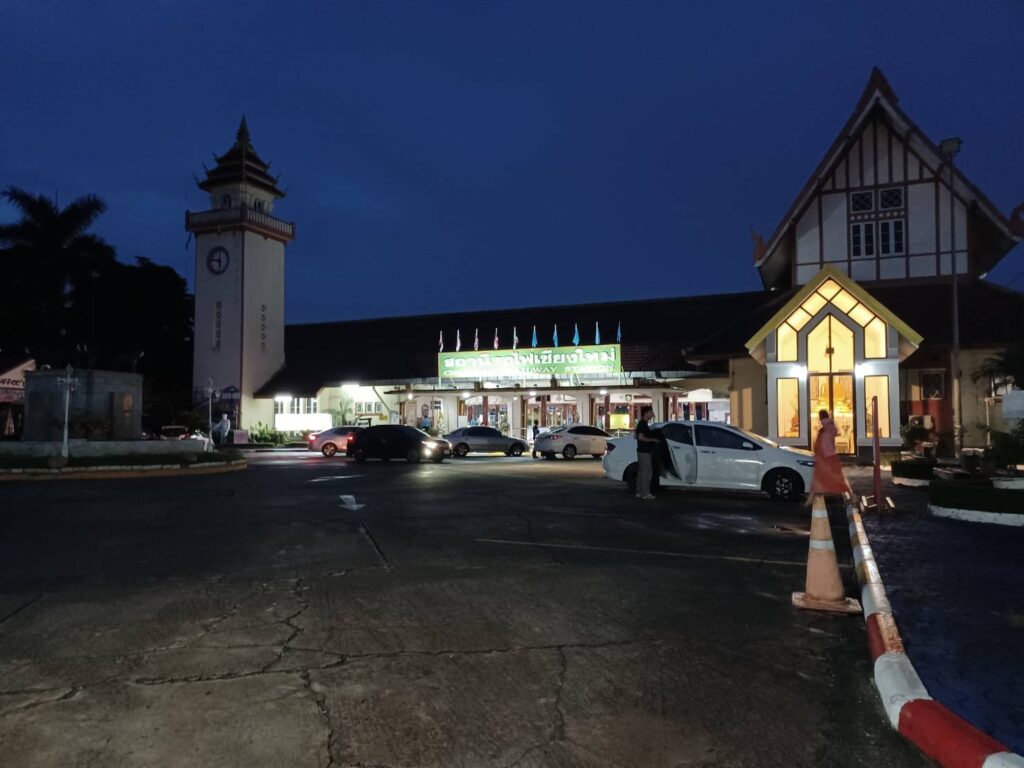 Wishing safe and on time trip to Bangkok not to get caught curfew time from 9 pm.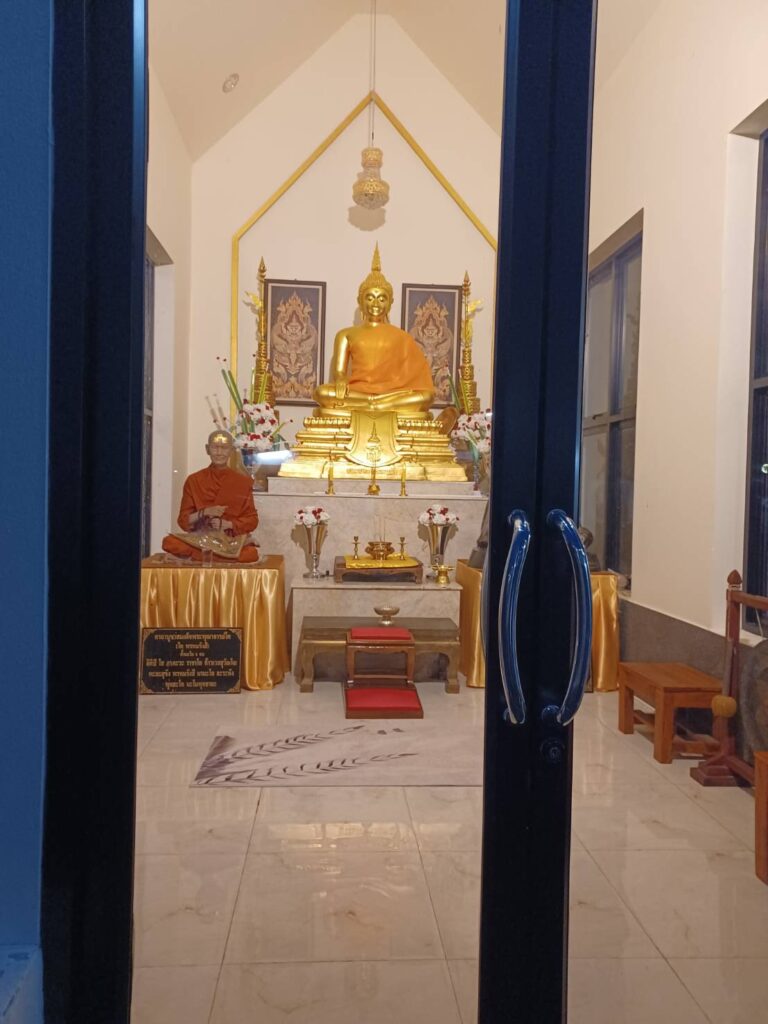 There is the picture of queen to celebrate her birthday on 12th August.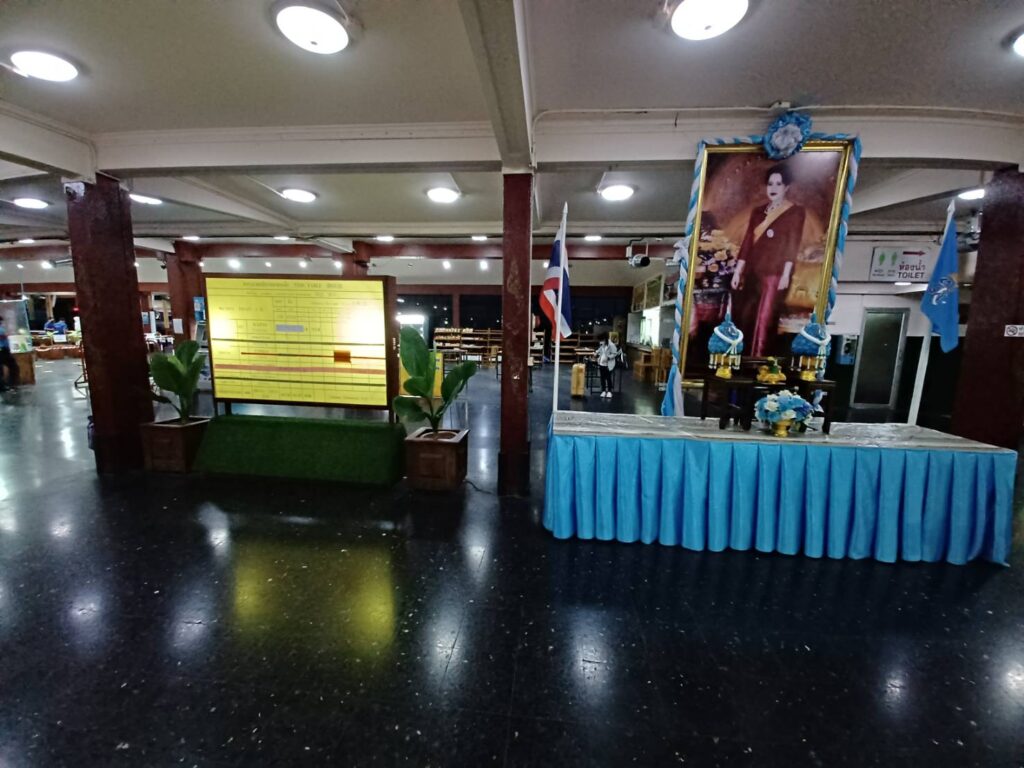 Let's get the ticket going back to Bangkok! Just need to show the passport to buy it.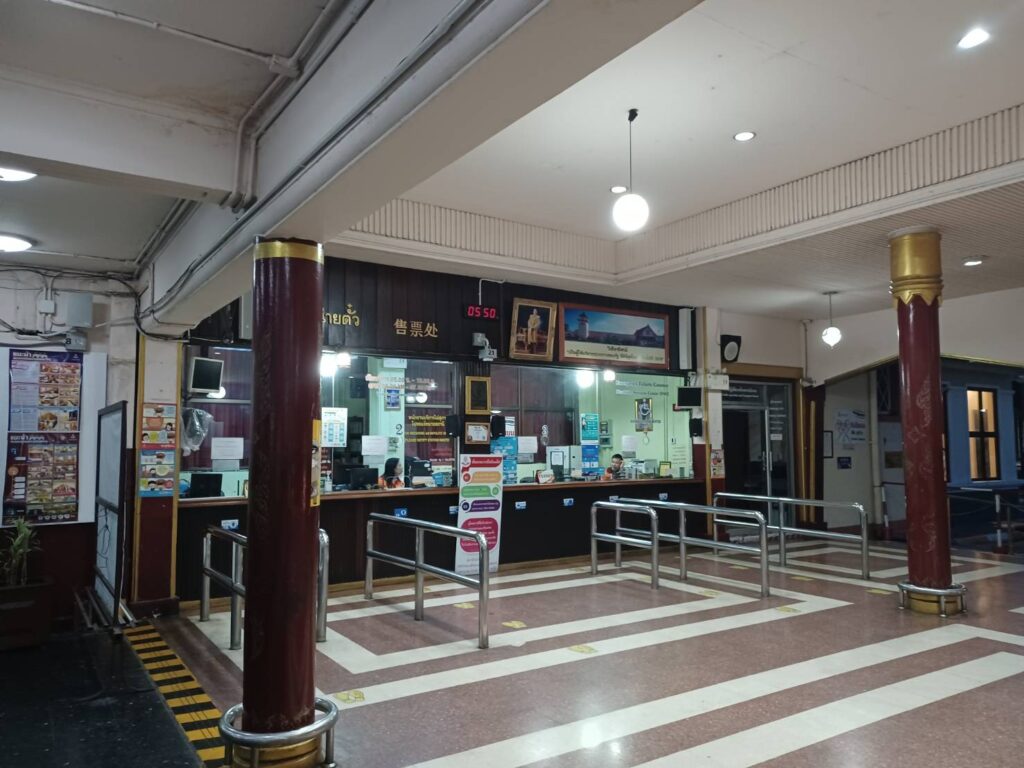 3rd class fan car is 230THB while fare table shows 231THB. 1THB discounted?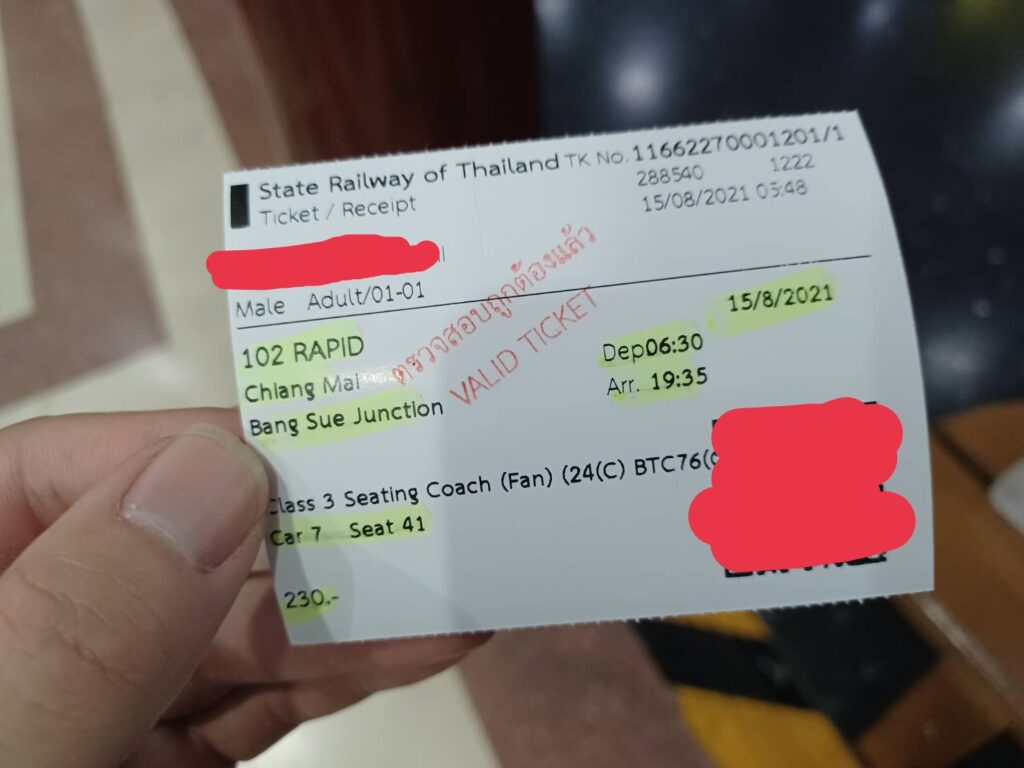 Hmmm, it seems Chiang Mai to Nakhon Sawan train is also operated.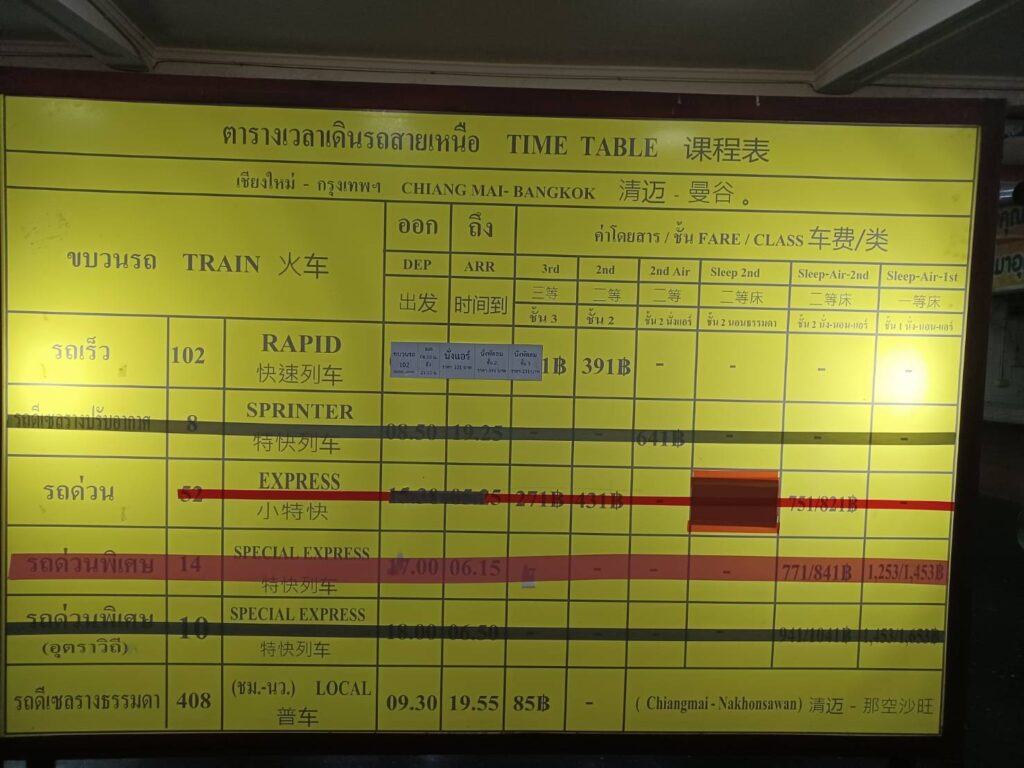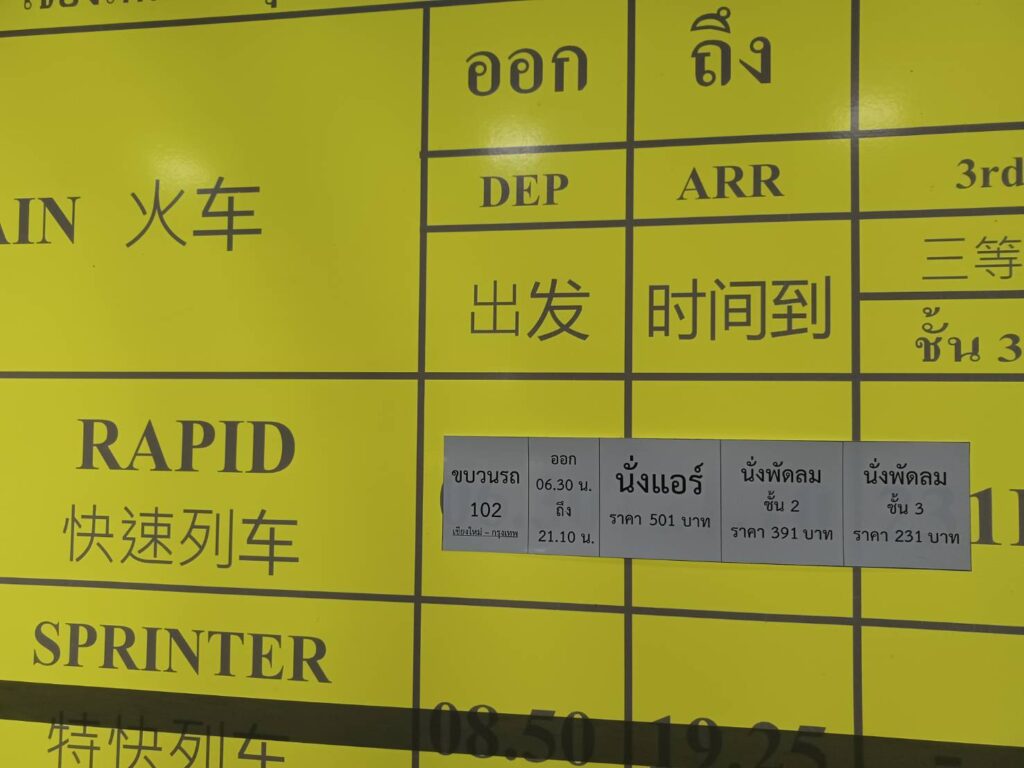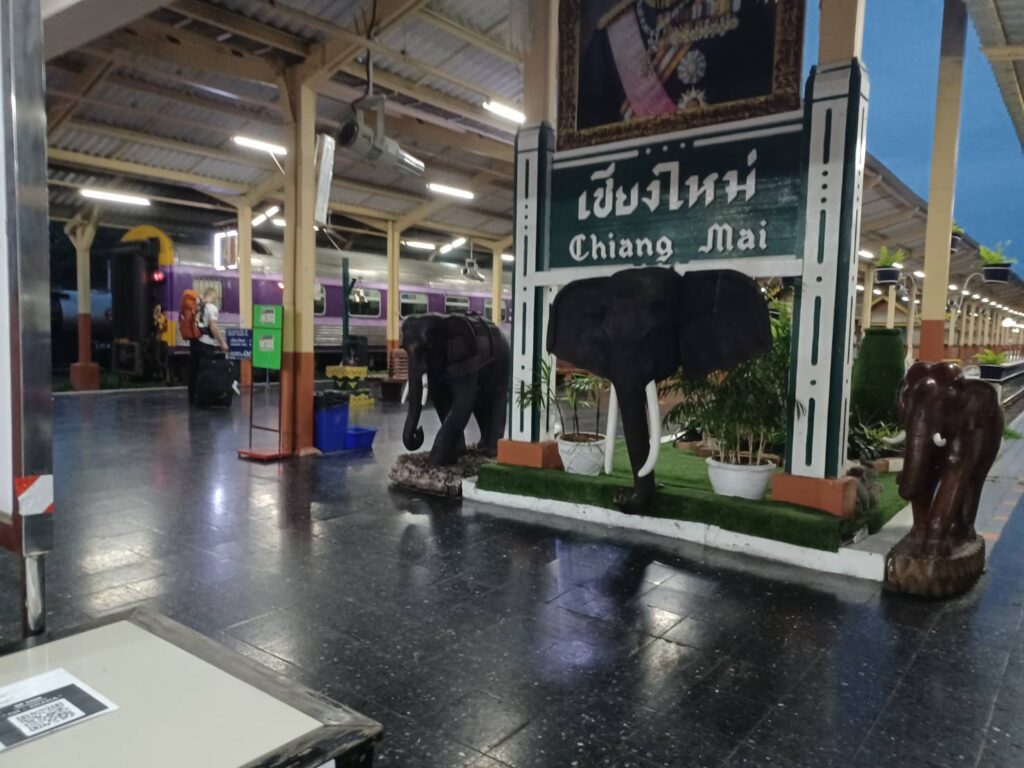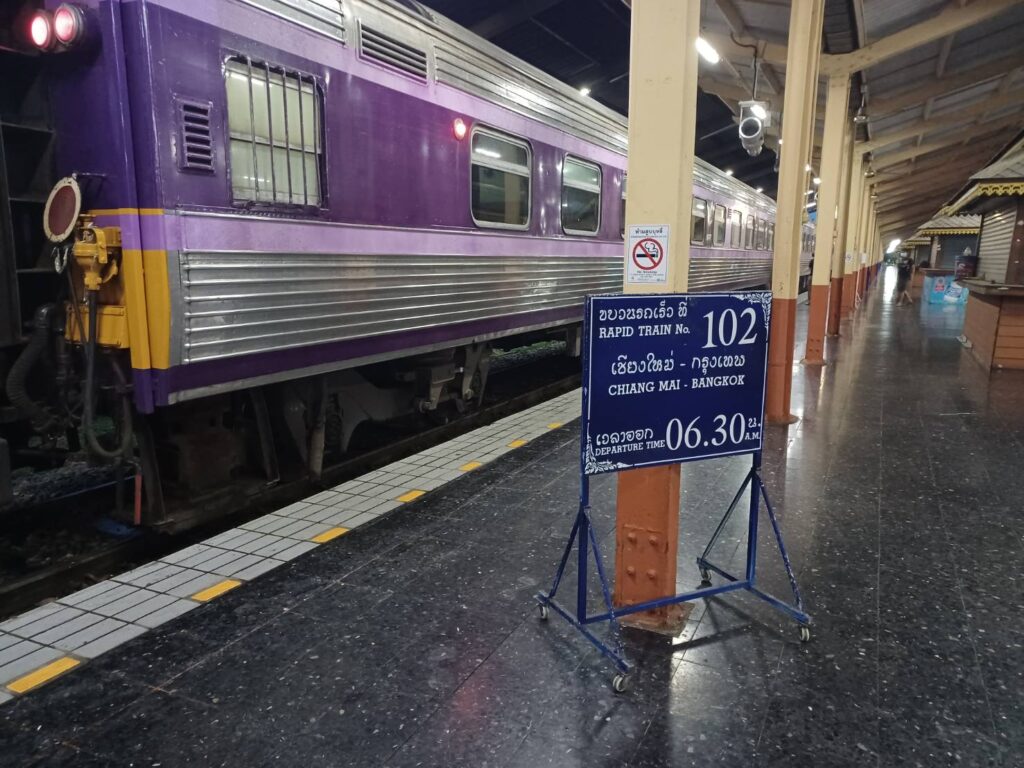 Passing air conditioned car to reaching my seat at 3rd class. Aircon temperature seems really cold to me!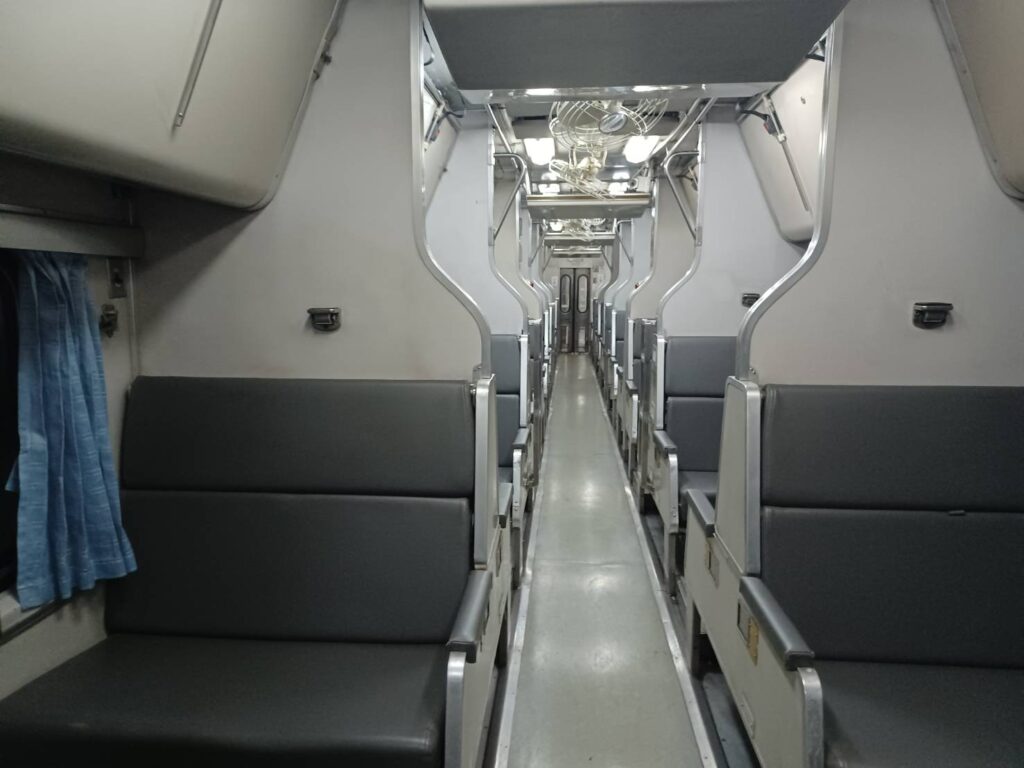 My 3rd class fan car.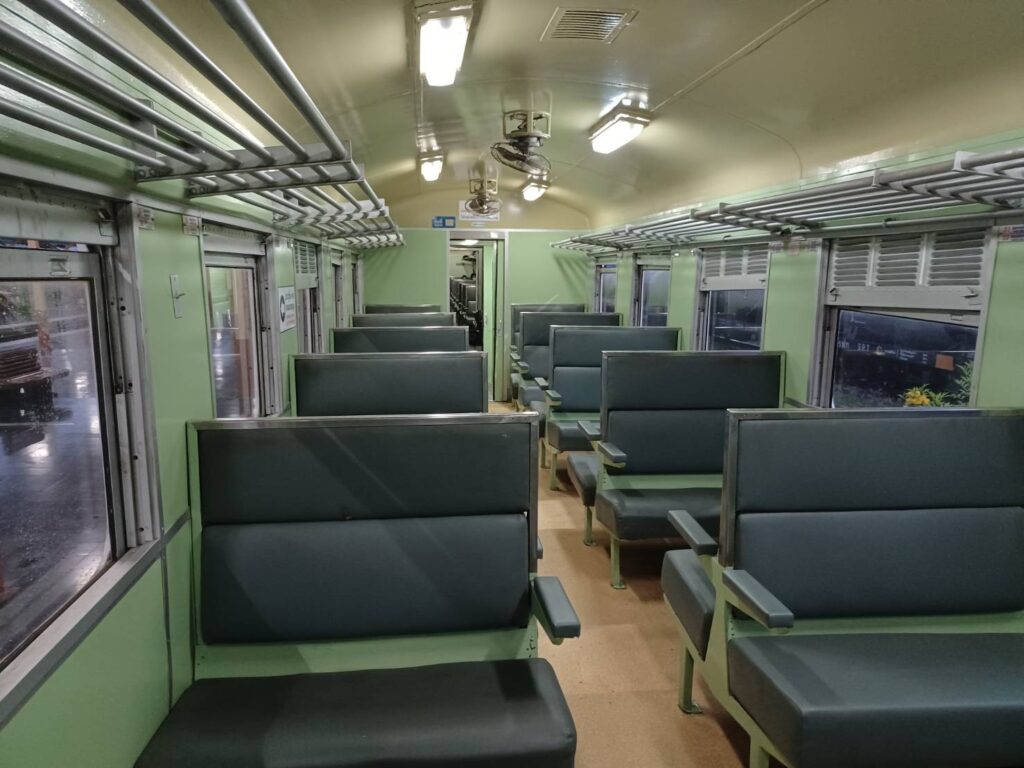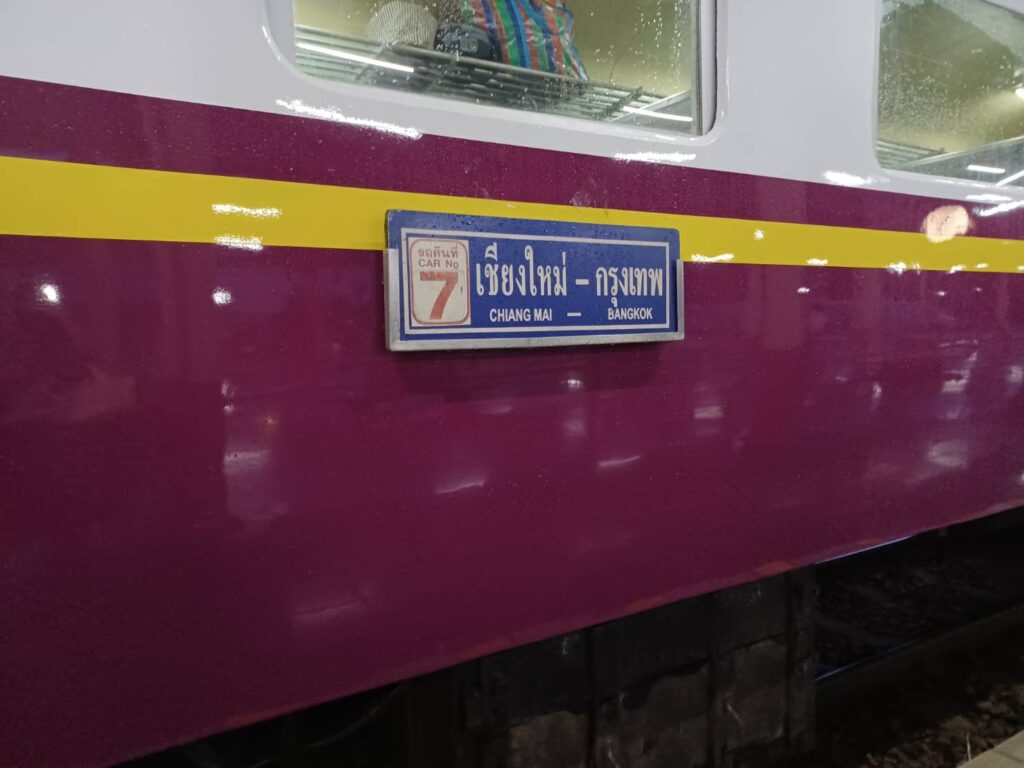 Train departed exactly at 6 : 30 am.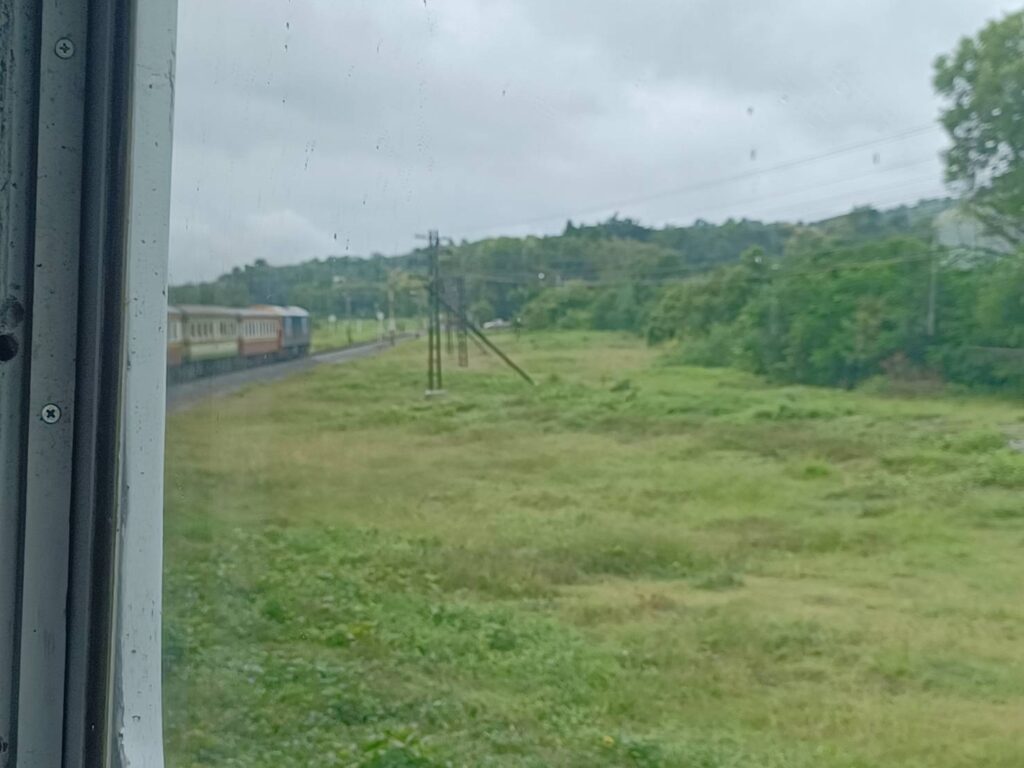 Got sticky rice "Khao nyao" and Pork stick "Mubin" from street vendor inside the train. Price is 30THB.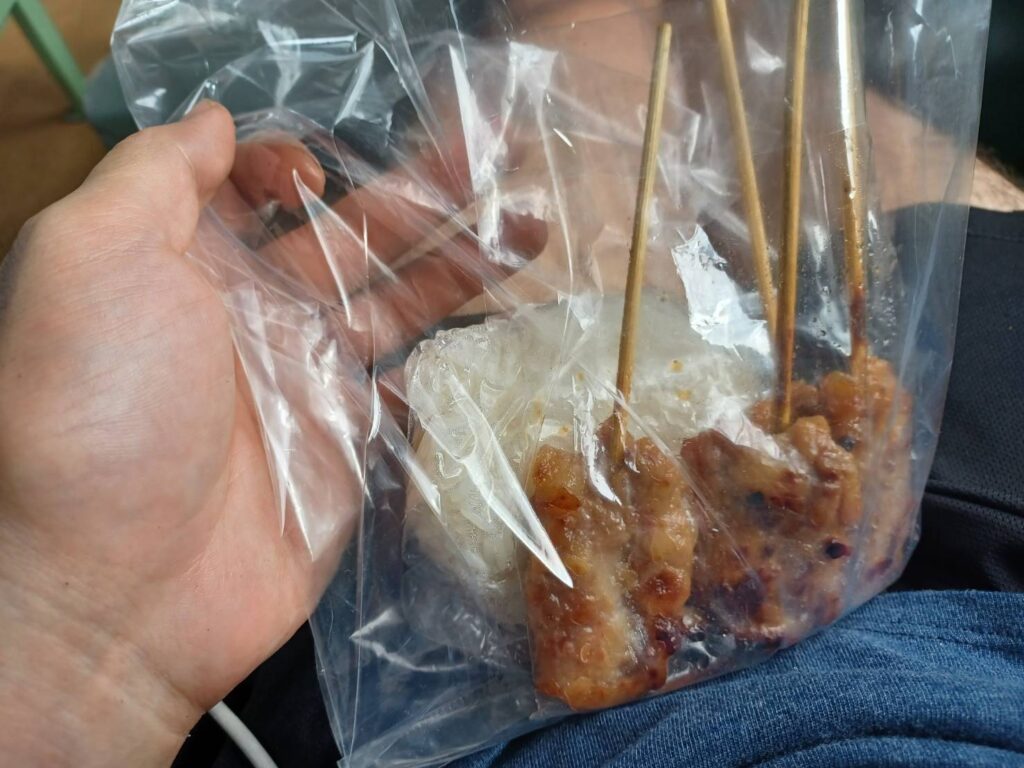 It is already dark outside when entering Bangkok. The number of passengers are getting increased as coming close to final destination, Bang Sue but not exceeding more than 50% of its capacity in my car. In my case, I can stretching my legs by using 2 seats.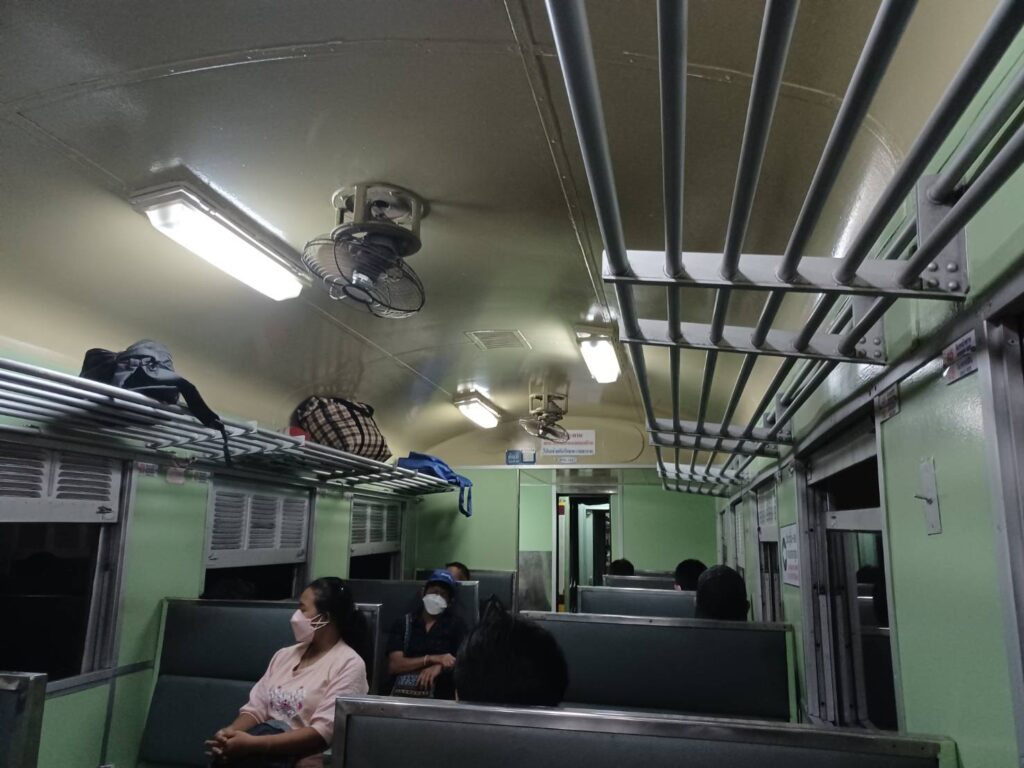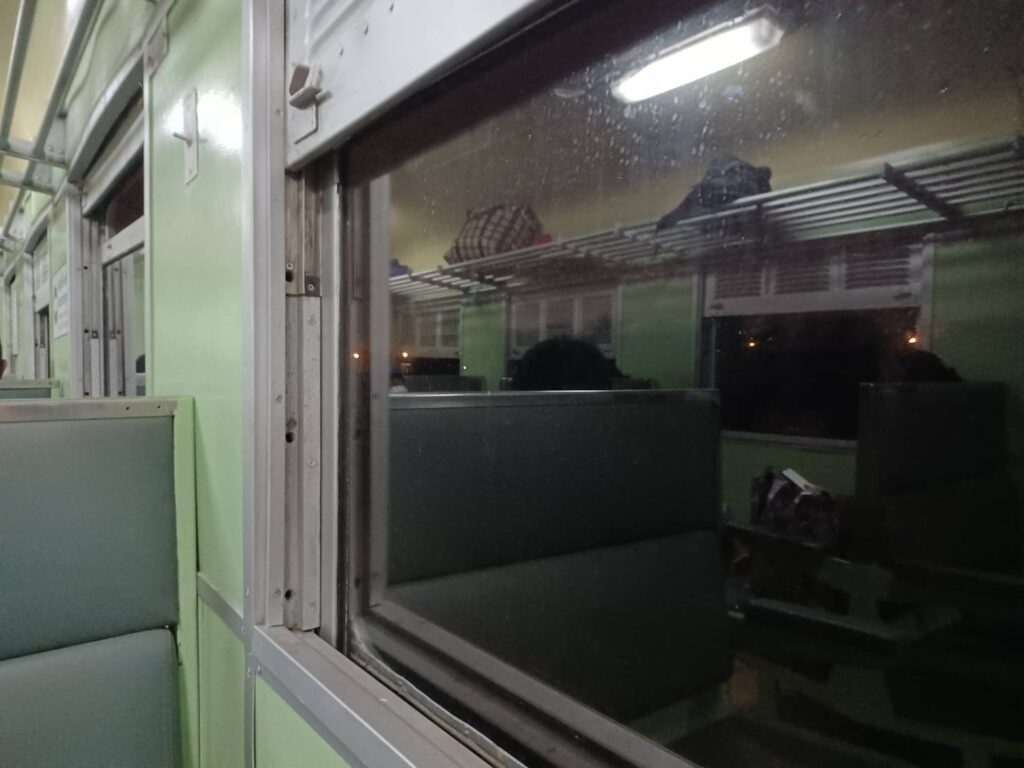 Train arrived at Bang Sue station at 8 : 20 PM which is 45 minutes delay from scheduled time. At this point, I did not have enough time to go home within 40 minutes but I was not worried at all for curfew regulation starting from 9pm. This is because of delay of train arrival and I can explain and prove it to the police officer in case I am caught.
When reaching at the Bang Sue station, there are many taxi stand-by around 20 to 30. So I can easily get the ride from the station to home and luckily I managed to reach my home before 9 pm today.
When getting off the taxi, driver asked me to give train ticket so that he can use as evidence of work during curfew time. In case you are in same shoes as me, please also keep train ticket then surrender to the driver for support.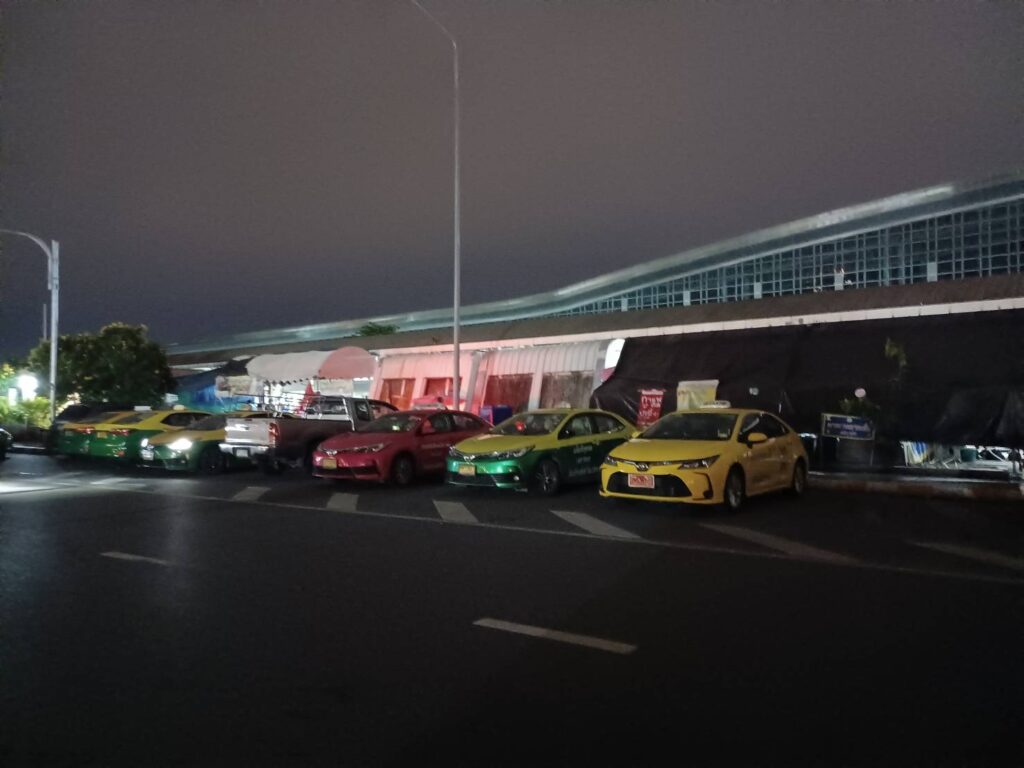 Ok, that is the all train trip story to Chiang Mai during Covid restrictive measures. It is possible but please think well if it is really necessary to travel in advance. And in case you need, I hope my experience can help you to reflect.
See you!