Welcome back, everyone! I came to Phuket on Mar, 2022. Thanks to relaxation of Covid restriction, tourists gradually come back to world-famous beach resort so as local transportation operation resumes compared to 2020 pandemic time. In 2020 year end no bus to Patong beach was available so I took bus bound for Phuket town then changed to Songteaw at Central festival Phuket. However, this time, direct operation to Patong beach was back to operation. I will show you current bus operation from Phuket airport for your information.
Bus station at Phuket airport
Bus station is located left end side of domestic airport terminal. Once you get out from exit after baggage control, go left side and leave the terminal building. If you come from abroad, you have to go to domestic terminal first then reach at bus station.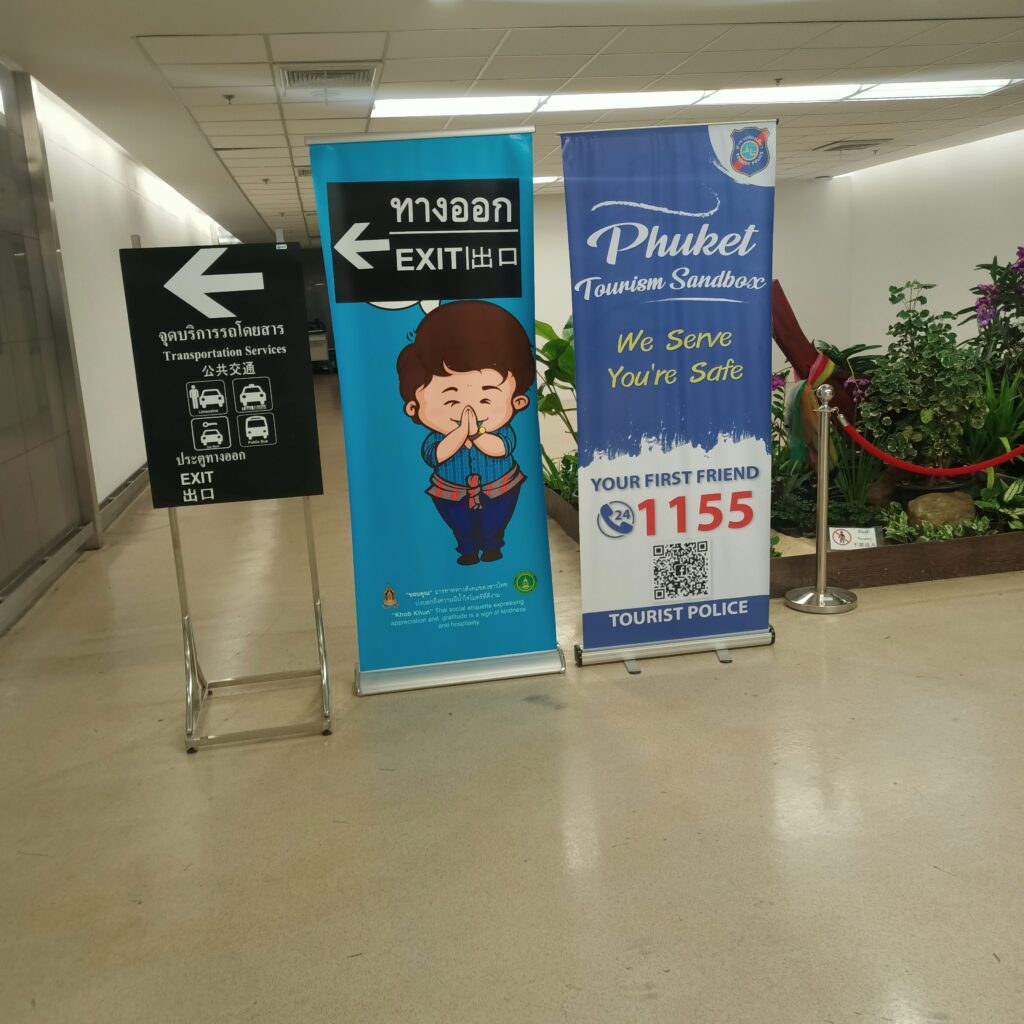 Shared van and minivan service is available. Taxi price in Phuket is amazingly high, almost double priced of taxi fare in Bangkok. If you are group of 3 -4 person, taxi can also be the choice for your transportation. Minivan price is fare around 200 THB per person. However, I recommend cheaper way by public bus as I introduce below.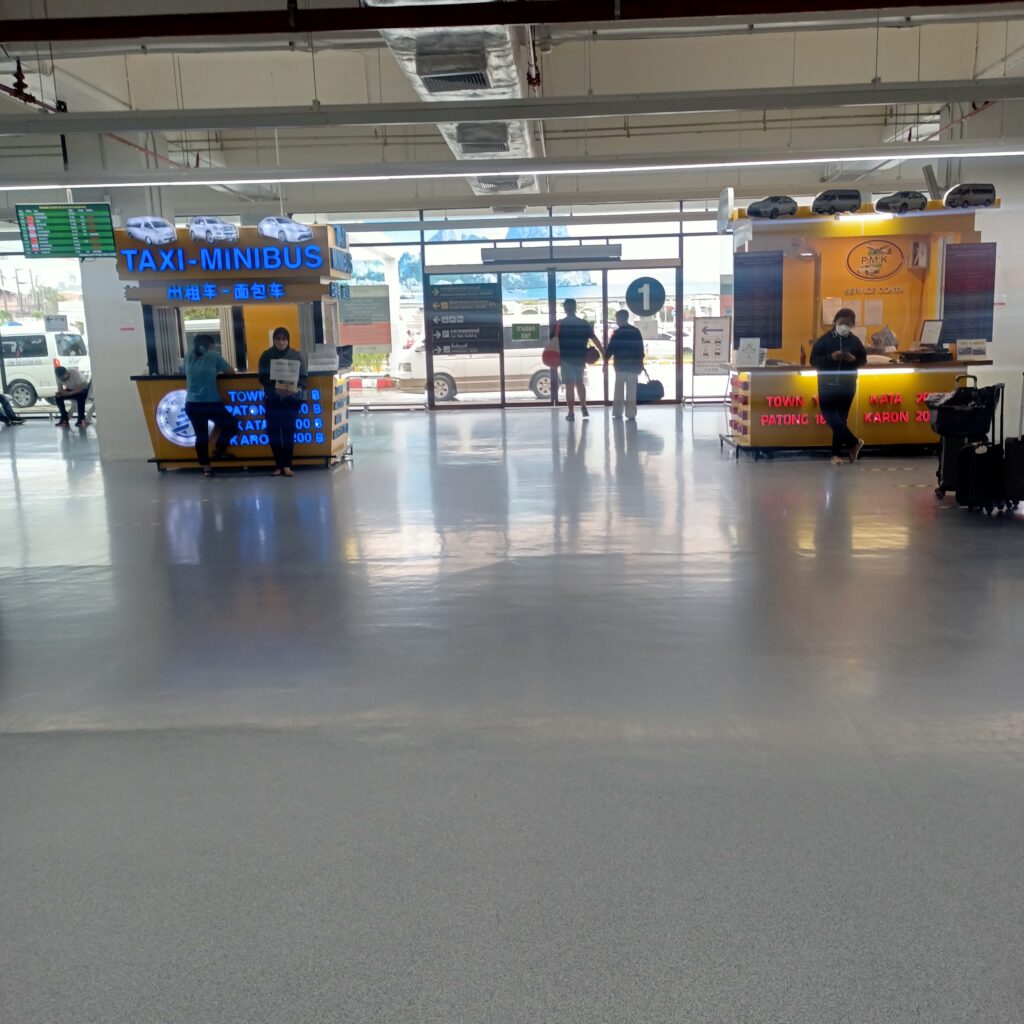 Mini van price is quite fare around 200THB only per person.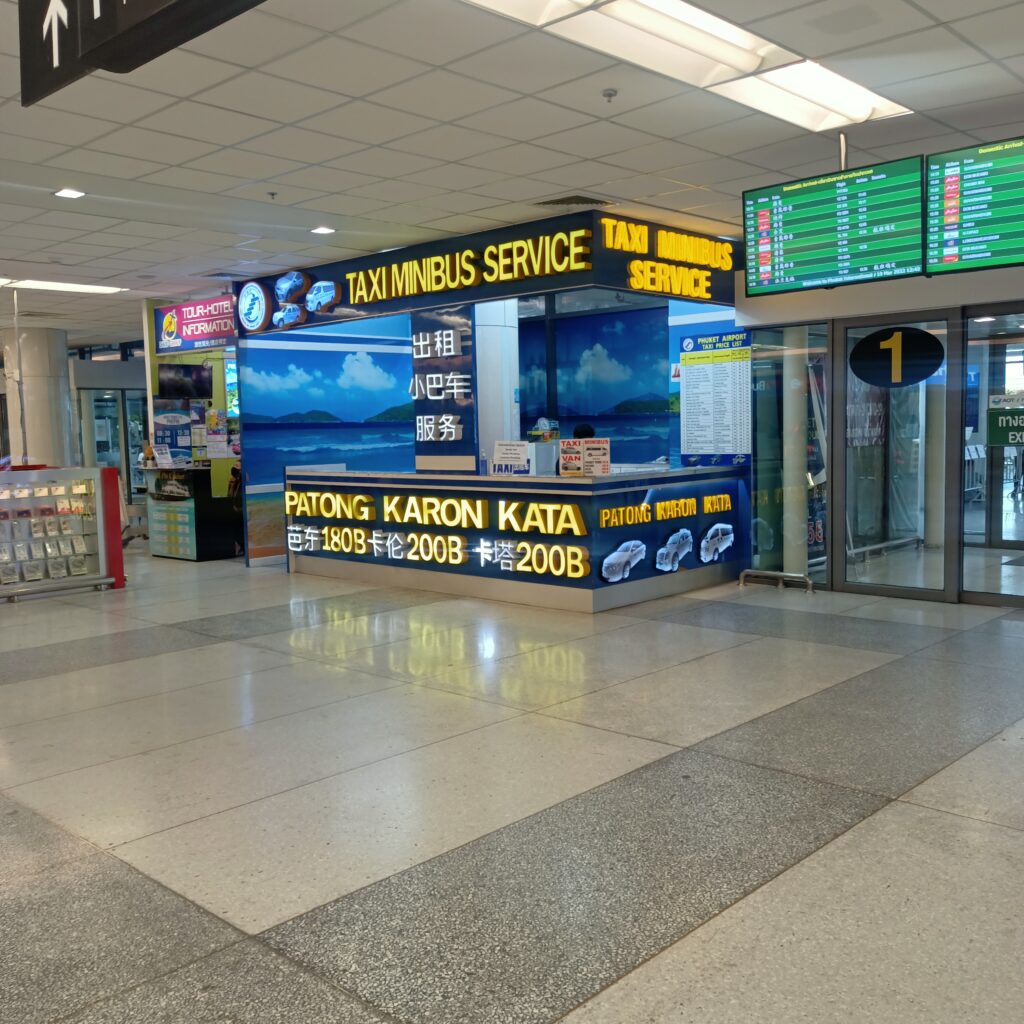 Going left side from arrival exit.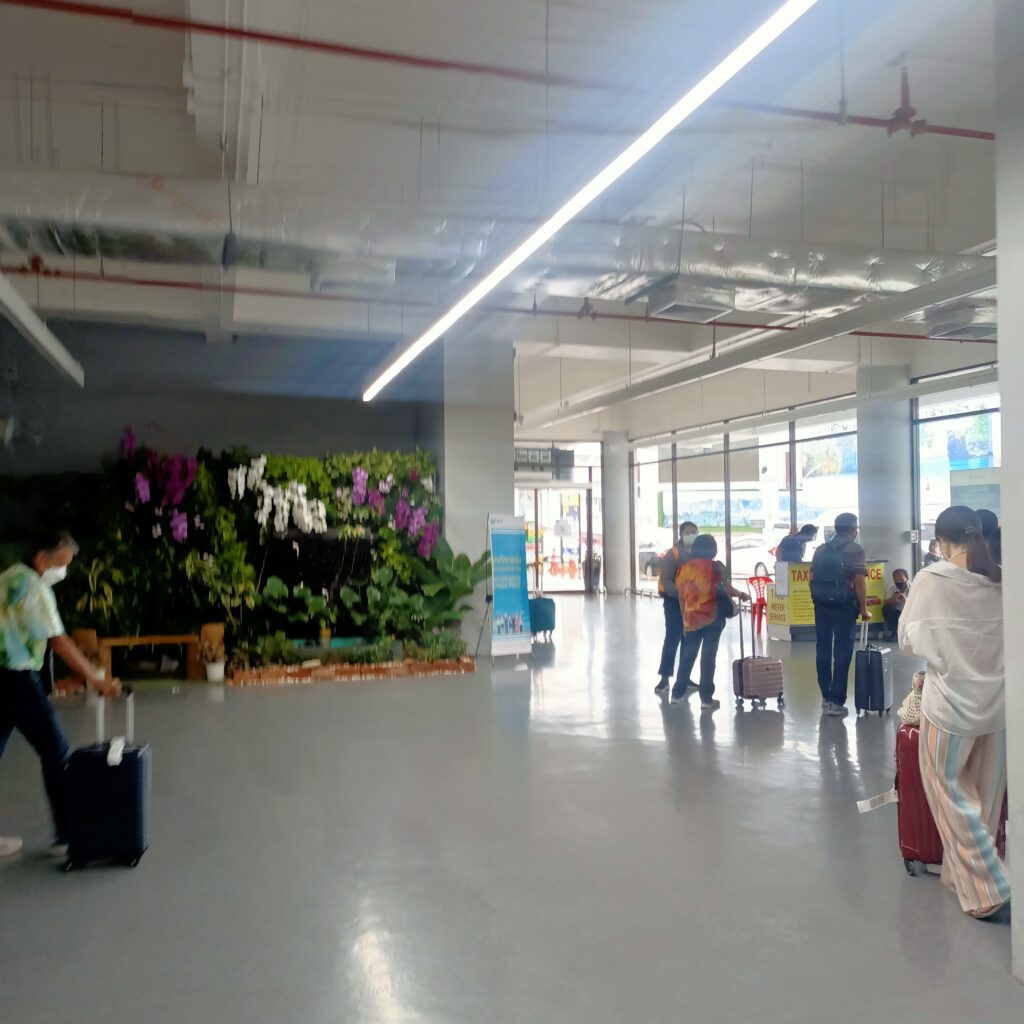 Leaving form terminal building, follow sign of public transportation.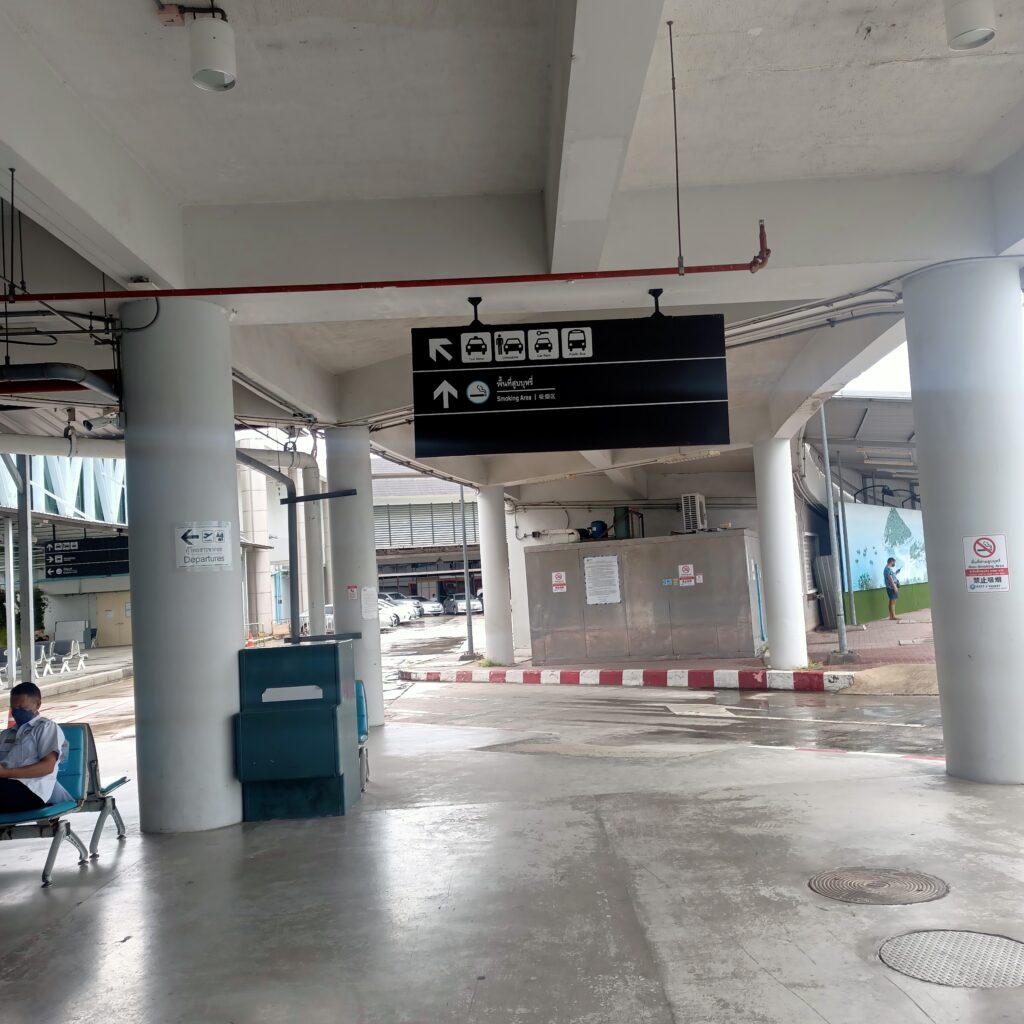 Here comes the public transportation depot. You can take 3 types of bus (P1, P2 and P3) from here. All buses are now in operated as of March, 2021 although only P2 bus could be used during Covid pandemic 2022 year end holiday when I visited.
Route P1. Phuket airport to Patong, Karon, Kata, Rawai beach
Route P2. Phuket airport to Phuket town
Route P3. Phuket airport to Patong, Karon, Kata beach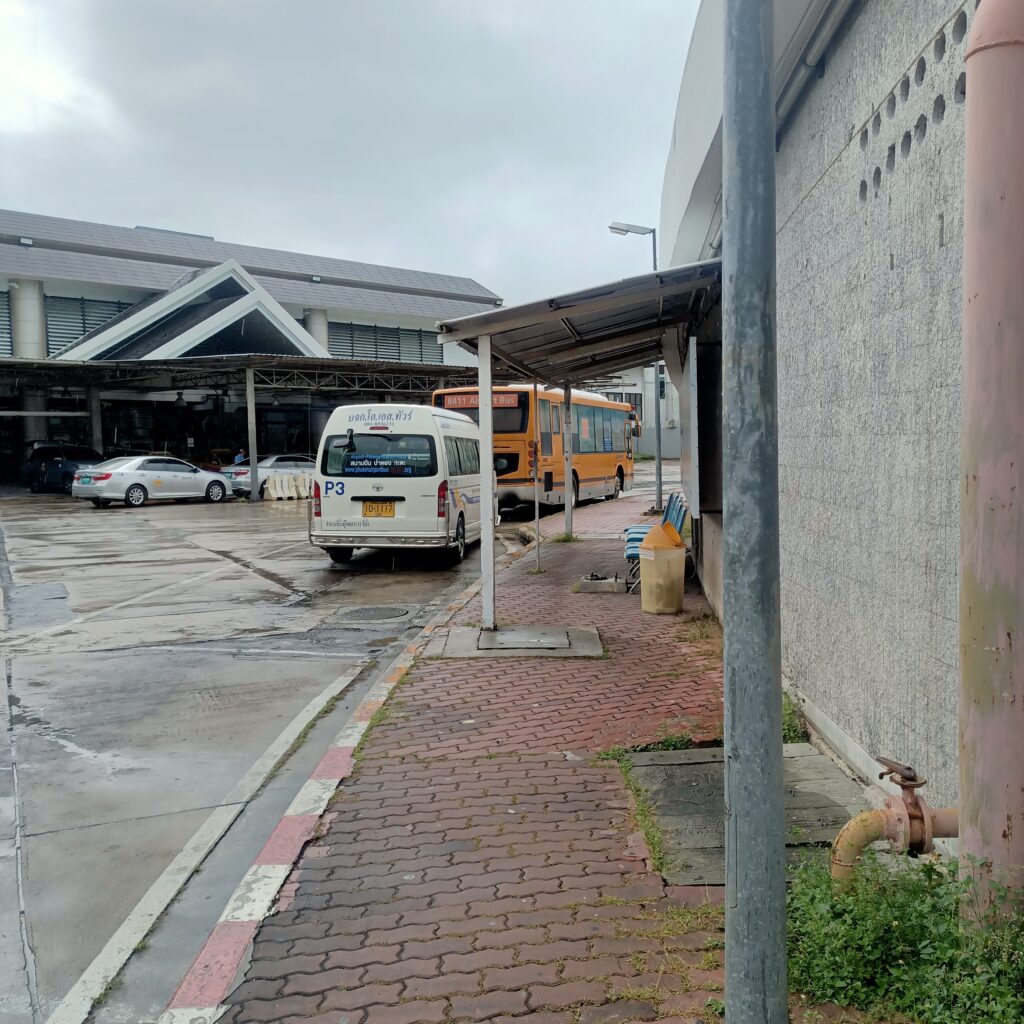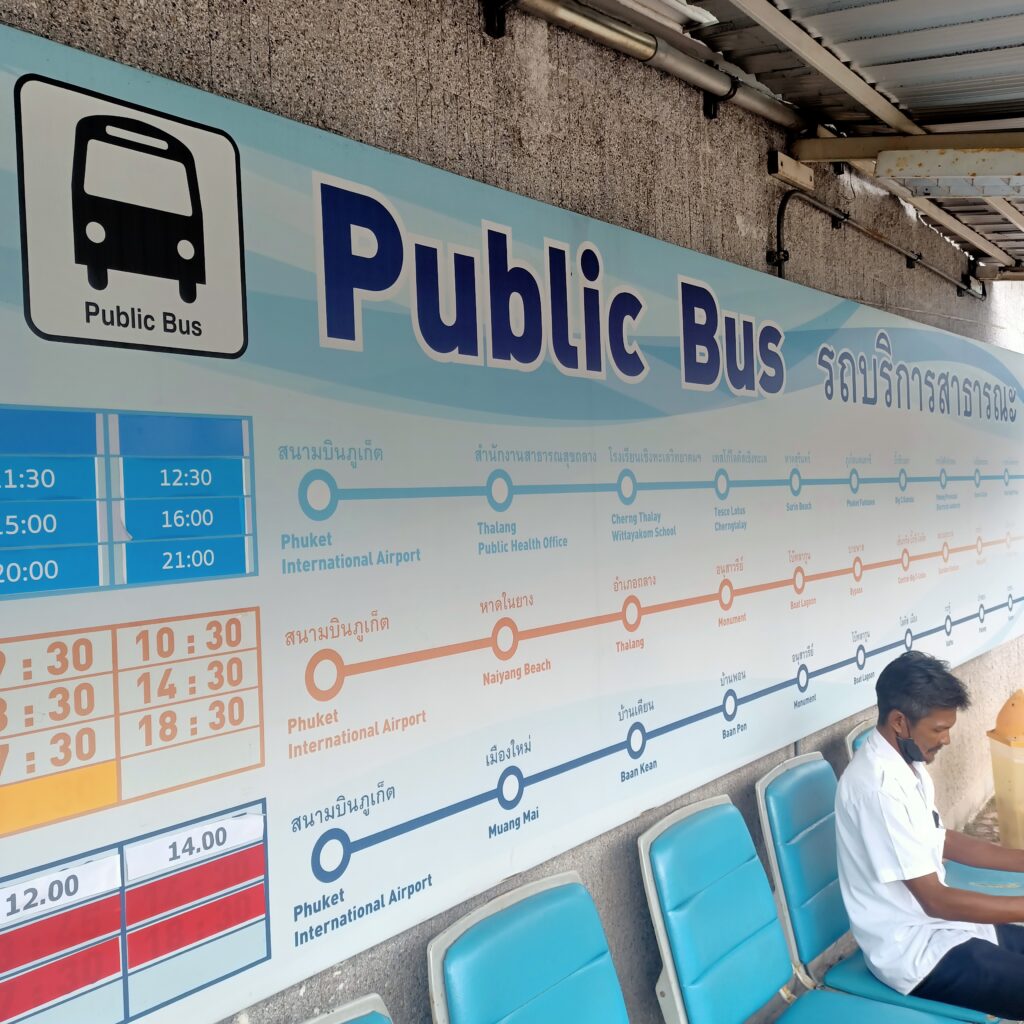 Bus route map.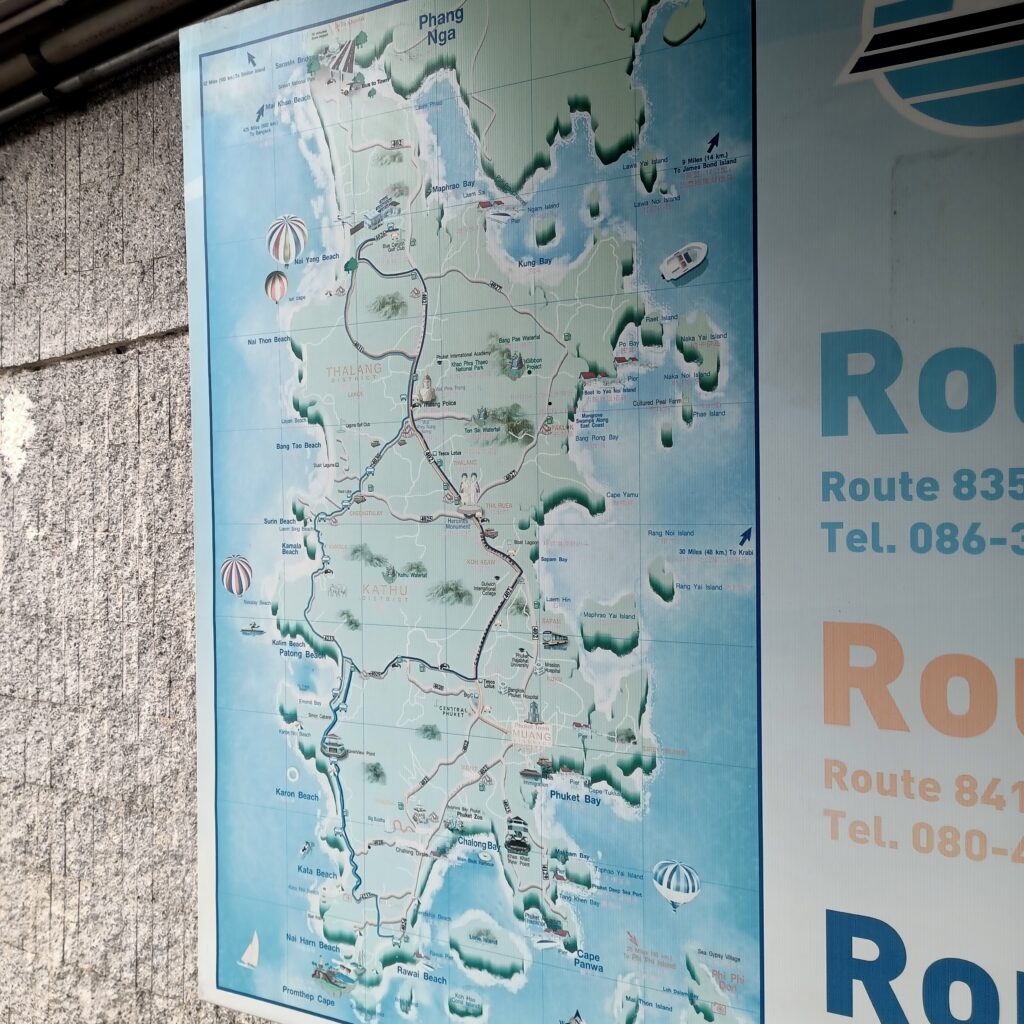 Inquiry number for each bus route.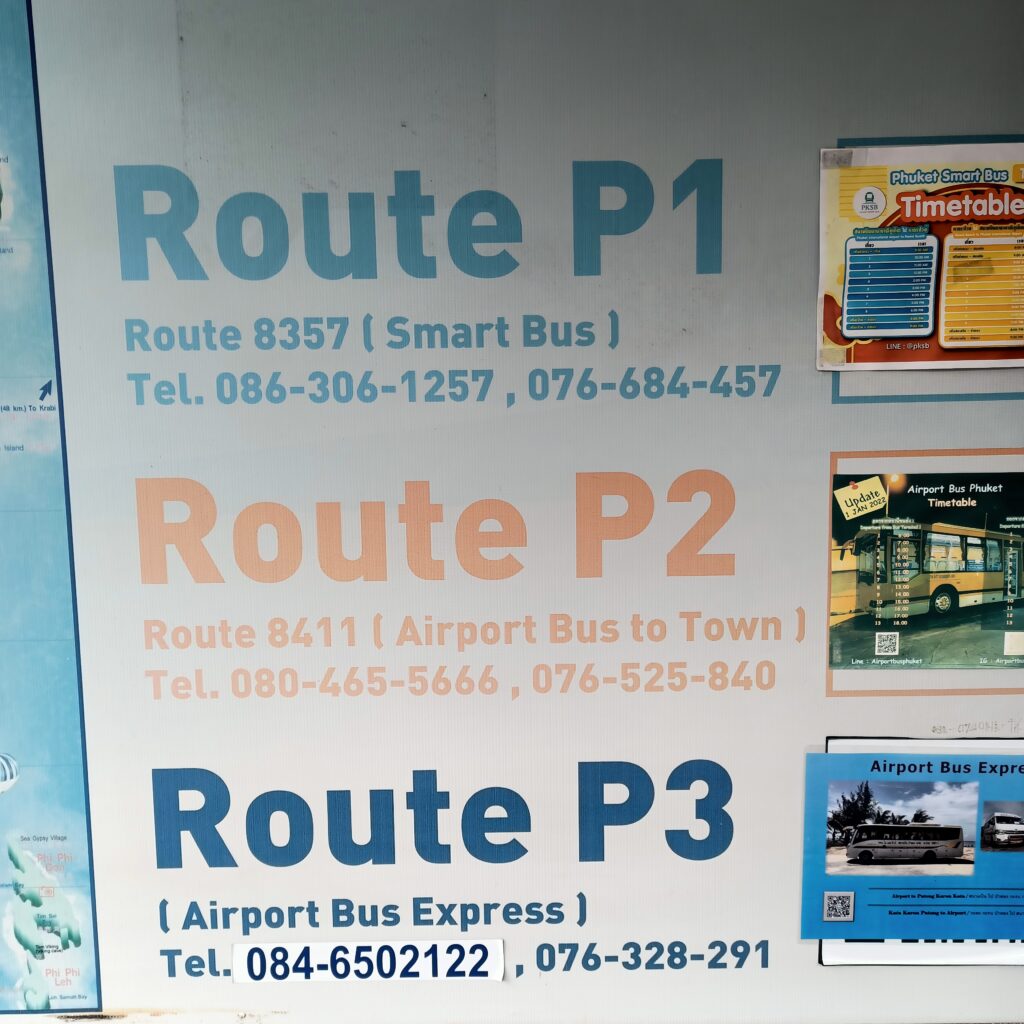 Below is the latest time table as of March 2022.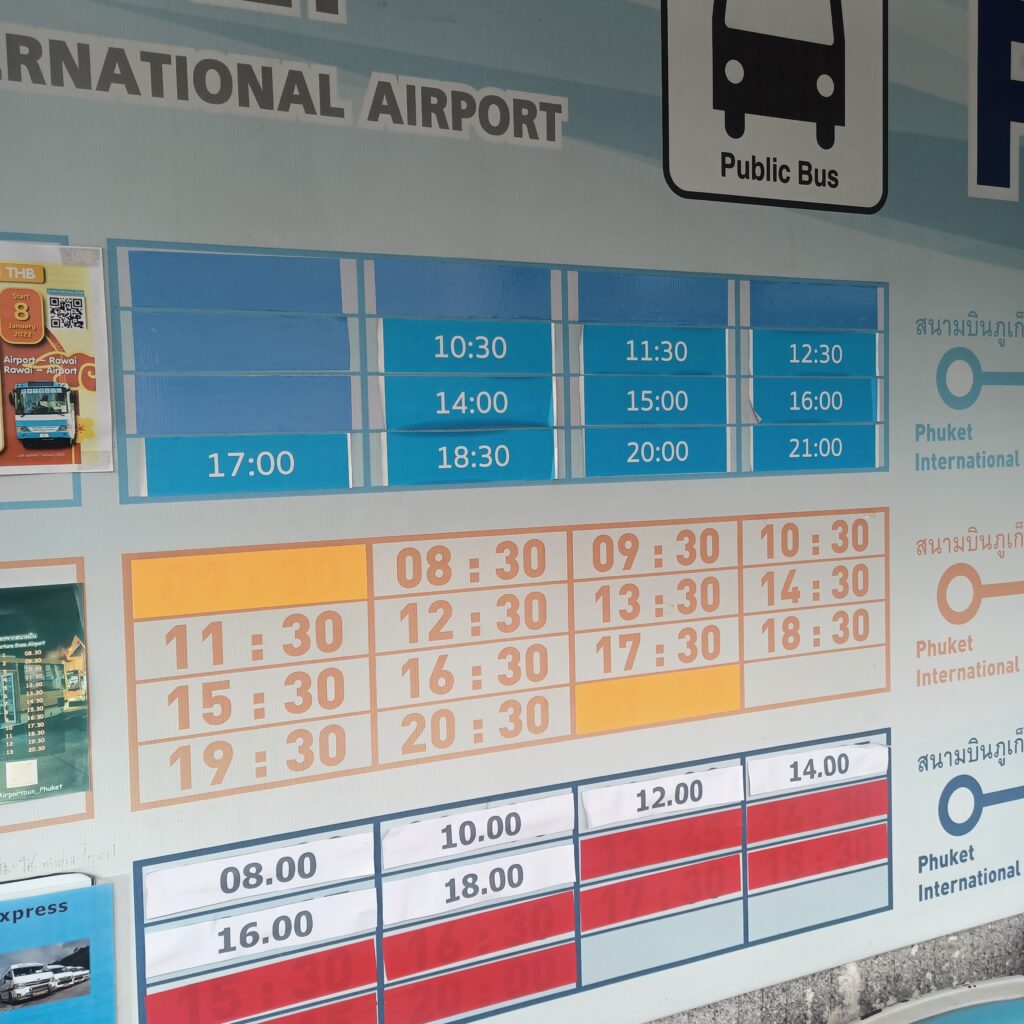 P1 Phuket Smart bus to Patong, Kata and Rawai beach
Phuket Smart bus is going to several beach resort areas only for 100THB until Rawai beach. Operation is quite frequent, they depart from airport almost every hour from 9:30 to 21:00. If you are staying at beach side, definitely this bus route will save your travelling cost.
Appearance of Phuket Smart bus. its size is medium.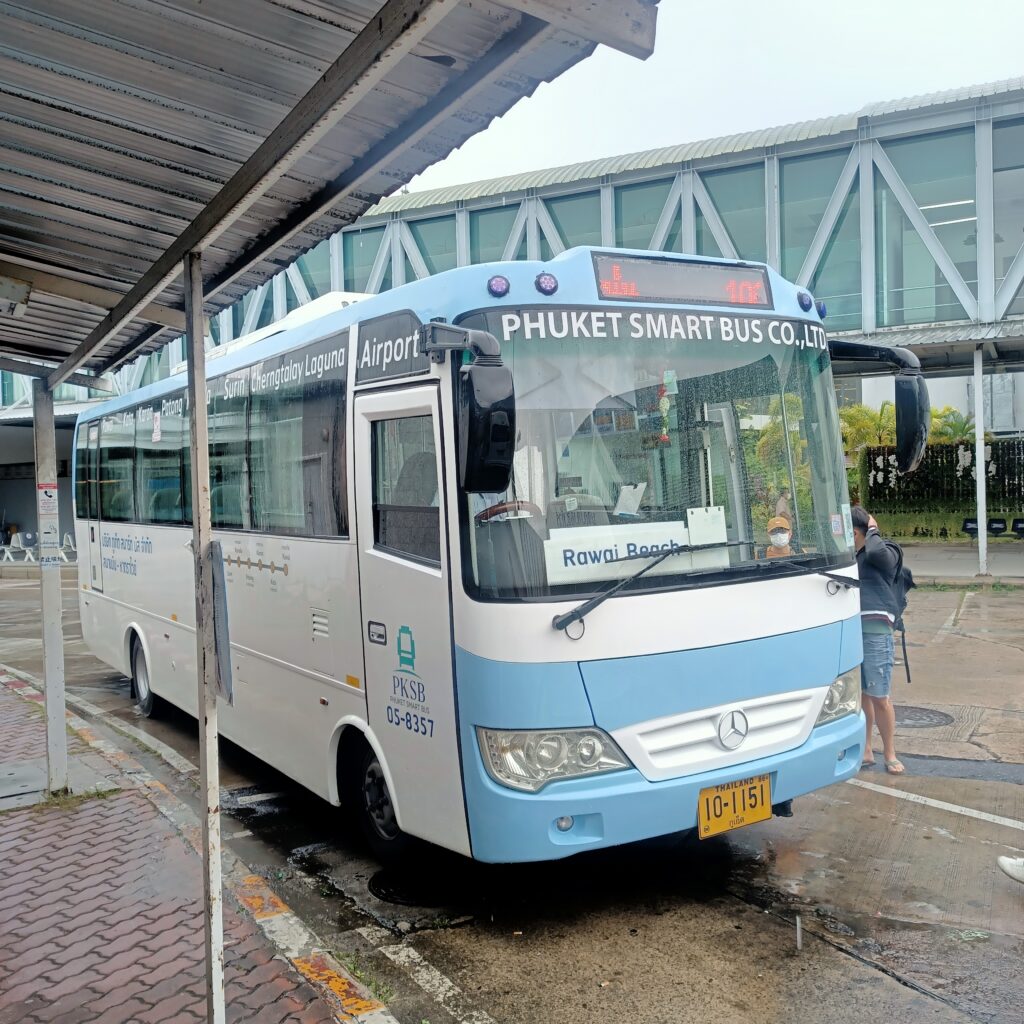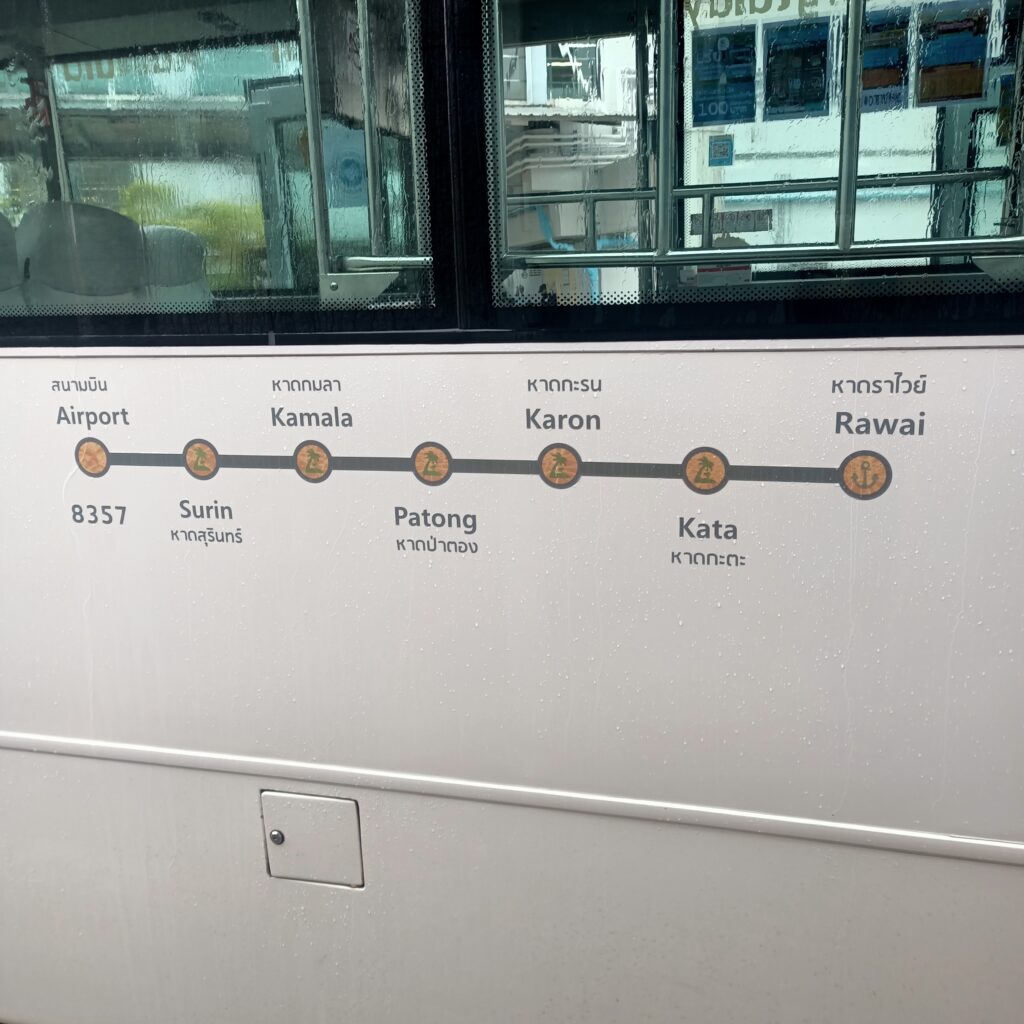 Below time table is borrowed form the home page of Smart bus.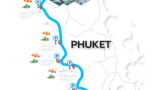 Home - PHUKET SMART BUS
Public Transport Bus Service established to solve public transport problems in Phuket and reduce the number of vehicles on roads.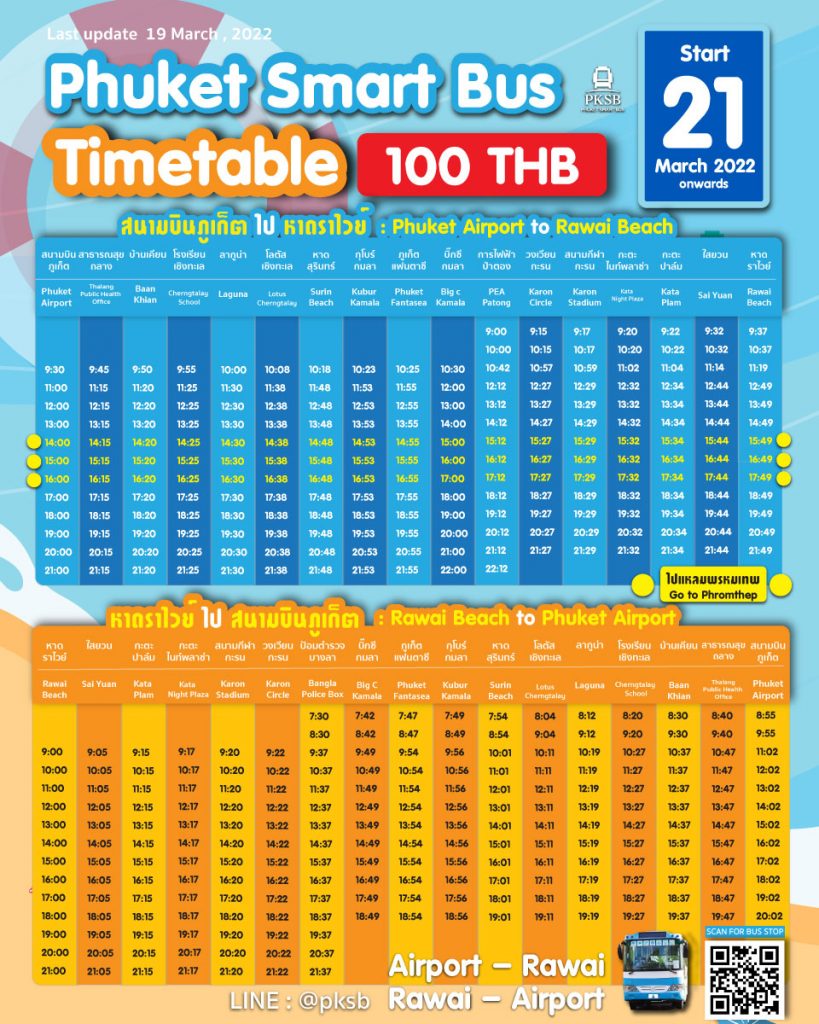 You know why this bus is called smart bus? This is because this bus is equipped with advanced technology which normal bus does not offer. According to their web site, bus passengers can use below.
Free Wifi connection
GPS real time tracking system for bus location.
USB port for all seat.
Cashless payment via Rabbit card
Wheelchair access
CCTV security cam
P2 Airport bus to Phuket town
Normally I use this bus, P2 bus because I want to use Jetts fitness Phuket branch in central festival where this bus passes by after 45 minutes from Airport. This time also, I used this bus. When I reached at bus station around 12:45 pm , bus was already at the site and driver was taking rest at waiting area. Bus started operation at 13:30 pm sharp, around 10 person joined the trip bound for Phuket town.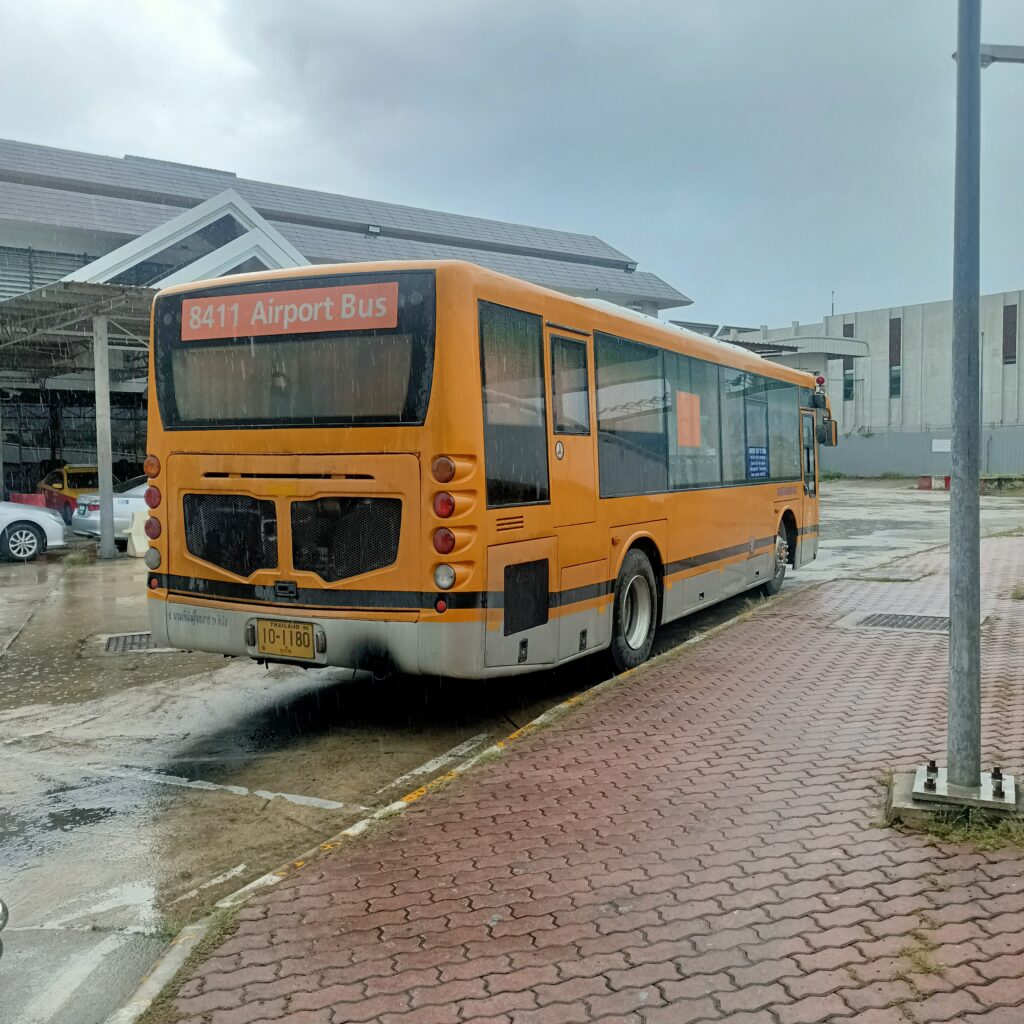 Inside the bus, there is no specific luggage space but quite enough area to carry and put your suit cases or bigger bags.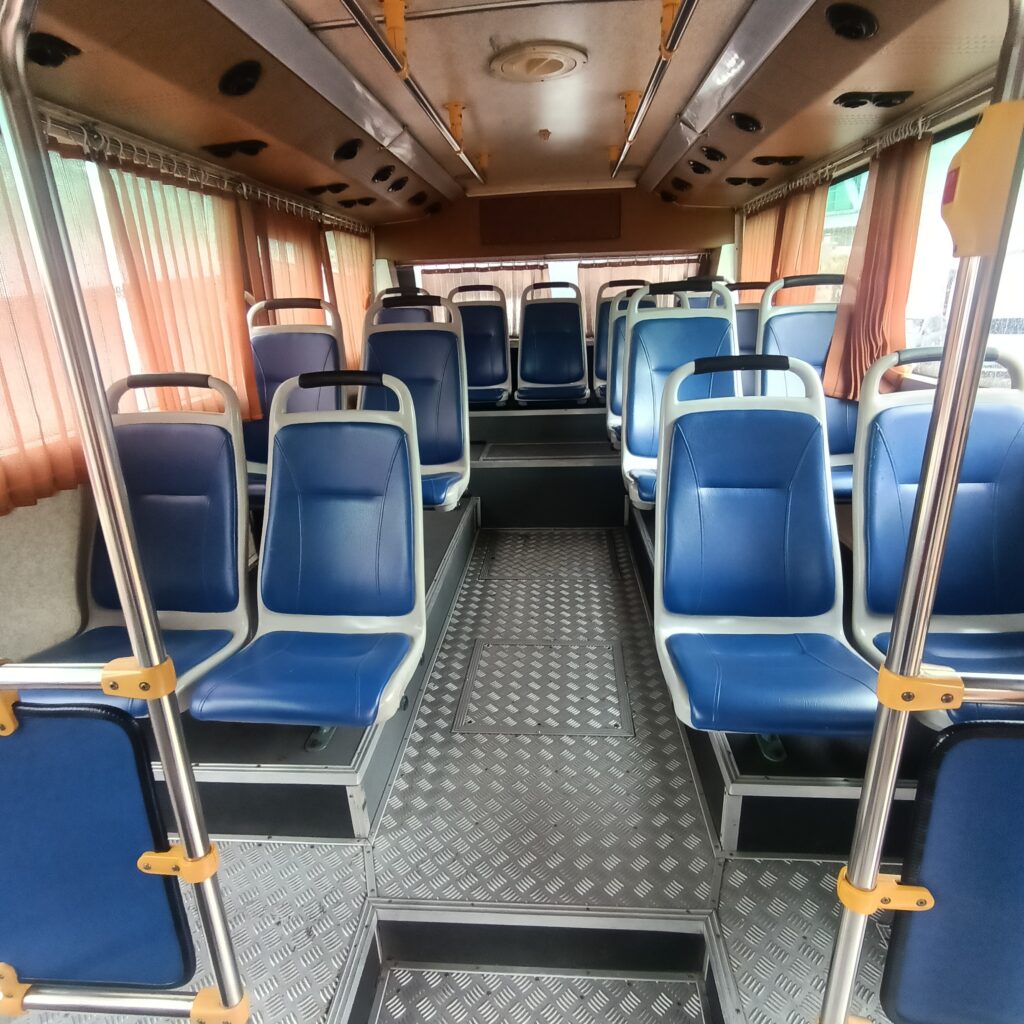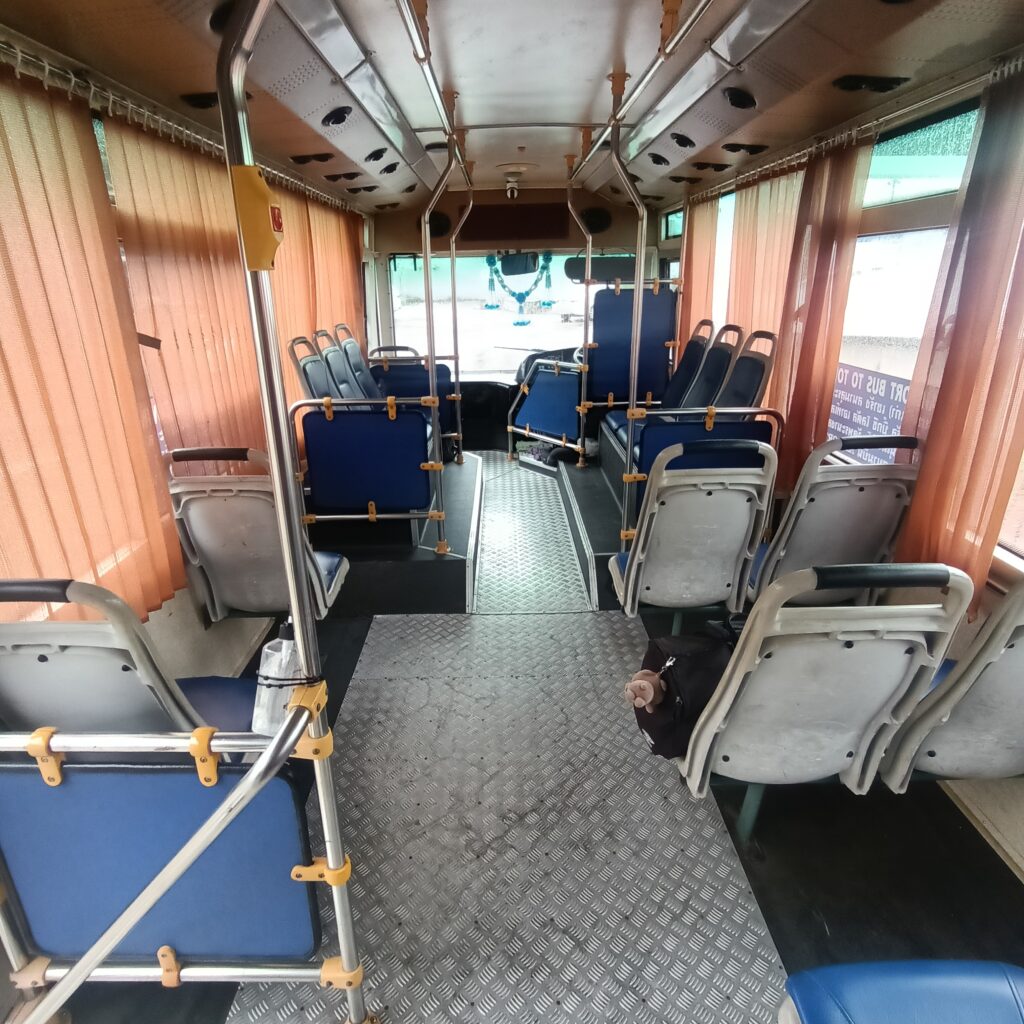 Below is the bus stop map for P2 bus. It takes an hour to go to Phuket town.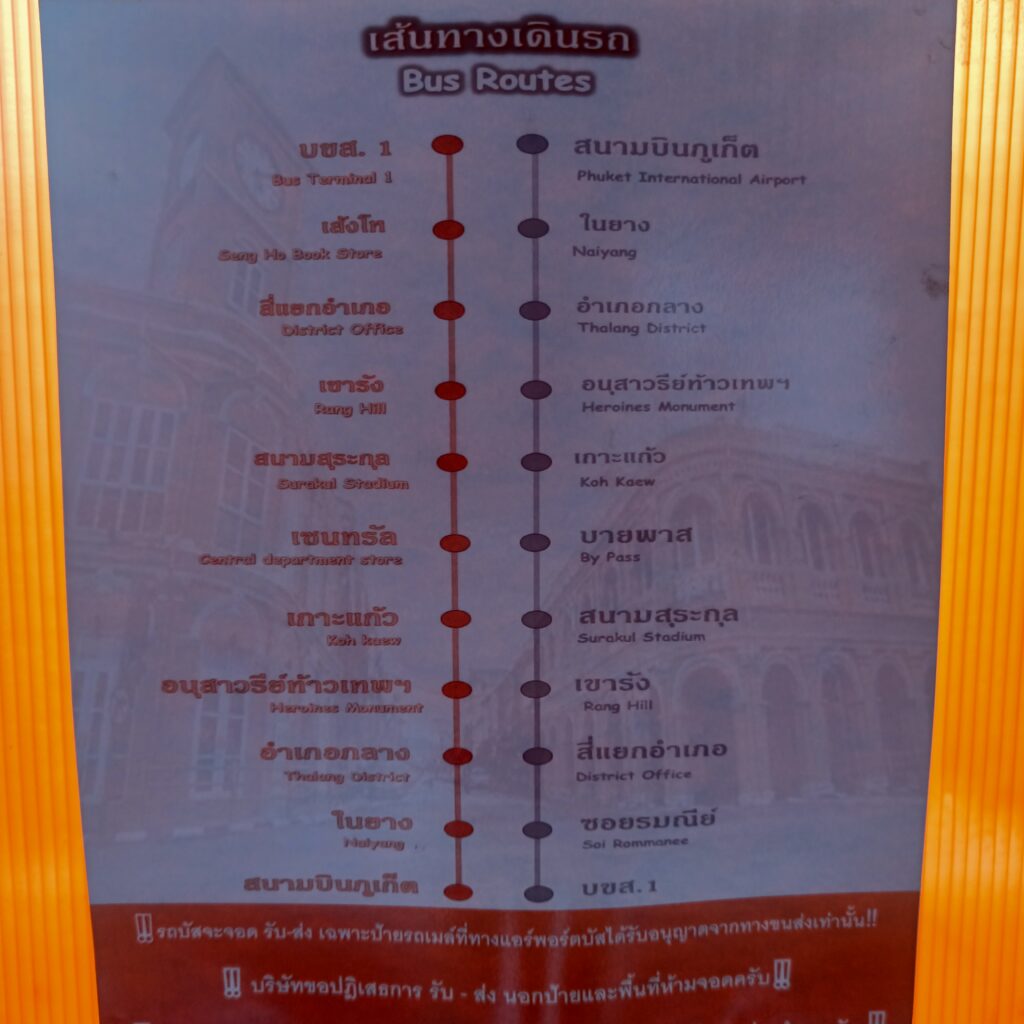 Operation time table as of March 2022.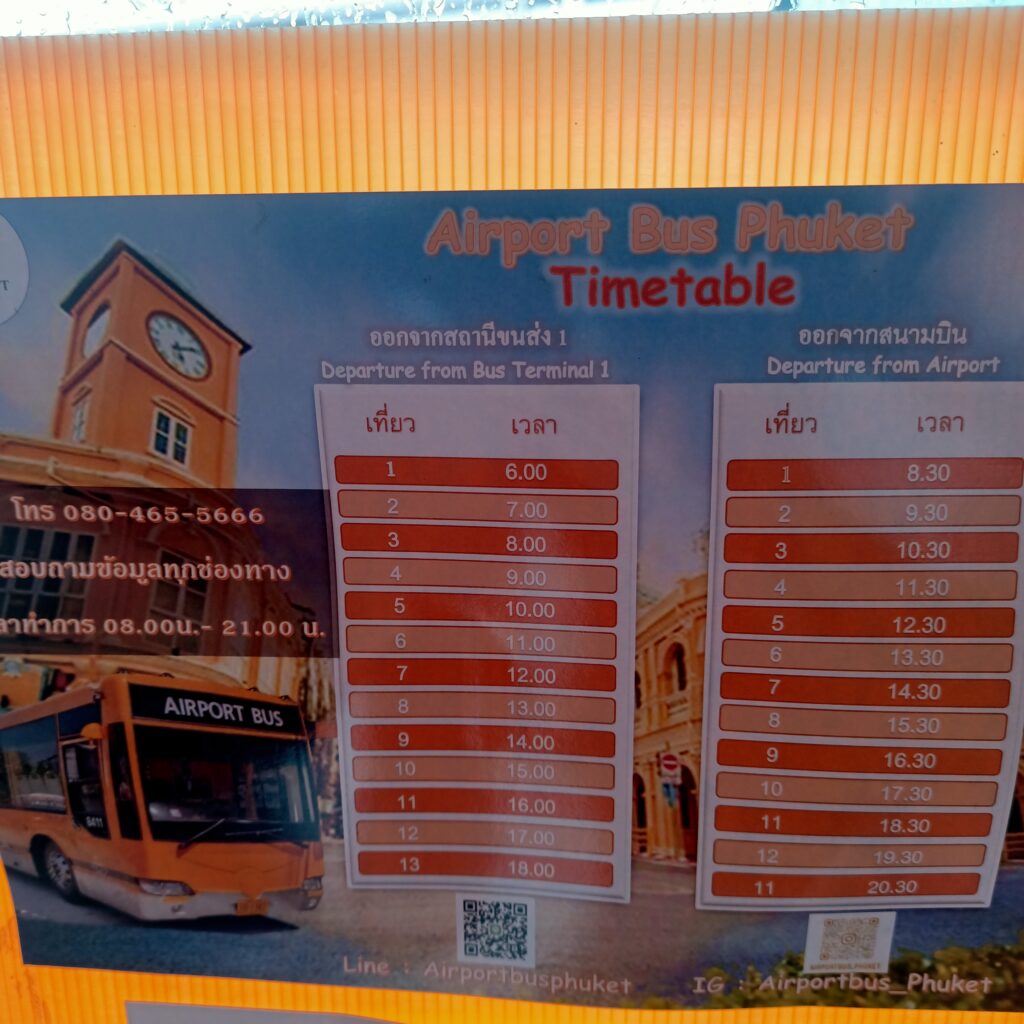 No food and drinks allowed inside the bus. And for foreigners from abroad, please follow the rule in Thailand to wear masks all time in public areas, inside buses also. I as so shocked that many foreigners in Phuket does not follow this rule a public space. Thai people, as nature, they do not much complain to you but it does not mean that you are allowed not to wear masks. In regardless of your policy about wearing masks, wear masks every time, as long as you are in Thailand so as not to have trouble with local community.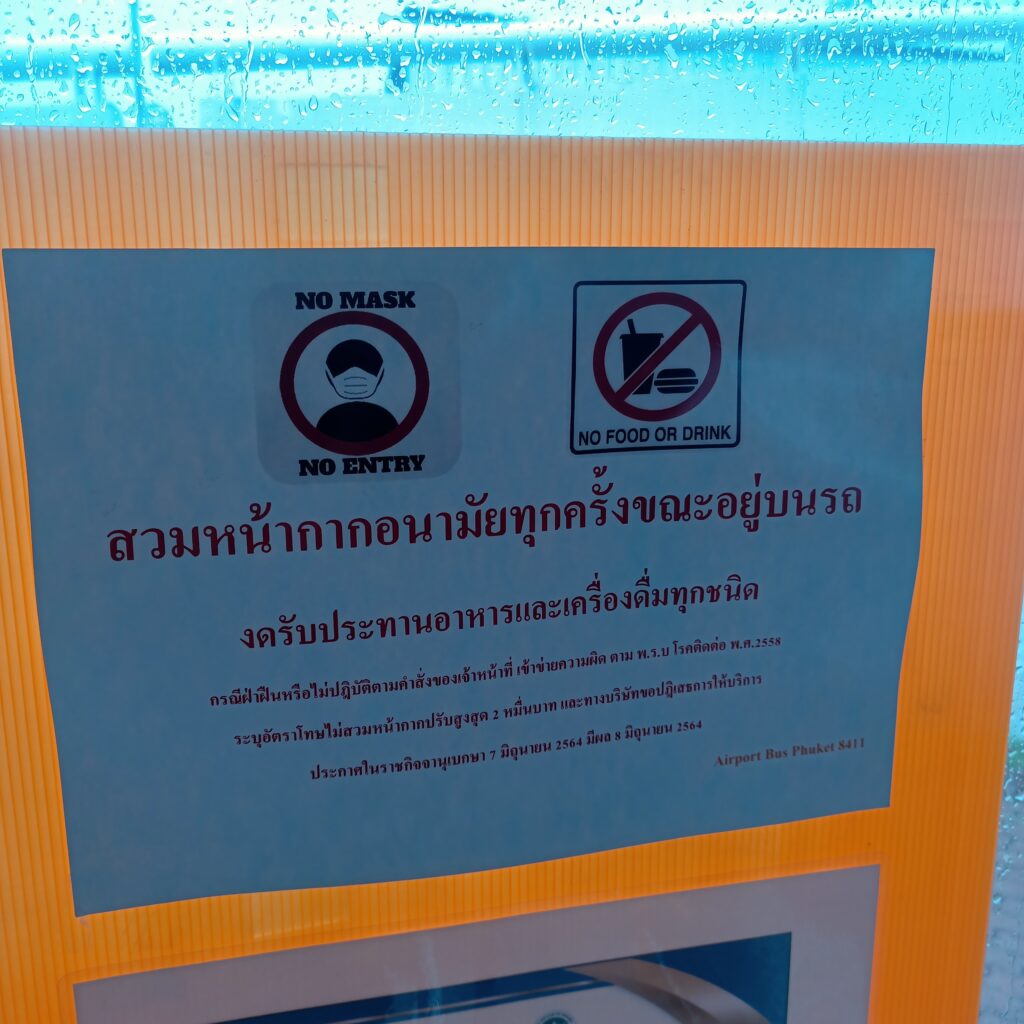 Ticket is 100THB for all destinations. After 40 minutes of ride, I reached my destination, Central festival Phuket. From central Phuket, you can take 30 THB song teaw to go to Patong beach if you want the beach experience. I will mention later how to go in this post.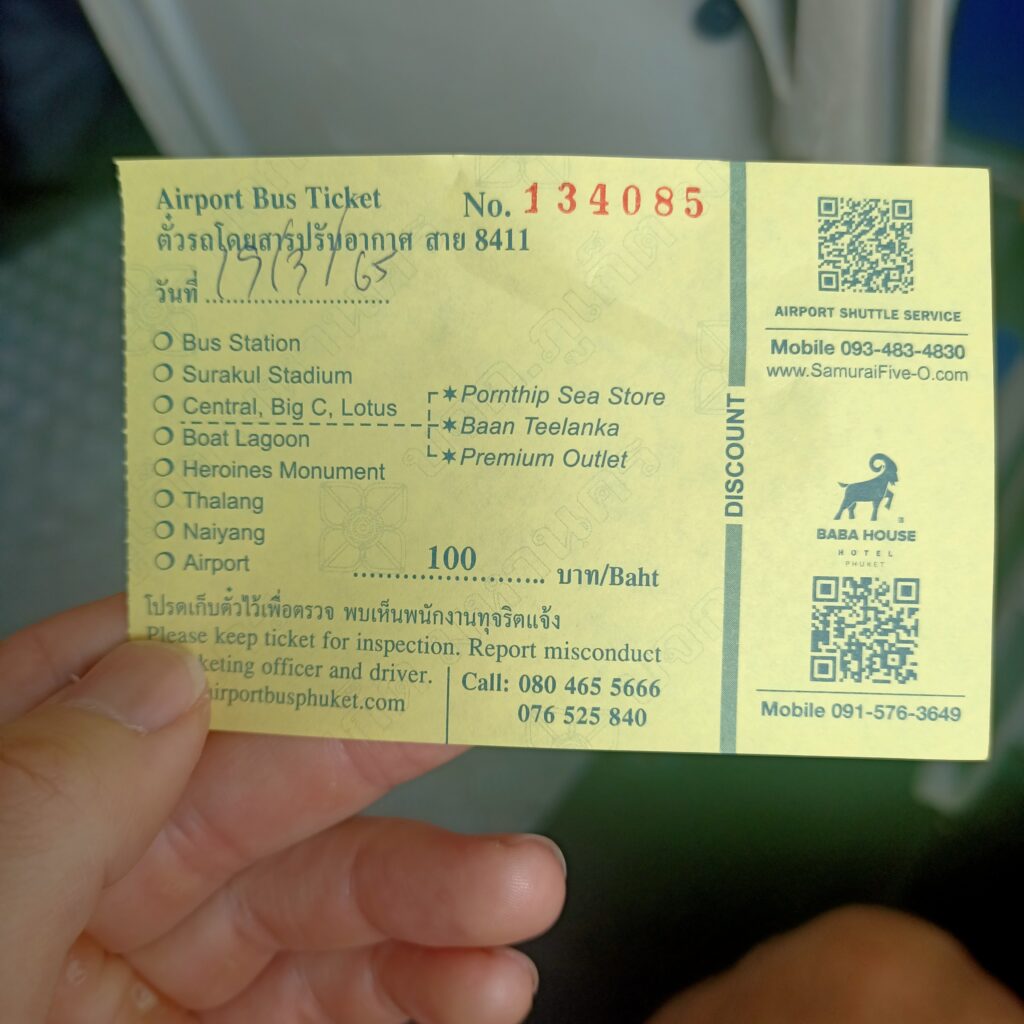 P3 Airport bus to Patong, Karon and Kata beach
There is also another small size bus going to major beach areas, Patong, Karon anf Kata from Phuket airport. Bus operation time start from airport at 8:00 to 18:00 every 2 hours.
Fare to Patong beach is 150 THB while 200 THB for Karong and Kata beach. Normally I stay at Patong beach area since it is more convenient and central hub for tourist spot in Phuket beach. Next time when I visit Phuket, I will try to stay at another beach using P1 or P3 bus direct to beach areas so I can report in the blog.
https://www.phuketairportbusexpress.org/main.php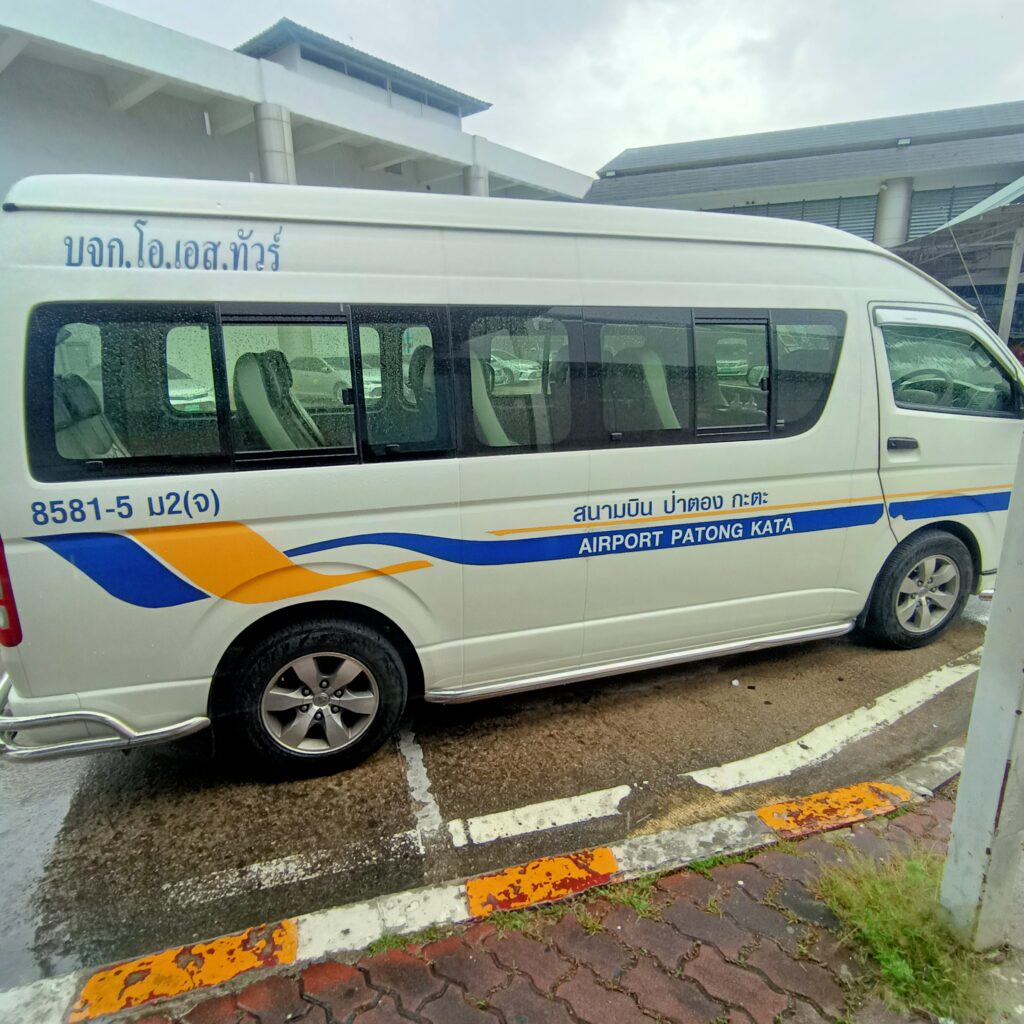 Central festival Phuket to Patong beach
After I finished gym training in Jetts fitness in Central festival Phuket, I headed for Patong beach by blue colored Songteaw. I saw in other blog that Songteaw operated until 5pm only so I stood by at the bus stop before 4 pm so as not to miss last trip. Fortunately, next ride came arrived at 4:20 pm so I and other passengers hopped in.
Songteaw going to Patong beach will stop by under connecting bridge between Central festival Phuket and Central Phuket Floresta. Bus stop is at Floresta side.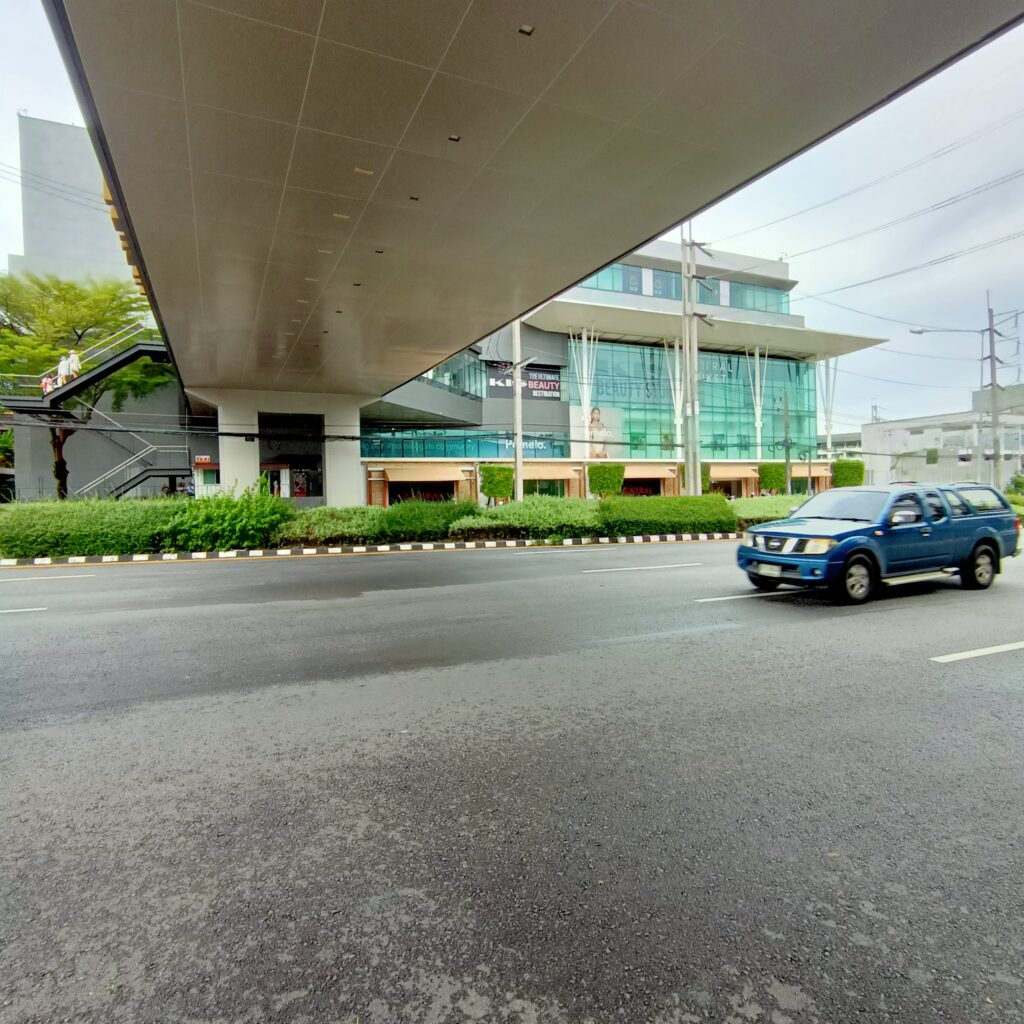 From Bus stop at Central Floresta, you can see Central festival Phuket.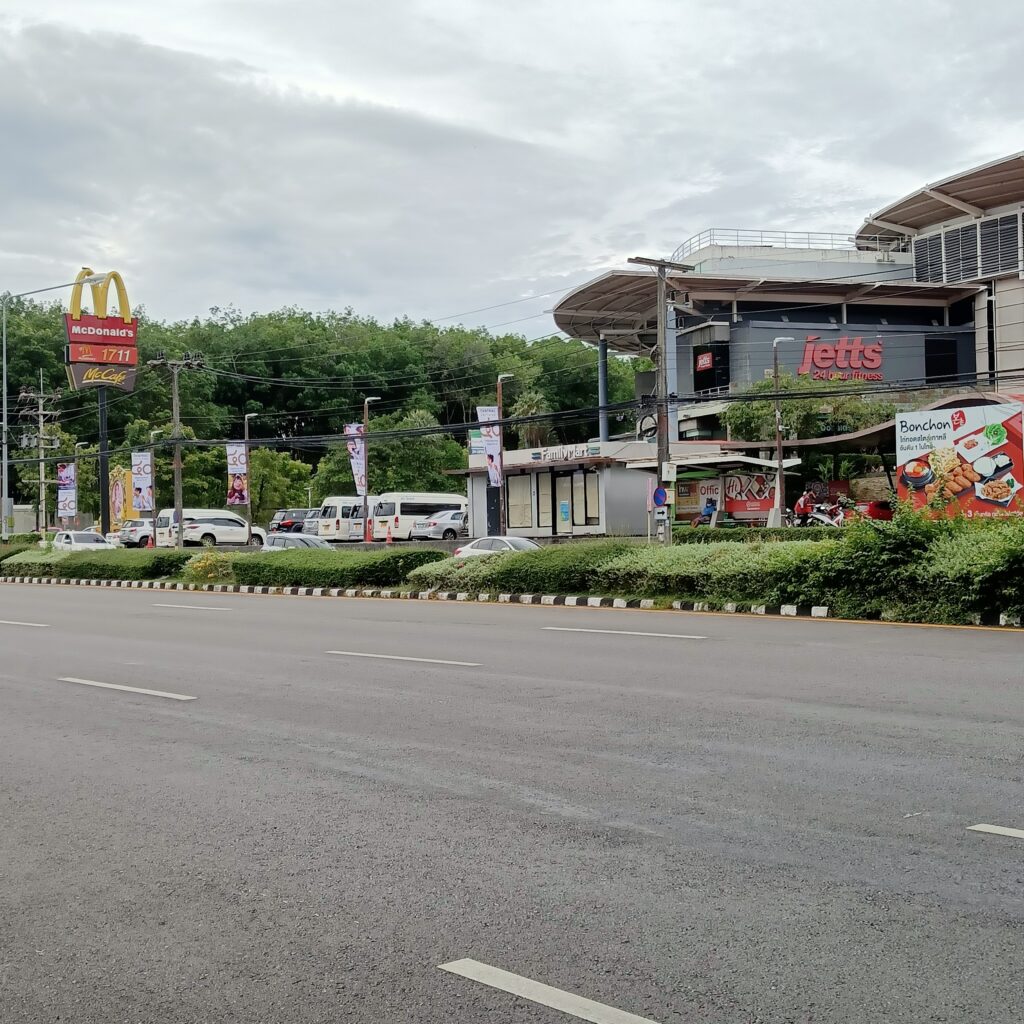 Larger sized Songteaw comes after 20 minutes of waiting. Waive hands to stop the car unless otherwise Songteaw just will be gone.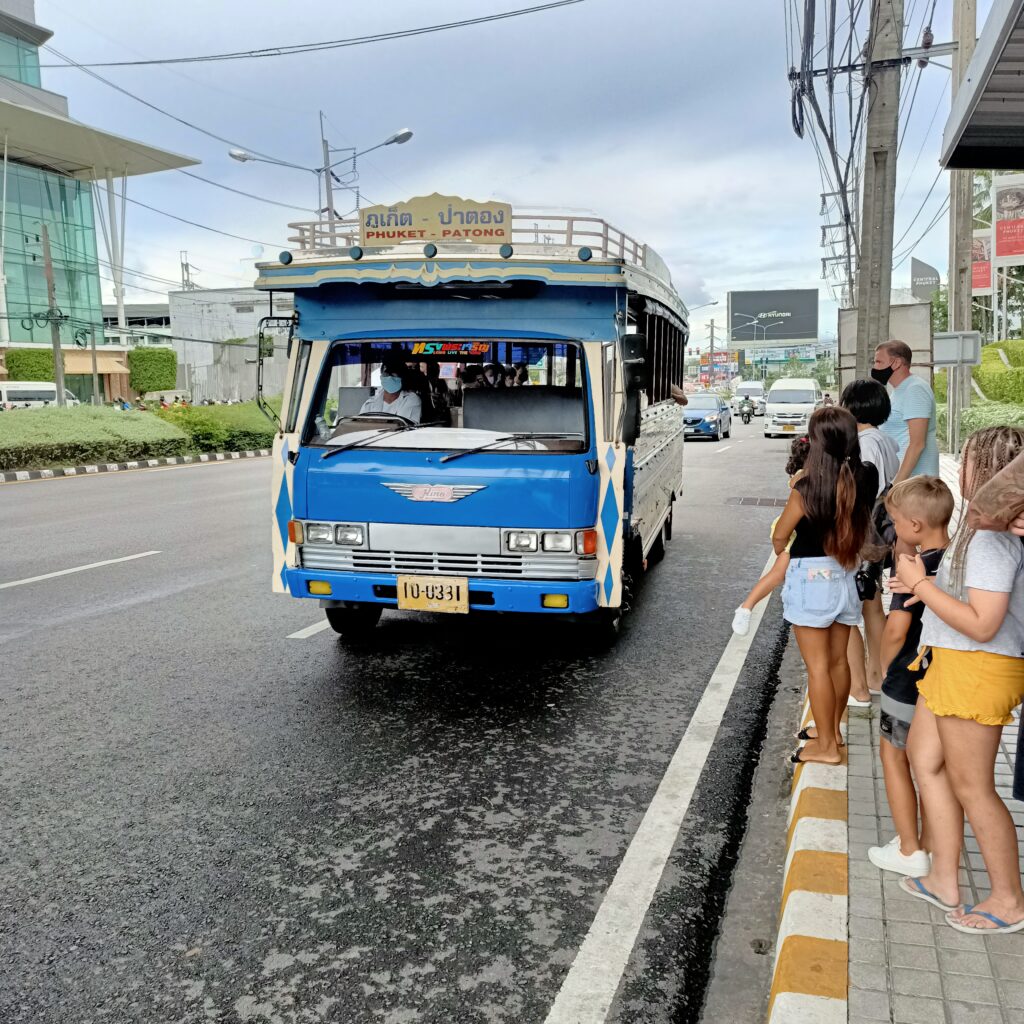 Full pack of almost last trip to Patong beach. Fare is just only for 30THB. Driver will stop on the way, mostly at the gas station to collect money from all.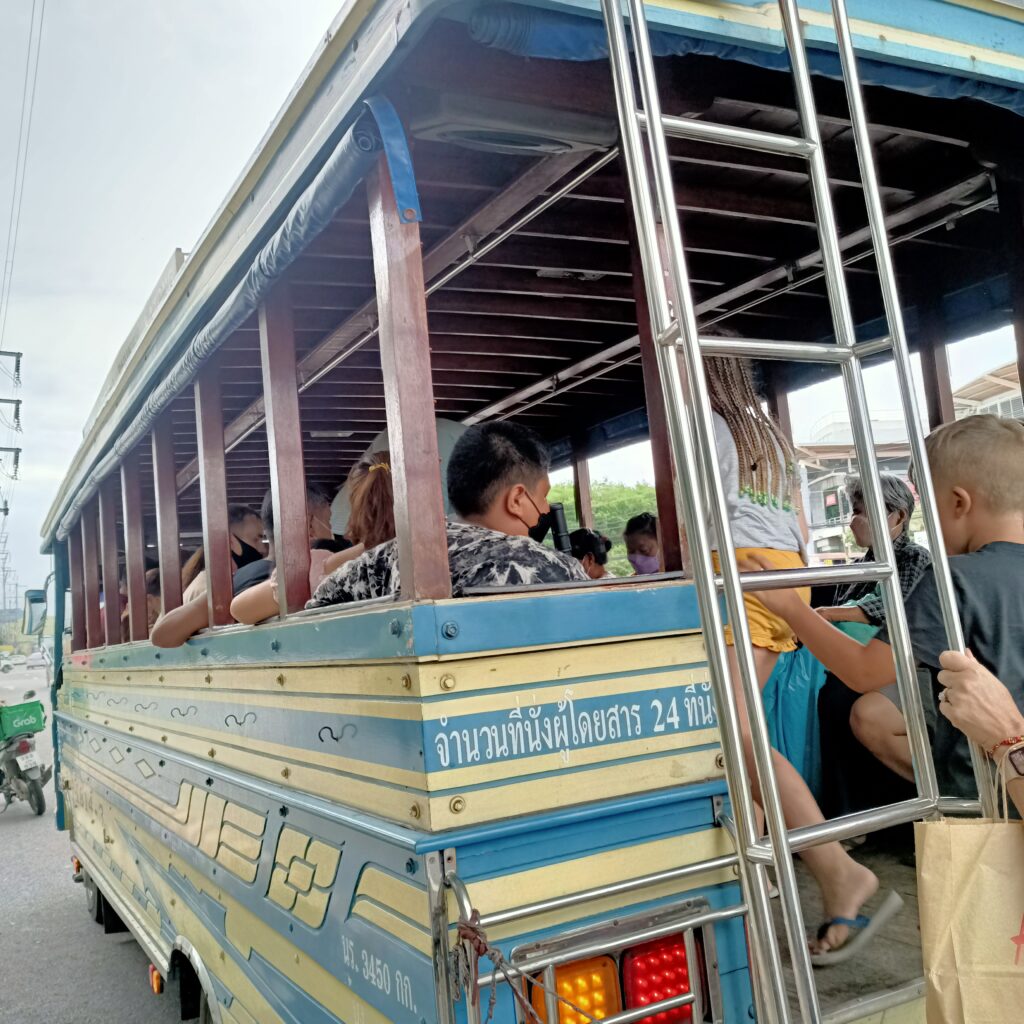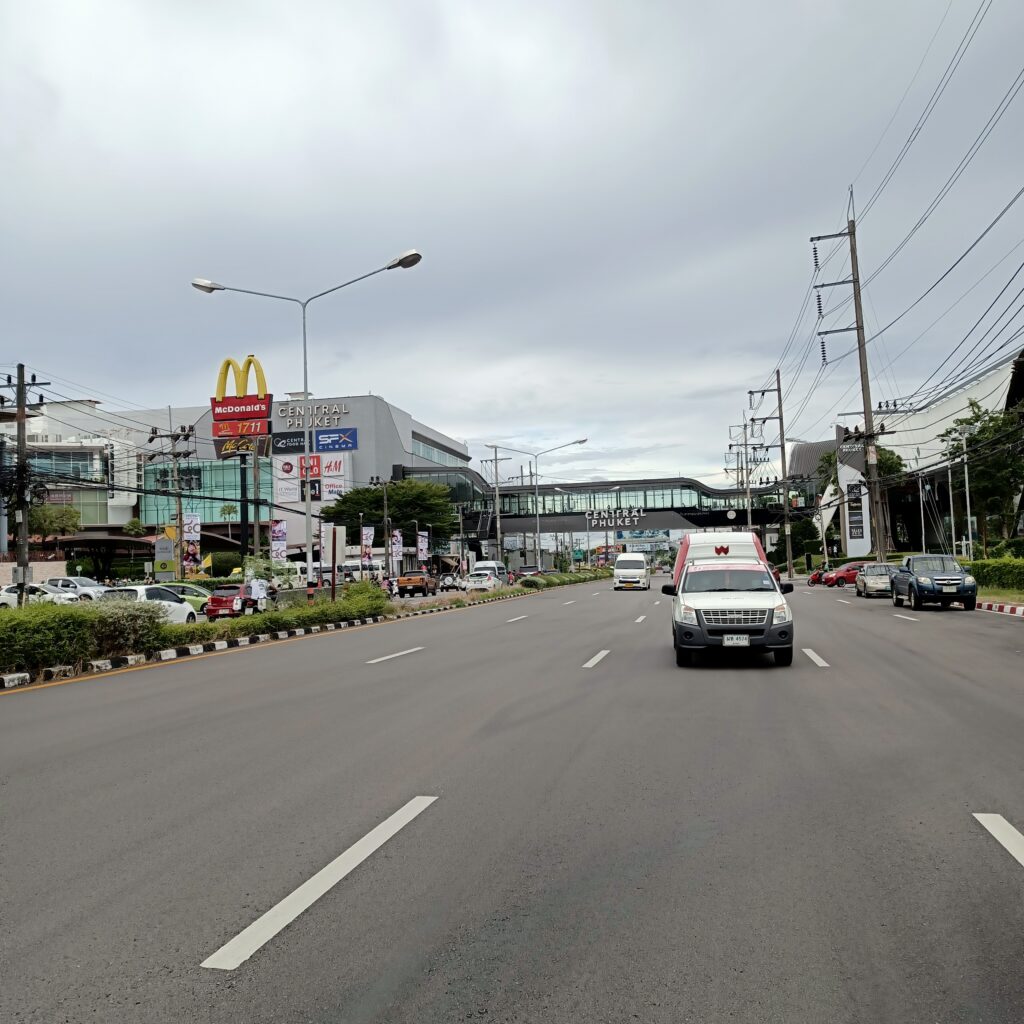 Songteaw moves slowly due to full loading of passengers in winding up side down mountainous road. Around 40 minutes to Patong beach at last.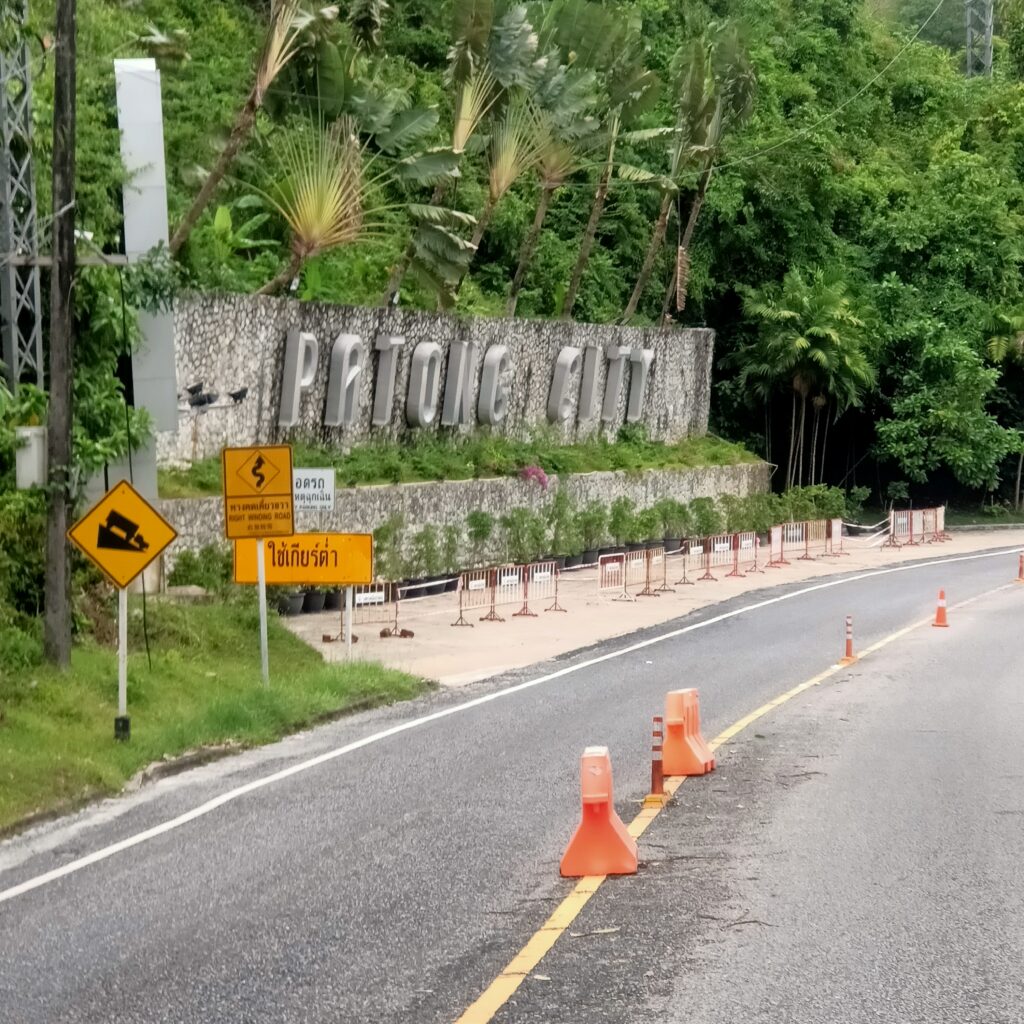 Vice versa trip to Central Phuket and Phuket town will be departed from below point.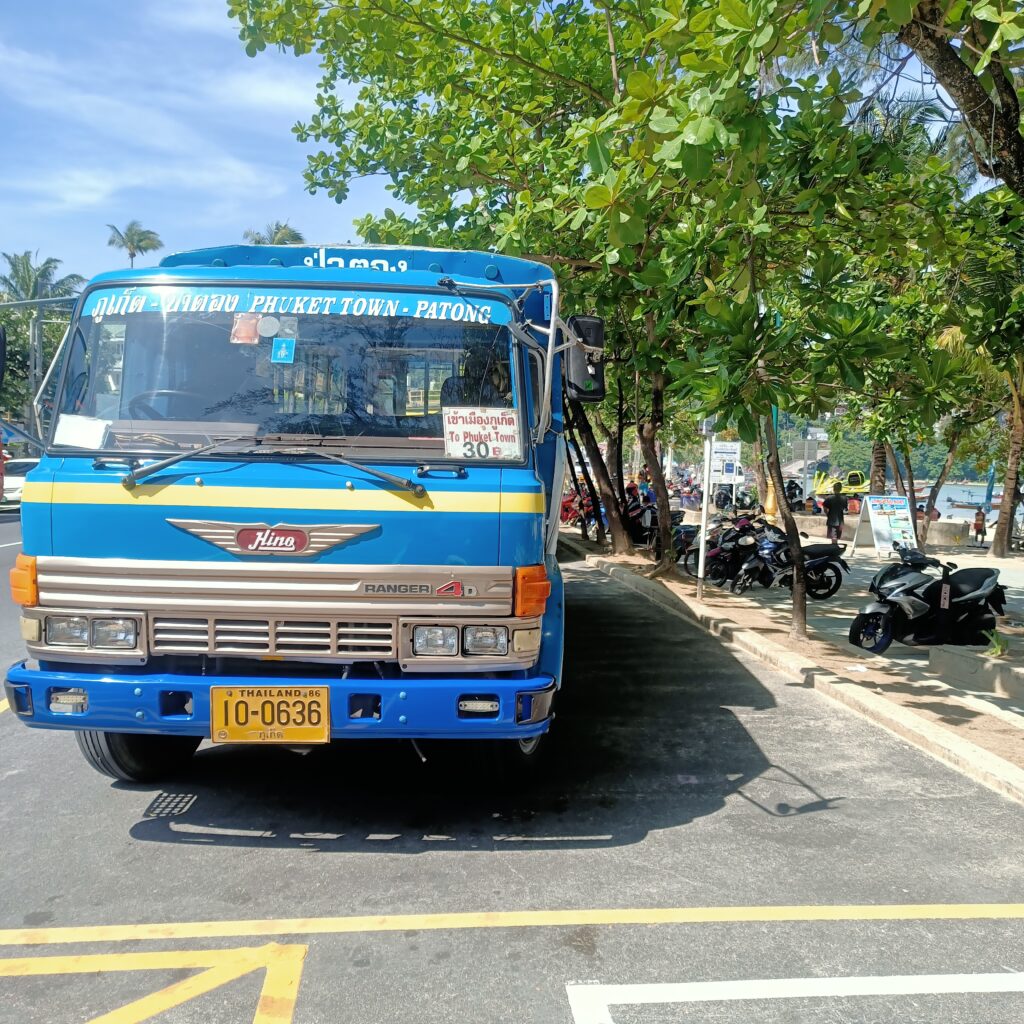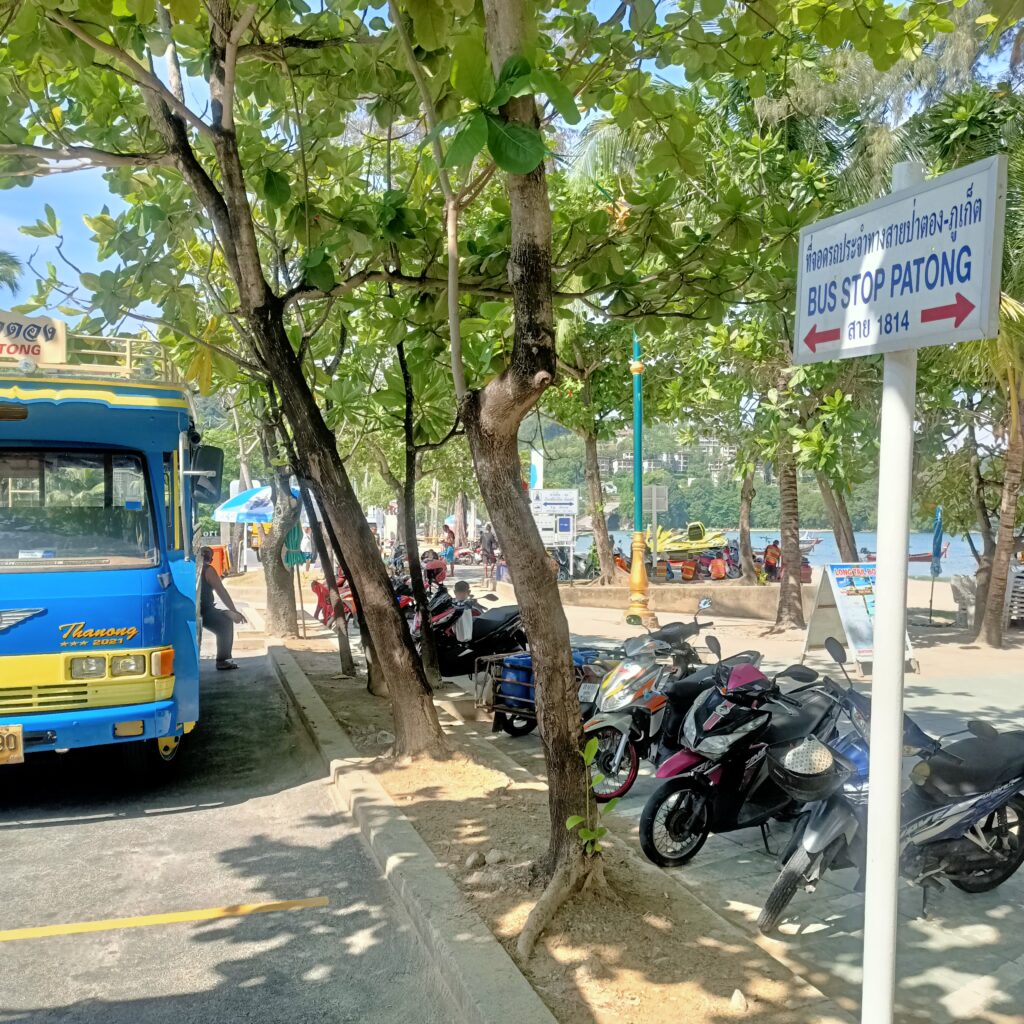 Ok, that is all for information about public transportation from Phuket airport. Transportation cost is very high in Phuket so if you are budget traveler like me, please try above route to save cost as possible.
See ya!