During preparation time for bodybuilding competition at Central Festival Hat Yai on January 2022. I found Aeon Thana Sinsap near event space so I tried to reach if they have lounge space where specific Aeon credit card holder can use.
What is Aeon Lounge?
Aeon lounge is the place where certain Aeon credit card holder can use to be relaxed and enjoy snacks, Wifi connection during shopping in the mall. As of January 2022, they have 11 locations in all over Thailand.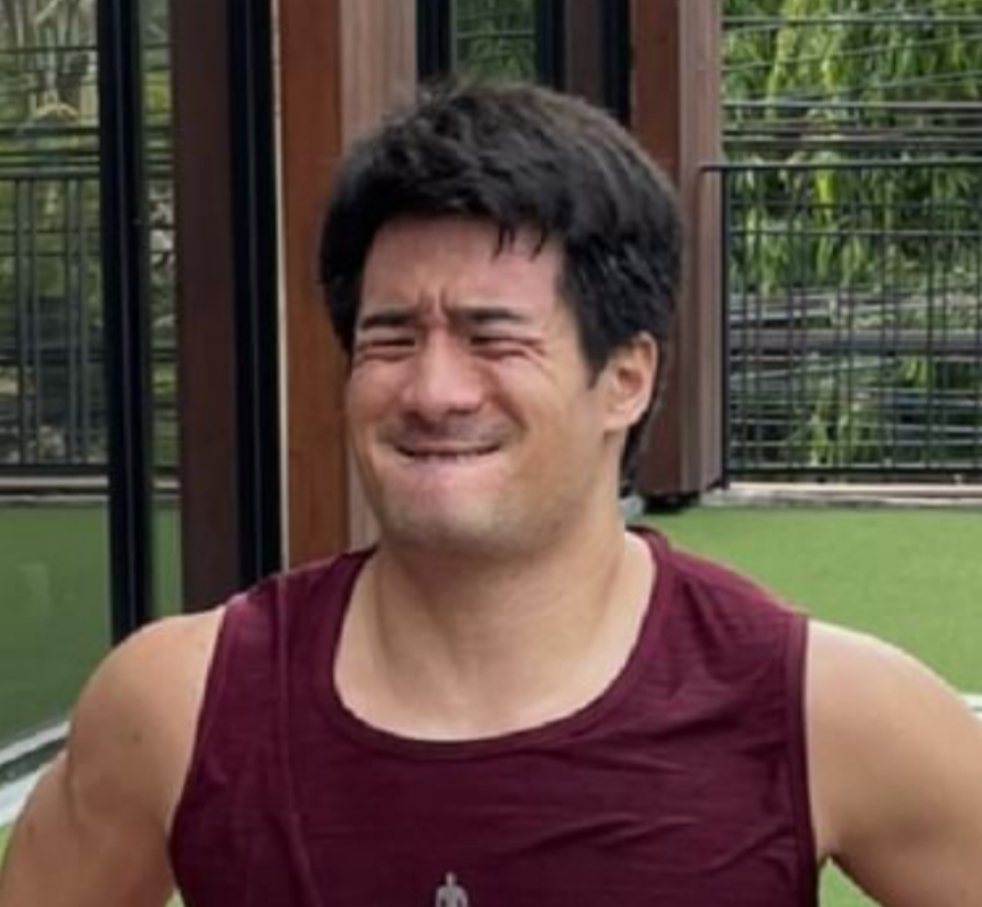 Click the location below to see other lounge service experience.
*Just noticed that Central Plaza West Gate is no longer listed as of 19th July, 2022.
** I noticed that Central Plaza Rayong also not listed as of Sep 2023 on official page.
Terms and conditions in using AEON Lounge
Special Privilege for Members AEON Credit Card AEON Royal Orchid Plus World MasterCard  AEON Royal Orchid Plus Platinum Card AEON Gold Card AEON Wellness Plat...
Applicable credit card to use service
Below is the list of credit card that will allow you to access to the lounge area. You also need to show ID such as Passport, Driver's license etc to enter.
AEON Royal Orchid Plus World MasterCard
AEON Royal Orchid Plus Platinum Card
AEON Gold Card
VISA Olympic Themed Card Issued by AEON
AEON J-Premier Platinum Card
AEON Union Pay Platinum Card
I have Aeon Gold card which is annual fee free for life so I recommend readers get one of them to enjoy various benefit not only access to lounge service but also discount coupon for Cafe Amazon, McDonald's, Shoppe, Maxvalue etc. You can refer to below link to know full details of benefit of Aeon card.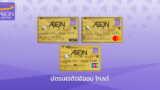 AEON Gold Card - Credit Card | AEON Thana Sinsap
Special Apply online today Waive annual fee for card period and  Get Premium offer Maximum 6,390 THB.*1 December 2022 - 28 February 2023
Guide for use
Primary cardholders may use AEON Lounge no more than 4 times/month and no more than 1.5 hours
Supplementary cardholders may use AEON Lounge no more than 2 times/month and no more than 1.5 hours (90 minutes) each time.
Cardholders may bring up to 1 guest or 2 children under 100cm each time.
Be watchful of your child or children, so other members using the AEON Lounge will not be disturbed
Not using your mobile phones and keep the noise level down, so other members will not be disturbed
Food and drinks from outside is prohibited in the Lounge premise, and the complimentary refreshments provided in the Lounge can be enjoyed within the premise only.
Location of Aeon Lounge
Aeon lounge Central Festival Hat Yai is located at 3rd floor, money and education floor where major banks gather to locate their branches. Once entering Aeon Thana Sinsap branch, you are required to show one of applicable credit card and your ID. (Actually only ID card sufficed)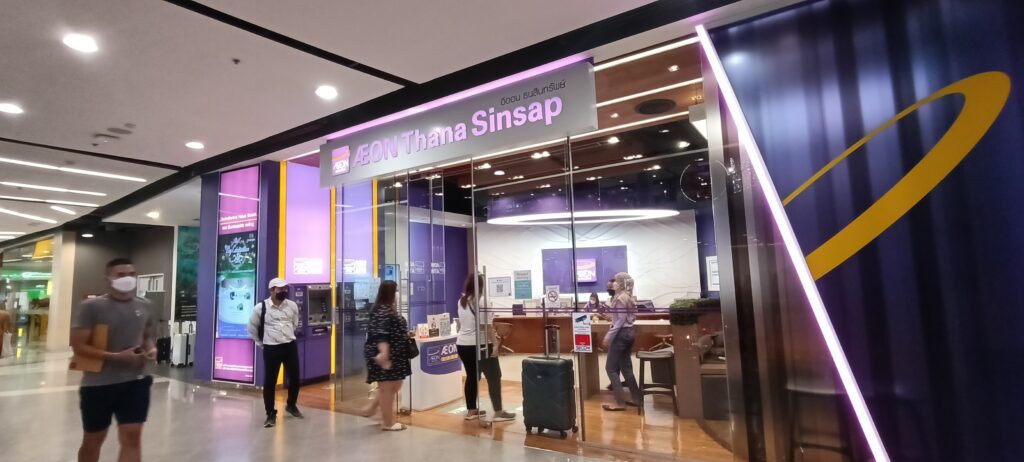 Entrance of Aeon Lounge.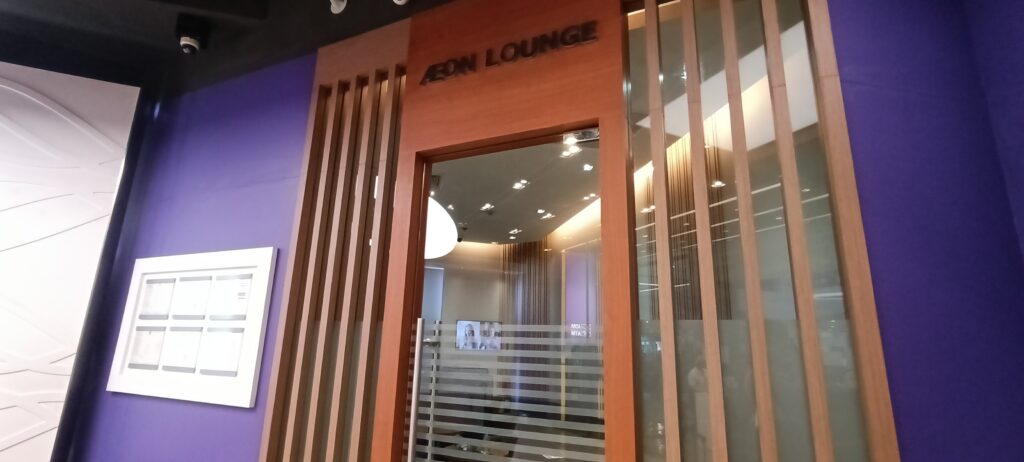 Terms and conditions are explained at lounge for both Thai and Japanese.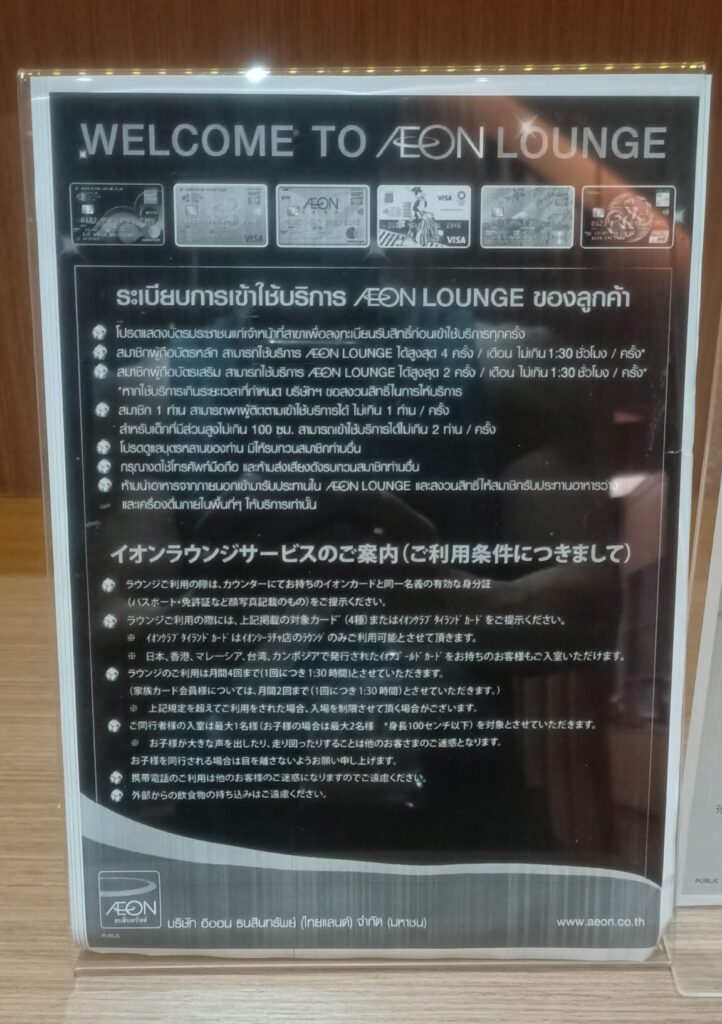 Overview of lounge space around 20㎡. On the TV, they repeatedly air the show to introduce the place and culture in Japan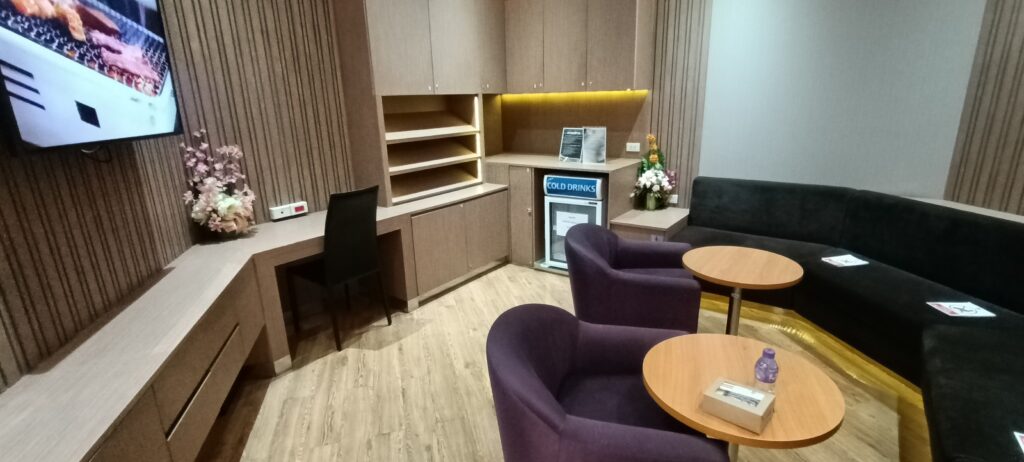 Charging outlet over the desk.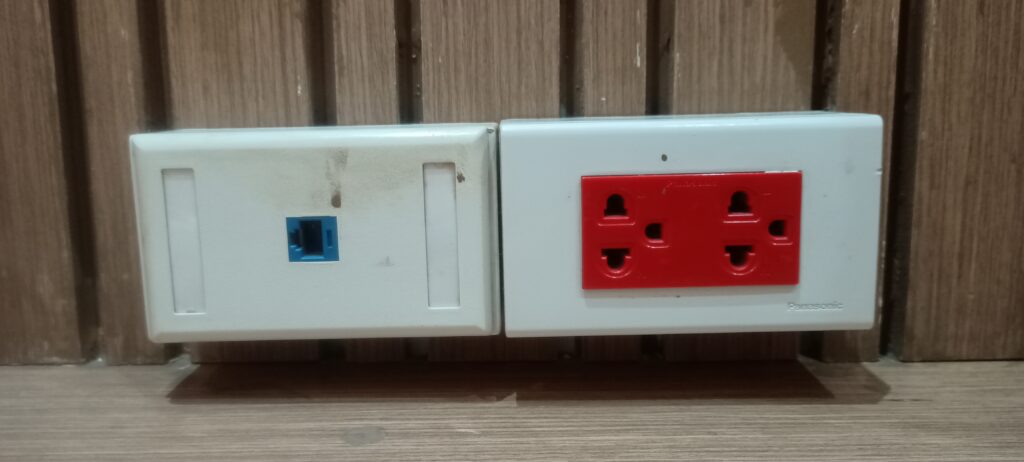 Due to Covid control measure, free water supply is stopped.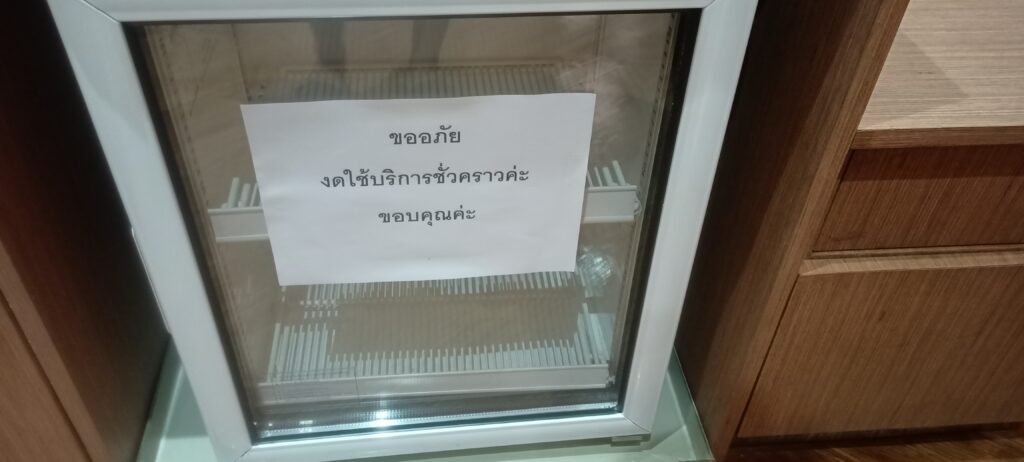 Garbage box.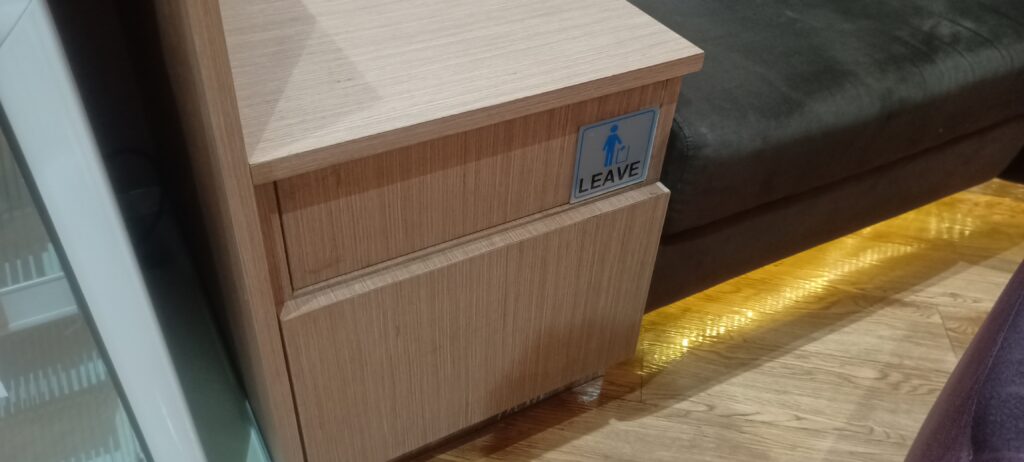 Staff brought water bottle and snacks for refreshment. Be careful these items must be consumed inside the lounge area only.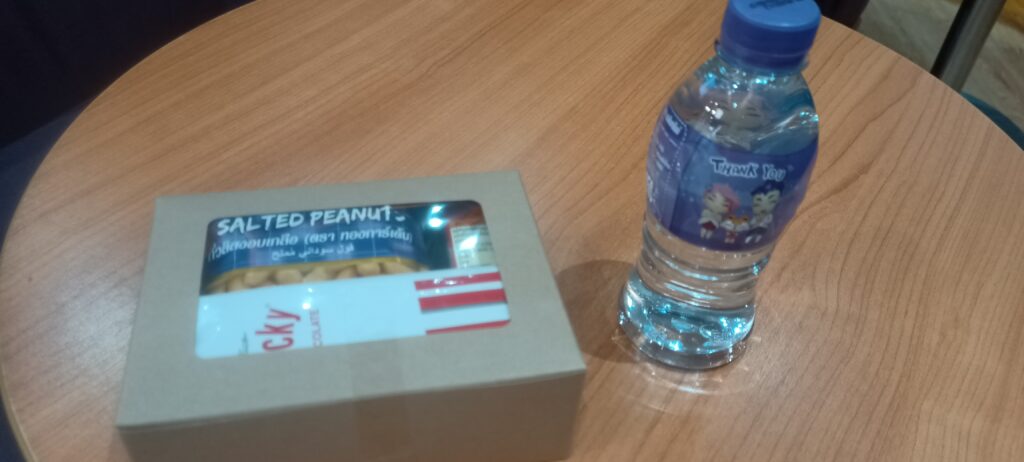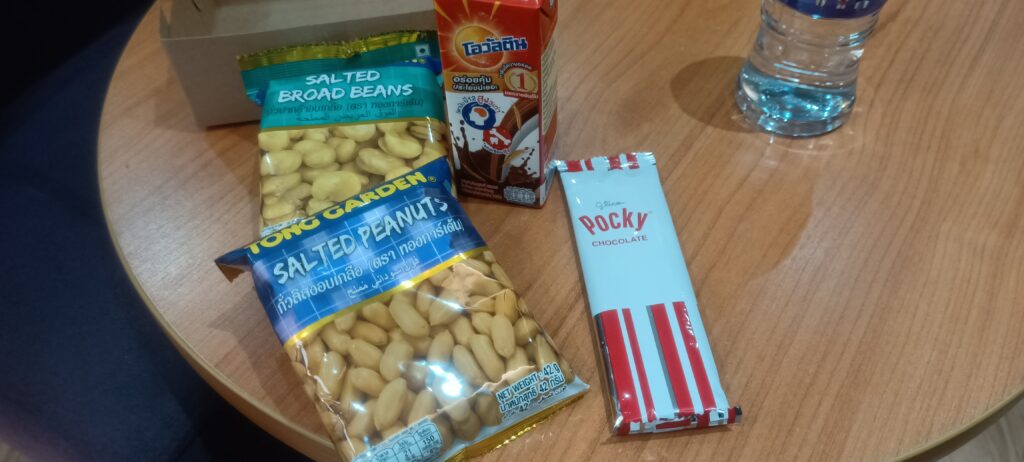 Luckily this time, there were no other guests in the lounge so I can be relaxed here with snacks, waiting for starting bodybuilding competition on the day. Aeon card can provide various benefit like lounge access like this so I highly recommend you get one of them if you are legally working in Thailand. There is no annual card fee required if you are interested, please contact nearest branch or by website!
Thank you for reading, see ya!
Revisited on March 2022
I had chance to come to Hat Yai again so I used the service.