Hello. everyone! December month already came and year 2021 is coming to the end. As usual, I will record my expense summary for the last month for readers' idea of living cost in Bangkok.
Total cost – 26,704THB
Total cost is a bit higher than last month by 4,000 THB but still around my monthly target 25,000 THB per month so basically not bad. This month, I had a trip to Chiang mai so that had most impact to my living cost increase. Let's take a look at the details.
Fitness – 2,792
Gym
1,200
14 months for 16,800THB, 1200THB/month
Protein
1,044
20lbs (9kg) Whey protein 4,176THB for 4 months
Supplement
158
Creatine 1kg 1,108THB for 7 months
390
Zinc
For fitness cost, I spend gym membership and supplement to make my body. Payment is normally one time payment for several months to one year but I record as usual the cost divided per month. I purchased Zinc at Watsons tablet is around 120 pieces but but I record one time payment here since the total amount is not so big.
In regard to the gym, I go to Jetts Fitness everyday, you can get to know general information of my gym referring to below post.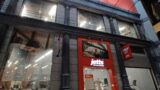 Complete guide to Jetts Fitness Thailand and Jetts 24 Hour Fitness - Asok
Welcome back to fitravelife.com! I came to Jetts Fitness - Asok branch this time so I will introduce their service an...
Travel – 6,062 THB
Transportation
4,338
Unlimited pass 3851THB
Booking fee 457THB
Song teaw 30THB
Hotels
1,610
Bangkok 1 time
Hostels
114
Chiang mai 2 nights
In November, I had a trip to Chaing mai province to experience famous festival Yee Peng. Total airfare was 4,308THB which including unlimited pass fee and booking fee. At March 2021, Air Asia sols unlimited pass same as year 2020. This pass allows you to book flight as much as you want with only booking and airport fee. I purchased this pass and booked one flight only to Chaing Mai at July. However, my July flight was cancelled due to Covid travel restriction. So I changed the date to November to visit the festival in Chaing Mai. And that was my fault that I booked only one flight for unlimited pass. I totally didn't care until when I can book flights with the pass so that the pass is already expired and failed to book more flights….
I did hotel staycation also one time at Doubletree Hilton Bangkok. This one also I will make post soon, hopefully soon.. In Chaing Mai, to save staying cost, I just stayed at the hostels only 60 THB per night.
Food – 6,201 THB
Expenditure for food is almost same amount as other months. This month I went to Sushiro Thailand first time with friends. It was my treat 1,200 THB, this cost is also included in this food cost.
Housing – 7,600 THB
Every month I transfer the rest fee to the owner. This amount is for one bed room 28㎡ in a condominium. Since the place I live is Lad krabang, far east end of Bangkok so rent fee is relatively cheaper than those in the center of Bangkok.
Utility – 1,097 THB
| | | |
| --- | --- | --- |
| Electricity | 392 | (106kWh used) |
| Water | 54 | (18/unit  3unit used) |
| Phone | 326 | 10Mbps Unlimited |
| Server | 325 | Blog server |
Utility cost is also not changed so much as last month. I used aircon only when I wake up and stay in the room so my electricity bill is quite low compared to other person, I think.
Others – 2,952 THB
| | | |
| --- | --- | --- |
| Credit card | 720 | Citi prestige card, M gen card |
| Laundry | 80 | 40THB 2 times |
| Transportation | 1,112 | |
| Massage | 400 | 2 times |
| Hair cut | 150 | |
| Souvenir | 390 | Chai thung coffee |
| Entertainment | 100 | Soccer ticket 100THB |
Other costs are above, Credit card fee massage, and transportation cost, etc. I normally use bused and train for my short trip inside Bangkok areas.
Ok! That's all of my expense in November, 2021. I will keep updated here for my cost amount so that the readers can understand how much to spend normally for single life in Thailand.
See ya!