Hello, everyone, welcome back to "fitravelife.com". Today, I would like to show you the current public transportation situation in Phuket.
How to go to Patong beach from Phuket airport
Since now, Corona virus came back to Thailand gradually and less and less tourists stays at Phuket, if you are traveling to Phuket during this period, you need to be very aware the reduced operation of public transportation.
Transportation from Airport to Patong beach
To go to Patong beach, normally you have below options.
Taxi                                                                  800THB
Smart bus (P1,P3)                                     150THB – 180THB *Direct to Patong beach
Shared mini van                                        150THB
Smart bus (P2) and Songthaew     130THB *Transfer at Central festival (my choice)
If you want most convenient way to go to Patong beach, door to door to your destination and don't care how much it cost, you can take Taxi of course. It takes around 40 minutes to Patong beach from Airport.
I can recommend Taxi for those who are in group of 3 or more but in case you are solo-traveler like me, you might hesitate to pay 800THB one way from airport. It's actually twice or much higher price than in Bangkok for airport to city center transfer. Please be always reminded that Taxi cartel is very powerful in Phuket so they will charge quite expensive fare.
Normally I do not take taxi from airport because I am solo traveler. Besides I want the way much cheaper and local way not touristic way by Taxi.
Conclusion first, I used the most cheapest but not so inconvenient way 
No.4. Smart bus (P2) and 
Songthaew 

route so I would like to explain how you can follow my way.
Below is the bus I took from the airport, you can easily find orange color P2 bus in bus station at airport.
Orange P2 bus at airport. No P1 nor P2 bus on site at this moment
Time table of each bus
Why I recommend P2 bus because it operates every hour unlike other P1 and P3 route. This bus connects airport to Phuket town bus terminal and mostly used by local people 
To go to Patong beach, first, you will take 30 min bus ride to Central festival Phuket then need to change to local
Songthaew. From airport, you get off the bus at ① baan&BEYOND home center which is opposite of Central festival Phuket. Then you can pass inside of Central festival Phuket to head for Central Phuket Floresta which is connected with Central festival Phuket. You will see ② Song teaw stop under the connecting overpass between 2 Central mall. You can wait there at maximum 30 mins to take Blue color Song teaw.
When you see Song teaw, please waive your hand to show your intention to ride on. Otherwise, they do not stop but just pass by. Song teaw costs only 30THB from Central festival to Patong beach.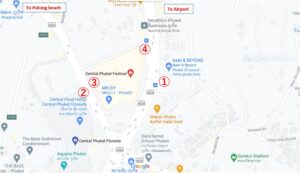 Going back to Phuket airport from Patong beach
Below is the Song teaw stop in Patong beach. When you want to go to Airport back, you can drop off at ③ Central Festival Phuket on the map above then take bus in front of ④ Decathlon.
So that's all how to go to Patong beach from Airport for 130THB approximately 1 hour 30 minutes to 2 hours ride by bus and Songteaw. It takes a bit more time but if you prefer backpacker travelling way like me, I am sure that you will not bored by this journey. Please try it!