January 16th, 2022 I joined Thailand Open Masters Game at Central Festival Hatyai for Bodybuilding competition. This time, I will make about it, competition review that I won top 5 finalist out of 6 competitors.
Venue of Competition
Bodybuilding competition was held at Central Festival Hatyai at Songkla Province during 15th and 16th January. My class, Sport Physique show day falls on 16th, Sunday while Female and Athletic Physique division on previous day.
How to go to Central Festival Hatyai
Biggest shopping mall in this distinct is located only 3km away from city center of Hatyai so I consider to walk there. I also checked some blogs that says there is shared Songteaw from Lee garden plaza to my destination, Central Festival. It was just 5 minutes from my hostel to come here to check if there is a ride.
Blue colored songteaw was there but no passenger gathered at the moment. Driver offered me chartered ride but I didn't accpet it since it costs me maybe 100 or more. In my research, it should be 30THB per pax for shared  service. So I told to the driver that if only 30THB, I will take his offer then he said ok. Maybe he thinks that no passengers come at this time around 8:50 am. around 15 minutes ride, I came again to Central Festival Hatyai.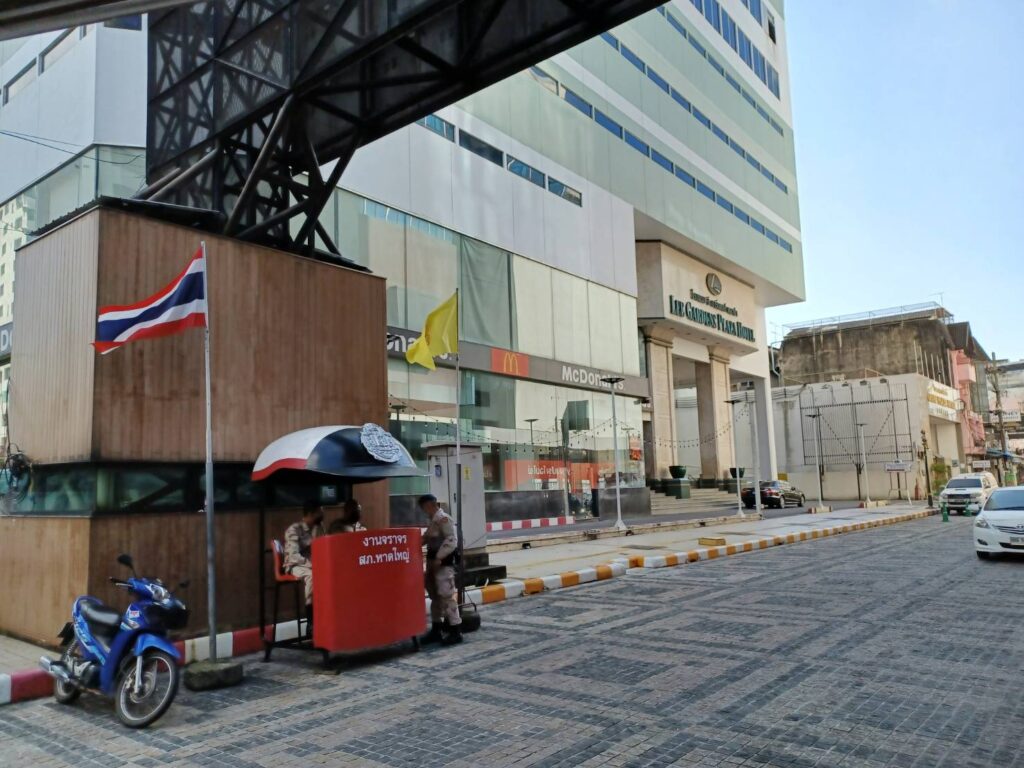 Inside Songteaw for solo ride.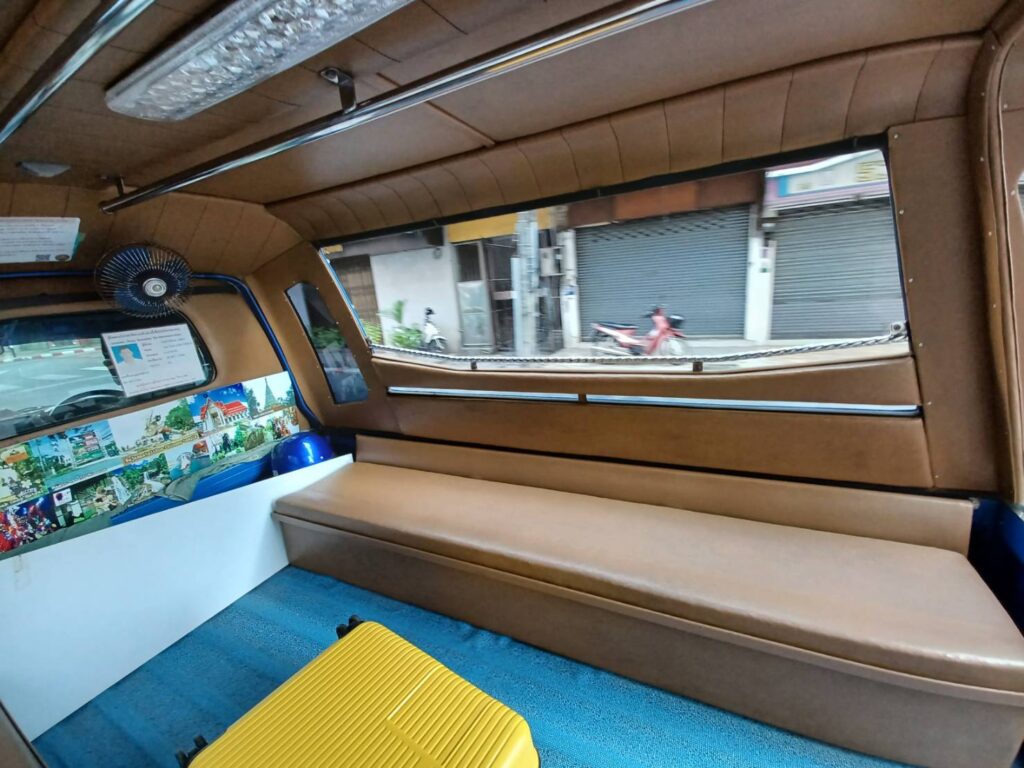 Arriving at Central Festival Hatyai. Maybe this photo was takes after the competition.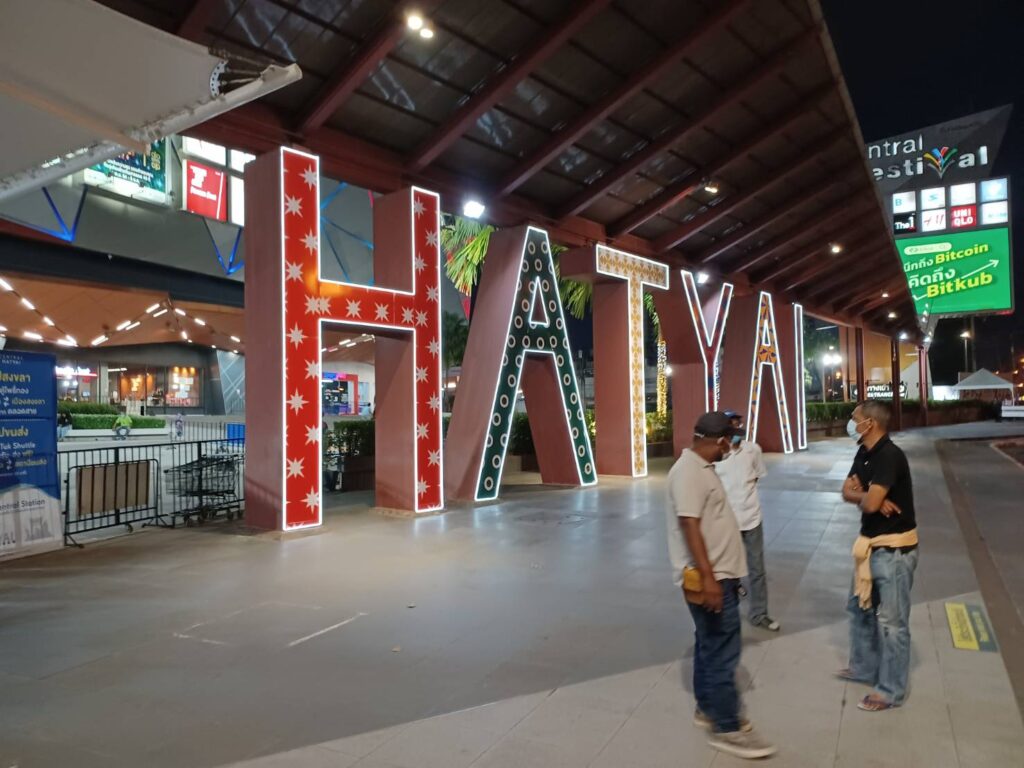 Mall is still closed but escalaters are moving already. Shop employee coming to prepare for work to open at 10am.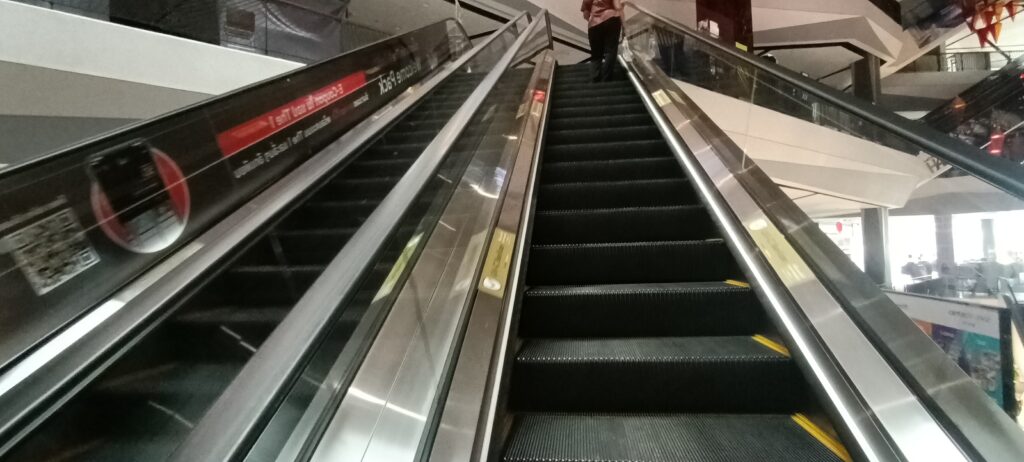 Special stage was constructed at the corner of 3rd floor. I found some family face here, preparing for the event today. One of them told me that competitors need to take ATK test so we went go down to parking lot to check Covid 19 infection.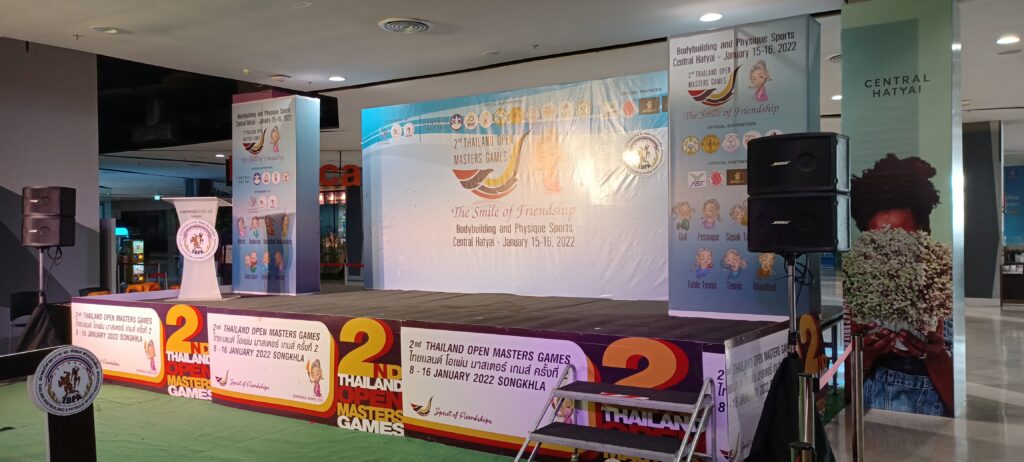 Registration 9:00 am
First step is verification process by passport photo and Covid 19 vaccination record at least 2 times is mandatory to participate. Next to Check saliva to confirm negative result for Covid 19 by ATK kit and registered as athlete for the day. Registration fee 300THB waived and staff told me that I can receive 1,000THB as travel expense support as early bird application for the event. At the registration timing, you will know how many person to compete. Due to small number of participants in all class, the organizer revised the category by the way. For example, my class applied was actually 35 yrs to 40 yrs old class but to get certain numbers of competitors in each class, they rearranged my class to 30 yrs to 39 yrs. As a result the chance I can medal got far since I saw 10 person in my class on registration paper.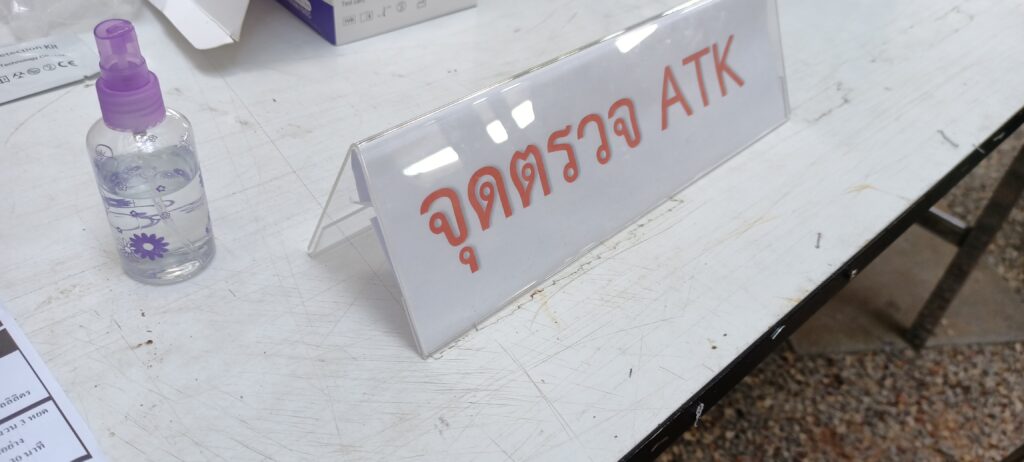 Put saliva into the case to mix with testing fluid to see the result.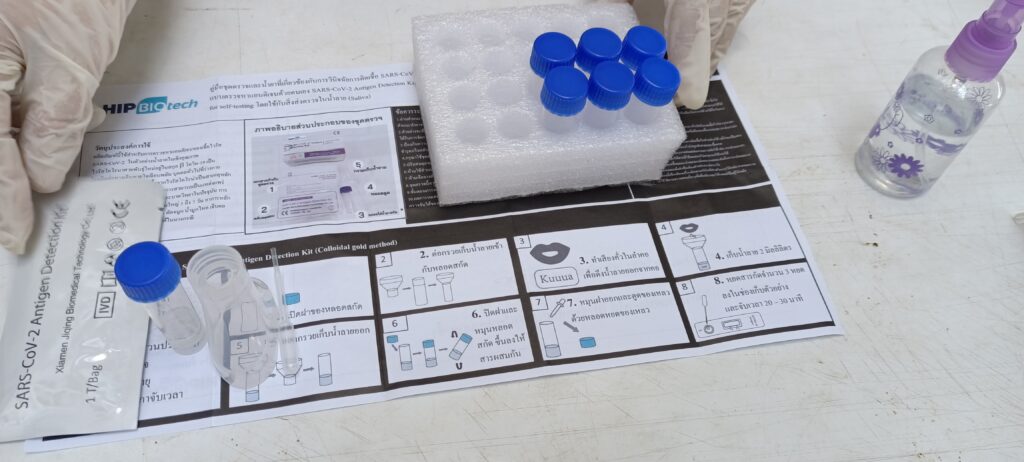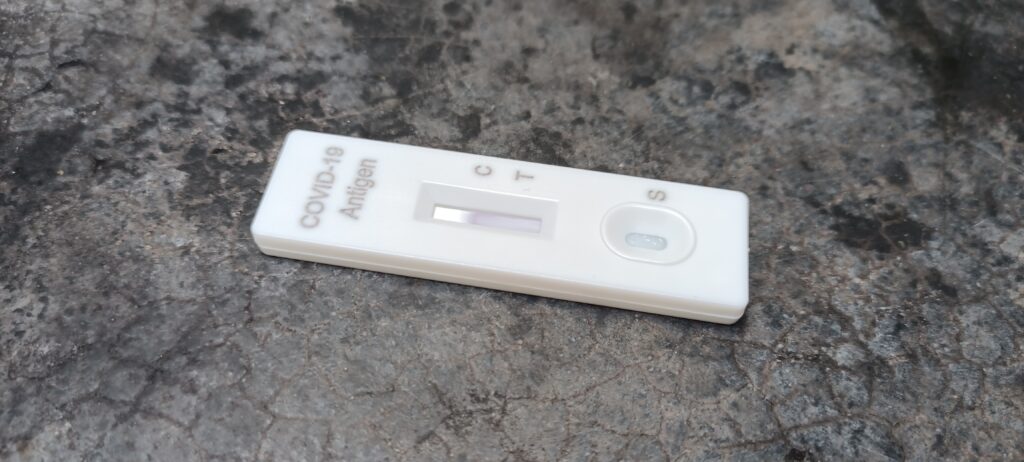 Here are what I got for registration.
Thailand Masters Game program.
Thailand Masters Game shirt.
Face shield.
Athlete event pass.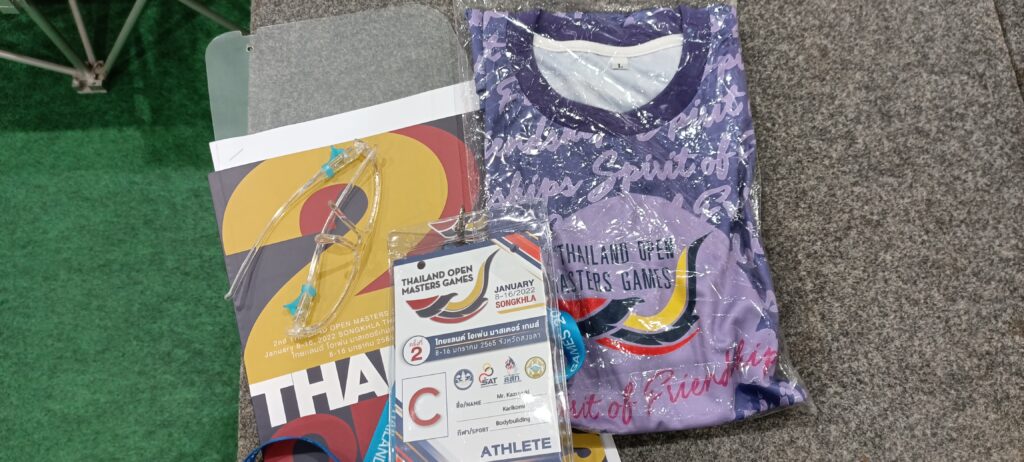 Rules and regulation assemble 10:00 am
Rules and regulation explanation started a bit late around 10:20 am. I pretended to understand what they speak in Thai for 20 minutes, haha.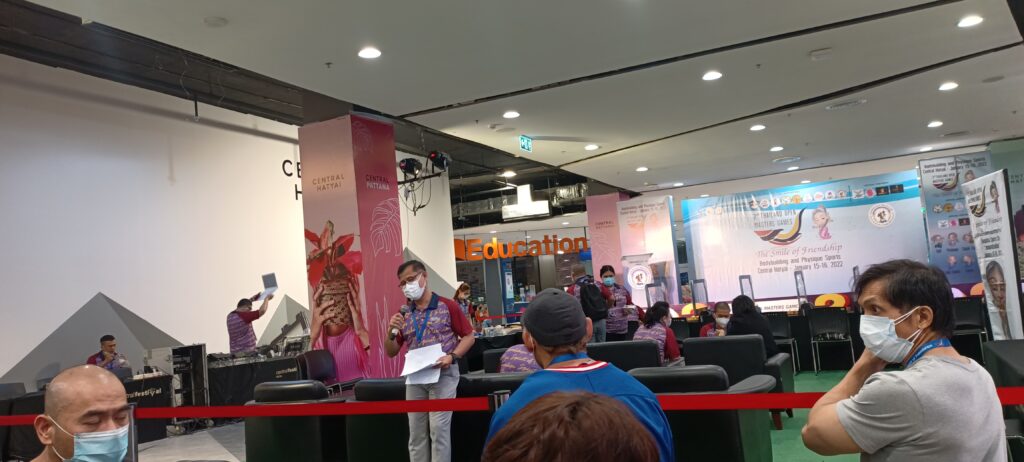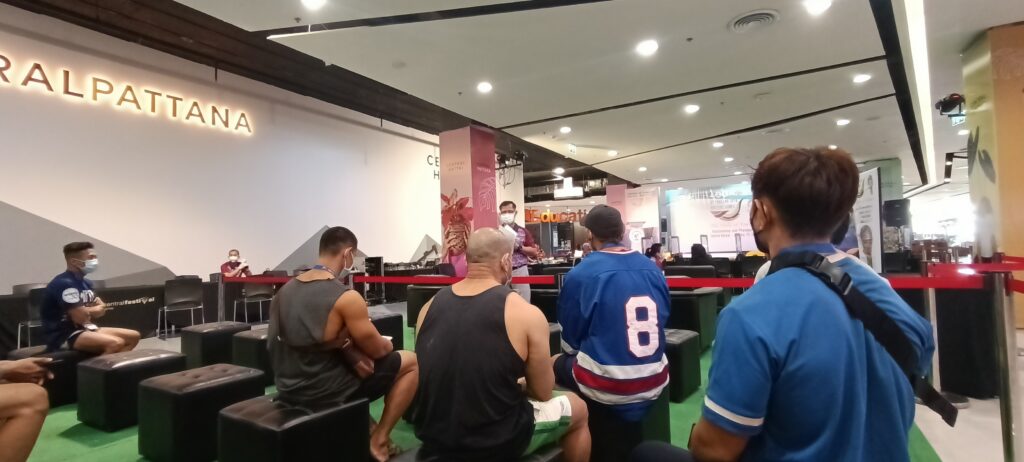 Weight in 11:00 am
Next is weight in processing, separated by each category. Event organizer will call name one by one to wait in line for each category. At this moment only 5 persons gathered to my class. Well when I competed on the stage, actually there were 6.
Until this time, I was not eating at all since I woke up so I felt hungry deadly. This is because I must pass weight- in (limit is height cm – 100 kg) to be qualified. This time, my height was 176cm and weight was only 71.5kg so I just worried too much. Event staff also checks if your body shaved cleanly. One lady told me that I have to shave much more under arms hehe but it was actually ok not that much serious to consider.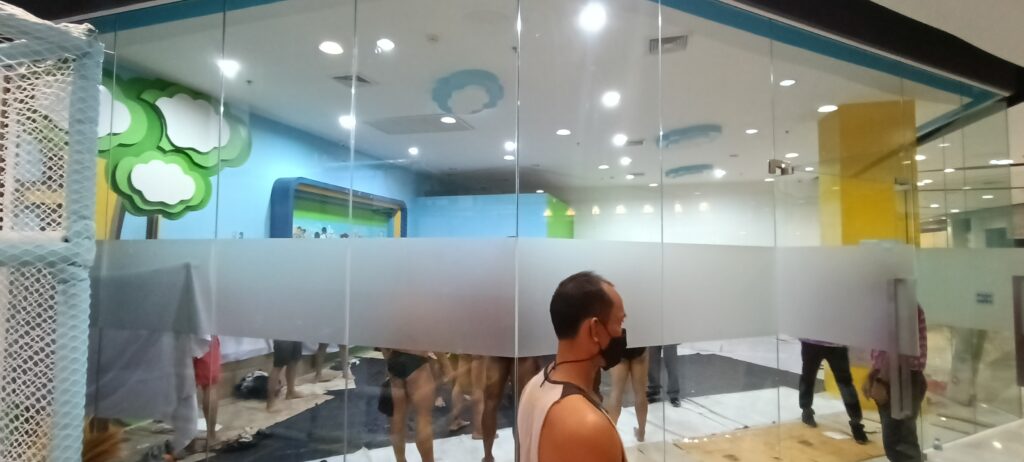 Got number plate after weight in and purchased tanning oil same as last time. Tanning oil costs 700THB per one box. One box can be used 2 times for Sport Physique competitors so I plan to use rest of amount in next competition at Sisaket.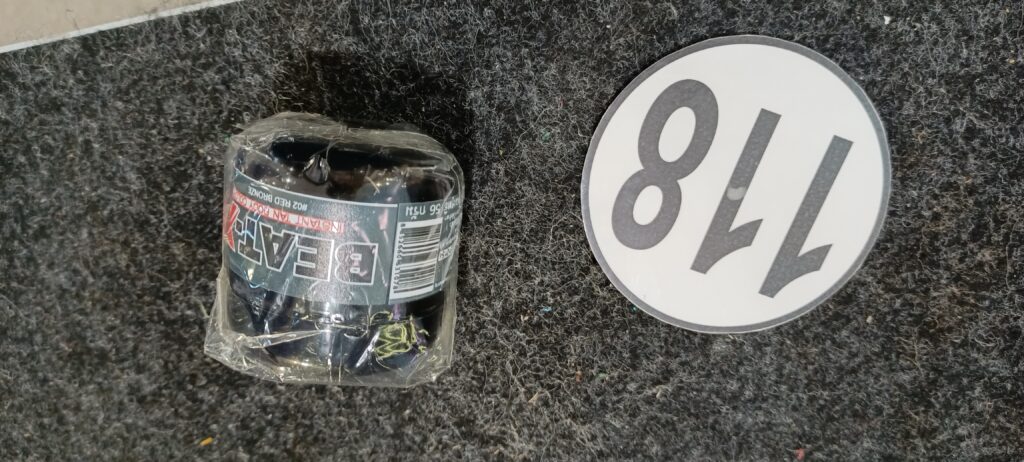 Weight in process was completed by 11am. Once finished, I ran into Tops market to get food, chocolates and water for brunch and preparation for competition. I found Aeon bank near competition venue so I could be relaxed there with free snacks.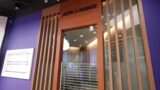 Aeon Lounge at Central Festival Hat Yai
During preparation time for bodybuilding competition at Central Festival Hat Yai on January 2022. I found Aeon Thana Sin
Pre-judging 13:00 pm
Around 1pm, I came back to backstage area. Many bodybuilders changed their skin color already for show time. On the stage, opening ceremony began.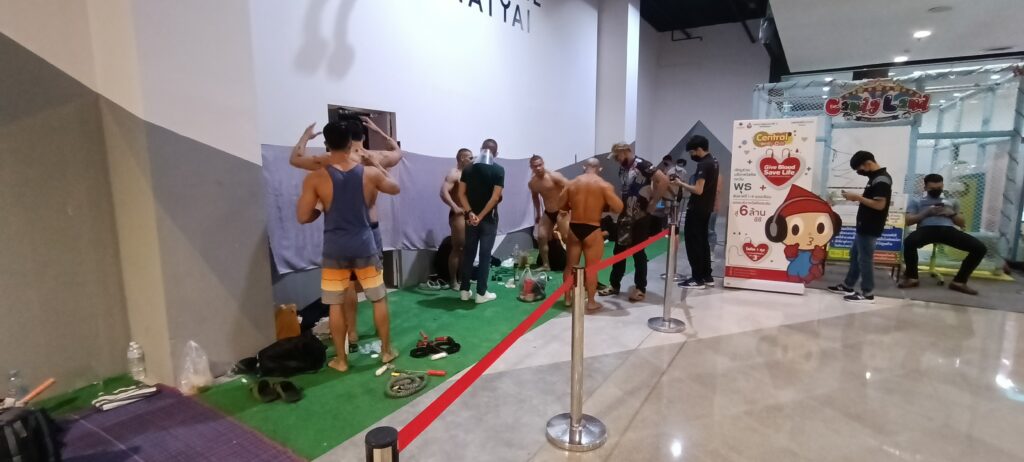 New schedule was announced at the event day. Due to small number of participants, event time was shortened and some categories are combined to one. While talking with other guys, I just knew that some joined more than one category to have more competitors in each category although in regulation, each one of us can choose only one class to join. Event staff seemed approached participants to encourage to join several classes. In fact, I received message from event organizer if I am interested to enter other classes too. I refused the offer because I am not interested at all.
New schedule and category just announced at event day.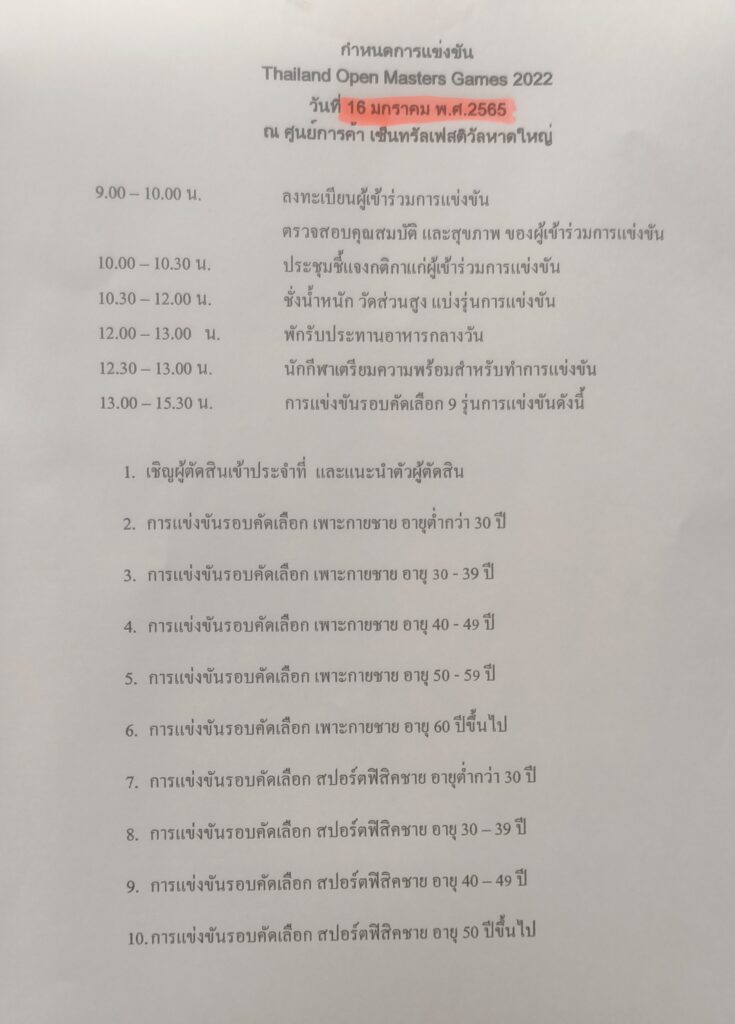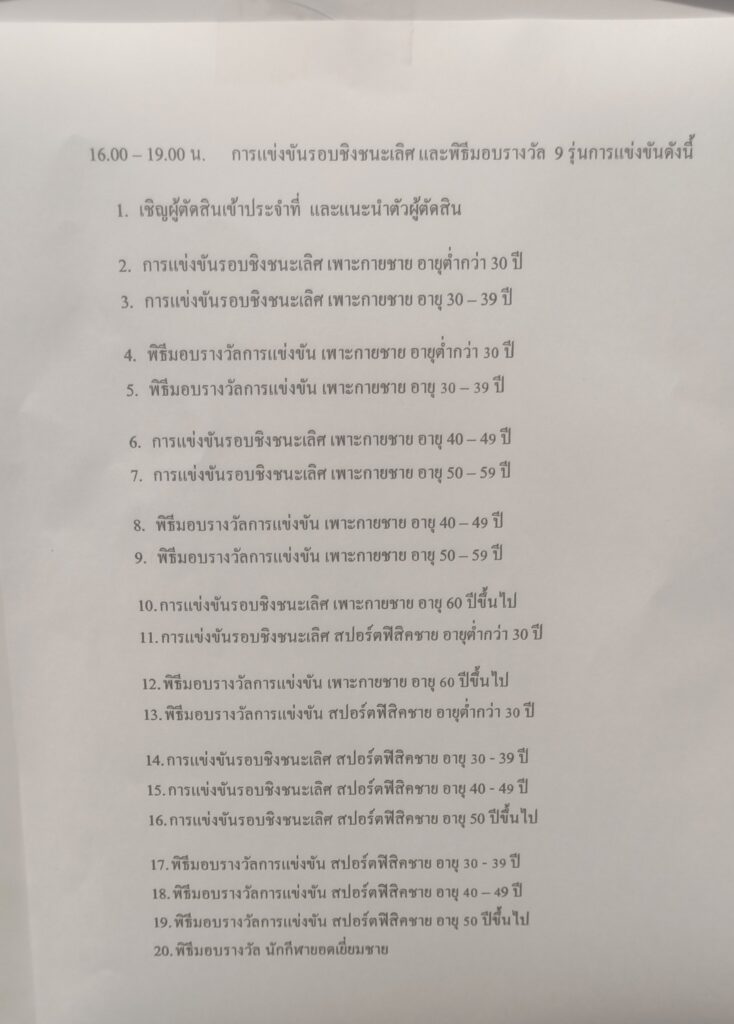 Well, I do not have much picture at this time event proceeded very smooth and fast due to few participants in each class.
Oh there was one accident during competition started after 30 minutes. A lady screamed at the back stage area then many other people and event staff rushed into that place. I didn't pay much attention for this but it seemed that one guy fainted during warming up, needed first aid for cure. Minutes later, medical team arrived with stretcher to take care of him. I didn't hear any story about this incident later on. I hope he is now in good condition then come back to next competition.
At this time, I started to paint oil by myself. Most of part can be done alone but back part needed support from other person. Luckily support member of team coming from Supanburi province helped me to paint nicely to fit to the stage. I am really glad that there are always somebody good to help daredevil solo fighter like me 555. I would like to say thank you again to her and team for kind support to me.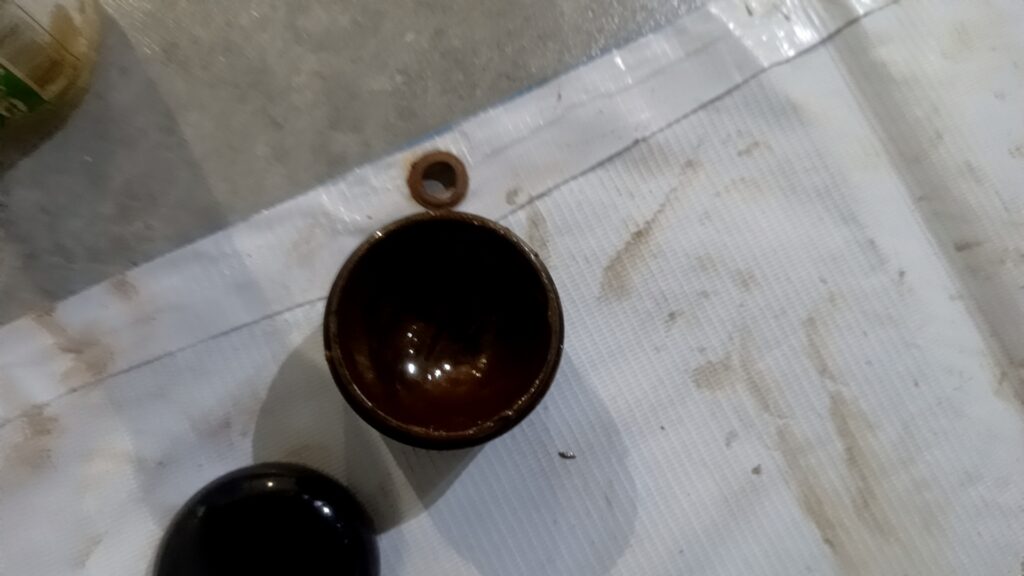 This time, competition was quite ok for me, maintained good mental condition from end to end because I already experienced whole process in Phuket once so I know what I should do at backstage and on the stage. Yet my posing still has lots of space for improvement, overall I am satisfied with my performance on the stage with confidence.
In my class total 6 persons joined for prejudging and fortunately I was selected for top 5 winners so I had to move to final round from 4pm.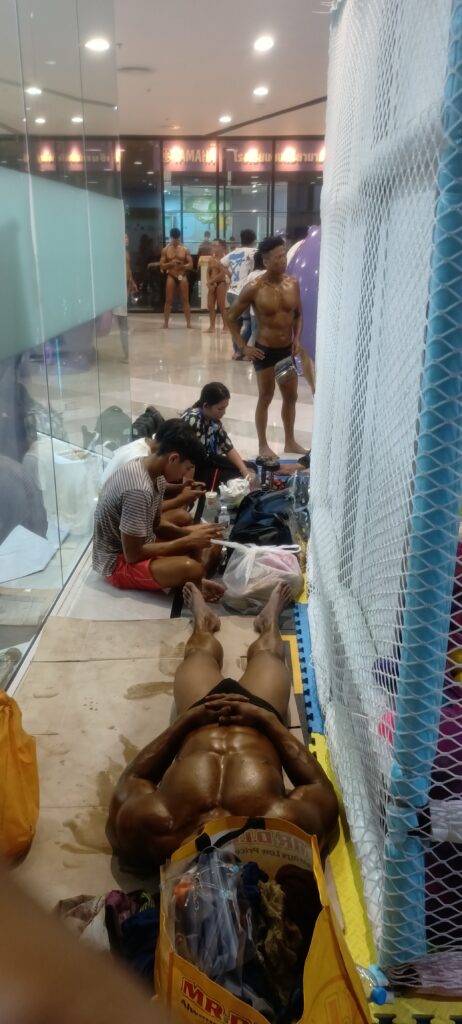 Top 5 final round 16:00 pm
Final top 5 procedure is same as prejudging. We are called one by one to perform free posing for one minute first. After that 5 men in line to stand up then show 4 side posing, front, left side, back and right side.
One thing different is only for final competition, we have pose down time that one the same time, all competitors show free posing to judges and audience. I think Physique class is not suitable for pose down much while bodybuilding class is so exciting when competitors show their masculinity on the stage.
After the pose down show, all greeted to audience then went back down from the stage. It was really tiring day for me but also I felt accomplished since I have done all I could do.
Top 5 final round for my class
Immediately after my show time, I removed oil on my body. Top 3 winners are called later to join the medal ceremony. However I didn't care at all, I already knew that I would not be called for as medalist. 3 guys in my class are so huge unlike me so there was almost no chance for me to join the ceremony. My result may be 4th or 5th at the final. As finalist, I just received certificate from event staff. At this moment, this is good but also I ignited my passion to beat one of top 3 bodybuilders then I will be the medalist next.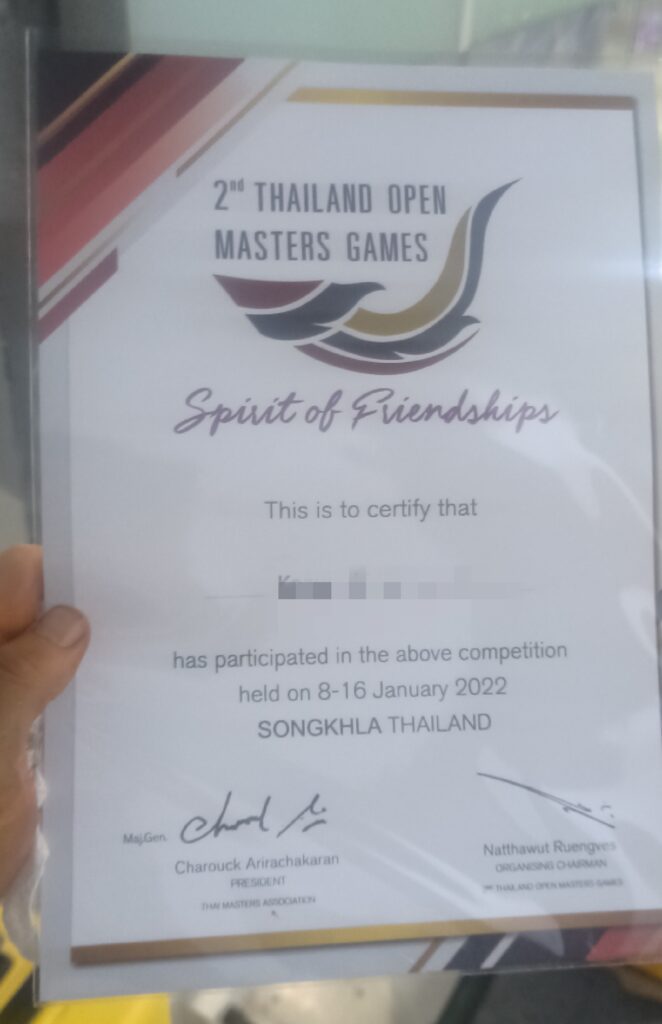 with some oil painted and a lot on my back, I called grab bike to go to airport for my flight 10pm. This time was my second appearance for bodybuilding competition. My body got improved especially mid section part and performance became much better after posing practice. I will work hard again for next competition show in Sisaket province in 3 weeks.
In last, I would like to thank you to all who are involved in this event, event staff, competitors, supporters and audience. And biggest applause to those who won the medal owing their hard work. building good body cannot be done in a very short time. It is the process of long journey of workout, nutrition control and quality rest. I appreciate all who does this day by day for long period.
Thank you for reading my competition report this time, I will also post about next competition in Sisaket soon. Until then my hard work must go on!